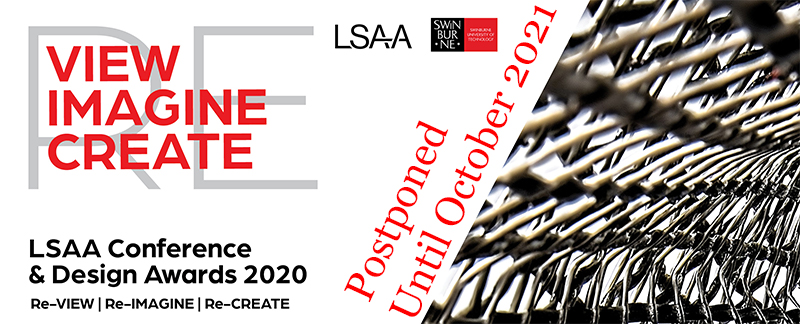 The LSAA 2020 Conference and Design Awards were to be held in Melbourne at Swinburne from September 17-18 2020.
PLEASE NOTE THAT DUE TO COVID-19 THIS EVENT IS POSTPONED UNTIL 2021
Probable time is in October 2021.
Theme: Re-VIEW, Re-IMAGINE, Re-CREATE See Conference Website
Note: The Design Awards will enable completed innovative and lightweight structures completed since October 2018 to be entered in a number of Categories. The Awards are open to LSAA Members, Non-members as well as from International projects.
The LSAA website is being revamped with more images of the exciting structures our members have been involved with.
Because of the Covid-19 Pandemic, we have postponed our planned 2020 Conference and Design Awards until some time in 2021 - yet to be determined (July 2020)
The Design Awards enable members and non-members to enter projects that have been completed since the last Awards (October 2018).
Are you working in the area of lightweight structures - tensioned fabric or membrane structures, cablenets, high tech glazing or other forms of innovative structures?
Possibly you should consider becoming a member of LSAA?
Most LSAA Members have been involved with either membrane structures (design, fabrication, erection, or supply of materials) for a considerable period of time. Others are involved with innovative new forms of architecture.
Being a financial member offers an opportunity to display your company profile on the LSAA website, to benefit from discount fees to conferences and LSAA Design Awards.
There is also the opportunities to have access to a network of helpful members in your industry and to contribute news items to our website. Financial members may display the LSAA logo on their letters and website and link to the LSAA website.
Download a membership information pack
Download a membership application form (Word doc 2020-21) PDF
Download the LSAA Members Code of Ethics
Download a brochure about the LSAA
Download a booklet on Membrane Structures
Download a copy of our Constitution
Following several major building fires around the world there has been a reaction in Australia to introduce restrictions into various regulations that will affect the fabric segment of our industry.
The LSAA is taking a lead role in the formation of a task force to address these changes.
Several of the changes brought on by perhaps ill-informed wording could have a serious impact on the use of fabric in structures.
A fact finding exercise is being planned for 2018-19 followed by steps to have our industry have a voice before future changes are introduced to the NCC.
December 2018