LSAA 2013 Conference and Design Awards
Theme - "Touching the Earth Lightly"
13-15 November, Hilton Hotel, Auckland
---
Looking at the most efficient use of materials & resources to have a material effect on our planet, our lives & our future.
We want to help get people thinking about building better, building for the environment & living lightly on the planet.
Lightweight structures can not only be light they can be relocatable, reusable, recyclable and offer many sustainable advantages for architects, engineers and developers.
VENUE: To be held in Auckland, New Zealand. Venue: Hilton Hotel. Dates are 13-15 November 2013
Pre-conference visit to Alan Gibbs's Sculpture Farm on the Wednesday.
Conference Dinner and LSAA Design Awards on the Thursday Night.
Download Preliminary 1 page Flyer (PDF) Here
Download Preliminary Conference Program and Registration form (PDF - to be filled in and sent back ) Here
If you are interested in writing and presenting a paper or being a sponsor, we would love to hear from you. (Email: admin (at) LSAA.org )
Download Sponsorship Package HERE
Dr Kourosh Kayvani, LSAA President talks about Lightweight Structures
LSAA 2013 Conference and Design Awards
Theme "Touching the Earth Lightly"
Note: The LSAA 2013 AGM will be held by teleconference on December 4 2013.
Please refer to this article or download the complete material HERE

CONFERENCE PROGRAM
Optional Pre-Conference Day, Wednesday 13th November 2013
Dr Kourosh Kayvani talks about LSAA 2013 and Lightweight Structures
11 am – 5.30 pm Pre-Conference Visit to Alan Gibbs Farm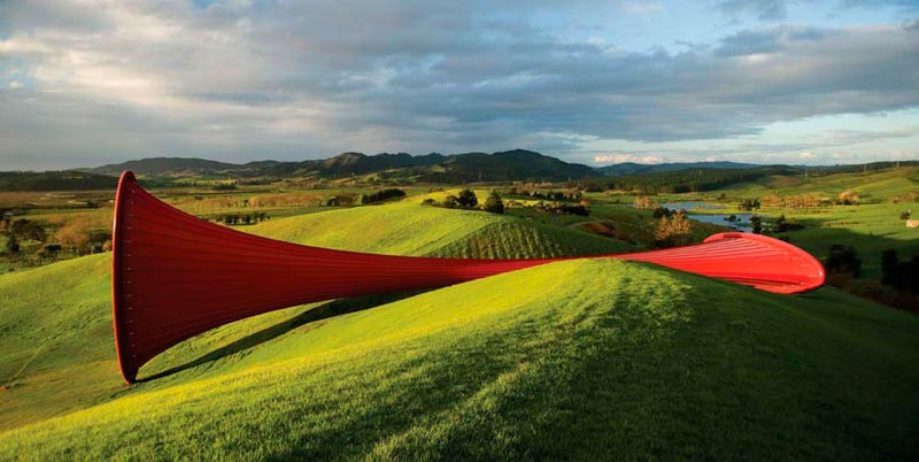 The LSAA is privileged to have organized a private visit to Alan Gibbs's Farm, a 1,000-acre sculpture park on New Zealand's Kaipara Harbour.
Since purchasing the site in 1991, Alan has commissioned some epic works by Neil Dawson, Anish Kapoor, Richard Serra, Andy Goldsworthy, Leon van den Eijkel and Bernar Venet amongst others.
A large tensioned fabric structure sculpture by Anish Kapoor moulds into the hill top (above). It was a worthy winner of an LSAA Design Award in 2009.
We will travel an hour each way to the farm by bus. Meeting time is at 11.30 at the Conference Hilton Hotel.
Delegates have a leisurely 3-4 hours to explore the Farm and sculptures before returning to the main hotel.
Overseas delegates wishing to avail themselves of this unique opportunity are advised to arrive in Auckland the day before.