Sheltered below an innovative woven timber gridshell canopy, new amenities for visitors to the Waitomo Caves includes tourist gathering areas, 250-seat dining, retail, seminar and exhibition areas as well as a café and theatre.
A gridshell is a hybrid of two structural types. A structural grid that follows a two directional curving surface with sufficient grid elements that it acts structurally like a shell. The canopy gridshell is cut from the surface of a toroid, in this case a donut. Whilst the ribs are generated from this toroid, the form is much more complex. This process required extensive structural form-finding, which was done by a mathematical process, a structural modelling process and by back-checking in the 3D CAD geometry.
The cladding comprises of ETFE pillows: cushions of high-strength plastic inflated to 200pa. These cushions could be patterned to the two-directional curvature of the gridshell.
The presentation will be given by Chris Kelly Principal of Architecture Workshop.
Abdullah bin Khalifa Stadium has just been completed by Al Khayyat Construction & Development. It is the new home of the top Qatar league team - Lekhwiya Sports Club and the 1st tensile fabric grandstand stadium roof in Qatar.
The complex creates a 12,000 seat stadium that is rectangular in plan.
Tension fabric structures are used to create shading over 60% of the grand stand seating arena.
The presentation will be given by Peter Lim of Tensys Engineers.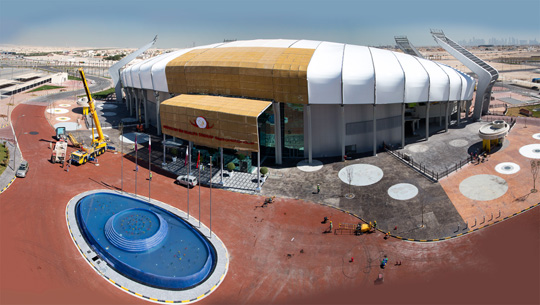 Site Visits to "The Cloud", "Westlake Girls High School" and "Eden Park"
A valuable aspect of LSAA Conferences is to include site visits to recent projects in the company of technical people that were intimately involved with the design, fabrication or erection. In several cases we have organized the current client/owner to be present as well to comment on the performance of the project.
"Westlake Girls Sports Facility"
See also the following article about Westlake Girls - as it received a High Commendation in the 2013 LSAA Design Awards.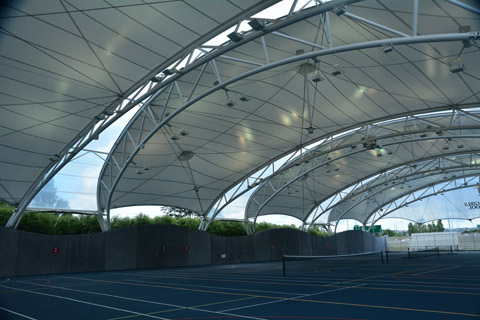 Read more: LSAA 2013 Site Visit to Westlake Girls Sports Facility