Member Profiles
Current Financial Company Members of LSAA can have their company profile listed on the LSAA website.

Such members will enjoy the ability to submit news, awards and other articles for publication on the website.

Discounted fees apply for Conferences, Seminars and Design Award Entries.

Note that some members may provide a broad range of services.

Members of the LSAA have a passion for realizing excellence in producing world class lightweight structures.

Members are engaged in the design, fabrication, erection of lightweight structures.

We are also well supported by a number of material suppliers of fabrics and hardware such as cables.
Welcome to our new members:
Sail Structures (Cairns), Pattons, Create Ltd (NZ), Copelands & Pickers and Miami Stainless

and welcome back ABC Products and Oasis Tension Structures

Members with complete service (Design, Engineering, Fabrication, Installation)
Members with predominantly Design, Fabrication and Installation service
Members with predominantly Design and Engineering service
Members with Software and Consulting Service
Members who are predominantly suppliers

Tensioned Fabric Design and General Structural Engineering
Wade Design Engineers has over 20 years experience in the design and detailing of tensioned fabric and cable net structures. Our Brisbane based team can assist to provide the technical design aspects of any size project and have completed over 1300 projects ranging from playground shades to airport terminal and stadium roofs. Capabilities include the following:-
Concept Development

Finite Element Analysis

Fabric Steel and Concrete design and detailing

Geometry Definition & Coordination

3D Modelling

Engineering drawings

Steel Workshop drawings

Fabric cutting patterns

SEMF Pty Ltd is a multi-disciplinary engineering, scientific and management company that provides consultancy and management skills for all facets of construction projects. We provide complete sustainable solutions – from initial planning, design, construction and facilities management by ensuring that we plan and act for the long-term good of our customers, our partners and our community.
We also strive to be sustainable in all that we do, by ensuring that we plan and act for the long-term good of our customers, our partners and our community.
SEMF's engineering consulting and design services are categorised as:
Ricky Richards Sales

Ricky Richards is a dynamic, innovative company who since 1983, has been supplying customers with a wide variety of PVC, Canvas, Nylon, Polyethylene and Horticultural Fabrics.
We are committed to working with our customers in order to support their continual progress; achieving higher standards in print media, industrial and commercial textiles.
Technology has paved the way for the creation of superior products, and we are excited to distribute these products to our diverse range of customers.
By constantly researching the markets we serve, and analysing developments both in Australia and throughout the world, we ensure our customers are always kept in touch with all that is new in textiles.

Hiraoka Architectural Structure Fabrics are designed to provide outstanding performance and aesthetic beauty. These fabrics are the result of 30 years of innovation and technical leadership in the architectural structure market.
Hiraoka pioneered the development of PVDF surface coatings, anti-stain technology utilizing photocatalysts, flame resistant technology and weathering resistance to provide an outstanding service life.
Hiraoka Architectural Structure Fabrics are available in a range of fabric constructions to suit medium to large scale fabric structures. Highly translucent materials are also available.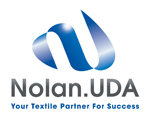 Nolan.UDA is a diverse national supplier of commercial & industrial textiles and associated hardware. The company has seven branches strategically located in capital cities throughout Australia. Each branch housing an independent sales team with inventory to service their specific requirements. Nolan.UDA prides itself on our core business principals: integrity, innovation and value for money.
Over many years, Nolan.UDA has established a solid and reputable network of trading partners around the world. These suppliers provide the comprehensive portfolio of products currently available. Each product has been put through rigorous testing to ensure performance, longevity and customer satisfaction.
Website: www.nolanuda.com.au