Important revisions have taken place for fire detection and control in buildings across a number of Standards.
These set out the minimum requirements that should be in place during design and construction to ensure compliance.
Recent revisions include:
AS/NZS 1668.1:2015
The use of ventilation and air conditioning in buildings - Fire and smoke control in buildings
AS 1670.1:2015
Fire detection, warning, control and intercom systems - System design, installation and commissioning


AS 1670.4:2015
Fire detection, warning, control and intercom systems - System design, installation and commissioning - Emergency warning and intercom systems
Article added February 2016. For more information, see SAI Global website
The Australian Building Codes Board have recently published a new standard for Temporary Structures.
The LSAA contributed to its development.
This Standard is intended for use in the design, construction and use of temporary structures. It provides criteria for structural safety (particularly determining appropriate wind actions), fire safety (including fire resistance of materials, fire safety services and equipment, and egress), access, sanitary facilities and certain ancillary provisions.
It is still open for adoption by particular State or Territory Authorities.
A copy may be found HERE
The famous German Engineer - Architect Frei Otto has been awarded the 2015 Pritzker Architecture Prize one day after his death.
Frei Otto was regarded as the most influential person to drive the modern move to adopt large span lightweight structures using fabrics, timber gridshells and cablenets.
He was very passionate about sharing his knowledge and ideas through the establishment of the Institute of Lightweight Structures at Stuggart University and hence its broad range of publications as well as a large number of students that spent time there.
The Institut building itself was a bold design using a doubly curved tensioned cablenet structure. It was a "prototype" for the stunning 1967 German Expo in Montreal which in turn was a precurser for the magnificent structures built for the 1972 Munich Olympics.
He instilled a deep understanding of structural form through the use of carefully constructed physical models. His "soap films" models defined the shapes used by fabric structures for decades and the early computer models incorporated a soap film analogy for basic form-finding. He used hanging chain models to determine the form of his timber shells.
Closer to our roots, the MSAA / LSAA founder, Vinzenz Sedlak was a great friend of Frei Otto and worked for a period at the IL. Frei Otto visited Australia in the early 1980s and met many pioneers of our industry.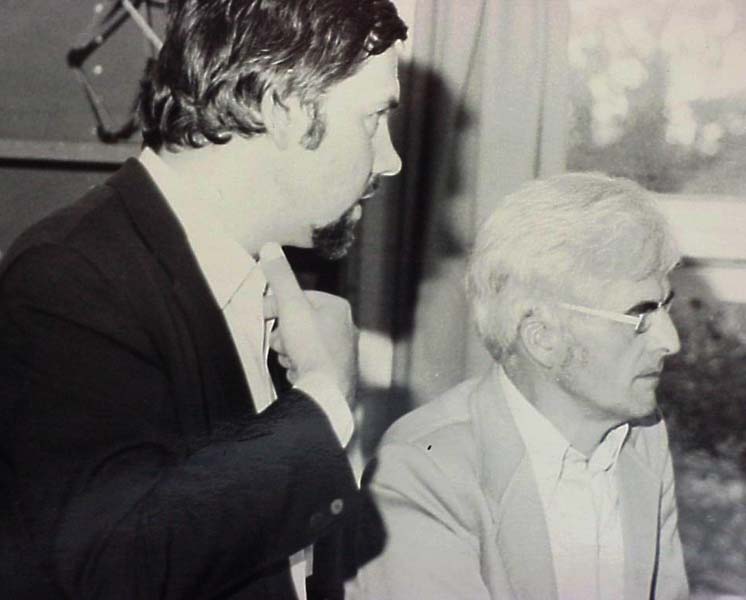 The MSAA / LSAA Founder Vinzenz Sedlak (L) with Frei Otto in 1980 at the LSRU at the University of NSW. The MSAA was to be formed the following year.
More detail can be found at: http://www.architectureanddesign.com.au/news
The following selection of images depict his cablenet structures at the 1967 World Expo in Montreal, one image of the Institut in Stuttggart and several of the various stadia at the 1972 Munich Olympic Games.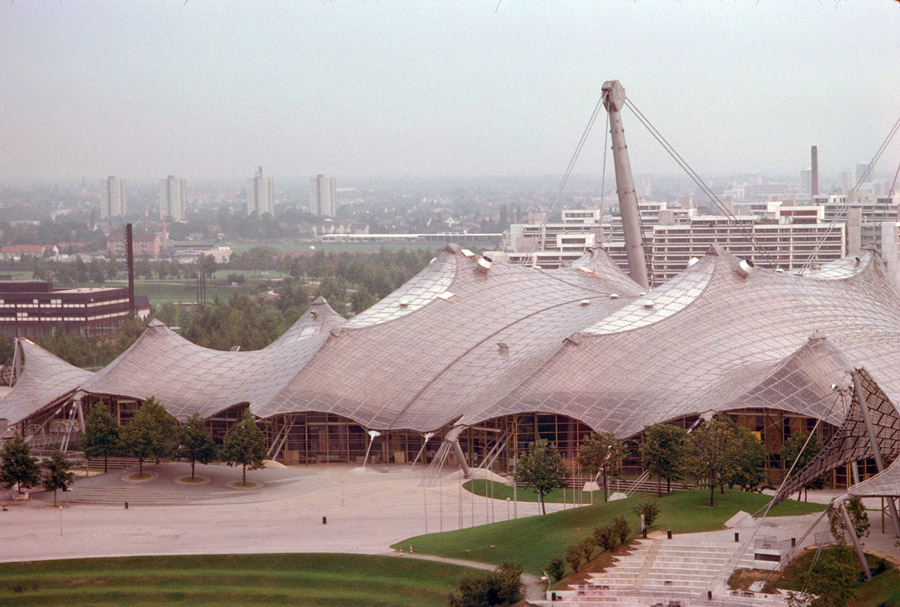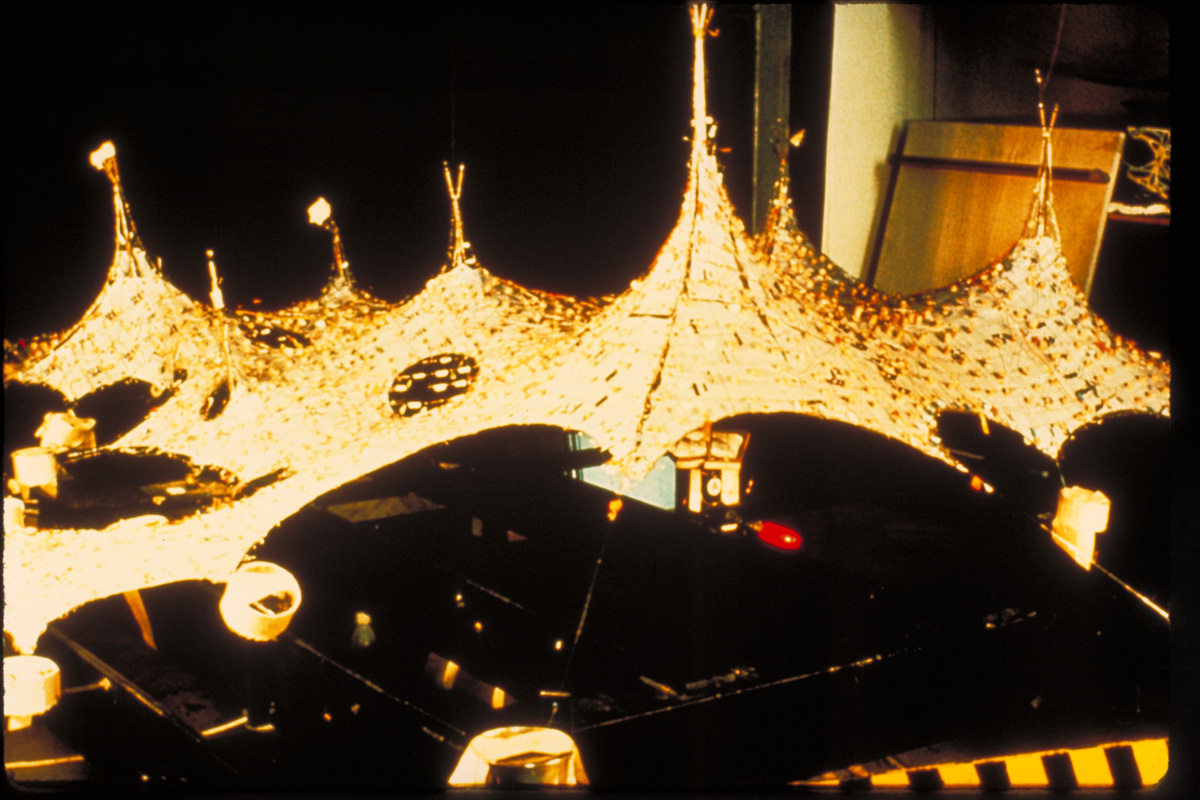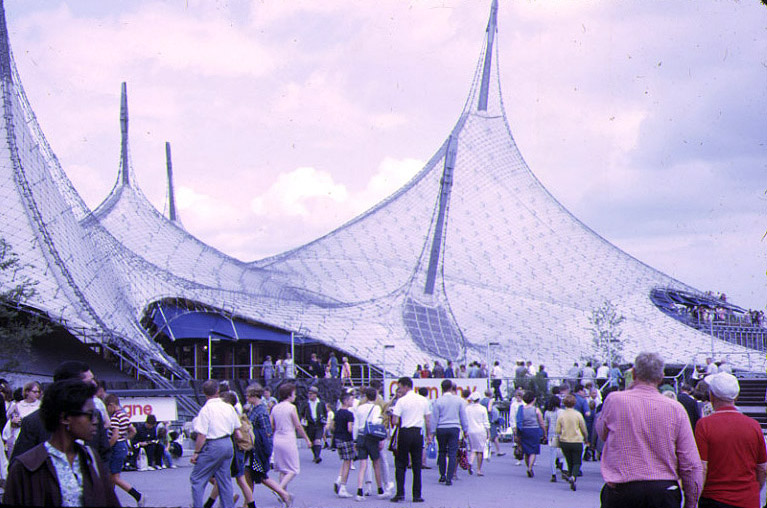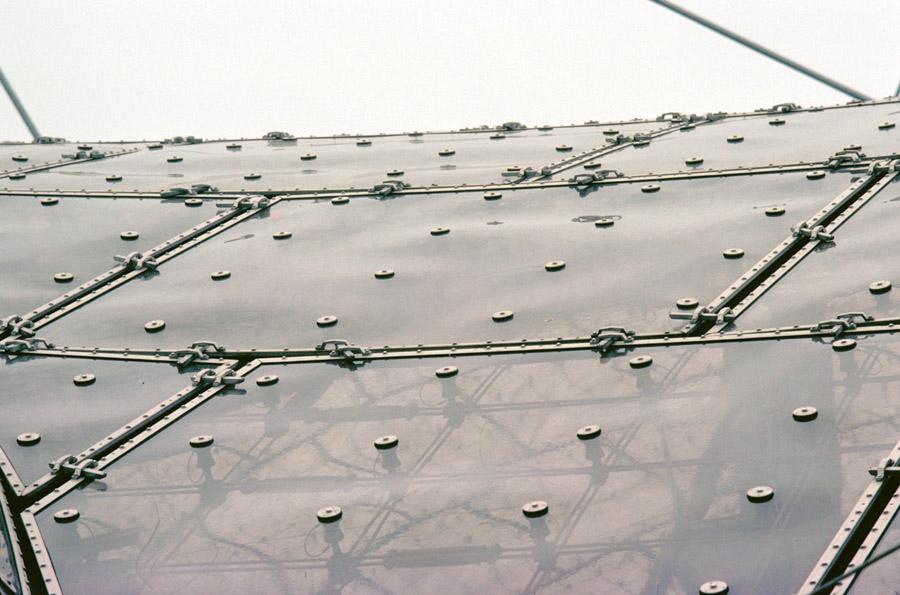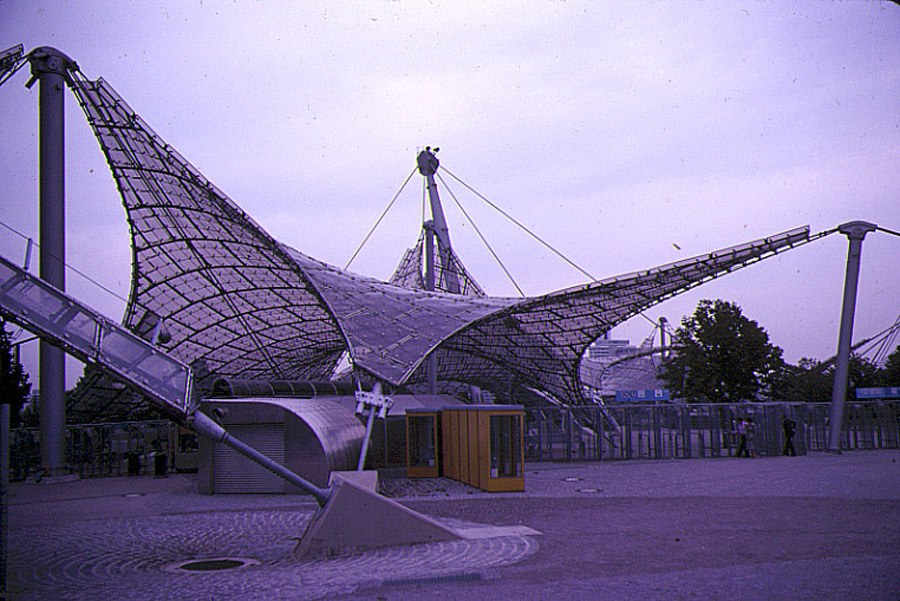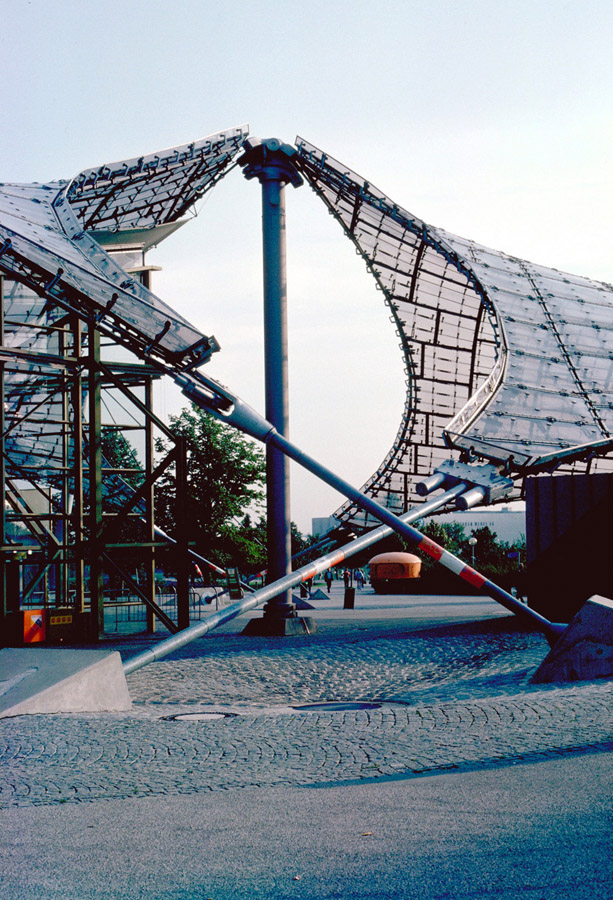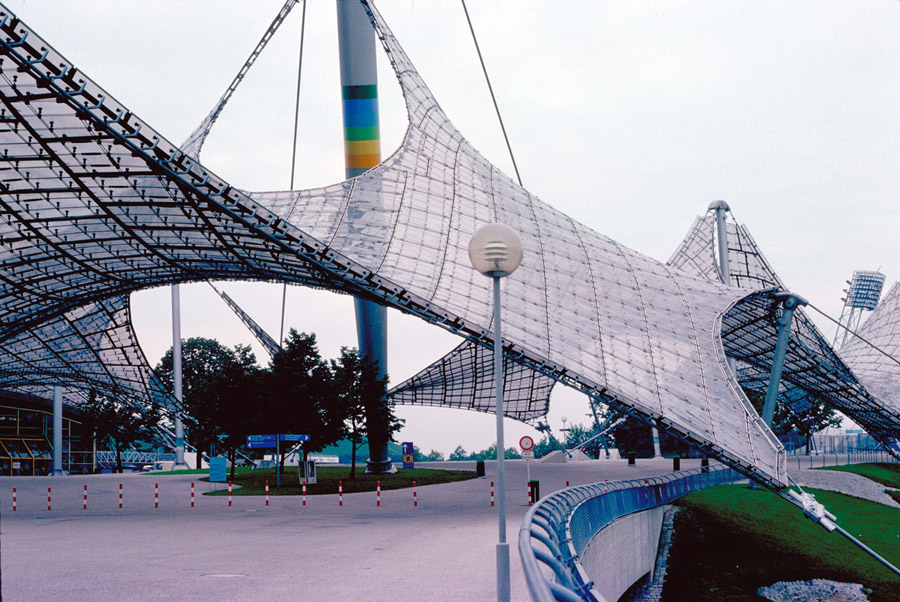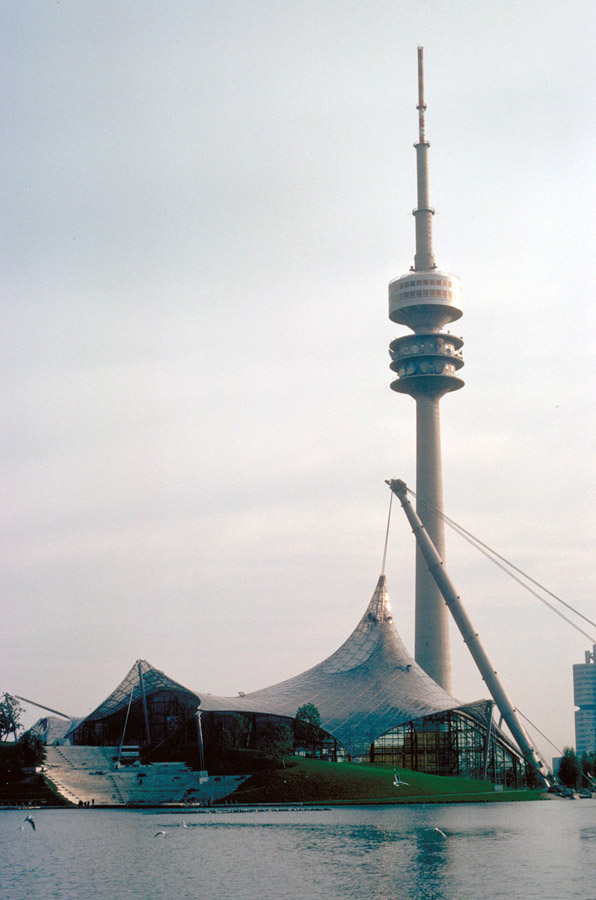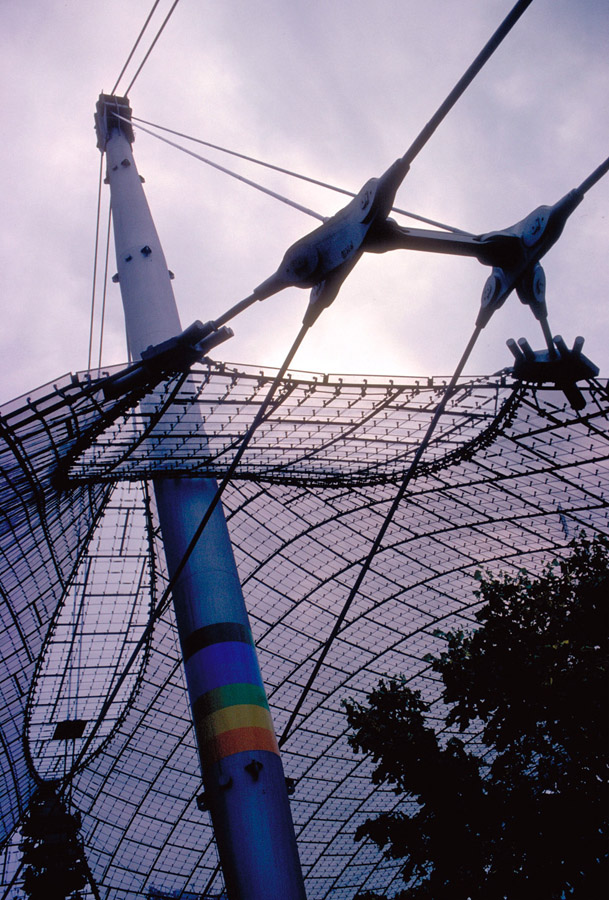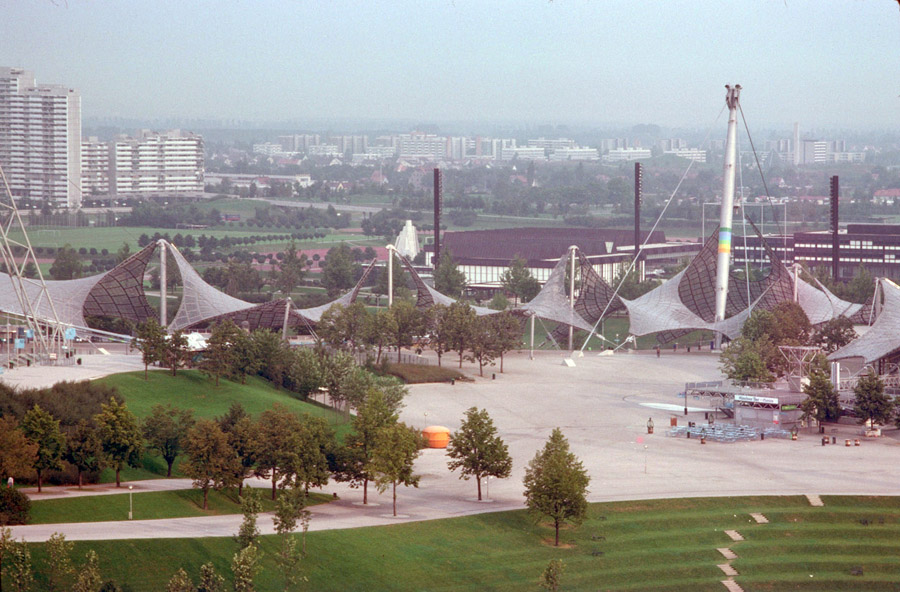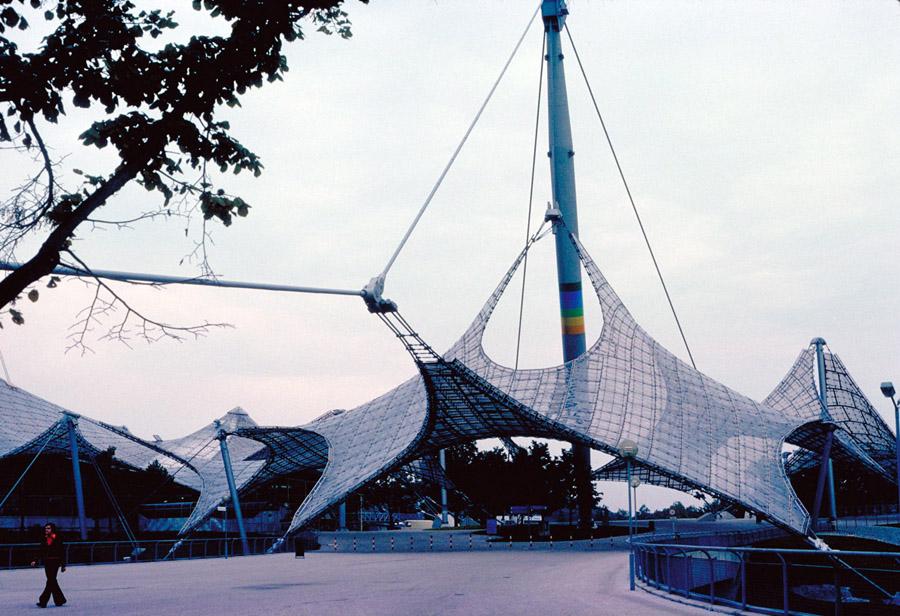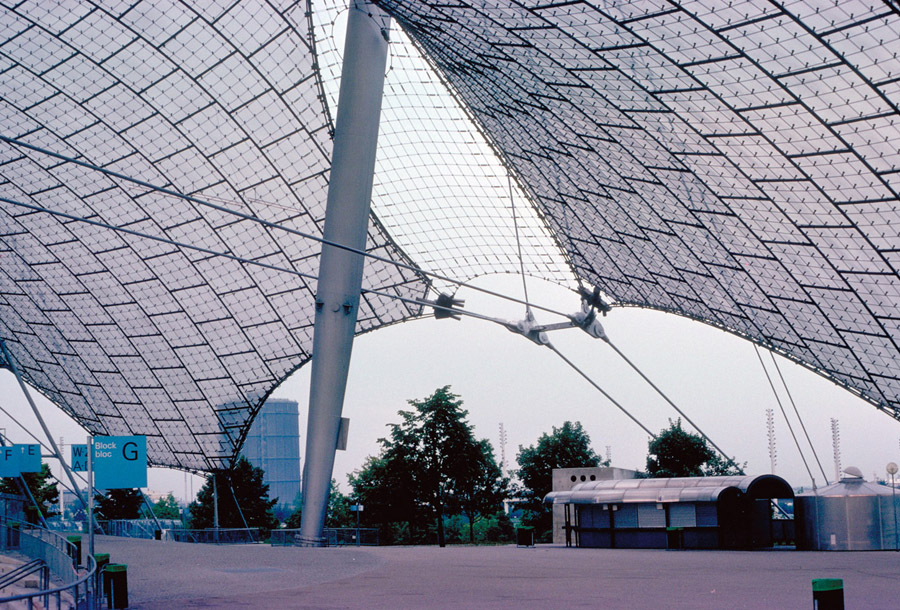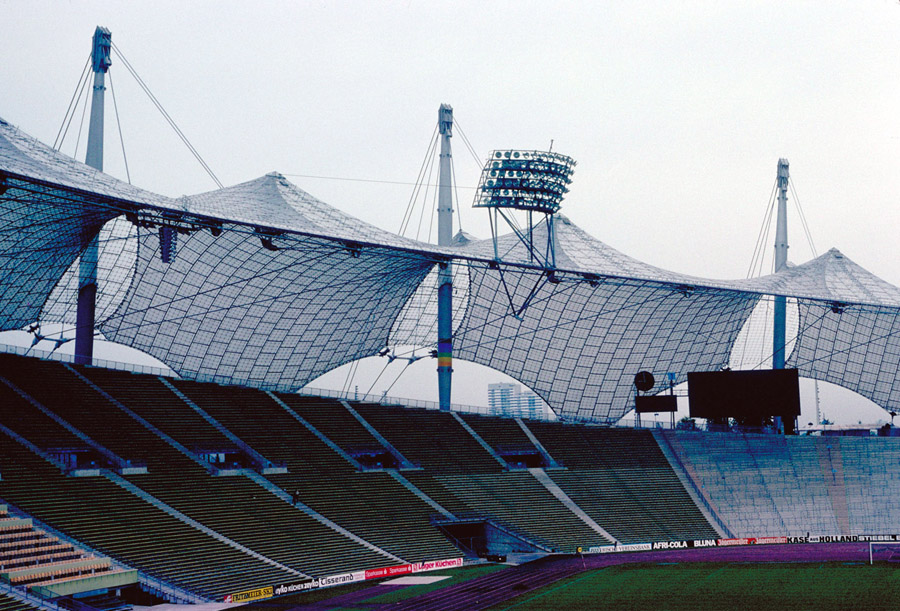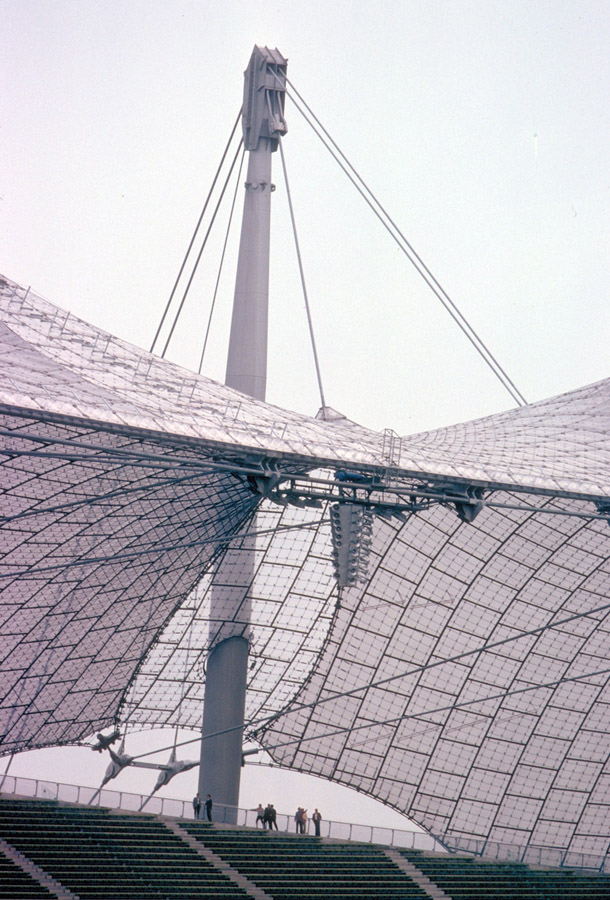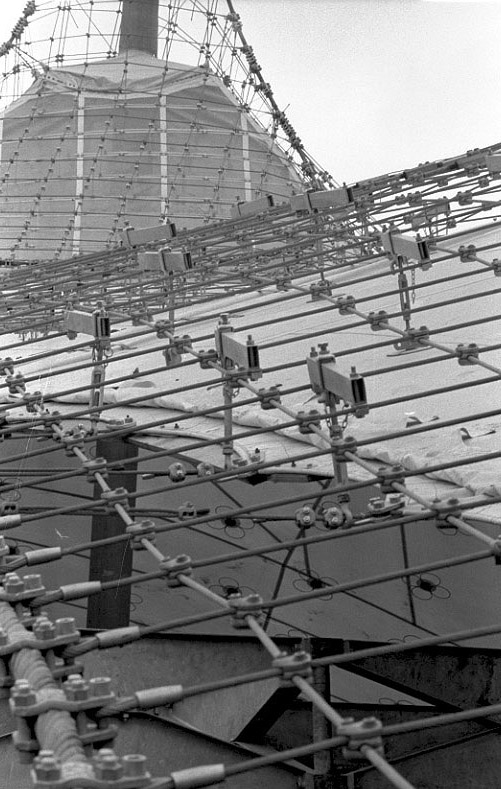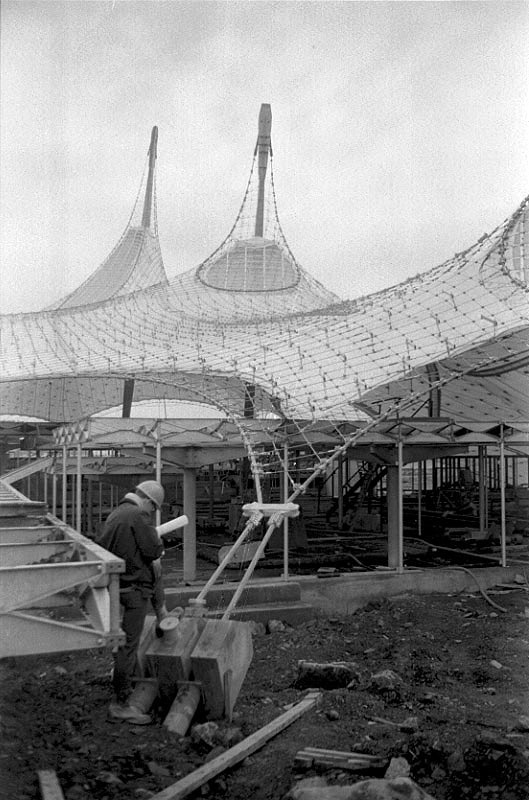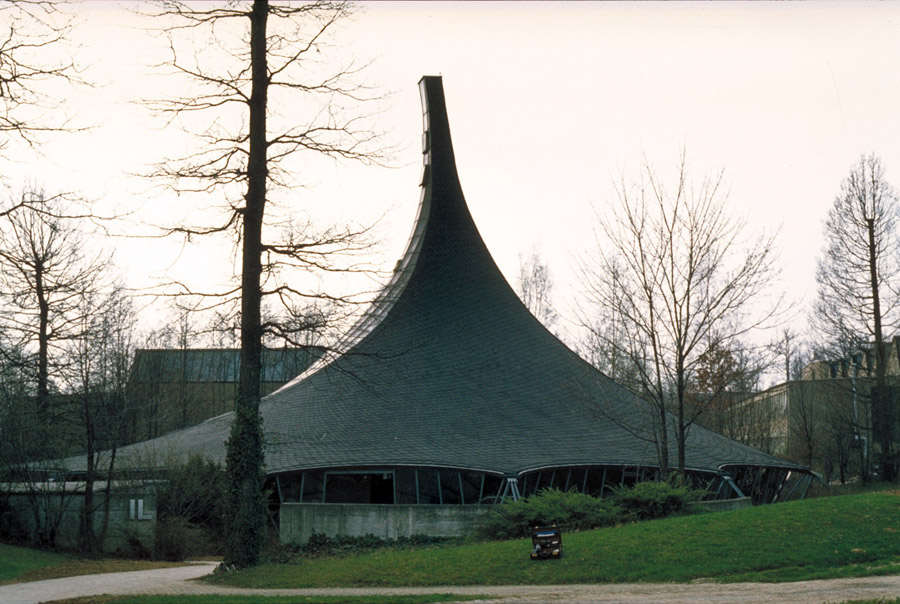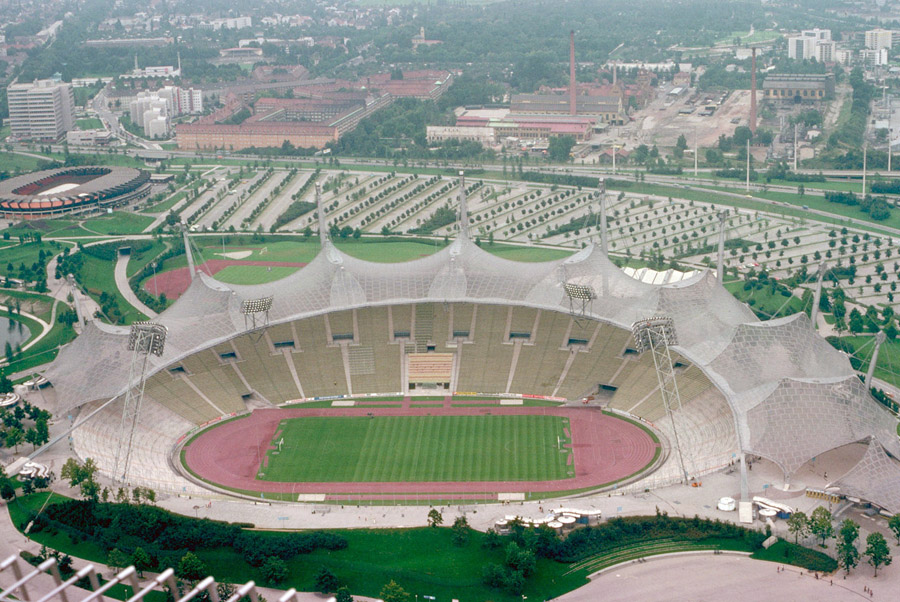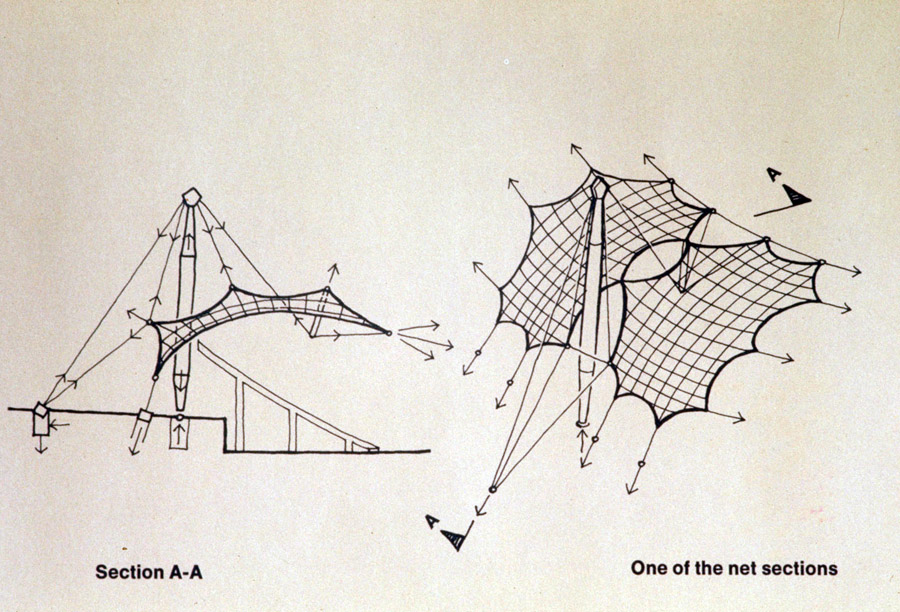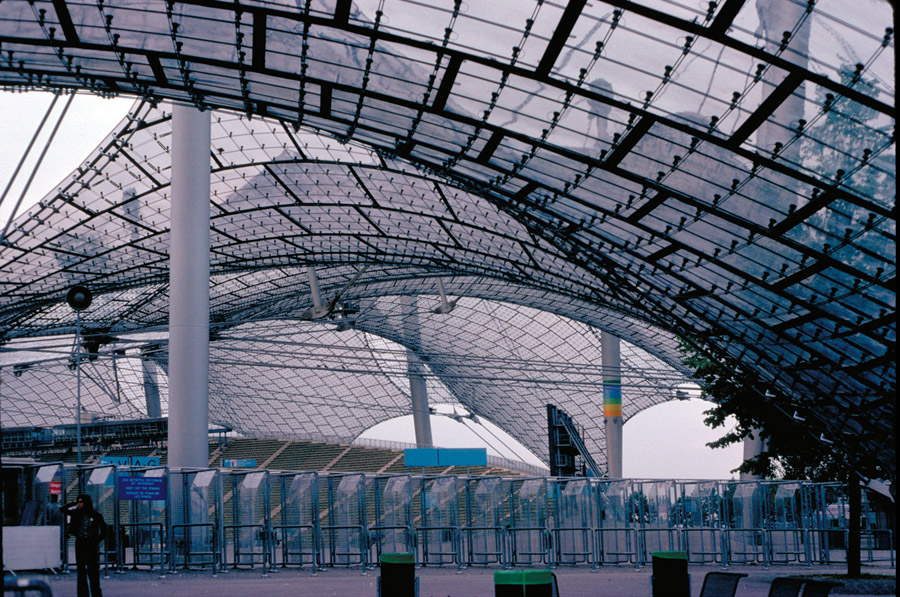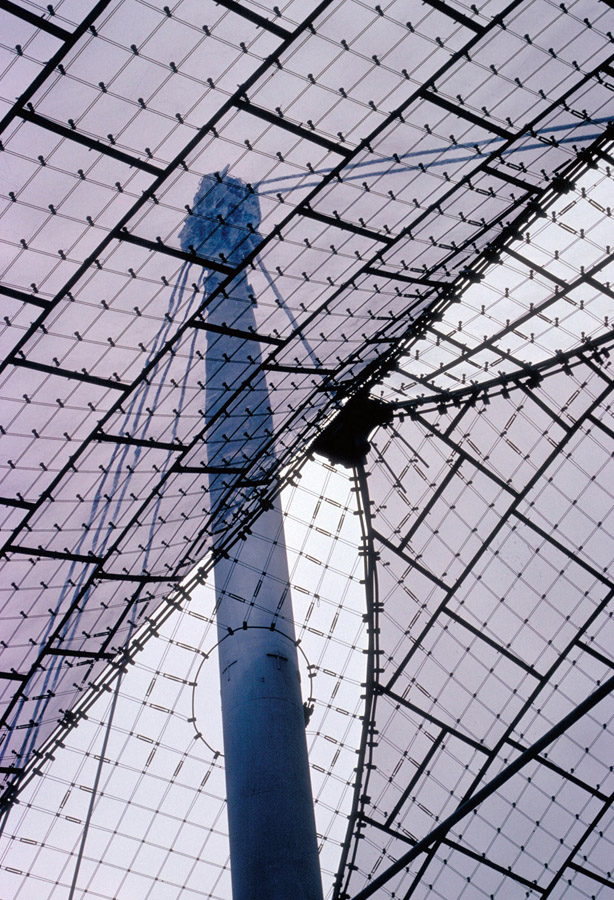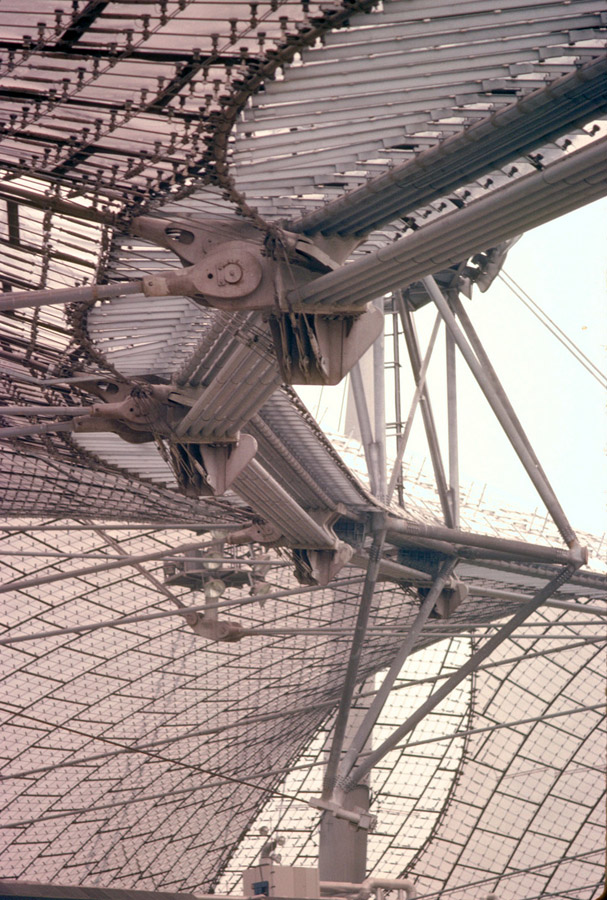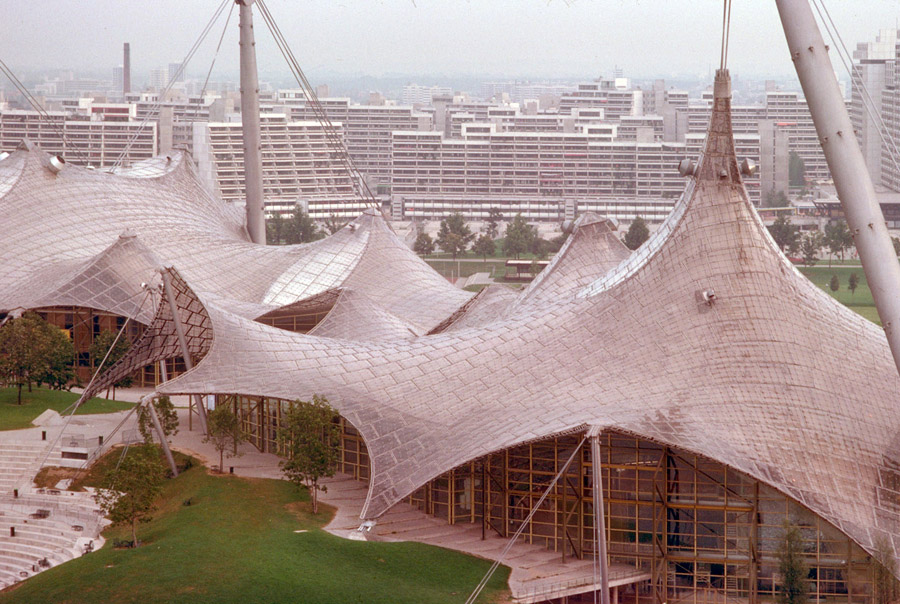 Australian Standard for Swimming Pools
A new Australian Standard AS 1926.1-2012 "Swimming pool safety - Safety barriers for swimming pools" has just been released.
The objective of this Standard is to assist pool owners/users in avoiding pool-related drowning by providing design, construction and performance of various barrier options, which are designed to restrict entry to the swimming pool area by young children.
As LSAA members are often involved in the provision of shade structures to pools and playgrounds, this new standard may have some relevance.
Perth Stadium Design Approved
The new Perth $900 million 60,000 seat sports stadium design has been approved. The winning design team comprises Cox Architects, Hassell, HKS and Arup.
The following article appears on the WA Government's Perth Stadium website.
http://www.perthstadium.com.au/winning-new-perth-stadium-design-revealed
Of particular interest is the fabric roof and possible aspects of the "bronze facade".
The new Perth Stadium will be a world-class five-tiered stadium with roof coverage over 85 per cent of its seats, a striking bronze facade that reflects Western Australia's unique geology, LED lights that show home sports team colours, and a wide range of 'fans first' facilities including two of the largest video screens in the country.
WESTADIUM's new Perth Stadium design revealed

Five-tiered stadium has striking bronze facade reflecting State's geology

State-of-the-art LED lights to show home team colours by night

85% of seats under cover; more than 70 food and beverage options

Stadium to come in $40million under budget
Premier Colin Barnett and Sport and Recreation Minister Terry Waldron today unveiled the winning stadium design at a special event on the Burswood Peninsula.
Mr Barnett said contractual negotiations between the State Government and WESTADIUM to design, build, partially finance and maintain the new Perth Stadium and Sports Precinct were successfully concluded and the contract would be signed in coming days.
Preferred bidder named for new Perth Stadium
Tuesday 15 April 2014
The contract to design, build, finance and maintain the new 60,000 seat Perth Stadium and Sports Precinct has reached another important milestone with the naming of WESTADIUM as the Preferred Respondent.
WESTADIUM is Preferred Respondent to build new Perth Stadium
All three bids were world-class and satisfied strict criteria
Negotiations to conclude mid-2014
Premier Colin Barnett said each of the three shortlisted private sector consortia submitted world-class bids that addressed the technical, operational and commercial requirements of the State's Request For Proposals.
For this article and further information see: Perth Stadium Website or http://www.perthstadium.com.au/
Shady business: call for sun safety reform
Gaps expose childcare kids to poor shade design and installation.
A CHOICE investigation has uncovered gaping holes in the regulation of the shadecloth design and installation industry which potentially compromises the sun safety of childcare centres.
Even those centres certified as SunSmart by the voluntary Cancer Council Australia program may have unwittingly bought shadecloth with a low level of ultraviolet radiation (UVR) protection or had it incorrectly installed.
In Queensland and Victoria shade installers require a builders' licence, in itself no guarantee of expertise in this area. In other states and territories virtually anyone can be in the business despite the environmental, planning and public health issues involved.
More than 3,500 childcare centres around Australia have SunSmart accreditation but while the Cancer Council recommends shade audits to check the effectiveness of shade structures, there's little evidence these take place. Regulation is left up to the states.
Viewers of the Queen Elizabeth II Diamond Jubilee Concert held outside Buckingham Palace would have been impressed with the elegant tensioned fabric structure.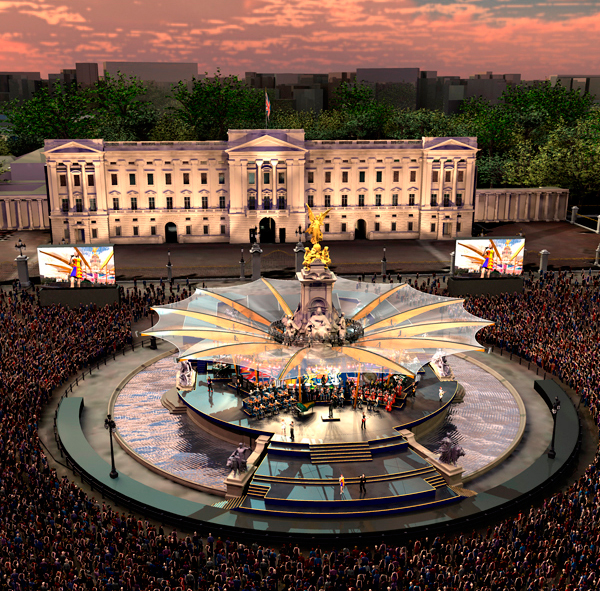 For further details see the Stufish Architecture website for concept sketches
http://architecture.stufish.com/architecture/jubilee/concept/sketches/
Minneapolis Dome Collapses
The pounding snow caused the roof of the 64,000-seat Metrodome in Minneapolis to "deflate" Sunday morning, Minnesota State Patrol spokesman Lt. Eric Roeske said. Workers wielding shovels could be seen clearing the roof of the heavy white stuff, while photos from inside the darkened stadium showed much of the field covered with snow that fell from a gaping hole in the dome.
"Obviously the weight of the snow would affect how much air pressure is necessary to keep that roof up," Roeske said. "Something caused that air pressure not to be strong enough or high enough to keep that roof at its normal position."
TensileDraw: the Tensile Structure Software
TensileDraw is an AutoCAD and RHINO fully compatible and integrated plug-in software package developed in collaboration with Maffeis Engineering & Consulting. It can simulate well balanced force stress distribution on the membrane surface without complicating file exportation and related compatibility problems.
The great versatility of the application is most significant: it can calculate the form of complex geometry fabric structures thanks to the generation of a warp and weft beam mesh reproducing the orthotropic behaviour of fabric material.
The dimension and complexity of the project has no limit: TensileDraw computational skills can be applied to structures of various dimensions equipped with different structural elements (i.e. borders, cables, fixed length cables, etc.).
TensileDraw is a form finding software package the output files of which are the basis for further services of our engineering office.
TensileDraw is a valid aid in every step of the design process: 3 dimensional mesh results a powerful tool to compute the efforts that stressed fabric transfers to the solid supports. It generates a productive dialogue between the client, the architect, the structural planner and the manufacturer of the materials used.
A "light" version is available from http://www.mehler-texnologies.com/EN/software.php?pid=37
The "full" version is available from http://www.me-c.it/index.php/tss/wathis
The Green Building Council of Australia (GBCA) has undertaken a review of historical and current criticisms of the Polyvinyl Chloride (PVC) industry.
This report will be of interest to LSAA members dealing with PVC coated fabrics.
International Design Competition for the new Japan National Stadium
A new stadium is being proposed by Japan Sport Council that aims to be the "greatest stadium".
There has been an International Design Competition for the new Japan National Stadium and a short list of 11 international design groups has been selected.
Two reasons for the new stadium are to boost Japan's bid to host the 2020 Olympics as well as the FIFA World Cup.
Congratulations to two groups shortlisted that have contributed to the LSAA over the years - Cox Architecture and Populous.
The next round in the competition is due later in November.
To view the entries see the Japan Sport Council Website
or http://www.jpnsport.go.jp/newstadium/tabid/368/Default.aspx
Update: November 16 2012
It would appear that the group with Zaha Hadid Architects have won the bid to complete the design
Flinders Street Station Design Competition
There are six groups who have been shortlisted for the next stage of the Design Competition for revamping Melbourne's iconic Flinders Street Station.
Most groups involve local and international firms. The next stage of the process is due to be completed in July 2013 after each group develops their design concepts further and have briefings with government departments.
More details can be found here.
It would seem that there is scope for some interesting structures to be part of the designs particularly given the expertise built up with the nearby Spencer St Station. Flinders St is more of a "through station" compared with many tracks terminating at Spencer Street.
The various designs from the above mentioned shortlisted consortiums are now available for voting from the public.
See this link http://vote.majorprojects.vic.gov.au
It is possible to view/download PDF drawings and presentation images.