This category is for news items about our members or projects that they have been involved in.
Members are encouraged to submit items including images for publication. The latest article appears first.
Over the next few months there will be a change of leadership in the Halifax Vogel Group Fabric Division.
After leading the division since 2009, Daniel Gollan will be leaving us in the next couple of months. However, we are pleased to announce that Paul Hunt has been promoted to the role of General Manager of HVG Fabrics and will transition into the role between now and when Daniel finishes up.

Daniel has overseen a period of significant growth, both in sales and the product portfolio. He has developed industry leading brands in key areas. His departure is a loss, but he leaves with our blessing and best wishes.

Paul is a more than worthy replacement. He is familiar to most of you with a 30+ year history in performance textiles. Paul brings a wealth of experience, having worked with HVG for many years in various roles and his appointment will ensure a smooth transition in leadership of the division.
HVG has been a strong supporter of LSAA.
See their Profile
August 2019
LSAA President Dr Kourosh Kayvani is Aurecon Managing Director – Design, Innovation & Eminence.
Aurecon has been named one of Australia and New Zealand's most innovative companies, ranking number four in the professional services category of the prestigious AFR BOSS Most Innovative Companies list.
The esteemed annual list, published by The Australian Financial Review and Boss magazine, is based on a rigorous assessment process managed by leading innovation consultancy Inventium in conjunction with a panel of industry expert judges. For the first time in 2019, organisations were ranked directly against their peers across ten industry lists that assessed entries from 800 nominated organisations throughout Australia and New Zealand.
Aurecon was recognised for its OpenGATE AutoDraw project that used computational design and machine learning to create automated digital drawings, driving greater accuracy, speed and enabling higher quality responses to design challenges.
For more details see http://www.scoop.co.nz/stories/BU1908/S00291/aurecon-recognised-on-afr-boss-most-innovative-companies.htm
August 2019
The LSAA is pleased to report that long term active MSAA/LSAA member Mike Lester has been appointed as Chairman of MakMax Australia.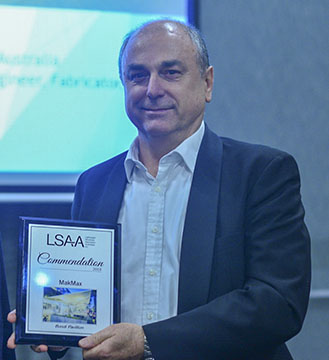 Mike is a full Member of the Institution of Engineers Australia since 1985 and a Registered Professional Engineer in Queensland. He graduated in Engineering way back in 1978 and I believe he has been involved with membrane structures from shortly after that.
Mike has served on the Association's committee in the past and has chaired our Technical Sub-committee and more recently the Fire Sub-committee.
He has been a driving force in MakMax with his involvement in many Award winning projects - such as stadia roofs in several countries and at home.
See also the MakMax Profile
Several of our LSAA Members are attending SuperExpo 2019 including:
SuperExpo 2019 is Australia's largest trade exhibition for the window furnishings and specialised textiles industries.
It will be held at the Gold Coast Convention and Exhibition Centre from 12 - 14 June 2019.
For more information and to register, visit www.superexpo2019.com.au
Maddog Trip Notes from 2019
Getting to the Starting Point (Mansfield, Thursday 11am)
The "Maddog" AKA PeterK travelled down from Sydney via the Southern Highlands when he attempted to find the necessary(?) gear for the trip into the High Country. In an earlier year featured an impromptu "show and tell" session where all participants brought out their latest gadgets (café styled coffee machines, fancy knives, cameras on long poles and drones). This year the Maddog had trouble finding even the basic gear after a move to the Southern Highlands.
Congratulations to several of our LSAA members for their Awards and International recognition at the recent IFAI 2017 Expo.
MakMax, Fabritecture, Tensys Engineers and Wade Consulting were mentioned.
More details to follow.
Houston's Village Green was transformed in February into a vibrant "destination for play" with the completion of a new Catenary Lighting solution by Ronstan Tensile Architecture.
Discovery Green is a 12-acre park in the heart of downtown Houston, Texas that opened to the public in April 2008. The park was transformed from an undeveloped, concrete eyesore into a beautiful and vibrant destination adjacent to the George R. Brown Convention Centre re-defining the Houston downtown and instilling a new civic pride in the city. In preparation for the 2017 Super Bowl, the City of Houston chose a Ronstan Catenary Lighting System to create an open outdoor pedestrian area that would become "Super Bowl El Centro" and a focal point for the city's Super Bowl related play activities.
Read more: Australian Catenary Lighting for Super Bowl 2017 in Houston TX
Miami Stainless is proud to announce that we are the newly appointed distributor of the quality Blue Wave Rigging Hardware product range for Australia and New Zealand.
Blue Wave Wire Design System products are stainless steel and are manufactured to exacting tolerances and are specified worldwide for a variety of tensile architectural structures, including fabric structures, bracing, suspension bridges, catenary and green wall projects.
Manufactured in Denmark, Blue Wave has an 85 year history of delivering the highest standard of product quality and the ability to work with your engineers to custom design unique tensile structures. The Blue Wave in house product engineer can provide necessary test reports on request.
Read more: Miami Stainless - Distributor for Blue Wave Rigging Hardware
At the 2016 LSAA Conference held at the Monash University of Art, Design and Architecture (MADA), Peter was presented with an Honorary Life Member trophy for his outstanding and long contribution to the LSAA. In particular Peter has been a driving force in the realization of the technical programs of many of our previous Conferences.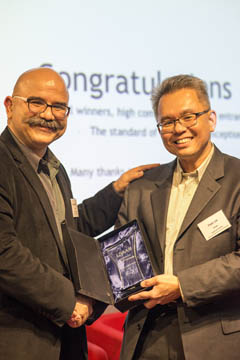 Peter Lim is a director of Tensys and working in the field of lightweight structures and space frames for the past 25 years. His expertise and experience is not only in design but also project management, execution and delivery of these unique complex geometric structures internationally

He is a recipient of the The Indian National Group (ING) of International Association for Bridge and Structural Engineering (IABSE) 2007 ING-IABSE medal.

He provided expert advice on the 2010 Commonwealth Games Stadiums in New Delhi, India (especially the Jawalharlal Nehru Stadium, S P Murkurjee Aquatic Stadium, Wrestling Stadium and Weightlifting Stadium)
HVG Fabrics announces new partnership for Australian distribution of Serge Ferrari flexible composite materials
[April 13 2016 Press Release]
Leading Australian industrial products distribution business HVG has announced that its HVG Fabrics division has been appointed the new Australian distributor of Serge Ferrari flexible composite materials.
Serge Ferrari S.A, a French company, has been manufacturing superior quality products for various applications (textile architecture, solar protection, acoustic solutions, yachting, light modular structures for industry, signage industry, indoor &outdoor furniture) since being founded in 1973. Serge Ferrari has progressively built an outstanding reputation as a global leader and innovator in Australia since the early 90'S.
The new distribution arrangement is expected to commence on 1st June 2016 once stocks arrive into HVG's Australian capital city distribution centres.
HVG will be officially launching its distribution of Serge Ferrari at the Superexpo on the Gold Coast in June.
Easy Release 2016

Our new Easy Relase 2016 will launch in November, it includes improvements and adds new features. A new licensing file will be required for the new version which will be sent automatically by email to all customers with a software maintenance contract.
Easy 2016 highlights:
Easy Taylor - graphical editor for processing flattened cutting patterns, easier setting of compensation values. Seam and boundary allowance with welding marks and appropriate overlapping. Persistent points facilitate the merging of different netparts. Visual and numerical check of the cutting quality.
64 bit version - Easy Release 2016 supports the 64-bit technology. Now it is possible to access more than 4GB RAM. With the appropriate hardware and a 64-bit operation system even larger projects can be handled.
Technet is a member of LSAA - see their Profile Page
29 October 2013 - Aurecon's experts will share insights and thinking on sustainable design at the upcoming Lightweight Structures Association of Australasia (LSAA) Conference and Design Awards, 13 – 15 November 2013.
The bi – annual event will be held in Auckland, New Zealand, and will focus on the theme of 'Touching the Earth Lightly'.
Chaired by LSAA President and our Building Structures Leader, Dr Kourosh Kayvani, Aurecon's Peter Murenu and Stephen Hogg will present papers on our recent and ongoing project work in Melbourne and Christchurch.
For more details including an interview by Kourosh see original article HERE
LSAA Member MakMax makes major progress at Jawaharlal Nehru Stadium roof in Delhi, India.
Jawaharlal Nehru Stadium (JNS) was originally built in 1982 in honour of India's first Prime Minister. Mr. Nehru is credited as the founder of modern India through political and social reform. In preparation for the upcoming 2010 Commonwealth Games in Delhi this facility is receiving a dramatic update. The crowning achievement to the stadium's rebirth will be the tensile membrane roof, supported by a vast cable net. MakMax was awarded the contract to supply and install an ambitious fabric and cable roof design, the structure is now near completion with 50 of the 88 fabric panels installed. Schlaich Bergermann & Partners are the structural engineers.
The world´s first Membrane Project Finder povides powerful knowledge of the Formfinder Development Group at the Technical University in Vienna. The huge database on membrane buildings includes drawings, images and complete project descriptions to access the relevant design decision information.
The next step is to open the database also for Formfinder Light users and to integrate the 350 KG (yes, Kilogramm) data collected by Professor Vinzenz Sedlak of Sydney Australia.
(Vinzenz established the MSAA and hence the LSAA in Sydney and was its President for many years).
Thousands of slides have already been scanned in and are currently prepeared for publication.