The Grand Pavilion, Royal Melbourne Showgrounds
Entrant: Oasis Tension Structures
Client: Multiplex Constructions (Vic) Pty Ltd
Architect: Darryl Jackson Pty Ltd
Structural Engineer: Tensys
Specialist Consultant(s): Drafting Steel One
Builder: Oasis Tension Structures (Australia) Pty Ltd
Fabricator(s): Atkins Fabrications Pty Ltd Structurflex NZ,
Geelong Fabrications, Ronstan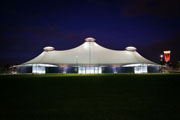 The Farm - Anish Kapoor
Entrant: Structurflex Ltd - Engineering Fabrication Installation
Location: Kaipara Harbour
Client: Keystone Trust
Architect: Noel Lane Architects
Struct. Eng.: Structure Design & Compusoft Engineering
Builder: Grayson Engineering
Fabricator: Structurflex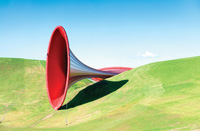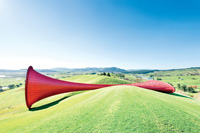 The Cloud - Auckland, New Zealand
APPLICATION OF PROJECT:
The Cloud is a semi permanent multi purpose event & exhibition structure, initially developed for the Rugby World Cup
PROJECT DESCRIPTION
The Cloud is a semi permanent structure erected on the western edge of Queens Wharf to accommodate the city's commitment to hosting an inner-city fanzone, festival and showcase event during the Rugby World Cup 2011. 
Installed as part of the recent 18 month redevelopment of Queens Wharf, The Cloud will be utilised by NZ2011 to showcase the best of New Zealand innovation and creativity during the REAL New Zealand Showcase. At almost 180m long, The Cloud can accommodate up to 6,000 people. Its' ground floor area can be split into four segments, which means the building is able to cater for a range of showcase and festival events occurring at the same time. It also provides the ability for the fanzone to be scaled up or down according to demand. The mezzanine floor at the northern end of The Cloud is designed for VIP hosting.
Rio Tinto Stadium

Entrant: Structurflex Ltd - Engineering Fabrication Installation
Location: Sandy - Salt Lake City Utah USA
Client: Salt Lake County - Utah & Real Salt Lake
Architect: Rossetti Architects
Struct. Eng.: Wade Design Engineers & Wayne Rendely PE
Builder: Turner Construction
Fabricator: Structurflex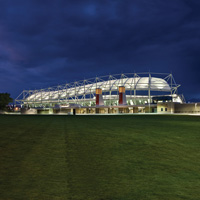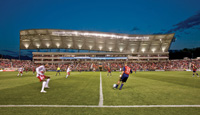 Panoli Gate - India
PROJECT DESCRIPTION
As a flagship development in the area Panoli needed a striking and unique entrance. MakMax's Indian office was able to provide a prominent entrance structure to suit. The project, Panoli Gate House presented a new challenge for MakMax engineers. The large 1,300 sqm area required shade, weather protection, as well as a plan for collecting run off. Inspired by the design and functionality of the St Tropez products MakMax already produces as standard products, engineers decided to replicate this shape and function on a grand scale.
The inverted cone shape of the modular structure eliminates rain water run off by collecting all water through integrated concealed drains. The design allows all water collected to enter the supporting columns, from there it is either stored or eliminated below ground.
Nelson Mandela Bay Multipurpose Stadium

Entrant: MakMax Australia - Designer
Location: Prince Alfred Park - North End Lake - Port Elizabeth South Africa
Client: Nelson Mandela Metropolitan Municipality
Architect: GMP Architects
Struct. Eng.: MakMax Australia
Others: MakMax (Installation)
Builder: Grinaker / Interbeton JV
Fabricator: MakMax Australia