Soul Surfers Paradise, Australia
APPLICATION OF PROJECT:
Hospitality and Recreation: The tensile fabric structures provide shade canopies for the patrons of the alfresco dining areas as well as creating an aesthetic focal point to the front of the apartment building at Soul, Surfers Paradise.
PROJECT DESCRIPTION
Two tensile canopy structures were created as part of the $850 million beachfront Soul development project in Surfers Paradise. The multi‐level PTFE membrane structures covering the outdoor dining areas were designed to follow the radial lines of the adjacent building and walkways while seamlessly integrating with the surrounding buildings.
The design requirements were:
• Offer weather protection for patrons
• To maintain ocean views from all levels of surrounding buildings
• Create an architectural feature to attract attention to the area
• Materials and design to allow for minimal maintenance and cleaning
The tensile shade canopies utilise the full benefit of Soul's alfresco dining areas, highlighting and capturing the ocean views and enhancing the beauty of the surrounding natural environment. The result is a striking architectural landmark that attracts attention to the Soul development.
Catholic College Bendigo
Structureflex (Designer / Engineer)
Location: Junortoun, Bendigo. Completed: December 2015
Client: Catholic College Bendigo
Team: Y2 Architects, Steve Huppert, John Killmister (Cert. Eng), Shade Living Pty Ltd, Glarfab (membranes), Thornton Engineering (steel)
Al Raheeb Kindergarten Fujairah, UAE
Entrant: Structurflex Ltd
Client: Dubai Municipality
Structural Engineer: Wade Consulting Group
Builder: Mazroui General Contracting
Fabricator(s): Structurflex Ltd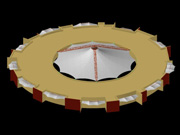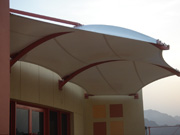 Sydney Aquarium Dugong's at Mermaid Lagoon

Entrant: UFS Australasia Pty Ltd - Designer / Fabricator
Location: Sydney Aquarium - Darling Harbour Sydney
Client: Sydney Attractions Group
Struct. Eng.: Wade Consulting
Builder: Universal Fabric Structures / Ozrig
Fabricator: Fabric Shelter Systems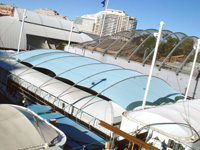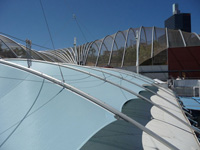 Laneways Canopy
Fabric Structure Systems (Designer / Fabricator / Installer)
Location: Whangarei, New Zealand. Completed: April 2016
Client: Whangarei District Council
Team: Wade Design Engineers Ltd, Fabric Structure Systems, Fabric Structure Systems, Culum Engineering (Steel)
Southern Plaza Bar - Carrara, Qld
APPLICATION OF PROJECT: Self supporting pavilion
PROJECT DESCRIPTION
Close to completing the tensile membrane roof at Metricon Stadium, our client engaged MakMax to cover a smaller outdoor area. This project was a simple solution to shade and weather protection with a twist. Considerations for maximum ground space and design constraints made this project far more interesting.
Our brief for this project outlined a need for a large covered area for common use. Specifics included limited space for footings and design considerations to match the structure's surroundings. The structure also needed to compliment the design of the stadium roof, MakMax engineers and architects Populous came up with a simple looking yet highly complex shape.
MakMax engineers designed a canopy that is circular in plan, however, from the side the undulating shape of the membrane edge is highly curved to mimic the stadium roof design. Creating a structure with these elements presented a unique geometric difficulty. MakMax engineers designed the outer ring of the structure to ensure minimal fabrication costs and to minimize the need for double roiling of steel members. The stability of this structure is found within the compression ring at the height of the conic shape as well as in the raking columns.