Taronga Zoo Chimpanzee Enclosure - Sydney
APPLICATION OF PROJECT: Separation Enclosure for Chimpanzees.
The Taronga Zoos' chimpanzee troop is one of the largest captive groups in the world with recognized wild behavior patterns and a sophisticated social hierarchy. With its population including four maturing sub-adult males jockeying and promoting themselves within the group, the zoo cited a need for the construction of a fully enclosed and semi-transparent separation paddock within the chimpanzee exhibit to allow the chimpanzees to be easily divided as needed, without moving them to an entirely new location, and thus avoiding potential commotion.
The Seperation Enclosure:
facilitates the introduction of new chimpanzee females to maintain the genetic pool.

provides the necessary infrastructure for the current troop management strategy and philosophies.

permits the troop to remain outside in summer unsupervised where this was previously not possible.

maximizes viewing time for the public.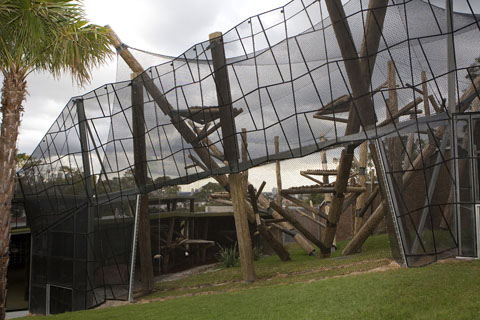 155 Queen Street Mall Façade
Entrant: Tensys Engineers Pty Ltd (Engineer)
Location: 155 Queen St Mall, Brisbane. Completed: 2015
Client: ISPT Super Property
Team: studio 505 / JWA, Tensys Engineers, Tensys (Façade), UAP Company, Broad Construction
Ronstan Ribbons of Light
Ronstan Tensile Architecture provides full-service engineering, design assistance, and installation services for an innovative catenary lighting system that spirals through the Watergardens Town Centre in Taylor Lakes, Victoria.

Watergardens Town Centre is a 56 hectare community hub that offers shopping, dining, entertainment, hospitality, and other business services. The area has been a vibrant and growing part of Taylor Lakes township since its 1997 opening, attracting droves of visitors to its 200+ specialty stores and community events.
Recently, the Centre has expanded to include a dining-focused "eat street" called Station Streat, which is now outfitted with a custom Ronstan catenary lighting system. This system, designed by Electrolight and Ronstan, stylishly assists in making the area functional after dark without being obstructive to walking paths. More importantly, the system creates a spectacular entry statement with its unconventional 3-D "ribbon like" design that speaks to the geometric language of the Centre's existing graphic motif.
"The idea was to create a lighting scheme that gives a sense of movement and direction," explains Paul Beale, Director at Electrolight. "We endeavoured to create a visual link from the Centre's train station to the main entrance and shopping areas, while also highlighting the eddies of other parts in the complex that may have otherwise gone unnoticed."
LSAA 2013 Award of Excellence
Wintergarden Art Façade
Entrant: Tensys Engineers Pty Ltd
• Category: 5 ID Number: 6513
• Location: Queen Street Mall, Brisbane
• Client: Industry Super Property Trust Pty Ltd
• Completion Date: April 2012
Credits:
• Architect: Studio 505
• Structural Engineer: Tensys Engineers
• Builder: Brookfield Multiplex
• Fabricator: UAP
---
Judges Comments:
"Will probably settle in to become a heritage icon in Brisbane."
"Now that's how to disguise a carpark. Makes a great contribution to the public realm. Vivid, joyful - makes excellent use of contemporary steel design and fabrication technology."
---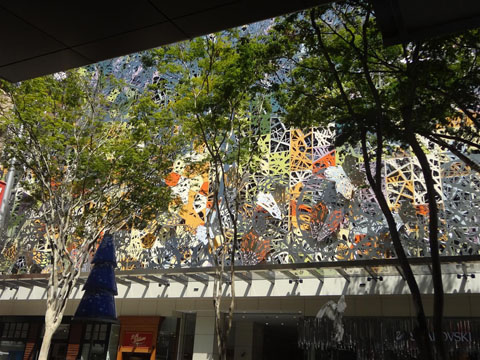 APPLICATION OF PROJECT:
The vertical façade works is part of the redevelopment of the wintergarden shopping centre.. This façade creates a uniform streetscape, providing a visual barrier to a number of existing carparking levels and different buildings along Queen Street Mall.
PROJECT DESCRIPTION:
Wintergarden redevelopment architectural façade on Queen, Elizabeth and Edward Street, Brisbane. The architectural intent of the façade is to create a three dimensional depiction of a winter garden painting To achieve this, the façade consists of multi layers of rigid cladding supported by a modular structural steel grillage frame. In addition to the cladding panels, the façade consists of a number of steel frame, stainless steel cald butterflies which cantilever from the grillage.
South Australian Health and Medical Research Institute (SAHMRI)
SAHMRI is a world class facility for medical research under construction in Adelaide (July 2015)
The facility will increase the ability for new leading edge research and clinical applications into better treatment and potential cures for the most challenging diseases.
The building has an interesting curved facade as illustrated in the following images.
Images by Peter Kneen 2015.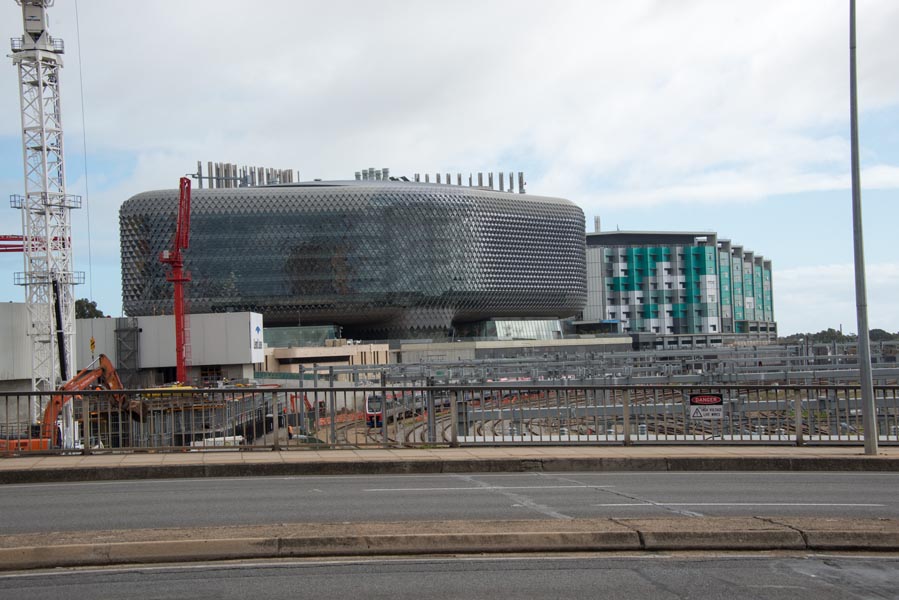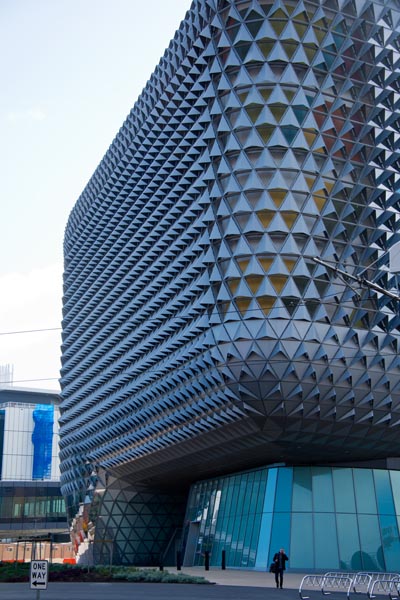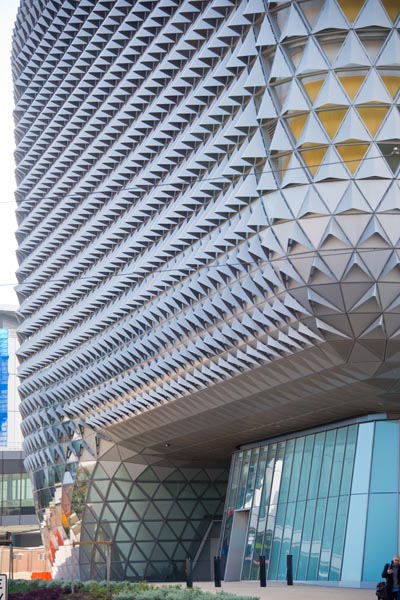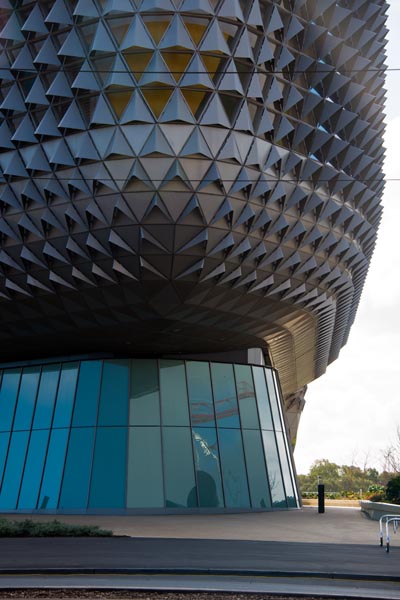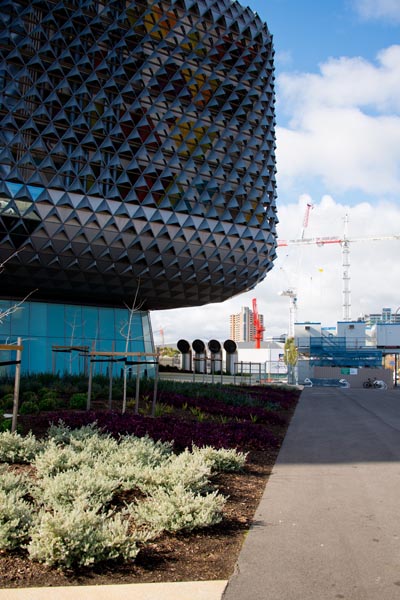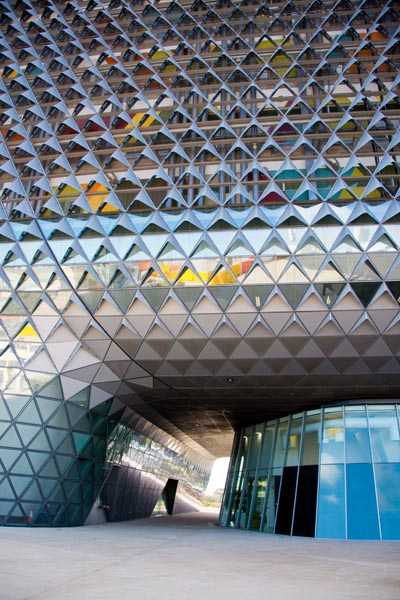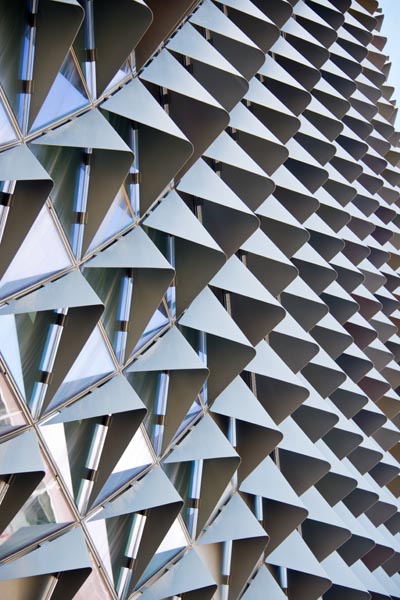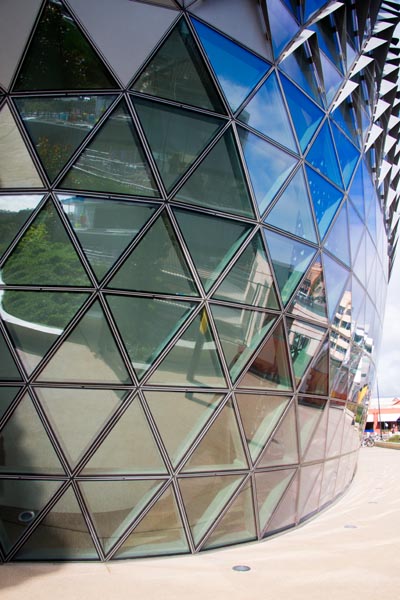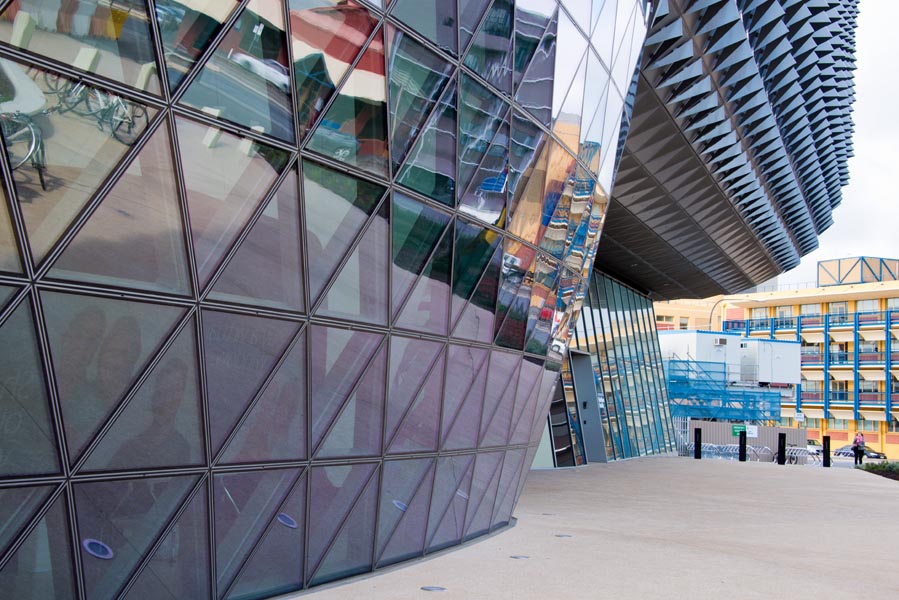 Surry Hills Community Centre
Entrant: Aurecon - Sydney – Designer
Location: 405 Crown Street - Surry Hills NSW 2010
Client: Austress Freyssinet
Architect: FJMT
Struct. Eng.: Aurecon - Facade Engineer
Others: Taylor Thomson Whitting - Concept Design
Builder: Austress Freyssinet / Probuild