Mary McKillop College Amphitheatre
Shade And Membrane Structures Australia (Design / Project Management / Install)
Completed: May 8 2014
Client: James Trowse Constructions
Team: Opus Architecture, Osborn Lane, James Trowse Constructions, Shadecom
Northern Busways Park & Ride Terminals
Entrant: Structurflex Ltd
Client: North Shore Council
Architect: Opus
Structural Engineer: Compusoft Engineering Auckland
Builder: Works Infrastructure
Fabricator(s): Structurflex Ltd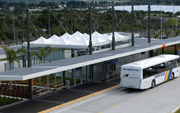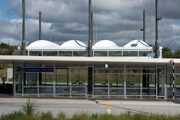 DESIGN BRIEF
The architect's requirements were:
To create a space that retained a sense of daylight.

To provide a unique roof as a landmark for the bus stations.

To provide a number of connected canopies that gave a cloud effect.

To provide a means of hiding the florescent lighting and components within the "clouds".
STRUCTURAL SYSTEMS
A series of I beams were used supported on 6 columns joining the two sides of the building.
These beams have a duel purpose on the top side acting as both structural member and gutter.
Underneath the area within the beam is used to conceal the lighting components and fixing cleats.
Mpowerdome Entry Structure
Entrant: UFS Australasia Pty Ltd
Client: Mpowerdome
Architect: Small Quinton Coleman Architects
Structural Engineer: Wade Consulting Group
Builder: UFS
Fabricator(s): Fabric Shelter Systems
Elements Wine Bar
Entrant: Structurflex Ltd - Turn-key Contractor
Location: KCPL District - Kansas City Missouri USA
Client: The Cordish Group
Architect: 360 Architects
Struct. Eng.: Wade Design Engineers & Wayne Rendely PE
Builder: Structurflex
Fabricator: Structurflex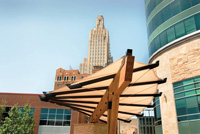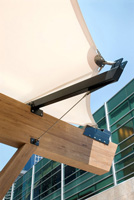 Flemington Racecourse
Entrant: Taiyo Membrane Corp
Client: Victoria Racing Club
Architect: Taiyo Membrane Corporation
Structural Engineer: Xiang Du (TMC)
Fabricator(s): Taiyo Membrane Corp