Australian Wildlife Centre Healseville Sanctuary
Entrant: Taiyo Membrane Corp, Tattersall Engineering, Minifie Nixon Arch
Client: Zoos Victoria
Architect: Minifie Nixon
Structural Engineer: Tattersall Engineering
Specialist Consultant(s): Wade Consultants, Taiyo Membrane Corporation
Builder: Behmer and Wright
Fabricator(s): Taiyo Membrane Corp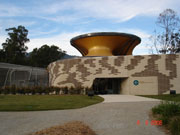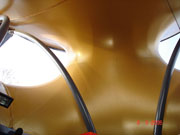 Central Westgate Sky Walk
Entrant: GeoMetal Limited (Design & Engineering)
Location: Nonthaburi, Thailand. Completed: 24 August 2015
Client: Central Pattana Public Company Limited
Team: Pasalandscape Company Limited, Fastech Company Limited, Project Planing Public Company Limited, Power Line Engineering Public Company Limited, Fastech Company Limited
First concept was a waving, curved surface, using a rigid 3D curved steel arches as supporting structures.
Engineering works also included form-finding, structural analysis, CFD analysis, detailing design, Installation method.
The fabric area was 191 sqm, the weight of steel 7.41 tons and the type of fabric used was 702T2
John Power Stand - Eagle Farm, Brisbane
PROJECT DESCRIPTION
Eagle Farm Racecourse is an iconic Brisbane building, hosting race days twice weekly and accommodating hoards of racegoers every year. The main stand named John Power Stand was erected in the early 1900s. Since then the structure has aged leaving an unsightly concrete ceiling viewable from the main observation area.
MakMax was engaged to supply a permeable ceiling structure to cover the concrete from view while allowing access for inspection purposes. This structure also needed to eliminate nesting areas for birds under the old roof. MakMax engineers used the perimeter or building as well as the support columns to sustain the fabric, although the outcome is much different to look at the principals of the structure is not unlike many conic structures.
The addition of this fabric ceiling gives John Power Stand a much needed facelift. Our client Watpac Speciality Services is very pleased with the result.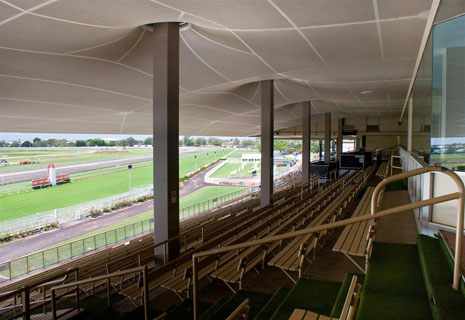 Melbourne International Arts Festival - The Clubhouse
Entrant: Tensys
Client: Melbourne International Arts Festival
Architect: Wood Marsh Architecture
Structural Engineer: Tensys
Specialist Consultant(s): Tensys
Builder: Melbourne International Arts Festival
Fabricator(s): Atkins Fabrications Pty Ltd,
Thornton Engineering Australia Pty Ltd - steelwork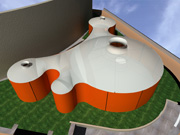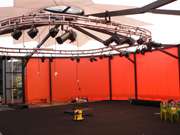 The Clubhouse
As part of the 2006 Melbourne International Arts Festival program, Artistic Director Kristy Edmunds has commissioned Melbourne's latest piece of urban architecture – The Clubhouse.
Designed by Melbourne-based architects Wood Marsh and engineered and project managed by Tensys, The Clubhouse will be temporarily located on the Upper Terrace of Hamer Hall at the Arts Centre throughout the Festival from Thursday 12 October.
Aussie World Entrance Canopy
Entrant: Light Weight Structures Advisory Service - Engineering Fabrication Installation
Location: Bruce Highway - Palmview
Client: Aussie World Theme Park
Struct. Eng.: Trevor Scott & Jeremy Hunter
Specialist: LTWSAS
Builder: Aussie World Project Management
Fabricator: Made 4 Shade (Maroochydore)