Shop With Me Mobile Pop Up
Tensys Engineers Pty Ltd (Engineer)
Location: Chicago / New York / Dallas / Las Vegas / San Jose. Completed: 2014
Client: with me. com
Orion Springfield
Entrant: Architectural Sails
Client The Mirvac Group
Architect: Rice Daubney
Structural Engineer: Wade Consulting Group
Builder: Mirvac Constructions (Qld) P/L
Fabricator(s): Architectural Sails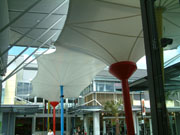 Central Westgate Sky Walk
Entrant: GeoMetal Limited (Design & Engineering)
Location: Nonthaburi, Thailand. Completed: 24 August 2015
Client: Central Pattana Public Company Limited
Team: Pasalandscape Company Limited, Fastech Company Limited, Project Planing Public Company Limited, Power Line Engineering Public Company Limited, Fastech Company Limited
First concept was a waving, curved surface, using a rigid 3D curved steel arches as supporting structures.
Engineering works also included form-finding, structural analysis, CFD analysis, detailing design, Installation method.
The fabric area was 191 sqm, the weight of steel 7.41 tons and the type of fabric used was 702T2
'I Dips Me Lid' (NGV Architectural Commission)
John Wardle Architects (Architect / Designer)
Location: National Gallery of Victoria, Melbourne. Completed: 15 September 2015
Client: National Gallery of Victoria
Team: Matthew van Kooy, John Bahoric, Electrolight (lighting), 3D Structural Solutions (Shop Drawings), Light Project, Engineering Directions
This project was submitted for the 2016 Design Awards in the Small Structures Category.
Entrant: GeoMetal Limited (Design & Engineering)
Location: Nonthaburi, Thailand. Completed: 24 August 2015
Client: Central Pattana Public Company Limited
Team: Pasalandscape Company Limited, Fastech Company Limited, Project Planing Public Company Limited, Power Line Engineering Public Company Limited, Fastech Company Limited