Project: Penbank Sound Shell
Entrant: Structureflex Pacific – Designer / Fabricator
Location: Penbank School, 460 Tyabb Rd, Moorooduc, Vic
Client: Penbank School
Struct. Eng.: John Killmister
Builder: Shade Living
Fabricator: Structureflex Pacific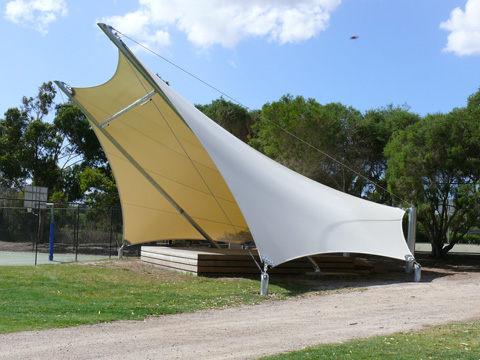 Trailfinders Australian Garden - Chelsea Flower Show
PROJECT DESCRIPTION
MakMax's client, Flemings Nurseries exhibits annually at the Royal Horticultural Society's Chelsea Flower Show, one of the world most prestigious social and horticultural events. Fleming's often win awards for their unique exhibition stands. MakMax was engaged to bring an architect's design to life in the form of a unique temporary structure for Fleming's entry at the 2011 RHS Chelsea Flower Show.
DESIGN / FABRICATION / INSTALLATION BRIEF
Our client, Flemings Nurseries, engaged architect, Ian Barker to design their most recent stand. The architect's inspiration included themes of colonization and the discovery of Australia. Natural shapes and light play a large part in the design brief. The importance of the horticultural theme in the discovery of Australia is through botanist Sir Joseph Banks who along with Captain Cook first documented the unique native flora of Australia. MakMax was engaged to bring this idea to life through the architect's vision.
Although the concept was the work of the architect, some of the technical details of manufacture were not conceptualized until MakMax engineers began looking at the design from a practical point of view. Being a self supporting structure we had a fair amount of control over the manufacture and fixing details of the project.
Elements Wine Bar
Entrant: Structurflex Ltd - Turn-key Contractor
Location: KCPL District - Kansas City Missouri USA
Client: The Cordish Group
Architect: 360 Architects
Struct. Eng.: Wade Design Engineers & Wayne Rendely PE
Builder: Structurflex
Fabricator: Structurflex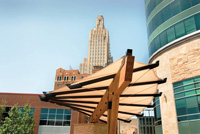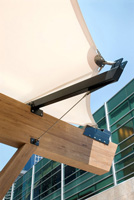 Mary McKillop College Amphitheatre
Shade And Membrane Structures Australia (Design / Project Management / Install)
Completed: May 8 2014
Client: James Trowse Constructions
Team: Opus Architecture, Osborn Lane, James Trowse Constructions, Shadecom
John Power Stand - Eagle Farm, Brisbane
PROJECT DESCRIPTION
Eagle Farm Racecourse is an iconic Brisbane building, hosting race days twice weekly and accommodating hoards of racegoers every year. The main stand named John Power Stand was erected in the early 1900s. Since then the structure has aged leaving an unsightly concrete ceiling viewable from the main observation area.
MakMax was engaged to supply a permeable ceiling structure to cover the concrete from view while allowing access for inspection purposes. This structure also needed to eliminate nesting areas for birds under the old roof. MakMax engineers used the perimeter or building as well as the support columns to sustain the fabric, although the outcome is much different to look at the principals of the structure is not unlike many conic structures.
The addition of this fabric ceiling gives John Power Stand a much needed facelift. Our client Watpac Speciality Services is very pleased with the result.