Nambour Hospital Shade Structures
Category: 3 ID Number: 3351

Location: Nambour, Queensland

Client: Made for Shade

Completion Date: June 2012
Credits:
Structural Engineer: Jeremy Hunter

Specialists: Trevor Scott Building Designer, Lightweight Structures

Builder: Made for Shade

Fabricator: Made for Shade
APPLICATION OF PROJECT:
Essentially the purpose of the project was about cost effective space creation.
The tensioned awning is positioned over a deck area on the first floor at the Nambour children's hospital. The Hospital is located on the side of a steep incline, the deck is located in an elevated position.
The awning-covered deck now allows children recovering from surgery or illness to play outdoors on the deck in supervised shaded conditions. Previously children were confined to an internal hospital playroom.
Australian Wildlife Centre Healseville Sanctuary
Entrant: Taiyo Membrane Corp, Tattersall Engineering, Minifie Nixon Arch
Client: Zoos Victoria
Architect: Minifie Nixon
Structural Engineer: Tattersall Engineering
Specialist Consultant(s): Wade Consultants, Taiyo Membrane Corporation
Builder: Behmer and Wright
Fabricator(s): Taiyo Membrane Corp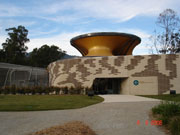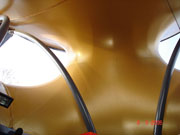 Mpowerdome Entry Structure
Entrant: UFS Australasia Pty Ltd
Client: Mpowerdome
Architect: Small Quinton Coleman Architects
Structural Engineer: Wade Consulting Group
Builder: UFS
Fabricator(s): Fabric Shelter Systems
Little Edward Street Atrium Roof
Shade And Membrane Structures Australia (Design / Project Management / Install)
Completed: December 5 2013
Client: Bennelong Funds Management
Team: Global Membrane Design, SAMA, Shadecom / Fabric Solutions
Melbourne Girls Grammar School Cover to Communal Deck
PROJECT DESCRIPTION
Inverted conic covering a communal deck for year 5 & 6 girls at Melbourne Girls Grammar
The structural form is an asymmetric inverted conic, with what is basically a rectangular upper perimeter. In plan the area covered is small, about 12.5m by 11m, and the height varies from 3m at the bale ring to 5.5m at the lower edge to 9m at the highest edge
The conical form is asymmetrical about all axes. The bale ring has been set close to one corner so that the inverted conical shape is accentuated by being well away from the adjoining buildings to which it is attached, and so that the stormwater drainage through the bale ring has minimal interference with use of the deck on wet days.
The function of the structure is to provide critical protection of the school students from the elements during breaks in their school day, creating an outdoor leisure environment that mixes native plants with modern aesthetic material technology. It provides a space where the children can relax and briefly escape the physical confines of school. Even whilst raining, the children can retreat to this area and have their senses stimulated by the rain drumming on the tensioned fabric whilst the water is collected and pushed along the highly strung cables, creating a cylinder of rushing water. Classes can be held on the tiered decking during most weather conditions.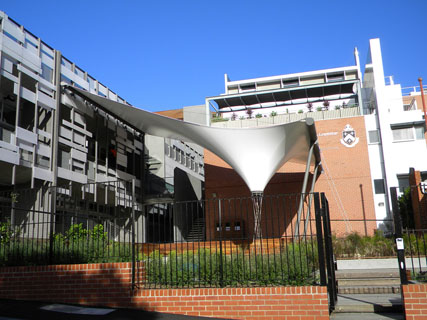 Read more: Melbourne Girls Grammar School Cover to Communal Deck