Melbourne International Arts Festival - The Clubhouse
Entrant: Tensys
Client: Melbourne International Arts Festival
Architect: Wood Marsh Architecture
Structural Engineer: Tensys
Specialist Consultant(s): Tensys
Builder: Melbourne International Arts Festival
Fabricator(s): Atkins Fabrications Pty Ltd,
Thornton Engineering Australia Pty Ltd - steelwork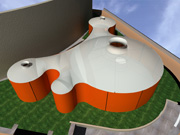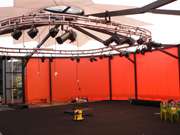 The Clubhouse
As part of the 2006 Melbourne International Arts Festival program, Artistic Director Kristy Edmunds has commissioned Melbourne's latest piece of urban architecture – The Clubhouse.
Designed by Melbourne-based architects Wood Marsh and engineered and project managed by Tensys, The Clubhouse will be temporarily located on the Upper Terrace of Hamer Hall at the Arts Centre throughout the Festival from Thursday 12 October.
Small tensioned fabric or membrane structures are "defined" to have a surface area of about 250 square metres or less to correspond to this category in the LSAA Design Awards.
Applications may include "signature" entrances to buildings, small sheltered areas or storage coverings. Outdoor sound stages will benefit from a well designed sound shell to project the performance.
Here are a few examples: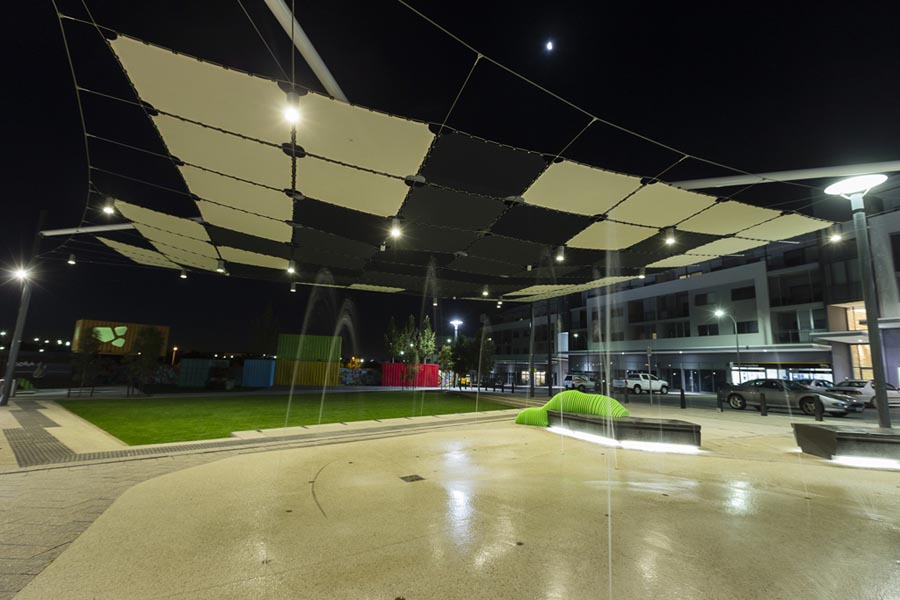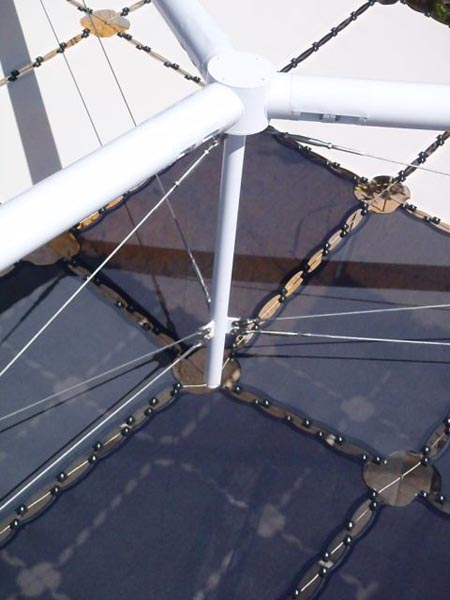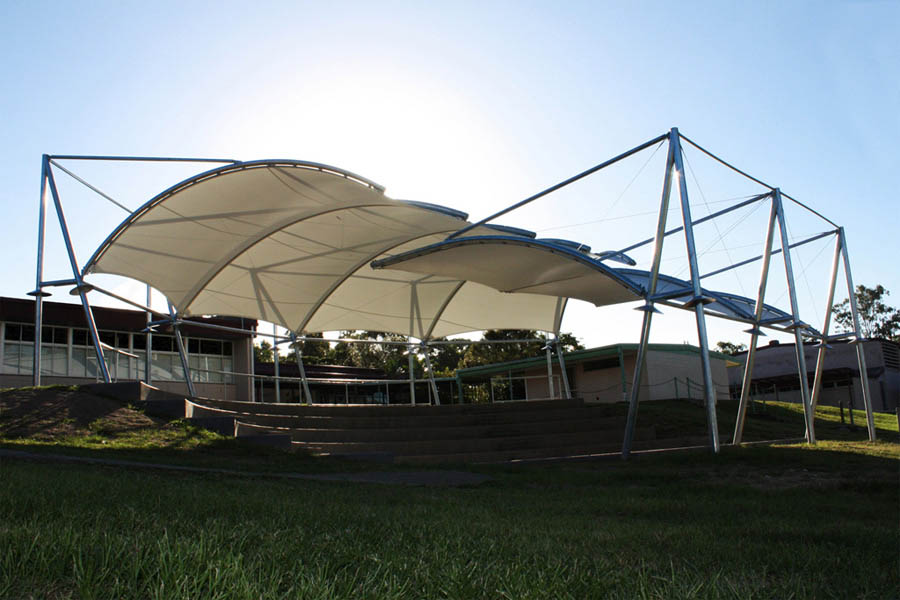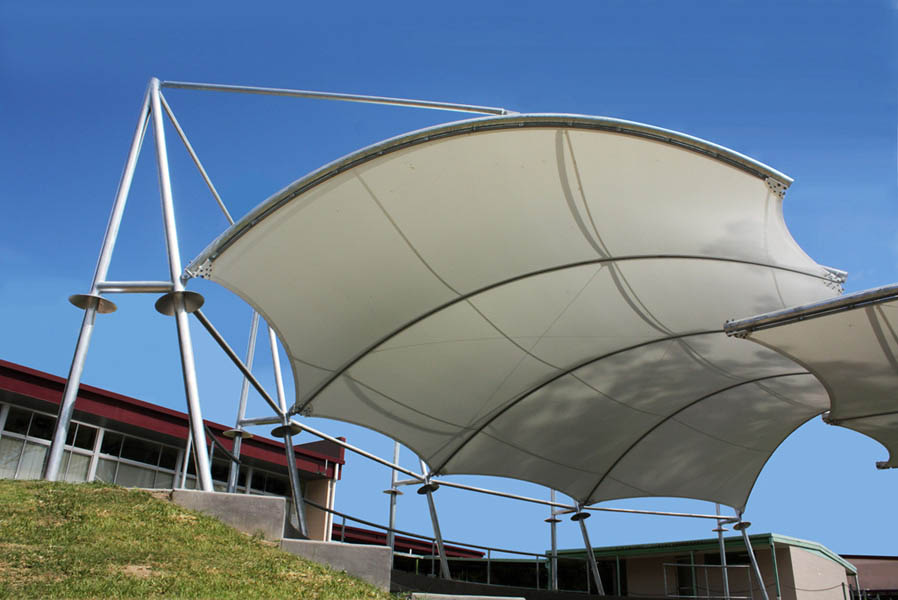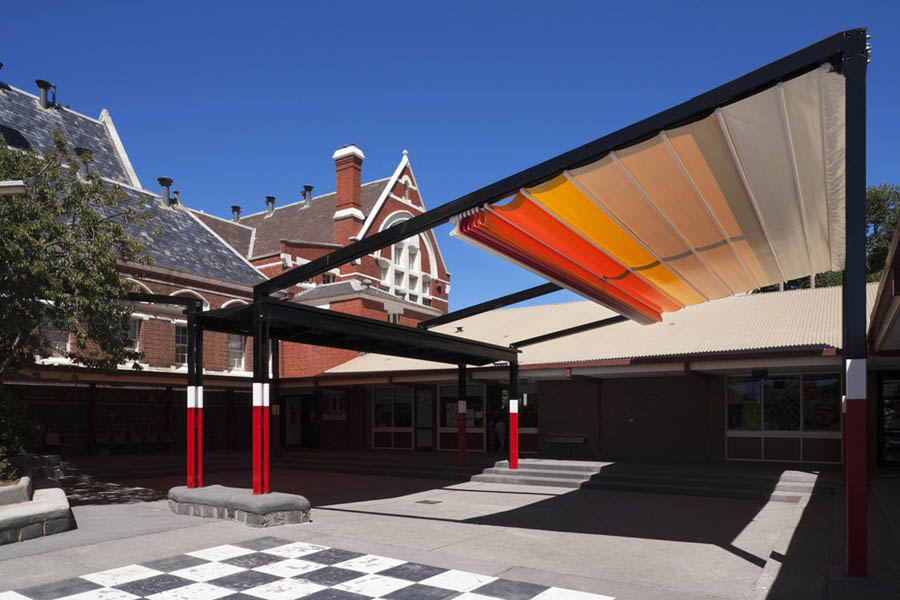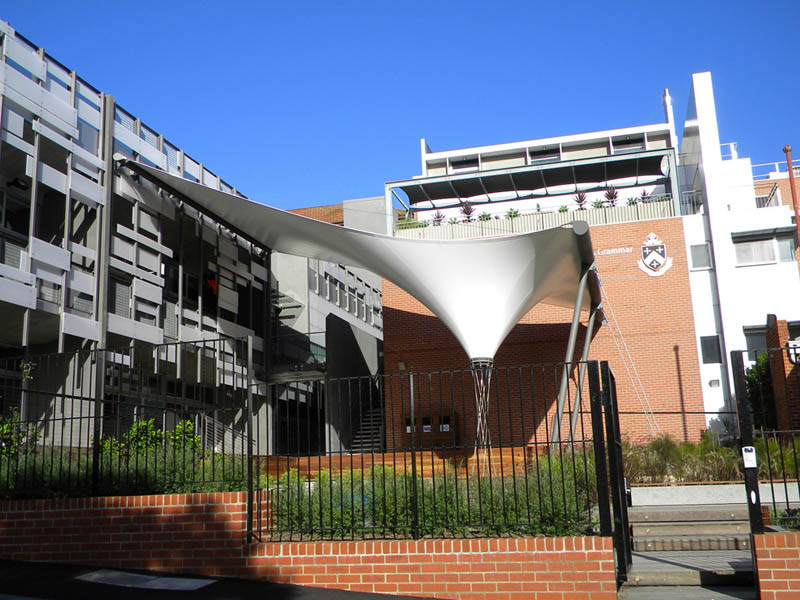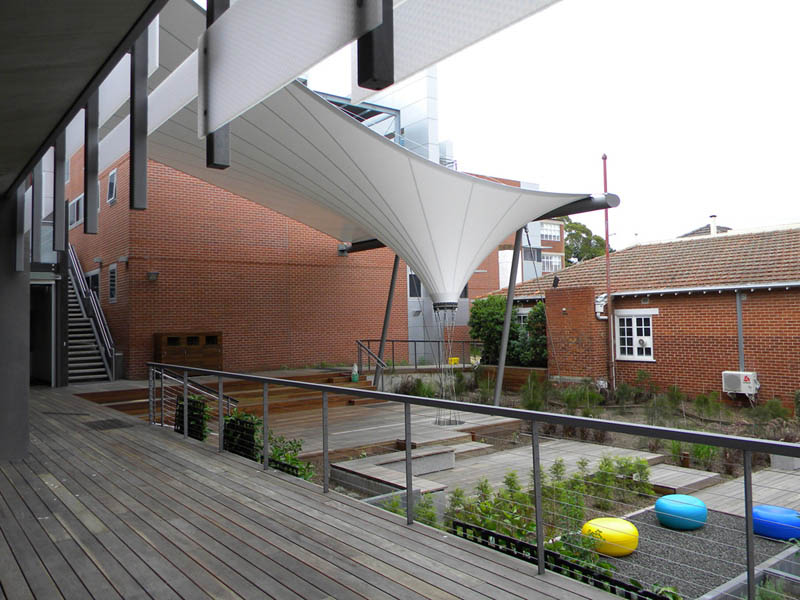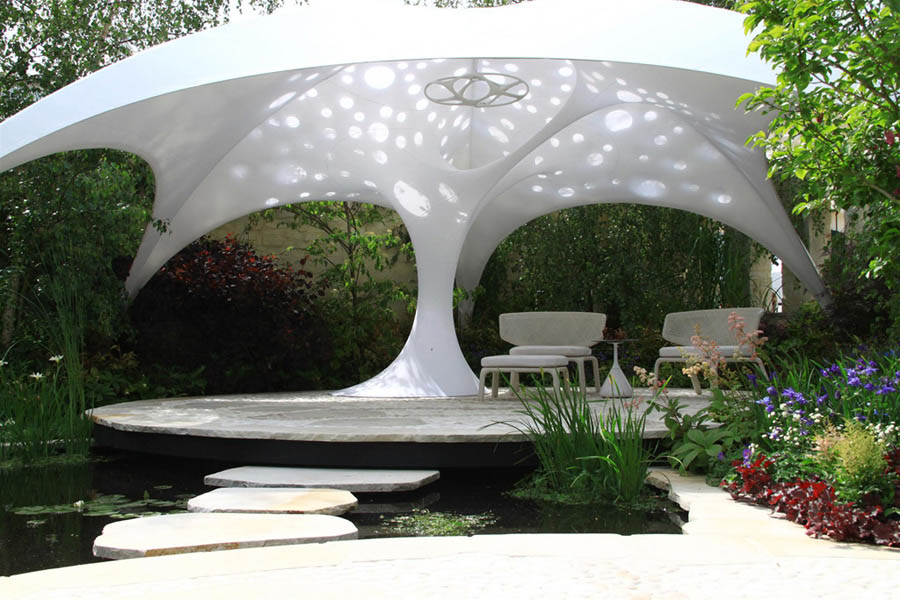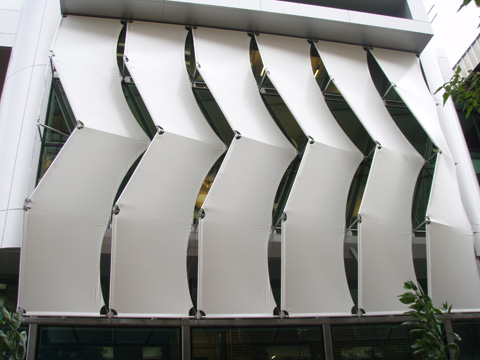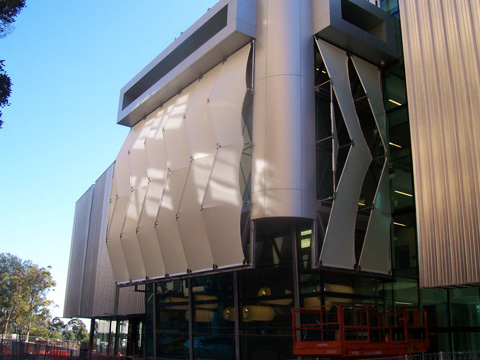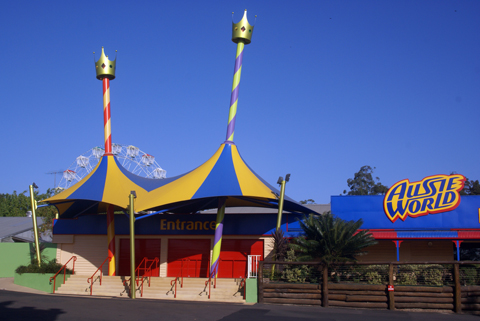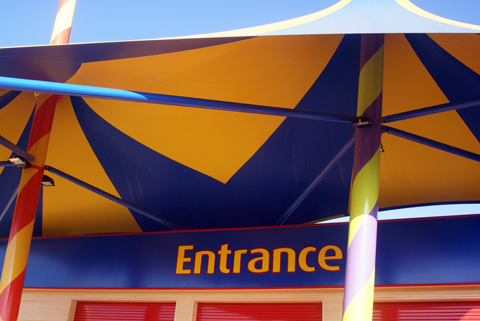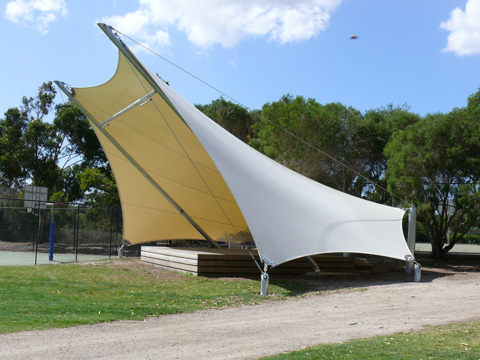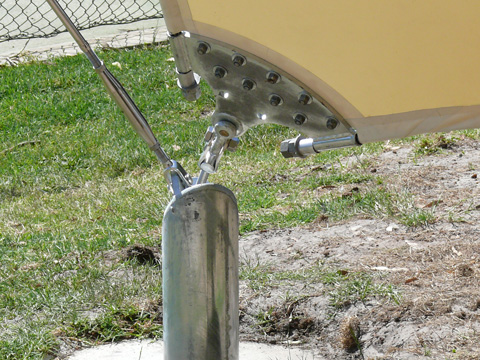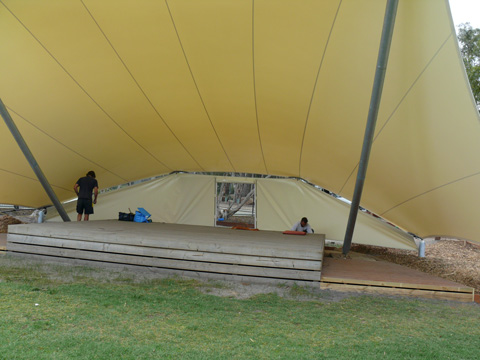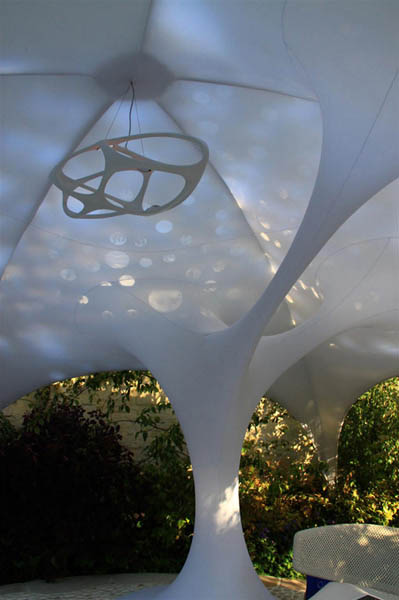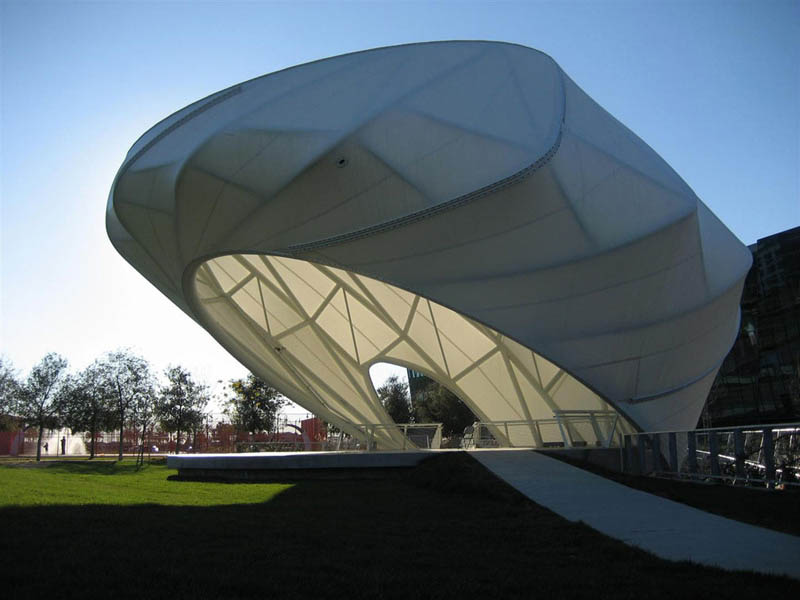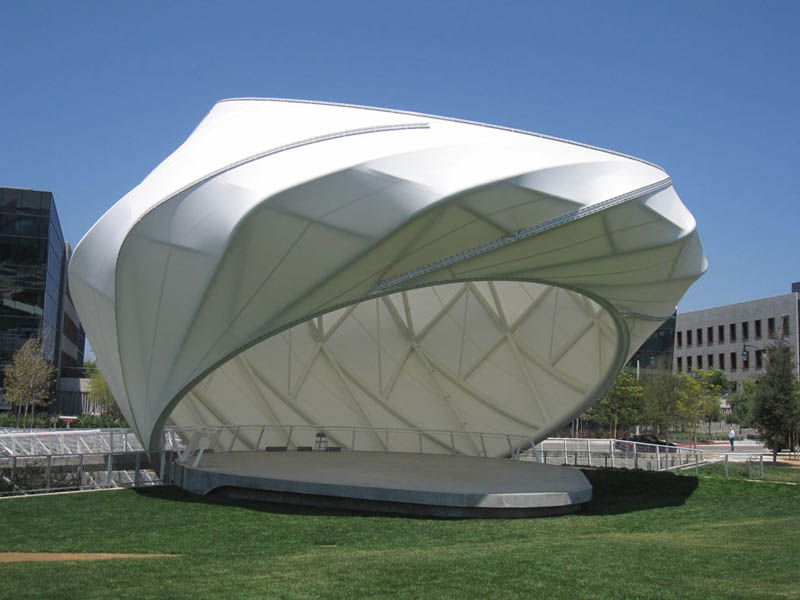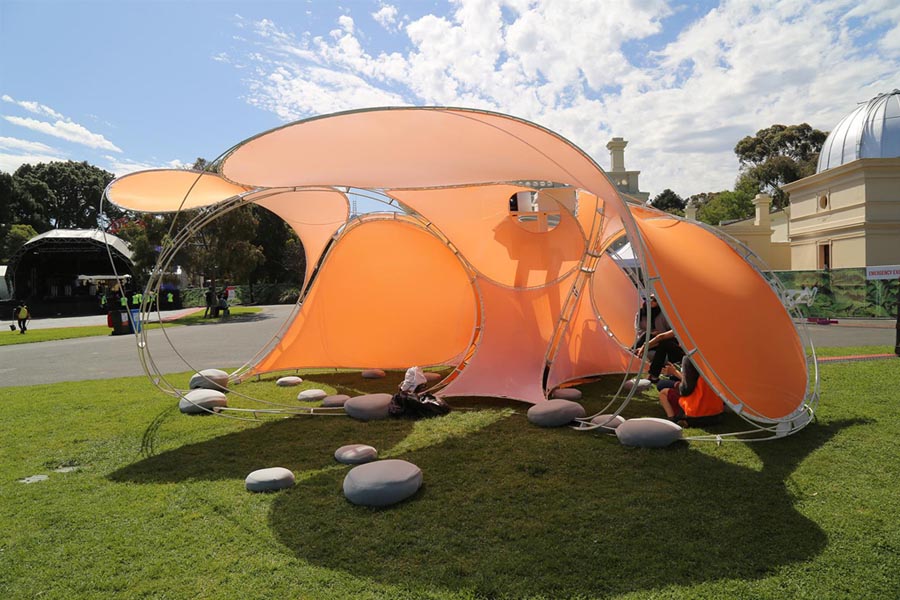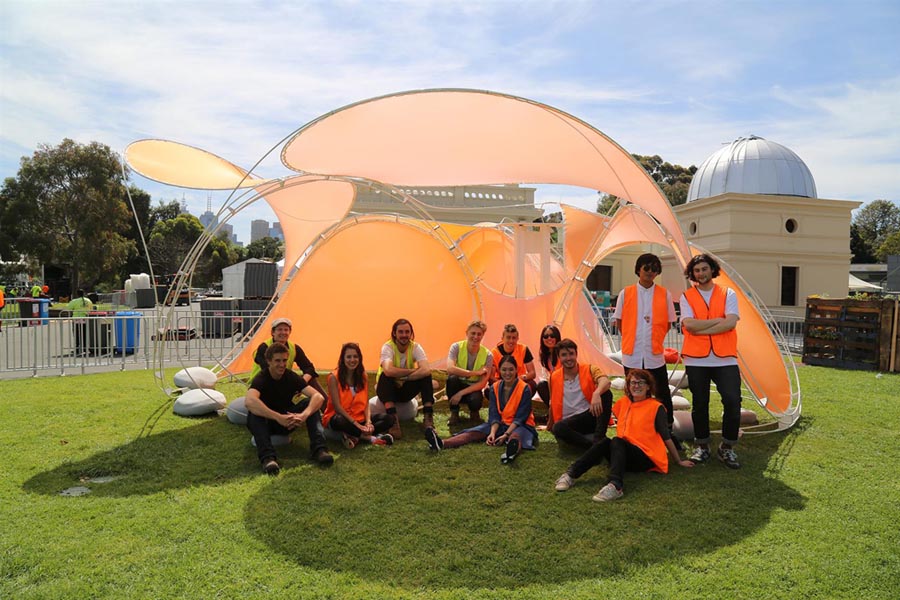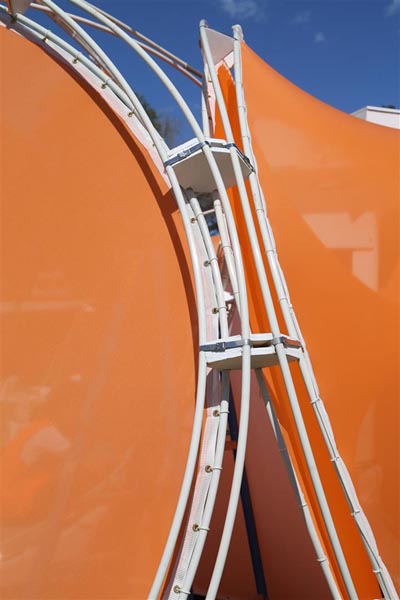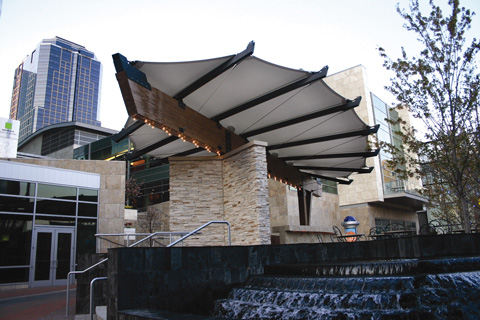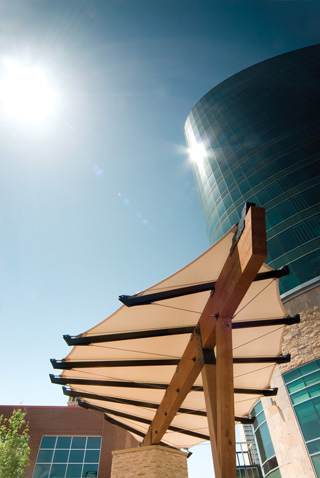 Entrant: Fabritecture (Part of Alexander Pacific Group)
Category: 2 ID Number: 2301

Location: Brisbane

Client: AGS Construction

Completion Date: February 2012
Credits:
Architect: Teo Cavallo Architects

Structural Engineer: ADG

Fabricator: Fabritecture

Installer: Fabritecture

PROJECT DESCRIPTION:
Halo was designed to take full advantage of Brisbane's wonderful weather offering a sophisticated, open-air lounge environment. In the trendy suburb of Paddington on the West Side of Brisbane is the Caxton Street Precinct famous for its entertainment venues and bustling nightlife.
An architecturally designed tensioned fabric roof was installed. The 'floating' fabric roof was designed to be the halo on top of the outdoor lounge bar - a distinctive feature of the venue, and of the surrounding area.
The fabric roofing structure improves the nightclub facilities with the addition of a weatherproof rooftop bar and lounge area which allows the venue to be enjoyed by guests all year round, even in the colder months.
The roofing structure also allows f or entertainment by way of image projection onto internal fabric screens. The solution offered is striking and stands out from other buildings in the area. The aesthetic appeal of the venue is further enhanced by the floating fabric roof which gives the Halo Nightclub its 'halo'.
The floating roof provides a distinctive feature to the nightclub as well as an open air lounge area where patrons can enjoy live music in a unique venue.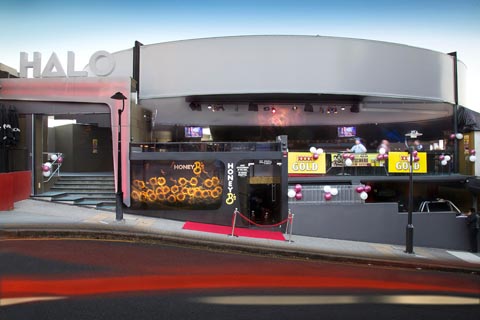 60 Margaret Street
Credits - Entered by MakMax
Category: Tension structures - (coated fabrics) less than 500sqm
Client: W. Eggerking & Co Pty Ltd
Engineer: Tensys, Peter Lim
Fabric: Hiraoka 212-II SAC
Date completed: 21 February 2012
Address: 60 Margaret Street, Sydney NSW 2000
Size: 600sqm
Steel Supplier: Steelman
Fabric Supplier: Hiraoka Australia
Installer: Sydrig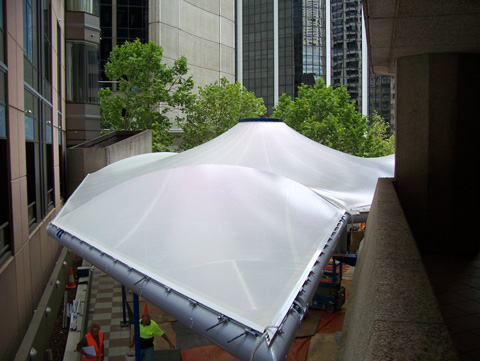 Pou Manawa - Auckland International Airport
PROJECT DESCRIPTION
Pou Manawa (Maori name for the Tree) is the heart of the new retail centre at Auckland International Airport, it stands proud where people gather, coming and going from their journeys around the world.
Fabric Structure Systems were approached with a brief to develop the significant sculptural piece for the Auckland International Airport's retail departures area.
Pou Manawa takes the form of a sculptural tree, crafted from SEFAR® Architecture fabric & tensioned into place, creating a continuous light translucent surface, which is rear projected to bring the Tree to life, with various natural & traditional Maori themes.