Perth Children's Hospital
LSAA 2016 Design Award Entry by Fabritecture (Designer and Installer)
Location: Subiaco, WA. Completed: July 30 2015
Client: John Holland Group
Team: JCY Architects, Greenup Design International, Fabritecture, Textile Fabrication Services, Fabritecture
APPLICATION OF PROJECT:
Highly interactive artistic and architectural shade canopies, featuring intricately designed complex steel geometry and custom fabric patterns to work with the exciting environment of the children's playground.

PROJECT DESCRIPTION:
The Perth Children's Hospital project involved the design and construction of an intricate structural shade solution as an addition to an outdoor children's play area for the hospital. The project was part of a redevelopment initiative to replace the existing Princess Margaret Hospital facility.
The new Perth Children's Hospital intends to host local and internationally recognised organisations for paediatrician, clinical research and tertiary learning.
Mpowerdome Entry Structure
Entrant: UFS Australasia Pty Ltd
Client: Mpowerdome
Architect: Small Quinton Coleman Architects
Structural Engineer: Wade Consulting Group
Builder: UFS
Fabricator(s): Fabric Shelter Systems
Pou Manawa - Auckland International Airport
PROJECT DESCRIPTION
Pou Manawa (Maori name for the Tree) is the heart of the new retail centre at Auckland International Airport, it stands proud where people gather, coming and going from their journeys around the world.
Fabric Structure Systems were approached with a brief to develop the significant sculptural piece for the Auckland International Airport's retail departures area.
Pou Manawa takes the form of a sculptural tree, crafted from SEFAR® Architecture fabric & tensioned into place, creating a continuous light translucent surface, which is rear projected to bring the Tree to life, with various natural & traditional Maori themes.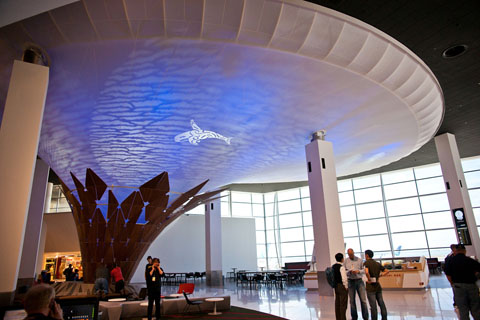 Orion Springfield
Entrant: Architectural Sails
Client The Mirvac Group
Architect: Rice Daubney
Structural Engineer: Wade Consulting Group
Builder: Mirvac Constructions (Qld) P/L
Fabricator(s): Architectural Sails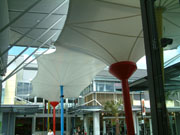 Melbourne International Arts Festival - The Clubhouse
Entrant: Tensys
Client: Melbourne International Arts Festival
Architect: Wood Marsh Architecture
Structural Engineer: Tensys
Specialist Consultant(s): Tensys
Builder: Melbourne International Arts Festival
Fabricator(s): Atkins Fabrications Pty Ltd,
Thornton Engineering Australia Pty Ltd - steelwork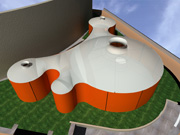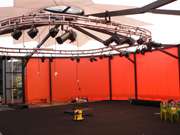 The Clubhouse
As part of the 2006 Melbourne International Arts Festival program, Artistic Director Kristy Edmunds has commissioned Melbourne's latest piece of urban architecture – The Clubhouse.
Designed by Melbourne-based architects Wood Marsh and engineered and project managed by Tensys, The Clubhouse will be temporarily located on the Upper Terrace of Hamer Hall at the Arts Centre throughout the Festival from Thursday 12 October.