Nerang State School Outdoor Amphitheatre, Qld
APPLICATION OF PROJECT:
Playground Shade Structure: the amphitheatre provides a modern sheltered assembly area for students and teachers, and boasts a unique architectural focal point within the school.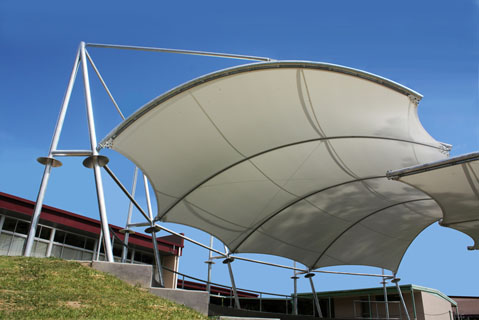 PROJECT DESCRIPTION:
As part of the Queensland Government National School Pride Program, a project was created for the design and construction of twin architectural roof canopies to cover the Nerang State School outdoor amphitheatre.
Key elements of the design brief included:
• Structures were designed to cover both the stage and the audience steps
• The main area had to be completely covered
• Views had to be maintained between the canopy and the amphitheatre stairs
• Provide all‐weather protection for the students of Nerang State School
• Complete installation had to be achieved during the summer school holiday period so as not to interrupt students during construction
Flemington Racecourse
Entrant: Taiyo Membrane Corp
Client: Victoria Racing Club
Architect: Taiyo Membrane Corporation
Structural Engineer: Xiang Du (TMC)
Fabricator(s): Taiyo Membrane Corp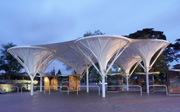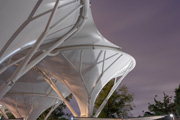 LSAA 2013 High Commendation
South Hedland Town Centre
Entrant: MakMax Australia
Category: 5 ID Number: 4304

Location: Colebatch Way, South Hedland, WA

Client: UDLA and Landcorp

Completion Date: October 2011
Credits:
Architect: Advance Timber Concept & University of WA

Structural Engineer: Scott Smally Partnership

Builder: Ertech Pty Ltd

Fabricator: MakMax Australia
---
Judges Comments:

"A lot of effort for a small structure, should become iconic."
"Good to see a combination of timber frame and lightweight fabric, although the structure seems less than graceful."
---
APPLICATION OF PROJECT:
Fabric cladding to wooden frame, roofing structure.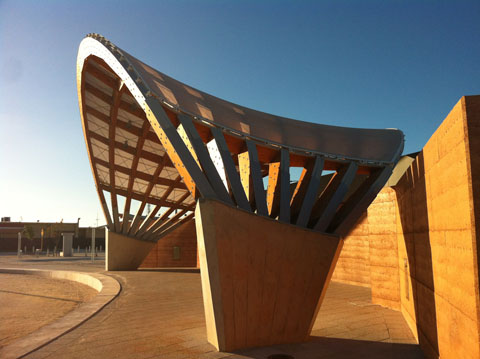 Read more: South Hedland Town Centre - LSAA High Commendation
Canteen Canopy Extension
SEMF Pty Ltd (Architect / Engineer)
Location: Ringwood, Victoria. Completed: 31 July 2016
Client: Aquinas College
Team: SEMF, SEMF, Walsh Industries (Steel), Horizon Sailmakers (Membrane & cables)
Entrant: Fabritecture (Part of Alexander Pacific Group)
Category: 2 ID Number: 2301

Location: Brisbane

Client: AGS Construction

Completion Date: February 2012
Credits:
Architect: Teo Cavallo Architects

Structural Engineer: ADG

Fabricator: Fabritecture

Installer: Fabritecture

PROJECT DESCRIPTION:
Halo was designed to take full advantage of Brisbane's wonderful weather offering a sophisticated, open-air lounge environment. In the trendy suburb of Paddington on the West Side of Brisbane is the Caxton Street Precinct famous for its entertainment venues and bustling nightlife.
An architecturally designed tensioned fabric roof was installed. The 'floating' fabric roof was designed to be the halo on top of the outdoor lounge bar - a distinctive feature of the venue, and of the surrounding area.
The fabric roofing structure improves the nightclub facilities with the addition of a weatherproof rooftop bar and lounge area which allows the venue to be enjoyed by guests all year round, even in the colder months.
The roofing structure also allows f or entertainment by way of image projection onto internal fabric screens. The solution offered is striking and stands out from other buildings in the area. The aesthetic appeal of the venue is further enhanced by the floating fabric roof which gives the Halo Nightclub its 'halo'.
The floating roof provides a distinctive feature to the nightclub as well as an open air lounge area where patrons can enjoy live music in a unique venue.