Theme: "Touching the Earth Lightly"

Auckland, November 2013
---
The Feature ETFE and Timber Diagrid Roof - Coastland Aquatic Centre
The new 2000m2 double curved transparent roof, provides a stunning internal environment for sports and recreation, a presents new possibilities for aquatic centres in New Zealand. It's the first example of ETFE being used on an Aquatic Centre in Australasia, and is attracting a lot of attention in the aquatic industry.
The design of the vaulting diagrid form, drew on a wide variety of specialist design skills to ensure a holistic approach to the design of the main pool hall.
Key Features included:
Facade engineering principles to define the optimum characteristics and ensure user comfort.

Thermal and day light modelling formed the basis of the energy efficient design, which provided the compelling argument to support the use of a premium architectural cladding system.

Optimised 3d geometry to ensure efficient use of ETFE cladding and Timber, and ensure ease of constructability.
The presentation will be given by Toby Mason, Director of CREATE
The Architectural Design of Bridges
Digital models are explicit - every aspect of a design is well-defined and can be described. A digital model in which a design is represented explicitly allows us, for example, to get the coordinates of any point, to produce plans, sections and elevations and eventually, to build.
Parametric models are different. A parametric model depends upon relationships between parts. A parametric model is defined by rules and constraints, which define aspects of a design and their relationships with each other. Changing a rule or constraint, or modifying a part of the model itself, has implications on the entire model.
Warren and Mahoney employ two pieces of parametric software – Bentley's Generative Components and McNeel's Rhinoceros with Grasshopper and have recently won several infrastructure design projects.
The lecture will focus on the use of parametric modelling, using Rhinoceros and Grasshopper - in the design of three key projects. It will discuss Hendon Bridge - a 320 metre long pedestrian footbridge over the new State Highway 20 extension at Waterview; Memorial Bridge, Christchurch - a gateway bridge to Christchurch and Pt Resolution bridge, an 80 metre long pedestrian bridge connecting Tamaki Drive with the Pt Resolution headland and Parnell baths.
The presentation will be given by Dean Mackenzie an Associate with Warren and Mahoney.
Singapore's National Stadium roof is the centrepiece of the Singapore Sports Hub. Once completed in 2014 this highly efficient structure will be the largest free spanning dome in the world with a clear span of 310m and a rise of 73m from the concourse level. The fixed roof dome supports a symmetrical movable roof that is in two halves and giant PTFE louvres. The thrust of the dome is supported by a post-tensioned ring beam.
The architecture of the cladding was clearly developed to express the design and geometry of the structure. To achieve a steel weight of 110kg/m2 over the footprint area of the dome required this cladding to be lightweight. A multi-layer ETFE pillow system was chosen for the cladding of the movable roof due to its flexibility, environmental performance and the ability to illuminate it at night. The giant hung PTFE Louvres provide a naturally ventilated concourse. The Louvre steel structure has been released in such a way that it does not try to support the thrust of the dome.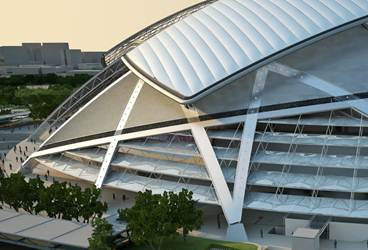 Read more: S3B Design Elements of the World's Largest Free Spanning Dome
The 'piece de resistance' of the recently renovated ISPT Wintergarden Centre in Queen Street Mall Brisbane is the art façade. The art façade is a 3D depiction of a 'winter's garden' and combines laser cut and bent stainless steel and 16 different poweder coated aluminium fixed over a hidden structural steel grillage. 3D stainless steel composite shapes help depict leaves on trees and butterflies over Edward St and Elizabeth St.
The presentation will be given by James Marr of Tensys Engineers.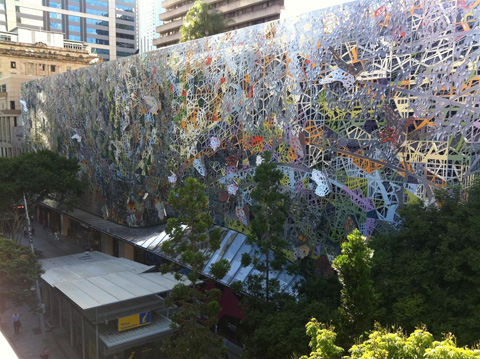 Some of the projects / presentations for the LSAA 2013 "Touching the Earth Lightly" Conference.
Peter Lim, LSAA Vice President, from Tensys, will give a presentation about the recently completed Abdullah bin Khalifa Stadium in Doha. It has seating for 12,000 and the tension fabric structure roof provides shading for about 60% of the seating area.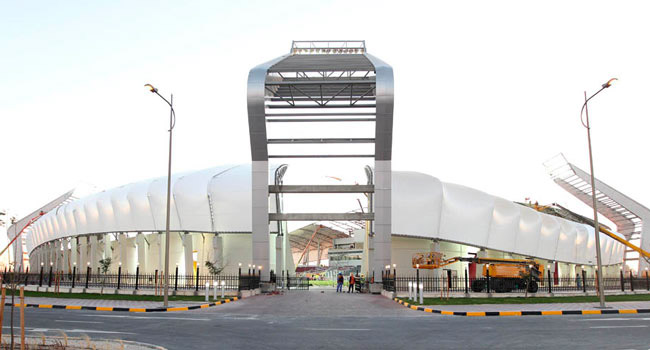 Harry Street, Creative Spaces, ex Philip Cox,will give a presentation on Westlake Girls High School – Sports Facility- refer www.structurflex.com
Westlake Girls High School on Auckland's North Shore has a reputation for high achievement. With a strategic focus on encouraging personal best, the school wanted to enable increased use of their netball and tennis courts by adding an all-weather canopy. The vision called for full light between each netball court with more shade for on-court players.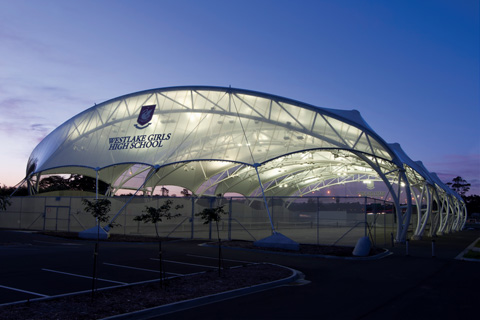 Chris Kelly, Architecture Workshop, will also present on Waitomo Caves Visitors Centre- refer www.archwksp.co.nz Sheltered below an innovative woven timber canopy, new amenities for visitors to the Waitomo Caves includes tourist gathering areas, a 250-seat dining, retail, seminar and exhibition areas as well as a café and theatre for Tourism Holdings Ltd.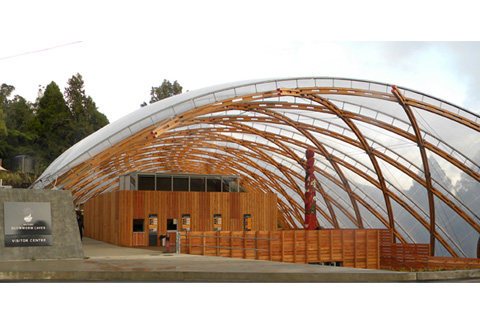 Facades are becoming an important element to control the internal environment of modern buildings - both enclosed such as offices, and open such as car parking stations.
Many facades are set at a distance from the building envelope and this permits the use of cable supported systems.
A number of case studies will be presented by Rown Murray, General Manager of Ronstan (Silver sponsors)