These structures may be described as single surfaces or panels in the form of one of the classic hypars, barrel vaults, cones, panels with single or crossing arches - or a combination.
Larger fabric structures can also be made from several modules or panels of similar forms to build up a substantial sized structure. The multiple panels might be arranged in a linear layout, or in a circular or oval pattern commonly found in stadia roofs.
The LSAA has a Design Award Category for Large Structures which has been defined as being greater than 1000 sqm.
The following articles are in random order:
ASU – Skysong
Entrant: Atkins Fabrication (Aust) Pty Ltd – Fabricator
Location: Arizona State University – USA
Client: USA Shade & Fabric Structures Inc.
Struct. Eng.: Wade Engineers
Fabricator: Atkins Fabrication (Australia) Pty Ltd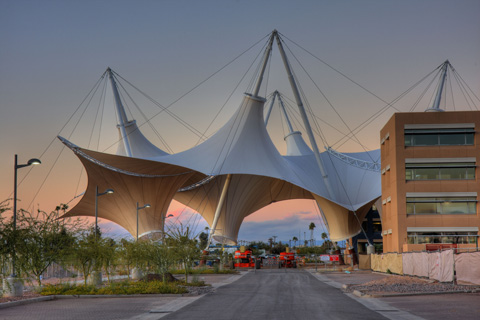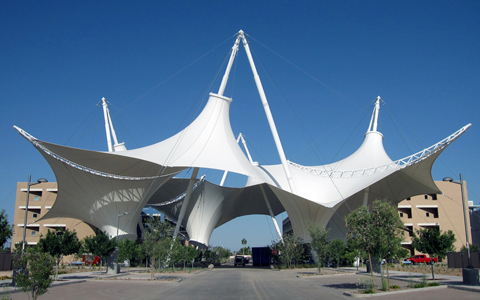 Large fabric structures have generally been thought of as those that have a fabric surface area greater than 1000 square metres.
Often large projects will be made up of multiple panels of fabric whose boundaries are defined structurally and geometrically by straight or curved elements such as arches, edge beams and cables. The prestress forces from adjacent panels often counterbalance and the more efficient structures have a larger degree of symmetry and continuity such as a complete "bicycle wheel" for the roof a major sports stadium.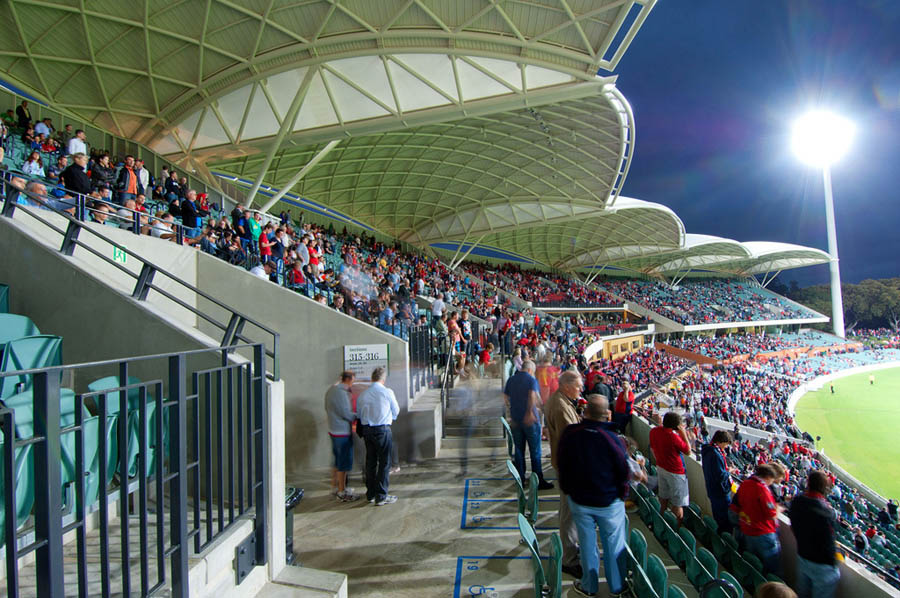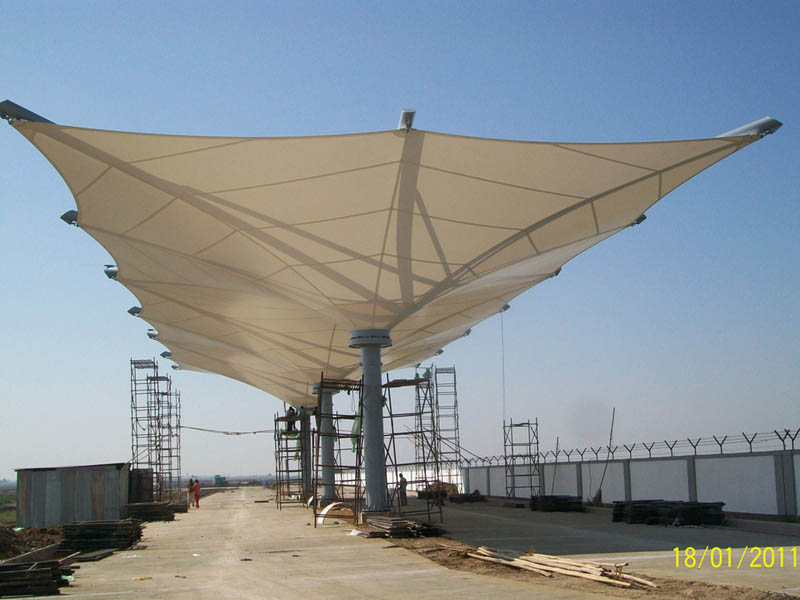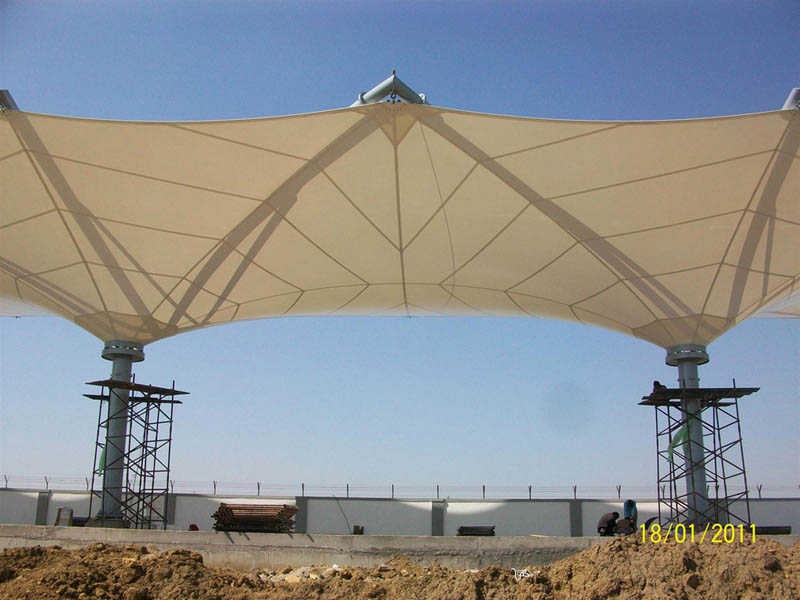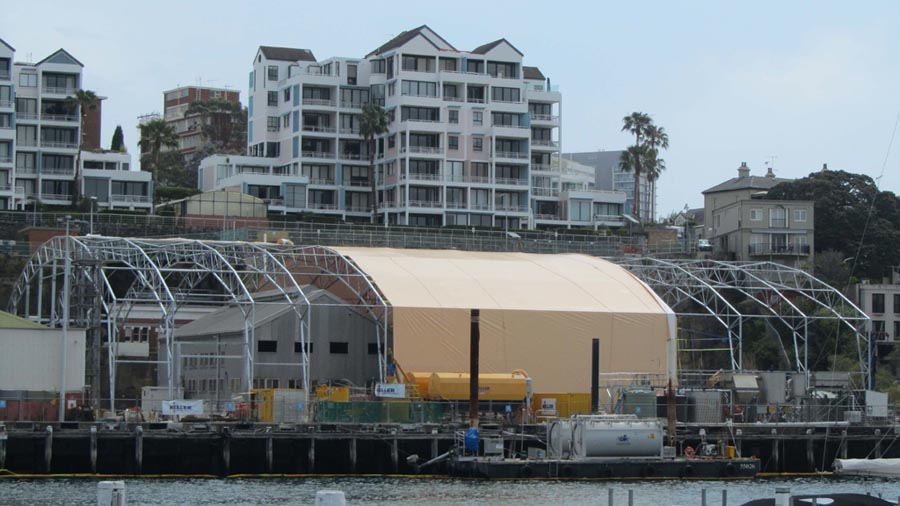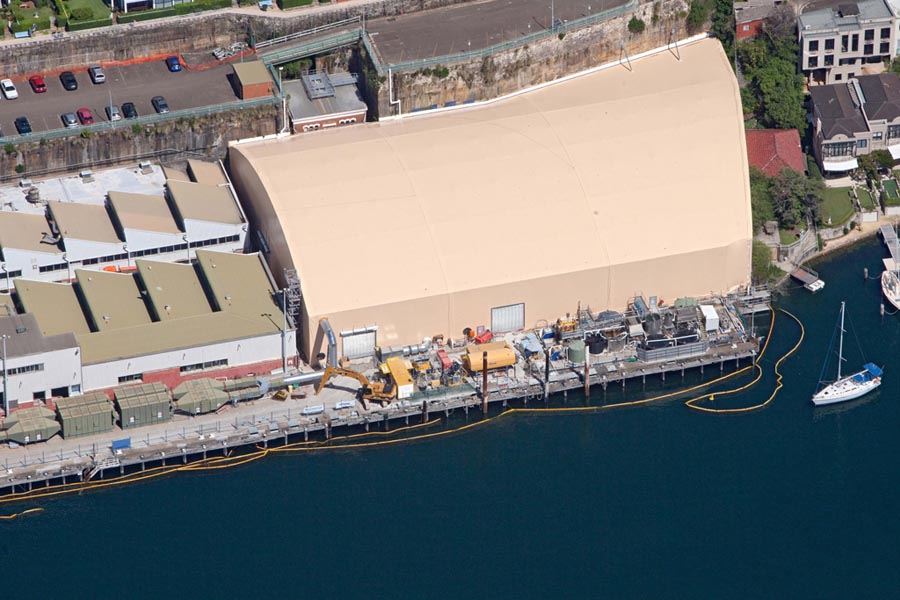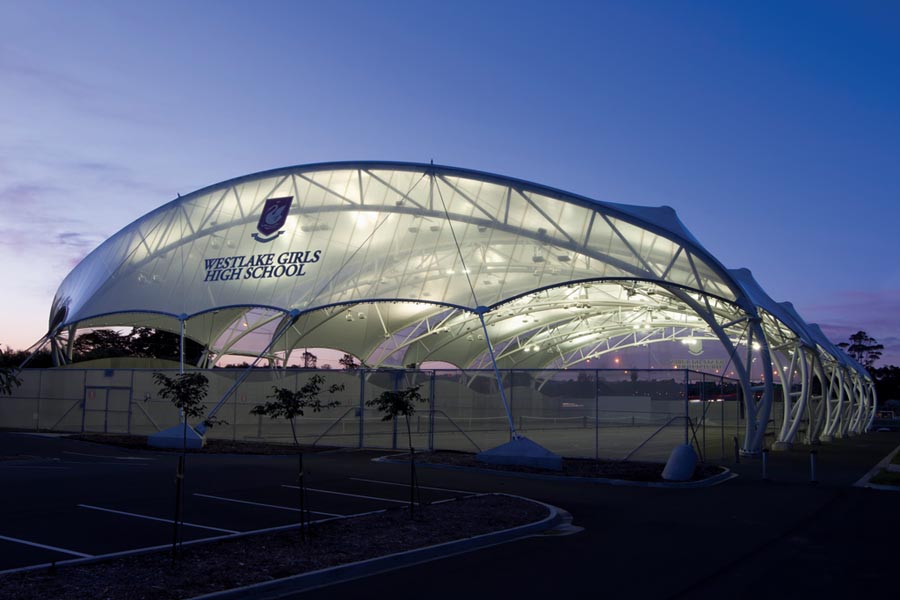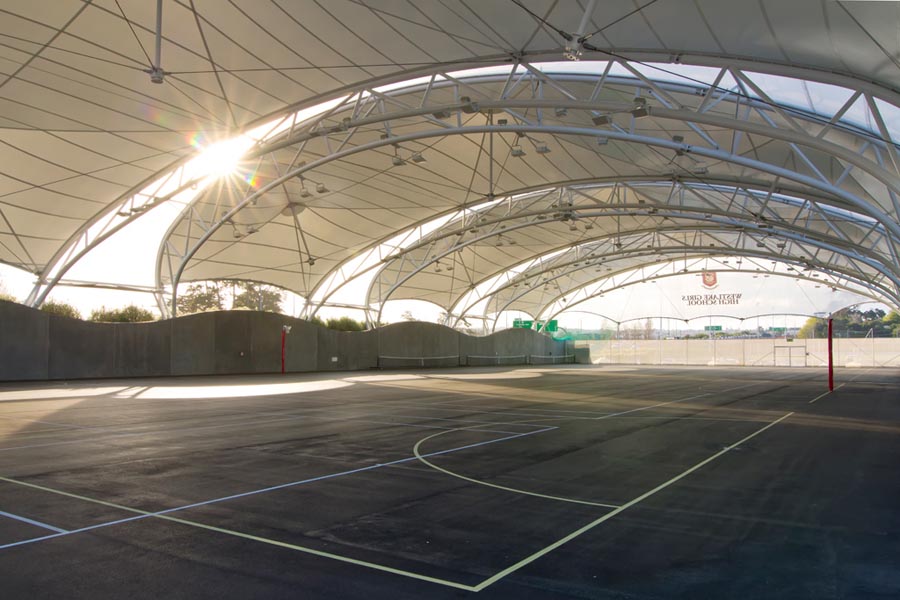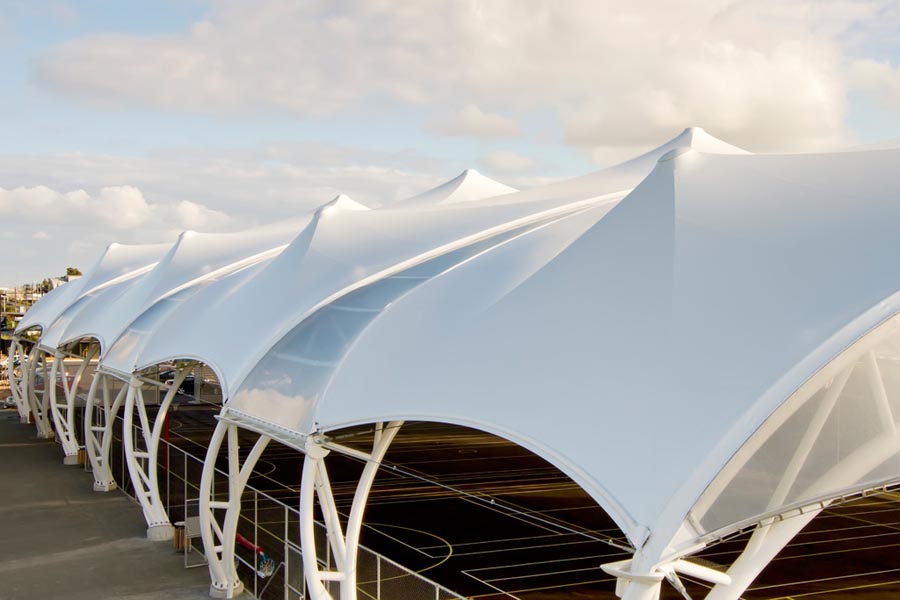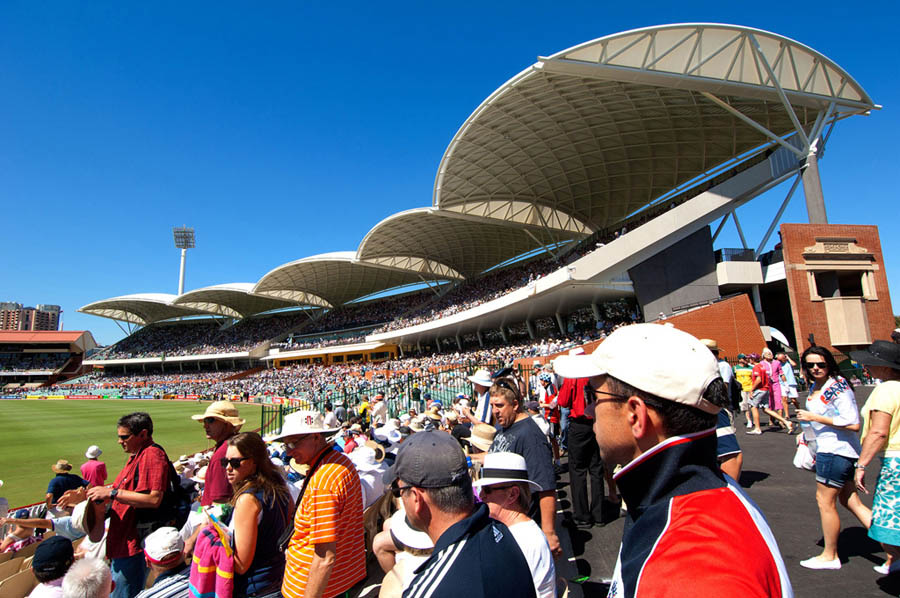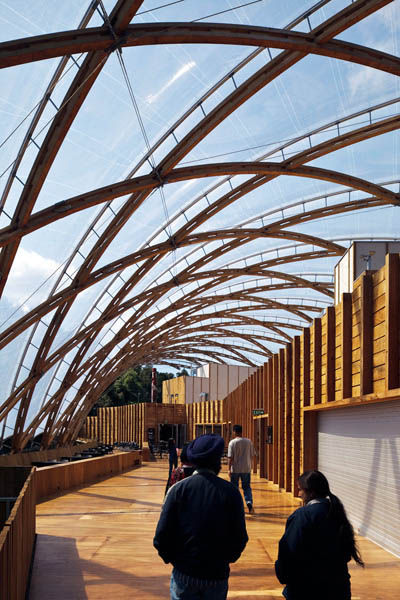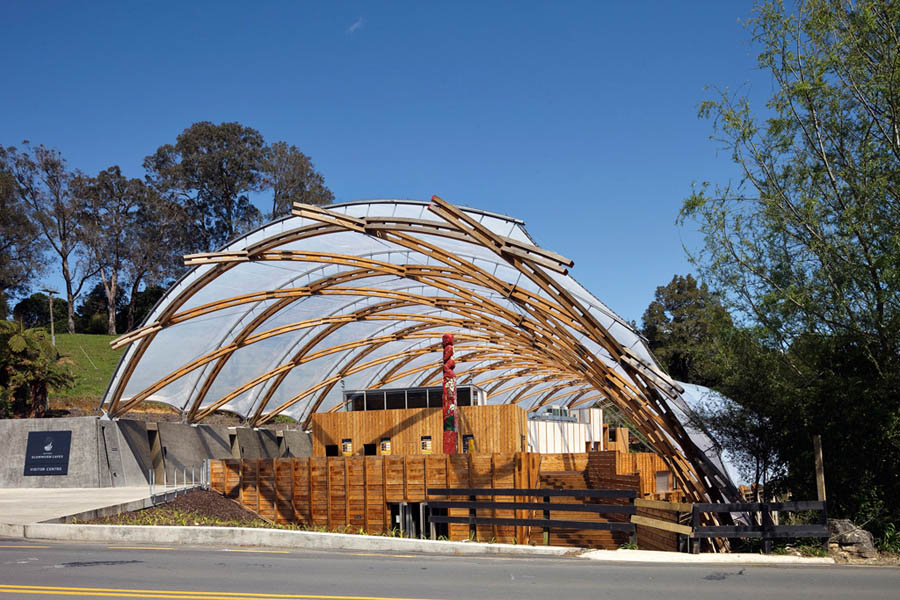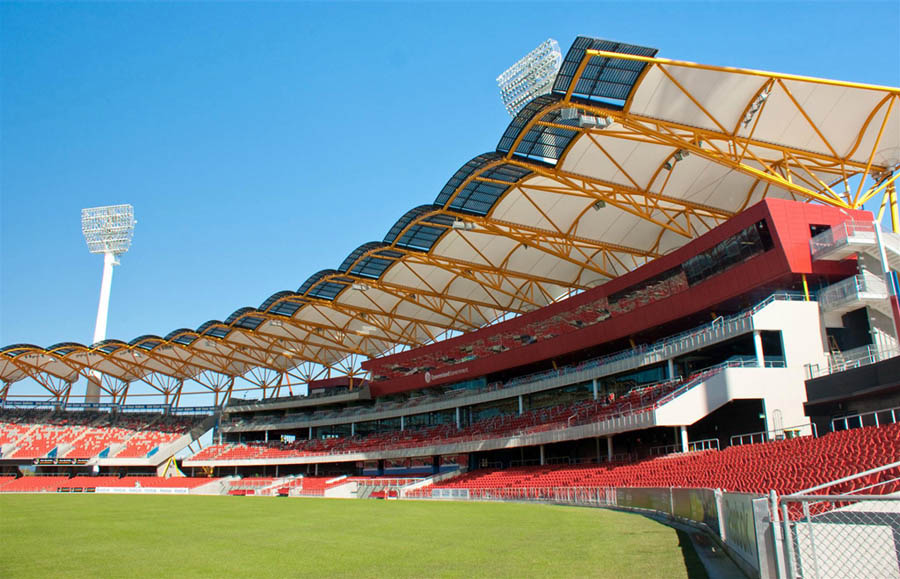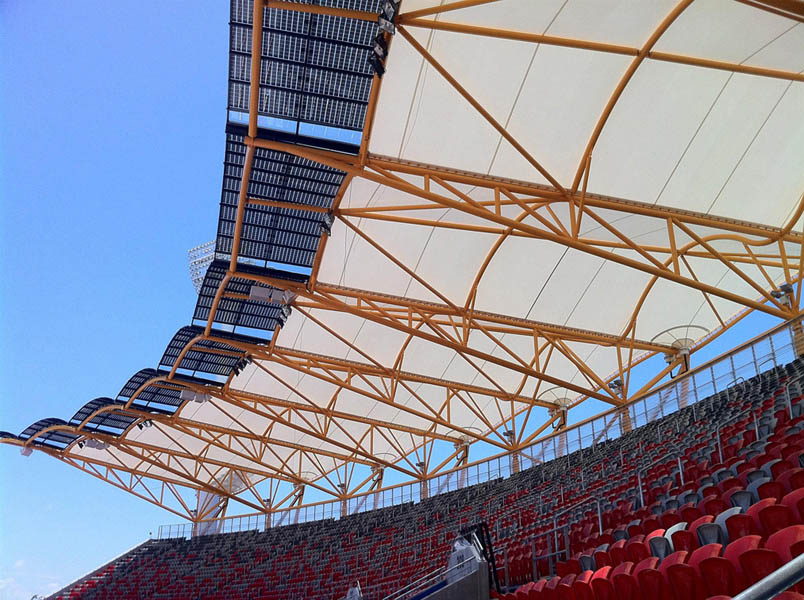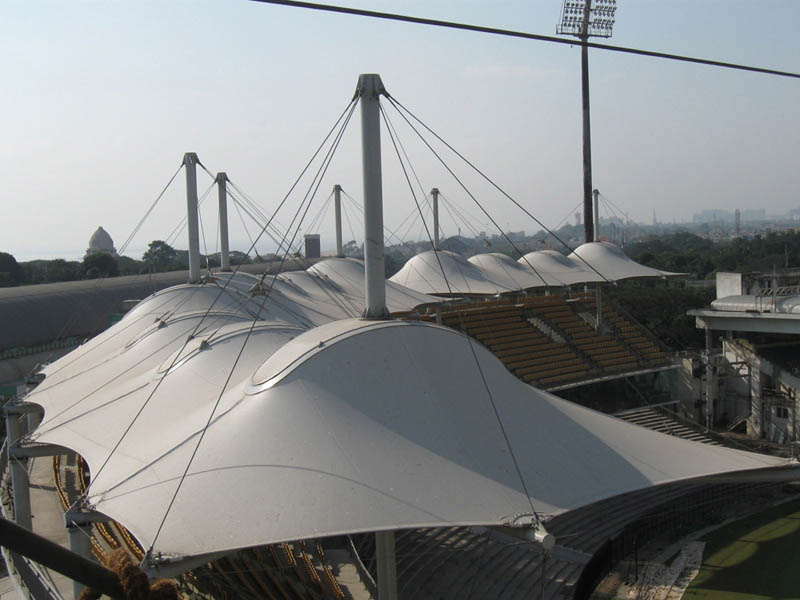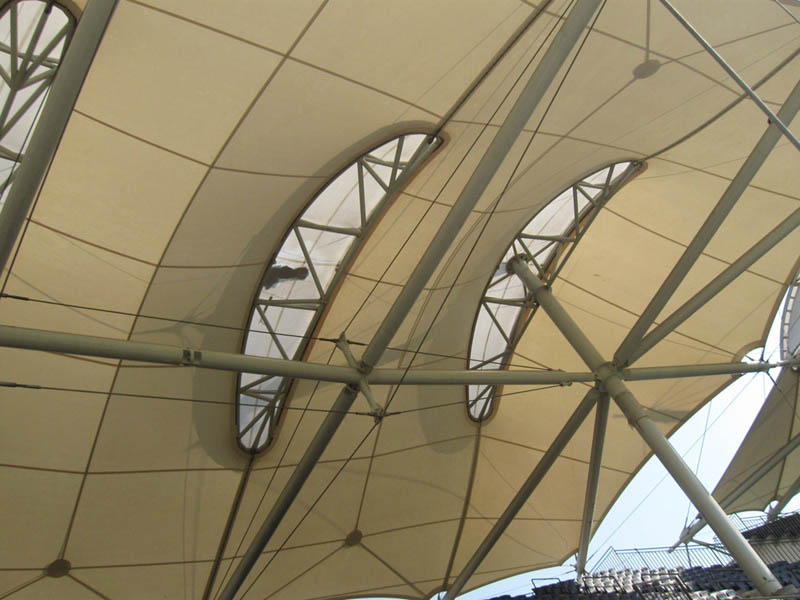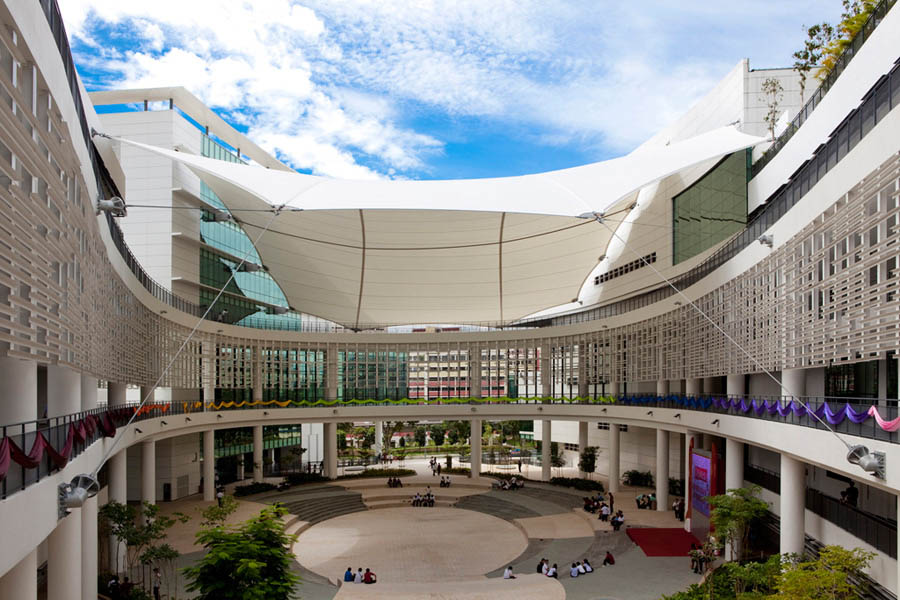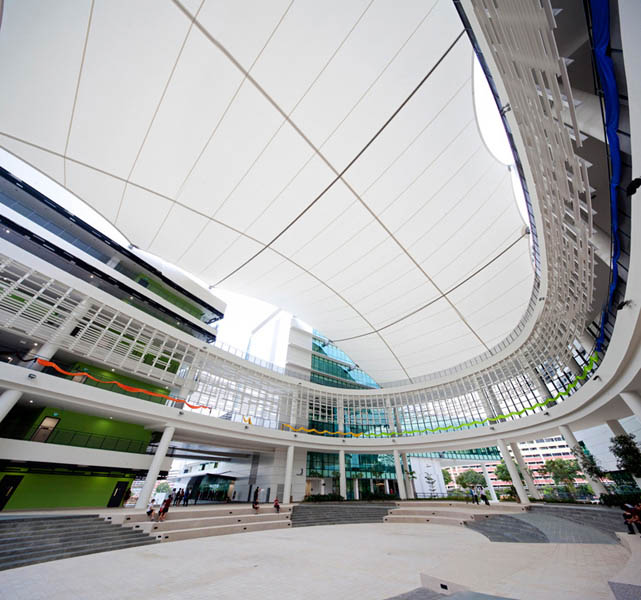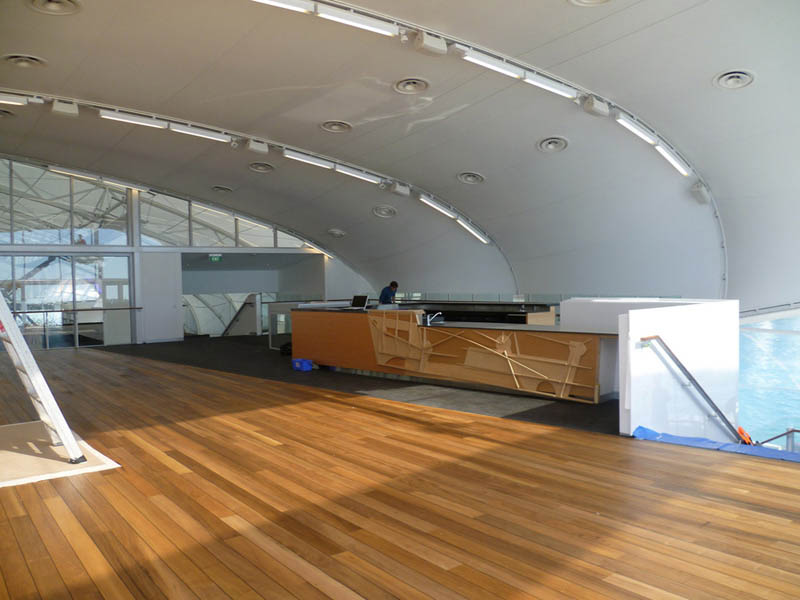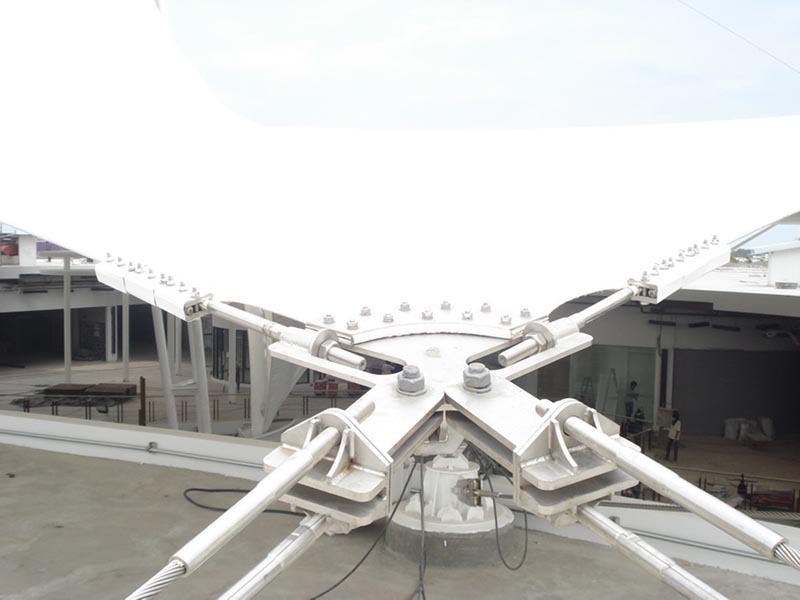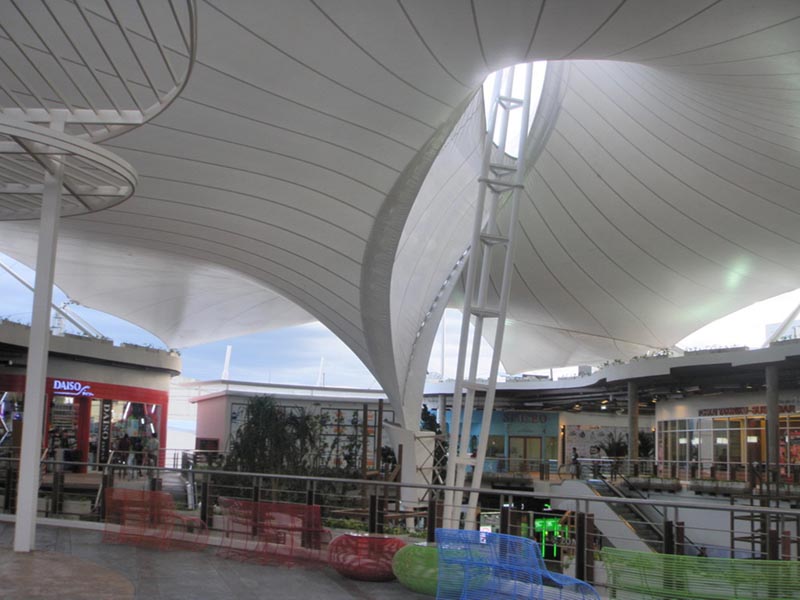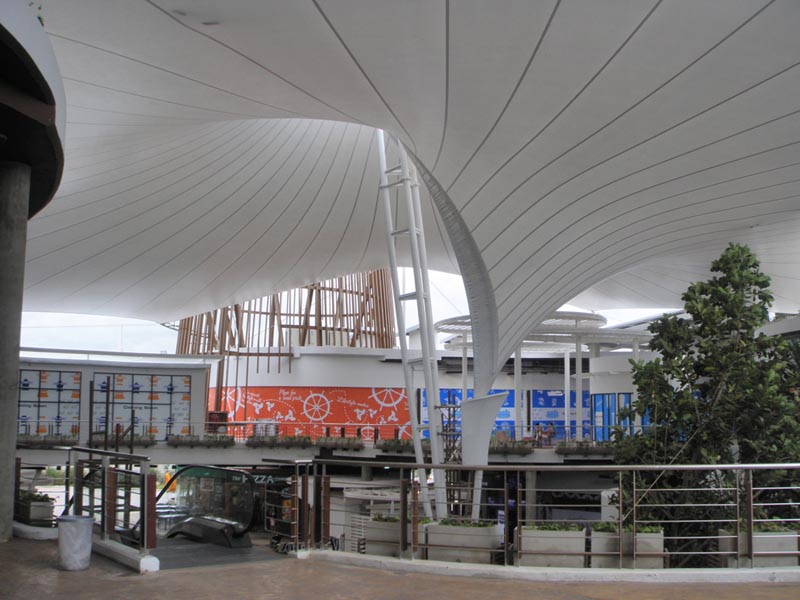 and some more projects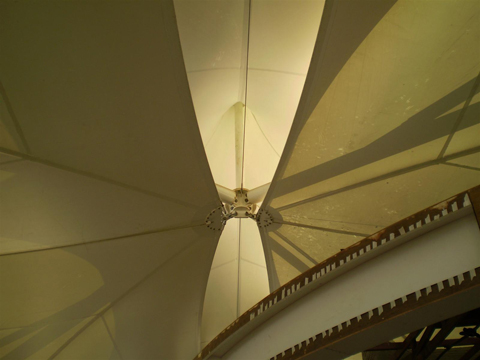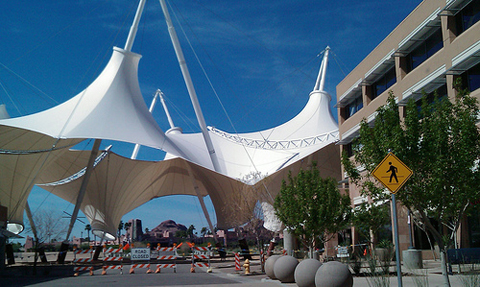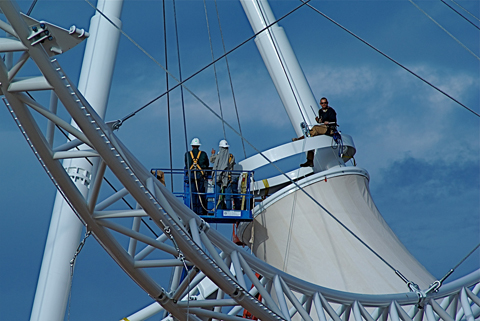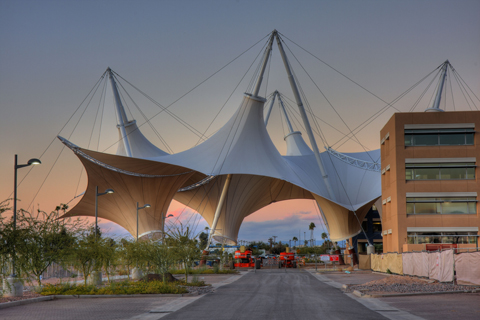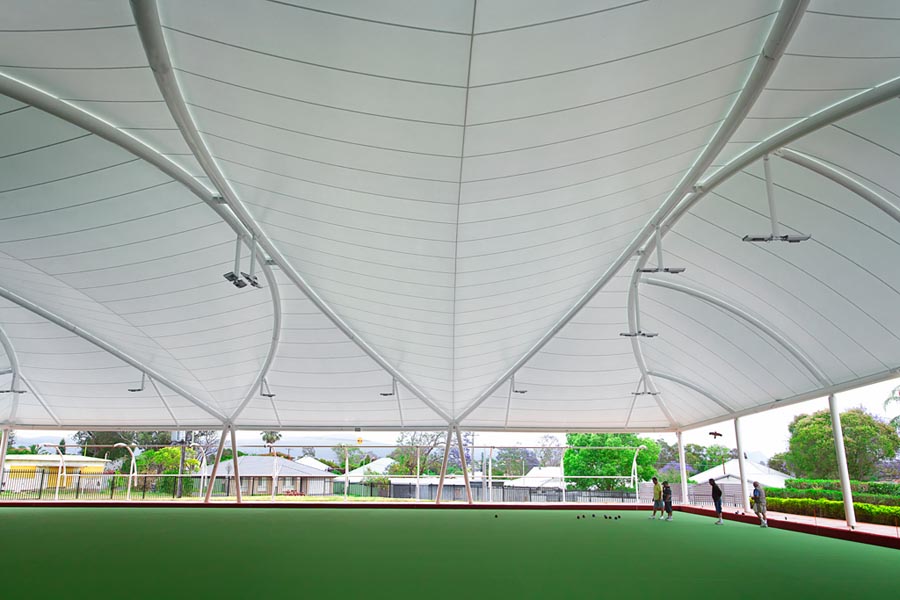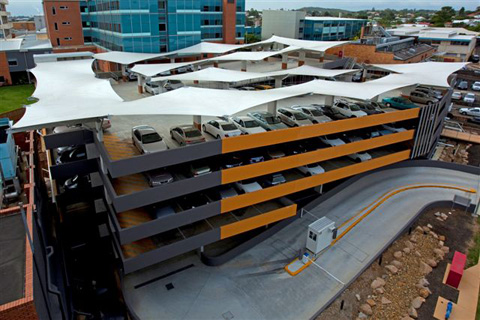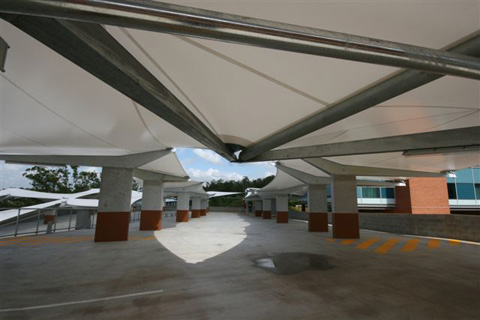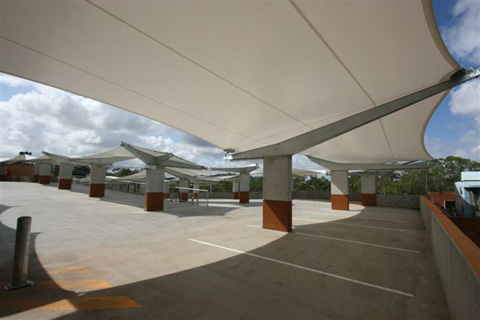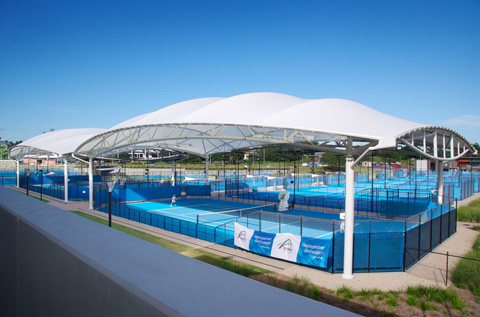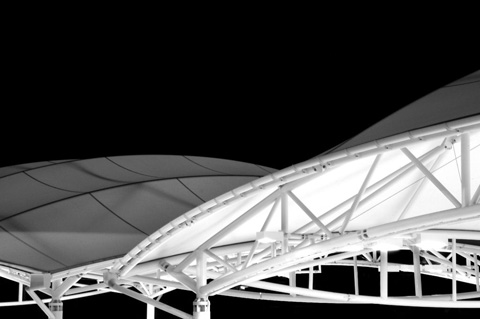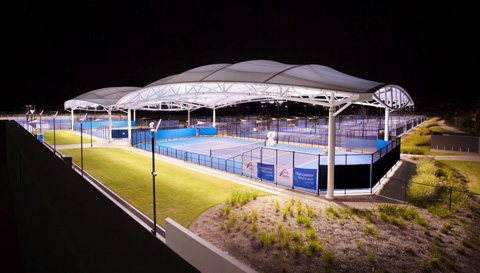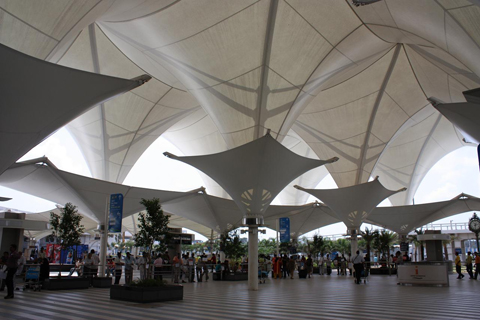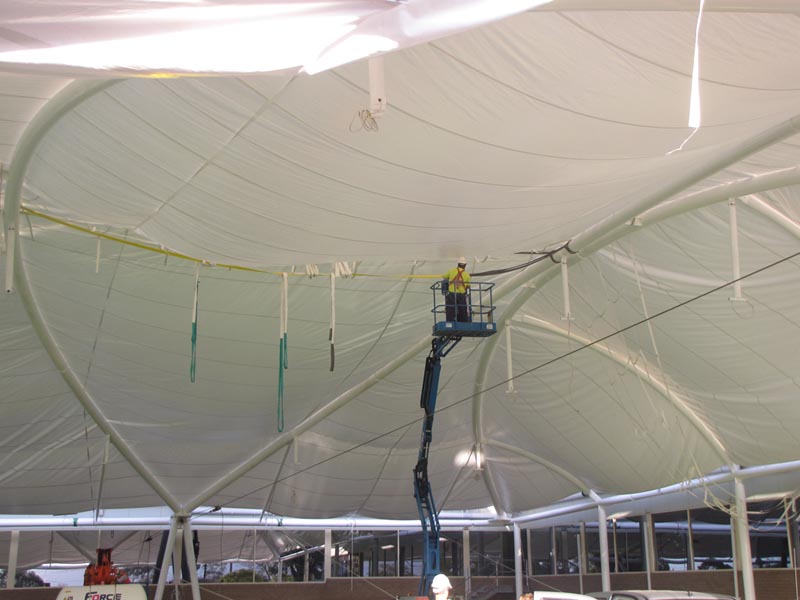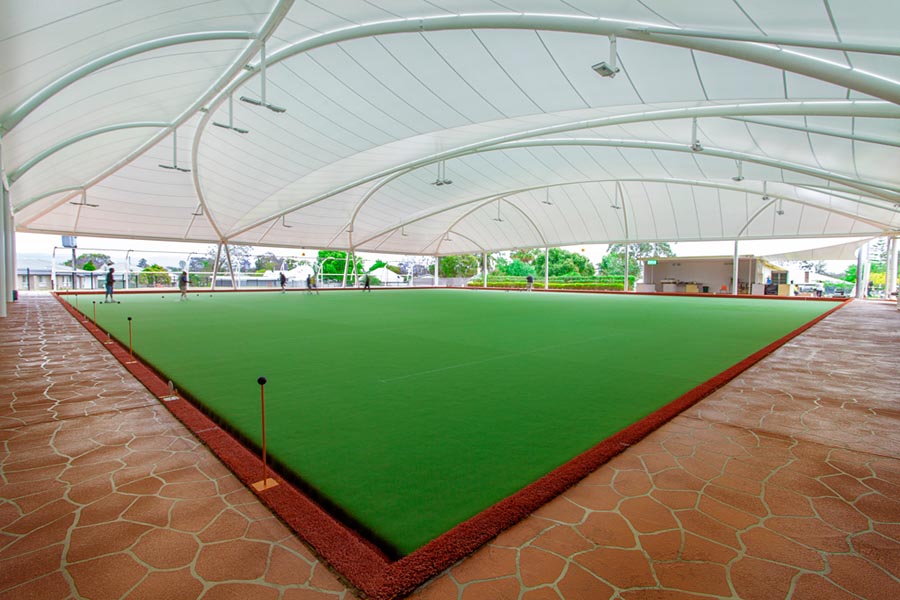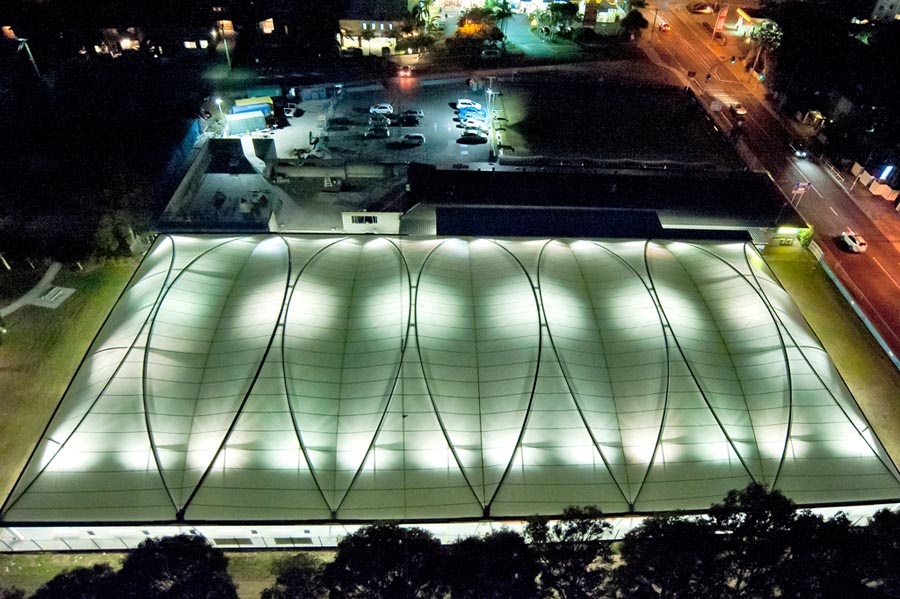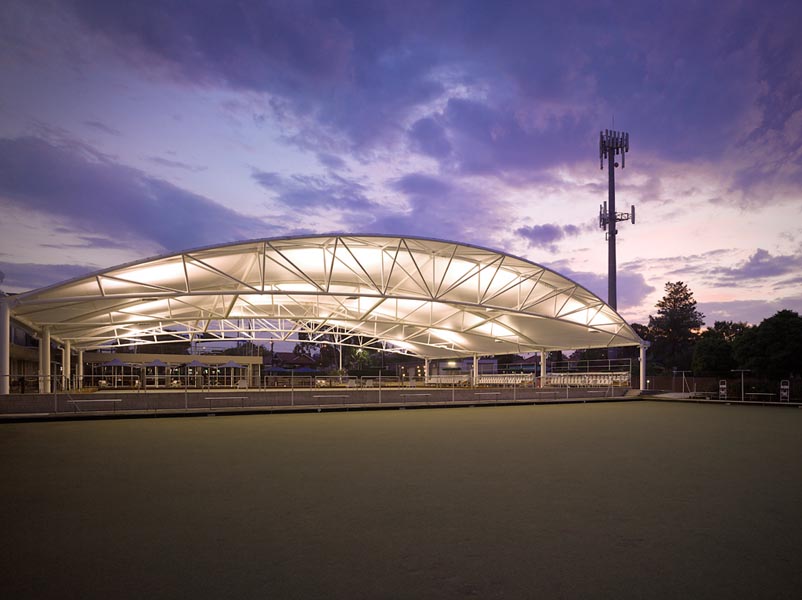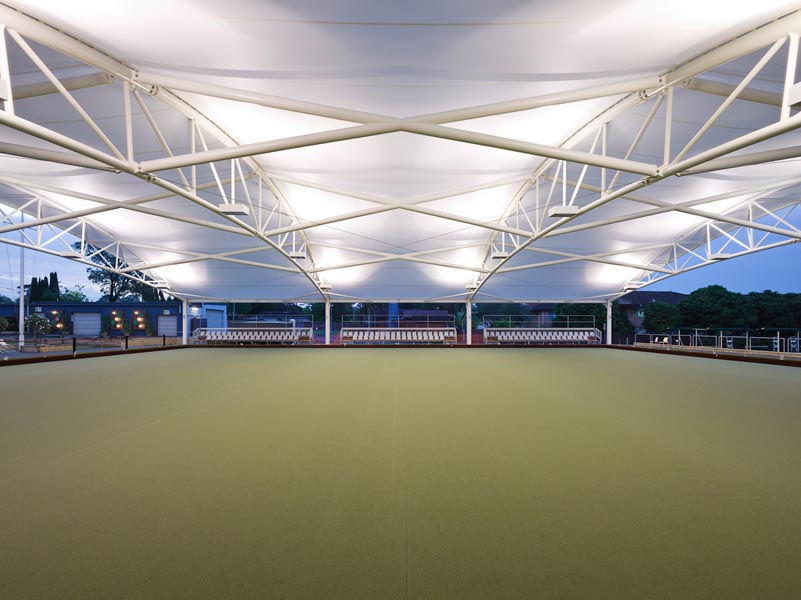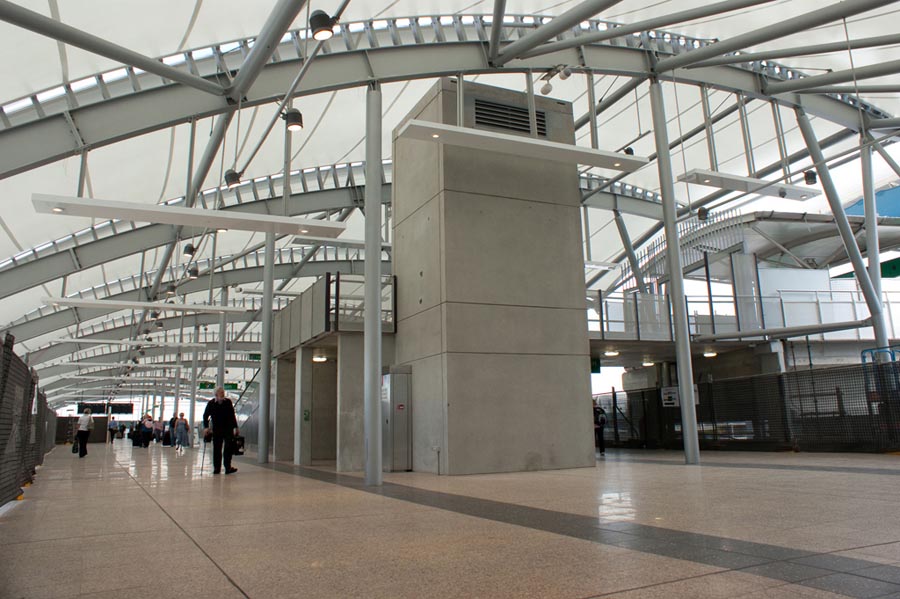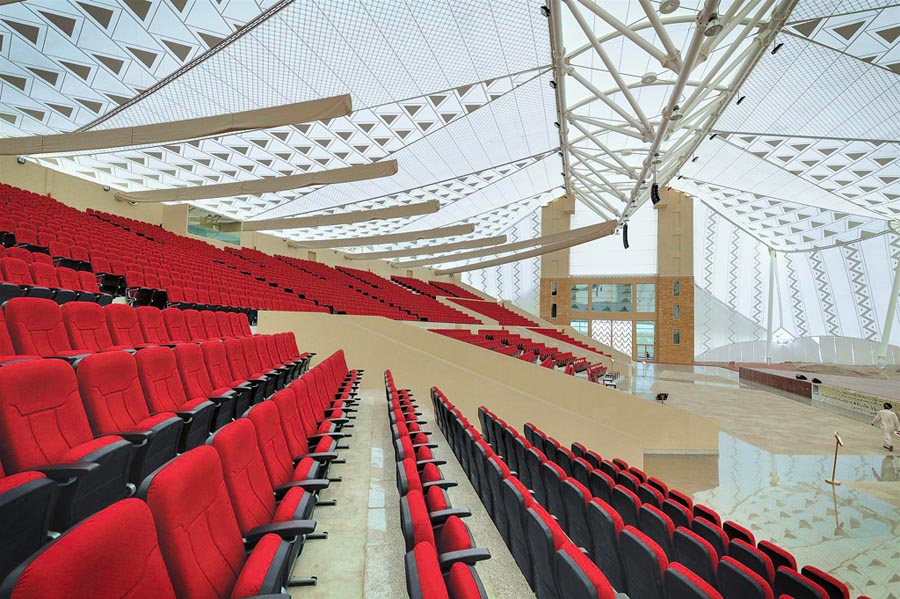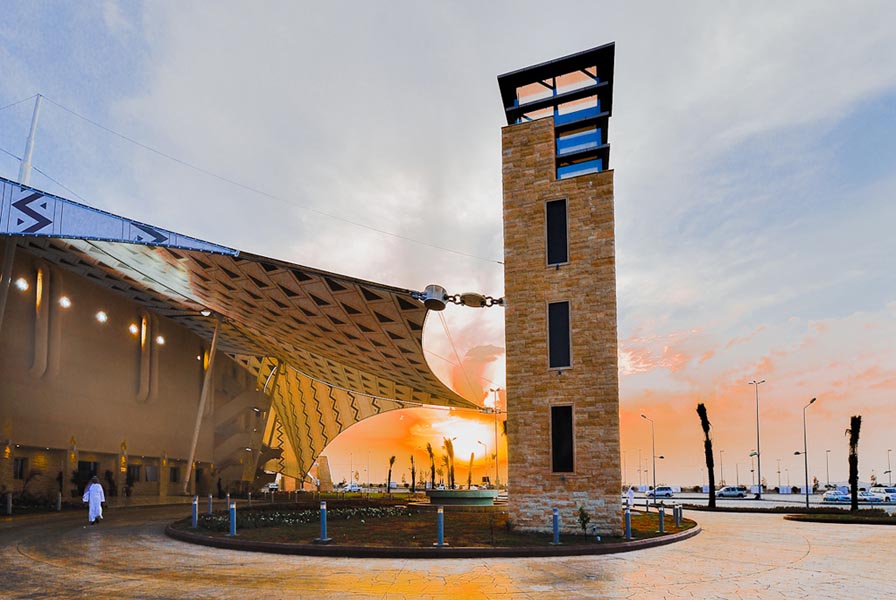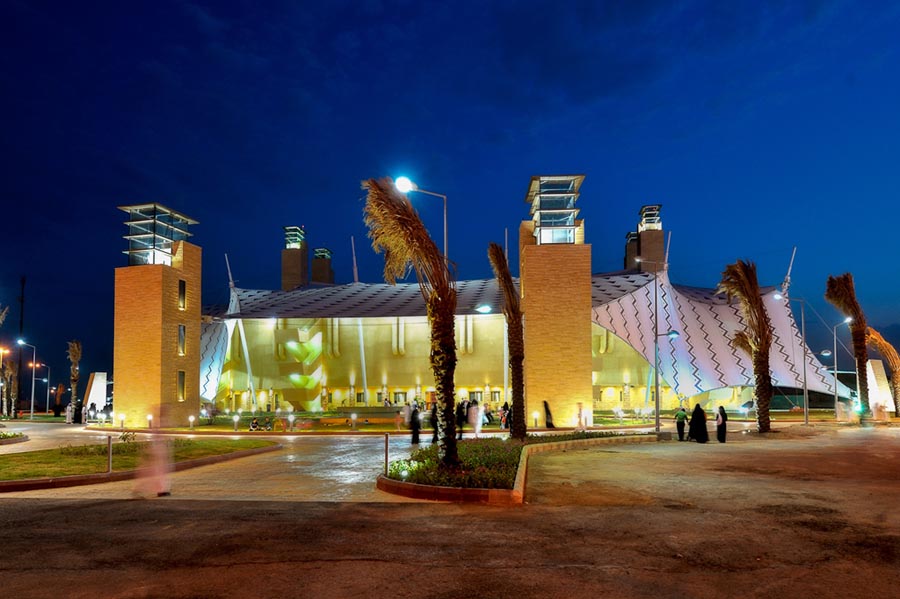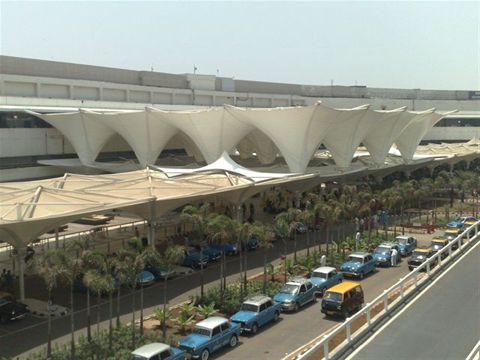 Greenslopes Private Hospital Car Park Canopies

Entrant: Architectural Sails (Qld) Pty Ltd - Contractor
Location: Lot 108 Nicholson St - Greenslopes Qld 4120
Client: Ramsey Health Care
Architect: Phillips Smith Conwell Architects Pty Ltd
Struct. Eng.: Bligh Tanner & Wade Design Engineers
Others: Ozrig Pty Ltd (Installation)
Builder: John Holland Pty Ltd
Fabricator: Ruffles Engineering & Atkins Fabrication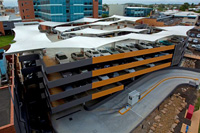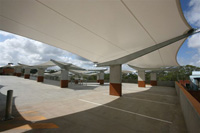 Melbourne Sports & Aquatic Centre
Entrant: Taiyo Membrane Corp
Client: Major Projects Australia
Architect: Peddle Thorpe Architects
Structural Engineer: Xiang Du (TMC) & Connell Mott McDonald
Specialist Consultant(s): Connell Wagner (steel design)
Builder: John Holland Pty Ltd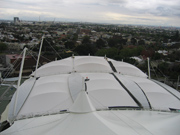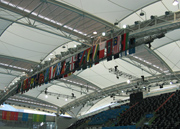 ITE College West, Singapore
APPLICATION OF PROJECT:
Canopy shade structure: The architectural PTFE membrane canopy provides weather protection for an outdoor events plaza and exterior walkway.
PROJECT DESCRIPTION
A truly stunning piece of fabric architecture was created with this stunning lightweight membrane roof at ITE College (West) in Singapore. Supported only by a complex cable system and large steel wall plates bolted to 4 different buildings, the 3000m2 PTFE Canopy provides shelter to the Events Plaza and exterior walkways below spanning an incredible 75m span in one direction and 45m in the other.
The project presented many extreme challenges that were overcome through innovative thinking and design. The 3000m2 canopy was hoisted into position from ground level and secured in just 16 hrs using 10 electric chain hoists, in conjunction with a 200T mobile crane.
The completed saddle shaped‐membrane structure adds a beautiful yet practical architectural focal point within the development and exceeded the expectations of both the client and the main contractor.
LSAA Design Awards 2013 Award of Excellence
Souk Okaz Public Theatre
Entrant: MakMax Australia
Category: 6 ID Number: 4303

Location: Taif City, Kingdom of Audi Arabia

Client: Taif City

Completion Date: March 2013
Credits:
Architect: Diyar Consultants

Structural Engineer: MakMax Australia

Specialists: MakMax (Designer)

Builder: Abdullah Hassan Al Shihry Contractors

Fabricator: Shanghai Taiyo Kogyo, Taiyo Middle East
---
Judges Comments:
"Well integrated and designed perfectly for its place."
"This looks to be very successful integration of lightweight elements with solid architecture. There's no sense that the roof has been conceived independently of the rest of the theatre. Lovely tent-like effect; very effective use of pattern on the 'fly sheet'."
---
APPLICATION OF PROJECT: Decorative roof, culturally significant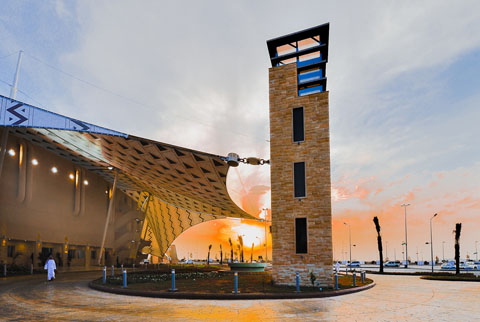 PROJECT DESCRIPTION:
The purpose of Souk Okaz Public Theatre was to deliver both a functional public space for cultural activities and evocative ambience reminiscent of the ancient pre-Islamic era of a bustling Bedouin market place. It provides both modern facilities and an austere tribute to the proud cultural history of the Taif City. The artistic element of this project is its greatest achievement. The unique shapes and textures it depicts are uniquely Arabic; this is of the highest importance to the client and the end users. MakMax designers took great care in creating this aesthetic as it makes up the character of the project. This project delivers both a functional public space for cultural activities and evocative ambience reminiscent of the ancient pre-Islamic era of a bustling Bedouin market place. It provides both modern facilities and an austere tribute to the proud cultural history of the Taif City.
Nelson Mandela Bay Multipurpose Stadium

Entrant: MakMax Australia - Designer
Location: Prince Alfred Park - North End Lake - Port Elizabeth South Africa
Client: Nelson Mandela Metropolitan Municipality
Architect: GMP Architects
Struct. Eng.: MakMax Australia
Others: MakMax (Installation)
Builder: Grinaker / Interbeton JV
Fabricator: MakMax Australia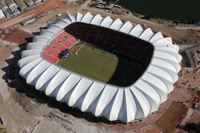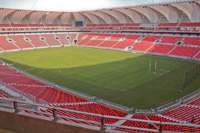 The following Large Structure Projects were entered into the 2018 LSAA Design Awards in Category 4
Category 4 "Large Structures > 1000 sqm"
4001 Macquarie University Campus Common.
4066 QUT Sports Field Car Park.
4100 Sumartran Tiger Adventure.
4101 Wellington Regional Bowling Club.
4432 Playford Bowls Club Triple Bowls Green Cover.