These structures may be described as single surfaces or panels in the form of one of the classic hypars, barrel vaults, cones, panels with single or crossing arches - or a combination.
Larger fabric structures can also be made from several modules or panels of similar forms to build up a substantial sized structure. The multiple panels might be arranged in a linear layout, or in a circular or oval pattern commonly found in stadia roofs.
The LSAA has a Design Award Category for Large Structures which has been defined as being greater than 1000 sqm.
The following articles are in random order:
The Grand Pavilion, Royal Melbourne Showgrounds
Entrant: Oasis Tension Structures
Client: Multiplex Constructions (Vic) Pty Ltd
Architect: Darryl Jackson Pty Ltd
Structural Engineer: Tensys
Specialist Consultant(s): Drafting Steel One
Builder: Oasis Tension Structures (Australia) Pty Ltd
Fabricator(s): Atkins Fabrications Pty Ltd Structurflex NZ,
Geelong Fabrications, Ronstan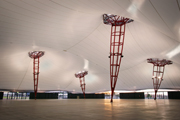 LSAA Design Awards 2013 High Commendation
Porto Chino
Entrant: Geometal Limited
Category: 4 ID Number: 4166

Location: Samut Sakhon, Thailand

Client: D Land Group Co., Ltd

Completion Date: July 2012
Credits:
Architect: Contour Co., Ltd

Structural Engineer: EDMA Co., Ltd

Specialists: Enplus Co., Ltd

Builder: Cho Rungrot Co., Ltd

Fabricator: Fastech Co., Ltd
---
Judges Comments:
"Contemporary structures have departed this dramatic curved shape tensiles, a nice return to Otto era."
"Seems an imaginative and successful answer to the challenge of unifying a shopping centre in need of some focus. The geometry of the main roof form adds interest to what could have been merely a pragmatic solution."
DESIGN / FABRICATION / INSTALLATION BRIEF
Our company was taking roles as design and engineer being a reason that the architect for the project came up only concept with an idea to cover void in center of life style shopping using fabric structure.
First concept was single conical, however, this was changed to one high point and one low point later to create new shape and allow wind to flow downward to space below.
Engineering works also include form-finding, structure analysis, CFD analysis, detailing design, Installation method.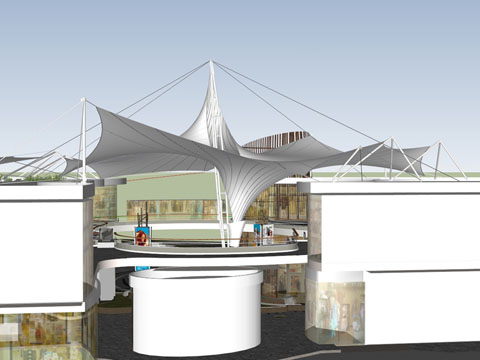 Marassi Beach Resort, Egypt
APPLICATION OF PROJECT:
Shading systems: The Marassi beach Clubhouse, resort villas, and spas required a large range of shading systems.
PROJECT DESCRIPTION
Marassi is a Mediterranean‐styled resort development sprawling across 1,544 acres of pristine waterfront. Situated along the magical shores of Sidi Abdul Rahman bay, the resort is close to Alexandria and a few miles away from the historic city of El Alamein.
The Marassi beach Clubhouse, resort villas, and spas required a large range of shading systems. The main circular bar area was covered using a multi‐layered shade sail system with one central connection post. Selected outdoor seating areas were also shaded using a series of smaller hypar‐shade sails grouped into multiple rectangular configurations. The finished design incorporates a total of 66 posts, 2 diamond shaped sails, 4 triangular sails and 21 rectangular hypar sails.
Waitomo Glowworm Caves Visitor Centre - New Zealand
PROJECT DESCRIPTION
Sheltered below an innovative woven timber canopy, new amenities for visitors to the Waitomo Caves includes tourist gathering areas, 250-seat dining, retail, seminar and exhibition areas as well as a café and theatre for Tourism Holdings Ltd (Fig.1). (Note: These Figures / drawings are not available)
The cave entrance is accessed from the car park on the upper path while a lower path returns the visitors back alongside the stream exit (Fig. 2). Between these paths the amenities were accommodated within a simple base structure that extended the contours of the land (Fig. 3). The form of the base is distinguished and separate from the curved geometry of the overhead canopy.
The historic caves were formed from the limestone transported by water over thousands of years, so we wanted to emphasis a connection with the Waitomo stream and the flows of water running through the caves. The canopy gridshell is aligned with the curve of the Waitomo stream. It reinforces the generating idea for this project of a simple lightweight 'sky shell' to counterpoint the subterranean cave space that is dissolved and moulded out of the ground. (Fig. 4). The canopy in combination with the caves, create a positive and a negative, if you like.
ASU – Skysong
Entrant: Atkins Fabrication (Aust) Pty Ltd – Fabricator
Location: Arizona State University – USA
Client: USA Shade & Fabric Structures Inc.
Struct. Eng.: Wade Engineers
Fabricator: Atkins Fabrication (Australia) Pty Ltd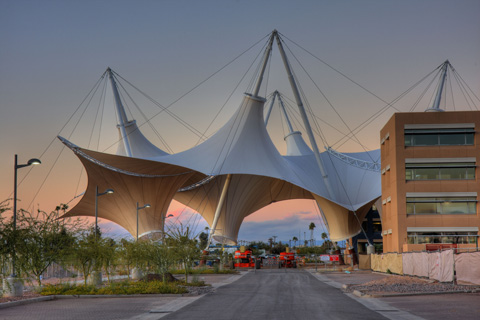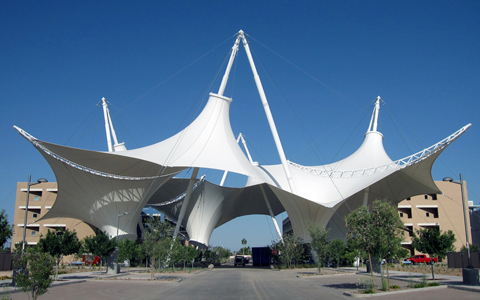 Mehler Coated Technical Textiles supplied large quantities of coated fabric for the 2015 Milan Expo.
The major application was for sun shading the two main axes of the Expo. The 85,000 sqm of fabric was essentially planar rectangular panels attached to opposing valley and ridge cables.
One important concept behind the simple forms was the re-use of the fabric following the Expo.
Other projects included:
Iranian Pavillion (2,500 sqm)

Ferreo Pavillion (1,600 sqm)

Institution Bologna Pavillion (4,500 sqm)

Tent at the entrance (6,000 sqm)
For further details see HERE
LSAA Design Awards 2013 High Commendation
Westlake Girls High School Sports Facility
Entrant: Structurflex Limited
Category: 4 ID Number: 4101

Location: Auckland

Client: Westlake Girls High School

Completion Date: May 2012
Credits:
Architect: Creative Spaces (Harry Street)

Structural Engineer: Fabspan

Others: OCTA Associates (Project Manager)

Builder: ASPEC Construction

Fabricator: Structurflex Limited

Installer: Structurflex Limited

Steelwork: Grayson Engineering
---
Judges Comments:
"Well executed variant of a "Standard" structure for sports."
"A tough site by the side of a motorway. Fine integration of structure and membrane to make the most of the potential of lightweight materials. A generous span provides uncluttered space; a sense of levity throughout."
---
APPLICATION OF PROJECT:
The Tension Membrane Structure we supplied covers 4 Netball Courts and 6 Tennis Courts. The School wanted to enable increased use of their Netball and Tennis Courts by adding an all weather Canopy.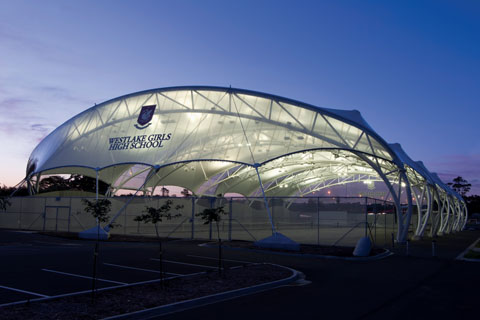 Melbourne Sports & Aquatic Centre
Entrant: Taiyo Membrane Corp
Client: Major Projects Australia
Architect: Peddle Thorpe Architects
Structural Engineer: Xiang Du (TMC) & Connell Mott McDonald
Specialist Consultant(s): Connell Wagner (steel design)
Builder: John Holland Pty Ltd