These structures may be described as single surfaces or panels in the form of one of the classic hypars, barrel vaults, cones, panels with single or crossing arches - or a combination.
Larger fabric structures can also be made from several modules or panels of similar forms to build up a substantial sized structure. The multiple panels might be arranged in a linear layout, or in a circular or oval pattern commonly found in stadia roofs.
The LSAA has a Design Award Category for Large Structures which has been defined as being greater than 1000 sqm.
The following articles are in random order:
Brisbane Airport Walkway
Entrant: MakMax Australia
Category: 4 ID Number: 4302

Location: Brisbane Domestic Airport

Client: Brisbane Airport Corporation

Completion Date: June 2012
Credits:
Architect: Hassell

Others: Custom Cables

Builder: Liang O'Rourke Pty Ltd

Fabricator: MakMax Australia

Installer: OzRig

Steelwork: Steelman
APPLICATION OF PROJECT: Pedestrian bridge roof, open air.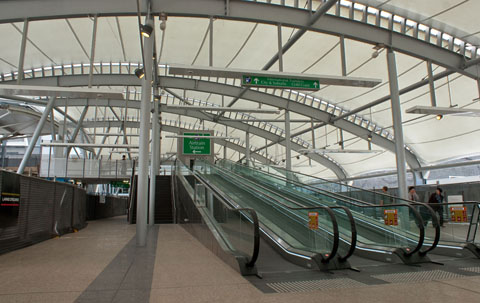 PROJECT DESCRIPTION:
This airport terminal access project involves the construction of a major pedestrian bridge linking a new multi-level car park and train platforms to the terminal building one of the country's business airports.
This covered walkway project is part of a larger group of construction projects which serve to improve all pedestrian and vehicular traffic at the airport. Our client requested design, fabrication and installation of the tensioned membrane roof system. The purpose was purely weather protection for pedestrian traffic on new pedestrian access bridge.
Melbourne Sports & Aquatic Centre
Entrant: Taiyo Membrane Corp
Client: Major Projects Australia
Architect: Peddle Thorpe Architects
Structural Engineer: Xiang Du (TMC) & Connell Mott McDonald
Specialist Consultant(s): Connell Wagner (steel design)
Builder: John Holland Pty Ltd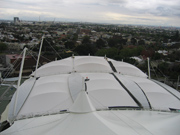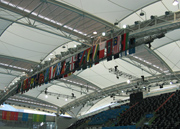 Queensland State Velodrome
MakMax Australia (Engineer, Fabricator, Installer)
Location: Sleeman Sports Complex, Brisbane. Completed: August 2016
Client: Watpac
Team: Cox Rayner Architects, Tensys, Arup, MakMax Australia
Panoli Gate - India
PROJECT DESCRIPTION
As a flagship development in the area Panoli needed a striking and unique entrance. MakMax's Indian office was able to provide a prominent entrance structure to suit. The project, Panoli Gate House presented a new challenge for MakMax engineers. The large 1,300 sqm area required shade, weather protection, as well as a plan for collecting run off. Inspired by the design and functionality of the St Tropez products MakMax already produces as standard products, engineers decided to replicate this shape and function on a grand scale.
The inverted cone shape of the modular structure eliminates rain water run off by collecting all water through integrated concealed drains. The design allows all water collected to enter the supporting columns, from there it is either stored or eliminated below ground.
Waitomo Glowworm Caves Visitor Centre - New Zealand
PROJECT DESCRIPTION
Sheltered below an innovative woven timber canopy, new amenities for visitors to the Waitomo Caves includes tourist gathering areas, 250-seat dining, retail, seminar and exhibition areas as well as a café and theatre for Tourism Holdings Ltd (Fig.1). (Note: These Figures / drawings are not available)
The cave entrance is accessed from the car park on the upper path while a lower path returns the visitors back alongside the stream exit (Fig. 2). Between these paths the amenities were accommodated within a simple base structure that extended the contours of the land (Fig. 3). The form of the base is distinguished and separate from the curved geometry of the overhead canopy.
The historic caves were formed from the limestone transported by water over thousands of years, so we wanted to emphasis a connection with the Waitomo stream and the flows of water running through the caves. The canopy gridshell is aligned with the curve of the Waitomo stream. It reinforces the generating idea for this project of a simple lightweight 'sky shell' to counterpoint the subterranean cave space that is dissolved and moulded out of the ground. (Fig. 4). The canopy in combination with the caves, create a positive and a negative, if you like.
ASU – Skysong
Entrant: Atkins Fabrication (Aust) Pty Ltd – Fabricator
Location: Arizona State University – USA
Client: USA Shade & Fabric Structures Inc.
Struct. Eng.: Wade Engineers
Fabricator: Atkins Fabrication (Australia) Pty Ltd