These structures may be described as single surfaces or panels in the form of one of the classic hypars, barrel vaults, cones, panels with single or crossing arches - or a combination.
Larger fabric structures can also be made from several modules or panels of similar forms to build up a substantial sized structure. The multiple panels might be arranged in a linear layout, or in a circular or oval pattern commonly found in stadia roofs.
The LSAA has a Design Award Category for Large Structures which has been defined as being greater than 1000 sqm.
The following articles are in random order:
The Farm - Anish Kapoor
Entrant: Structurflex Ltd - Engineering Fabrication Installation
Location: Kaipara Harbour
Client: Keystone Trust
Architect: Noel Lane Architects
Struct. Eng.: Structure Design & Compusoft Engineering
Builder: Grayson Engineering
Fabricator: Structurflex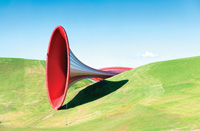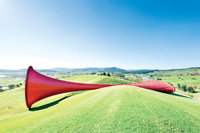 East Cessnock Bowling Club
Entrant: Light Weight Structures
Category: 4 ID Number: 4352

Location: Neath Street Cessnock NSW

Client: East Cessnock Bowls Club

Completion Date: September 2012
Credits:
Structural Engineer: Jeremy Hunter

Specialists: Trevor Scott Building Designer

Builder: Light Weight Structures

Fabricator: Stanfast

Installer: Light Weight Structures
---
APPLICATION OF PROJECT:
The project covered one Bowling Green measuring 1820 sqmts. The project was designed to offer weather protection to bowlers, including night time use of the Bowling Green (in a residential setting) and minimal cleaning maintenance over the life of the structure.
The client requested that the project offered weather protection to bowlers and require low levels of cleaning maintenance. The club building was elevated and adjacent to the bowling green. Floor to ceiling glass in the Sportsman's Bar and Restaurant offered panoramic views of the bowling green. The club requested these views not be impeded. The Wide Span Structure was to integrate into the existing club building offering a weatherproof seal between the club building and the Wide Span Structure. Importantly, the club wanted to increase revenue by offering night time bowling to stimulate other income streams. As the club was positioned in a residential area complaints from neighbours had prevented the operation of night time lighting of the green. The structure was to encapsulate the artificial lighting so the greens could be used at night.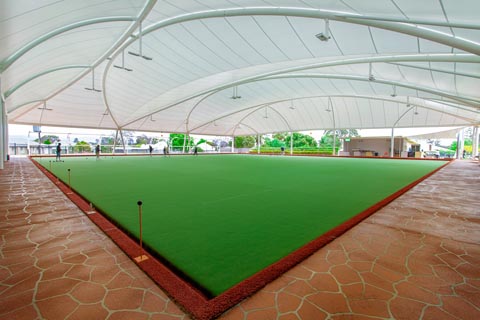 LSAA Design Awards 2013 Award of Excellence
Souk Okaz Public Theatre
Entrant: MakMax Australia
Category: 6 ID Number: 4303

Location: Taif City, Kingdom of Audi Arabia

Client: Taif City

Completion Date: March 2013
Credits:
Architect: Diyar Consultants

Structural Engineer: MakMax Australia

Specialists: MakMax (Designer)

Builder: Abdullah Hassan Al Shihry Contractors

Fabricator: Shanghai Taiyo Kogyo, Taiyo Middle East
---
Judges Comments:
"Well integrated and designed perfectly for its place."
"This looks to be very successful integration of lightweight elements with solid architecture. There's no sense that the roof has been conceived independently of the rest of the theatre. Lovely tent-like effect; very effective use of pattern on the 'fly sheet'."
---
APPLICATION OF PROJECT: Decorative roof, culturally significant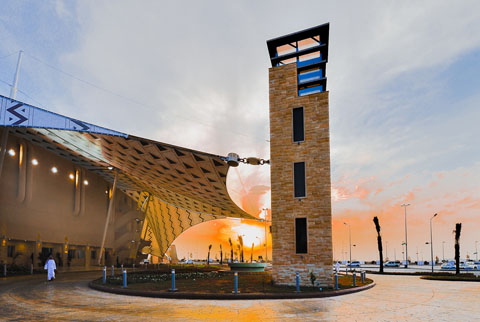 PROJECT DESCRIPTION:
The purpose of Souk Okaz Public Theatre was to deliver both a functional public space for cultural activities and evocative ambience reminiscent of the ancient pre-Islamic era of a bustling Bedouin market place. It provides both modern facilities and an austere tribute to the proud cultural history of the Taif City. The artistic element of this project is its greatest achievement. The unique shapes and textures it depicts are uniquely Arabic; this is of the highest importance to the client and the end users. MakMax designers took great care in creating this aesthetic as it makes up the character of the project. This project delivers both a functional public space for cultural activities and evocative ambience reminiscent of the ancient pre-Islamic era of a bustling Bedouin market place. It provides both modern facilities and an austere tribute to the proud cultural history of the Taif City.
ITE College West, Singapore
APPLICATION OF PROJECT:
Canopy shade structure: The architectural PTFE membrane canopy provides weather protection for an outdoor events plaza and exterior walkway.
PROJECT DESCRIPTION
A truly stunning piece of fabric architecture was created with this stunning lightweight membrane roof at ITE College (West) in Singapore. Supported only by a complex cable system and large steel wall plates bolted to 4 different buildings, the 3000m2 PTFE Canopy provides shelter to the Events Plaza and exterior walkways below spanning an incredible 75m span in one direction and 45m in the other.
The project presented many extreme challenges that were overcome through innovative thinking and design. The 3000m2 canopy was hoisted into position from ground level and secured in just 16 hrs using 10 electric chain hoists, in conjunction with a 200T mobile crane.
The completed saddle shaped‐membrane structure adds a beautiful yet practical architectural focal point within the development and exceeded the expectations of both the client and the main contractor.
Platypus Remediation
Entrant: Global Fabric Structures (UFS)
• Category: 4 ID Number: 3301
• Location: Sydney
• Client: Thiess Australia
• Completion Date: December 2012
Credits:
• Structural Engineer: Wade Design Engineers
• Fabricator: Global Fabric Structures
• Installer: Global Fabric Structures
APPLICATION OF PROJECT: Environmental Remediation
PROJECT DESCRIPTION:
The former HMAS Platypus site is nestled below the suburb of Neutral Bay, Sydney Australia on a quiet harbour inlet.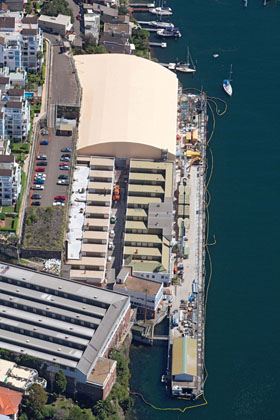 This site has been an integral part of the history of Sydney Harbour since the early 1800's. A gasworks, a workshop for servicing torpedoes and a base for Australian Submarines have a left a contaminated industrial site that is excavated out of sandstone and spread over several levels.
The site has an area of approximately 1.8 hectares and includes 11 buildings and structures, some of which are of heritage significance. The soils, bedrock and groundwater on the site are contaminated, predominately related to the former gas works operations.
The Sydney Harbour Federation Trust acquired HMAS Platypus in 2005 and has commenced the restoration, for the enjoyment of present and future generations to enjoy the history, heritage and harbourside location.
Panoli Gate - India
PROJECT DESCRIPTION
As a flagship development in the area Panoli needed a striking and unique entrance. MakMax's Indian office was able to provide a prominent entrance structure to suit. The project, Panoli Gate House presented a new challenge for MakMax engineers. The large 1,300 sqm area required shade, weather protection, as well as a plan for collecting run off. Inspired by the design and functionality of the St Tropez products MakMax already produces as standard products, engineers decided to replicate this shape and function on a grand scale.
The inverted cone shape of the modular structure eliminates rain water run off by collecting all water through integrated concealed drains. The design allows all water collected to enter the supporting columns, from there it is either stored or eliminated below ground.