These structures may be described as single surfaces or panels in the form of one of the classic hypars, barrel vaults, cones, panels with single or crossing arches - or a combination.
Larger fabric structures can also be made from several modules or panels of similar forms to build up a substantial sized structure. The multiple panels might be arranged in a linear layout, or in a circular or oval pattern commonly found in stadia roofs.
The LSAA has a Design Award Category for Large Structures which has been defined as being greater than 1000 sqm.
The following articles are in random order:
Nelson Mandela Bay Multipurpose Stadium

Entrant: MakMax Australia - Designer
Location: Prince Alfred Park - North End Lake - Port Elizabeth South Africa
Client: Nelson Mandela Metropolitan Municipality
Architect: GMP Architects
Struct. Eng.: MakMax Australia
Others: MakMax (Installation)
Builder: Grinaker / Interbeton JV
Fabricator: MakMax Australia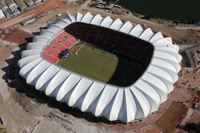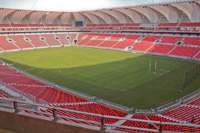 Rio Tinto Stadium

Entrant: Structurflex Ltd - Engineering Fabrication Installation
Location: Sandy - Salt Lake City Utah USA
Client: Salt Lake County - Utah & Real Salt Lake
Architect: Rossetti Architects
Struct. Eng.: Wade Design Engineers & Wayne Rendely PE
Builder: Turner Construction
Fabricator: Structurflex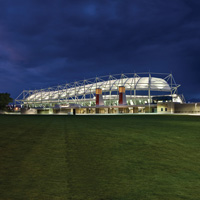 Chevron Renaissance
MakMax Australia (Engineer, Fabricator, Installer)
Location: Gold Coast, QLD.

Team: MakMax Australia
Brisbane State Tennis Outdoor Show Courts
Entrant: UFS Australasia Pty Ltd - Designer / Fabricator
Location: 190 King Arthur Terrace - Tennyson Qld 4105
Client: Mirvac
Architect: Mirvac Design
Struct. Eng.: Wade Consulting
Specialist: Steel Structures Australia
Builder: Universal Fabric Structures / Ozrig
Fabricator: Skyspan Asia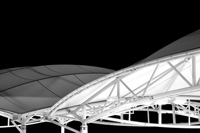 The Grand Pavilion, Royal Melbourne Showgrounds
Entrant: Oasis Tension Structures
Client: Multiplex Constructions (Vic) Pty Ltd
Architect: Darryl Jackson Pty Ltd
Structural Engineer: Tensys
Specialist Consultant(s): Drafting Steel One
Builder: Oasis Tension Structures (Australia) Pty Ltd
Fabricator(s): Atkins Fabrications Pty Ltd Structurflex NZ,
Geelong Fabrications, Ronstan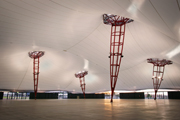 Waitomo Glowworm Caves Visitor Centre - New Zealand
PROJECT DESCRIPTION
Sheltered below an innovative woven timber canopy, new amenities for visitors to the Waitomo Caves includes tourist gathering areas, 250-seat dining, retail, seminar and exhibition areas as well as a café and theatre for Tourism Holdings Ltd (Fig.1). (Note: These Figures / drawings are not available)
The cave entrance is accessed from the car park on the upper path while a lower path returns the visitors back alongside the stream exit (Fig. 2). Between these paths the amenities were accommodated within a simple base structure that extended the contours of the land (Fig. 3). The form of the base is distinguished and separate from the curved geometry of the overhead canopy.
The historic caves were formed from the limestone transported by water over thousands of years, so we wanted to emphasis a connection with the Waitomo stream and the flows of water running through the caves. The canopy gridshell is aligned with the curve of the Waitomo stream. It reinforces the generating idea for this project of a simple lightweight 'sky shell' to counterpoint the subterranean cave space that is dissolved and moulded out of the ground. (Fig. 4). The canopy in combination with the caves, create a positive and a negative, if you like.
Panoli Gate - India
PROJECT DESCRIPTION
As a flagship development in the area Panoli needed a striking and unique entrance. MakMax's Indian office was able to provide a prominent entrance structure to suit. The project, Panoli Gate House presented a new challenge for MakMax engineers. The large 1,300 sqm area required shade, weather protection, as well as a plan for collecting run off. Inspired by the design and functionality of the St Tropez products MakMax already produces as standard products, engineers decided to replicate this shape and function on a grand scale.
The inverted cone shape of the modular structure eliminates rain water run off by collecting all water through integrated concealed drains. The design allows all water collected to enter the supporting columns, from there it is either stored or eliminated below ground.
LSAA Design Awards 2013 Award of Excellence
Souk Okaz Public Theatre
Entrant: MakMax Australia
Category: 6 ID Number: 4303

Location: Taif City, Kingdom of Audi Arabia

Client: Taif City

Completion Date: March 2013
Credits:
Architect: Diyar Consultants

Structural Engineer: MakMax Australia

Specialists: MakMax (Designer)

Builder: Abdullah Hassan Al Shihry Contractors

Fabricator: Shanghai Taiyo Kogyo, Taiyo Middle East
---
Judges Comments:
"Well integrated and designed perfectly for its place."
"This looks to be very successful integration of lightweight elements with solid architecture. There's no sense that the roof has been conceived independently of the rest of the theatre. Lovely tent-like effect; very effective use of pattern on the 'fly sheet'."
---
APPLICATION OF PROJECT: Decorative roof, culturally significant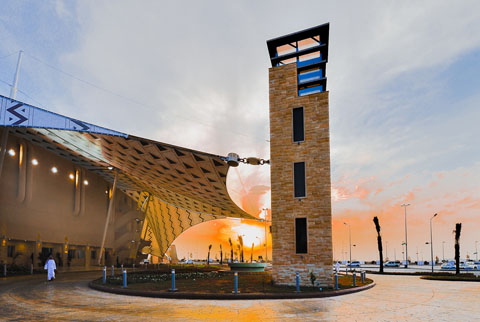 PROJECT DESCRIPTION:
The purpose of Souk Okaz Public Theatre was to deliver both a functional public space for cultural activities and evocative ambience reminiscent of the ancient pre-Islamic era of a bustling Bedouin market place. It provides both modern facilities and an austere tribute to the proud cultural history of the Taif City. The artistic element of this project is its greatest achievement. The unique shapes and textures it depicts are uniquely Arabic; this is of the highest importance to the client and the end users. MakMax designers took great care in creating this aesthetic as it makes up the character of the project. This project delivers both a functional public space for cultural activities and evocative ambience reminiscent of the ancient pre-Islamic era of a bustling Bedouin market place. It provides both modern facilities and an austere tribute to the proud cultural history of the Taif City.