These structures may be described as single surfaces or panels in the form of one of the classic hypars, barrel vaults, cones, panels with single or crossing arches - or a combination.
Larger fabric structures can also be made from several modules or panels of similar forms to build up a substantial sized structure. The multiple panels might be arranged in a linear layout, or in a circular or oval pattern commonly found in stadia roofs.
The LSAA has a Design Award Category for Large Structures which has been defined as being greater than 1000 sqm.
The following articles are in random order:
Clarke Quay Redevelopment - Singapore
Entrant: Tensys
Client: Capital and Commercial Ltd
Architect: SMC Alsops & RSP Architects
Structural Engineer: Tensys
Specialist Consultant(s): Arup (Environmental)
Builder: Kajima Overseas Asia Pte Ltd
Fabricator(s): Skyspan (Asia) Pvt Ltd – Riverside/Bluebell
canopies HIghtex GmbH – Street/Angel Canopies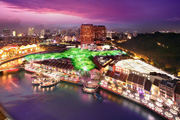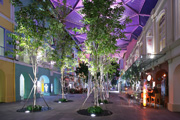 Waitomo Glowworm Caves Visitor Centre - New Zealand
PROJECT DESCRIPTION
Sheltered below an innovative woven timber canopy, new amenities for visitors to the Waitomo Caves includes tourist gathering areas, 250-seat dining, retail, seminar and exhibition areas as well as a café and theatre for Tourism Holdings Ltd (Fig.1). (Note: These Figures / drawings are not available)
The cave entrance is accessed from the car park on the upper path while a lower path returns the visitors back alongside the stream exit (Fig. 2). Between these paths the amenities were accommodated within a simple base structure that extended the contours of the land (Fig. 3). The form of the base is distinguished and separate from the curved geometry of the overhead canopy.
The historic caves were formed from the limestone transported by water over thousands of years, so we wanted to emphasis a connection with the Waitomo stream and the flows of water running through the caves. The canopy gridshell is aligned with the curve of the Waitomo stream. It reinforces the generating idea for this project of a simple lightweight 'sky shell' to counterpoint the subterranean cave space that is dissolved and moulded out of the ground. (Fig. 4). The canopy in combination with the caves, create a positive and a negative, if you like.
LSAA Design Awards 2013 High Commendation
Porto Chino
Entrant: Geometal Limited
Category: 4 ID Number: 4166

Location: Samut Sakhon, Thailand

Client: D Land Group Co., Ltd

Completion Date: July 2012
Credits:
Architect: Contour Co., Ltd

Structural Engineer: EDMA Co., Ltd

Specialists: Enplus Co., Ltd

Builder: Cho Rungrot Co., Ltd

Fabricator: Fastech Co., Ltd
---
Judges Comments:
"Contemporary structures have departed this dramatic curved shape tensiles, a nice return to Otto era."
"Seems an imaginative and successful answer to the challenge of unifying a shopping centre in need of some focus. The geometry of the main roof form adds interest to what could have been merely a pragmatic solution."
DESIGN / FABRICATION / INSTALLATION BRIEF
Our company was taking roles as design and engineer being a reason that the architect for the project came up only concept with an idea to cover void in center of life style shopping using fabric structure.
First concept was single conical, however, this was changed to one high point and one low point later to create new shape and allow wind to flow downward to space below.
Engineering works also include form-finding, structure analysis, CFD analysis, detailing design, Installation method.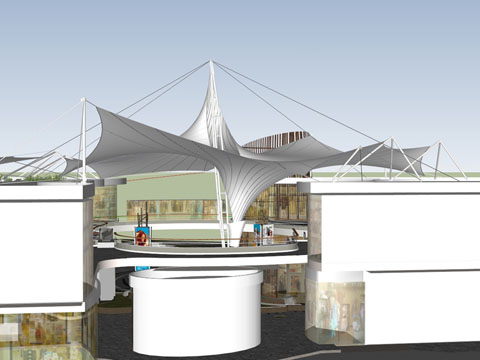 ASU – Skysong
Entrant: Atkins Fabrication (Aust) Pty Ltd – Fabricator
Location: Arizona State University – USA
Client: USA Shade & Fabric Structures Inc.
Struct. Eng.: Wade Engineers
Fabricator: Atkins Fabrication (Australia) Pty Ltd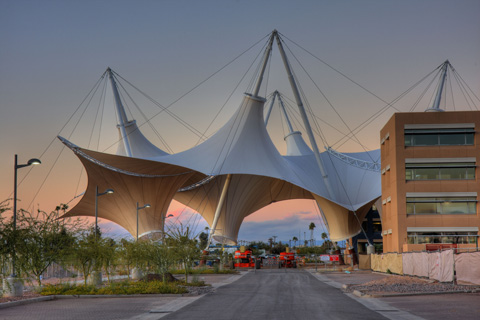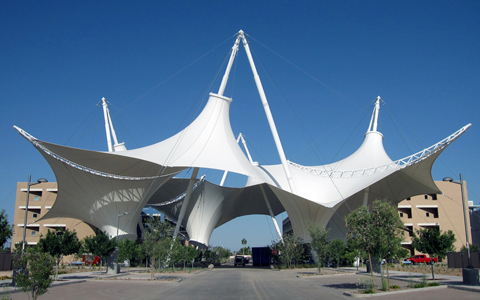 Platypus Remediation
Entrant: Global Fabric Structures (UFS)
• Category: 4 ID Number: 3301
• Location: Sydney
• Client: Thiess Australia
• Completion Date: December 2012
Credits:
• Structural Engineer: Wade Design Engineers
• Fabricator: Global Fabric Structures
• Installer: Global Fabric Structures
APPLICATION OF PROJECT: Environmental Remediation
PROJECT DESCRIPTION:
The former HMAS Platypus site is nestled below the suburb of Neutral Bay, Sydney Australia on a quiet harbour inlet.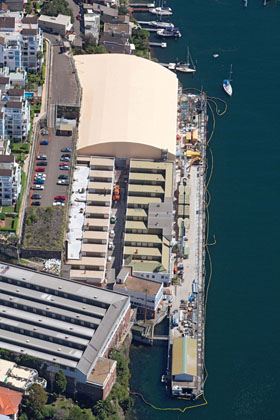 This site has been an integral part of the history of Sydney Harbour since the early 1800's. A gasworks, a workshop for servicing torpedoes and a base for Australian Submarines have a left a contaminated industrial site that is excavated out of sandstone and spread over several levels.
The site has an area of approximately 1.8 hectares and includes 11 buildings and structures, some of which are of heritage significance. The soils, bedrock and groundwater on the site are contaminated, predominately related to the former gas works operations.
The Sydney Harbour Federation Trust acquired HMAS Platypus in 2005 and has commenced the restoration, for the enjoyment of present and future generations to enjoy the history, heritage and harbourside location.
Marassi Beach Resort, Egypt
APPLICATION OF PROJECT:
Shading systems: The Marassi beach Clubhouse, resort villas, and spas required a large range of shading systems.
PROJECT DESCRIPTION
Marassi is a Mediterranean‐styled resort development sprawling across 1,544 acres of pristine waterfront. Situated along the magical shores of Sidi Abdul Rahman bay, the resort is close to Alexandria and a few miles away from the historic city of El Alamein.
The Marassi beach Clubhouse, resort villas, and spas required a large range of shading systems. The main circular bar area was covered using a multi‐layered shade sail system with one central connection post. Selected outdoor seating areas were also shaded using a series of smaller hypar‐shade sails grouped into multiple rectangular configurations. The finished design incorporates a total of 66 posts, 2 diamond shaped sails, 4 triangular sails and 21 rectangular hypar sails.
ITE College West, Singapore
APPLICATION OF PROJECT:
Canopy shade structure: The architectural PTFE membrane canopy provides weather protection for an outdoor events plaza and exterior walkway.
PROJECT DESCRIPTION
A truly stunning piece of fabric architecture was created with this stunning lightweight membrane roof at ITE College (West) in Singapore. Supported only by a complex cable system and large steel wall plates bolted to 4 different buildings, the 3000m2 PTFE Canopy provides shelter to the Events Plaza and exterior walkways below spanning an incredible 75m span in one direction and 45m in the other.
The project presented many extreme challenges that were overcome through innovative thinking and design. The 3000m2 canopy was hoisted into position from ground level and secured in just 16 hrs using 10 electric chain hoists, in conjunction with a 200T mobile crane.
The completed saddle shaped‐membrane structure adds a beautiful yet practical architectural focal point within the development and exceeded the expectations of both the client and the main contractor.
East Cessnock Bowling Club
Entrant: Light Weight Structures
Category: 4 ID Number: 4352

Location: Neath Street Cessnock NSW

Client: East Cessnock Bowls Club

Completion Date: September 2012
Credits:
Structural Engineer: Jeremy Hunter

Specialists: Trevor Scott Building Designer

Builder: Light Weight Structures

Fabricator: Stanfast

Installer: Light Weight Structures
---
APPLICATION OF PROJECT:
The project covered one Bowling Green measuring 1820 sqmts. The project was designed to offer weather protection to bowlers, including night time use of the Bowling Green (in a residential setting) and minimal cleaning maintenance over the life of the structure.
The client requested that the project offered weather protection to bowlers and require low levels of cleaning maintenance. The club building was elevated and adjacent to the bowling green. Floor to ceiling glass in the Sportsman's Bar and Restaurant offered panoramic views of the bowling green. The club requested these views not be impeded. The Wide Span Structure was to integrate into the existing club building offering a weatherproof seal between the club building and the Wide Span Structure. Importantly, the club wanted to increase revenue by offering night time bowling to stimulate other income streams. As the club was positioned in a residential area complaints from neighbours had prevented the operation of night time lighting of the green. The structure was to encapsulate the artificial lighting so the greens could be used at night.