These structures may be described as single surfaces or panels in the form of one of the classic hypars, barrel vaults, cones, panels with single or crossing arches - or a combination.
Larger fabric structures can also be made from several modules or panels of similar forms to build up a substantial sized structure. The multiple panels might be arranged in a linear layout, or in a circular or oval pattern commonly found in stadia roofs.
The LSAA has a Design Award Category for Large Structures which has been defined as being greater than 1000 sqm.
The following articles are in random order:
Auckland Zoo Aviaries
APPLICATION OF PROJECT
As part of a major upgrade to Auckland Zoo, Fabric Structure Systems built four new aviaries to accommodate different New Zealand bird & animal species.
PROJECT DESCRIPTION
Thirteen years in the planning and almost four years in the design and building, Te Wao Nui is Auckland Zoo's most significant project in its eighty-eight-year history. Covering more than 20 percent of the zoo's seventeen hectares, the exhibit showcases New Zealand species in their natural environment.
Visitors will journey through re-creations of six native habitats – the coast, islands, wetlands, night, forest and high country – featuring more than one hundred native plants and sixty animal species. Given the high proportion of winged and feathered New Zealand species, four of the zones are eighteen-meter-diameter aviaries, linked via a series of walkways.
Large fabric structures have generally been thought of as those that have a fabric surface area greater than 1000 square metres.
Often large projects will be made up of multiple panels of fabric whose boundaries are defined structurally and geometrically by straight or curved elements such as arches, edge beams and cables. The prestress forces from adjacent panels often counterbalance and the more efficient structures have a larger degree of symmetry and continuity such as a complete "bicycle wheel" for the roof a major sports stadium.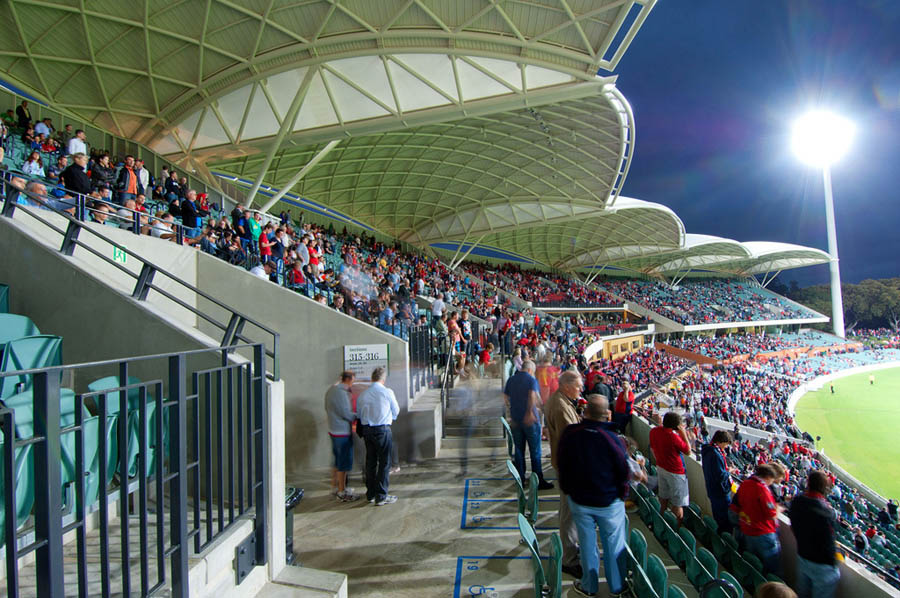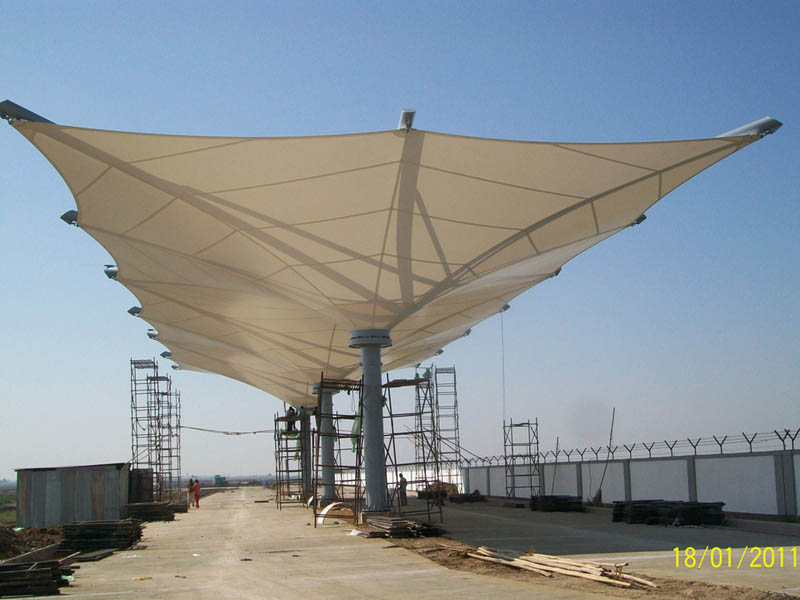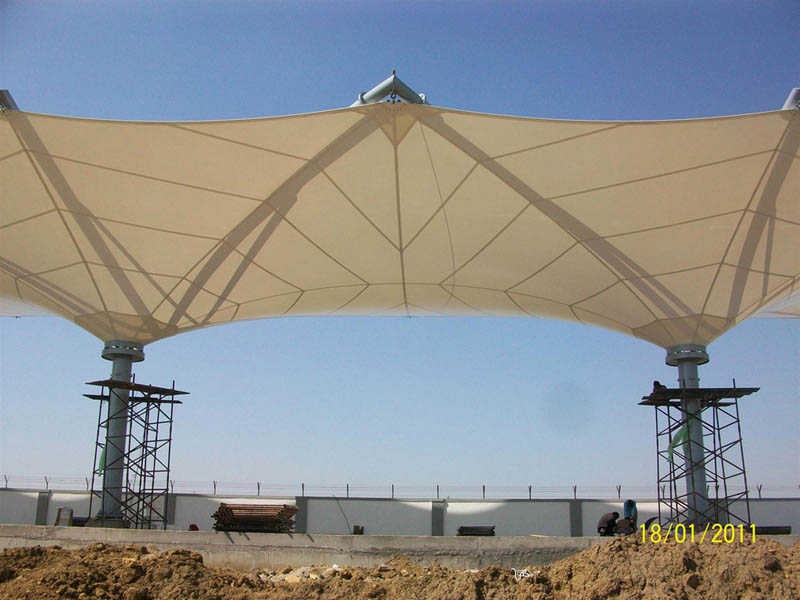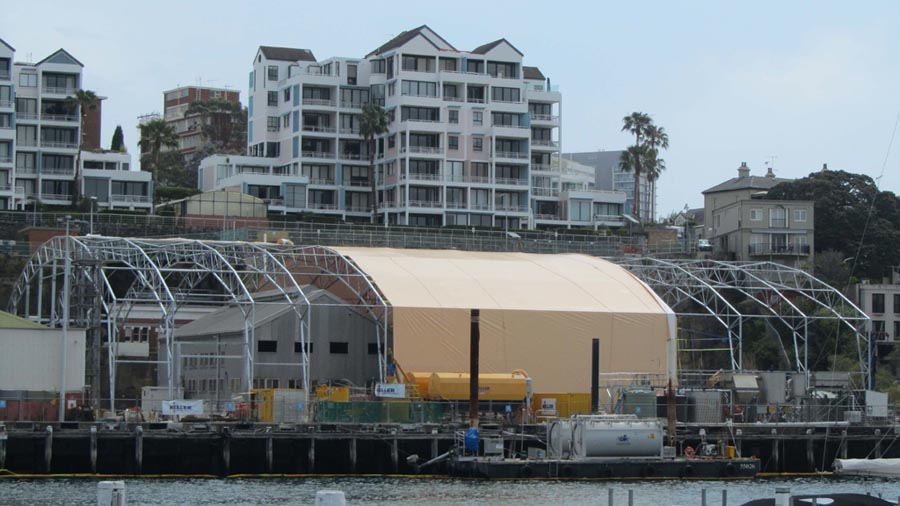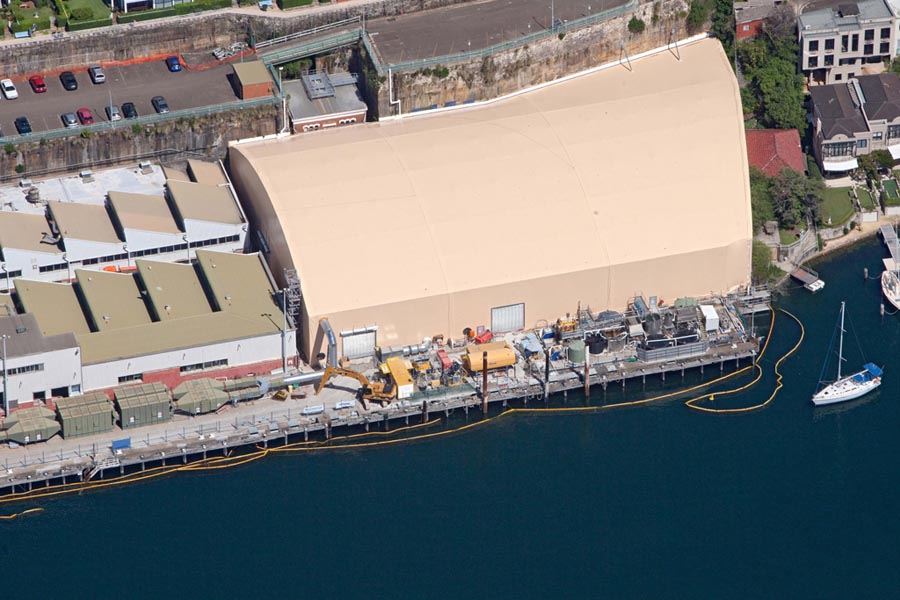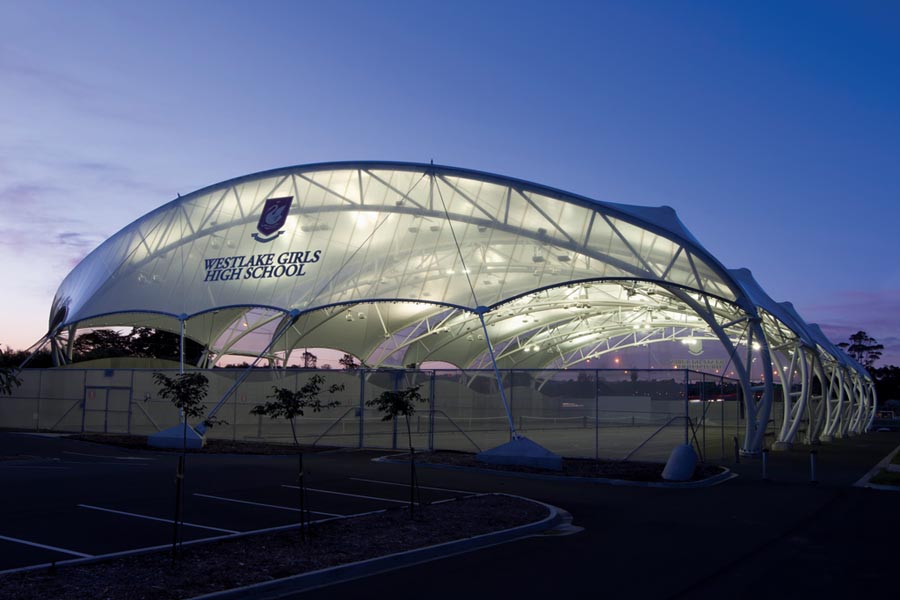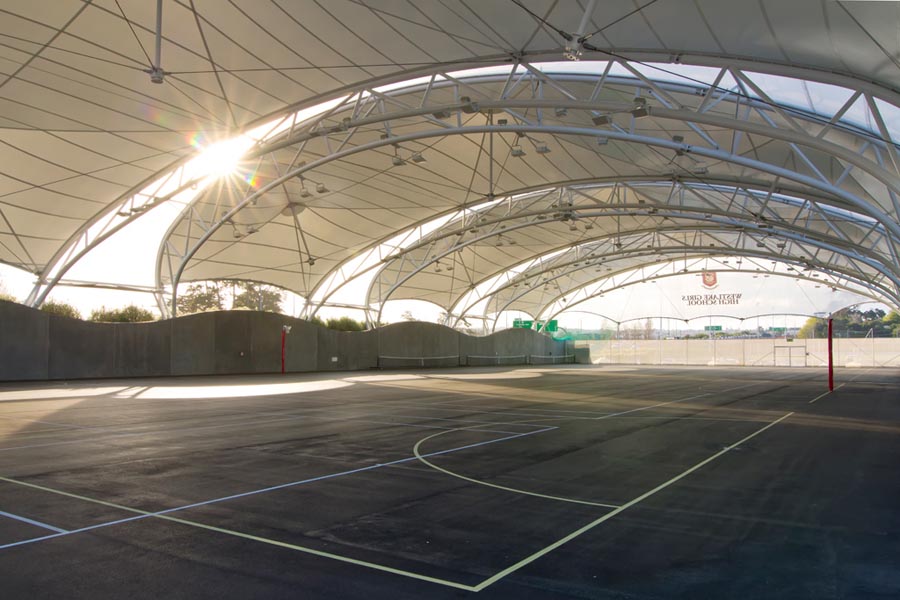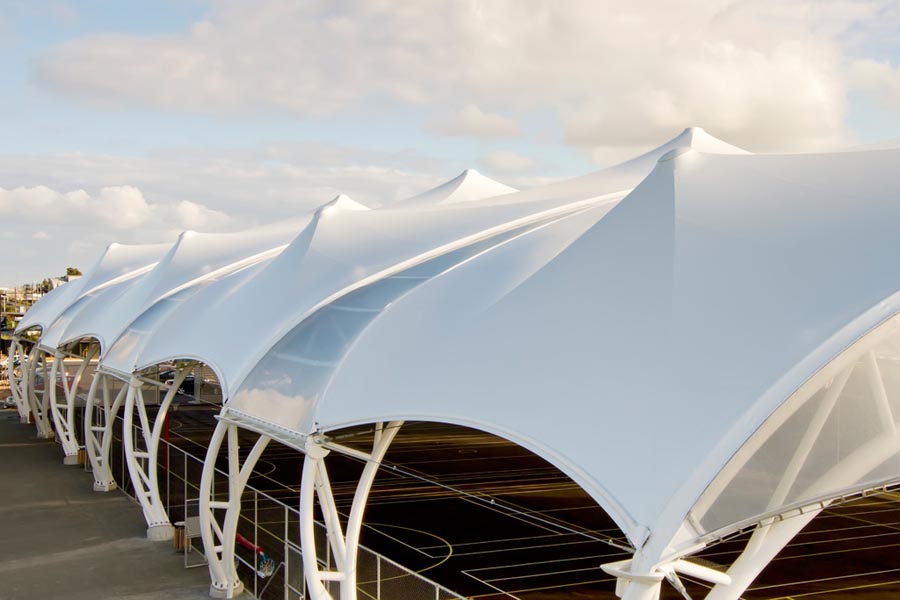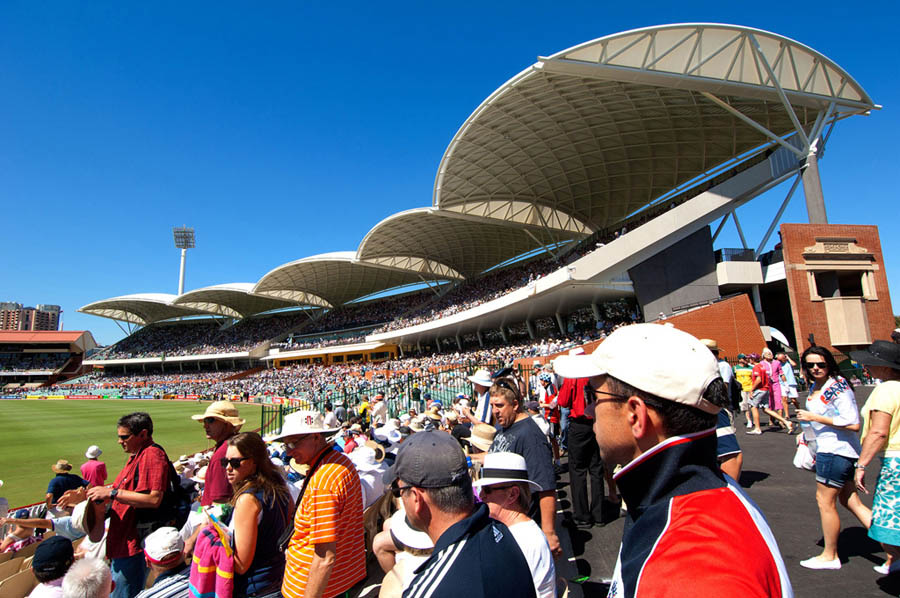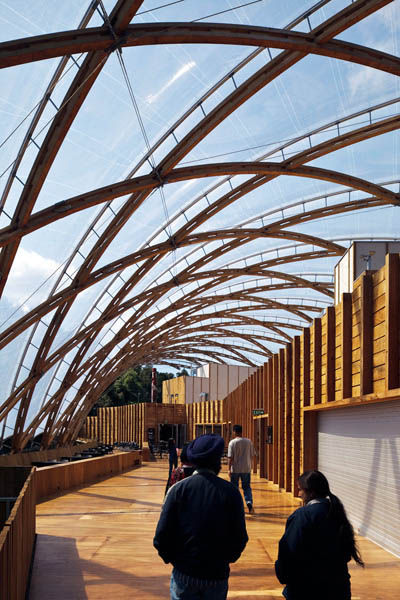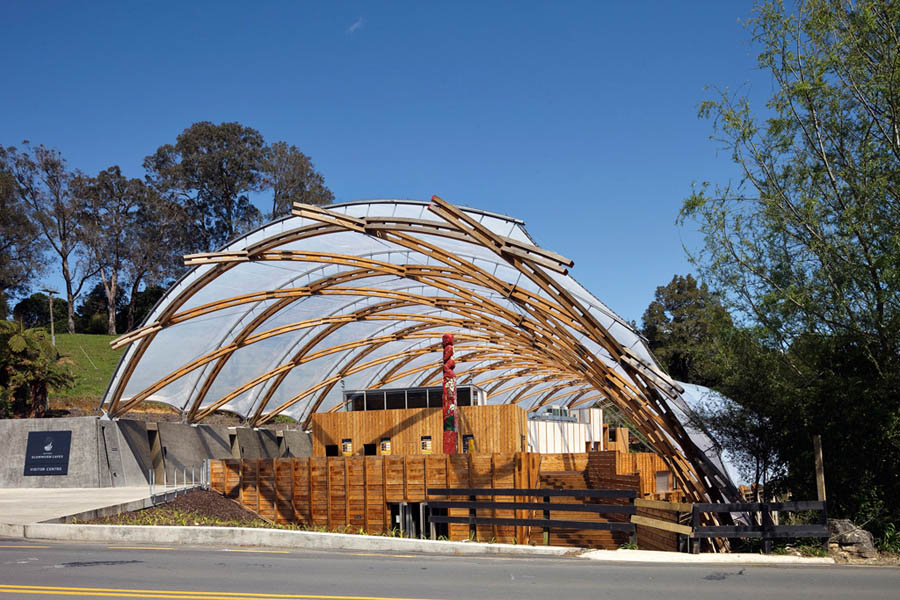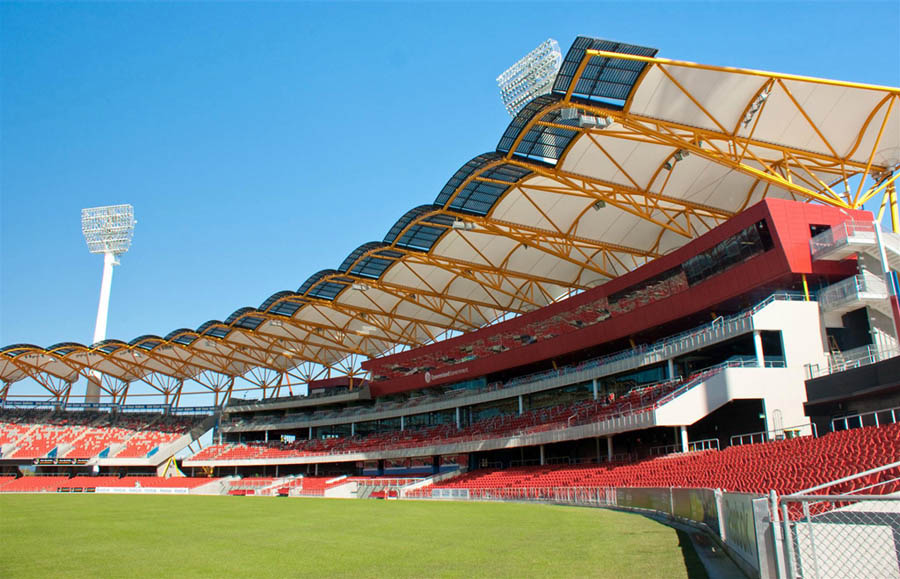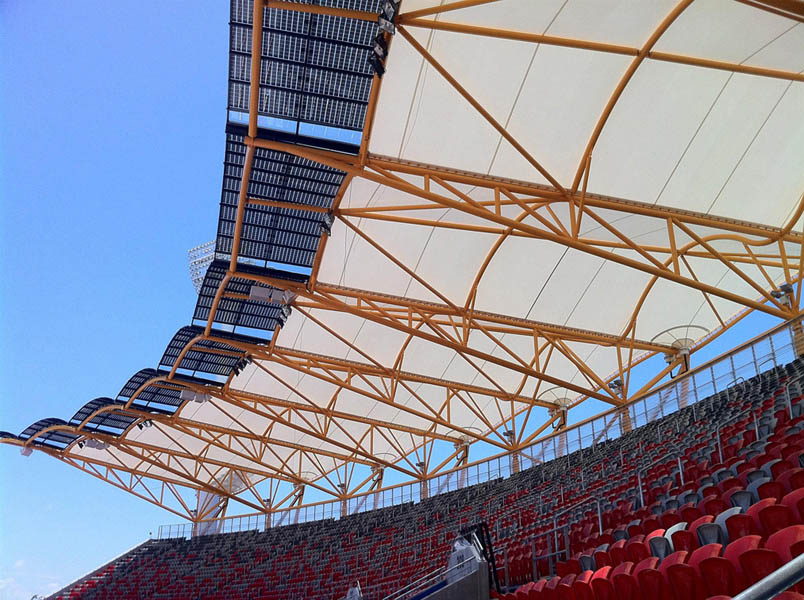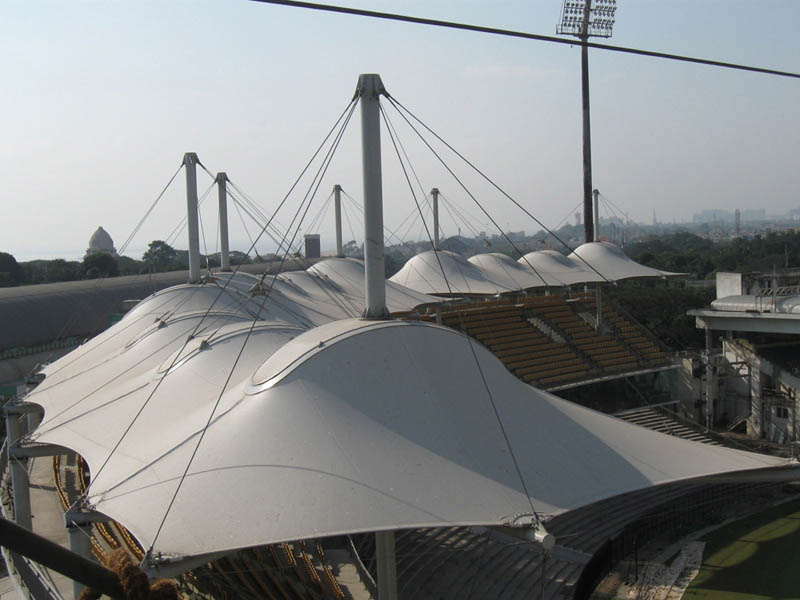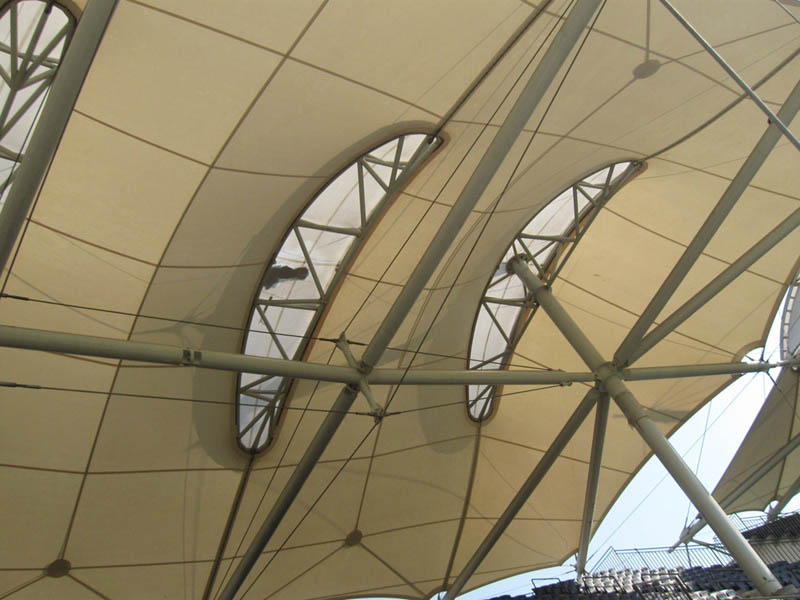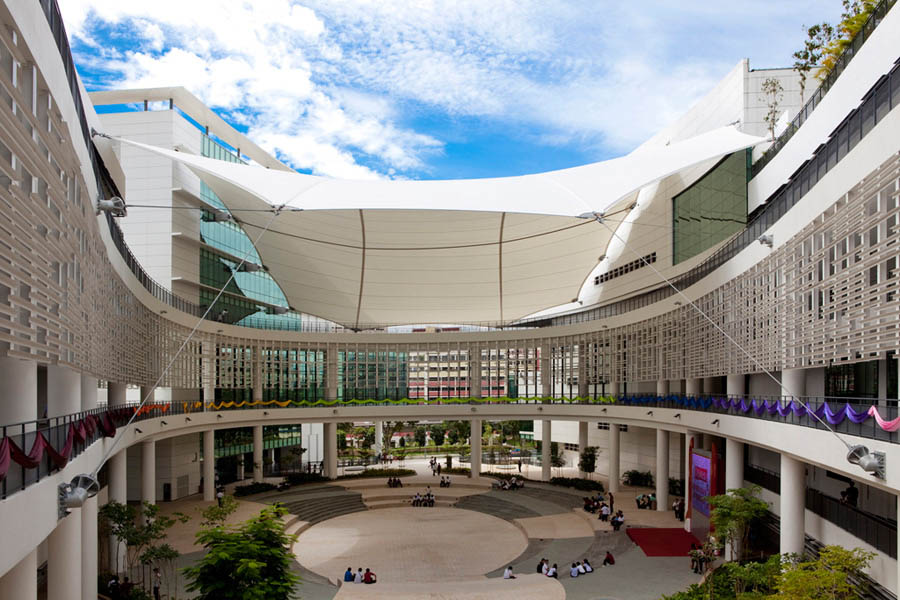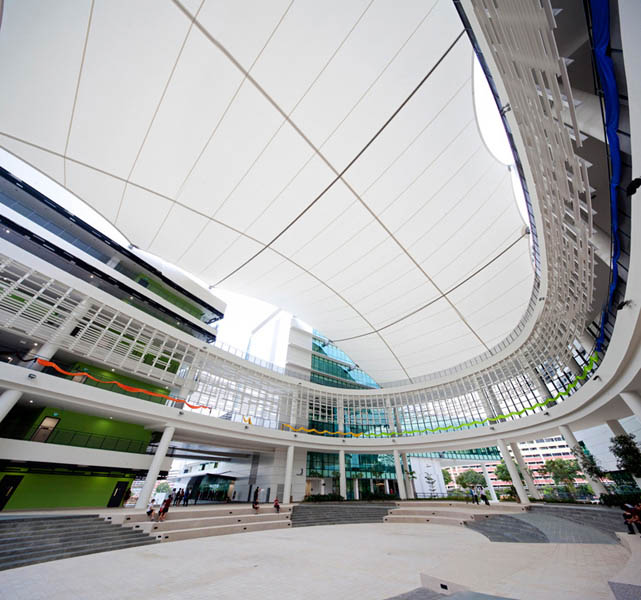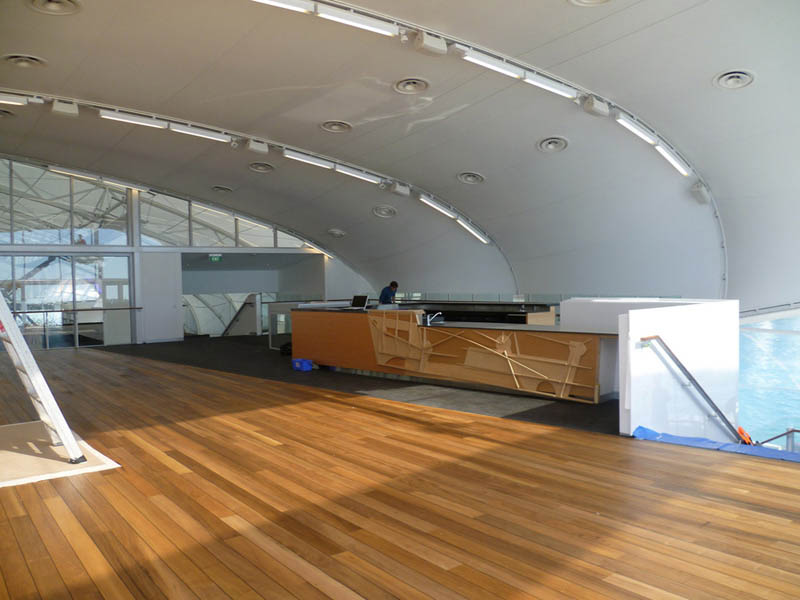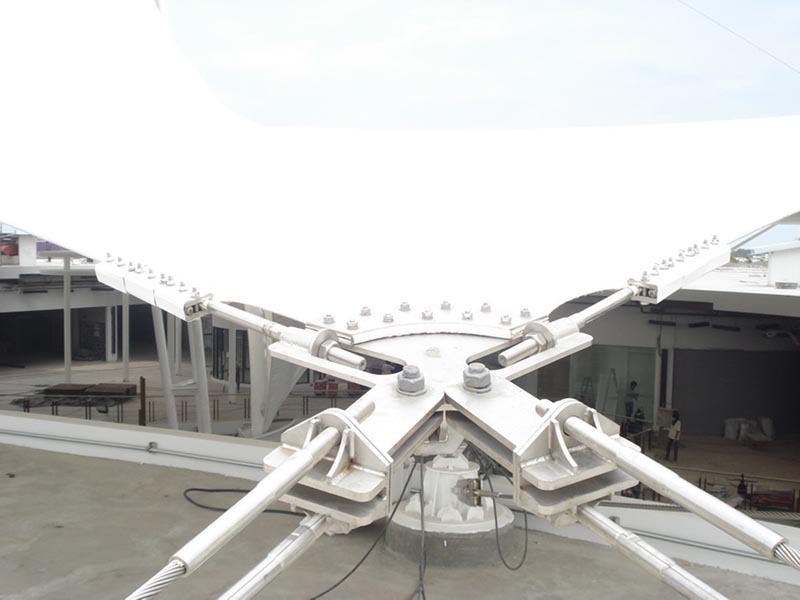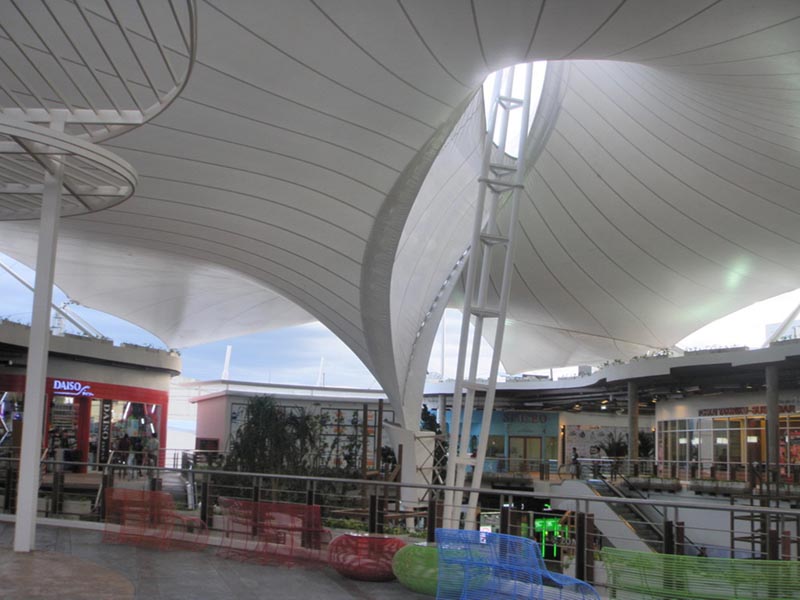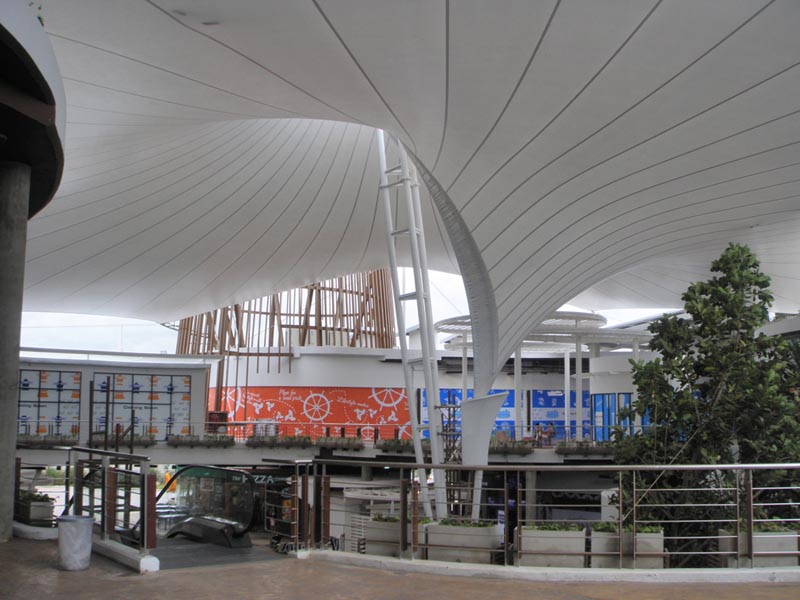 and some more projects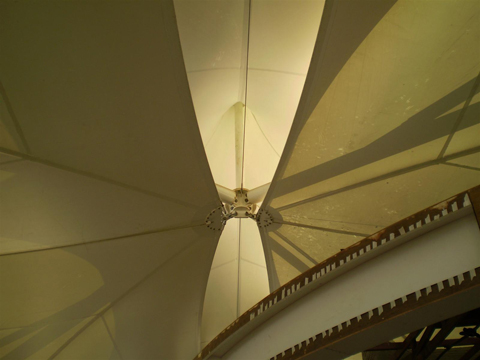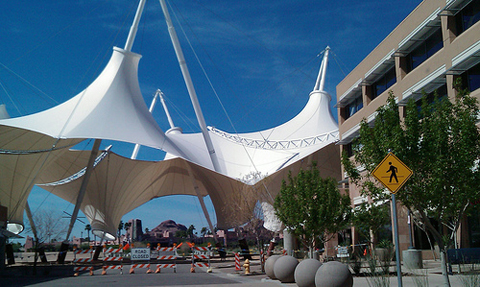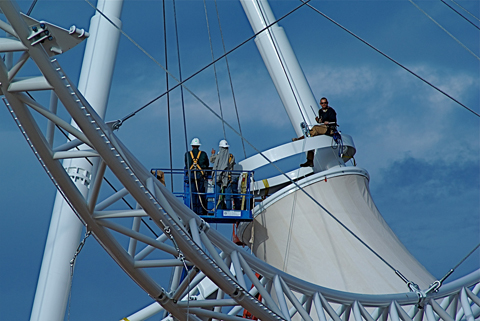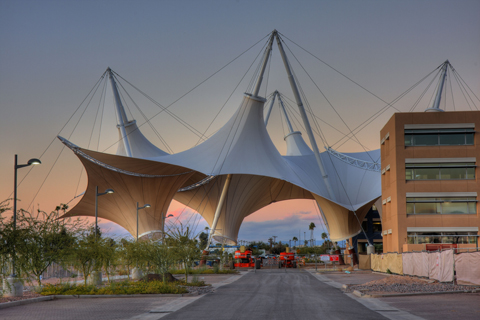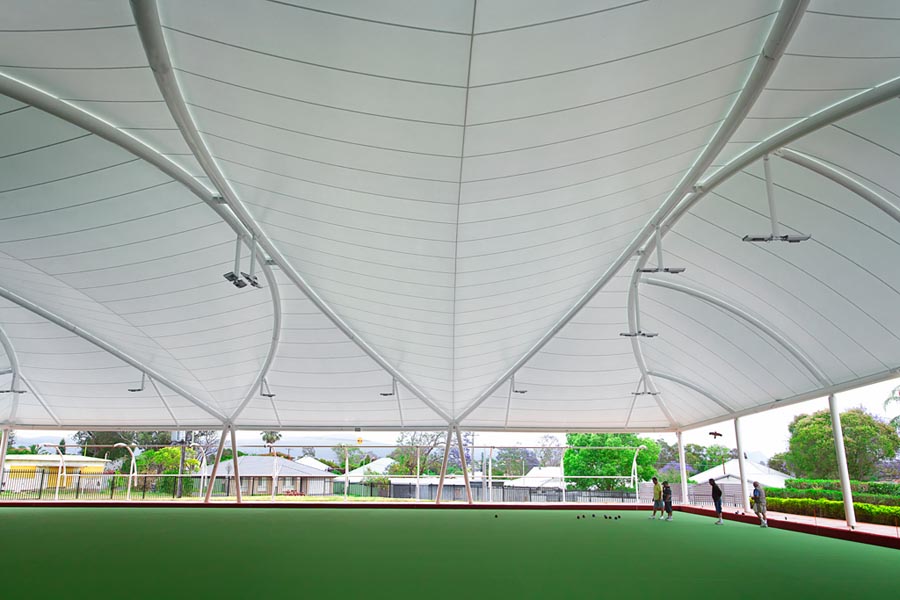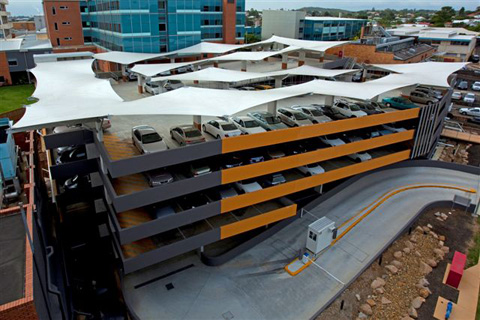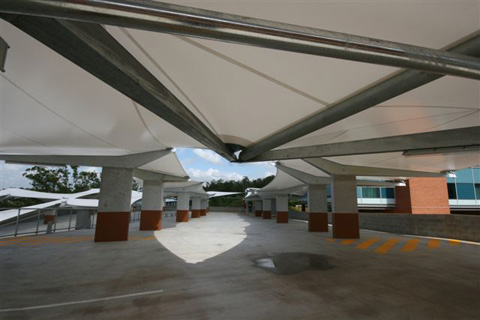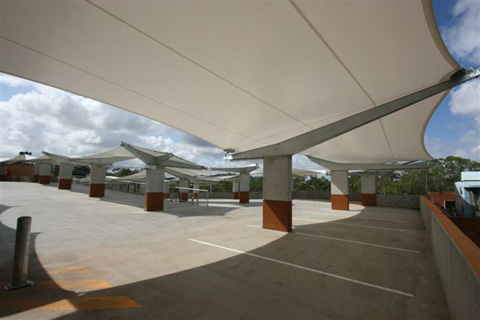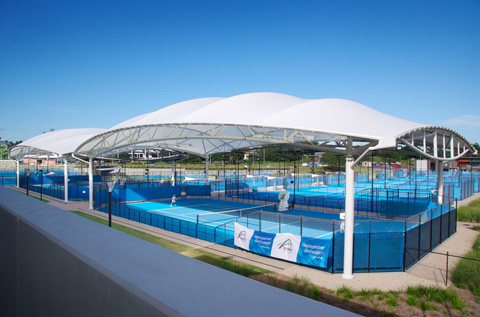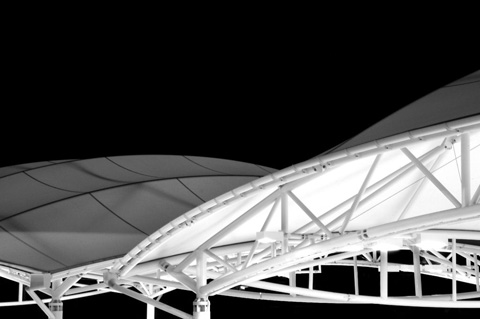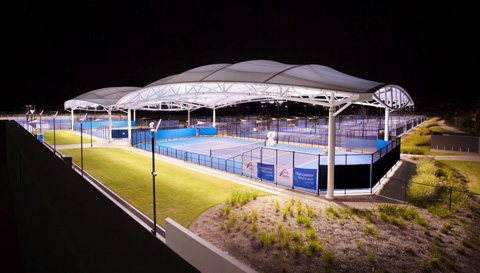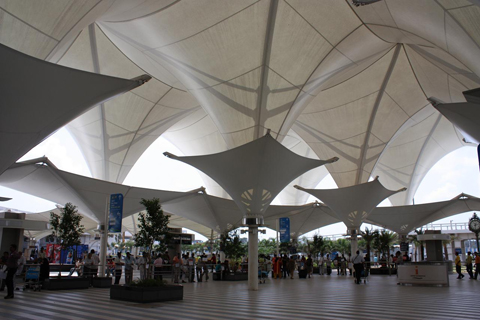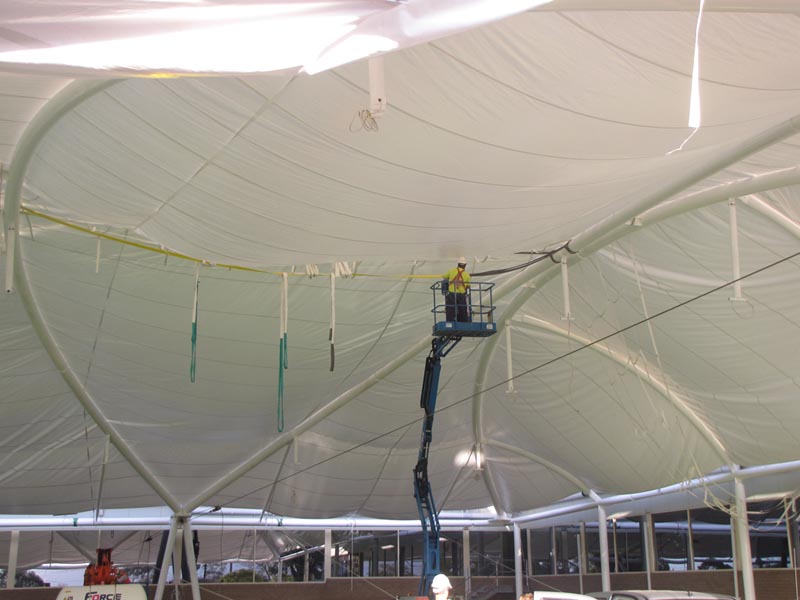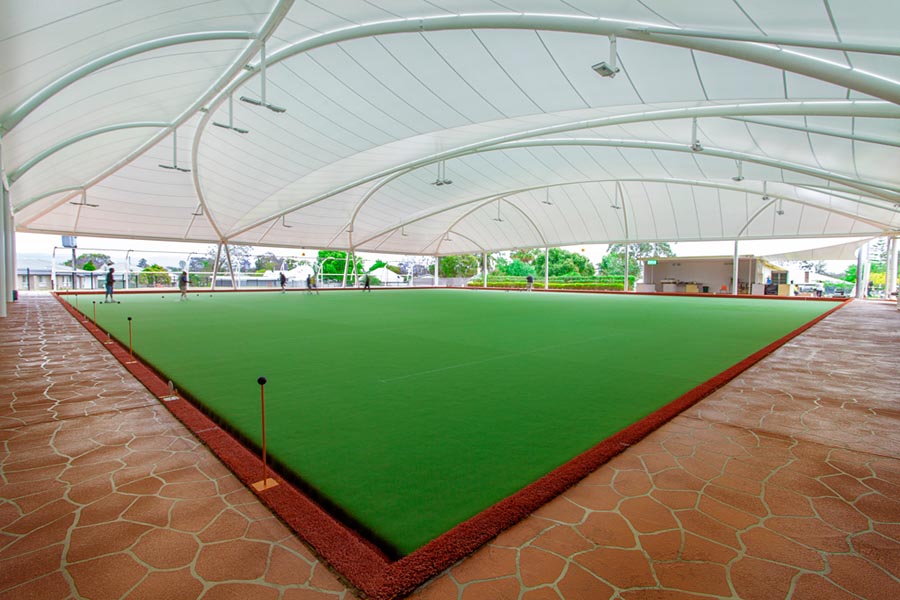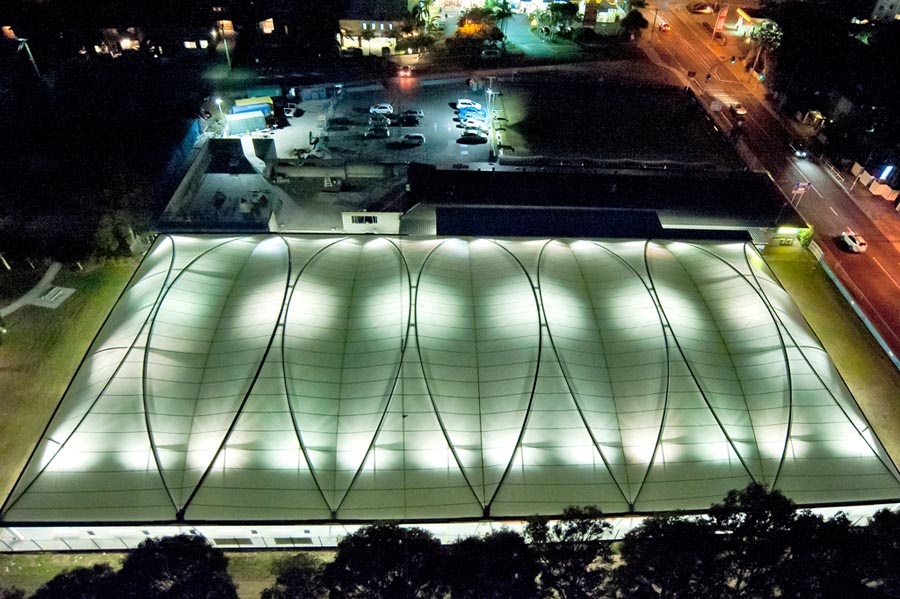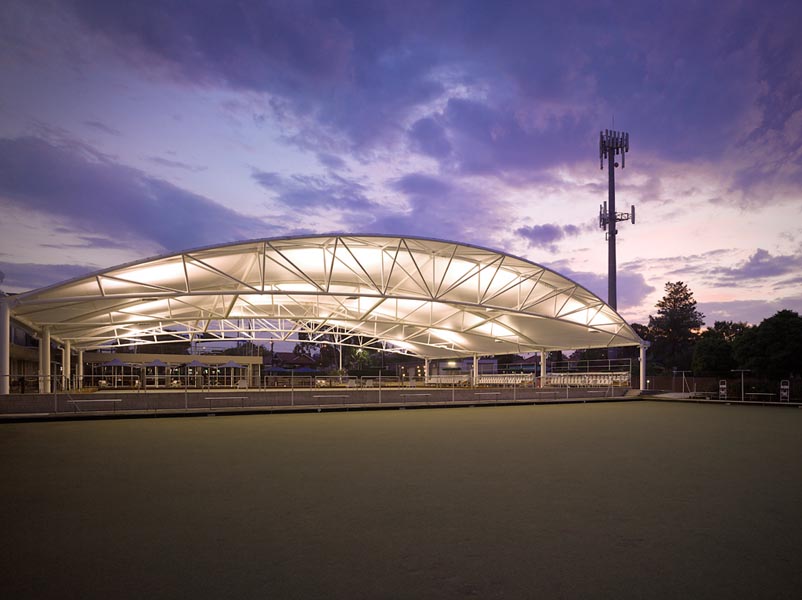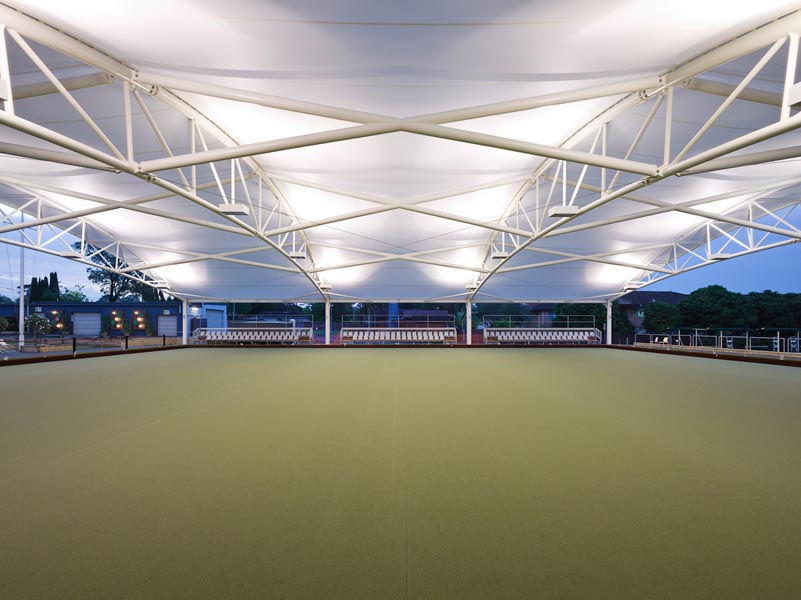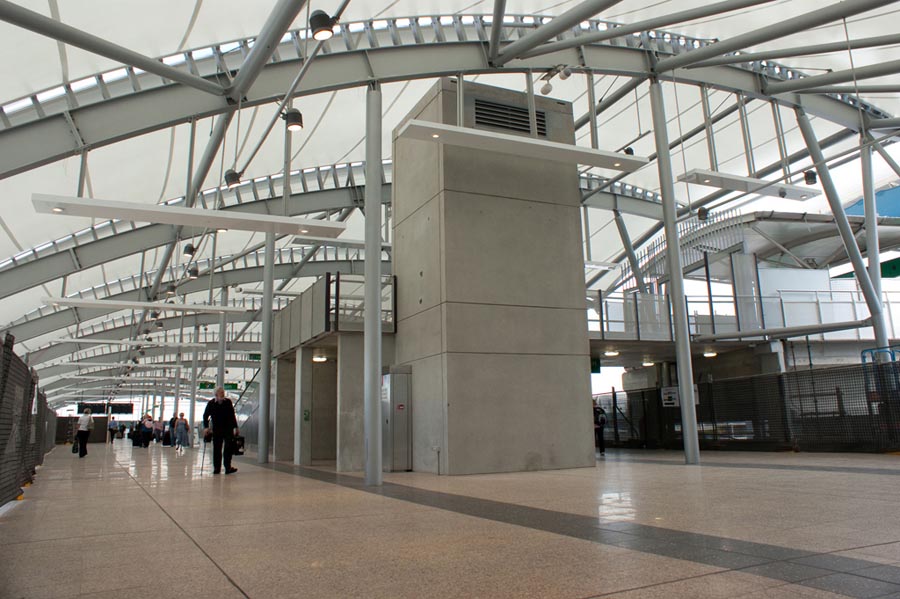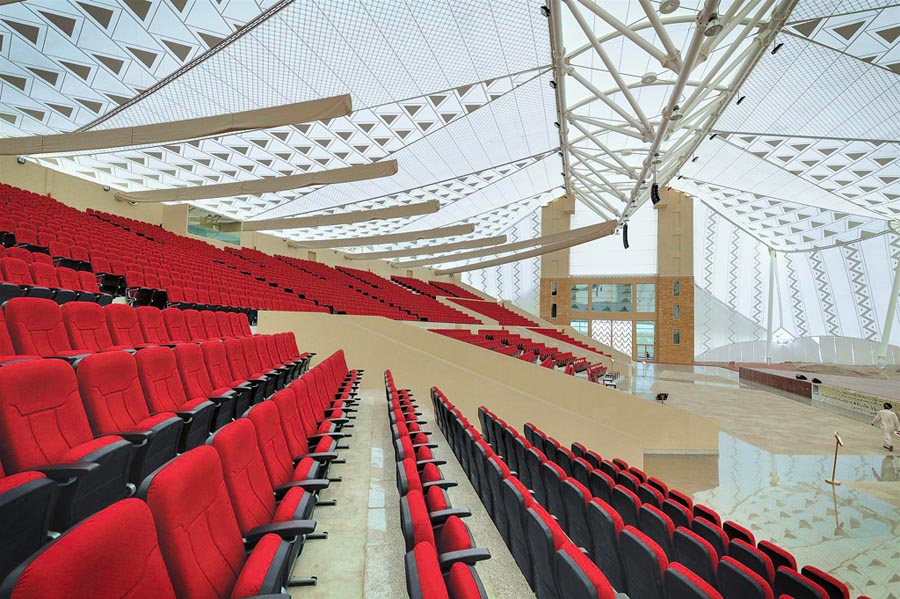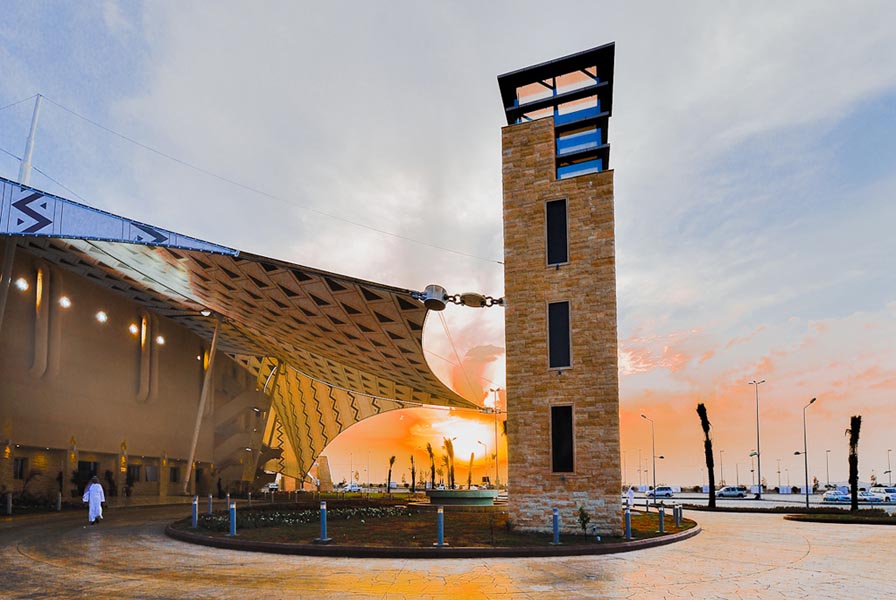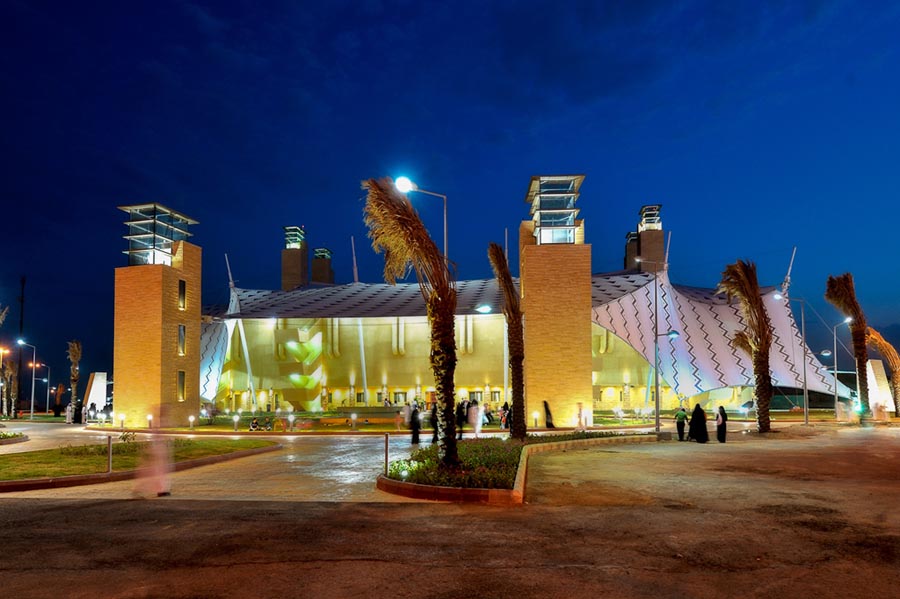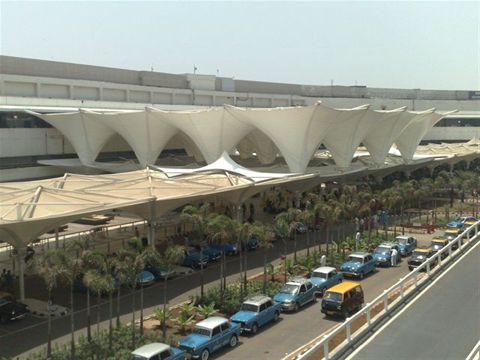 Brisbane Airport Walkway
Entrant: MakMax Australia
Category: 4 ID Number: 4302

Location: Brisbane Domestic Airport

Client: Brisbane Airport Corporation

Completion Date: June 2012
Credits:
Architect: Hassell

Others: Custom Cables

Builder: Liang O'Rourke Pty Ltd

Fabricator: MakMax Australia

Installer: OzRig

Steelwork: Steelman
APPLICATION OF PROJECT: Pedestrian bridge roof, open air.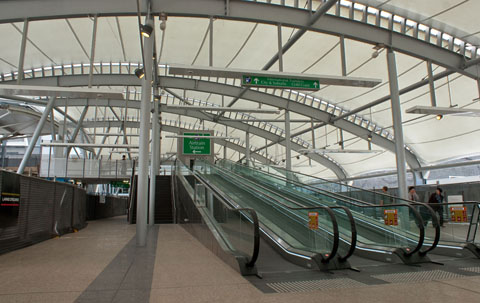 PROJECT DESCRIPTION:
This airport terminal access project involves the construction of a major pedestrian bridge linking a new multi-level car park and train platforms to the terminal building one of the country's business airports.
This covered walkway project is part of a larger group of construction projects which serve to improve all pedestrian and vehicular traffic at the airport. Our client requested design, fabrication and installation of the tensioned membrane roof system. The purpose was purely weather protection for pedestrian traffic on new pedestrian access bridge.
Greenslopes Private Hospital Car Park Canopies

Entrant: Architectural Sails (Qld) Pty Ltd - Contractor
Location: Lot 108 Nicholson St - Greenslopes Qld 4120
Client: Ramsey Health Care
Architect: Phillips Smith Conwell Architects Pty Ltd
Struct. Eng.: Bligh Tanner & Wade Design Engineers
Others: Ozrig Pty Ltd (Installation)
Builder: John Holland Pty Ltd
Fabricator: Ruffles Engineering & Atkins Fabrication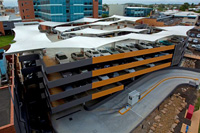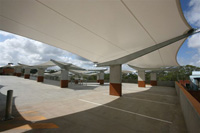 Chevron Renaissance
MakMax Australia (Engineer, Fabricator, Installer)
Location: Gold Coast, QLD.

Team: MakMax Australia
Cabramatta Bowls Club
Entrant: MakMax Australia
Category: 4 ID Number: 4301

Location: Fairfield Rd, Cabramatta NSW

Client: Paynter Dixon Constructions Pty Ltd

Completion Date: October 2011
Credits:
Structural Engineer: Xiang Du, Fabspan

Builder: Paynter Dixon Constructions Pty Ltd

Fabricator: MakMax Australia

Installer: SydRig

Steelwork: Steelman
APPLICATION OF PROJECT: long span sporting arena roof.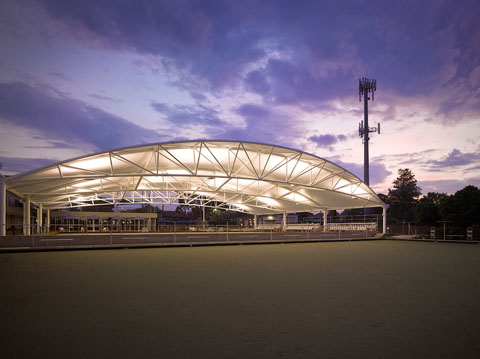 PROJECT DESCRIPTION:
Sun safety in sport is a growing concern across all sectors of our community. Providing a playing surface protected from harmful sun is vital to the continuity of some sports. The sport of lawn bowls in particular have realised this is especially true for their aging demographic and shrinking membership.
DESIGN / FABRICATION / INSTALLATION BRIEF
Our client requested a sustainable solution to a host of issues threatening membership and revenue at their bowling club. The Sydney based club like many other lawn bowls clubs faced dwindling membership due to sun exposure and the reliance on games only being played during the day, rained out games, high cost of green maintenance and the inability to host night events.
ITE College West, Singapore
APPLICATION OF PROJECT:
Canopy shade structure: The architectural PTFE membrane canopy provides weather protection for an outdoor events plaza and exterior walkway.
PROJECT DESCRIPTION
A truly stunning piece of fabric architecture was created with this stunning lightweight membrane roof at ITE College (West) in Singapore. Supported only by a complex cable system and large steel wall plates bolted to 4 different buildings, the 3000m2 PTFE Canopy provides shelter to the Events Plaza and exterior walkways below spanning an incredible 75m span in one direction and 45m in the other.
The project presented many extreme challenges that were overcome through innovative thinking and design. The 3000m2 canopy was hoisted into position from ground level and secured in just 16 hrs using 10 electric chain hoists, in conjunction with a 200T mobile crane.
The completed saddle shaped‐membrane structure adds a beautiful yet practical architectural focal point within the development and exceeded the expectations of both the client and the main contractor.
The following Large Structure Projects were entered into the 2018 LSAA Design Awards in Category 4
Category 4 "Large Structures > 1000 sqm"
4001 Macquarie University Campus Common.
4066 QUT Sports Field Car Park.
4100 Sumartran Tiger Adventure.
4101 Wellington Regional Bowling Club.
4432 Playford Bowls Club Triple Bowls Green Cover.