In terms of our LSAA Design Awards, a Medium sized Fabric Structure, or tensioned membrane structure) would have a surface area of between 250 and 1000 sqm.
Note that many "Large" fabric structures may be made from individual fabric panels of 250-1000 sqm.
Again, a large Mall covering might comprise multiple conical structures of 250-1000 sqm.
The following articles are in random order:
Point Boston Peninsular Club

Entrant: MakMax Australia - Designer
Location: Port Lincoln South Australia
Client: Kym Clarke Constructions
Architect: John Diekman Architects
Struct. Eng.: MakMax Australia
Others: Cost Management Partners
Builder: Kym Clarke Constructions
Fabricator: MakMax Australia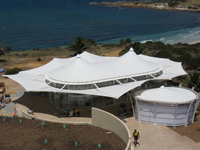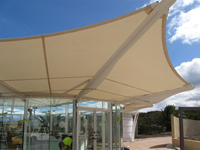 Sydney Aquarium Dugong's at Mermaid Lagoon

Entrant: UFS Australasia Pty Ltd - Designer / Fabricator
Location: Sydney Aquarium - Darling Harbour Sydney
Client: Sydney Attractions Group
Struct. Eng.: Wade Consulting
Builder: Universal Fabric Structures / Ozrig
Fabricator: Fabric Shelter Systems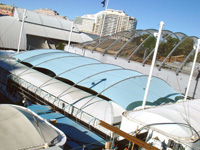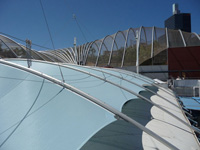 The LSAA Design Awards have traditionally had a category called Medium Structures which have a roof surface area between 250 and 1000 square metres.
Fabric or membrane structures of this size are often of one geometric form such as a conical structure with a central bale ring attached to a mast or tied down. The perimeter could be a series of edge cables, trusses or beams. If multiple units are used they the final structure may fall into the "large" category.
Other forms could be panels with internal diagonal arches, crossed arches, barrel vaults with intermediate valley cables.
Here are a few examples: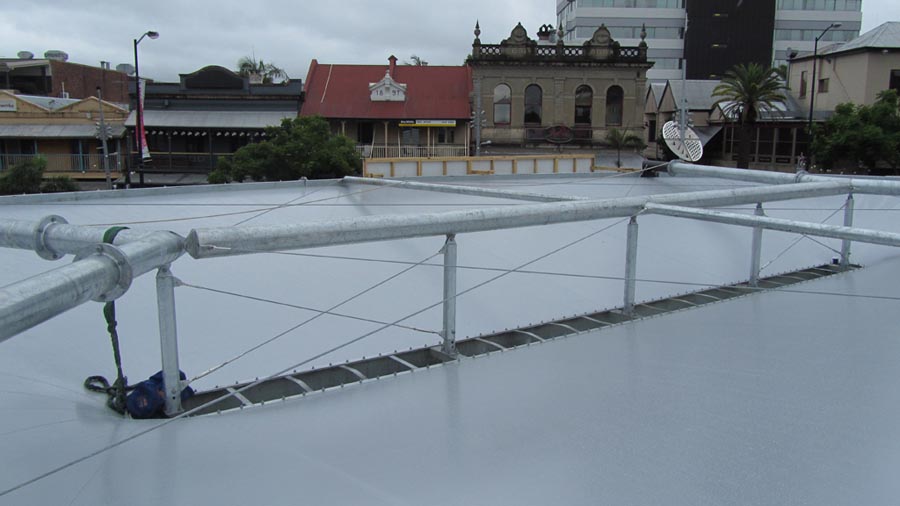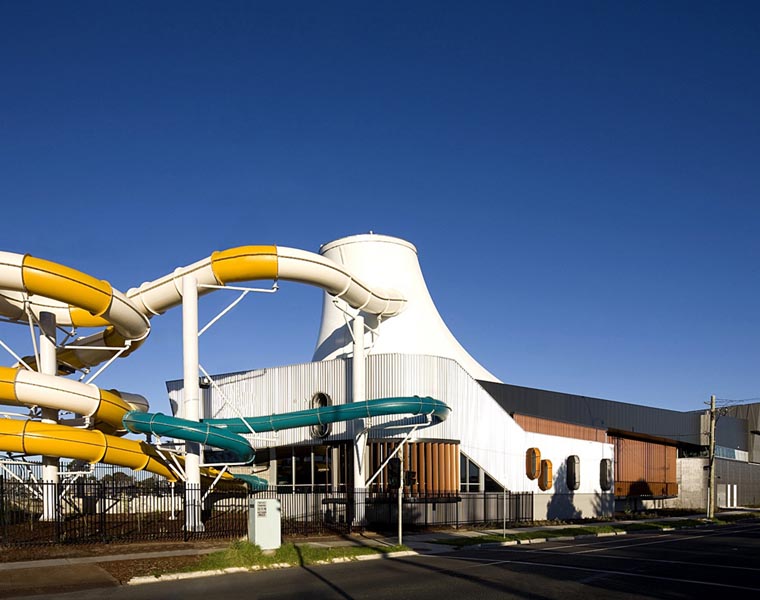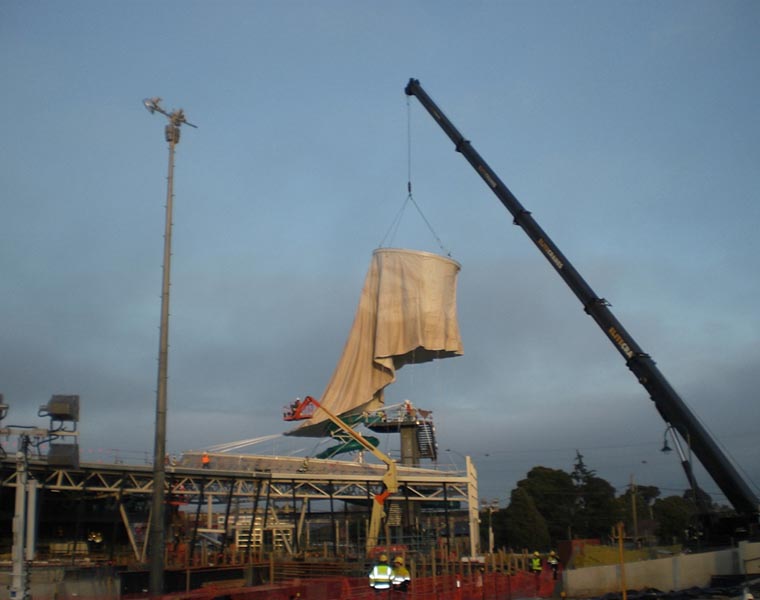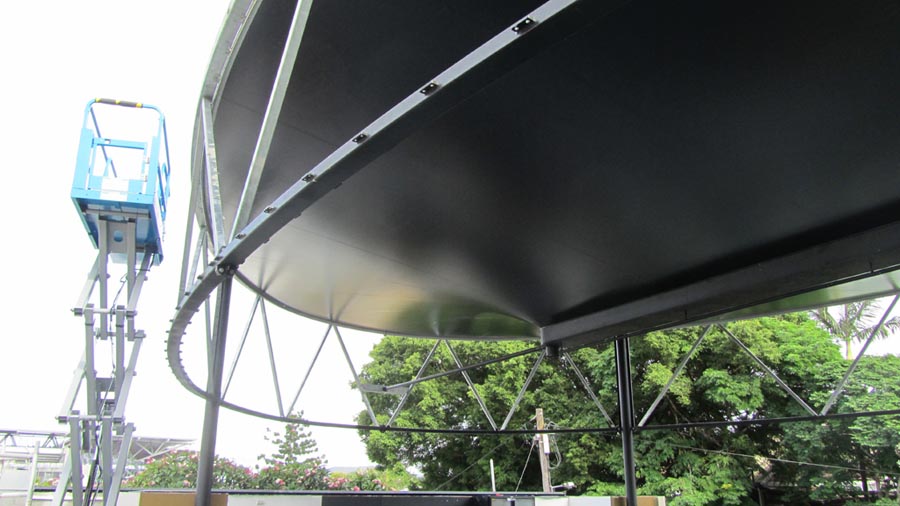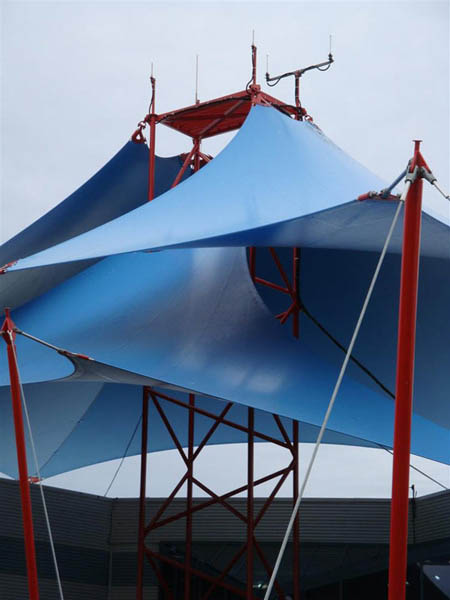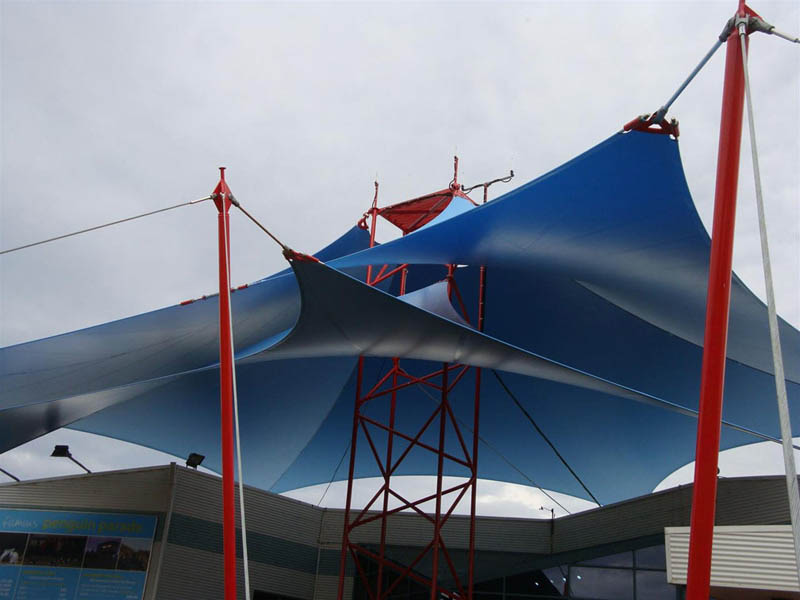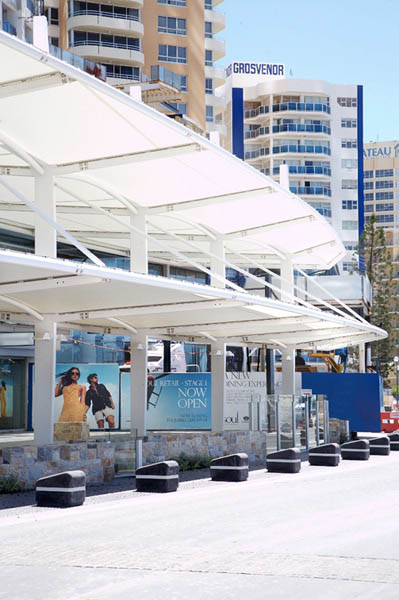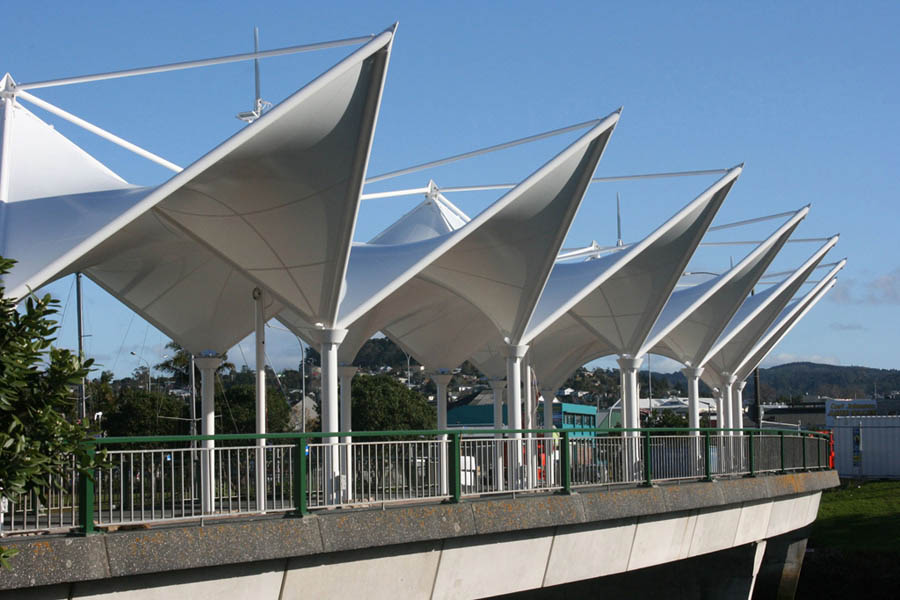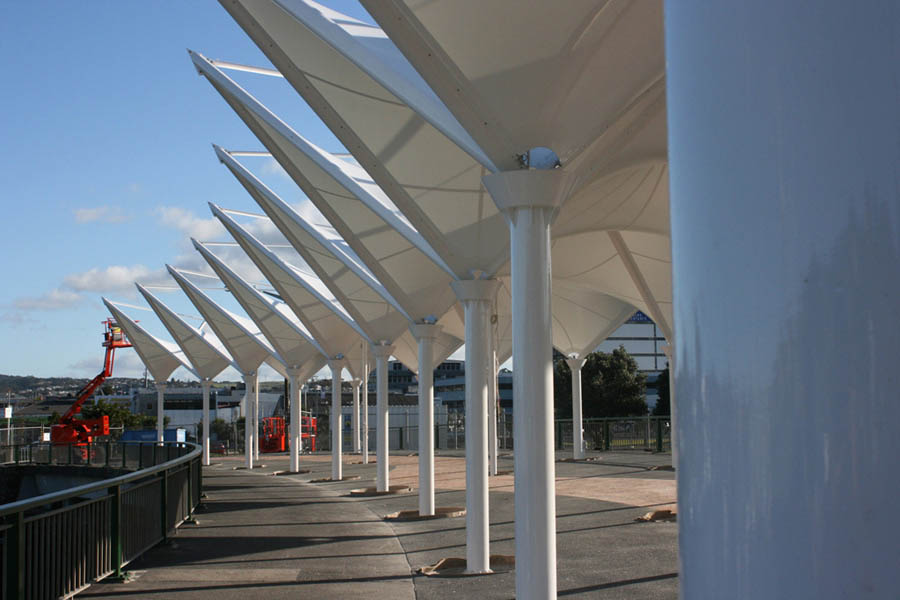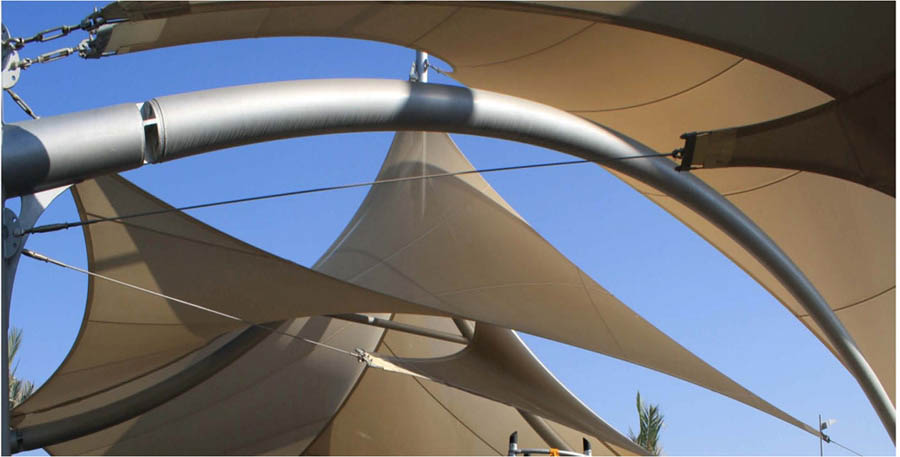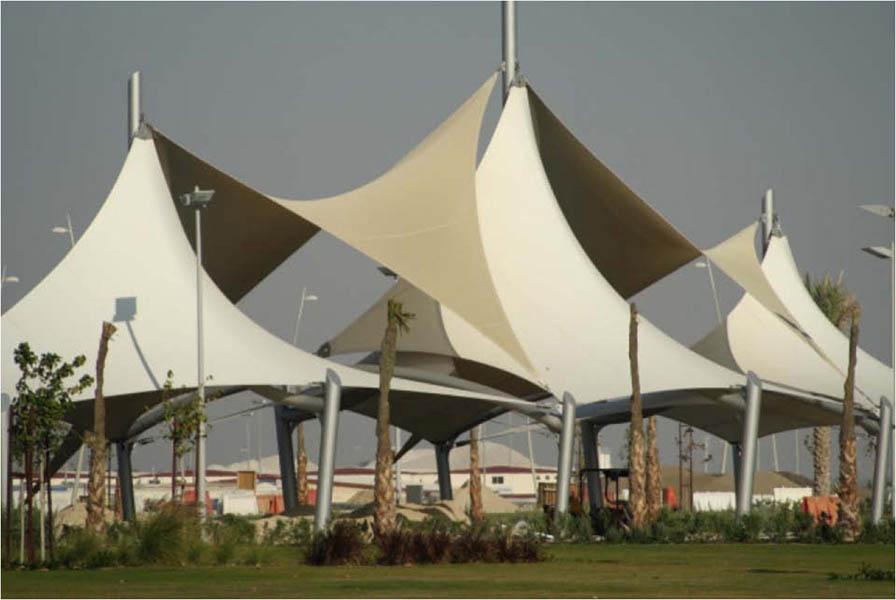 Yas Island - Gateway Park, Abu Dhabi
PROJECT DESCRIPTION
In total three structures with a combined coverage of 1930m2. The project consisted of two identical shade cloth structures comprising of eight Monotech HDPE 370 shade sails, 806m2 in plan area. The third structure of similar design comprised of six main sails of Fibertop PTFE and two hypar decorative sails in Monotech HDPE 370, 318m2 in plan area. The requirement for the project was an Iconic Design providing Solar Shading to shelter play equipment and BBQ facilities.
DESIGN / FABRICATION / INSTALLATION BRIEF
The client wanted to create an architectural centerpiece for this landscape area of YAS Island. The client's architects wanted to move away from the formality of the existing urban design scheme and create an eye-catching architectural feature in a natural landscape setting. The project site was part of extensive landscaping within the YAS Island development located near Abu Dhabi in the United Arab Emirates.

Dubai Outlet Mall - Entrance Dome
Entrant: Structurflex Ltd
Client: Emirates Engineering Services
Architect: ARENCO
Structural Engineer: Wade Consulting Group
Fabricator(s): Structurflex Ltd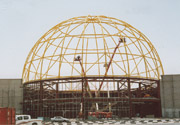 Jakarta ETFE Canopy
Fabritecture (Designer and Installer)
Location: Jakarta, Indonesia. Completed: June 2015
Client: Leightons Asia
Team: Denton Corker Marshall, Maffeis Engineering, Fabritecture, Seele Covertex
Great Southern Oceans
Entrant: Architectural Sails
Client Zoological Parks Board of New South Wales
Architect: Jackson Teece Architects
Structural Engineer: Hughes Trueman (Concept Design)
Specialist Consultant(s): Wade Consulting Group, Meinhardt
Builder:
Fabricator(s): Architectural Sails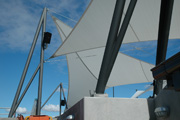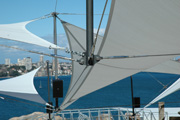 Mildura Riverfront Performance Venue
Entrant: Oasis Tension Structures (Australia) Pty Ltd
Location: Hugh King Boulevard - Mildura VIC
Client: City of Mildura Council
Architect: Jackson Architecture (Melbourne)
Struct. Eng.: Aurecon (Melbourne)
Specialist: Tensys Engineering (Australia) Pty Ltd
Others: A. Nobles & Sons (Australia) Pty Ltd
Builder: King Construction Pty Ltd
Fabricator: Atkins Fabrication (Australia) Pty Ltd