In terms of our LSAA Design Awards, a Medium sized Fabric Structure, or tensioned membrane structure) would have a surface area of between 250 and 1000 sqm.
Note that many "Large" fabric structures may be made from individual fabric panels of 250-1000 sqm.
Again, a large Mall covering might comprise multiple conical structures of 250-1000 sqm.
The following articles are in random order:
Mosque Jakarta
Entrant: Taiyo Membrane Corp
Client: Taiyo Birdair Asia PTE LTD
Architect: Taiyo Membrane Corp
Structural Engineer: Robert McDonald (TMC)
Fabricator(s): Taiyo Membrane Corp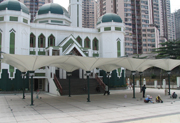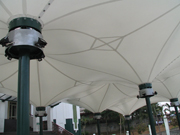 Laneways Canopy
Fabric Structure Systems (Designer / Fabricator / Installer)
Location: Whangarei, New Zealand. Completed: April 2016
Client: Whangarei District Council
Team: Wade Design Engineers Ltd, Fabric Structure Systems, Fabric Structure Systems, Culum Engineering (Steel)
Southern Plaza Bar - Carrara, Qld
APPLICATION OF PROJECT: Self supporting pavilion
PROJECT DESCRIPTION
Close to completing the tensile membrane roof at Metricon Stadium, our client engaged MakMax to cover a smaller outdoor area. This project was a simple solution to shade and weather protection with a twist. Considerations for maximum ground space and design constraints made this project far more interesting.
Our brief for this project outlined a need for a large covered area for common use. Specifics included limited space for footings and design considerations to match the structure's surroundings. The structure also needed to compliment the design of the stadium roof, MakMax engineers and architects Populous came up with a simple looking yet highly complex shape.
MakMax engineers designed a canopy that is circular in plan, however, from the side the undulating shape of the membrane edge is highly curved to mimic the stadium roof design. Creating a structure with these elements presented a unique geometric difficulty. MakMax engineers designed the outer ring of the structure to ensure minimal fabrication costs and to minimize the need for double roiling of steel members. The stability of this structure is found within the compression ring at the height of the conic shape as well as in the raking columns.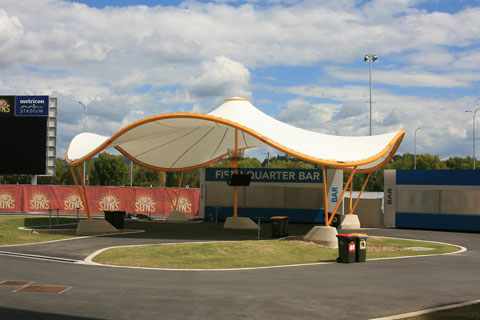 Hamilton Lake - Verandah Cafe
Entrant: Structurflex Ltd - Engineering Fabrication Installation
Location: Hamilton Lake Domain
Client: Hamilton City Council
Architect: 360 Architects
Struct. Eng.: Compusoft Engineering
Builder: Foster Construction
Fabricator: Structurflex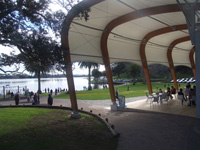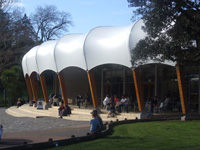 Yas Island - Gateway Park, Abu Dhabi
PROJECT DESCRIPTION
In total three structures with a combined coverage of 1930m2. The project consisted of two identical shade cloth structures comprising of eight Monotech HDPE 370 shade sails, 806m2 in plan area. The third structure of similar design comprised of six main sails of Fibertop PTFE and two hypar decorative sails in Monotech HDPE 370, 318m2 in plan area. The requirement for the project was an Iconic Design providing Solar Shading to shelter play equipment and BBQ facilities.
DESIGN / FABRICATION / INSTALLATION BRIEF
The client wanted to create an architectural centerpiece for this landscape area of YAS Island. The client's architects wanted to move away from the formality of the existing urban design scheme and create an eye-catching architectural feature in a natural landscape setting. The project site was part of extensive landscaping within the YAS Island development located near Abu Dhabi in the United Arab Emirates.

Pacific Fair Porte Cochere
Fabritecture (Designer and Installer)
Location: Broadbeach, QLD. Completed: Feb 29 2016
Client: Scentre Group (Westfield)
Team: Scentre Group (Westfield), Wade Design, Fabritecture, Textile Fabrication Services, Fabritecture
La Piazza - Jakarta
Entrant: PT Binatama Akrindo
Client: PT Summarecon Agung Tbk.
Unit La Piazza
Architect: PT Binatama Akrindo Sarjono Sam
Structural Engineer: PT Binatama Akrindo Tensys
Builder: PT Binatama Akrindo
Fabricator(s): Atkins Fabrications Pty Ltd,
PT Binatama Akrindo - Tridome space frame system + steelwork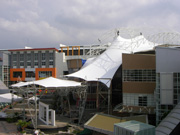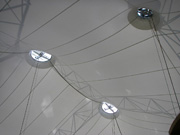 John Street Bridge - Whangarei, New Zealand
APPLICATION OF PROJECT: Public space & market canopy
PROJECT DESCRIPTION
As part of a major revitalisation and landscaping project for the Whangarei City Town Basin, the local council approached FSS to design a permanent canopy structure for the recently closed John Street bridge.
The John Street Bridge was one of two original road bridges connecting the Northern and Southern shores of the upper Whangarei harbour and forms part of the City Town Basin.
Replaced and closed to vehicle traffic in 2005, but left accessible for car parking, the bridge was an under utilized public space, in a prime waterfront position.
FSS designed & built the canopy structure to reflect the nautical nature of the area, provide a covered walkway over the bridge and a weekend market canopy. The canopy also visually completes the western rim of the Town Basin.