In terms of our LSAA Design Awards, a Medium sized Fabric Structure, or tensioned membrane structure) would have a surface area of between 250 and 1000 sqm.
Note that many "Large" fabric structures may be made from individual fabric panels of 250-1000 sqm.
Again, a large Mall covering might comprise multiple conical structures of 250-1000 sqm.
The following articles are in random order:
Dubai Outlet Mall - Entrance Dome
Entrant: Structurflex Ltd
Client: Emirates Engineering Services
Architect: ARENCO
Structural Engineer: Wade Consulting Group
Fabricator(s): Structurflex Ltd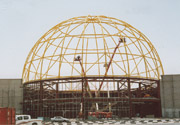 Mildura Riverfront Performance Venue
Entrant: Oasis Tension Structures (Australia) Pty Ltd
Location: Hugh King Boulevard - Mildura VIC
Client: City of Mildura Council
Architect: Jackson Architecture (Melbourne)
Struct. Eng.: Aurecon (Melbourne)
Specialist: Tensys Engineering (Australia) Pty Ltd
Others: A. Nobles & Sons (Australia) Pty Ltd
Builder: King Construction Pty Ltd
Fabricator: Atkins Fabrication (Australia) Pty Ltd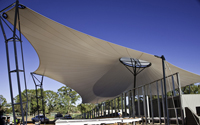 Soul Surfers Paradise, Australia
APPLICATION OF PROJECT:
Hospitality and Recreation: The tensile fabric structures provide shade canopies for the patrons of the alfresco dining areas as well as creating an aesthetic focal point to the front of the apartment building at Soul, Surfers Paradise.
PROJECT DESCRIPTION
Two tensile canopy structures were created as part of the $850 million beachfront Soul development project in Surfers Paradise. The multi‐level PTFE membrane structures covering the outdoor dining areas were designed to follow the radial lines of the adjacent building and walkways while seamlessly integrating with the surrounding buildings.
The design requirements were:
• Offer weather protection for patrons
• To maintain ocean views from all levels of surrounding buildings
• Create an architectural feature to attract attention to the area
• Materials and design to allow for minimal maintenance and cleaning
The tensile shade canopies utilise the full benefit of Soul's alfresco dining areas, highlighting and capturing the ocean views and enhancing the beauty of the surrounding natural environment. The result is a striking architectural landmark that attracts attention to the Soul development.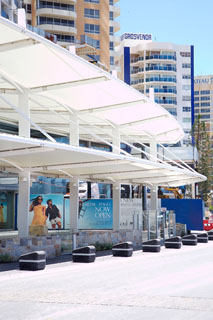 John Street Bridge - Whangarei, New Zealand
APPLICATION OF PROJECT: Public space & market canopy
PROJECT DESCRIPTION
As part of a major revitalisation and landscaping project for the Whangarei City Town Basin, the local council approached FSS to design a permanent canopy structure for the recently closed John Street bridge.
The John Street Bridge was one of two original road bridges connecting the Northern and Southern shores of the upper Whangarei harbour and forms part of the City Town Basin.
Replaced and closed to vehicle traffic in 2005, but left accessible for car parking, the bridge was an under utilized public space, in a prime waterfront position.
FSS designed & built the canopy structure to reflect the nautical nature of the area, provide a covered walkway over the bridge and a weekend market canopy. The canopy also visually completes the western rim of the Town Basin.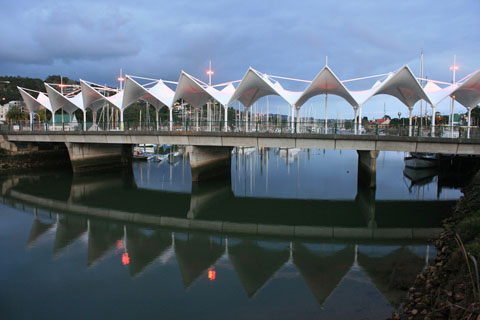 Isa Royal Military College Grand Stand Shade

Entrant: Light Weight Structures Advisory Service - Engineering Fabrication Installation
Location: Isa Royal Military College - Kingdom of Bahrain
Client: Alasco Group & Al Alaa Shade Company
Struct. Eng.: Trevor Scott & Jeremy Hunter
Specialist: LTWSAS
Builder & Fabricator: Al Alaa Shade Company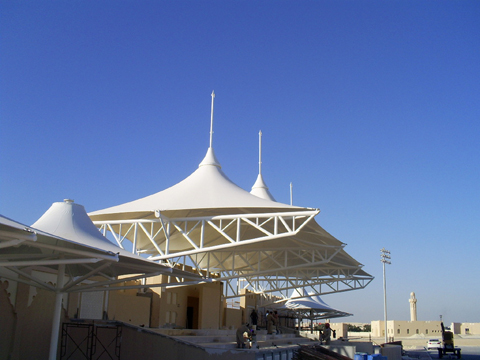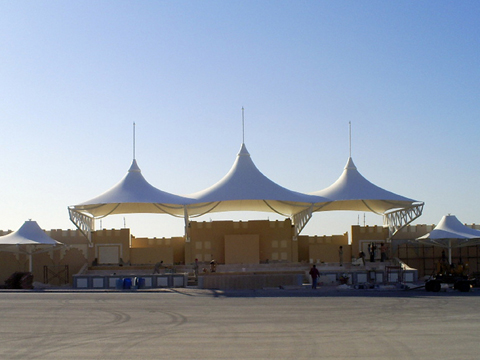 Yas Island - Gateway Park, Abu Dhabi
PROJECT DESCRIPTION
In total three structures with a combined coverage of 1930m2. The project consisted of two identical shade cloth structures comprising of eight Monotech HDPE 370 shade sails, 806m2 in plan area. The third structure of similar design comprised of six main sails of Fibertop PTFE and two hypar decorative sails in Monotech HDPE 370, 318m2 in plan area. The requirement for the project was an Iconic Design providing Solar Shading to shelter play equipment and BBQ facilities.
DESIGN / FABRICATION / INSTALLATION BRIEF
The client wanted to create an architectural centerpiece for this landscape area of YAS Island. The client's architects wanted to move away from the formality of the existing urban design scheme and create an eye-catching architectural feature in a natural landscape setting. The project site was part of extensive landscaping within the YAS Island development located near Abu Dhabi in the United Arab Emirates.

Aquinas College Forum Structure
Entrant: Tattersall Engineering
Client: Aquinas College / J A Dodd
Architect: Designinc Adelaide (Geof Naim)
Structural Engineer: Tattersall Engineering (See SEMF 2015)
Specialist Consultant(s): Wade Consultants
Builder: Tecraft Pty Ltd
Fabricator(s): Horizon Sailmakers / C E Bartlett, Riband (Steel)
A Noble & Son (Cables)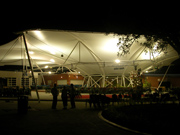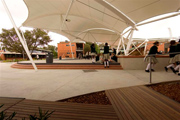 Hamilton Lake - Verandah Cafe
Entrant: Structurflex Ltd - Engineering Fabrication Installation
Location: Hamilton Lake Domain
Client: Hamilton City Council
Architect: 360 Architects
Struct. Eng.: Compusoft Engineering
Builder: Foster Construction
Fabricator: Structurflex