In terms of our LSAA Design Awards, a Medium sized Fabric Structure, or tensioned membrane structure) would have a surface area of between 250 and 1000 sqm.
Note that many "Large" fabric structures may be made from individual fabric panels of 250-1000 sqm.
Again, a large Mall covering might comprise multiple conical structures of 250-1000 sqm.
The following articles are in random order:
CityCentre Automated People Mover
Entrant: Tensys Engineers Pty Ltd
Location: Las Vegas, USA
Client: MGM CityCentre.
Architect: Gensler
Struct. Eng.: Bouquet Structural Engineers, USA
Specialist: Tensys Engineers
Others: Fabritec Structures, USA
Builder: Clark Thor Construction Group, USA
Fabricator: Atkins Fabrication (Australia) Pty Ltd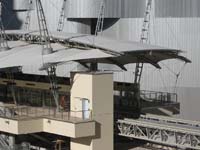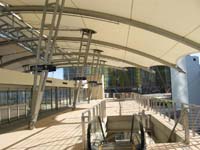 Ocean Supercenter
GeoMetal Limited (Design & Engineering)
Location: Ocean Supercenter, Myanmar, Thailand. Completed: January 2016
Client: Capital Properties
Team: Process Architect & Planner Co., Ltd., Fastech Company Limited
Yas Island - Gateway Park, Abu Dhabi
PROJECT DESCRIPTION
In total three structures with a combined coverage of 1930m2. The project consisted of two identical shade cloth structures comprising of eight Monotech HDPE 370 shade sails, 806m2 in plan area. The third structure of similar design comprised of six main sails of Fibertop PTFE and two hypar decorative sails in Monotech HDPE 370, 318m2 in plan area. The requirement for the project was an Iconic Design providing Solar Shading to shelter play equipment and BBQ facilities.
DESIGN / FABRICATION / INSTALLATION BRIEF
The client wanted to create an architectural centerpiece for this landscape area of YAS Island. The client's architects wanted to move away from the formality of the existing urban design scheme and create an eye-catching architectural feature in a natural landscape setting. The project site was part of extensive landscaping within the YAS Island development located near Abu Dhabi in the United Arab Emirates.

Sydney Aquarium Dugong's at Mermaid Lagoon

Entrant: UFS Australasia Pty Ltd - Designer / Fabricator
Location: Sydney Aquarium - Darling Harbour Sydney
Client: Sydney Attractions Group
Struct. Eng.: Wade Consulting
Builder: Universal Fabric Structures / Ozrig
Fabricator: Fabric Shelter Systems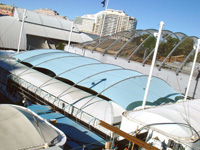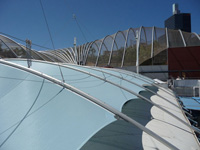 Hagley Oval - Cricket Pavilion
Fabric Structure Systems (Designer / Fabricator / Installer)
Location: Christchurch, New Zealand. Completed: October 2014
Client: Cantebury Cricket Association
Team: Athfield Architects, Wade Design Engineers Ltd, Southbase, Fabric Structure Systems
Point Boston Peninsular Club

Entrant: MakMax Australia - Designer
Location: Port Lincoln South Australia
Client: Kym Clarke Constructions
Architect: John Diekman Architects
Struct. Eng.: MakMax Australia
Others: Cost Management Partners
Builder: Kym Clarke Constructions
Fabricator: MakMax Australia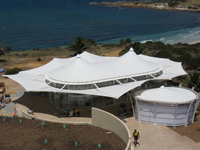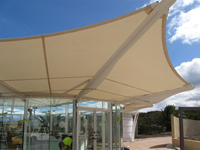 Mildura Riverfront Performance Venue
Entrant: Oasis Tension Structures (Australia) Pty Ltd
Location: Hugh King Boulevard - Mildura VIC
Client: City of Mildura Council
Architect: Jackson Architecture (Melbourne)
Struct. Eng.: Aurecon (Melbourne)
Specialist: Tensys Engineering (Australia) Pty Ltd
Others: A. Nobles & Sons (Australia) Pty Ltd
Builder: King Construction Pty Ltd
Fabricator: Atkins Fabrication (Australia) Pty Ltd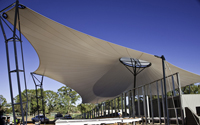 Abilene Airport

Entrant: Atkins Fabrication (Aust) Pty Ltd - Fabricator
Location: Abilene - Texas USA
Client: USA Shade & Fabric Structures Inc.
Fabricator: Atkins Fabrication (Australia) Pty Ltd