In terms of our LSAA Design Awards, a Medium sized Fabric Structure, or tensioned membrane structure) would have a surface area of between 250 and 1000 sqm.
Note that many "Large" fabric structures may be made from individual fabric panels of 250-1000 sqm.
Again, a large Mall covering might comprise multiple conical structures of 250-1000 sqm.
The following articles are in random order:
Hornsby Aquatic Seating Covered Areas
Shade And Membrane Structures Australia (Design / Project Management / Install)
Location: Hornsby, NSW. Completed: April 30 2014
Client: ADCO Constructions / Hornsby City Council
Team: Peter Hunt Architects, Larry Shyu Global Membrane Design, ADCO Constructions, Shadecom / Fabric Solutions
Al Raheeb Kindergarten Fujairah, UAE
Entrant: Structurflex Ltd
Client: Dubai Municipality
Structural Engineer: Wade Consulting Group
Builder: Mazroui General Contracting
Fabricator(s): Structurflex Ltd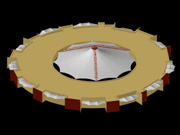 Jakarta ETFE Canopy
Fabritecture (Designer and Installer)
Location: Jakarta, Indonesia. Completed: June 2015
Client: Leightons Asia
Team: Denton Corker Marshall, Maffeis Engineering, Fabritecture, Seele Covertex
Blacktown Village Green
PROJECT DESCRIPTION
This project was essentially a weather cover over a public space. During discussions with our sales team at the tendering stage it was clear that the project also had an element of environmental consideration. For this reason we developed a custom design that worked to these constraints.
The purpose according to builders was to create an inviting public recreation area. The architects specified a tensile membrane roof in order to cover the area while allowing natural light to enter the space.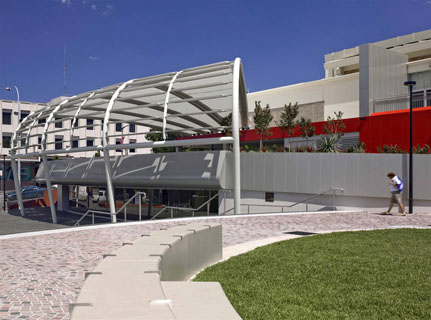 Mildura Riverfront Performance Venue
Entrant: Oasis Tension Structures (Australia) Pty Ltd
Location: Hugh King Boulevard - Mildura VIC
Client: City of Mildura Council
Architect: Jackson Architecture (Melbourne)
Struct. Eng.: Aurecon (Melbourne)
Specialist: Tensys Engineering (Australia) Pty Ltd
Others: A. Nobles & Sons (Australia) Pty Ltd
Builder: King Construction Pty Ltd
Fabricator: Atkins Fabrication (Australia) Pty Ltd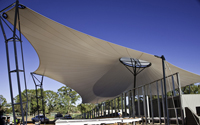 Hamilton Lake - Verandah Cafe
Entrant: Structurflex Ltd - Engineering Fabrication Installation
Location: Hamilton Lake Domain
Client: Hamilton City Council
Architect: 360 Architects
Struct. Eng.: Compusoft Engineering
Builder: Foster Construction
Fabricator: Structurflex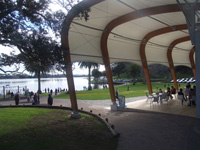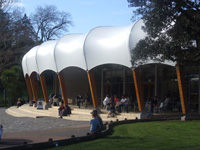 LSAA 2013 High Commendation
Glen Eira Aquatic Centre
Entrant: Oasis Tension Structures
Category: 2 ID Number: 2926

Location: East Boundary Rd, East Bentleigh

Client: Glen Eira City Council

Completion Date: December 2011
Credits:
Architect: Mantric Architecture

Structural Engineer: Cardno Victoria Pty Ltd

Specialists: Tensys Engineers

Builder: Hansen Yuncken Pty Ltd

Fabricator: Atkins Fabrication Pty Ltd

Installer: Oasis Tension Structures
---
Judges Comments:
"Advances the technology in insulated membranes"
"Rather idiosyncratic form which answers a functional challenge, has a bit of fun, and provides some identity to a facility not short of disparate elements"
---
PROJECT NAME: Glen Eira Sports & Aquatic Centre Insulated Tension Canopy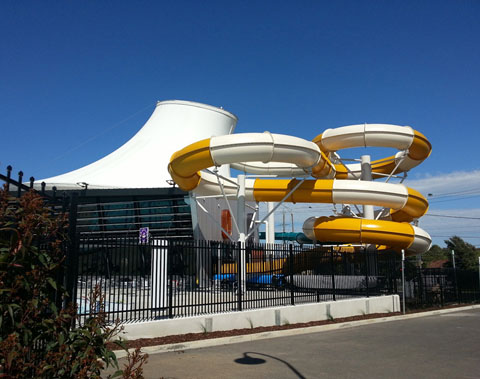 APPLICATION OF PROJECT: To encapsulate two vertically inter-twined waterslides, stairwell and support tower with a fully insulated tension structure.
PROJECT DESCRIPTION:
This is an insulated conic tension structure. A truncated, highly curved eccentric cone on an inclined elliptical ring beam, best describes the geometric definition of this structure. The architectural intent was to create a temperature controlled environment within a chlorinated water activity space and thereby satisfy ecologically sustainable development guidelines.
The following Medium Structure Projects were entered into the 2018 LSAA Design Awards in Category 2

Category 2 "Medium Structures"
2107 Carousel Shade Structures.