In terms of our LSAA Design Awards, a Medium sized Fabric Structure, or tensioned membrane structure) would have a surface area of between 250 and 1000 sqm.
Note that many "Large" fabric structures may be made from individual fabric panels of 250-1000 sqm.
Again, a large Mall covering might comprise multiple conical structures of 250-1000 sqm.
The following articles are in random order:
LSAA 2013 High Commendation
Glen Eira Aquatic Centre
Entrant: Oasis Tension Structures
Category: 2 ID Number: 2926

Location: East Boundary Rd, East Bentleigh

Client: Glen Eira City Council

Completion Date: December 2011
Credits:
Architect: Mantric Architecture

Structural Engineer: Cardno Victoria Pty Ltd

Specialists: Tensys Engineers

Builder: Hansen Yuncken Pty Ltd

Fabricator: Atkins Fabrication Pty Ltd

Installer: Oasis Tension Structures
---
Judges Comments:
"Advances the technology in insulated membranes"
"Rather idiosyncratic form which answers a functional challenge, has a bit of fun, and provides some identity to a facility not short of disparate elements"
---
PROJECT NAME: Glen Eira Sports & Aquatic Centre Insulated Tension Canopy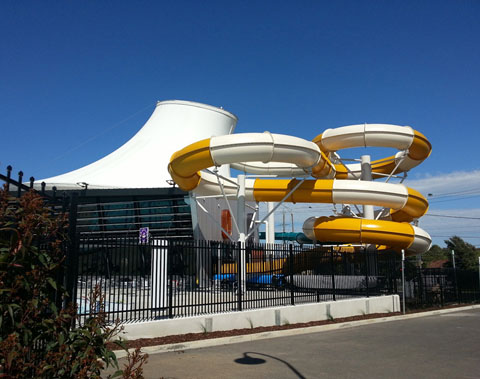 APPLICATION OF PROJECT: To encapsulate two vertically inter-twined waterslides, stairwell and support tower with a fully insulated tension structure.
PROJECT DESCRIPTION:
This is an insulated conic tension structure. A truncated, highly curved eccentric cone on an inclined elliptical ring beam, best describes the geometric definition of this structure. The architectural intent was to create a temperature controlled environment within a chlorinated water activity space and thereby satisfy ecologically sustainable development guidelines.
Catholic College Bendigo
Structureflex (Designer / Engineer)
Location: Junortoun, Bendigo. Completed: December 2015
Client: Catholic College Bendigo
Team: Y2 Architects, Steve Huppert, John Killmister (Cert. Eng), Shade Living Pty Ltd, Glarfab (membranes), Thornton Engineering (steel)
Dubai Outlet Mall - Entrance Dome
Entrant: Structurflex Ltd
Client: Emirates Engineering Services
Architect: ARENCO
Structural Engineer: Wade Consulting Group
Fabricator(s): Structurflex Ltd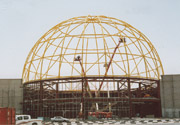 Hamilton Lake - Verandah Cafe
Entrant: Structurflex Ltd - Engineering Fabrication Installation
Location: Hamilton Lake Domain
Client: Hamilton City Council
Architect: 360 Architects
Struct. Eng.: Compusoft Engineering
Builder: Foster Construction
Fabricator: Structurflex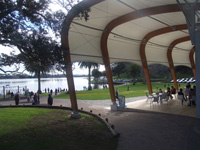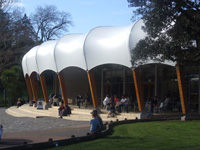 Great Southern Oceans
Entrant: Architectural Sails
Client Zoological Parks Board of New South Wales
Architect: Jackson Teece Architects
Structural Engineer: Hughes Trueman (Concept Design)
Specialist Consultant(s): Wade Consulting Group, Meinhardt
Builder:
Fabricator(s): Architectural Sails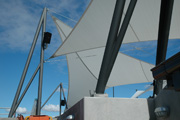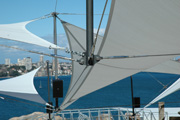 The following Medium Structure Projects were entered into the 2018 LSAA Design Awards in Category 2

Category 2 "Medium Structures"
2107 Carousel Shade Structures.

Laneways Canopy
Fabric Structure Systems (Designer / Fabricator / Installer)
Location: Whangarei, New Zealand. Completed: April 2016
Client: Whangarei District Council
Team: Wade Design Engineers Ltd, Fabric Structure Systems, Fabric Structure Systems, Culum Engineering (Steel)