Projects in this category include non-prestressed structures such as domes and shells made from more traditional materials like concrete.
Prestressed structures may include saddle shaped cablenets, planar wall or roof glass surfaces supported by a stressed cable network.
Externally supported roofs (cable supported) also come into this category.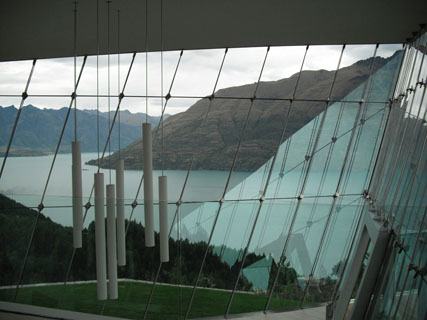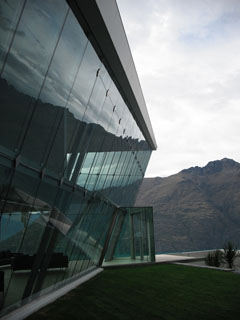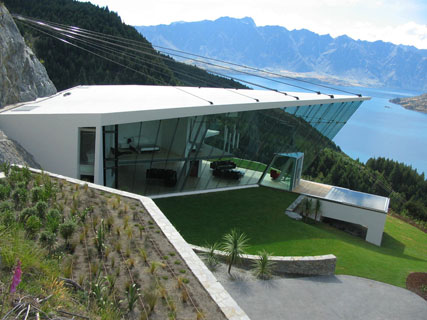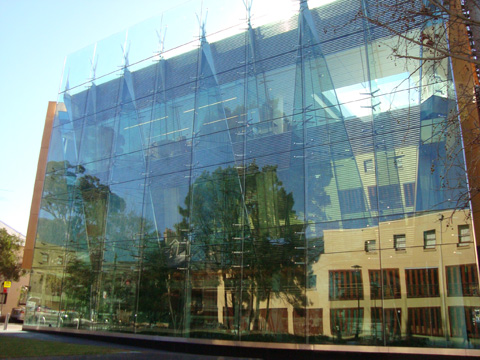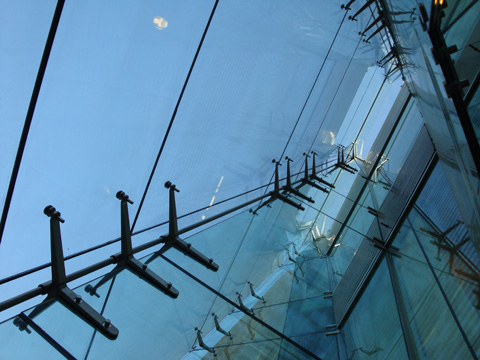 Cable Net Facade Feature - New Entrance
The redevelopment of Whitten Oval formed a pivotal piece in a plan to reinvigorate the western suburbs of Melbourne by providing services and facilities that would promote a sense of community. The plan had involvement from both State and Federal Governments and sort to place Whitten Oval at the centre of the community as a hub for local sporting and health service activities.
The Whitten Stand conversion, designed by Peddle Thorp Architects in Melbourne, called for a feature on the façade that responded to its context, was an identifiable entry, and provided an environmental benefit in the form of shading for the glazed façade behind. The resulting design was a series of floating panels that would display the team colours of the grounds home AFL team, the Western Bulldogs. The façade feature would run from the first floor to the roof acting as a gateway for supporters.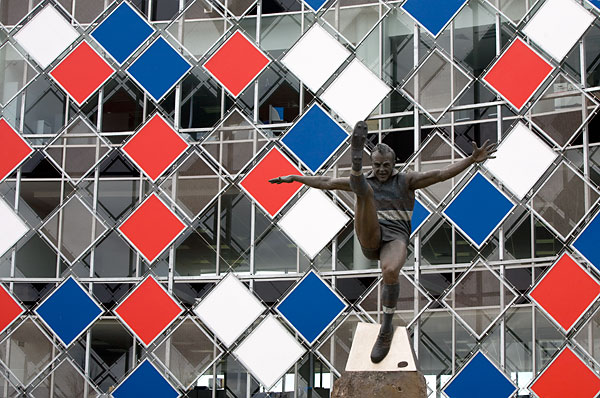 Counter Observation Barrier Screen - Counter Terrorist
Entrant: Alfresco Shade
Client: SAAB Barracuda Australia
Structural Engineer: Ian Norrie (Bond James Norrie), John Williams (Hughes Truman)
Specialist Consultant(s): SAAB Sweden
Builder: Alfresco Shade
Fabricator(s): Alfresco Shade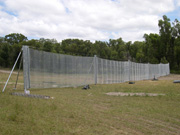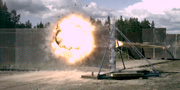 Perth Zoo Wetlands & Penguin Enclosure
Entrant: Structural Dynamics Australia
Category: 4 ID Number: 4966

Location: Perth Zoo, WA

Client: Government of WA - Department of Finance

Completion Date: January 2012
Credits:
Architect: Pritchard Francis

Structural Engineer: Pritchard Francis

Builder: The Slatter Group, WA
---
APPLICATION OF PROJECT: Zoological Enclosure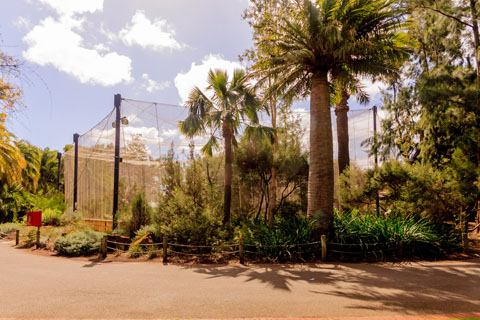 PROJECT DESCRIPTION:
Structural Dynamics was contracted by The Slatter Group WA to assist with the design, material selection/supply and installation of a lightweight zoological enclosure that would cover an area of 90 meters long, 34 meters wide and 10 meters high.
The enclosure was covering two existing exhibits at the Perth Zoo, namely the penguin display and wetlands area, so needed to have minimal impact on the existing flora and infrastructure.
Pritchard Francis had already conducted the majority of the structural design and calculations of loads - Structural Dynamics assisted both The Slatter Group WA and Pritchard Francis with final material specifications to meet demanding requirements.
With such a large open enclosure that needed to be visually appealing for visitors as well as transparent for the exhibits inhabitants the challenge was to specify materials that met demanding load specifications but at the same time provided a light weight alternative that had minimal visual impact on the surrounding exhibits.
Amazon Waterlily Pavilion

Entrant: Aurecon - Adelaide - Designer / Consultant
Location: Adelaide Botanical Gardens - North Terrace Adelaide SA
Client: Government of South Australia (DTEI)
Architect: Flightpath Architects
Struct. Eng.: Connell Wagner
Specialist: Connell Wagner (Facade Engineering)
Others: Pilkington & DMS Glass
Builder: Built Environs
Fabricator: Construction Glazing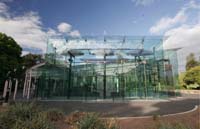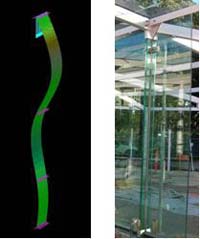 LSAA 2013 Award of Excellence
Wintergarden Art Façade
Entrant: Tensys Engineers Pty Ltd
• Category: 5 ID Number: 6513
• Location: Queen Street Mall, Brisbane
• Client: Industry Super Property Trust Pty Ltd
• Completion Date: April 2012
Credits:
• Architect: Studio 505
• Structural Engineer: Tensys Engineers
• Builder: Brookfield Multiplex
• Fabricator: UAP
---
Judges Comments:
"Will probably settle in to become a heritage icon in Brisbane."
"Now that's how to disguise a carpark. Makes a great contribution to the public realm. Vivid, joyful - makes excellent use of contemporary steel design and fabrication technology."
---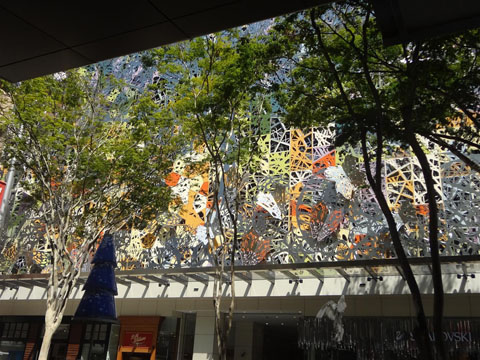 APPLICATION OF PROJECT:
The vertical façade works is part of the redevelopment of the wintergarden shopping centre.. This façade creates a uniform streetscape, providing a visual barrier to a number of existing carparking levels and different buildings along Queen Street Mall.
PROJECT DESCRIPTION:
Wintergarden redevelopment architectural façade on Queen, Elizabeth and Edward Street, Brisbane. The architectural intent of the façade is to create a three dimensional depiction of a winter garden painting To achieve this, the façade consists of multi layers of rigid cladding supported by a modular structural steel grillage frame. In addition to the cladding panels, the façade consists of a number of steel frame, stainless steel cald butterflies which cantilever from the grillage.
South Australian Health and Medical Research Institute (SAHMRI)
SAHMRI is a world class facility for medical research under construction in Adelaide (July 2015)
The facility will increase the ability for new leading edge research and clinical applications into better treatment and potential cures for the most challenging diseases.
The building has an interesting curved facade as illustrated in the following images.
Images by Peter Kneen 2015.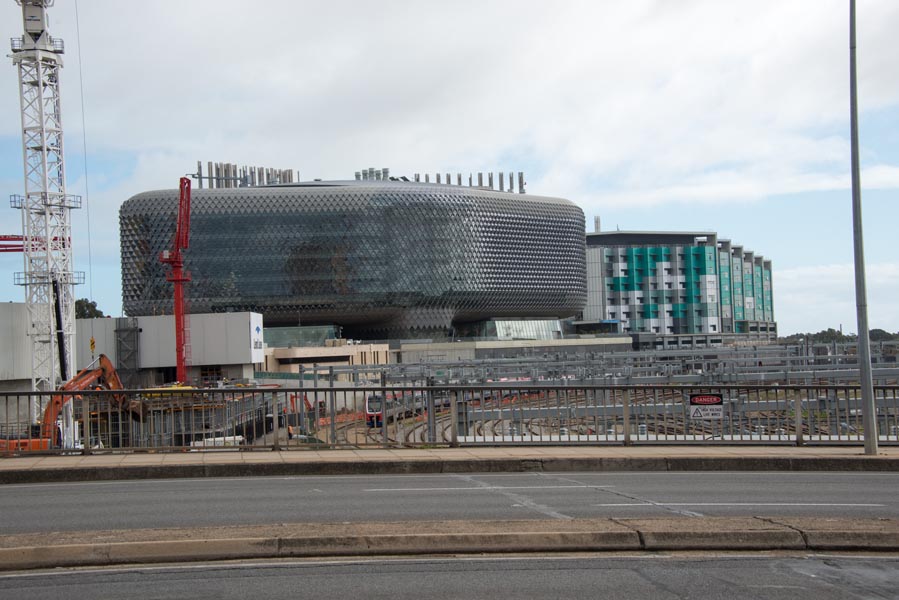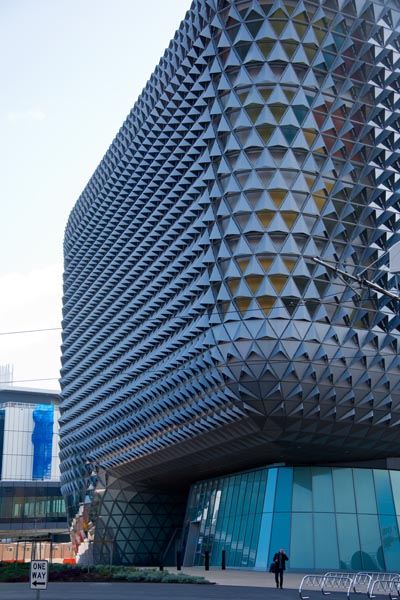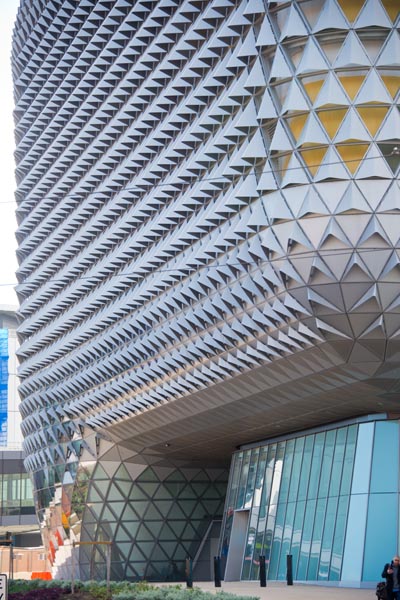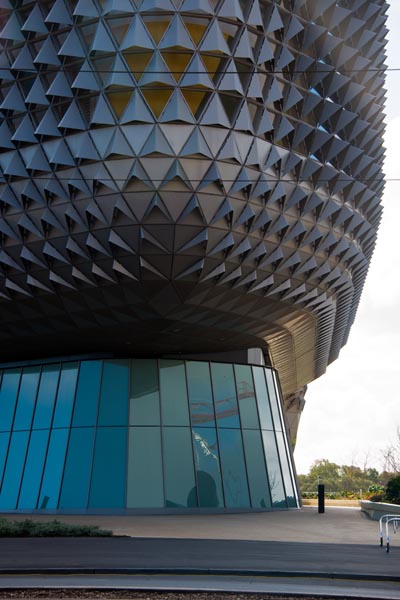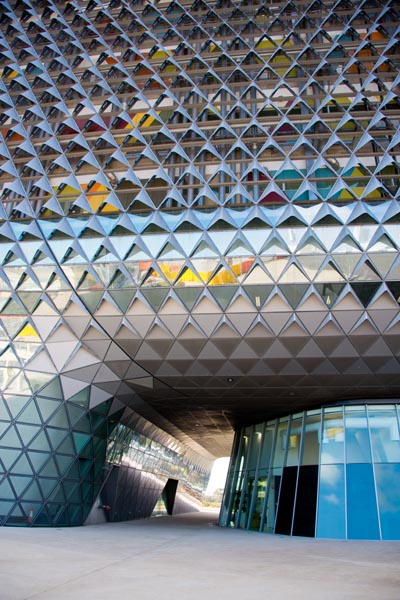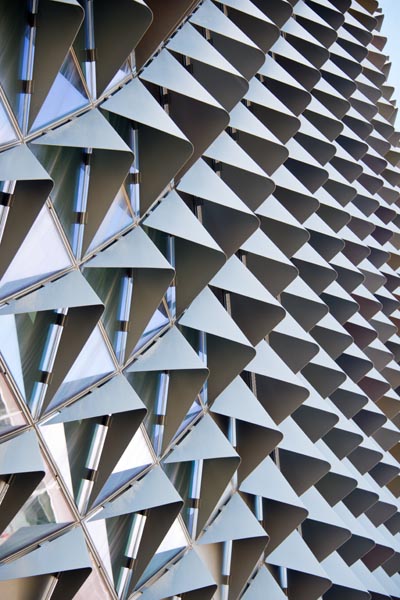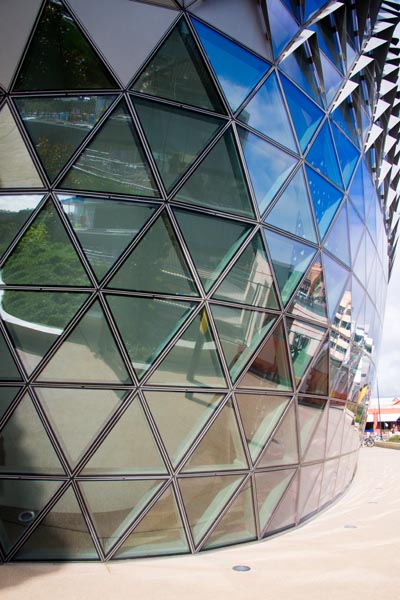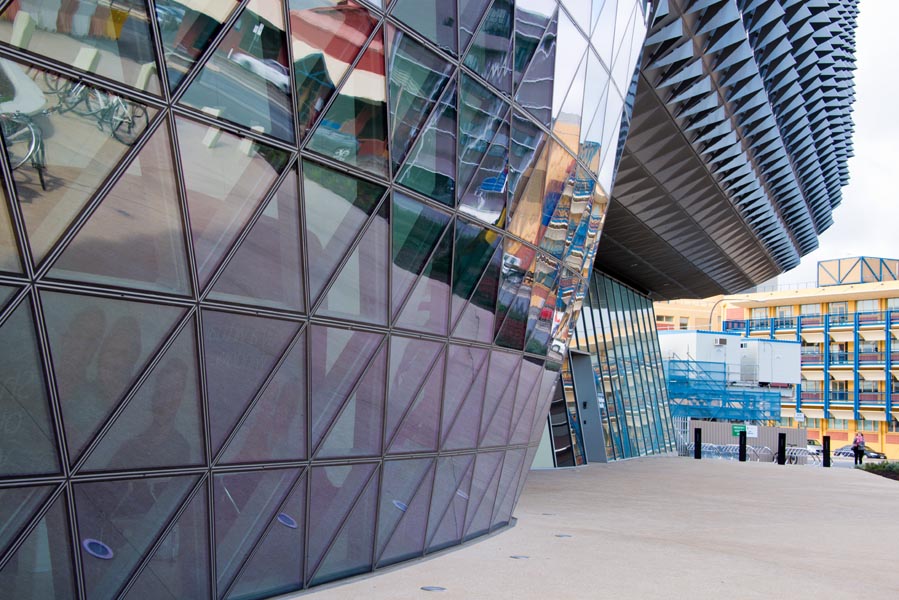 Surry Hills Community Centre
Entrant: Aurecon - Sydney – Designer
Location: 405 Crown Street - Surry Hills NSW 2010
Client: Austress Freyssinet
Architect: FJMT
Struct. Eng.: Aurecon - Facade Engineer
Others: Taylor Thomson Whitting - Concept Design
Builder: Austress Freyssinet / Probuild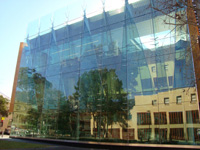 Sydney Wildlife World
Entrant: UFS Australasia Pty Ltd
Client: Sydney Attractions Group
Architect: Misho & Associates/ RIHS Architects – Misho & Gerry Rihs
Structural Engineer: Fabric: Wade Consulting Joseph Dean,
Steel: S2 Corporation Murray Allen
Fabricator(s): Fabric Shelter Systems Graham Griffin