Small Fabric Structures: Typically these may be of a plan area of 250 square metres or less. They are often used as shade structures or as signature items at entrances to larger buildings.
Other applications include the provision for a shaded area in playgrounds, school yards, car dealerships and as internal sculptures.
They may be made from coated fabrics as a water-proof barrier or of open fabric such as knitted shade cloth.
The following articles are in random order:
LSAA 2013 Award of Excellence
Listen Out Festival Temporary Tensile Canopy
Entrant: Tensys Engineers Pty Ltd
Category: 6 ID Number: 6512

Location: Royal Botanical Gardens, Melbourne

Client: Listen Out Festival, Melbourne 2013

Completion Date: 2013
Credits:
Architect: Tim Schork MADA, Monash University

Structural Engineer: Tensys Engineers

Others: Callum Morton (MAP)

Builder: Monash Art Design & Architecture (MADA)

Fabricator: MADA
Judges Comments:
"Beautifully resolved on all levels."
"An innovative, imaginative and thoroughly engaging project. So right for purpose - a canopy under which to shelter in a park while listening to music. Great colour. Joyful work that captures the spirit and essence of lightweight construction."
---
APPLICATION OF PROJECT:
Temporary structure for the Listen Out Music Festival at the Royal Botanical Gardens in Melbourne.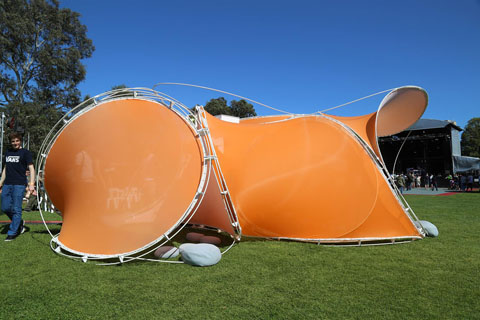 PROJECT DESCRIPTION:
Experimental work exploring the different tensile anticlastic forms. This structure is an end result of conceptual and digital studies carried out by MADA students of a cloud. The functional brief was to provide a temporary shading structure for the patrons of the festival covering a 5m x 5m footprint.
Australian Wildlife Centre Healseville Sanctuary
Entrant: Taiyo Membrane Corp, Tattersall Engineering, Minifie Nixon Arch
Client: Zoos Victoria
Architect: Minifie Nixon
Structural Engineer: Tattersall Engineering
Specialist Consultant(s): Wade Consultants, Taiyo Membrane Corporation
Builder: Behmer and Wright
Fabricator(s): Taiyo Membrane Corp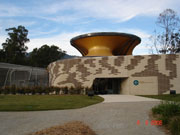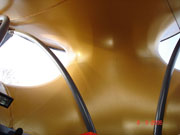 Central Westgate Sky Walk
GeoMetal Limited (Design & Engineering)
Location: Nonthaburi, Thailand. Completed: 24 August 2015
Client: Central Pattana Public Company Limited
Team: Pasalandscape Company Limited, Fastech Company Limited, Project Planing Public Company Limited, Power Line Engineering Public Company Limited, Fastech Company Limited
Canteen Canopy Extension
SEMF Pty Ltd (Architect / Engineer)
Location: Ringwood, Victoria. Completed: 31 July 2016
Client: Aquinas College
Team: SEMF, SEMF, Walsh Industries (Steel), Horizon Sailmakers (Membrane & cables)
Melbourne International Arts Festival - The Clubhouse
Entrant: Tensys
Client: Melbourne International Arts Festival
Architect: Wood Marsh Architecture
Structural Engineer: Tensys
Specialist Consultant(s): Tensys
Builder: Melbourne International Arts Festival
Fabricator(s): Atkins Fabrications Pty Ltd,
Thornton Engineering Australia Pty Ltd - steelwork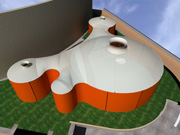 The Clubhouse
As part of the 2006 Melbourne International Arts Festival program, Artistic Director Kristy Edmunds has commissioned Melbourne's latest piece of urban architecture – The Clubhouse.
Designed by Melbourne-based architects Wood Marsh and engineered and project managed by Tensys, The Clubhouse will be temporarily located on the Upper Terrace of Hamer Hall at the Arts Centre throughout the Festival from Thursday 12 October.
Mpowerdome Entry Structure
Entrant: UFS Australasia Pty Ltd
Client: Mpowerdome
Architect: Small Quinton Coleman Architects
Structural Engineer: Wade Consulting Group
Builder: UFS
Fabricator(s): Fabric Shelter Systems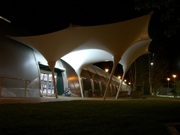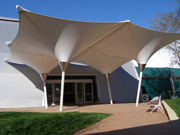 Nerang State School Outdoor Amphitheatre, Qld
APPLICATION OF PROJECT:
Playground Shade Structure: the amphitheatre provides a modern sheltered assembly area for students and teachers, and boasts a unique architectural focal point within the school.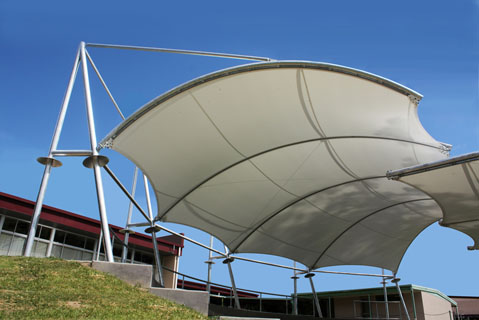 PROJECT DESCRIPTION:
As part of the Queensland Government National School Pride Program, a project was created for the design and construction of twin architectural roof canopies to cover the Nerang State School outdoor amphitheatre.
Key elements of the design brief included:
• Structures were designed to cover both the stage and the audience steps
• The main area had to be completely covered
• Views had to be maintained between the canopy and the amphitheatre stairs
• Provide all‐weather protection for the students of Nerang State School
• Complete installation had to be achieved during the summer school holiday period so as not to interrupt students during construction
Trailfinders Australian Garden - Chelsea Flower Show
PROJECT DESCRIPTION
MakMax's client, Flemings Nurseries exhibits annually at the Royal Horticultural Society's Chelsea Flower Show, one of the world most prestigious social and horticultural events. Fleming's often win awards for their unique exhibition stands. MakMax was engaged to bring an architect's design to life in the form of a unique temporary structure for Fleming's entry at the 2011 RHS Chelsea Flower Show.
DESIGN / FABRICATION / INSTALLATION BRIEF
Our client, Flemings Nurseries, engaged architect, Ian Barker to design their most recent stand. The architect's inspiration included themes of colonization and the discovery of Australia. Natural shapes and light play a large part in the design brief. The importance of the horticultural theme in the discovery of Australia is through botanist Sir Joseph Banks who along with Captain Cook first documented the unique native flora of Australia. MakMax was engaged to bring this idea to life through the architect's vision.
Although the concept was the work of the architect, some of the technical details of manufacture were not conceptualized until MakMax engineers began looking at the design from a practical point of view. Being a self supporting structure we had a fair amount of control over the manufacture and fixing details of the project.
Jirrawun Arts Centre
Entrant: UFS Australasia Pty Ltd
Client: Jirrawun Arts Pty ltd
Architect: Bruce Henderson Architects
Structural Engineer: Craft Projects
Specialist Consultant(s): UFS
Fabricator(s): Fabric Shelter Systems, DMG Engineering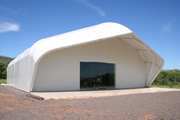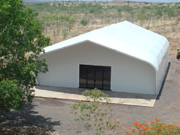 Melbourne Girls Grammar School Cover to Communal Deck
PROJECT DESCRIPTION
Inverted conic covering a communal deck for year 5 & 6 girls at Melbourne Girls Grammar
The structural form is an asymmetric inverted conic, with what is basically a rectangular upper perimeter. In plan the area covered is small, about 12.5m by 11m, and the height varies from 3m at the bale ring to 5.5m at the lower edge to 9m at the highest edge
The conical form is asymmetrical about all axes. The bale ring has been set close to one corner so that the inverted conical shape is accentuated by being well away from the adjoining buildings to which it is attached, and so that the stormwater drainage through the bale ring has minimal interference with use of the deck on wet days.
The function of the structure is to provide critical protection of the school students from the elements during breaks in their school day, creating an outdoor leisure environment that mixes native plants with modern aesthetic material technology. It provides a space where the children can relax and briefly escape the physical confines of school. Even whilst raining, the children can retreat to this area and have their senses stimulated by the rain drumming on the tensioned fabric whilst the water is collected and pushed along the highly strung cables, creating a cylinder of rushing water. Classes can be held on the tiered decking during most weather conditions.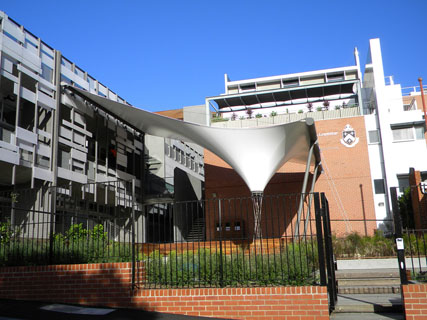 Read more: Melbourne Girls Grammar School Cover to Communal Deck