Small Fabric Structures: Typically these may be of a plan area of 250 square metres or less. They are often used as shade structures or as signature items at entrances to larger buildings.
Other applications include the provision for a shaded area in playgrounds, school yards, car dealerships and as internal sculptures.
They may be made from coated fabrics as a water-proof barrier or of open fabric such as knitted shade cloth.
The following articles are in random order:
Northern Busways Park & Ride Terminals
Entrant: Structurflex Ltd
Client: North Shore Council
Architect: Opus
Structural Engineer: Compusoft Engineering Auckland
Builder: Works Infrastructure
Fabricator(s): Structurflex Ltd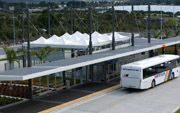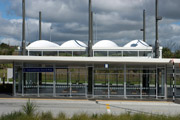 DESIGN BRIEF
The architect's requirements were:
To create a space that retained a sense of daylight.

To provide a unique roof as a landmark for the bus stations.

To provide a number of connected canopies that gave a cloud effect.

To provide a means of hiding the florescent lighting and components within the "clouds".
STRUCTURAL SYSTEMS
A series of I beams were used supported on 6 columns joining the two sides of the building.
These beams have a duel purpose on the top side acting as both structural member and gutter.
Underneath the area within the beam is used to conceal the lighting components and fixing cleats.
Perth Children's Hospital
Fabritecture (Designer and Installer)
Location: Subiaco, WA. Completed: July 30 2015
Client: John Holland Group
Team: JCY Architects, Greenup Design International, Fabritecture, Textile Fabrication Services, Fabritecture
Small tensioned fabric or membrane structures are "defined" to have a surface area of about 250 square metres or less to correspond to this category in the LSAA Design Awards.
Applications may include "signature" entrances to buildings, small sheltered areas or storage coverings. Outdoor sound stages will benefit from a well designed sound shell to project the performance.
Here are a few examples: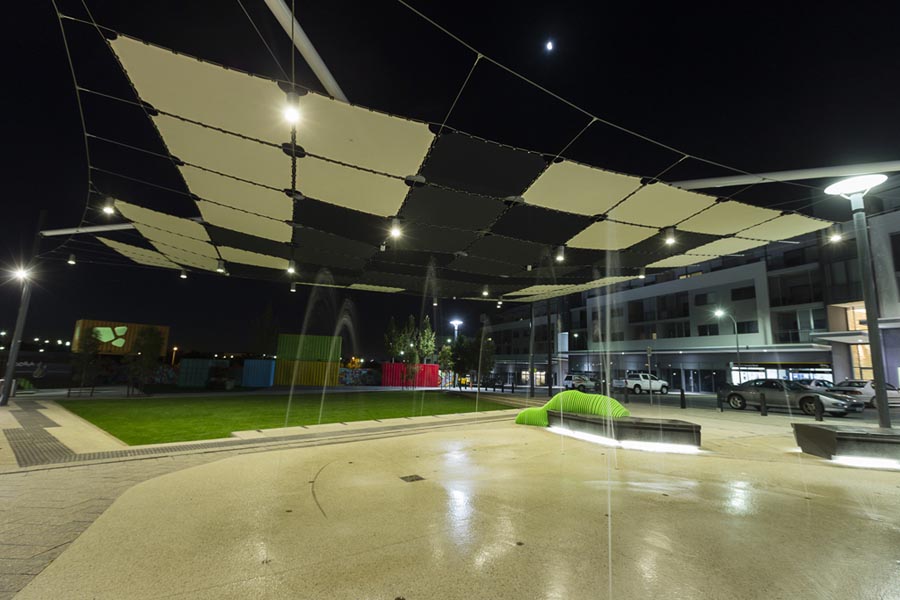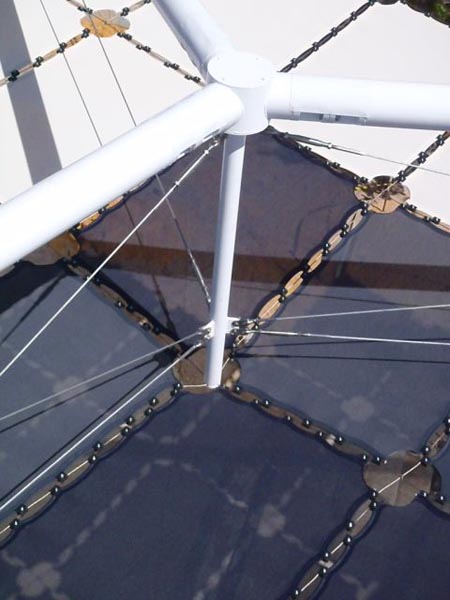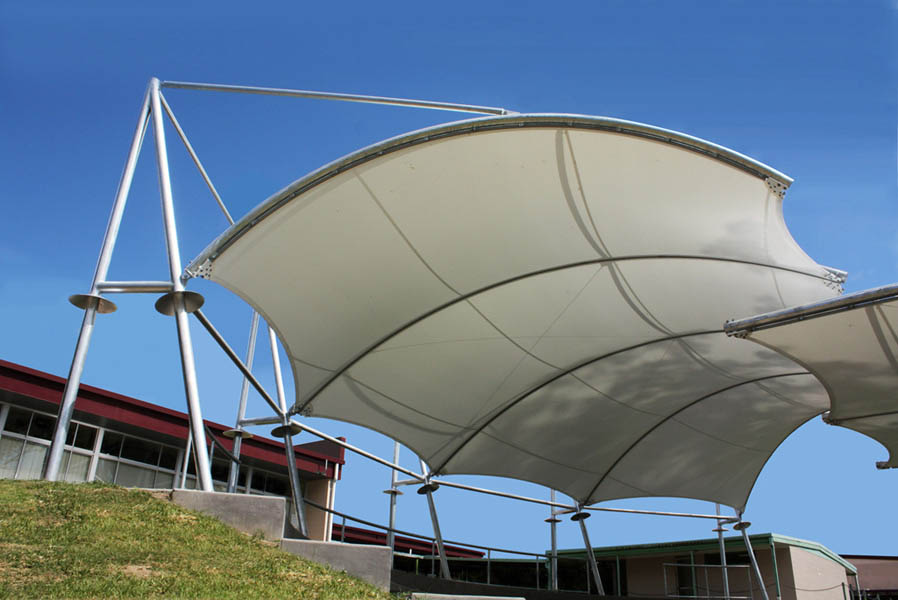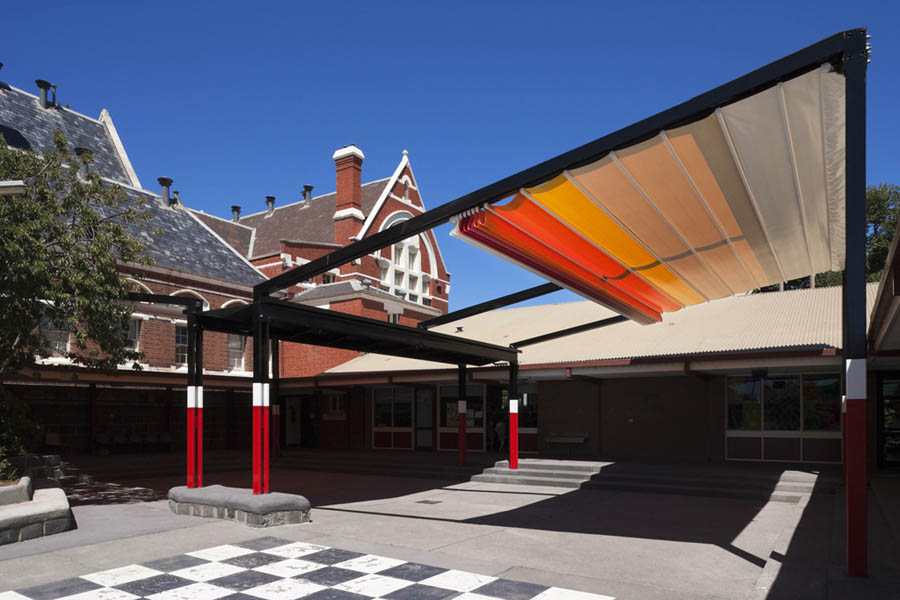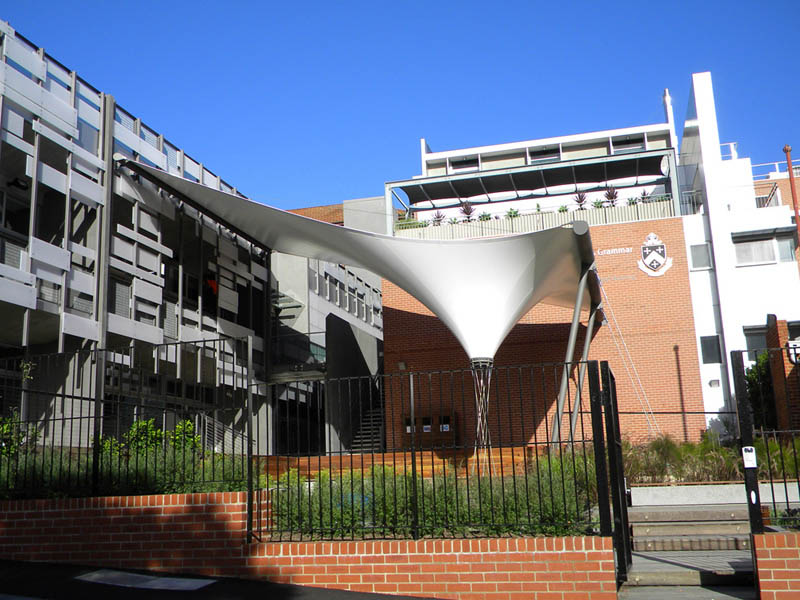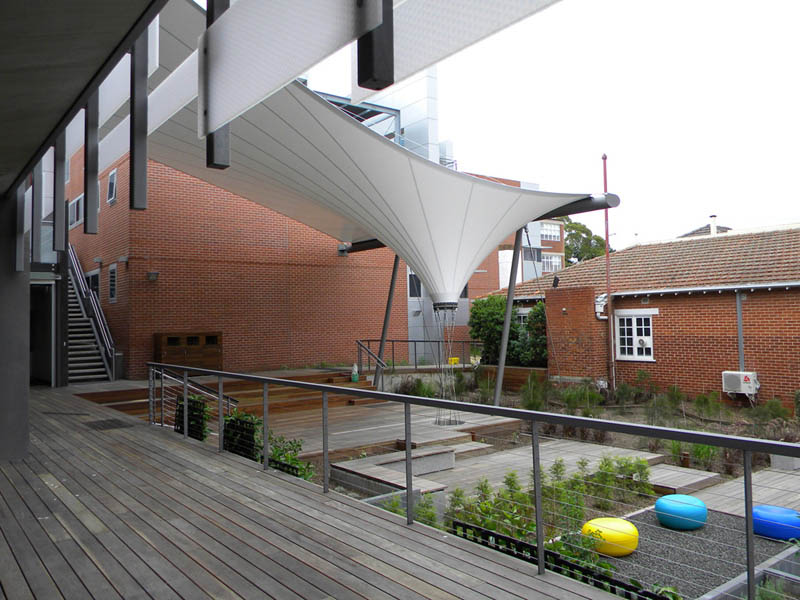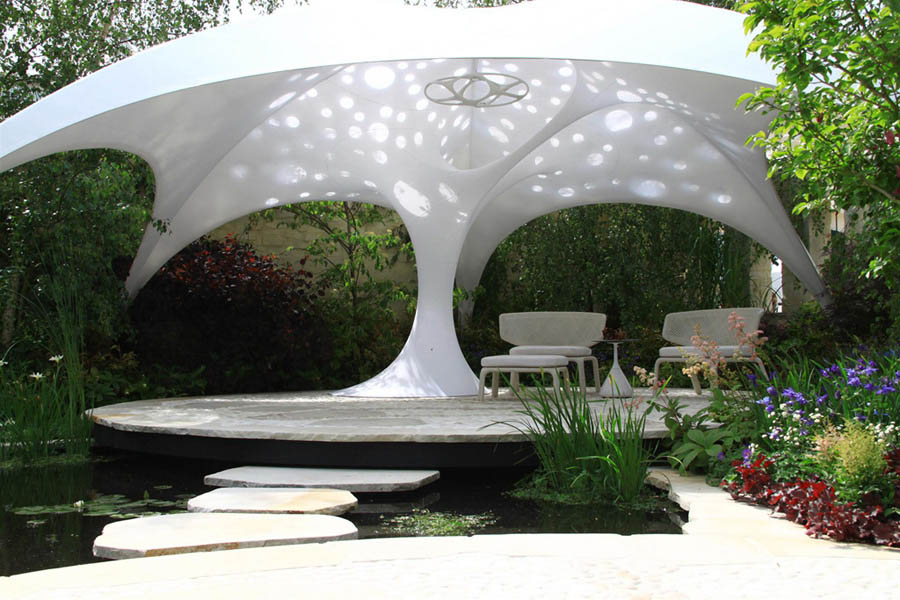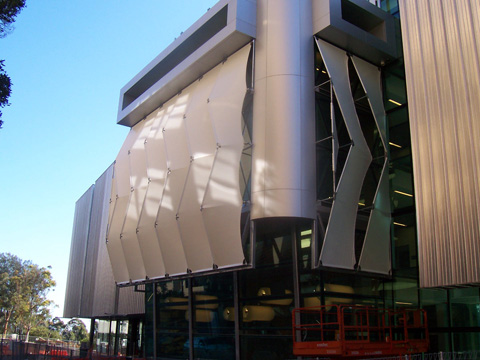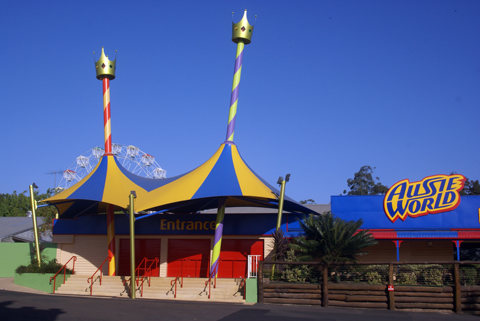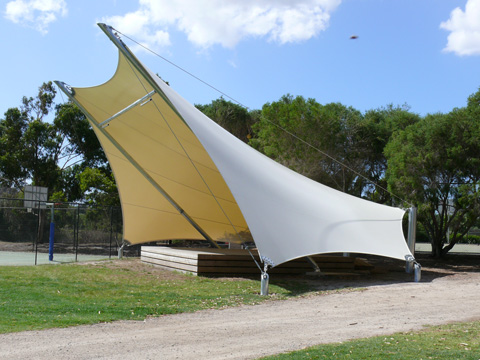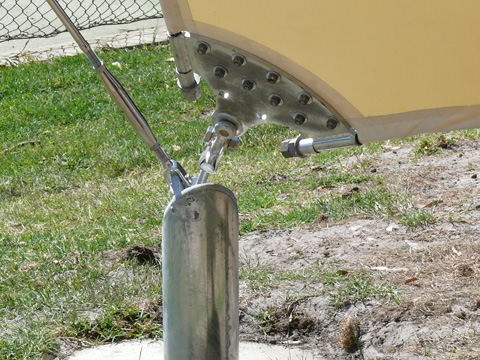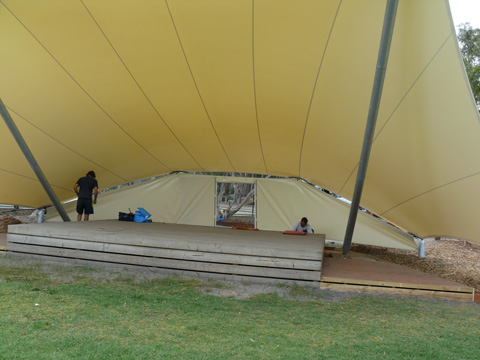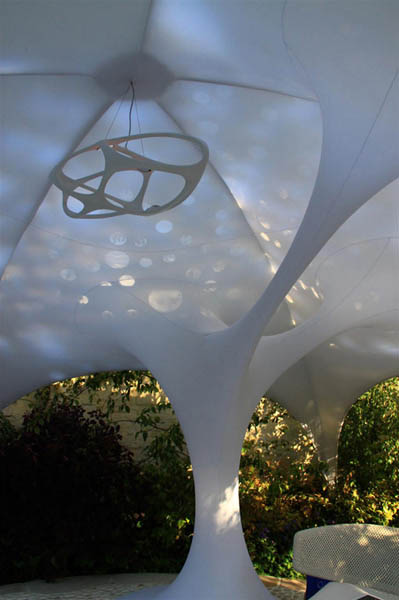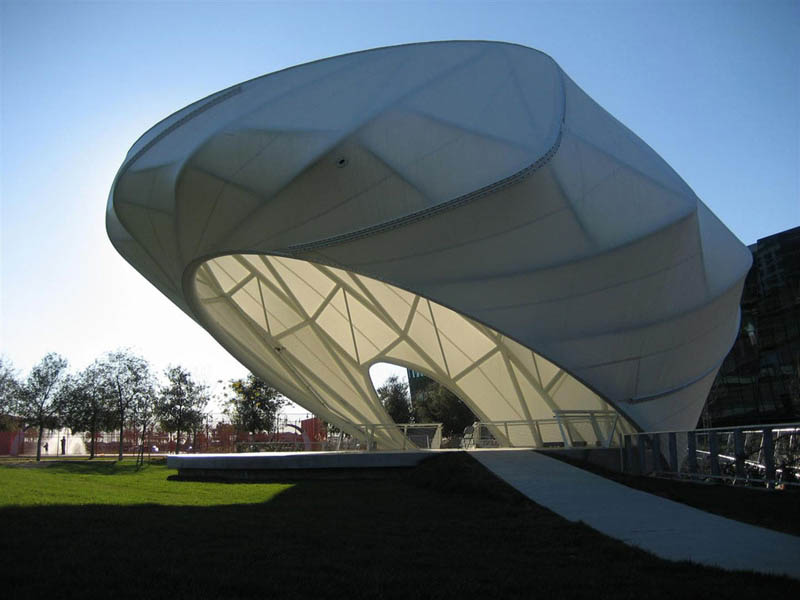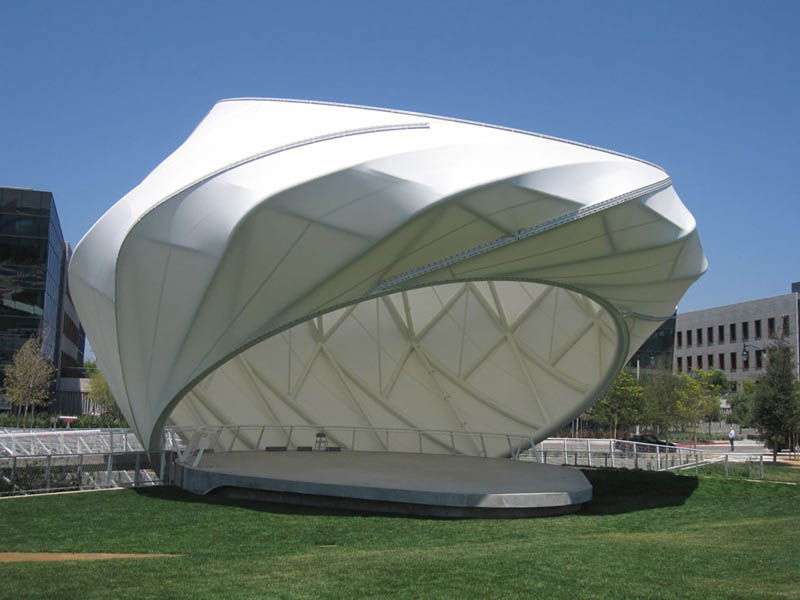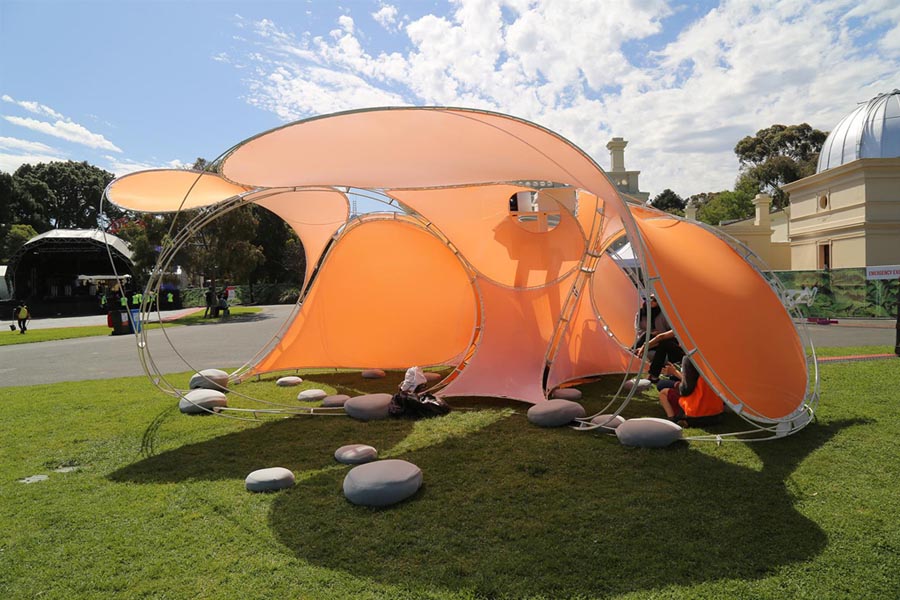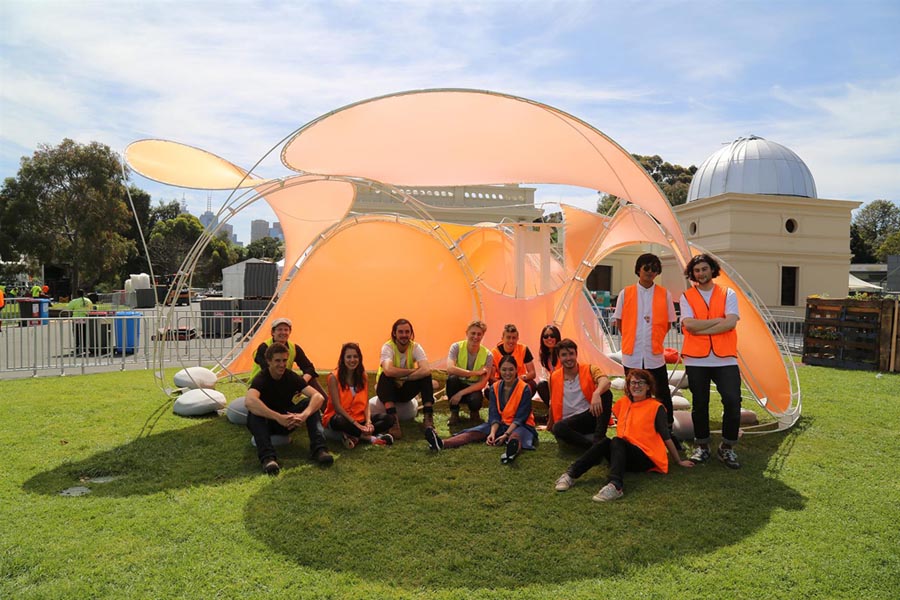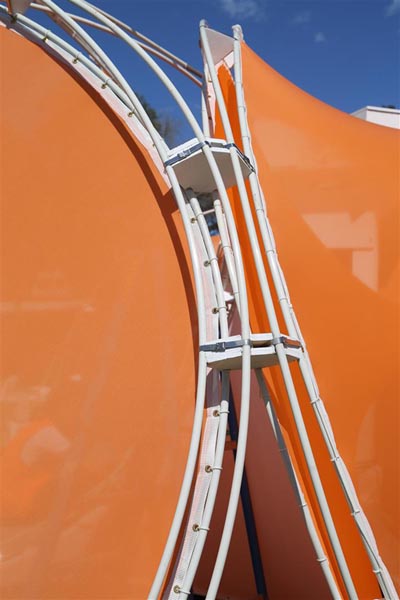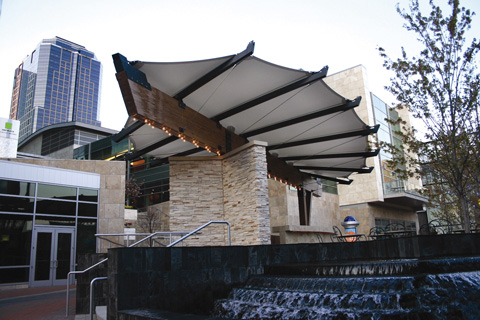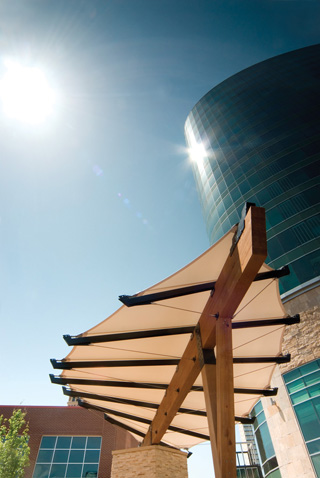 Mary McKillop College Amphitheatre
Shade And Membrane Structures Australia (Design / Project Management / Install)
Completed: May 8 2014
Client: James Trowse Constructions
Team: Opus Architecture, Osborn Lane, James Trowse Constructions, Shadecom
The following Small Structure Projects were entered into the 2018 LSAA Design Awards in Category 1

1160 Mandura Fishing Pier Shade Structure.
1400 Ryde Shopping Centre Travelator Canopy.
John Power Stand - Eagle Farm, Brisbane
PROJECT DESCRIPTION
Eagle Farm Racecourse is an iconic Brisbane building, hosting race days twice weekly and accommodating hoards of racegoers every year. The main stand named John Power Stand was erected in the early 1900s. Since then the structure has aged leaving an unsightly concrete ceiling viewable from the main observation area.
MakMax was engaged to supply a permeable ceiling structure to cover the concrete from view while allowing access for inspection purposes. This structure also needed to eliminate nesting areas for birds under the old roof. MakMax engineers used the perimeter or building as well as the support columns to sustain the fabric, although the outcome is much different to look at the principals of the structure is not unlike many conic structures.
The addition of this fabric ceiling gives John Power Stand a much needed facelift. Our client Watpac Speciality Services is very pleased with the result.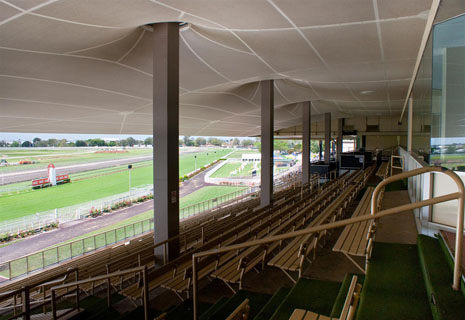 SKIPPS SHADE STRUCTURE - St Kilda, Victoria
APPLICATION OF PROJECT:
To provide a retractable shade structure to an existing exposed school quadrangle courtyard that offered flexibility to a highly utilized space. Without detracting from the existing heritage school built in 1873 and working with a 1970's addition, the project needed to remain respectful of the surrounds whilst providing a vibrant new design proposition and considered functionality. The brief was to provide shade and weather protection to a large external quadrangle, central to major school operations, assemblies, concerts, play area and general shelter.
PROJECT DESCRIPTION:
Carefully inserted into the existing courtyard, the new structure engages with the existing conditions on a number of levels. Spatially the area is now framed and defined yet remains light and open. The sense of space is not compromised yet is enhanced by a flexible shelter that can retract back to a simple steel butterfly shaped frame almost as if it has gently landed in the quadrangle.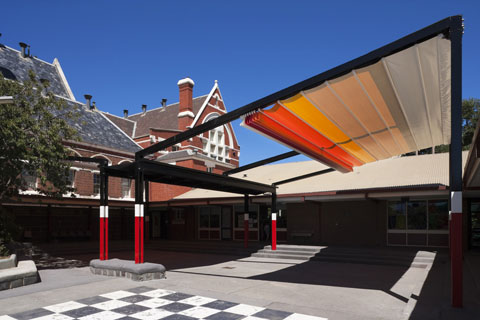 Perth Children's Hospital
LSAA 2016 Design Award Entry by Fabritecture (Designer and Installer)
Location: Subiaco, WA. Completed: July 30 2015
Client: John Holland Group
Team: JCY Architects, Greenup Design International, Fabritecture, Textile Fabrication Services, Fabritecture
APPLICATION OF PROJECT:
Highly interactive artistic and architectural shade canopies, featuring intricately designed complex steel geometry and custom fabric patterns to work with the exciting environment of the children's playground.

PROJECT DESCRIPTION:
The Perth Children's Hospital project involved the design and construction of an intricate structural shade solution as an addition to an outdoor children's play area for the hospital. The project was part of a redevelopment initiative to replace the existing Princess Margaret Hospital facility.
The new Perth Children's Hospital intends to host local and internationally recognised organisations for paediatrician, clinical research and tertiary learning.
Pou Manawa - Auckland International Airport
PROJECT DESCRIPTION
Pou Manawa (Maori name for the Tree) is the heart of the new retail centre at Auckland International Airport, it stands proud where people gather, coming and going from their journeys around the world.
Fabric Structure Systems were approached with a brief to develop the significant sculptural piece for the Auckland International Airport's retail departures area.
Pou Manawa takes the form of a sculptural tree, crafted from SEFAR® Architecture fabric & tensioned into place, creating a continuous light translucent surface, which is rear projected to bring the Tree to life, with various natural & traditional Maori themes.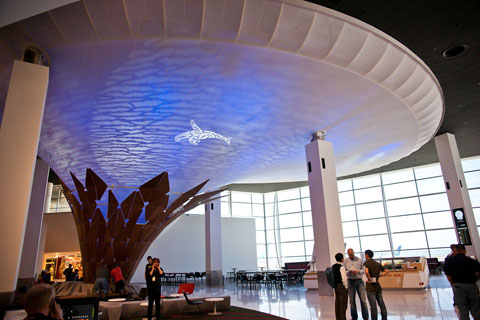 Little Edward Street Atrium Roof
Shade And Membrane Structures Australia (Design / Project Management / Install)
Completed: December 5 2013
Client: Bennelong Funds Management
Team: Global Membrane Design, SAMA, Shadecom / Fabric Solutions