Small Fabric Structures: Typically these may be of a plan area of 250 square metres or less. They are often used as shade structures or as signature items at entrances to larger buildings.
Other applications include the provision for a shaded area in playgrounds, school yards, car dealerships and as internal sculptures.
They may be made from coated fabrics as a water-proof barrier or of open fabric such as knitted shade cloth.
The following articles are in random order:
Little Edward Street Atrium Roof
Shade And Membrane Structures Australia (Design / Project Management / Install)
Completed: December 5 2013
Client: Bennelong Funds Management
Team: Global Membrane Design, SAMA, Shadecom / Fabric Solutions
John Power Stand - Eagle Farm, Brisbane
PROJECT DESCRIPTION
Eagle Farm Racecourse is an iconic Brisbane building, hosting race days twice weekly and accommodating hoards of racegoers every year. The main stand named John Power Stand was erected in the early 1900s. Since then the structure has aged leaving an unsightly concrete ceiling viewable from the main observation area.
MakMax was engaged to supply a permeable ceiling structure to cover the concrete from view while allowing access for inspection purposes. This structure also needed to eliminate nesting areas for birds under the old roof. MakMax engineers used the perimeter or building as well as the support columns to sustain the fabric, although the outcome is much different to look at the principals of the structure is not unlike many conic structures.
The addition of this fabric ceiling gives John Power Stand a much needed facelift. Our client Watpac Speciality Services is very pleased with the result.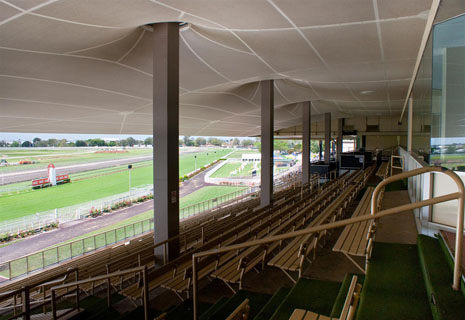 Flemington Racecourse
Entrant: Taiyo Membrane Corp
Client: Victoria Racing Club
Architect: Taiyo Membrane Corporation
Structural Engineer: Xiang Du (TMC)
Fabricator(s): Taiyo Membrane Corp
Central Westgate Sky Walk
Entrant: GeoMetal Limited (Design & Engineering)
Location: Nonthaburi, Thailand. Completed: 24 August 2015
Client: Central Pattana Public Company Limited
Team: Pasalandscape Company Limited, Fastech Company Limited, Project Planing Public Company Limited, Power Line Engineering Public Company Limited, Fastech Company Limited
First concept was a waving, curved surface, using a rigid 3D curved steel arches as supporting structures.
Engineering works also included form-finding, structural analysis, CFD analysis, detailing design, Installation method.
The fabric area was 191 sqm, the weight of steel 7.41 tons and the type of fabric used was 702T2
Small tensioned fabric or membrane structures are "defined" to have a surface area of about 250 square metres or less to correspond to this category in the LSAA Design Awards.
Applications may include "signature" entrances to buildings, small sheltered areas or storage coverings. Outdoor sound stages will benefit from a well designed sound shell to project the performance.
Here are a few examples: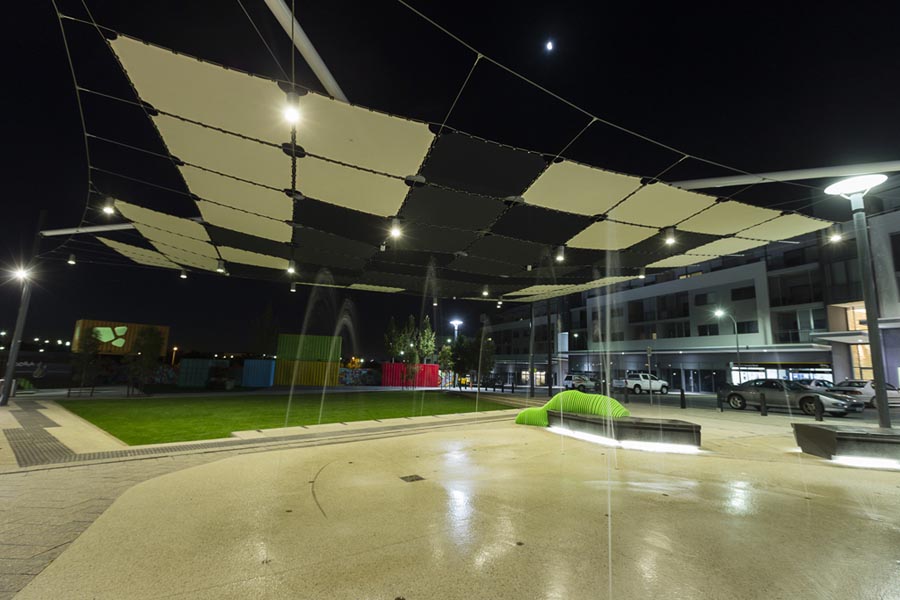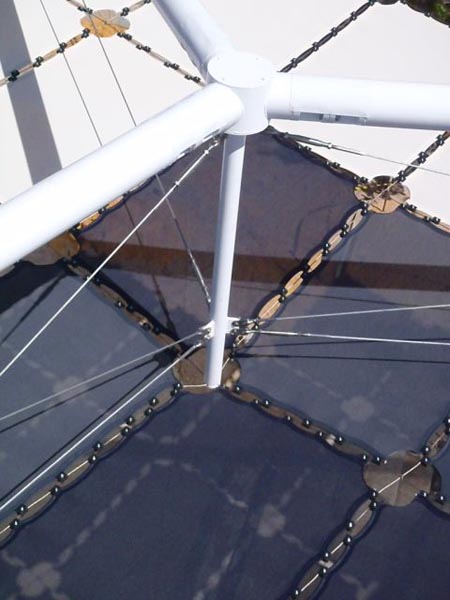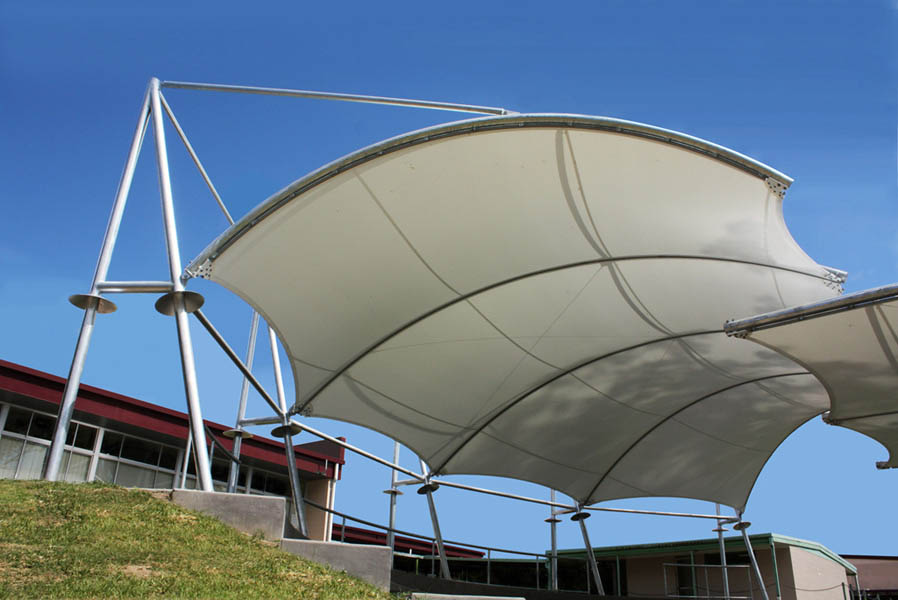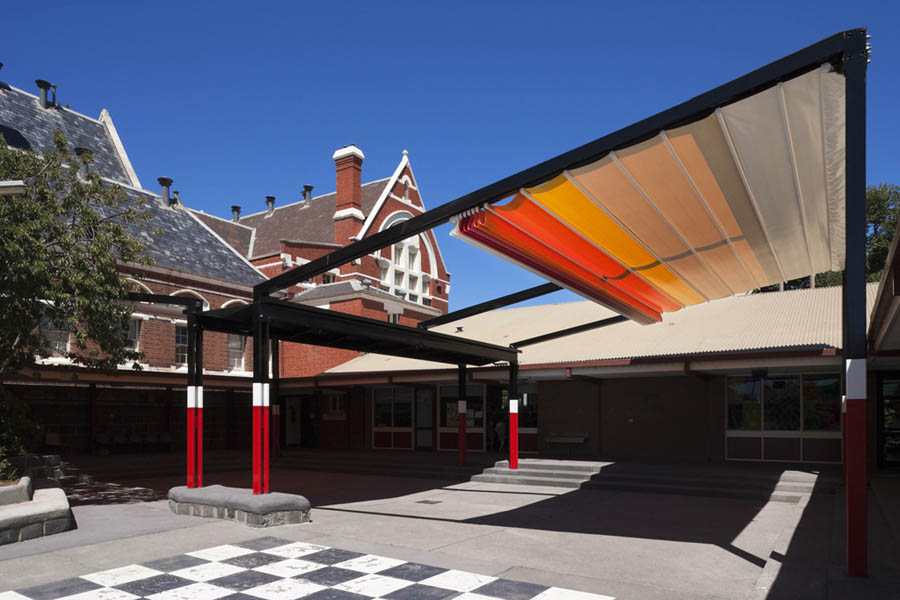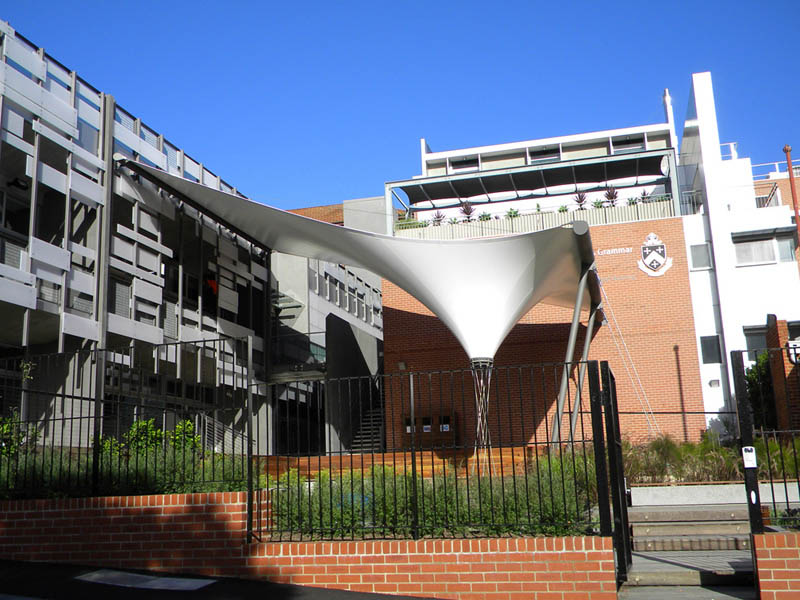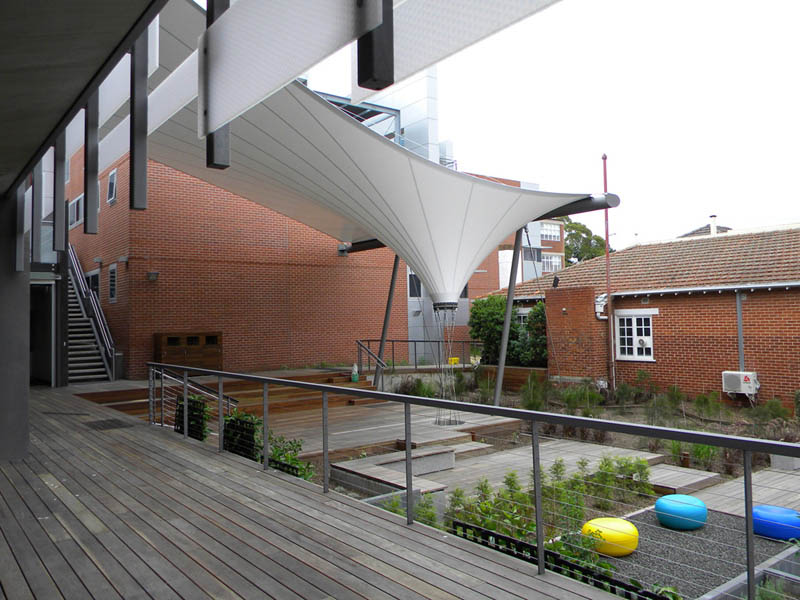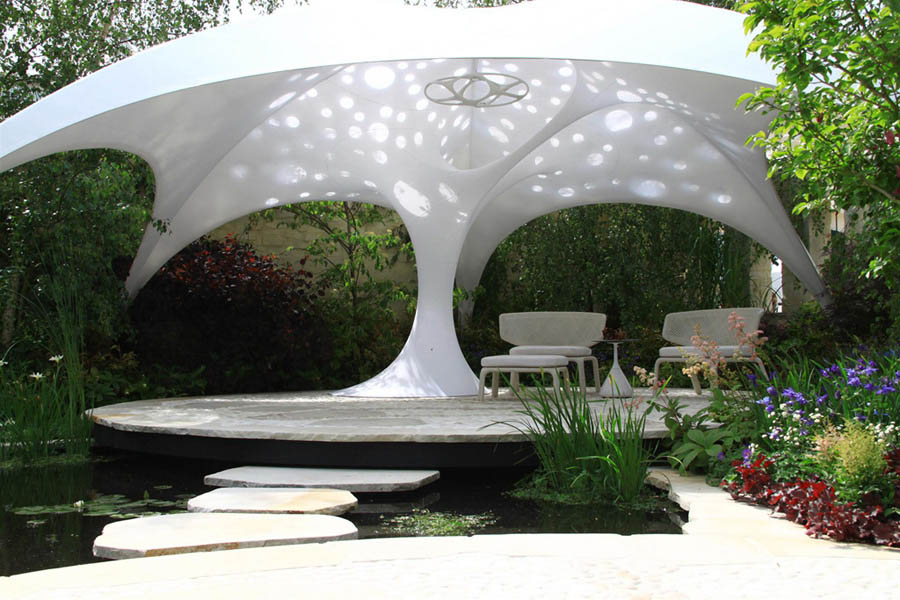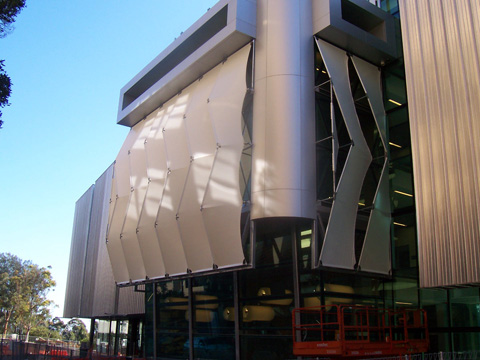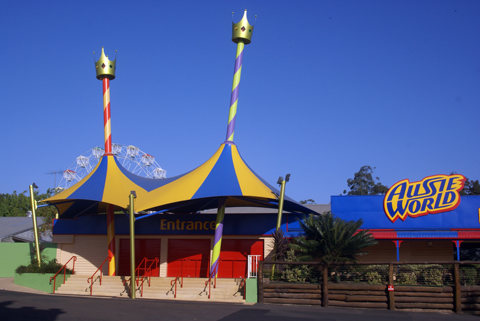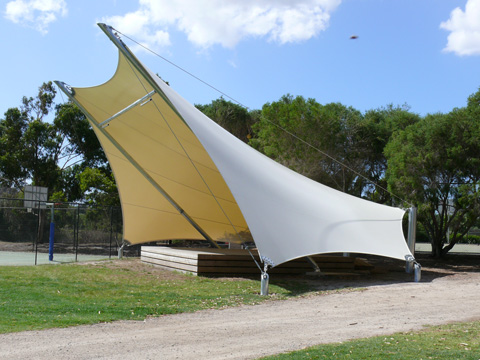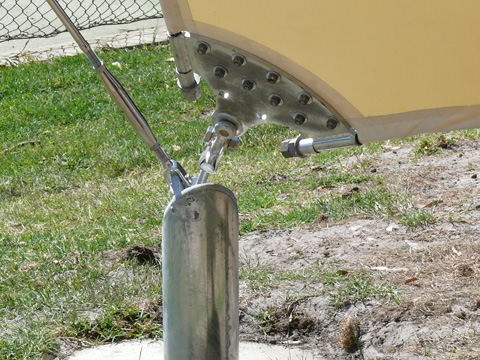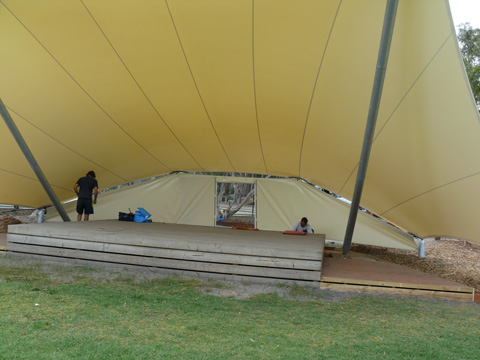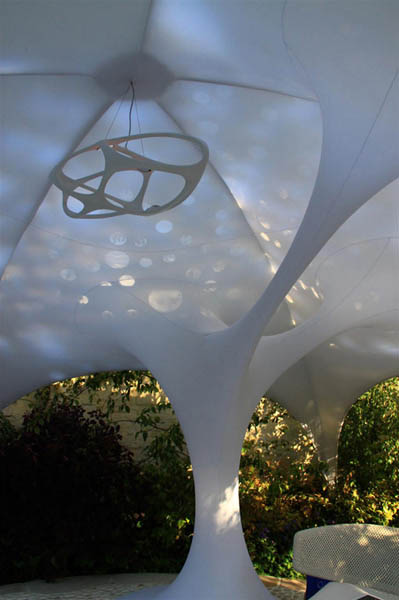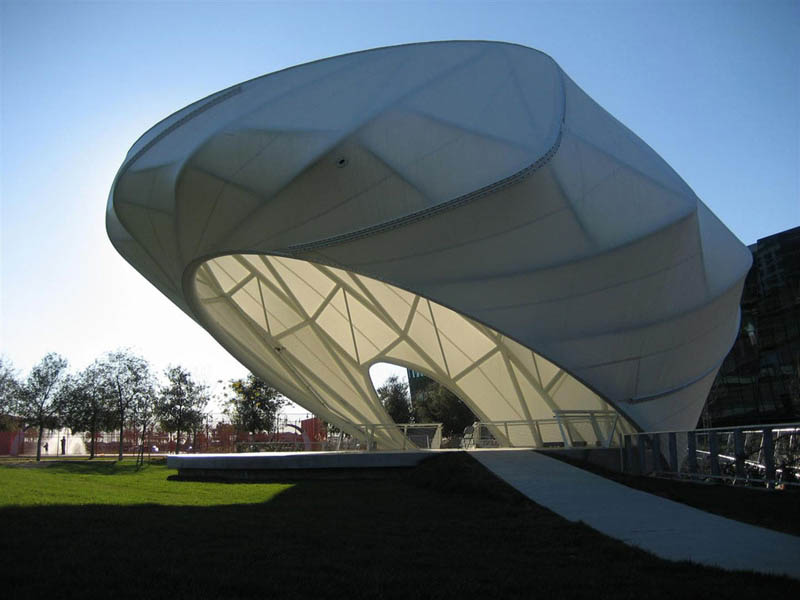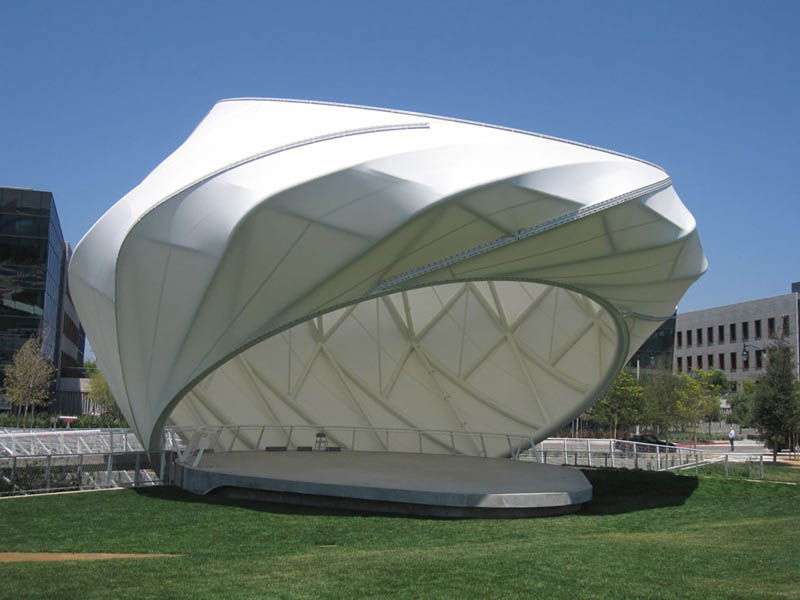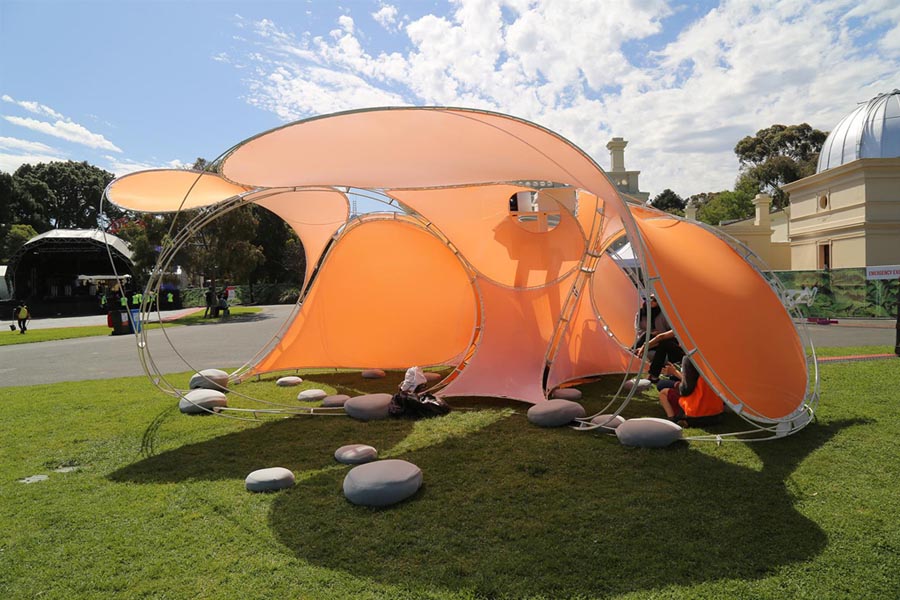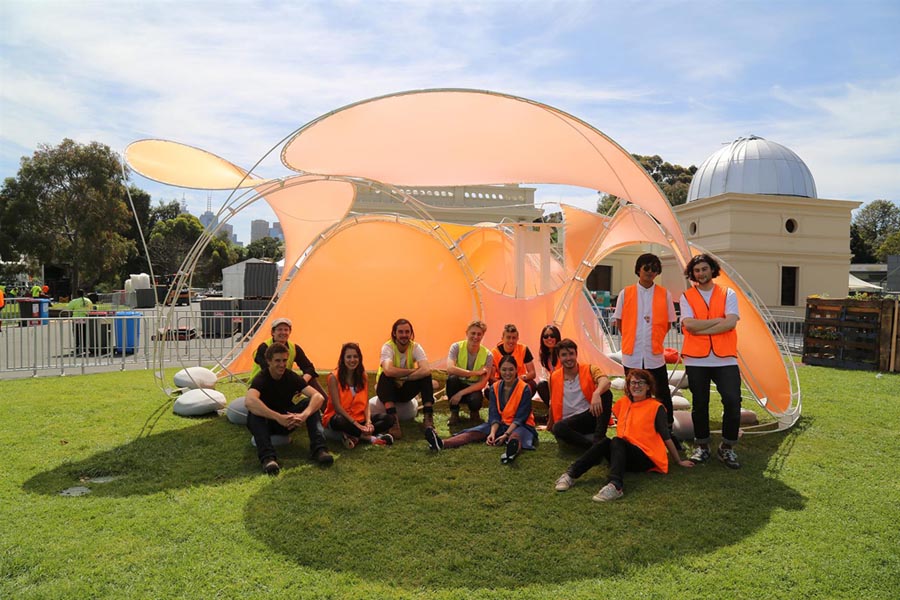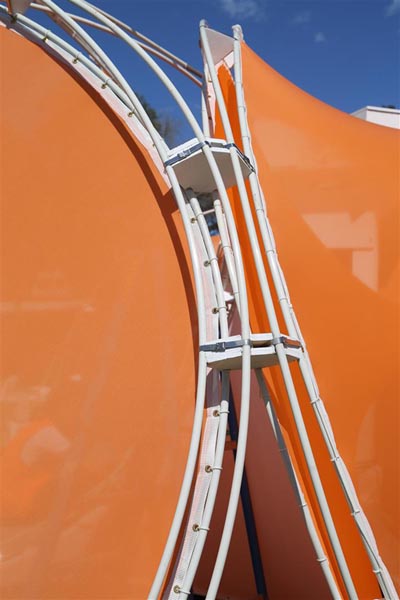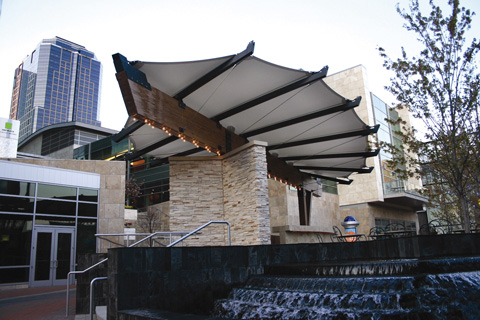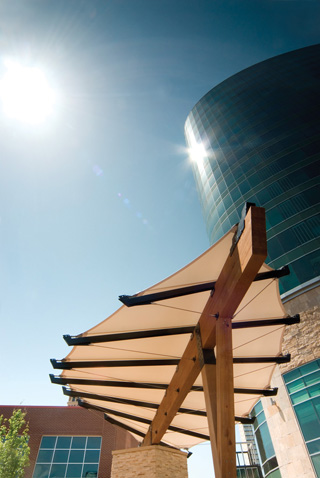 Perth Children's Hospital
Fabritecture (Designer and Installer)
Location: Subiaco, WA. Completed: July 30 2015
Client: John Holland Group
Team: JCY Architects, Greenup Design International, Fabritecture, Textile Fabrication Services, Fabritecture
60 Margaret Street
Credits - Entered by MakMax
Category: Tension structures - (coated fabrics) less than 500sqm
Client: W. Eggerking & Co Pty Ltd
Engineer: Tensys, Peter Lim
Fabric: Hiraoka 212-II SAC
Date completed: 21 February 2012
Address: 60 Margaret Street, Sydney NSW 2000
Size: 600sqm
Steel Supplier: Steelman
Fabric Supplier: Hiraoka Australia
Installer: Sydrig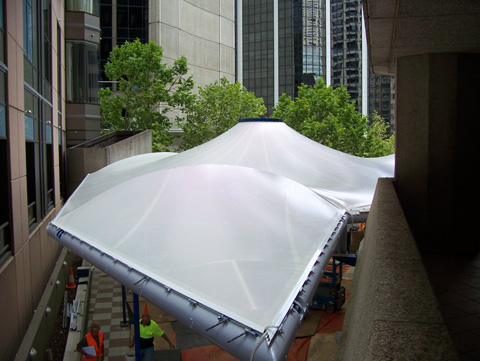 Central Westgate Sky Walk
GeoMetal Limited (Design & Engineering)
Location: Nonthaburi, Thailand. Completed: 24 August 2015
Client: Central Pattana Public Company Limited
Team: Pasalandscape Company Limited, Fastech Company Limited, Project Planing Public Company Limited, Power Line Engineering Public Company Limited, Fastech Company Limited
Project: Penbank Sound Shell
Entrant: Structureflex Pacific – Designer / Fabricator
Location: Penbank School, 460 Tyabb Rd, Moorooduc, Vic
Client: Penbank School
Struct. Eng.: John Killmister
Builder: Shade Living
Fabricator: Structureflex Pacific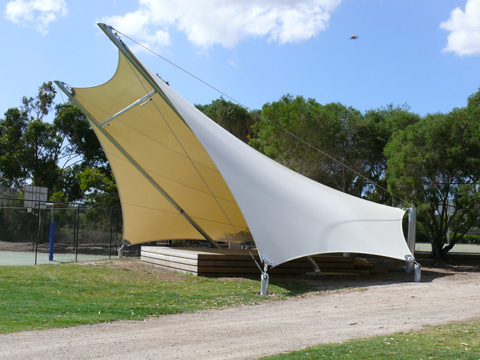 'I Dips Me Lid' (NGV Architectural Commission)
John Wardle Architects (Architect / Designer)
Location: National Gallery of Victoria, Melbourne. Completed: 15 September 2015
Client: National Gallery of Victoria
Team: Matthew van Kooy, John Bahoric, Electrolight (lighting), 3D Structural Solutions (Shop Drawings), Light Project, Engineering Directions