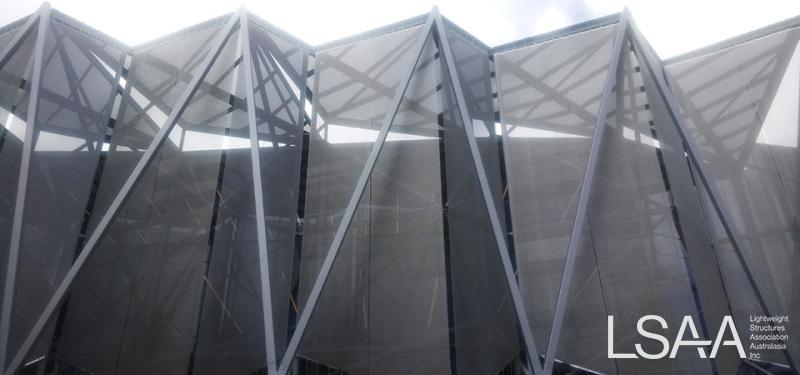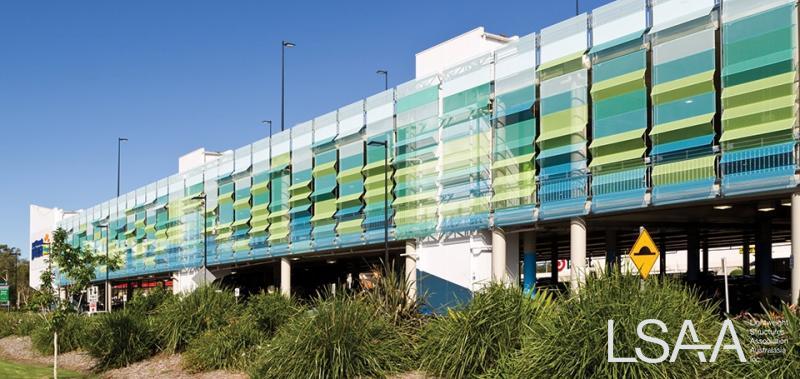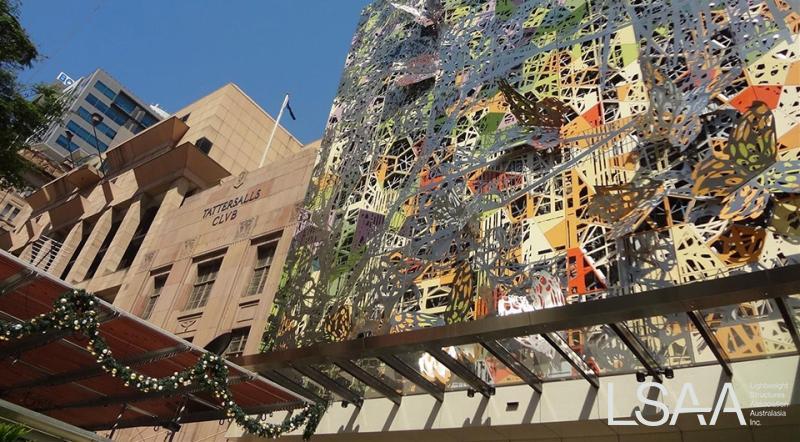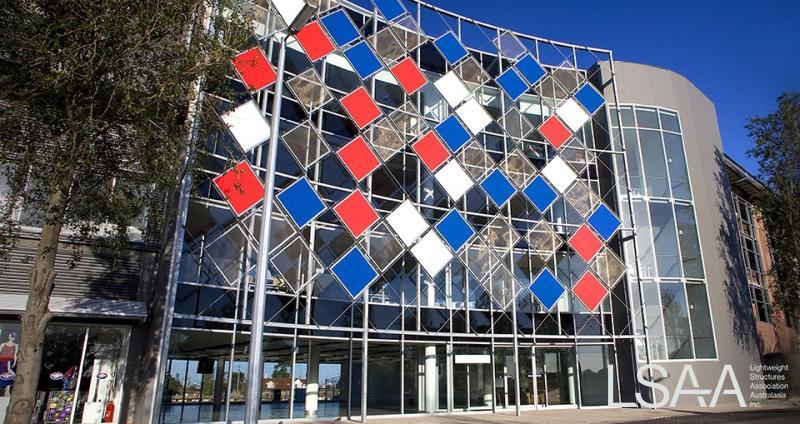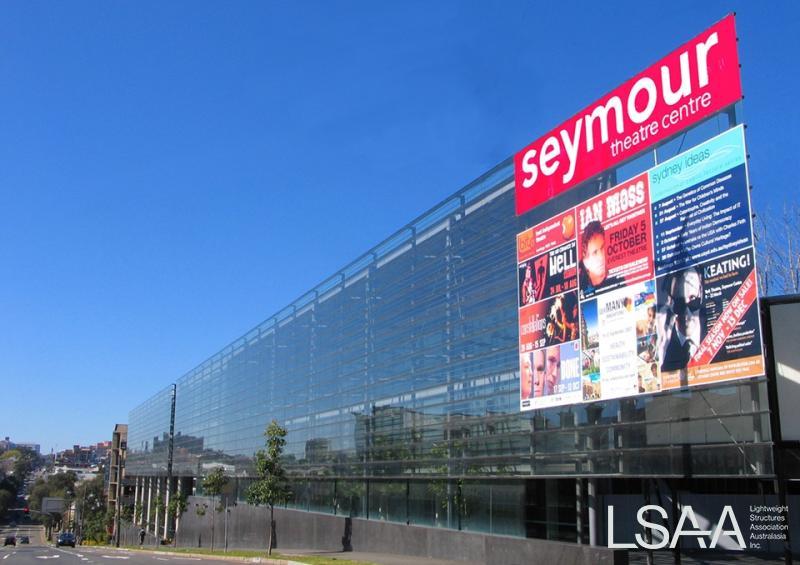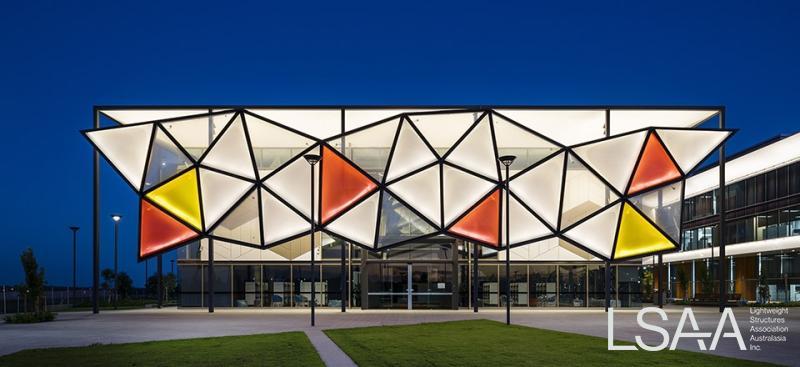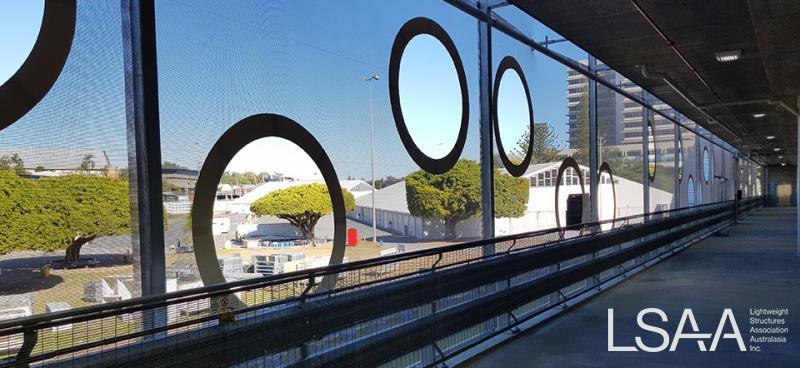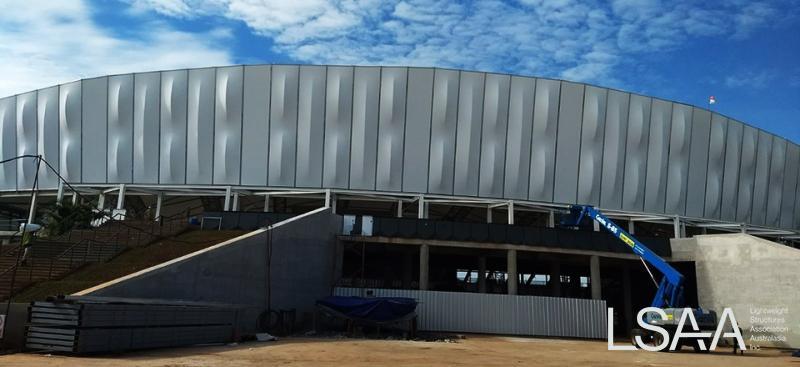 Lightweight structures are increasingly being applied to facades of buildings and may take the form of high-tech glazing, shade or heat controlling double surfaces.
Laser cut metal panels can be used to good artistic effects.
Back to Projects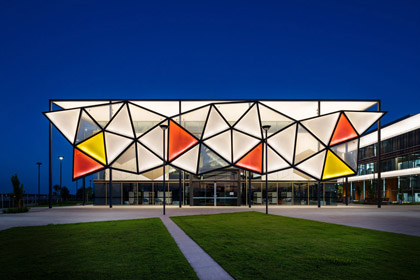 Commendation at LSAA 2018 Design Awards
PROJECT DESCRIPTION:
In late 2017, the new Oran Park Library & Community Resource Centre underwent an AUD$13.8million development. Part of the works was a design & construction contract for a lightweight architectural ETFE façade at the front of the library. The façade faces the Western sun, providing an effective solar barrier from the heat, and adding a striking aesthetic to the building.
The façade features a series of triangular 2-layer ETFE cushions, alternating in colour and direction, in red, yellow, white and translucent foil with a standard frit pattern print.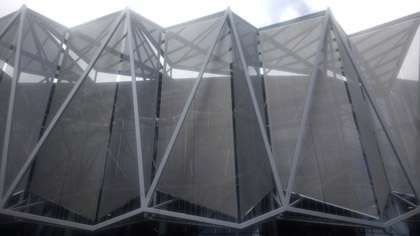 Award of Excellence LSAA 2018 Design Awards - Glazing and Facades
APPLICATION OF PROJECT:

Shade Facade
PROJECT DESCRIPTION:
A brutalist brick and concrete library is transformed with many careful interventions into a light filled, open structure at the heart of its university campus setting.
New openings on all sides of the building are designed specifically to respond to the immediate surrounding street, bridge and courtyard spaces. Internally a new full height atrium is cut through existing 19 metre span, post tensioned, concrete T beams. Natural light is drawn into the deep floor plates and acts as a navigating device.
Read more: Monash University Caulfield Campus, Library Shade Facade (2018)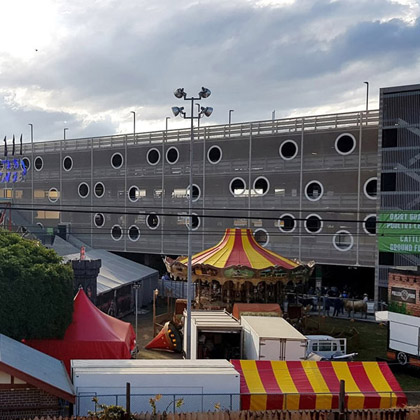 High Commendation LSAA 2018 Design Awards - Category 5 Glazing and Facades
APPLICATION OF PROJECT:
Architectural façade for dual purpose structure that is used as a large animal pavilion during the Brisbane Exhibition and as a carpark at other times of the year.
PROJECT DESCRIPTION:
The project was a façade consisting of 1400m2 ST Gobain SGM50 open PTFE mesh and 650m2 solid Chukoh FGT800 PTFE. The façade provided an exciting architectural feature on the exterior of an otherwise bland carpark at the RNA Showgrounds. The facade included "porthole" features which assisted in creating the 50% open requirement for air flow for animal and patron comfort during the 2 weeks of the Brisbane Exhibition. The façade also provided an aesthetically pleasing exterior for the remaining part of the year when the structure is used as a carpark. The area below the carpark is used year round for festivals and events so the façade is a key feature at the RNA showgrounds.
Push-out points in the facade provide a textured look to the solid PTFE faces while the "port holes" break up the mesh face externally and give an external sneak view from the inside of the structure.
Read more: RNA Brisbane Large Animal Pavillion Project (2018)