Lightweight geometric forms filling an internal space generally with no applied environmental loads - from wind, rain or snow - but usually a small amount of prestress.
Very lightweight highly curved forms may be used to create exciting geometric forms to fill a void.
There will be no external environmental loads from wind, rain or snow but a small degree of prestress and accurate patterning are required.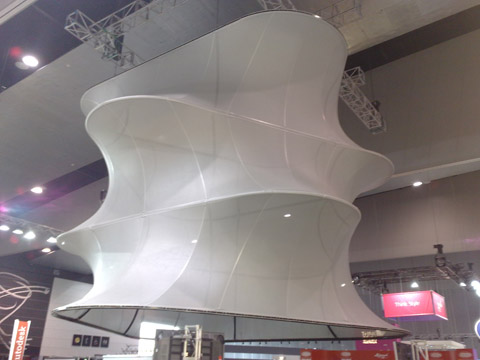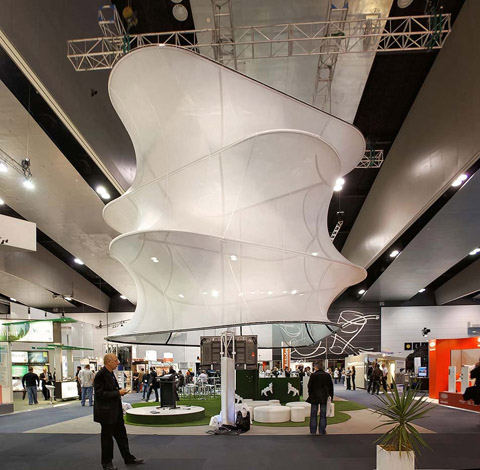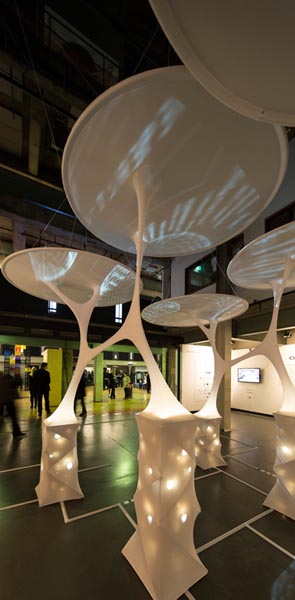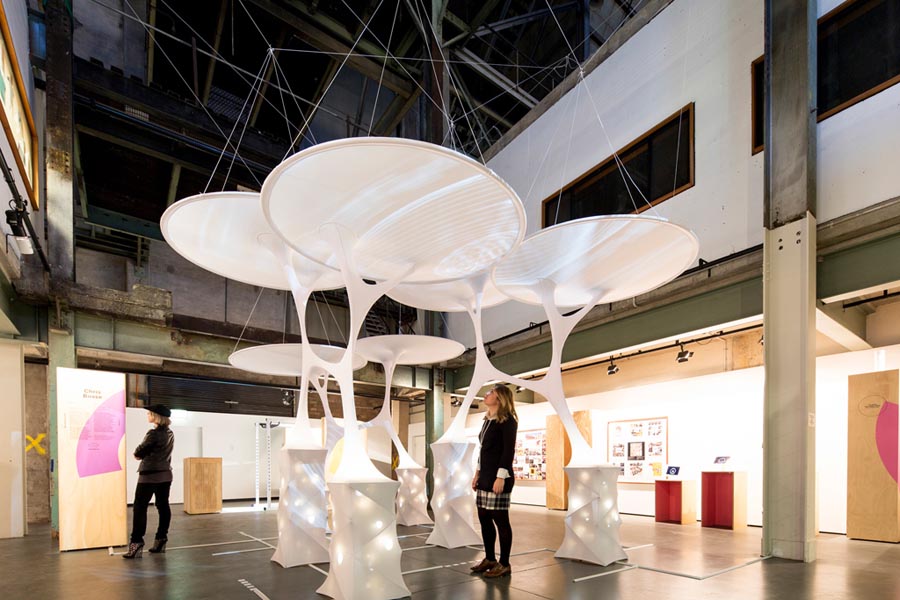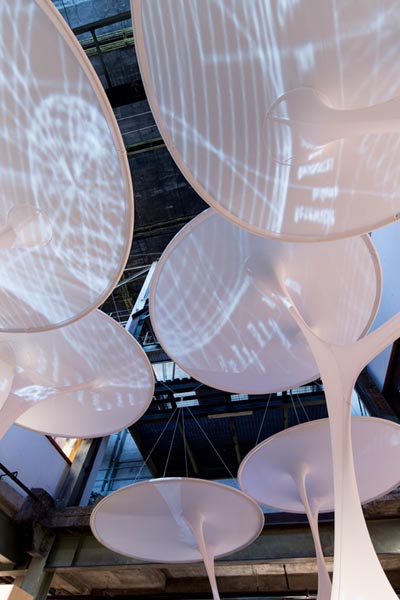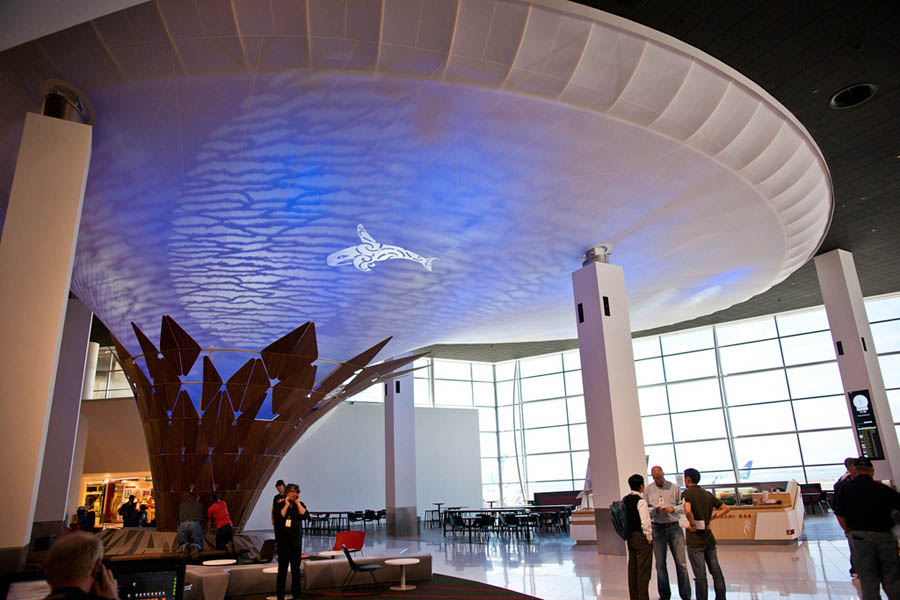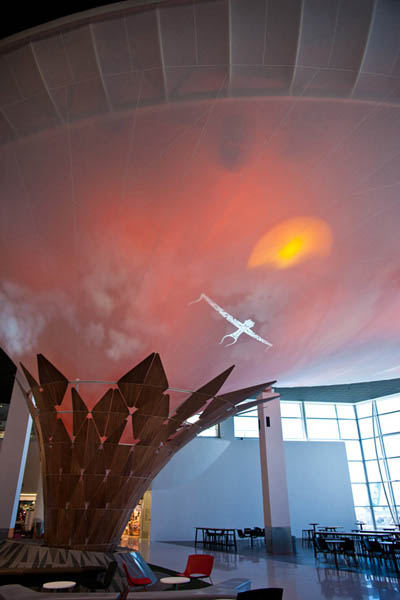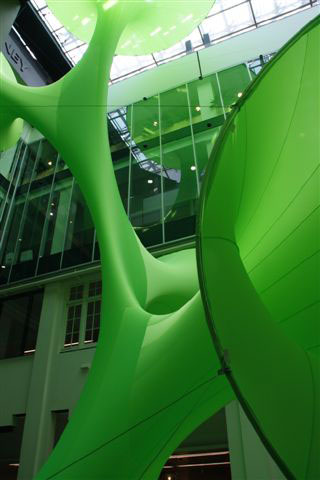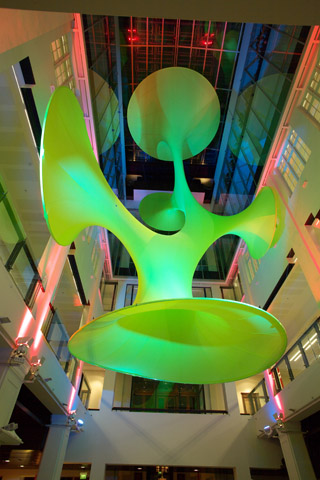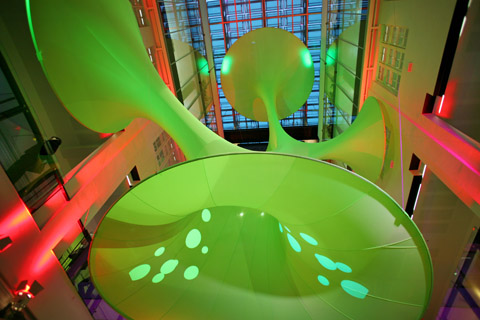 Vector Arena Atrium Lights
Entrant: Structurflex Ltd
Client: Vector Arena
Architect: Peddle Thorpe Architects
Structural Engineer: Compusoft Engineering Auckland
Fabricator(s): Structurflex Ltd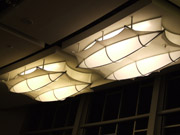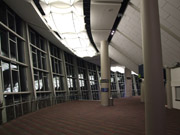 This project was entered in the 2013 LSAA Design Awards
Entrant: LAVA
Category: 1 ID Number: 1567
Location: Casula Powerhouse, Casula NSW
Client: Object Gallery
Completion Date: July 2013
Credits:
Architect: Chris Bosse
Structural Engineer: Büro für Leichtbau (Germany)
Fabricator: Fabric Shelters Workshop (NZ)
Steelwork: GKR Interiors (Australia)
APPLICATION OF PROJECT:
Cloud City: An urban ecosystem is a sculptural rendition of Chris Bosse's vision of a future city - a soaring, stretched membrane cloud anchored to the 'city' on the gallery floor by high-rise towers that have been re-skinned and revitalised. A series of large circular forms, doubly curved, is made of stretchy lycra.
The installation is part of a nation-wide exhibition by 12 Australian designers that explores the potential of design in our lives and generates ideas that could 'change the way we inhabit the world'.
Green Void
Entrant: MakMax Australia – Designer
Location: 31 Alfred Street - Sydney NSW 2000
Client: City of Sydney
Architect: LAVA (Laboratory of Visionary Architecture)
Struct. Eng.: MakMax Australia
Others: MakMax (Installation)
Fabricator: MakMax Australia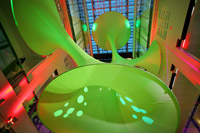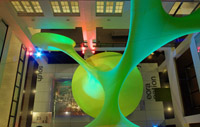 Tower House Netting
Tensys Engineers Pty Ltd (Engineer)
Location: Fitzroy, Victoria. Completed: 2014
Client: Philip & Sophia Ross
Team: Áustin Maynard Architects, Maurice Farrugia & Assoc, Tensys – net design & details, Oxley Nets (net) McDonald Marine (ropes), Overend Constructions Pty Ltd
Tweed Regional Aquatic Centre - Suspended Ceiling

Entrant: UFS Australasia Pty Ltd - Designer / Fabricator
Location: Murwillumbah - Northern NSW
Client: Multispan Australia Pty Ltd
Struct. Eng.: Ferrari Proprietary System
Builder: Universal Fabric Structures / Ozrig
Fabricator: Fabric Shelter Systems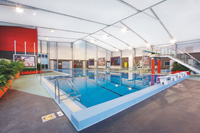 Tarek Automated Retractable Umbrellas
Entrant: MakMax Australia (Engineer, Fabricator, Installer)
Location: Al Sadd Doho, Qatar. Completed: February 2016
Client: Taiyo Middle East
Team: Peter Kamols, Robert McDonald, Mike Lester MakMax Australia, MakMax Australia
Australian Catholic University Artwork & Fall Arrest Netting
Tensys Engineers Pty Ltd (Engineer)
Location: Fitzroy, Victoria. Completed: 2015
Client: Australian Catholic University
Team: Amy Watson (Artist), Tensys Engineers, Turner & Townsend Thinc (Proj Man.), Shape Australia, Ronstan