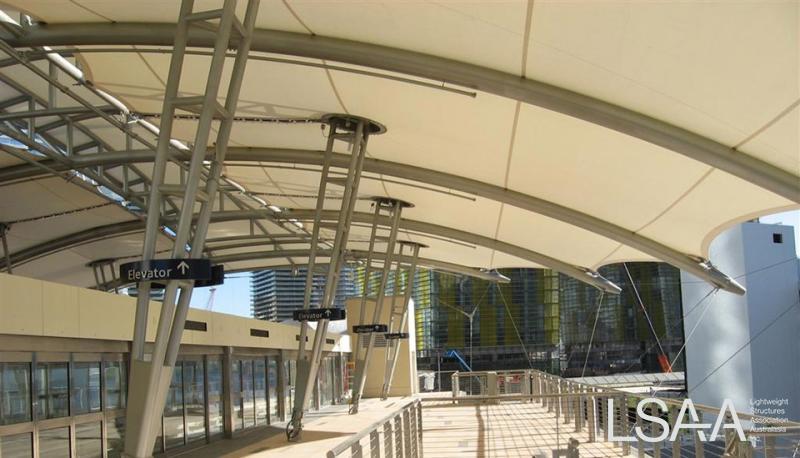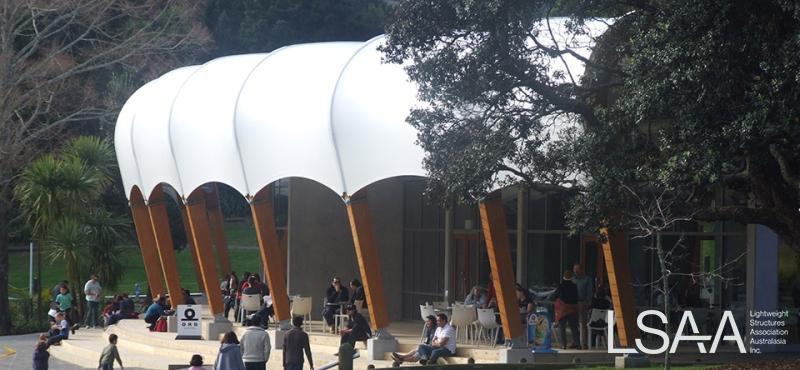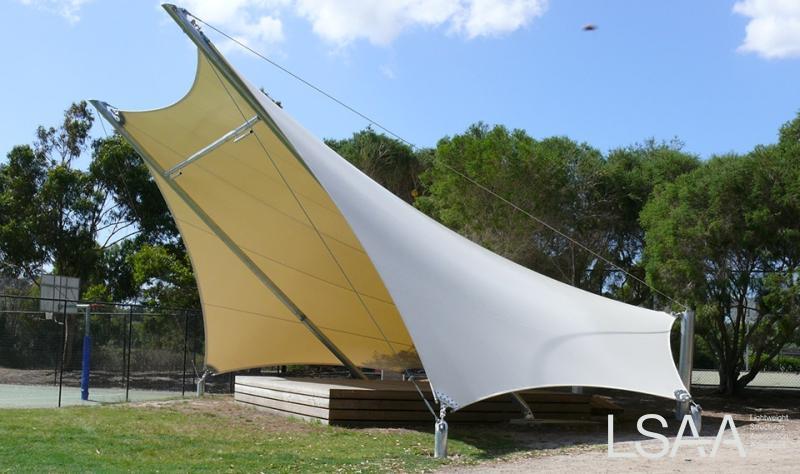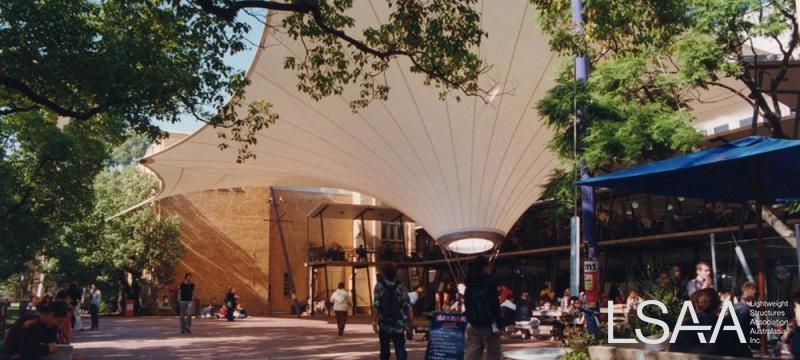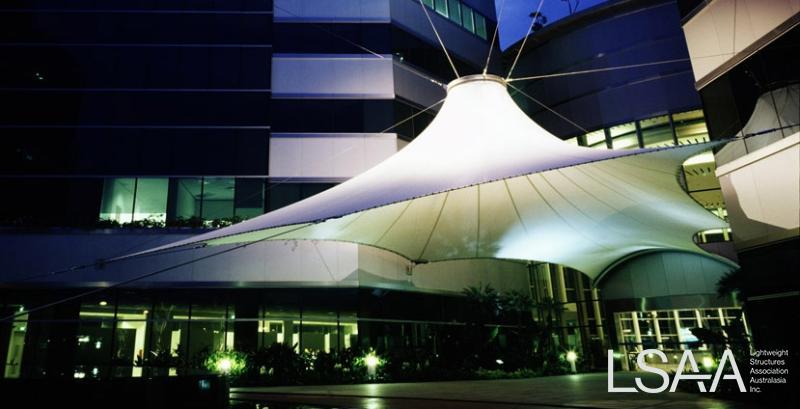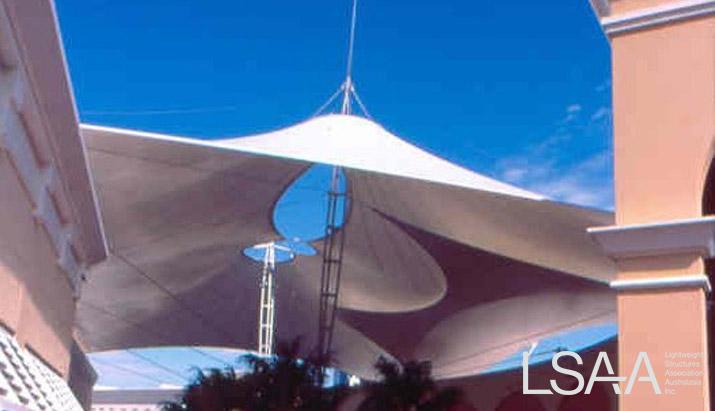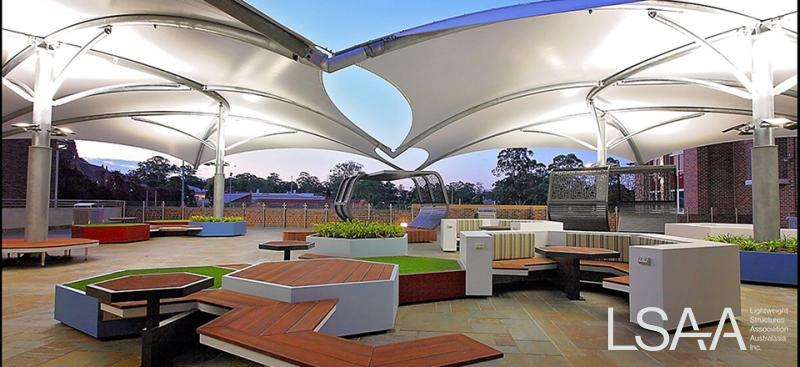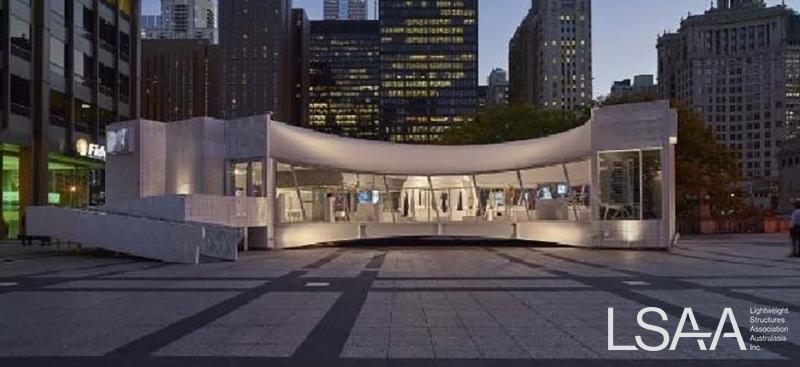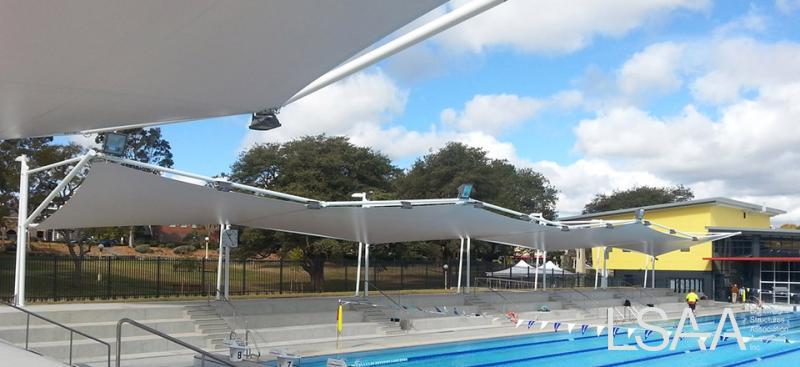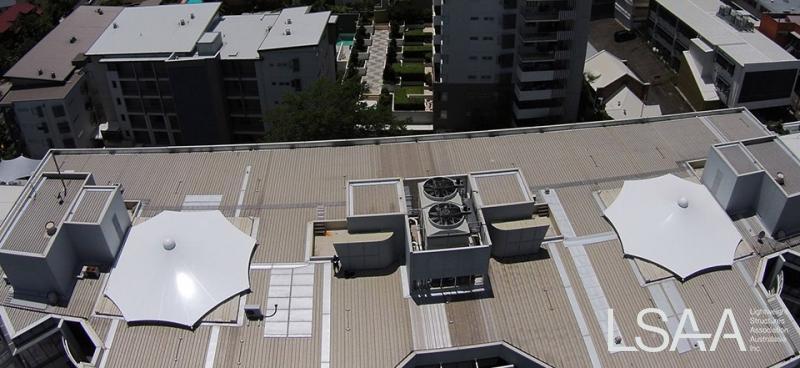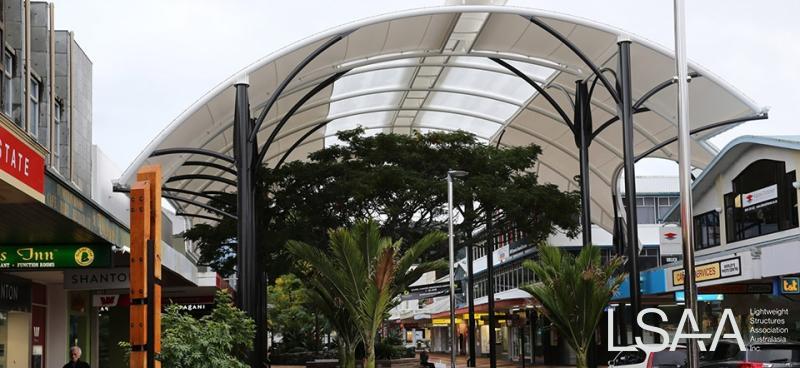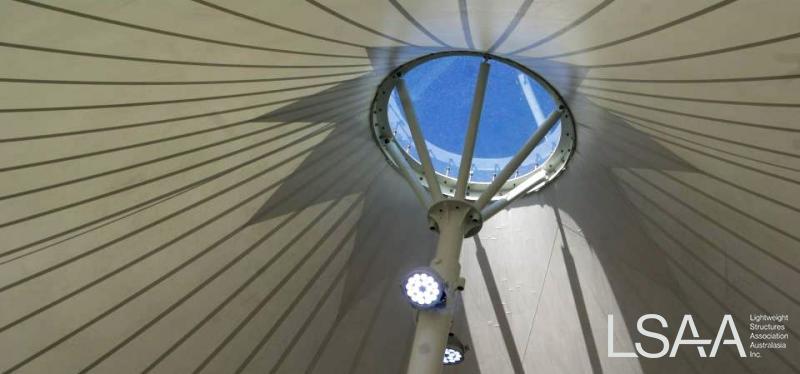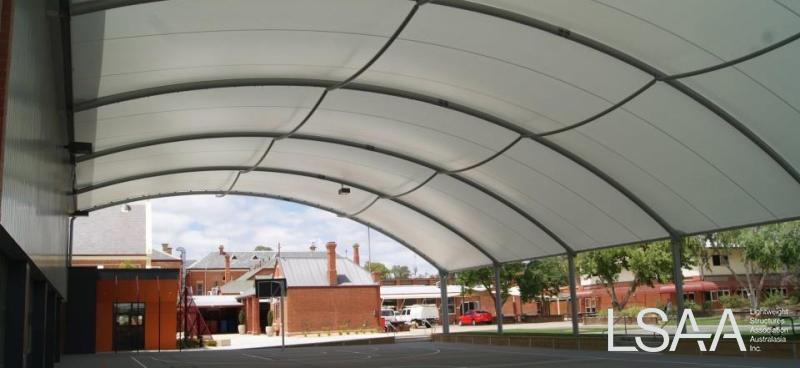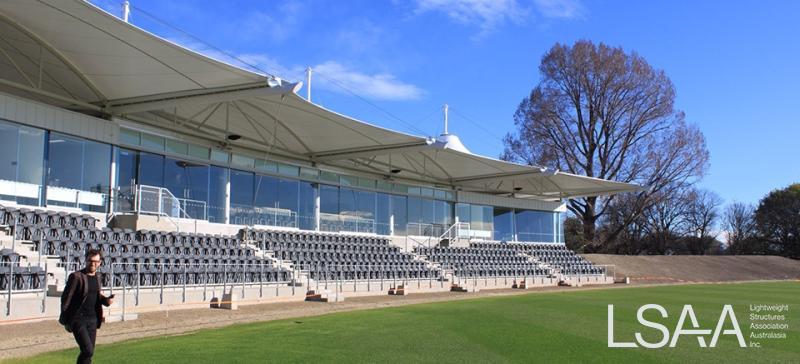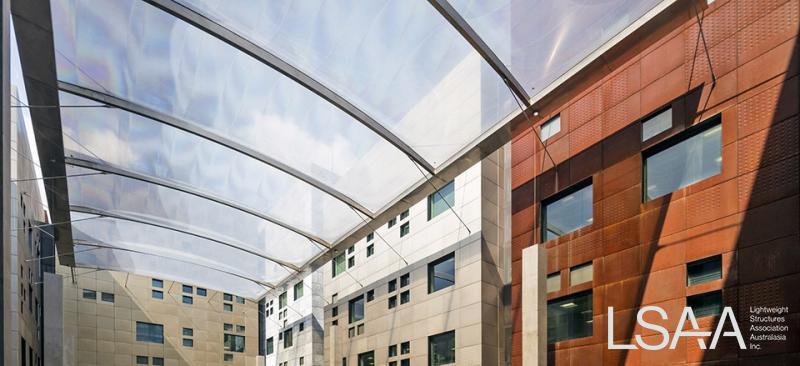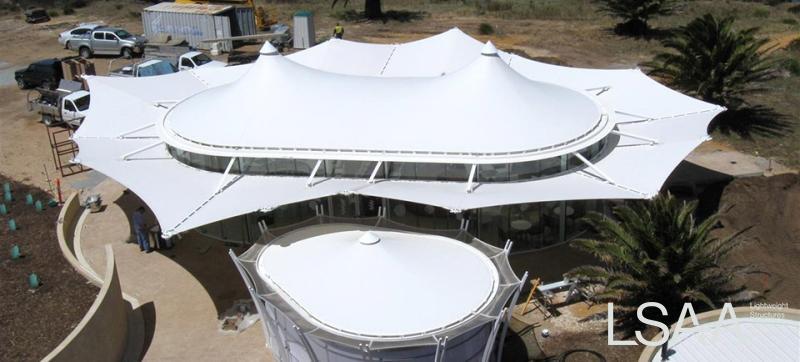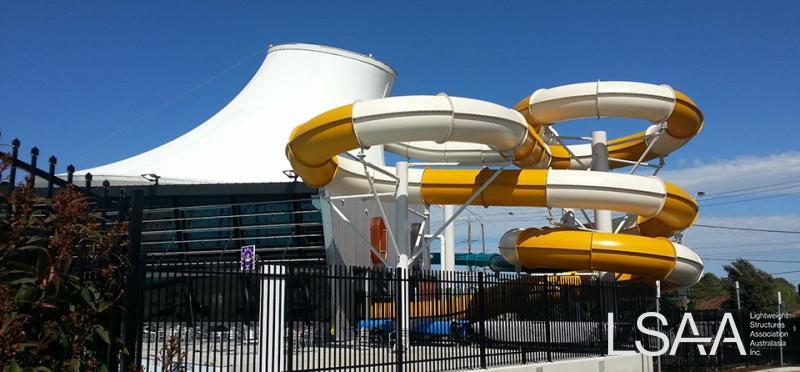 In terms of our LSAA Design Awards, a Medium sized Fabric Structure, or tensioned membrane structure) would have a surface area of between 250 and 1000 sqm.
Fabric or membrane structures of this size are often of one geometric form such as a conical structure with a central bale ring attached to a mast or tied down. The perimeter could be a series of edge cables, trusses or beams. If multiple units are used they the final structure may fall into the "large" category.
Other forms could be panels with internal diagonal arches, crossed arches, barrel vaults with intermediate valley cables.
The following articles are in random order:
Abilene Airport

Entrant: Atkins Fabrication (Aust) Pty Ltd - Fabricator
Location: Abilene - Texas USA
Client: USA Shade & Fabric Structures Inc.
Fabricator: Atkins Fabrication (Australia) Pty Ltd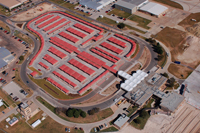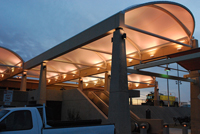 Pacific Fair Porte Cochere
Fabritecture (Designer and Installer)
Location: Broadbeach, QLD. Completed: Feb 29 2016
Client: Scentre Group (Westfield)
Team: Scentre Group (Westfield), Wade Design, Fabritecture, Textile Fabrication Services, Fabritecture
John Street Bridge - Whangarei, New Zealand
APPLICATION OF PROJECT: Public space & market canopy
PROJECT DESCRIPTION
As part of a major revitalisation and landscaping project for the Whangarei City Town Basin, the local council approached FSS to design a permanent canopy structure for the recently closed John Street bridge.
The John Street Bridge was one of two original road bridges connecting the Northern and Southern shores of the upper Whangarei harbour and forms part of the City Town Basin.
Replaced and closed to vehicle traffic in 2005, but left accessible for car parking, the bridge was an under utilized public space, in a prime waterfront position.
FSS designed & built the canopy structure to reflect the nautical nature of the area, provide a covered walkway over the bridge and a weekend market canopy. The canopy also visually completes the western rim of the Town Basin.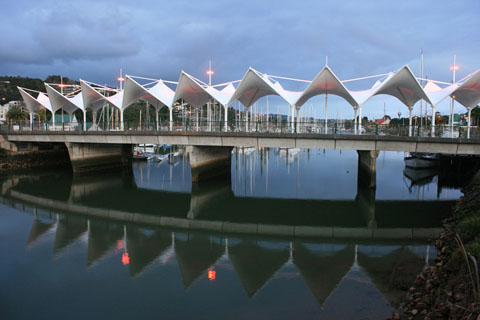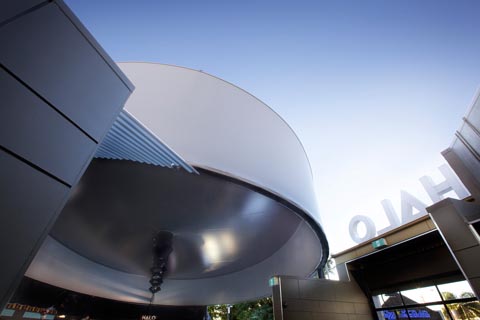 Entrant: Fabritecture
Category: 2 ID Number: 2301

Location: Brisbane

Client: AGS Construction

Completion Date: February 2012
Credits:
Architect: Teo Cavallo Architects

Structural Engineer: ADG

Fabricator: Fabritecture

Installer: Fabritecture
PROJECT DESCRIPTION:
Halo was designed to take full advantage of Brisbane's wonderful weather offering a sophisticated, open-air lounge environment. In the trendy suburb of Paddington on the West Side of Brisbane is the Caxton Street Precinct famous for its entertainment venues and bustling nightlife.
CityCentre Automated People Mover
Entrant: Tensys Engineers Pty Ltd
Location: Las Vegas, USA
Client: MGM CityCentre.
Architect: Gensler
Struct. Eng.: Bouquet Structural Engineers, USA
Specialist: Tensys Engineers
Others: Fabritec Structures, USA
Builder: Clark Thor Construction Group, USA
Fabricator: Atkins Fabrication (Australia) Pty Ltd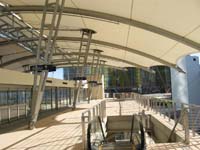 St Joseph's College Netball Court
Structureflex (Designer / Engineer)
Location: Echuca, Victoria. Completed: January 2015
Client: St Joseph's Catholic College
Team: Y2 Architects, Steve Huppert, John Killmister (Cert. Eng), Shade Living Pty Ltd, Fabric Solutions (membrane), Thornton Engineering (steel)
Great Southern Oceans
Entrant: Architectural Sails
Client Zoological Parks Board of New South Wales
Architect: Jackson Teece Architects
Structural Engineer: Hughes Trueman (Concept Design)
Specialist Consultant(s): Wade Consulting Group, Meinhardt
Builder:
Fabricator(s): Architectural Sails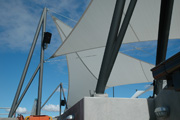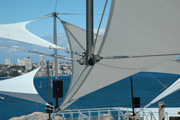 Catholic College Bendigo
Structureflex (Designer / Engineer)
Location: Junortoun, Bendigo. Completed: December 2015
Client: Catholic College Bendigo
Team: Y2 Architects, Steve Huppert, John Killmister (Cert. Eng), Shade Living Pty Ltd, Glarfab (membranes), Thornton Engineering (steel)
Sydney Aquarium Dugong's at Mermaid Lagoon

Entrant: UFS Australasia Pty Ltd - Designer / Fabricator
Location: Sydney Aquarium - Darling Harbour Sydney
Client: Sydney Attractions Group
Struct. Eng.: Wade Consulting
Builder: Universal Fabric Structures / Ozrig
Fabricator: Fabric Shelter Systems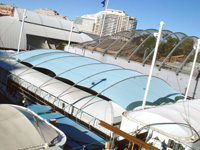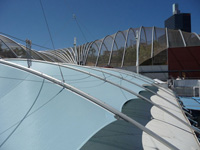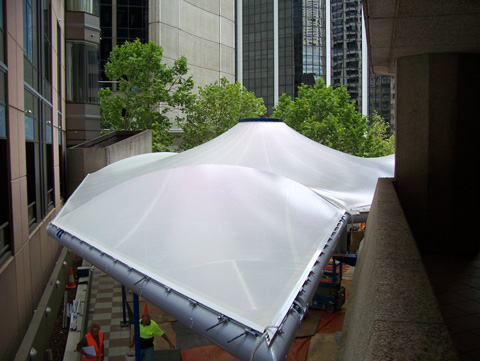 60 Margaret Street
Credits - Entered by MakMax
Category: Tension structures - (coated fabrics) less than 500sqm
Client: W. Eggerking & Co Pty Ltd
Engineer: Tensys, Peter Lim
Fabric: Hiraoka 212-II SAC
Date completed: 21 February 2012
Address: 60 Margaret Street, Sydney NSW 2000
Size: 600sqm
Steel Supplier: Steelman
Fabric Supplier: Hiraoka Australia
Installer: Sydrig
Jakarta ETFE Canopy
Fabritecture (Designer and Installer)
Location: Jakarta, Indonesia. Completed: June 2015
Client: Leightons Asia
Team: Denton Corker Marshall, Maffeis Engineering, Fabritecture, Seele Covertex
Hornsby Aquatic Seating Covered Areas
Shade And Membrane Structures Australia (Design / Project Management / Install)
Location: Hornsby, NSW. Completed: April 30 2014
Client: ADCO Constructions / Hornsby City Council
Team: Peter Hunt Architects, Larry Shyu Global Membrane Design, ADCO Constructions, Shadecom / Fabric Solutions