In terms of our LSAA Design Awards, a Medium sized Fabric Structure, or tensioned membrane structure) would have a surface area of between 250 and 1000 sqm.
Fabric or membrane structures of this size are often of one geometric form such as a conical structure with a central bale ring attached to a mast or tied down. The perimeter could be a series of edge cables, trusses or beams. If multiple units are used they the final structure may fall into the "large" category.
Other forms could be panels with internal diagonal arches, crossed arches, barrel vaults with intermediate valley cables.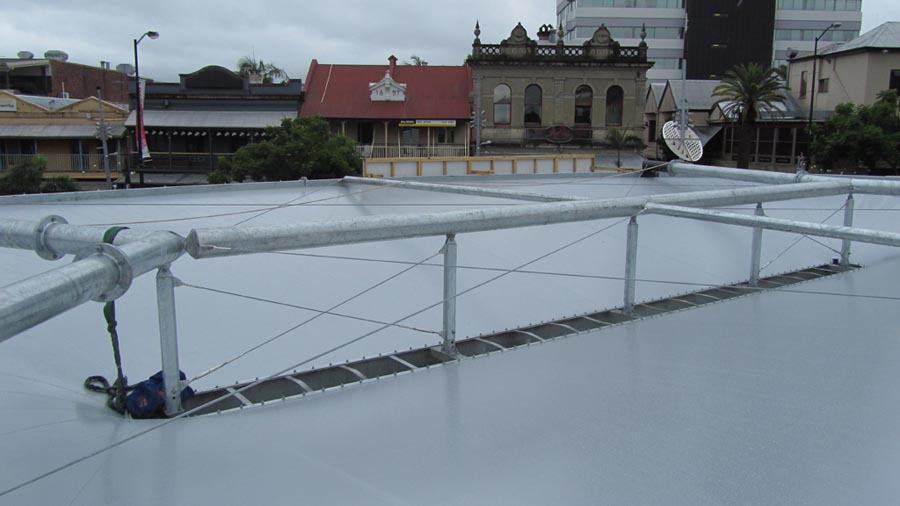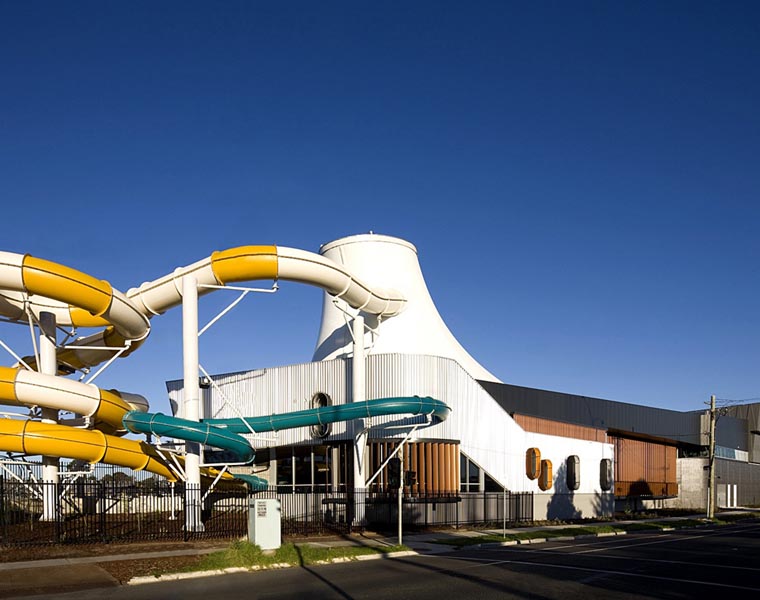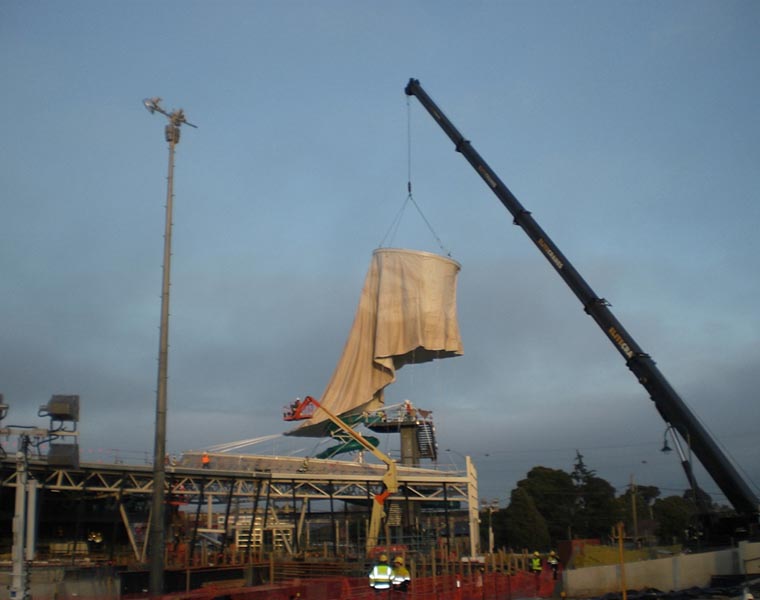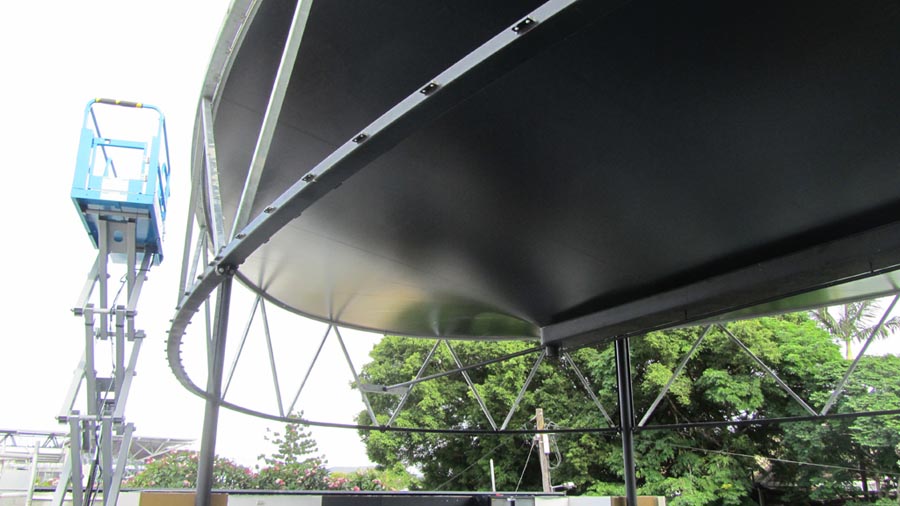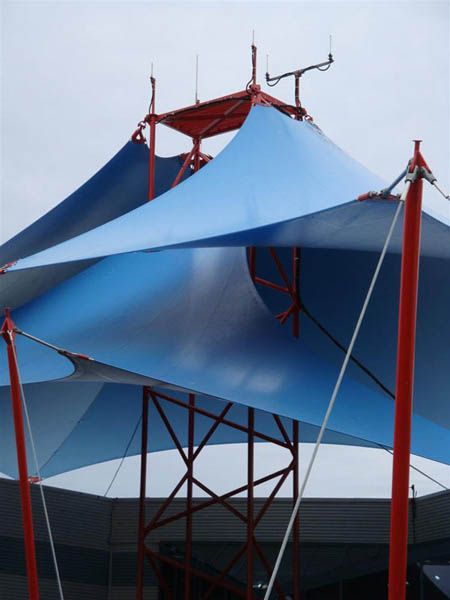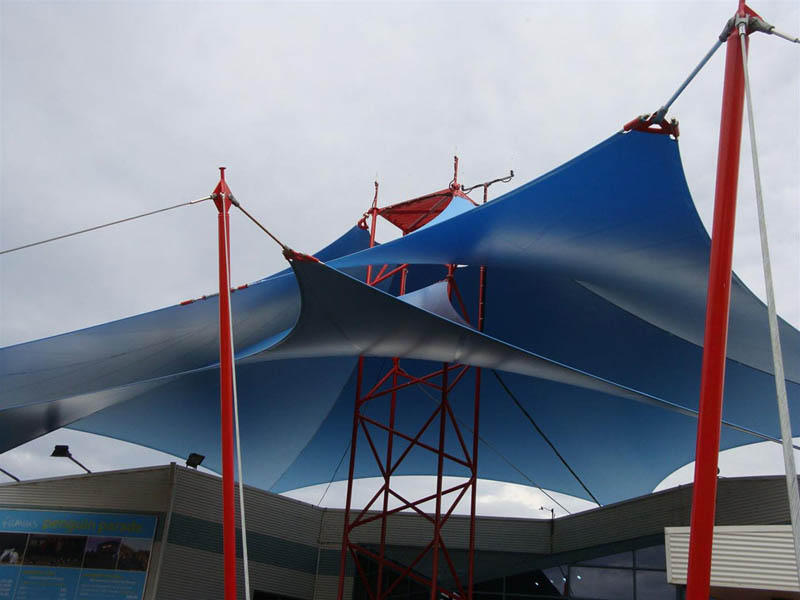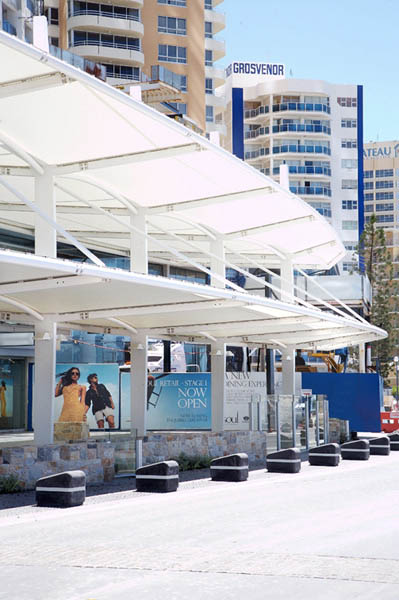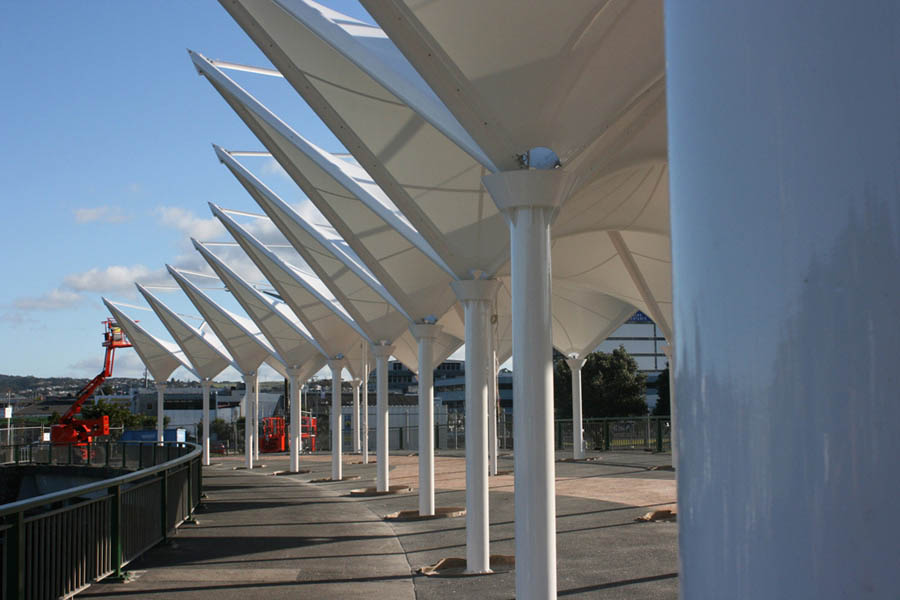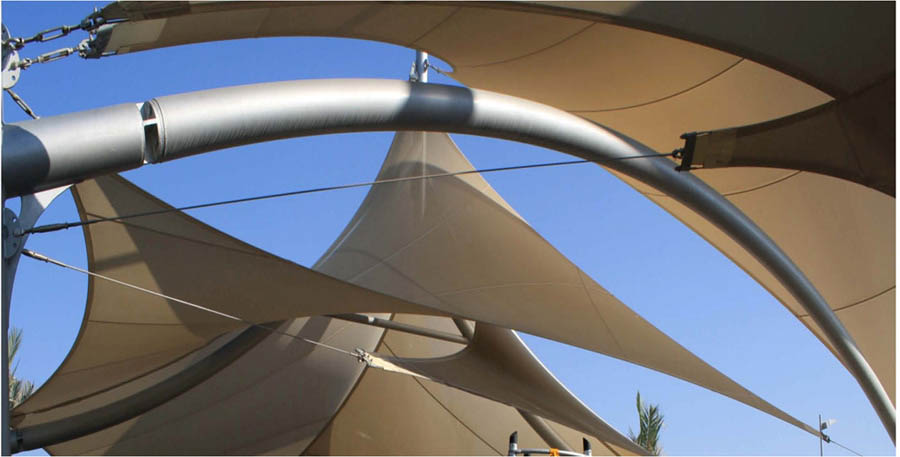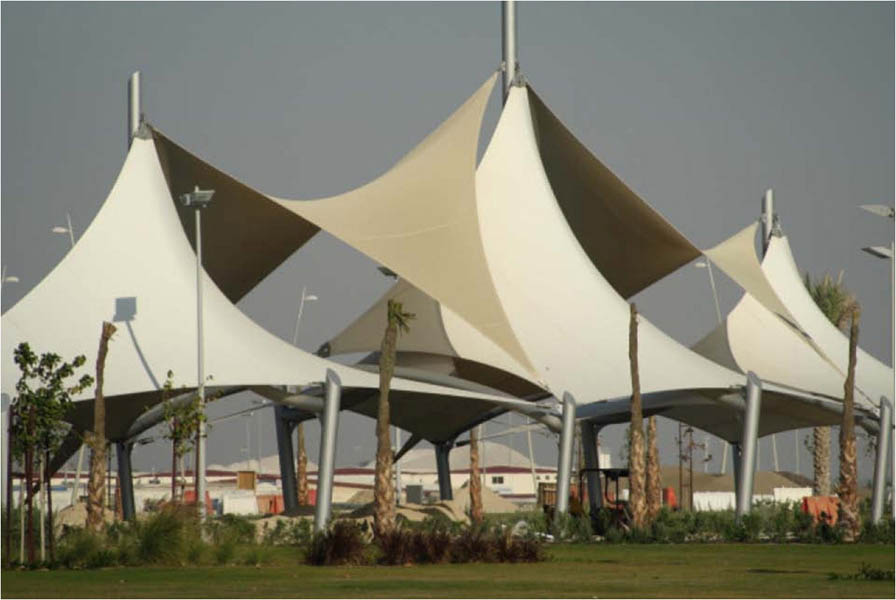 The following articles are in random order:
Abilene Airport

Entrant: Atkins Fabrication (Aust) Pty Ltd - Fabricator
Location: Abilene - Texas USA
Client: USA Shade & Fabric Structures Inc.
Fabricator: Atkins Fabrication (Australia) Pty Ltd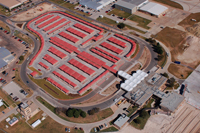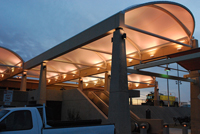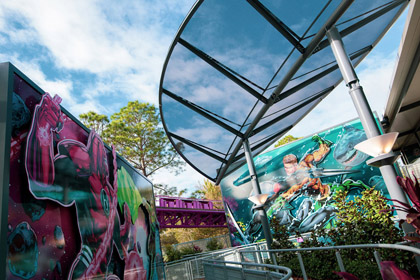 APPLICATION OF PROJECT:
Five themed PVC Mesh Canopies for shelter of patrons queueing for the DC Rivals Hypercoaster ride at Movie World on the Gold Coast.
PROJECT DESCRIPTION:
The project involved design, fabrication and installation of five PVC "leaf-like" dark mesh canopies with a total fabric area of 415m2 for the leaf structures and 45m2 of wall panels. The canopies are designed to provide shelter from sun and rain for Movie World customers while queueing at the DC Rivals Hyper Coaster Movie World Ride.
The structures were designed to give views of both the coaster and the feature walls depicting DC characters; and to help build excitement for Hyper Coaster customers as they wait in line. The concept architecture required that the fabric design and colour match the theme of the ride.
Hornsby Aquatic Seating Covered Areas
Shade And Membrane Structures Australia (Design / Project Management / Install)
Location: Hornsby, NSW. Completed: April 30 2014
Client: ADCO Constructions / Hornsby City Council
Team: Peter Hunt Architects, Larry Shyu Global Membrane Design, ADCO Constructions, Shadecom / Fabric Solutions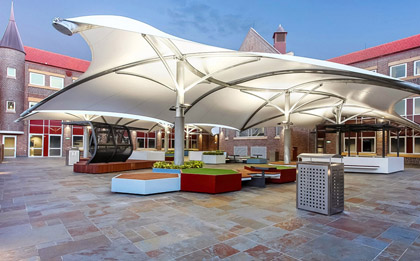 APPLICATION OF PROJECT:
The project was to design and install a unique waterproof shade structure to a Year 11/12 study area at an elite private Grammar School in Sydney.
The area under cover is 760sqm. The space to be shaded was clearly defined and located between the austere 19th century red brick buildings on a second floor flat tiled roof
PROJECT DESCRIPTION:
Beyond a school's playing fields, exposed concrete surfaces often represented the extent of outdoor space in many schools built a century ago. Knox Grammar was no different. Today the definition of outdoor space is much more exciting and open to design possibilities. For schools with resources, outdoor spaces can be unique, comfortable, multifunctional and aesthetic.
This project was designed to deliver a modern purposeful student space in an old fashioned but elite private school environment. The shape of the courtyard was not regular. It had an outward projecting building through the centre of the courtyard. The structure had to straddle both sides of the courtyard and protect two sets of doorways. A "U" shaped double intersecting snake cantilever was born.
Yas Island - Gateway Park, Abu Dhabi
PROJECT DESCRIPTION
In total three structures with a combined coverage of 1930m2. The project consisted of two identical shade cloth structures comprising of eight Monotech HDPE 370 shade sails, 806m2 in plan area. The third structure of similar design comprised of six main sails of Fibertop PTFE and two hypar decorative sails in Monotech HDPE 370, 318m2 in plan area. The requirement for the project was an Iconic Design providing Solar Shading to shelter play equipment and BBQ facilities.
DESIGN / FABRICATION / INSTALLATION BRIEF
The client wanted to create an architectural centerpiece for this landscape area of YAS Island. The client's architects wanted to move away from the formality of the existing urban design scheme and create an eye-catching architectural feature in a natural landscape setting. The project site was part of extensive landscaping within the YAS Island development located near Abu Dhabi in the United Arab Emirates.

Blacktown Village Green
PROJECT DESCRIPTION
This project was essentially a weather cover over a public space. During discussions with our sales team at the tendering stage it was clear that the project also had an element of environmental consideration. For this reason we developed a custom design that worked to these constraints.
The purpose according to builders was to create an inviting public recreation area. The architects specified a tensile membrane roof in order to cover the area while allowing natural light to enter the space.