Abilene Airport

Entrant: Atkins Fabrication (Aust) Pty Ltd - Fabricator
Location: Abilene - Texas USA
Client: USA Shade & Fabric Structures Inc.
Fabricator: Atkins Fabrication (Australia) Pty Ltd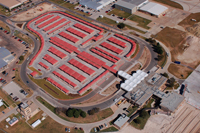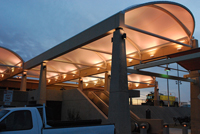 Southern Plaza Bar - Carrara, Qld
APPLICATION OF PROJECT: Self supporting pavilion
PROJECT DESCRIPTION
Close to completing the tensile membrane roof at Metricon Stadium, our client engaged MakMax to cover a smaller outdoor area. This project was a simple solution to shade and weather protection with a twist. Considerations for maximum ground space and design constraints made this project far more interesting.
Our brief for this project outlined a need for a large covered area for common use. Specifics included limited space for footings and design considerations to match the structure's surroundings. The structure also needed to compliment the design of the stadium roof, MakMax engineers and architects Populous came up with a simple looking yet highly complex shape.
MakMax engineers designed a canopy that is circular in plan, however, from the side the undulating shape of the membrane edge is highly curved to mimic the stadium roof design. Creating a structure with these elements presented a unique geometric difficulty. MakMax engineers designed the outer ring of the structure to ensure minimal fabrication costs and to minimize the need for double roiling of steel members. The stability of this structure is found within the compression ring at the height of the conic shape as well as in the raking columns.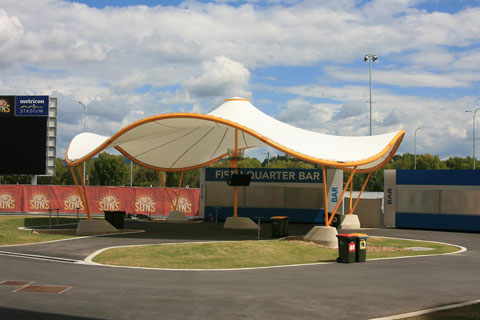 Laneways Canopy
Fabric Structure Systems (Designer / Fabricator / Installer)
Location: Whangarei, New Zealand. Completed: April 2016
Client: Whangarei District Council
Team: Wade Design Engineers Ltd, Fabric Structure Systems, Fabric Structure Systems, Culum Engineering (Steel)
Mildura Riverfront Performance Venue
Entrant: Oasis Tension Structures (Australia) Pty Ltd
Location: Hugh King Boulevard - Mildura VIC
Client: City of Mildura Council
Architect: Jackson Architecture (Melbourne)
Struct. Eng.: Aurecon (Melbourne)
Specialist: Tensys Engineering (Australia) Pty Ltd
Others: A. Nobles & Sons (Australia) Pty Ltd
Builder: King Construction Pty Ltd
Fabricator: Atkins Fabrication (Australia) Pty Ltd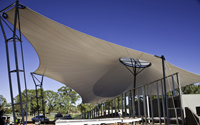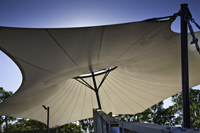 Ocean Supercenter
GeoMetal Limited (Design & Engineering)
Location: Ocean Supercenter, Myanmar, Thailand. Completed: January 2016
Client: Capital Properties
Team: Process Architect & Planner Co., Ltd., Fastech Company Limited
Hamilton Lake - Verandah Cafe
Entrant: Structurflex Ltd - Engineering Fabrication Installation
Location: Hamilton Lake Domain
Client: Hamilton City Council
Architect: 360 Architects
Struct. Eng.: Compusoft Engineering
Builder: Foster Construction
Fabricator: Structurflex