Blacktown Village Green
PROJECT DESCRIPTION
This project was essentially a weather cover over a public space. During discussions with our sales team at the tendering stage it was clear that the project also had an element of environmental consideration. For this reason we developed a custom design that worked to these constraints.
The purpose according to builders was to create an inviting public recreation area. The architects specified a tensile membrane roof in order to cover the area while allowing natural light to enter the space.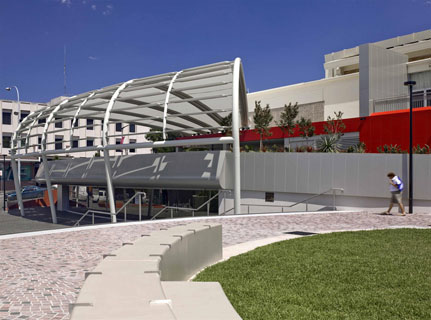 Abilene Airport

Entrant: Atkins Fabrication (Aust) Pty Ltd - Fabricator
Location: Abilene - Texas USA
Client: USA Shade & Fabric Structures Inc.
Fabricator: Atkins Fabrication (Australia) Pty Ltd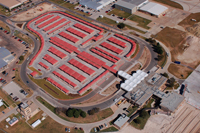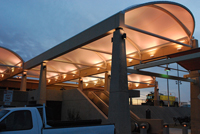 Hamilton Lake - Verandah Cafe
Entrant: Structurflex Ltd - Engineering Fabrication Installation
Location: Hamilton Lake Domain
Client: Hamilton City Council
Architect: 360 Architects
Struct. Eng.: Compusoft Engineering
Builder: Foster Construction
Fabricator: Structurflex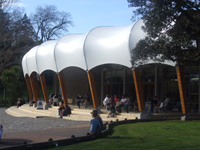 John Street Bridge - Whangarei, New Zealand
APPLICATION OF PROJECT: Public space & market canopy
PROJECT DESCRIPTION
As part of a major revitalisation and landscaping project for the Whangarei City Town Basin, the local council approached FSS to design a permanent canopy structure for the recently closed John Street bridge.
The John Street Bridge was one of two original road bridges connecting the Northern and Southern shores of the upper Whangarei harbour and forms part of the City Town Basin.
Replaced and closed to vehicle traffic in 2005, but left accessible for car parking, the bridge was an under utilized public space, in a prime waterfront position.
FSS designed & built the canopy structure to reflect the nautical nature of the area, provide a covered walkway over the bridge and a weekend market canopy. The canopy also visually completes the western rim of the Town Basin.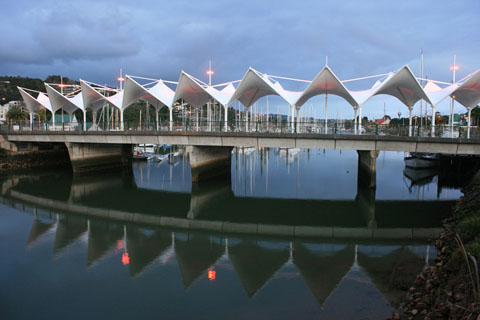 Isa Royal Military College Grand Stand Shade

Entrant: Light Weight Structures Advisory Service - Engineering Fabrication Installation
Location: Isa Royal Military College - Kingdom of Bahrain
Client: Alasco Group & Al Alaa Shade Company
Struct. Eng.: Trevor Scott & Jeremy Hunter
Specialist: LTWSAS
Builder & Fabricator: Al Alaa Shade Company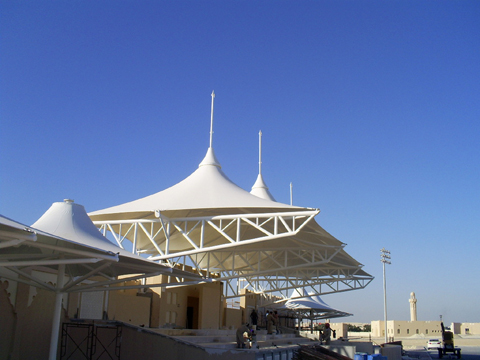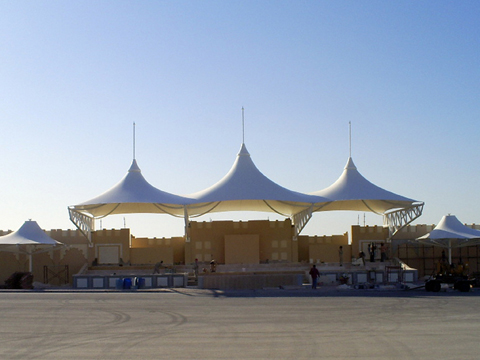 Al Raheeb Kindergarten Fujairah, UAE
Entrant: Structurflex Ltd
Client: Dubai Municipality
Structural Engineer: Wade Consulting Group
Builder: Mazroui General Contracting
Fabricator(s): Structurflex Ltd