Al Raheeb Kindergarten Fujairah, UAE
Entrant: Structurflex Ltd
Client: Dubai Municipality
Structural Engineer: Wade Consulting Group
Builder: Mazroui General Contracting
Fabricator(s): Structurflex Ltd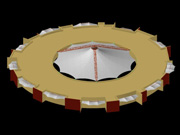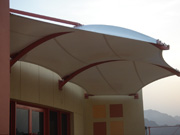 La Piazza - Jakarta
Entrant: PT Binatama Akrindo
Client: PT Summarecon Agung Tbk.
Unit La Piazza
Architect: PT Binatama Akrindo Sarjono Sam
Structural Engineer: PT Binatama Akrindo Tensys
Builder: PT Binatama Akrindo
Fabricator(s): Atkins Fabrications Pty Ltd,
PT Binatama Akrindo - Tridome space frame system + steelwork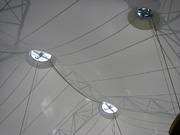 Dubai Outlet Mall - Entrance Dome
Entrant: Structurflex Ltd
Client: Emirates Engineering Services
Architect: ARENCO
Structural Engineer: Wade Consulting Group
Fabricator(s): Structurflex Ltd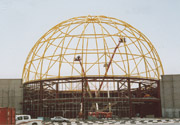 Yas Island - Gateway Park, Abu Dhabi
PROJECT DESCRIPTION
In total three structures with a combined coverage of 1930m2. The project consisted of two identical shade cloth structures comprising of eight Monotech HDPE 370 shade sails, 806m2 in plan area. The third structure of similar design comprised of six main sails of Fibertop PTFE and two hypar decorative sails in Monotech HDPE 370, 318m2 in plan area. The requirement for the project was an Iconic Design providing Solar Shading to shelter play equipment and BBQ facilities.
DESIGN / FABRICATION / INSTALLATION BRIEF
The client wanted to create an architectural centerpiece for this landscape area of YAS Island. The client's architects wanted to move away from the formality of the existing urban design scheme and create an eye-catching architectural feature in a natural landscape setting. The project site was part of extensive landscaping within the YAS Island development located near Abu Dhabi in the United Arab Emirates.

Elizabeth Quay
Fabritecture (Designer and Installer)
Location: The Esplanade. Completed: August 20 2015
Client: Leightons
Team: ARM Architects, Maffeis Engineering, Fabritecture, Seele, Fabritecture
Ocean Supercenter
GeoMetal Limited (Design & Engineering)
Location: Ocean Supercenter, Myanmar, Thailand. Completed: January 2016
Client: Capital Properties
Team: Process Architect & Planner Co., Ltd., Fastech Company Limited