Pacific Fair Porte Cochere
Fabritecture (Designer and Installer)
Location: Broadbeach, QLD. Completed: Feb 29 2016
Client: Scentre Group (Westfield)
Team: Scentre Group (Westfield), Wade Design, Fabritecture, Textile Fabrication Services, Fabritecture
John Street Bridge - Whangarei, New Zealand
APPLICATION OF PROJECT: Public space & market canopy
PROJECT DESCRIPTION
As part of a major revitalisation and landscaping project for the Whangarei City Town Basin, the local council approached FSS to design a permanent canopy structure for the recently closed John Street bridge.
The John Street Bridge was one of two original road bridges connecting the Northern and Southern shores of the upper Whangarei harbour and forms part of the City Town Basin.
Replaced and closed to vehicle traffic in 2005, but left accessible for car parking, the bridge was an under utilized public space, in a prime waterfront position.
FSS designed & built the canopy structure to reflect the nautical nature of the area, provide a covered walkway over the bridge and a weekend market canopy. The canopy also visually completes the western rim of the Town Basin.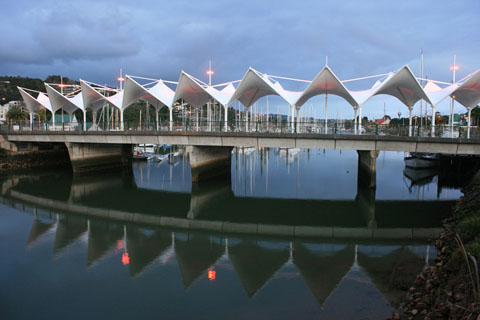 Isa Royal Military College Grand Stand Shade

Entrant: Light Weight Structures Advisory Service - Engineering Fabrication Installation
Location: Isa Royal Military College - Kingdom of Bahrain
Client: Alasco Group & Al Alaa Shade Company
Struct. Eng.: Trevor Scott & Jeremy Hunter
Specialist: LTWSAS
Builder & Fabricator: Al Alaa Shade Company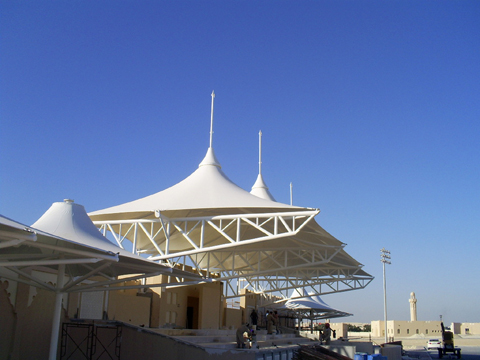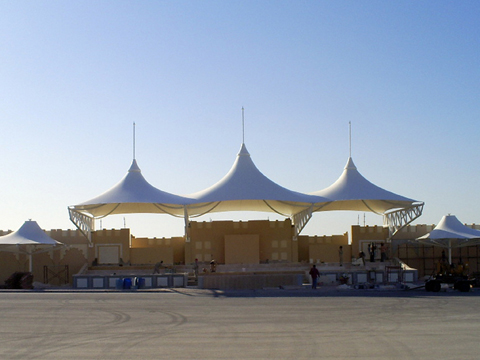 Point Boston Peninsular Club

Entrant: MakMax Australia - Designer
Location: Port Lincoln South Australia
Client: Kym Clarke Constructions
Architect: John Diekman Architects
Struct. Eng.: MakMax Australia
Others: Cost Management Partners
Builder: Kym Clarke Constructions
Fabricator: MakMax Australia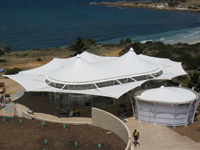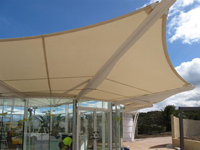 Jakarta ETFE Canopy
Fabritecture (Designer and Installer)
Location: Jakarta, Indonesia. Completed: June 2015
Client: Leightons Asia
Team: Denton Corker Marshall, Maffeis Engineering, Fabritecture, Seele Covertex
Dubai Outlet Mall - Entrance Dome
Entrant: Structurflex Ltd
Client: Emirates Engineering Services
Architect: ARENCO
Structural Engineer: Wade Consulting Group
Fabricator(s): Structurflex Ltd