Surry Hills Community Centre
Entrant: Aurecon - Sydney – Designer
Location: 405 Crown Street - Surry Hills NSW 2010
Client: Austress Freyssinet
Architect: FJMT
Struct. Eng.: Aurecon - Facade Engineer
Others: Taylor Thomson Whitting - Concept Design
Builder: Austress Freyssinet / Probuild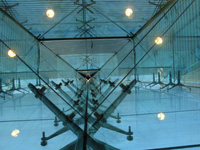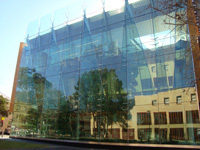 Perth Zoo Wetlands & Penguin Enclosure
Entrant: Structural Dynamics Australia
Category: 4 ID Number: 4966

Location: Perth Zoo, WA

Client: Government of WA - Department of Finance

Completion Date: January 2012
Credits:
Architect: Pritchard Francis

Structural Engineer: Pritchard Francis

Builder: The Slatter Group, WA
---
APPLICATION OF PROJECT: Zoological Enclosure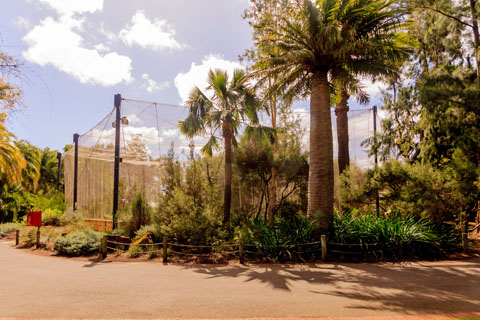 PROJECT DESCRIPTION:
Structural Dynamics was contracted by The Slatter Group WA to assist with the design, material selection/supply and installation of a lightweight zoological enclosure that would cover an area of 90 meters long, 34 meters wide and 10 meters high.
The enclosure was covering two existing exhibits at the Perth Zoo, namely the penguin display and wetlands area, so needed to have minimal impact on the existing flora and infrastructure.
Pritchard Francis had already conducted the majority of the structural design and calculations of loads - Structural Dynamics assisted both The Slatter Group WA and Pritchard Francis with final material specifications to meet demanding requirements.
With such a large open enclosure that needed to be visually appealing for visitors as well as transparent for the exhibits inhabitants the challenge was to specify materials that met demanding load specifications but at the same time provided a light weight alternative that had minimal visual impact on the surrounding exhibits.
South Australian Health and Medical Research Institute (SAHMRI)
SAHMRI is a world class facility for medical research under construction in Adelaide (July 2015)
The facility will increase the ability for new leading edge research and clinical applications into better treatment and potential cures for the most challenging diseases.
The building has an interesting curved facade as illustrated in the following images.
Images by Peter Kneen 2015.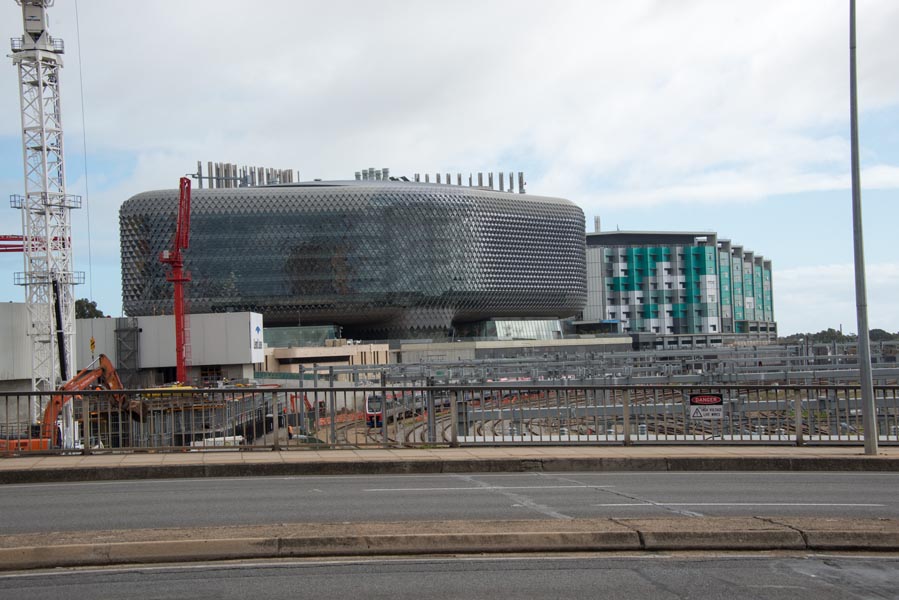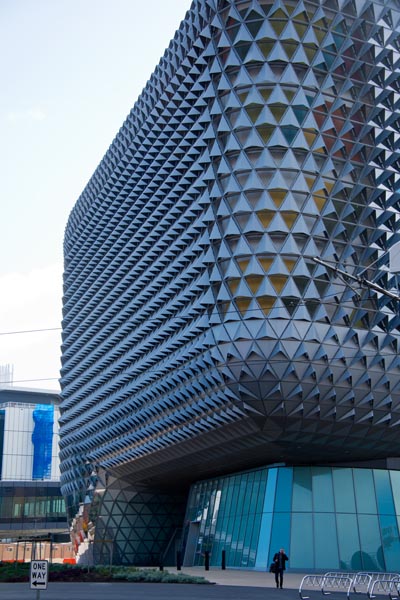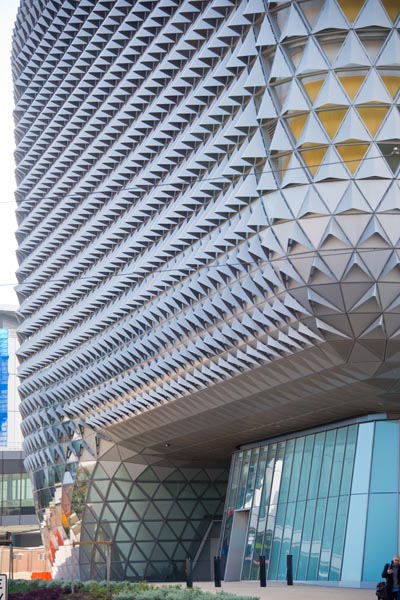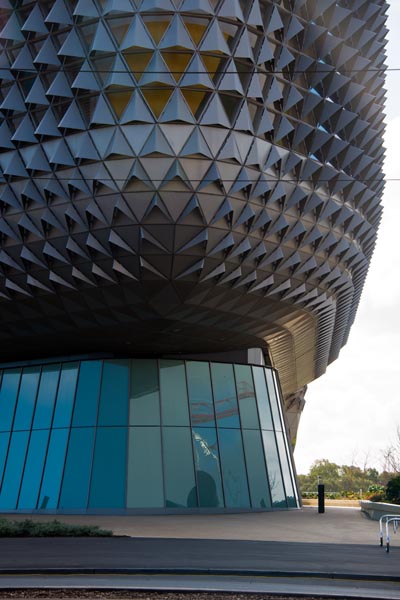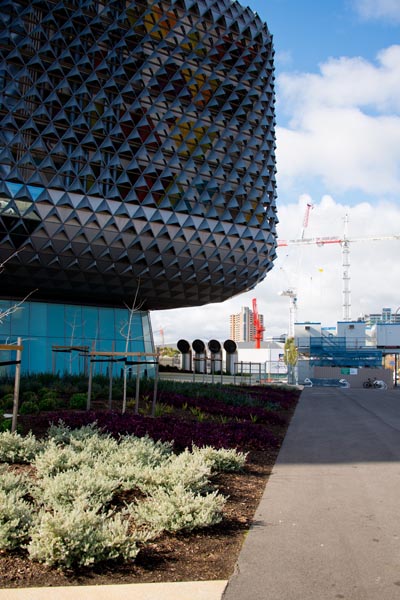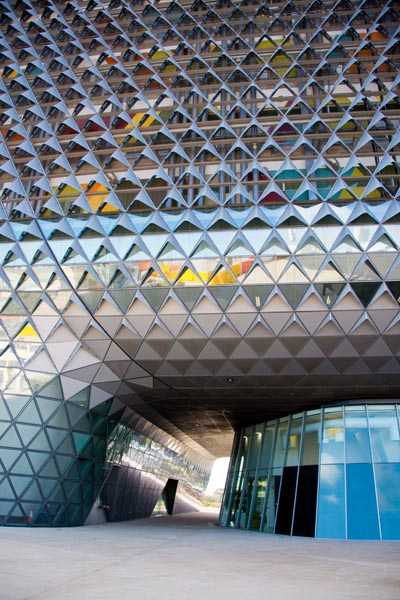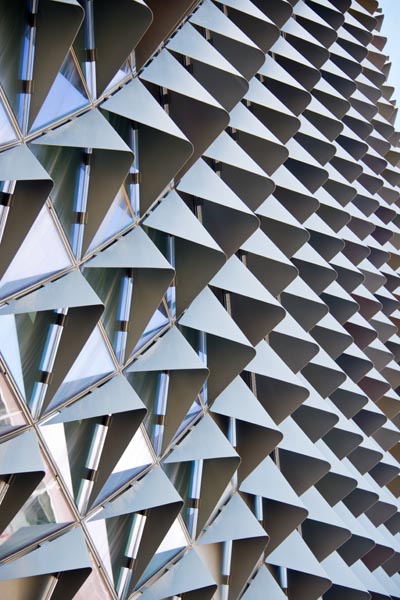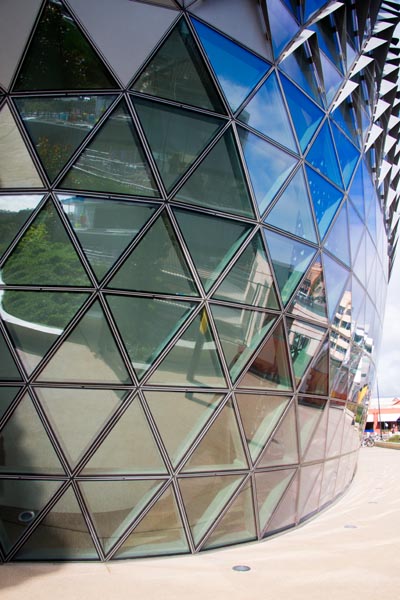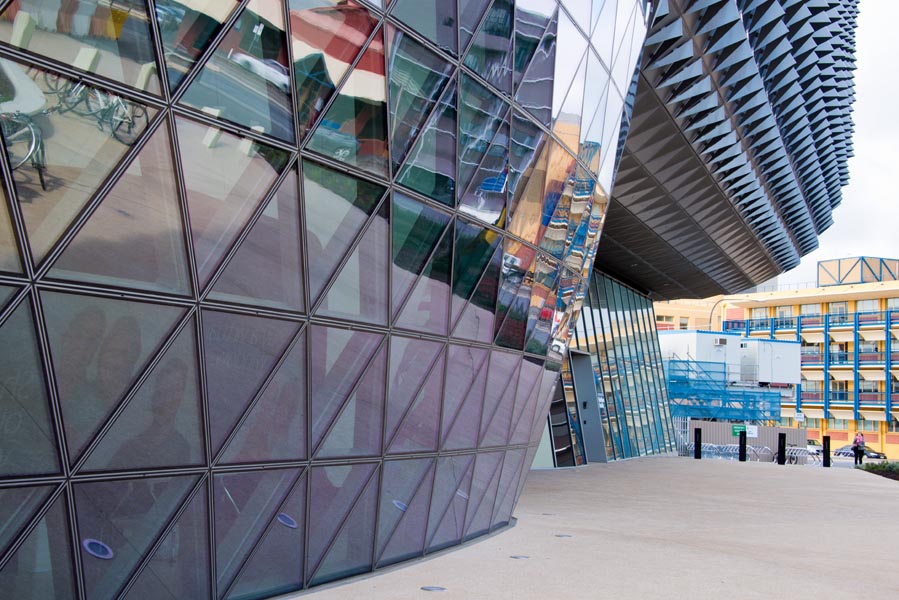 Other Structural Forms - Cablenets, Glazing, Facades, Spaceframes
The LSAA has groups of members interested in cablenets, high technology glazing and facades.
In fact one main reason for the creation of the LSAA from the MSAA was to cater for the growing number of projects which involved large glazed areas being supported by pretensioned cable truss systems or cablenets.
In modern times, when the overall energy usage for the life of a building is taken into account, the use of high technology facades will become more important. There is also a growing use of "green facades" or vertical gardens.
The traditional spaceframe structures are becoming rarer - those with many small elements that are man-handled and connected together on site. Labour costs and erection times are now outweighed by fewer larger assemblies that can be installed quickly by cranes.
The LSAA would welcome articles and links to projects in this category.
LSAA 2013 Award of Excellence
Wintergarden Art Façade
Entrant: Tensys Engineers Pty Ltd
• Category: 5 ID Number: 6513
• Location: Queen Street Mall, Brisbane
• Client: Industry Super Property Trust Pty Ltd
• Completion Date: April 2012
Credits:
• Architect: Studio 505
• Structural Engineer: Tensys Engineers
• Builder: Brookfield Multiplex
• Fabricator: UAP
---
Judges Comments:
"Will probably settle in to become a heritage icon in Brisbane."
"Now that's how to disguise a carpark. Makes a great contribution to the public realm. Vivid, joyful - makes excellent use of contemporary steel design and fabrication technology."
---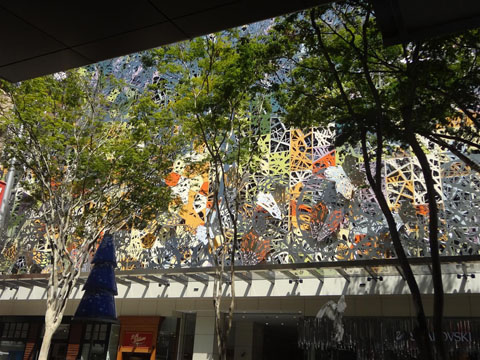 APPLICATION OF PROJECT:
The vertical façade works is part of the redevelopment of the wintergarden shopping centre.. This façade creates a uniform streetscape, providing a visual barrier to a number of existing carparking levels and different buildings along Queen Street Mall.
PROJECT DESCRIPTION:
Wintergarden redevelopment architectural façade on Queen, Elizabeth and Edward Street, Brisbane. The architectural intent of the façade is to create a three dimensional depiction of a winter garden painting To achieve this, the façade consists of multi layers of rigid cladding supported by a modular structural steel grillage frame. In addition to the cladding panels, the façade consists of a number of steel frame, stainless steel cald butterflies which cantilever from the grillage.
Counter Observation Barrier Screen - Counter Terrorist
Entrant: Alfresco Shade
Client: SAAB Barracuda Australia
Structural Engineer: Ian Norrie (Bond James Norrie), John Williams (Hughes Truman)
Specialist Consultant(s): SAAB Sweden
Builder: Alfresco Shade
Fabricator(s): Alfresco Shade