Cable Net Facade Feature - New Entrance
The redevelopment of Whitten Oval formed a pivotal piece in a plan to reinvigorate the western suburbs of Melbourne by providing services and facilities that would promote a sense of community. The plan had involvement from both State and Federal Governments and sort to place Whitten Oval at the centre of the community as a hub for local sporting and health service activities.
The Whitten Stand conversion, designed by Peddle Thorp Architects in Melbourne, called for a feature on the façade that responded to its context, was an identifiable entry, and provided an environmental benefit in the form of shading for the glazed façade behind. The resulting design was a series of floating panels that would display the team colours of the grounds home AFL team, the Western Bulldogs. The façade feature would run from the first floor to the roof acting as a gateway for supporters.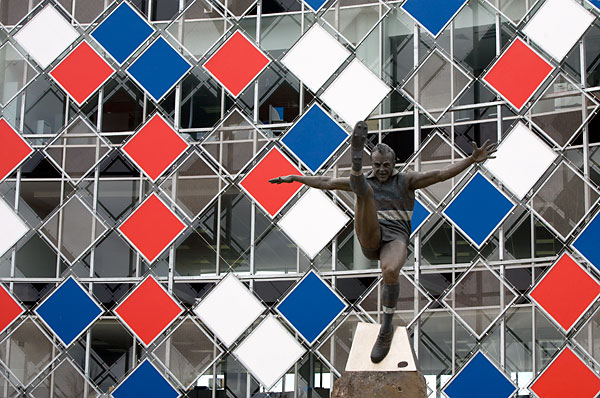 Taronga Zoo Chimpanzee Enclosure - Sydney
APPLICATION OF PROJECT: Separation Enclosure for Chimpanzees.
The Taronga Zoos' chimpanzee troop is one of the largest captive groups in the world with recognized wild behavior patterns and a sophisticated social hierarchy. With its population including four maturing sub-adult males jockeying and promoting themselves within the group, the zoo cited a need for the construction of a fully enclosed and semi-transparent separation paddock within the chimpanzee exhibit to allow the chimpanzees to be easily divided as needed, without moving them to an entirely new location, and thus avoiding potential commotion.
The Seperation Enclosure:
facilitates the introduction of new chimpanzee females to maintain the genetic pool.

provides the necessary infrastructure for the current troop management strategy and philosophies.

permits the troop to remain outside in summer unsupervised where this was previously not possible.

maximizes viewing time for the public.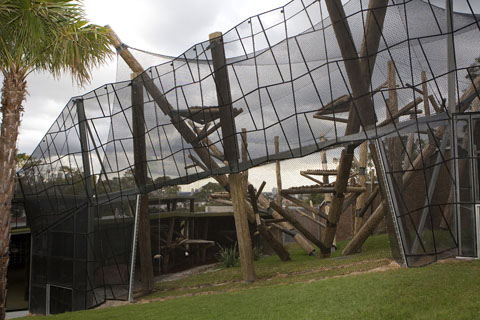 Entrant: Structural Dynamics Australia
Category: 5 ID Number: 5202

Location: 202 Pier St., Perth WA

Client: Charter Hall

Completion Date: September 2013
Credits:
Architect: Fitzpatrick & Partners

Builder: Broad Constructions WA

Fabricator: Colt International
---
APPLICATION OF PROJECT: Light weight structure used to control interior environment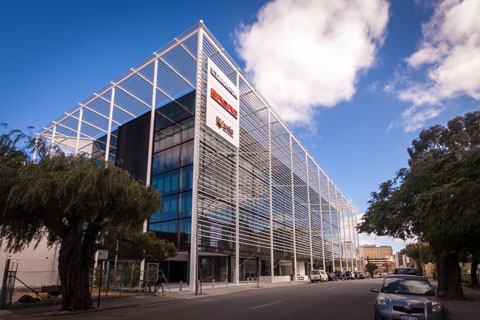 PROJECT DESCRIPTION:
Aluminium tube sun shade screen designed by Fitzpatrick & Partners to control interior environment and to add to overall aesthetic impact of building.
Structural Dynamics Australia contracted by Colt International (sun shade fabricator and installer) to help design, supply and install stainless steel cable system to structurally support this element.
Overview of Cablenet Structures
The modern cablenet structures burst on the international scene with the Expo 67 German Pavilion constructed in Montreal, Canada.
This was a larger version of the cablenet roof prototype designed by Frei Otto's team and used now to house the IL at the University of Stuggart.
Australia can bost a very early cable net structure in the Sidney Myer Music Bowl in Melbourne.
The next structure, and the most famous is the impressive stadiums for the Munich Olympics designed by Frei Otto.
Highly stressed cable trusses are also used to support flat glass surfaces now common for facades.
School of Information Technology, Screen
Entrant: Taylor Thomson Whitting
Client: University of Sydney
Architect: FJMT
Structural Engineer: Taylor Thomson Whitting
Specialist Consultant(s): MPG Façade Innovations
Builder: A W Edwards
Fabricator(s): Long Span Steel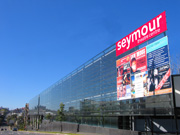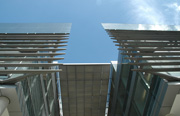 50 Martin Place - Glass Roof
Taylor Thomson Whitting (Engineer)
Location: 50 Martin Place, Sydney. Completed: Unknown
Client: Macquarie
Team: Johnson Pilton Walker, Taylor Thomson Whitting, Brookfield Multiplex, Sharvain Pacific Steel