Amazon Waterlily Pavilion

Entrant: Aurecon - Adelaide - Designer / Consultant
Location: Adelaide Botanical Gardens - North Terrace Adelaide SA
Client: Government of South Australia (DTEI)
Architect: Flightpath Architects
Struct. Eng.: Connell Wagner
Specialist: Connell Wagner (Facade Engineering)
Others: Pilkington & DMS Glass
Builder: Built Environs
Fabricator: Construction Glazing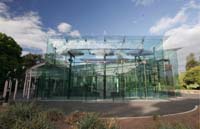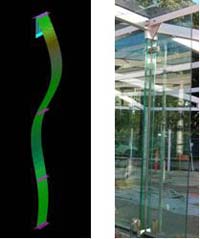 LSAA 2013 Award of Excellence
Wintergarden Art Façade
Entrant: Tensys Engineers Pty Ltd
• Category: 5 ID Number: 6513
• Location: Queen Street Mall, Brisbane
• Client: Industry Super Property Trust Pty Ltd
• Completion Date: April 2012
Credits:
• Architect: Studio 505
• Structural Engineer: Tensys Engineers
• Builder: Brookfield Multiplex
• Fabricator: UAP
---
Judges Comments:
"Will probably settle in to become a heritage icon in Brisbane."
"Now that's how to disguise a carpark. Makes a great contribution to the public realm. Vivid, joyful - makes excellent use of contemporary steel design and fabrication technology."
---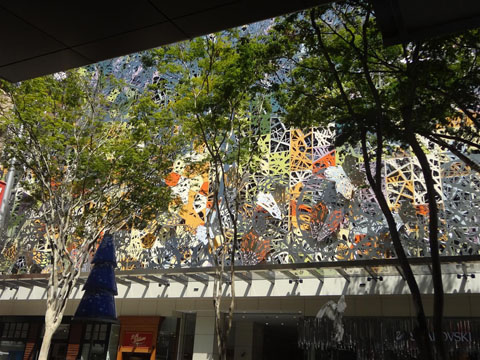 APPLICATION OF PROJECT:
The vertical façade works is part of the redevelopment of the wintergarden shopping centre.. This façade creates a uniform streetscape, providing a visual barrier to a number of existing carparking levels and different buildings along Queen Street Mall.
PROJECT DESCRIPTION:
Wintergarden redevelopment architectural façade on Queen, Elizabeth and Edward Street, Brisbane. The architectural intent of the façade is to create a three dimensional depiction of a winter garden painting To achieve this, the façade consists of multi layers of rigid cladding supported by a modular structural steel grillage frame. In addition to the cladding panels, the façade consists of a number of steel frame, stainless steel cald butterflies which cantilever from the grillage.
50 Martin Place - Glass Roof
Taylor Thomson Whitting (Engineer)
Location: 50 Martin Place, Sydney. Completed: Unknown
Client: Macquarie
Team: Johnson Pilton Walker, Taylor Thomson Whitting, Brookfield Multiplex, Sharvain Pacific Steel
Overview of Cablenet Structures
The modern cablenet structures burst on the international scene with the Expo 67 German Pavilion constructed in Montreal, Canada.
This was a larger version of the cablenet roof prototype designed by Frei Otto's team and used now to house the IL at the University of Stuggart.
Australia can bost a very early cable net structure in the Sidney Myer Music Bowl in Melbourne.
The next structure, and the most famous is the impressive stadiums for the Munich Olympics designed by Frei Otto.
Highly stressed cable trusses are also used to support flat glass surfaces now common for facades.
Monash University Building 76 Strip Facade Structures

Entrant: Oasis Tension Structures (Australia) Pty Ltd
Location: Wellington Road - Clayton Vic
Client: Monash University
Architect: DesignInc (Melbourne)
Struct. Eng.: John Mullin & Partners
Specialist: Tensys Engineering (Australia) Pty Ltd
Others: Ronstan International (Australia) Pty Ltd
Builder: Hooker Cockram Projects Ltd
Fabricator: Atkins Fabrication (Australia) Pty Ltd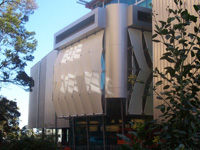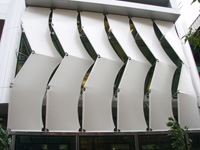 Atmosphere Façade Park Beach Plaza
Entrant: Ronstan International, Locker Group, Tensys Engineers
Category: 6 ID Number: 5111

Location: 253 Pacific Highway, Coffs Harbour, NSW

Client: Park Beach Plaza

Completion Date: February 2013
Credits:
Architect: Red Dog Architects

Structural Engineer: DeGroot Benson

Specialists: Tensys Engineers - Structural Design

Builder: Edwards Constructions

Fabricator: Ronstan International, Locker Group

Installer: Ronstan International
---
APPLICATION OF PROJECT: Facade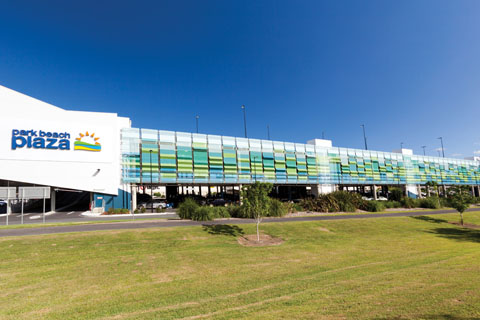 PROJECT DESCRIPTION:
Design, fabrication and installation of cable supported perforated aluminium façade on Park Beach Plaza Car Park at Coffs Harbour.