Ronstan Ribbons of Light
Ronstan Tensile Architecture provides full-service engineering, design assistance, and installation services for an innovative catenary lighting system that spirals through the Watergardens Town Centre in Taylor Lakes, Victoria.

Watergardens Town Centre is a 56 hectare community hub that offers shopping, dining, entertainment, hospitality, and other business services. The area has been a vibrant and growing part of Taylor Lakes township since its 1997 opening, attracting droves of visitors to its 200+ specialty stores and community events.
Recently, the Centre has expanded to include a dining-focused "eat street" called Station Streat, which is now outfitted with a custom Ronstan catenary lighting system. This system, designed by Electrolight and Ronstan, stylishly assists in making the area functional after dark without being obstructive to walking paths. More importantly, the system creates a spectacular entry statement with its unconventional 3-D "ribbon like" design that speaks to the geometric language of the Centre's existing graphic motif.
"The idea was to create a lighting scheme that gives a sense of movement and direction," explains Paul Beale, Director at Electrolight. "We endeavoured to create a visual link from the Centre's train station to the main entrance and shopping areas, while also highlighting the eddies of other parts in the complex that may have otherwise gone unnoticed."
Jagged Edge - Queenstown NZ
PROJECT DESCRIPTION
An Atypical design and Construct project involving a house for a confidential client. The design was prepared and presented as a "Design+Construct" package that was purchased as a package by the Client. The Builders Team had prepared preliminary documentation based on advice from specialist consultants and Architects. The design was then proposed for sale to the market as a complete delivery vehicle.
The project is a residential building built on the side of hill with an impressive vantage point. The main goal of the design is to maximise transparency to optimise the view.
The bedrock of the mountain is used for the foundation of the roof which is suspended projecting towards the lake. The project utilises tension cables and clamps to support the glass façade panels.
50 Martin Place - Glass Roof
Taylor Thomson Whitting (Engineer)
Location: 50 Martin Place, Sydney. Completed: Unknown
Client: Macquarie
Team: Johnson Pilton Walker, Taylor Thomson Whitting, Brookfield Multiplex, Sharvain Pacific Steel
Biofilter at Surry Hills Library

Entrant: Taylor Thomson Whitting - Designer
Location: Surry Hills NSW
Client: City of Sydney Council
Architect: Francis-Jones Morehen Thorp
Struct. Eng.: Taylor Thomson Whitting
Specialist: Mech Eng: Steenson Varming
Others: Austress
Builder: WBHO Probuild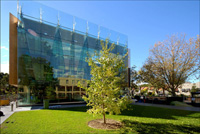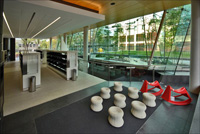 Monash University Building 76 Strip Facade Structures

Entrant: Oasis Tension Structures (Australia) Pty Ltd
Location: Wellington Road - Clayton Vic
Client: Monash University
Architect: DesignInc (Melbourne)
Struct. Eng.: John Mullin & Partners
Specialist: Tensys Engineering (Australia) Pty Ltd
Others: Ronstan International (Australia) Pty Ltd
Builder: Hooker Cockram Projects Ltd
Fabricator: Atkins Fabrication (Australia) Pty Ltd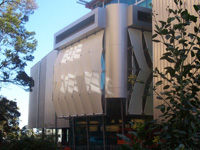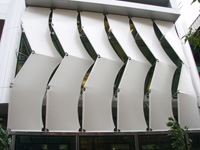 School of Information Technology, Screen
Entrant: Taylor Thomson Whitting
Client: University of Sydney
Architect: FJMT
Structural Engineer: Taylor Thomson Whitting
Specialist Consultant(s): MPG Façade Innovations
Builder: A W Edwards
Fabricator(s): Long Span Steel