Amazon Waterlily Pavilion

Entrant: Aurecon - Adelaide - Designer / Consultant
Location: Adelaide Botanical Gardens - North Terrace Adelaide SA
Client: Government of South Australia (DTEI)
Architect: Flightpath Architects
Struct. Eng.: Connell Wagner
Specialist: Connell Wagner (Facade Engineering)
Others: Pilkington & DMS Glass
Builder: Built Environs
Fabricator: Construction Glazing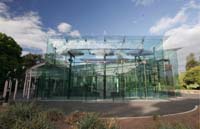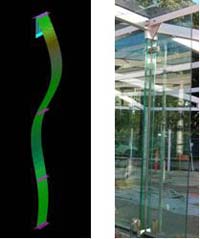 Counter Observation Barrier Screen - Counter Terrorist
Entrant: Alfresco Shade
Client: SAAB Barracuda Australia
Structural Engineer: Ian Norrie (Bond James Norrie), John Williams (Hughes Truman)
Specialist Consultant(s): SAAB Sweden
Builder: Alfresco Shade
Fabricator(s): Alfresco Shade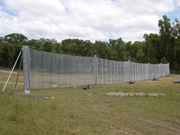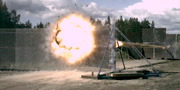 Sydney Wildlife World
Entrant: UFS Australasia Pty Ltd
Client: Sydney Attractions Group
Architect: Misho & Associates/ RIHS Architects – Misho & Gerry Rihs
Structural Engineer: Fabric: Wade Consulting Joseph Dean,
Steel: S2 Corporation Murray Allen
Fabricator(s): Fabric Shelter Systems Graham Griffin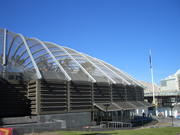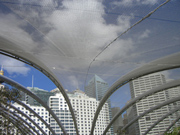 Ronstan Ribbons of Light
Ronstan Tensile Architecture provides full-service engineering, design assistance, and installation services for an innovative catenary lighting system that spirals through the Watergardens Town Centre in Taylor Lakes, Victoria.

Watergardens Town Centre is a 56 hectare community hub that offers shopping, dining, entertainment, hospitality, and other business services. The area has been a vibrant and growing part of Taylor Lakes township since its 1997 opening, attracting droves of visitors to its 200+ specialty stores and community events.
Recently, the Centre has expanded to include a dining-focused "eat street" called Station Streat, which is now outfitted with a custom Ronstan catenary lighting system. This system, designed by Electrolight and Ronstan, stylishly assists in making the area functional after dark without being obstructive to walking paths. More importantly, the system creates a spectacular entry statement with its unconventional 3-D "ribbon like" design that speaks to the geometric language of the Centre's existing graphic motif.
"The idea was to create a lighting scheme that gives a sense of movement and direction," explains Paul Beale, Director at Electrolight. "We endeavoured to create a visual link from the Centre's train station to the main entrance and shopping areas, while also highlighting the eddies of other parts in the complex that may have otherwise gone unnoticed."
Entrant: Structural Dynamics Australia
Category: 5 ID Number: 5202

Location: 202 Pier St., Perth WA

Client: Charter Hall

Completion Date: September 2013
Credits:
Architect: Fitzpatrick & Partners

Builder: Broad Constructions WA

Fabricator: Colt International
---
APPLICATION OF PROJECT: Light weight structure used to control interior environment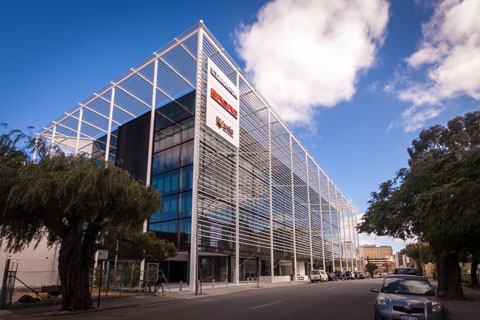 PROJECT DESCRIPTION:
Aluminium tube sun shade screen designed by Fitzpatrick & Partners to control interior environment and to add to overall aesthetic impact of building.
Structural Dynamics Australia contracted by Colt International (sun shade fabricator and installer) to help design, supply and install stainless steel cable system to structurally support this element.
Biofilter at Surry Hills Library

Entrant: Taylor Thomson Whitting - Designer
Location: Surry Hills NSW
Client: City of Sydney Council
Architect: Francis-Jones Morehen Thorp
Struct. Eng.: Taylor Thomson Whitting
Specialist: Mech Eng: Steenson Varming
Others: Austress
Builder: WBHO Probuild