Amazon Waterlily Pavilion

Entrant: Aurecon - Adelaide - Designer / Consultant
Location: Adelaide Botanical Gardens - North Terrace Adelaide SA
Client: Government of South Australia (DTEI)
Architect: Flightpath Architects
Struct. Eng.: Connell Wagner
Specialist: Connell Wagner (Facade Engineering)
Others: Pilkington & DMS Glass
Builder: Built Environs
Fabricator: Construction Glazing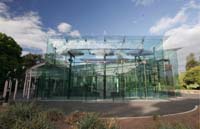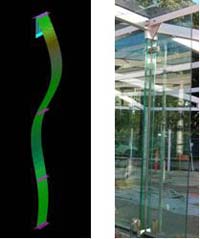 Biofilter at Surry Hills Library

Entrant: Taylor Thomson Whitting - Designer
Location: Surry Hills NSW
Client: City of Sydney Council
Architect: Francis-Jones Morehen Thorp
Struct. Eng.: Taylor Thomson Whitting
Specialist: Mech Eng: Steenson Varming
Others: Austress
Builder: WBHO Probuild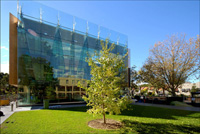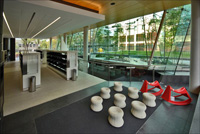 Ronstan Ribbons of Light
Ronstan Tensile Architecture provides full-service engineering, design assistance, and installation services for an innovative catenary lighting system that spirals through the Watergardens Town Centre in Taylor Lakes, Victoria.

Watergardens Town Centre is a 56 hectare community hub that offers shopping, dining, entertainment, hospitality, and other business services. The area has been a vibrant and growing part of Taylor Lakes township since its 1997 opening, attracting droves of visitors to its 200+ specialty stores and community events.
Recently, the Centre has expanded to include a dining-focused "eat street" called Station Streat, which is now outfitted with a custom Ronstan catenary lighting system. This system, designed by Electrolight and Ronstan, stylishly assists in making the area functional after dark without being obstructive to walking paths. More importantly, the system creates a spectacular entry statement with its unconventional 3-D "ribbon like" design that speaks to the geometric language of the Centre's existing graphic motif.
"The idea was to create a lighting scheme that gives a sense of movement and direction," explains Paul Beale, Director at Electrolight. "We endeavoured to create a visual link from the Centre's train station to the main entrance and shopping areas, while also highlighting the eddies of other parts in the complex that may have otherwise gone unnoticed."
Sydney Wildlife World
Entrant: UFS Australasia Pty Ltd
Client: Sydney Attractions Group
Architect: Misho & Associates/ RIHS Architects – Misho & Gerry Rihs
Structural Engineer: Fabric: Wade Consulting Joseph Dean,
Steel: S2 Corporation Murray Allen
Fabricator(s): Fabric Shelter Systems Graham Griffin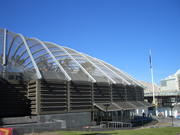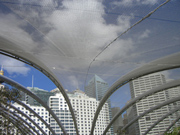 Pitt Street Lighting System
The City of Sydney turned to Ronstan to upgrade Pitt Street Mall's lighting to an energy-efficient catenary system as part of the overall redevelopment at the precinct. The result is a ladder-like series of lights supported by a Ronstan high-tension stainless steel cable framework.
The system illuminates the pedestrian areas below and the facades of the buildings, without needing large self-standing poles or heavy-looking supports. The 16m high tensile cable web is almost invisible, with bowstring support cables anchored every 20 meters into the facades of the buildings along the mall.
The catenary lights themselves comprise long tubes, combining downward illumination and a sequence of LEDs along the vertical length, which can be programmed for different colors depending on seasonal requirements – reflecting specific moods and occasions.
"The applications of tensile architecture are endless, thanks to its complex combination of engineering and design," says Rowan Murray, General Manager of Ronstan Tensile Architecture. "The Pitt Street Mall project is another example of this fact – and of the versatility, reliability and beauty of tensile forms."
The catenary lighting system at Pitt Street Mall comprises a twin longitudinal cable arrangement tied back to the surrounding buildings via spacers and guying cables. 23 customized tube style luminaires (lights) are suspended between 34 Marine Grade type 316 stainless steel ribbon catenary cables. The 1x19 strand cables are designed and manufactured to withstand up to 60 tonnes of tension, while resisting corrosion and stretch.
Pitt Street Mall reopened on December 6, 2012. In addition to Ronstan Tensile Architecture, the Sydney, Australia project team consisted of head contractor Westfield Construction, architect Tony Caro Architecture, cable and structural designers Enstruct Structural & Civil Engineers, building connections engineers Hyder Consulting and electrical contractors FIP Electrical.
Client: City of Sydney

Head Contractor: Westfield Construction

Architects: Tony Caro Architects

Cable Structural Design: Enstruct Structural & Civil Engineers

Building Connections Engineering: Hyder Consulting

Electrical Contractor: FIP Electrical
Surry Hills Community Centre
Entrant: Aurecon - Sydney – Designer
Location: 405 Crown Street - Surry Hills NSW 2010
Client: Austress Freyssinet
Architect: FJMT
Struct. Eng.: Aurecon - Facade Engineer
Others: Taylor Thomson Whitting - Concept Design
Builder: Austress Freyssinet / Probuild