Jagged Edge - Queenstown NZ
PROJECT DESCRIPTION
An Atypical design and Construct project involving a house for a confidential client. The design was prepared and presented as a "Design+Construct" package that was purchased as a package by the Client. The Builders Team had prepared preliminary documentation based on advice from specialist consultants and Architects. The design was then proposed for sale to the market as a complete delivery vehicle.
The project is a residential building built on the side of hill with an impressive vantage point. The main goal of the design is to maximise transparency to optimise the view.
The bedrock of the mountain is used for the foundation of the roof which is suspended projecting towards the lake. The project utilises tension cables and clamps to support the glass façade panels.
Whitten Oval
Entrant: Ronstan – Contractors
Location: Barkley St, Footscray Vic
Client: Western Bulldogs, Whitten Oval
Architect: Peddle Thorp
Struct. Eng.: Irwin Consultants
Builder: Salta
Fabricator: Ronstan
LSAA 2013 Award of Excellence
Wintergarden Art Façade
Entrant: Tensys Engineers Pty Ltd
• Category: 5 ID Number: 6513
• Location: Queen Street Mall, Brisbane
• Client: Industry Super Property Trust Pty Ltd
• Completion Date: April 2012
Credits:
• Architect: Studio 505
• Structural Engineer: Tensys Engineers
• Builder: Brookfield Multiplex
• Fabricator: UAP
---
Judges Comments:
"Will probably settle in to become a heritage icon in Brisbane."
"Now that's how to disguise a carpark. Makes a great contribution to the public realm. Vivid, joyful - makes excellent use of contemporary steel design and fabrication technology."
---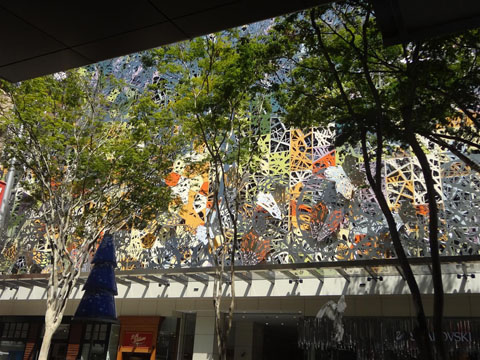 APPLICATION OF PROJECT:
The vertical façade works is part of the redevelopment of the wintergarden shopping centre.. This façade creates a uniform streetscape, providing a visual barrier to a number of existing carparking levels and different buildings along Queen Street Mall.
PROJECT DESCRIPTION:
Wintergarden redevelopment architectural façade on Queen, Elizabeth and Edward Street, Brisbane. The architectural intent of the façade is to create a three dimensional depiction of a winter garden painting To achieve this, the façade consists of multi layers of rigid cladding supported by a modular structural steel grillage frame. In addition to the cladding panels, the façade consists of a number of steel frame, stainless steel cald butterflies which cantilever from the grillage.
Monash University Building 76 Strip Facade Structures

Entrant: Oasis Tension Structures (Australia) Pty Ltd
Location: Wellington Road - Clayton Vic
Client: Monash University
Architect: DesignInc (Melbourne)
Struct. Eng.: John Mullin & Partners
Specialist: Tensys Engineering (Australia) Pty Ltd
Others: Ronstan International (Australia) Pty Ltd
Builder: Hooker Cockram Projects Ltd
Fabricator: Atkins Fabrication (Australia) Pty Ltd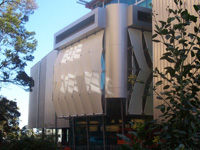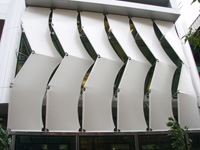 Taronga Zoo Chimpanzee Enclosure - Sydney
APPLICATION OF PROJECT: Separation Enclosure for Chimpanzees.
The Taronga Zoos' chimpanzee troop is one of the largest captive groups in the world with recognized wild behavior patterns and a sophisticated social hierarchy. With its population including four maturing sub-adult males jockeying and promoting themselves within the group, the zoo cited a need for the construction of a fully enclosed and semi-transparent separation paddock within the chimpanzee exhibit to allow the chimpanzees to be easily divided as needed, without moving them to an entirely new location, and thus avoiding potential commotion.
The Seperation Enclosure:
facilitates the introduction of new chimpanzee females to maintain the genetic pool.

provides the necessary infrastructure for the current troop management strategy and philosophies.

permits the troop to remain outside in summer unsupervised where this was previously not possible.

maximizes viewing time for the public.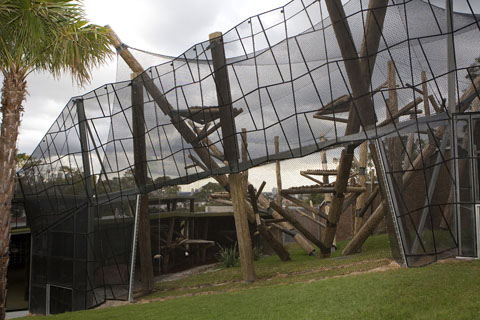 Entrant: Structural Dynamics Australia
Category: 5 ID Number: 5202

Location: 202 Pier St., Perth WA

Client: Charter Hall

Completion Date: September 2013
Credits:
Architect: Fitzpatrick & Partners

Builder: Broad Constructions WA

Fabricator: Colt International
---
APPLICATION OF PROJECT: Light weight structure used to control interior environment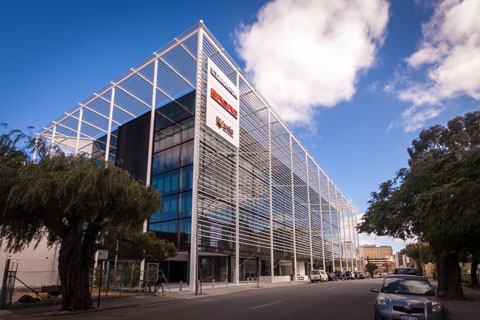 PROJECT DESCRIPTION:
Aluminium tube sun shade screen designed by Fitzpatrick & Partners to control interior environment and to add to overall aesthetic impact of building.
Structural Dynamics Australia contracted by Colt International (sun shade fabricator and installer) to help design, supply and install stainless steel cable system to structurally support this element.