Amazon Waterlily Pavilion

Entrant: Aurecon - Adelaide - Designer / Consultant
Location: Adelaide Botanical Gardens - North Terrace Adelaide SA
Client: Government of South Australia (DTEI)
Architect: Flightpath Architects
Struct. Eng.: Connell Wagner
Specialist: Connell Wagner (Facade Engineering)
Others: Pilkington & DMS Glass
Builder: Built Environs
Fabricator: Construction Glazing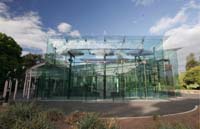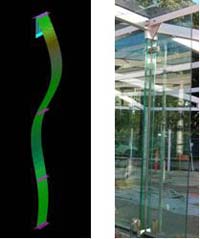 Monash University Building 76 Strip Facade Structures

Entrant: Oasis Tension Structures (Australia) Pty Ltd
Location: Wellington Road - Clayton Vic
Client: Monash University
Architect: DesignInc (Melbourne)
Struct. Eng.: John Mullin & Partners
Specialist: Tensys Engineering (Australia) Pty Ltd
Others: Ronstan International (Australia) Pty Ltd
Builder: Hooker Cockram Projects Ltd
Fabricator: Atkins Fabrication (Australia) Pty Ltd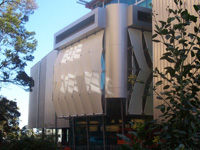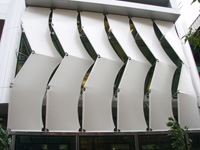 Taronga Zoo Chimpanzee Enclosure - Sydney
APPLICATION OF PROJECT: Separation Enclosure for Chimpanzees.
The Taronga Zoos' chimpanzee troop is one of the largest captive groups in the world with recognized wild behavior patterns and a sophisticated social hierarchy. With its population including four maturing sub-adult males jockeying and promoting themselves within the group, the zoo cited a need for the construction of a fully enclosed and semi-transparent separation paddock within the chimpanzee exhibit to allow the chimpanzees to be easily divided as needed, without moving them to an entirely new location, and thus avoiding potential commotion.
The Seperation Enclosure:
facilitates the introduction of new chimpanzee females to maintain the genetic pool.

provides the necessary infrastructure for the current troop management strategy and philosophies.

permits the troop to remain outside in summer unsupervised where this was previously not possible.

maximizes viewing time for the public.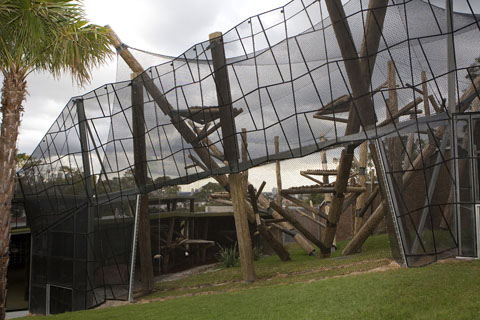 Ronstan Ribbons of Light
Ronstan Tensile Architecture provides full-service engineering, design assistance, and installation services for an innovative catenary lighting system that spirals through the Watergardens Town Centre in Taylor Lakes, Victoria.

Watergardens Town Centre is a 56 hectare community hub that offers shopping, dining, entertainment, hospitality, and other business services. The area has been a vibrant and growing part of Taylor Lakes township since its 1997 opening, attracting droves of visitors to its 200+ specialty stores and community events.
Recently, the Centre has expanded to include a dining-focused "eat street" called Station Streat, which is now outfitted with a custom Ronstan catenary lighting system. This system, designed by Electrolight and Ronstan, stylishly assists in making the area functional after dark without being obstructive to walking paths. More importantly, the system creates a spectacular entry statement with its unconventional 3-D "ribbon like" design that speaks to the geometric language of the Centre's existing graphic motif.
"The idea was to create a lighting scheme that gives a sense of movement and direction," explains Paul Beale, Director at Electrolight. "We endeavoured to create a visual link from the Centre's train station to the main entrance and shopping areas, while also highlighting the eddies of other parts in the complex that may have otherwise gone unnoticed."
Biofilter at Surry Hills Library

Entrant: Taylor Thomson Whitting - Designer
Location: Surry Hills NSW
Client: City of Sydney Council
Architect: Francis-Jones Morehen Thorp
Struct. Eng.: Taylor Thomson Whitting
Specialist: Mech Eng: Steenson Varming
Others: Austress
Builder: WBHO Probuild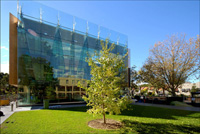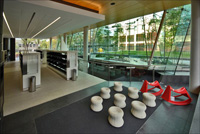 Whitten Oval
Entrant: Ronstan – Contractors
Location: Barkley St, Footscray Vic
Client: Western Bulldogs, Whitten Oval
Architect: Peddle Thorp
Struct. Eng.: Irwin Consultants
Builder: Salta
Fabricator: Ronstan