Cable Net Facade Feature - New Entrance
The redevelopment of Whitten Oval formed a pivotal piece in a plan to reinvigorate the western suburbs of Melbourne by providing services and facilities that would promote a sense of community. The plan had involvement from both State and Federal Governments and sort to place Whitten Oval at the centre of the community as a hub for local sporting and health service activities.
The Whitten Stand conversion, designed by Peddle Thorp Architects in Melbourne, called for a feature on the façade that responded to its context, was an identifiable entry, and provided an environmental benefit in the form of shading for the glazed façade behind. The resulting design was a series of floating panels that would display the team colours of the grounds home AFL team, the Western Bulldogs. The façade feature would run from the first floor to the roof acting as a gateway for supporters.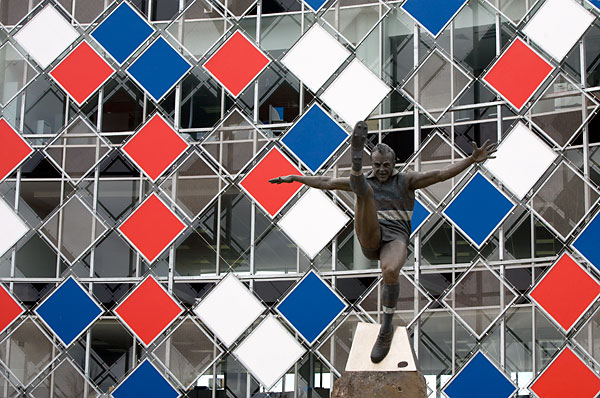 Atmosphere Façade Park Beach Plaza
Entrant: Ronstan International, Locker Group, Tensys Engineers
Category: 6 ID Number: 5111

Location: 253 Pacific Highway, Coffs Harbour, NSW

Client: Park Beach Plaza

Completion Date: February 2013
Credits:
Architect: Red Dog Architects

Structural Engineer: DeGroot Benson

Specialists: Tensys Engineers - Structural Design

Builder: Edwards Constructions

Fabricator: Ronstan International, Locker Group

Installer: Ronstan International
---
APPLICATION OF PROJECT: Facade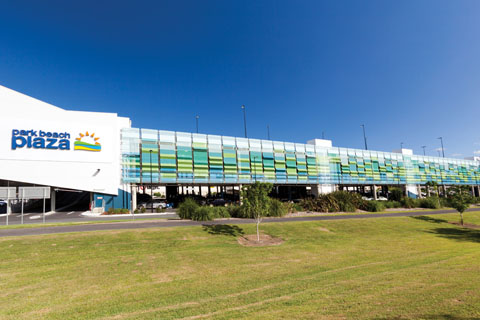 PROJECT DESCRIPTION:
Design, fabrication and installation of cable supported perforated aluminium façade on Park Beach Plaza Car Park at Coffs Harbour.
Ronstan Ribbons of Light
Ronstan Tensile Architecture provides full-service engineering, design assistance, and installation services for an innovative catenary lighting system that spirals through the Watergardens Town Centre in Taylor Lakes, Victoria.

Watergardens Town Centre is a 56 hectare community hub that offers shopping, dining, entertainment, hospitality, and other business services. The area has been a vibrant and growing part of Taylor Lakes township since its 1997 opening, attracting droves of visitors to its 200+ specialty stores and community events.
Recently, the Centre has expanded to include a dining-focused "eat street" called Station Streat, which is now outfitted with a custom Ronstan catenary lighting system. This system, designed by Electrolight and Ronstan, stylishly assists in making the area functional after dark without being obstructive to walking paths. More importantly, the system creates a spectacular entry statement with its unconventional 3-D "ribbon like" design that speaks to the geometric language of the Centre's existing graphic motif.
"The idea was to create a lighting scheme that gives a sense of movement and direction," explains Paul Beale, Director at Electrolight. "We endeavoured to create a visual link from the Centre's train station to the main entrance and shopping areas, while also highlighting the eddies of other parts in the complex that may have otherwise gone unnoticed."
Perth Zoo Wetlands & Penguin Enclosure
Entrant: Structural Dynamics Australia
Category: 4 ID Number: 4966

Location: Perth Zoo, WA

Client: Government of WA - Department of Finance

Completion Date: January 2012
Credits:
Architect: Pritchard Francis

Structural Engineer: Pritchard Francis

Builder: The Slatter Group, WA
---
APPLICATION OF PROJECT: Zoological Enclosure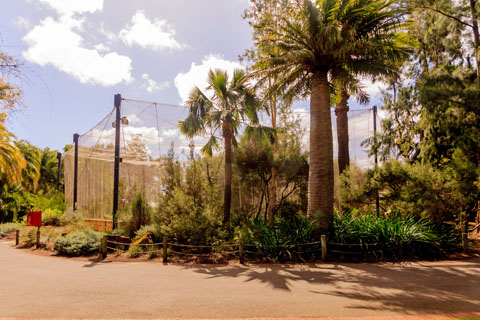 PROJECT DESCRIPTION:
Structural Dynamics was contracted by The Slatter Group WA to assist with the design, material selection/supply and installation of a lightweight zoological enclosure that would cover an area of 90 meters long, 34 meters wide and 10 meters high.
The enclosure was covering two existing exhibits at the Perth Zoo, namely the penguin display and wetlands area, so needed to have minimal impact on the existing flora and infrastructure.
Pritchard Francis had already conducted the majority of the structural design and calculations of loads - Structural Dynamics assisted both The Slatter Group WA and Pritchard Francis with final material specifications to meet demanding requirements.
With such a large open enclosure that needed to be visually appealing for visitors as well as transparent for the exhibits inhabitants the challenge was to specify materials that met demanding load specifications but at the same time provided a light weight alternative that had minimal visual impact on the surrounding exhibits.
Entrant: Structural Dynamics Australia
Category: 5 ID Number: 5202

Location: 202 Pier St., Perth WA

Client: Charter Hall

Completion Date: September 2013
Credits:
Architect: Fitzpatrick & Partners

Builder: Broad Constructions WA

Fabricator: Colt International
---
APPLICATION OF PROJECT: Light weight structure used to control interior environment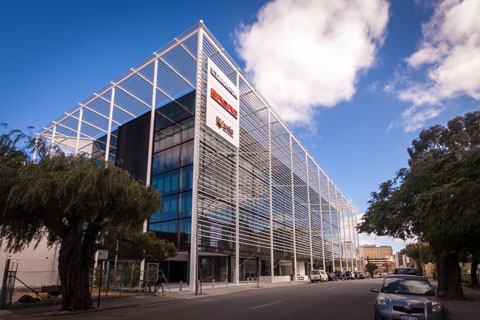 PROJECT DESCRIPTION:
Aluminium tube sun shade screen designed by Fitzpatrick & Partners to control interior environment and to add to overall aesthetic impact of building.
Structural Dynamics Australia contracted by Colt International (sun shade fabricator and installer) to help design, supply and install stainless steel cable system to structurally support this element.
Jagged Edge - Queenstown NZ
PROJECT DESCRIPTION
An Atypical design and Construct project involving a house for a confidential client. The design was prepared and presented as a "Design+Construct" package that was purchased as a package by the Client. The Builders Team had prepared preliminary documentation based on advice from specialist consultants and Architects. The design was then proposed for sale to the market as a complete delivery vehicle.
The project is a residential building built on the side of hill with an impressive vantage point. The main goal of the design is to maximise transparency to optimise the view.
The bedrock of the mountain is used for the foundation of the roof which is suspended projecting towards the lake. The project utilises tension cables and clamps to support the glass façade panels.