South Australian Health and Medical Research Institute (SAHMRI)
SAHMRI is a world class facility for medical research under construction in Adelaide (July 2015)
The facility will increase the ability for new leading edge research and clinical applications into better treatment and potential cures for the most challenging diseases.
The building has an interesting curved facade as illustrated in the following images.
Images by Peter Kneen 2015.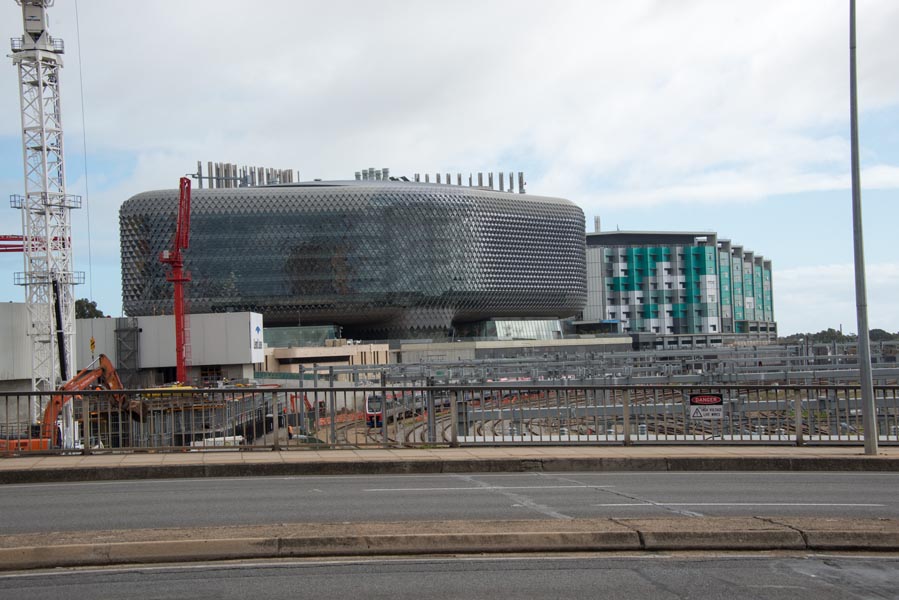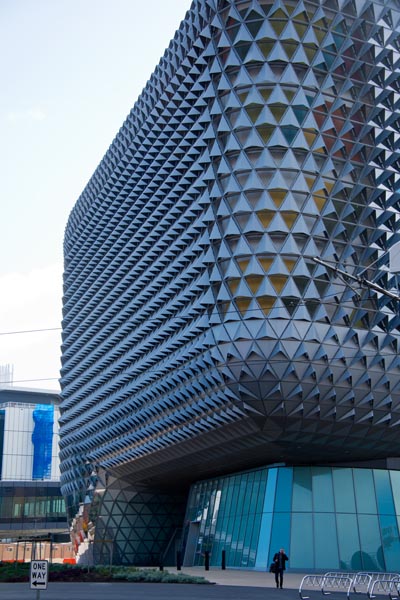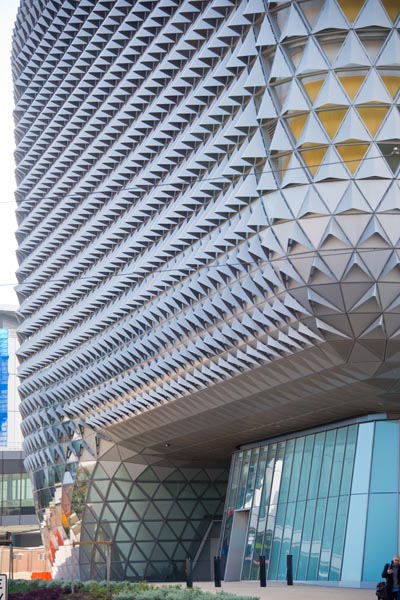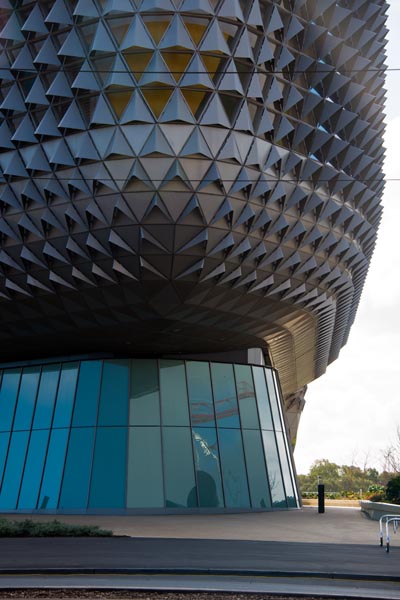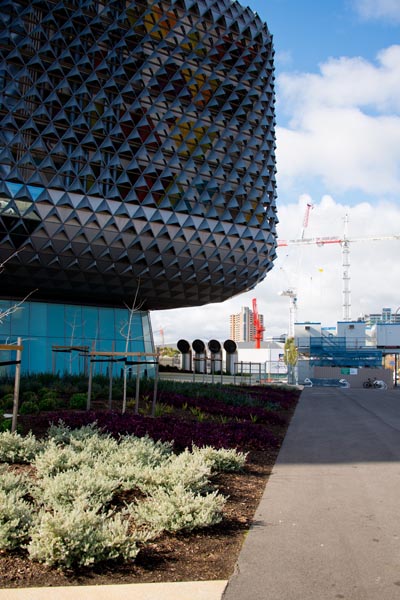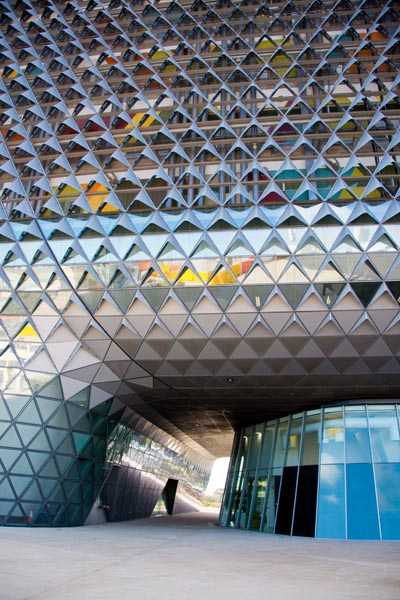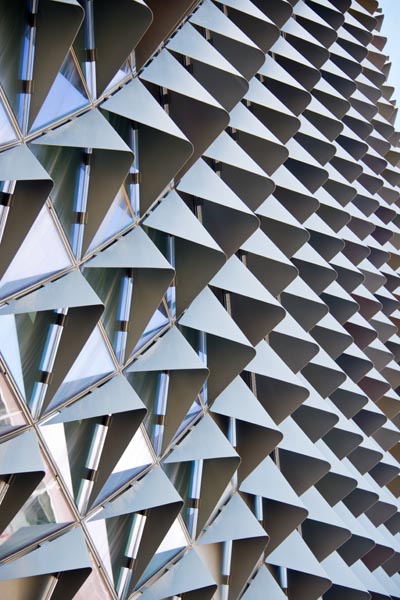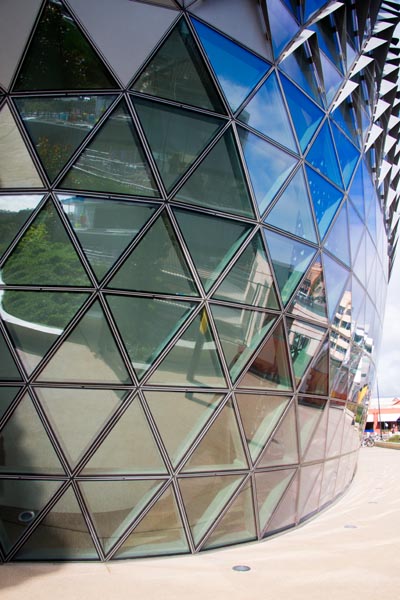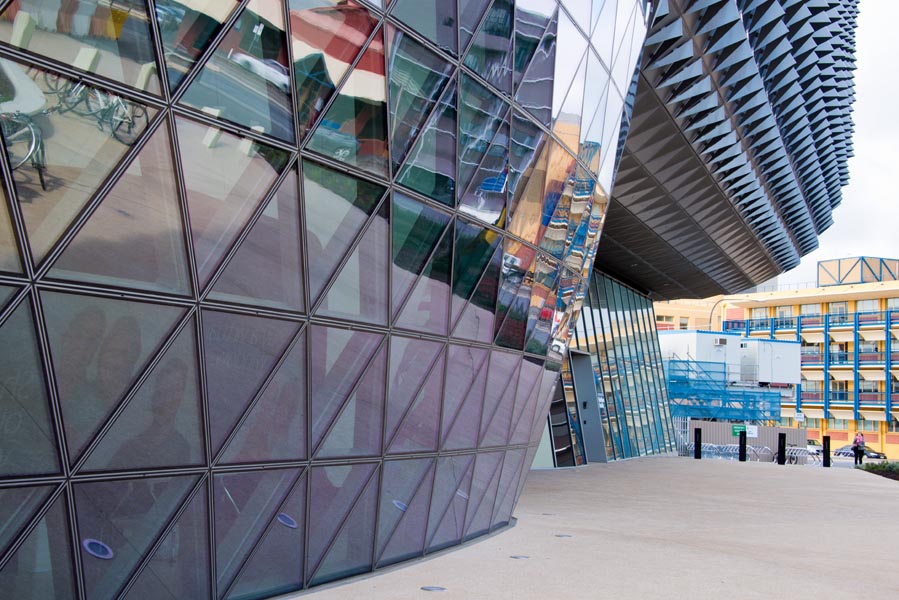 155 Queen Street Mall Façade
Entrant: Tensys Engineers Pty Ltd (Engineer)
Location: 155 Queen St Mall, Brisbane. Completed: 2015
Client: ISPT Super Property
Team: studio 505 / JWA, Tensys Engineers, Tensys (Façade), UAP Company, Broad Construction
Sydney Wildlife World
Entrant: UFS Australasia Pty Ltd
Client: Sydney Attractions Group
Architect: Misho & Associates/ RIHS Architects – Misho & Gerry Rihs
Structural Engineer: Fabric: Wade Consulting Joseph Dean,
Steel: S2 Corporation Murray Allen
Fabricator(s): Fabric Shelter Systems Graham Griffin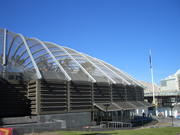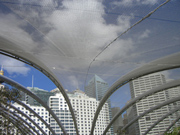 Whitten Oval
Entrant: Ronstan – Contractors
Location: Barkley St, Footscray Vic
Client: Western Bulldogs, Whitten Oval
Architect: Peddle Thorp
Struct. Eng.: Irwin Consultants
Builder: Salta
Fabricator: Ronstan
Counter Observation Barrier Screen - Counter Terrorist
Entrant: Alfresco Shade
Client: SAAB Barracuda Australia
Structural Engineer: Ian Norrie (Bond James Norrie), John Williams (Hughes Truman)
Specialist Consultant(s): SAAB Sweden
Builder: Alfresco Shade
Fabricator(s): Alfresco Shade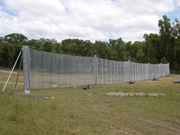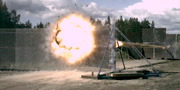 Overview of Cablenet Structures
The modern cablenet structures burst on the international scene with the Expo 67 German Pavilion constructed in Montreal, Canada.
This was a larger version of the cablenet roof prototype designed by Frei Otto's team and used now to house the IL at the University of Stuggart.
Australia can bost a very early cable net structure in the Sidney Myer Music Bowl in Melbourne.
The next structure, and the most famous is the impressive stadiums for the Munich Olympics designed by Frei Otto.
Highly stressed cable trusses are also used to support flat glass surfaces now common for facades.