Aussie World Entrance Canopy
Entrant: Light Weight Structures Advisory Service - Engineering Fabrication Installation
Location: Bruce Highway - Palmview
Client: Aussie World Theme Park
Struct. Eng.: Trevor Scott & Jeremy Hunter
Specialist: LTWSAS
Builder: Aussie World Project Management
Fabricator: Made 4 Shade (Maroochydore)
Entrant: Fabritecture (Part of Alexander Pacific Group)
Category: 2 ID Number: 2301

Location: Brisbane

Client: AGS Construction

Completion Date: February 2012
Credits:
Architect: Teo Cavallo Architects

Structural Engineer: ADG

Fabricator: Fabritecture

Installer: Fabritecture

PROJECT DESCRIPTION:
Halo was designed to take full advantage of Brisbane's wonderful weather offering a sophisticated, open-air lounge environment. In the trendy suburb of Paddington on the West Side of Brisbane is the Caxton Street Precinct famous for its entertainment venues and bustling nightlife.
An architecturally designed tensioned fabric roof was installed. The 'floating' fabric roof was designed to be the halo on top of the outdoor lounge bar - a distinctive feature of the venue, and of the surrounding area.
The fabric roofing structure improves the nightclub facilities with the addition of a weatherproof rooftop bar and lounge area which allows the venue to be enjoyed by guests all year round, even in the colder months.
The roofing structure also allows f or entertainment by way of image projection onto internal fabric screens. The solution offered is striking and stands out from other buildings in the area. The aesthetic appeal of the venue is further enhanced by the floating fabric roof which gives the Halo Nightclub its 'halo'.
The floating roof provides a distinctive feature to the nightclub as well as an open air lounge area where patrons can enjoy live music in a unique venue.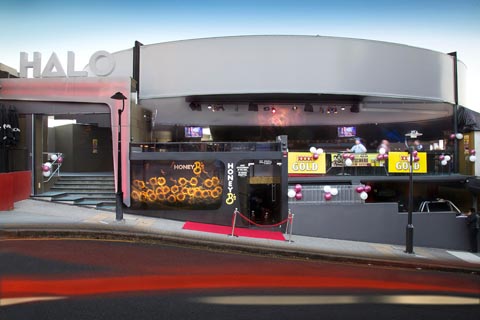 Nerang State School Outdoor Amphitheatre, Qld
APPLICATION OF PROJECT:
Playground Shade Structure: the amphitheatre provides a modern sheltered assembly area for students and teachers, and boasts a unique architectural focal point within the school.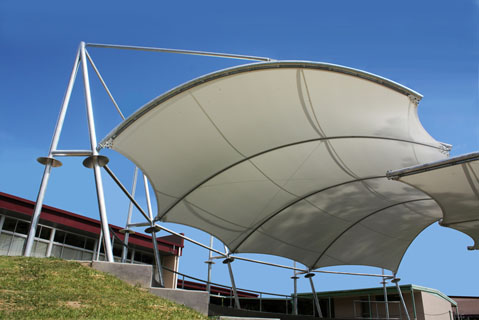 PROJECT DESCRIPTION:
As part of the Queensland Government National School Pride Program, a project was created for the design and construction of twin architectural roof canopies to cover the Nerang State School outdoor amphitheatre.
Key elements of the design brief included:
• Structures were designed to cover both the stage and the audience steps
• The main area had to be completely covered
• Views had to be maintained between the canopy and the amphitheatre stairs
• Provide all‐weather protection for the students of Nerang State School
• Complete installation had to be achieved during the summer school holiday period so as not to interrupt students during construction
Australian Wildlife Centre Healseville Sanctuary
Entrant: Taiyo Membrane Corp, Tattersall Engineering, Minifie Nixon Arch
Client: Zoos Victoria
Architect: Minifie Nixon
Structural Engineer: Tattersall Engineering
Specialist Consultant(s): Wade Consultants, Taiyo Membrane Corporation
Builder: Behmer and Wright
Fabricator(s): Taiyo Membrane Corp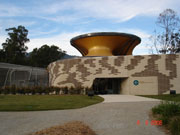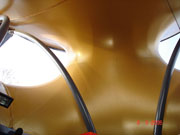 60 Margaret Street
Credits - Entered by MakMax
Category: Tension structures - (coated fabrics) less than 500sqm
Client: W. Eggerking & Co Pty Ltd
Engineer: Tensys, Peter Lim
Fabric: Hiraoka 212-II SAC
Date completed: 21 February 2012
Address: 60 Margaret Street, Sydney NSW 2000
Size: 600sqm
Steel Supplier: Steelman
Fabric Supplier: Hiraoka Australia
Installer: Sydrig