Canteen Canopy Extension
SEMF Pty Ltd (Architect / Engineer)
Location: Ringwood, Victoria. Completed: 31 July 2016
Client: Aquinas College
Team: SEMF, SEMF, Walsh Industries (Steel), Horizon Sailmakers (Membrane & cables)
Nerang State School Outdoor Amphitheatre, Qld
APPLICATION OF PROJECT:
Playground Shade Structure: the amphitheatre provides a modern sheltered assembly area for students and teachers, and boasts a unique architectural focal point within the school.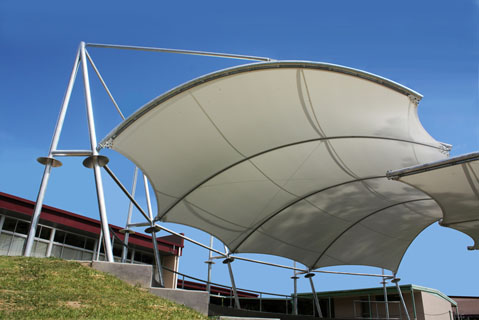 PROJECT DESCRIPTION:
As part of the Queensland Government National School Pride Program, a project was created for the design and construction of twin architectural roof canopies to cover the Nerang State School outdoor amphitheatre.
Key elements of the design brief included:
• Structures were designed to cover both the stage and the audience steps
• The main area had to be completely covered
• Views had to be maintained between the canopy and the amphitheatre stairs
• Provide all‐weather protection for the students of Nerang State School
• Complete installation had to be achieved during the summer school holiday period so as not to interrupt students during construction
Little Edward Street Atrium Roof
Shade And Membrane Structures Australia (Design / Project Management / Install)
Completed: December 5 2013
Client: Bennelong Funds Management
Team: Global Membrane Design, SAMA, Shadecom / Fabric Solutions
Elements Wine Bar
Entrant: Structurflex Ltd - Turn-key Contractor
Location: KCPL District - Kansas City Missouri USA
Client: The Cordish Group
Architect: 360 Architects
Struct. Eng.: Wade Design Engineers & Wayne Rendely PE
Builder: Structurflex
Fabricator: Structurflex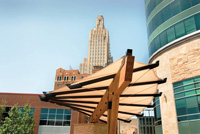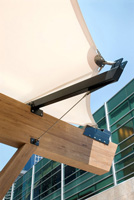 Melbourne Girls Grammar School Cover to Communal Deck
PROJECT DESCRIPTION
Inverted conic covering a communal deck for year 5 & 6 girls at Melbourne Girls Grammar
The structural form is an asymmetric inverted conic, with what is basically a rectangular upper perimeter. In plan the area covered is small, about 12.5m by 11m, and the height varies from 3m at the bale ring to 5.5m at the lower edge to 9m at the highest edge
The conical form is asymmetrical about all axes. The bale ring has been set close to one corner so that the inverted conical shape is accentuated by being well away from the adjoining buildings to which it is attached, and so that the stormwater drainage through the bale ring has minimal interference with use of the deck on wet days.
The function of the structure is to provide critical protection of the school students from the elements during breaks in their school day, creating an outdoor leisure environment that mixes native plants with modern aesthetic material technology. It provides a space where the children can relax and briefly escape the physical confines of school. Even whilst raining, the children can retreat to this area and have their senses stimulated by the rain drumming on the tensioned fabric whilst the water is collected and pushed along the highly strung cables, creating a cylinder of rushing water. Classes can be held on the tiered decking during most weather conditions.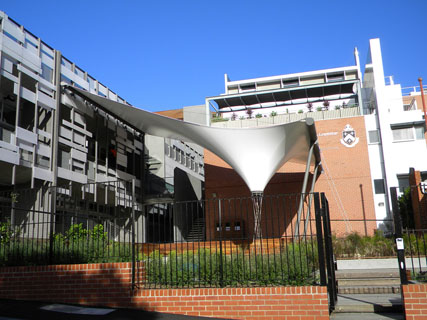 Read more: Melbourne Girls Grammar School Cover to Communal Deck