This project was submitted for the 2016 Design Awards in the Small Structures Category.
Entrant: GeoMetal Limited (Design & Engineering)
Location: Nonthaburi, Thailand. Completed: 24 August 2015
Client: Central Pattana Public Company Limited
Team: Pasalandscape Company Limited, Fastech Company Limited, Project Planing Public Company Limited, Power Line Engineering Public Company Limited, Fastech Company Limited
Nambour Hospital Shade Structures
Category: 3 ID Number: 3351

Location: Nambour, Queensland

Client: Made for Shade

Completion Date: June 2012
Credits:
Structural Engineer: Jeremy Hunter

Specialists: Trevor Scott Building Designer, Lightweight Structures

Builder: Made for Shade

Fabricator: Made for Shade
APPLICATION OF PROJECT:
Essentially the purpose of the project was about cost effective space creation.
The tensioned awning is positioned over a deck area on the first floor at the Nambour children's hospital. The Hospital is located on the side of a steep incline, the deck is located in an elevated position.
The awning-covered deck now allows children recovering from surgery or illness to play outdoors on the deck in supervised shaded conditions. Previously children were confined to an internal hospital playroom.
Jirrawun Arts Centre
Entrant: UFS Australasia Pty Ltd
Client: Jirrawun Arts Pty ltd
Architect: Bruce Henderson Architects
Structural Engineer: Craft Projects
Specialist Consultant(s): UFS
Fabricator(s): Fabric Shelter Systems, DMG Engineering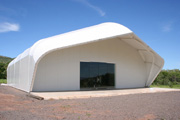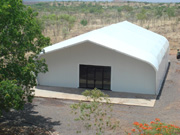 LSAA 2013 High Commendation
South Hedland Town Centre
Entrant: MakMax Australia
Category: 5 ID Number: 4304

Location: Colebatch Way, South Hedland, WA

Client: UDLA and Landcorp

Completion Date: October 2011
Credits:
Architect: Advance Timber Concept & University of WA

Structural Engineer: Scott Smally Partnership

Builder: Ertech Pty Ltd

Fabricator: MakMax Australia
---
Judges Comments:

"A lot of effort for a small structure, should become iconic."
"Good to see a combination of timber frame and lightweight fabric, although the structure seems less than graceful."
---
APPLICATION OF PROJECT:
Fabric cladding to wooden frame, roofing structure.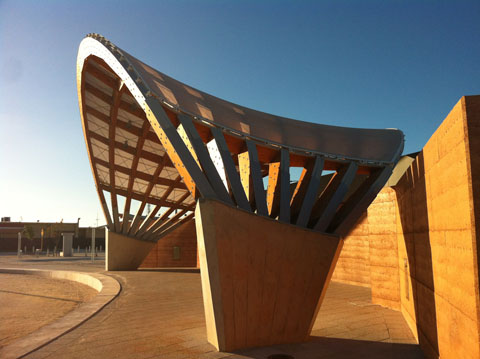 Read more: South Hedland Town Centre - LSAA High Commendation
Cockburn Town Square
Entrant: Fabritecture
Category: 1 ID Number: 1301

Location: Cockburn Town Centre, SA

Client: Phase 3 Landscapes

Completion Date: February 2013
Credits:
Structural Engineer: ADG

Builder: Fabritecture

Fabricator: Fabritecture

Installer: Fabritecture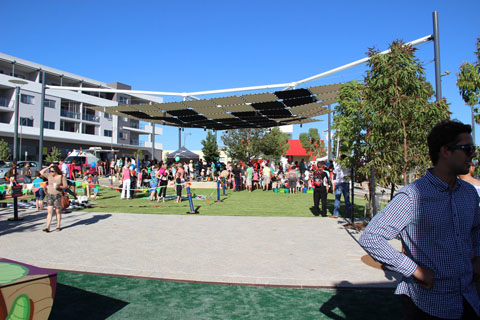 Fabritecture delivered the design and installation of a customized fabric structure that echoed the vibrant community tapestry of Cockburn in Western Australia.
In line with the project brief, Fabritecture utilised the design inspiration of a multi faceted community and its lifestyle needs.
The finished fabric structure provides an iconic and unique landmark - a welcome addition to the tapestry of community life.