Entrant: Fabritecture (Part of Alexander Pacific Group)
Category: 2 ID Number: 2301

Location: Brisbane

Client: AGS Construction

Completion Date: February 2012
Credits:
Architect: Teo Cavallo Architects

Structural Engineer: ADG

Fabricator: Fabritecture

Installer: Fabritecture

PROJECT DESCRIPTION:
Halo was designed to take full advantage of Brisbane's wonderful weather offering a sophisticated, open-air lounge environment. In the trendy suburb of Paddington on the West Side of Brisbane is the Caxton Street Precinct famous for its entertainment venues and bustling nightlife.
An architecturally designed tensioned fabric roof was installed. The 'floating' fabric roof was designed to be the halo on top of the outdoor lounge bar - a distinctive feature of the venue, and of the surrounding area.
The fabric roofing structure improves the nightclub facilities with the addition of a weatherproof rooftop bar and lounge area which allows the venue to be enjoyed by guests all year round, even in the colder months.
The roofing structure also allows f or entertainment by way of image projection onto internal fabric screens. The solution offered is striking and stands out from other buildings in the area. The aesthetic appeal of the venue is further enhanced by the floating fabric roof which gives the Halo Nightclub its 'halo'.
The floating roof provides a distinctive feature to the nightclub as well as an open air lounge area where patrons can enjoy live music in a unique venue.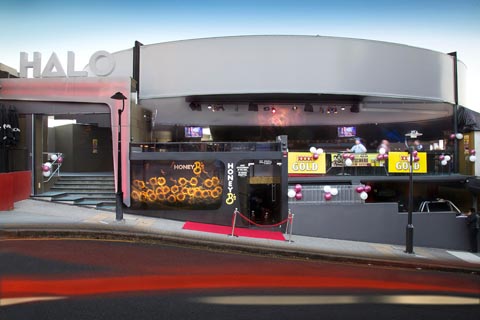 Central Westgate Sky Walk
Entrant: GeoMetal Limited (Design & Engineering)
Location: Nonthaburi, Thailand. Completed: 24 August 2015
Client: Central Pattana Public Company Limited
Team: Pasalandscape Company Limited, Fastech Company Limited, Project Planing Public Company Limited, Power Line Engineering Public Company Limited, Fastech Company Limited
First concept was a waving, curved surface, using a rigid 3D curved steel arches as supporting structures.
Engineering works also included form-finding, structural analysis, CFD analysis, detailing design, Installation method.
The fabric area was 191 sqm, the weight of steel 7.41 tons and the type of fabric used was 702T2
Cockburn Town Square
Entrant: Fabritecture
Category: 1 ID Number: 1301

Location: Cockburn Town Centre, SA

Client: Phase 3 Landscapes

Completion Date: February 2013
Credits:
Structural Engineer: ADG

Builder: Fabritecture

Fabricator: Fabritecture

Installer: Fabritecture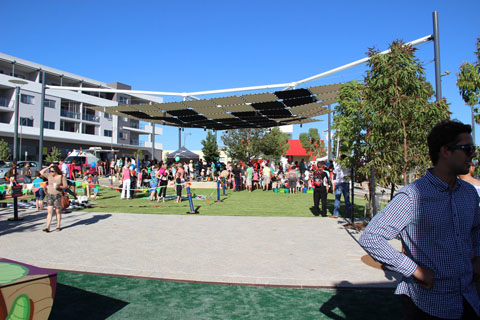 Fabritecture delivered the design and installation of a customized fabric structure that echoed the vibrant community tapestry of Cockburn in Western Australia.
In line with the project brief, Fabritecture utilised the design inspiration of a multi faceted community and its lifestyle needs.
The finished fabric structure provides an iconic and unique landmark - a welcome addition to the tapestry of community life.
Central Westgate Sky Walk
GeoMetal Limited (Design & Engineering)
Location: Nonthaburi, Thailand. Completed: 24 August 2015
Client: Central Pattana Public Company Limited
Team: Pasalandscape Company Limited, Fastech Company Limited, Project Planing Public Company Limited, Power Line Engineering Public Company Limited, Fastech Company Limited
Canteen Canopy Extension
SEMF Pty Ltd (Architect / Engineer)
Location: Ringwood, Victoria. Completed: 31 July 2016
Client: Aquinas College
Team: SEMF, SEMF, Walsh Industries (Steel), Horizon Sailmakers (Membrane & cables)