Nerang State School Outdoor Amphitheatre, Qld
APPLICATION OF PROJECT:
Playground Shade Structure: the amphitheatre provides a modern sheltered assembly area for students and teachers, and boasts a unique architectural focal point within the school.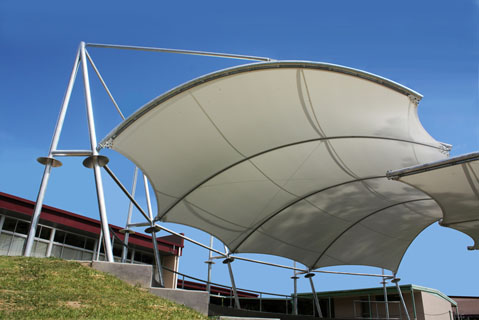 PROJECT DESCRIPTION:
As part of the Queensland Government National School Pride Program, a project was created for the design and construction of twin architectural roof canopies to cover the Nerang State School outdoor amphitheatre.
Key elements of the design brief included:
• Structures were designed to cover both the stage and the audience steps
• The main area had to be completely covered
• Views had to be maintained between the canopy and the amphitheatre stairs
• Provide all‐weather protection for the students of Nerang State School
• Complete installation had to be achieved during the summer school holiday period so as not to interrupt students during construction
Perth Children's Hospital
LSAA 2016 Design Award Entry by Fabritecture (Designer and Installer)
Location: Subiaco, WA. Completed: July 30 2015
Client: John Holland Group
Team: JCY Architects, Greenup Design International, Fabritecture, Textile Fabrication Services, Fabritecture
APPLICATION OF PROJECT:
Highly interactive artistic and architectural shade canopies, featuring intricately designed complex steel geometry and custom fabric patterns to work with the exciting environment of the children's playground.

PROJECT DESCRIPTION:
The Perth Children's Hospital project involved the design and construction of an intricate structural shade solution as an addition to an outdoor children's play area for the hospital. The project was part of a redevelopment initiative to replace the existing Princess Margaret Hospital facility.
The new Perth Children's Hospital intends to host local and internationally recognised organisations for paediatrician, clinical research and tertiary learning.
Flemington Racecourse
Entrant: Taiyo Membrane Corp
Client: Victoria Racing Club
Architect: Taiyo Membrane Corporation
Structural Engineer: Xiang Du (TMC)
Fabricator(s): Taiyo Membrane Corp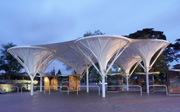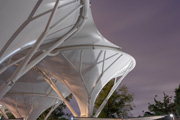 'I Dips Me Lid' (NGV Architectural Commission)
John Wardle Architects (Architect / Designer)
Location: National Gallery of Victoria, Melbourne. Completed: 15 September 2015
Client: National Gallery of Victoria
Team: Matthew van Kooy, John Bahoric, Electrolight (lighting), 3D Structural Solutions (Shop Drawings), Light Project, Engineering Directions
Canteen Canopy Extension
SEMF Pty Ltd (Architect / Engineer)
Location: Ringwood, Victoria. Completed: 31 July 2016
Client: Aquinas College
Team: SEMF, SEMF, Walsh Industries (Steel), Horizon Sailmakers (Membrane & cables)