This project was submitted for the 2016 Design Awards in the Small Structures Category.
Entrant: GeoMetal Limited (Design & Engineering)
Location: Nonthaburi, Thailand. Completed: 24 August 2015
Client: Central Pattana Public Company Limited
Team: Pasalandscape Company Limited, Fastech Company Limited, Project Planing Public Company Limited, Power Line Engineering Public Company Limited, Fastech Company Limited
Elements Wine Bar
Entrant: Structurflex Ltd - Turn-key Contractor
Location: KCPL District - Kansas City Missouri USA
Client: The Cordish Group
Architect: 360 Architects
Struct. Eng.: Wade Design Engineers & Wayne Rendely PE
Builder: Structurflex
Fabricator: Structurflex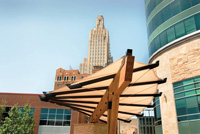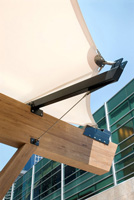 Perth Children's Hospital
Fabritecture (Designer and Installer)
Location: Subiaco, WA. Completed: July 30 2015
Client: John Holland Group
Team: JCY Architects, Greenup Design International, Fabritecture, Textile Fabrication Services, Fabritecture
Northern Busways Park & Ride Terminals
Entrant: Structurflex Ltd
Client: North Shore Council
Architect: Opus
Structural Engineer: Compusoft Engineering Auckland
Builder: Works Infrastructure
Fabricator(s): Structurflex Ltd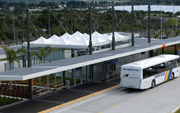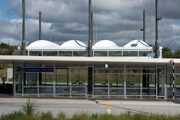 DESIGN BRIEF
The architect's requirements were:
To create a space that retained a sense of daylight.

To provide a unique roof as a landmark for the bus stations.

To provide a number of connected canopies that gave a cloud effect.

To provide a means of hiding the florescent lighting and components within the "clouds".
STRUCTURAL SYSTEMS
A series of I beams were used supported on 6 columns joining the two sides of the building.
These beams have a duel purpose on the top side acting as both structural member and gutter.
Underneath the area within the beam is used to conceal the lighting components and fixing cleats.
Project: Yatala Tank Cover
Entrant: MakMax Australia - Designer
Location: Fosters Australia - Cuthbert Road Yatala QLD 4207
Client: Foster's Australia
Struct. Eng.: MakMax Australia
Others: MakMax (Installation)
Builder: MakMax Australia
Fabricator: MakMax Australia