Canteen Canopy Extension
SEMF Pty Ltd (Architect / Engineer)
Location: Ringwood, Victoria. Completed: 31 July 2016
Client: Aquinas College
Team: SEMF, SEMF, Walsh Industries (Steel), Horizon Sailmakers (Membrane & cables)
60 Margaret Street
Credits - Entered by MakMax
Category: Tension structures - (coated fabrics) less than 500sqm
Client: W. Eggerking & Co Pty Ltd
Engineer: Tensys, Peter Lim
Fabric: Hiraoka 212-II SAC
Date completed: 21 February 2012
Address: 60 Margaret Street, Sydney NSW 2000
Size: 600sqm
Steel Supplier: Steelman
Fabric Supplier: Hiraoka Australia
Installer: Sydrig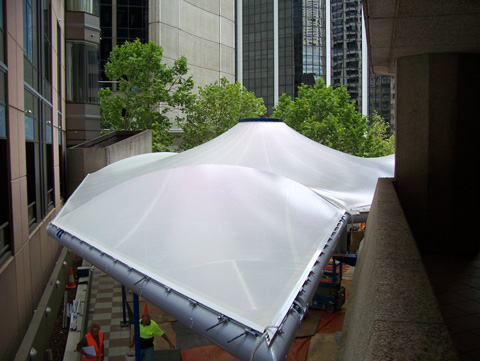 Flemington Racecourse
Entrant: Taiyo Membrane Corp
Client: Victoria Racing Club
Architect: Taiyo Membrane Corporation
Structural Engineer: Xiang Du (TMC)
Fabricator(s): Taiyo Membrane Corp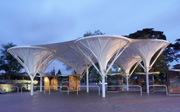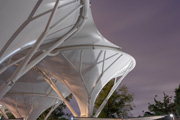 LSAA 2013 High Commendation
South Hedland Town Centre
Entrant: MakMax Australia
Category: 5 ID Number: 4304

Location: Colebatch Way, South Hedland, WA

Client: UDLA and Landcorp

Completion Date: October 2011
Credits:
Architect: Advance Timber Concept & University of WA

Structural Engineer: Scott Smally Partnership

Builder: Ertech Pty Ltd

Fabricator: MakMax Australia
---
Judges Comments:

"A lot of effort for a small structure, should become iconic."
"Good to see a combination of timber frame and lightweight fabric, although the structure seems less than graceful."
---
APPLICATION OF PROJECT:
Fabric cladding to wooden frame, roofing structure.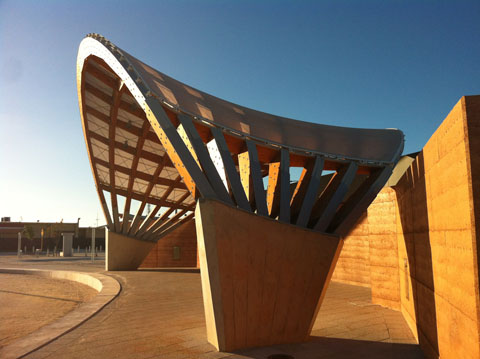 Read more: South Hedland Town Centre - LSAA High Commendation
Cockburn Town Square
Entrant: Fabritecture
Category: 1 ID Number: 1301

Location: Cockburn Town Centre, SA

Client: Phase 3 Landscapes

Completion Date: February 2013
Credits:
Structural Engineer: ADG

Builder: Fabritecture

Fabricator: Fabritecture

Installer: Fabritecture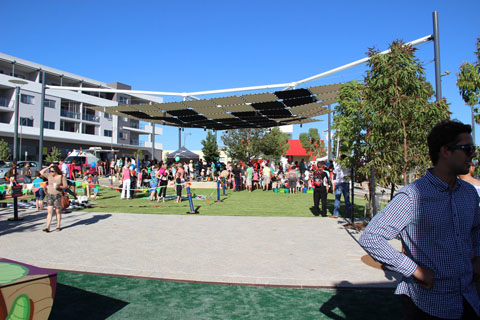 Fabritecture delivered the design and installation of a customized fabric structure that echoed the vibrant community tapestry of Cockburn in Western Australia.
In line with the project brief, Fabritecture utilised the design inspiration of a multi faceted community and its lifestyle needs.
The finished fabric structure provides an iconic and unique landmark - a welcome addition to the tapestry of community life.