Member Profiles
Current Financial Company Members of LSAA can have their company profile listed on the LSAA website.

Such members will enjoy the ability to submit news, awards and other articles for publication on the website.

Discounted fees apply for Conferences, Seminars and Design Award Entries.

Note that some members may provide a broad range of services.

Members of the LSAA have a passion for realizing excellence in producing world class lightweight structures.

Members are engaged in the design, fabrication, erection of lightweight structures.

We are also well supported by a number of material suppliers of fabrics and hardware such as cables.
Welcome to our new members:
Sail Structures (Cairns), Pattons, Create Ltd (NZ), Copelands & Pickers and Miami Stainless

and welcome back ABC Products and Oasis Tension Structures

Members with complete service (Design, Engineering, Fabrication, Installation)
Members with predominantly Design, Fabrication and Installation service
Members with predominantly Design and Engineering service
Members with Software and Consulting Service
Members who are predominantly suppliers
Innova International Pty Ltd

For over 21 years Innova International (Innova) has been a leader in delivering in delivering to the Australian market high quality and technically superior engineered textiles. With 17 years in partnership with Ferrari S.A. of France, Innova continues to bring into the Australian region leading edge tensile and architectural textiles.
Since the company's inception Innova has sought out the most capable global manufacturers to develop and supply innovative and high quality textiles to a diverse range of industries and manufacturers.
Our experience in specifying technical textiles for a variety of applications has seen Innova forge a reputation as a knowledgeable and diligent organisation trusted by regional companies seeking a well thought out and innovative solution for their projects.

Osborn Consulting Engineers Pty Ltd is a consulting firm that provides professional engineering services in the disciplines of Structural and Civil Engineering design.
Over a period of more than 30 years Osborn Consulting Engineers has ensured it employs professional and technical staff that provide clients with a service of high quality and standard. We endeavour to find professional solutions to engineering problems that can be practically implemented, achieving the desired outcome for our client. We specialise in residential, commercial, industrial and membrane engineering, documentation and certification.
Pattons - Specialist Textile Solutions
Pattons is a well recognized, accredited and award winning industrial fabrics firm focused on delivering innovative and creative structures and designs. Pattons was established in 1953 and has been delivering quality solutions for over 60 years. Pattons operates predominantly in the commercial and architectural sectors providing tailored structures for the construction and event industry.
Pattons focuses on pushing the boundaries of creativity when designing projects and upholds professional industry standards which is recognised by clients in their continued association with Pattons.

Fabritecture is an internationally recognised leader in the tensile fabric structure industry, bringing over 70 years experience to every project. From simple architectural shade solutions, to major tensile fabric architecture structures, every Fabritecture custom fabric structure is designed and built to the strictest standards for safety and quality.
Specialising in a range of tensile fabrics, including PTFE, PVC, and ETFE foils, Fabritecture is set apart from competitors by constantly encouraging new and alternative technologies and more efficient methods of environmental sustainability.
With offices in Australia, USA, Hong Kong, and Singapore, Fabritecture is committed to hiring the best and brightest in the industry, who share a passion for quality and customer satisfaction.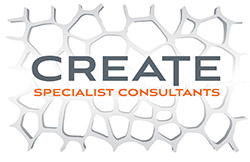 CREATE is a specialist multi-disciplinary design practice, offering consultancy services to clients across New Zealand. Our core areas of specialist design covering Architecture and Engineering, include:
+ Building Systems – SIPs, Screw Anchor Piles
+ Energy Efficiency & Building Performance
+ Seismic Design