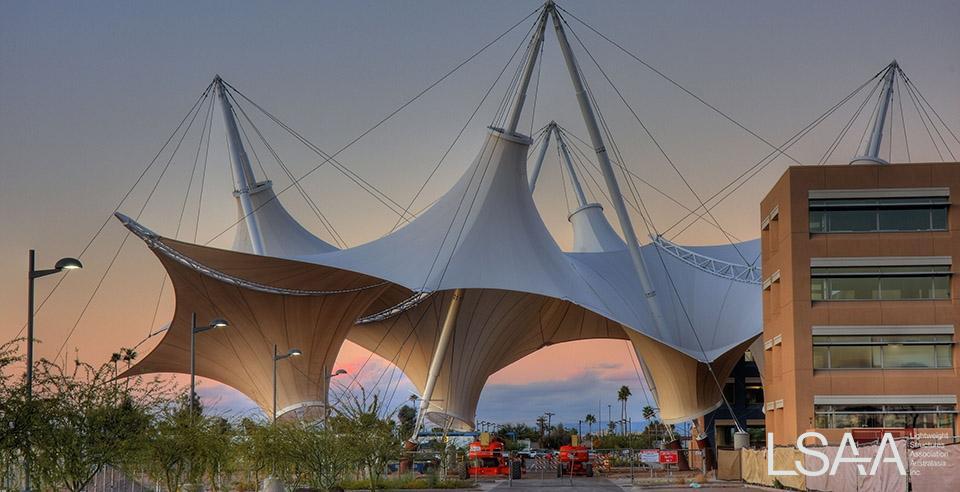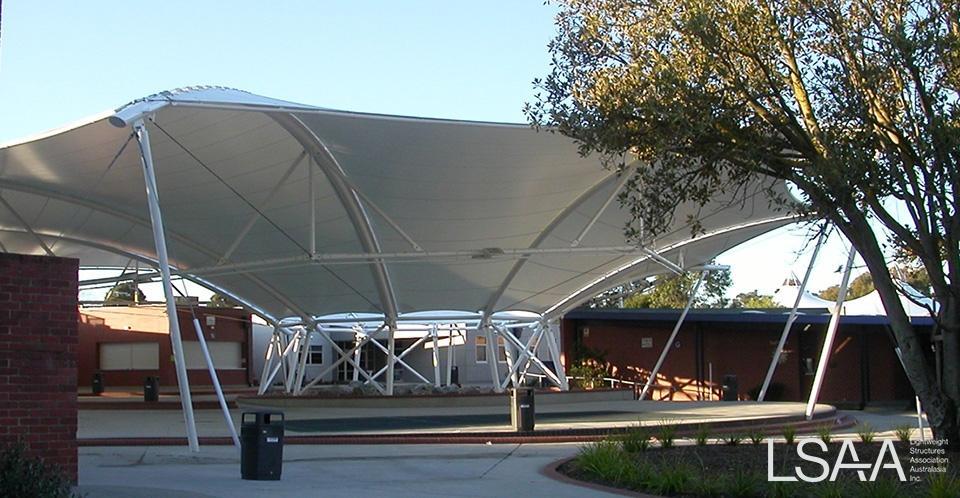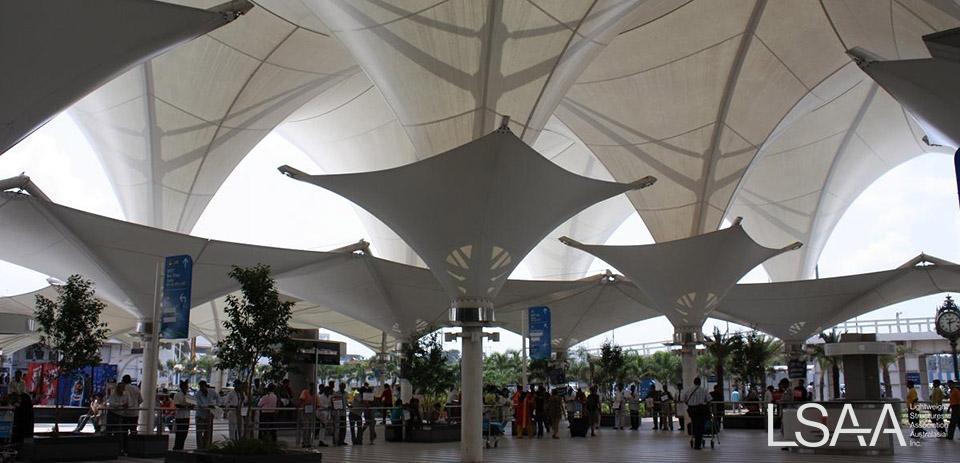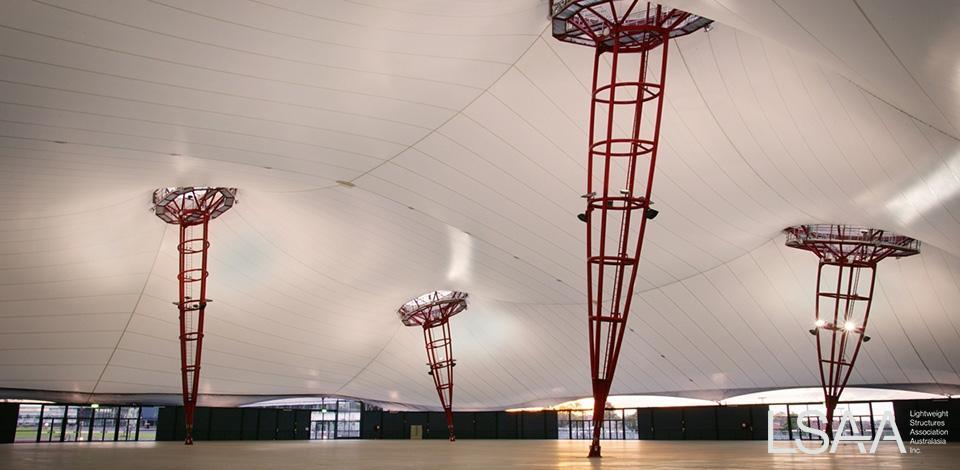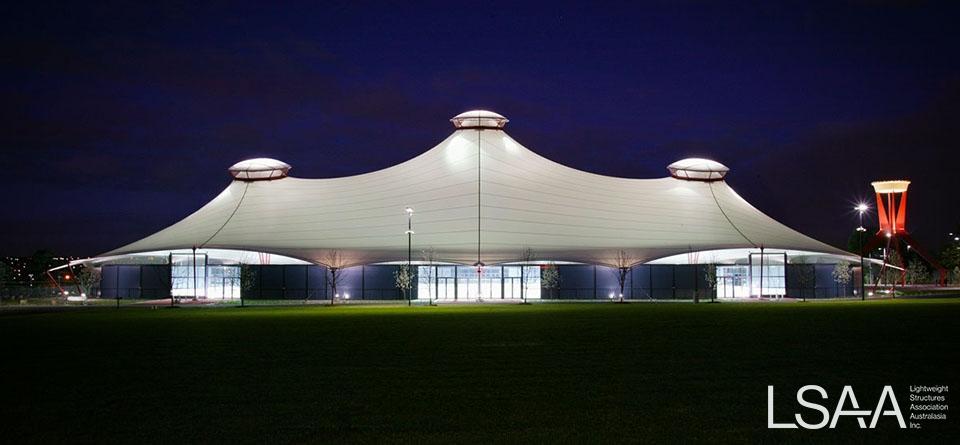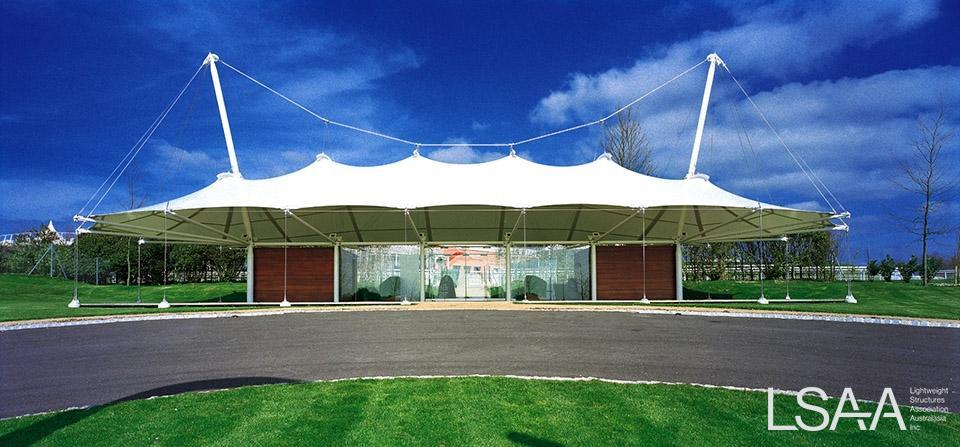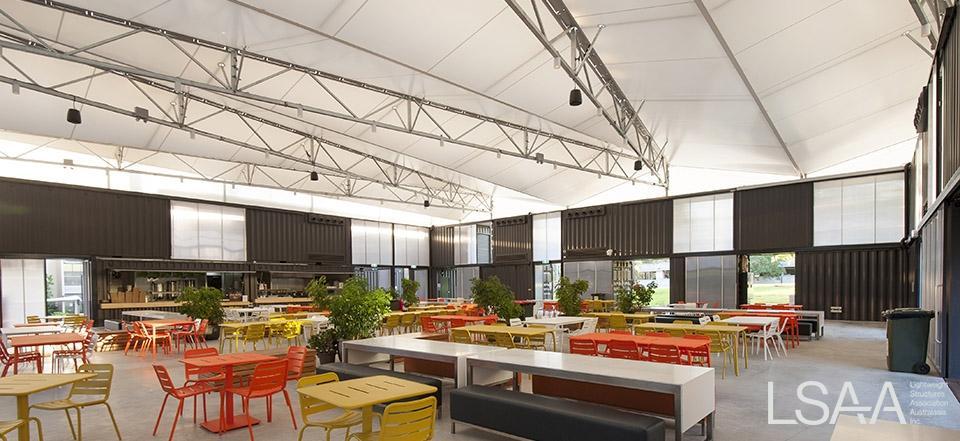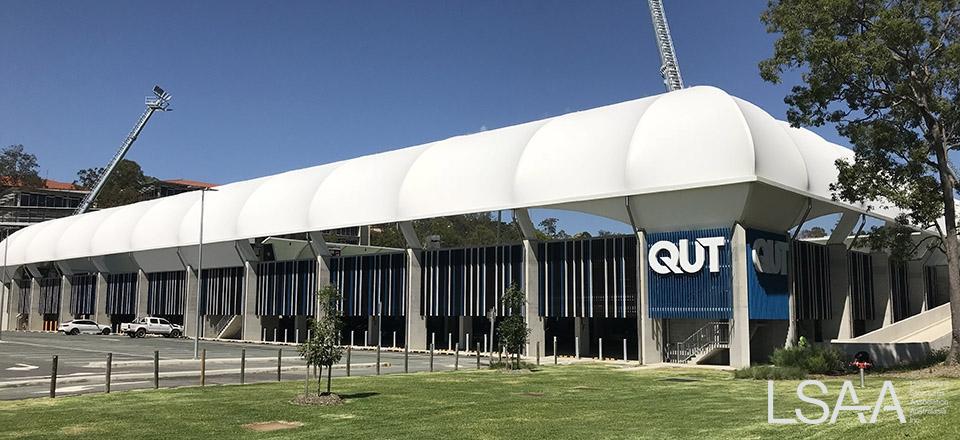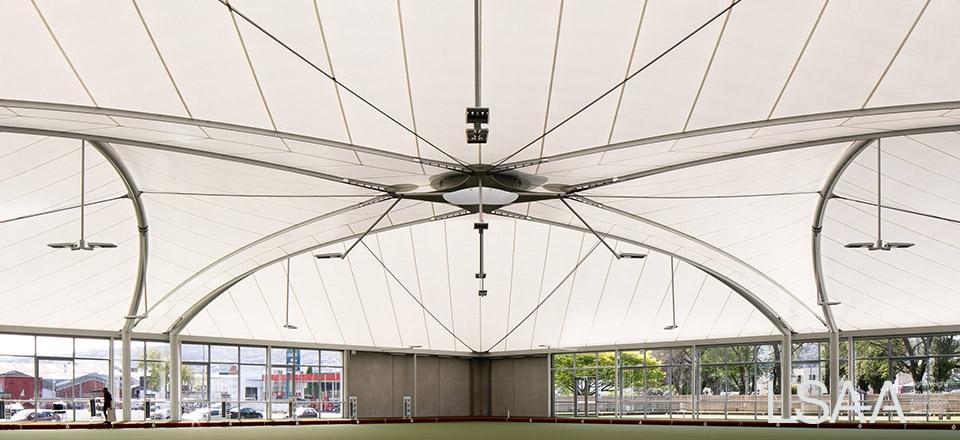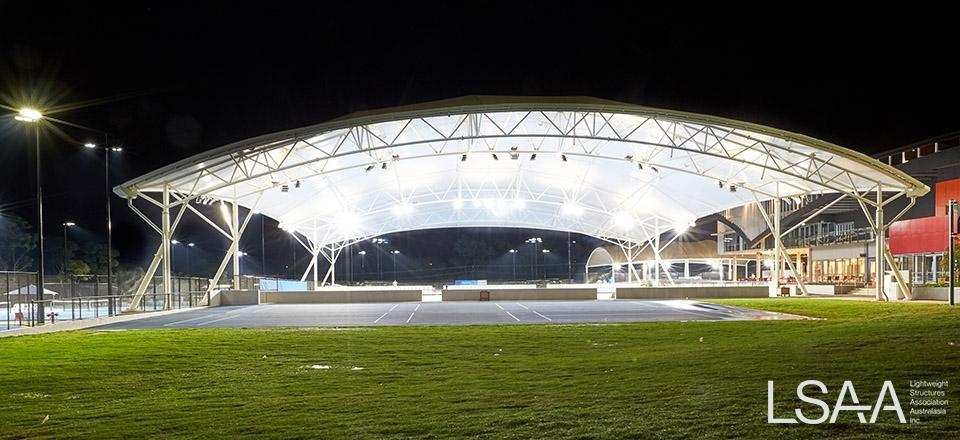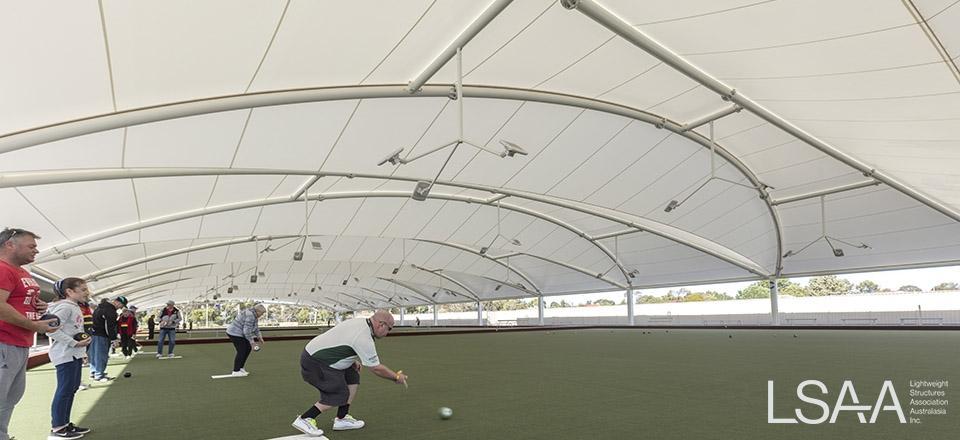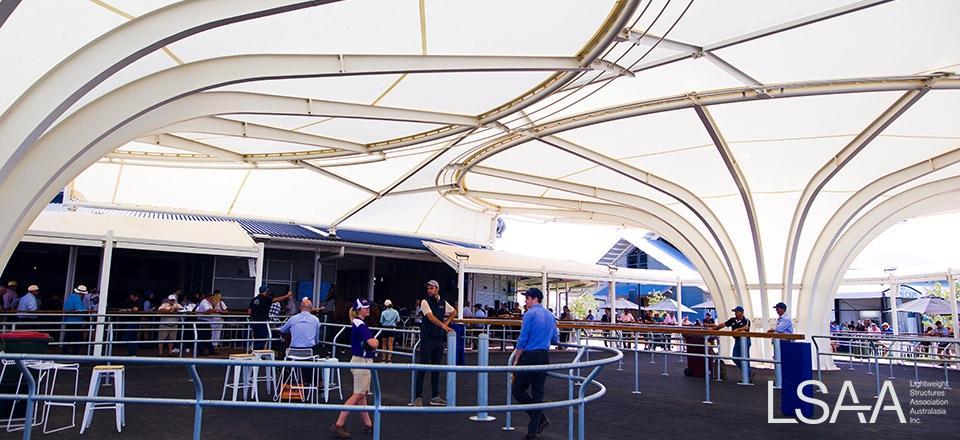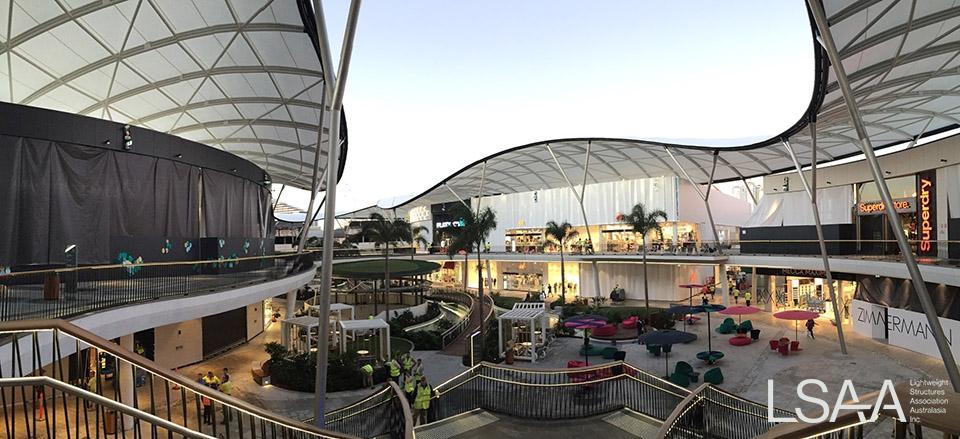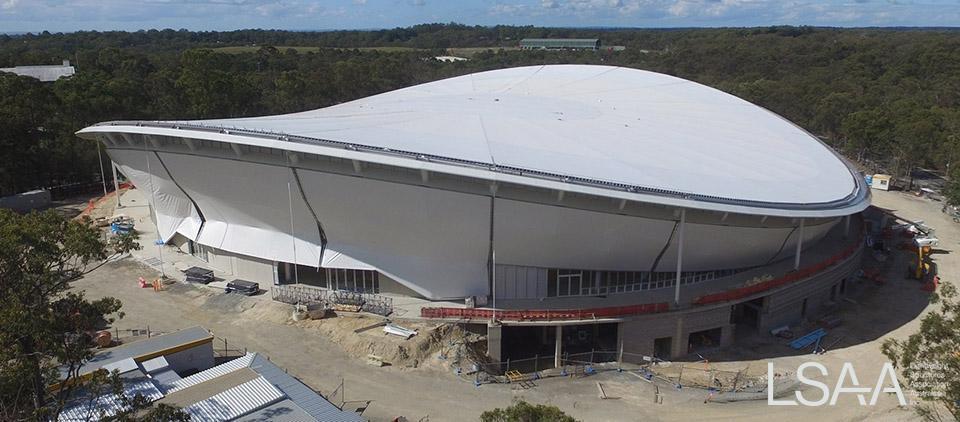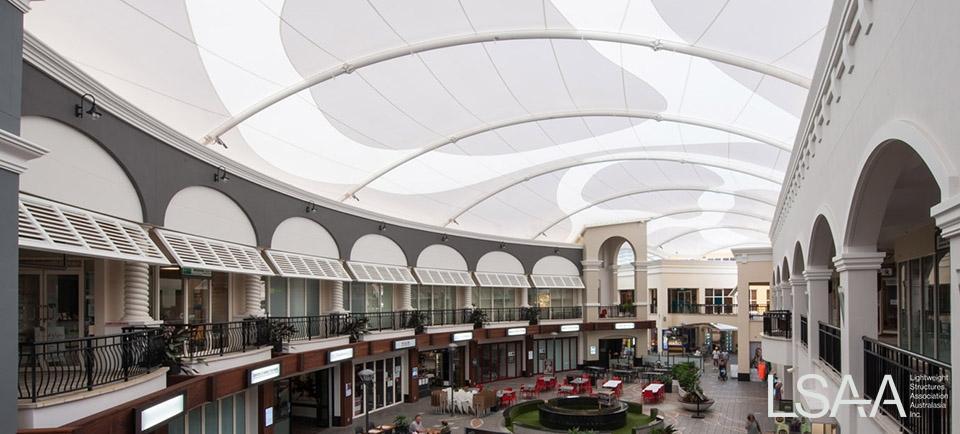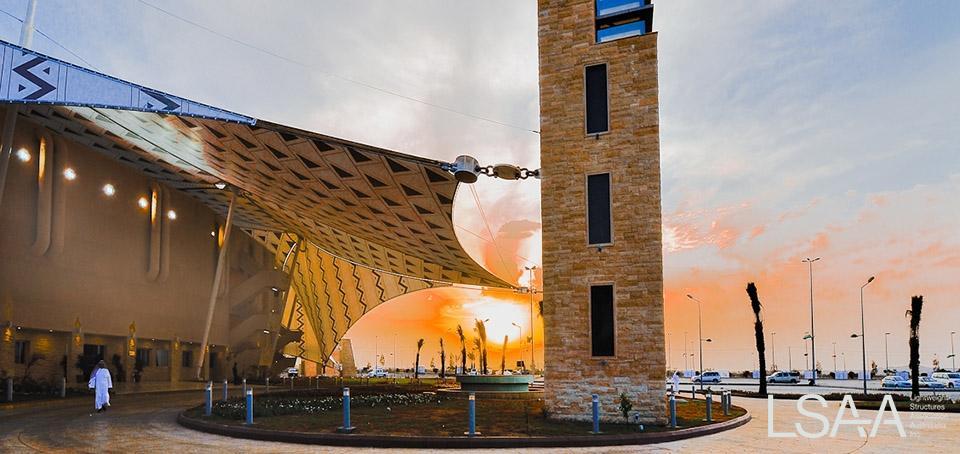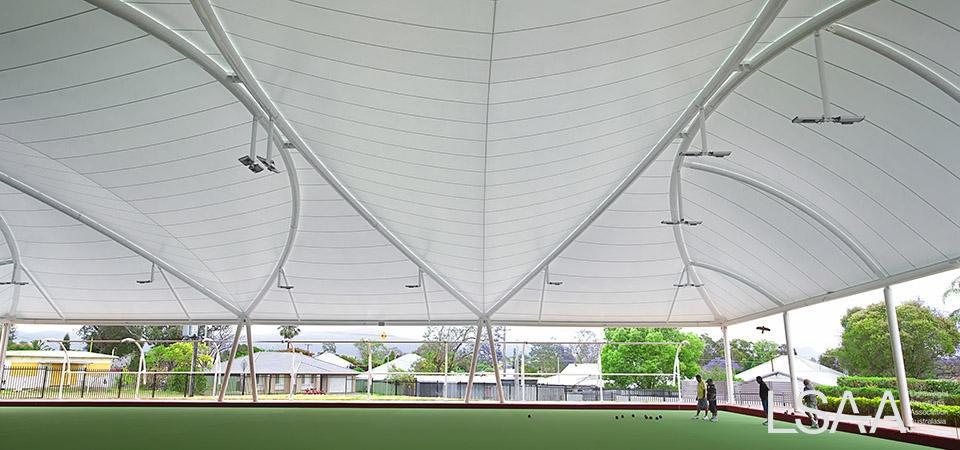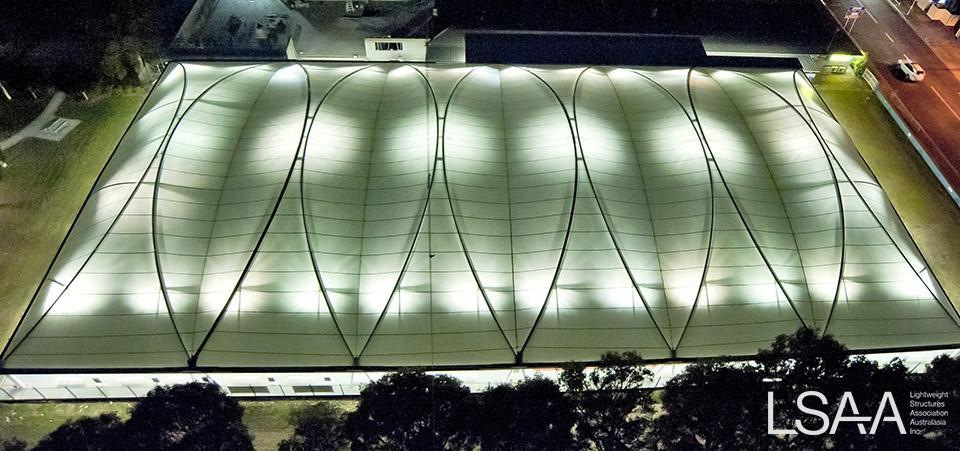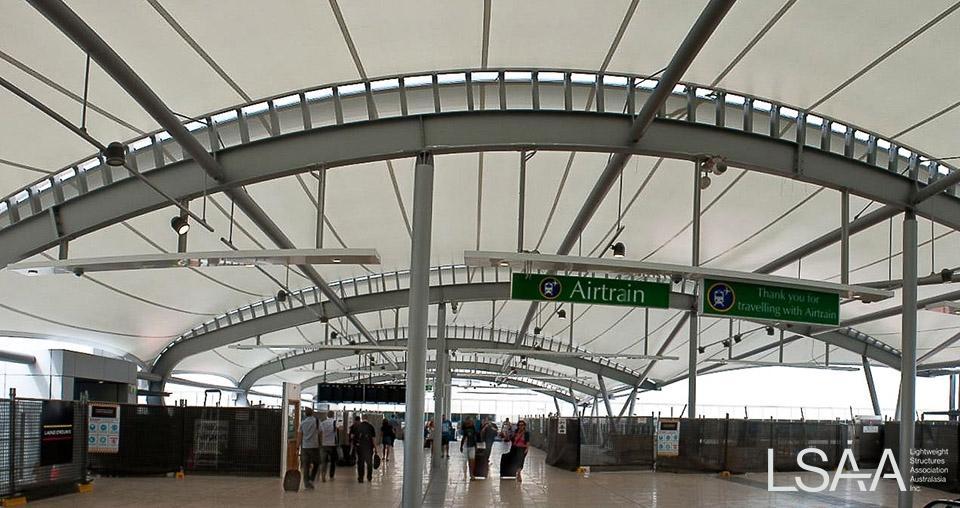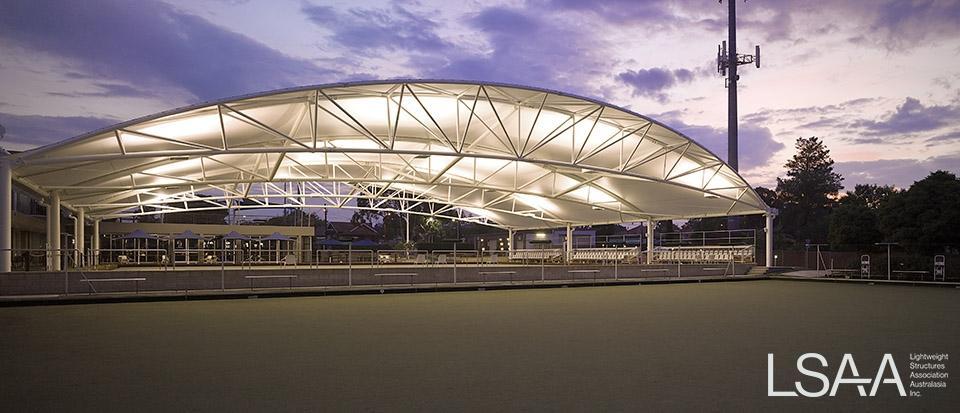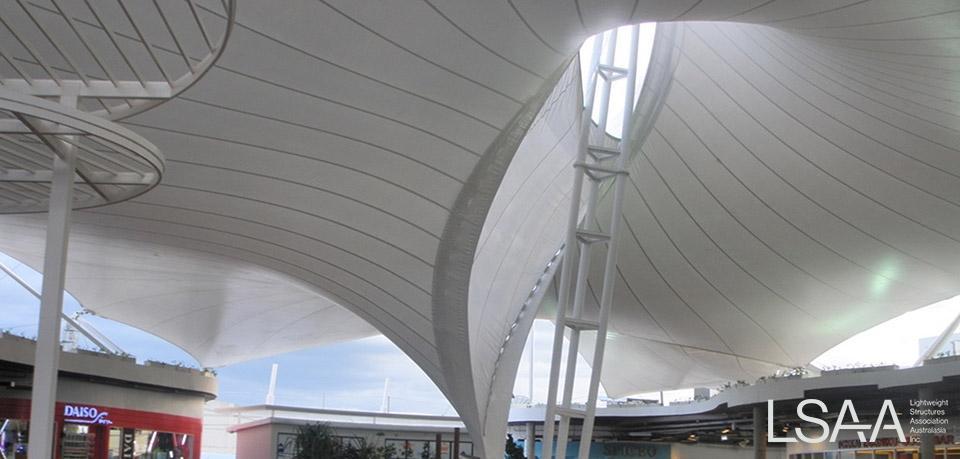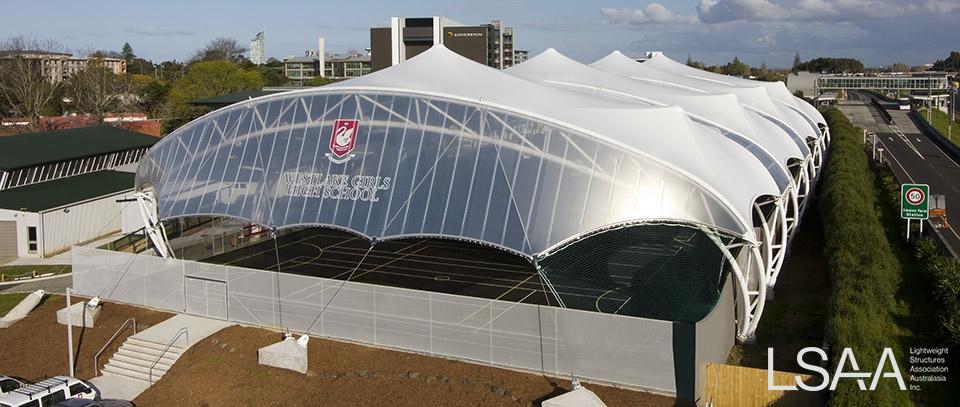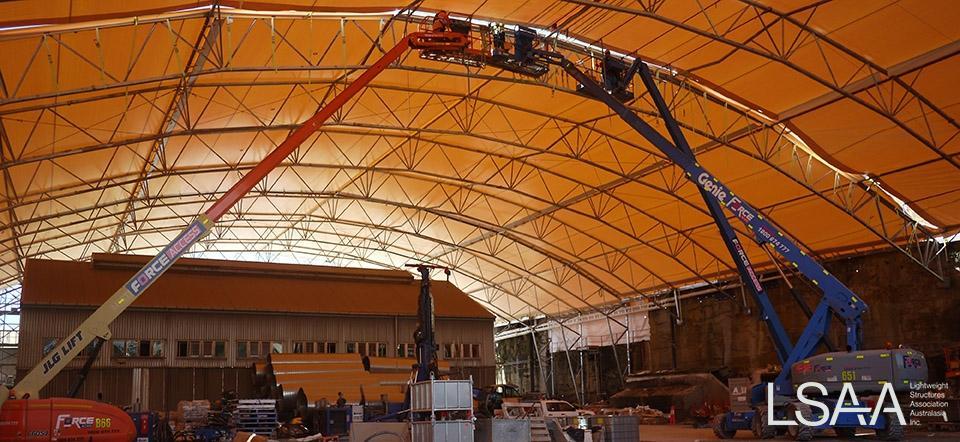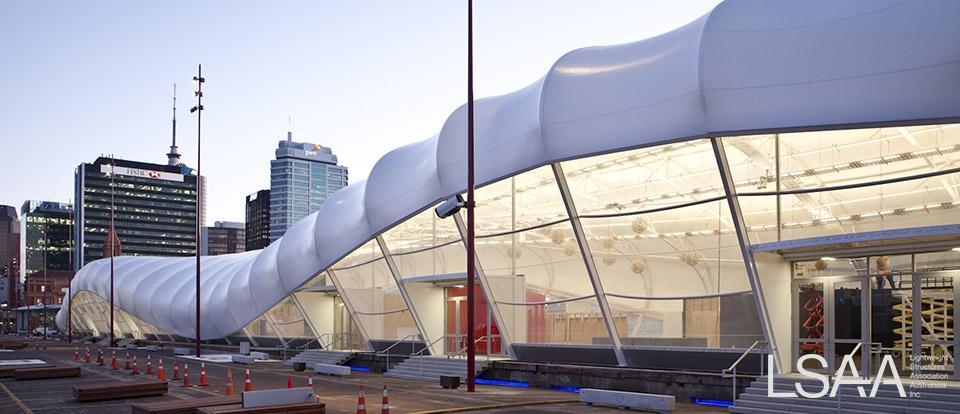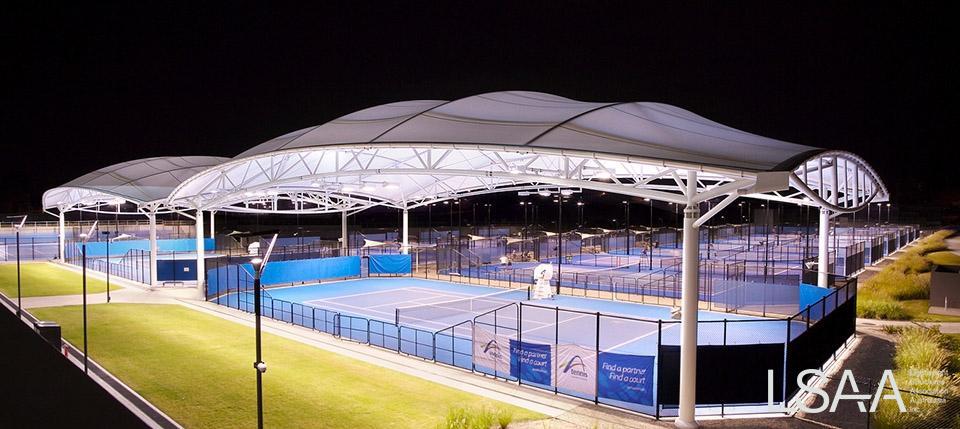 Large fabric structures have generally been thought of as those that have a fabric surface area greater than 1000 square metres. These structures may be described as single surfaces or panels in the form of one of the classic hypars, barrel vaults, cones, panels with single or crossing arches - or a combination.
Larger fabric structures can also be made from several modules or panels of similar forms to build up a substantial sized structure. The multiple panels might be arranged in a linear layout, or in a circular or oval pattern commonly found in stadia roofs. The boundaries are defined structurally and geometrically by straight or curved elements such as arches, edge beams and cables. The prestress forces from adjacent panels often counterbalance and the more efficient structures have a larger degree of symmetry and continuity such as a complete "bicycle wheel" for the roof a major sports stadium. Stadiums are grouped in a separate menu item.
The following articles are in random order:
Mehler Coated Technical Textiles supplied large quantities of coated fabric for the 2015 Milan Expo.
The major application was for sun shading the two main axes of the Expo. The 85,000 sqm of fabric was essentially planar rectangular panels attached to opposing valley and ridge cables.
One important concept behind the simple forms was the re-use of the fabric following the Expo.
Other projects included:
Iranian Pavillion (2,500 sqm)

Ferreo Pavillion (1,600 sqm)

Institution Bologna Pavillion (4,500 sqm)

Tent at the entrance (6,000 sqm)
For further details see HERE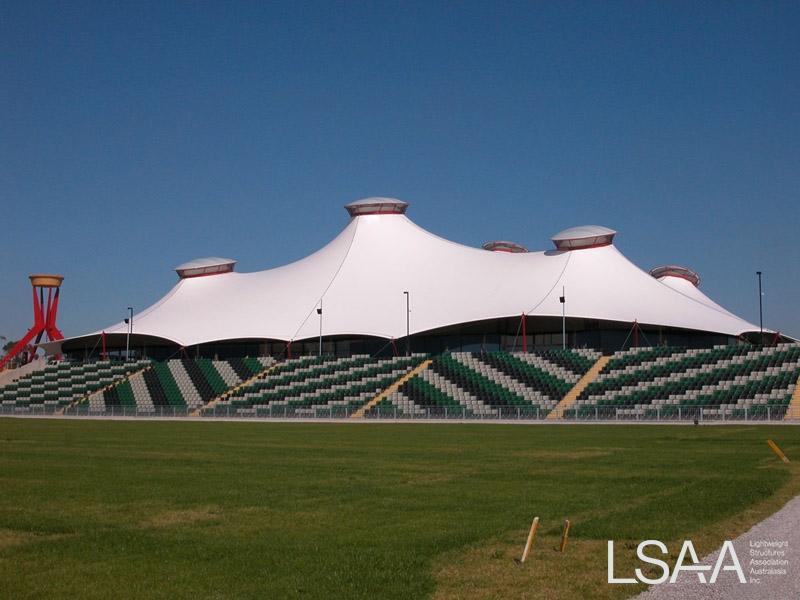 Entered into the LSAA Design Awards 2007 (Large Structures, 3195)
Entrant: Oasis Tension Structures
Client: Multiplex Constructions (Vic) Pty Ltd
Architect: Darryl Jackson Pty Ltd
Structural Engineer: Tensys
Specialist Consultant(s): Drafting Steel One
Builder: Oasis Tension Structures (Australia) Pty Ltd
Fabricator(s): Atkins Fabrications Pty Ltd Structurflex NZ,
Geelong Fabrications, Ronstan
Aside from the images below, no other details have been entered for this project.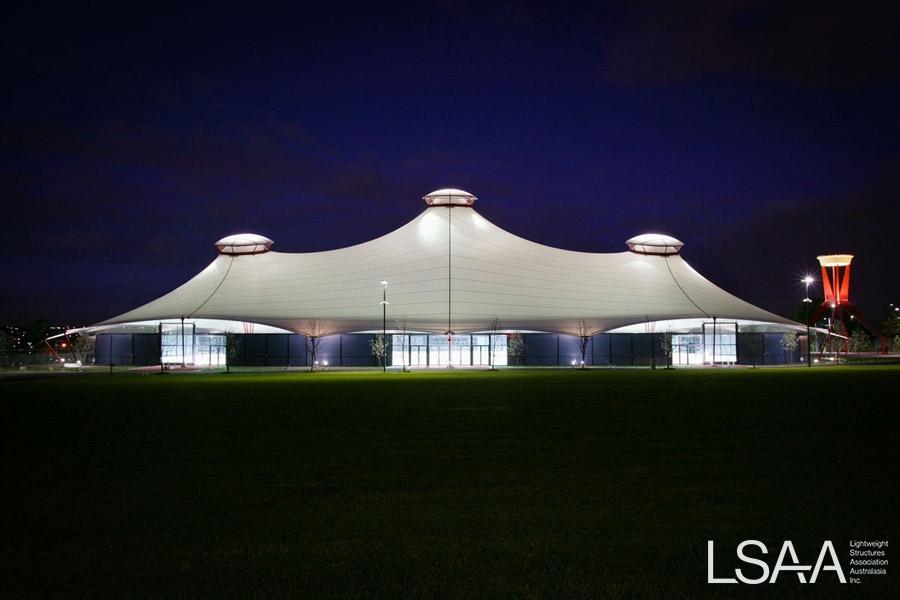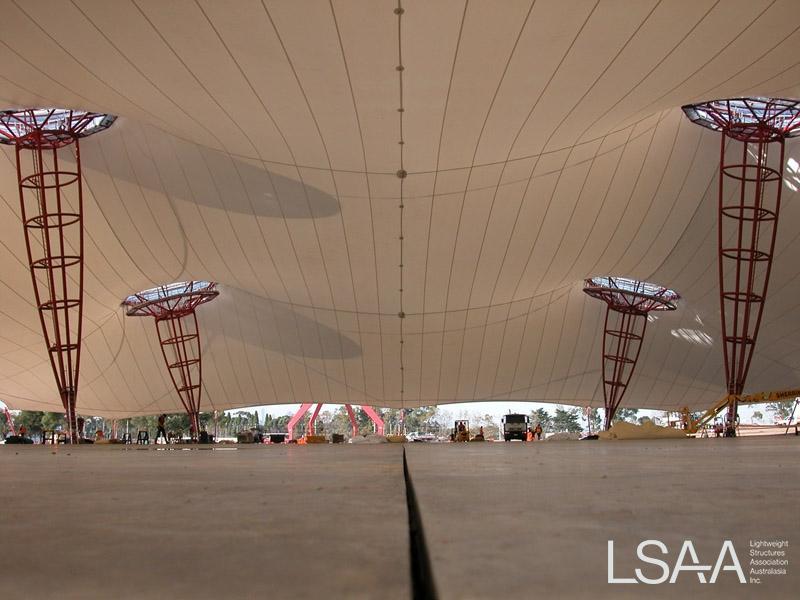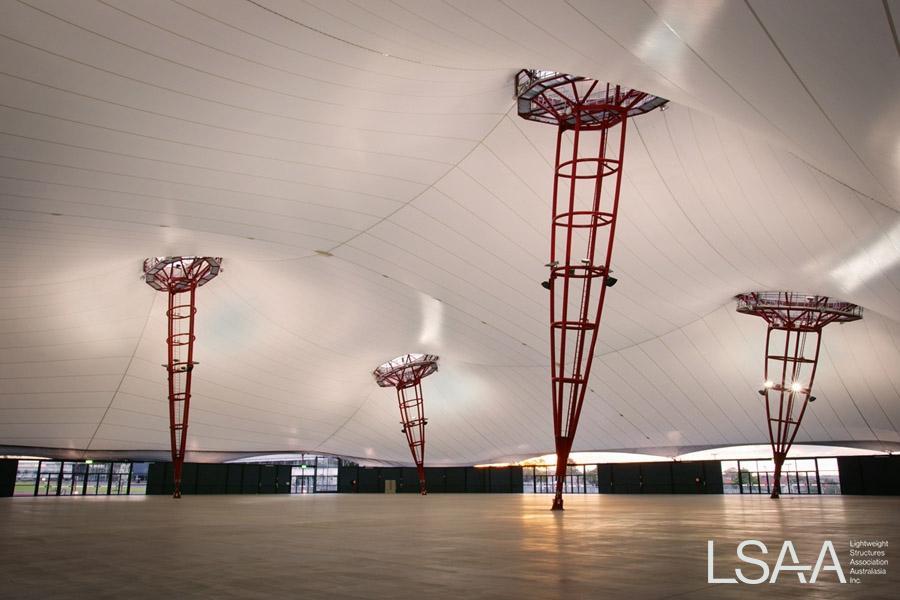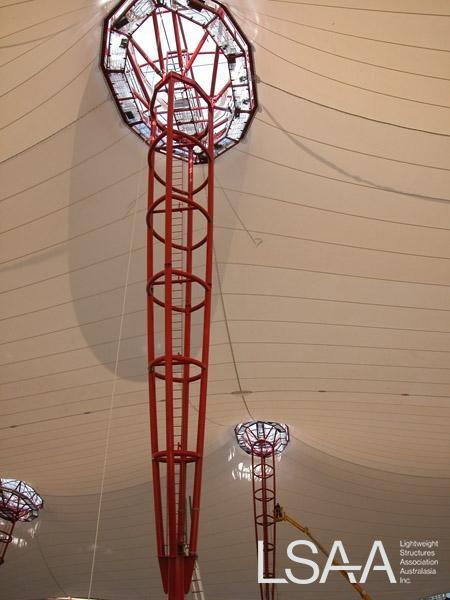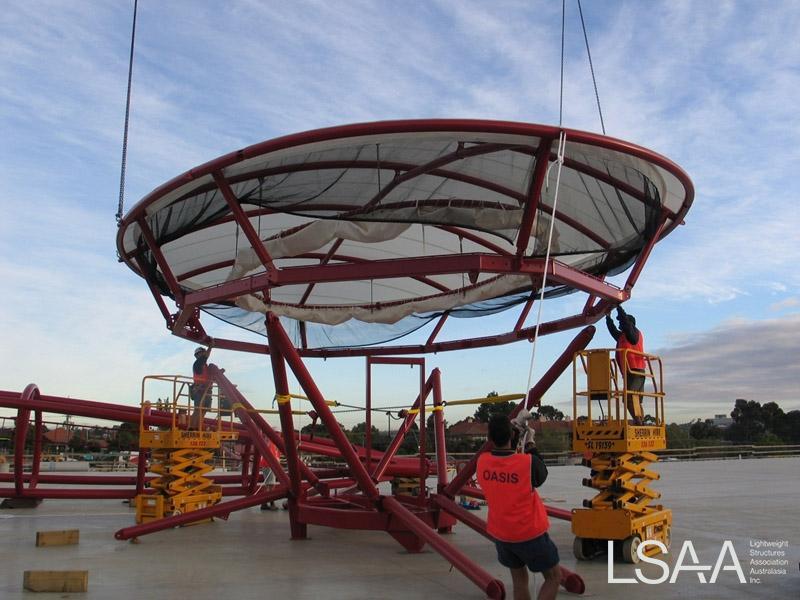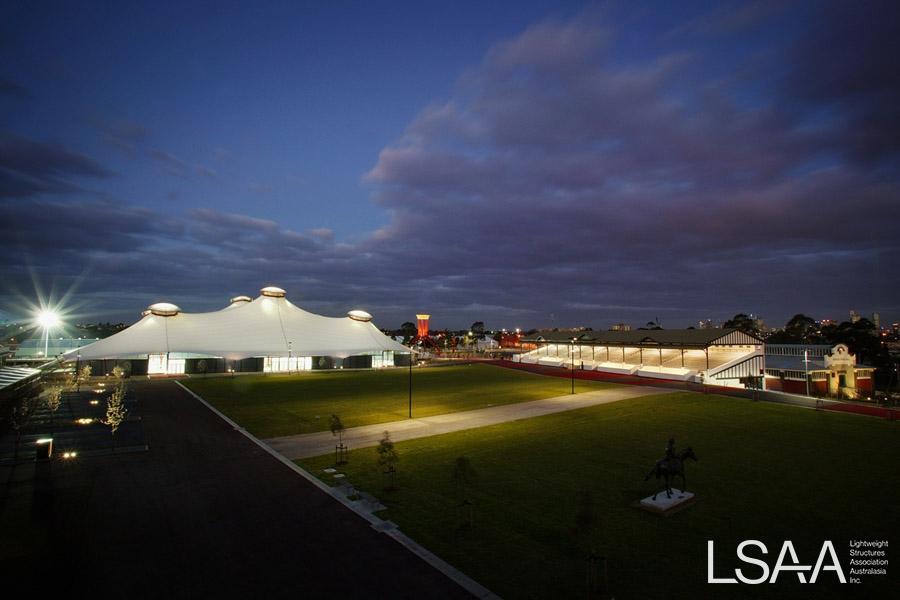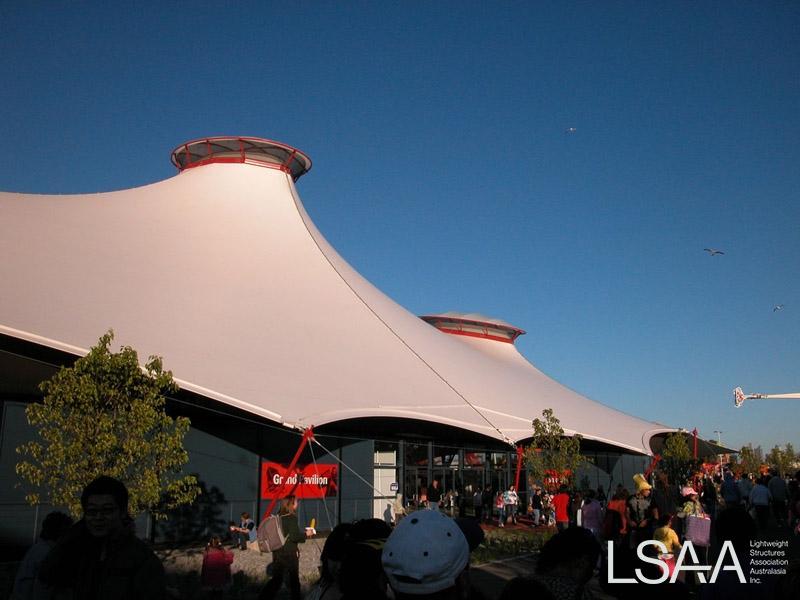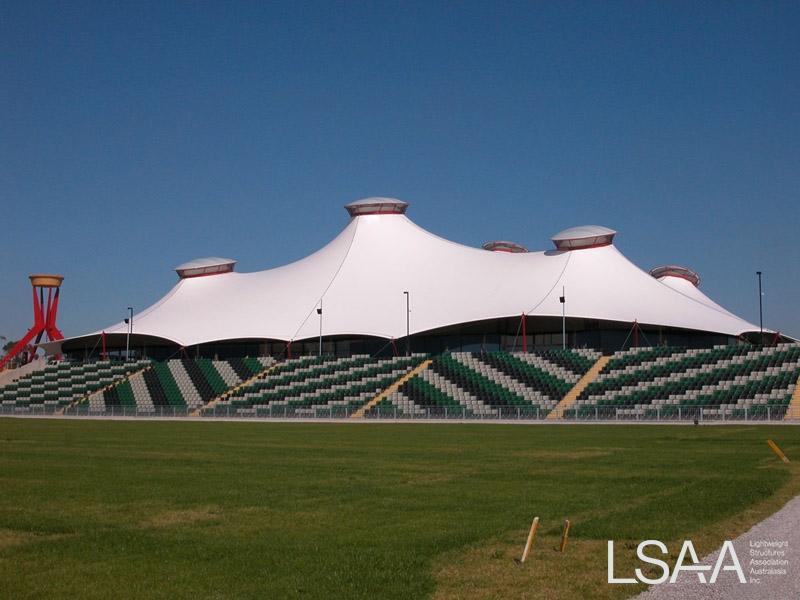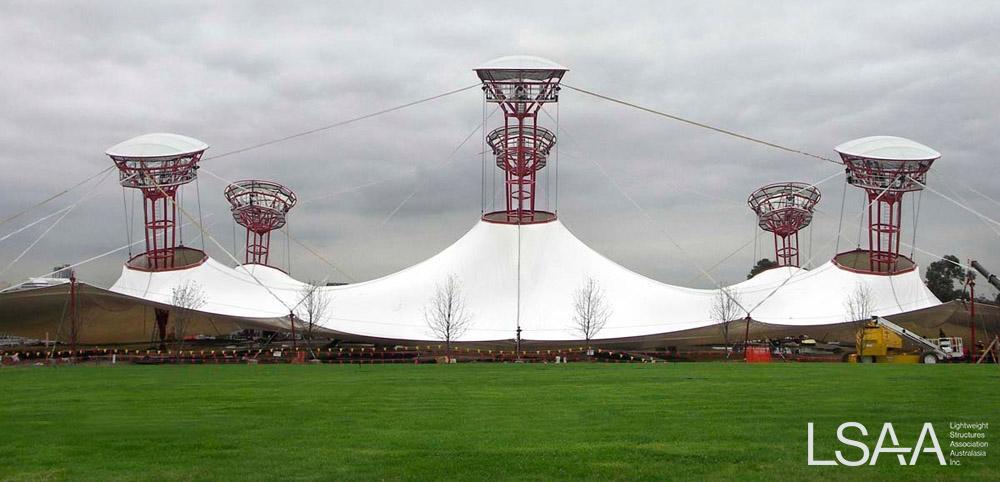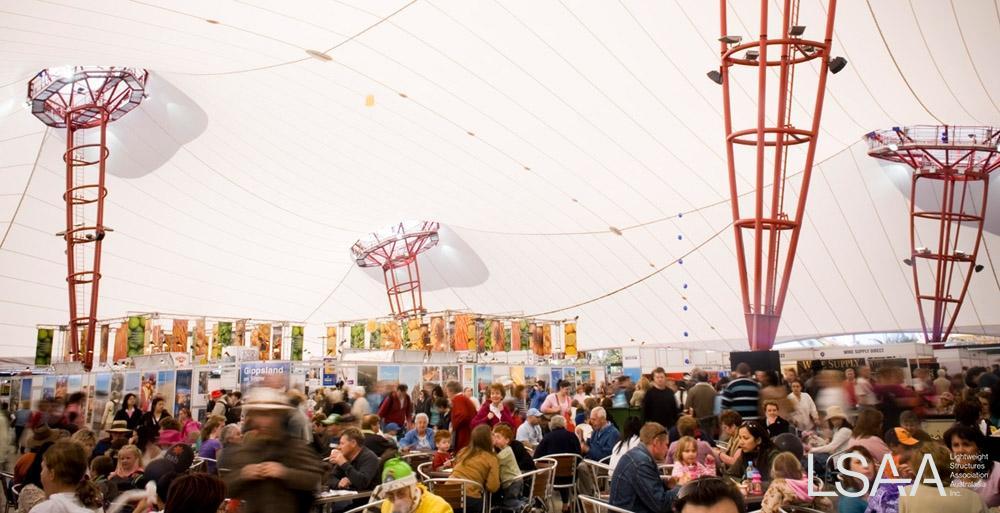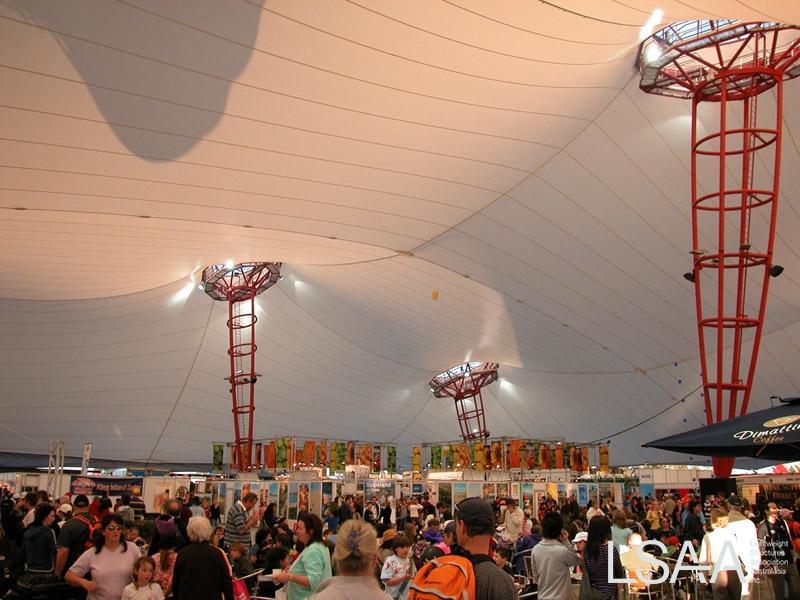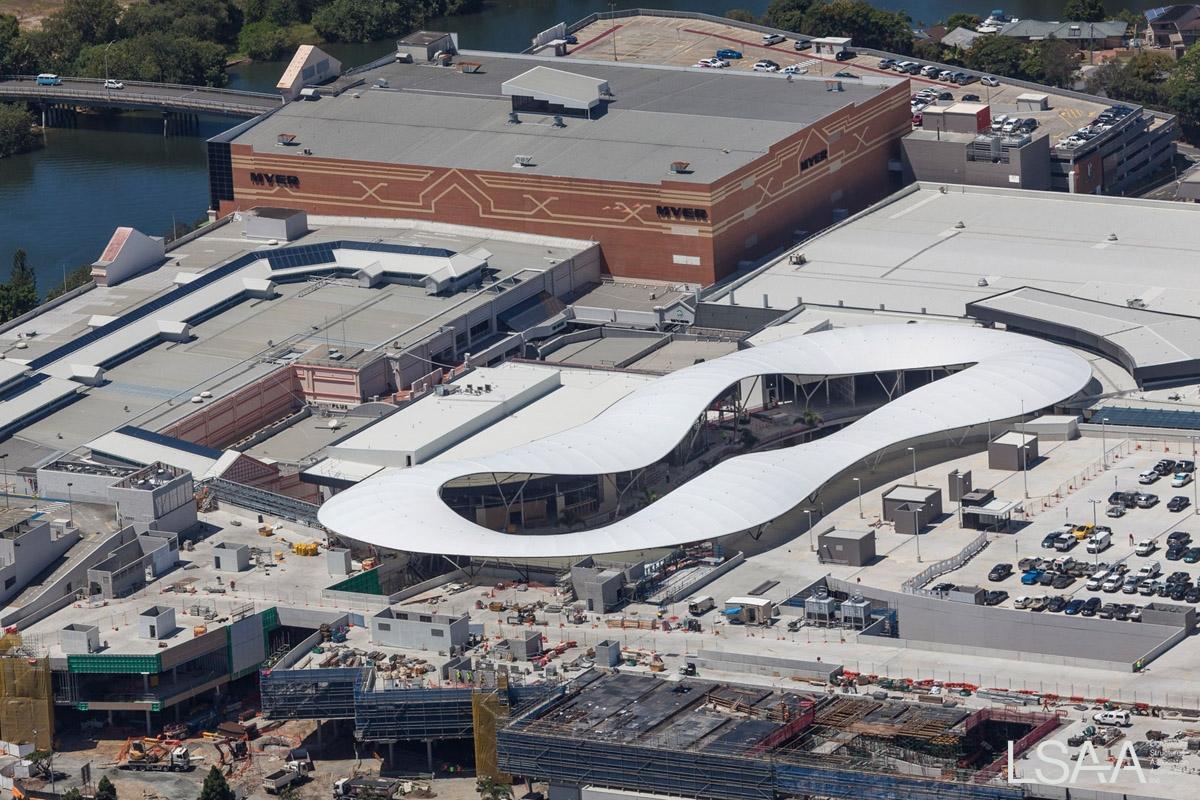 Entered into the LSAA 2016 Design Awards (Cat 4, Large Fabric Structures #4114)
Entrant: Fabritecture (Designer and Installer)
Location: The Esplanade. Completed: 2016
Client: Scentre Group (Westfield)
Team: Scentre Group (Westfield), Wade Design, Textile Fabrication Services, Fabritecture
Application
Statement architectural fabric structure with complex steel geometry and state-of-the-art LED lighting system as part of a $670 million redevelopment of Pacific Fair Shopping Centre on the Gold Coast.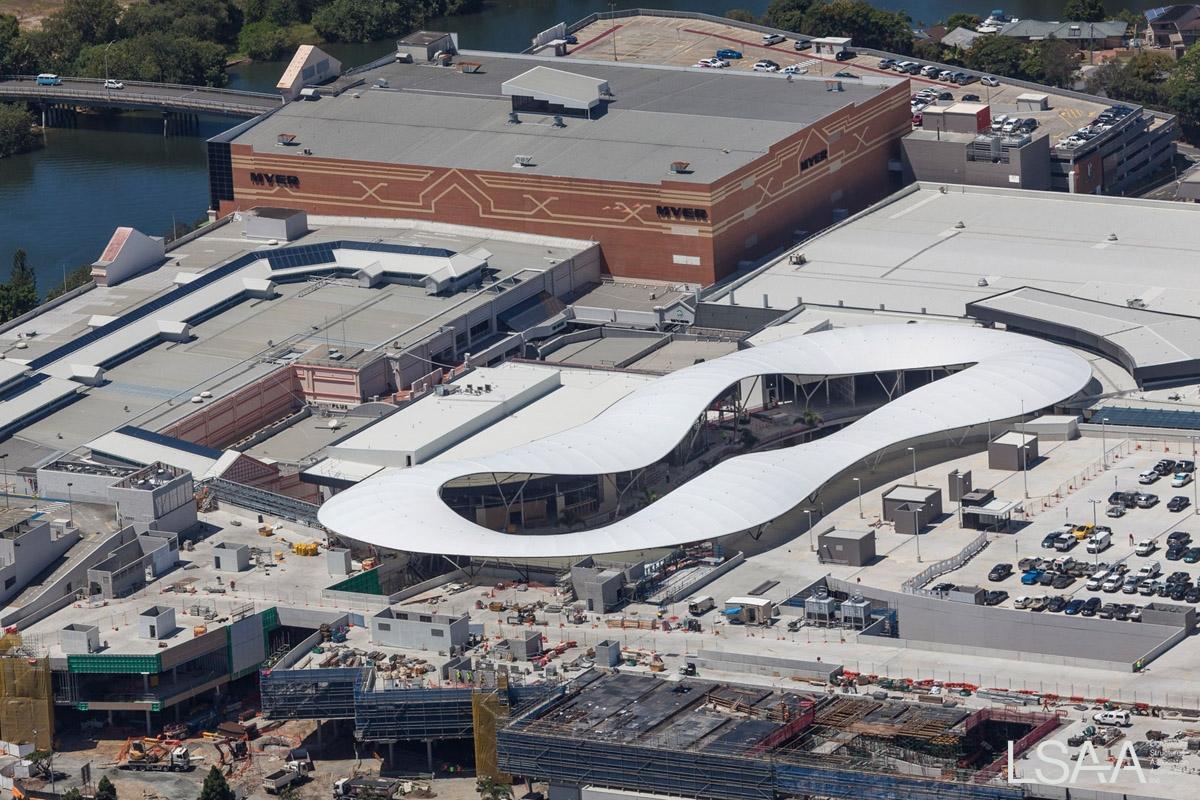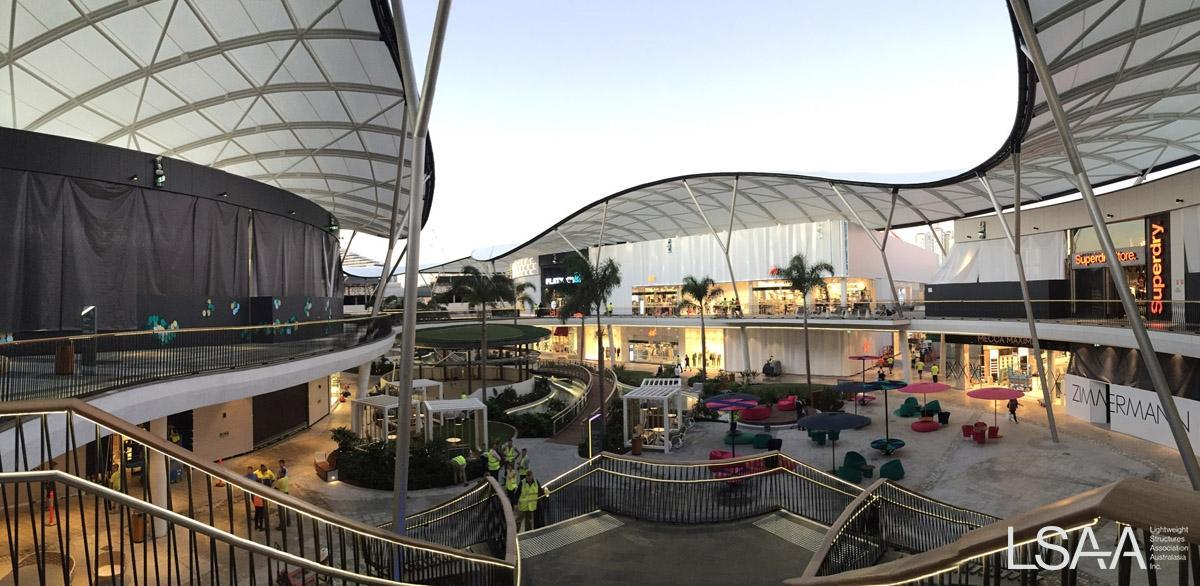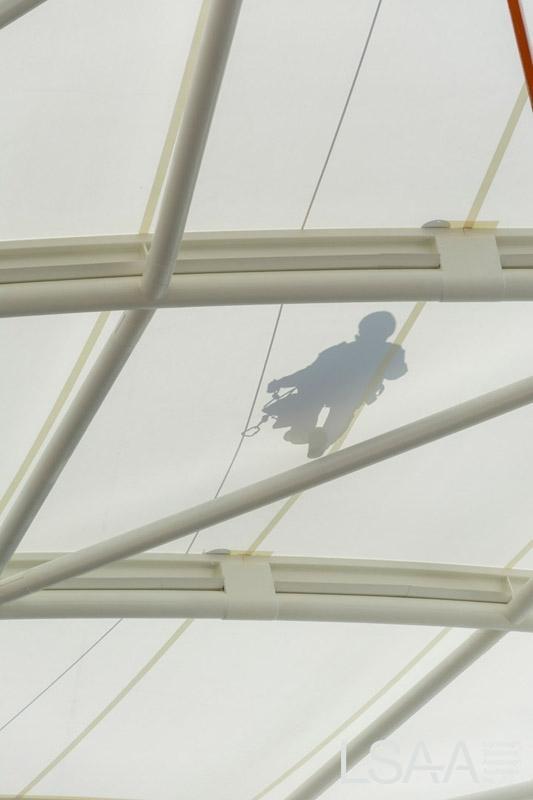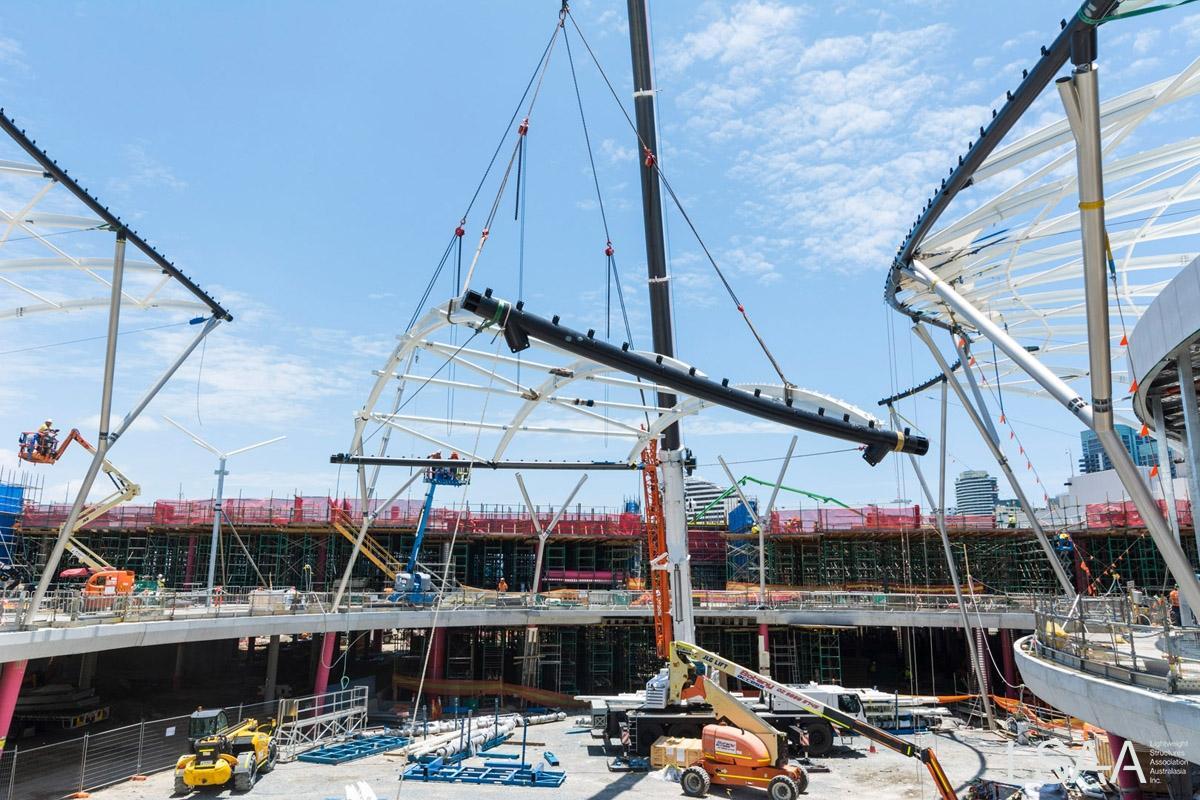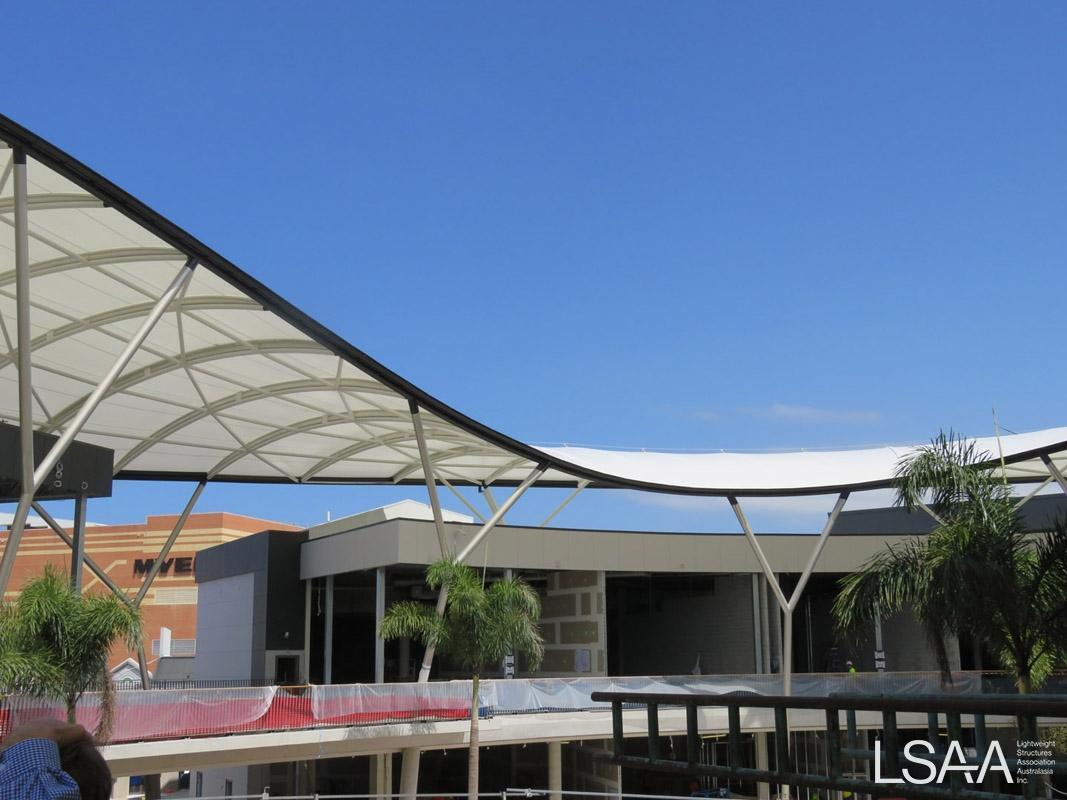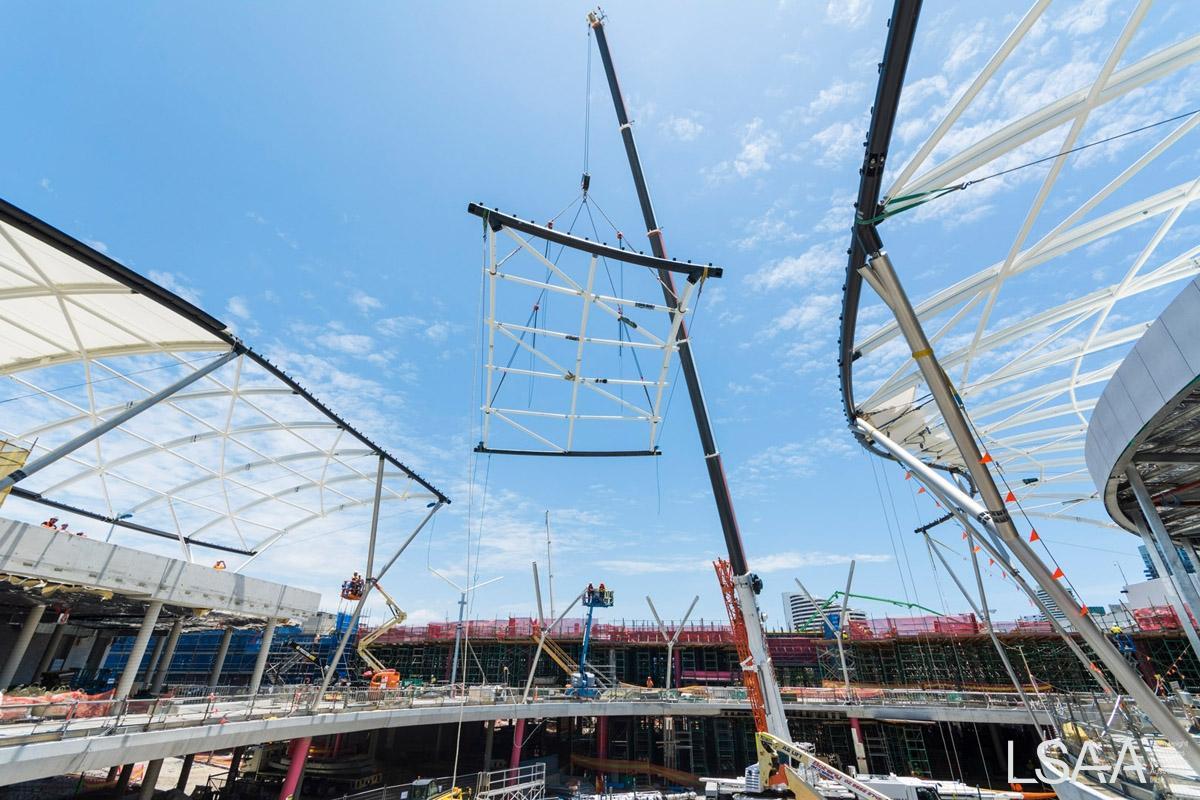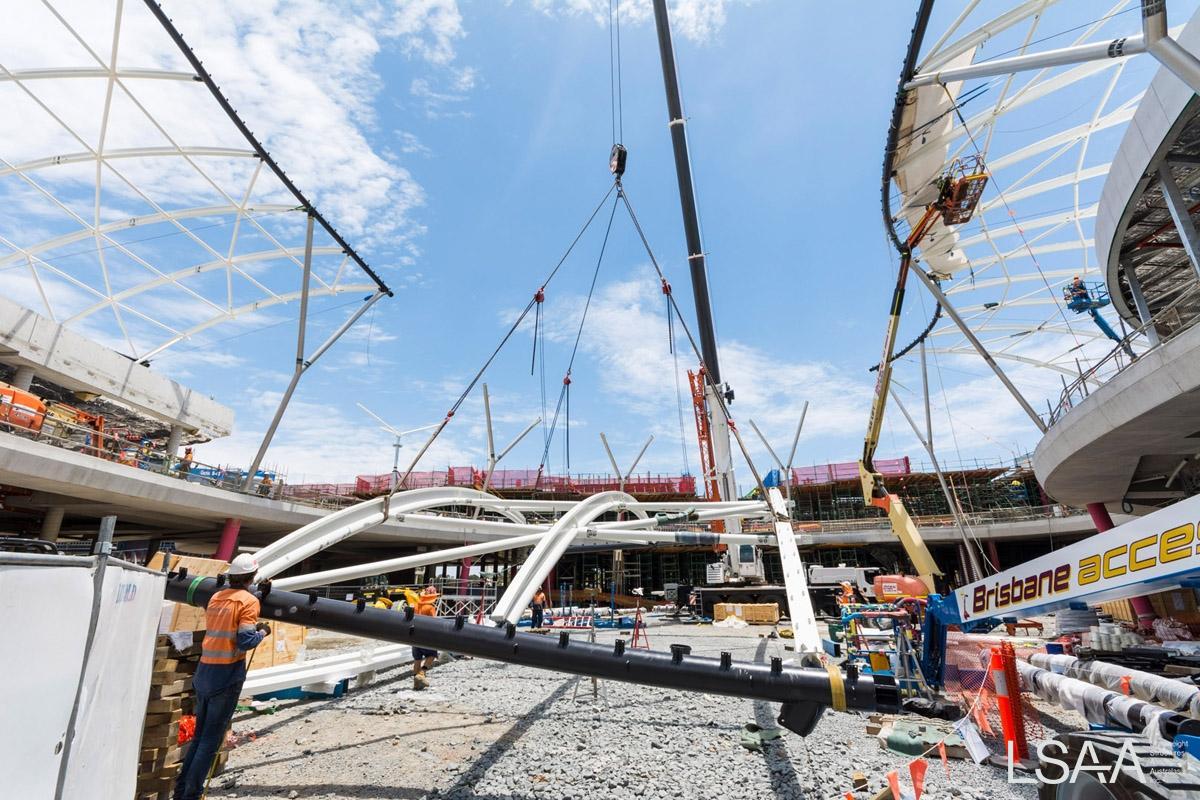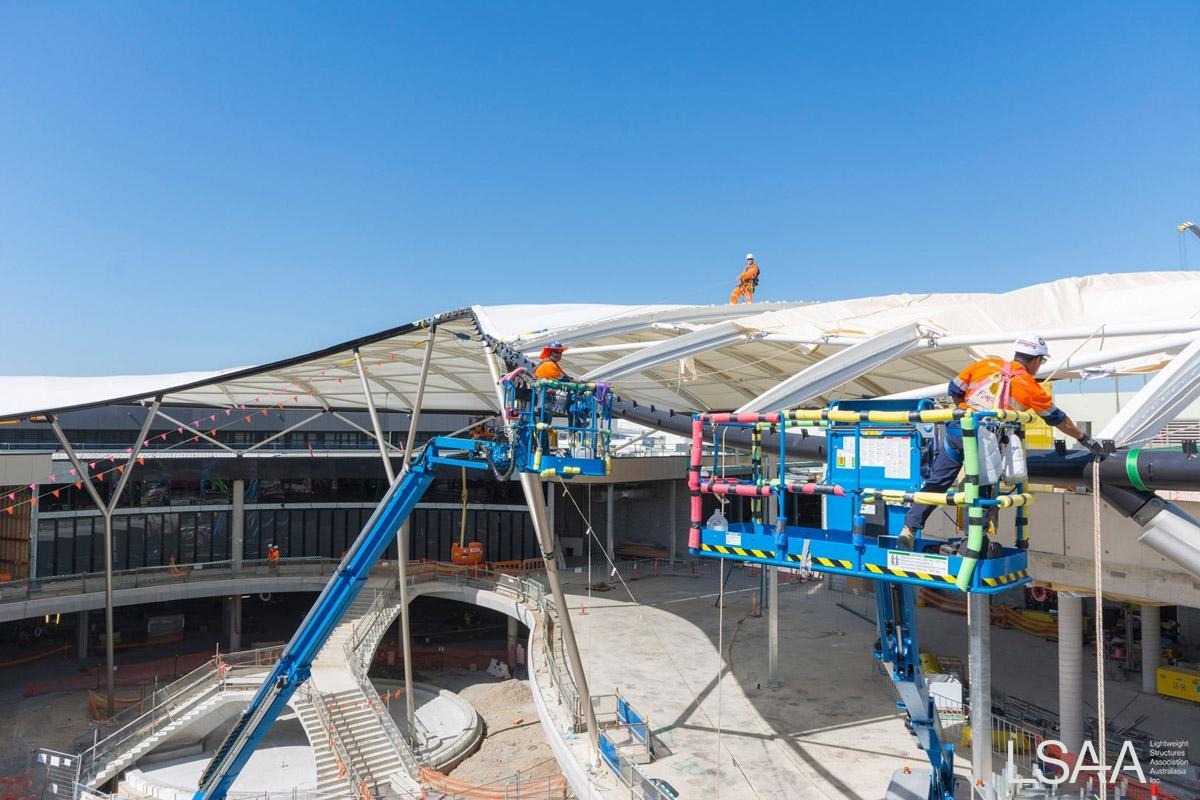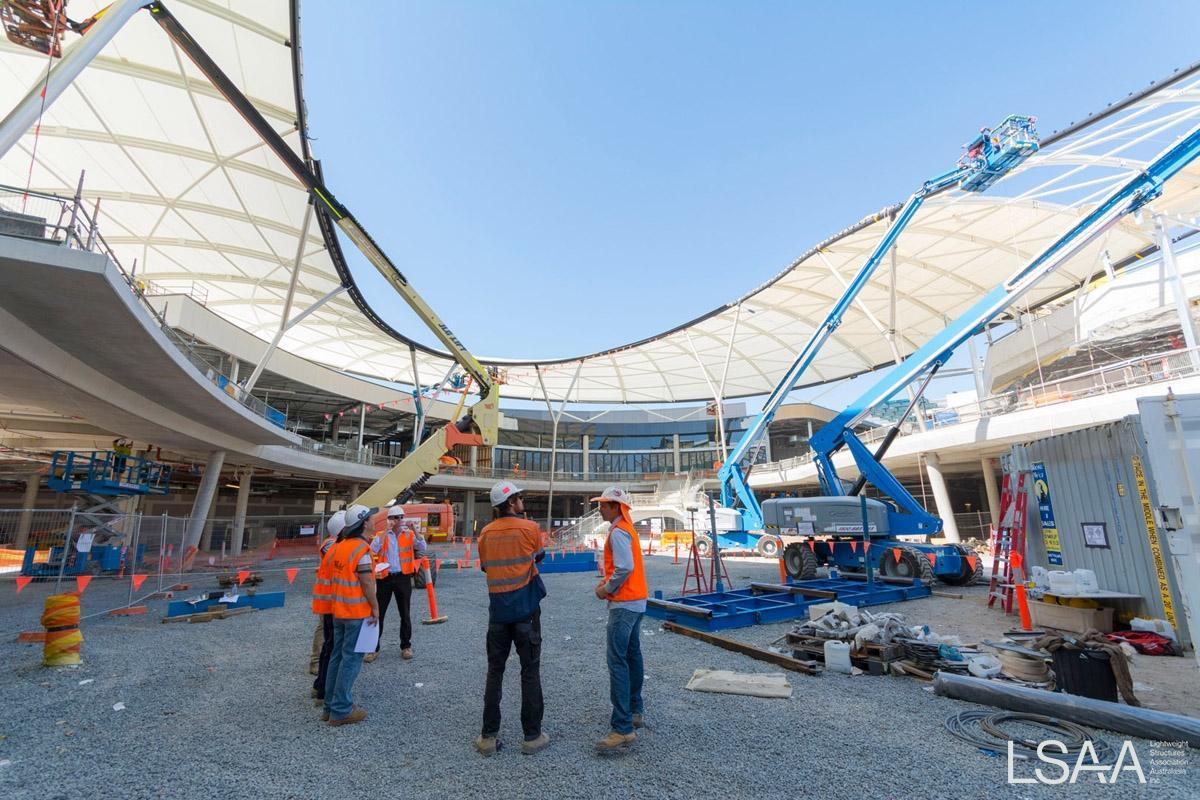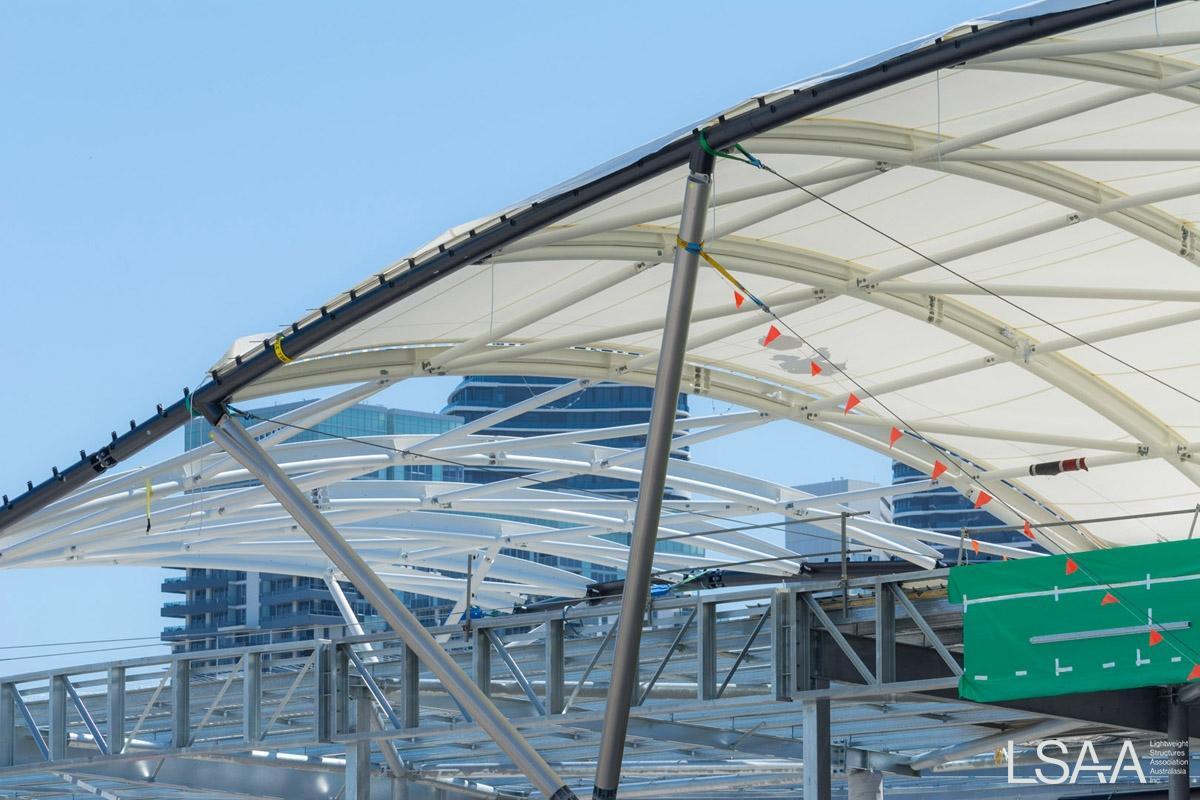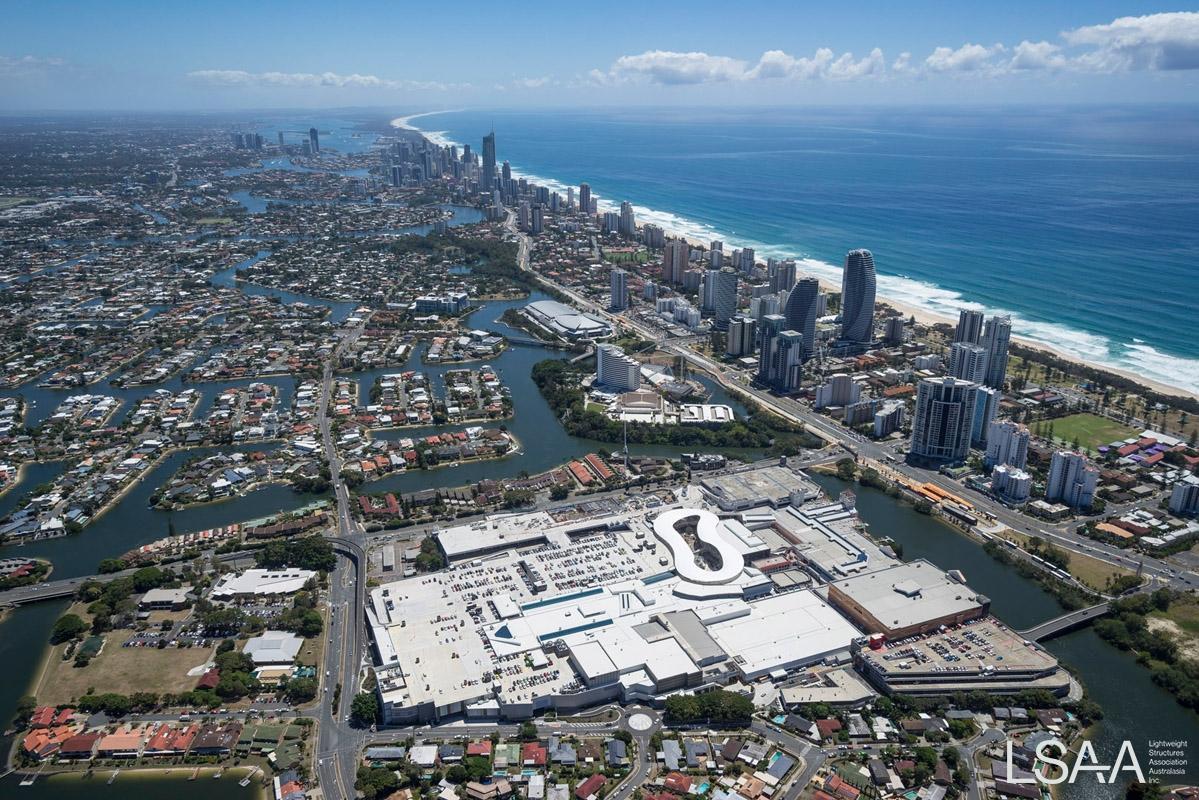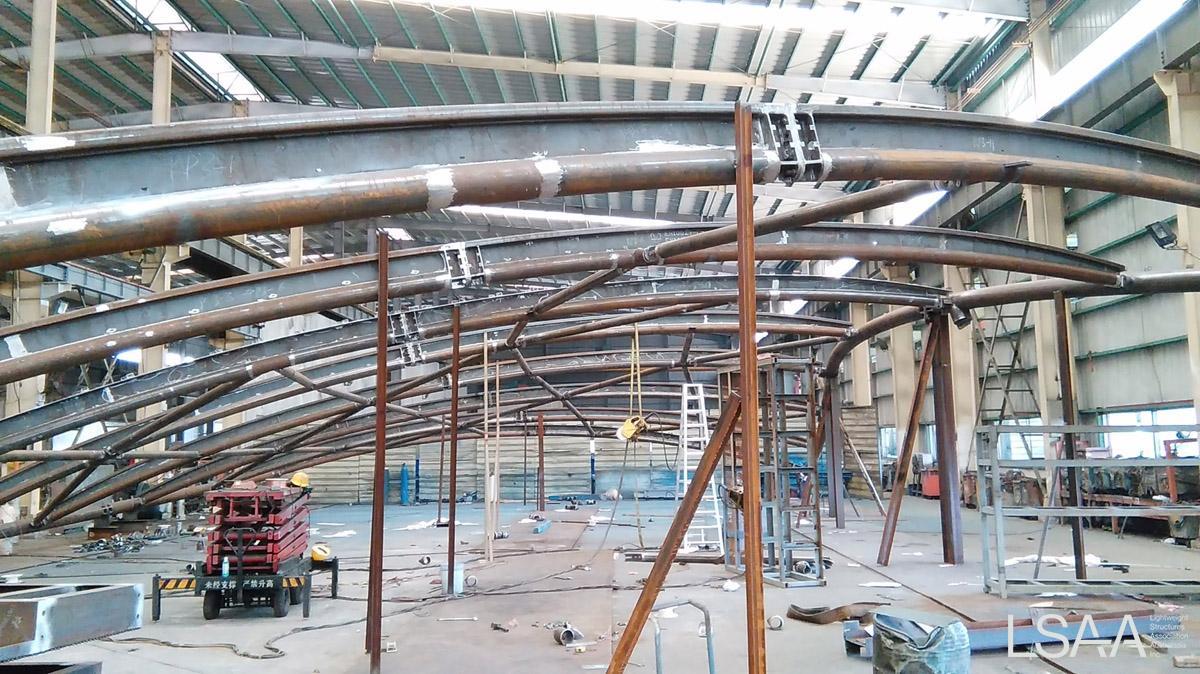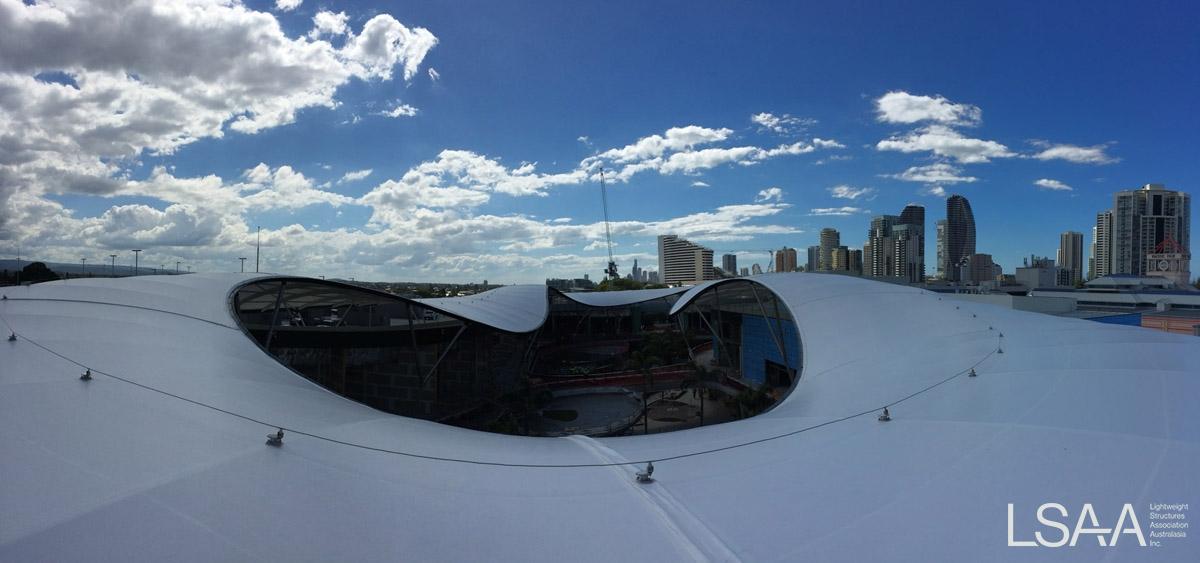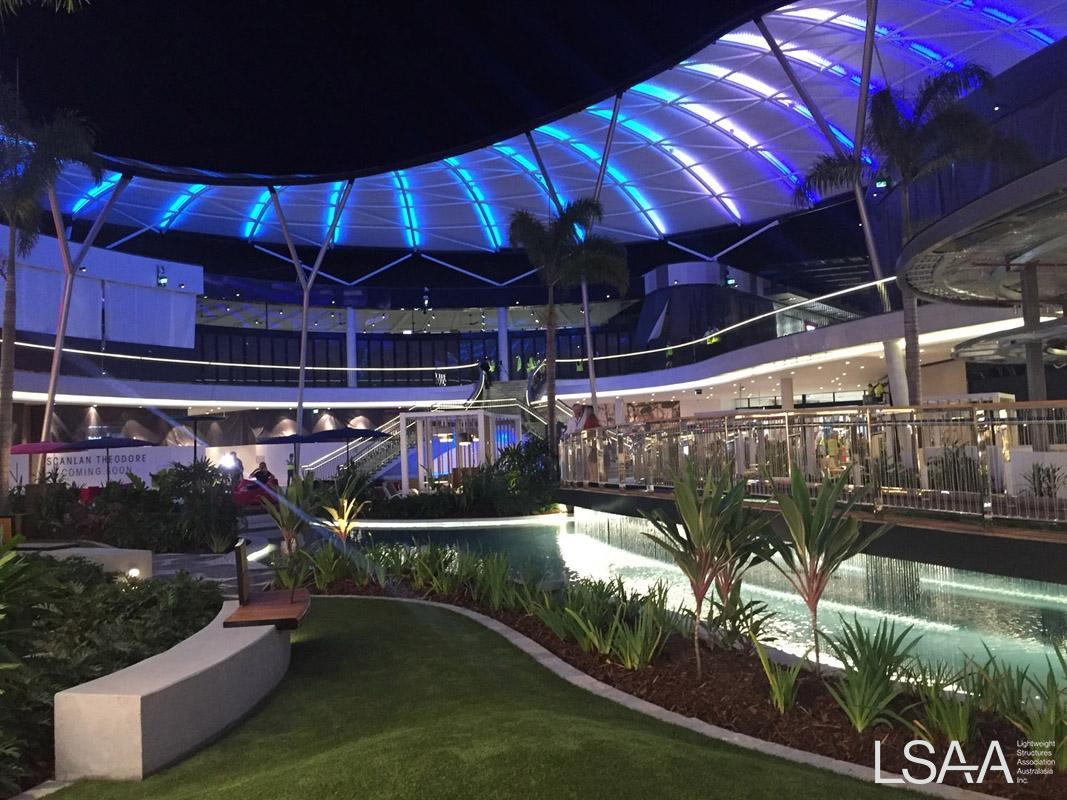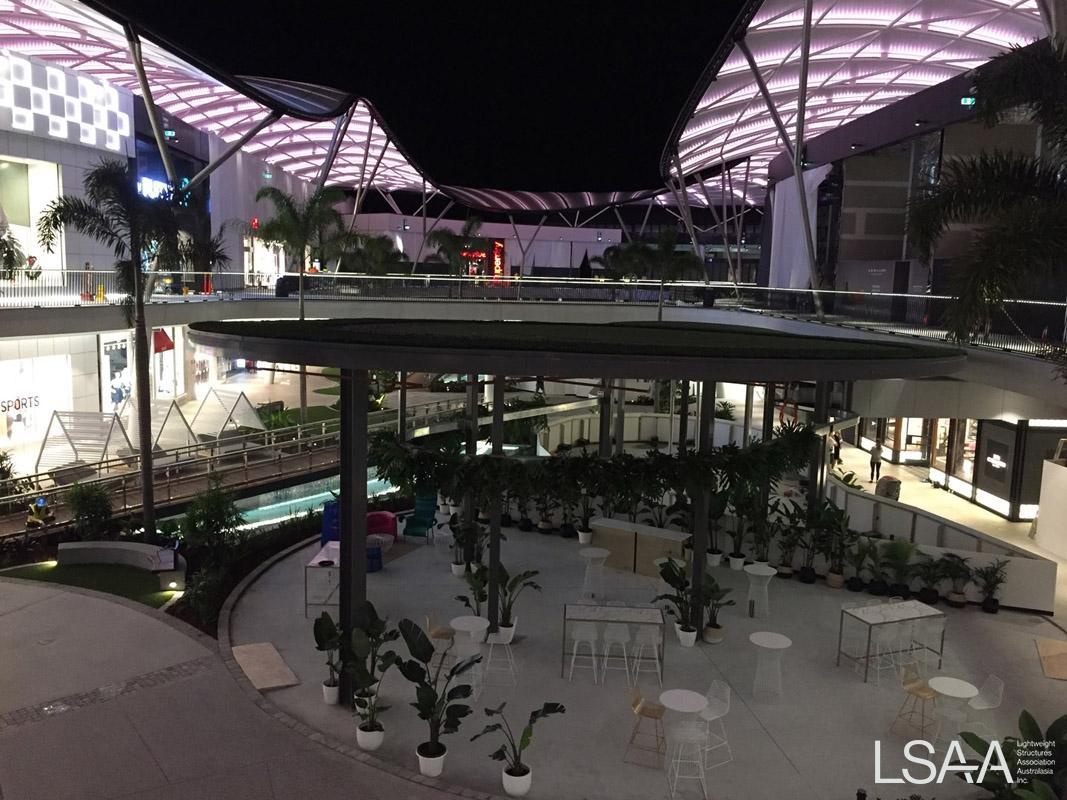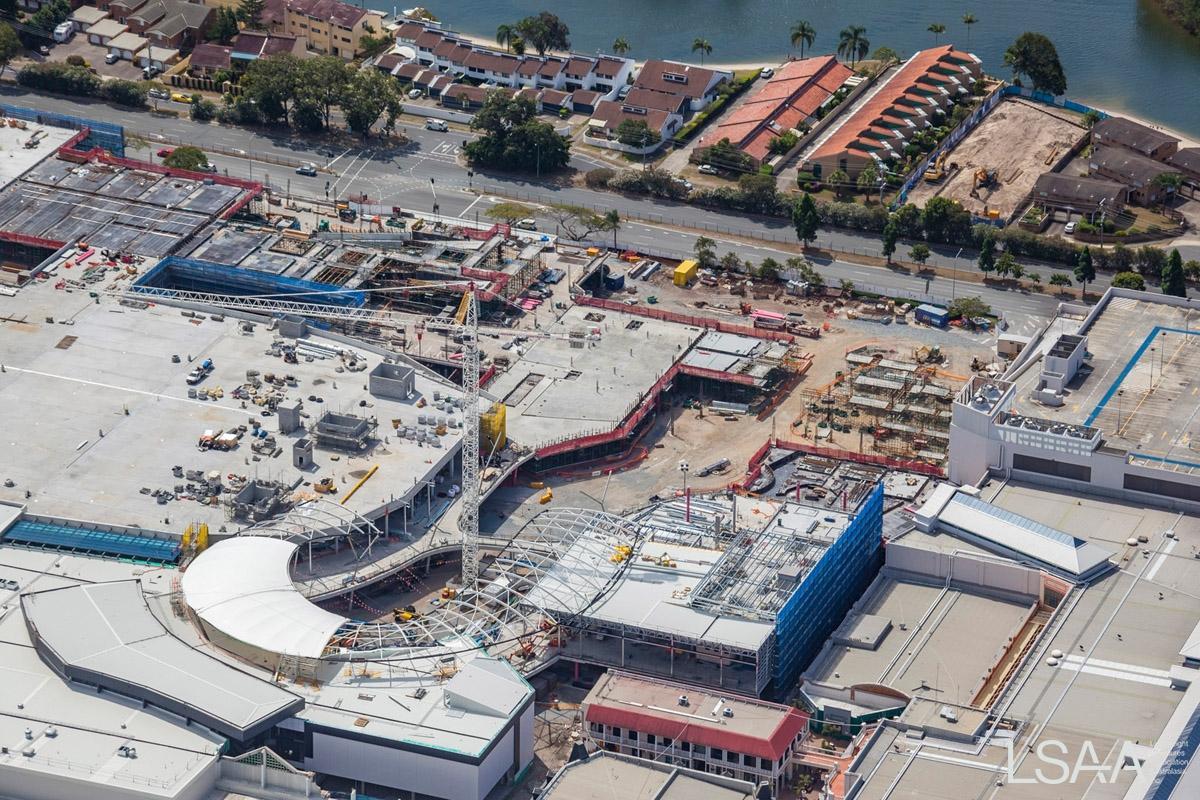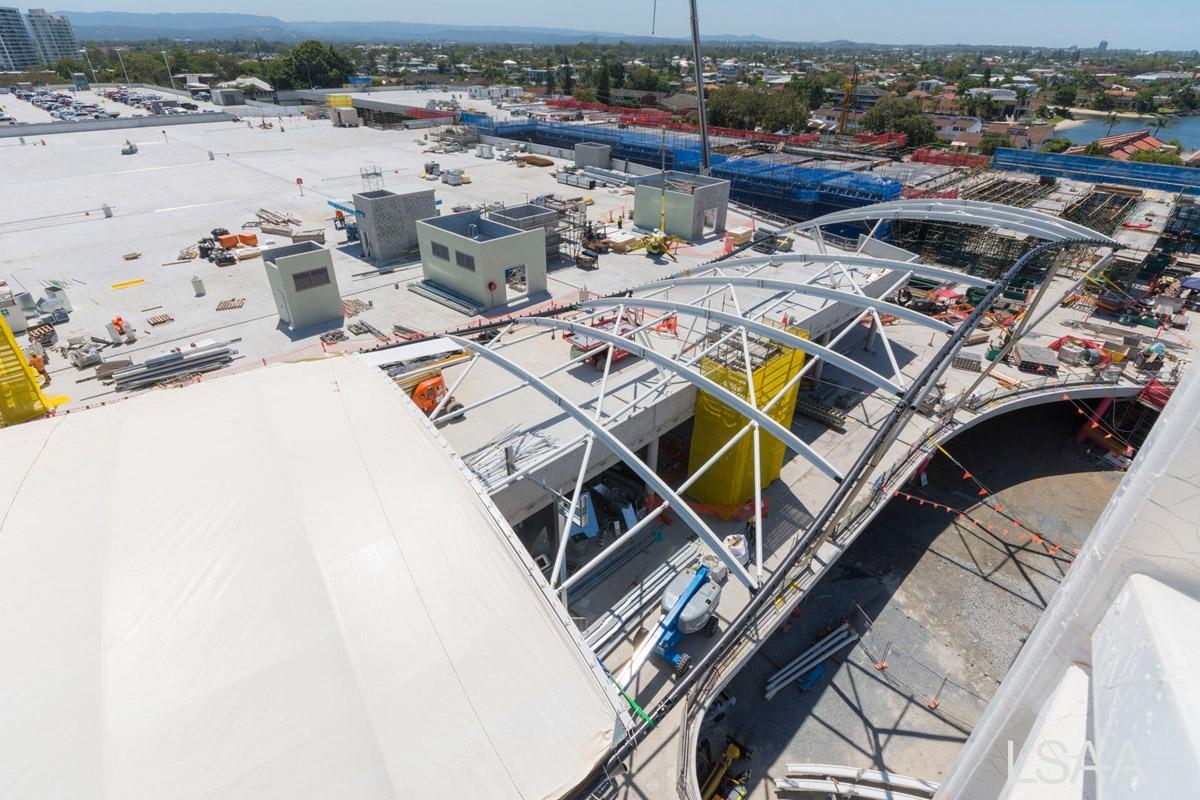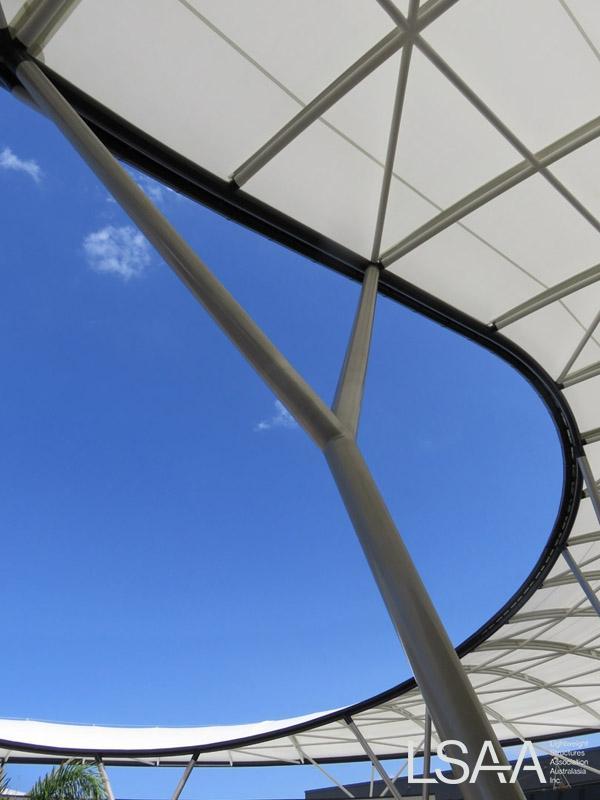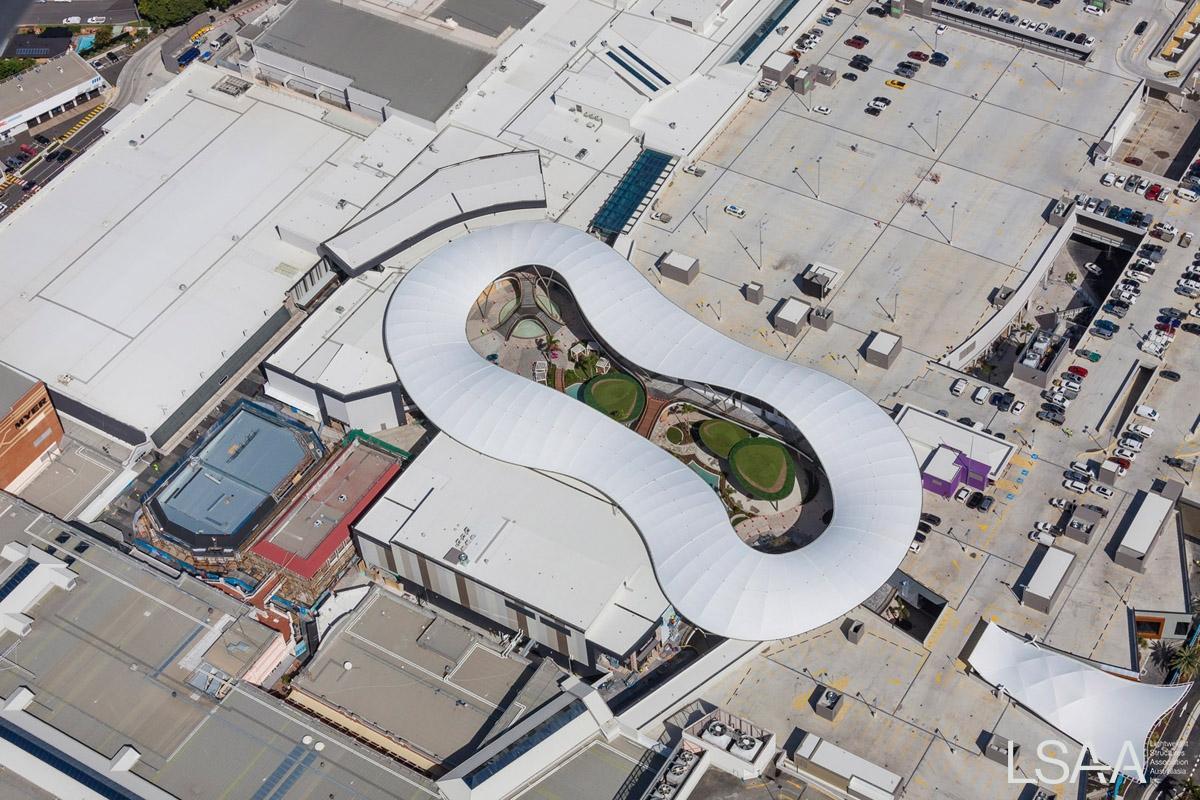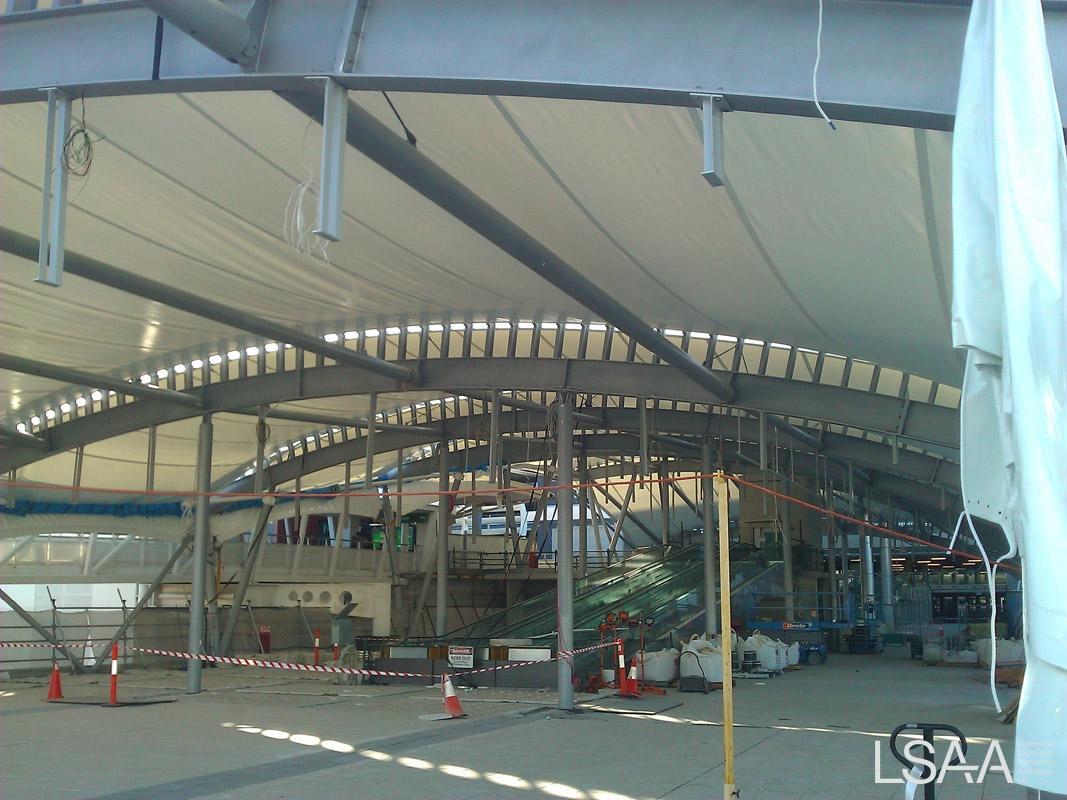 This project was entered in the 2013 LSAA Design Awards
Entrant: MakMax Australia
Category: 4 ID Number: #4302

Location: Brisbane Domestic Airport

Client: Brisbane Airport Corporation

Completion Date: June 2012
APPLICATION OF PROJECT: Pedestrian bridge roof, open air.
PROJECT DESCRIPTION:
This airport terminal access project involves the construction of a major pedestrian bridge linking a new multi-level car park and train platforms to the terminal building one of the country's business airports.
This covered walkway project is part of a larger group of construction projects which serve to improve all pedestrian and vehicular traffic at the airport.
Our client requested design, fabrication and installation of the tensioned membrane roof system. The purpose was purely weather protection for pedestrian traffic on new pedestrian access bridge.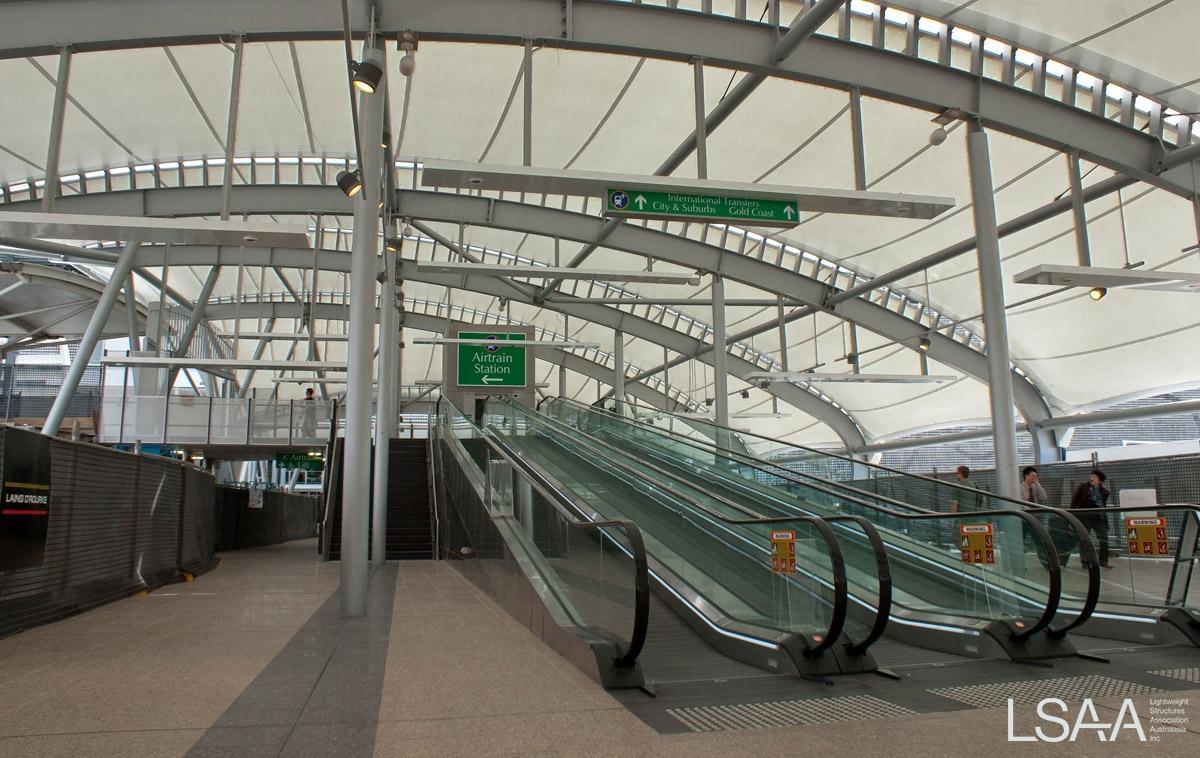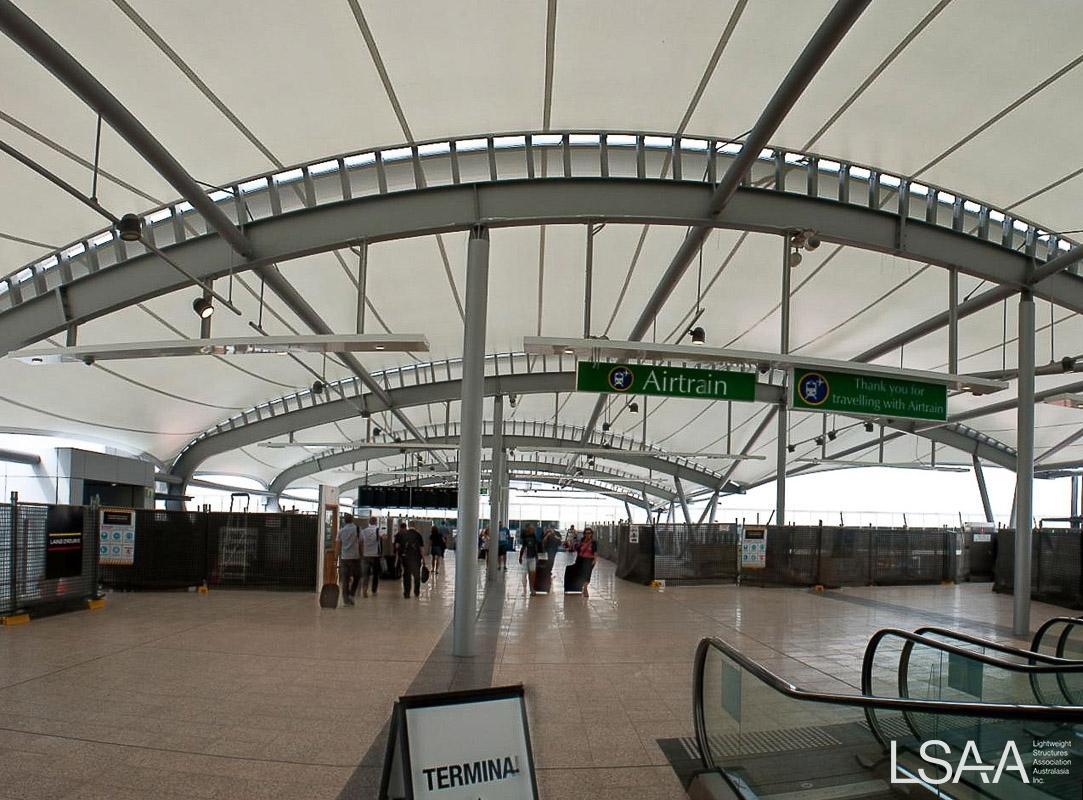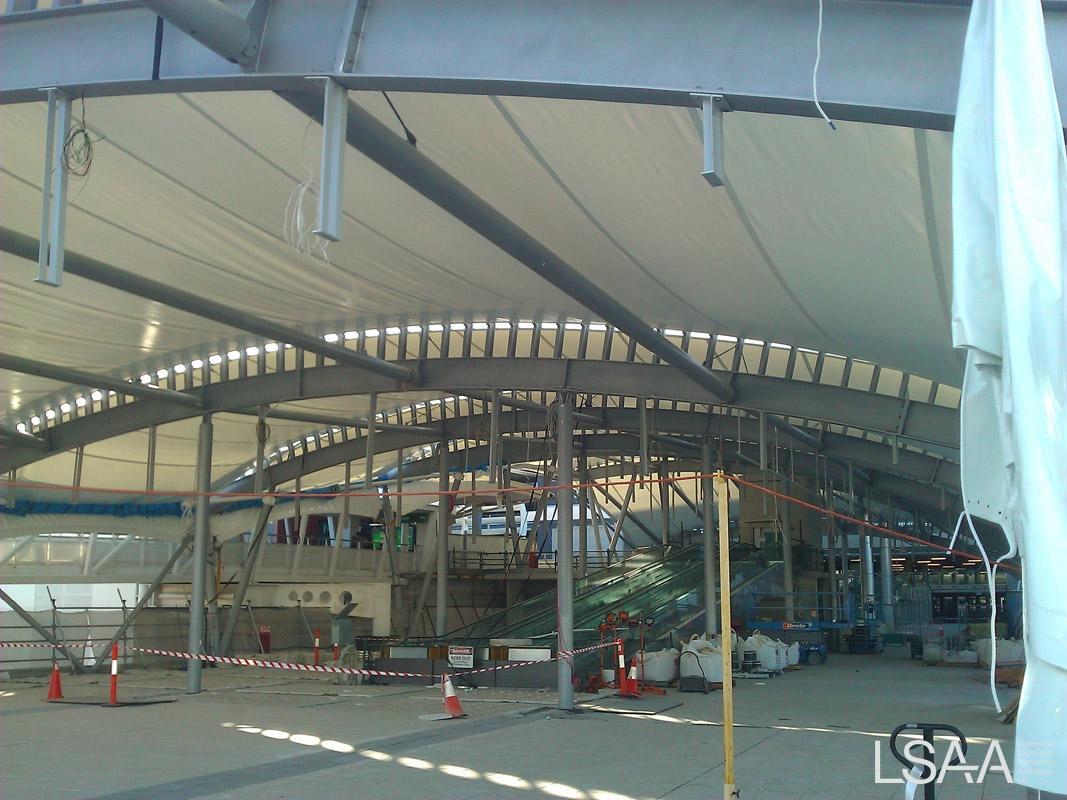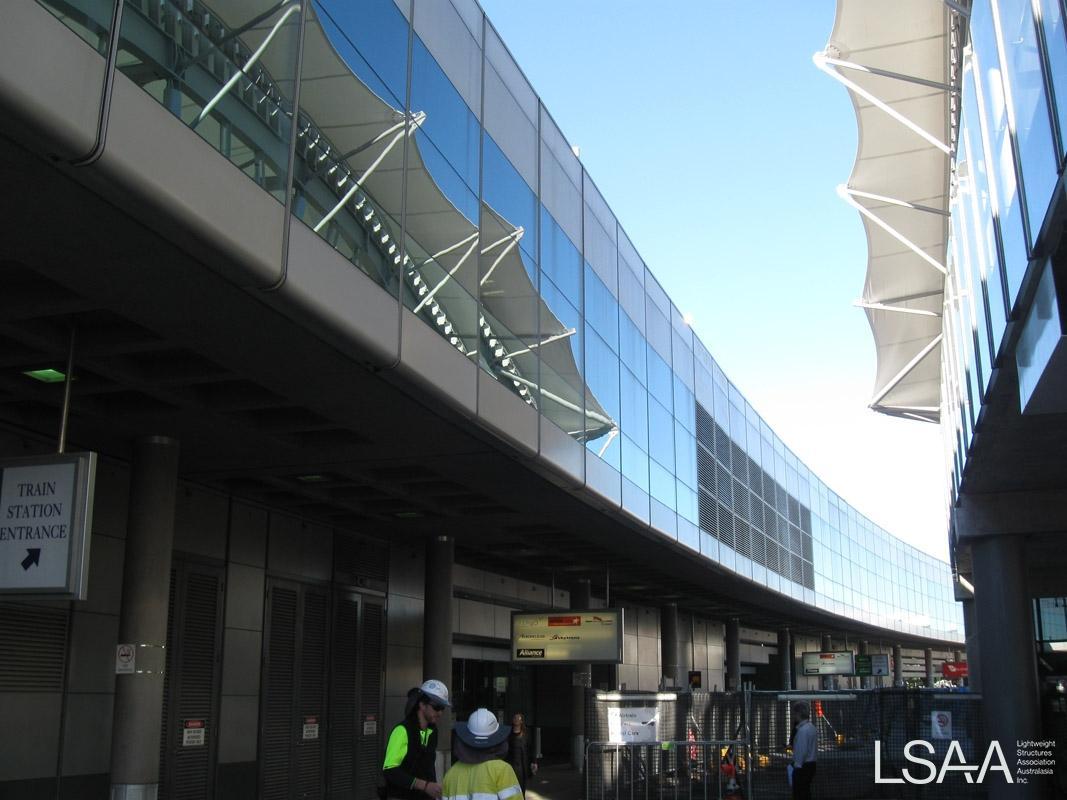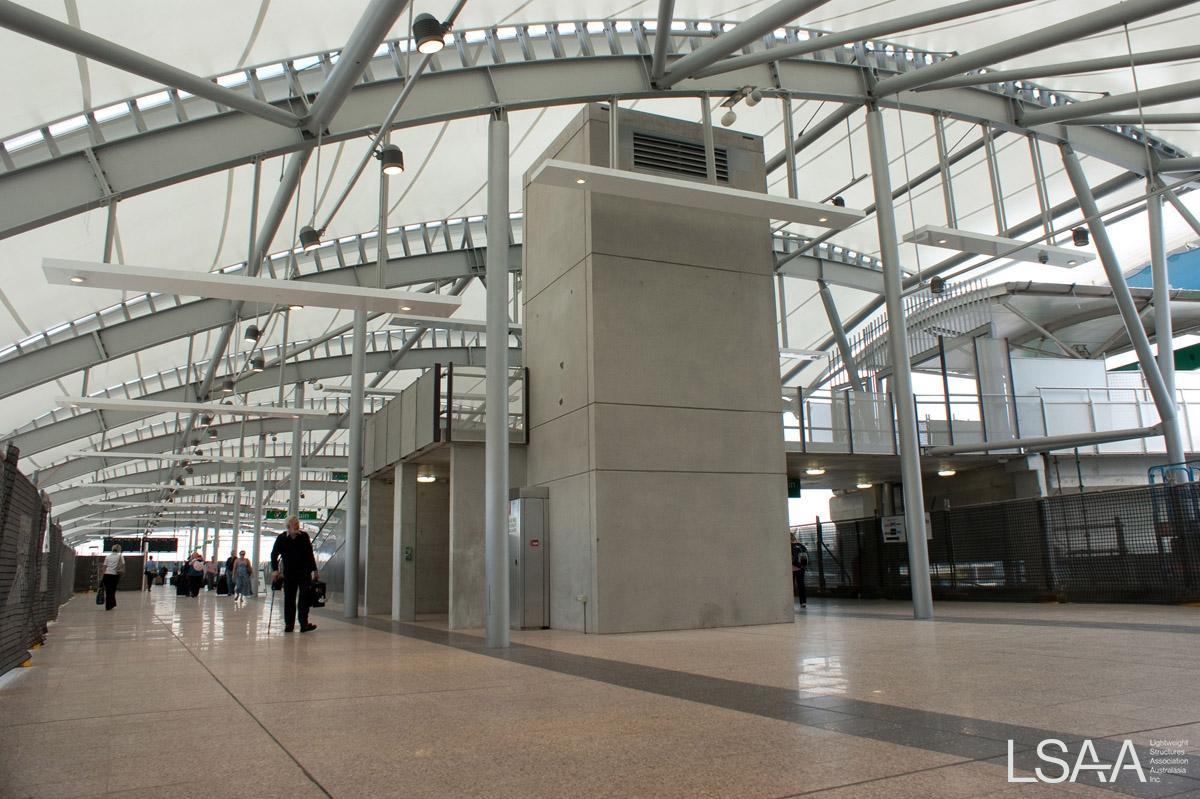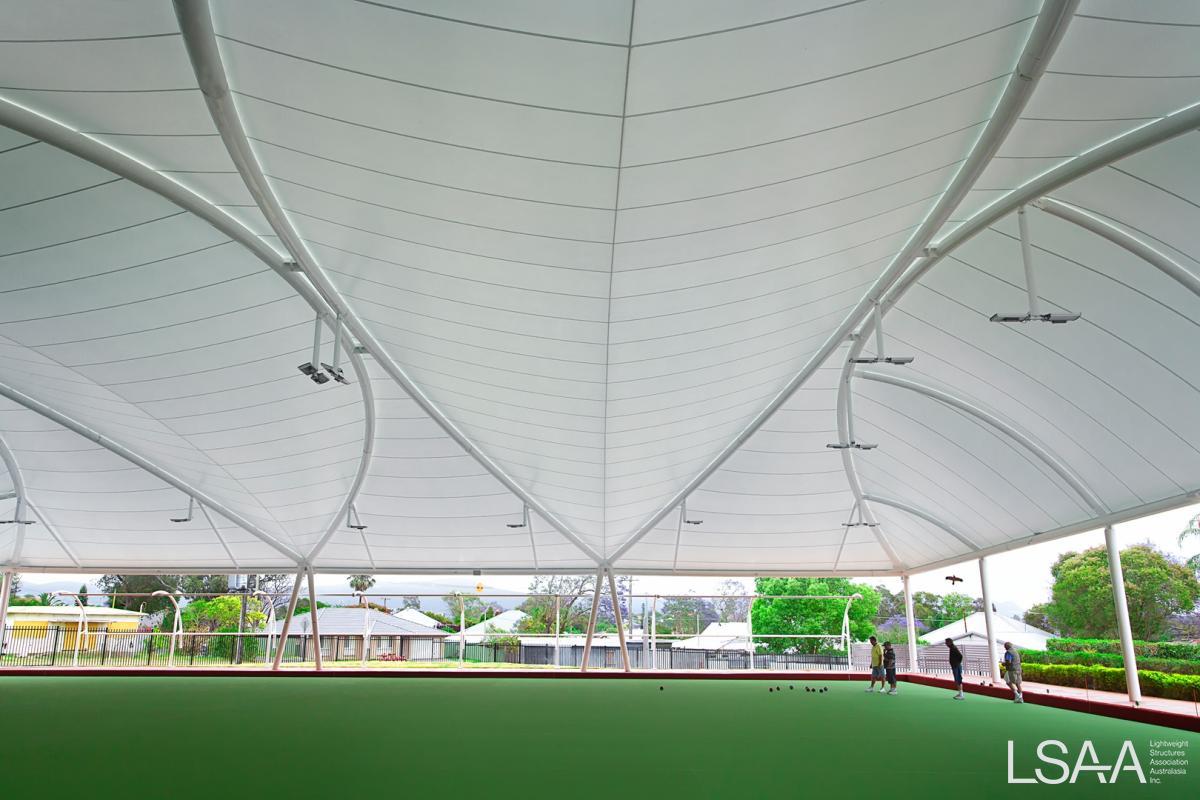 This project was entered in the 2013 LSAA Design Awards (Large Structures, 4352)
East Cessnock Bowling Club
Entrant: Light Weight Structures
Location: Neath Street Cessnock NSW

Client: East Cessnock Bowls Club

Completion Date: September 2012
APPLICATION OF PROJECT:
The project covered one Bowling Green measuring 1820 sqmts. The project was designed to offer weather protection to bowlers, including night time use of the Bowling Green (in a residential setting) and minimal cleaning maintenance over the life of the structure.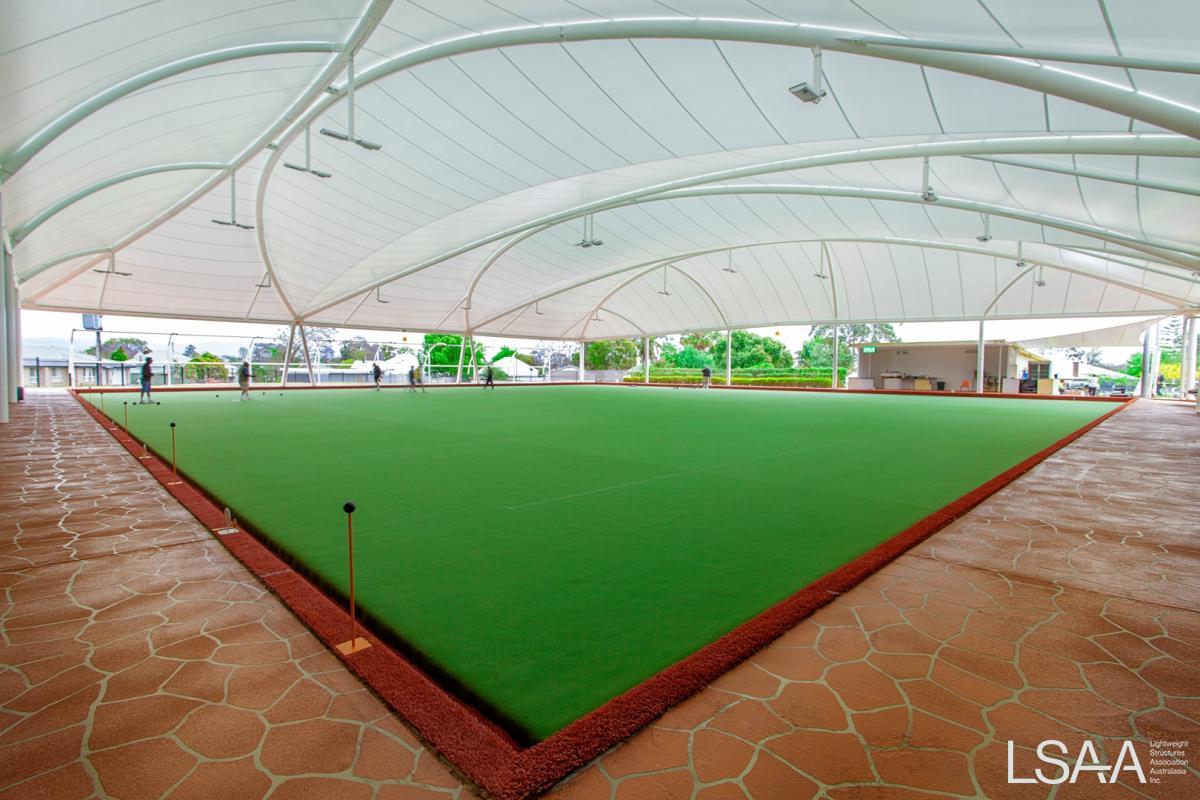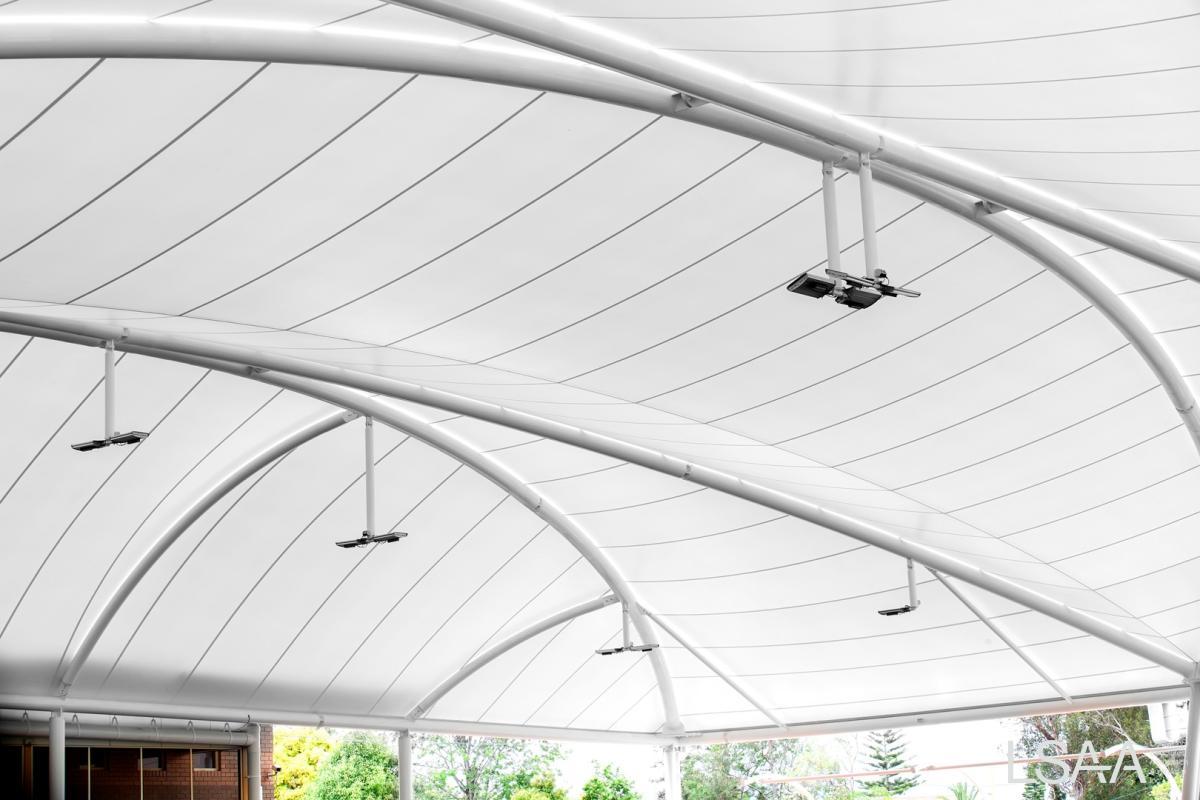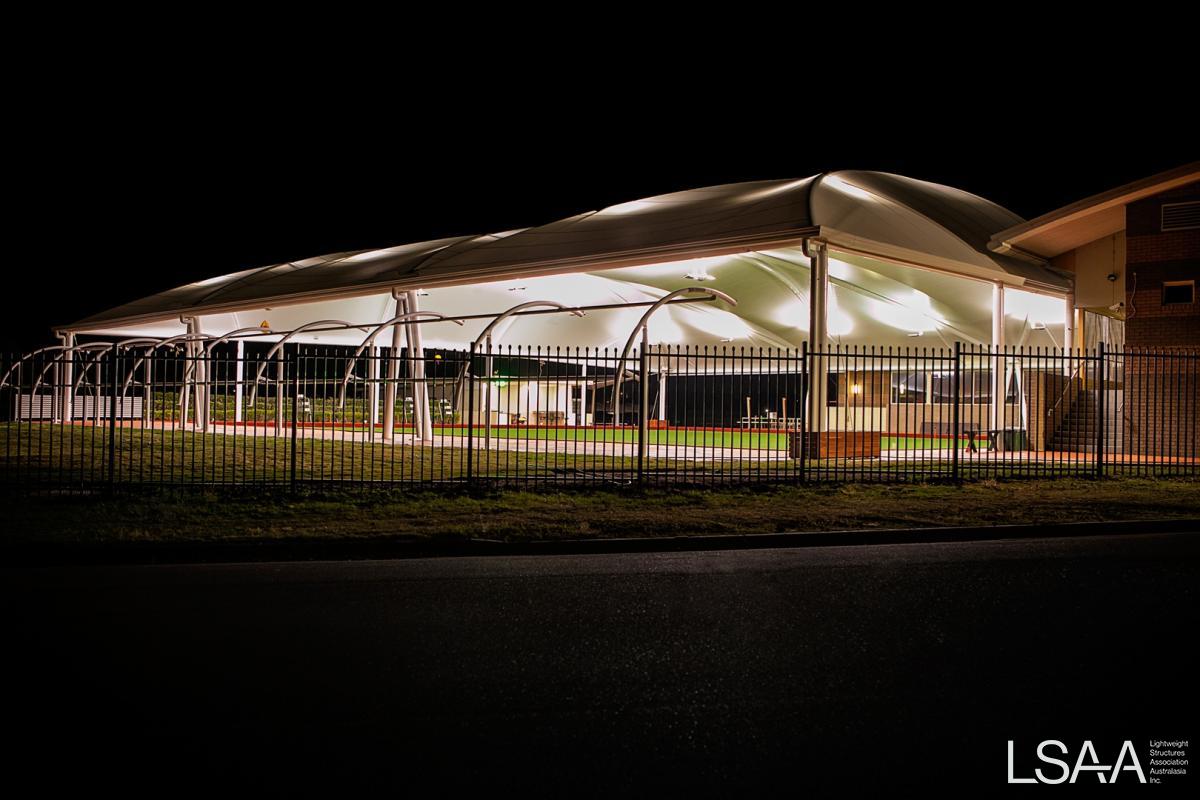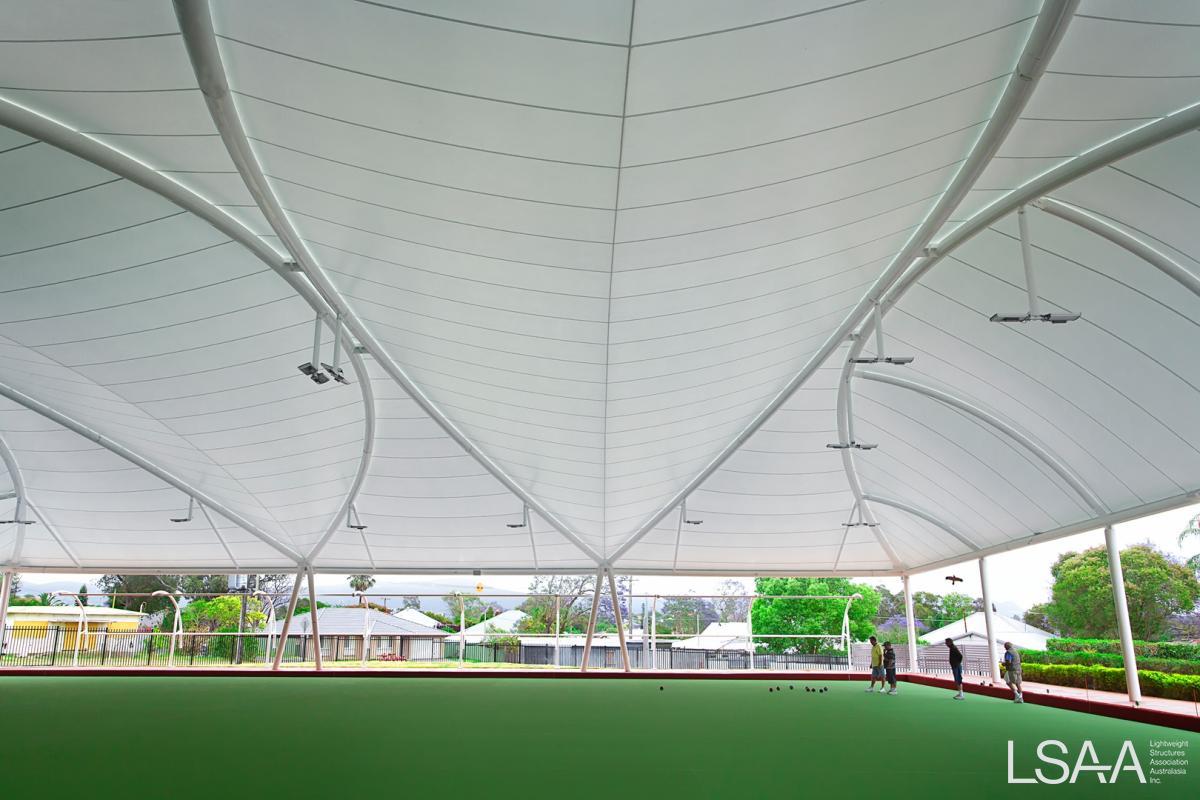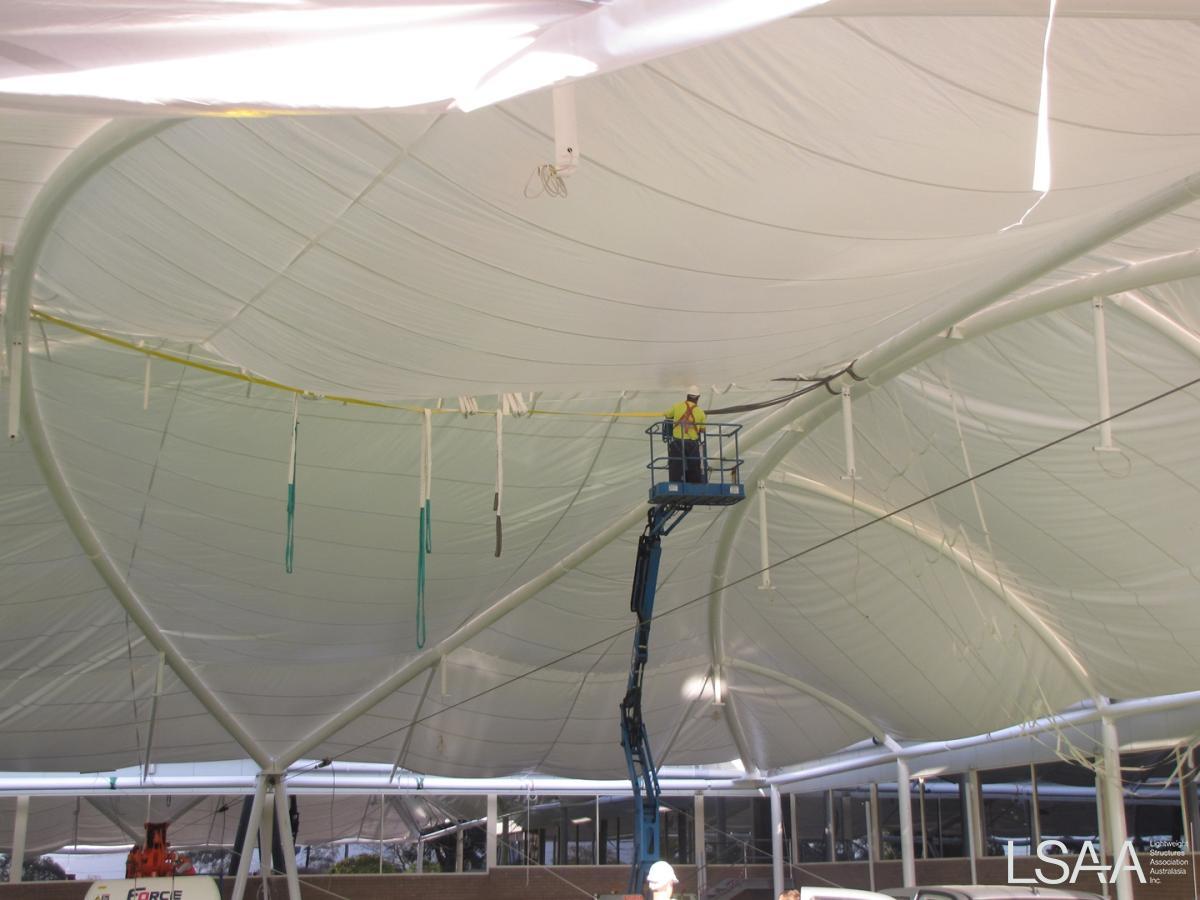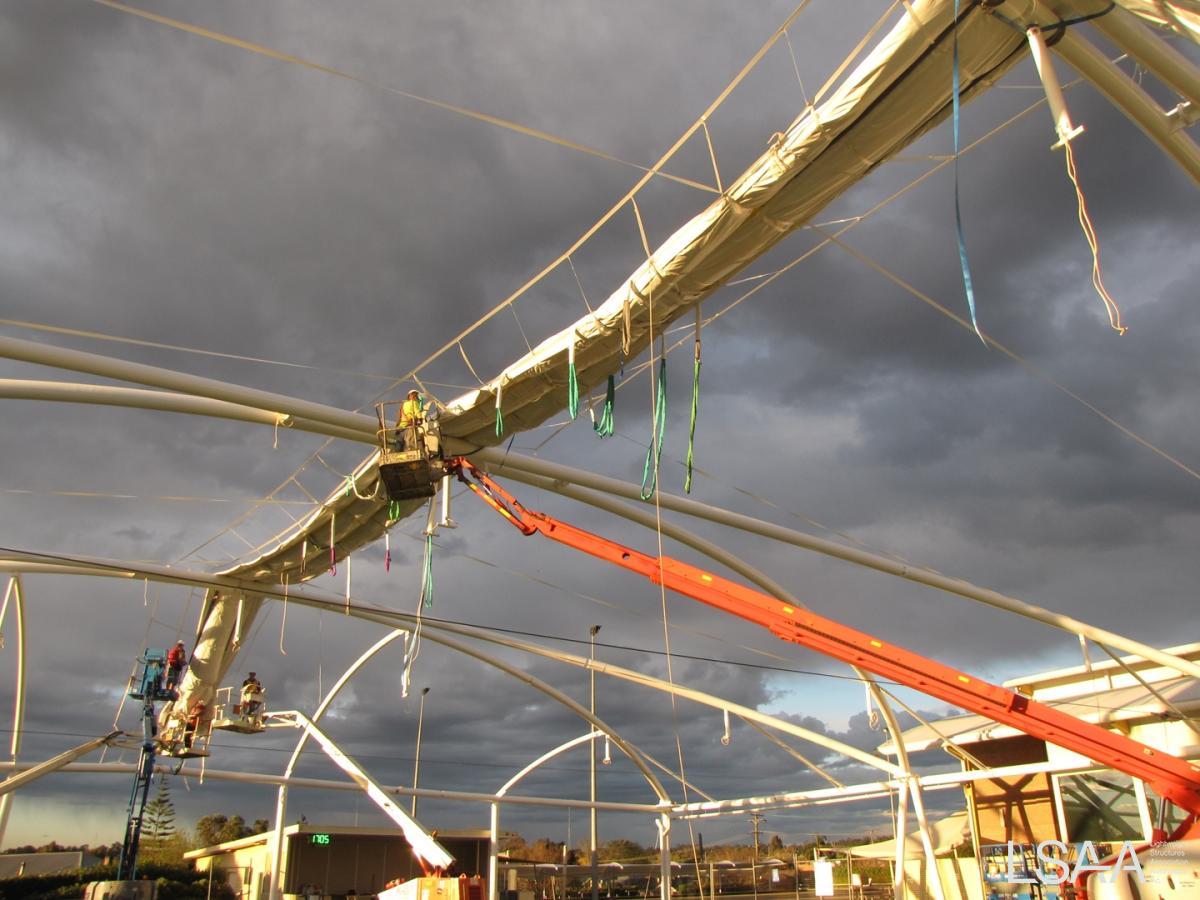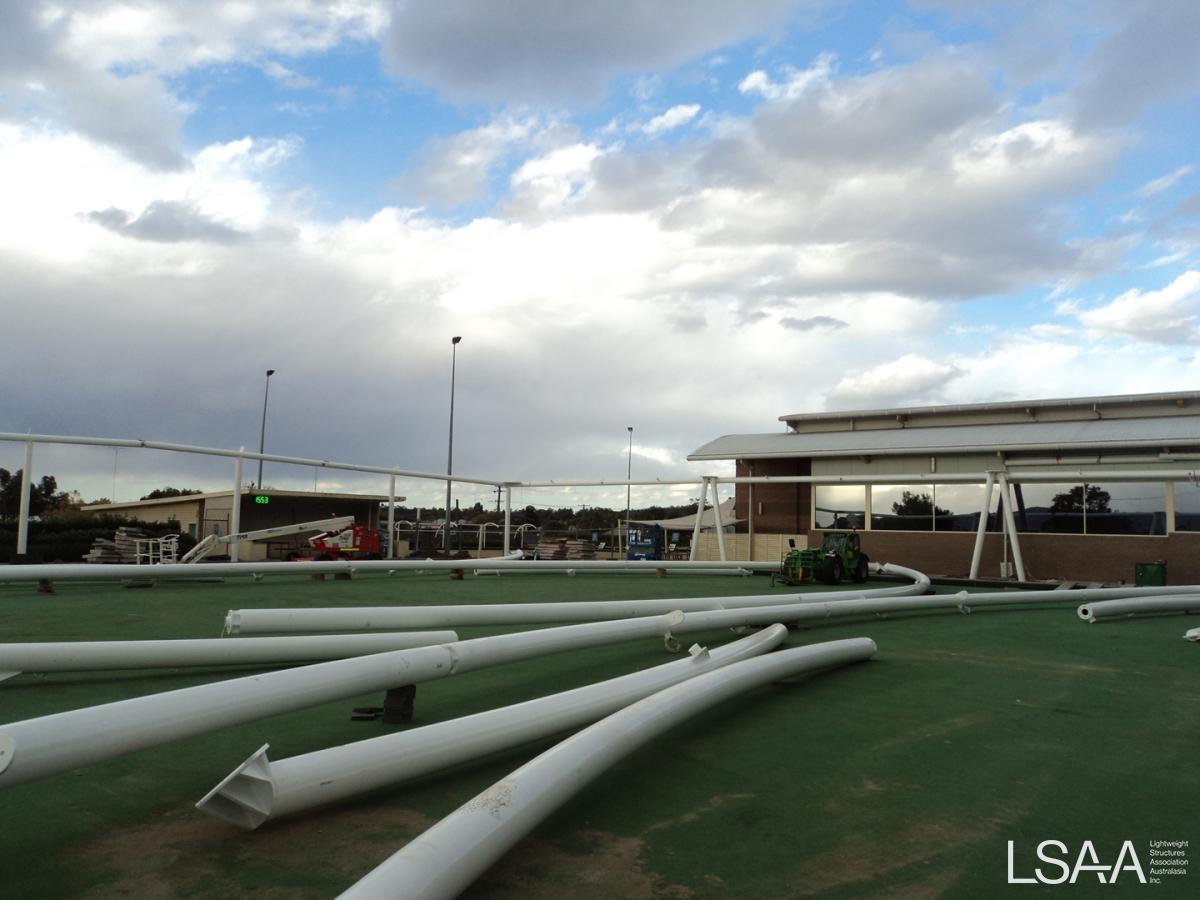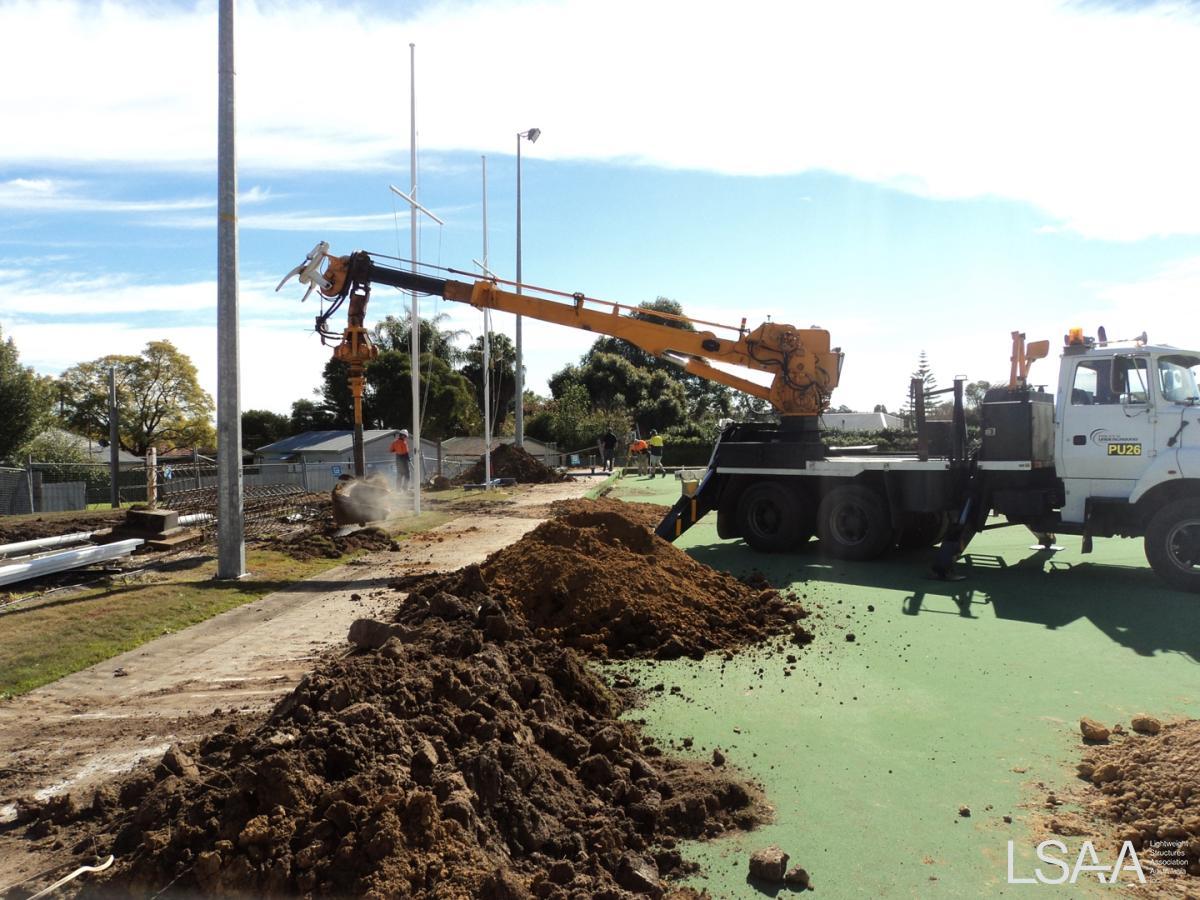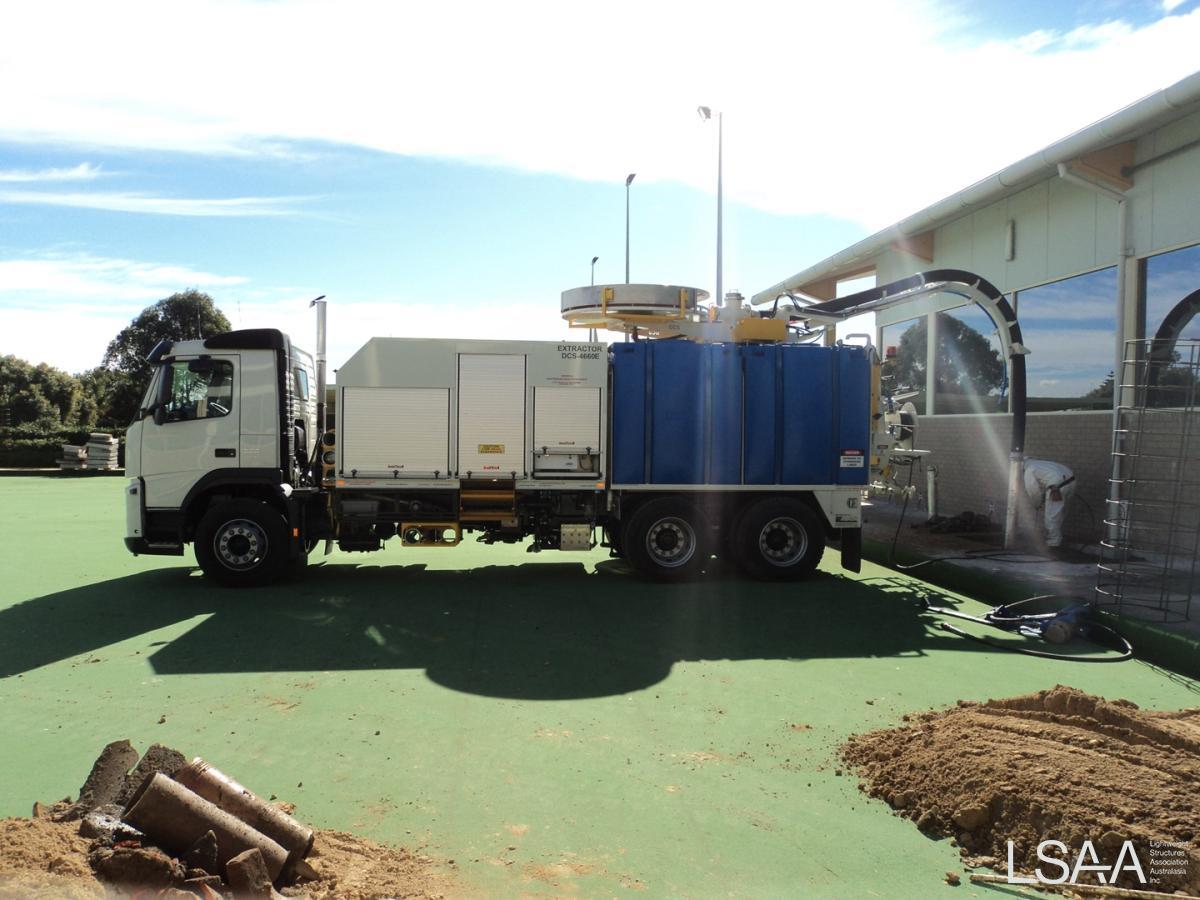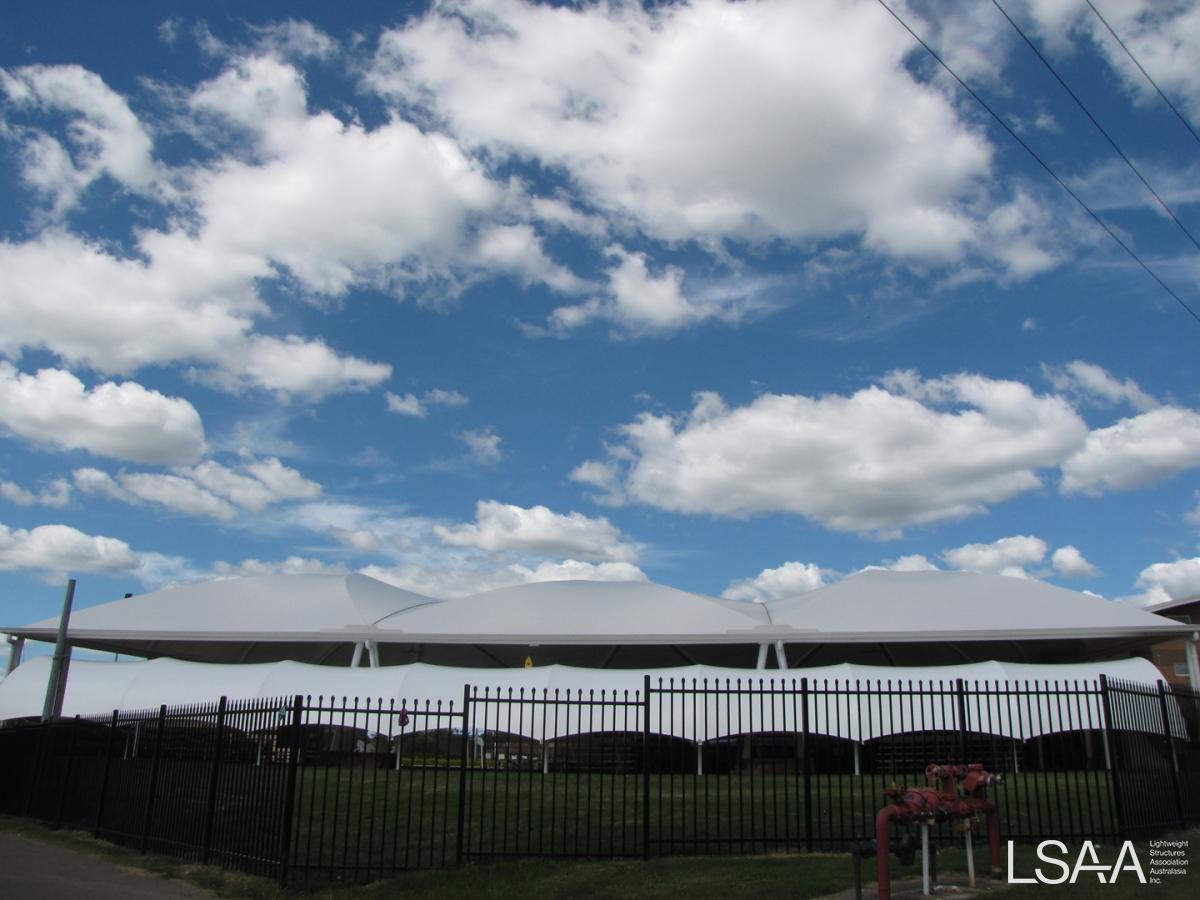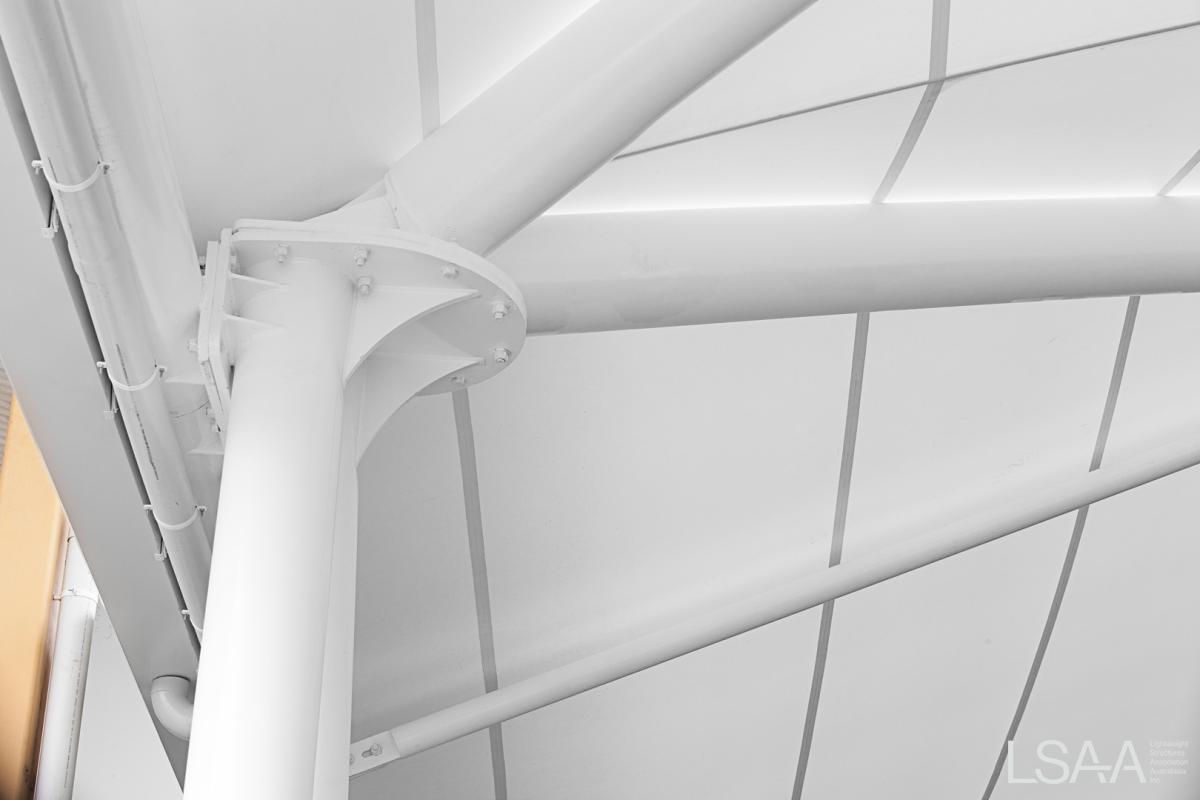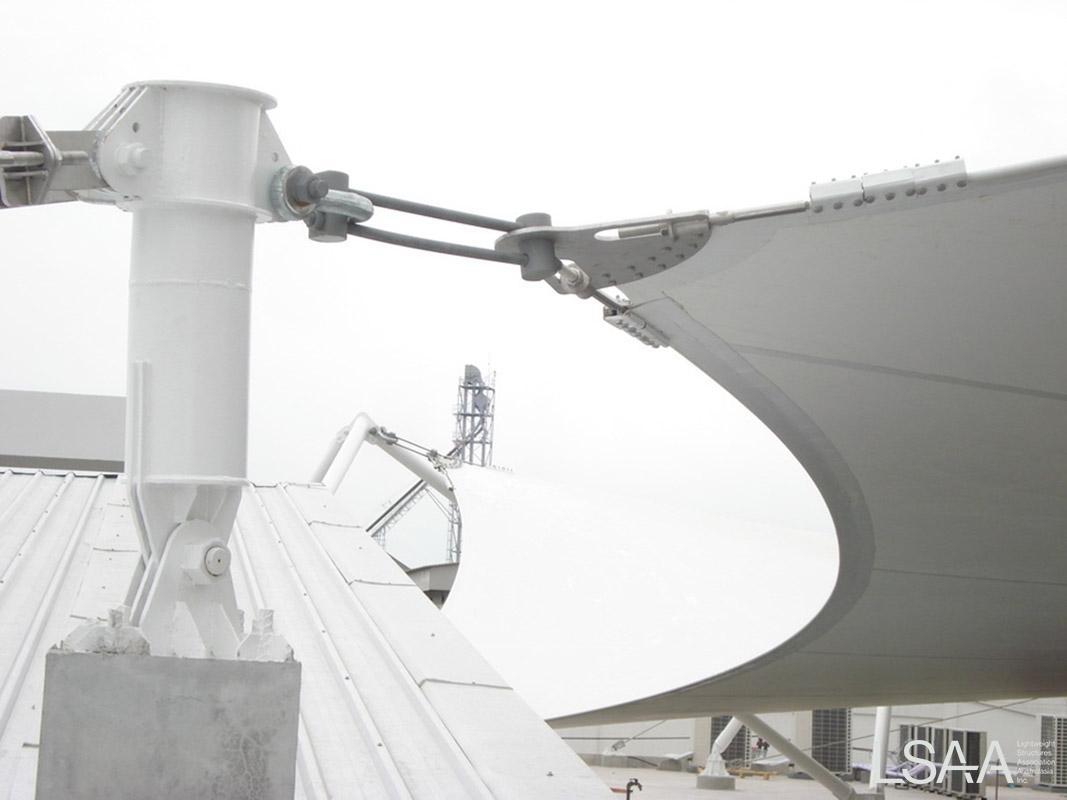 LSAA Design Awards 2013 High Commendation (Cat 4, 4166)
Project: Porto Chino
Entrant: Geometal Limited
Location: Samut Sakhon, Thailand

Client: D Land Group Co., Ltd

Completion Date: July 2012
Judges Comments:
"Contemporary structures have departed this dramatic curved shape tensiles, a nice return to Otto era."
"Seems an imaginative and successful answer to the challenge of unifying a shopping centre in need of some focus. The geometry of the main roof form adds interest to what could have been merely a pragmatic solution."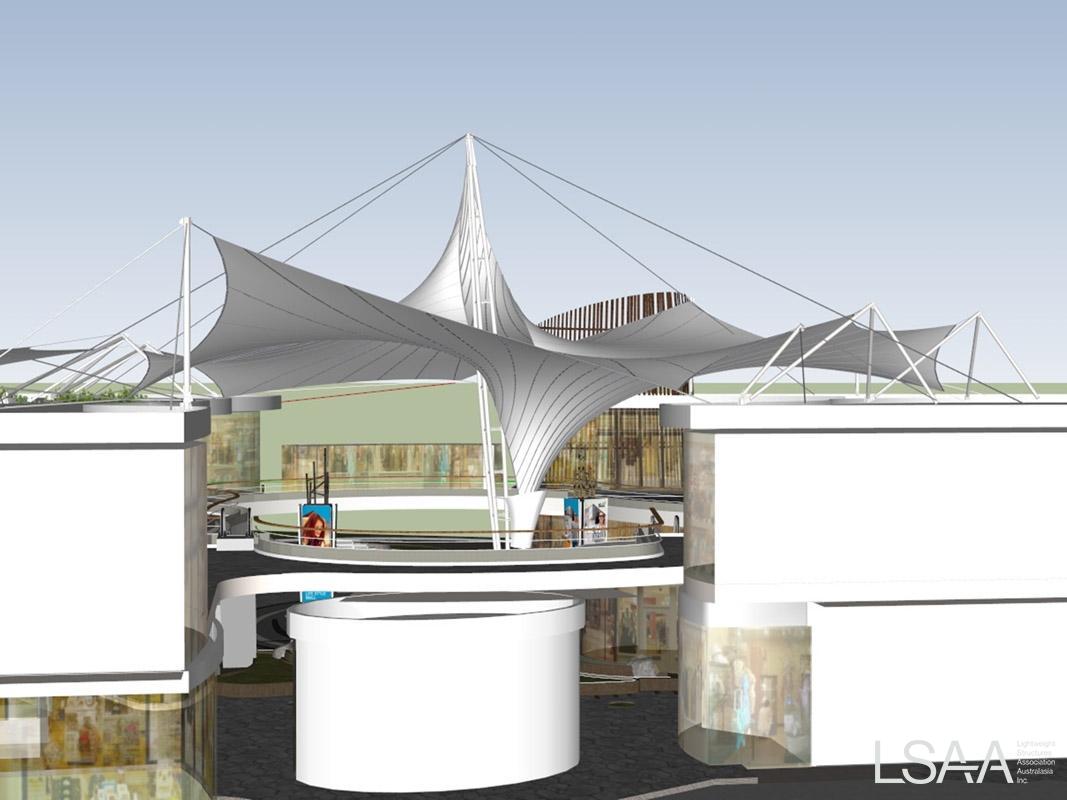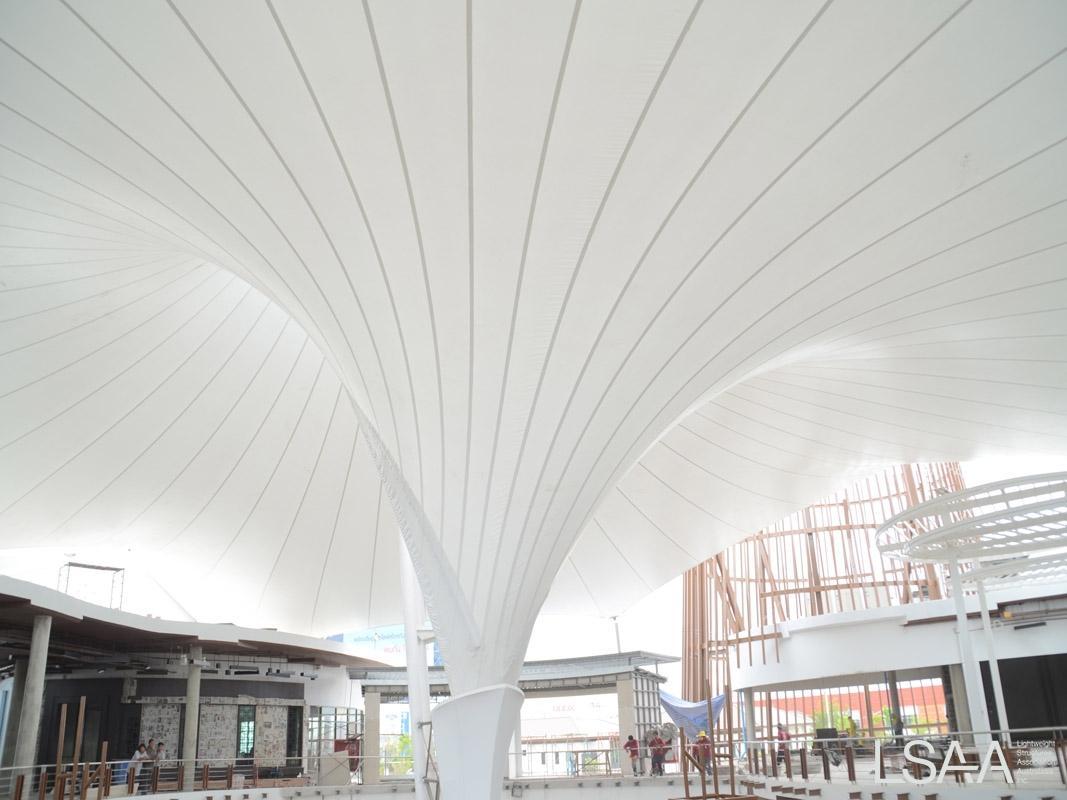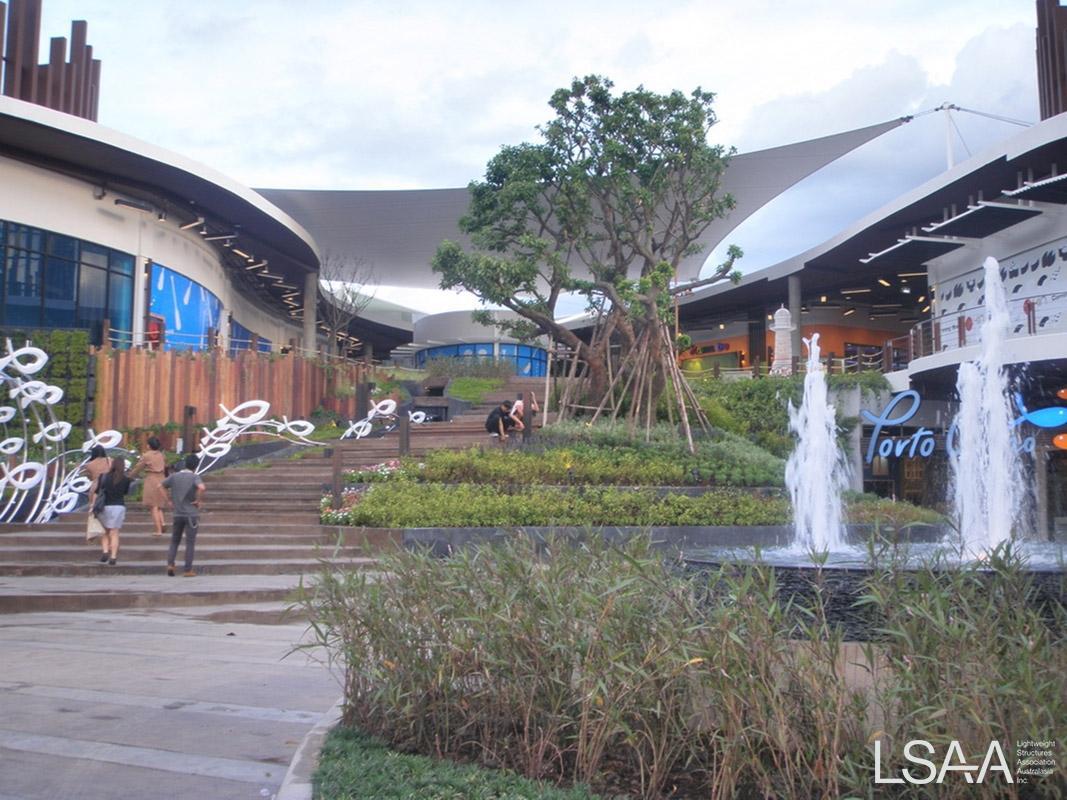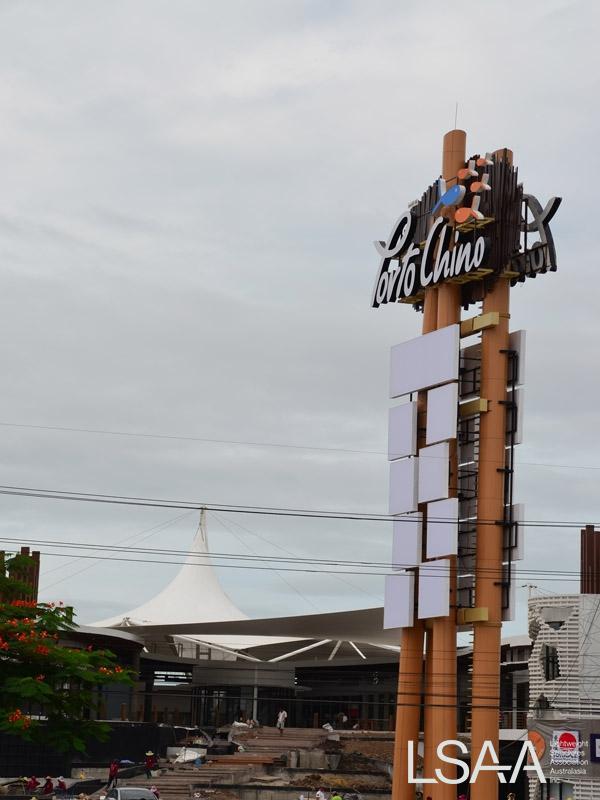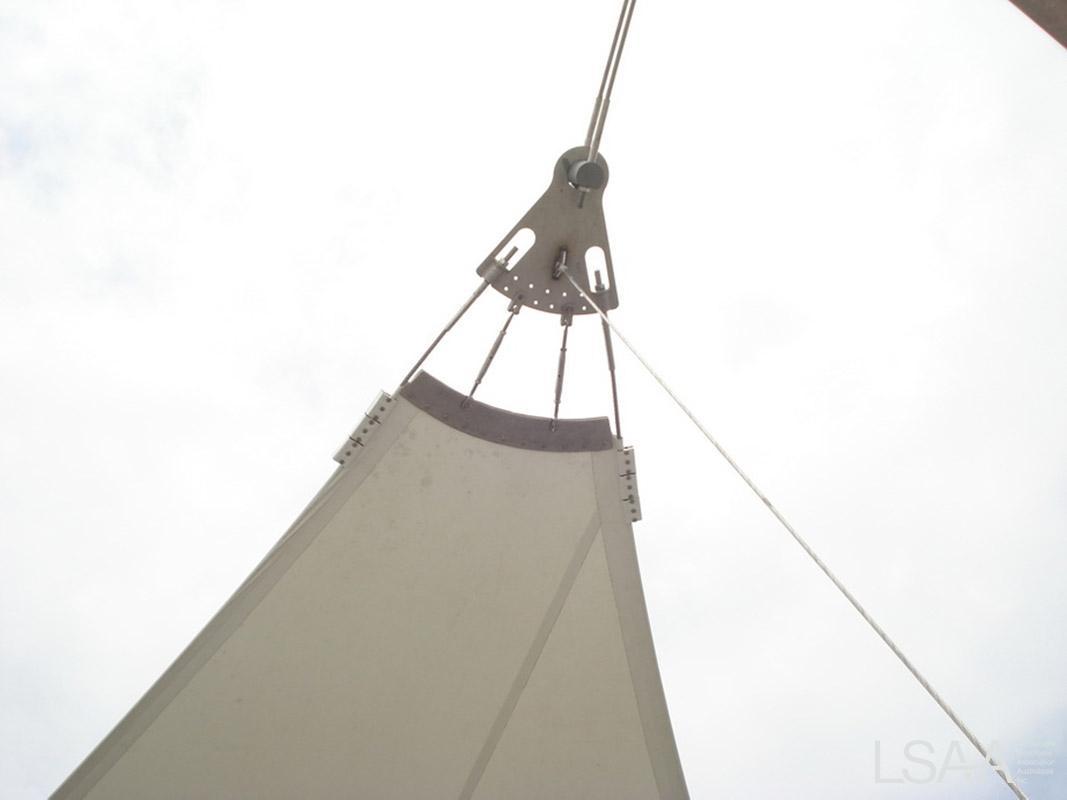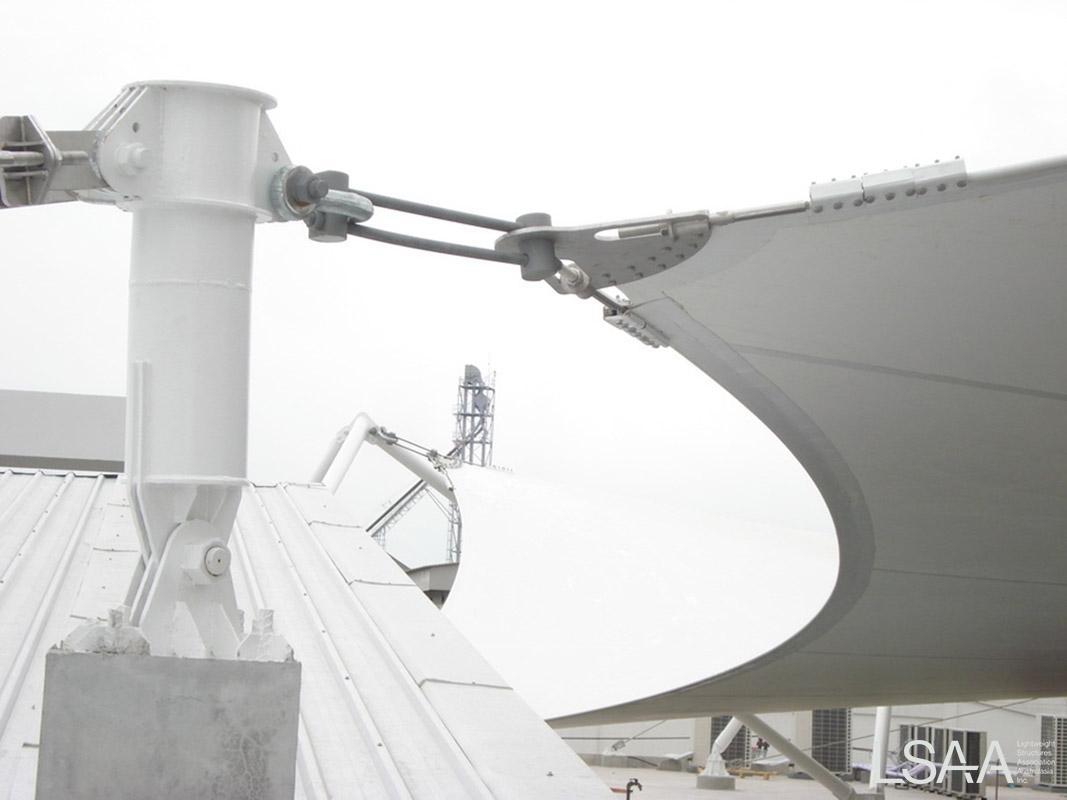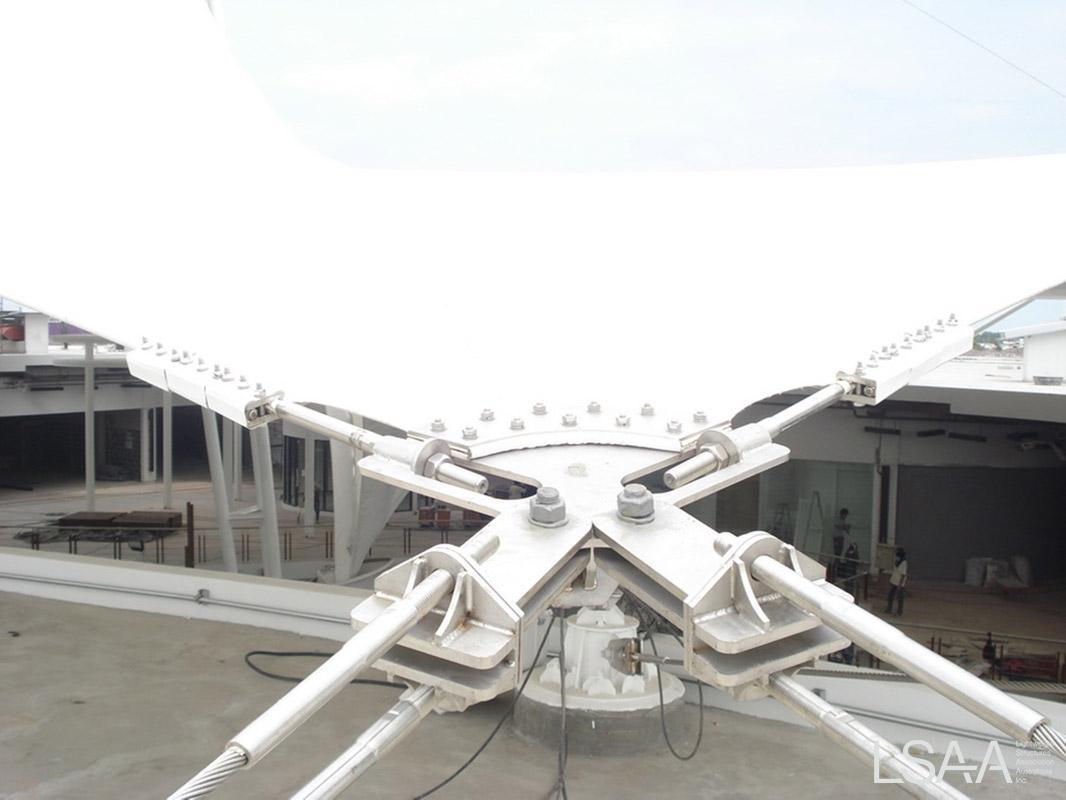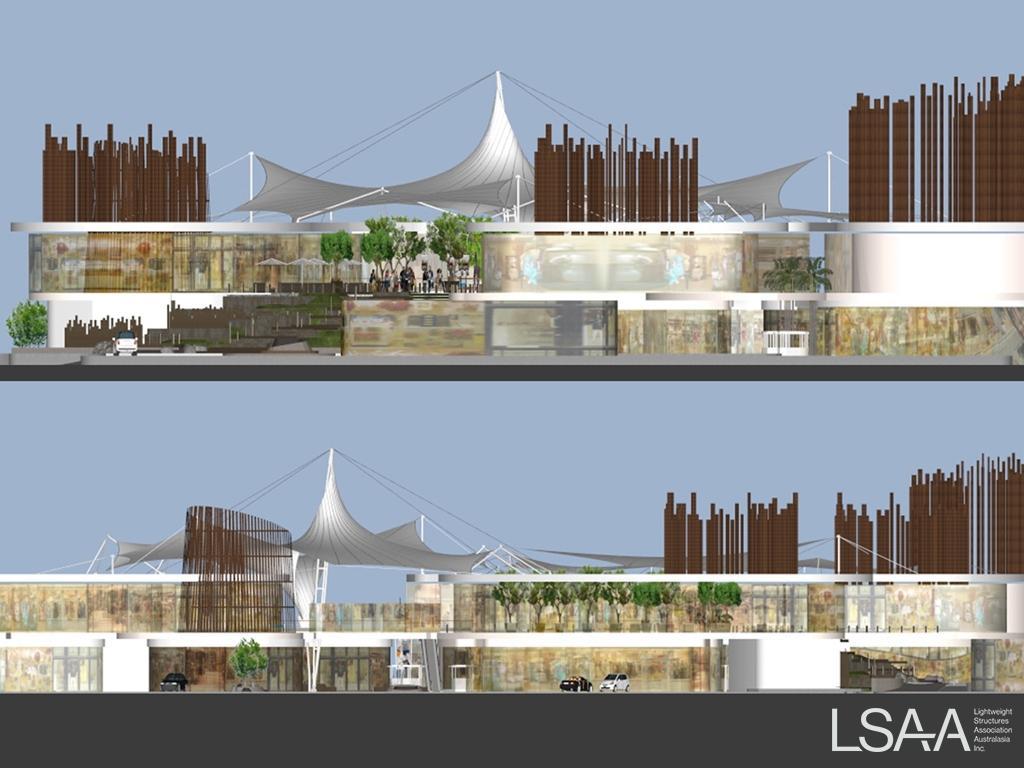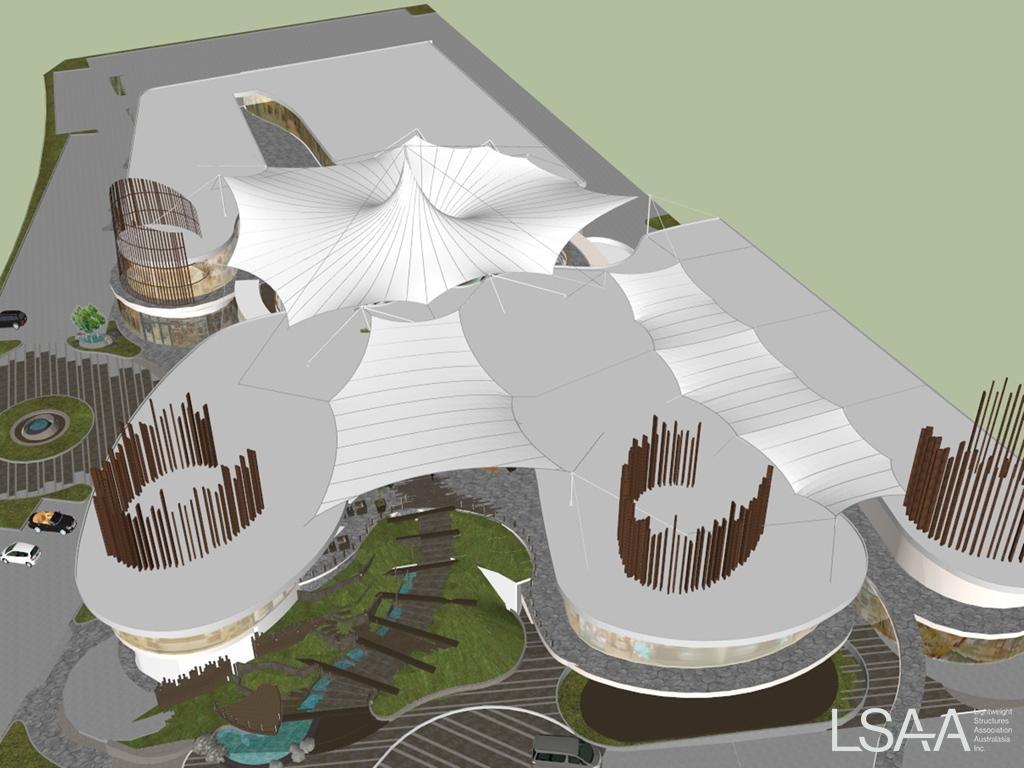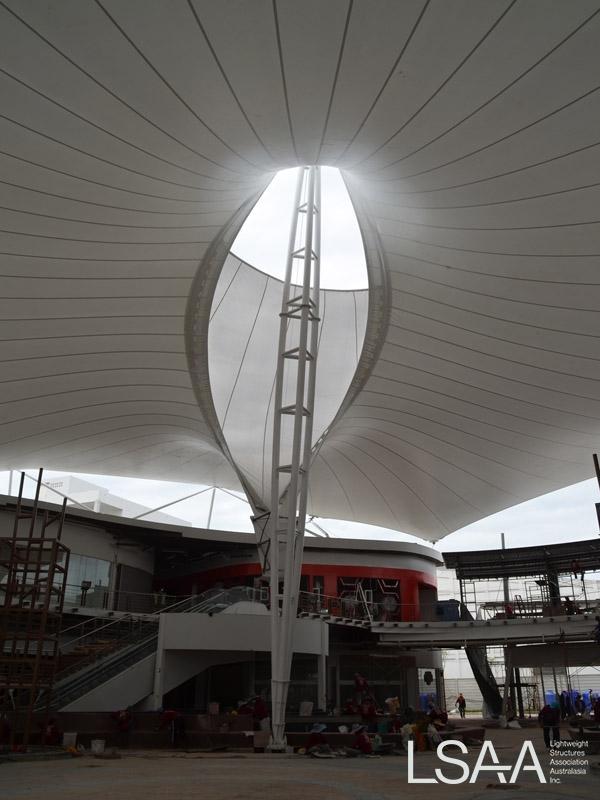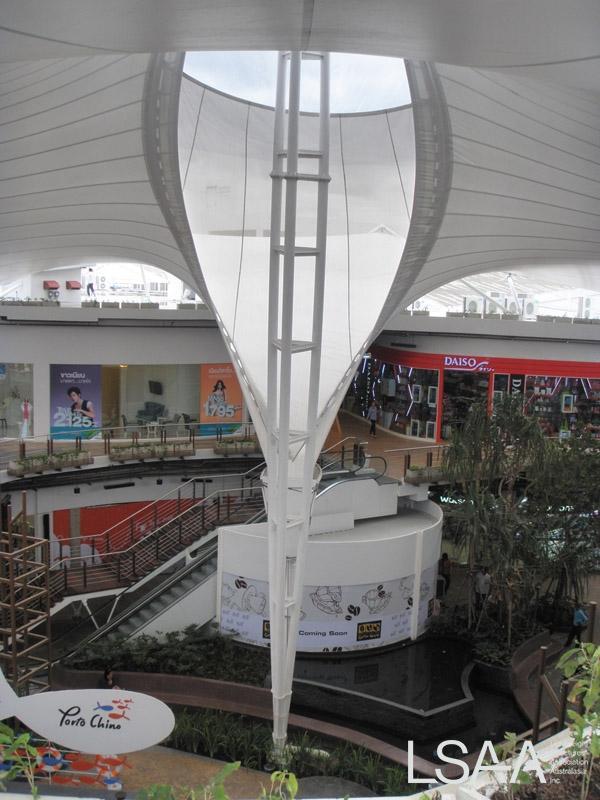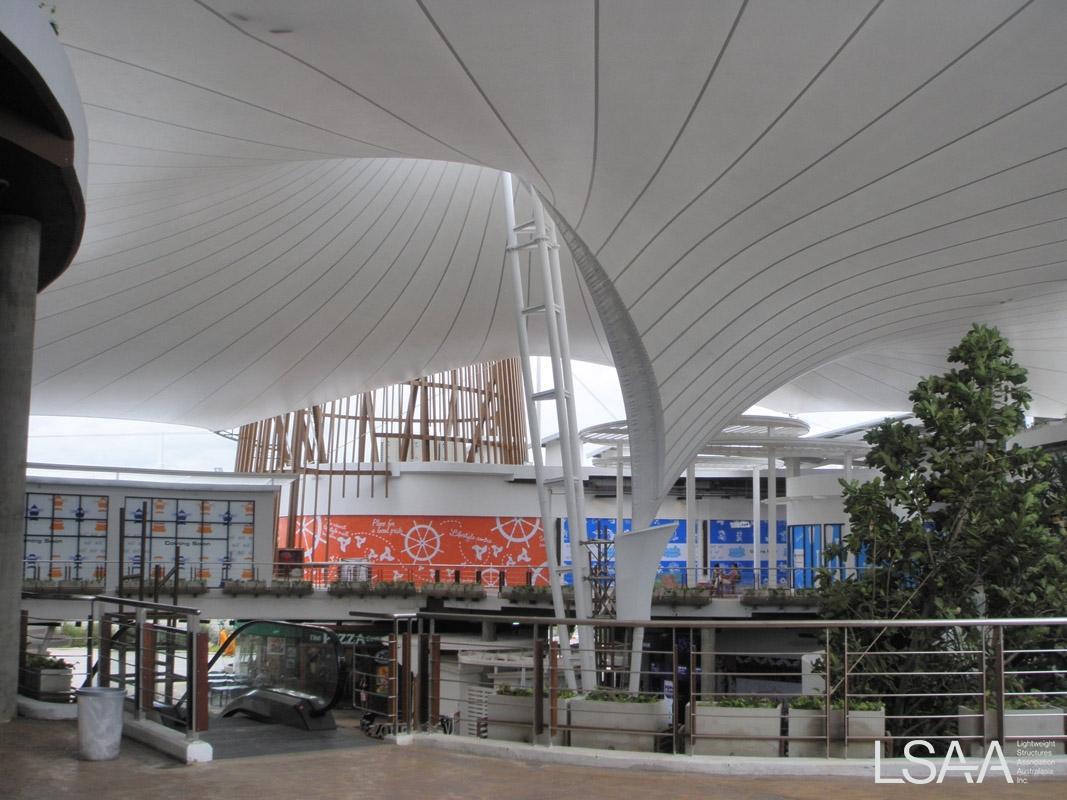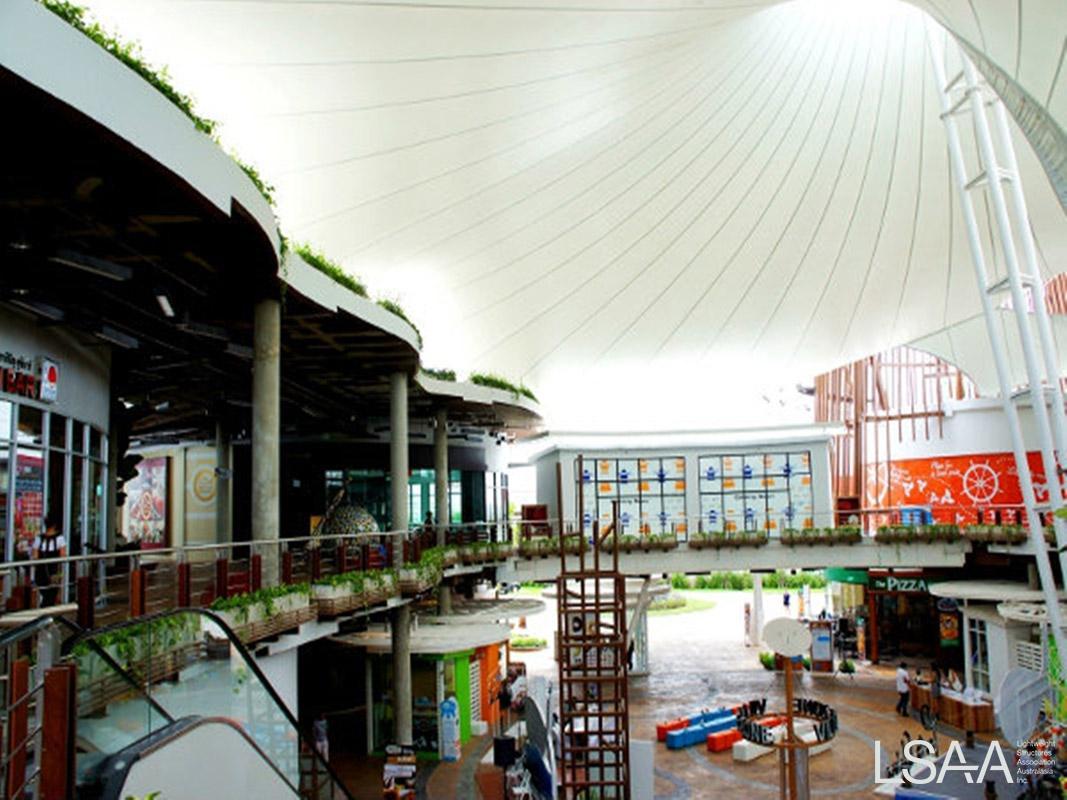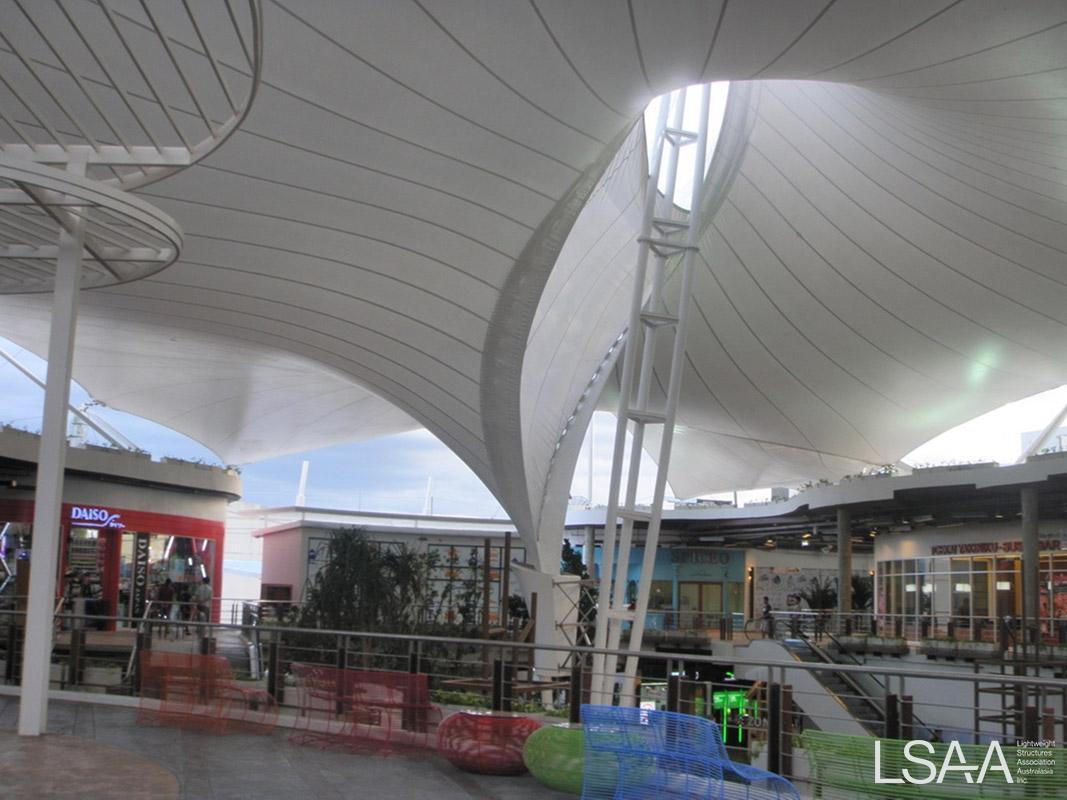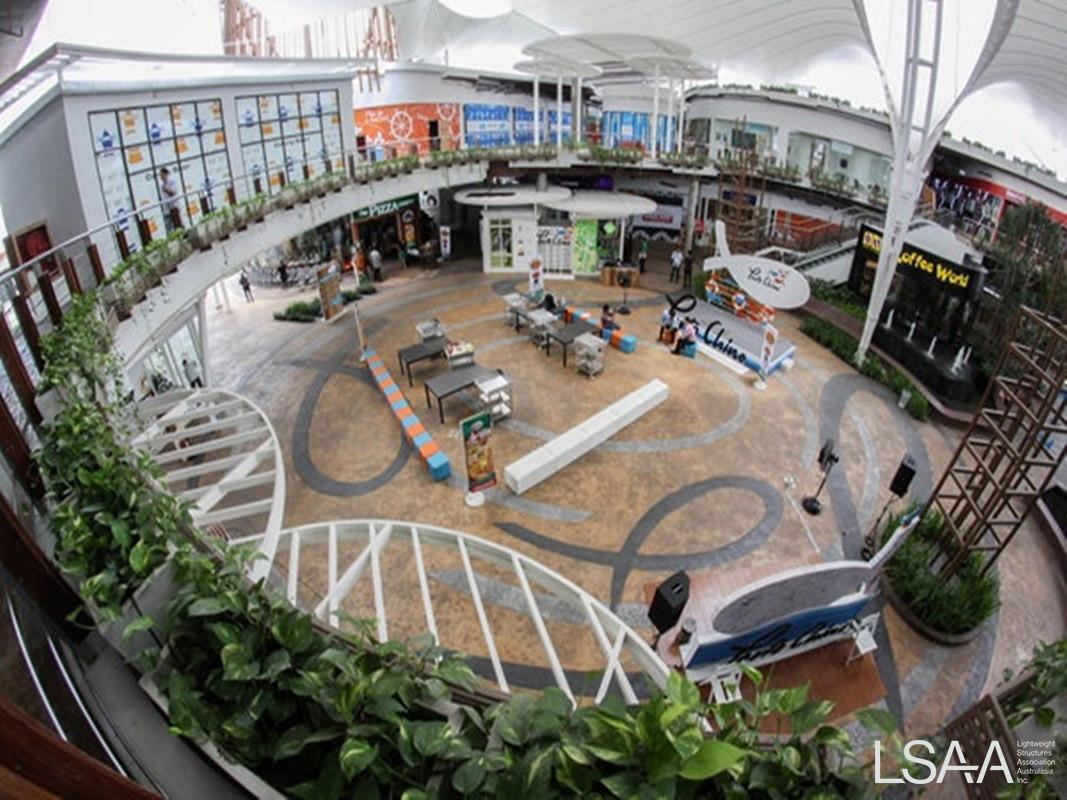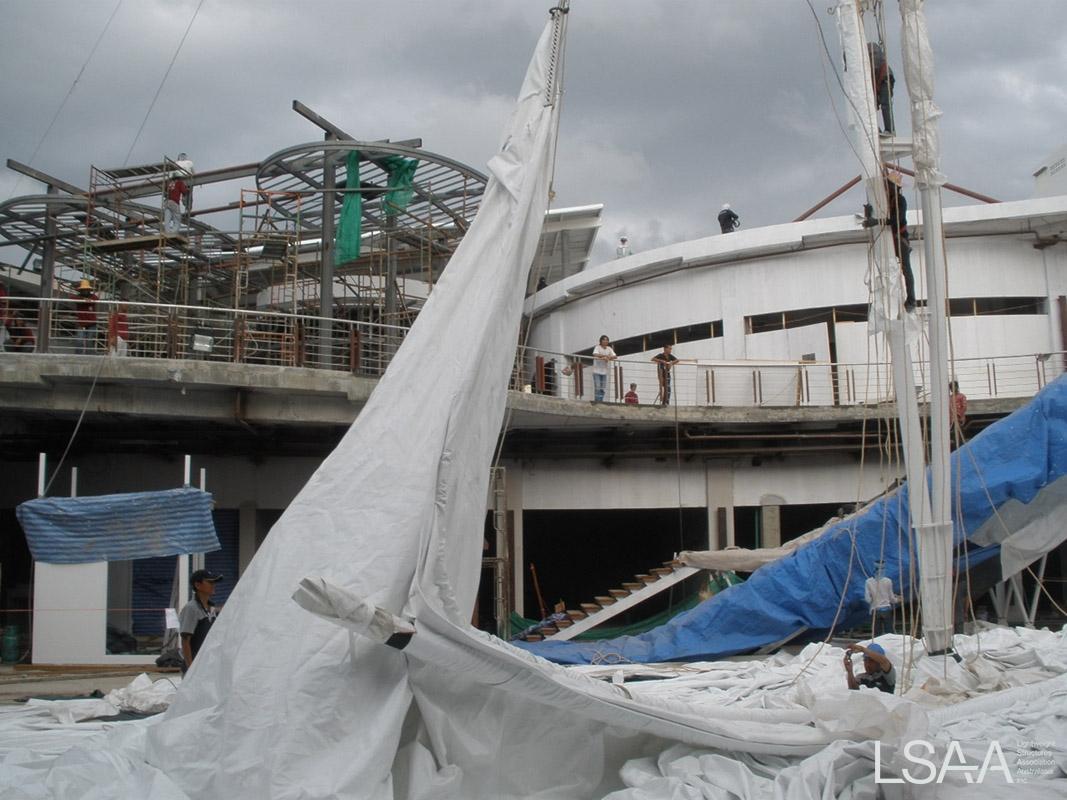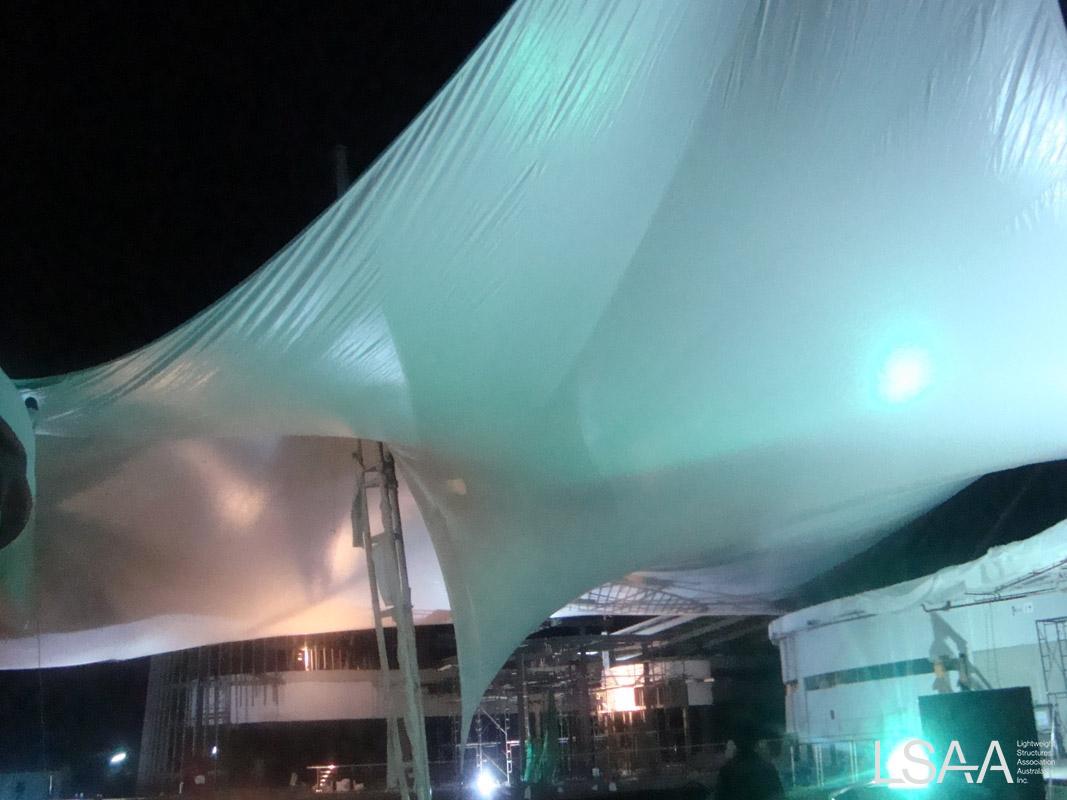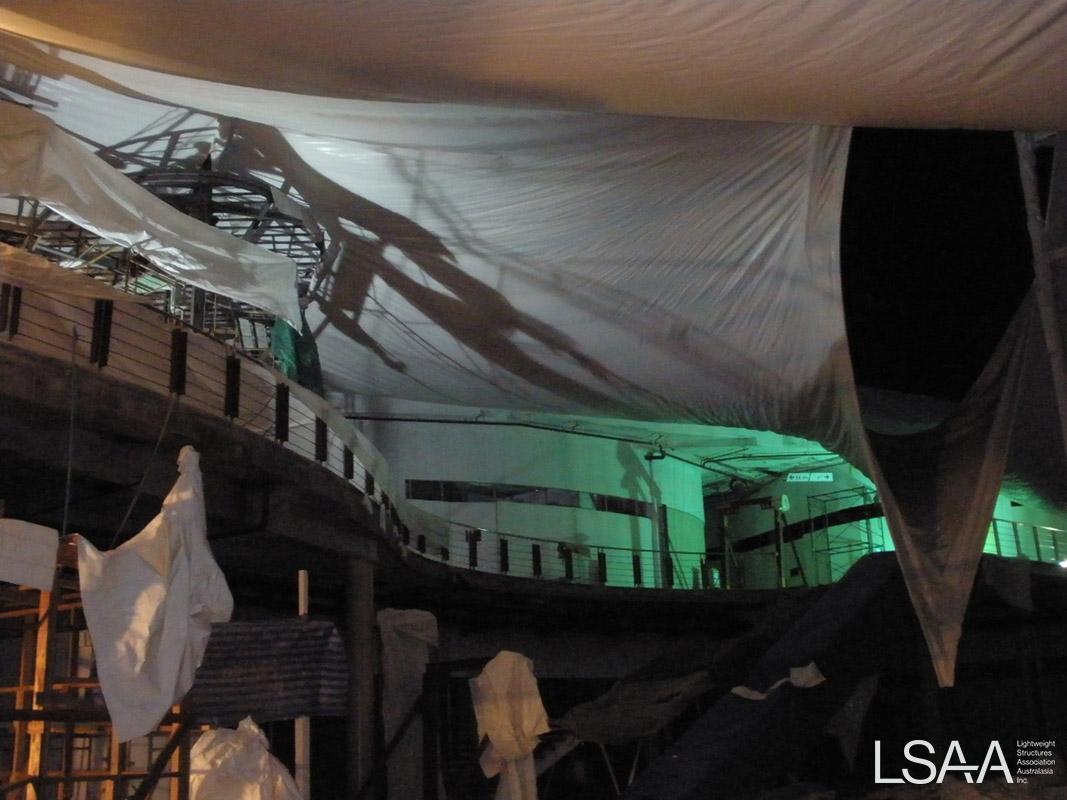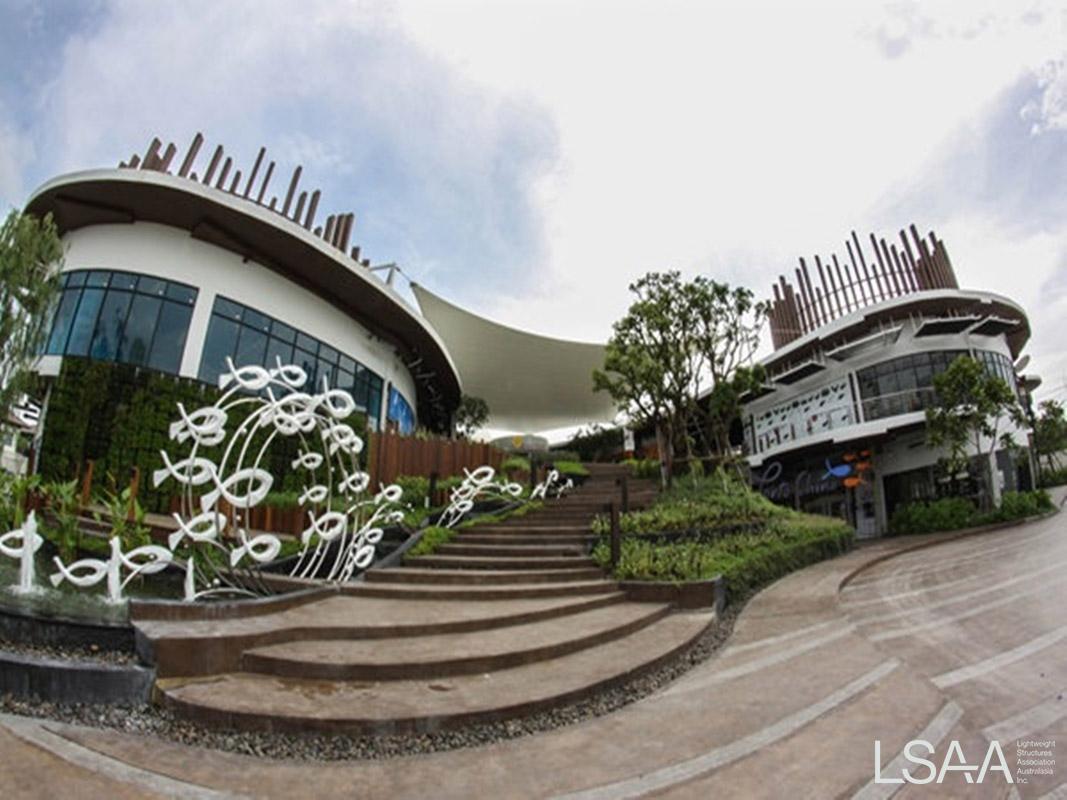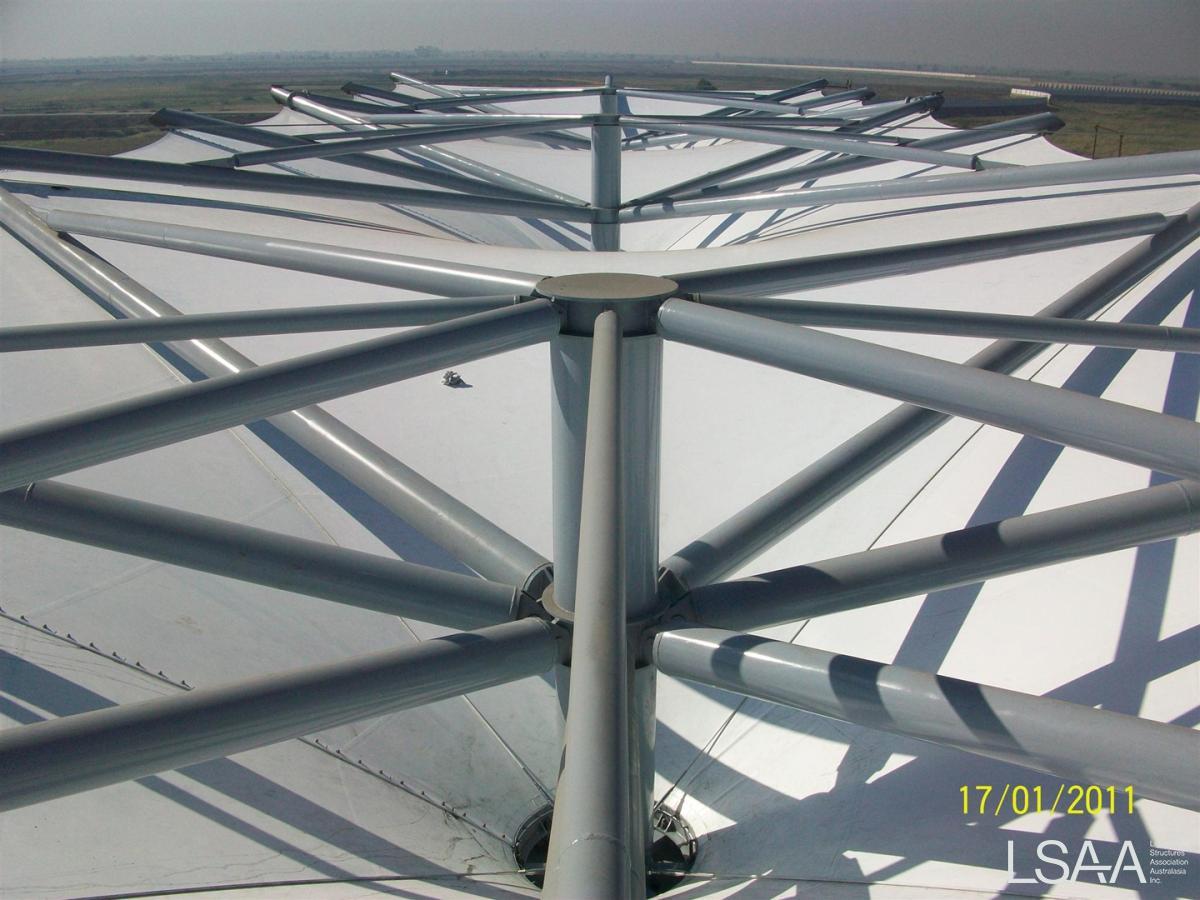 LSAA 2011 Design Award Entry: Cat 4, (7008) Panoli Gate - India
PROJECT DESCRIPTION
As a flagship development in the area Panoli needed a striking and unique entrance. MakMax's Indian office was able to provide a prominent entrance structure to suit. The project, Panoli Gate House presented a new challenge for MakMax engineers. The large 1,300 sqm area required shade, weather protection, as well as a plan for collecting run off. Inspired by the design and functionality of the St Tropez products MakMax already produces as standard products, engineers decided to replicate this shape and function on a grand scale.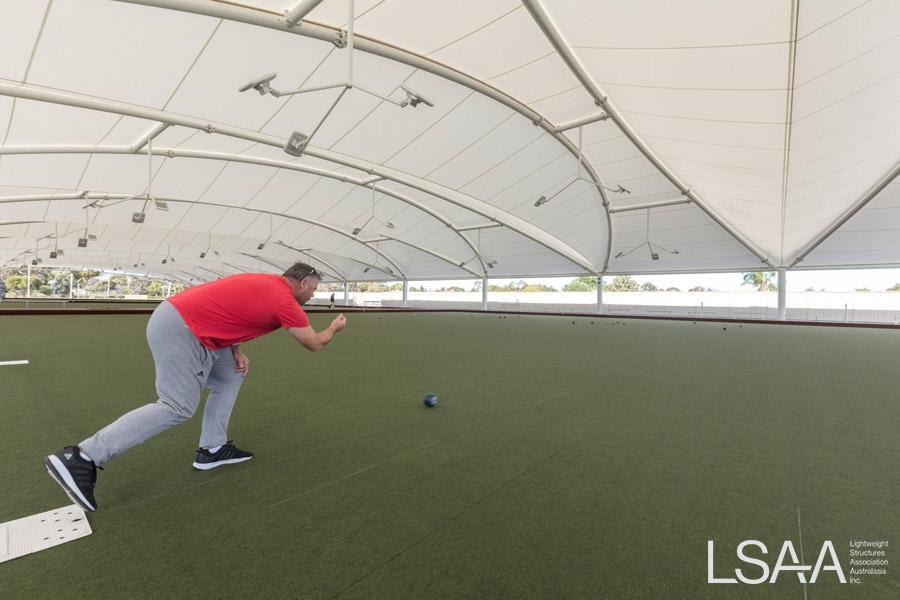 This project was entered in the LSAA 2018 Design Awards (Cat 4 Large Fabric Structures, #4432) by MakMax
Application: Cover over 3 adjacent bowling greens at the Playford City Bowls club, South Australia.
PROJECT DESCRIPTION:
The design, fabrication and installation of the largest tensile membrane canopy structure over a bowling green in the Southern Hemisphere. The 5300m2 PVC (Mehler FR900N) structure covers a total of 21 rinks (120m length), lit with state of the art LED sports lighting, allowing year round utilization of the bowling green's irrespective of the weather conditions. In addition to bowls, the venue is also used to host corporate and social events.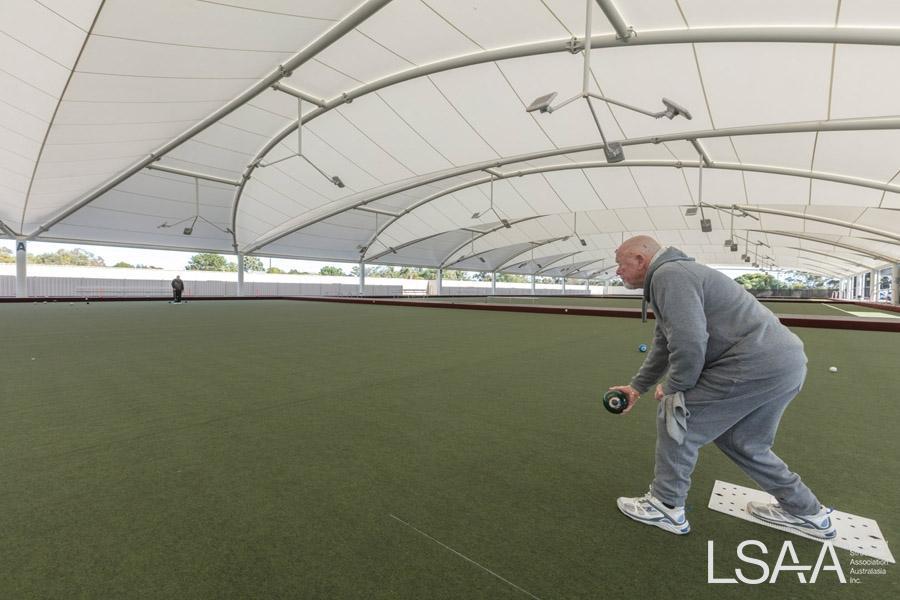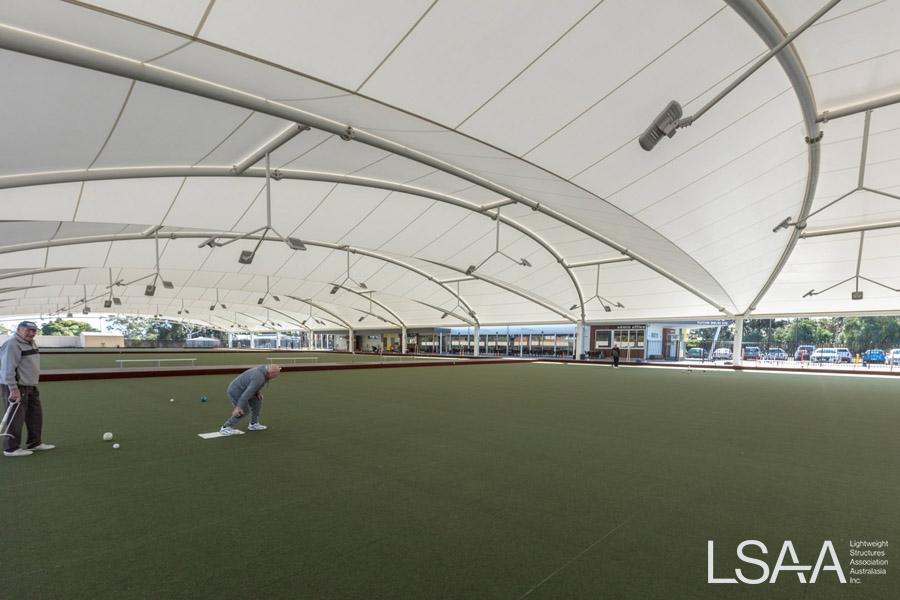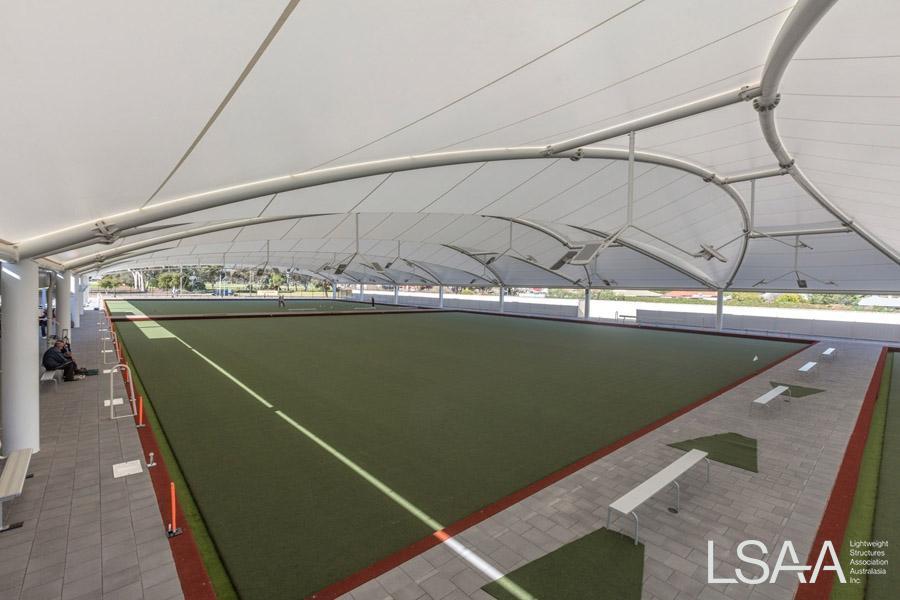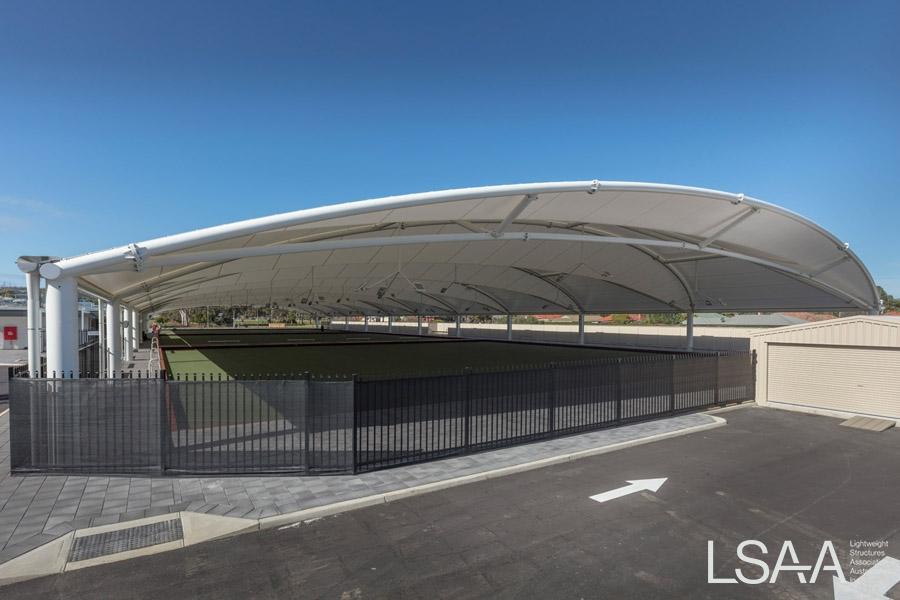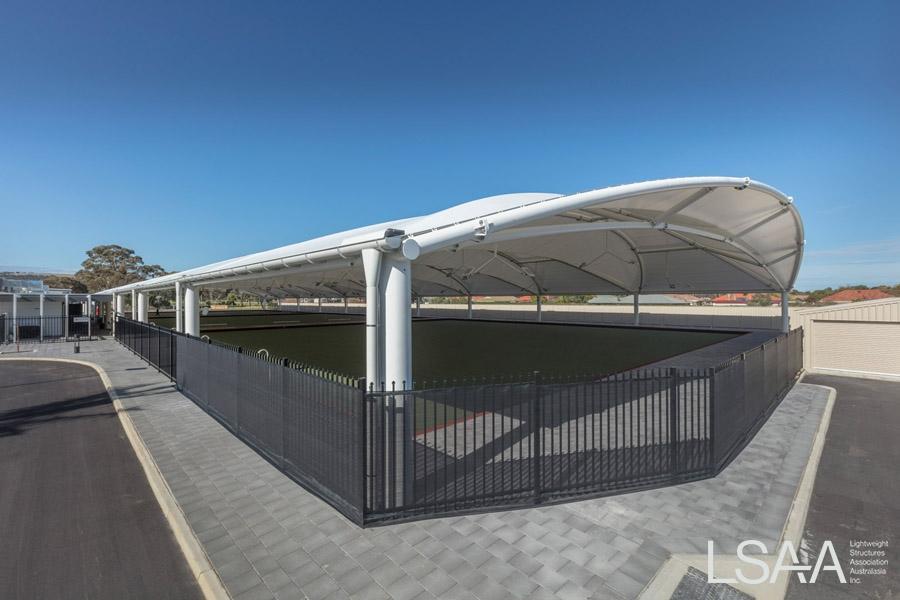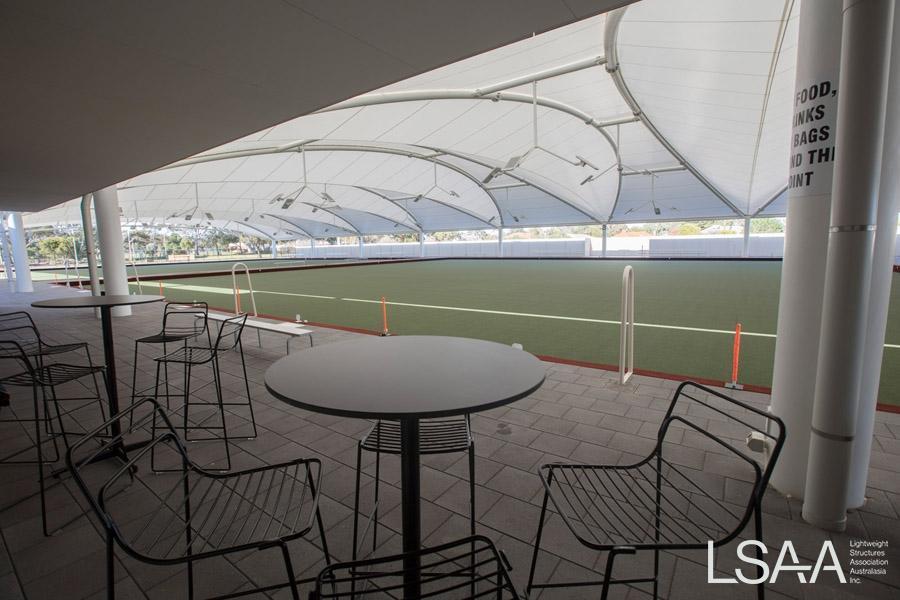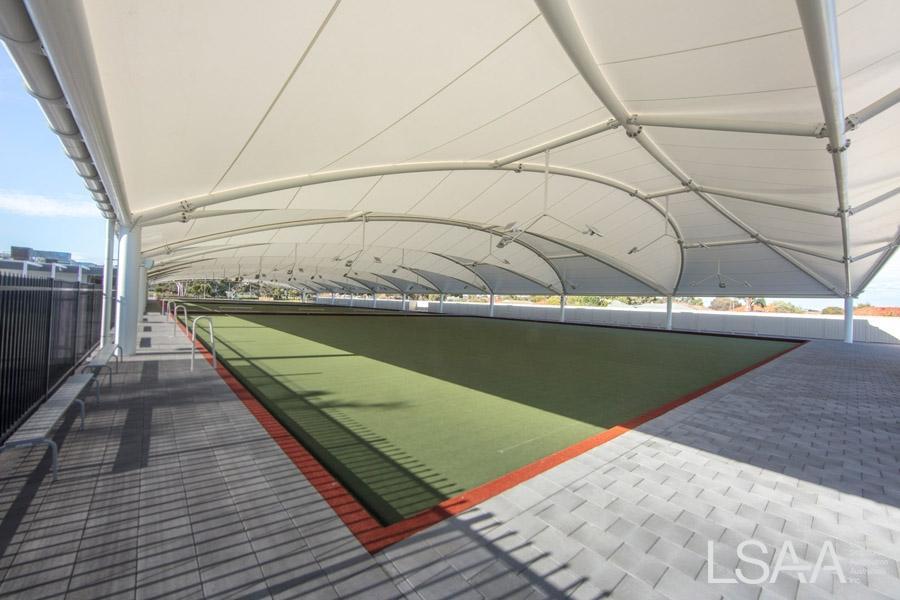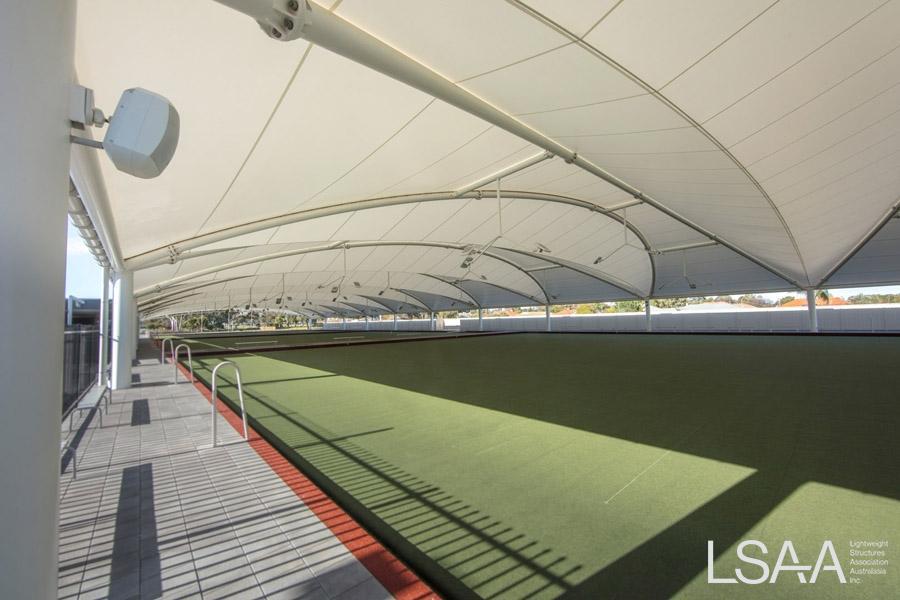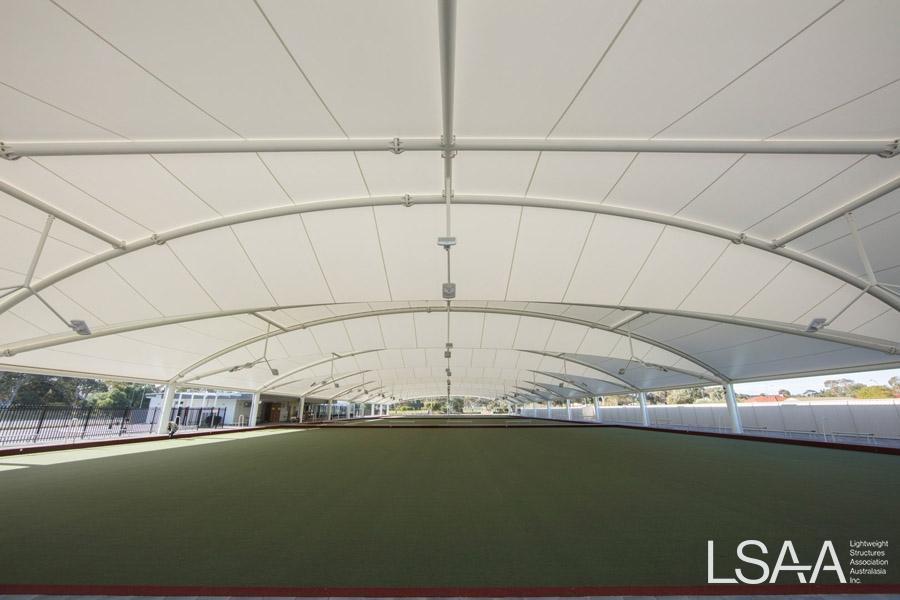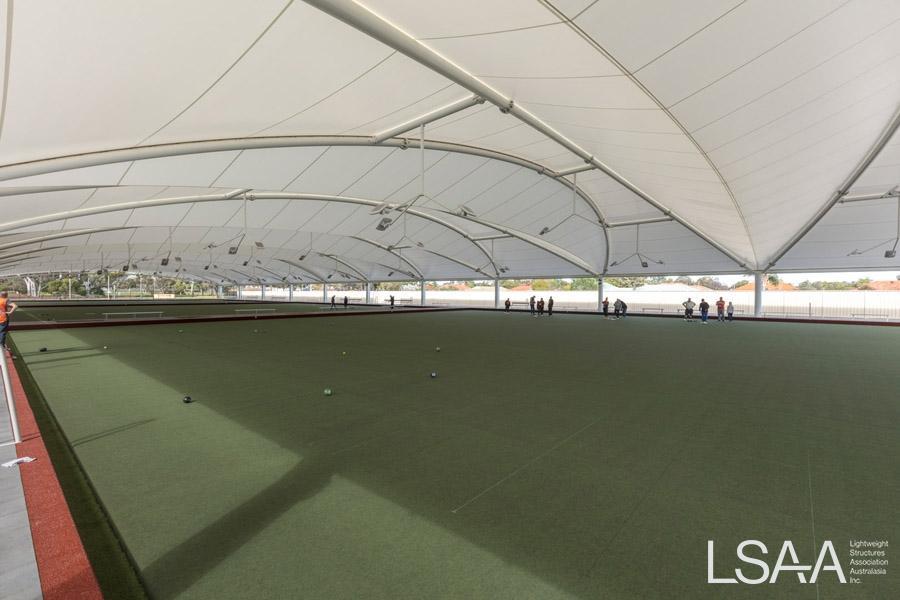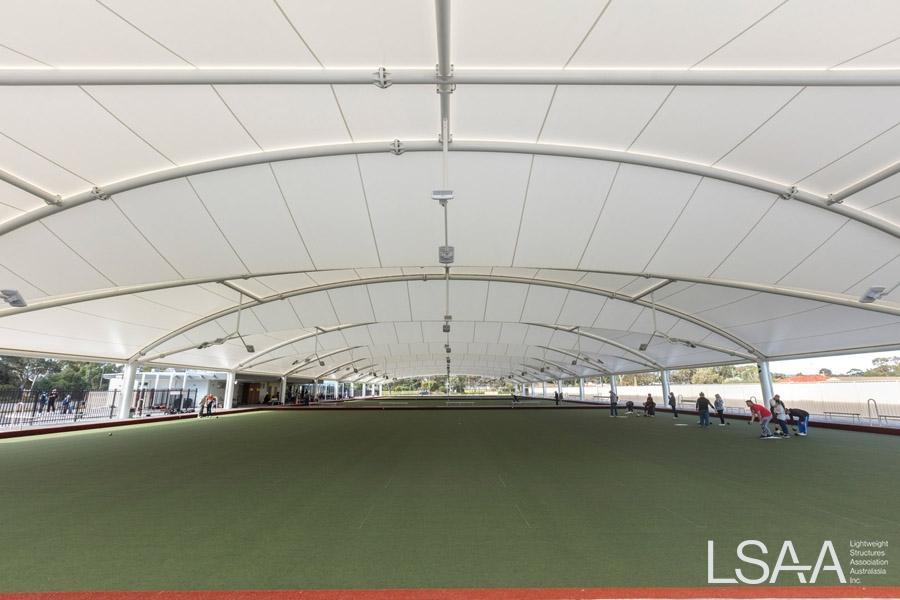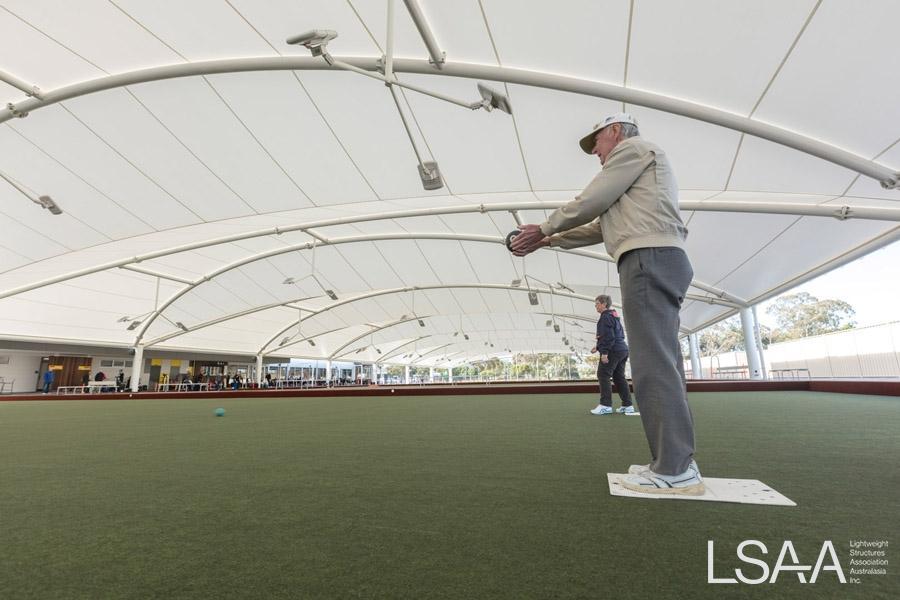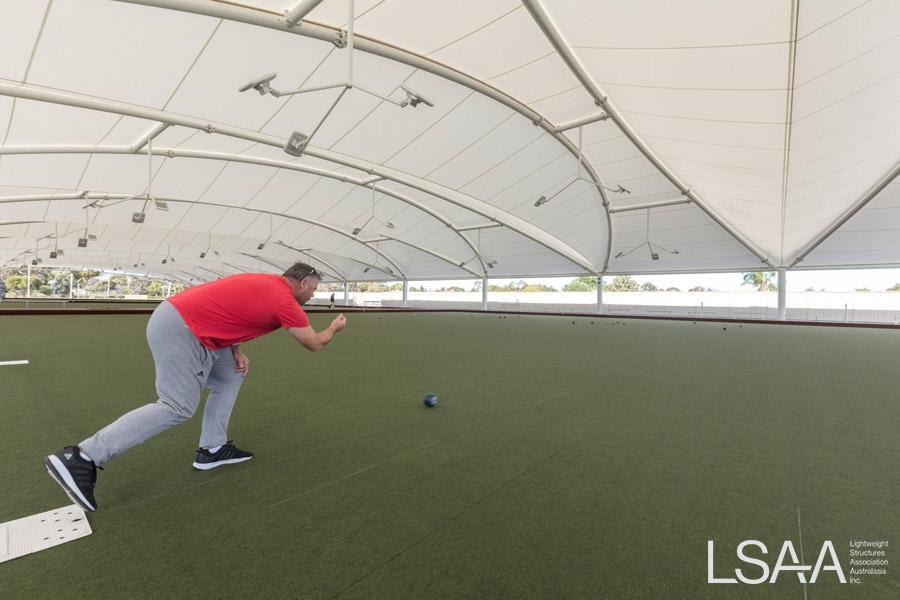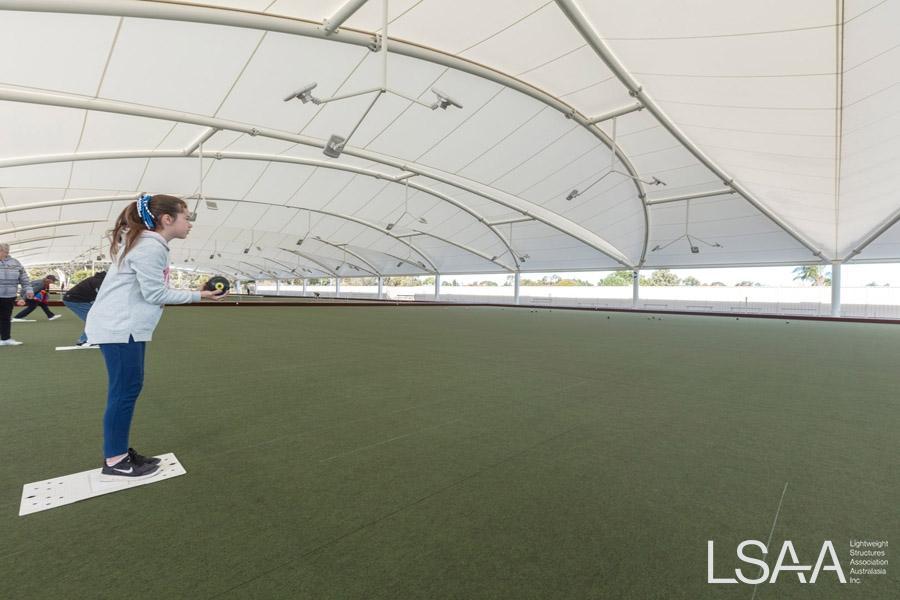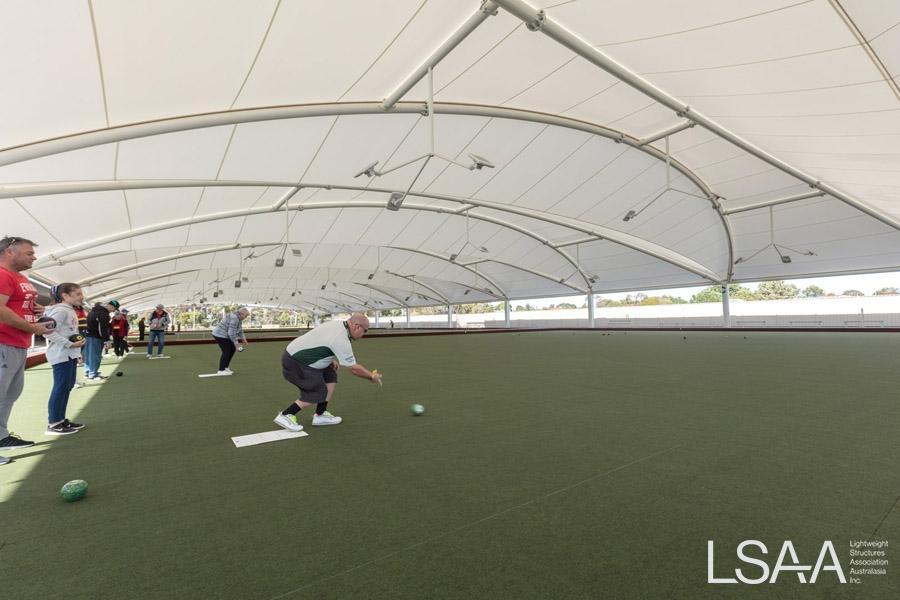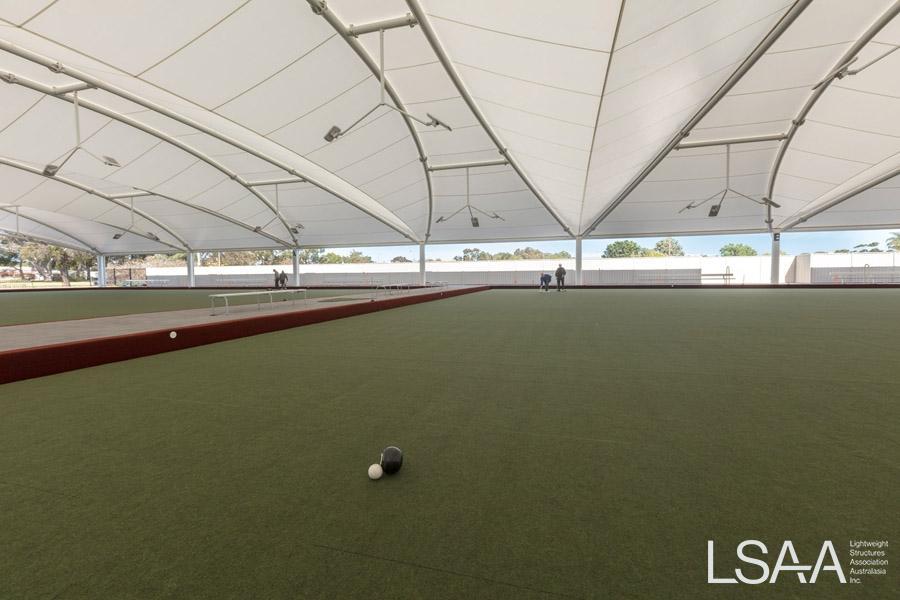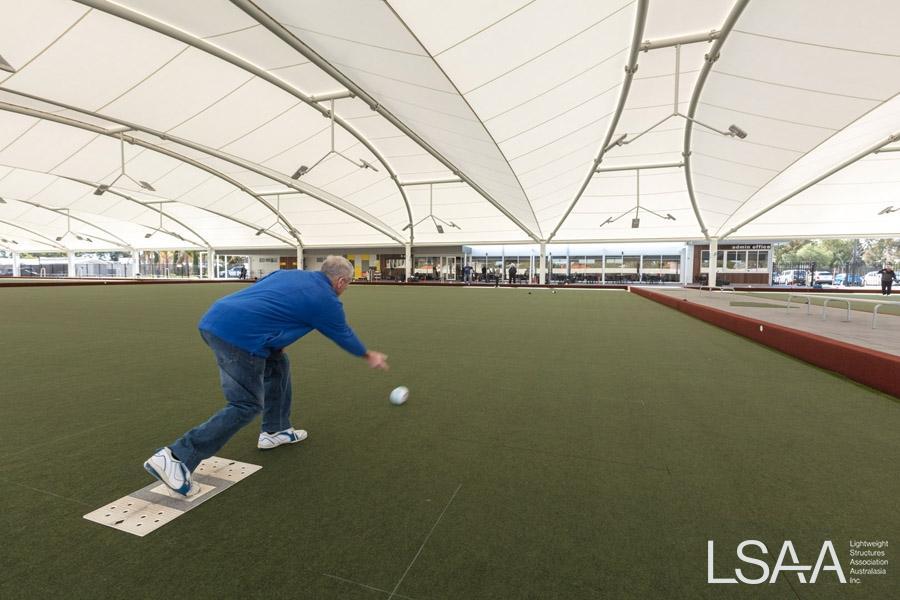 Read more: Playford Bowls Club Triple Green Roof Cover Project (2018)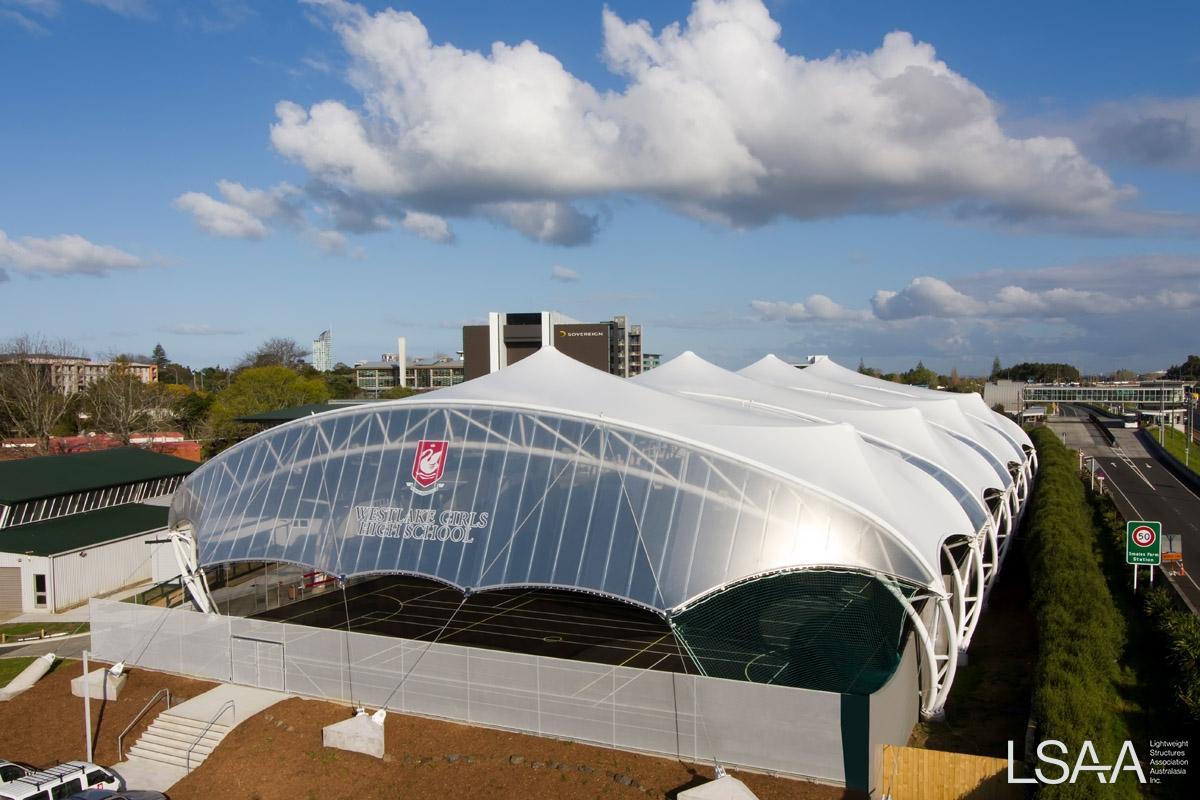 LSAA Design Awards 2013 High Commendation
Entrant:Structurflex Limited
Category: 4 ID Number: 4101

Location: Auckland, NZ

Client: Westlake Girls High School

Completion Date: May 2012
Judges Comments:
"Well executed variant of a "Standard" structure for sports."
"A tough site by the side of a motorway. Fine integration of structure and membrane to make the most of the potential of lightweight materials. A generous span provides uncluttered space; a sense of levity throughout."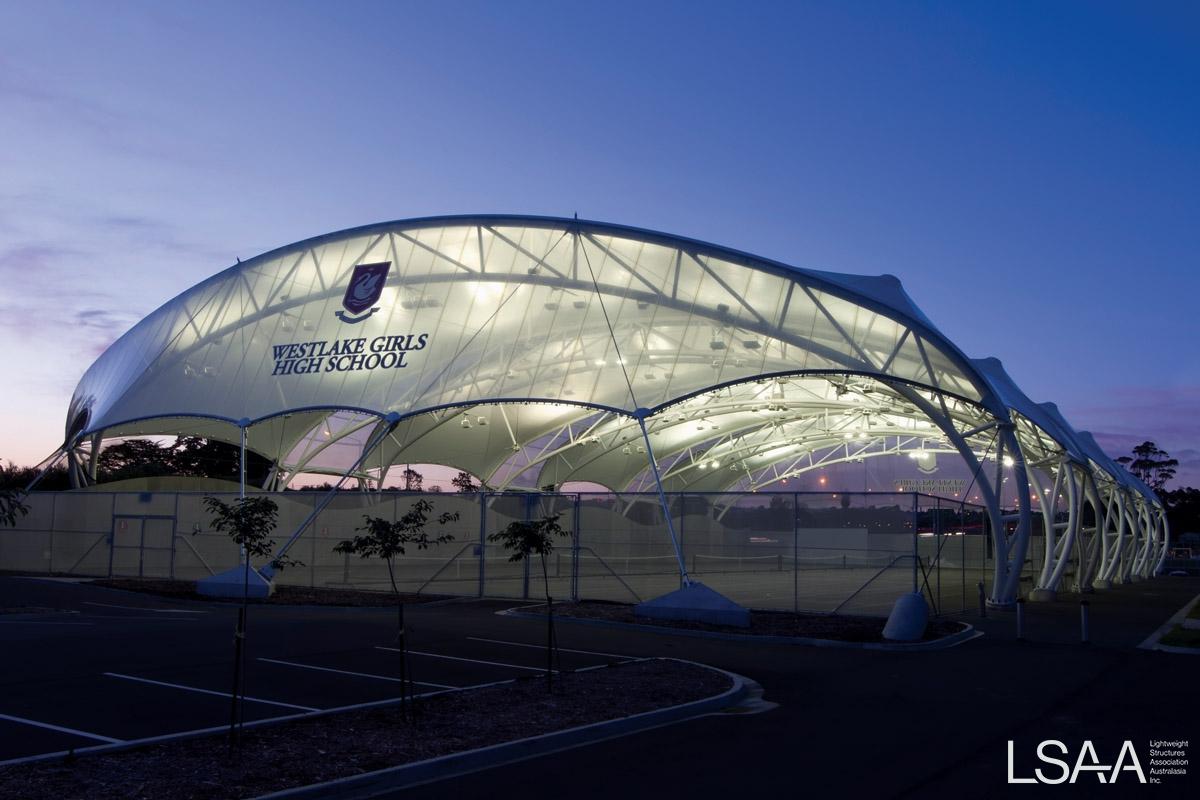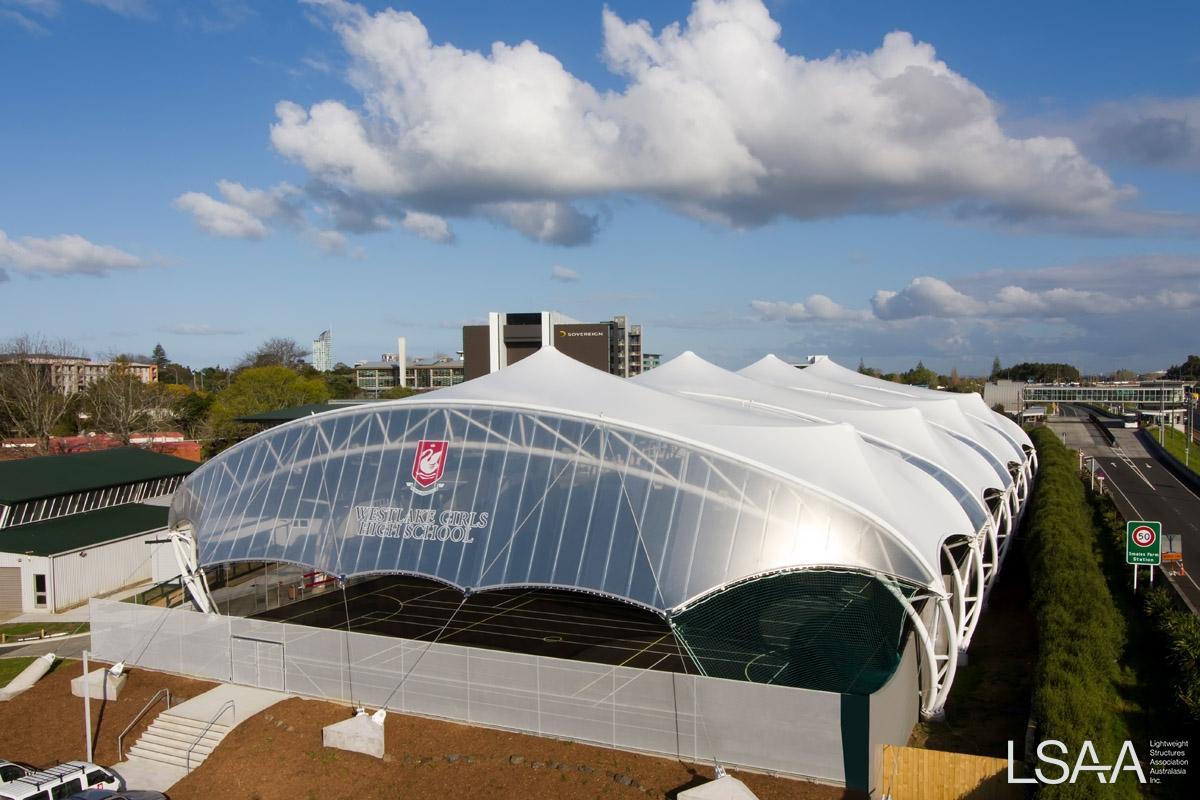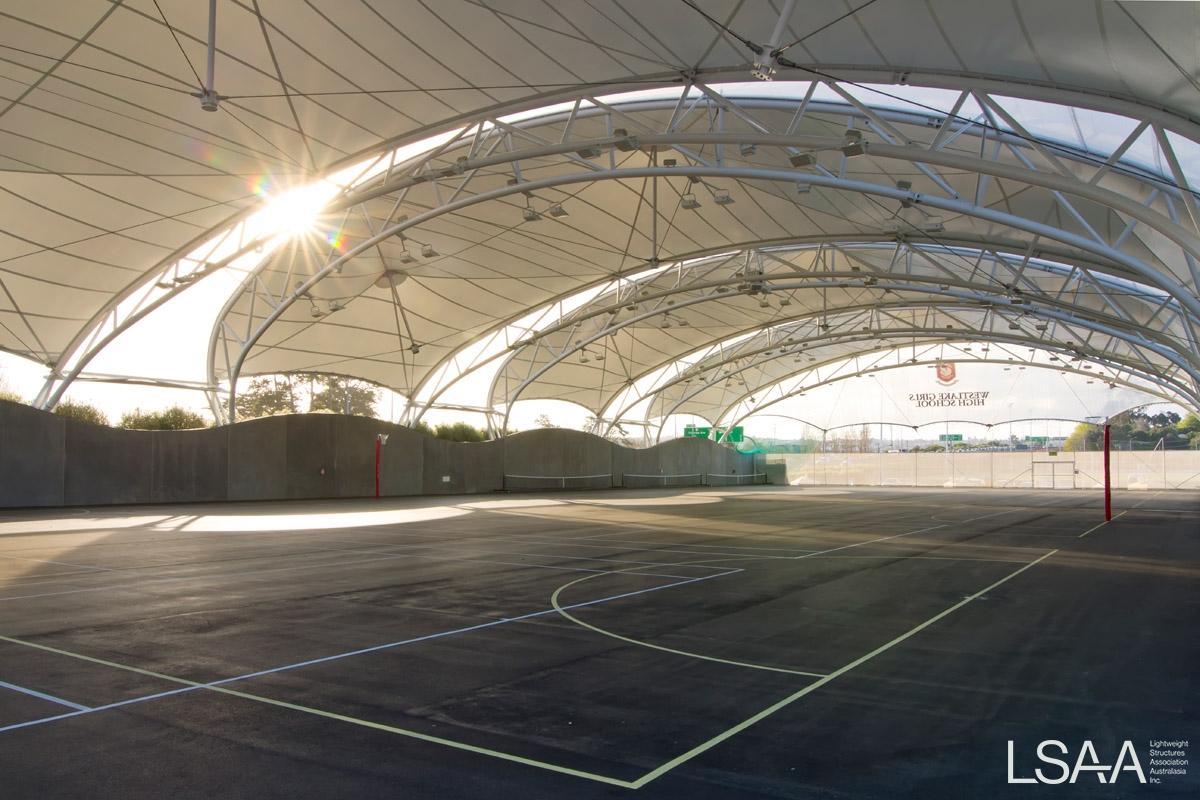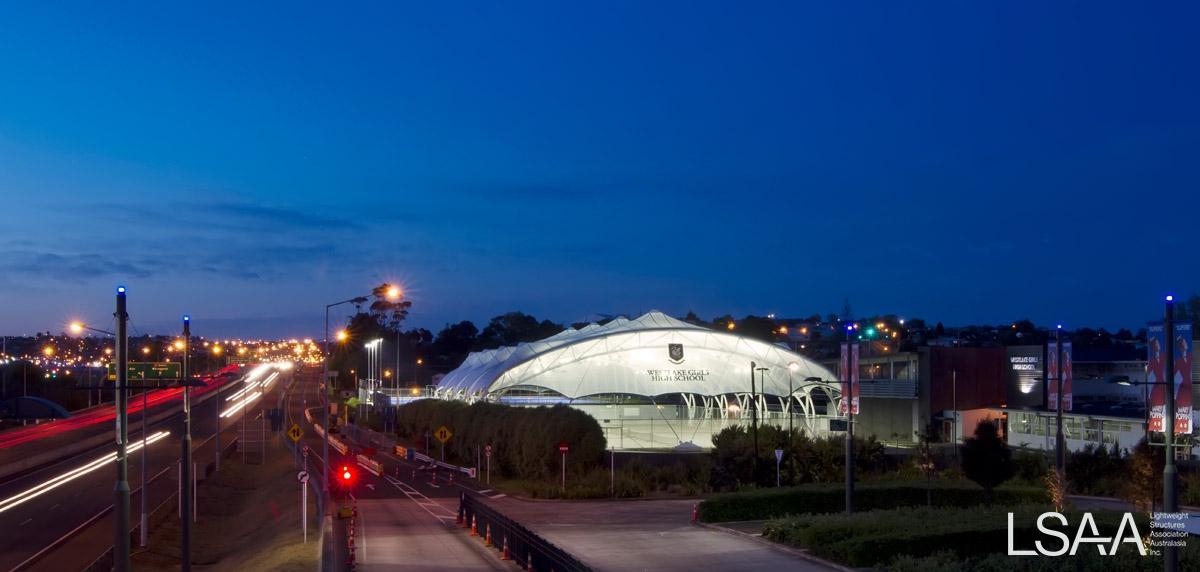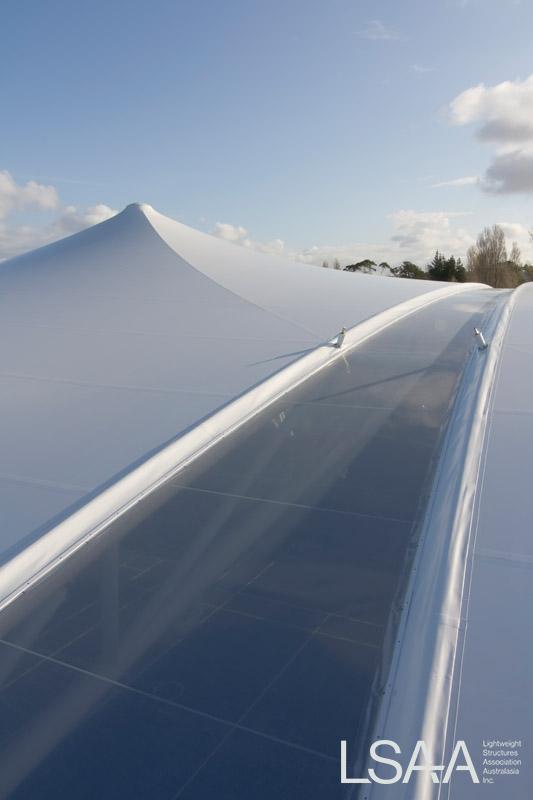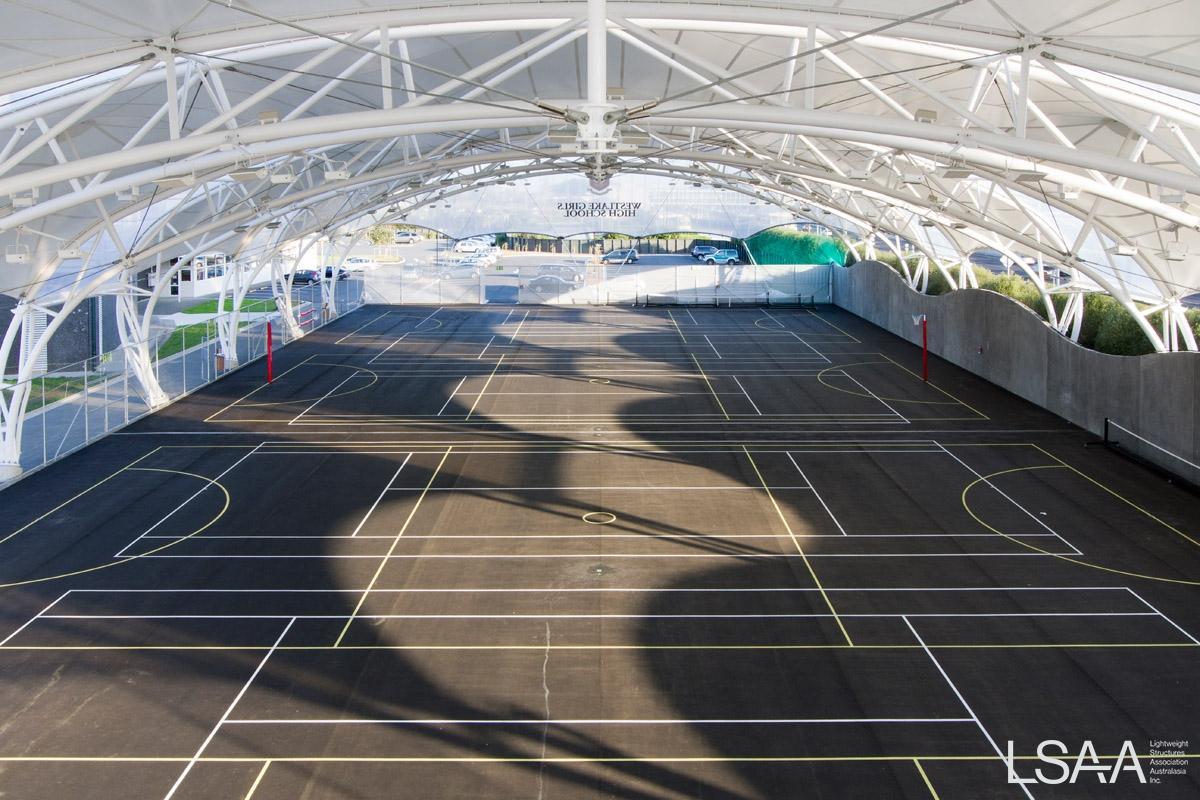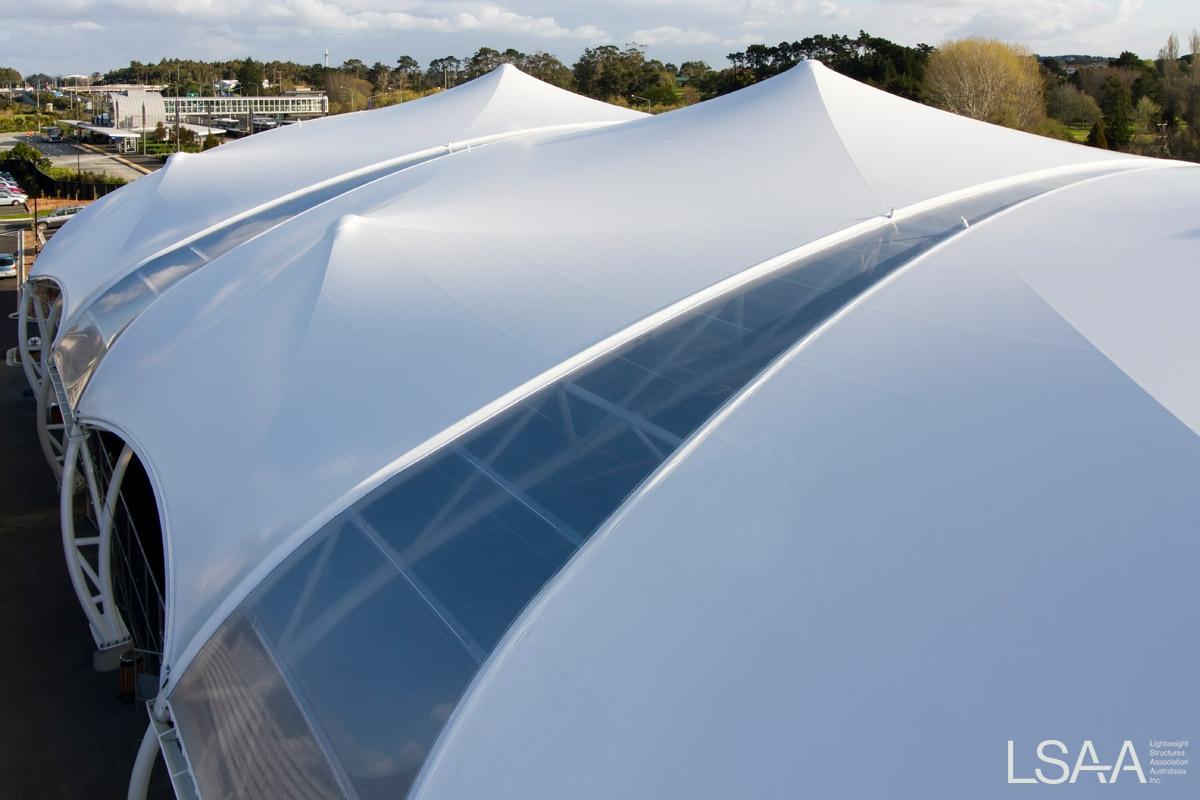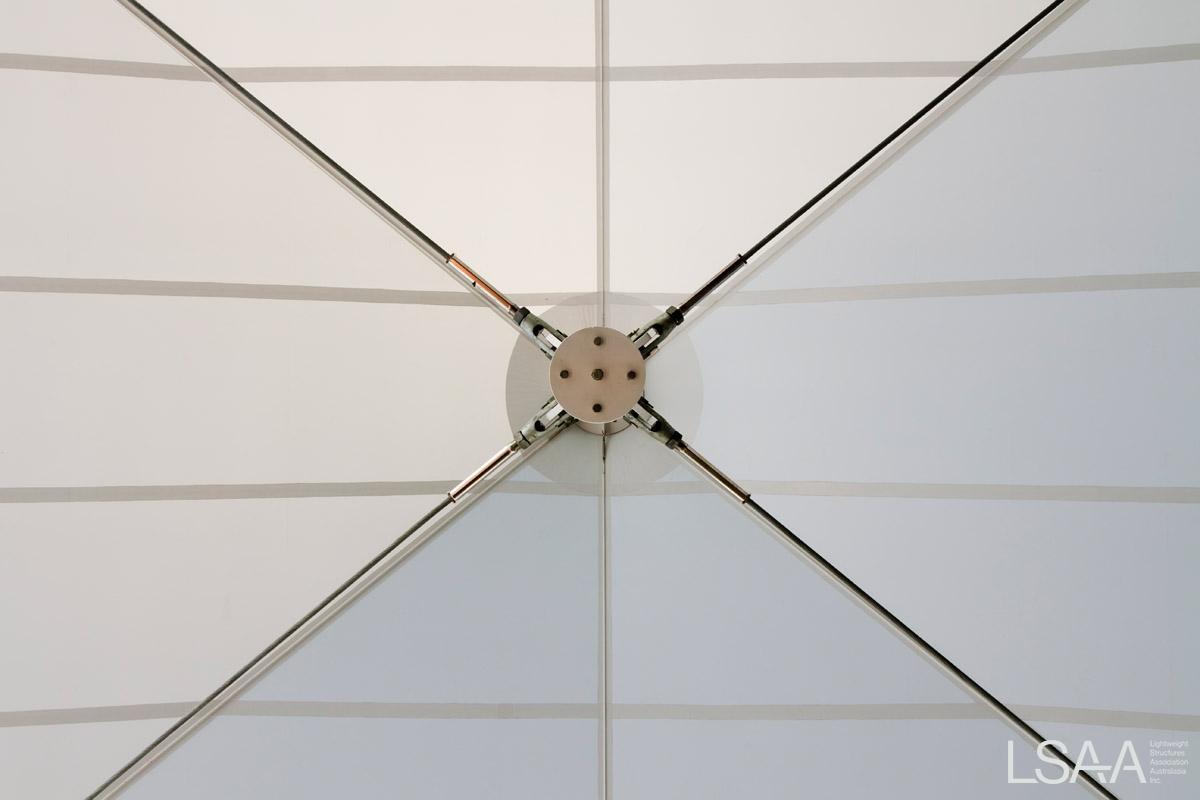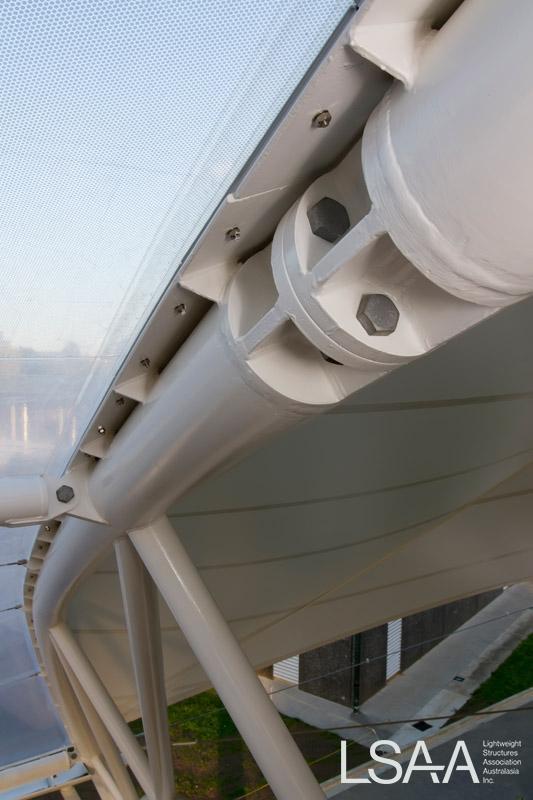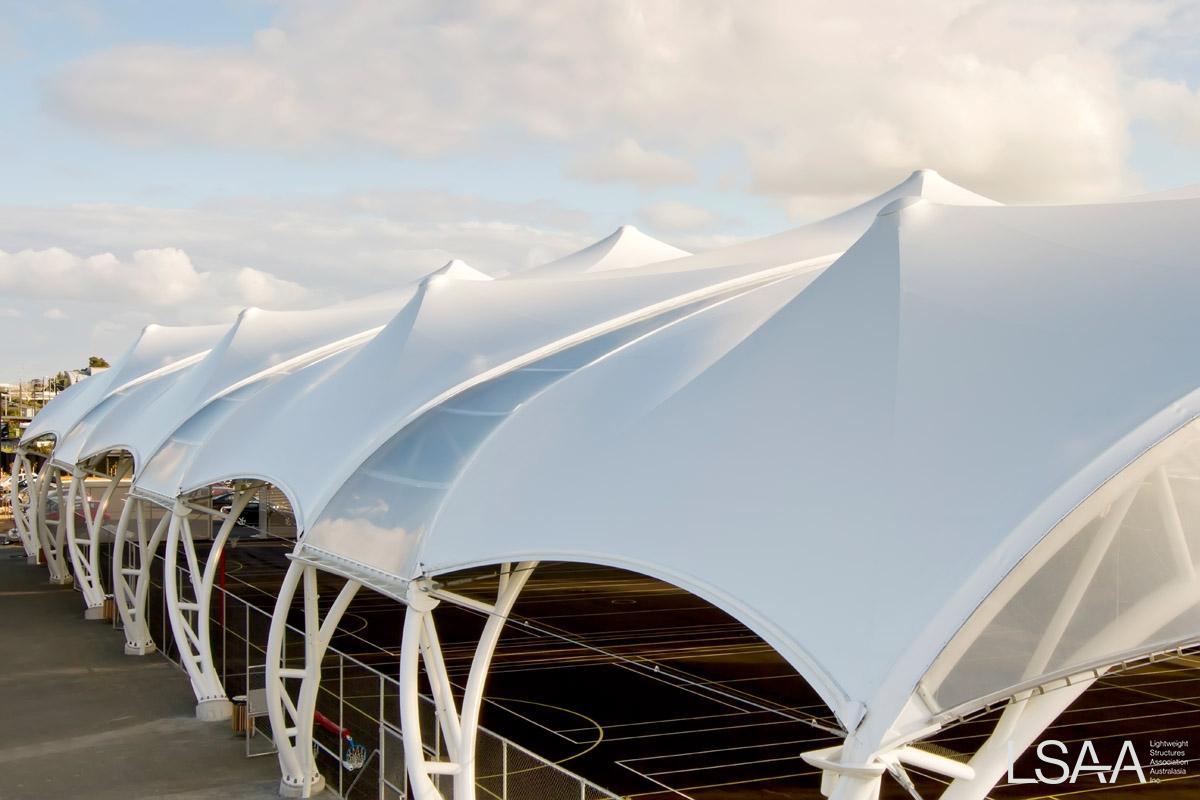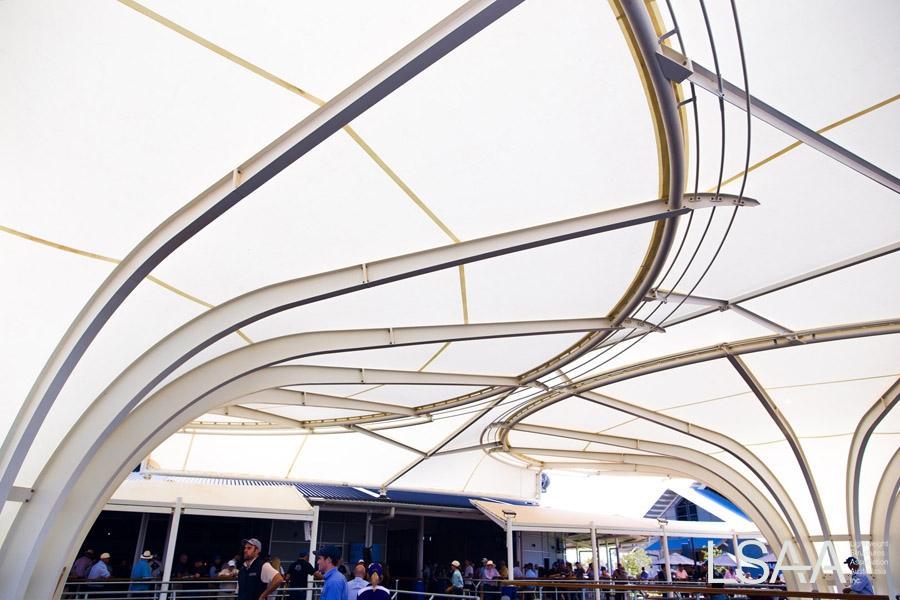 Commendation LSAA 2018 Design Awards Large Structures (Cat 4, 4433)
Application: Large canopies with a fabric surface area over 2800m2 to cover multiple areas at the Inglis Selling Centre Warwick Farm Racecourse
PROJECT DESCRIPTION:
The project was the design, fabrication and installation of multiple decorative and functional canopies for the Inglis Selling Centre at Warwick Farm Racecourse. With an overall Chukoh FGT800 PTFE fabric area of approximately 3060m2, the project covered multiple areas and structure types - "Trees" to cover the horse parade ring; a shelter canopy for the patron walkway for the pre-parade ring; a canopy for the wedding pavilion, and awnings for the hotel.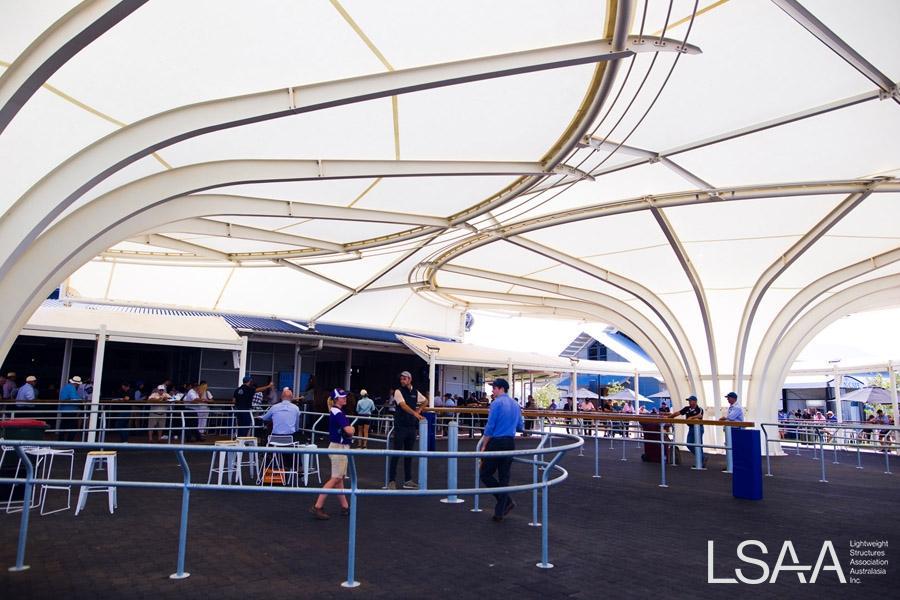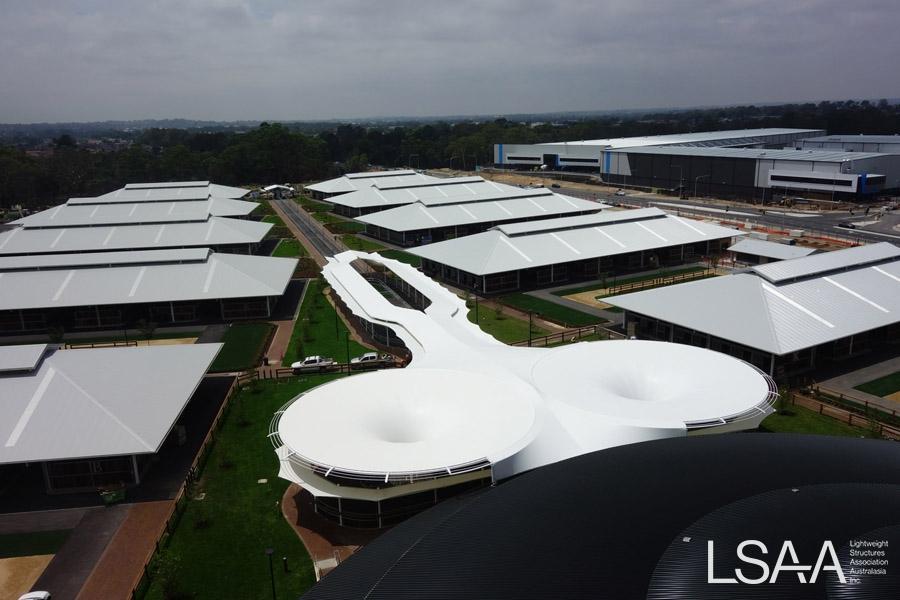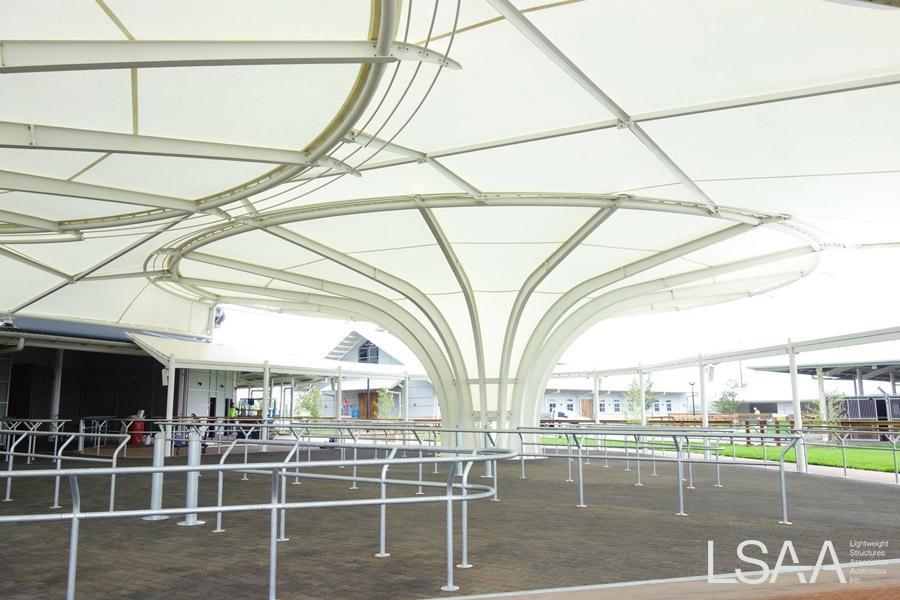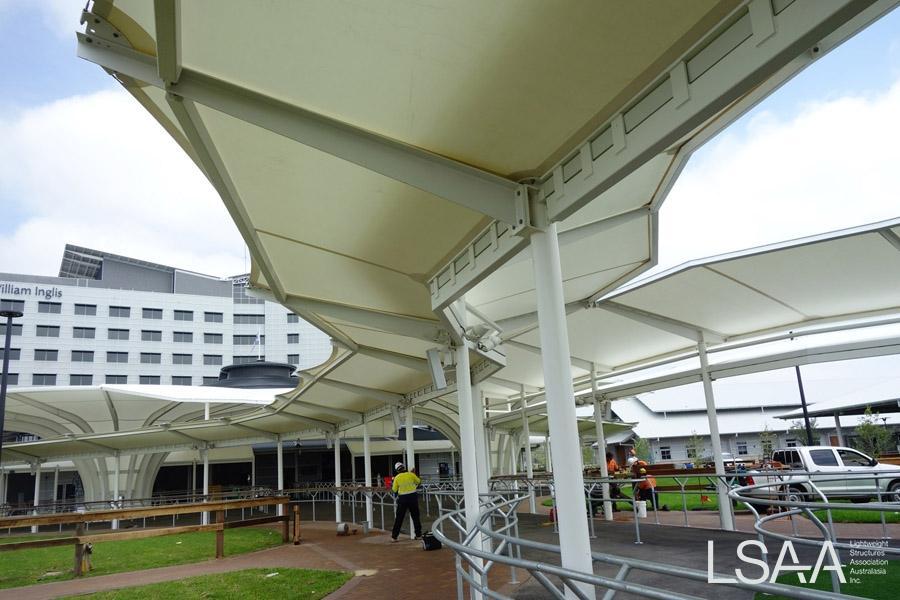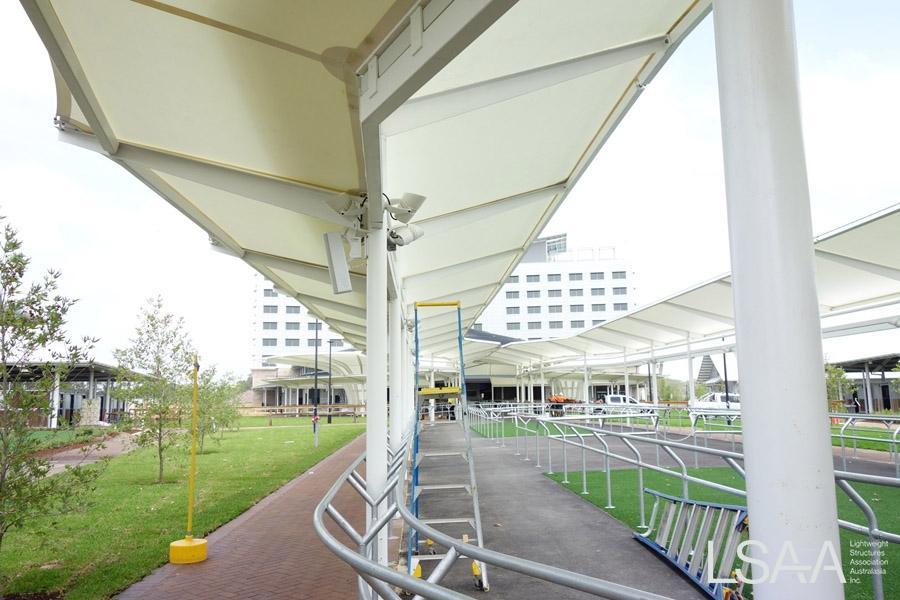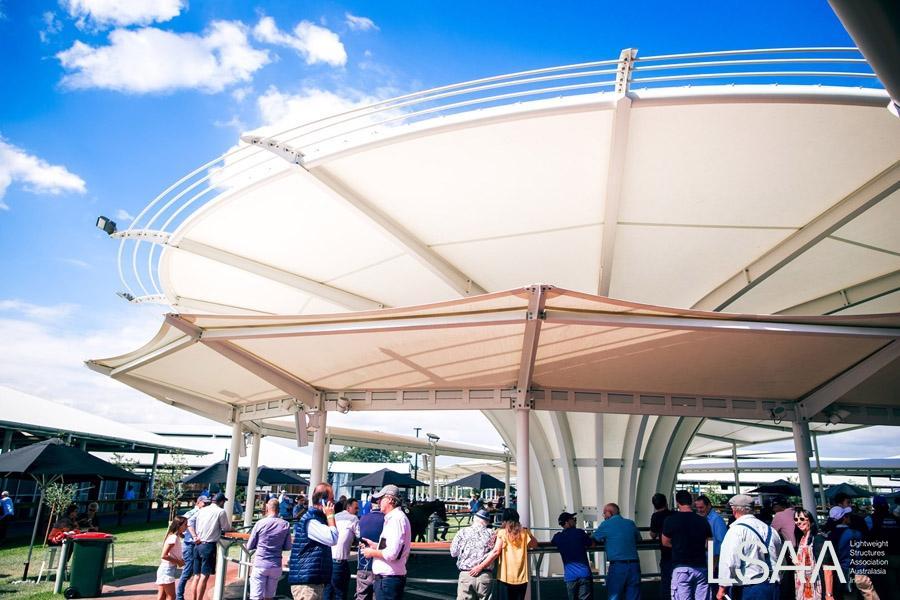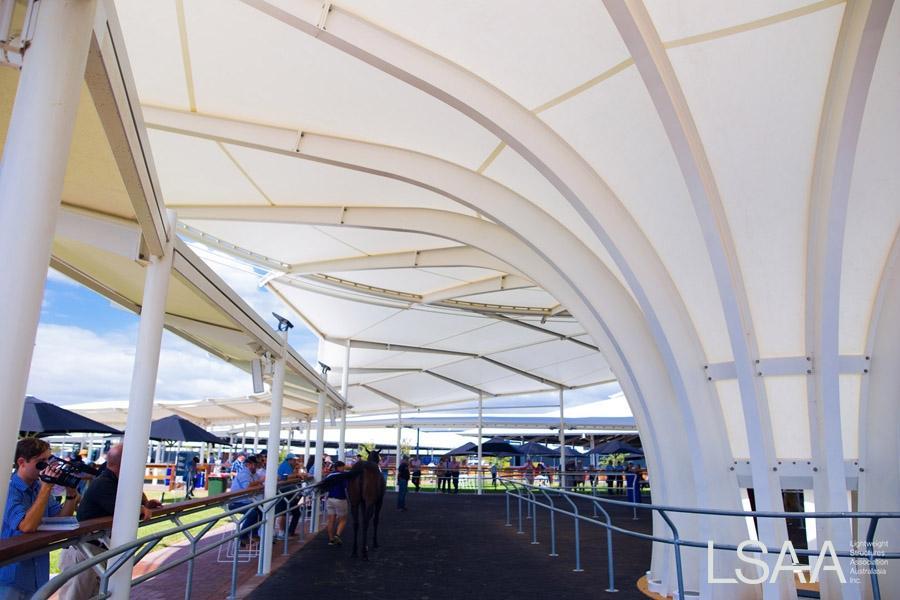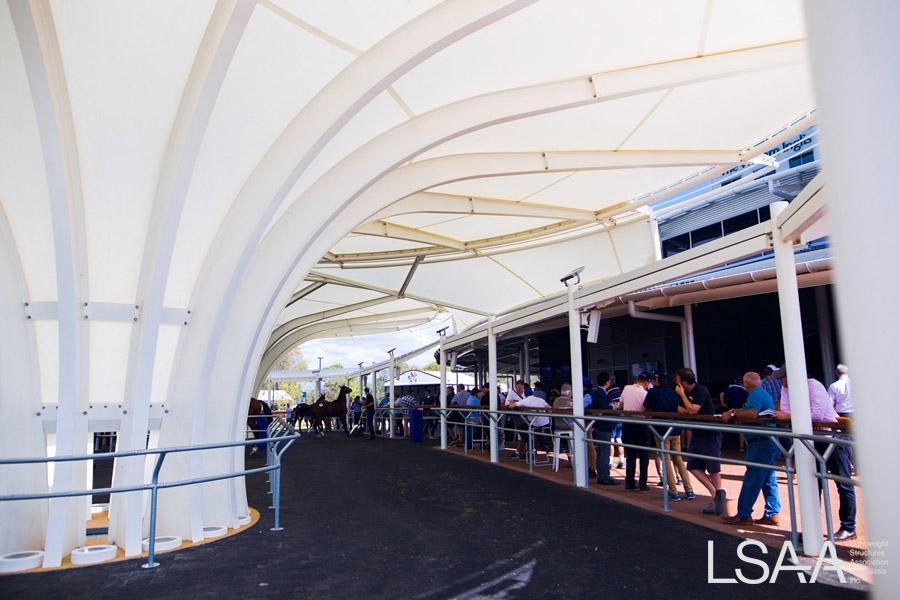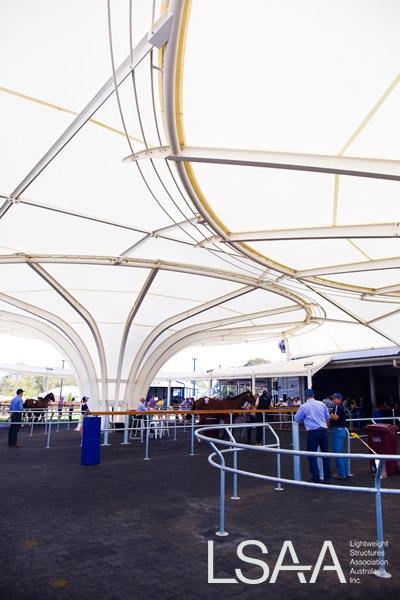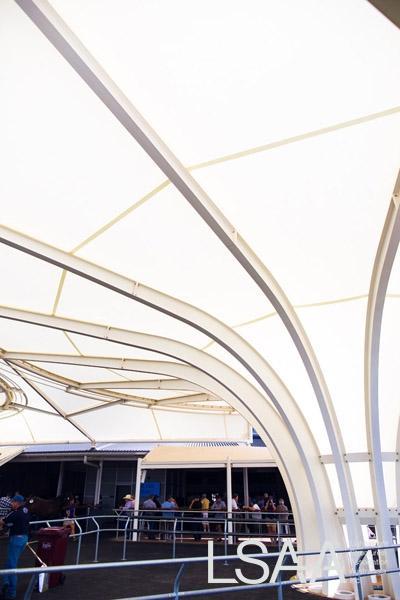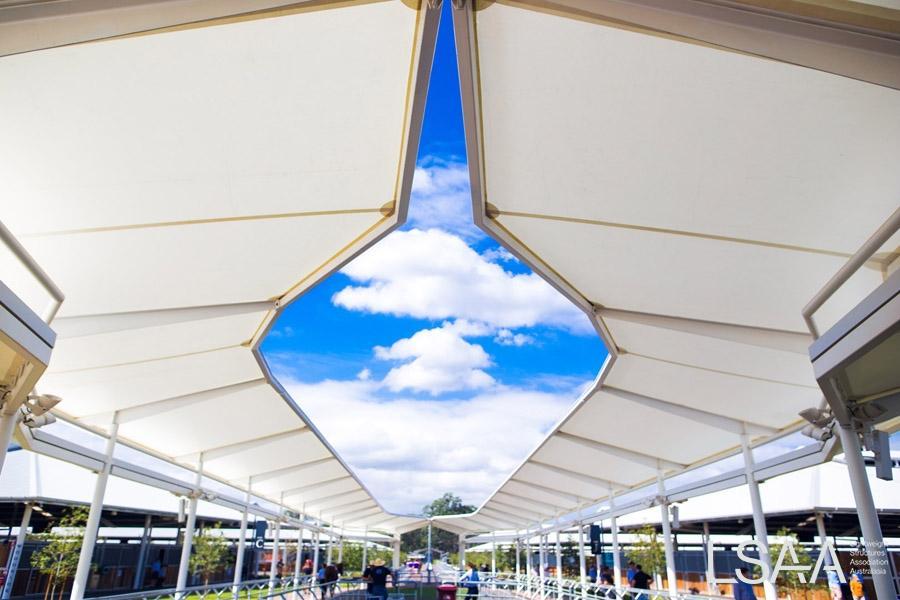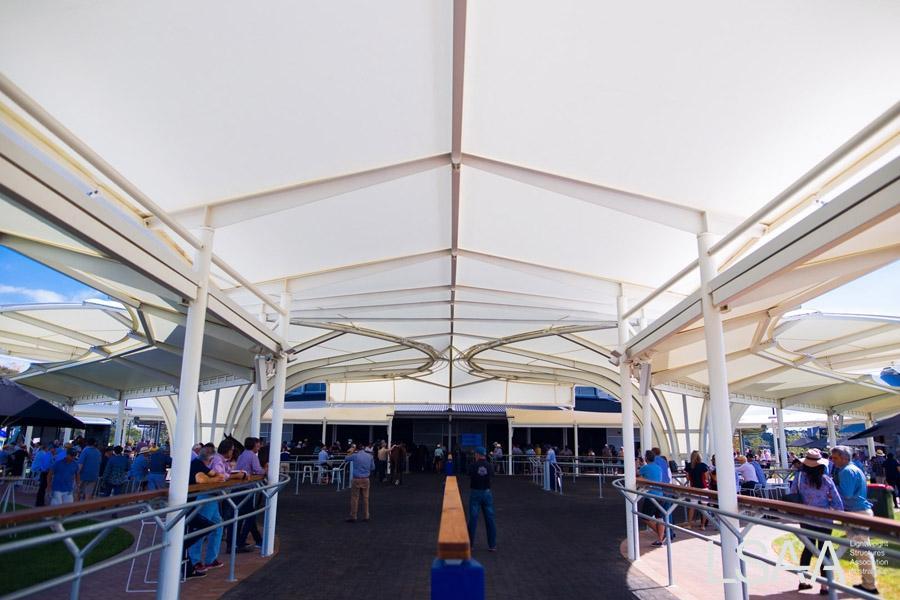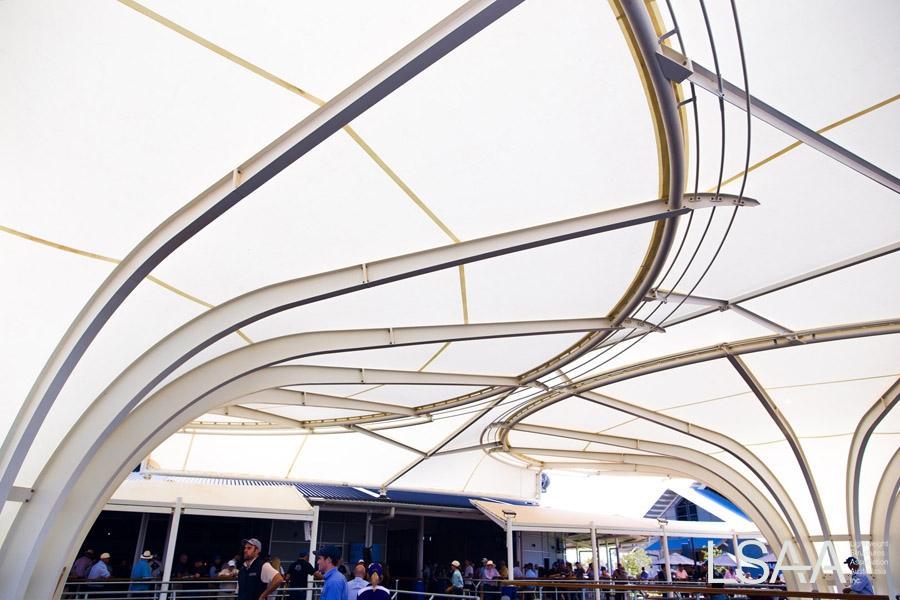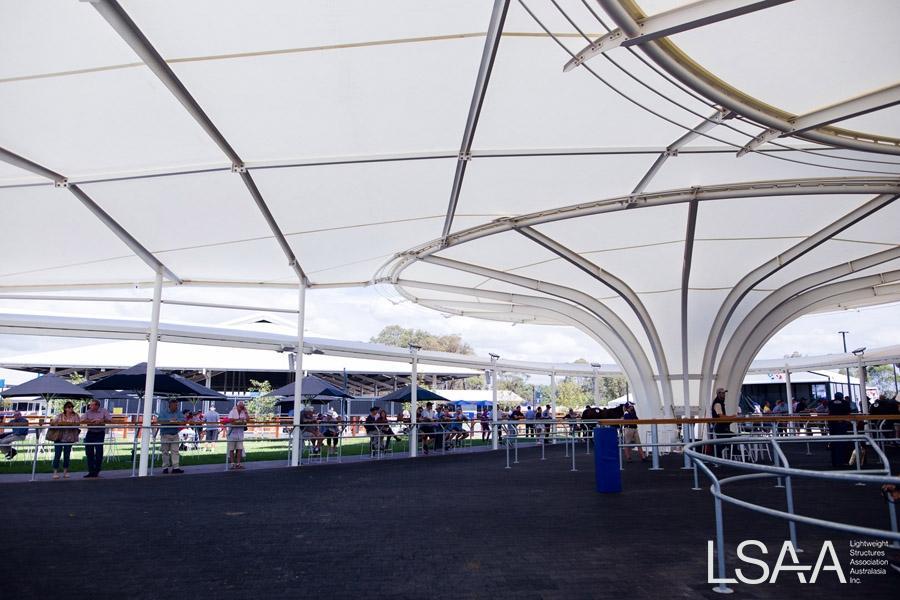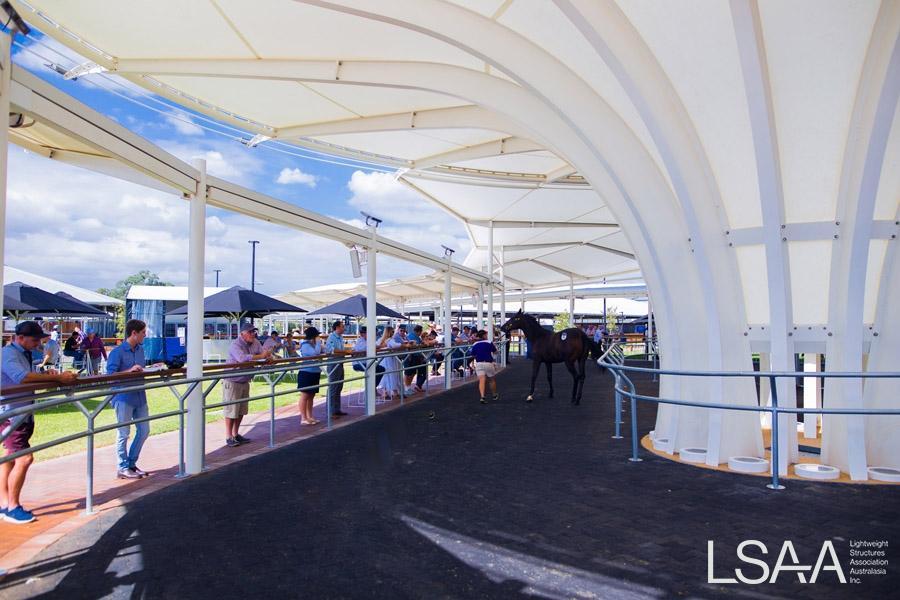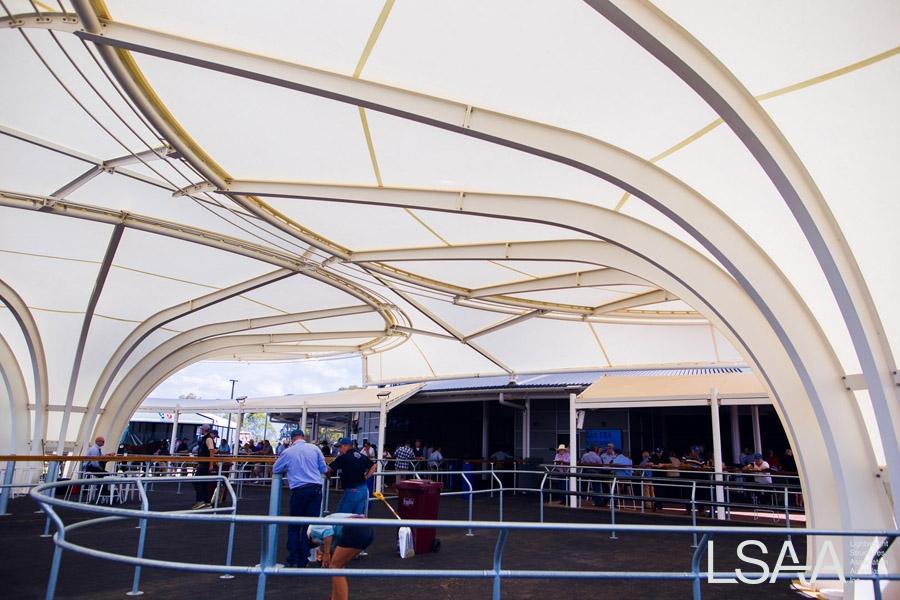 Read more: Inglis Selling Centre Fabric Roofs at Warwick Farm Racecourse (2018)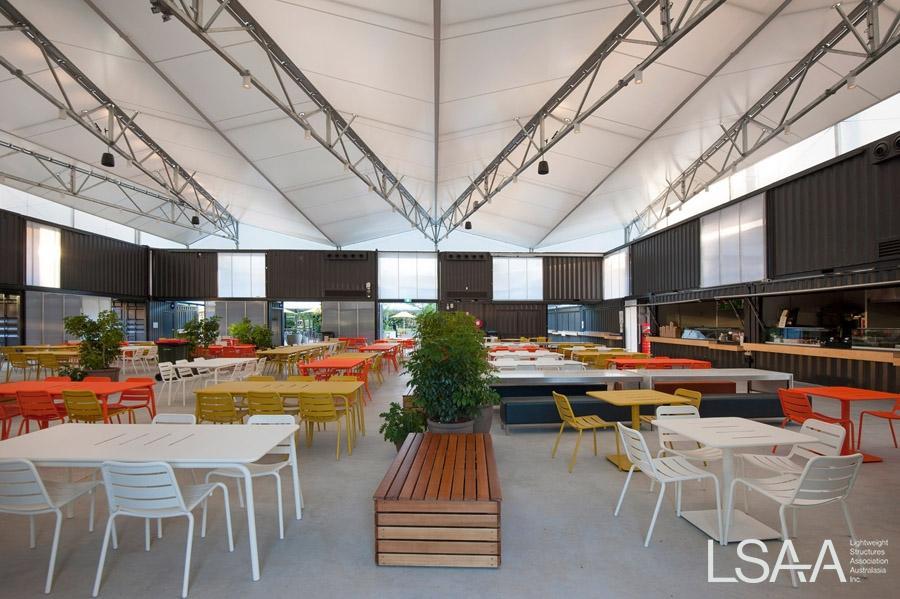 Application: Container-mounted architectural structures for university dining hall.
This project was entered in the LSAA 2018 Design Awards (Cat 4, 4001)
PROJECT DESCRIPTION:
The Macquarie University Campus Common project comprised of the design & construction of a series of 11 container-mounted architectural awnings to cover a new temporary dining area for students. The design involved 6 market structures, 1 larger 30m x 30m 'main' structure, and 4 awning structures. The main structure was required to have an internal environmental control system for temperature regulation inside.
The intention of the temporary solution meant that the design allows for the structures to be easily dismantled and relocated in 5 years.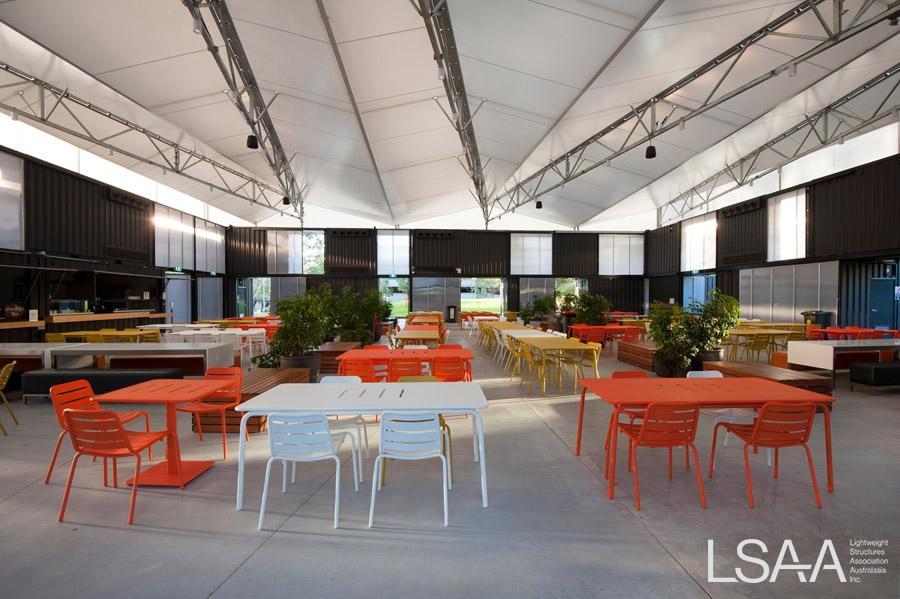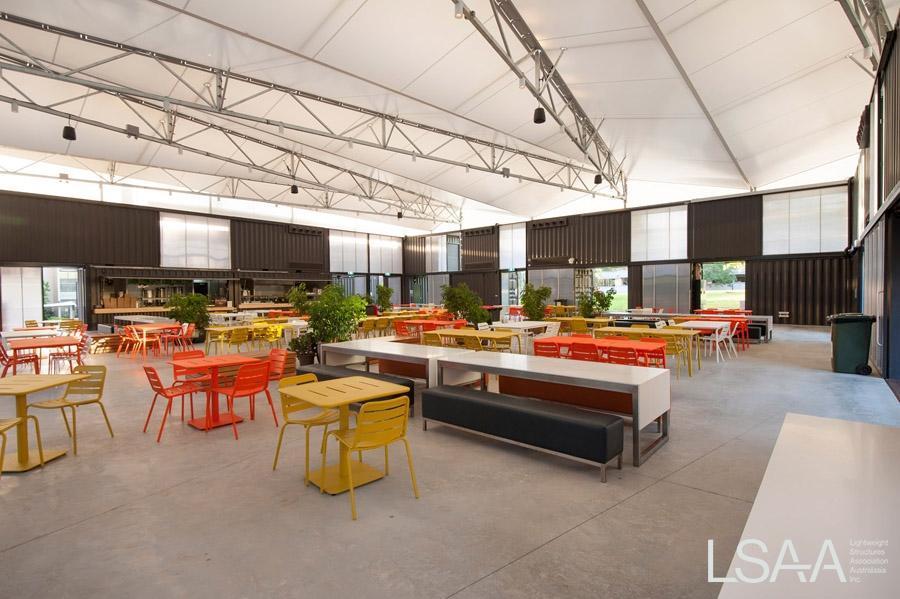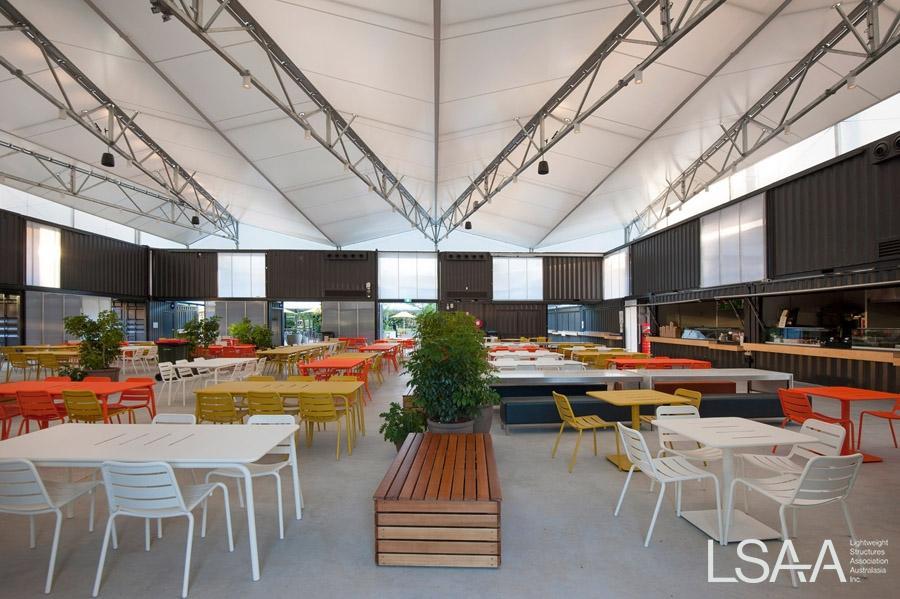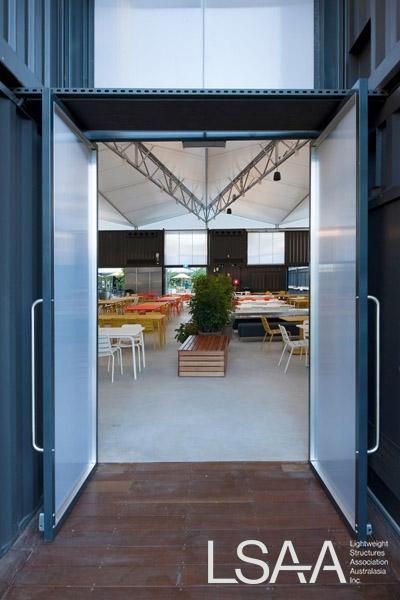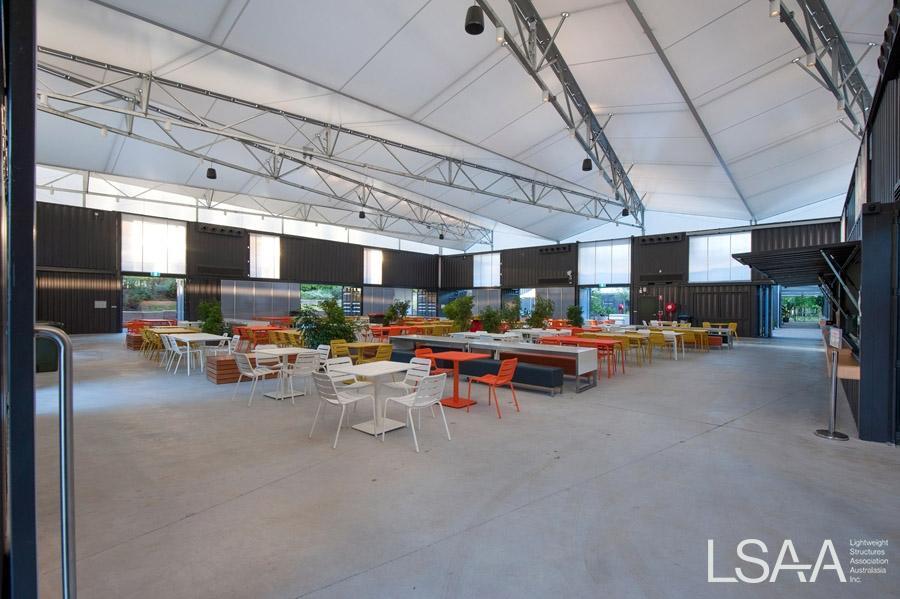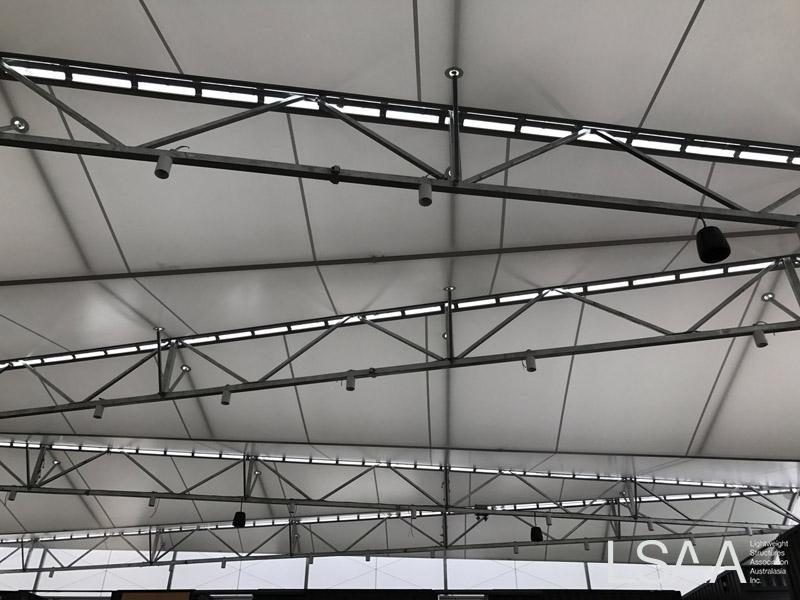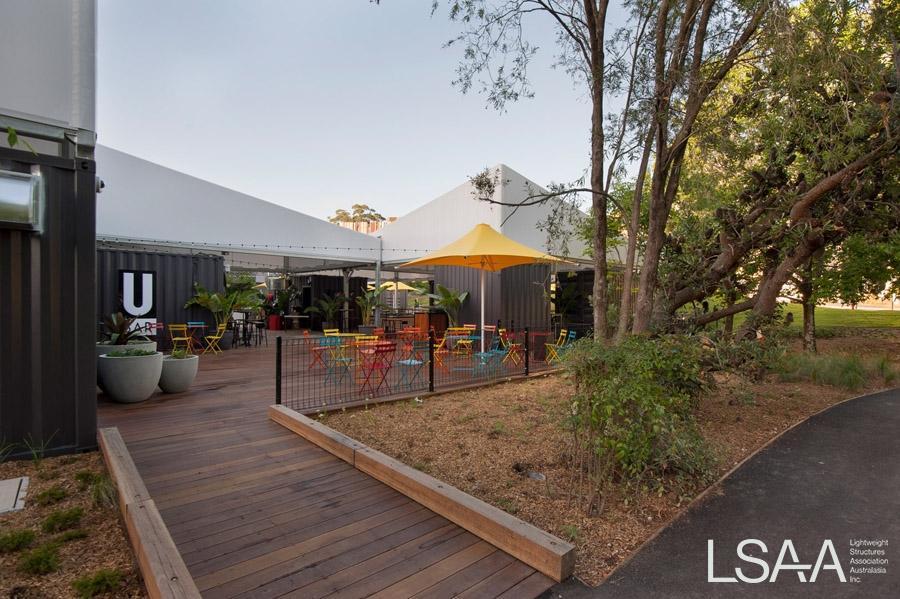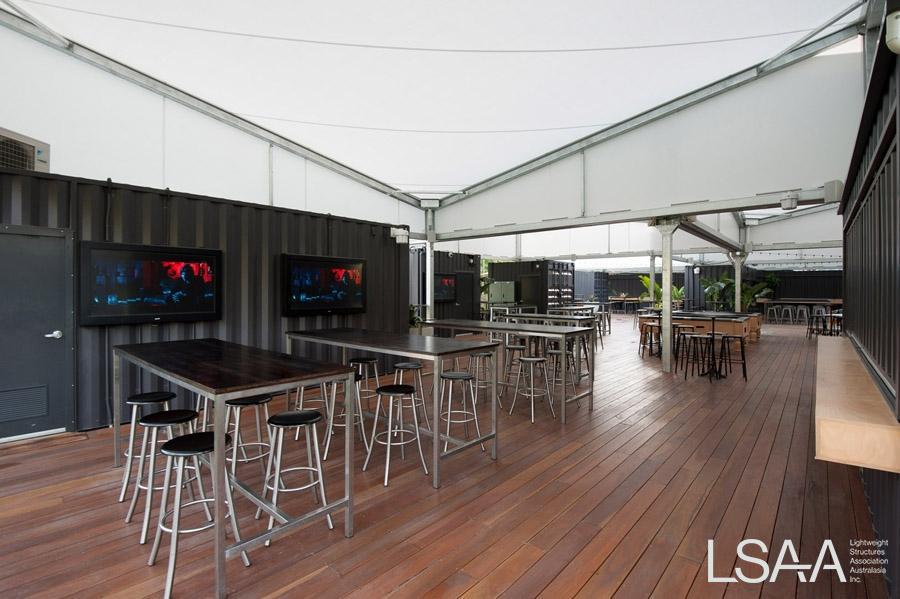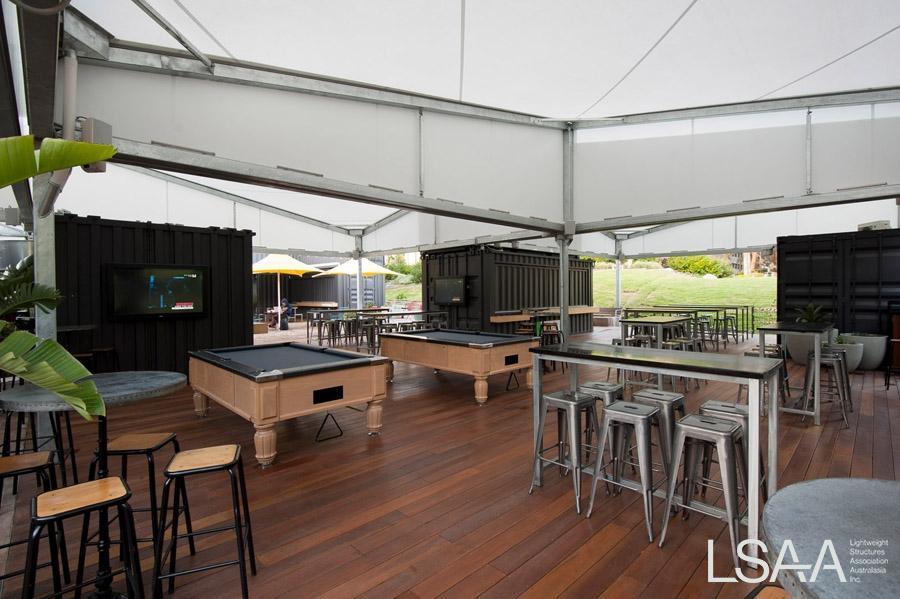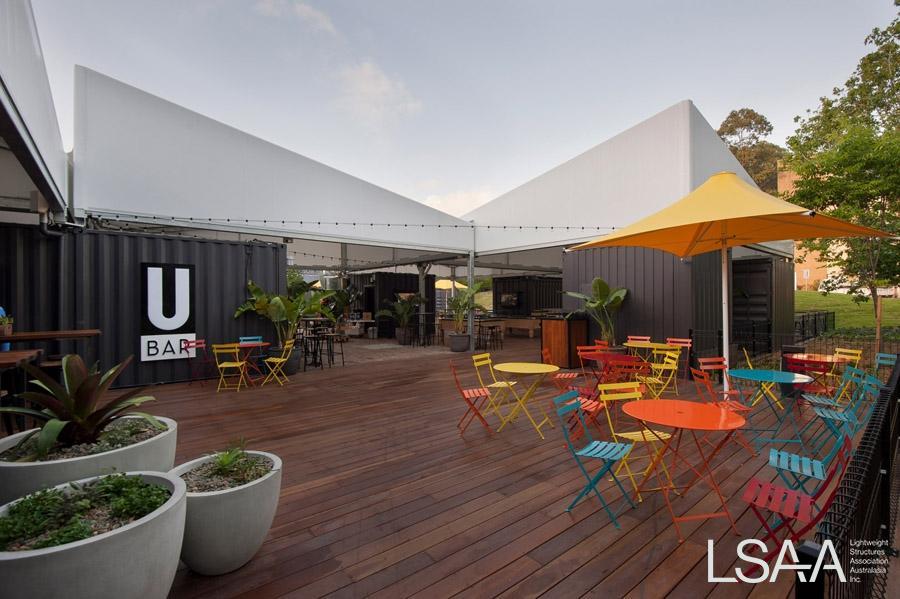 Photo Credit: Michael Anderson, Paramount Studios
Read more: Macquarie University Campus Dining Room Project (2018)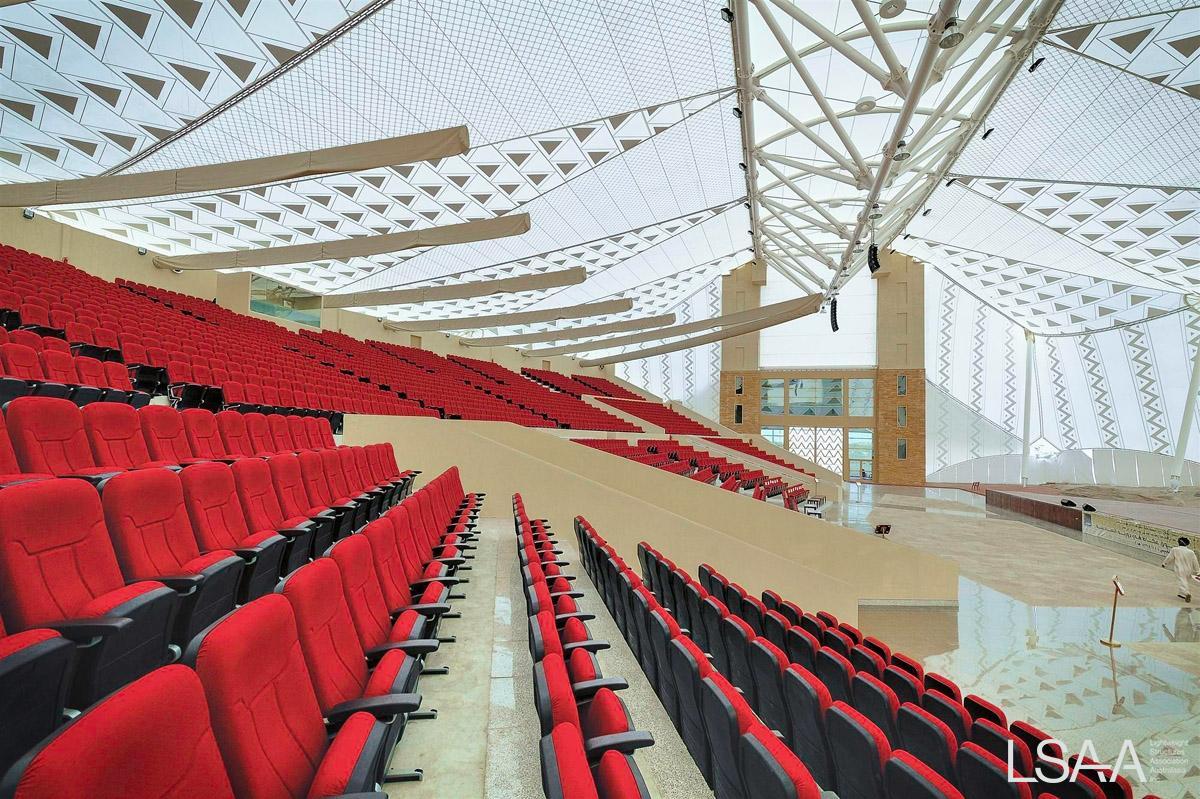 LSAA Design Awards 2013 Award of Excellence (Cat 6, ID 4303)
Souk Okaz Public Theatre
Entrant: MakMax Australia
Location: Taif City, Kingdom of Audi Arabia

Client: Taif City

Completion Date: March 2013
Judges Comments:
"Well integrated and designed perfectly for its place."
"This looks to be very successful integration of lightweight elements with solid architecture. There's no sense that the roof has been conceived independently of the rest of the theatre. Lovely tent-like effect; very effective use of pattern on the 'fly sheet'."
PROJECT DESCRIPTION: Decorative roof, culturally significant
The purpose of Souk Okaz Public Theatre was to deliver both a functional public space for cultural activities and evocative ambience reminiscent of the ancient pre-Islamic era of a bustling Bedouin market place.