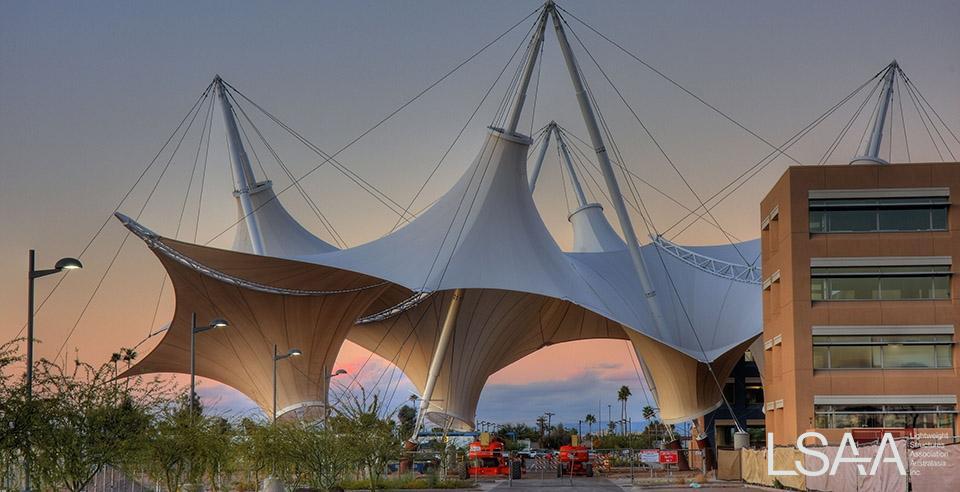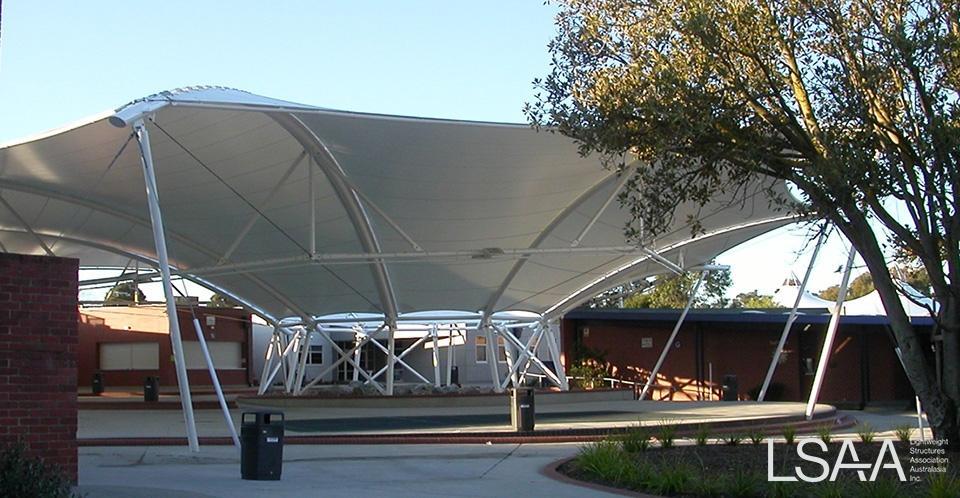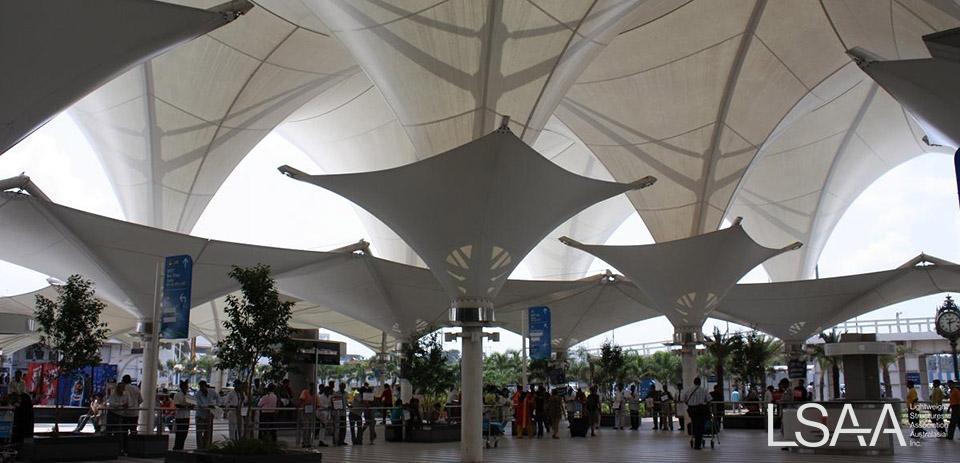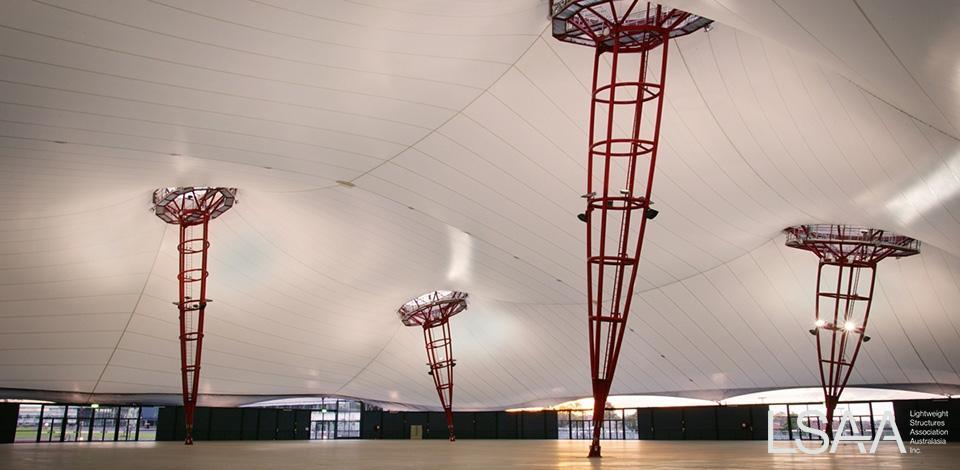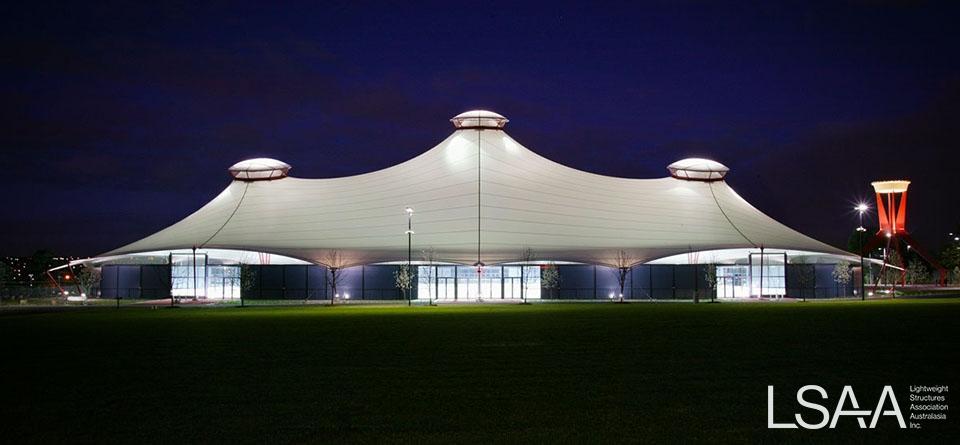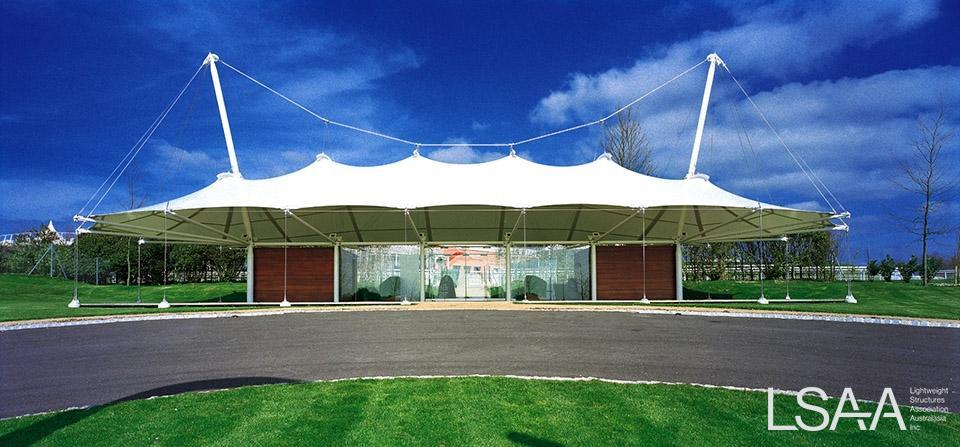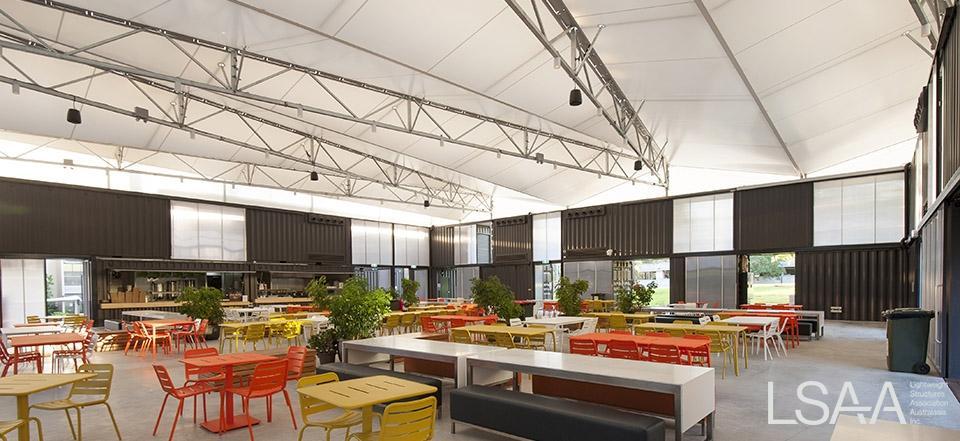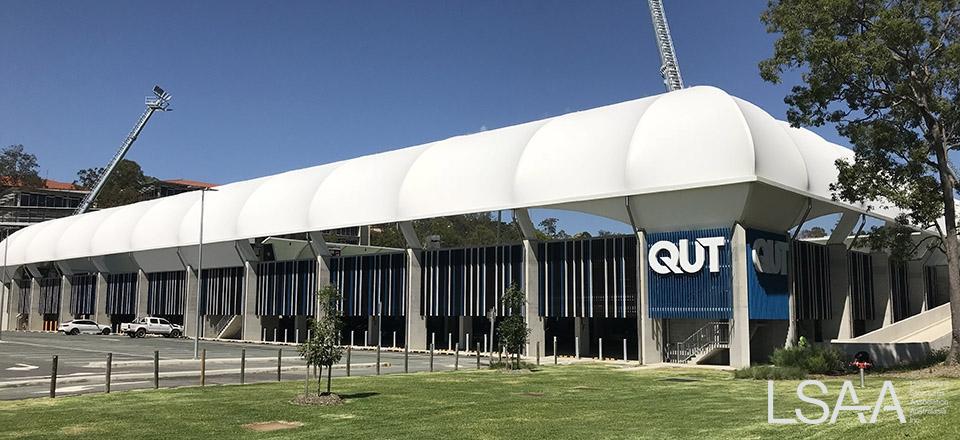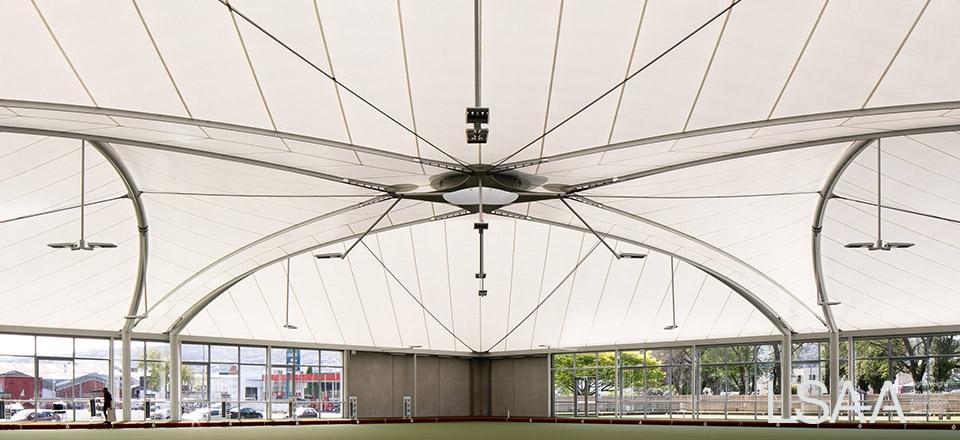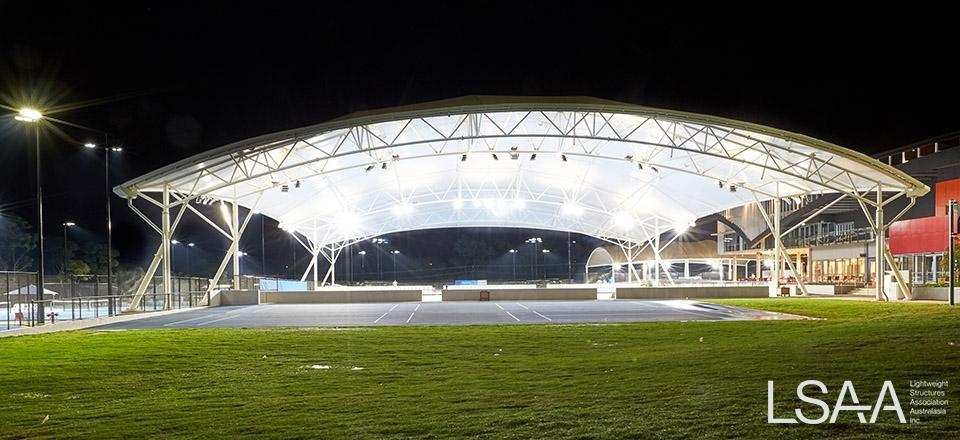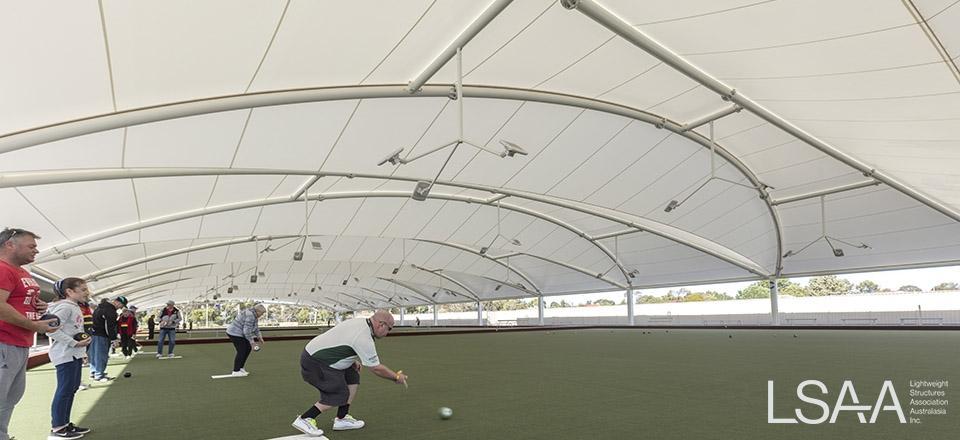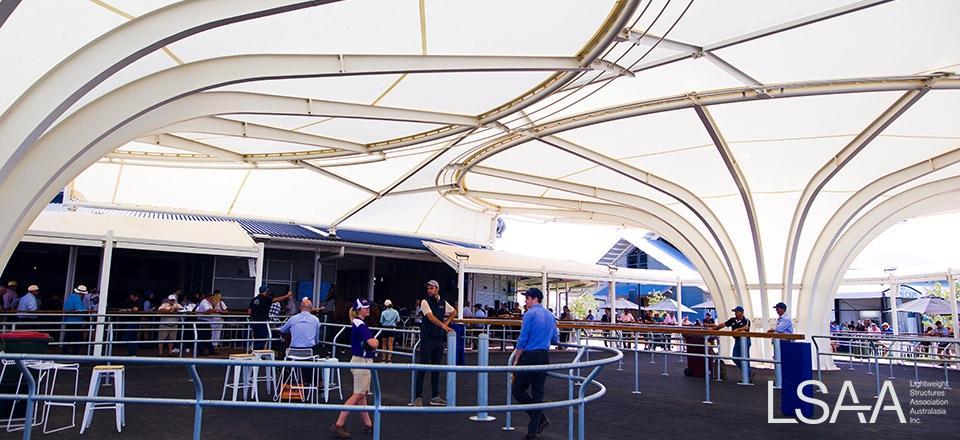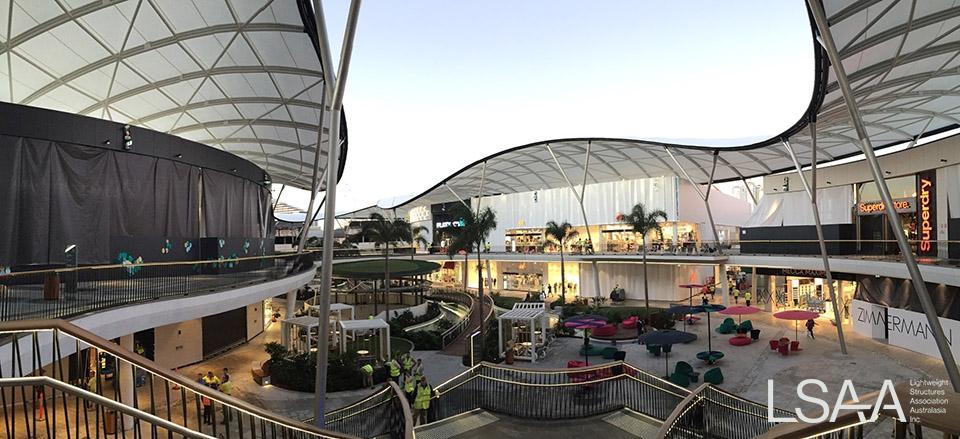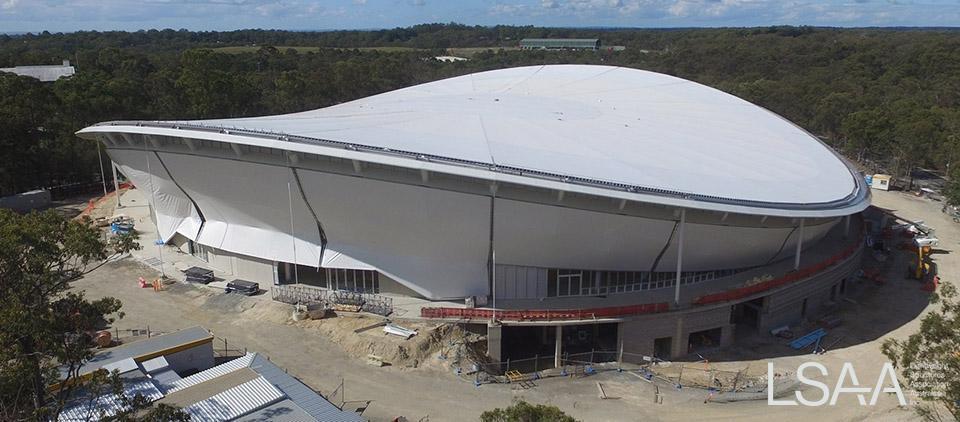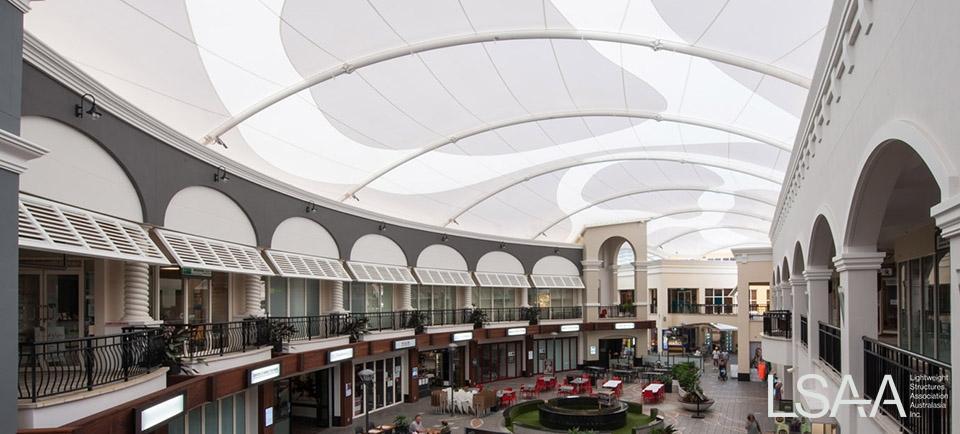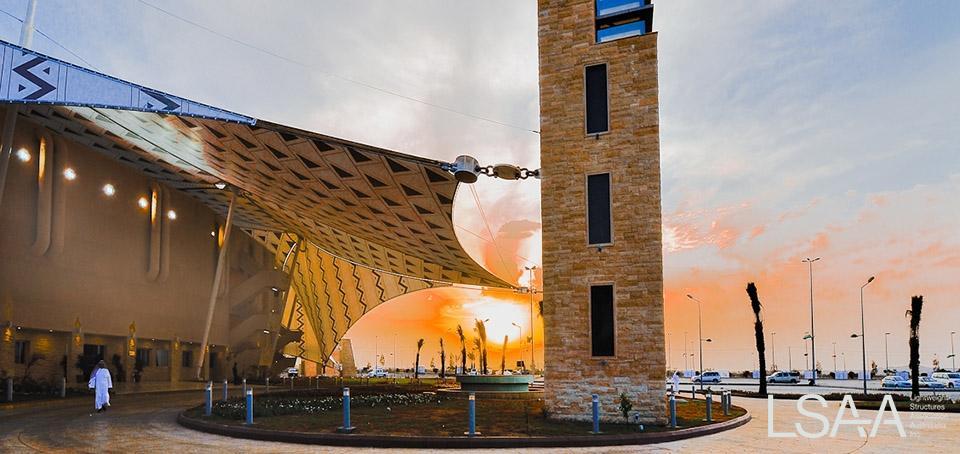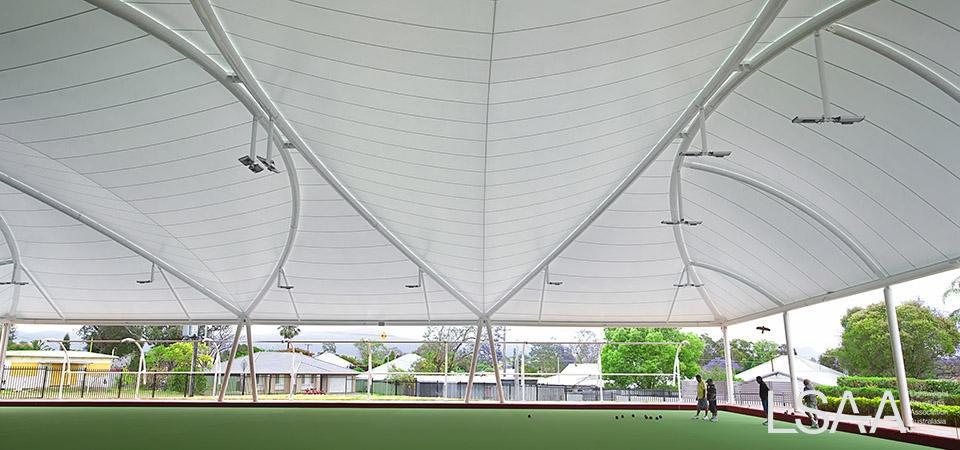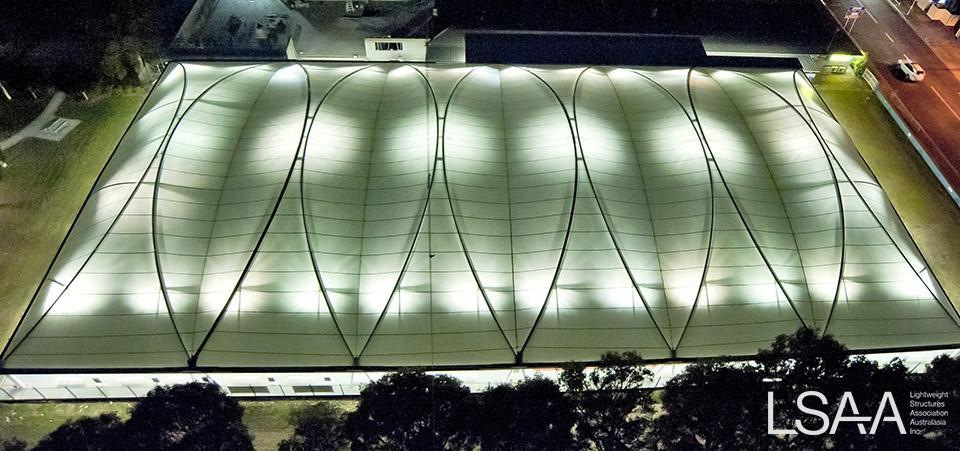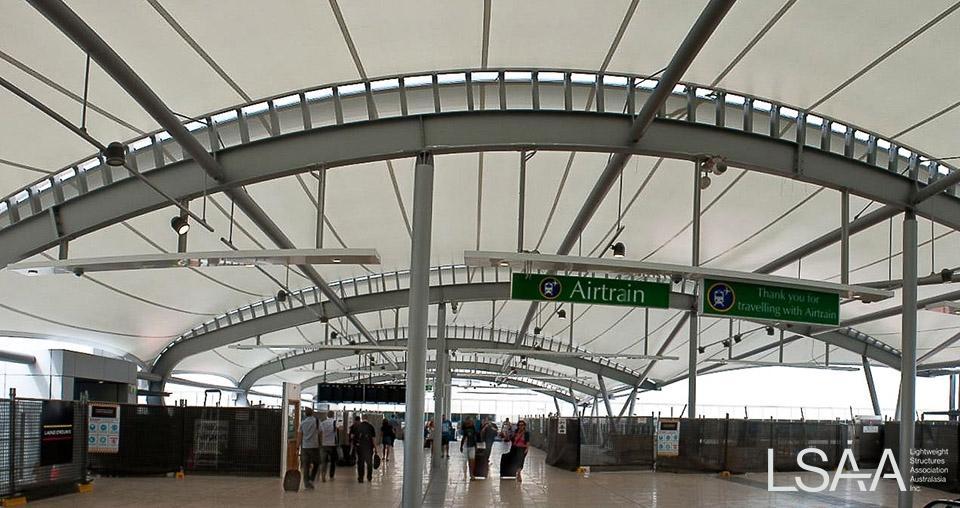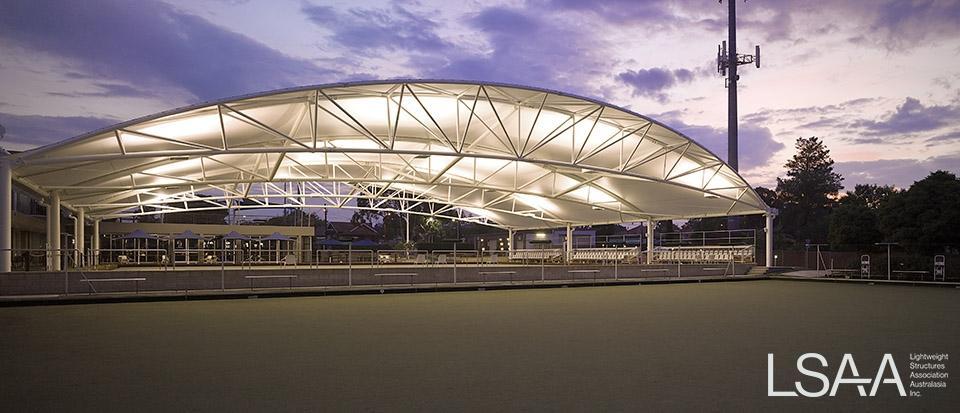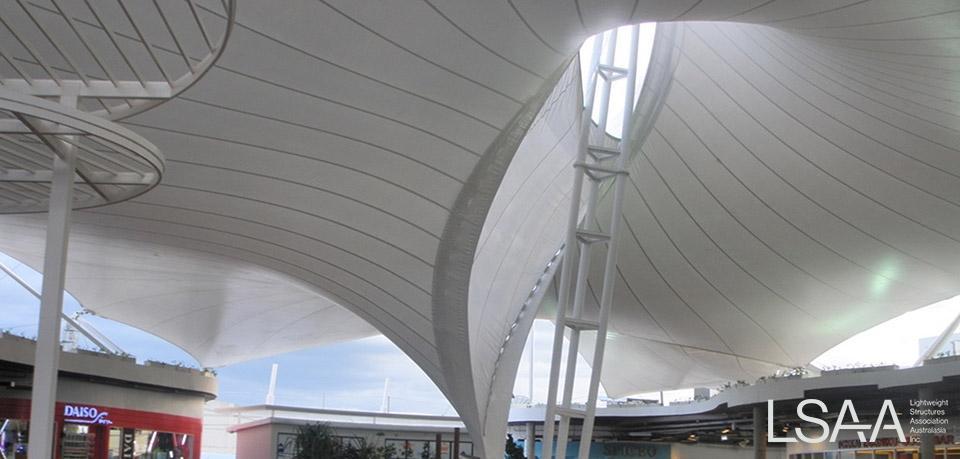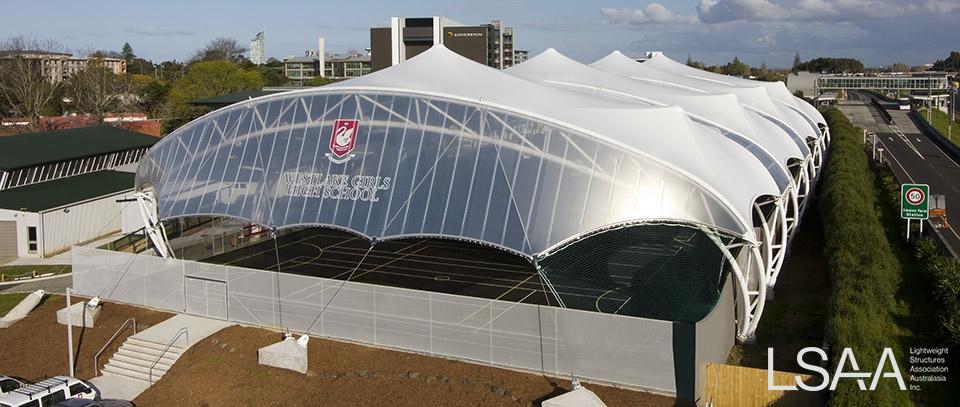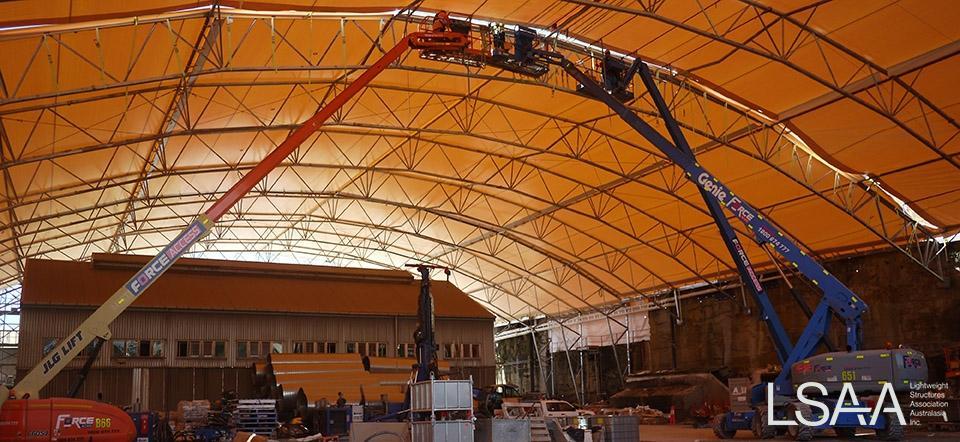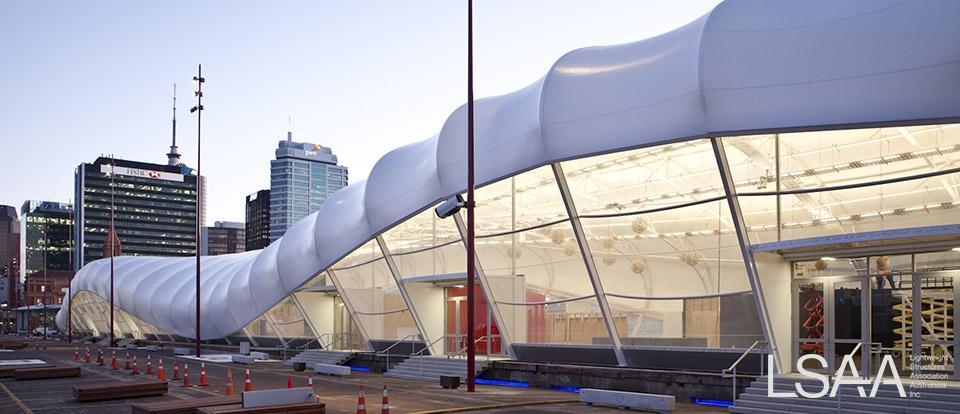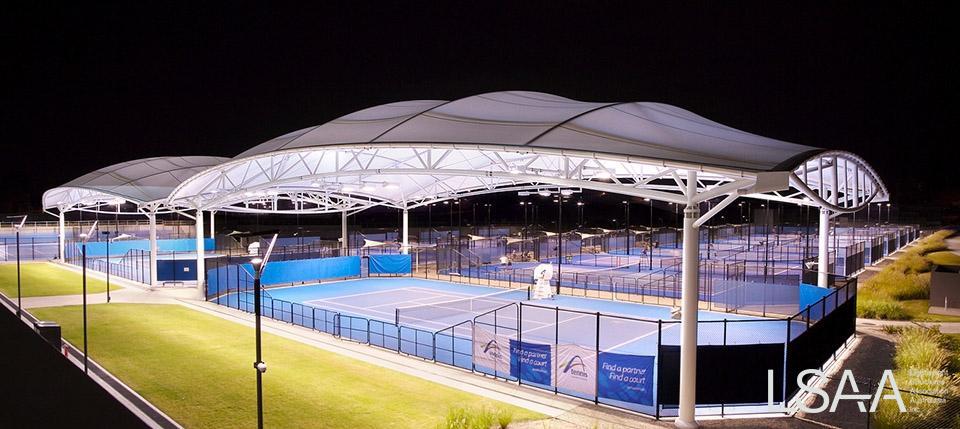 Large fabric structures have generally been thought of as those that have a fabric surface area greater than 1000 square metres. These structures may be described as single surfaces or panels in the form of one of the classic hypars, barrel vaults, cones, panels with single or crossing arches - or a combination.
Larger fabric structures can also be made from several modules or panels of similar forms to build up a substantial sized structure. The multiple panels might be arranged in a linear layout, or in a circular or oval pattern commonly found in stadia roofs. The boundaries are defined structurally and geometrically by straight or curved elements such as arches, edge beams and cables. The prestress forces from adjacent panels often counterbalance and the more efficient structures have a larger degree of symmetry and continuity such as a complete "bicycle wheel" for the roof a major sports stadium. Stadiums are grouped in a separate menu item.
The following articles are in random order: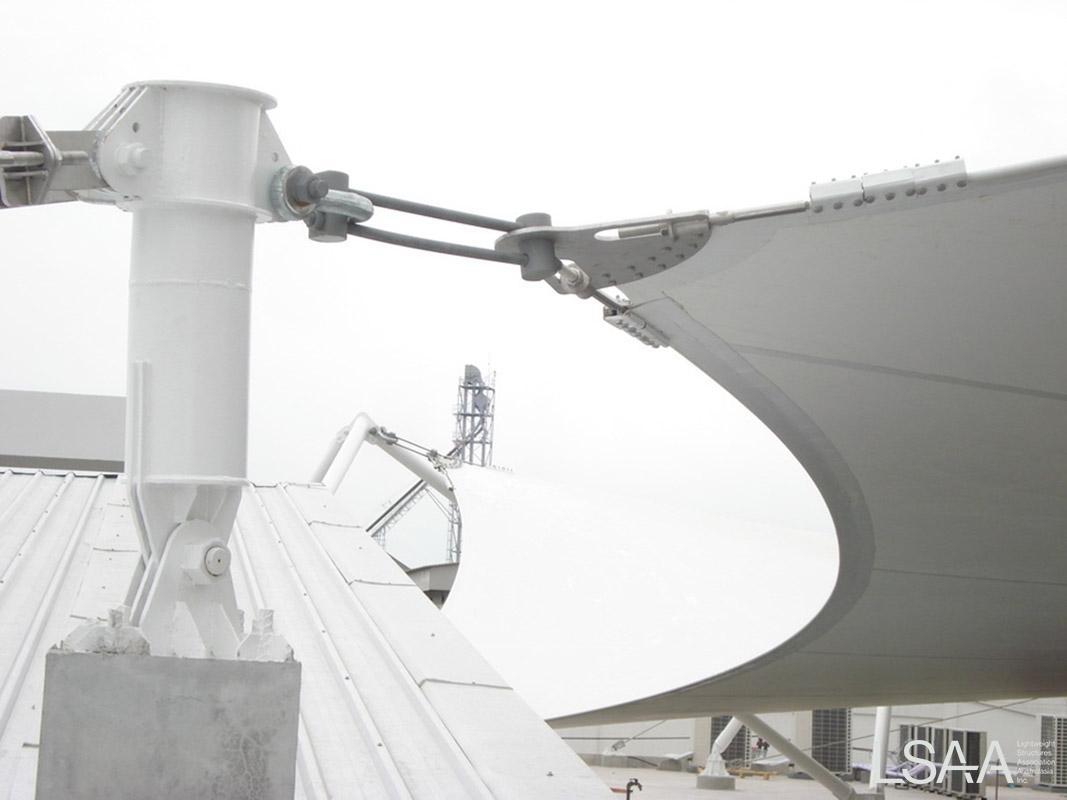 LSAA Design Awards 2013 High Commendation (Cat 4, 4166)
Project: Porto Chino
Entrant: Geometal Limited
Location: Samut Sakhon, Thailand

Client: D Land Group Co., Ltd

Completion Date: July 2012
Judges Comments:
"Contemporary structures have departed this dramatic curved shape tensiles, a nice return to Otto era."
"Seems an imaginative and successful answer to the challenge of unifying a shopping centre in need of some focus. The geometry of the main roof form adds interest to what could have been merely a pragmatic solution."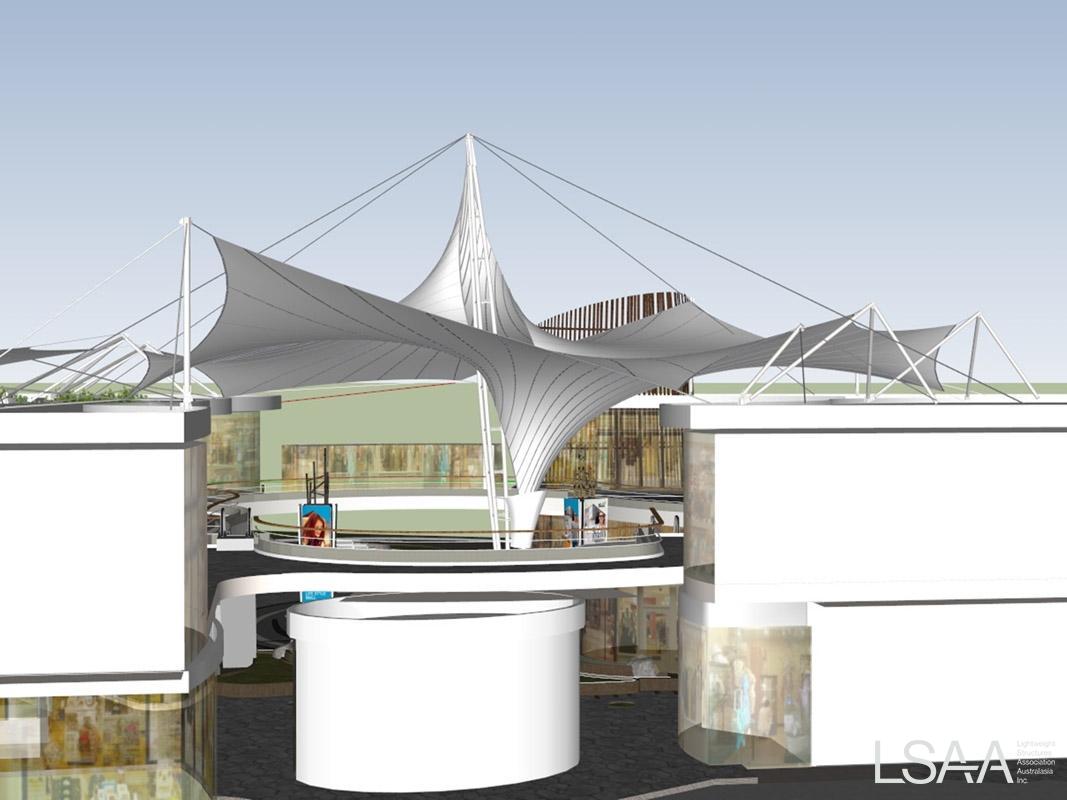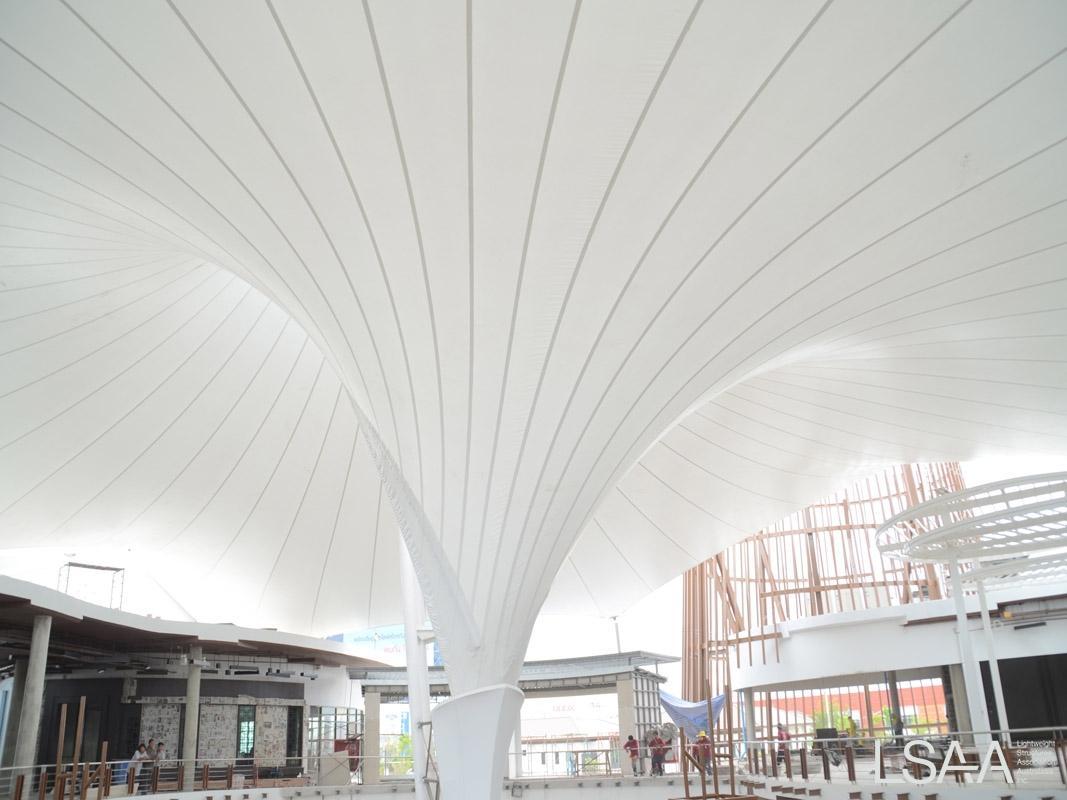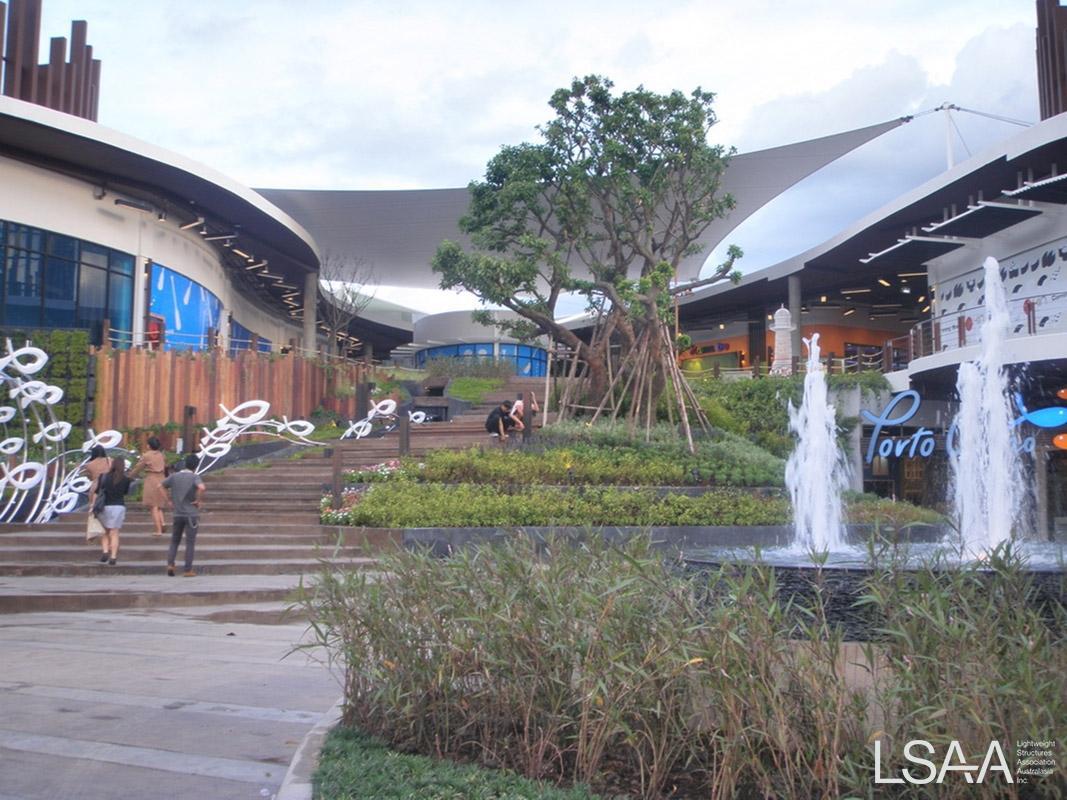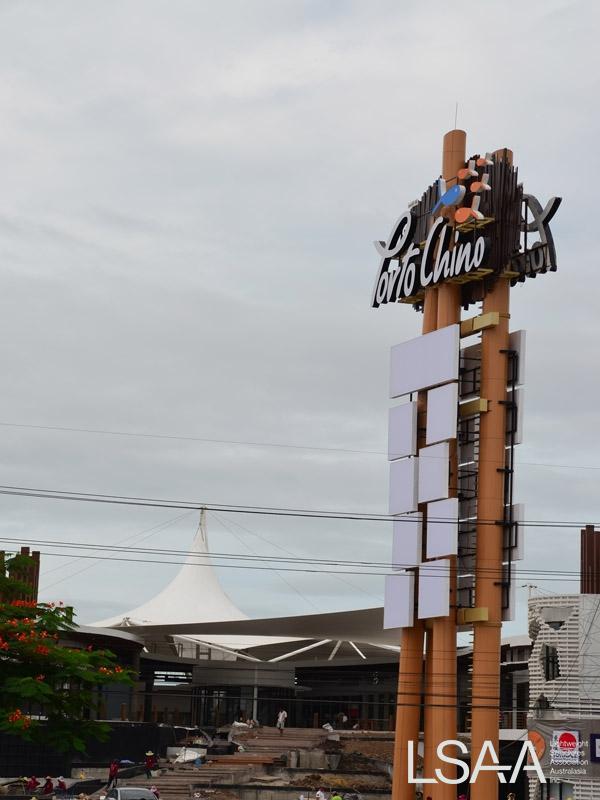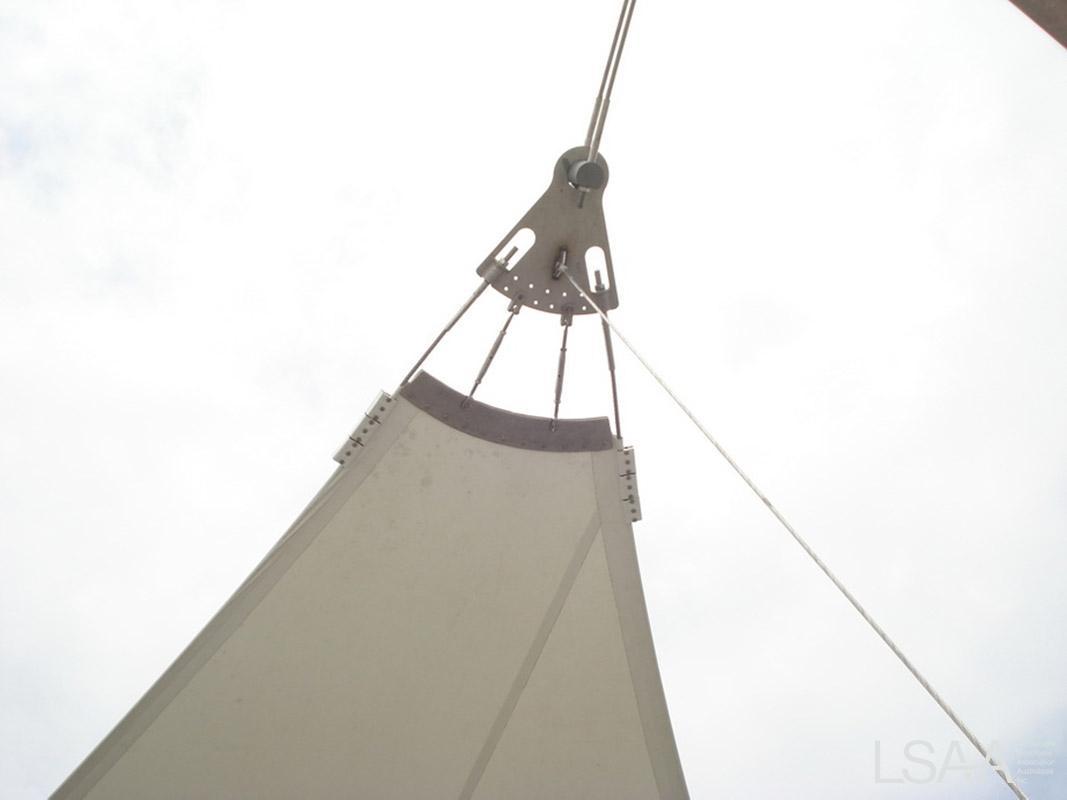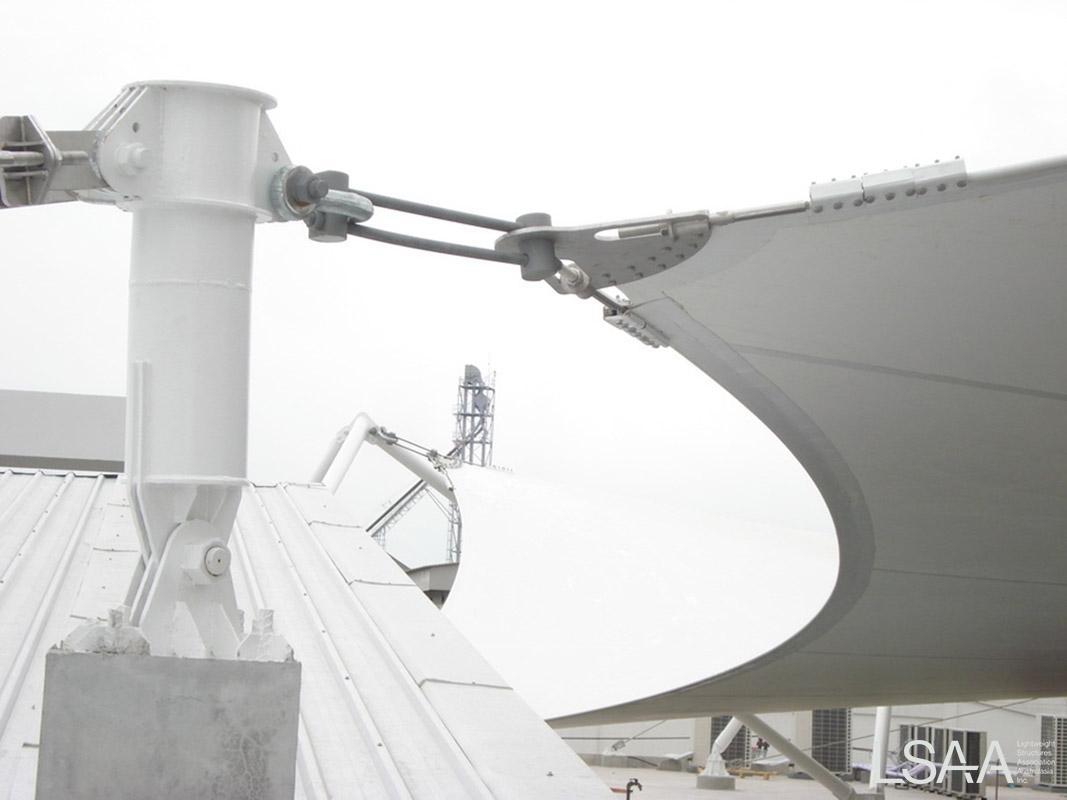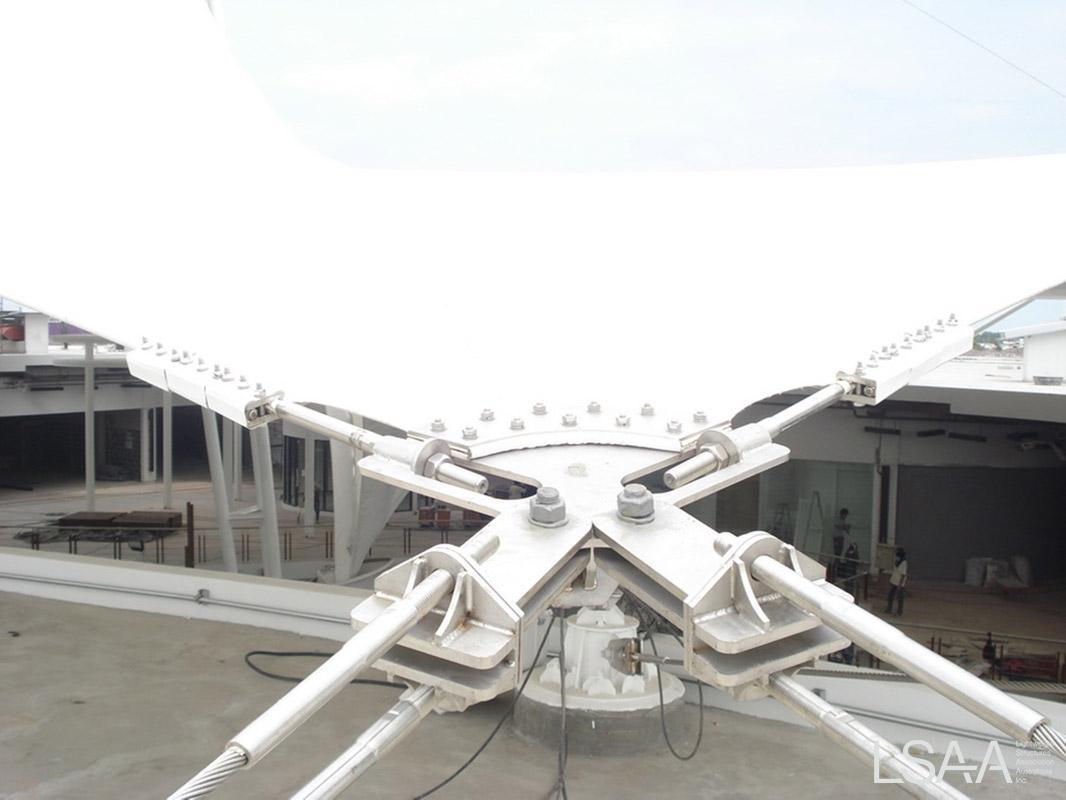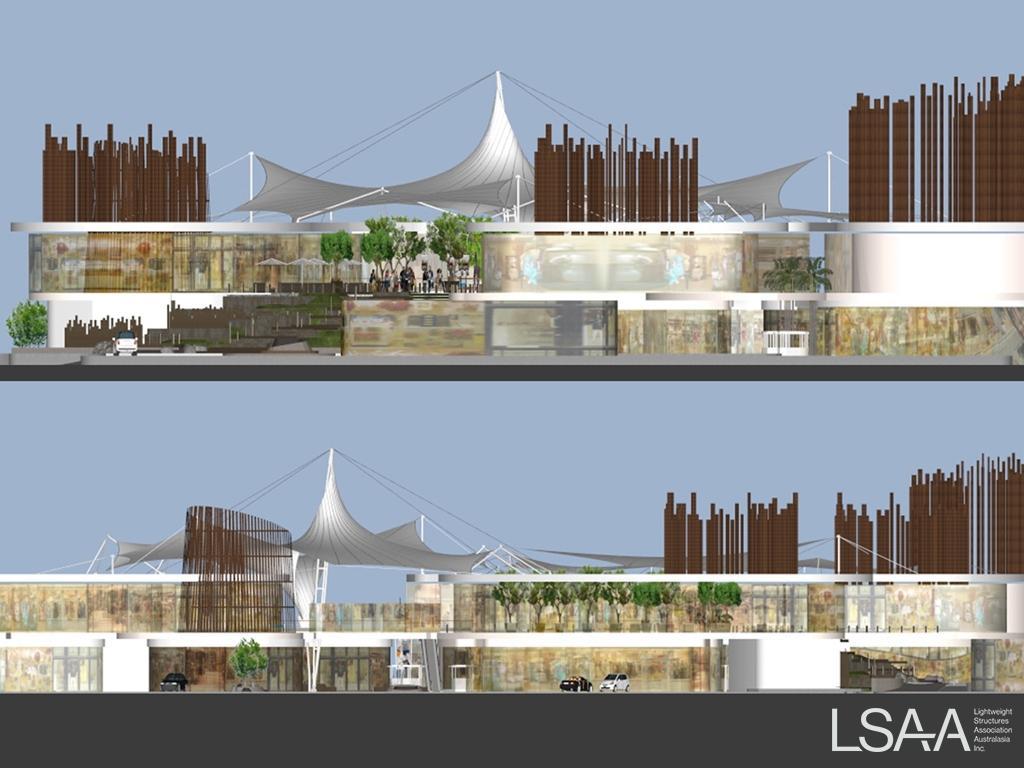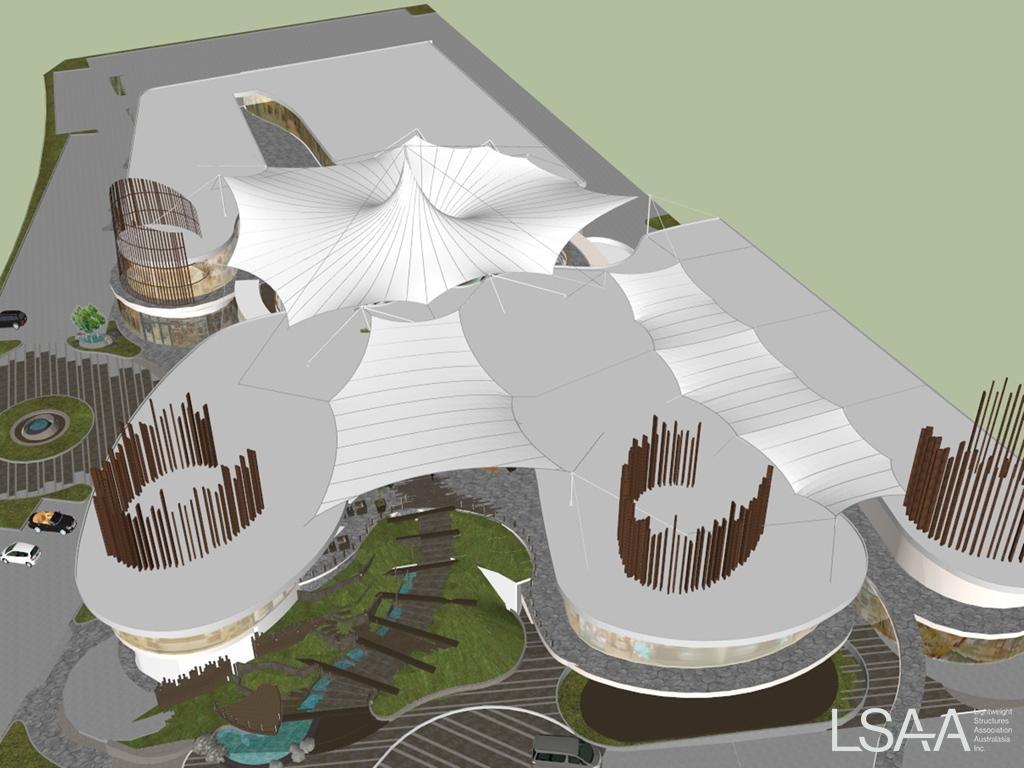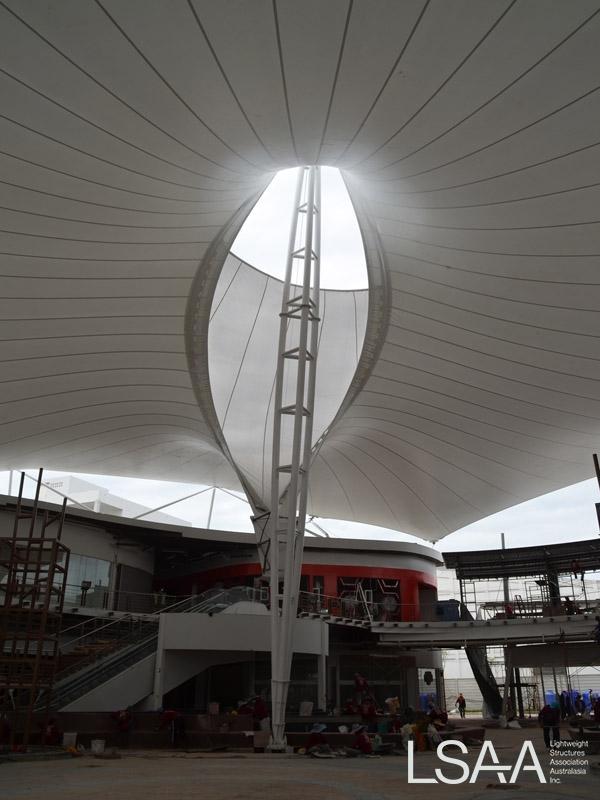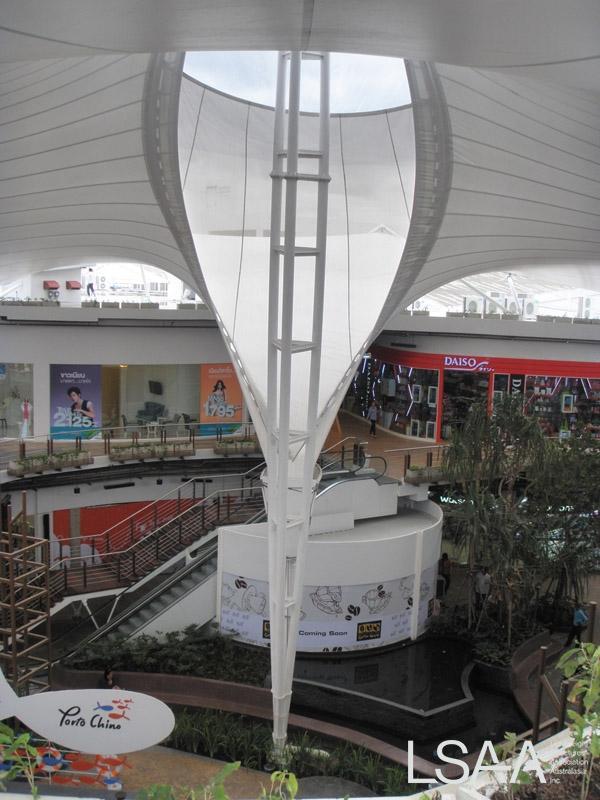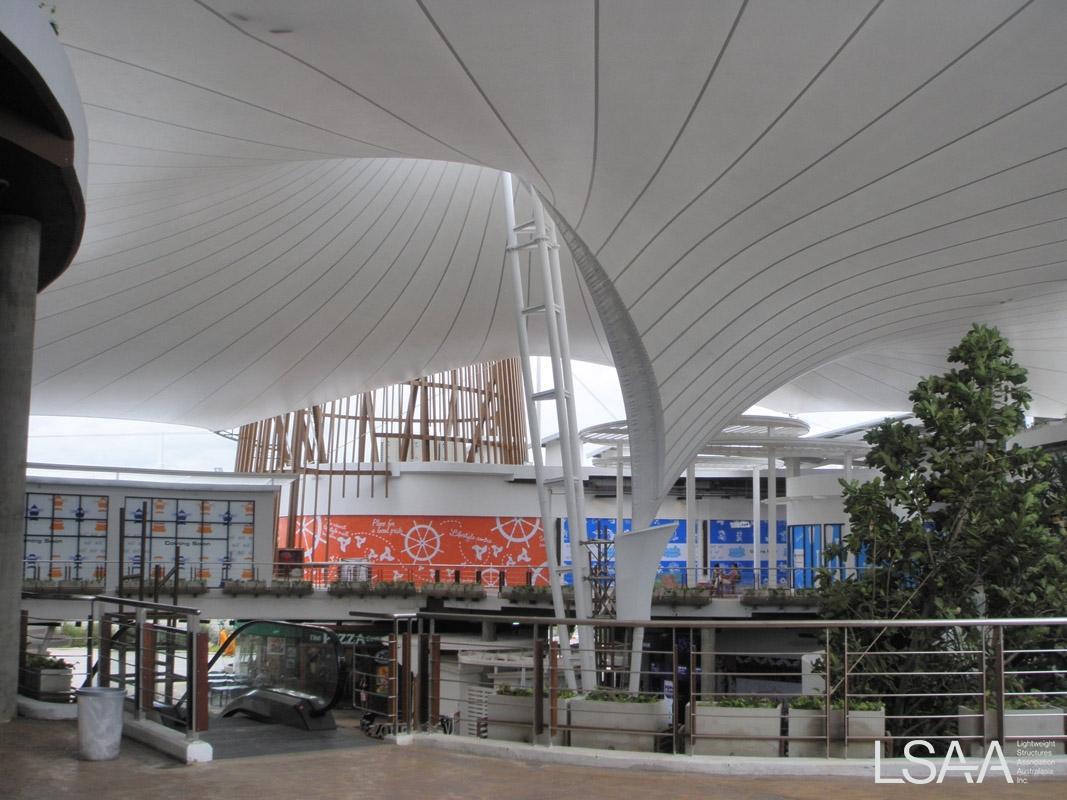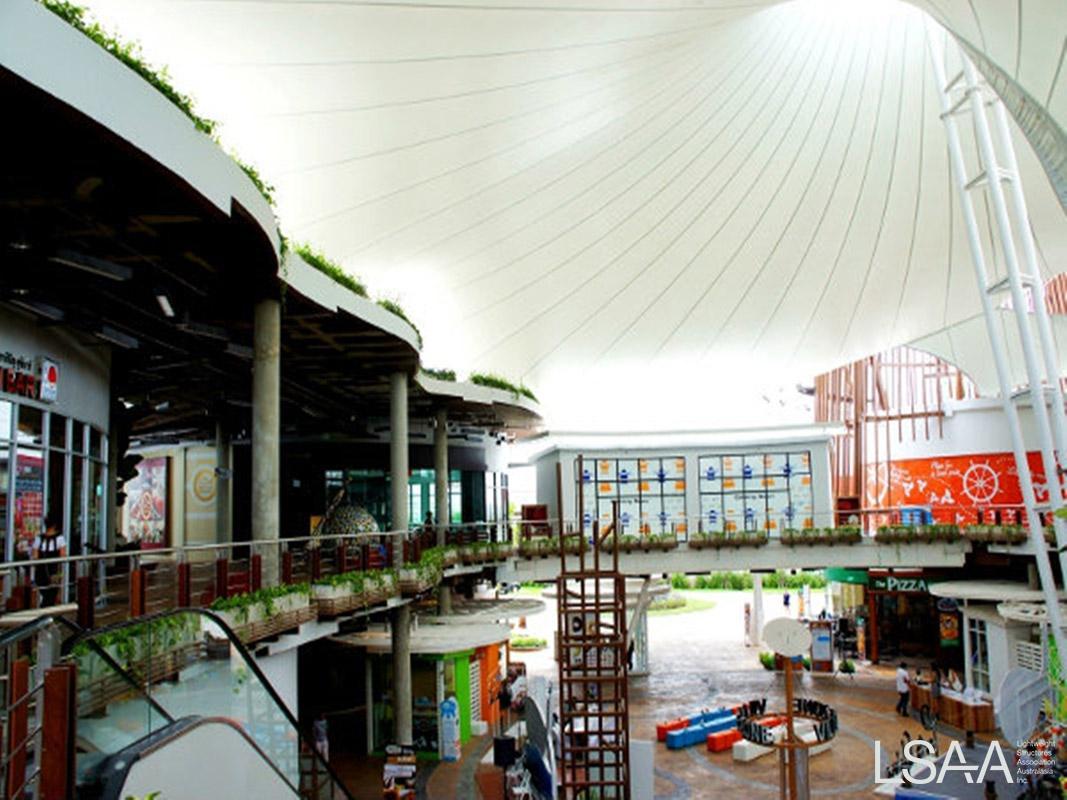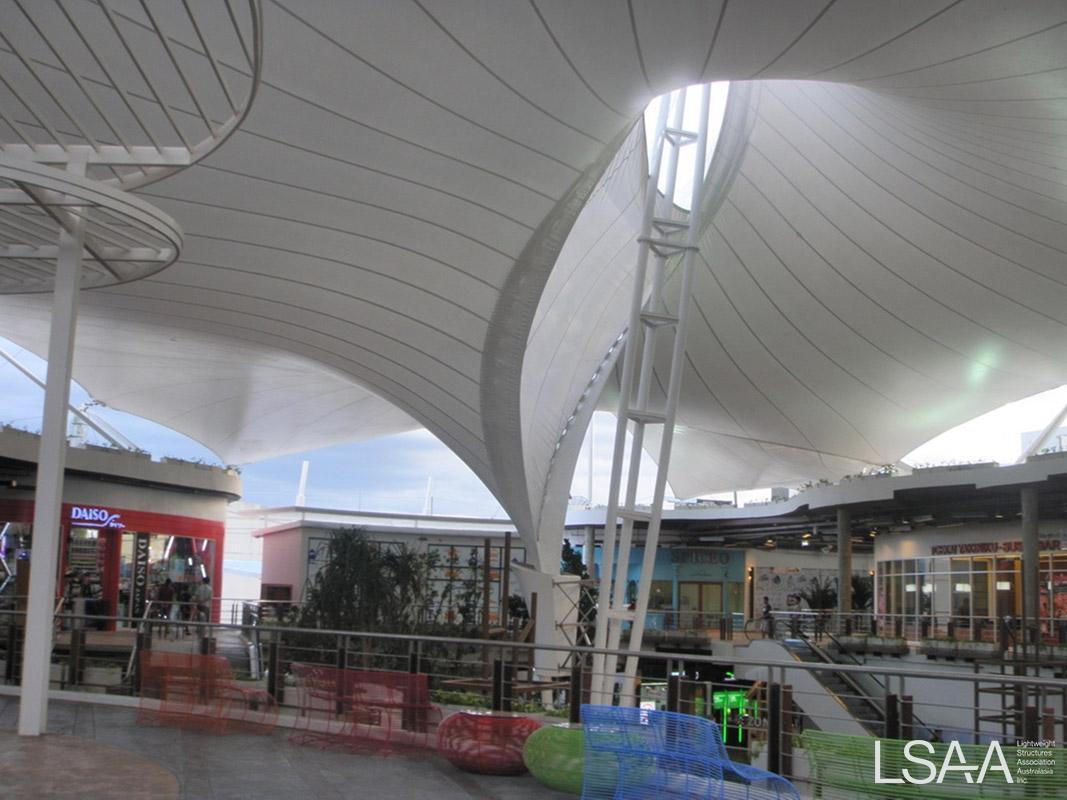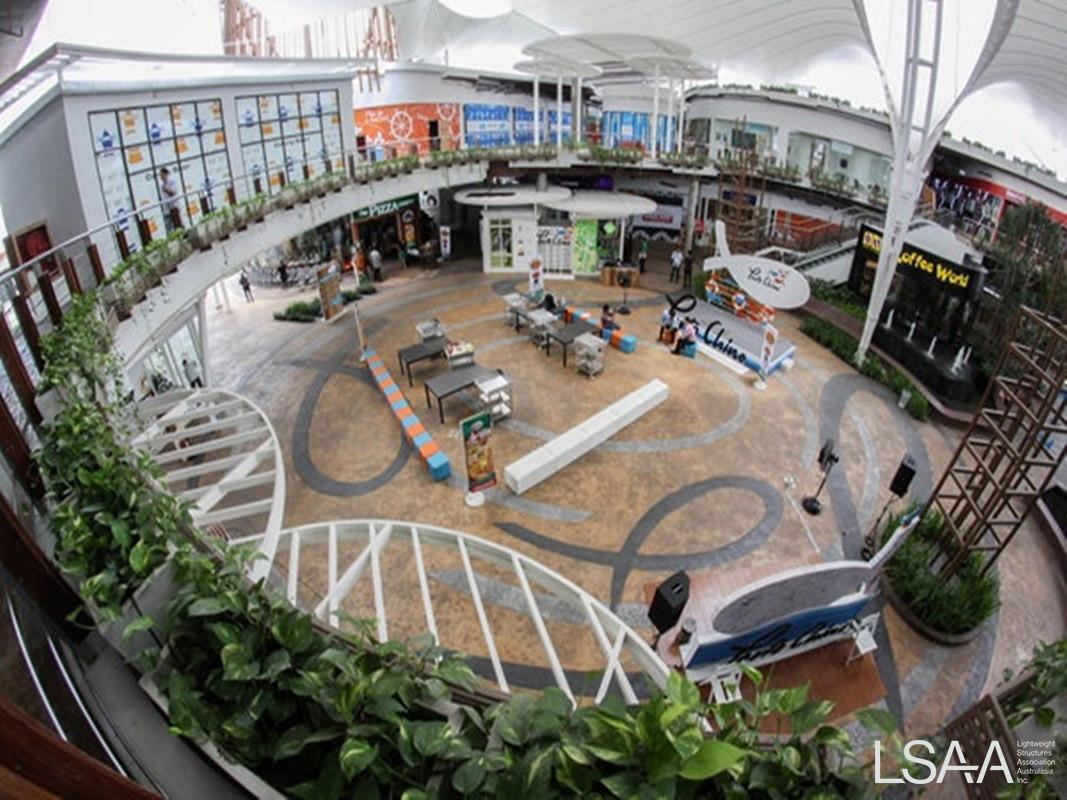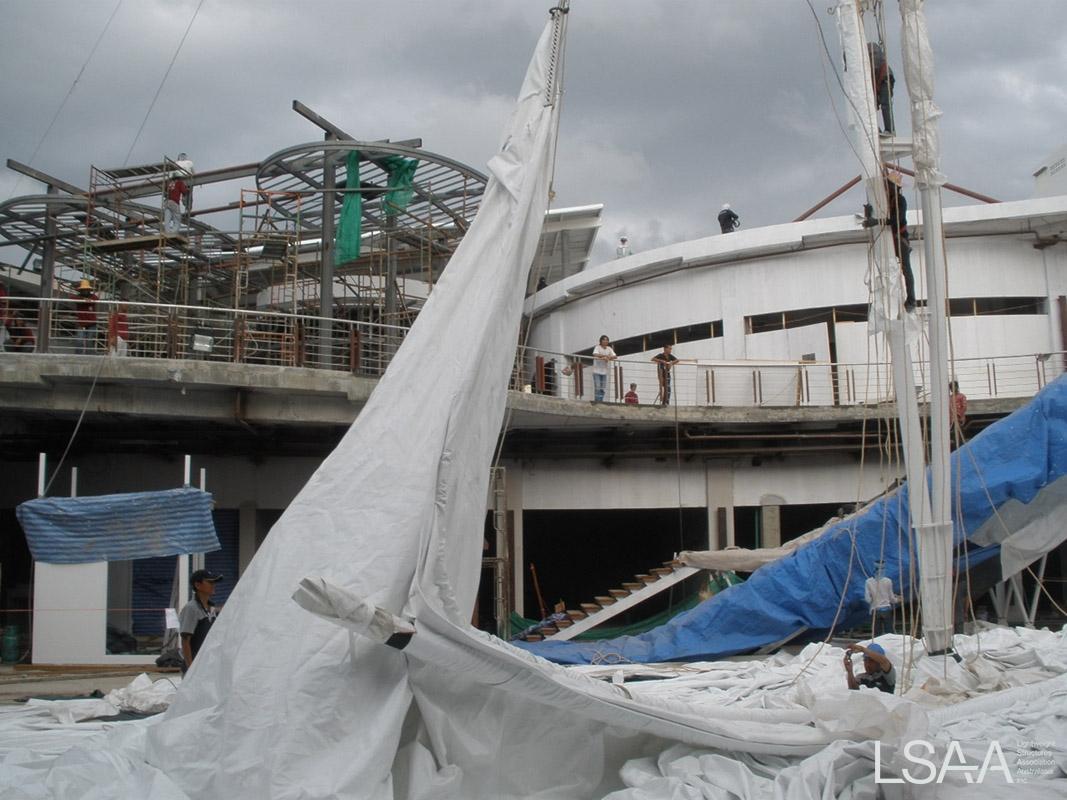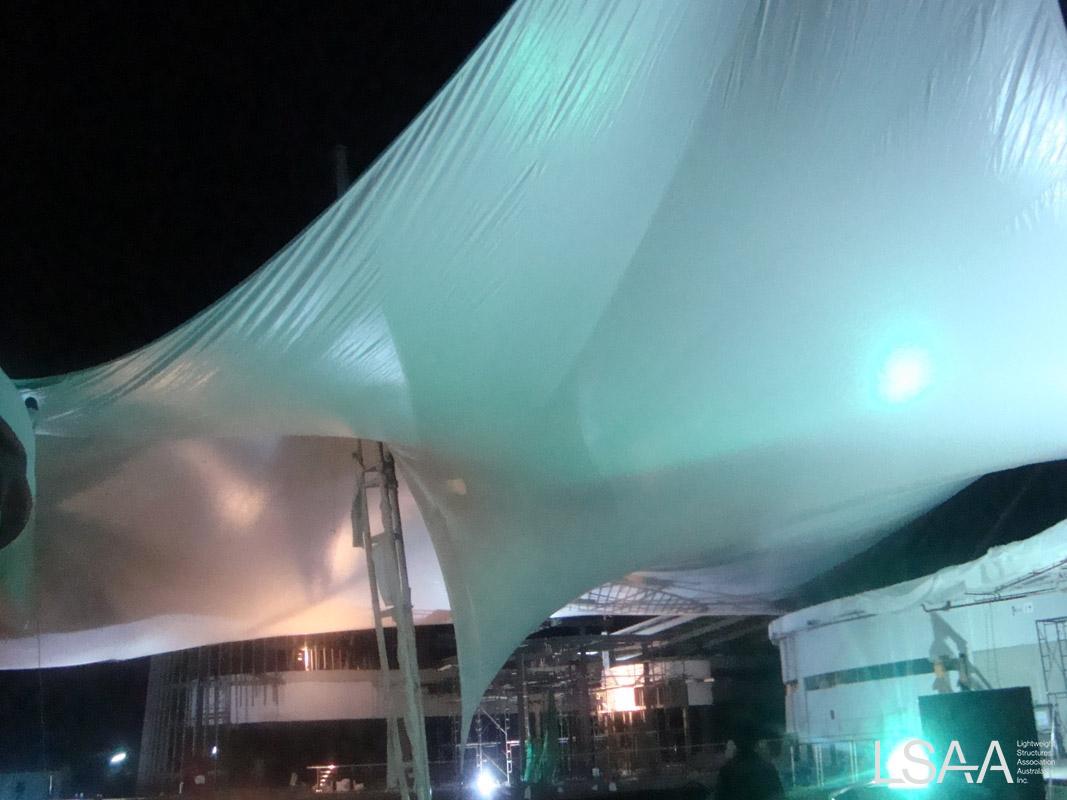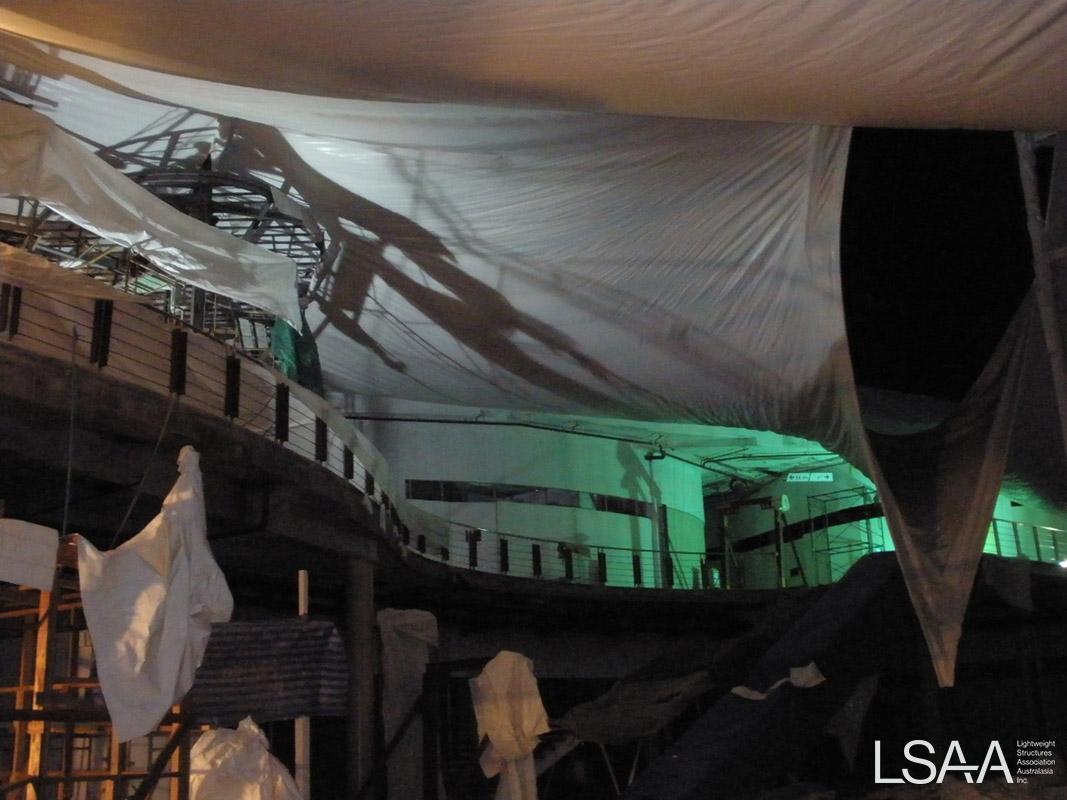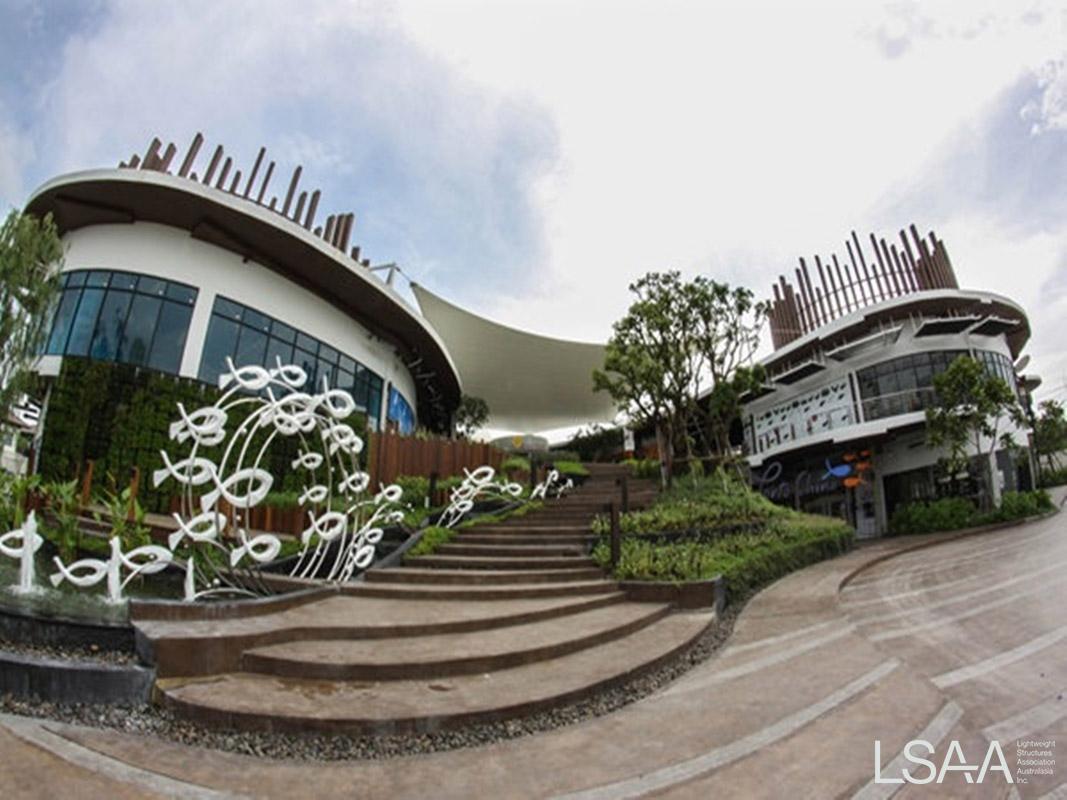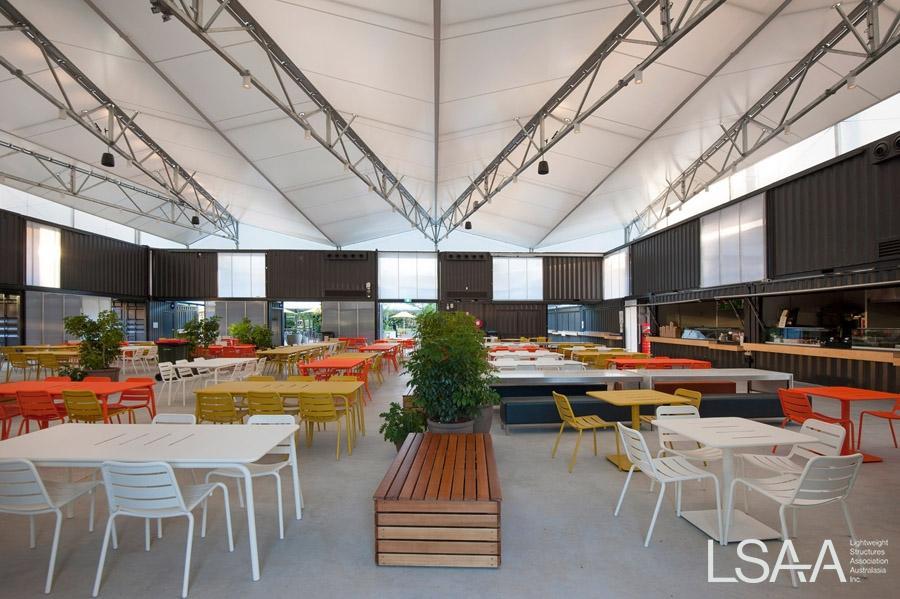 Application: Container-mounted architectural structures for university dining hall.
This project was entered in the LSAA 2018 Design Awards (Cat 4, 4001)
PROJECT DESCRIPTION:
The Macquarie University Campus Common project comprised of the design & construction of a series of 11 container-mounted architectural awnings to cover a new temporary dining area for students. The design involved 6 market structures, 1 larger 30m x 30m 'main' structure, and 4 awning structures. The main structure was required to have an internal environmental control system for temperature regulation inside.
The intention of the temporary solution meant that the design allows for the structures to be easily dismantled and relocated in 5 years.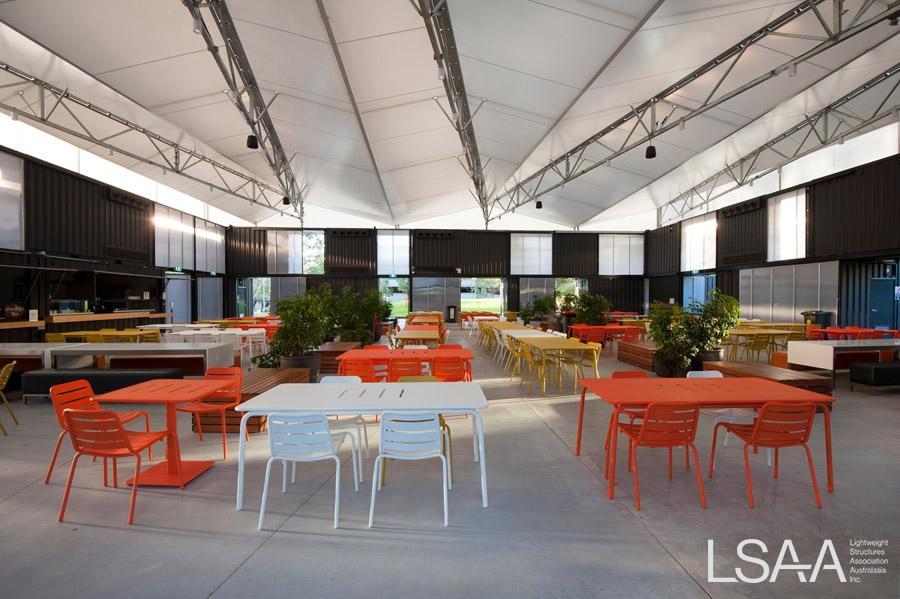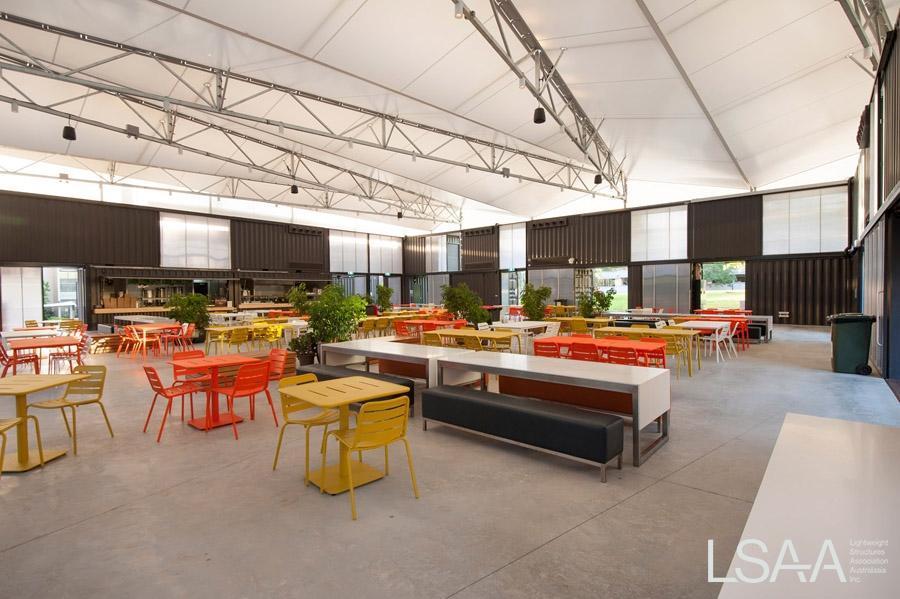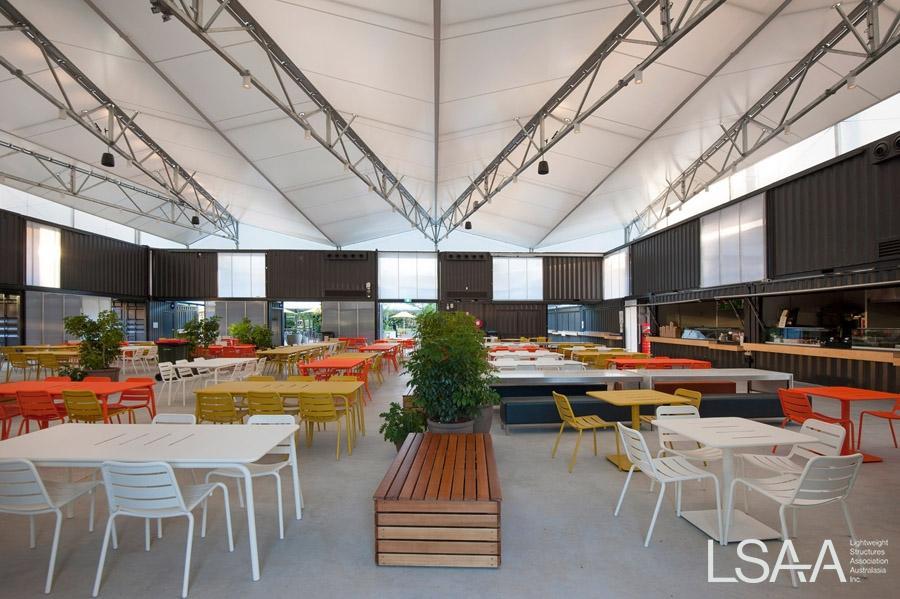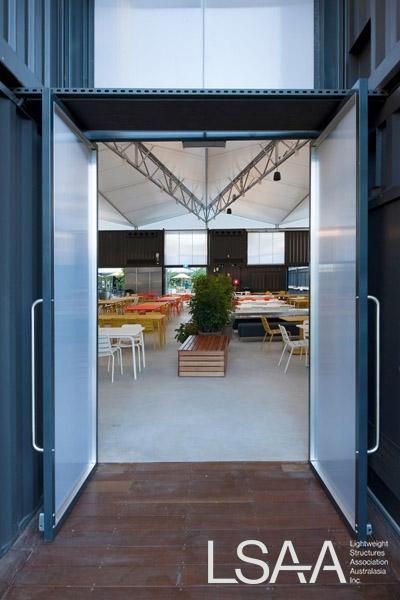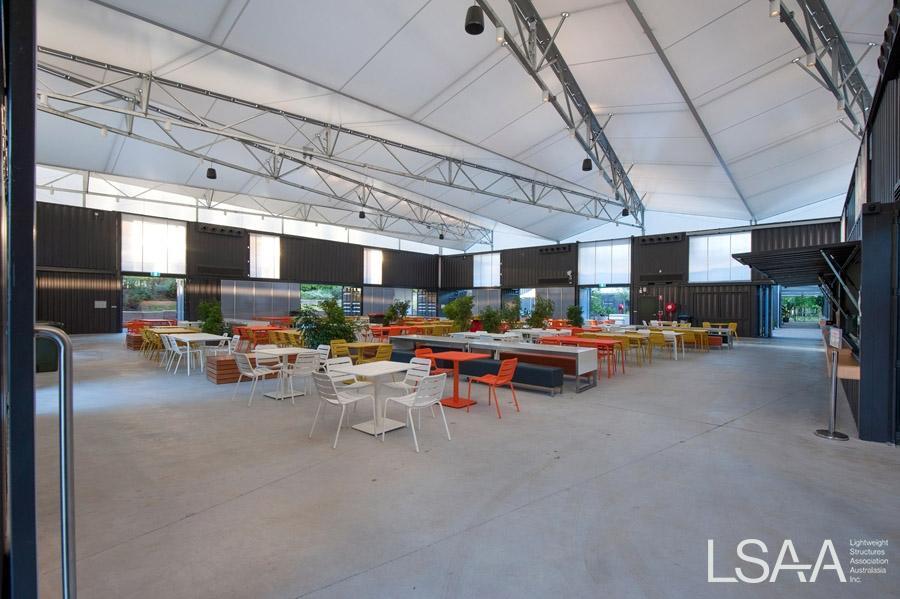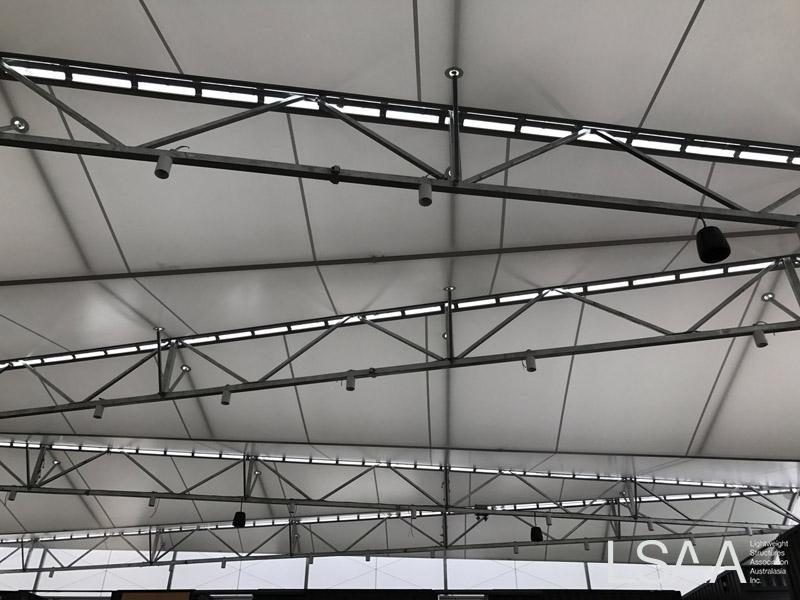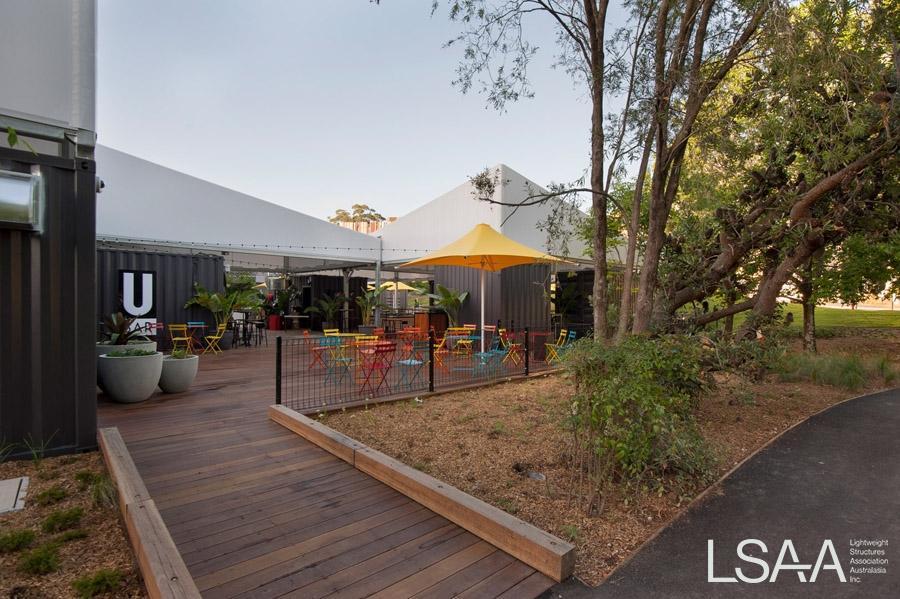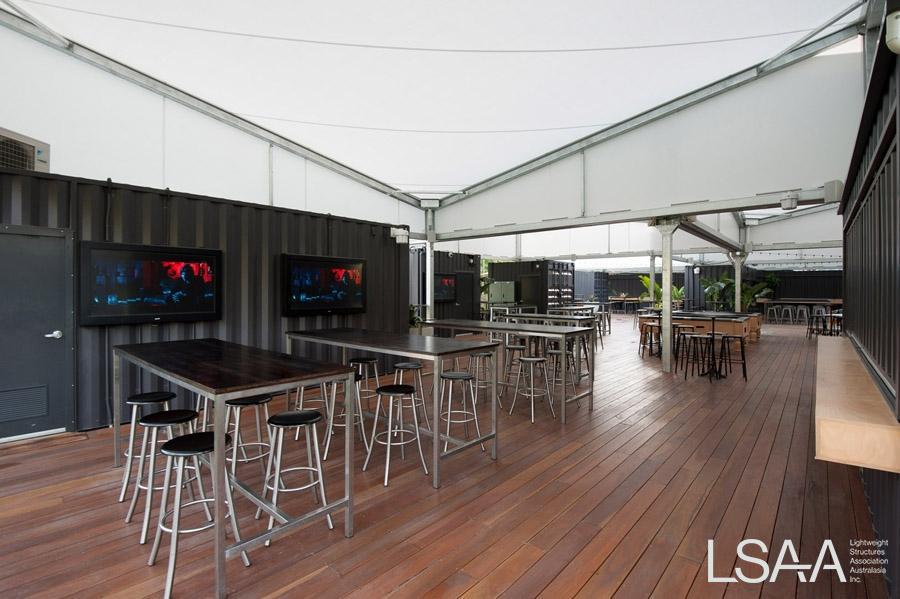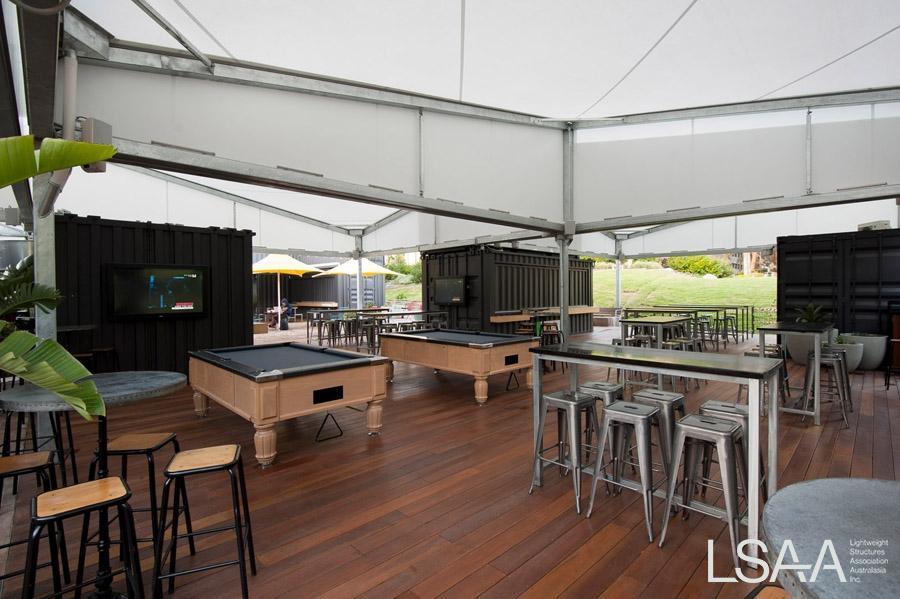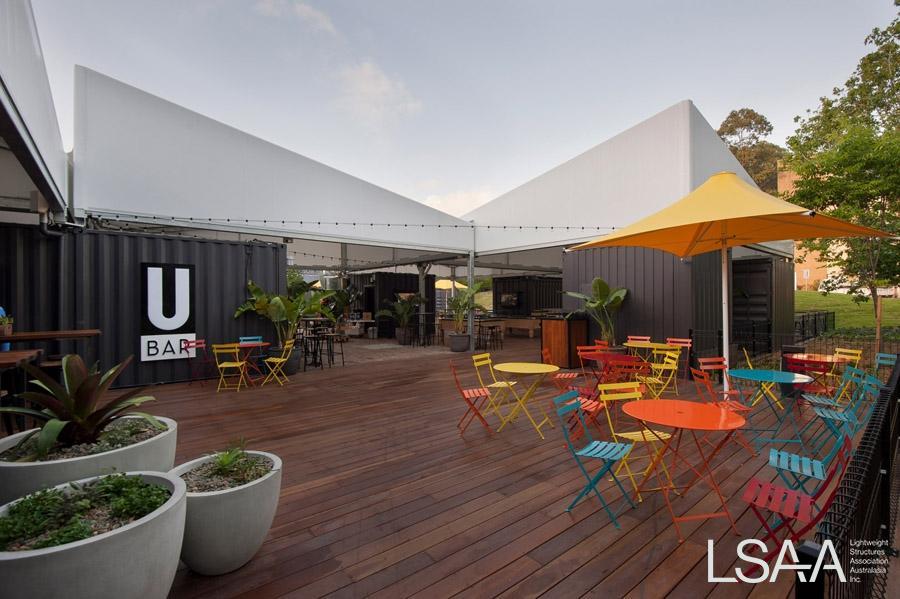 Photo Credit: Michael Anderson, Paramount Studios
Read more: Macquarie University Campus Dining Room Project (2018)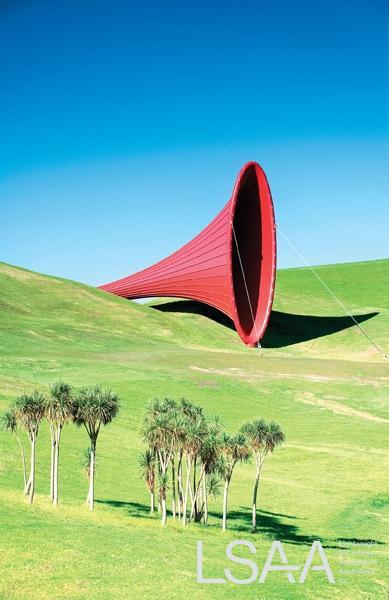 Entered into the 2009 LSAA Design Awards, Category 4 (4022)
Entrant: Structurflex Ltd - Engineering Fabrication Installation
Location: Kaipara Harbour
Client: Keystone Trust
Architect: Noel Lane Architects
Struct. Eng.: Structure Design & Compusoft Engineering
Builder: Grayson Engineering
Fabricator: Structurflex
No further details have been entered for this project at this stage.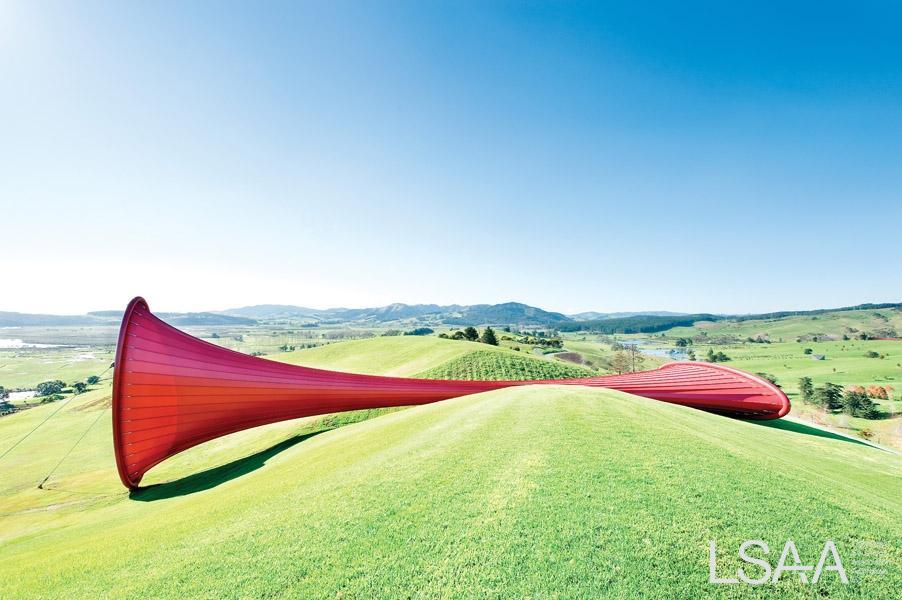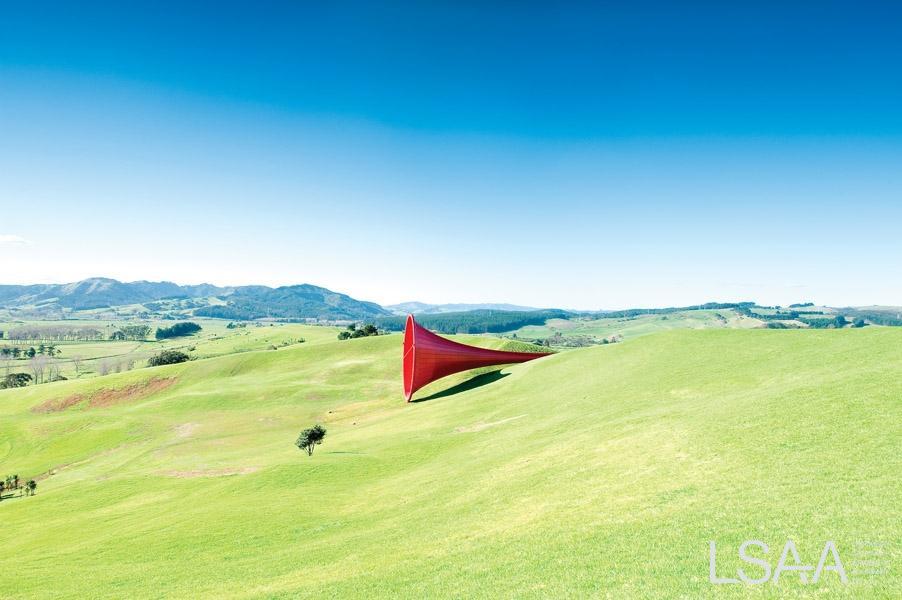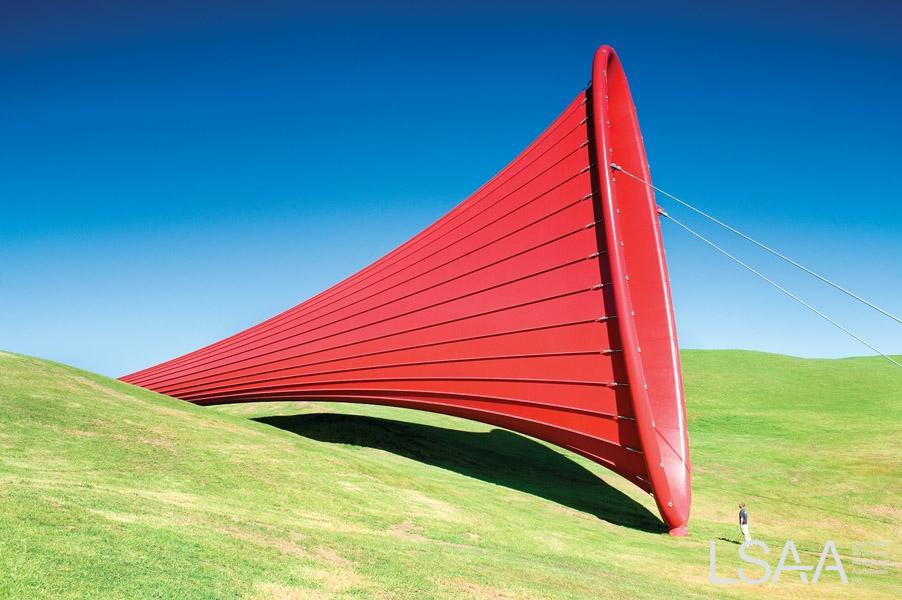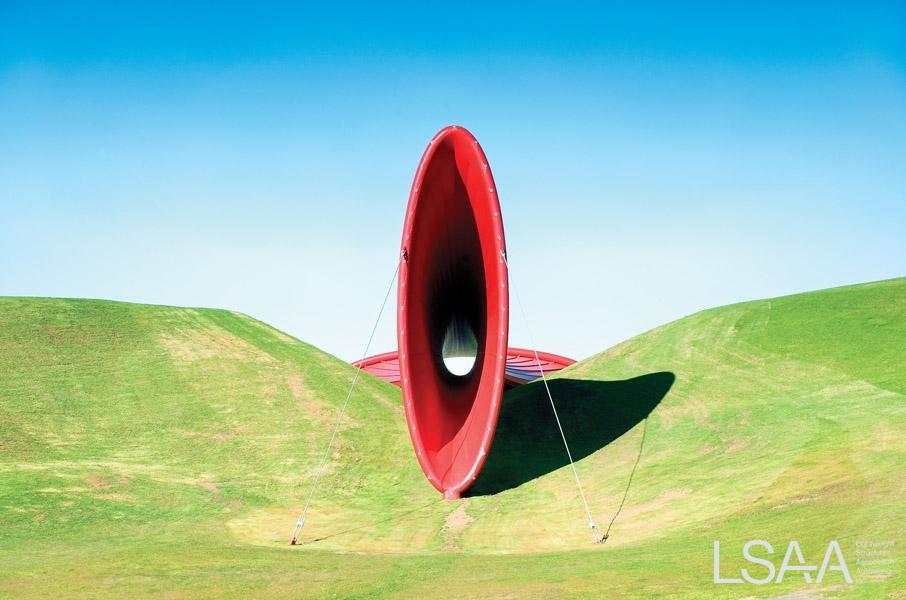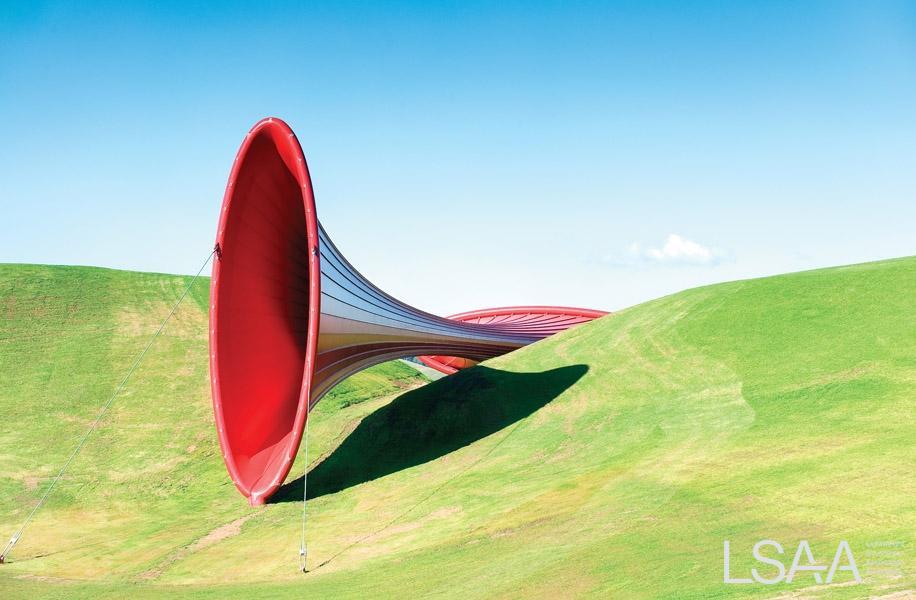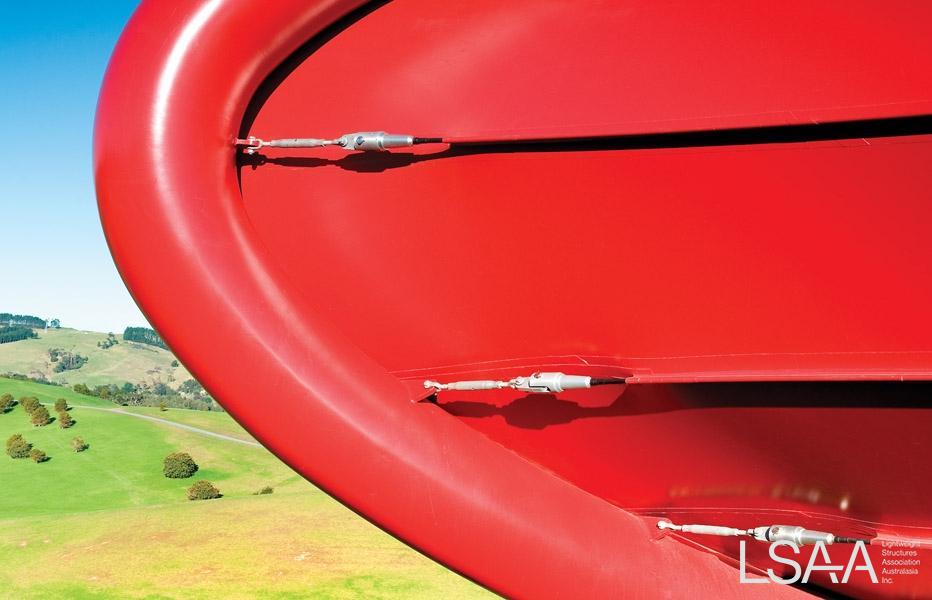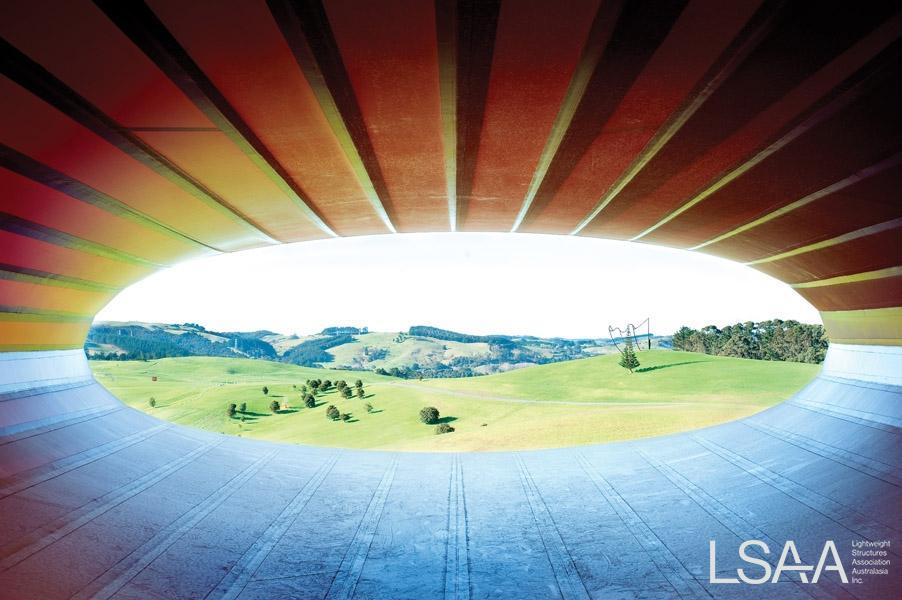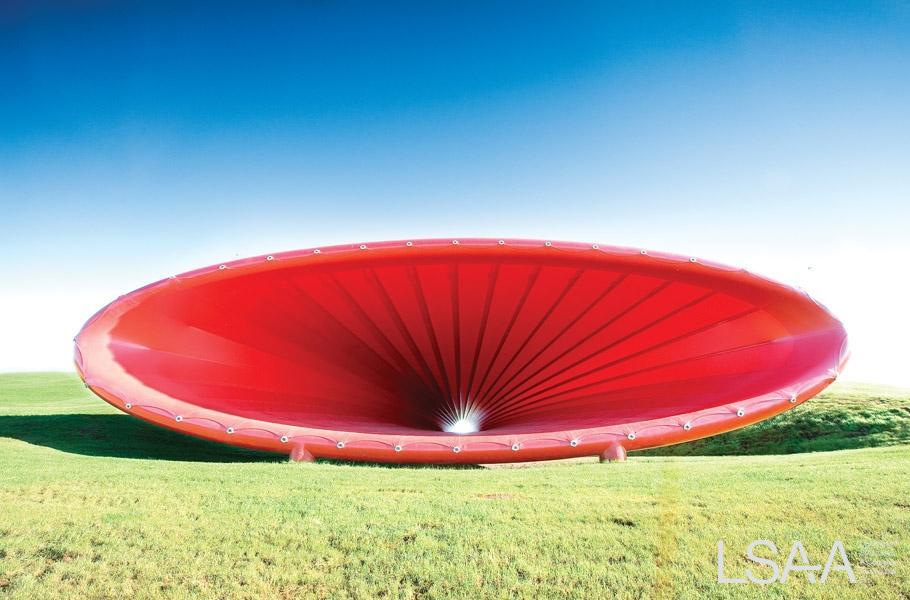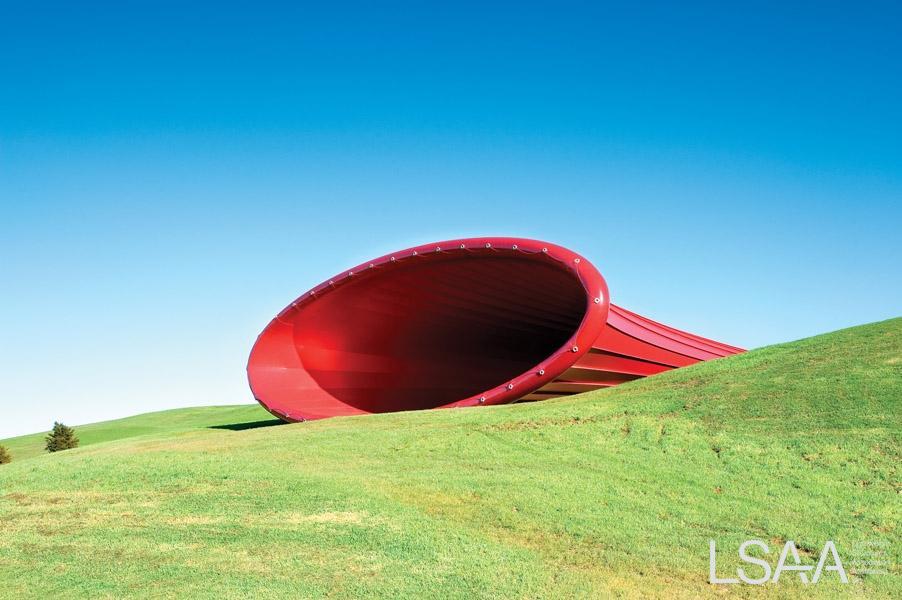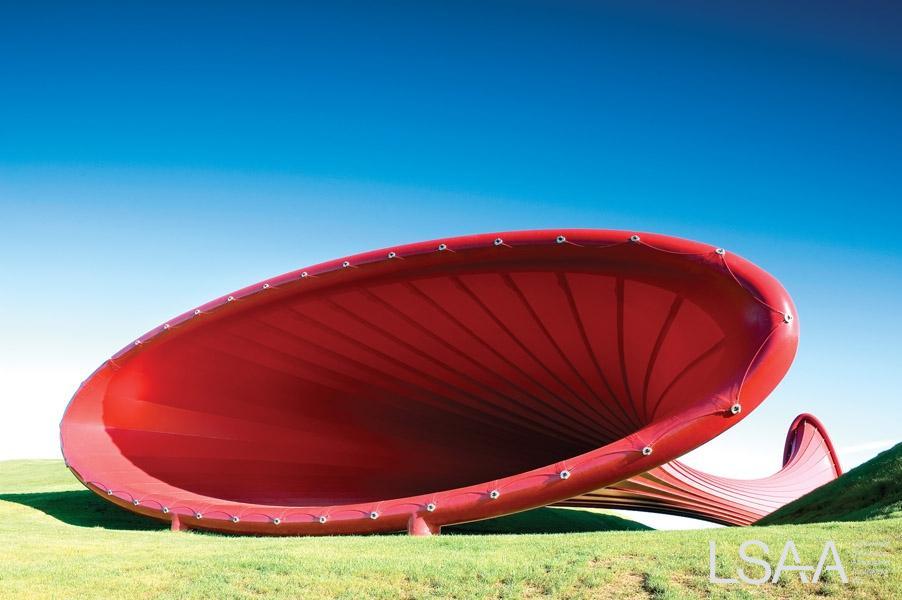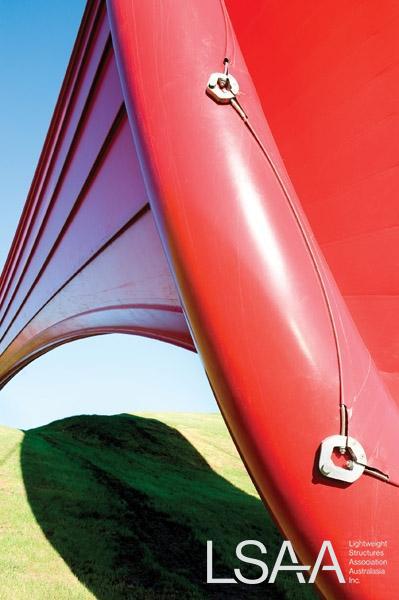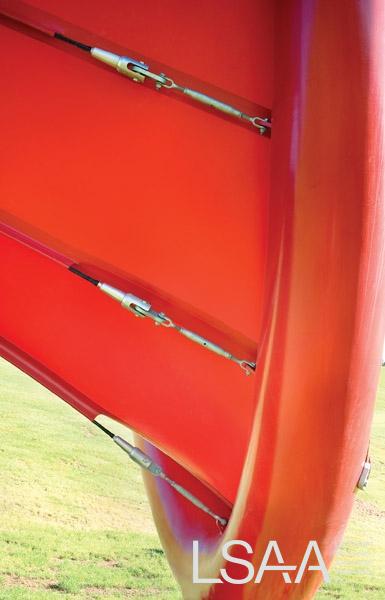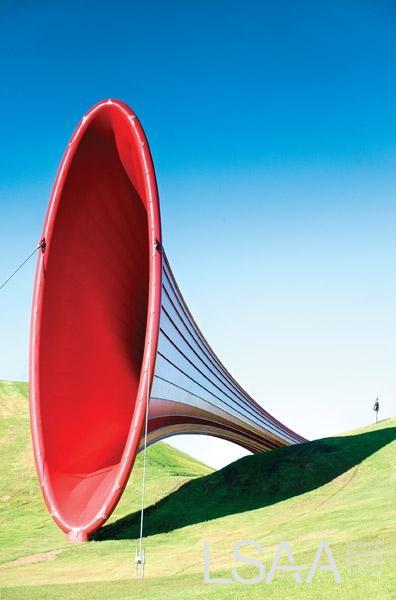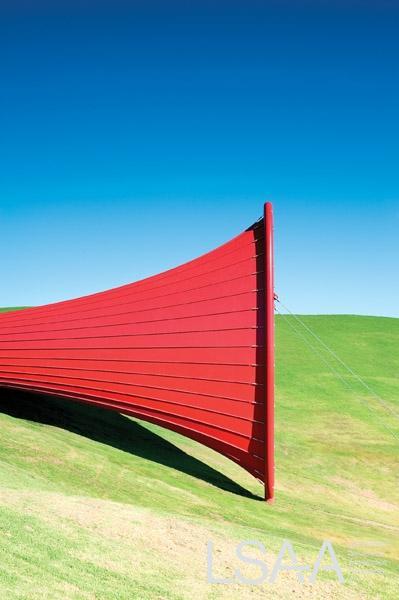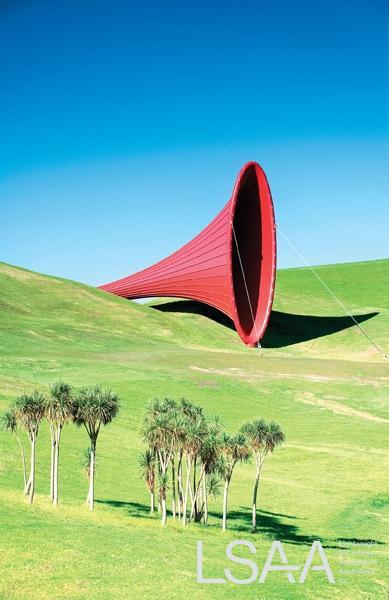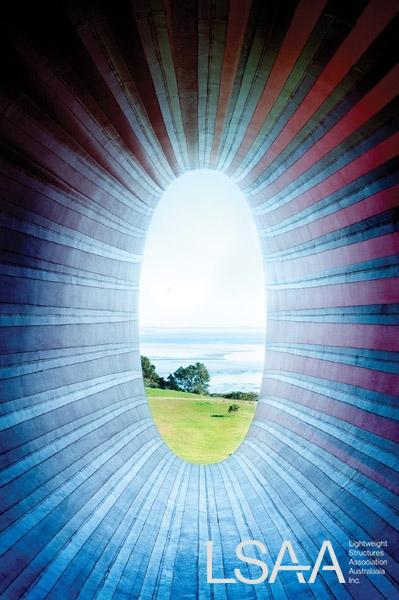 .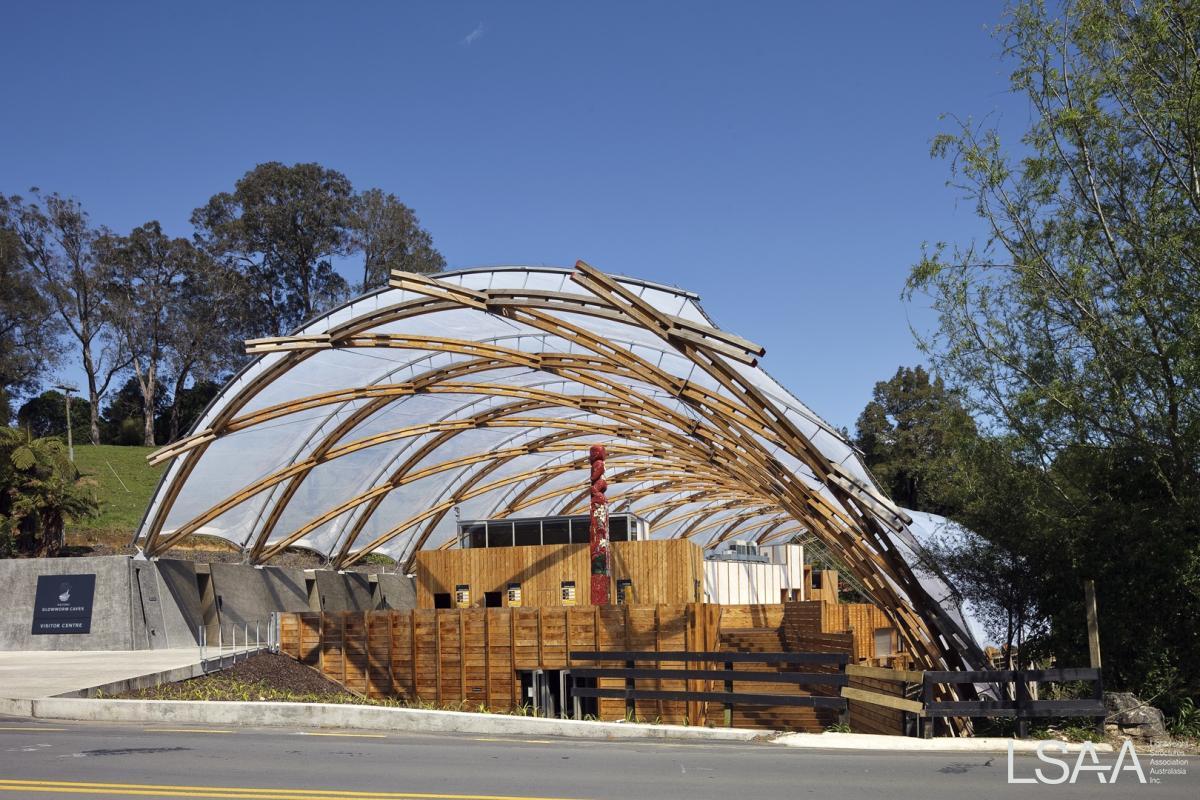 Entered into the LSAA 2011 Awards (Cat 4, 4610)
PROJECT DESCRIPTION
Sheltered below an innovative woven timber canopy, new amenities for visitors to the Waitomo Caves includes tourist gathering areas, 250-seat dining, retail, seminar and exhibition areas as well as a café and theatre for Tourism Holdings Ltd (Fig.1). (Note: These Figures / drawings are not available)
The cave entrance is accessed from the car park on the upper path while a lower path returns the visitors back alongside the stream exit (Fig. 2). Between these paths the amenities were accommodated within a simple base structure that extended the contours of the land (Fig. 3). The form of the base is distinguished and separate from the curved geometry of the overhead canopy.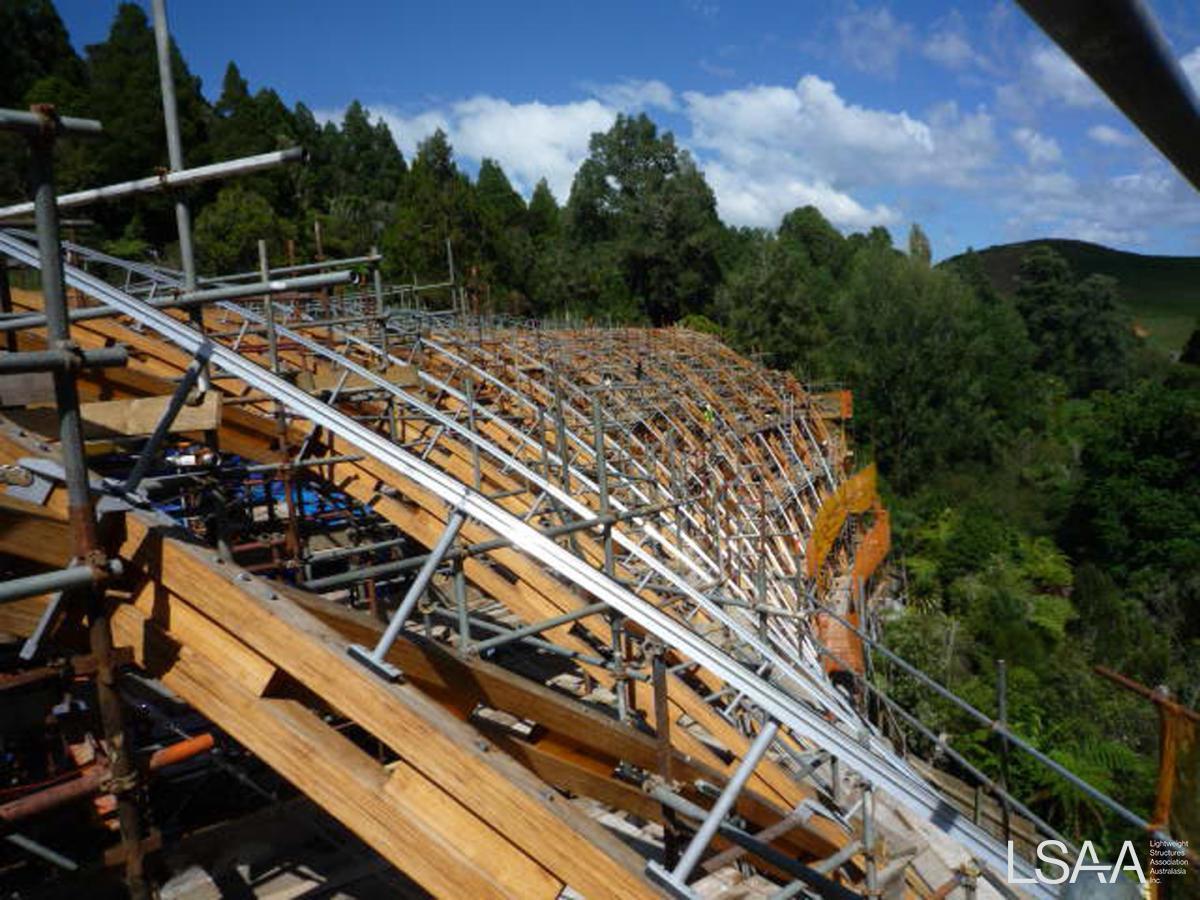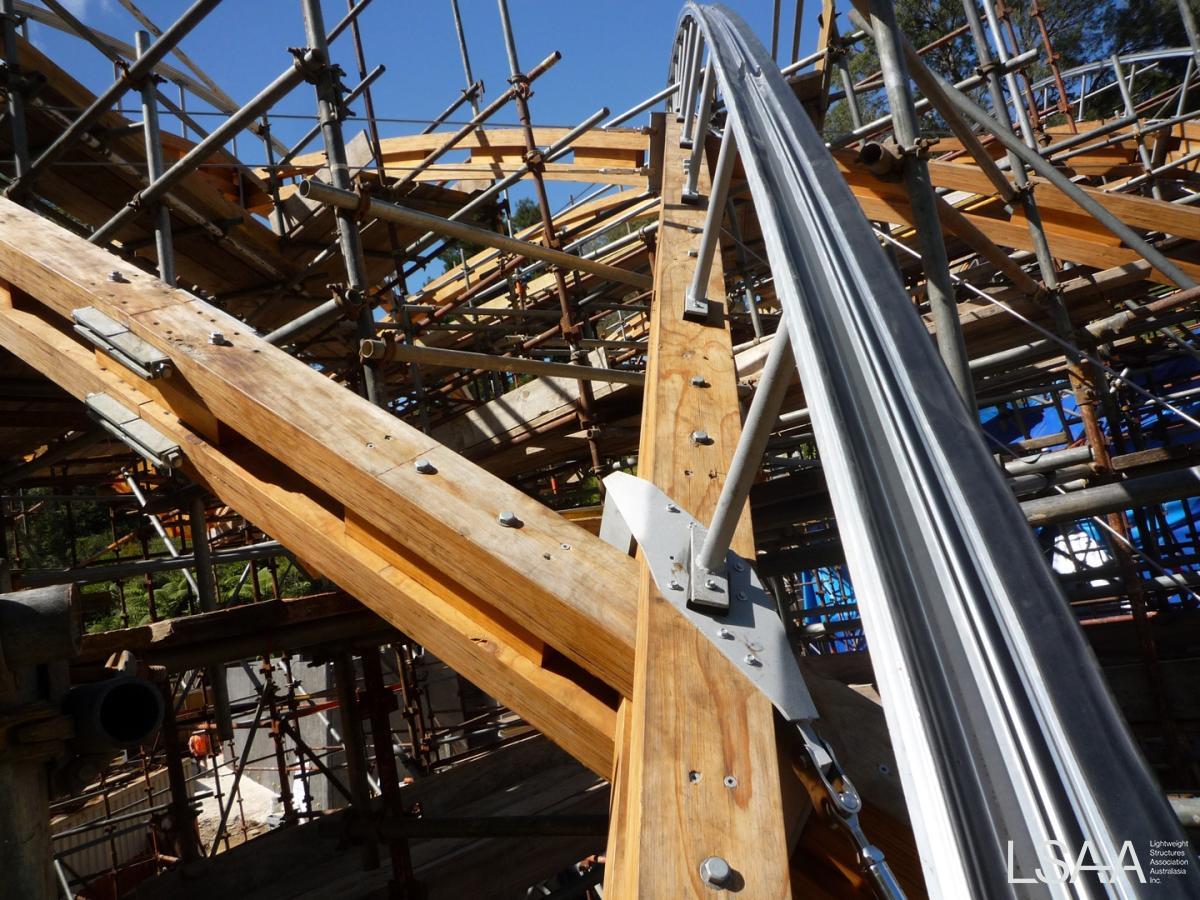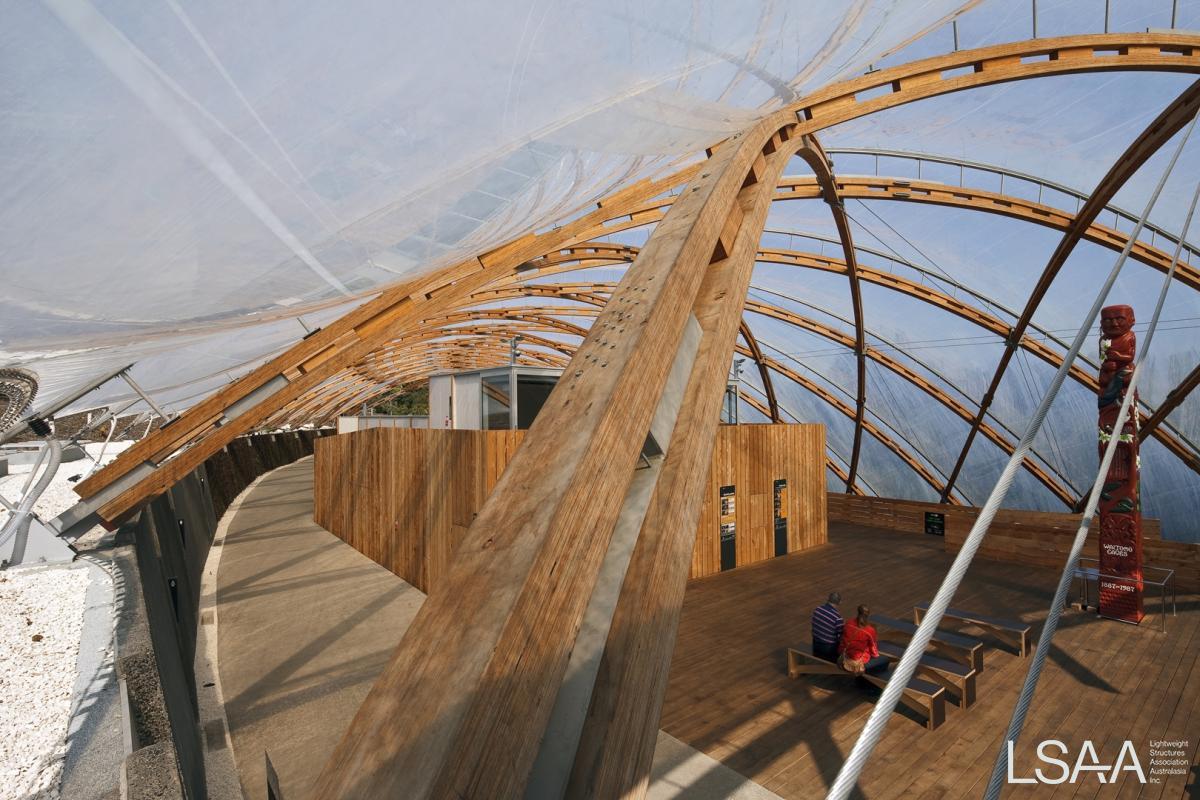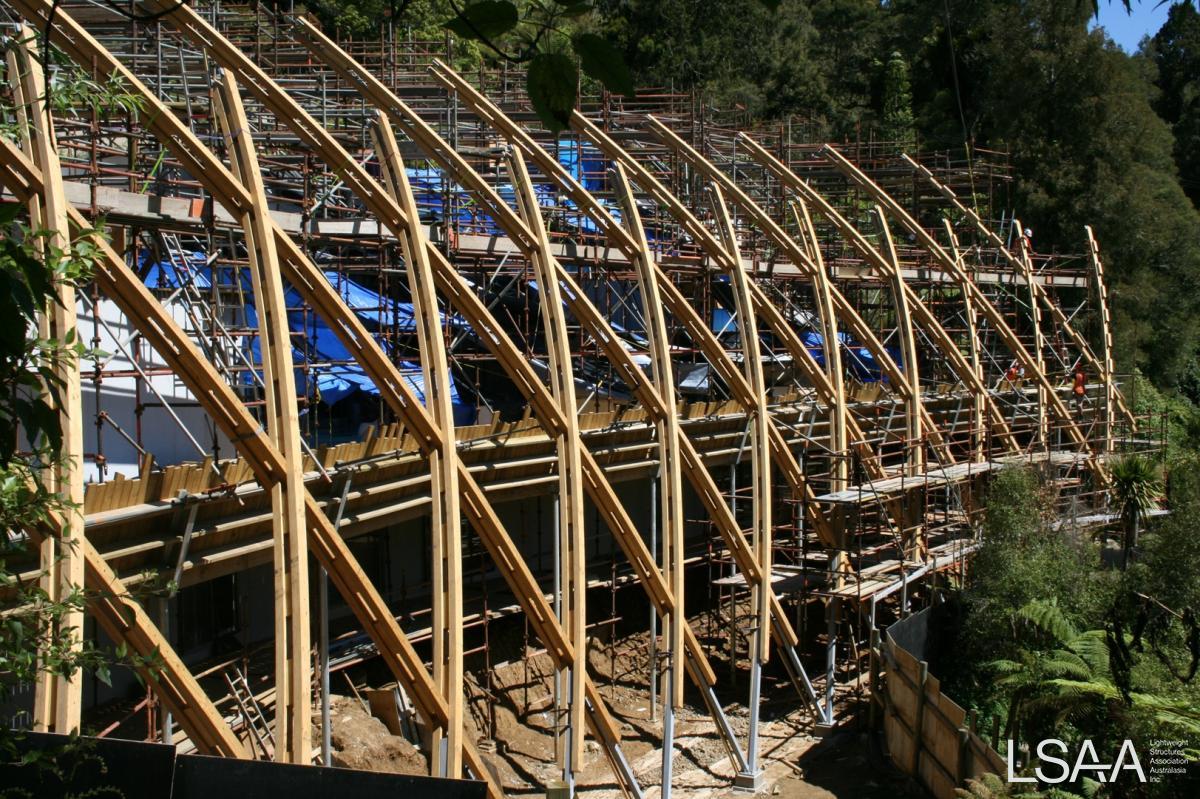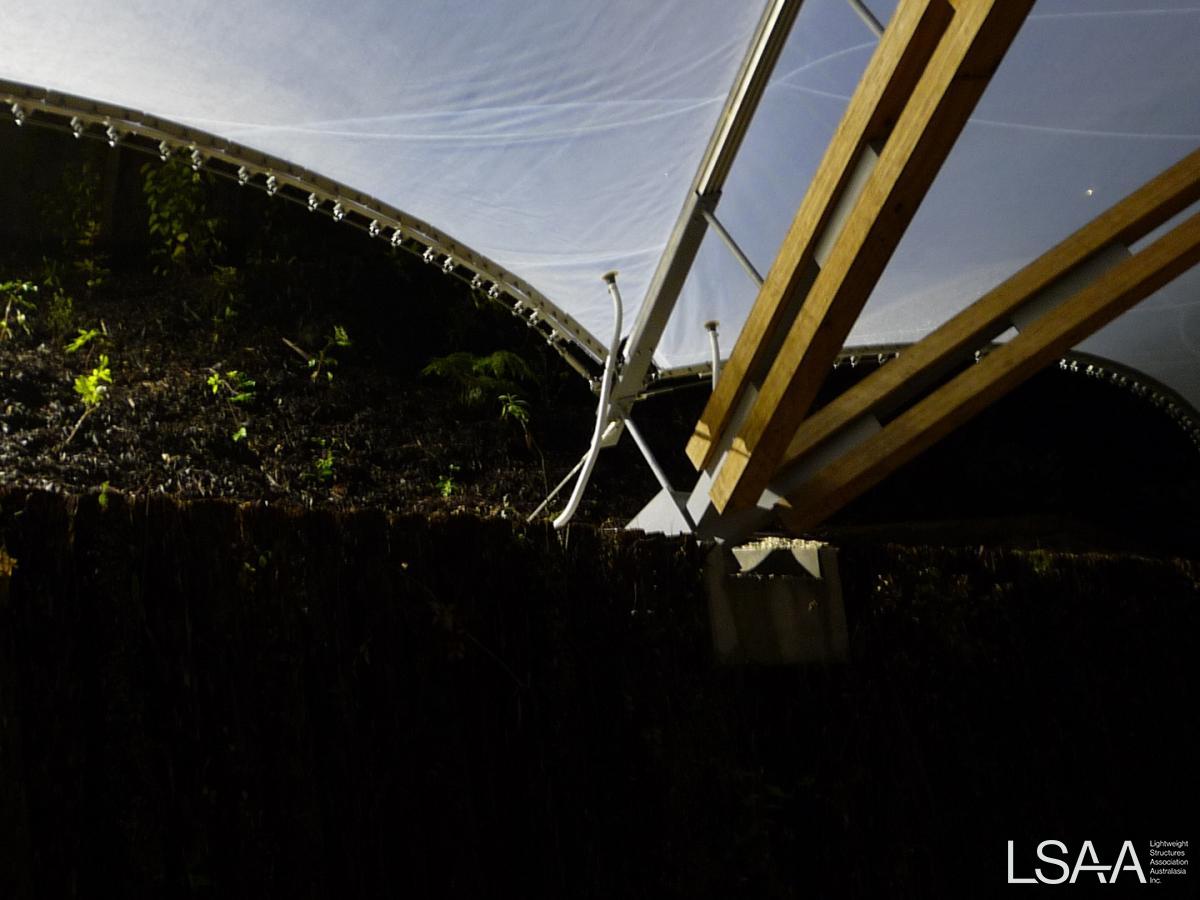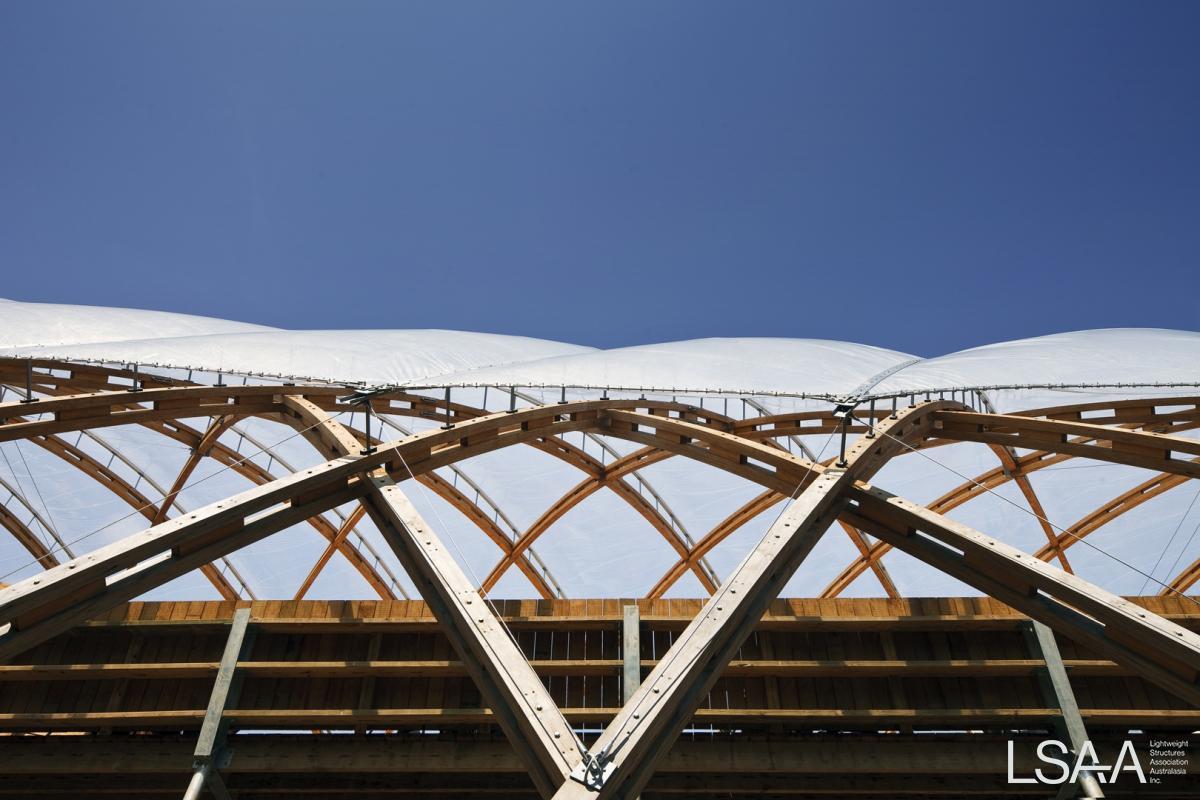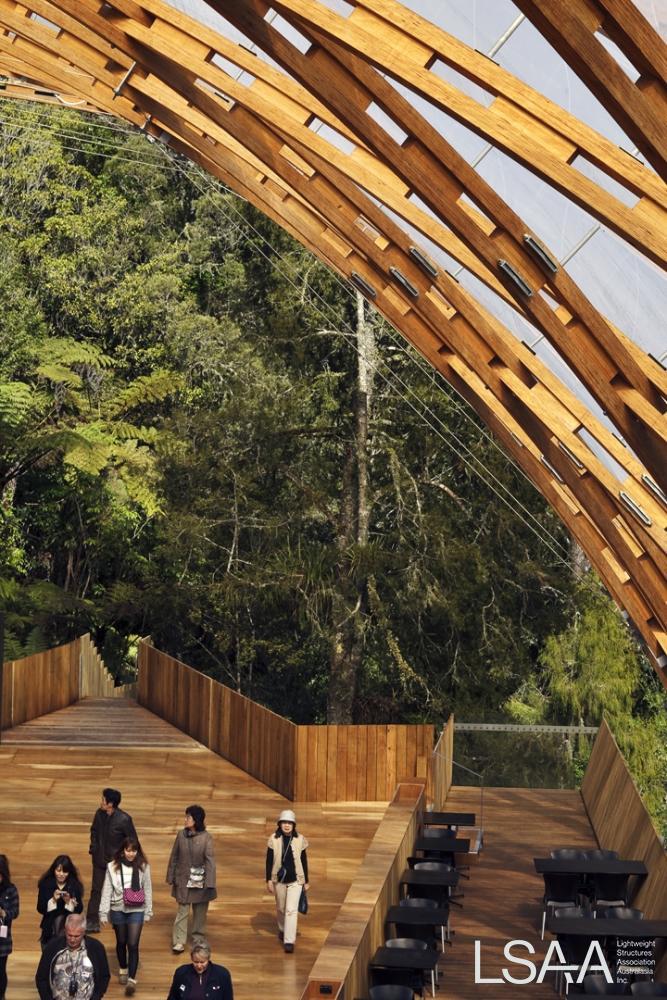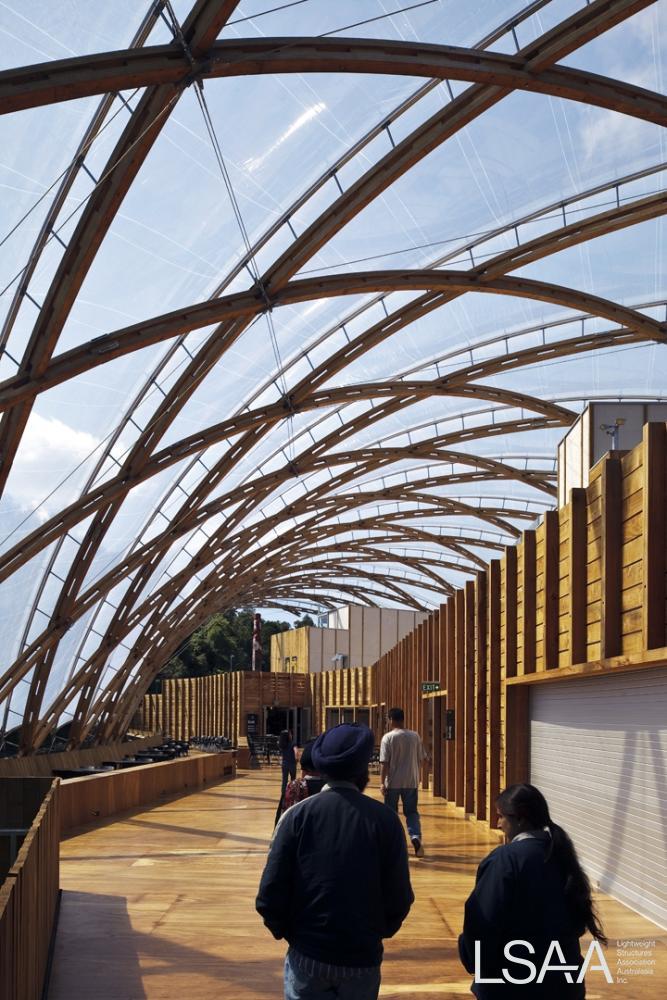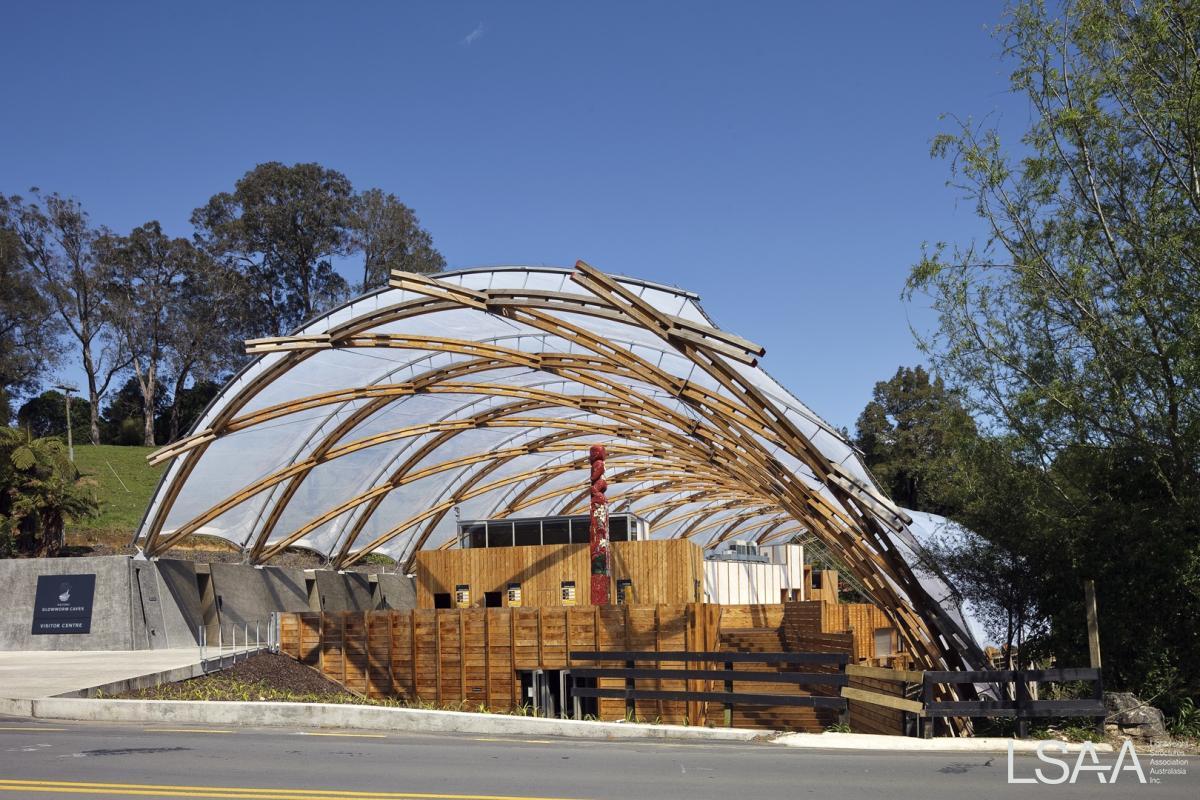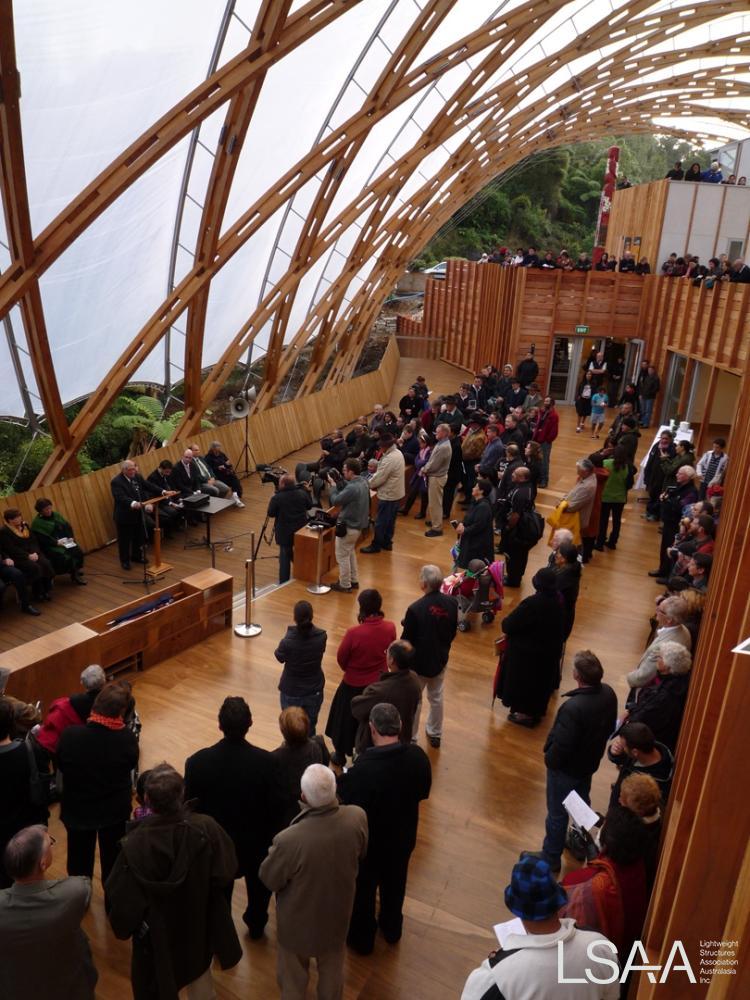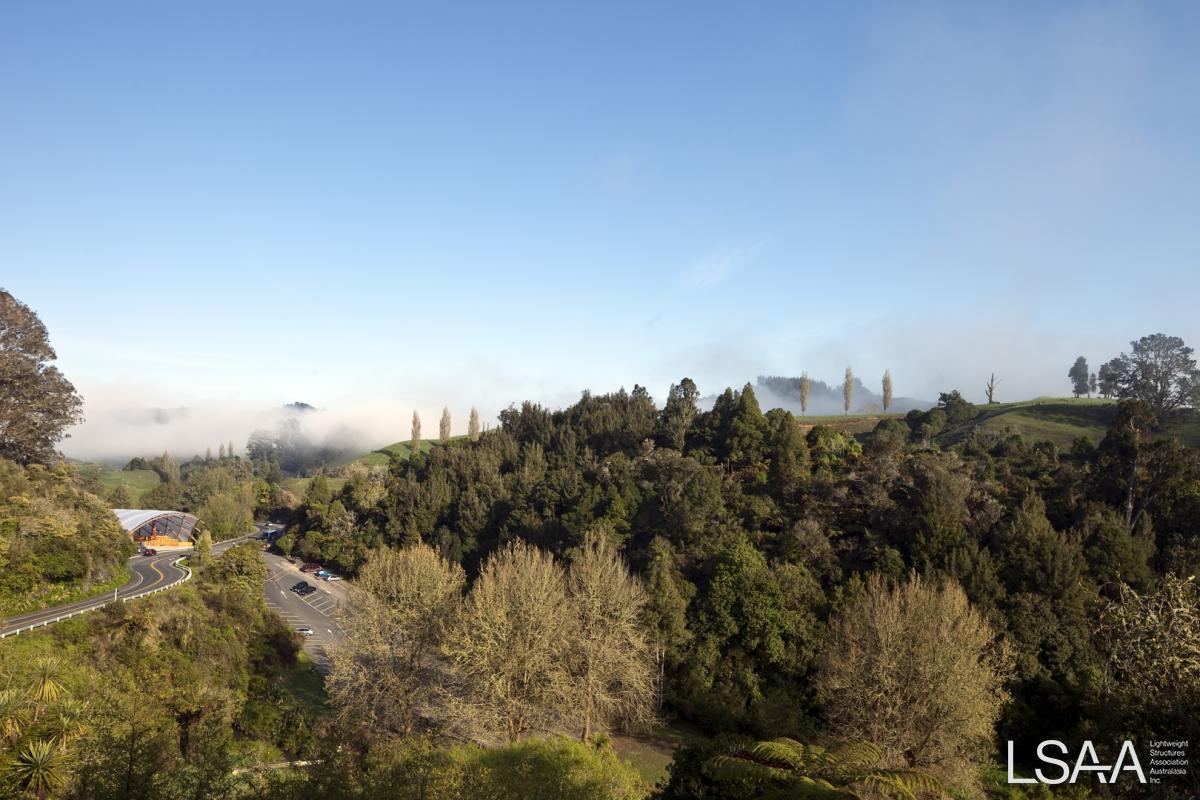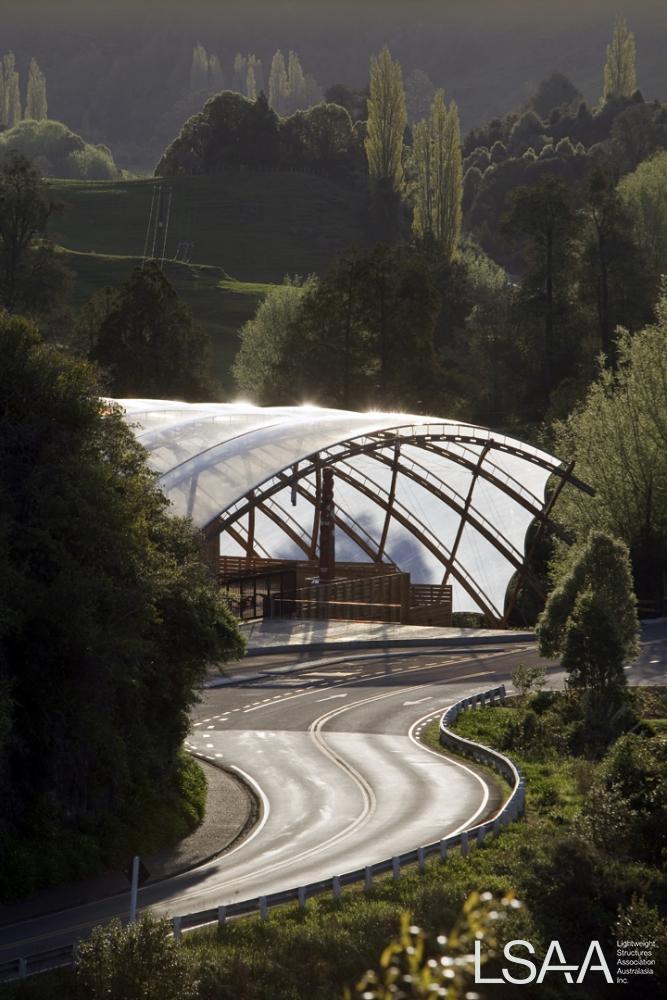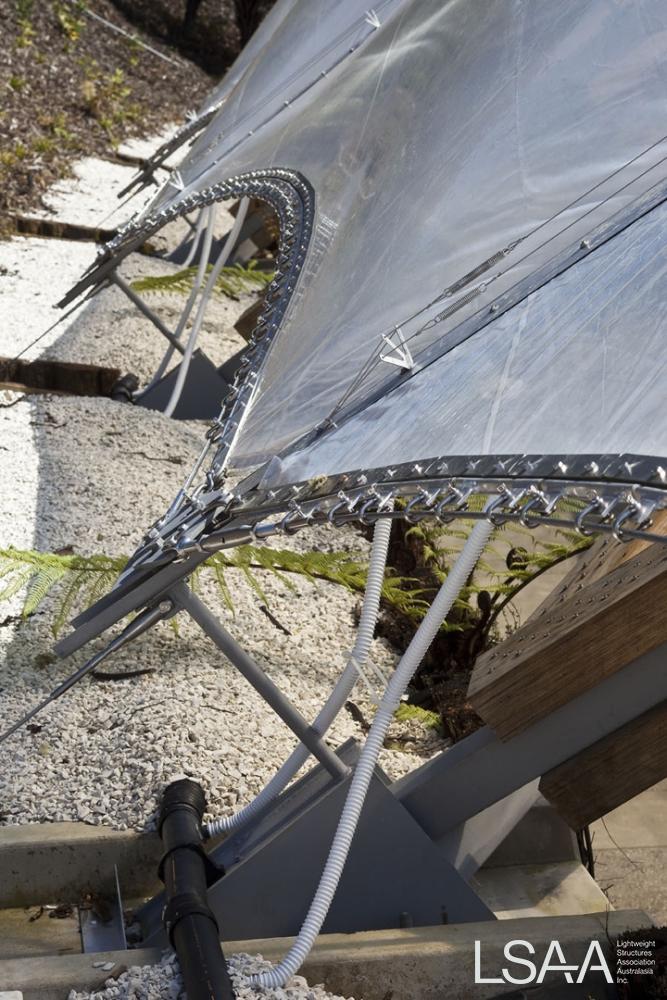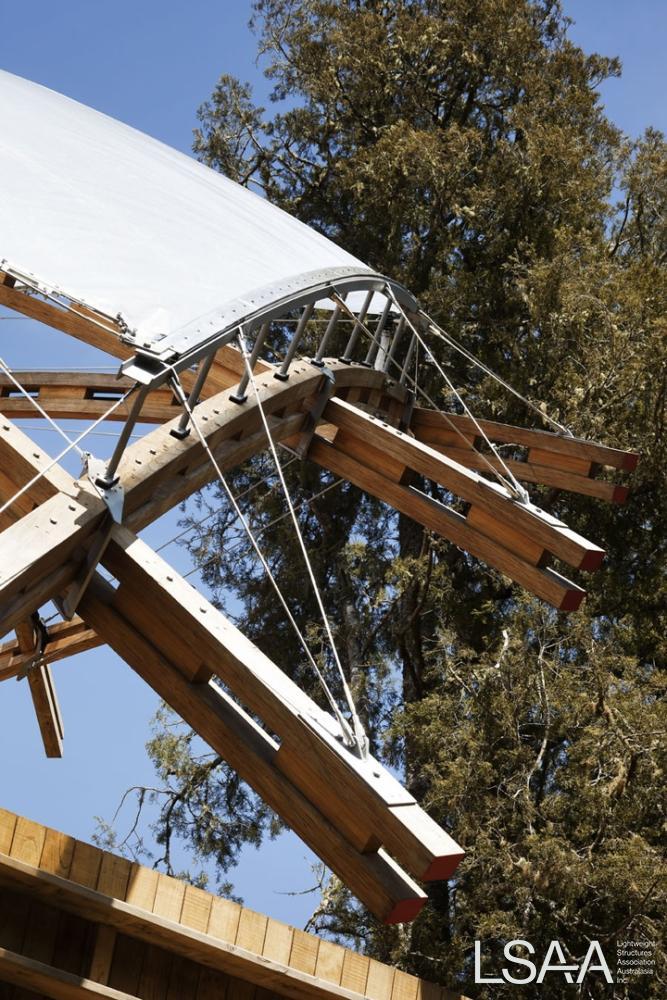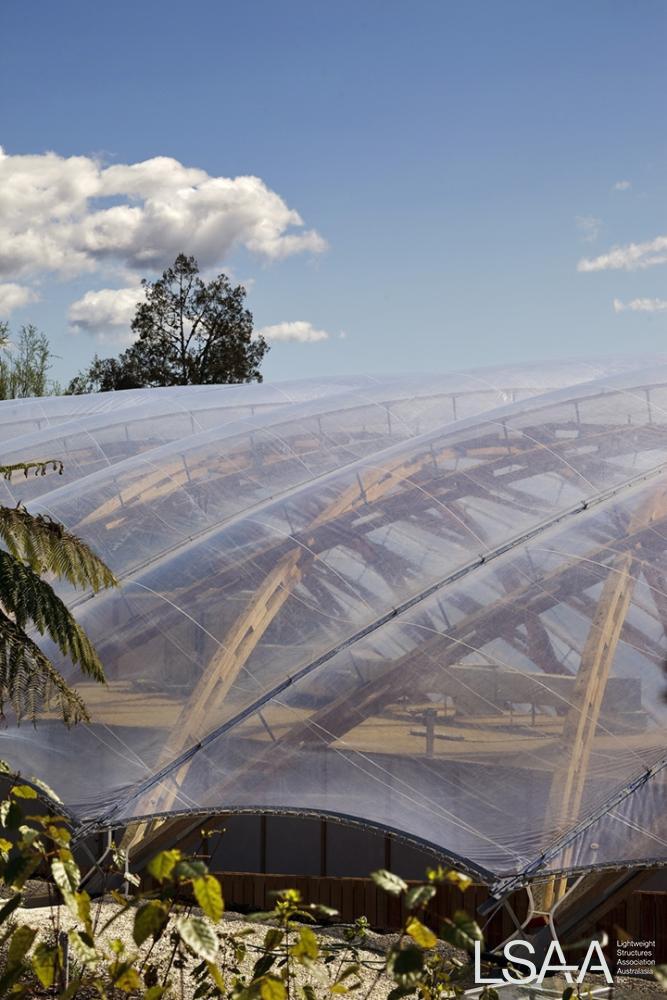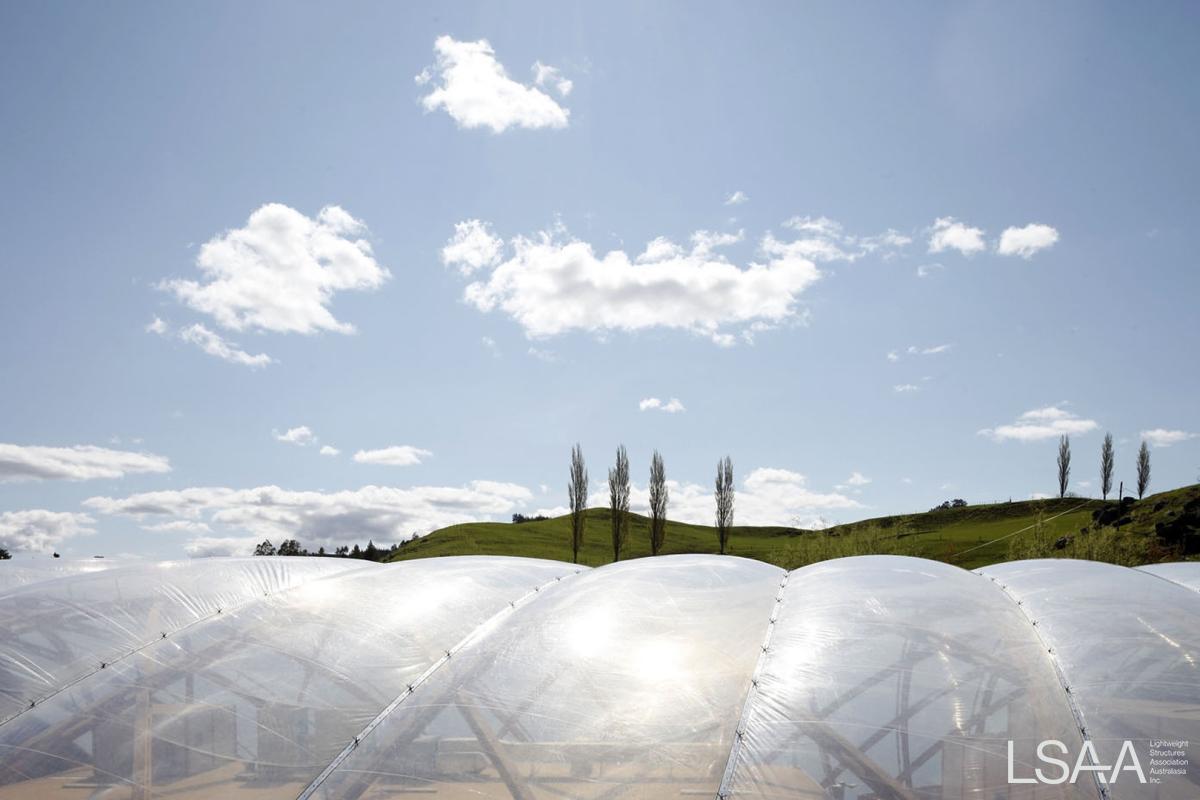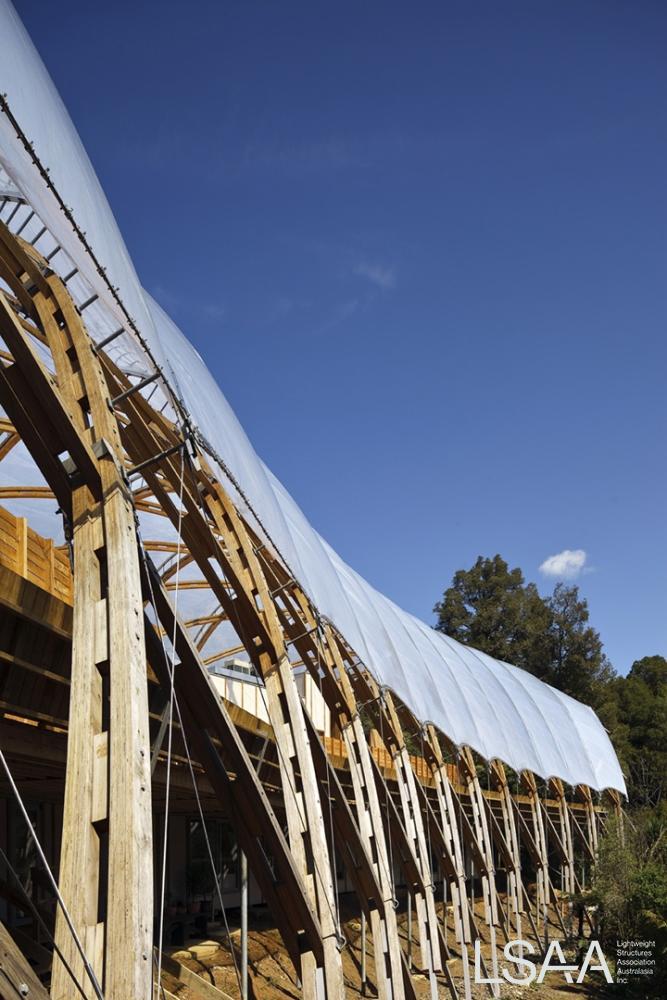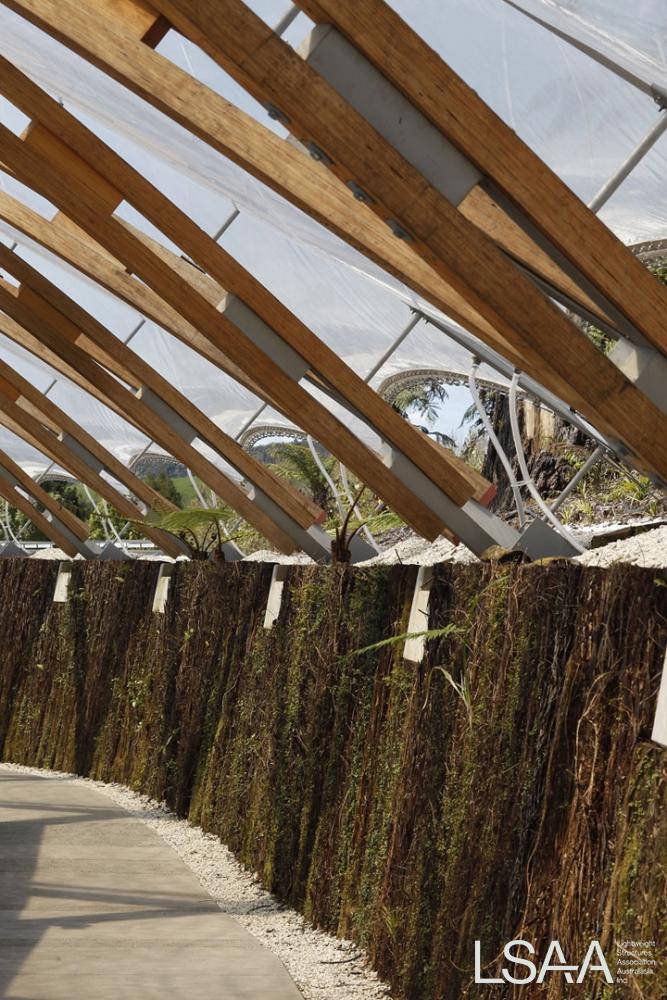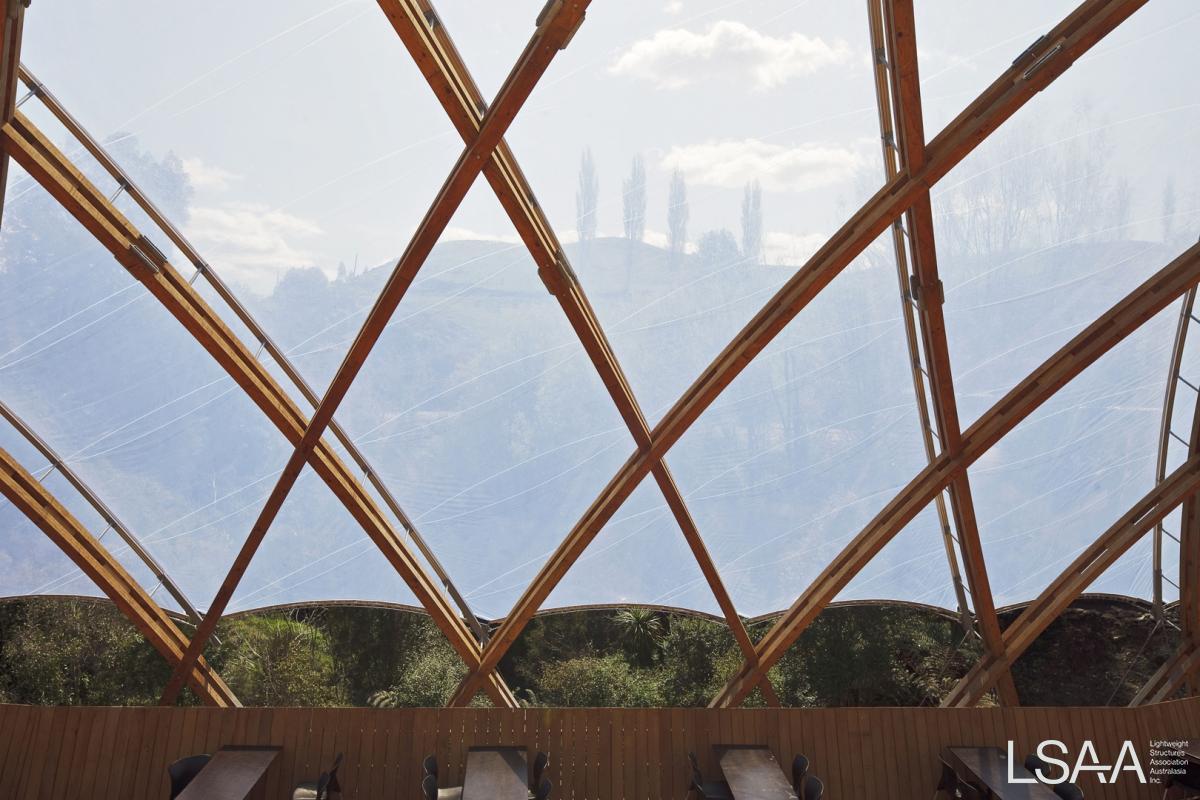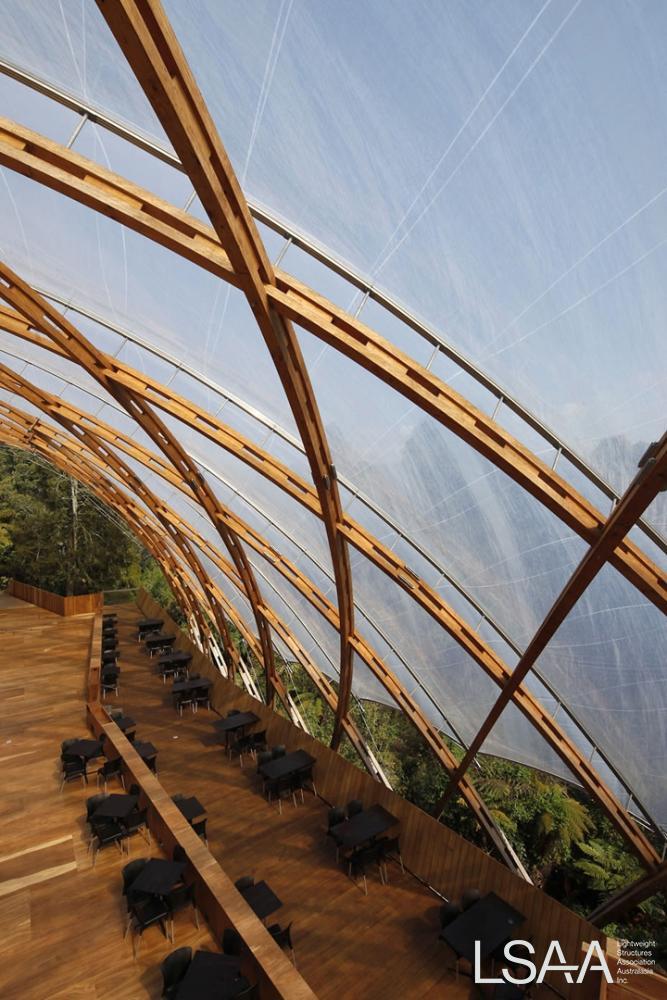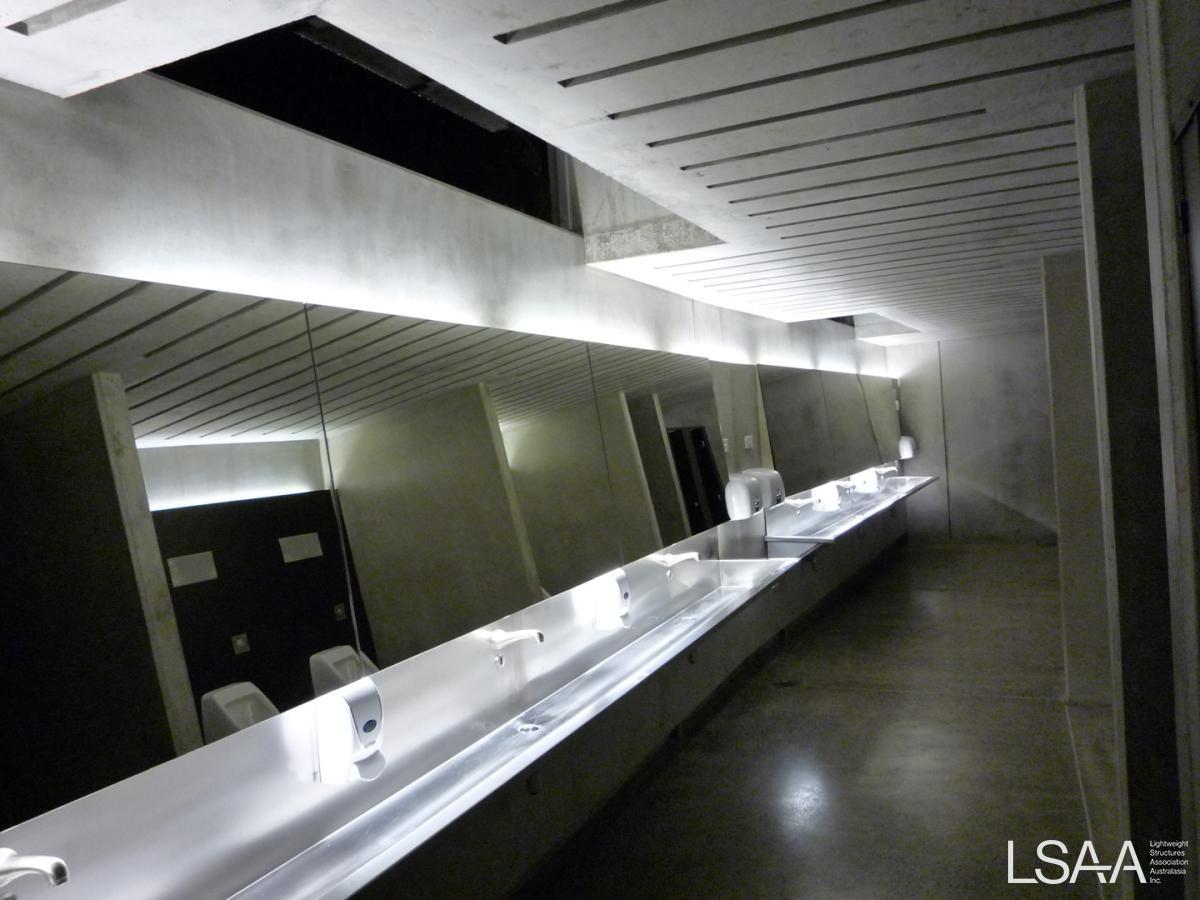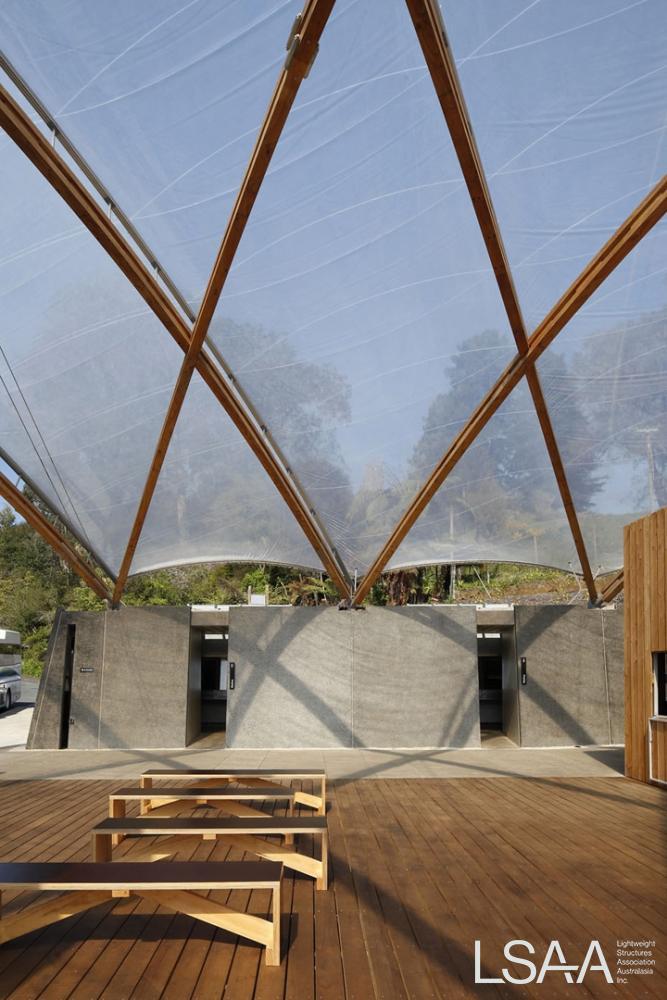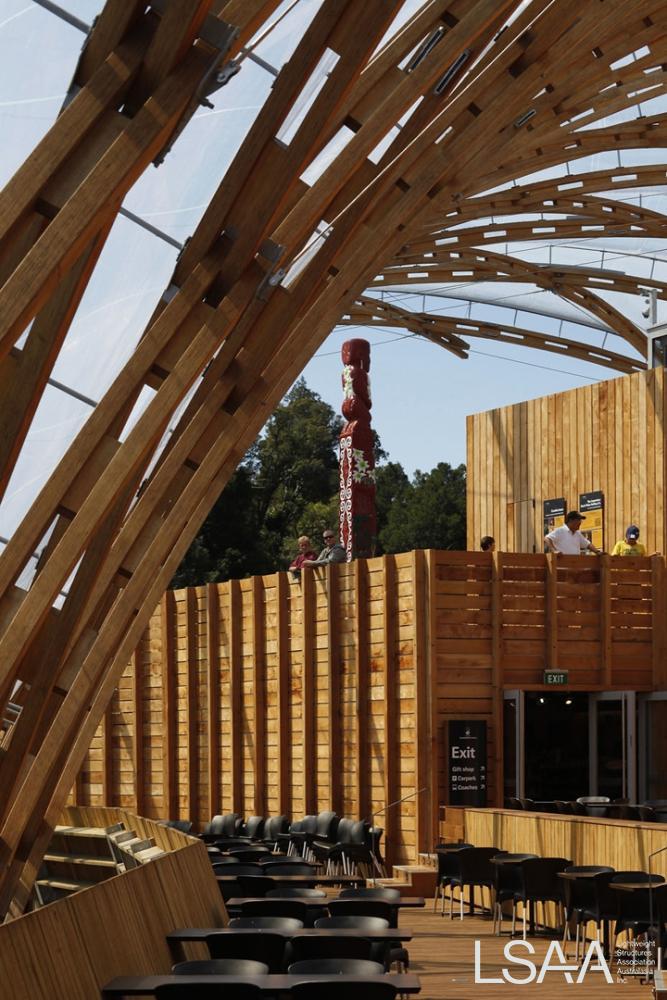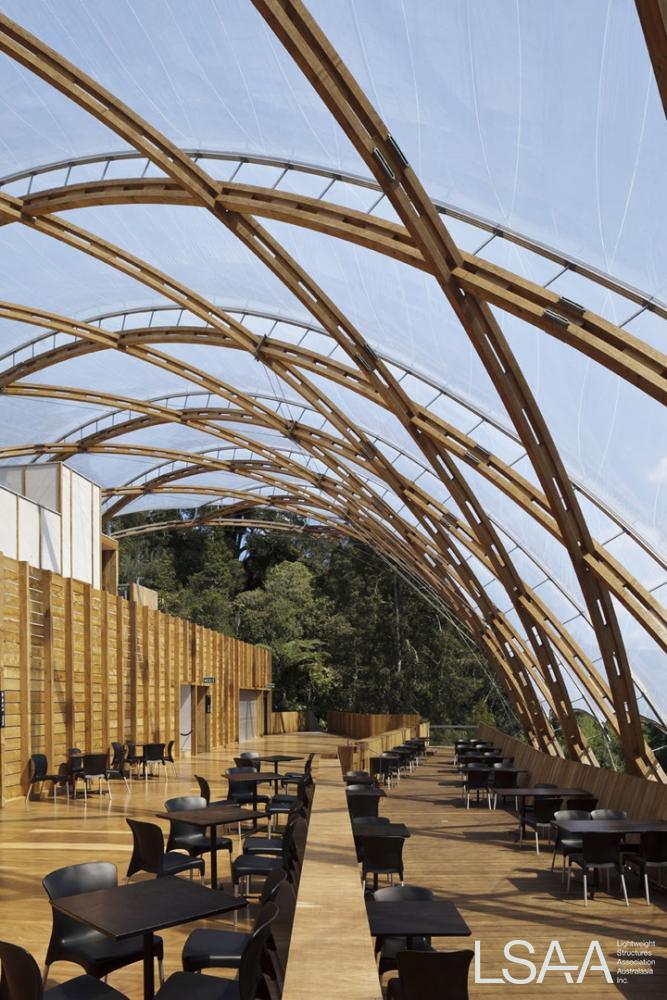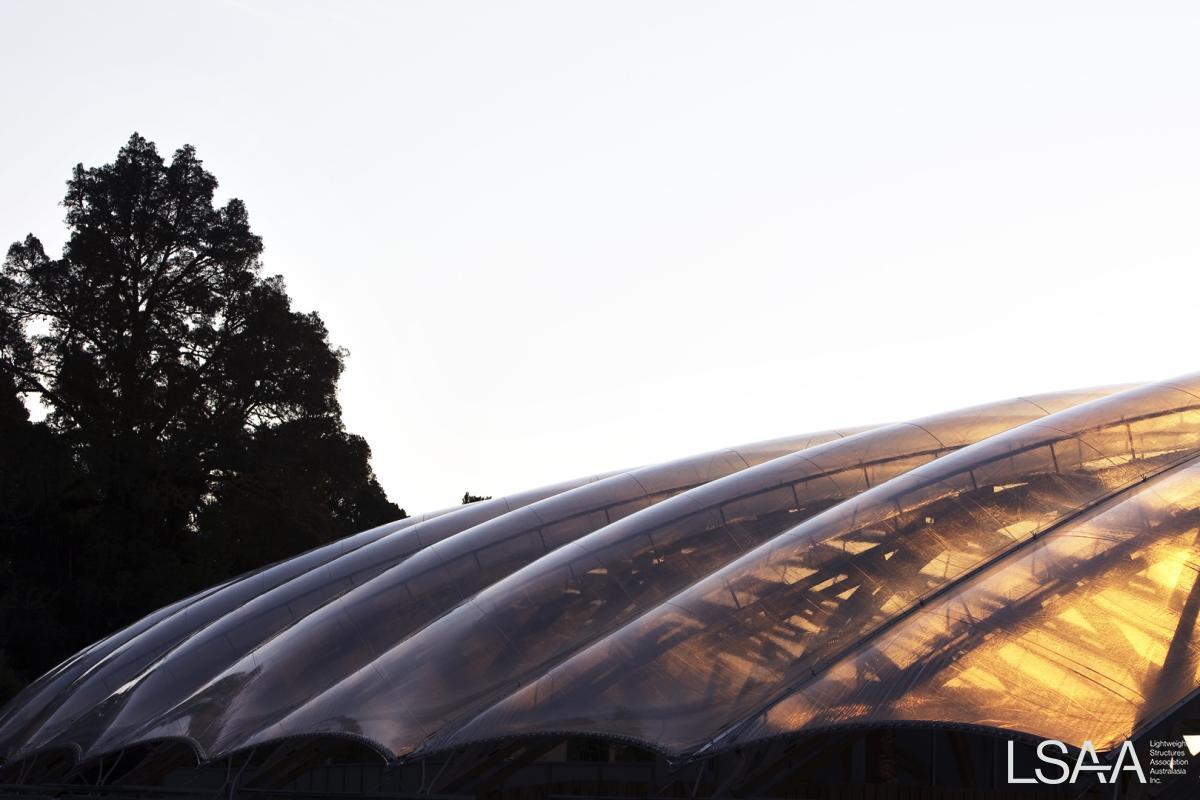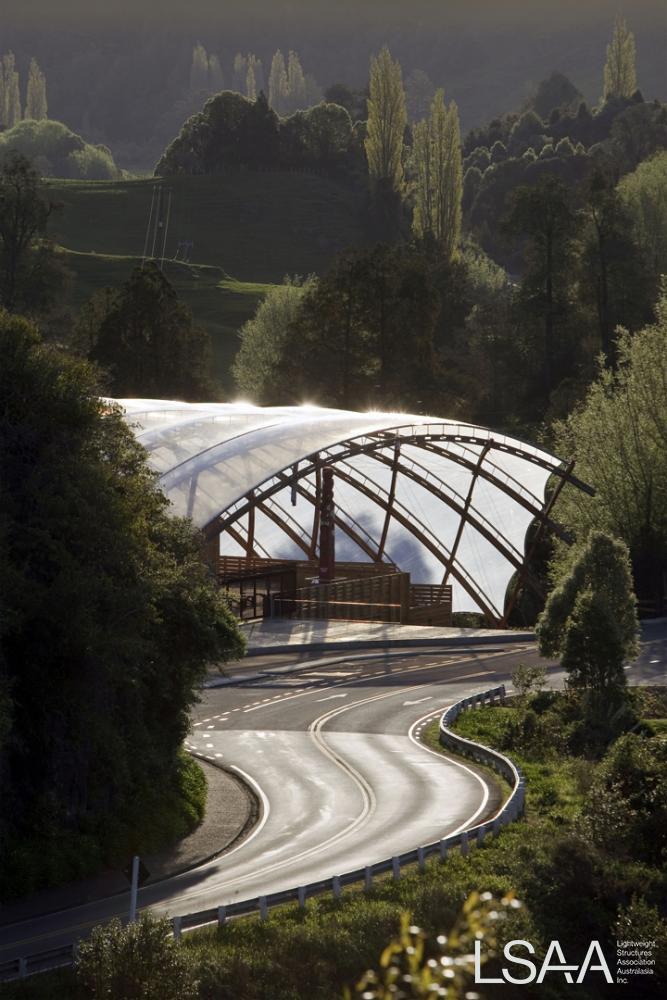 Mehler Coated Technical Textiles supplied large quantities of coated fabric for the 2015 Milan Expo.
The major application was for sun shading the two main axes of the Expo. The 85,000 sqm of fabric was essentially planar rectangular panels attached to opposing valley and ridge cables.
One important concept behind the simple forms was the re-use of the fabric following the Expo.
Other projects included:
Iranian Pavillion (2,500 sqm)

Ferreo Pavillion (1,600 sqm)

Institution Bologna Pavillion (4,500 sqm)

Tent at the entrance (6,000 sqm)
For further details see HERE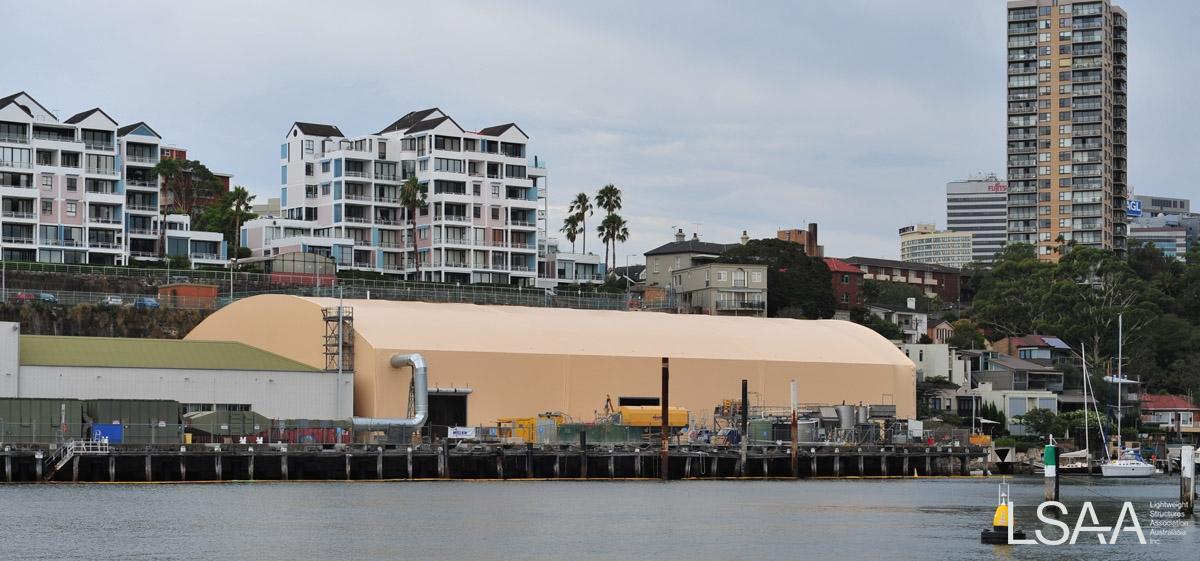 The project was entered in the 2013 LSAA Design Awards (Large Structures, #3301)
Entrant: Global Fabric Structures (UFS)
Location: Sydney
Client: Thiess Australia
Completion Date: December 2012
PROJECT DESCRIPTION:
The former HMAS Platypus site is nestled below the suburb of Neutral Bay, Sydney Australia on a quiet harbour inlet.
This site has been an integral part of the history of Sydney Harbour since the early 1800's. A gasworks, a workshop for servicing torpedoes and a base for Australian Submarines have a left a contaminated industrial site that is excavated out of sandstone and spread over several levels.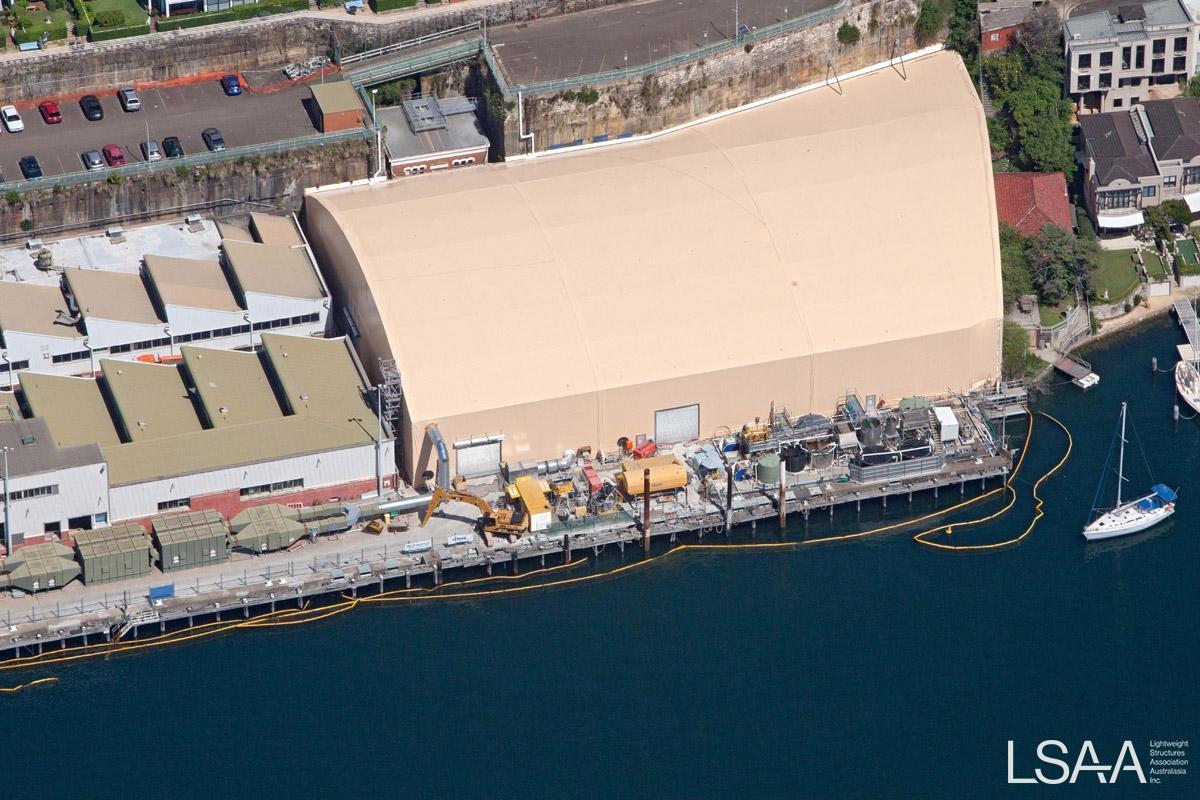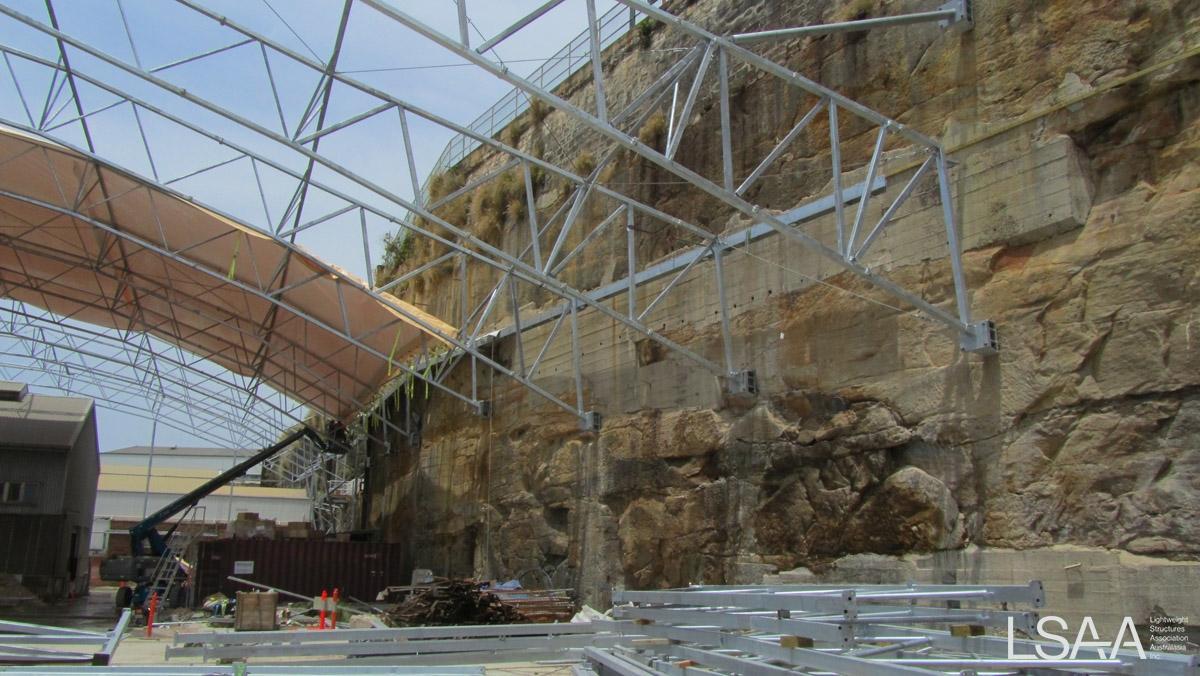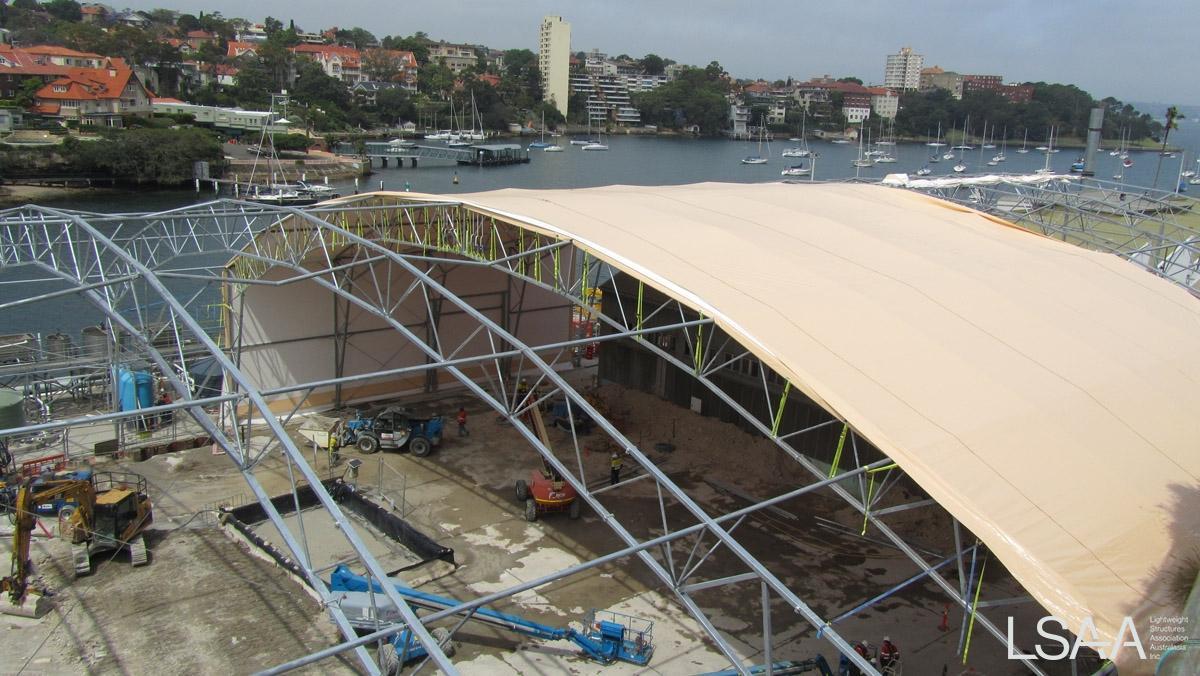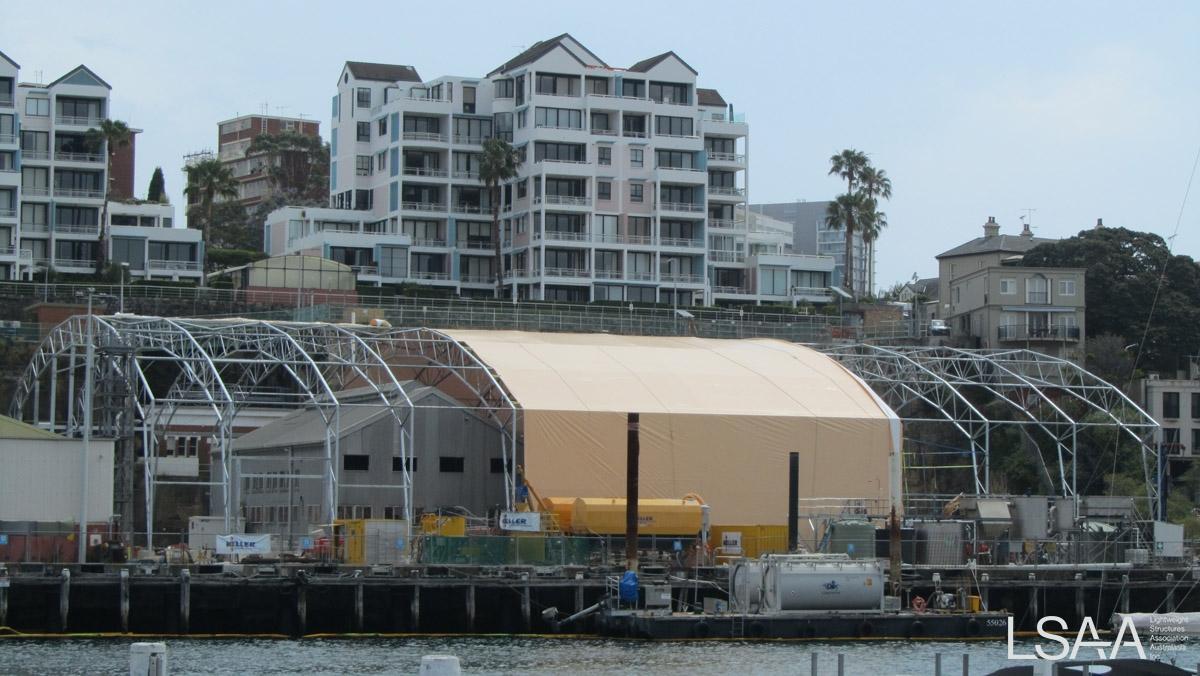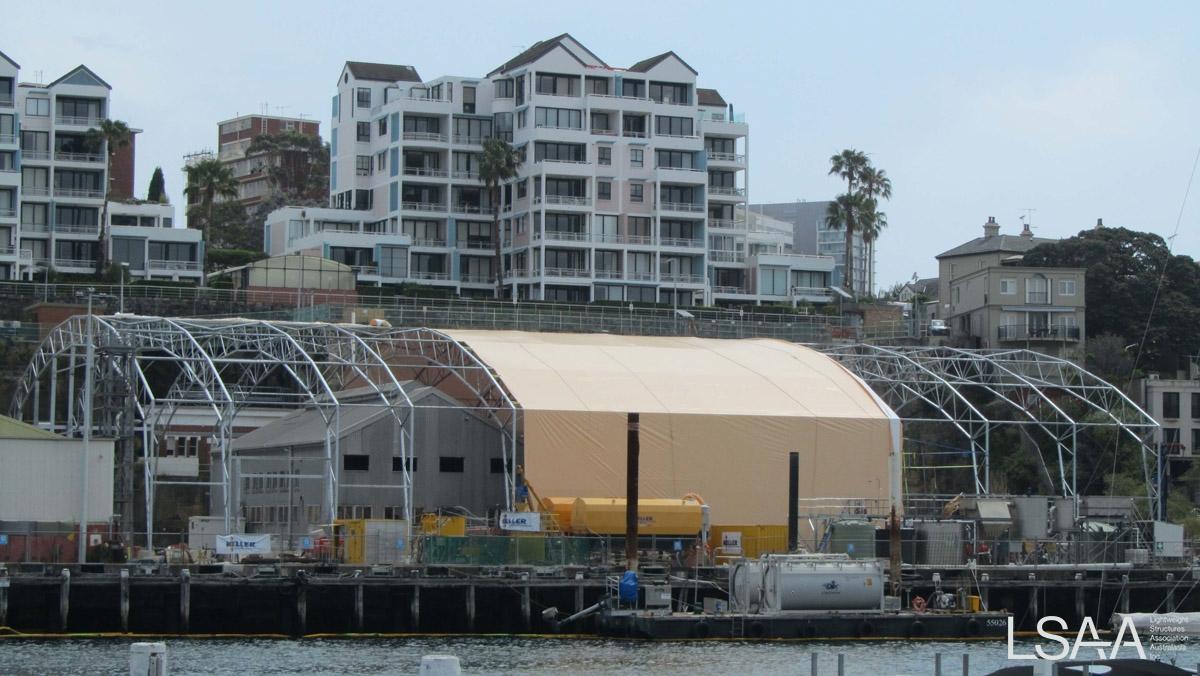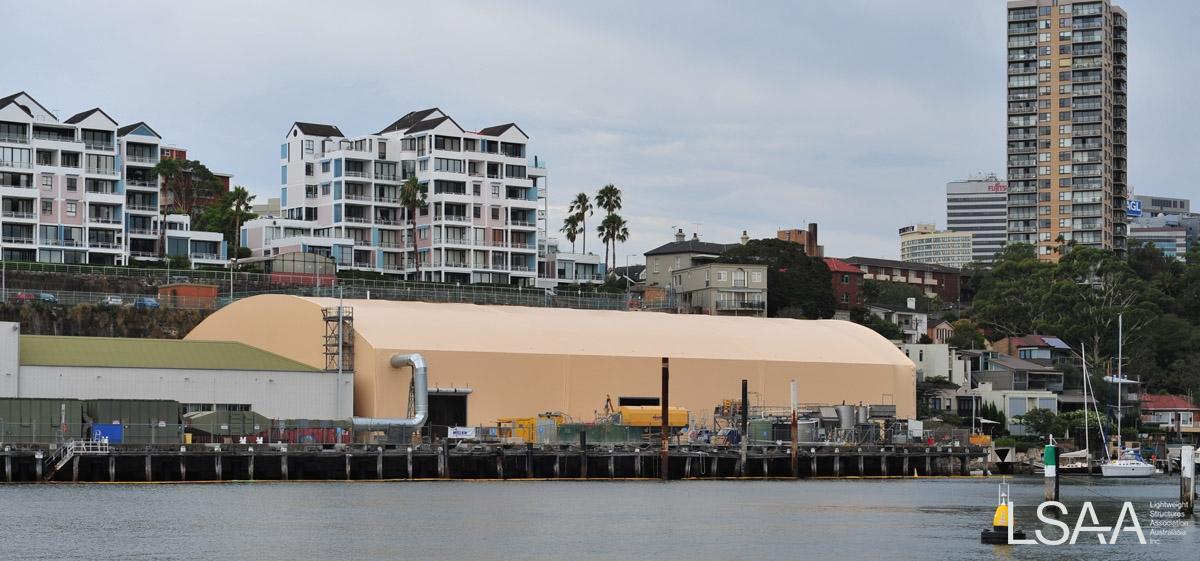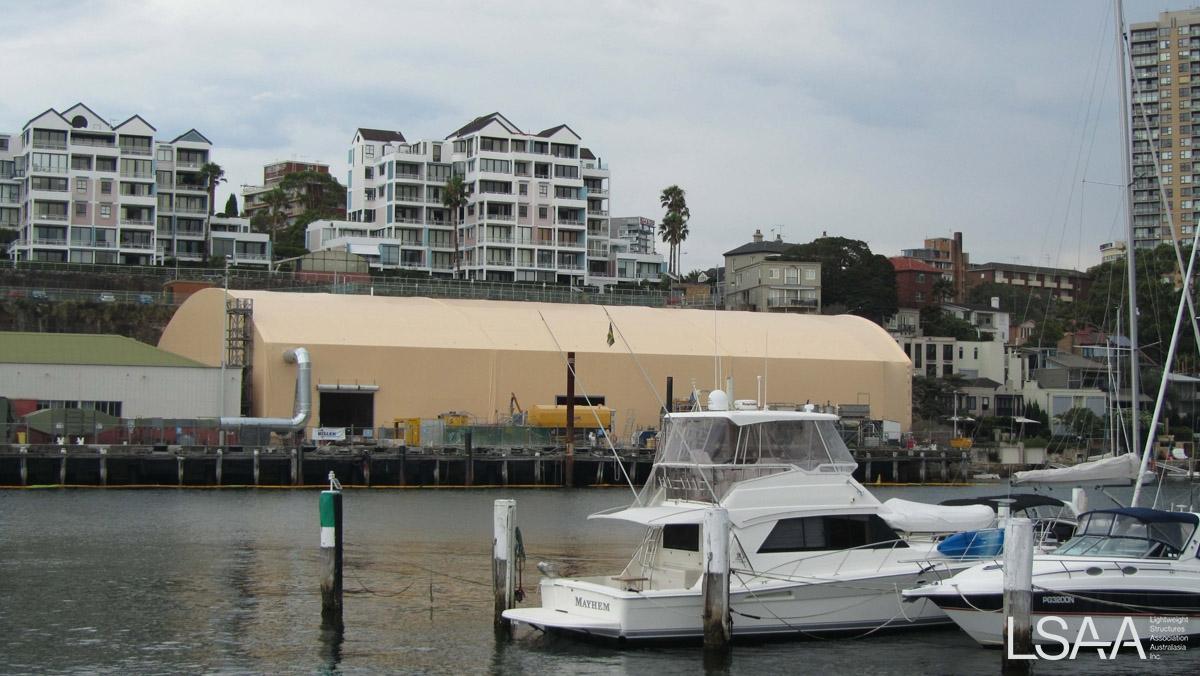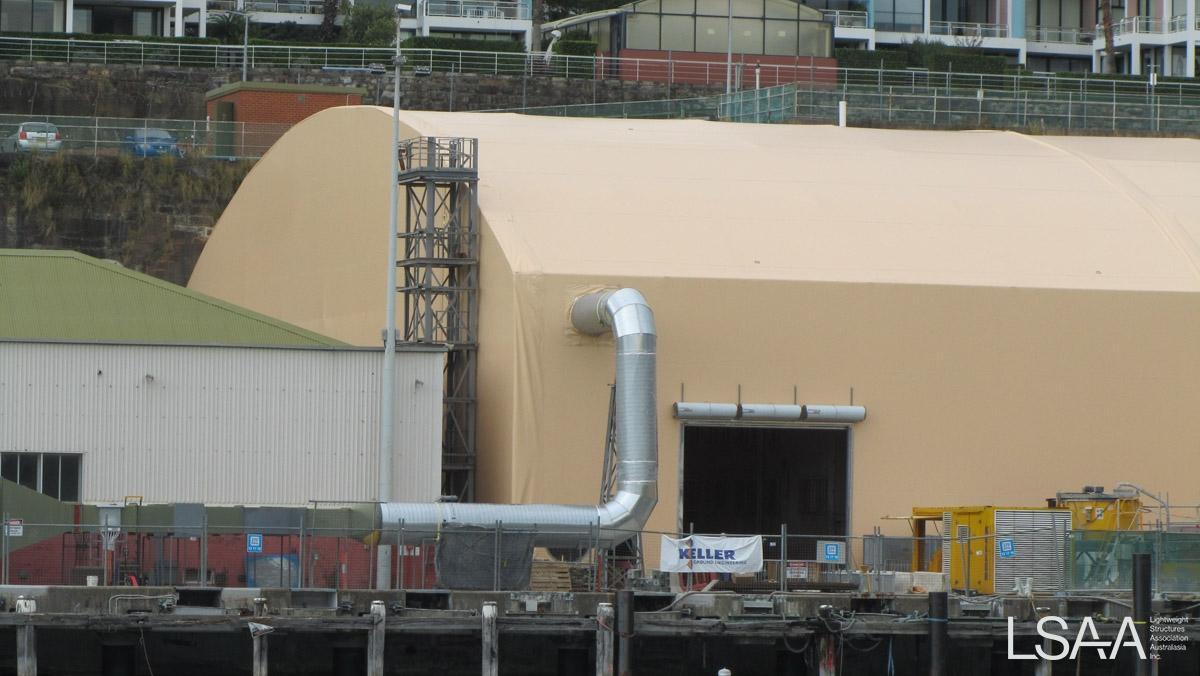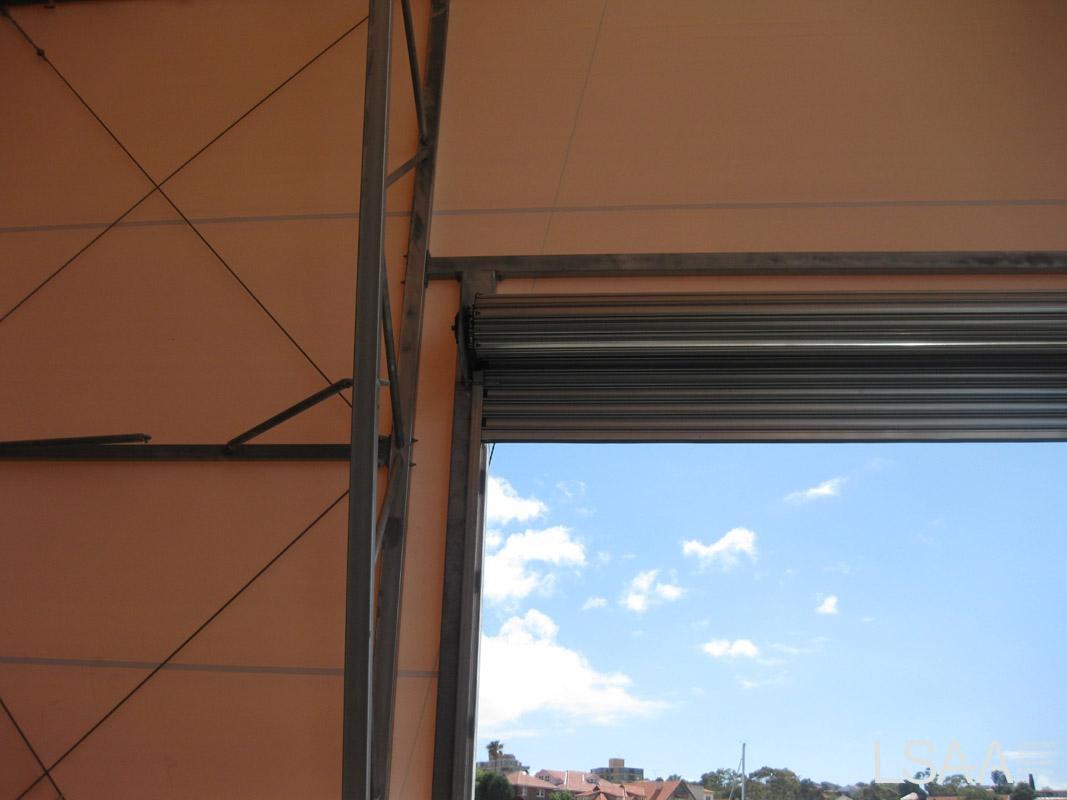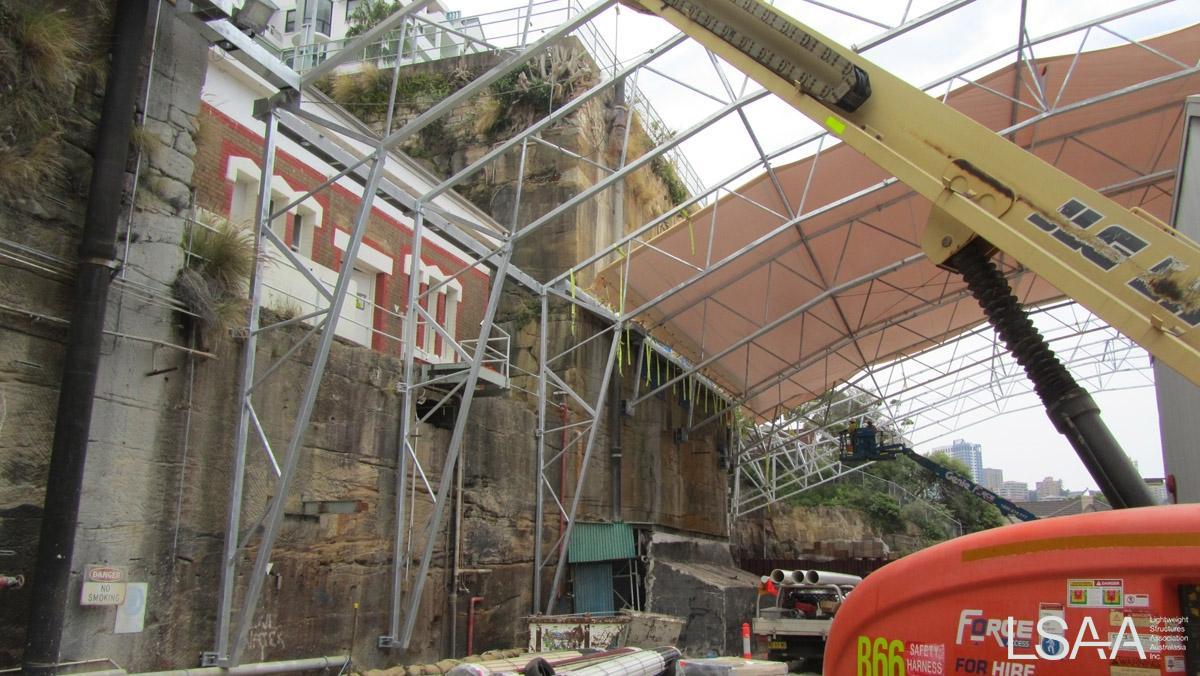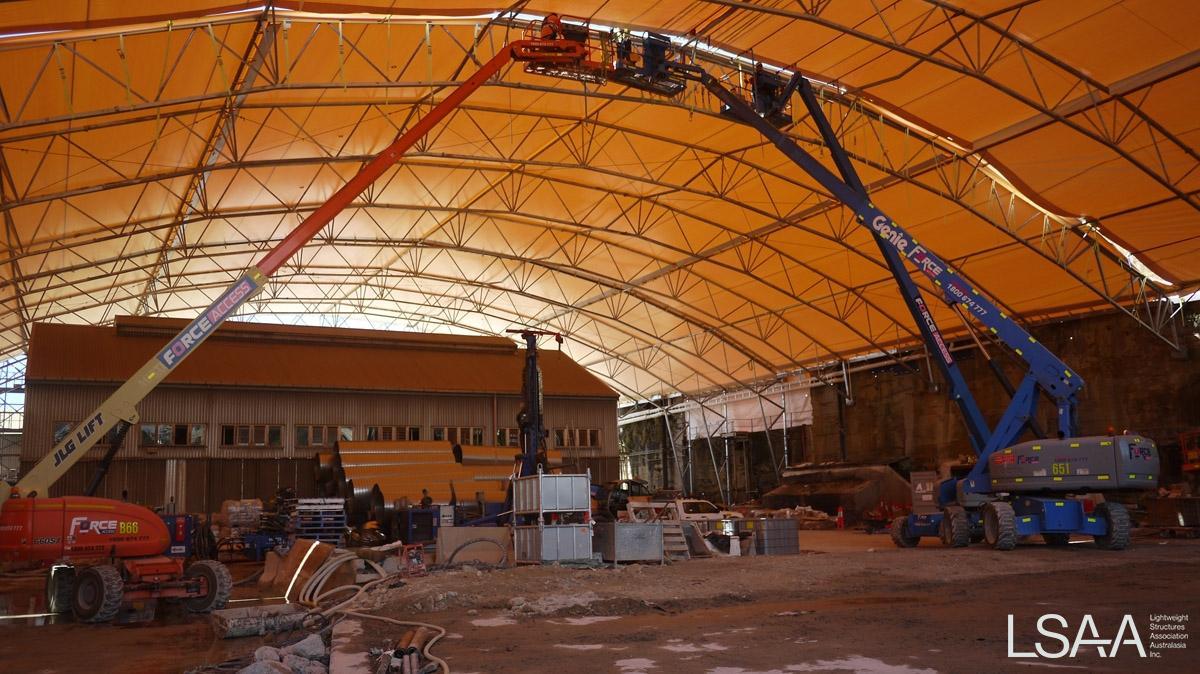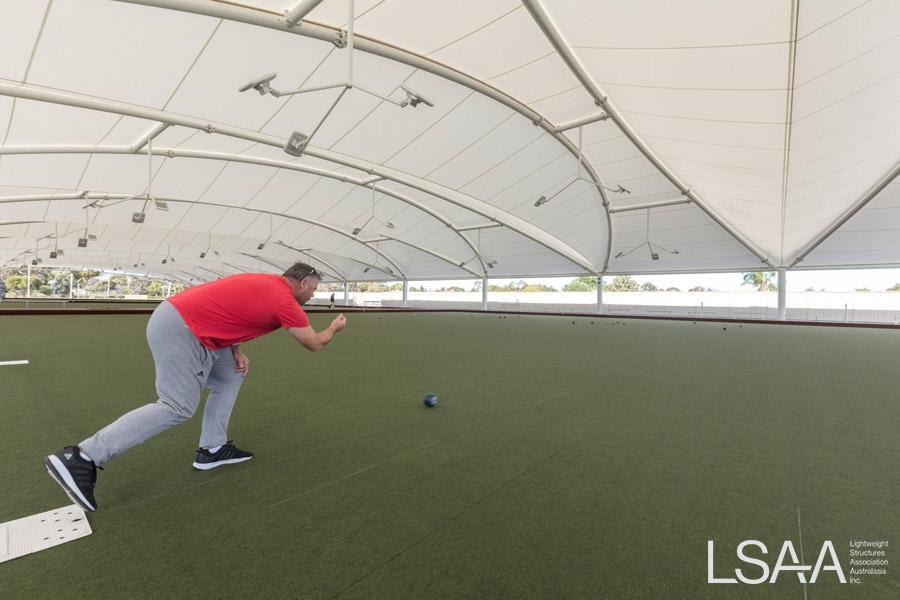 This project was entered in the LSAA 2018 Design Awards (Cat 4 Large Fabric Structures, #4432) by MakMax
Application: Cover over 3 adjacent bowling greens at the Playford City Bowls club, South Australia.
PROJECT DESCRIPTION:
The design, fabrication and installation of the largest tensile membrane canopy structure over a bowling green in the Southern Hemisphere. The 5300m2 PVC (Mehler FR900N) structure covers a total of 21 rinks (120m length), lit with state of the art LED sports lighting, allowing year round utilization of the bowling green's irrespective of the weather conditions. In addition to bowls, the venue is also used to host corporate and social events.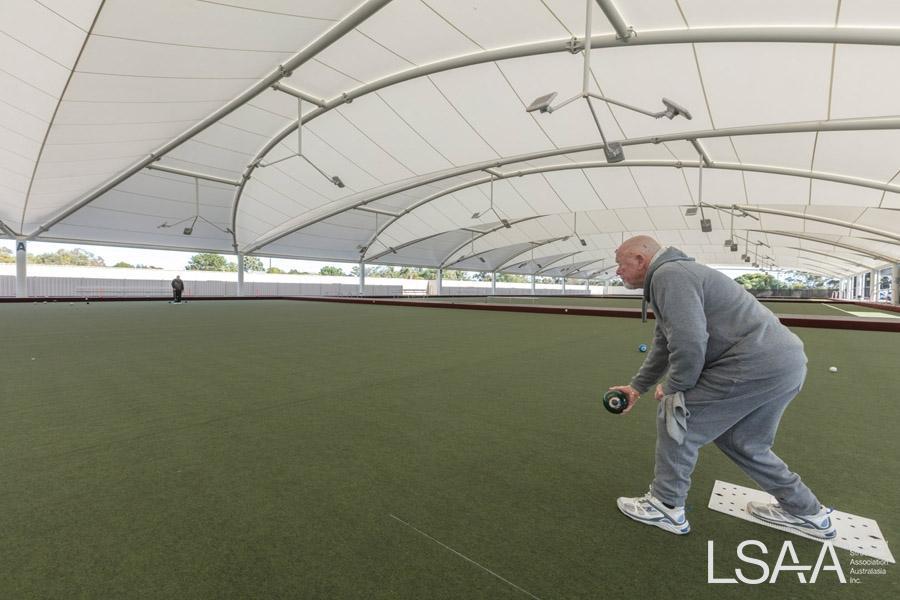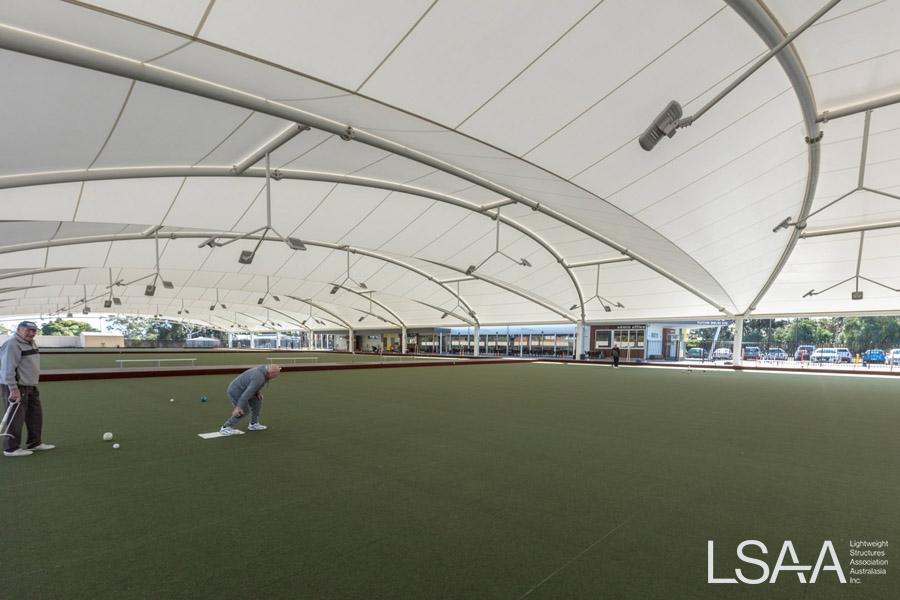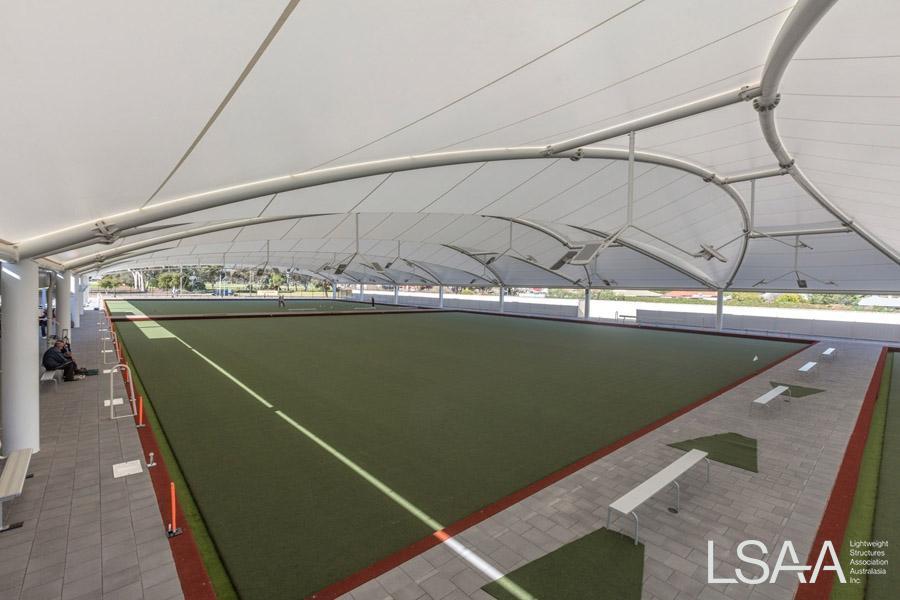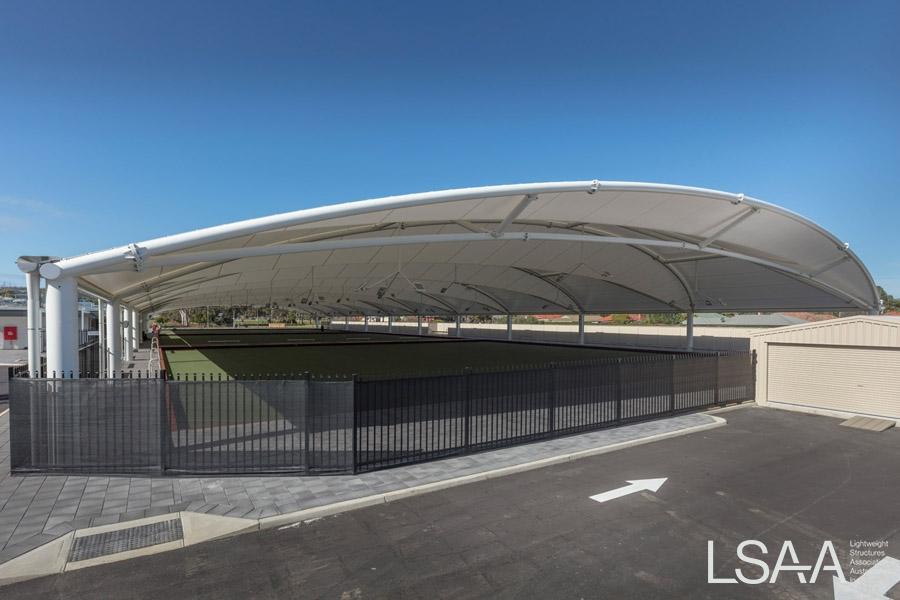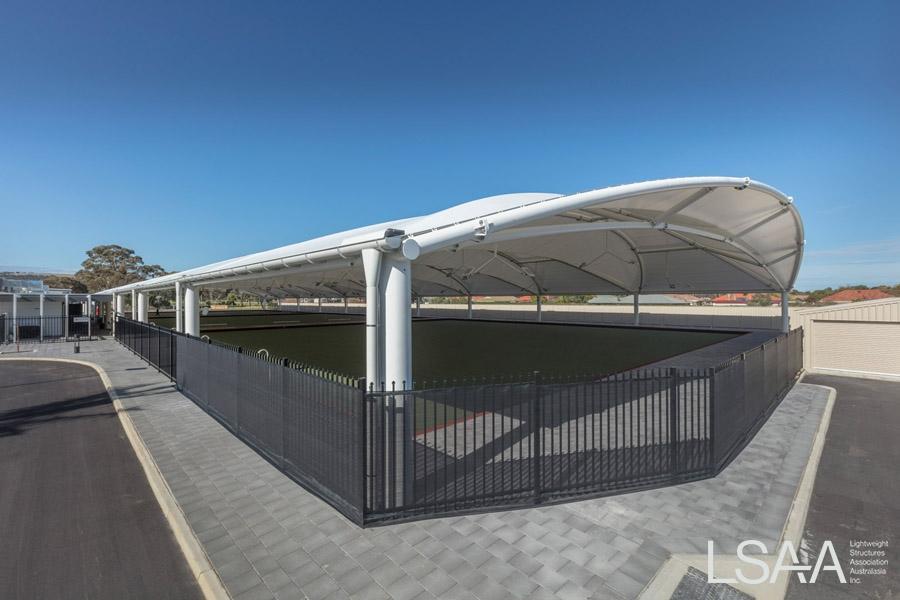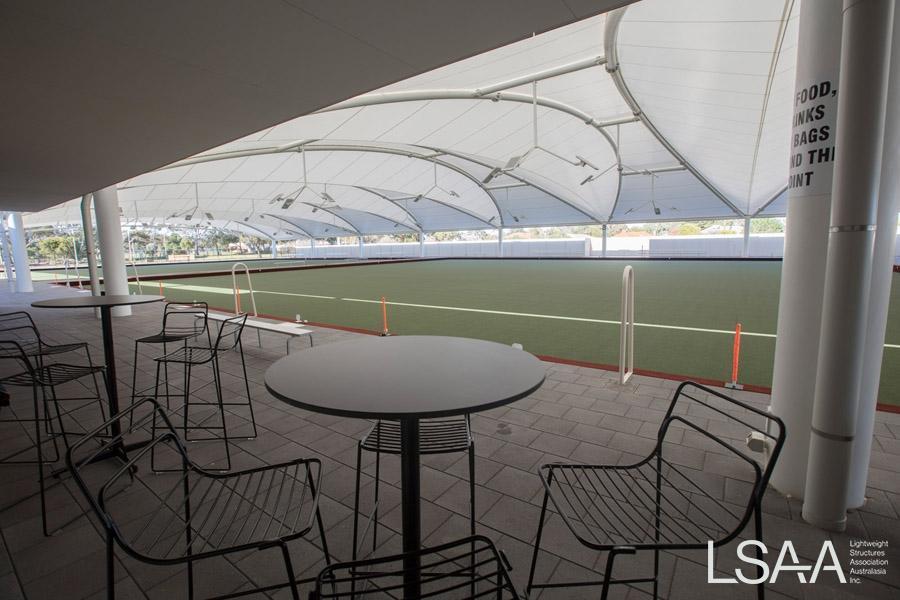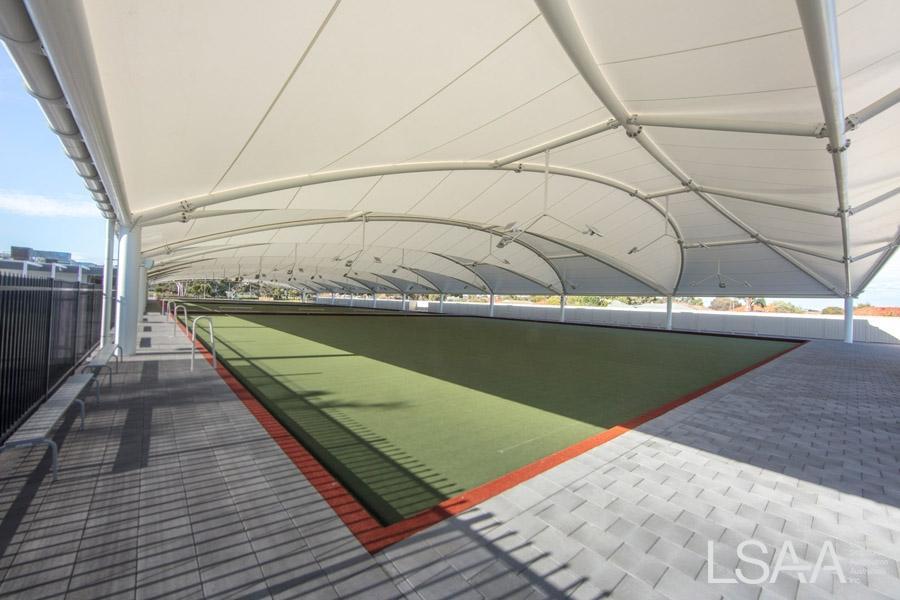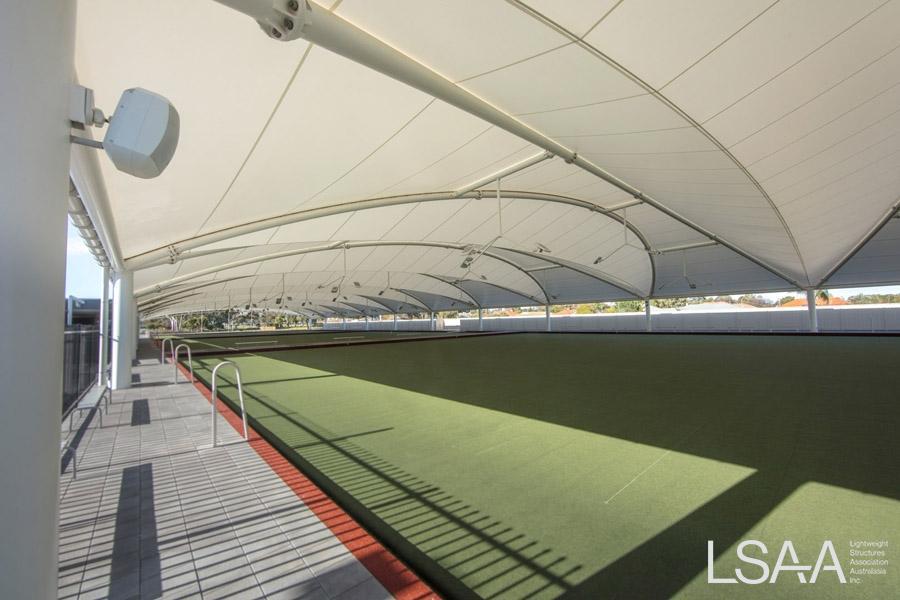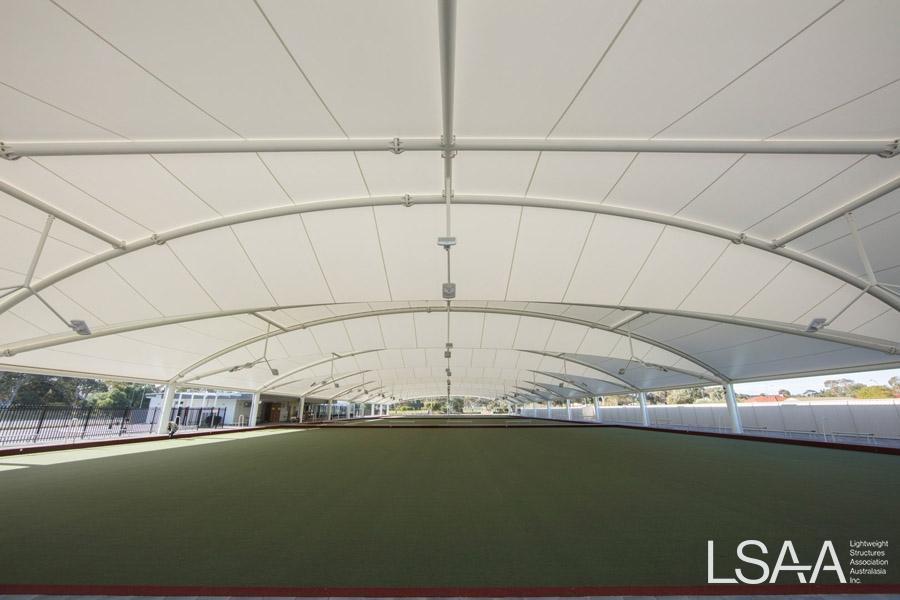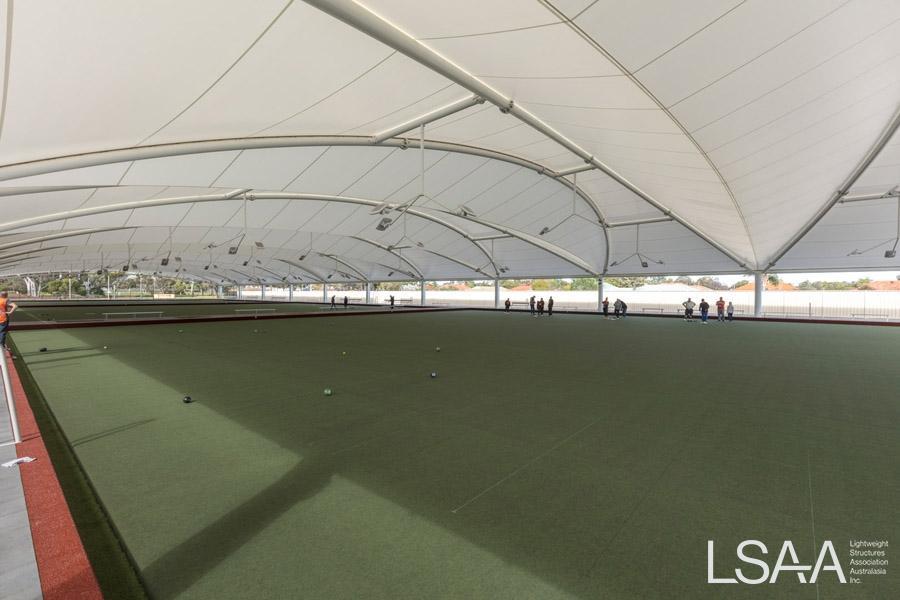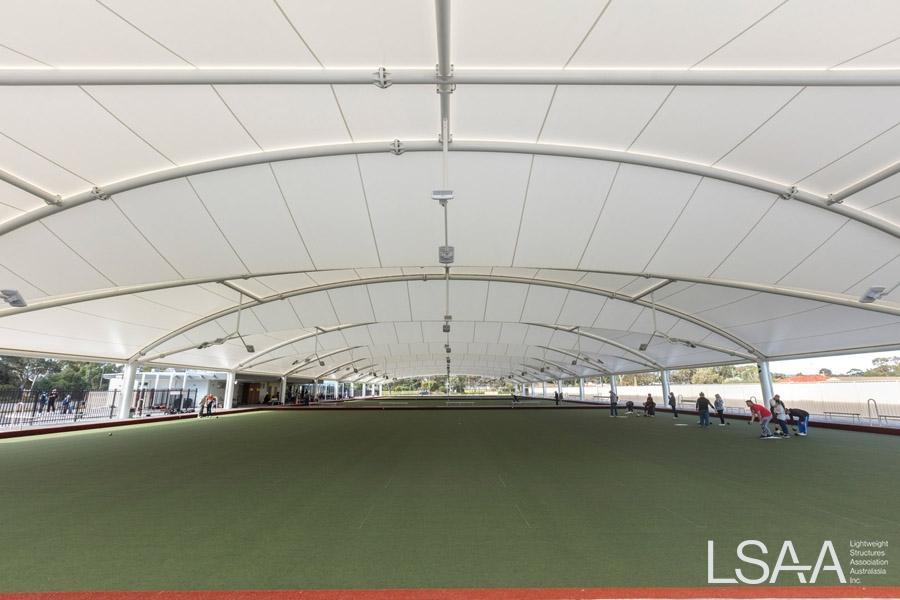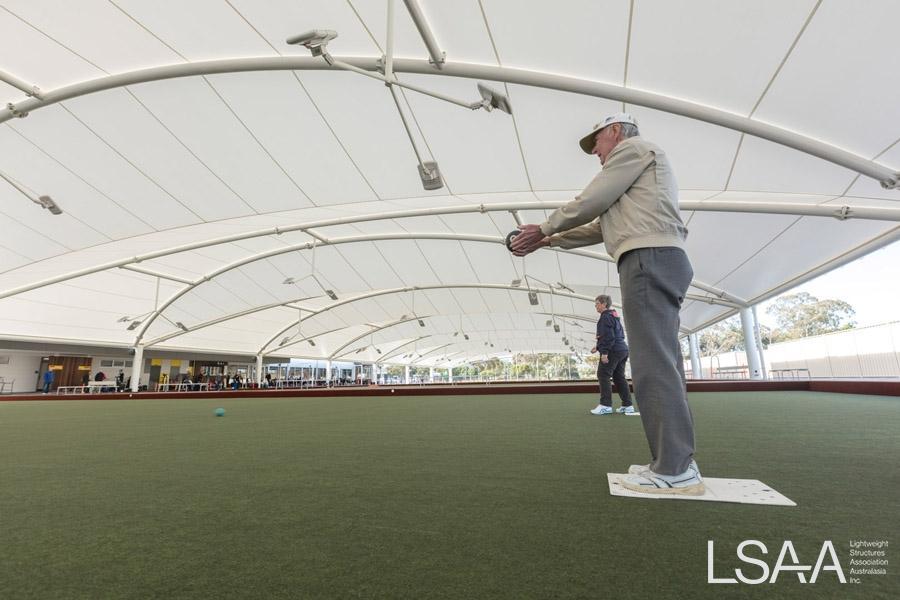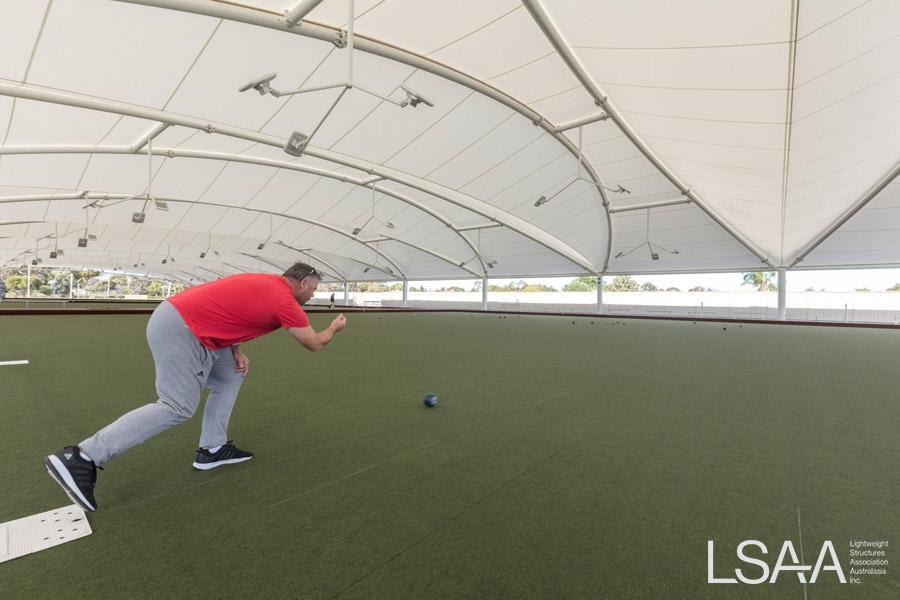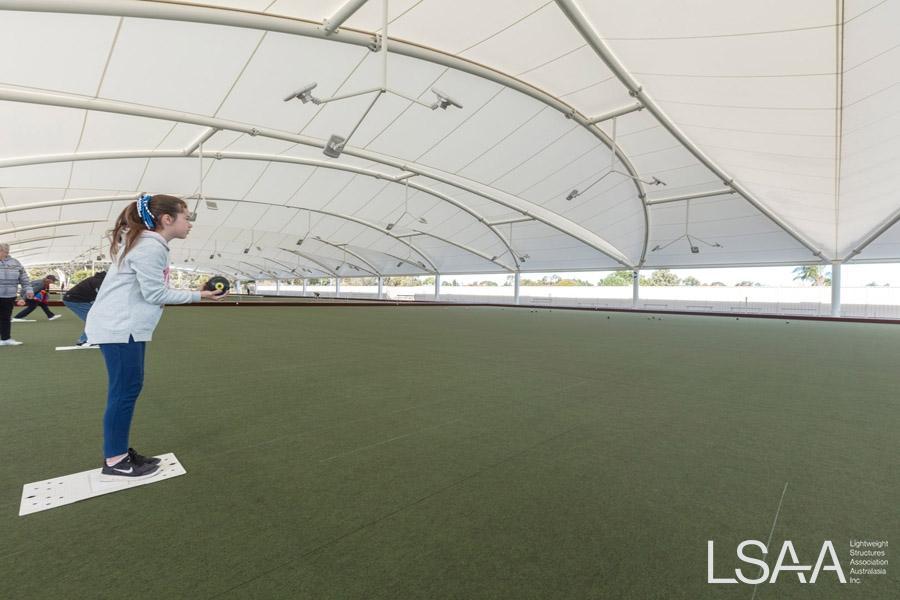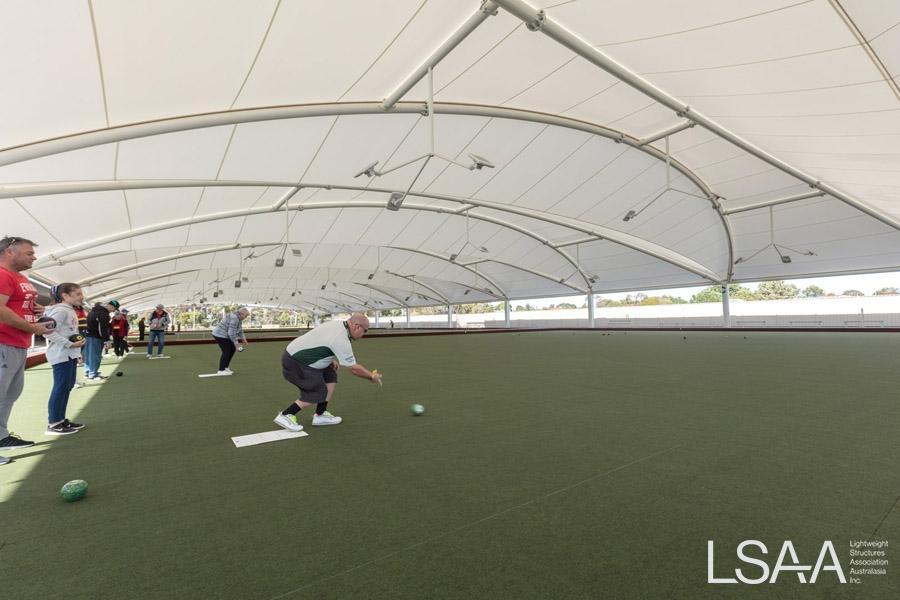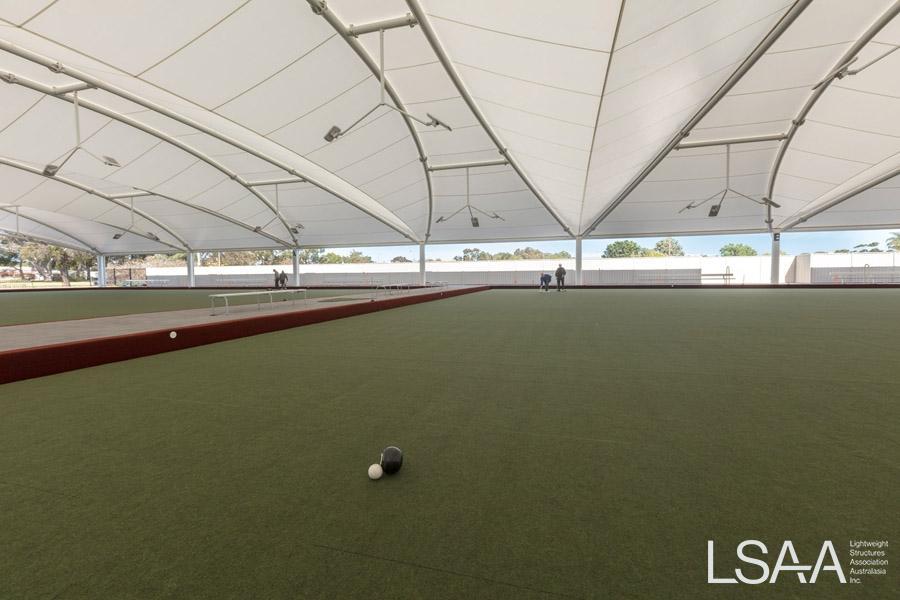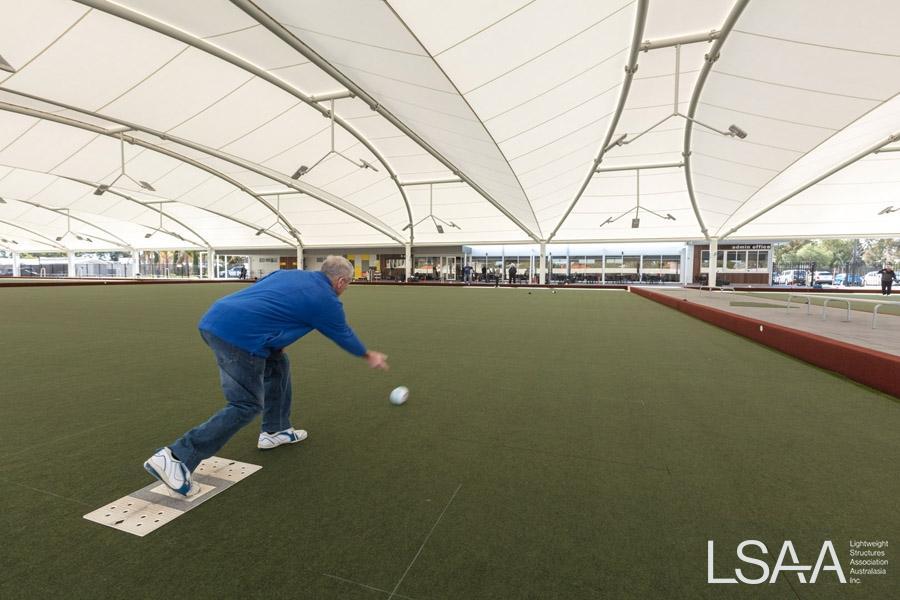 Read more: Playford Bowls Club Triple Green Roof Cover Project (2018)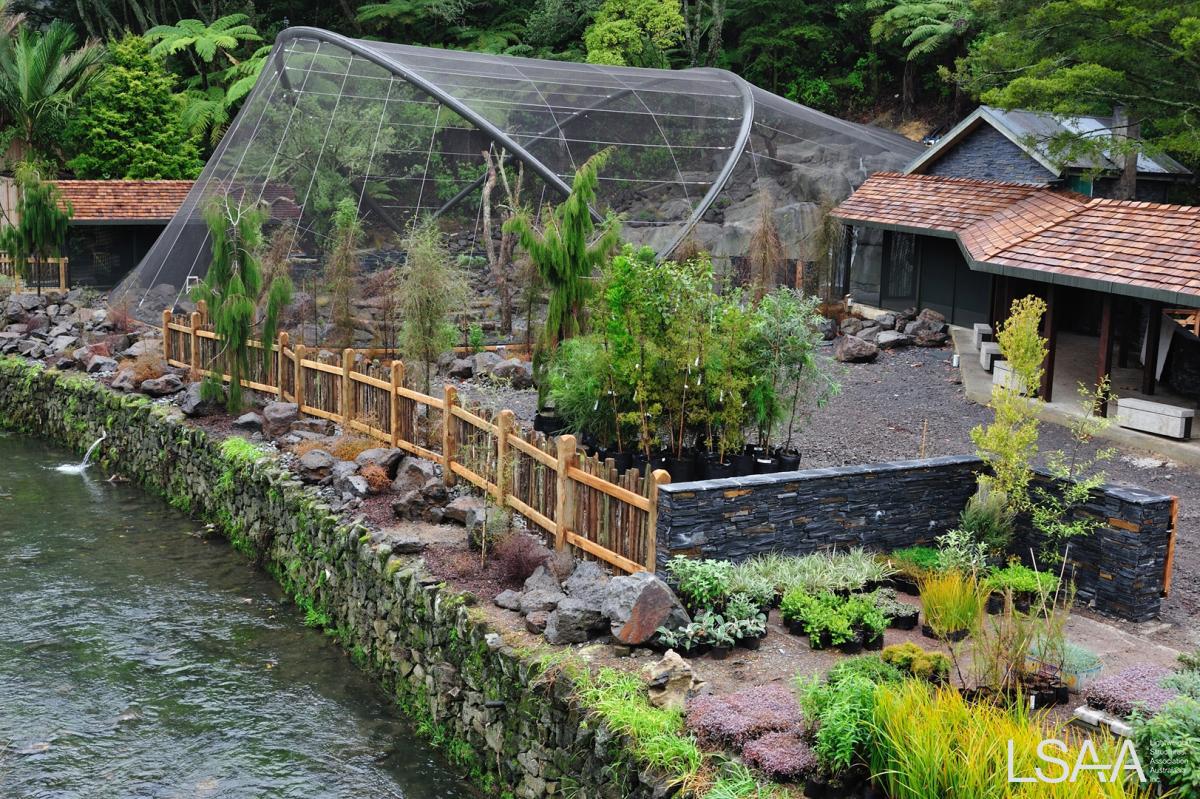 LSAA 2011 Design Award Entry (4322): Cablenet Zoo Aviaries
APPLICATION OF PROJECT
As part of a major upgrade to Auckland Zoo, Fabric Structure Systems built four new aviaries to accommodate different New Zealand bird & animal species.
PROJECT DESCRIPTION
Thirteen years in the planning and almost four years in the design and building, Te Wao Nui is Auckland Zoo's most significant project in its eighty-eight-year history. Covering more than 20 percent of the zoo's seventeen hectares, the exhibit showcases New Zealand species in their natural environment.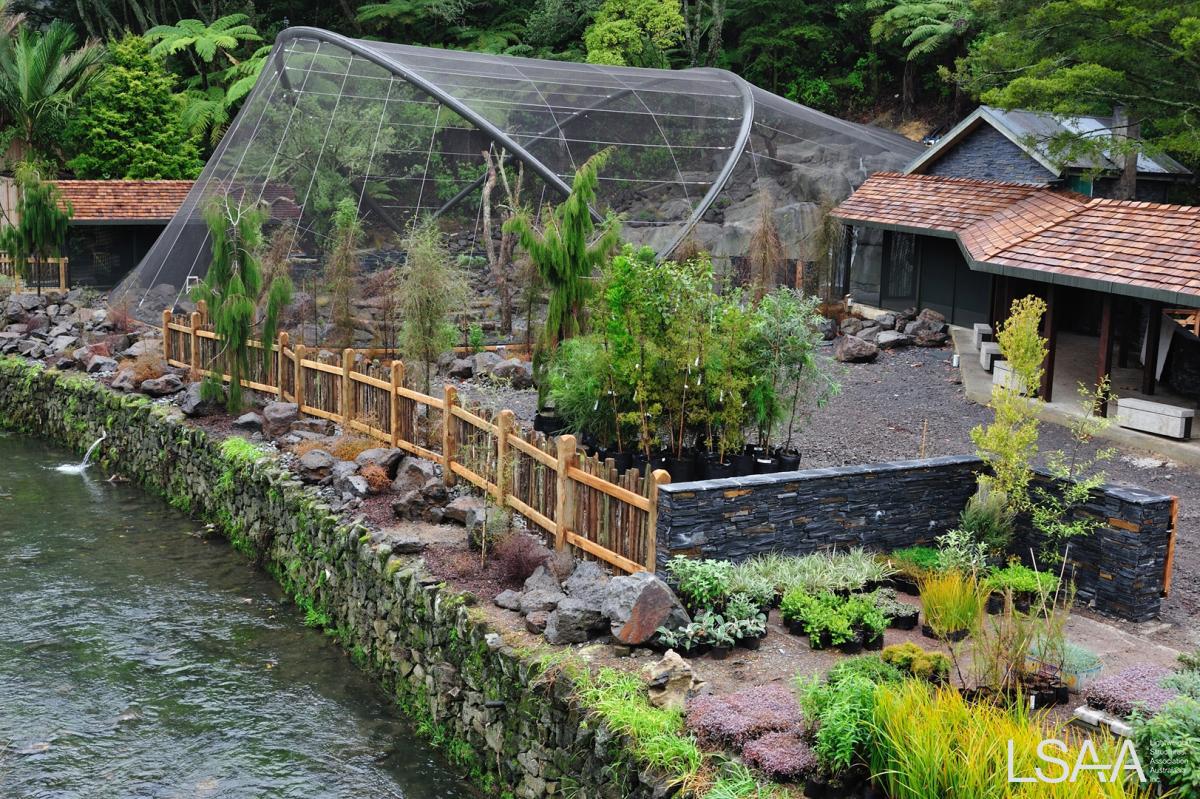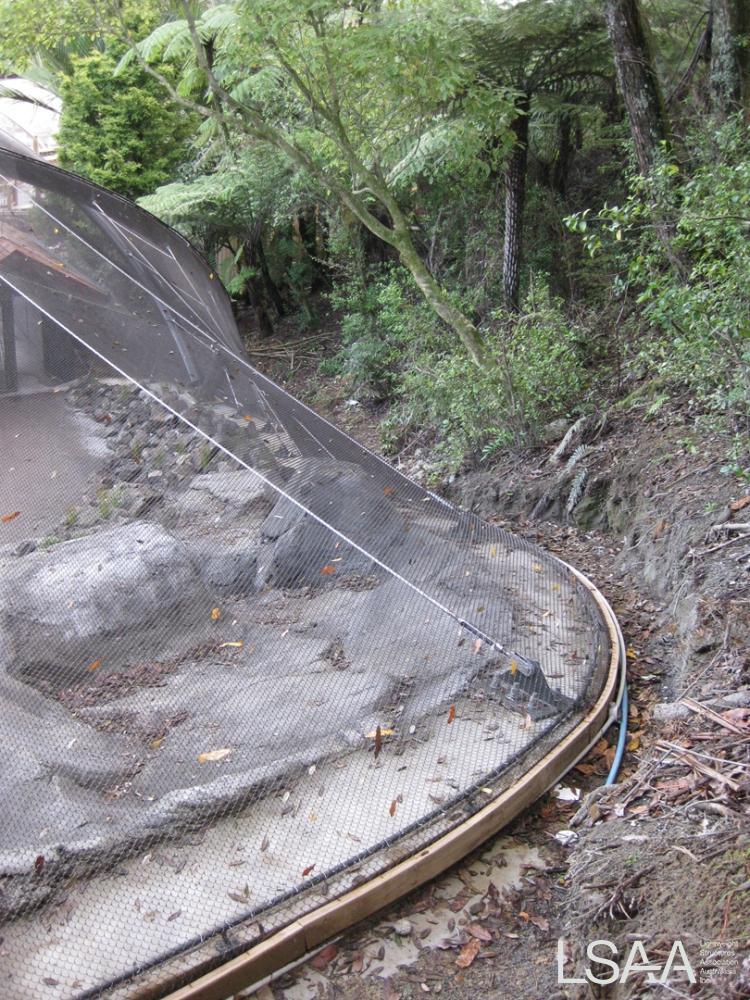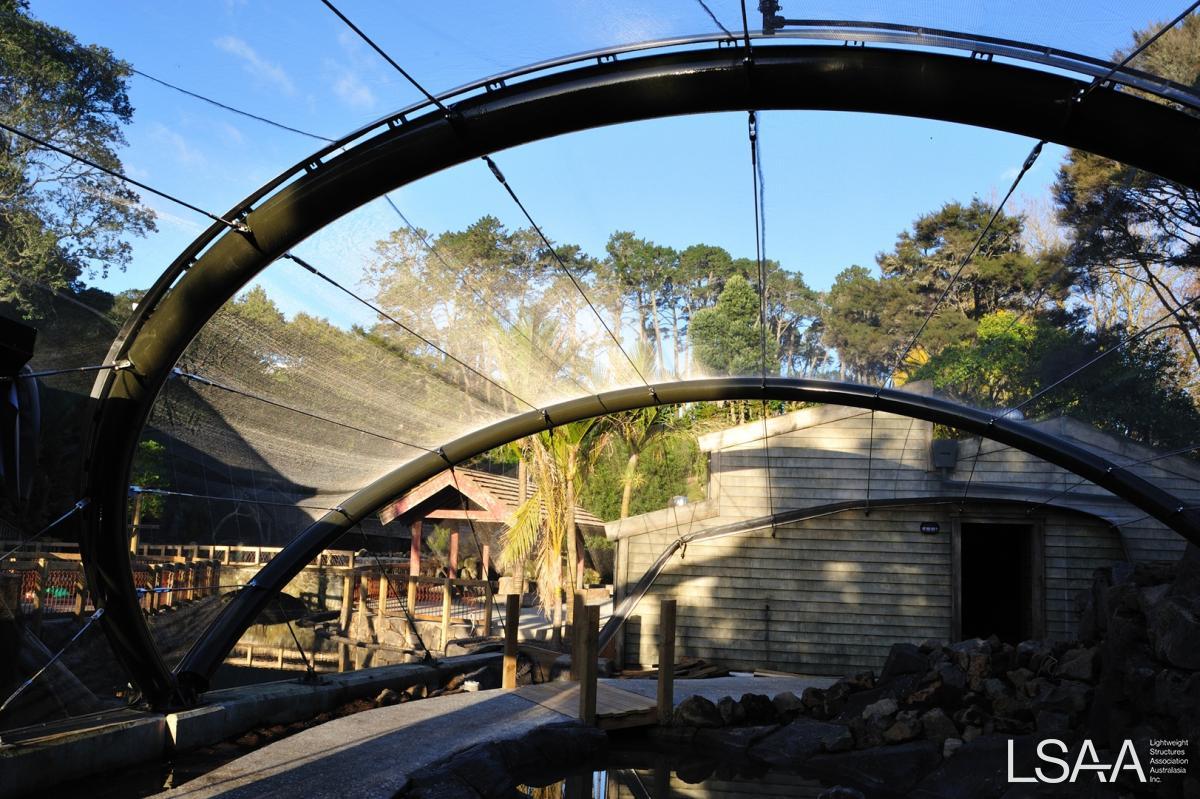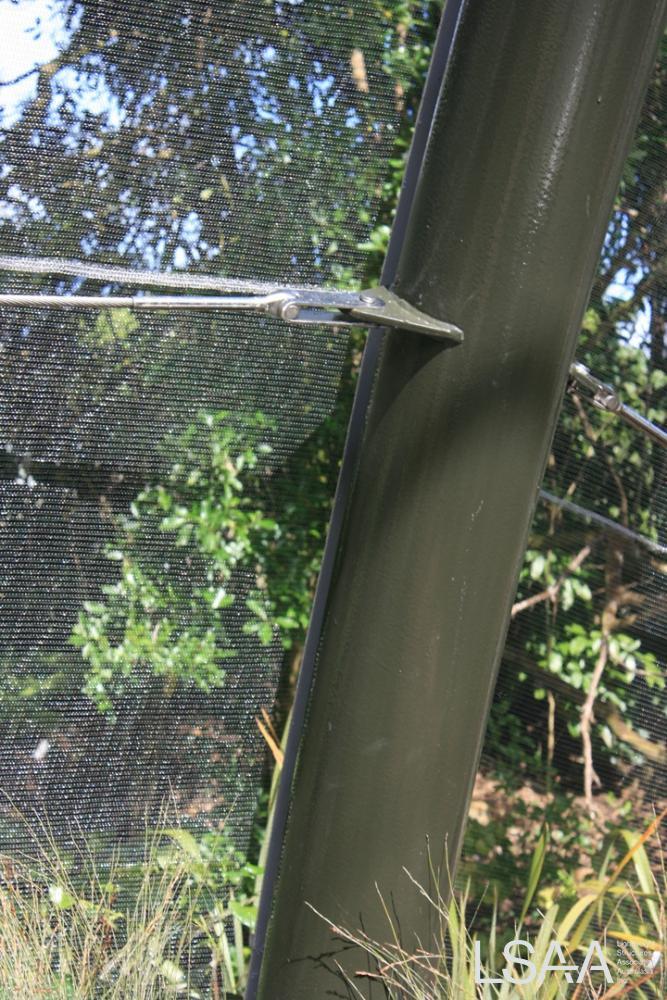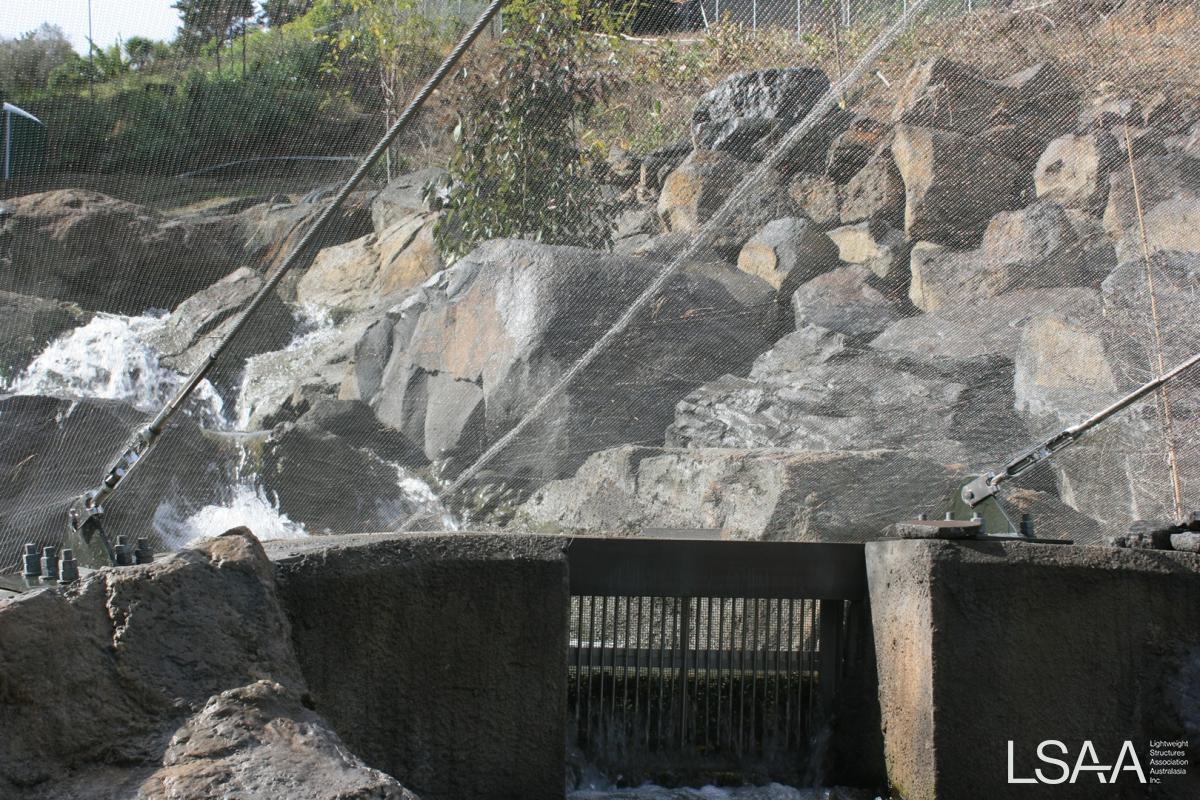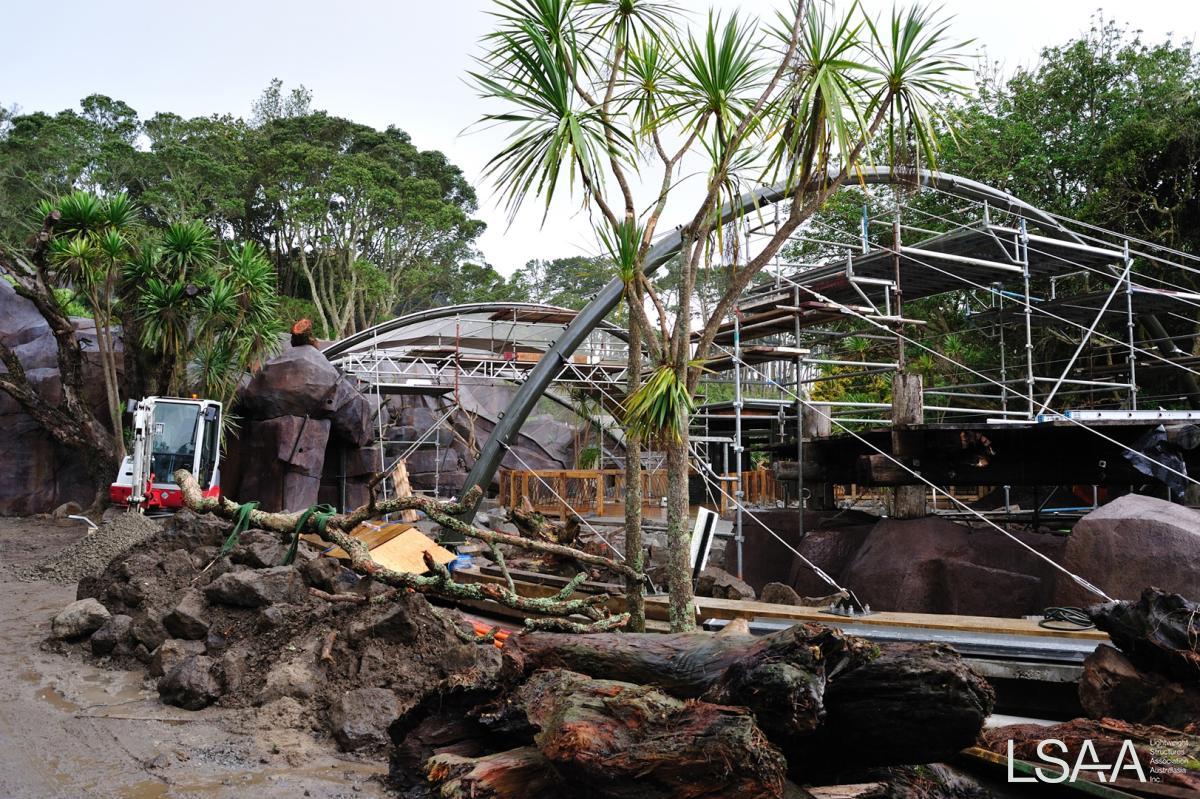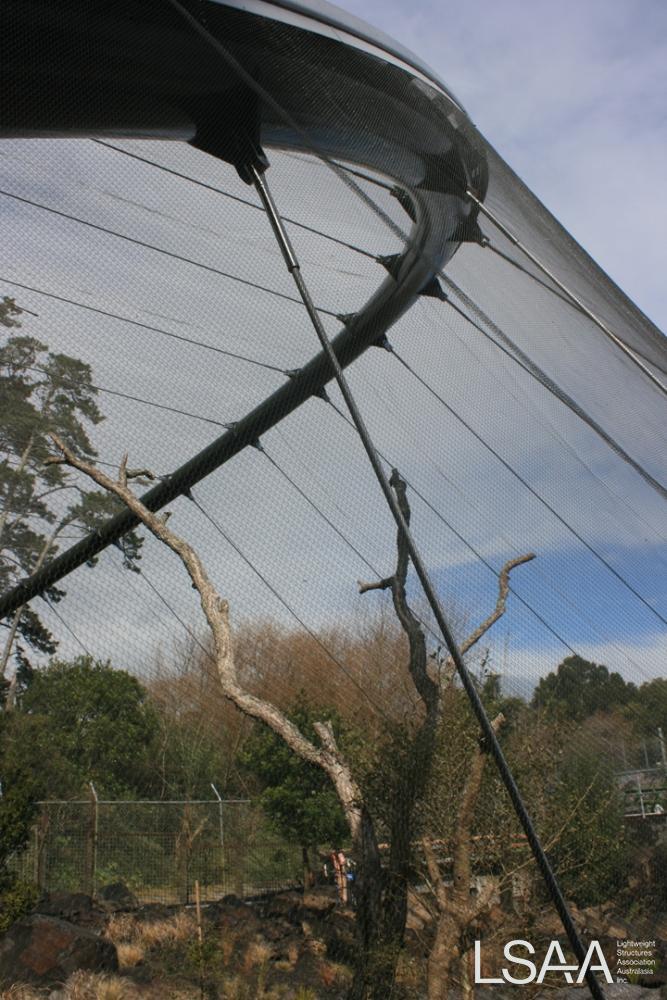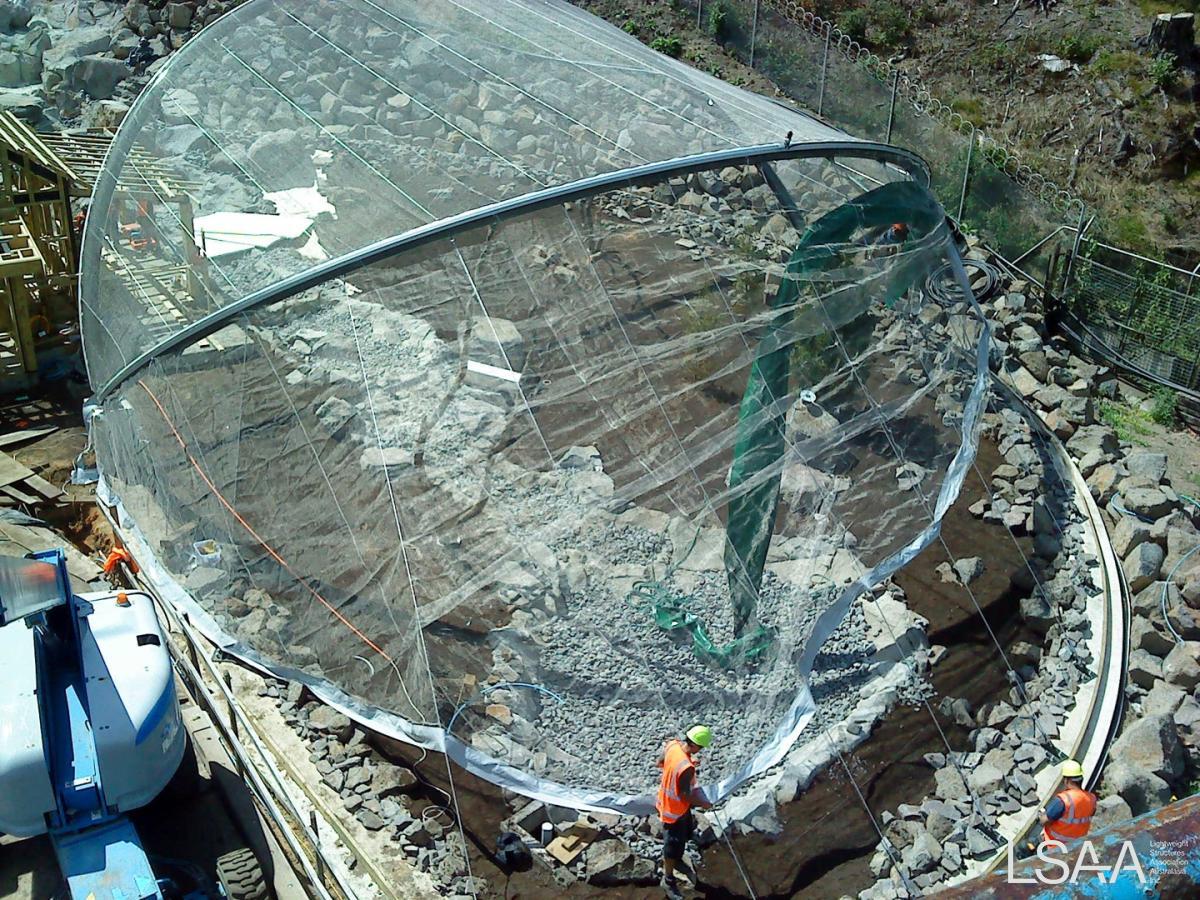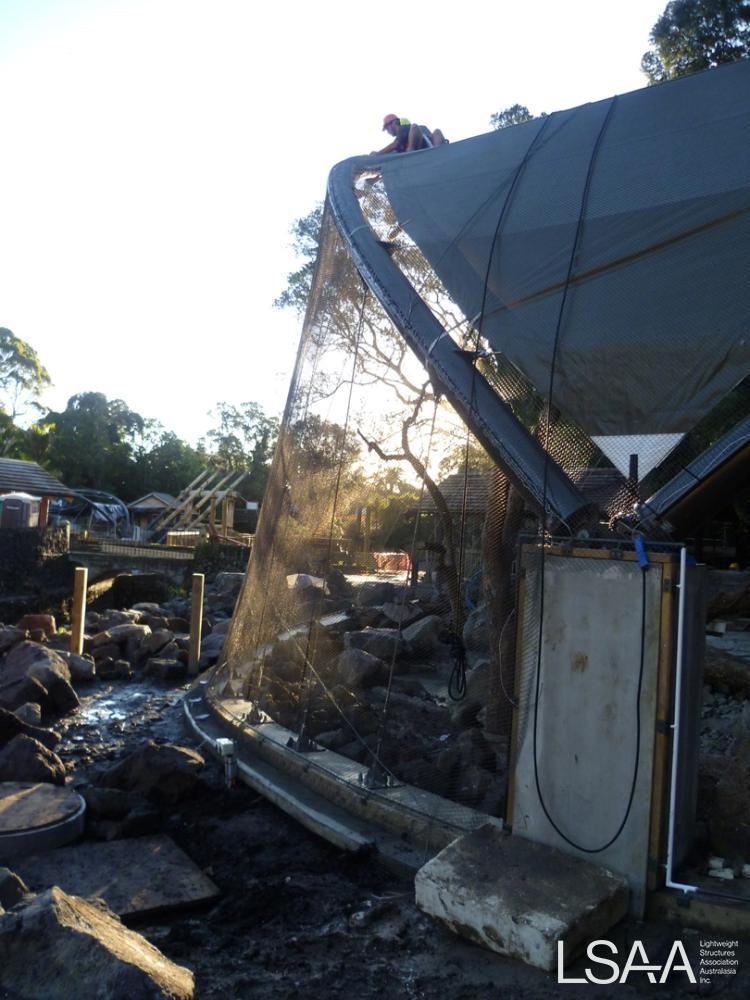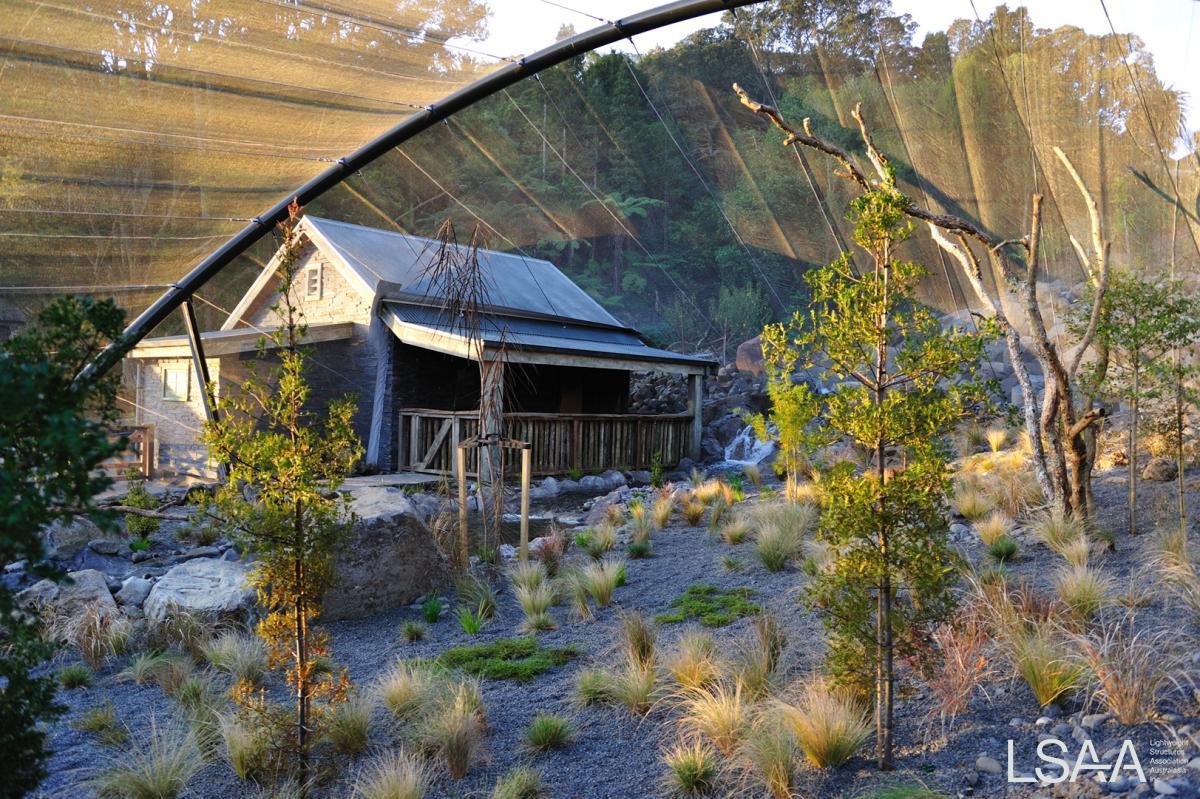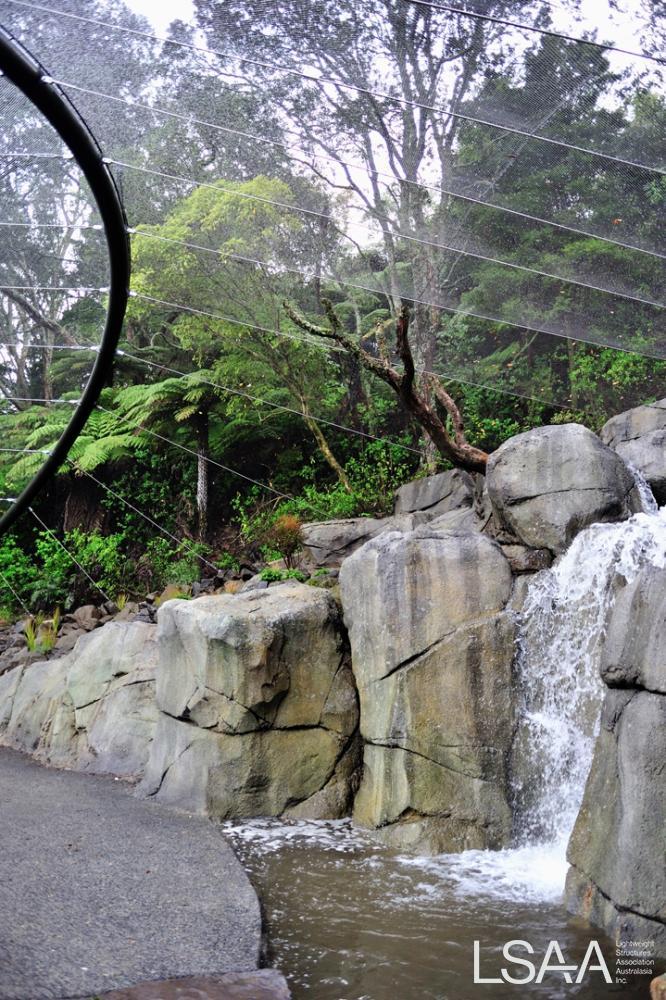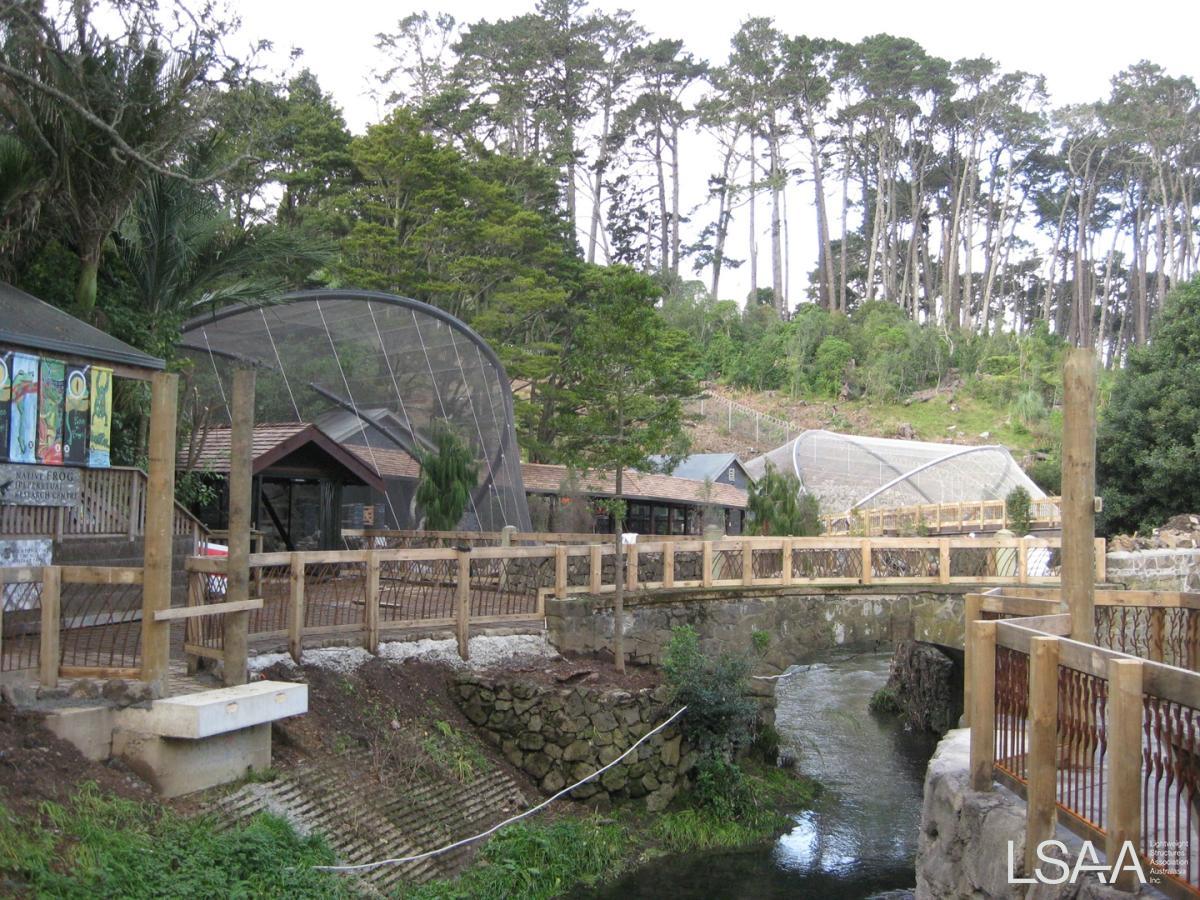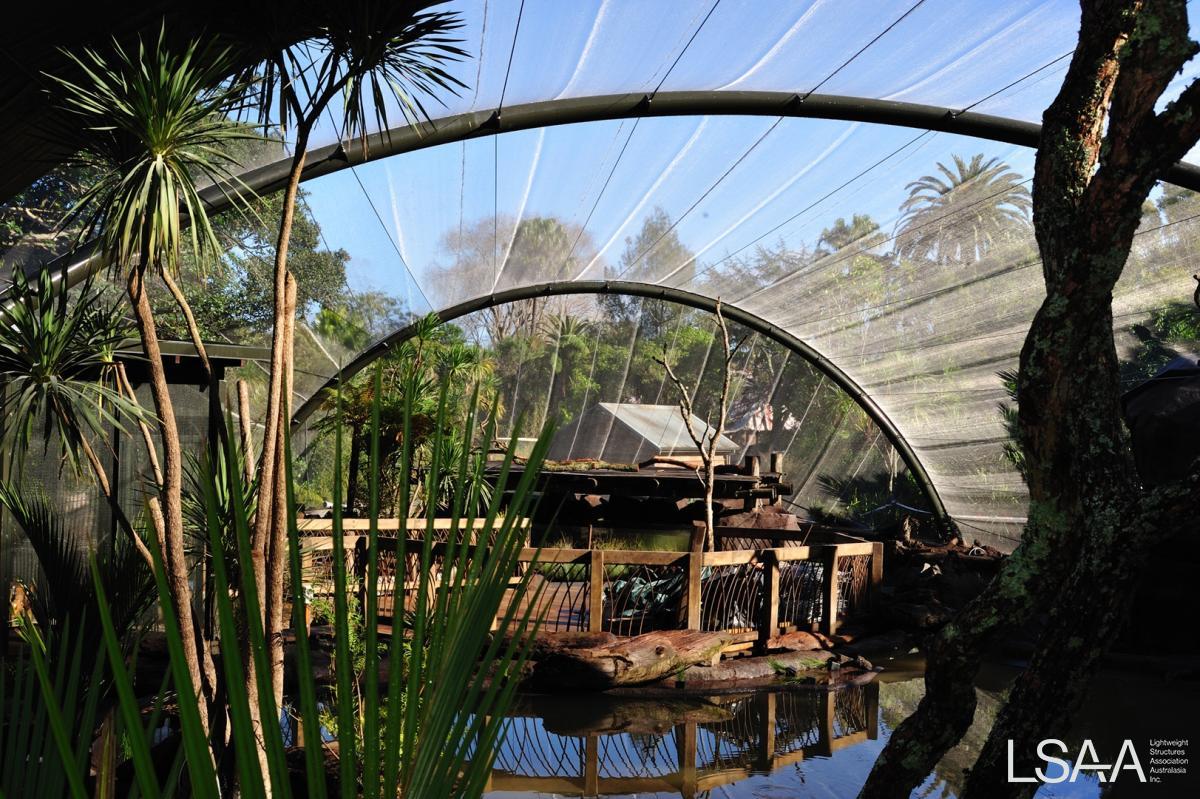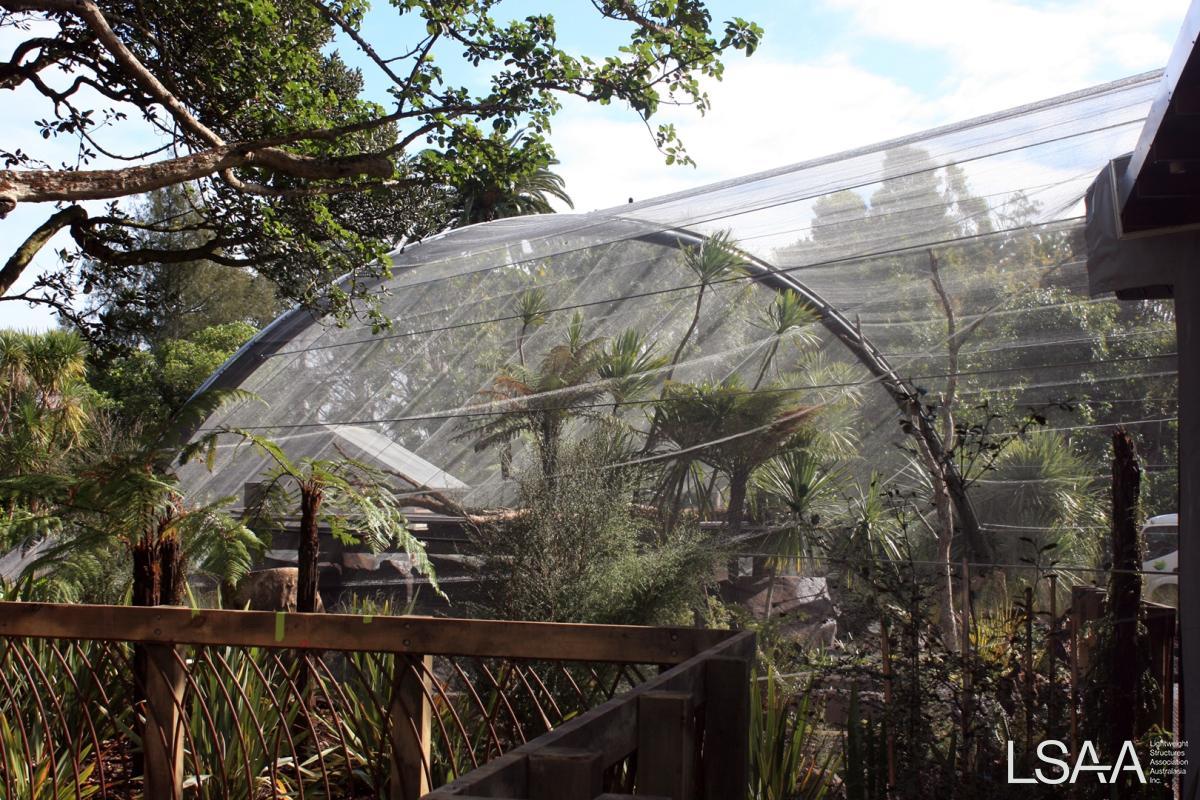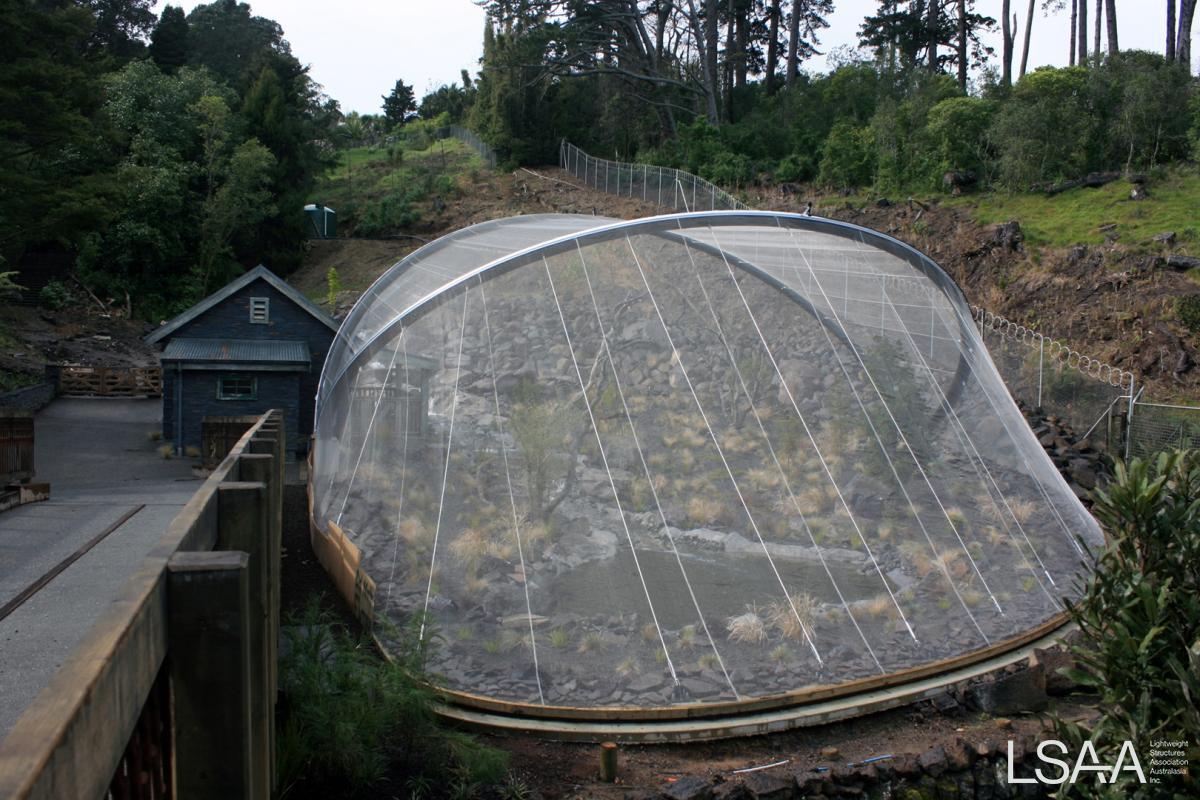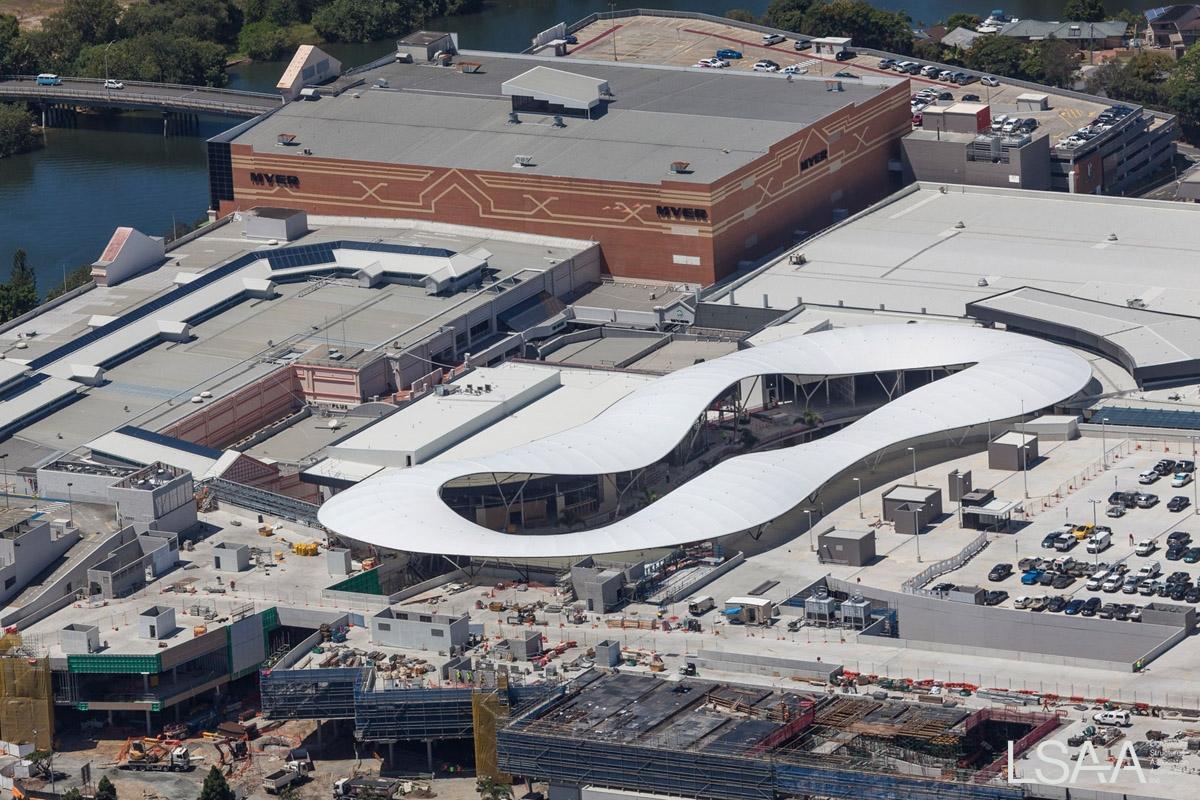 Entered into the LSAA 2016 Design Awards (Cat 4, Large Fabric Structures #4114)
Entrant: Fabritecture (Designer and Installer)
Location: The Esplanade. Completed: 2016
Client: Scentre Group (Westfield)
Team: Scentre Group (Westfield), Wade Design, Textile Fabrication Services, Fabritecture
Application
Statement architectural fabric structure with complex steel geometry and state-of-the-art LED lighting system as part of a $670 million redevelopment of Pacific Fair Shopping Centre on the Gold Coast.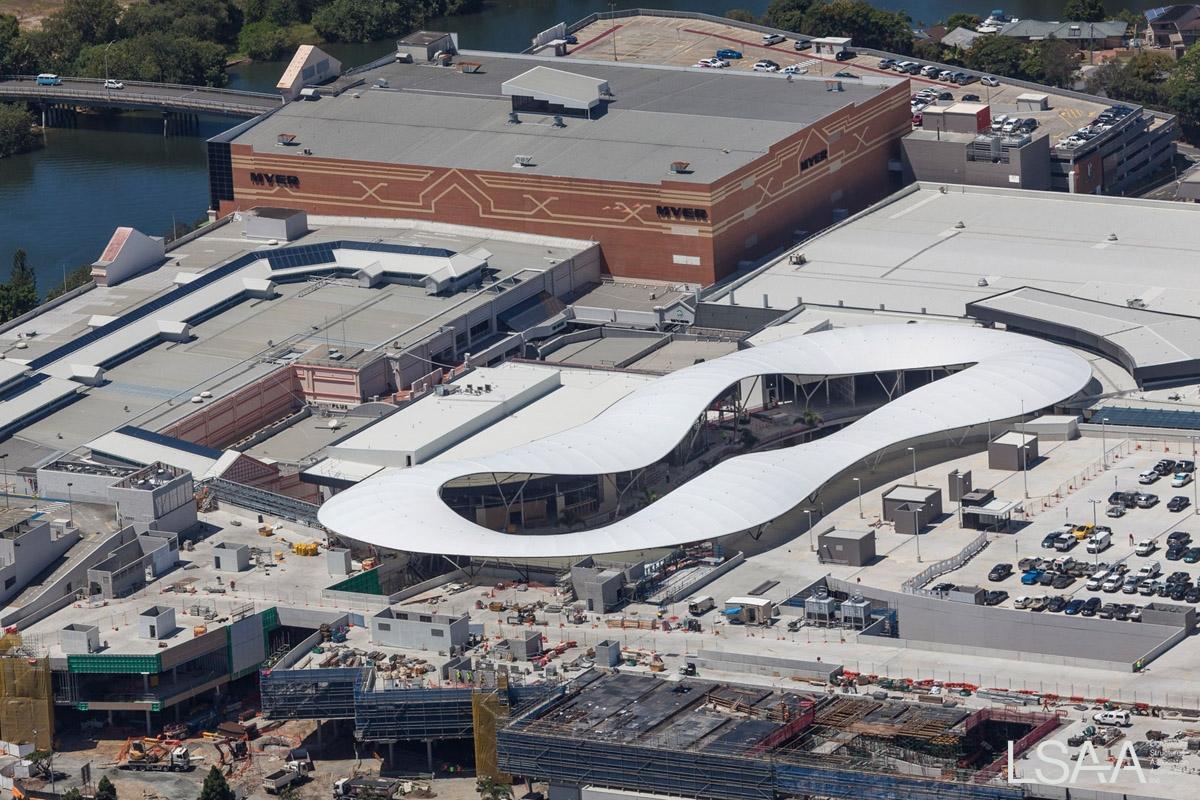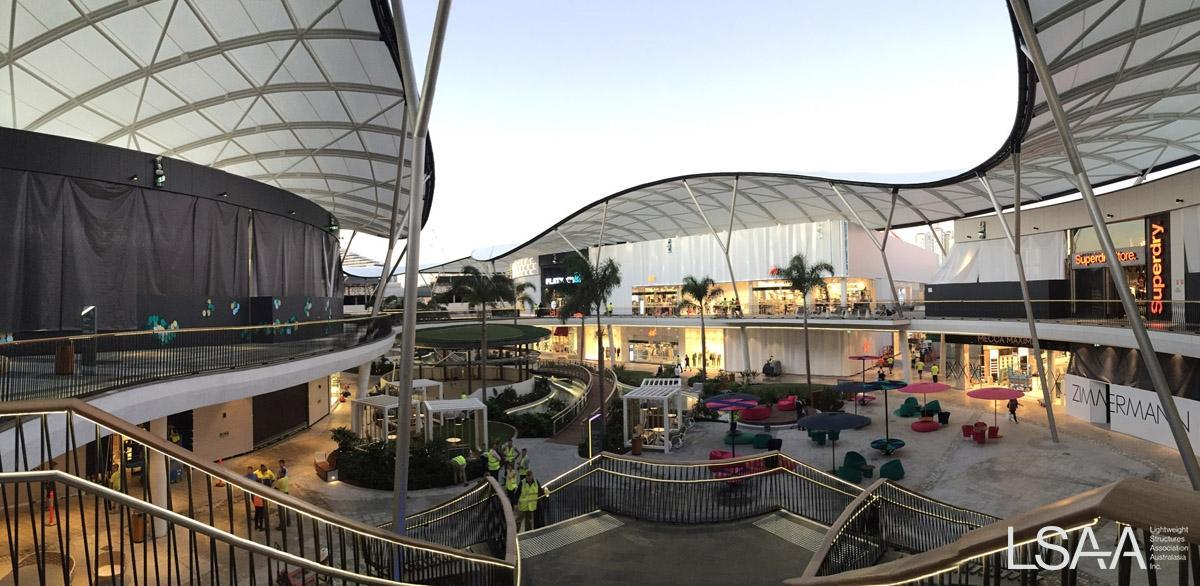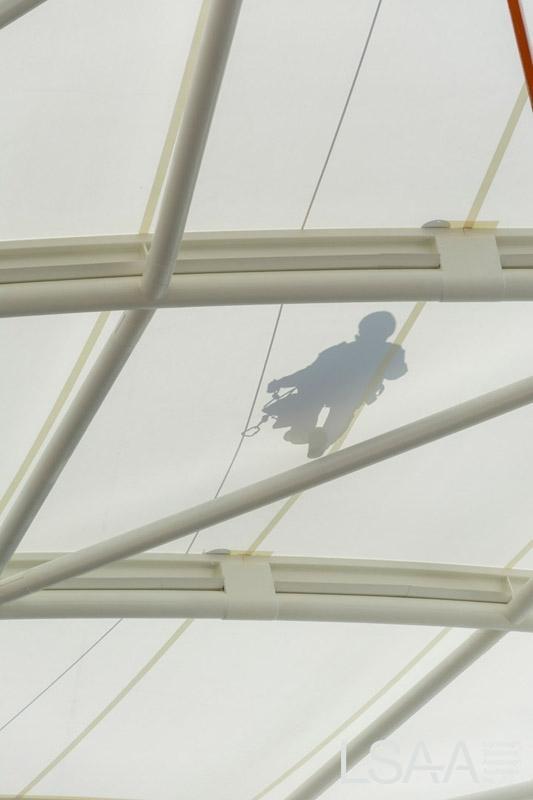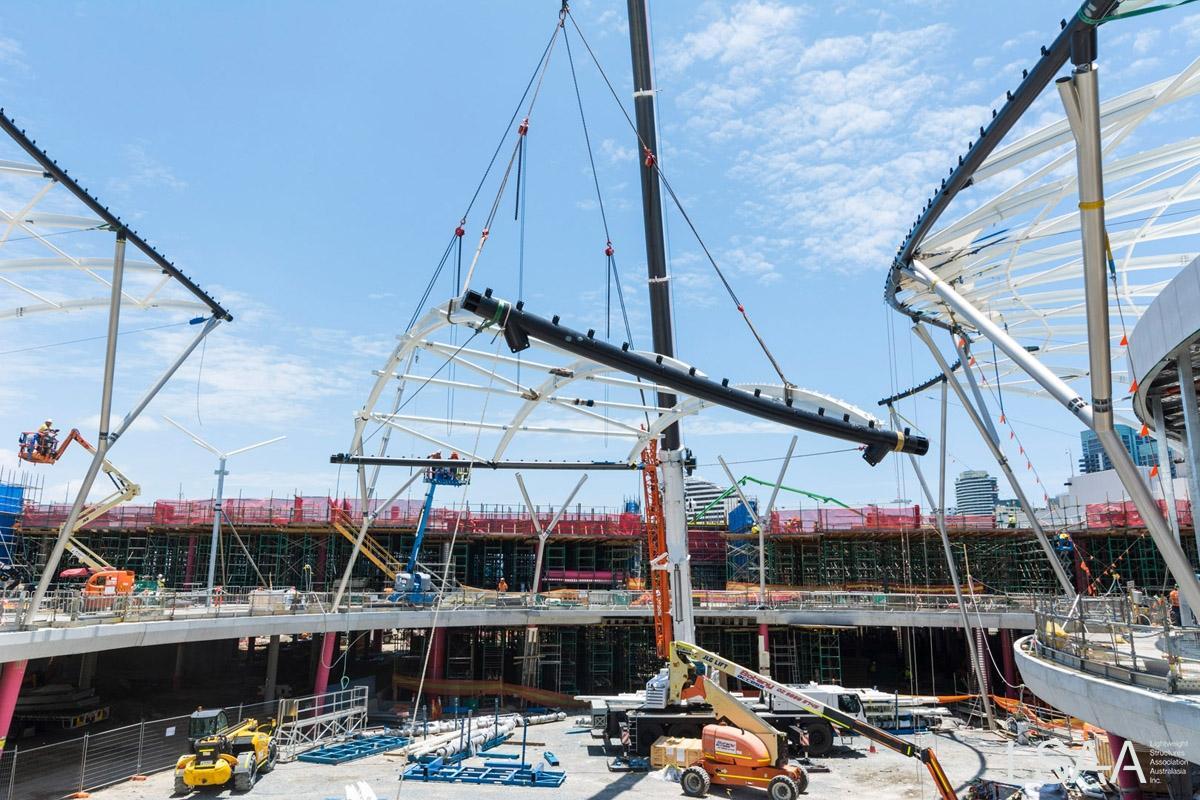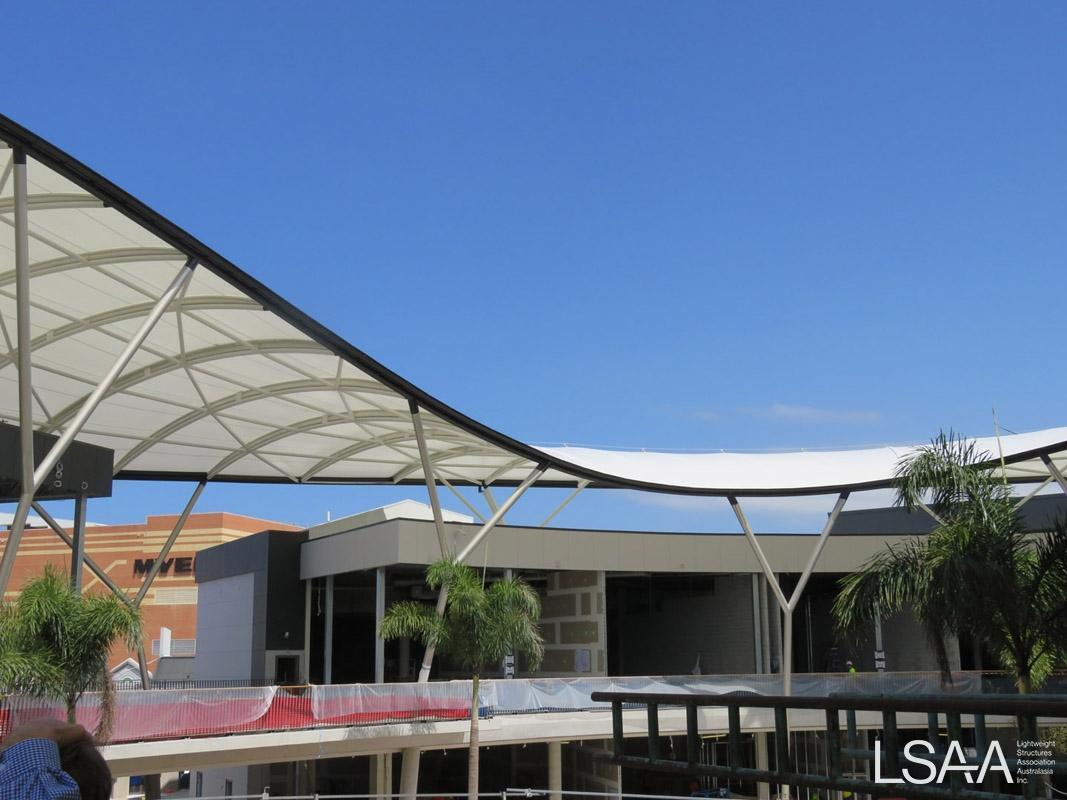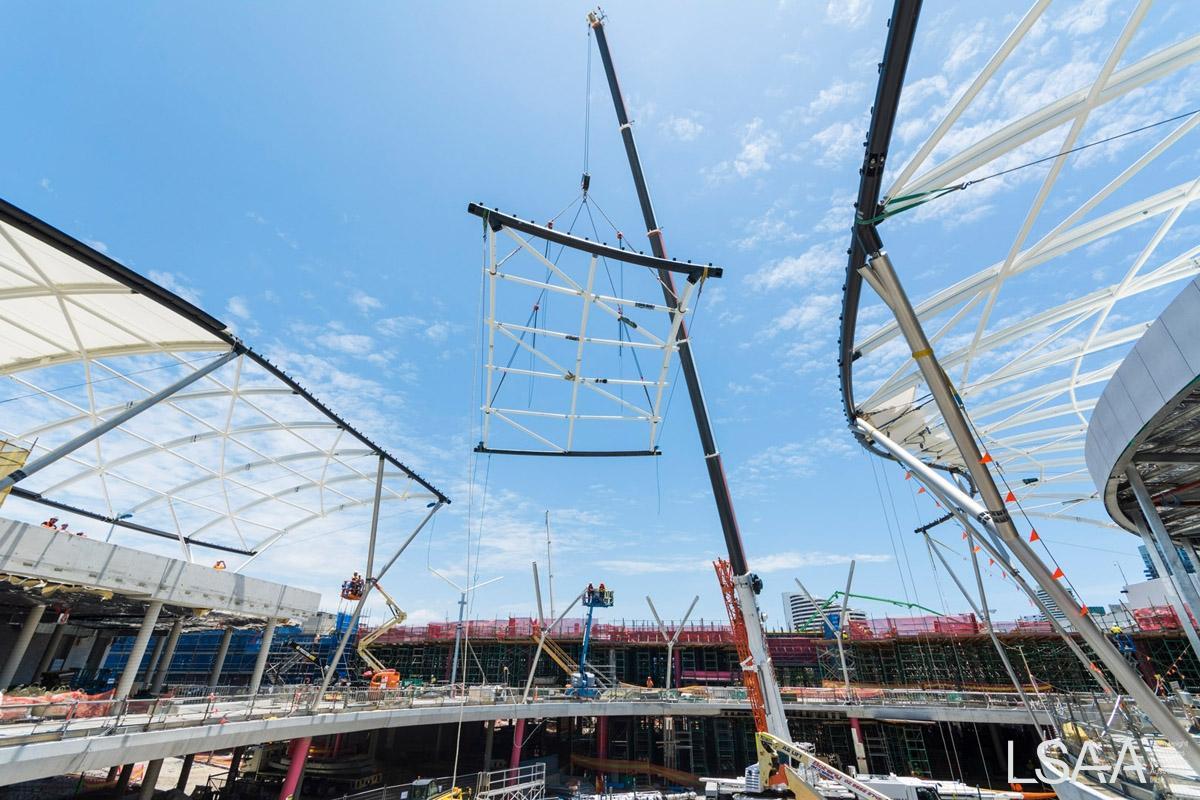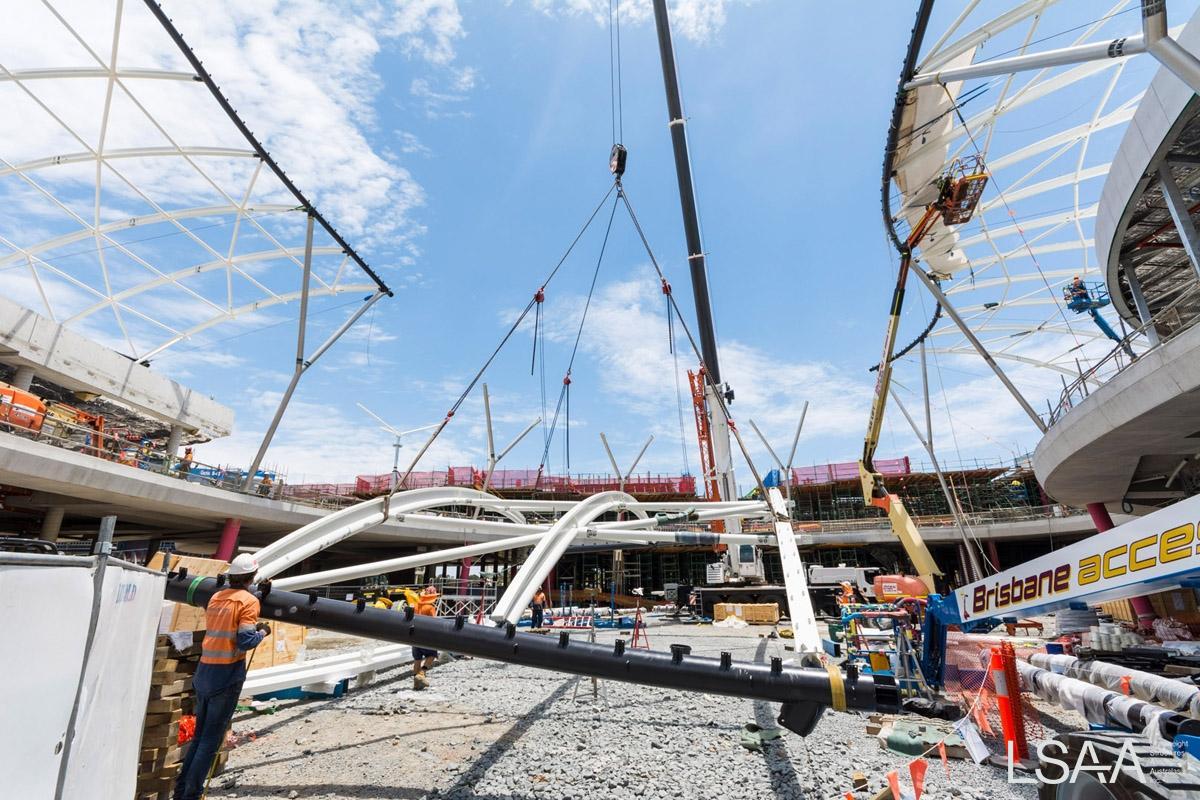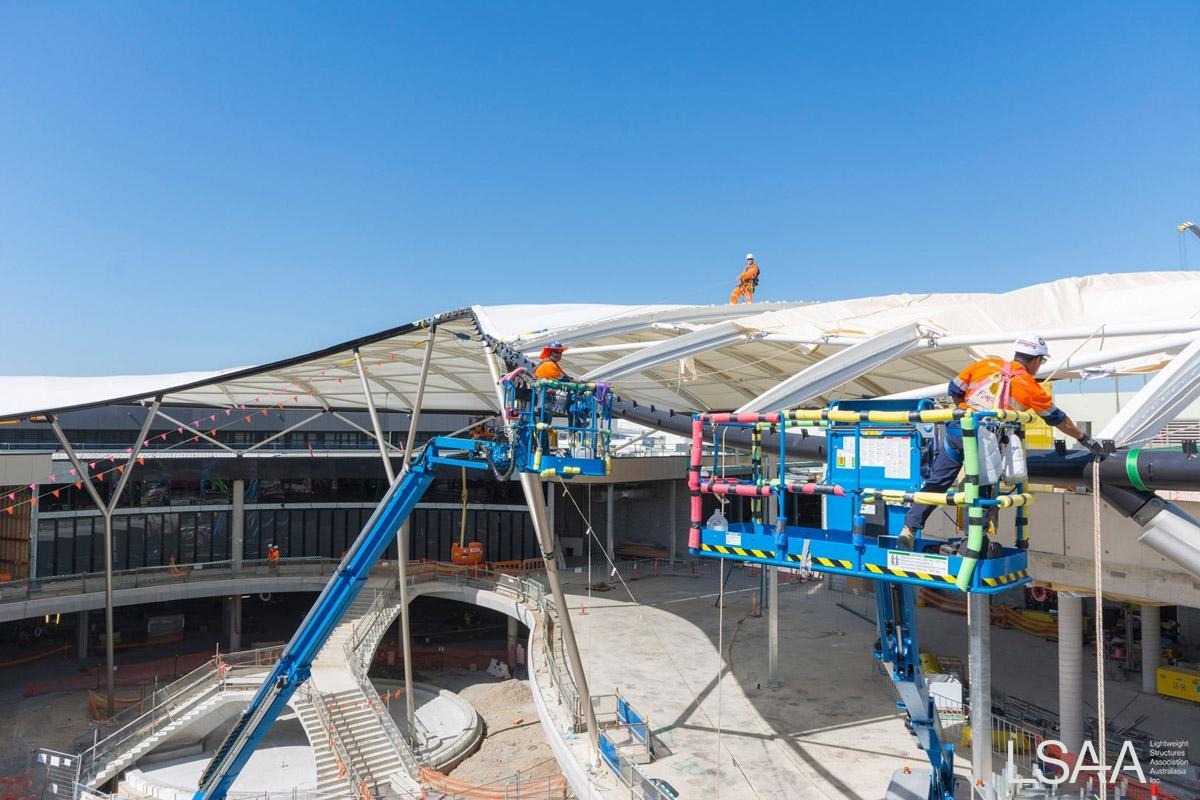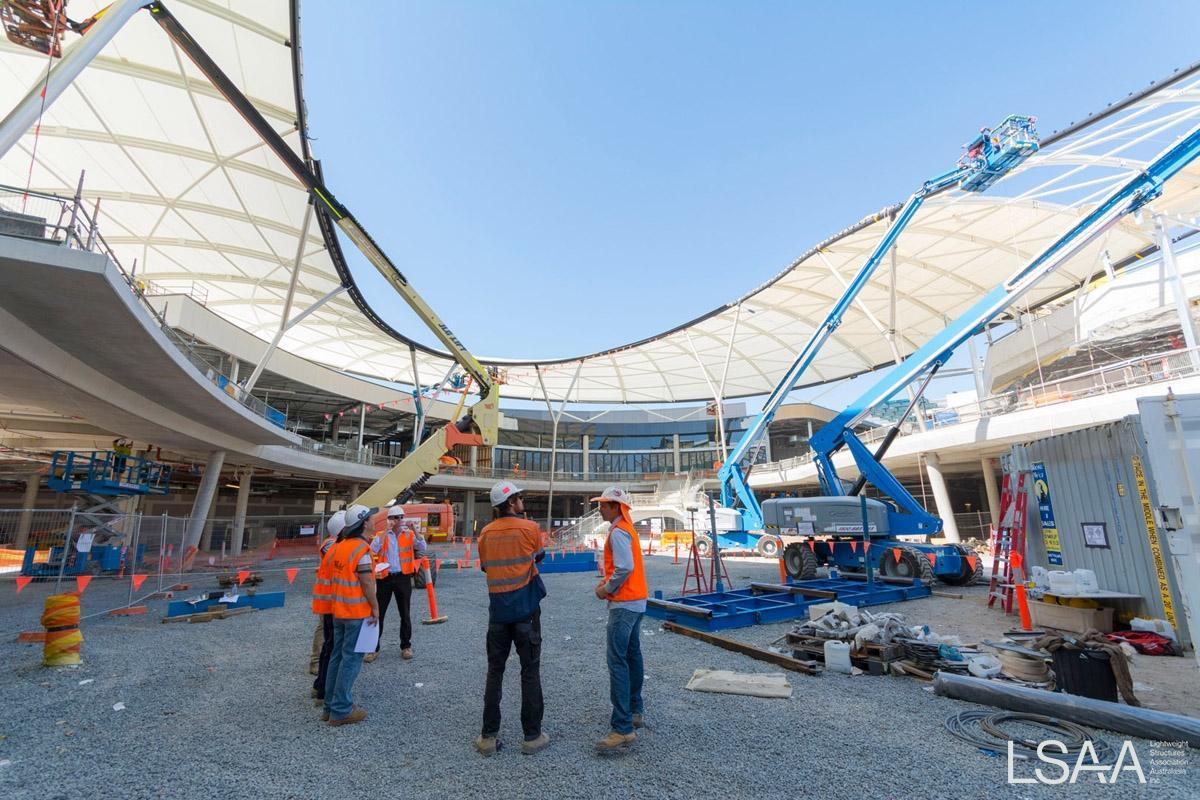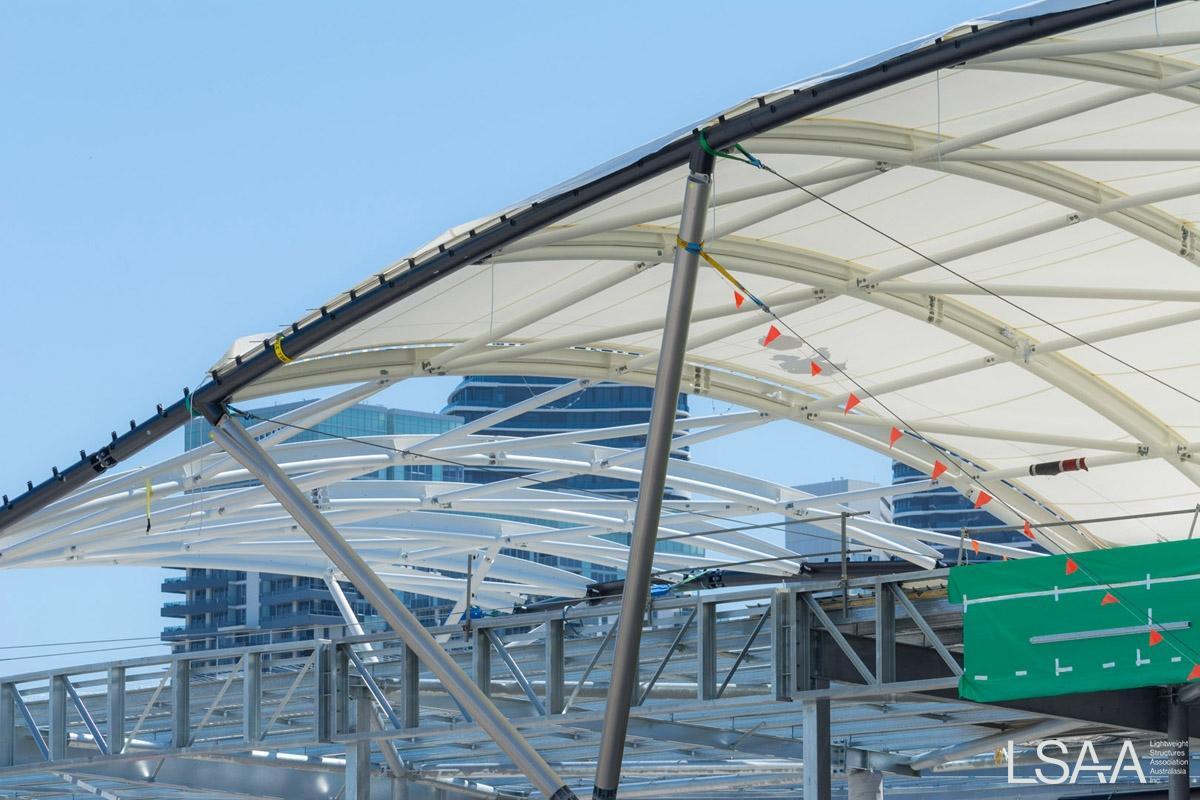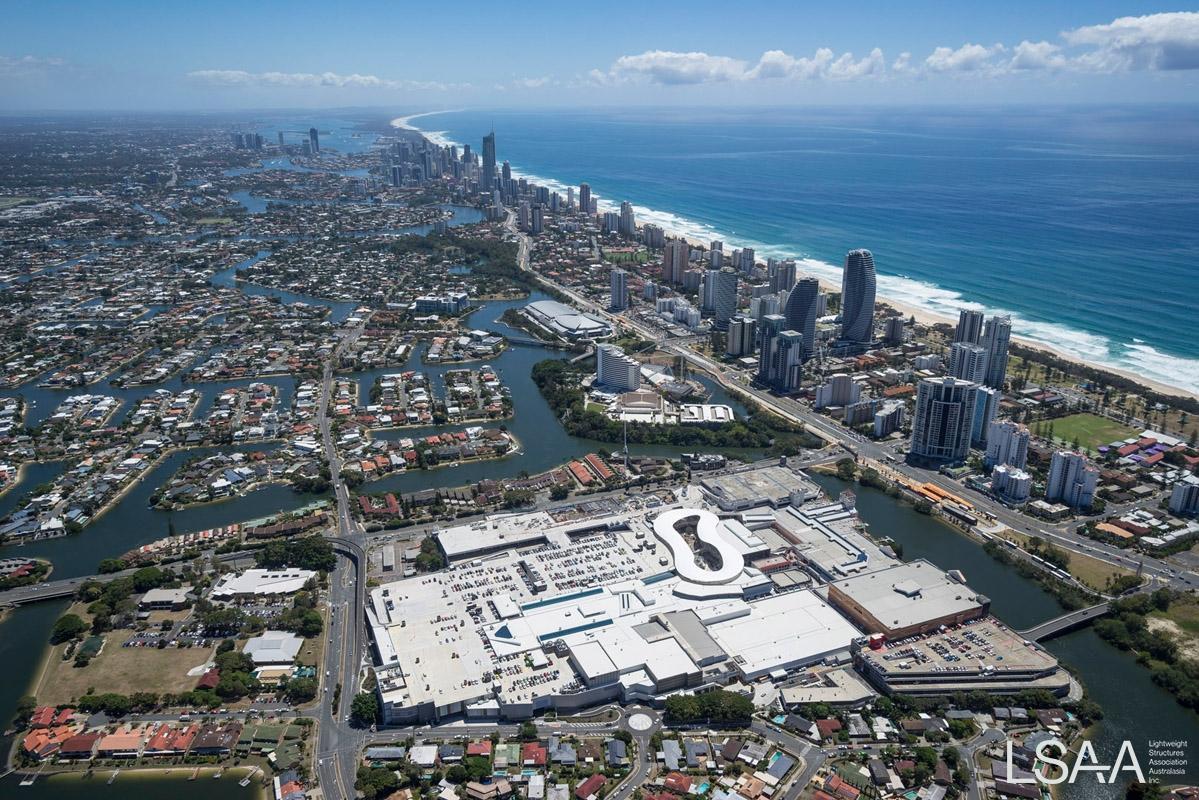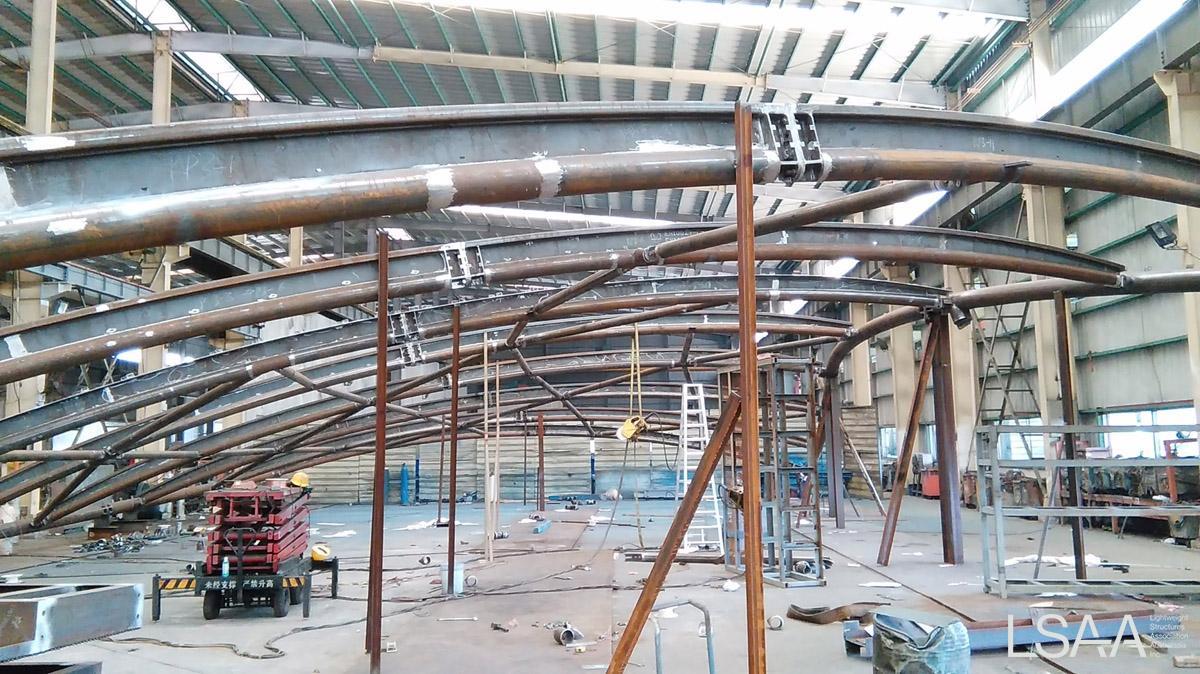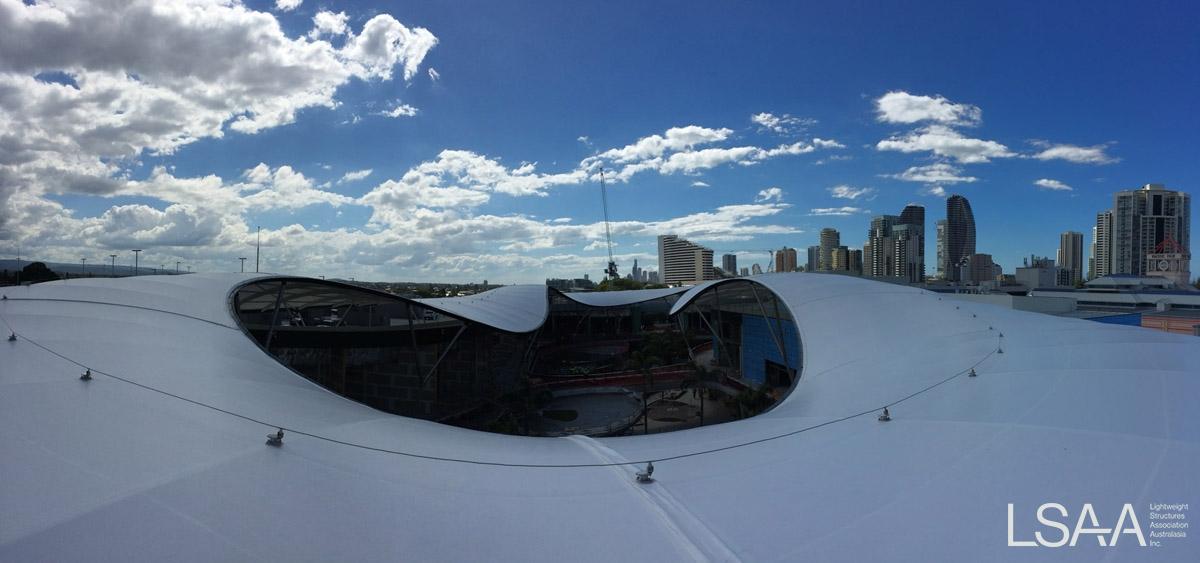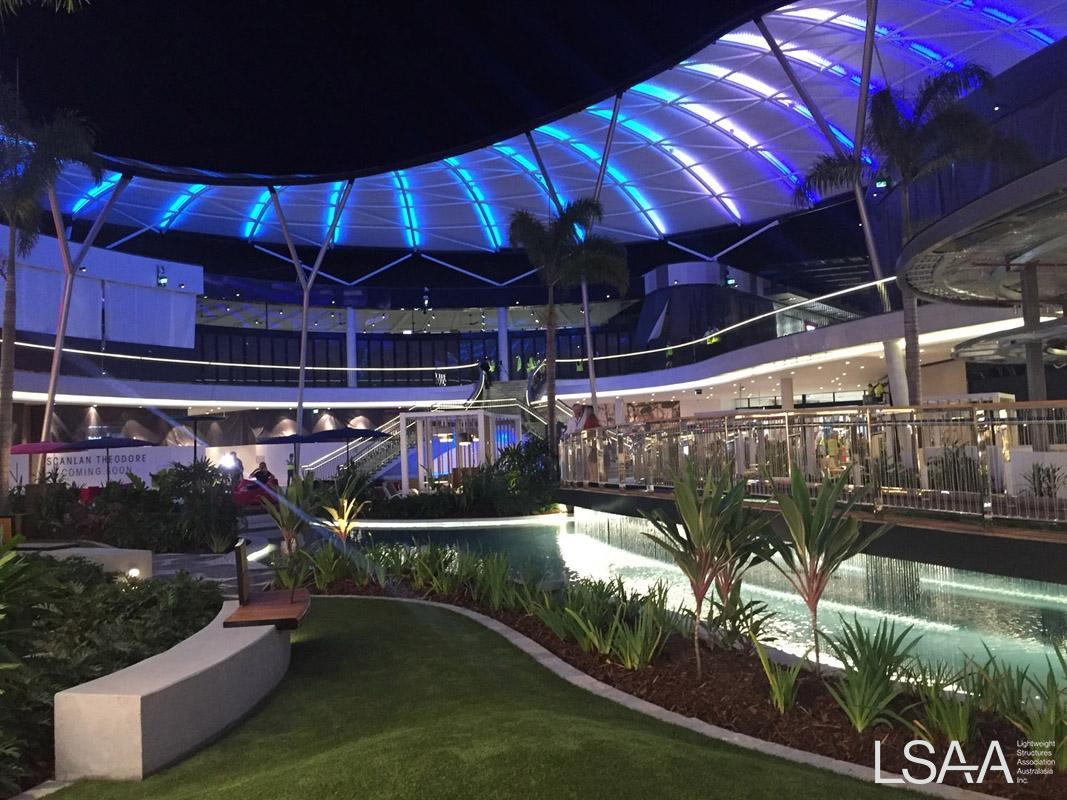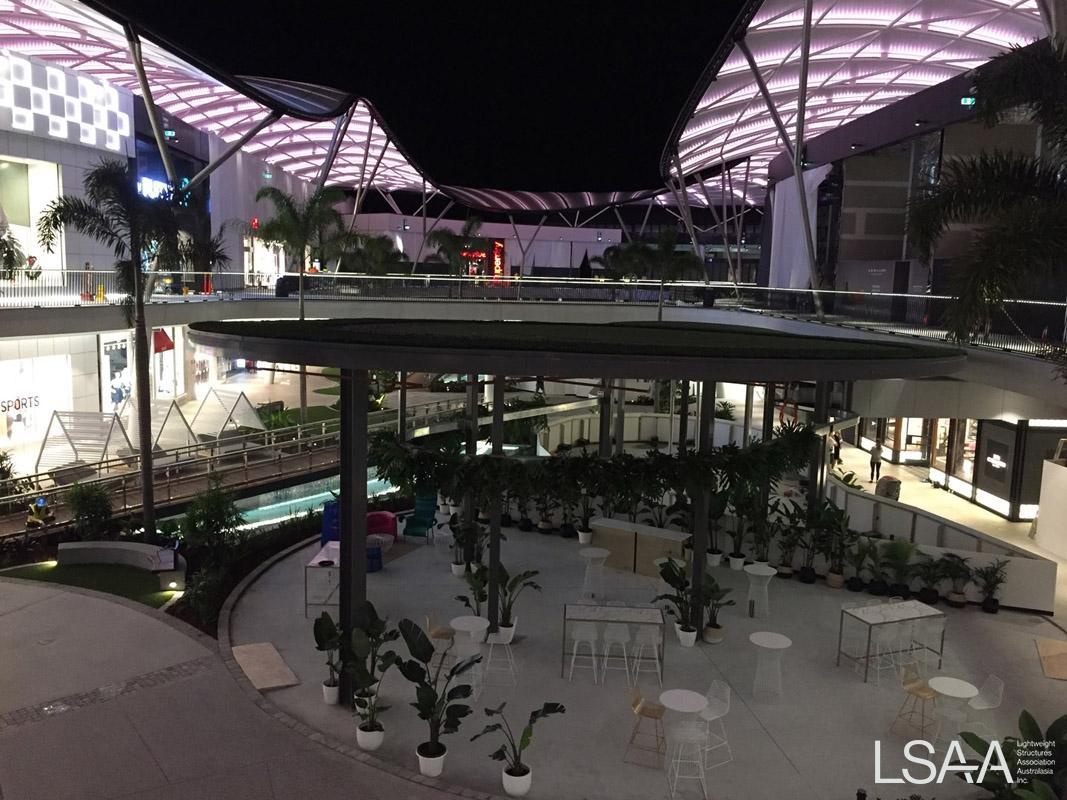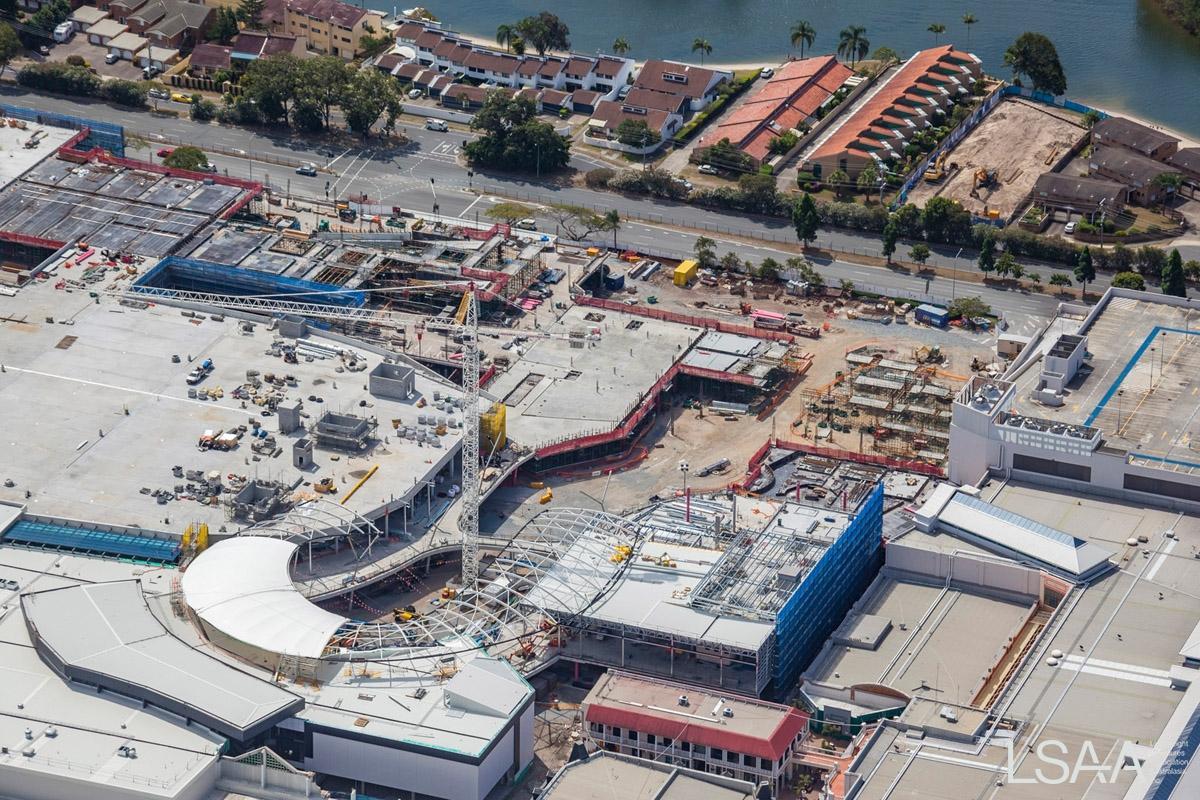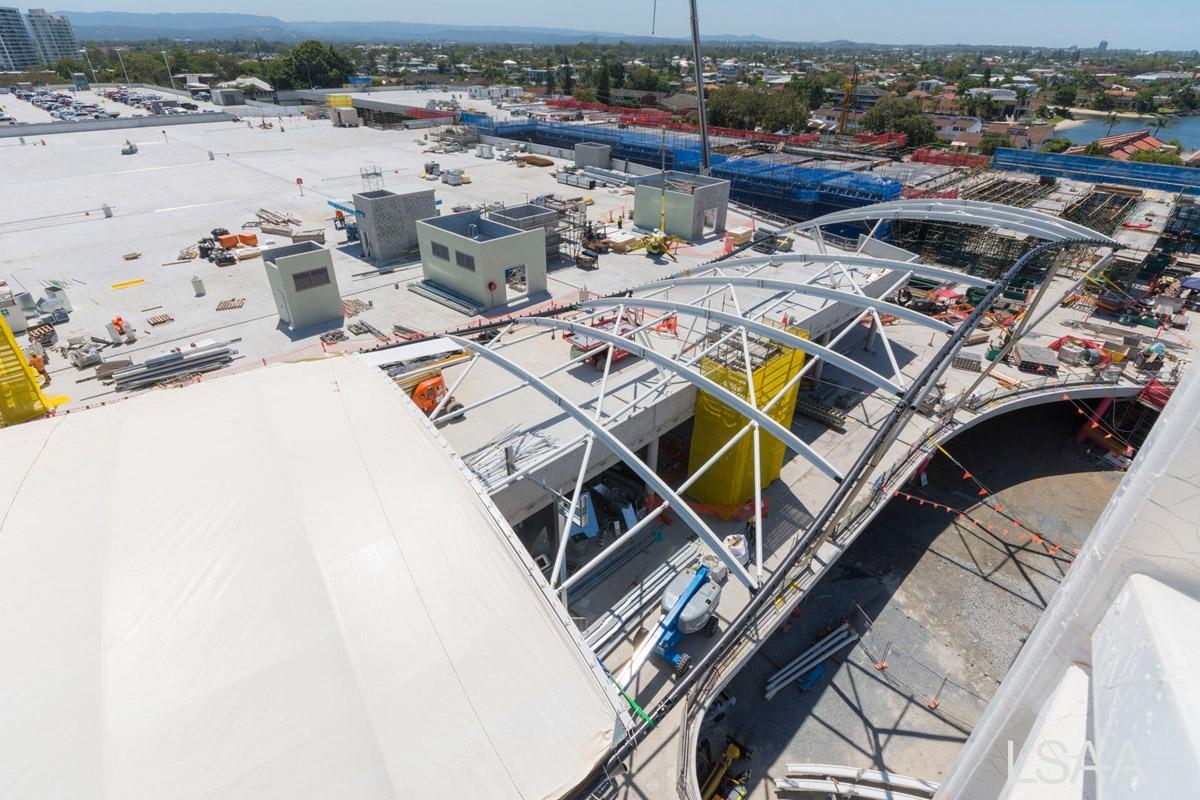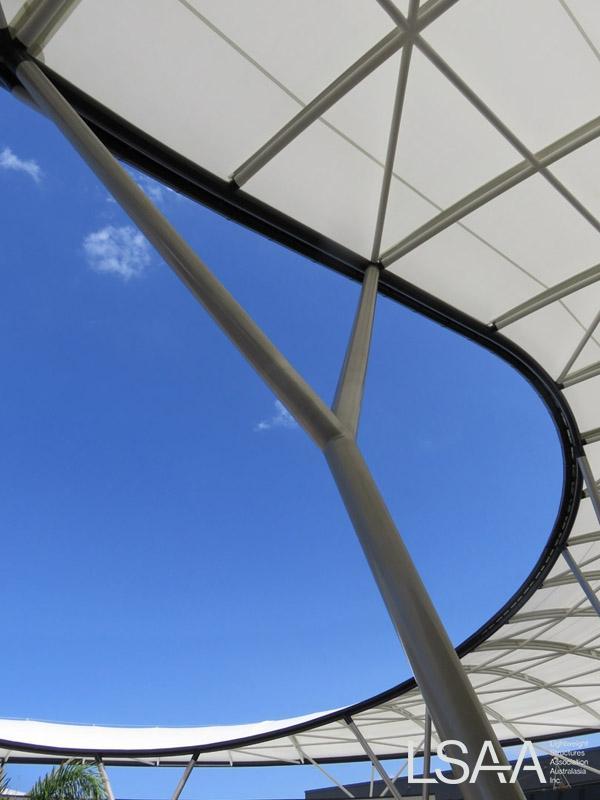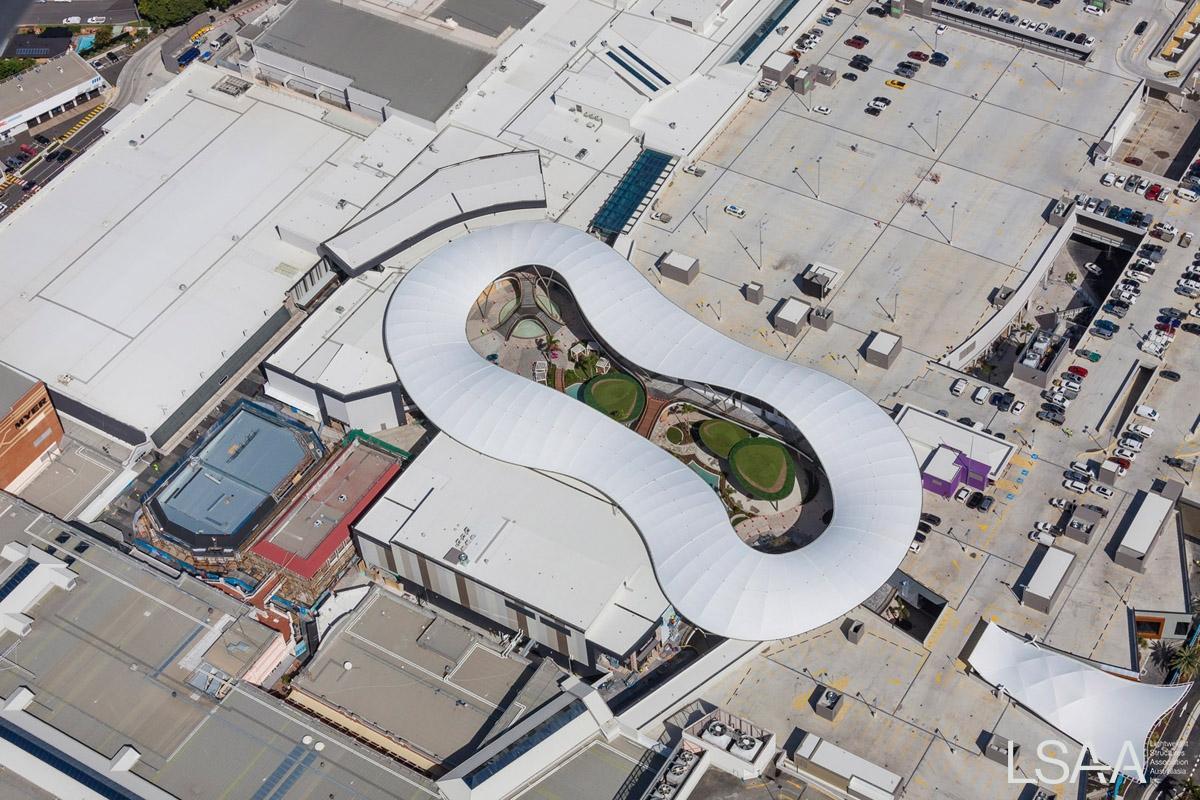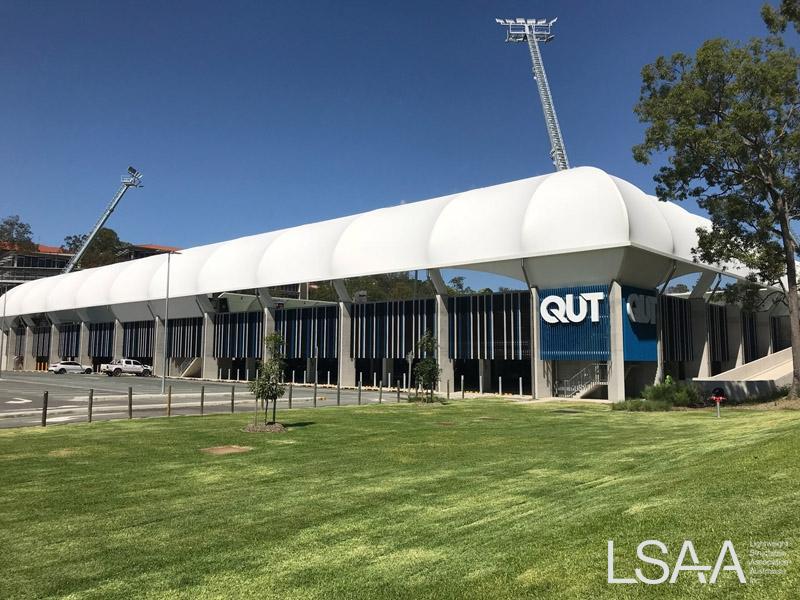 Application: Sports stadium on top of a multi-level car park
This project was entered in the LSAA 2018 Design Awards (Cat 4 Large Fabric Structures, #4066)
PROJECT DESCRIPTION:
The Queensland University of Technology (QUT) Sportsfield Car Park project was part of the construction of a $27 million multi-story car park at the QUT Kelvin Grove campus in Brisbane. The roof-level is home to a FIFA accredited sports field, developed as part of the long-term expansion plans for the University.
The Queensland University of Technology (QUT) Sportsfield Car Park features a FIFA-accredited sports field on the roof of the AUD$27 million multi-level car park. This unique project included the design and construction of the steel, PTFE fabric membrane, fall arrest mesh, static line and score board.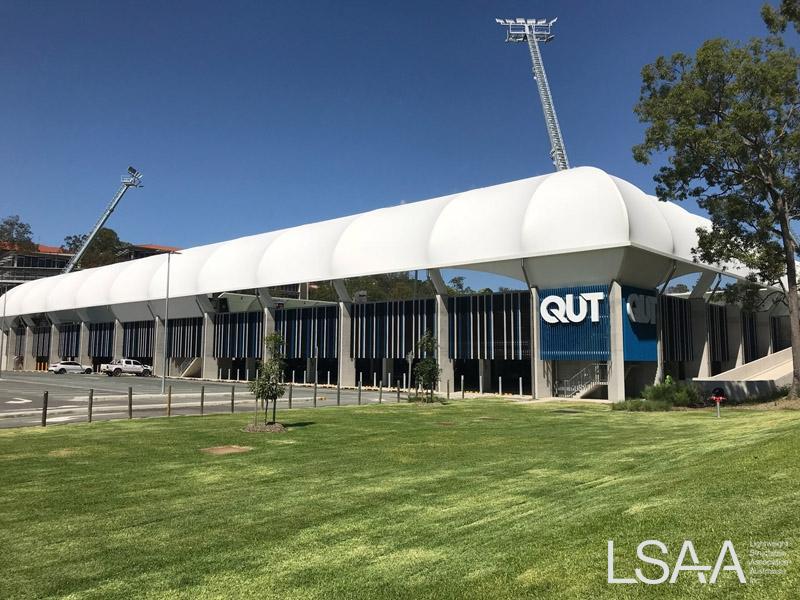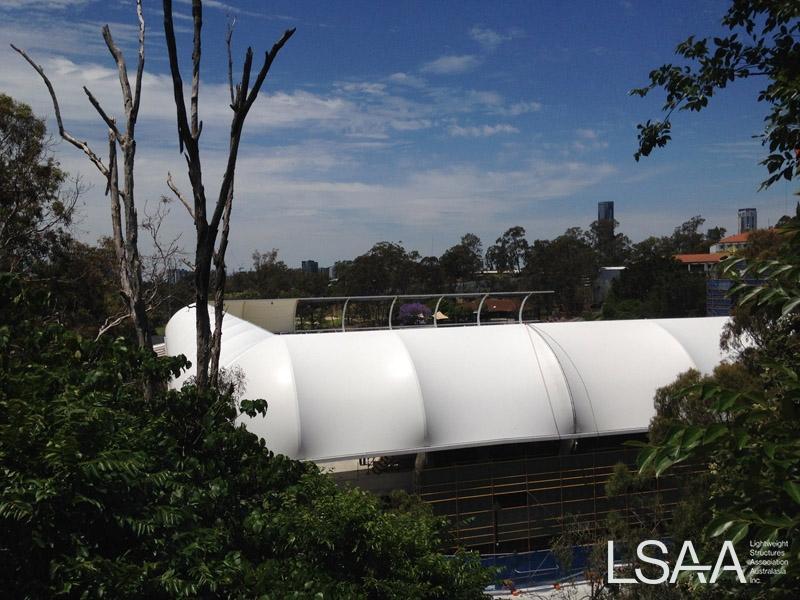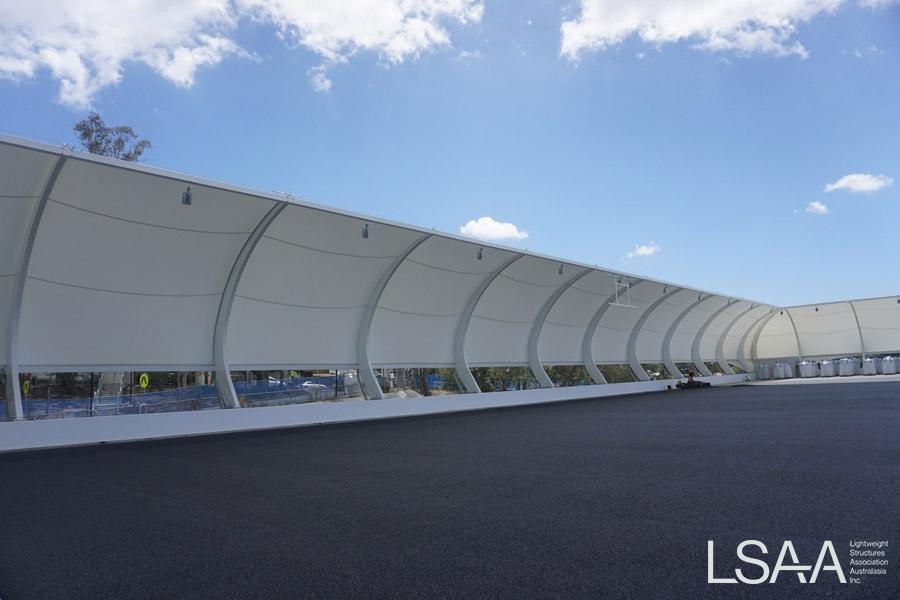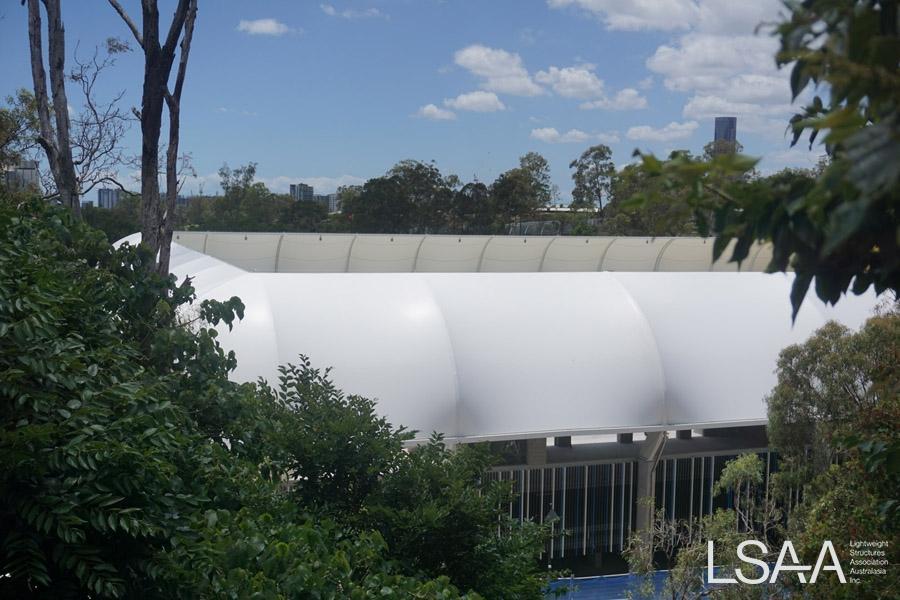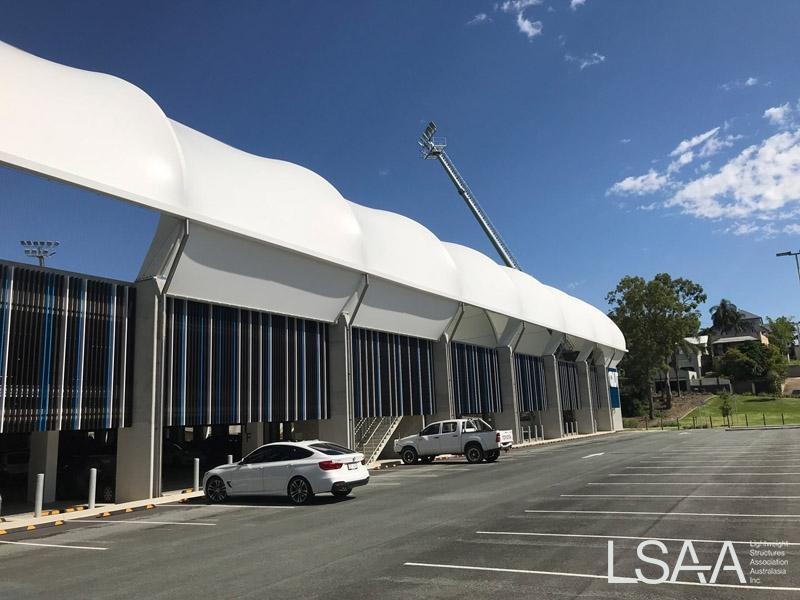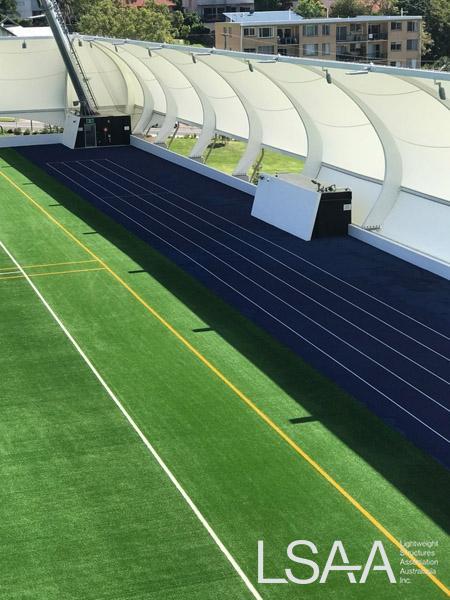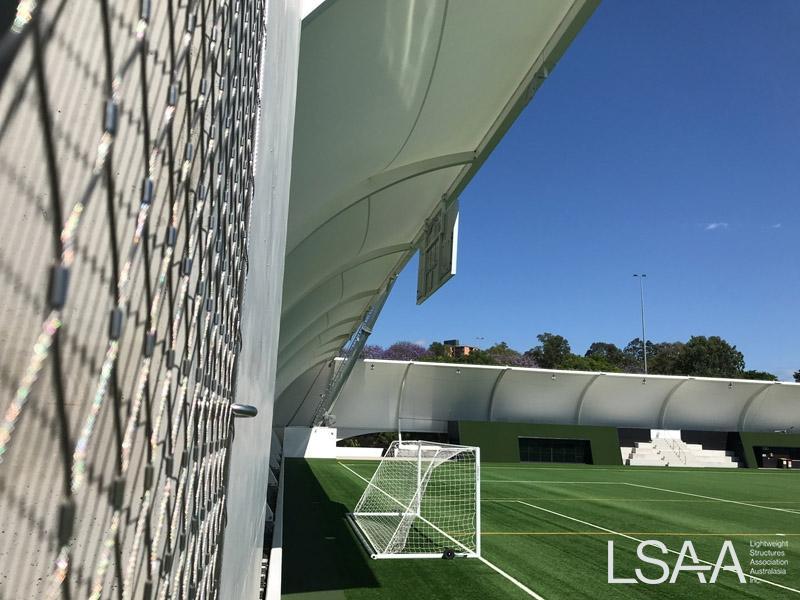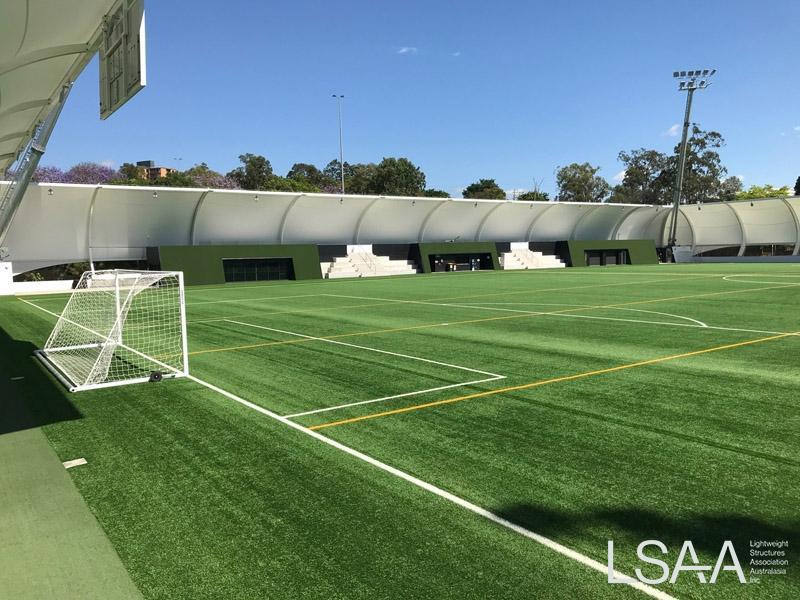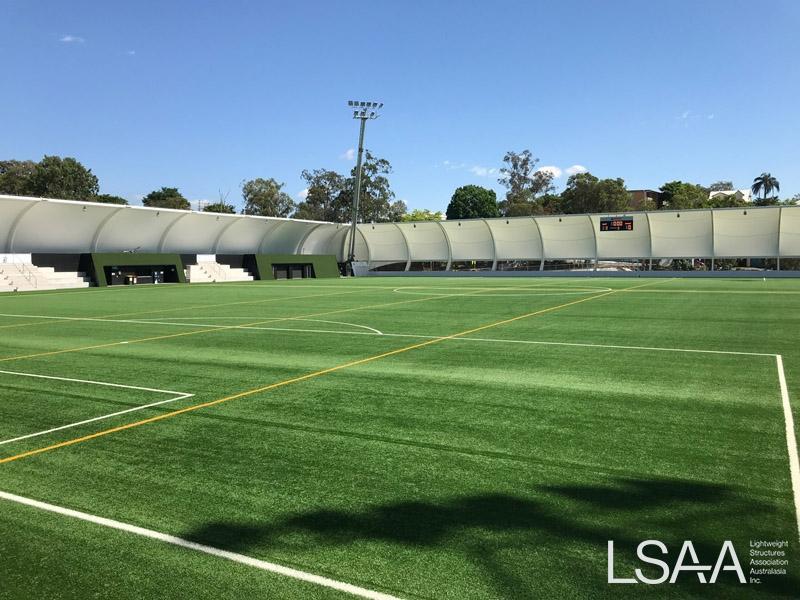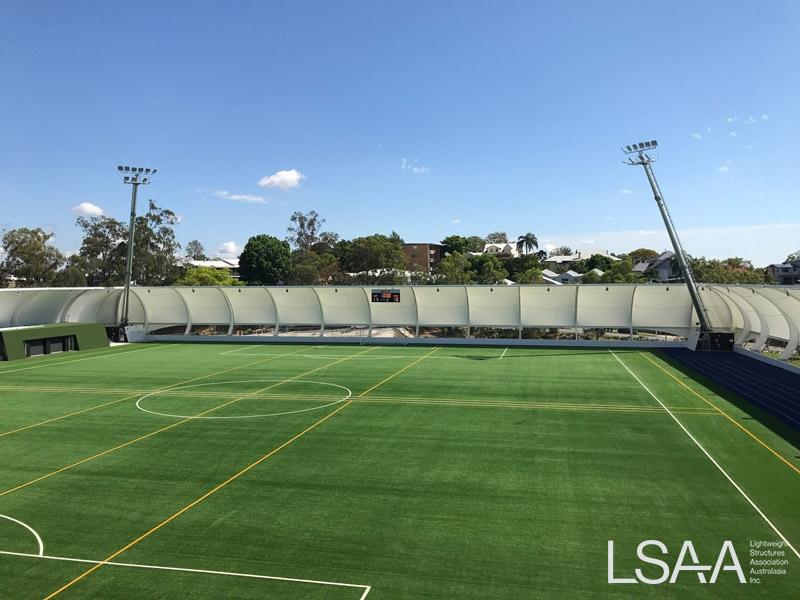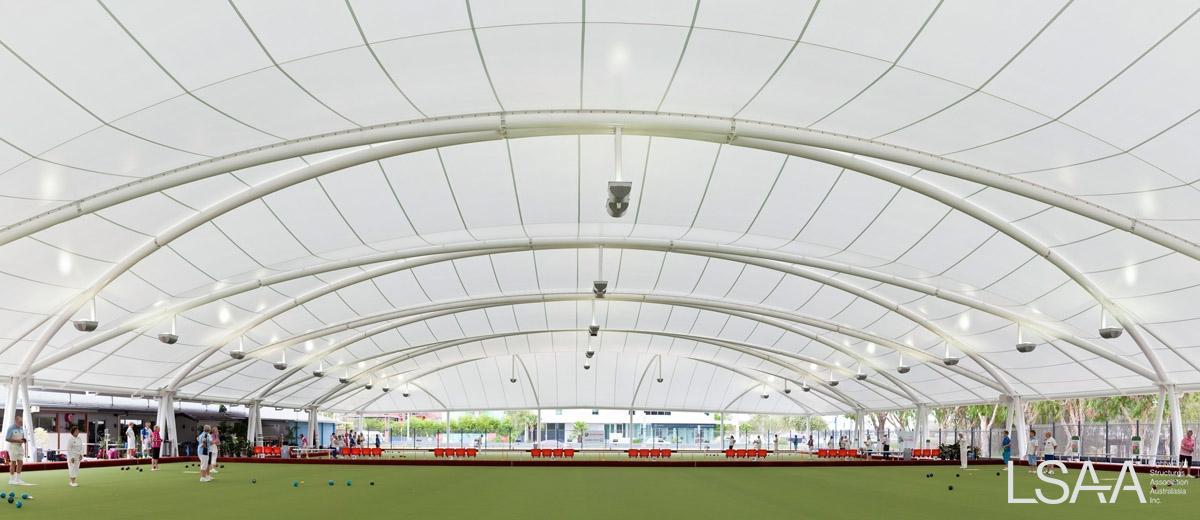 LSAA Design Awards 2013 High Commendation (Large Structures, 4351)
Entrant: Light Weight Structures
Location: Mooloolaba

Client: Mooloolaba Bowls Club

Completion Date: November 2011
Judges Comments:
"An elegant project - the best of the bowling club offerings. As well as taking care of core business, the structure lends some design distinction to a town not oversupplied with architectural gems."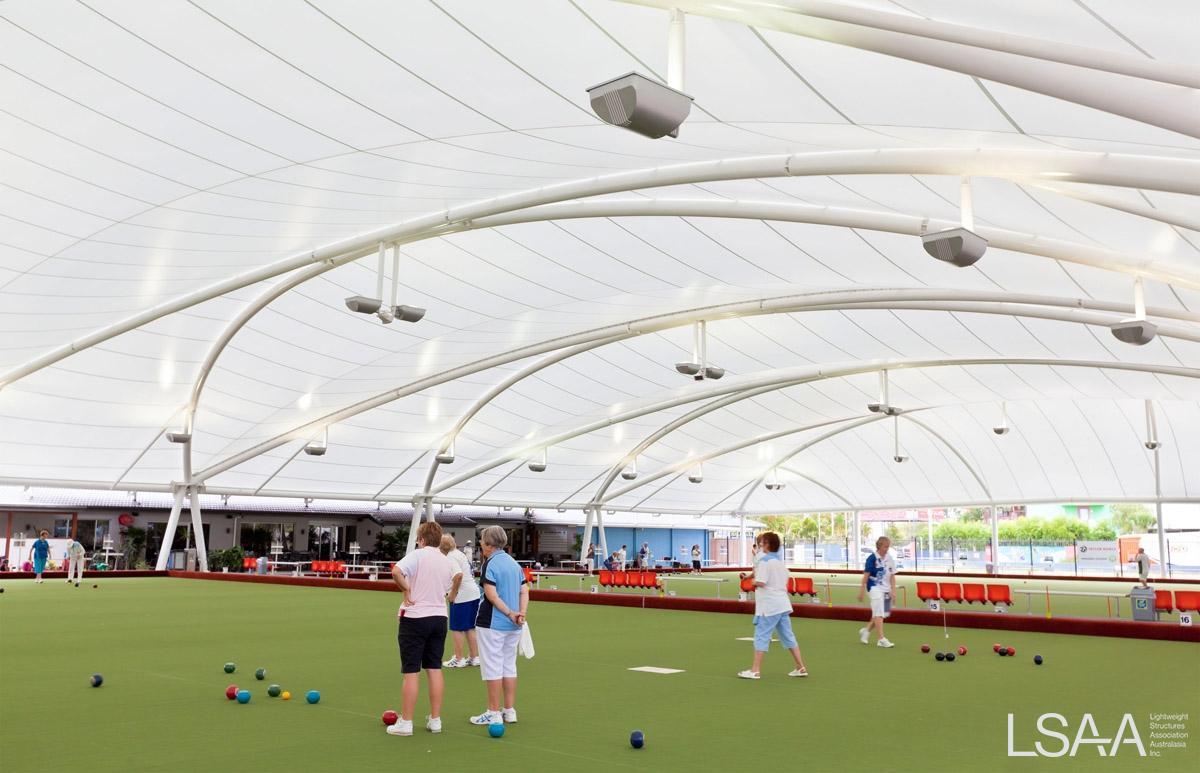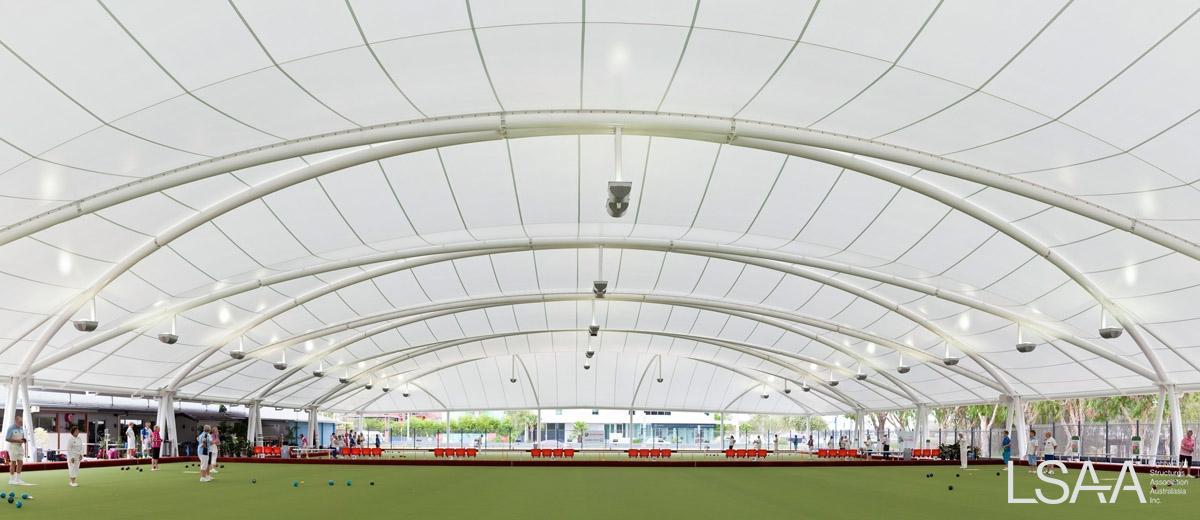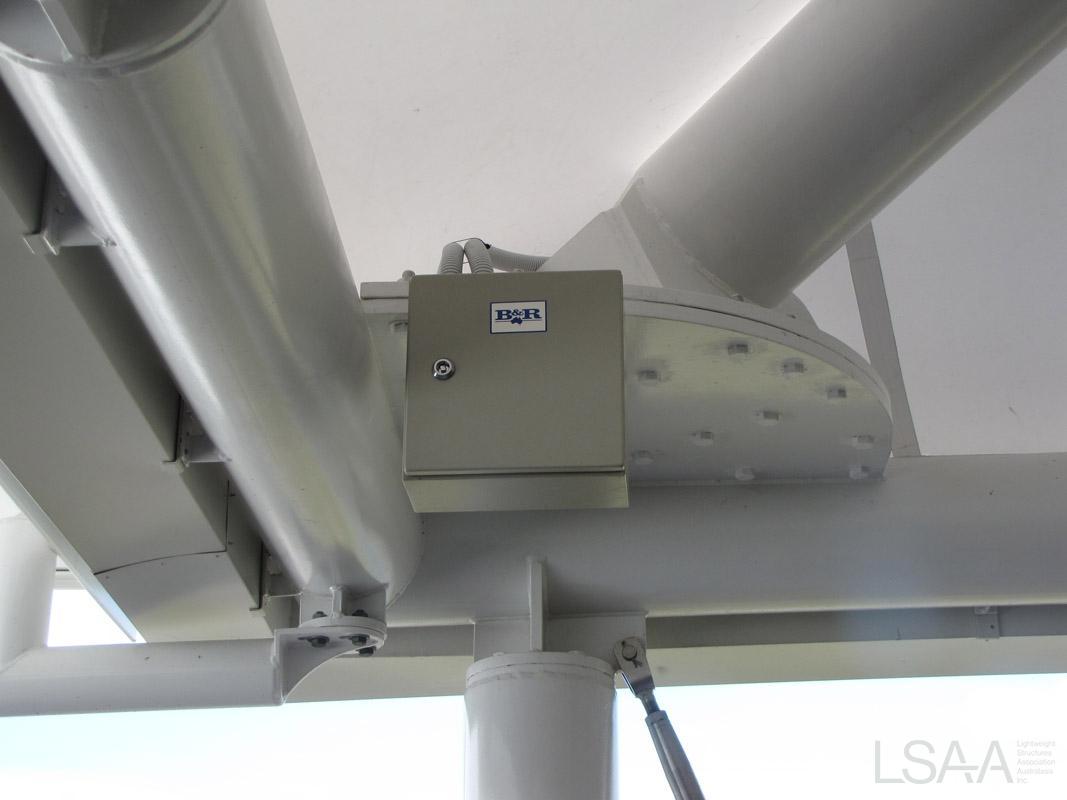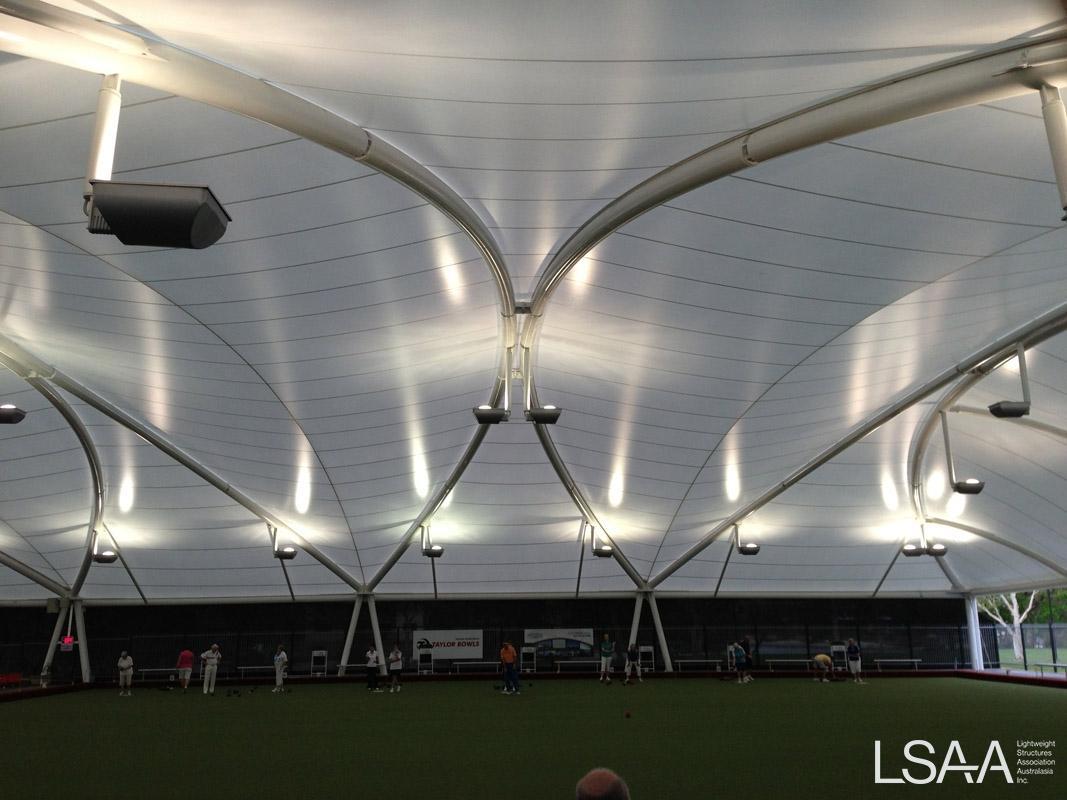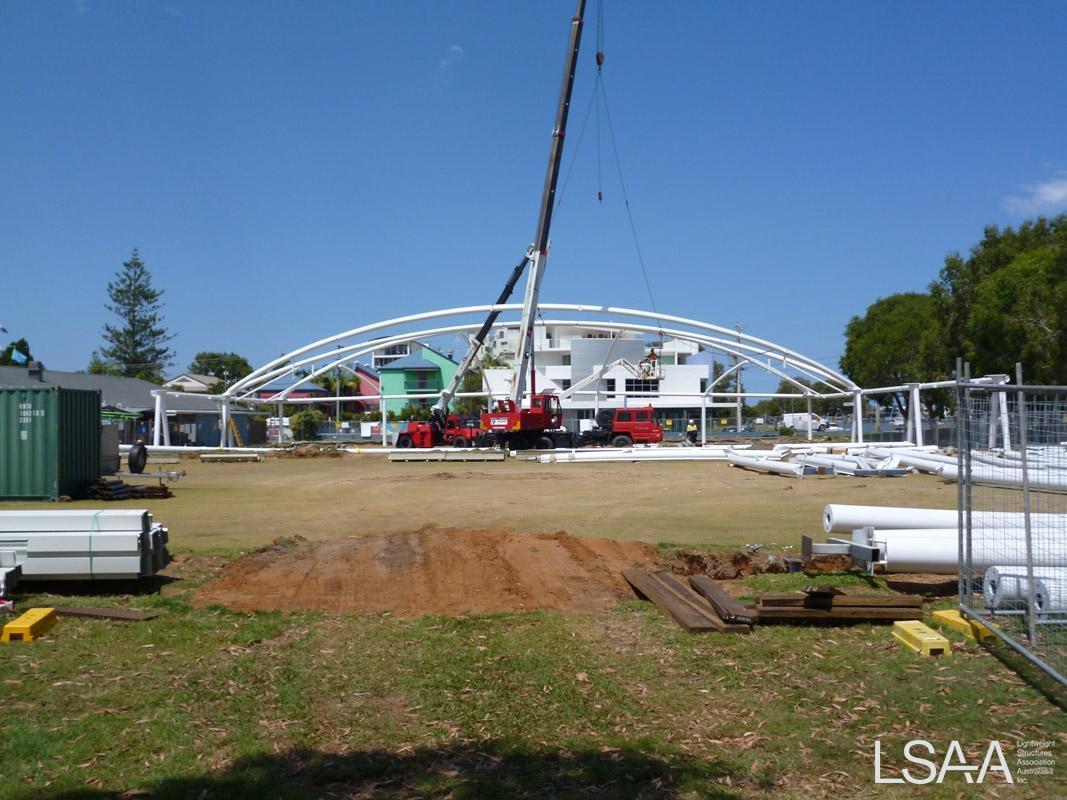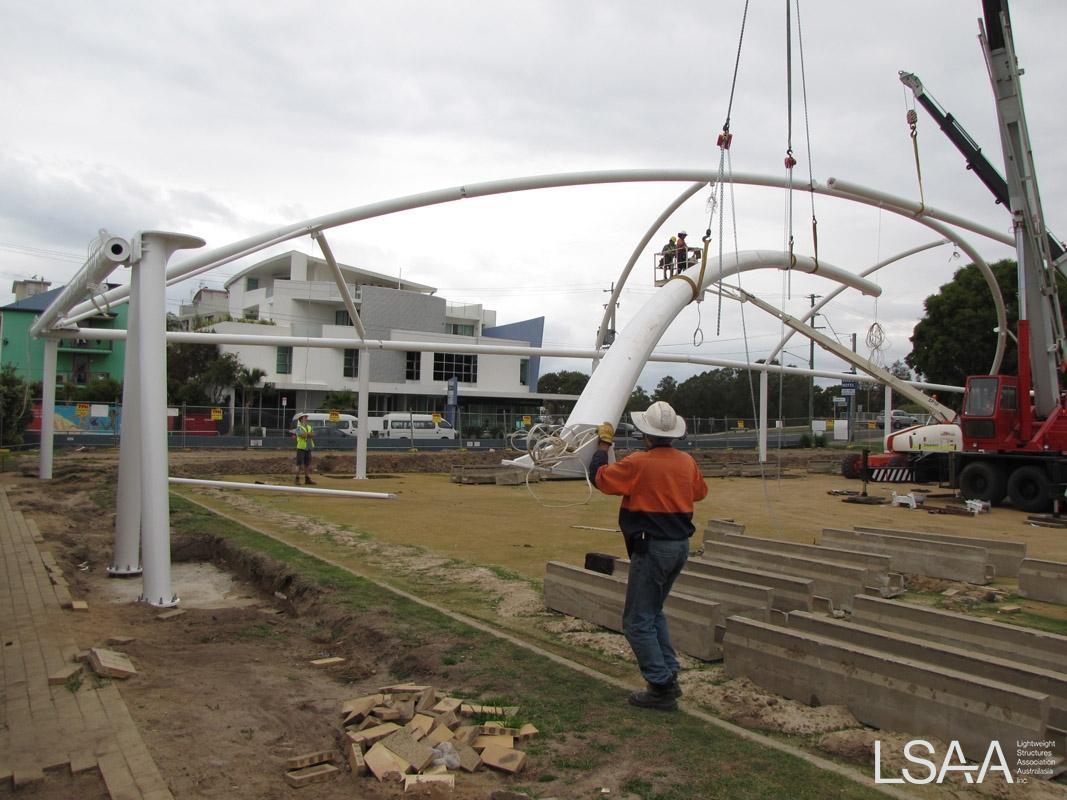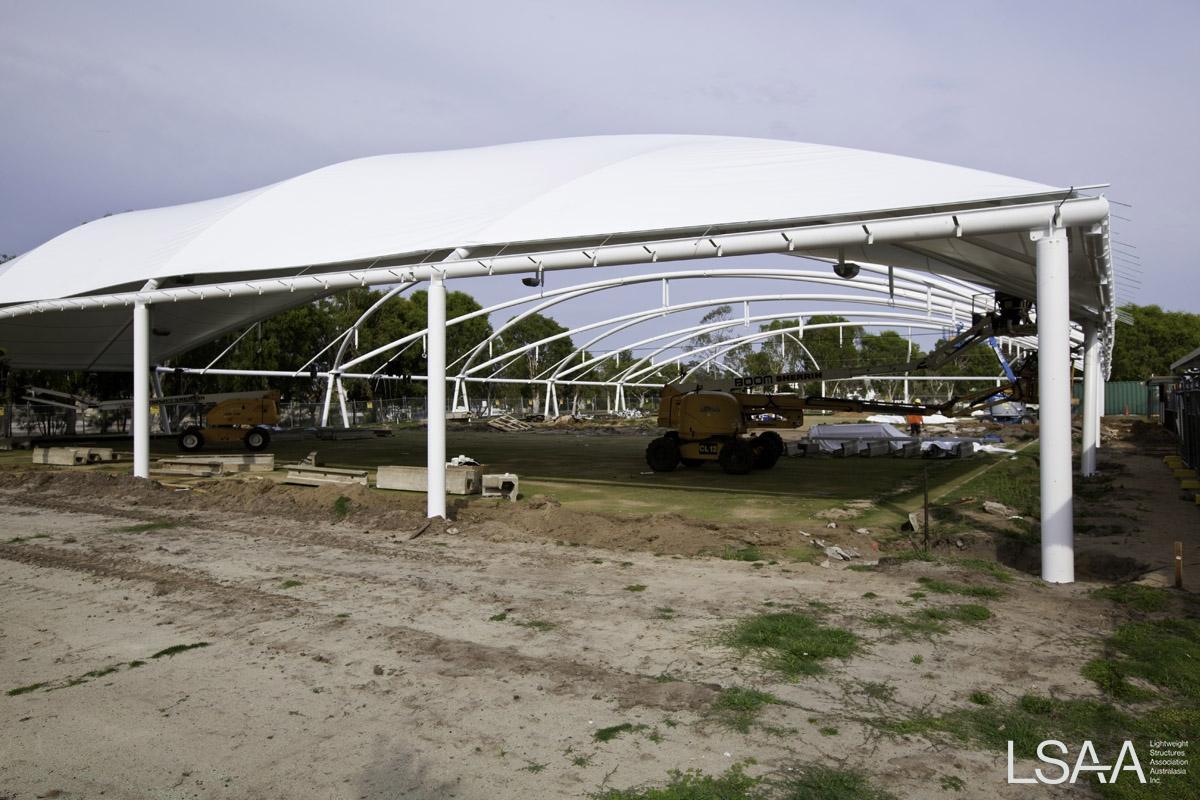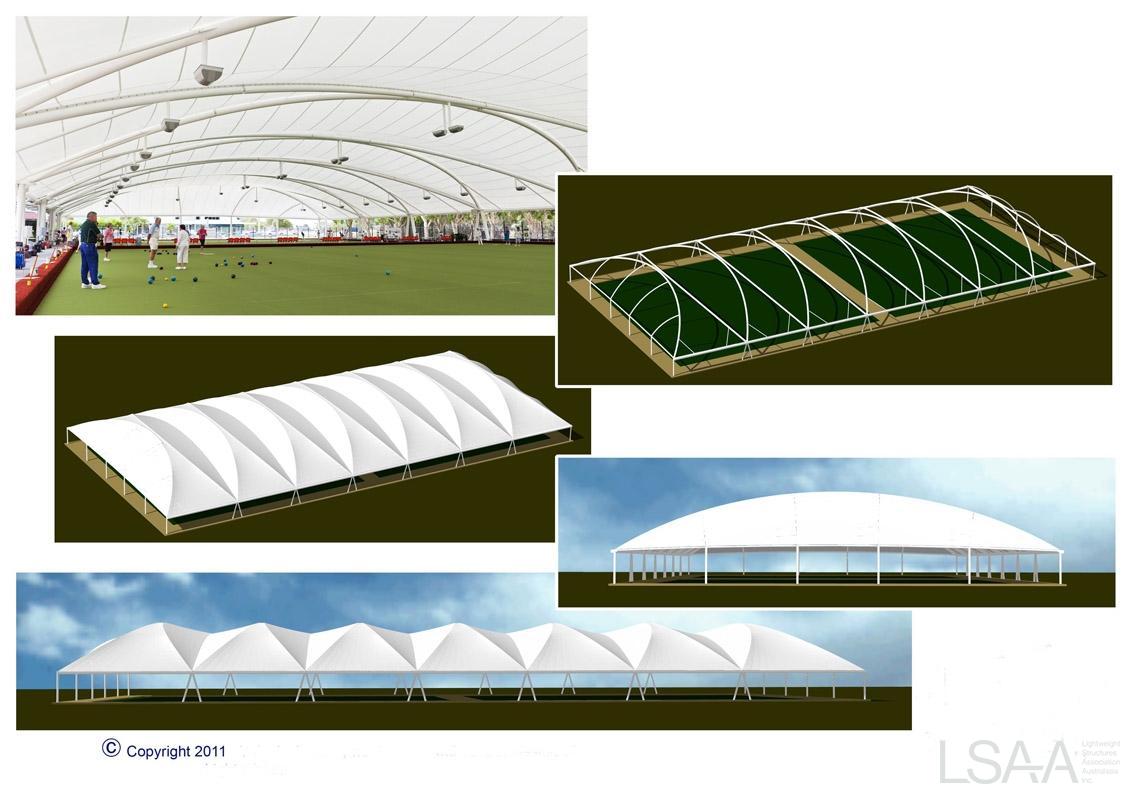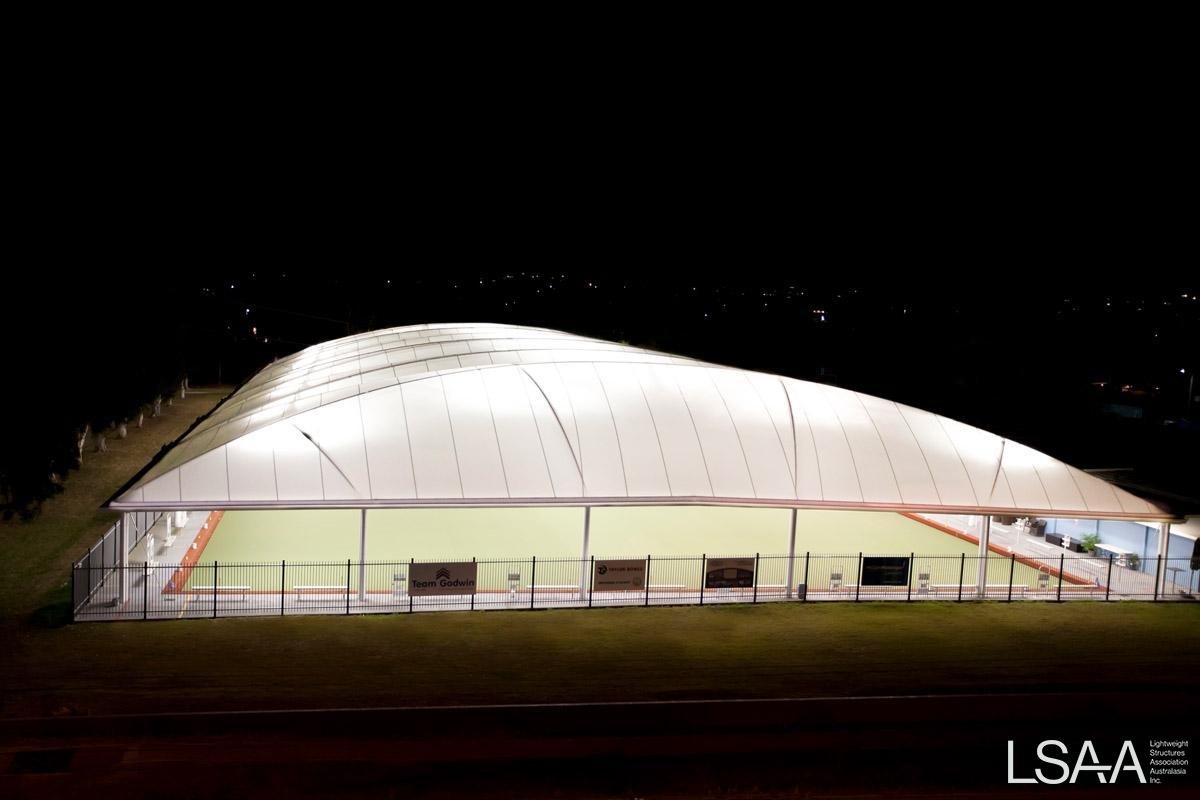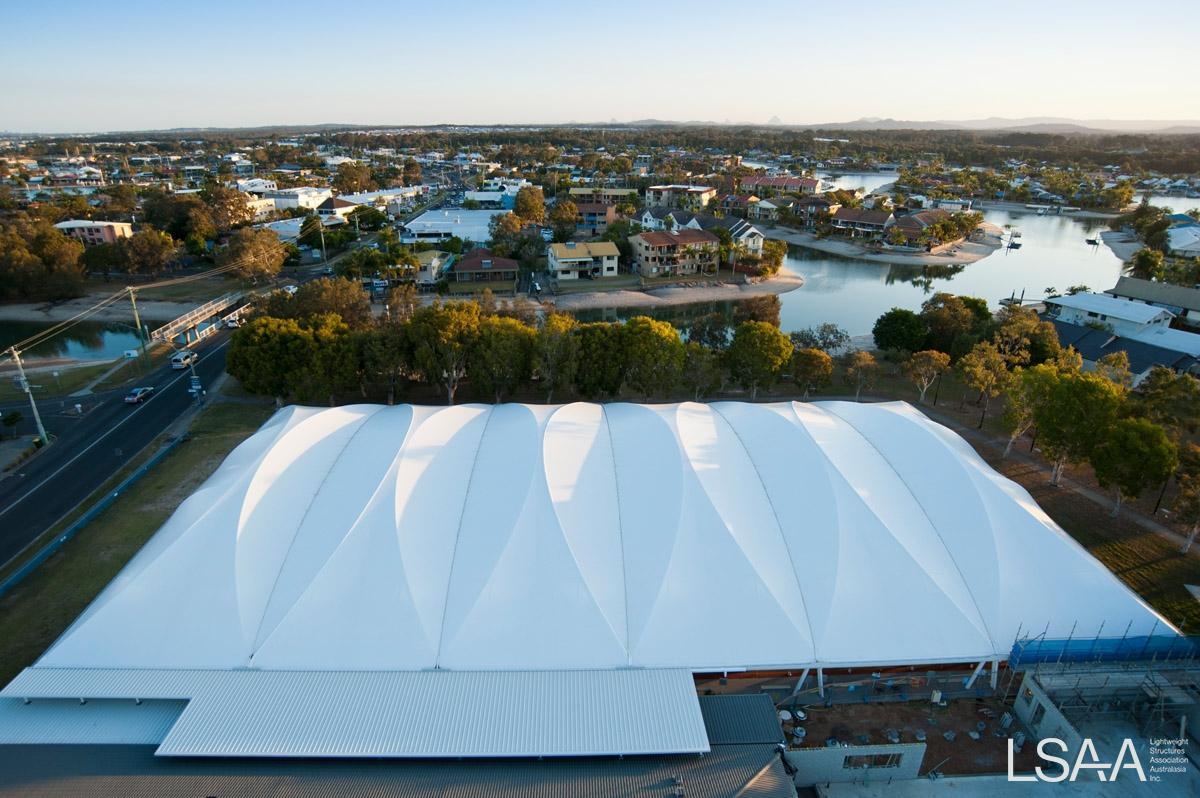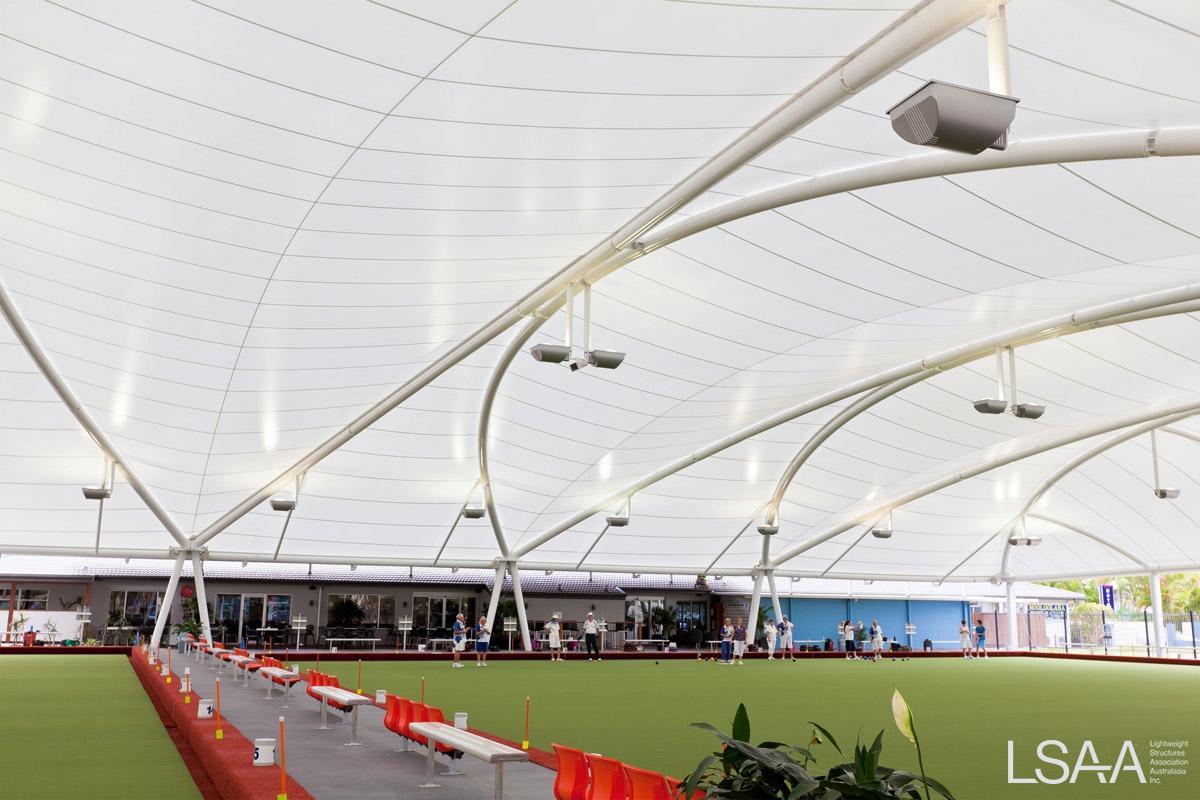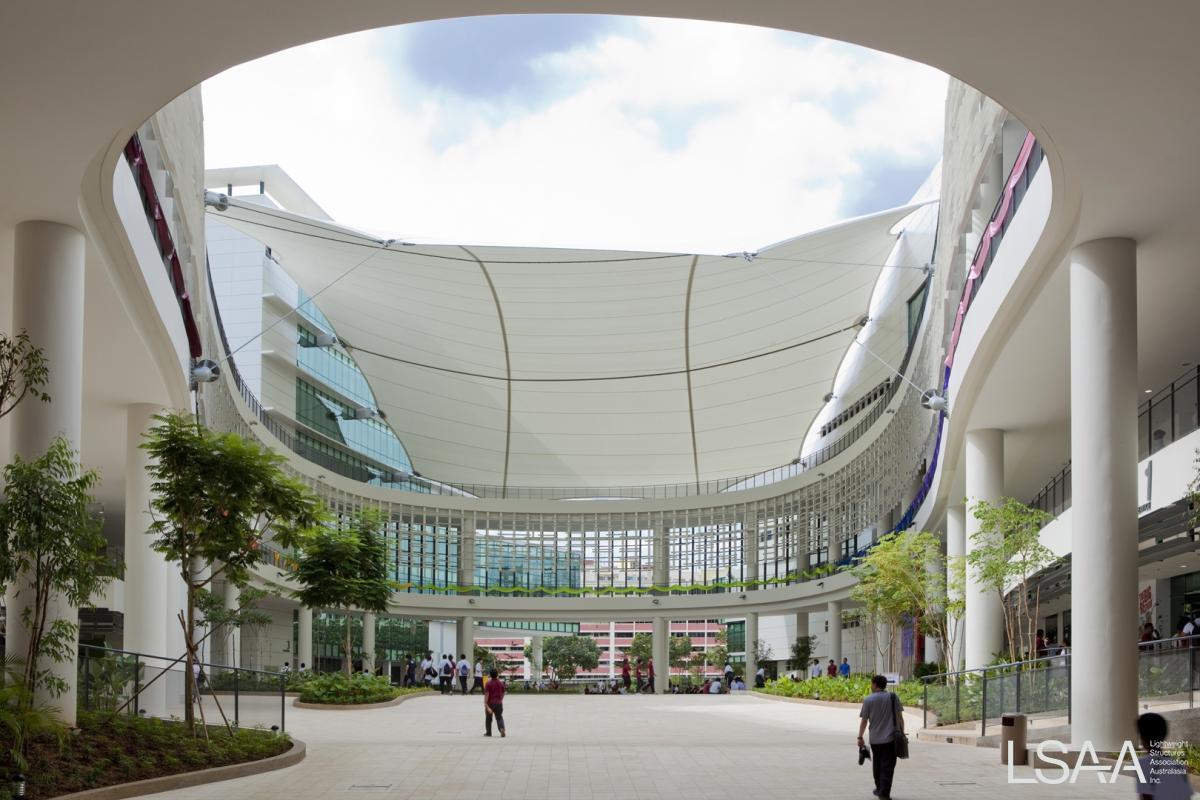 LSAA 2011 Design Award Entry (4210)
APPLICATION OF PROJECT:
Canopy shade structure: The architectural PTFE membrane canopy provides weather protection for an outdoor events plaza and exterior walkway.
PROJECT DESCRIPTION
A truly stunning piece of fabric architecture was created with this stunning lightweight membrane roof at ITE College (West) in Singapore. Supported only by a complex cable system and large steel wall plates bolted to 4 different buildings, the 3000m2 PTFE Canopy provides shelter to the Events Plaza and exterior walkways below spanning an incredible 75m span in one direction and 45m in the other.