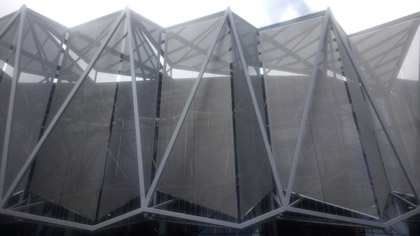 Award of Excellence LSAA 2018 Design Awards - Glazing and Facades
APPLICATION OF PROJECT:

Shade Facade
PROJECT DESCRIPTION:
A brutalist brick and concrete library is transformed with many careful interventions into a light filled, open structure at the heart of its university campus setting.
New openings on all sides of the building are designed specifically to respond to the immediate surrounding street, bridge and courtyard spaces. Internally a new full height atrium is cut through existing 19 metre span, post tensioned, concrete T beams. Natural light is drawn into the deep floor plates and acts as a navigating device.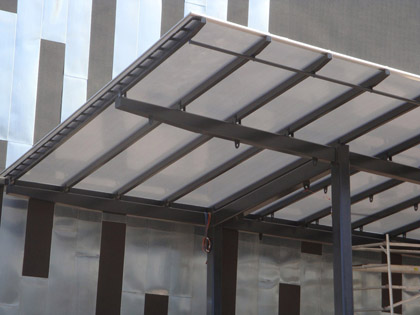 APPLICATION OF PROJECT:
Outdoor Stage Canopy
PROJECT DESCRIPTION:
Structure was originally envisaged to disappear into the background of the new digital façade.
Design workshops starting with many different material and went through different iterations of demountable to final permanent structure. ETFE cushions were originally envisaged as a lightweight and demountable system.
Further development with the end user ended up with a final structure has a thin profile steelwork onto which a thin polycarbonate structure is supported and cantilevered off.
Structure consists of straight lines but no 90 degree angle in the system as the structure emulates the façade digital geometry into its DNA.