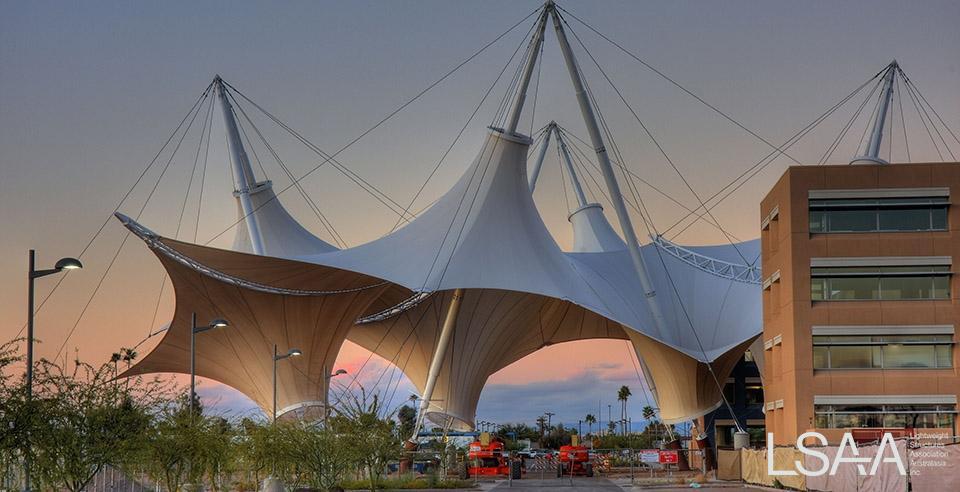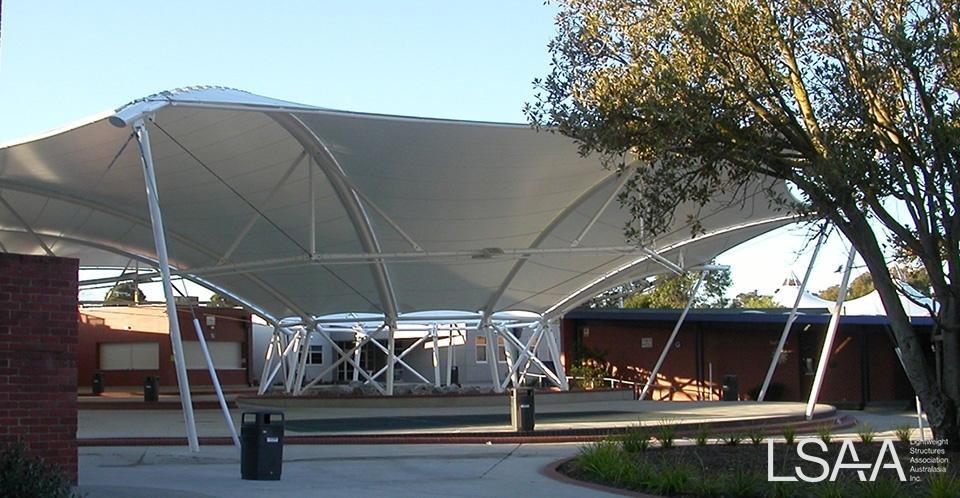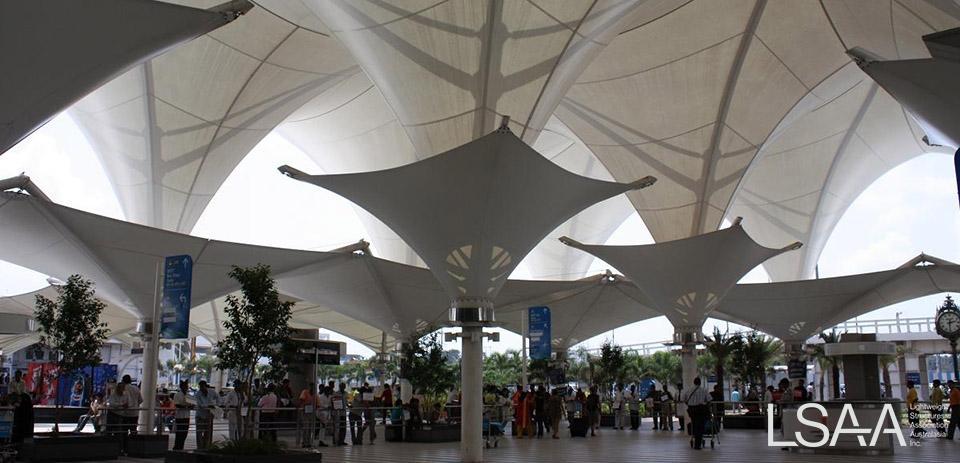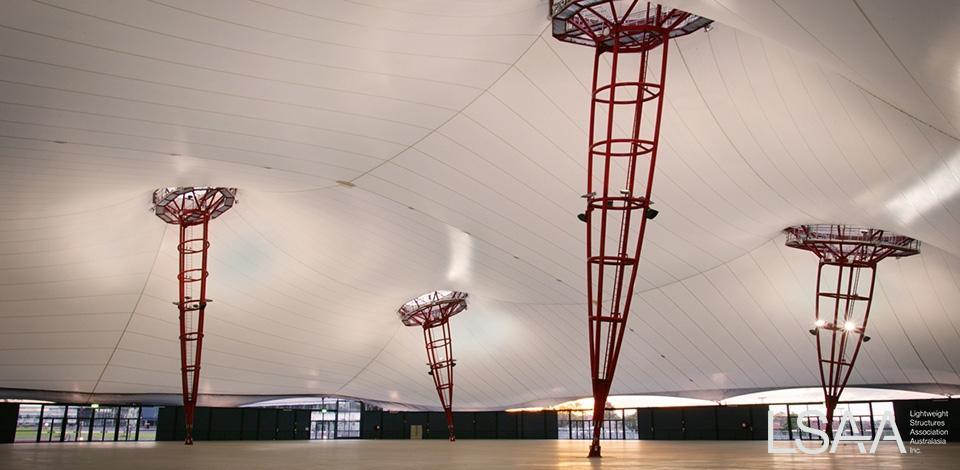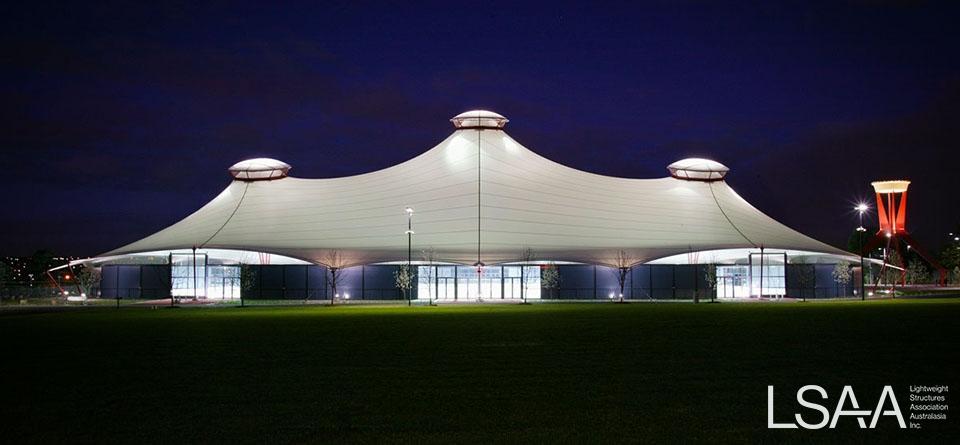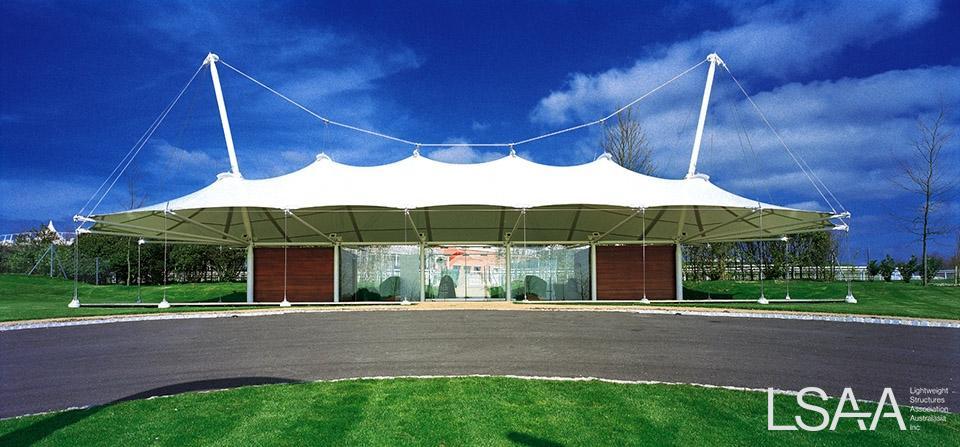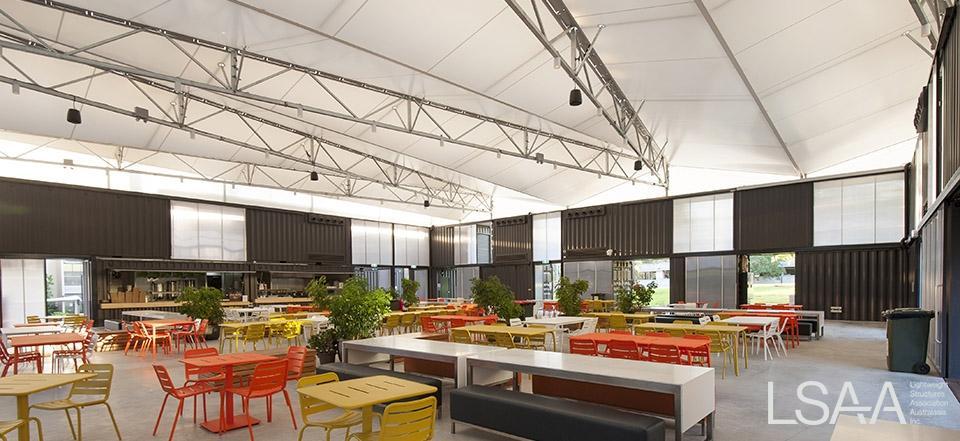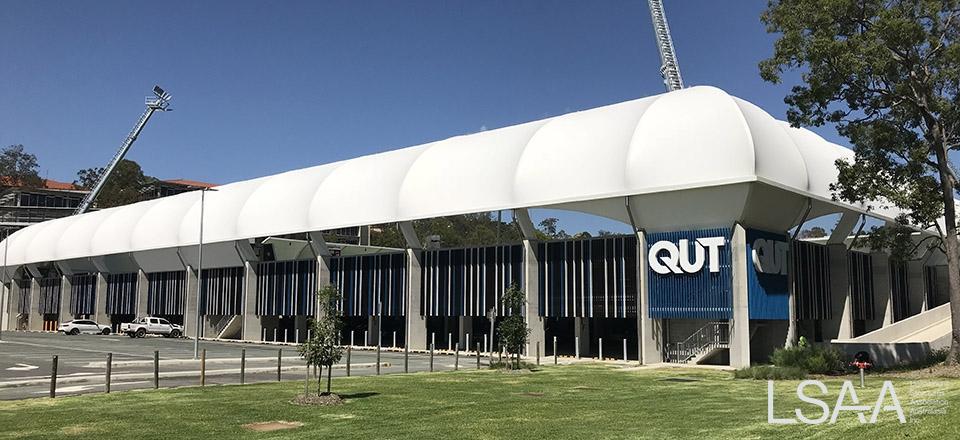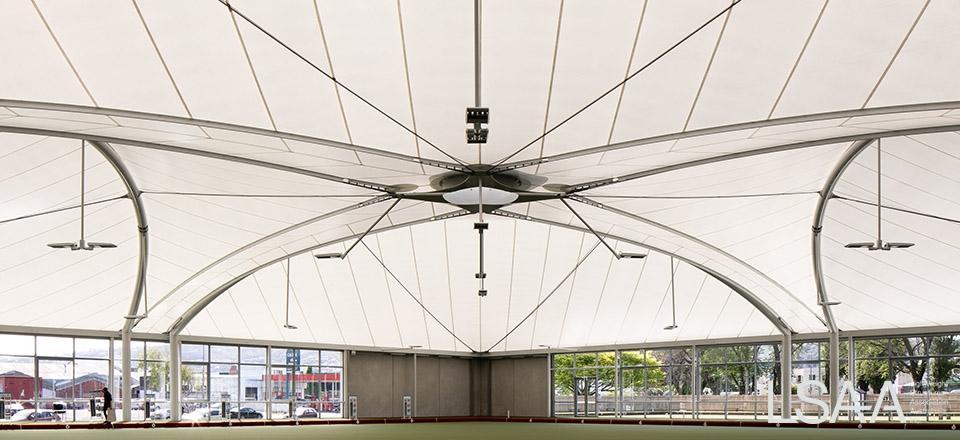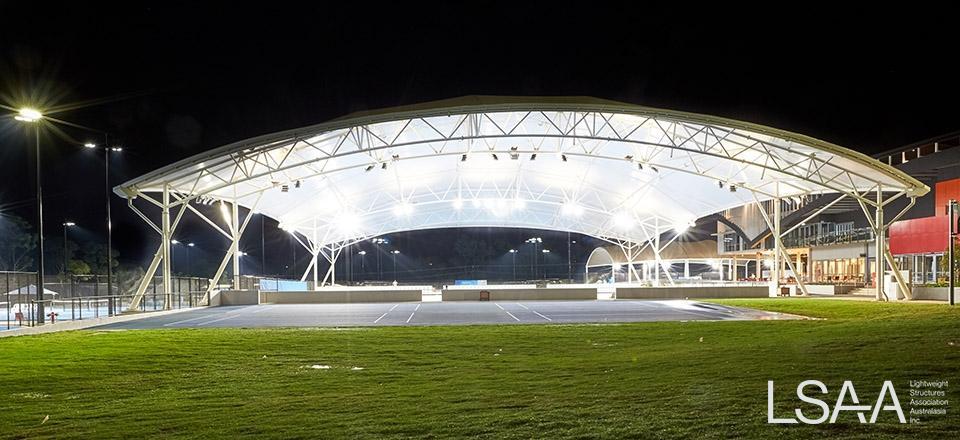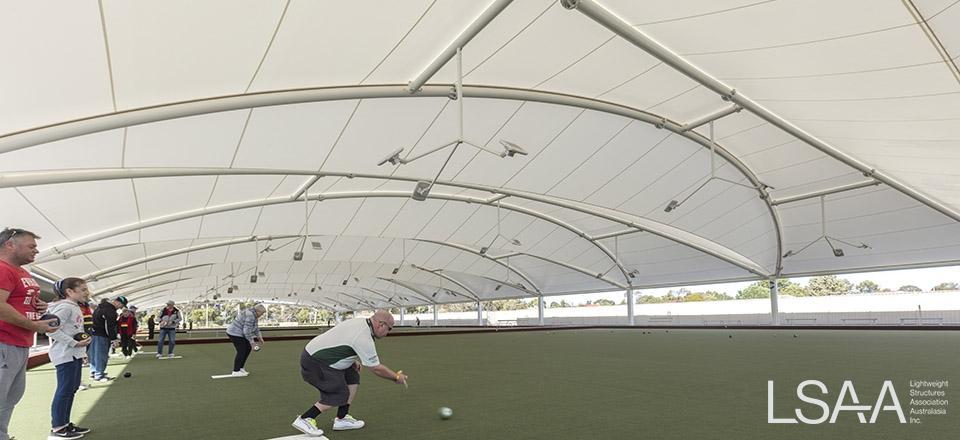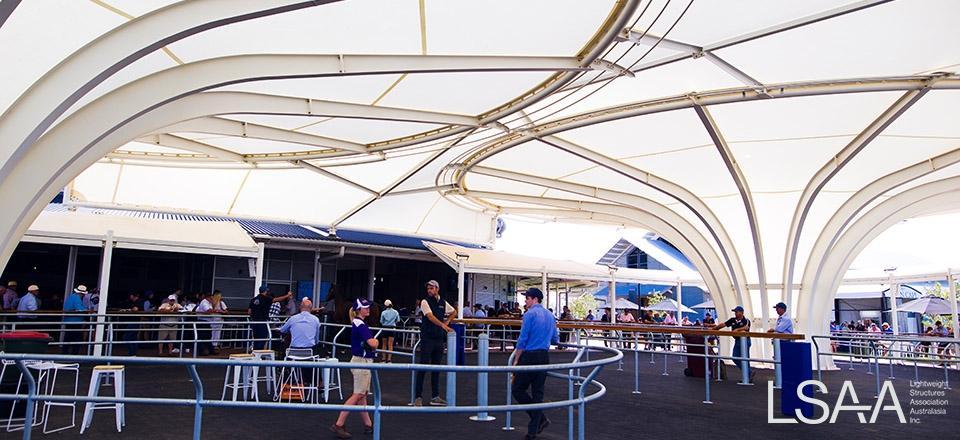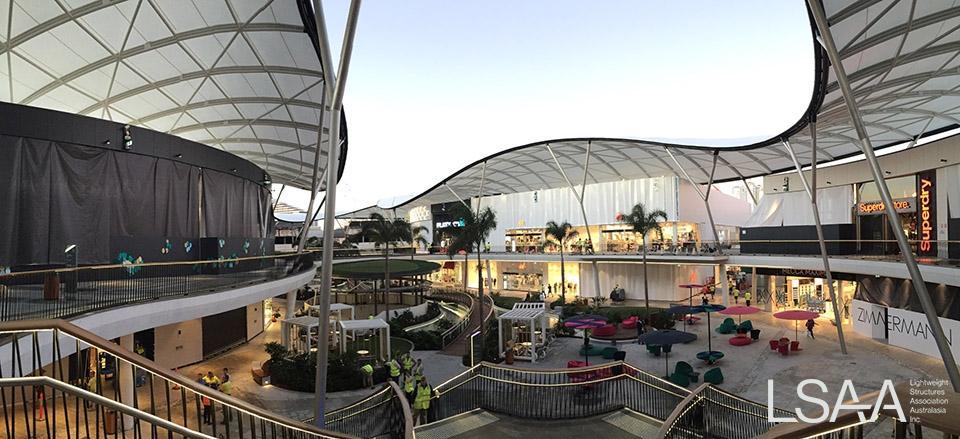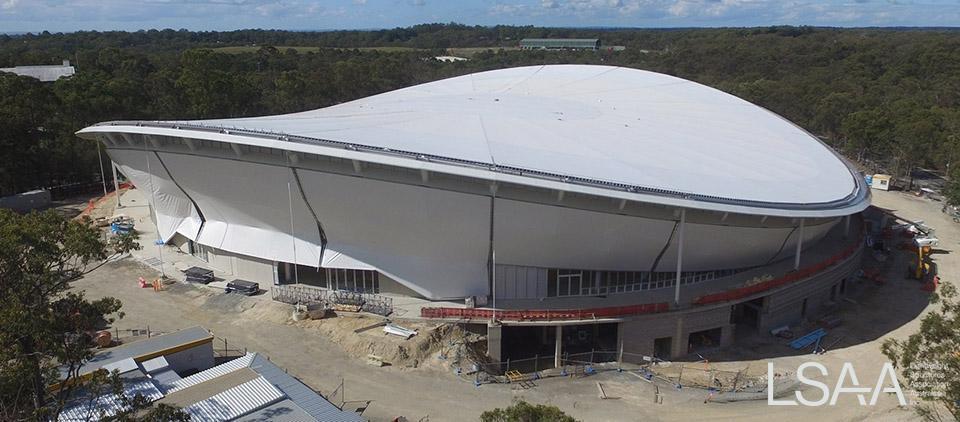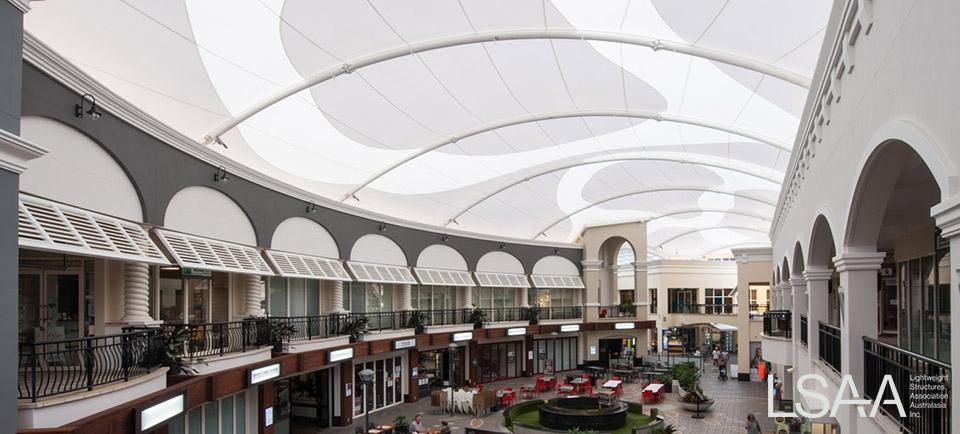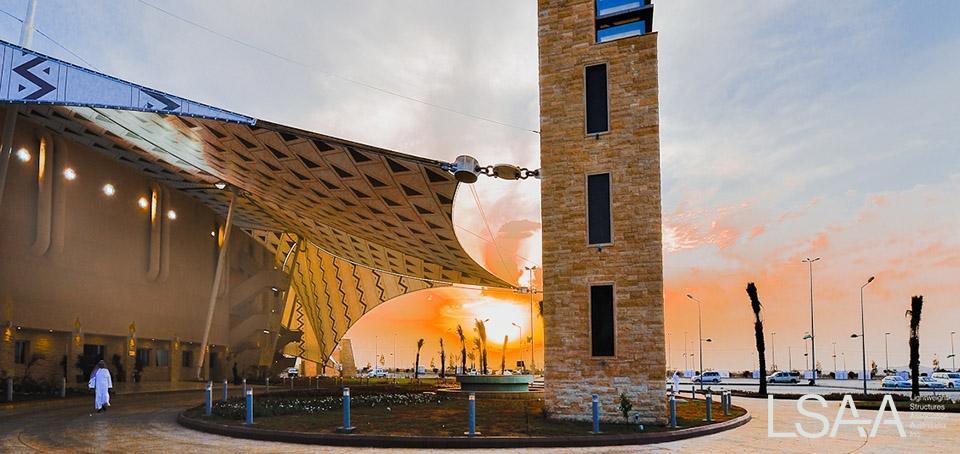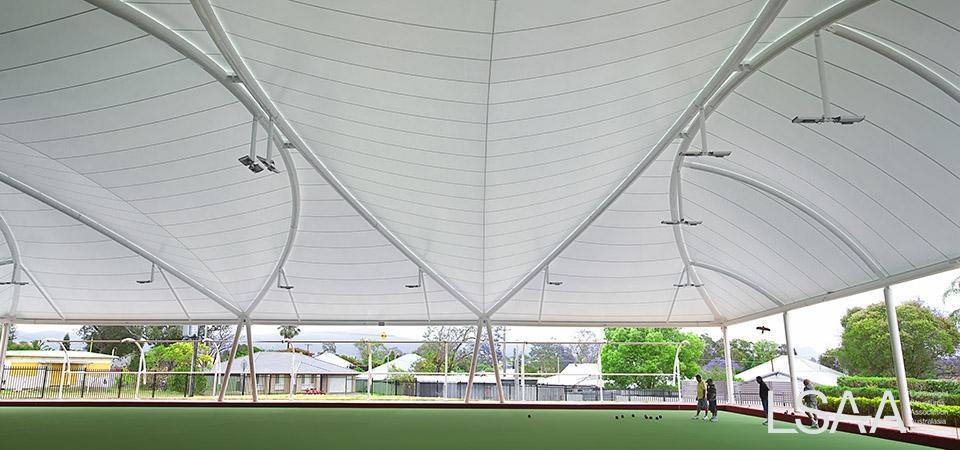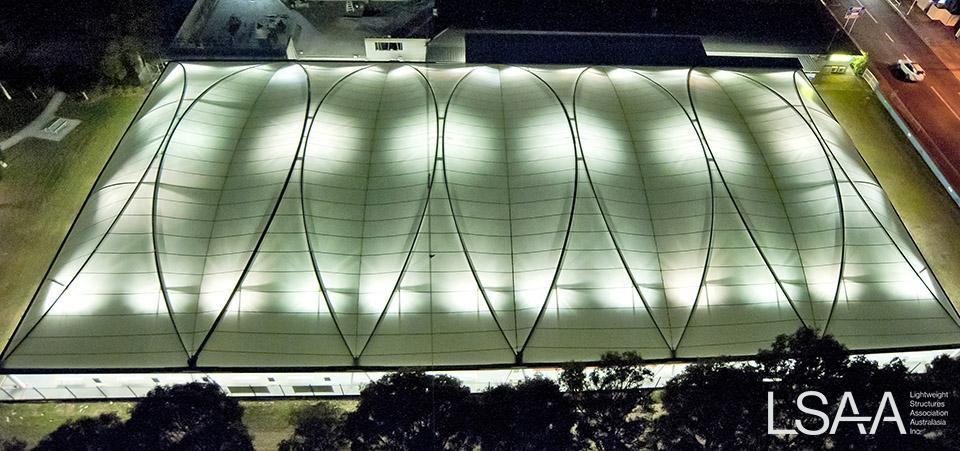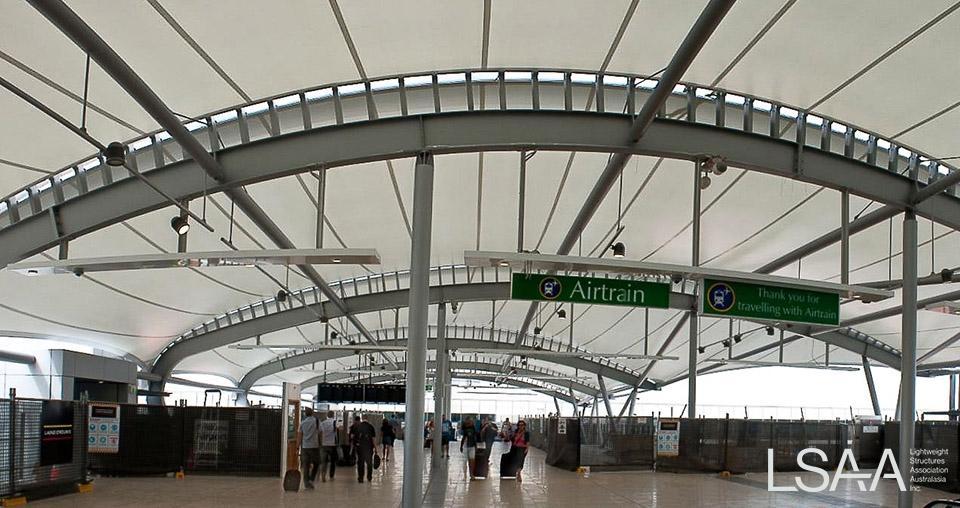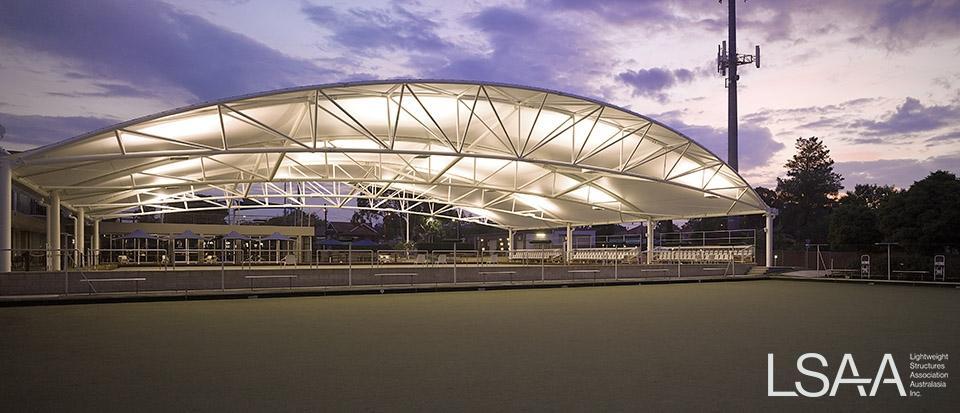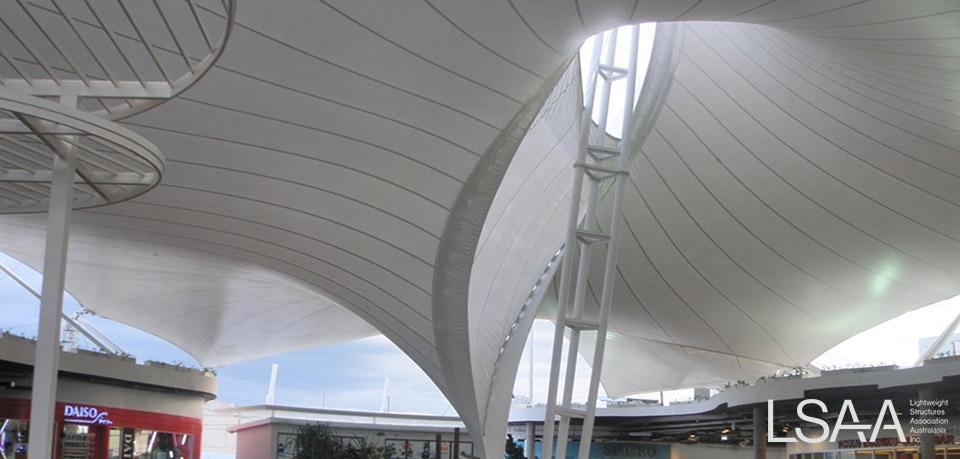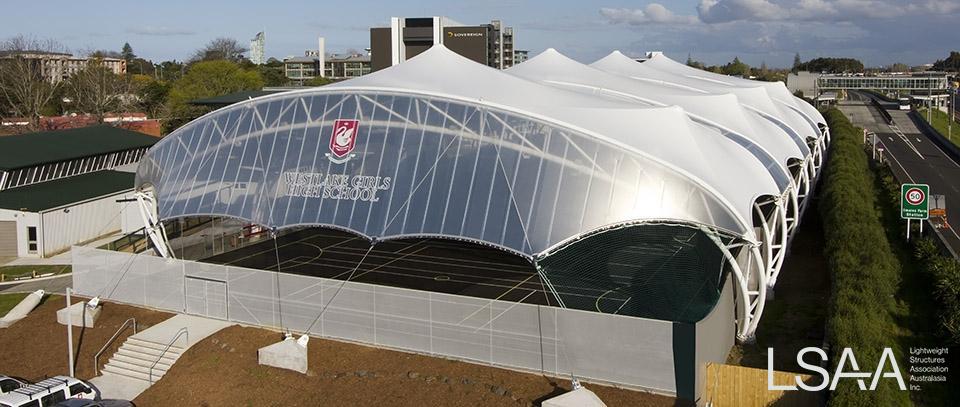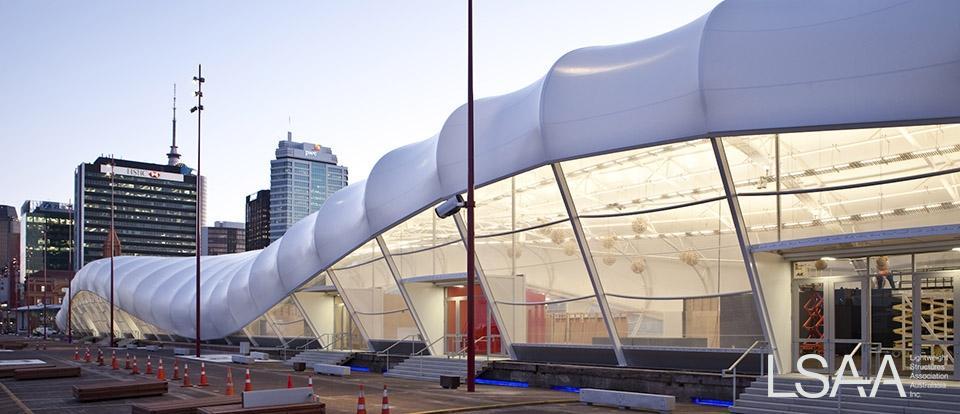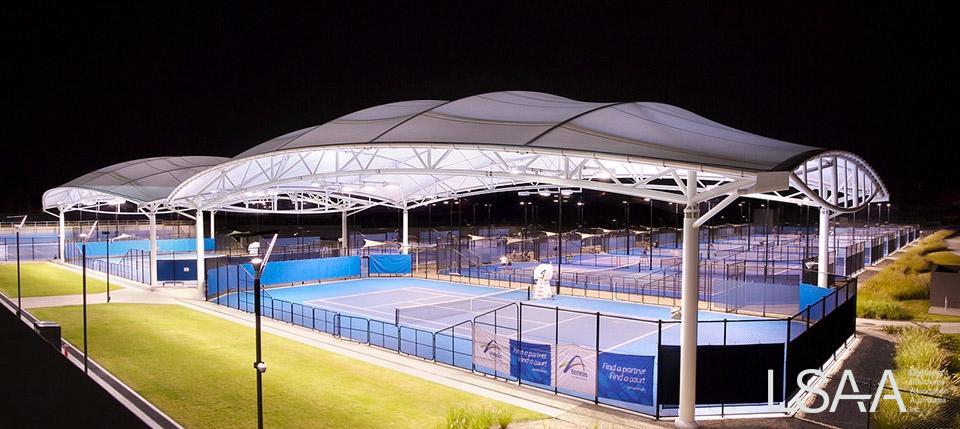 Large fabric structures have generally been thought of as those that have a fabric surface area greater than 1000 square metres. These structures may be described as single surfaces or panels in the form of one of the classic hypars, barrel vaults, cones, panels with single or crossing arches - or a combination.
Larger fabric structures can also be made from several modules or panels of similar forms to build up a substantial sized structure. The multiple panels might be arranged in a linear layout, or in a circular or oval pattern commonly found in stadia roofs. The boundaries are defined structurally and geometrically by straight or curved elements such as arches, edge beams and cables. The prestress forces from adjacent panels often counterbalance and the more efficient structures have a larger degree of symmetry and continuity such as a complete "bicycle wheel" for the roof a major sports stadium. Stadiums are grouped in a separate menu item.
The following articles are in random order: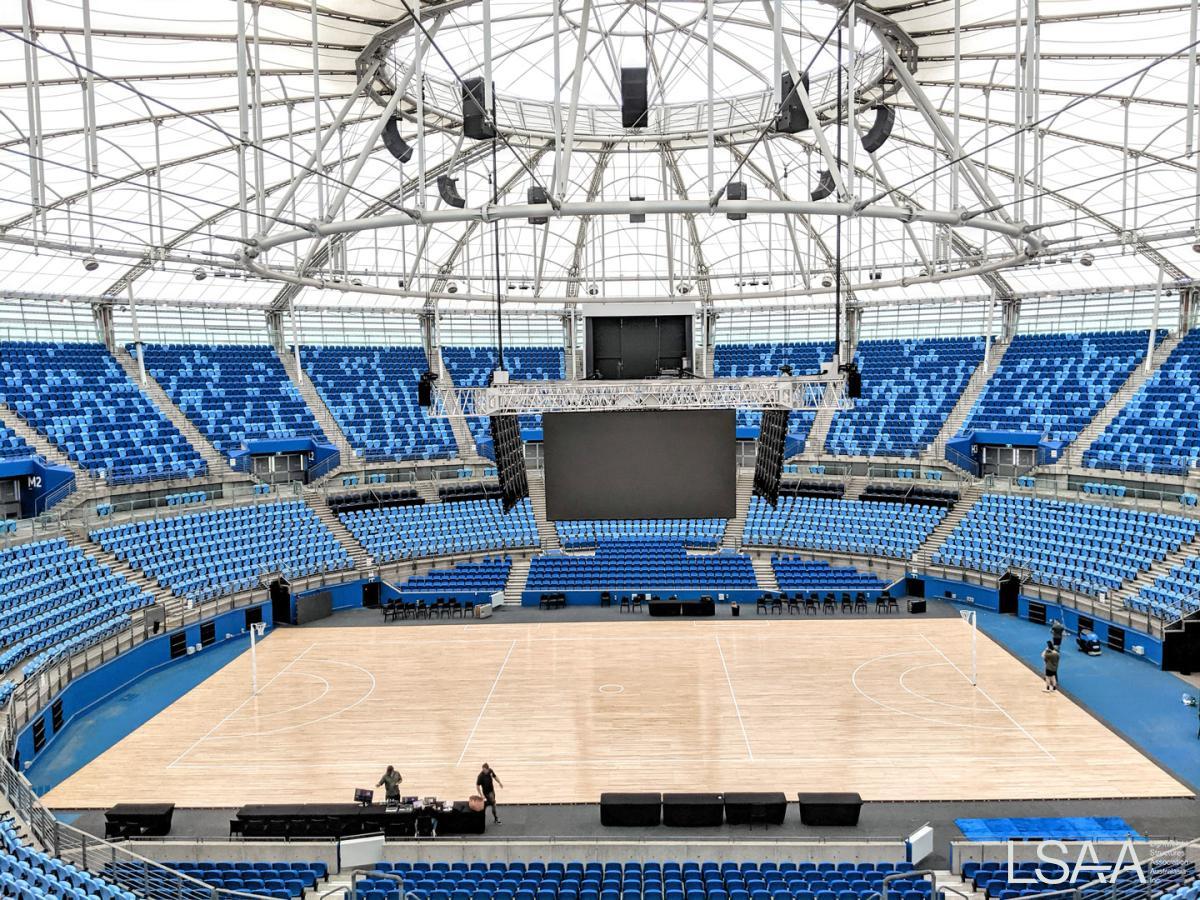 APPLICATION OF PROJECT:
Stadium roof
PROJECT DESCRIPTION:
The Ken Rosewall Arena project is a redevelopment project for the original stadium which was constructed in 2000 for the Sydney Olympic Games. The project included the installation of an innovative cable-tension and PTFE fabric design roof. The striking new roof is the first of its kind for stadia in Australia. The redevelopment has transformed the venue into a multi-purpose outdoor covered arena with new and upgraded facilities. The arena now operates as a multi-purpose venue, including tennis and netball, and is home to the Sydney Giants.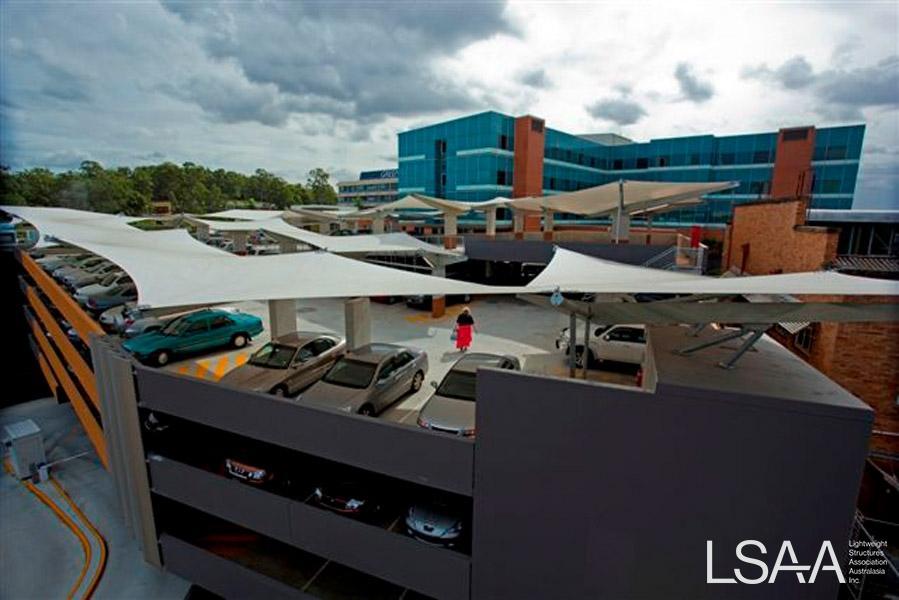 Entrant: Architectural Sails (Qld) Pty Ltd - Contractor
Location: Lot 108 Nicholson St - Greenslopes Qld 4120
Client: Ramsey Health Care
Architect: Phillips Smith Conwell Architects Pty Ltd
Struct. Eng.: Bligh Tanner & Wade Design Engineers
Others: Ozrig Pty Ltd (Installation)
Builder: John Holland Pty Ltd
Fabricator: Ruffles Engineering & Atkins Fabrication
This project was entered in the LSAA 2009 Design Awards, Category 3. (#3120)
No further details have been entered for this project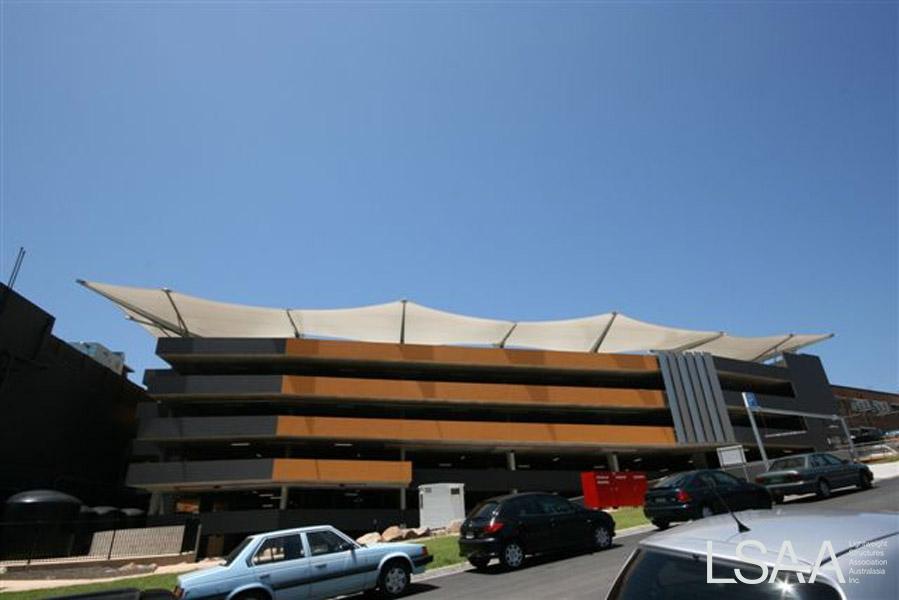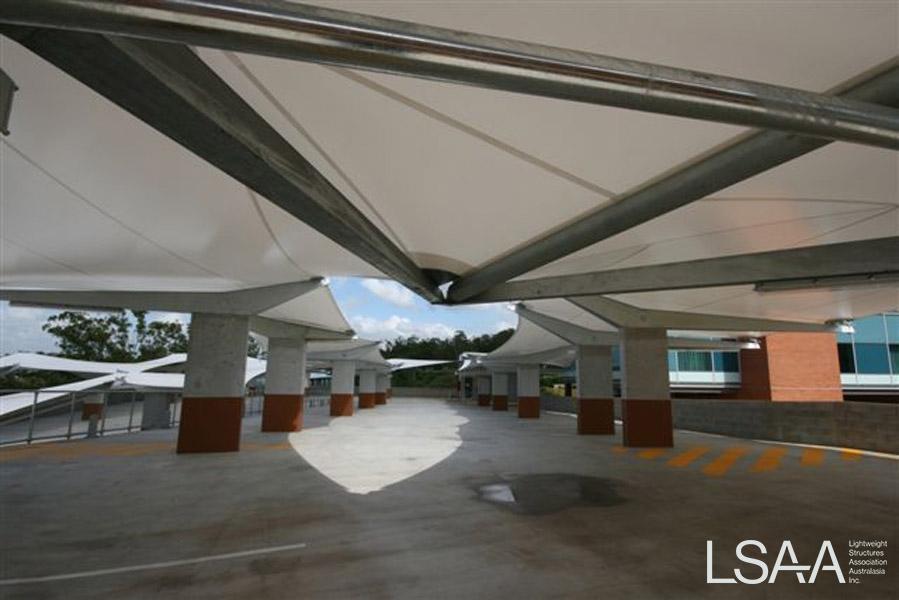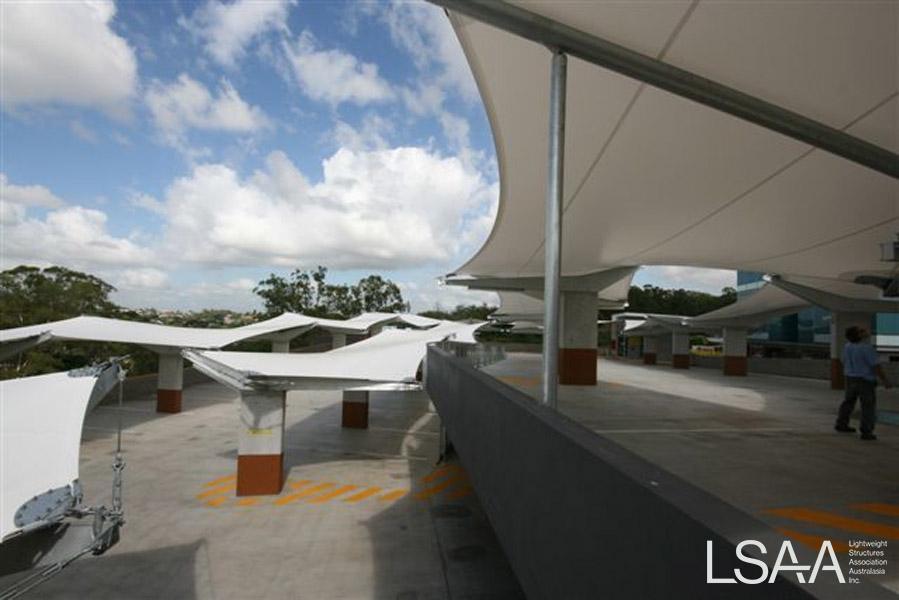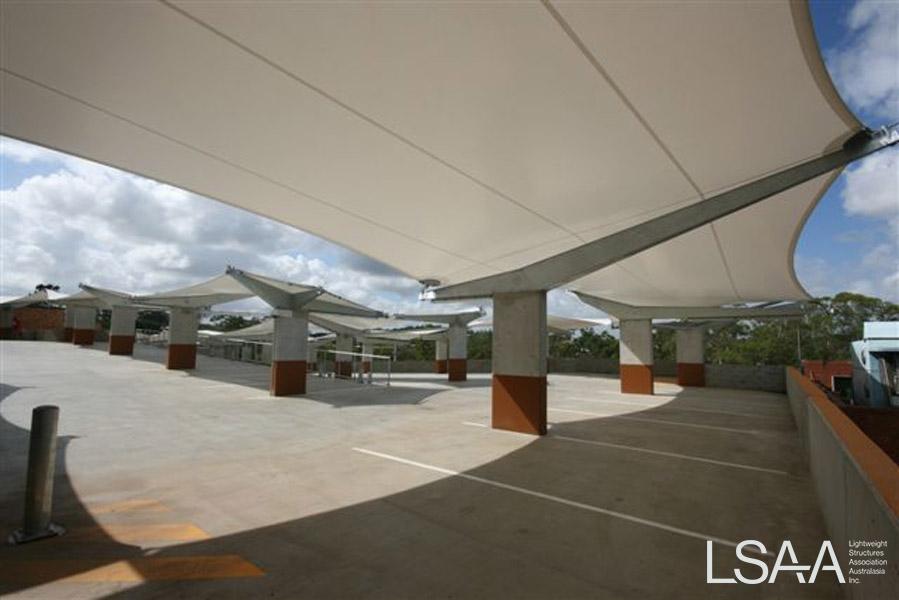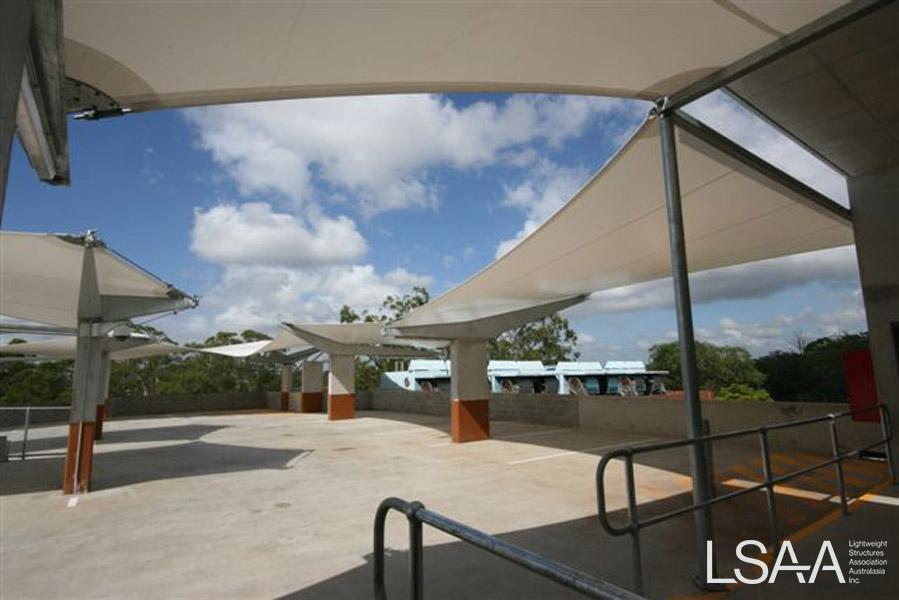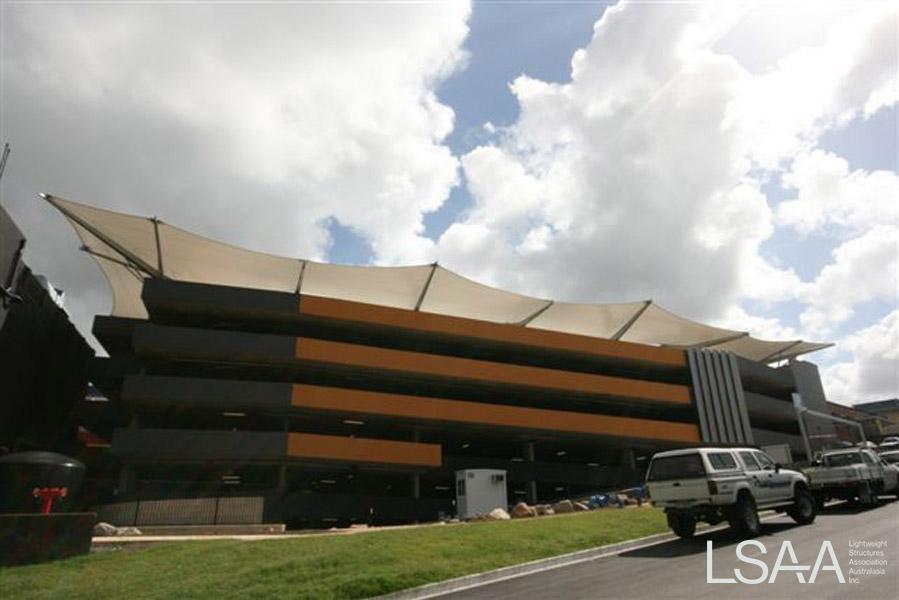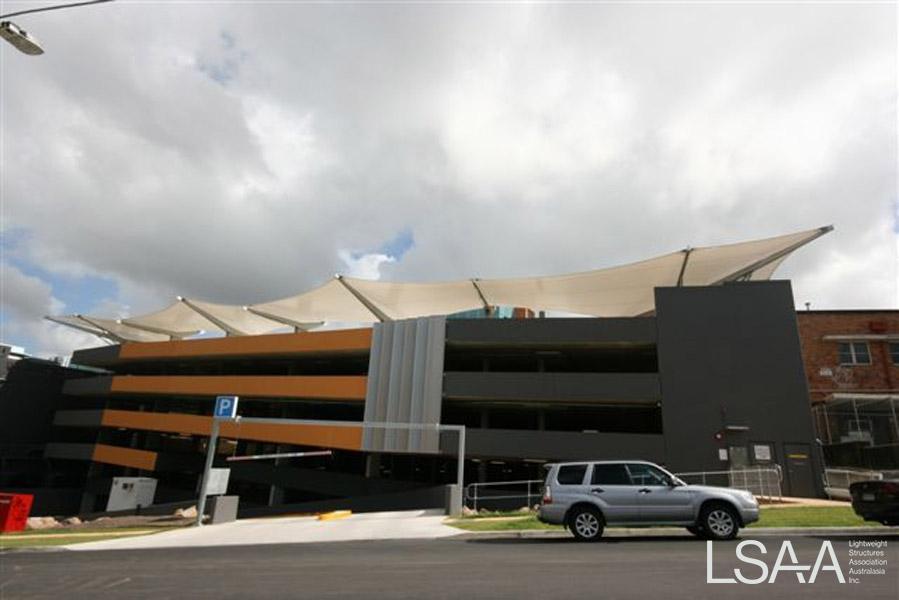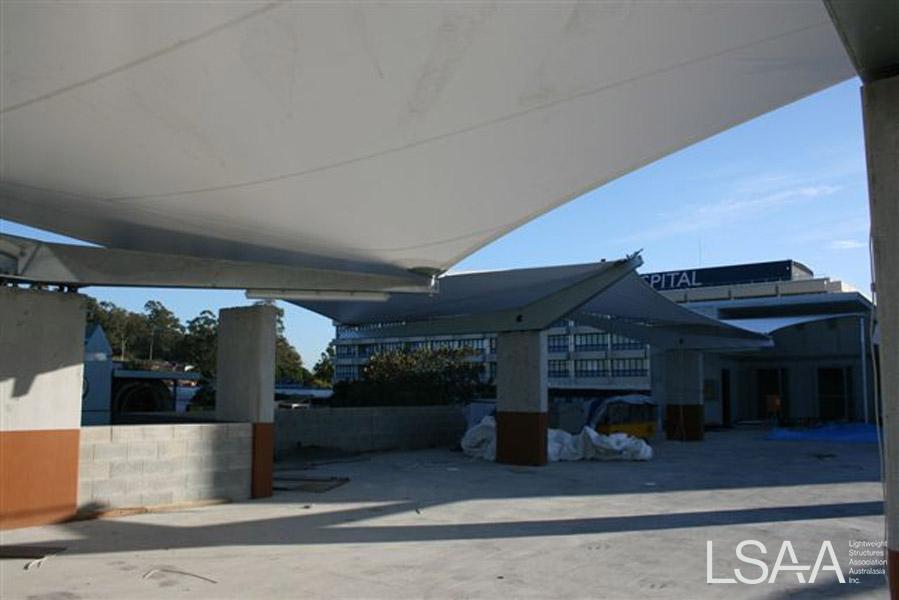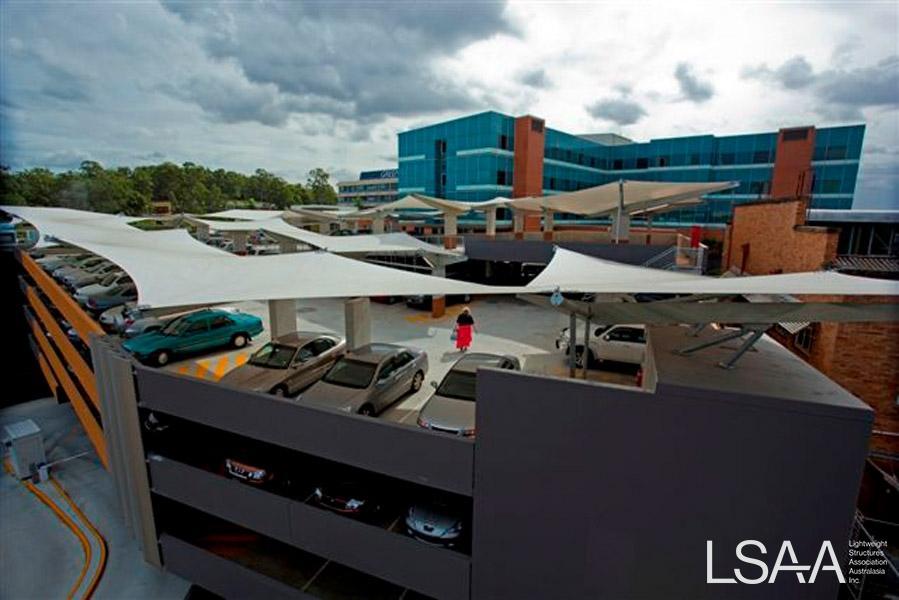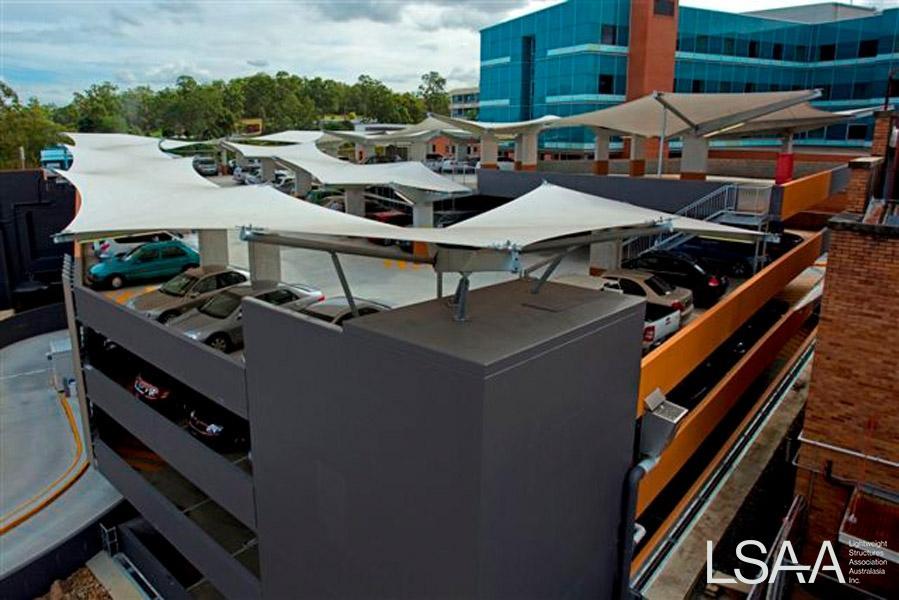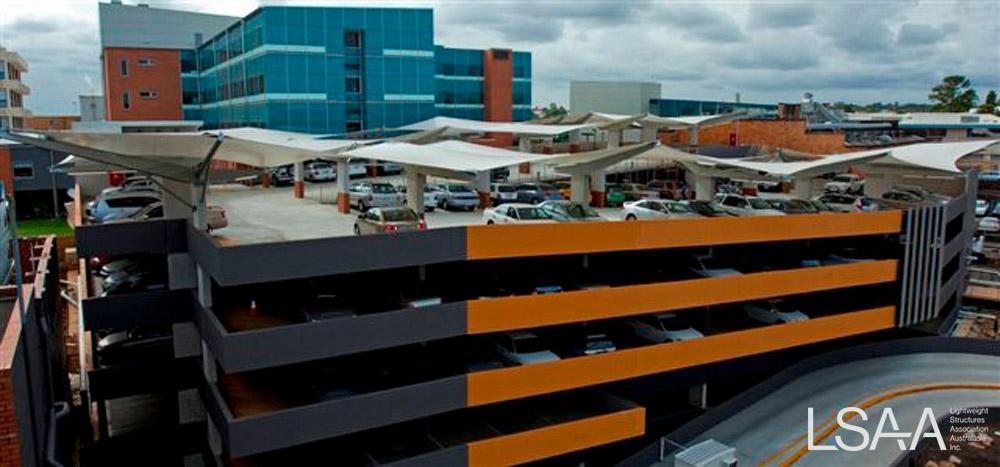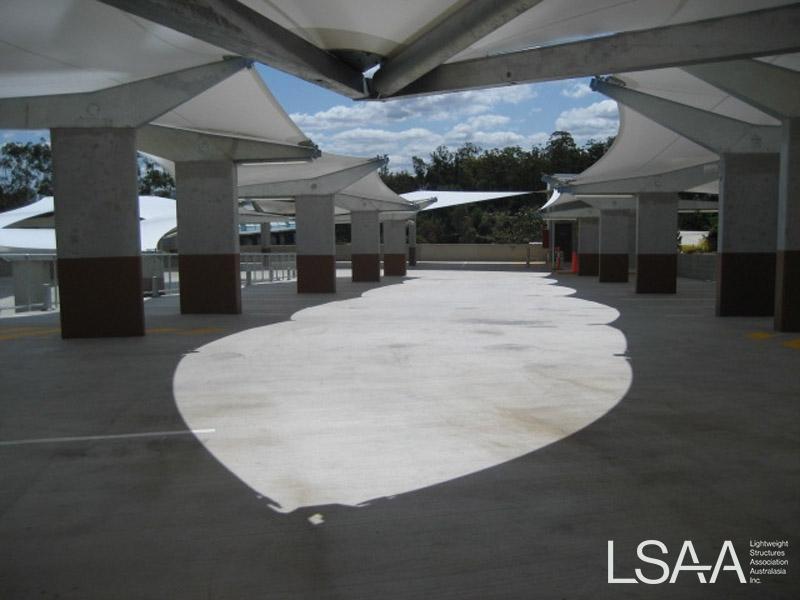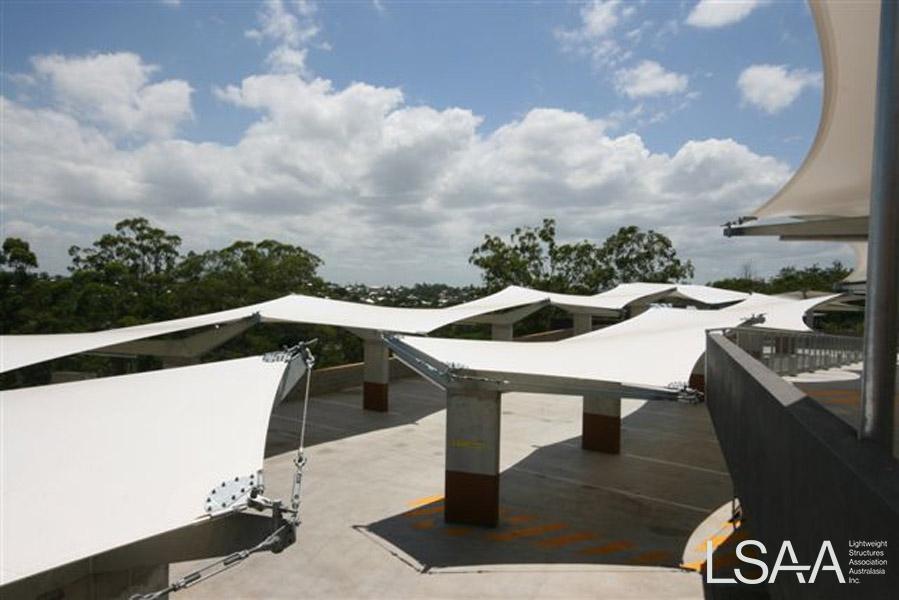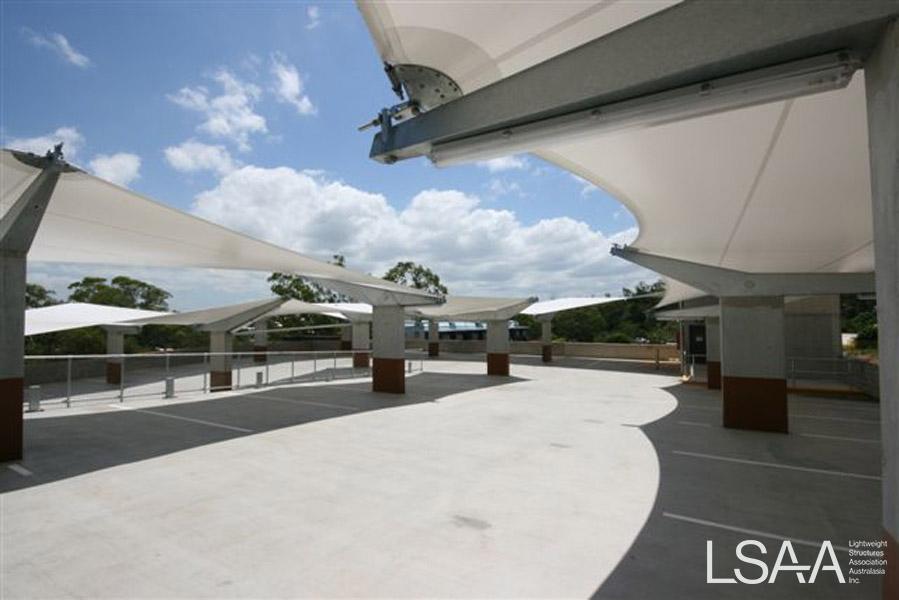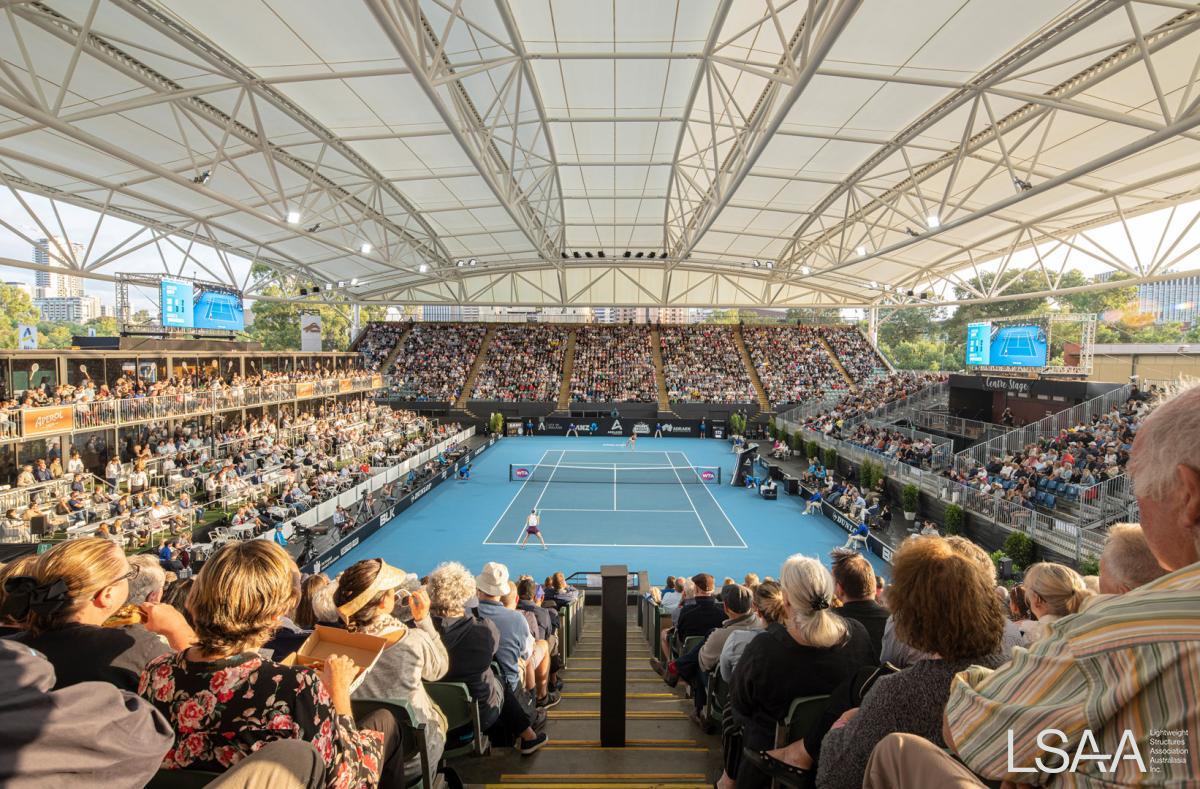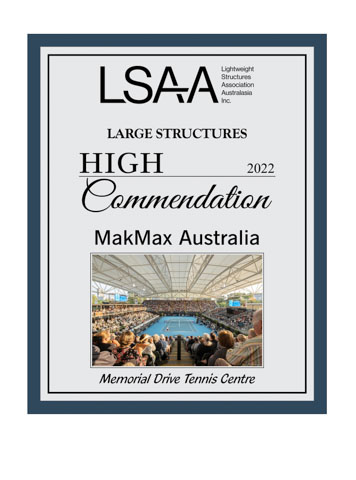 APPLICATION OF PROJECT:
Tennis stadium roof
PROJECT DESCRIPTION:
The Memorial Drive Redevelopment Project was tasked with ensuring the future configuration of the Adelaide Tennis Centre complex met South Australia's sporting and entertainment needs. Stage One of the project called for a redevelopment of all the court surfaces (over 30 new court surfaces in a mixture of Pluxicushion, grass and clay built to International Tennis Federation (ITF) standards), construction of a new sunken show court, player shelters and landscaping, and crowning the project, a 5800m2 lightweight tensile membrane roof to cover the existing centre court and spectator stands.
An example of close-knit collaboration between Tennis SA, COX Architecture, MakMax Australia and local Adelaide construction firm Kennett Builders, the completion of the Memorial Drive Redevelopment Project Stage One set the scene for an exciting summer of tennis in early 2020. The most eye-catching element of the project is the 5800m2 PTFE membrane roof that protects patrons in the permanent and temporary movable seating areas, as well as covering the corporate function event areas installed around the centre court for major tournaments.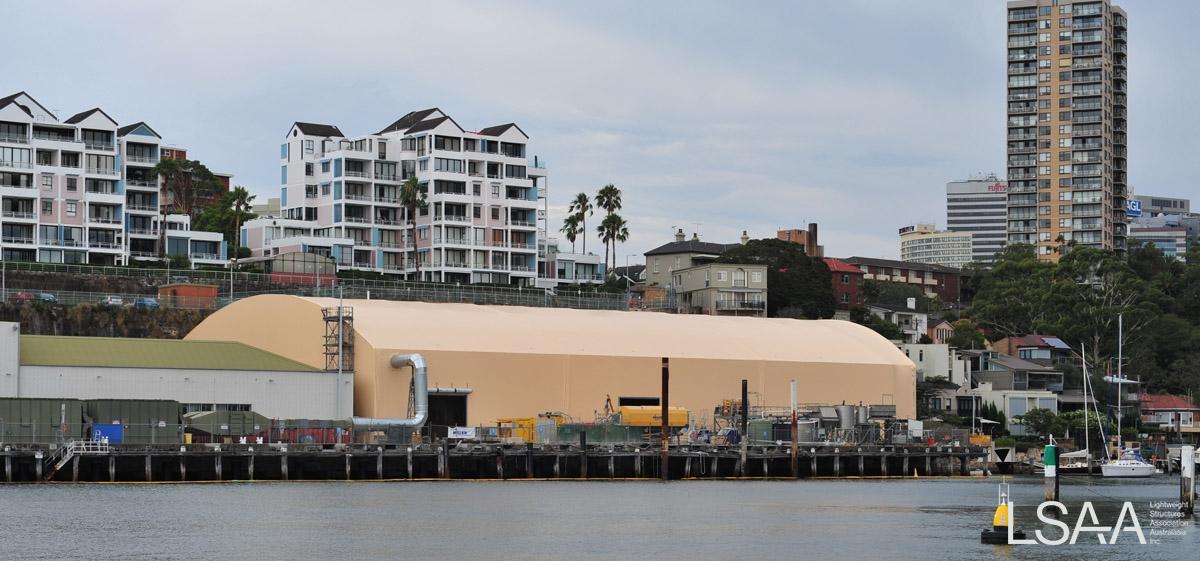 The project was entered in the 2013 LSAA Design Awards (Large Structures, #3301)
Entrant: Global Fabric Structures (UFS)
Location: Sydney
Client: Thiess Australia
Completion Date: December 2012
PROJECT DESCRIPTION:
The former HMAS Platypus site is nestled below the suburb of Neutral Bay, Sydney Australia on a quiet harbour inlet.
This site has been an integral part of the history of Sydney Harbour since the early 1800's. A gasworks, a workshop for servicing torpedoes and a base for Australian Submarines have a left a contaminated industrial site that is excavated out of sandstone and spread over several levels.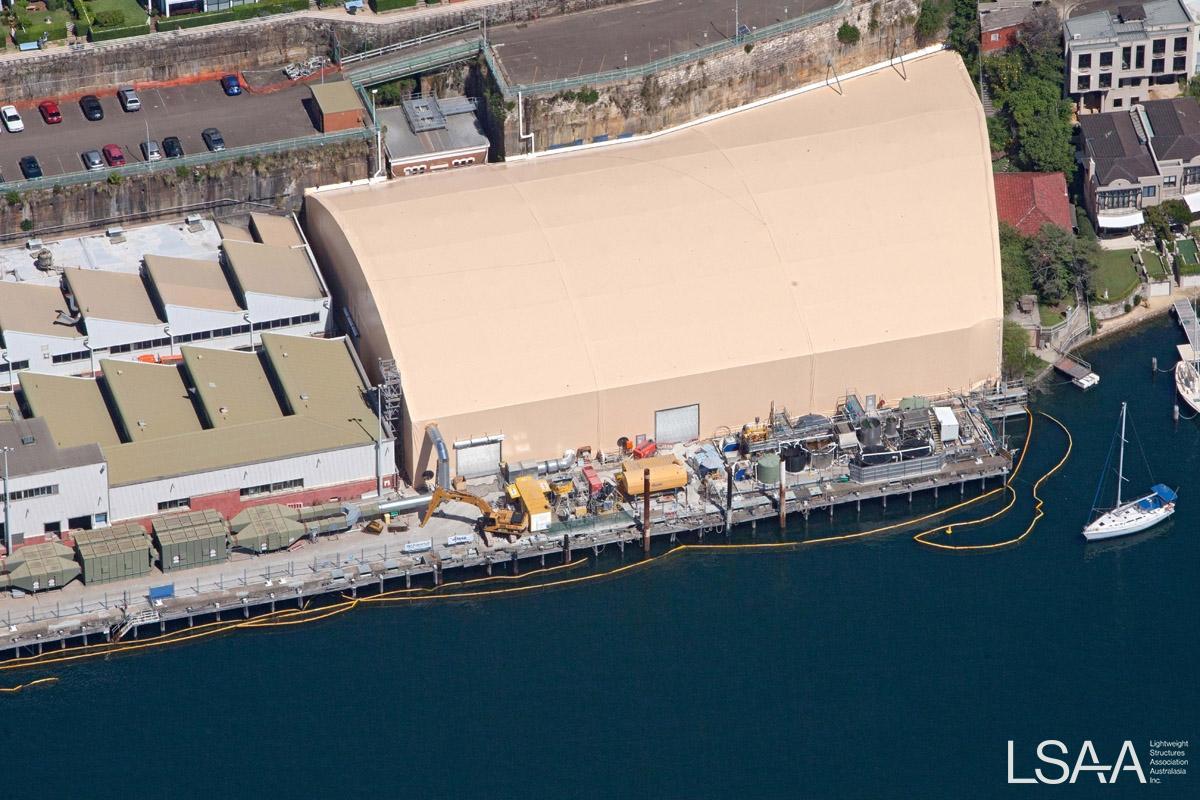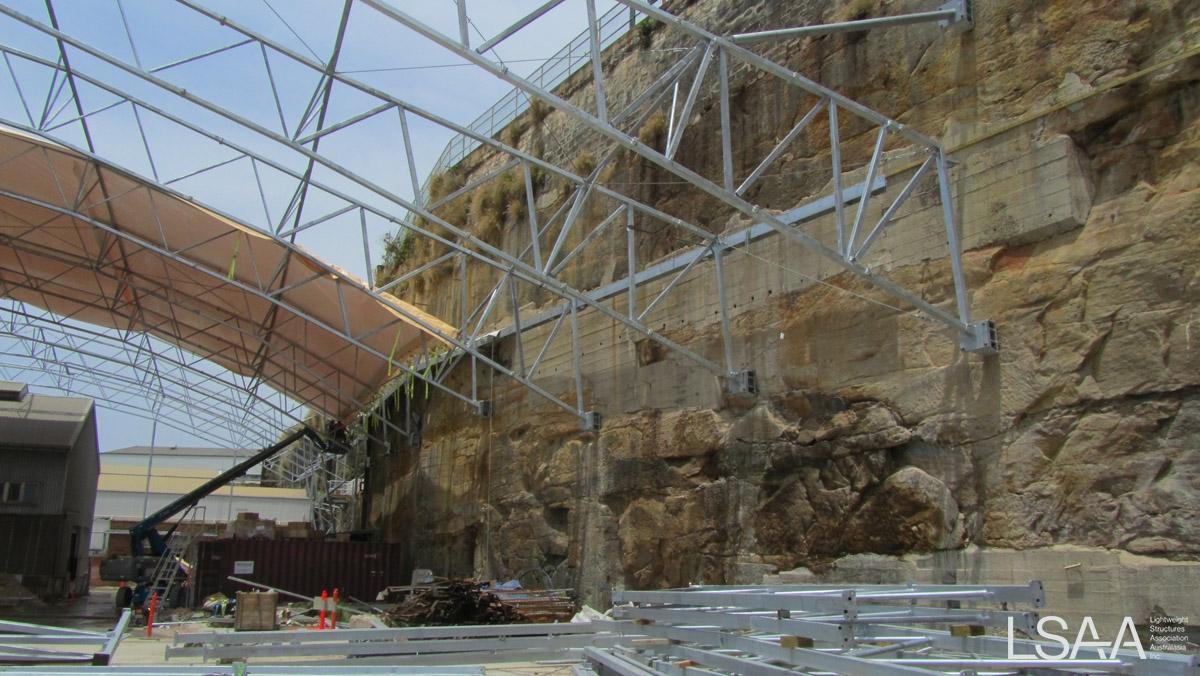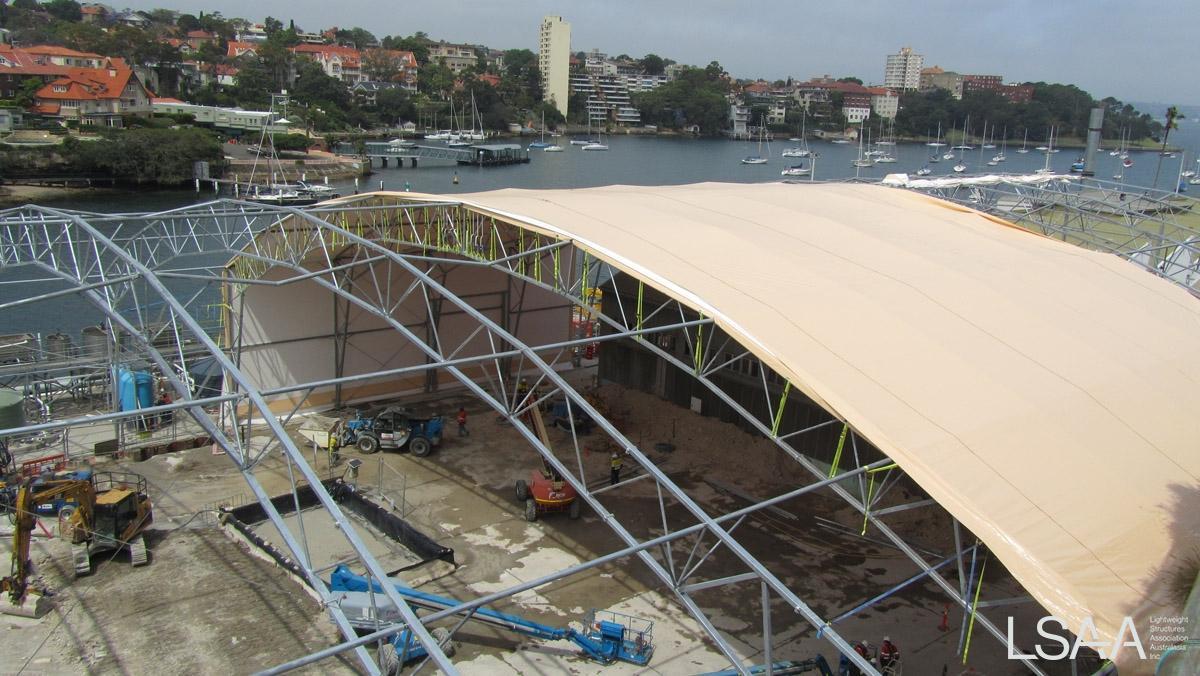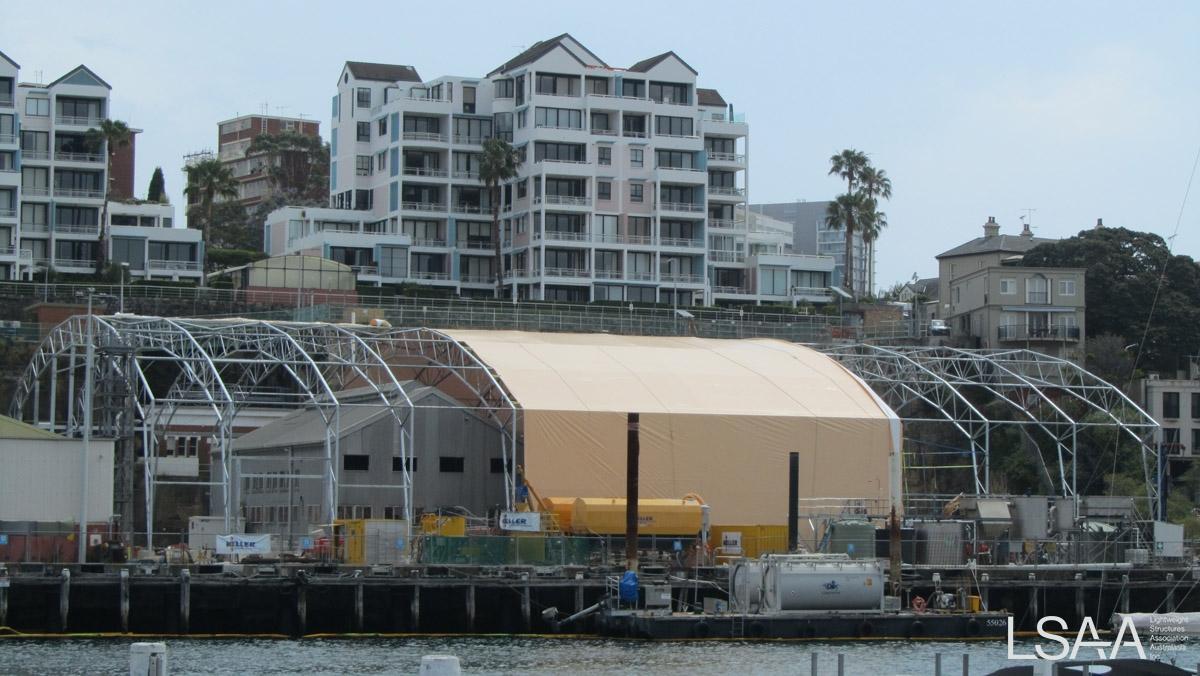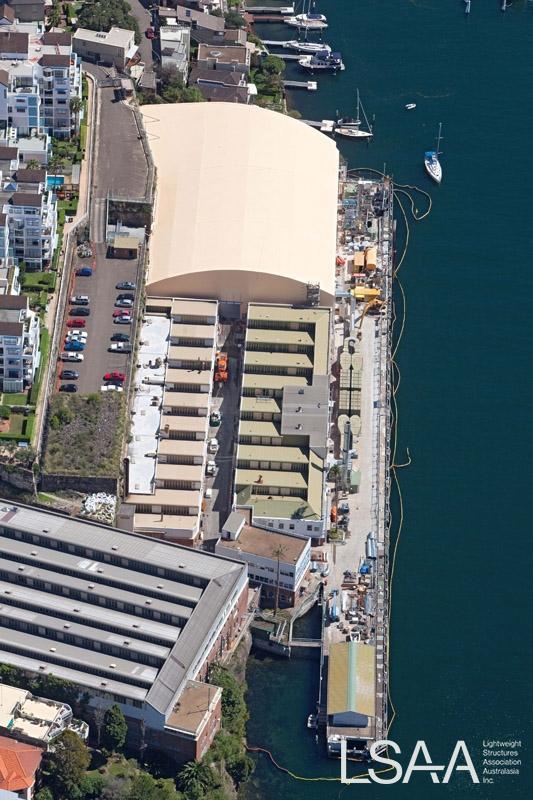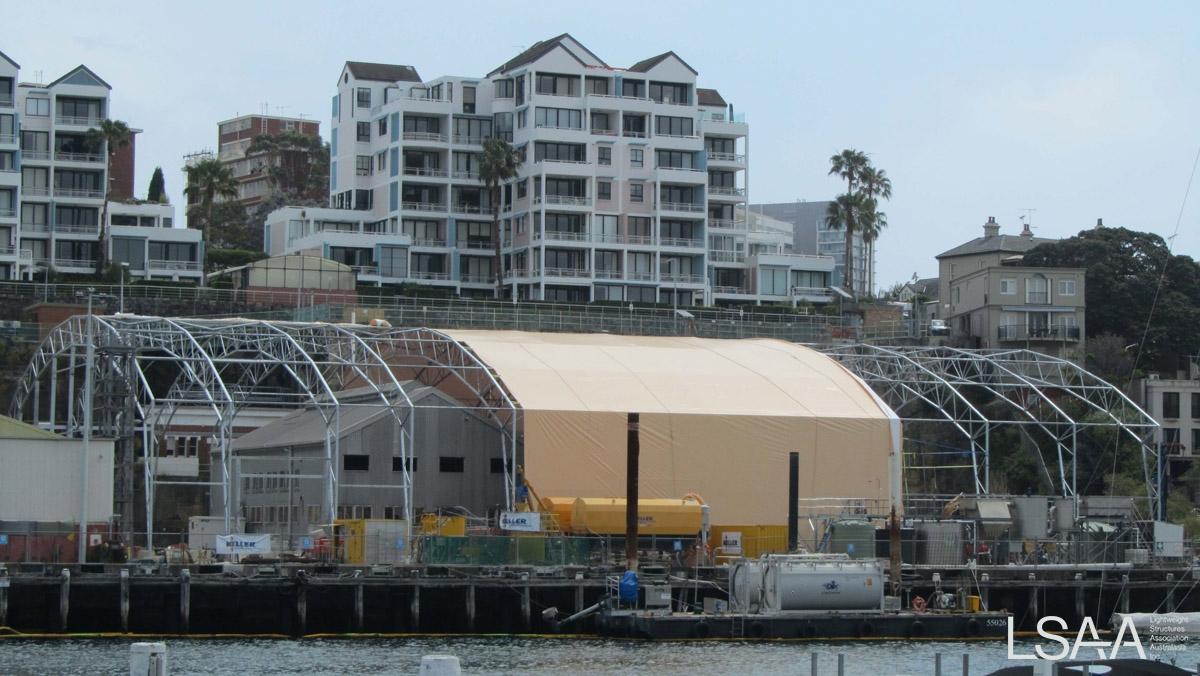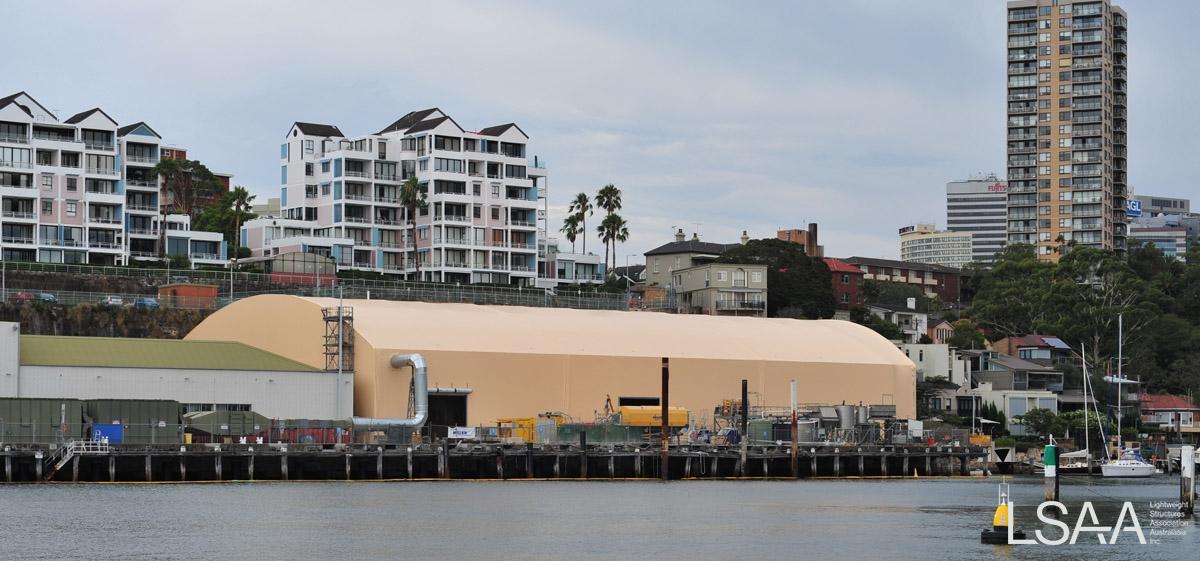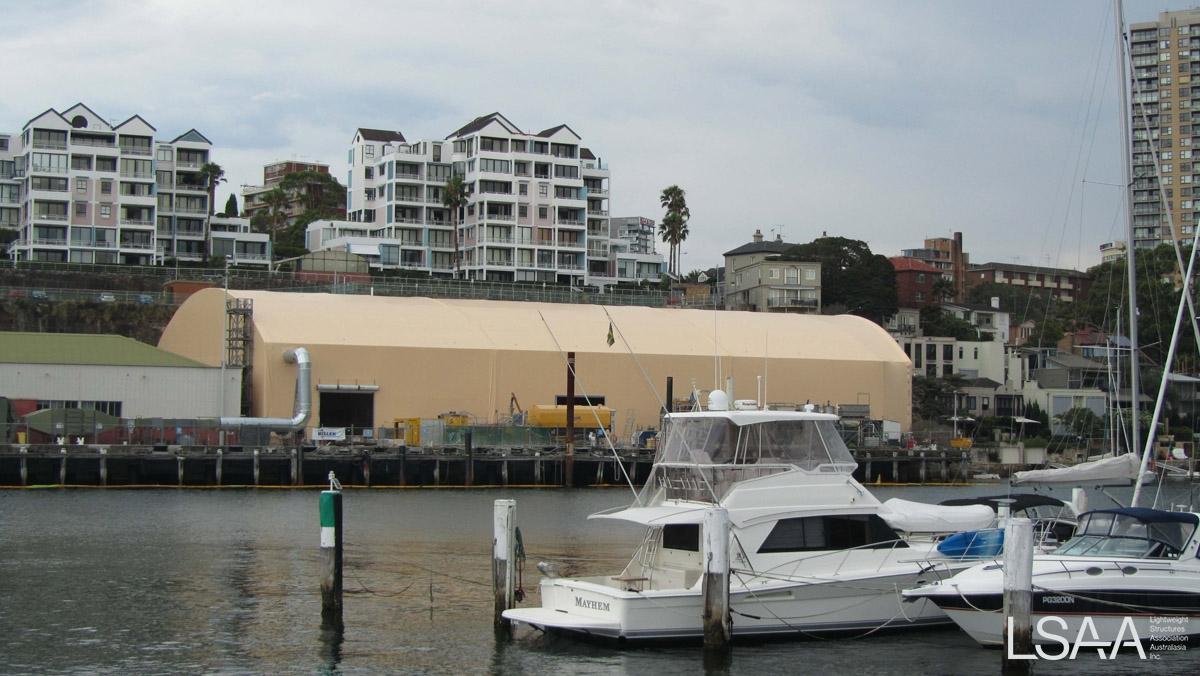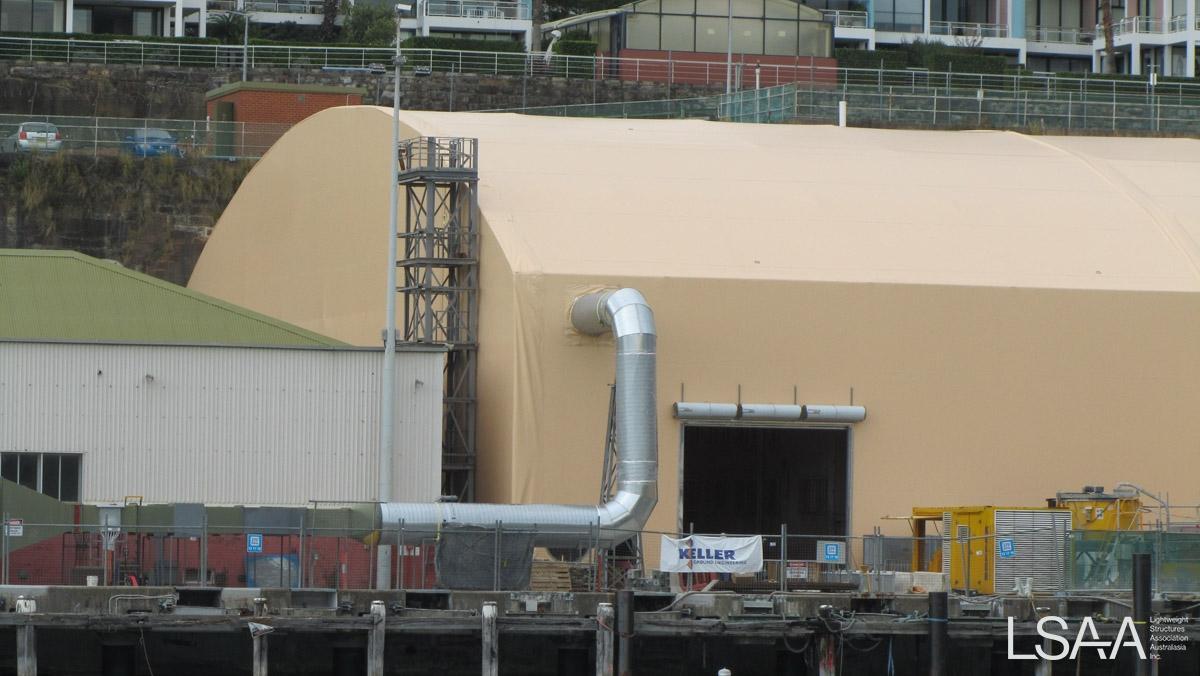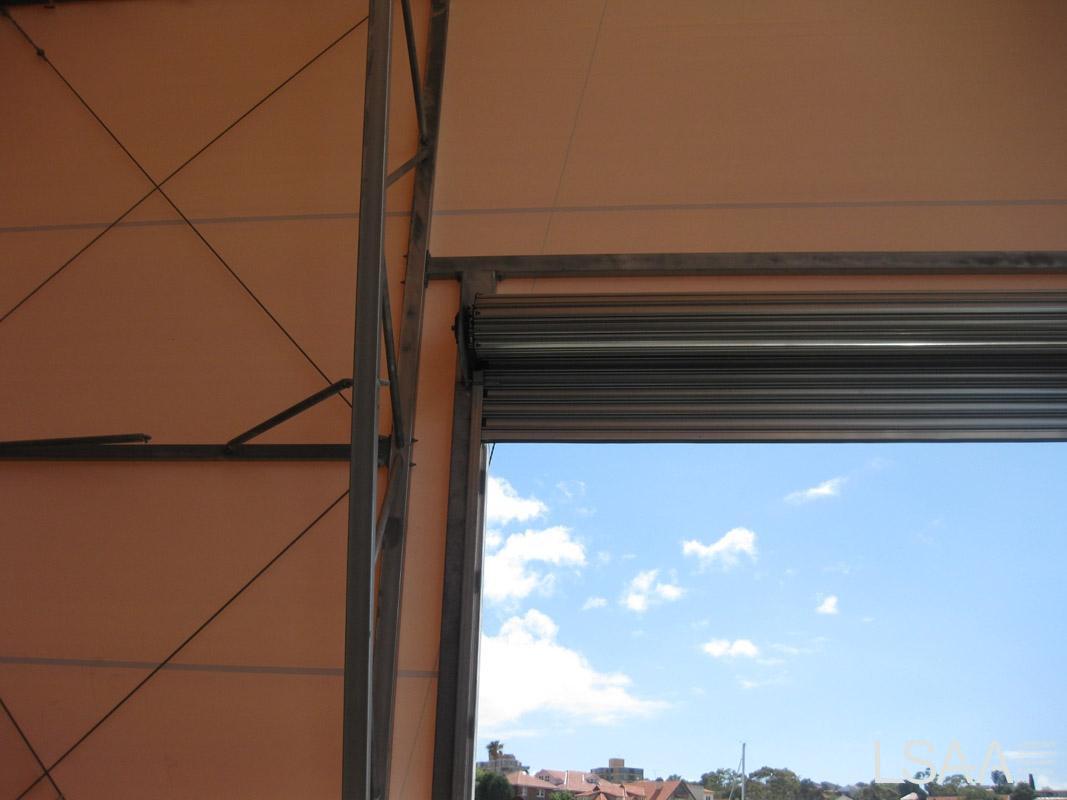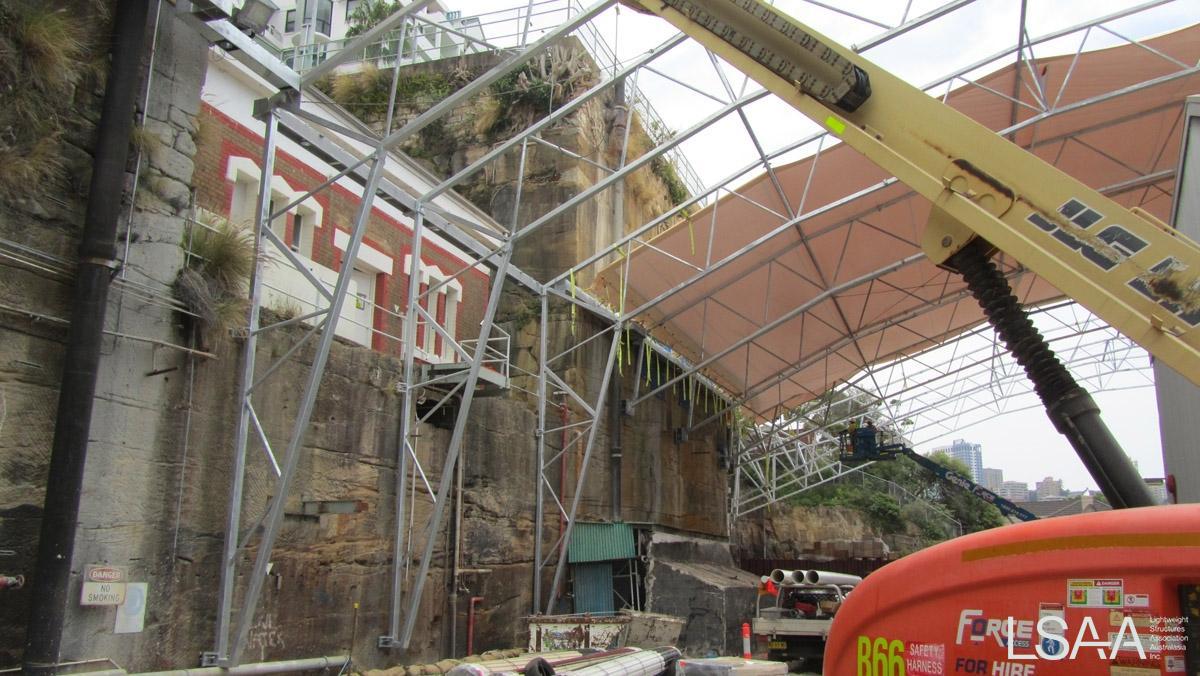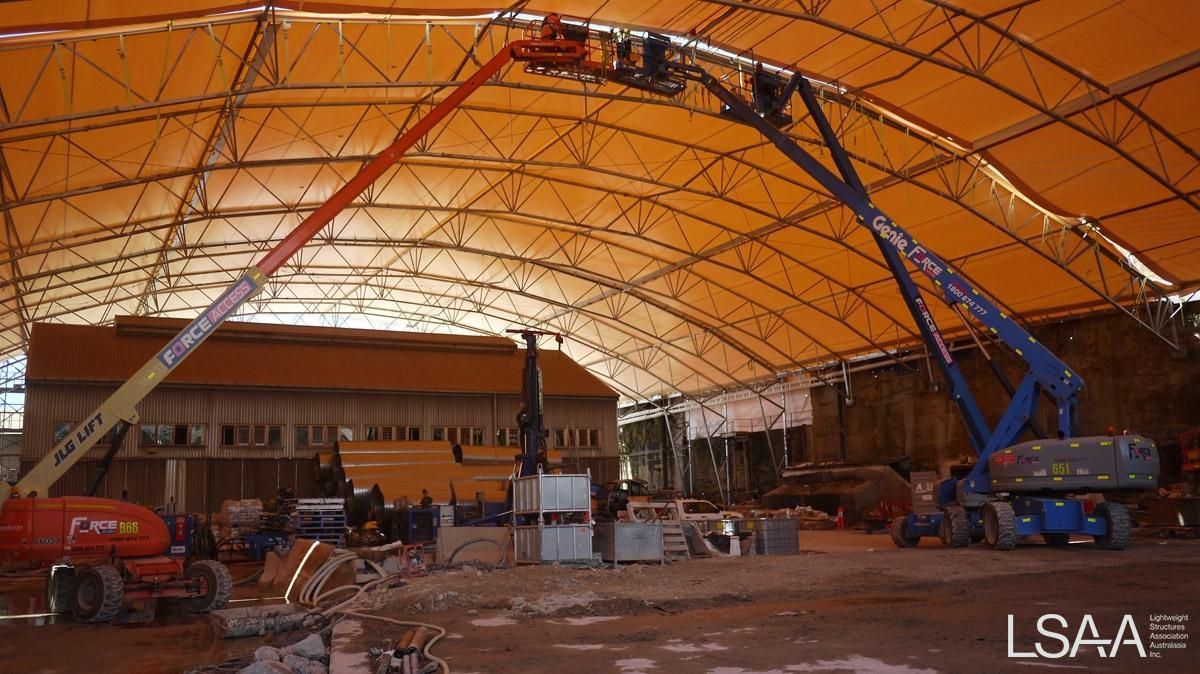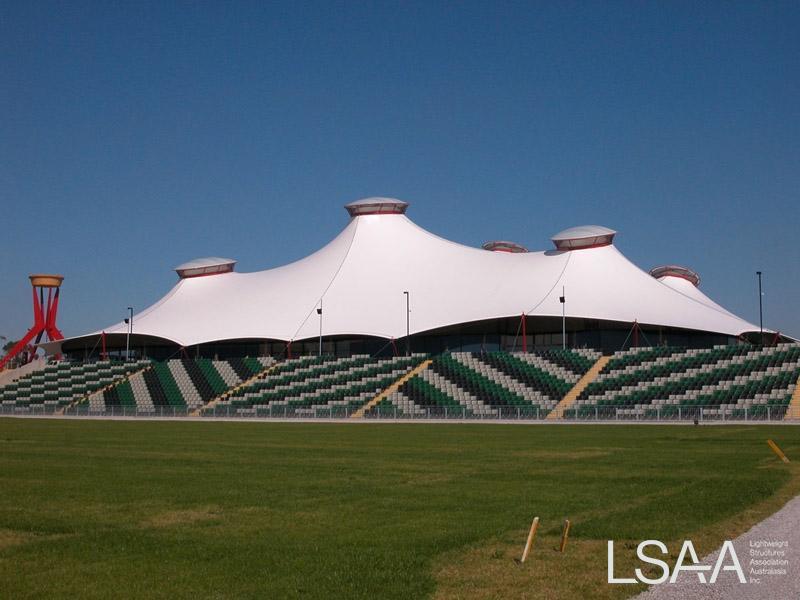 Entered into the LSAA Design Awards 2007 (Large Structures, 3195)
Entrant: Oasis Tension Structures
Client: Multiplex Constructions (Vic) Pty Ltd
Architect: Darryl Jackson Pty Ltd
Structural Engineer: Tensys
Specialist Consultant(s): Drafting Steel One
Builder: Oasis Tension Structures (Australia) Pty Ltd
Fabricator(s): Atkins Fabrications Pty Ltd Structurflex NZ,
Geelong Fabrications, Ronstan
Aside from the images below, no other details have been entered for this project.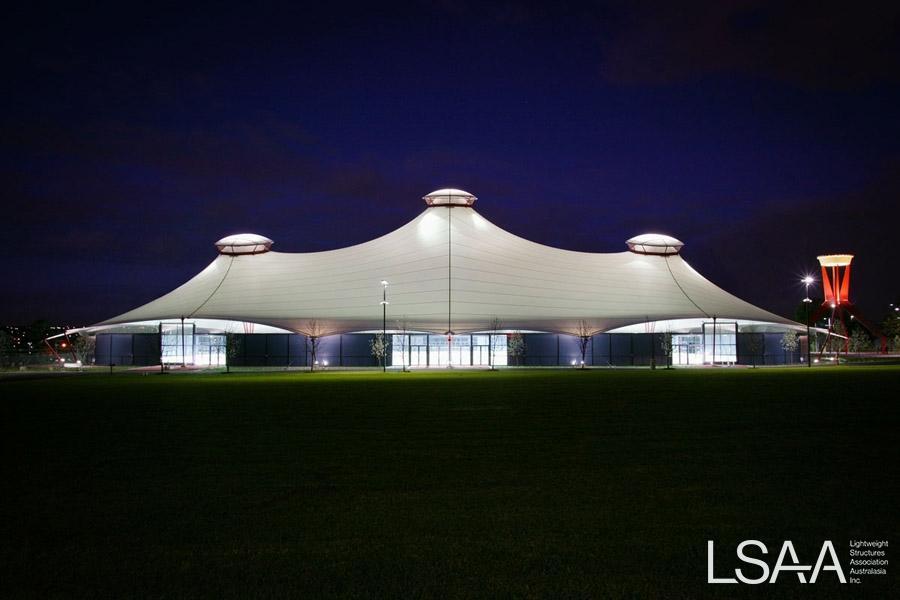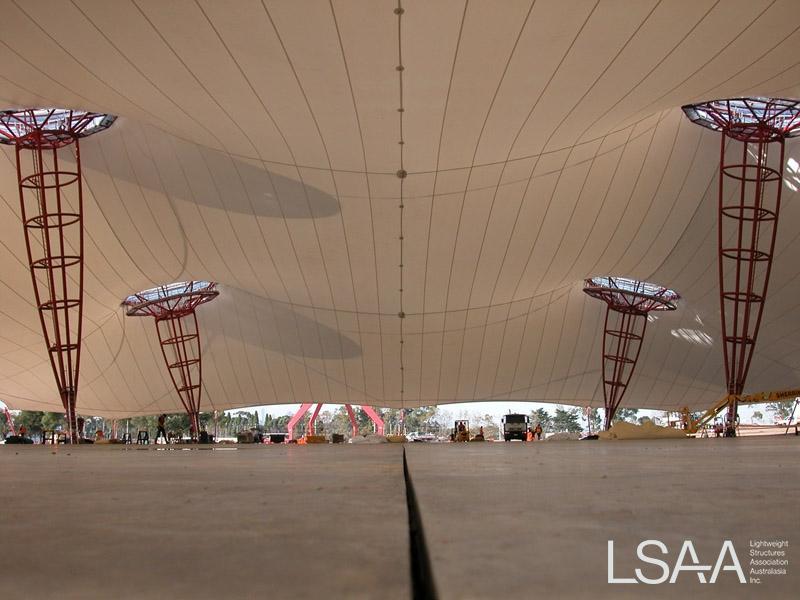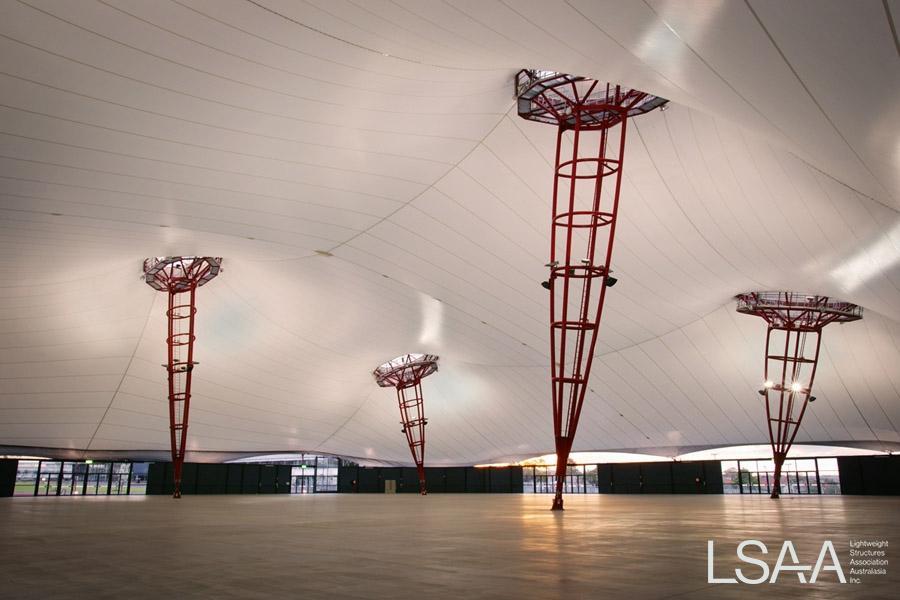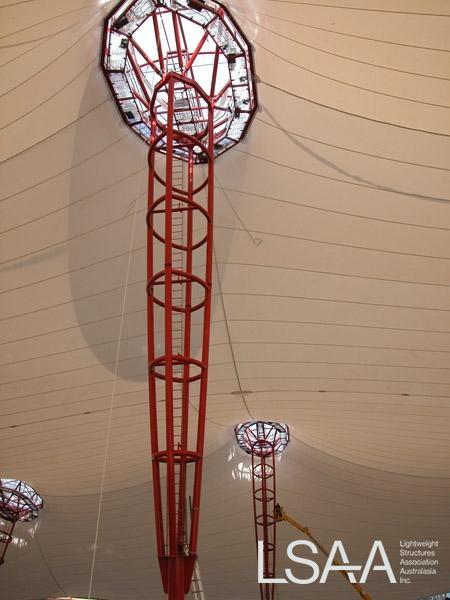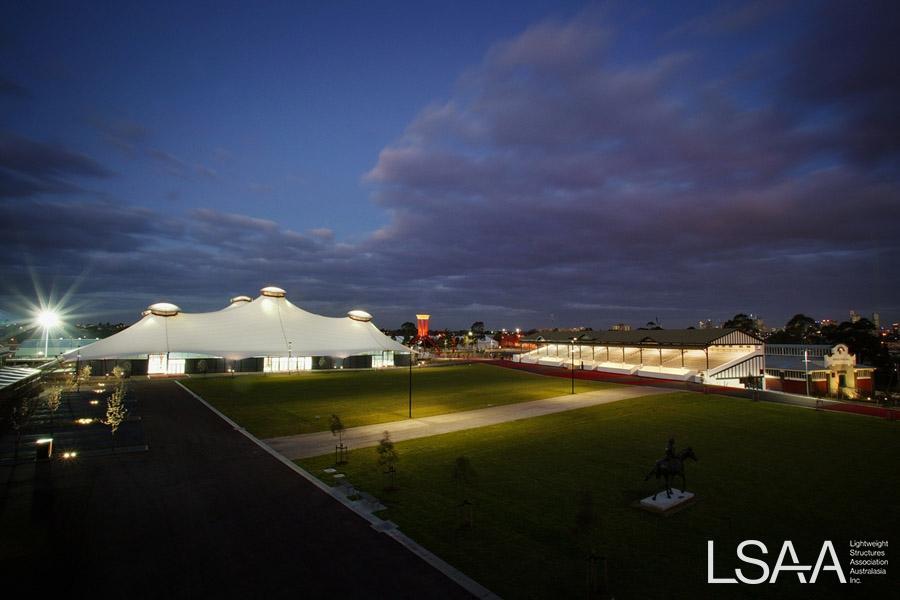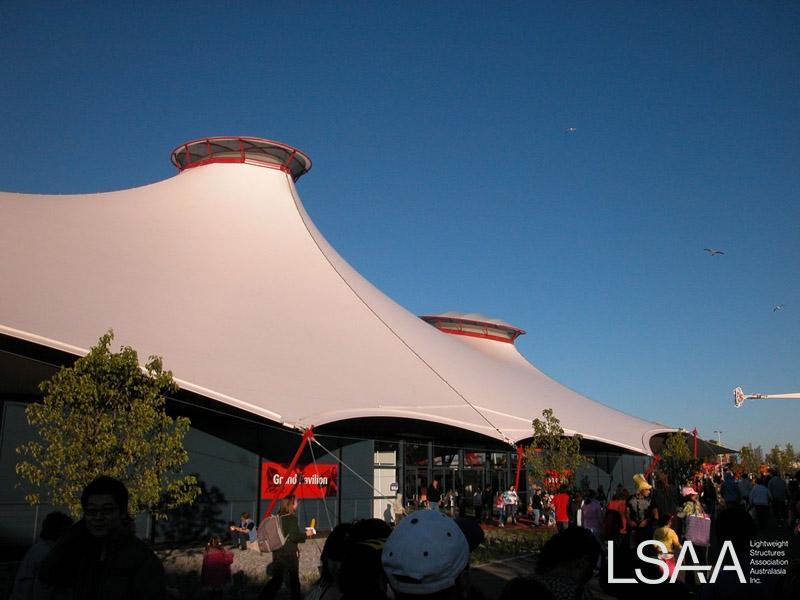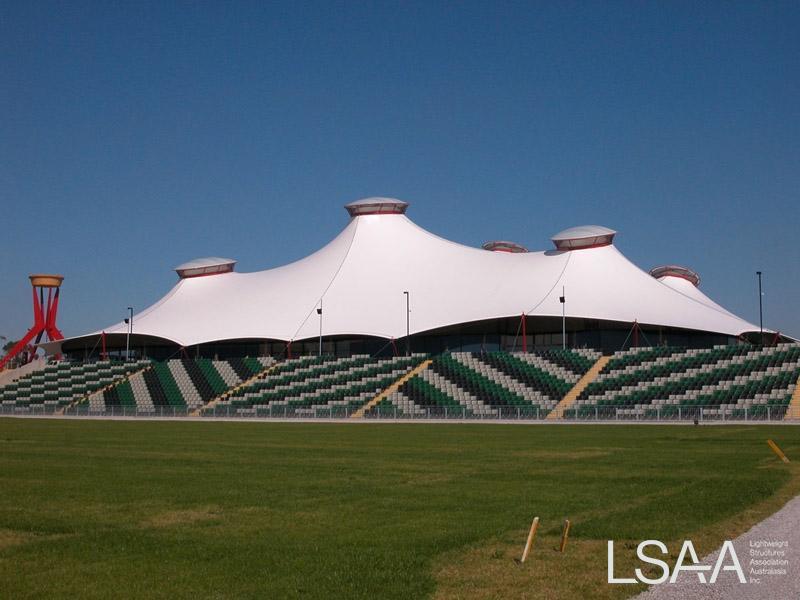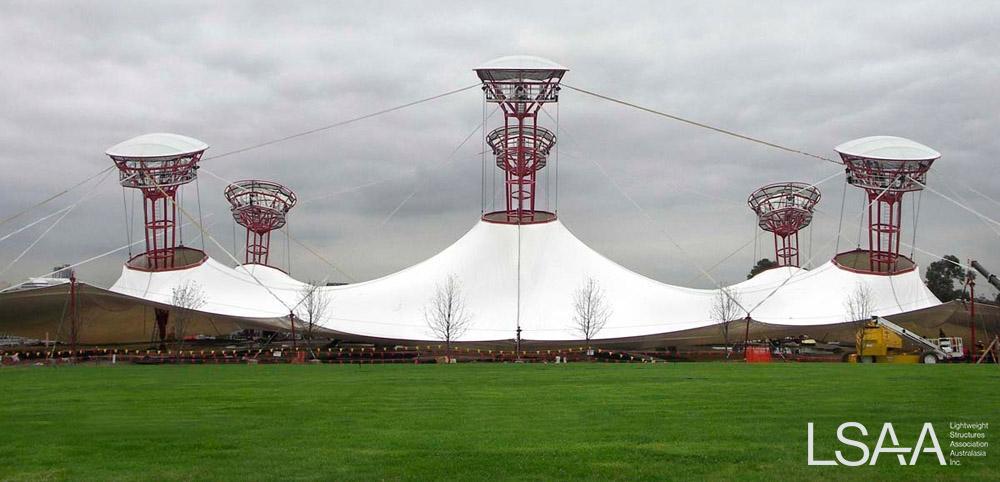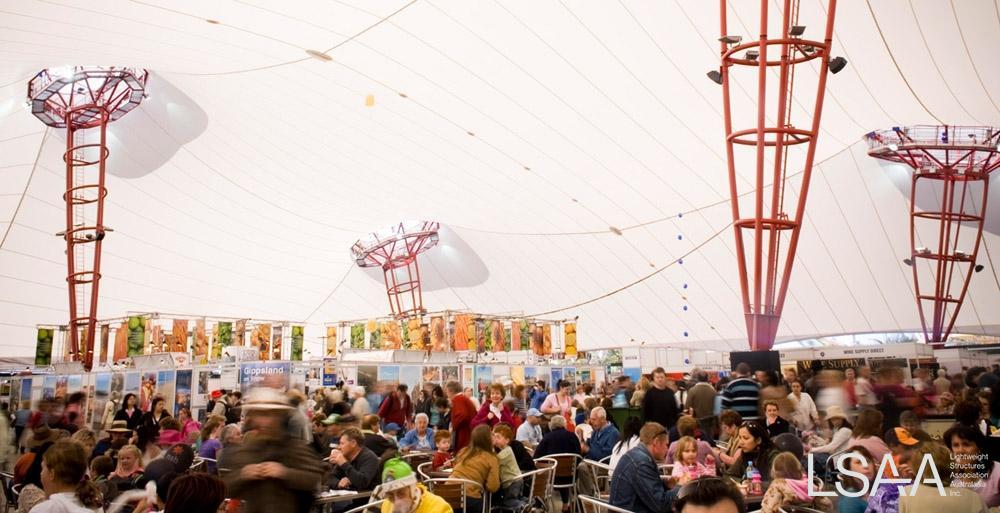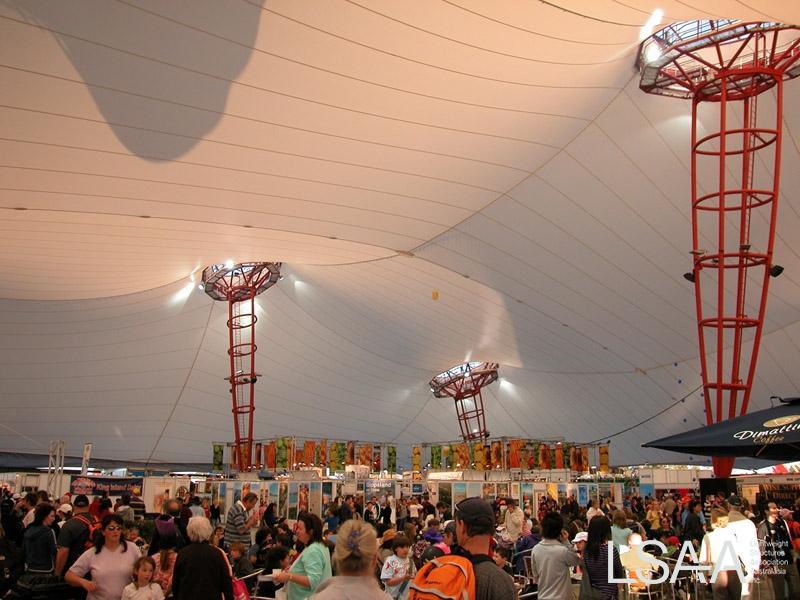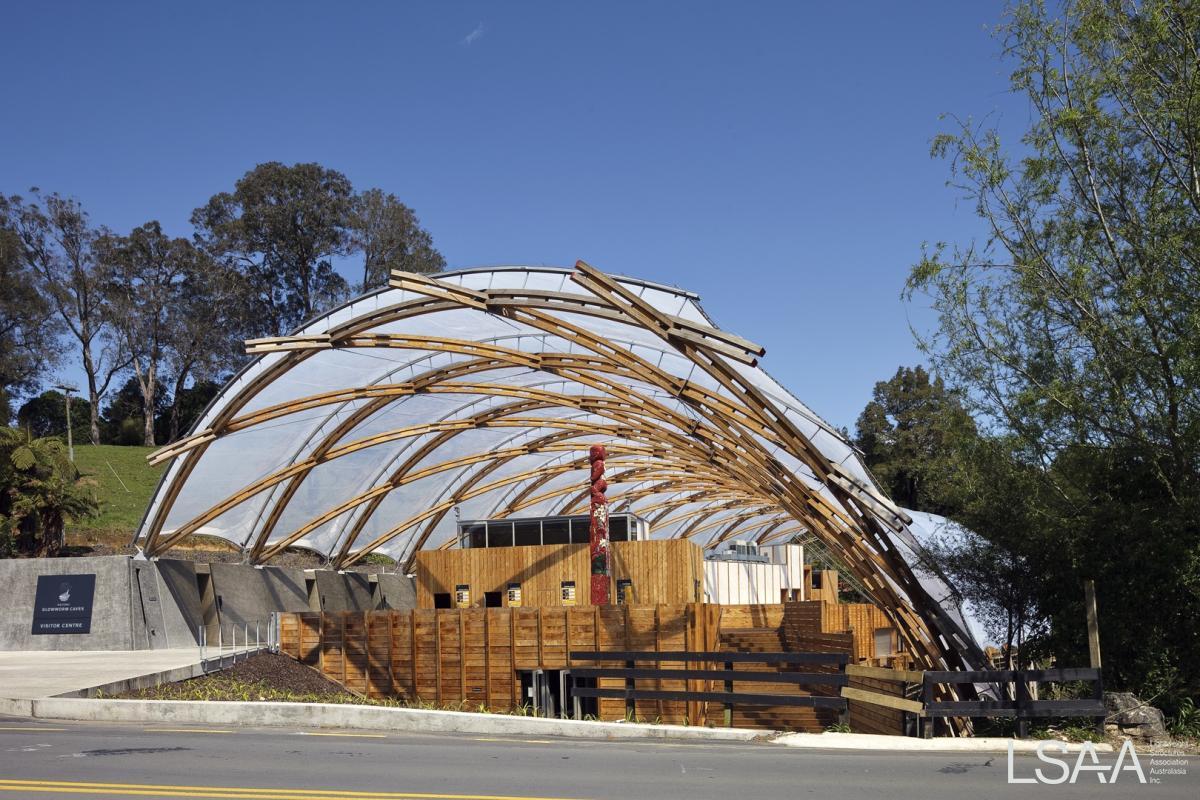 Entered into the LSAA 2011 Awards (Cat 4, 4610)
PROJECT DESCRIPTION
Sheltered below an innovative woven timber canopy, new amenities for visitors to the Waitomo Caves includes tourist gathering areas, 250-seat dining, retail, seminar and exhibition areas as well as a café and theatre for Tourism Holdings Ltd (Fig.1). (Note: These Figures / drawings are not available)
The cave entrance is accessed from the car park on the upper path while a lower path returns the visitors back alongside the stream exit (Fig. 2). Between these paths the amenities were accommodated within a simple base structure that extended the contours of the land (Fig. 3). The form of the base is distinguished and separate from the curved geometry of the overhead canopy.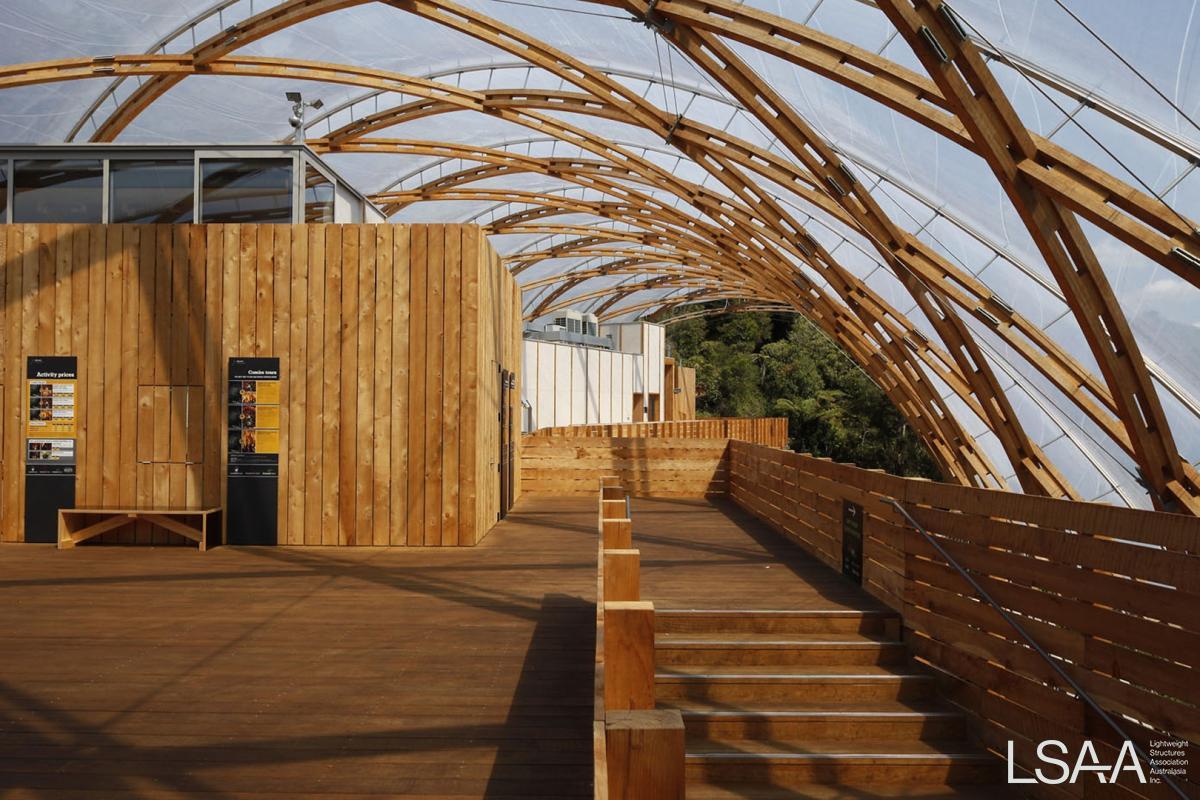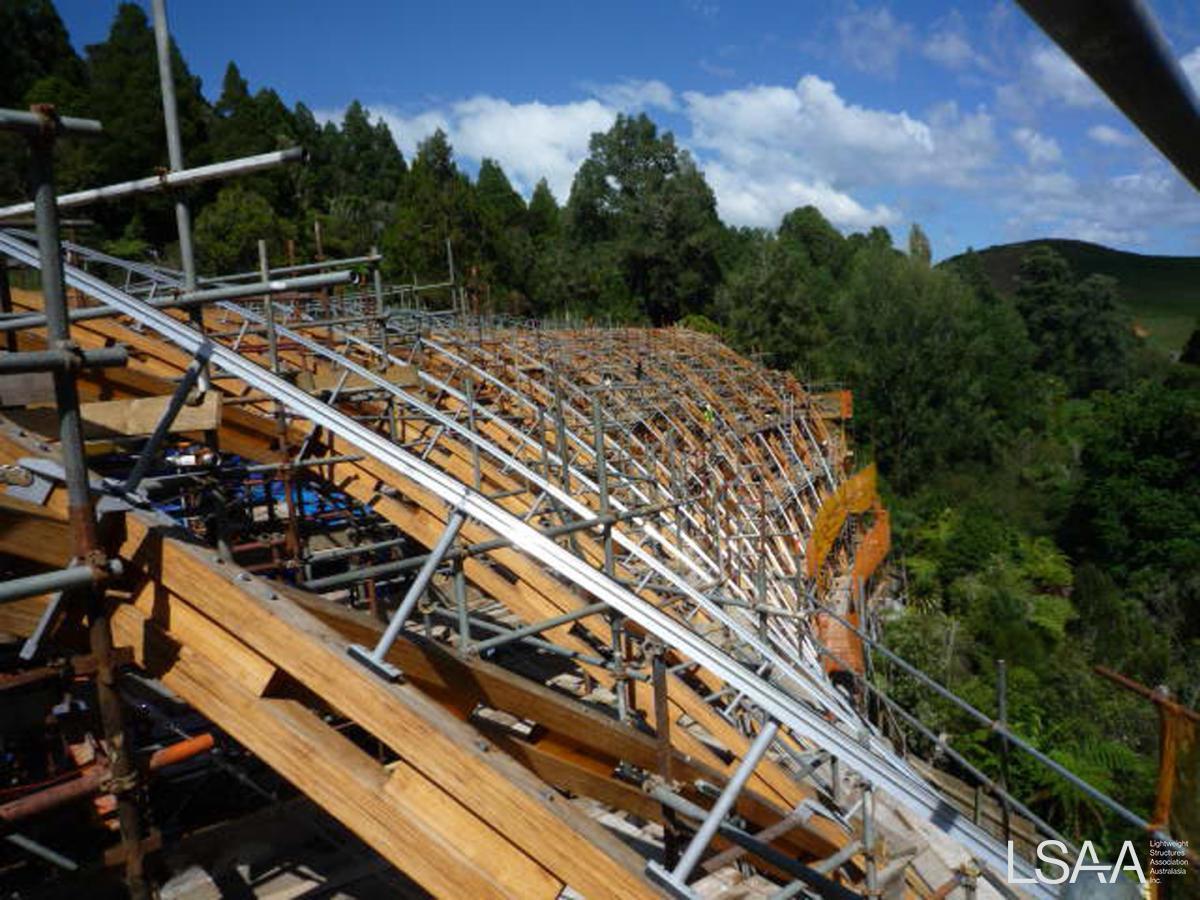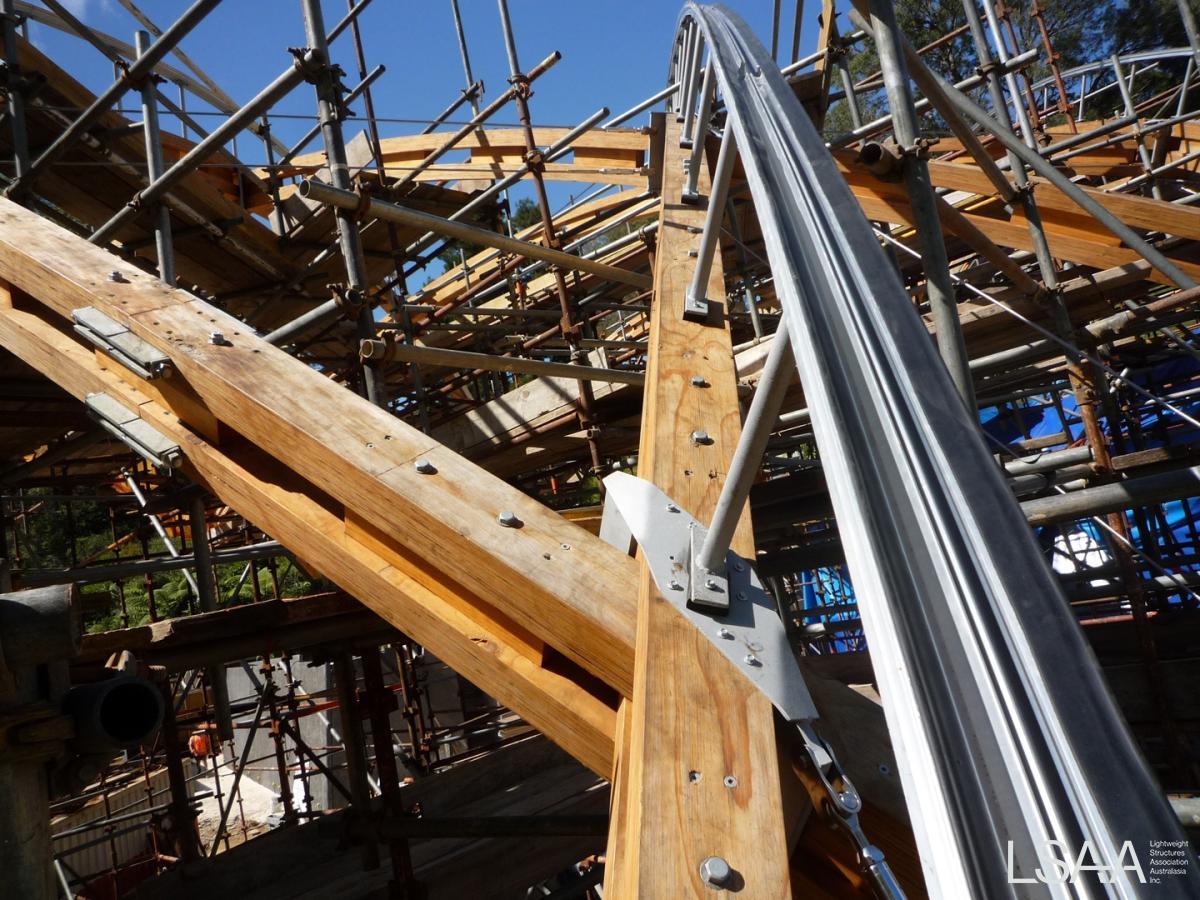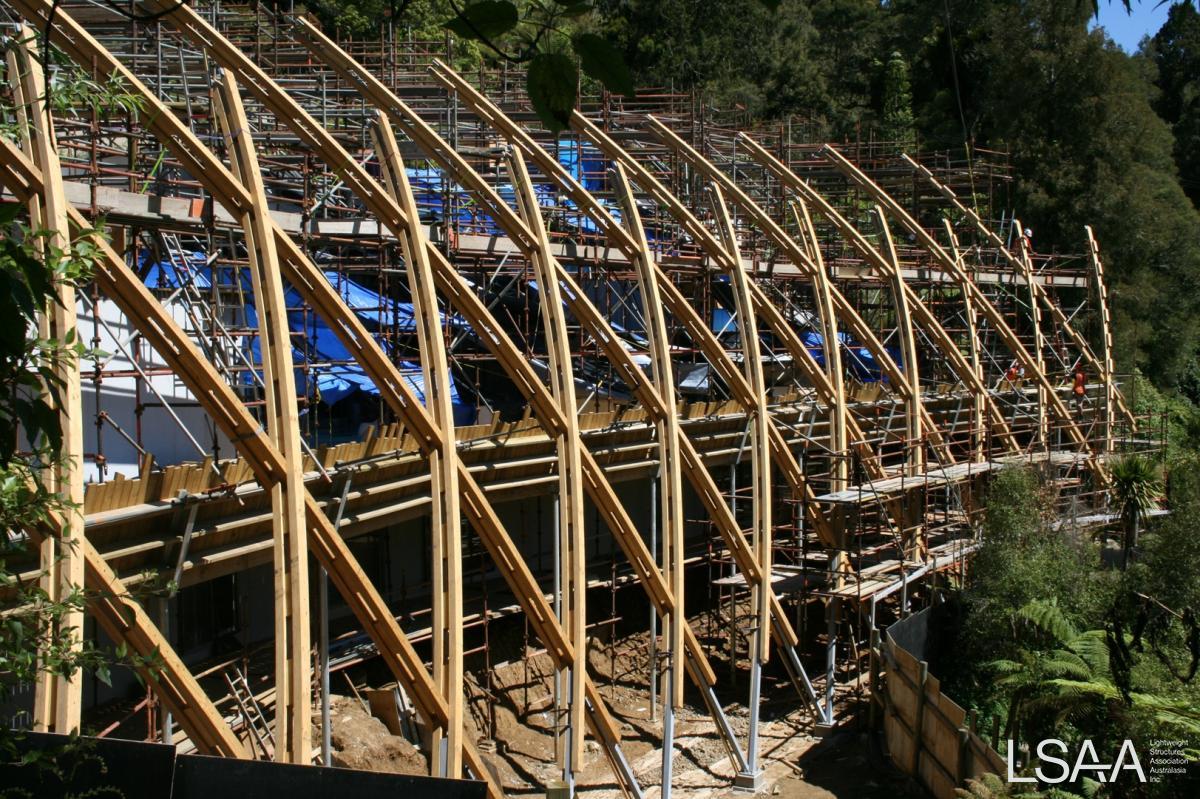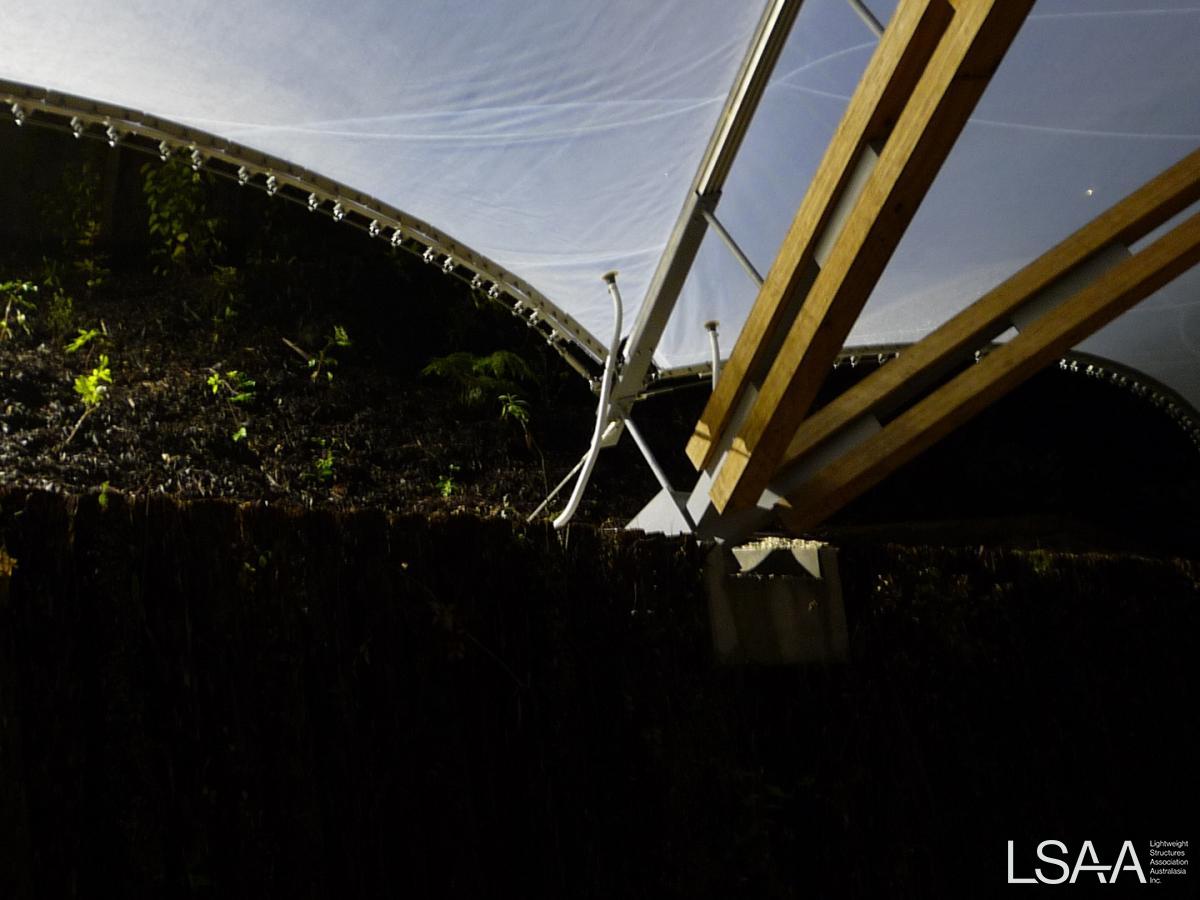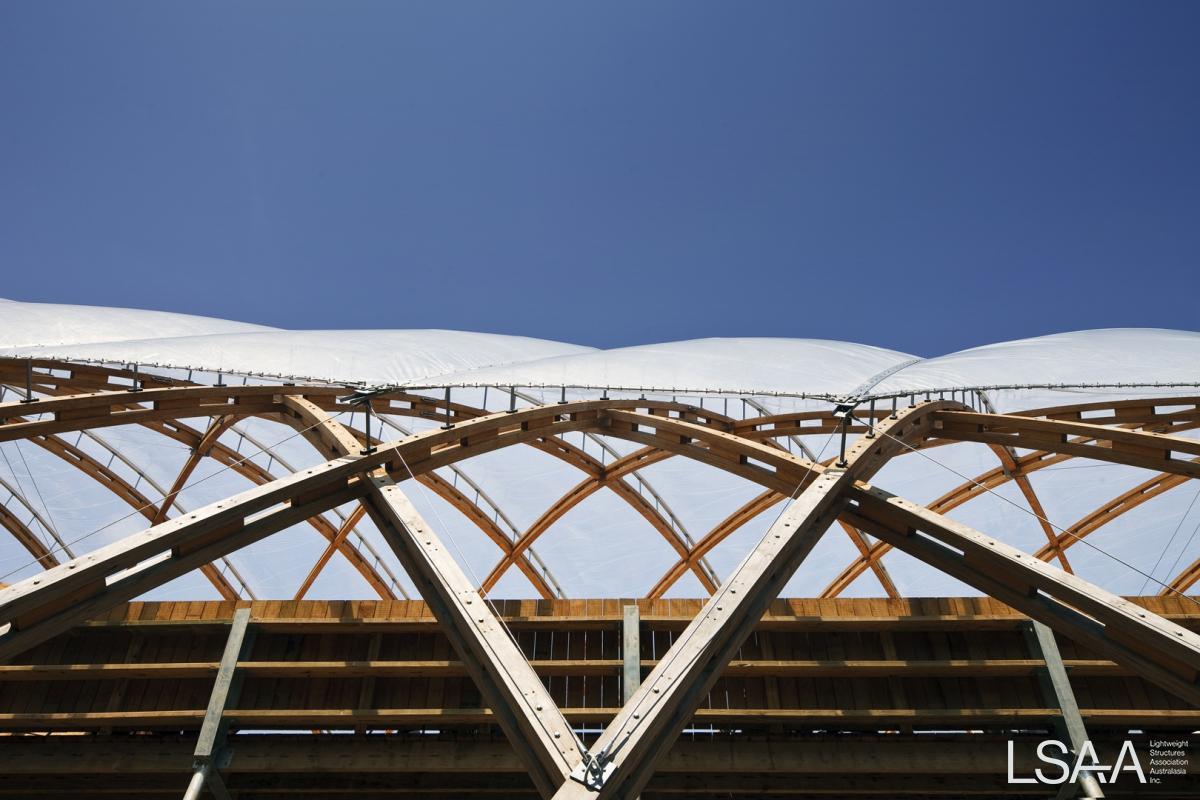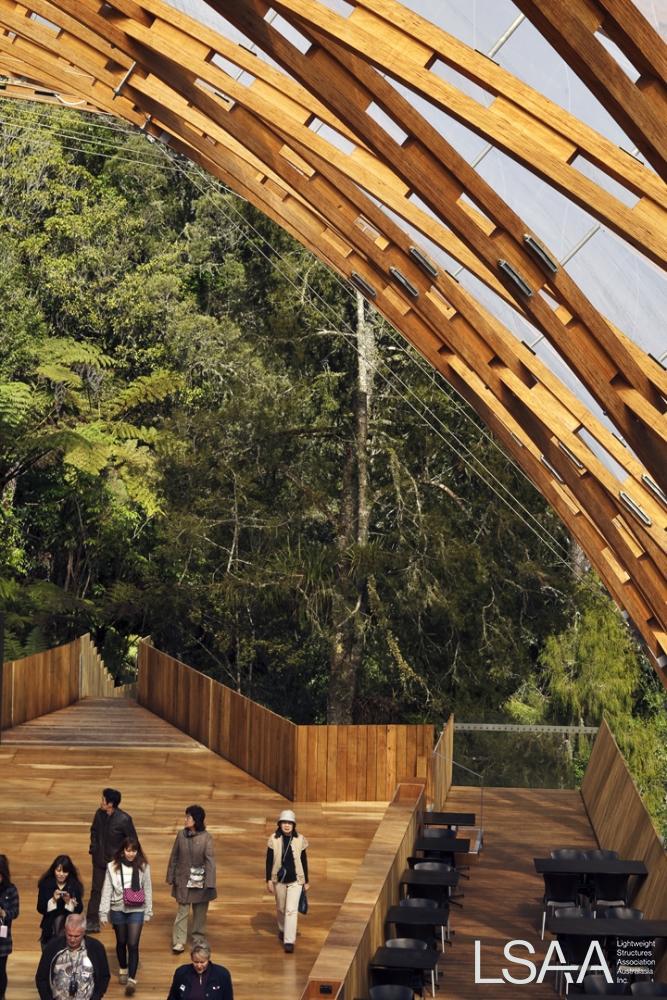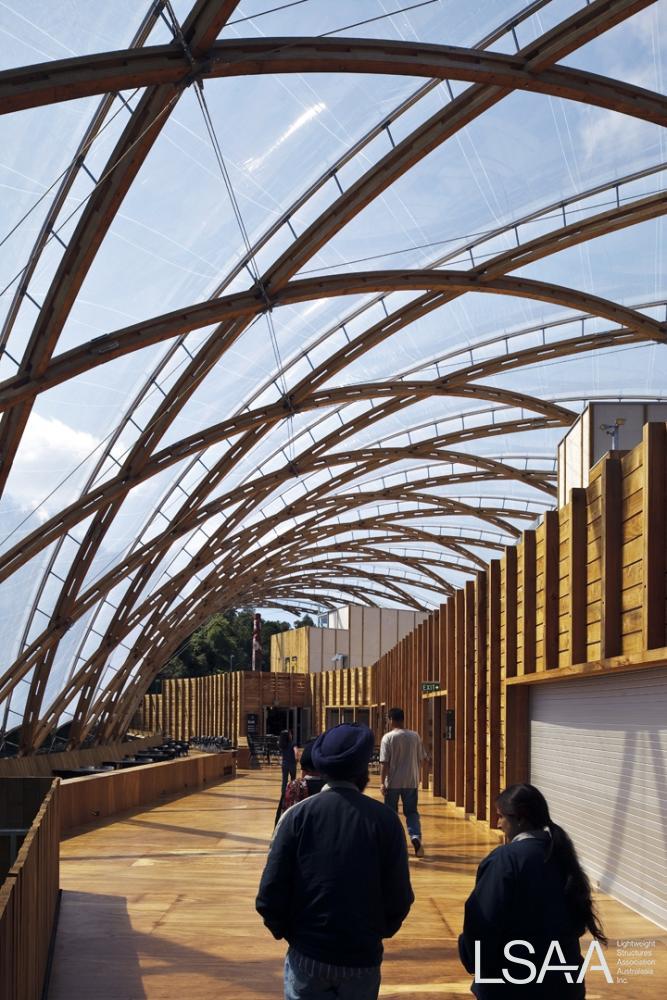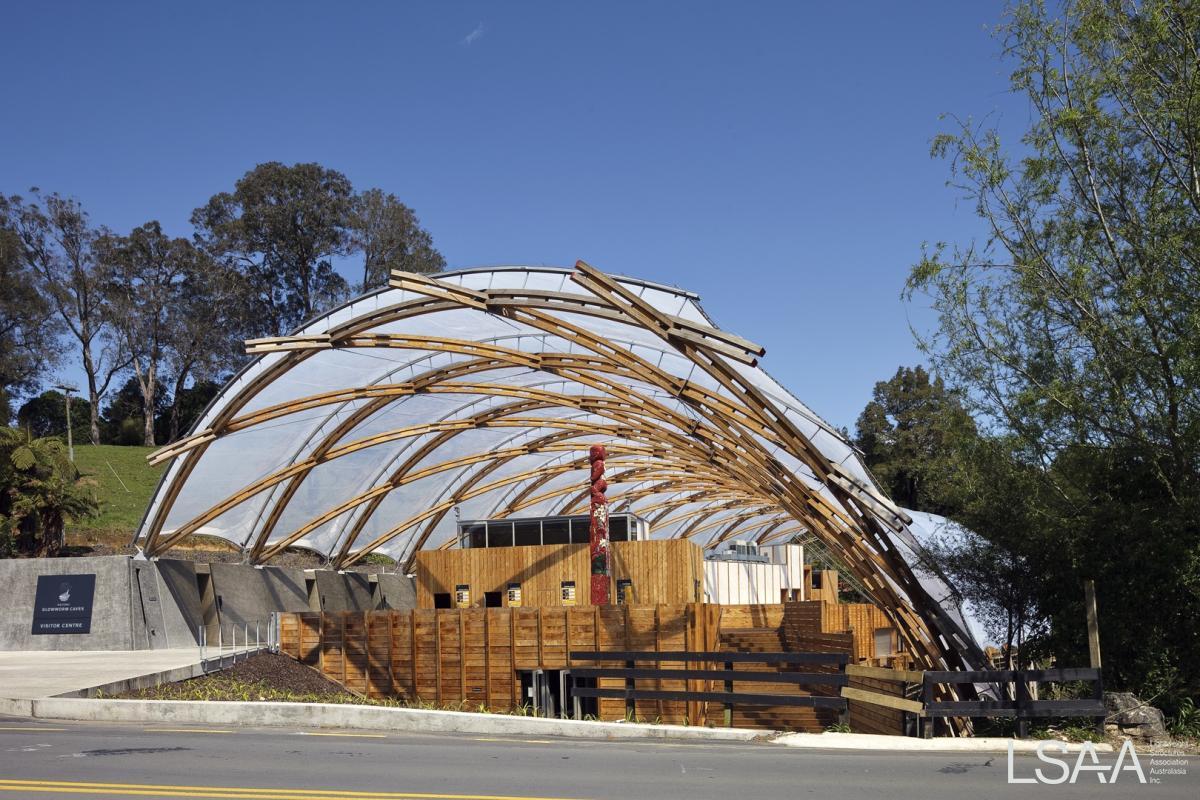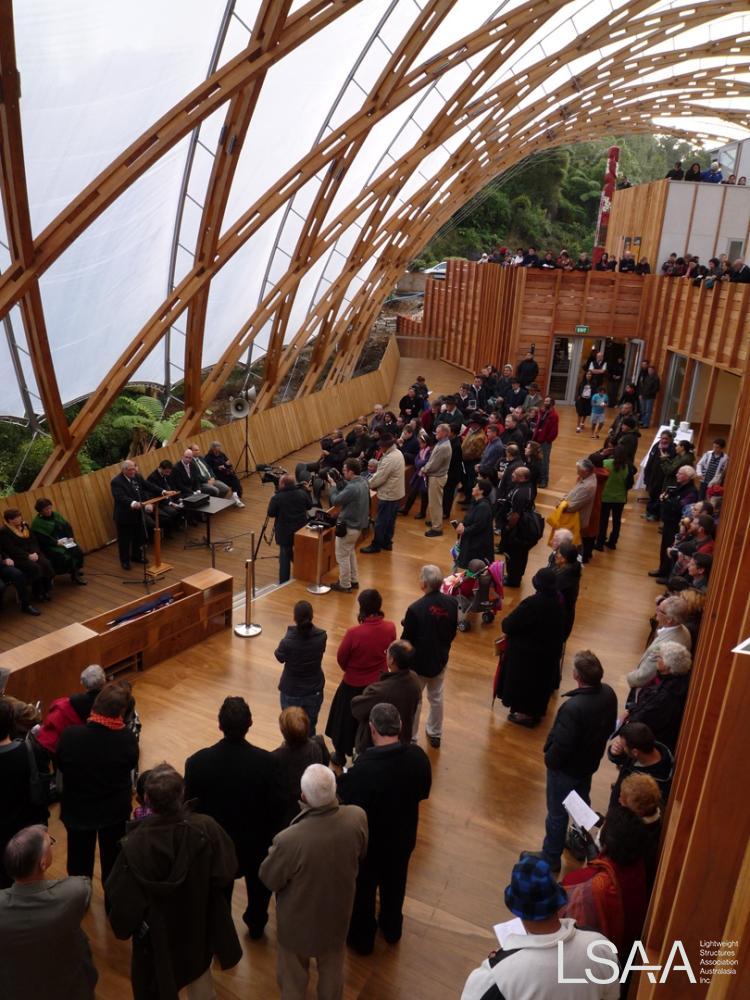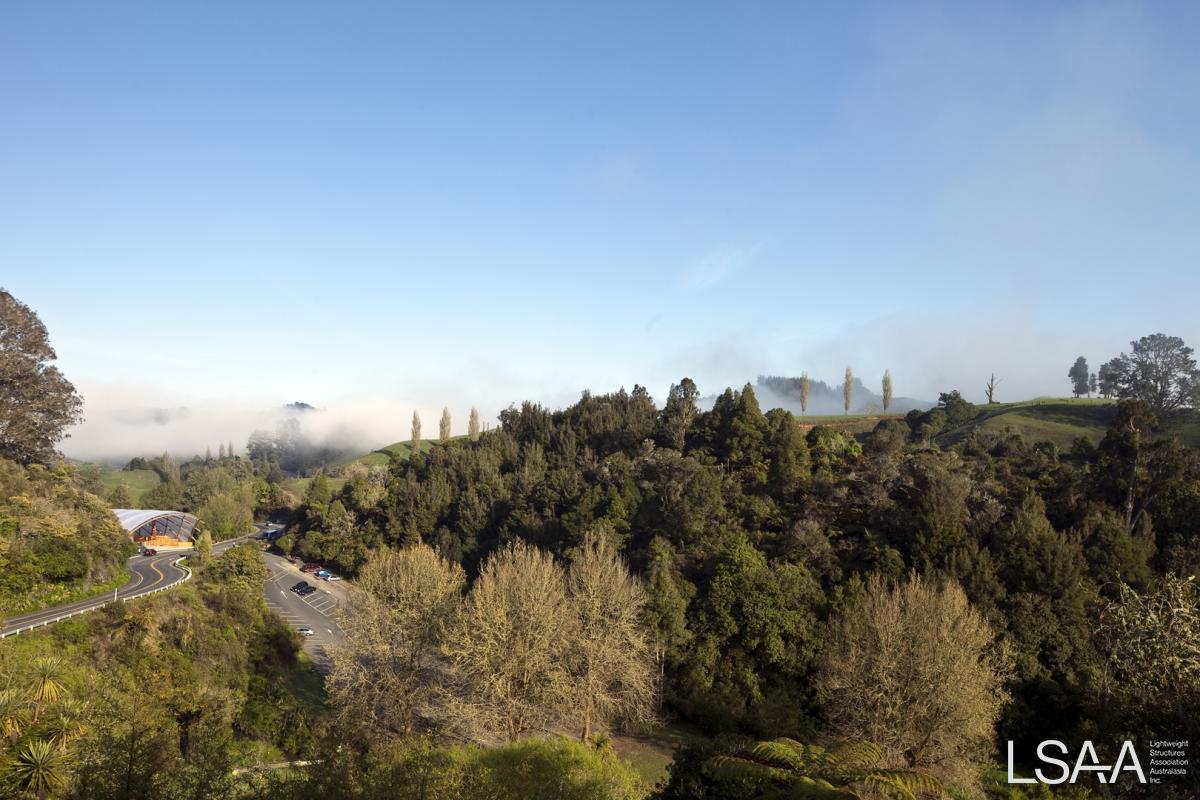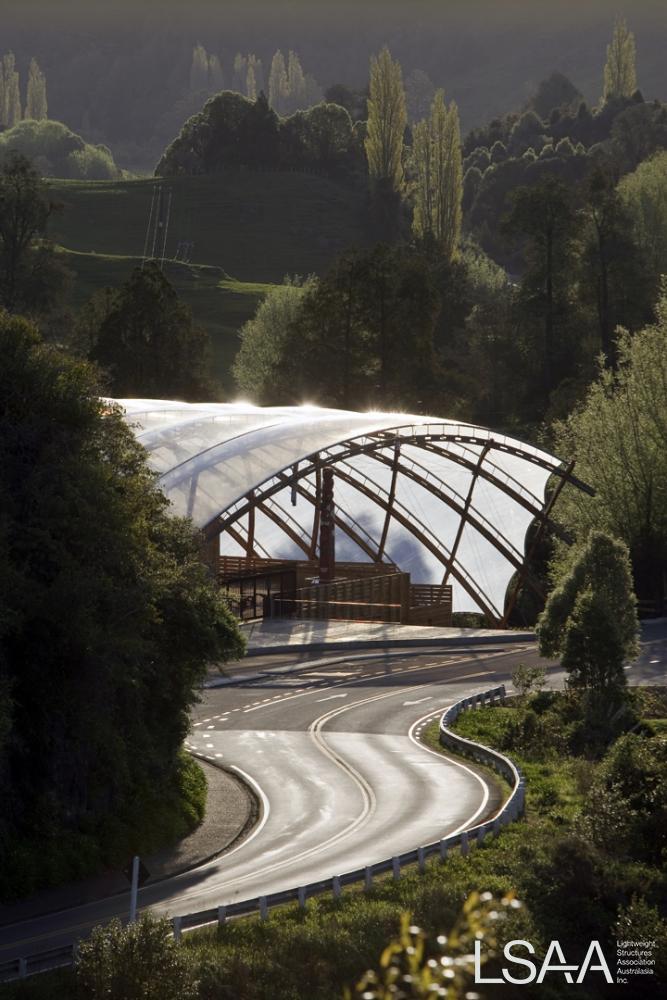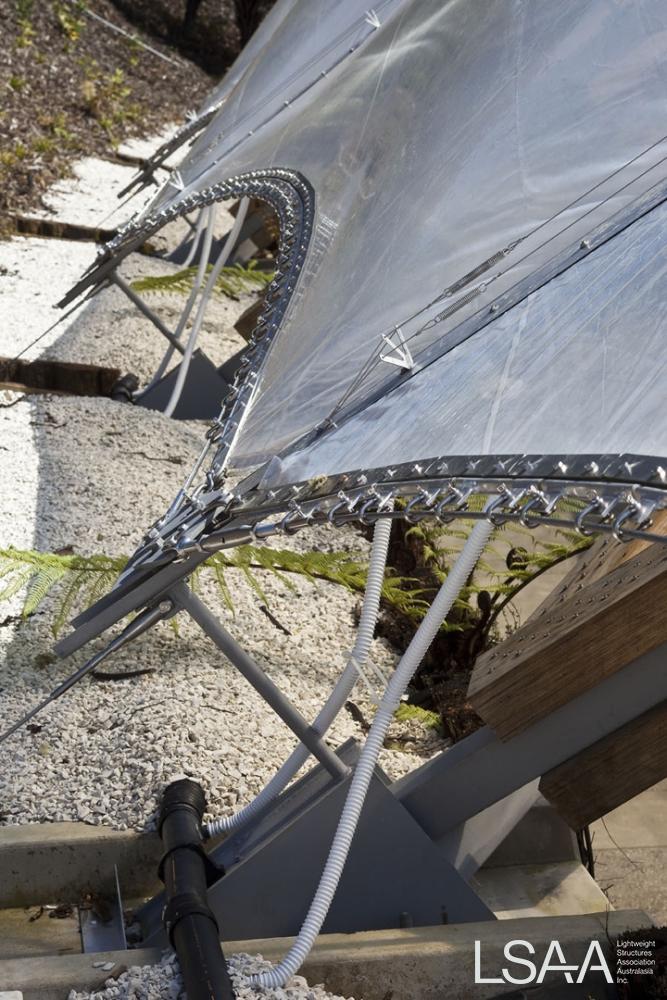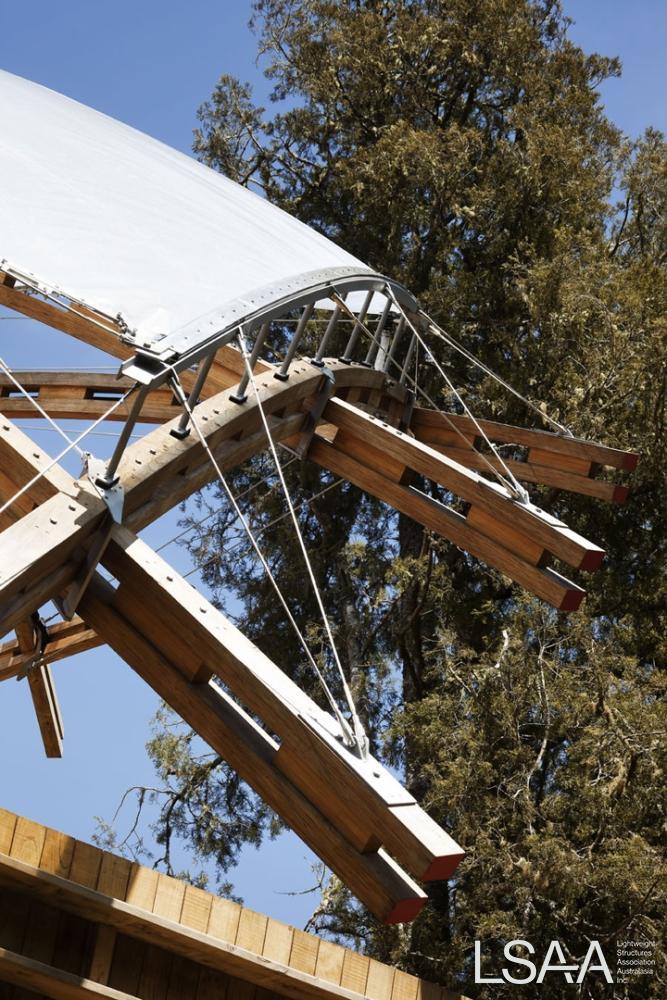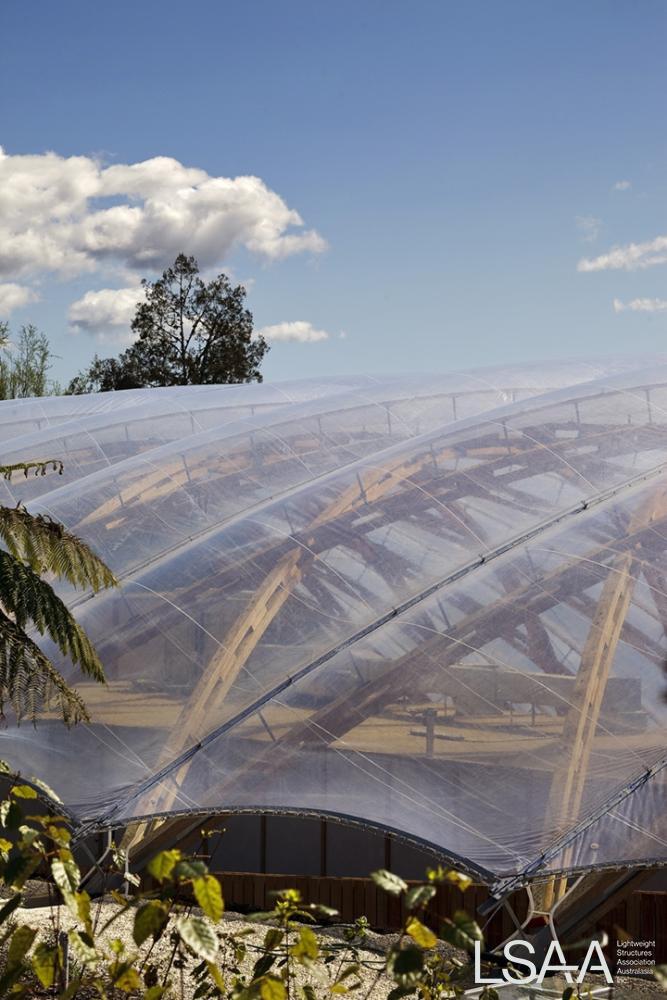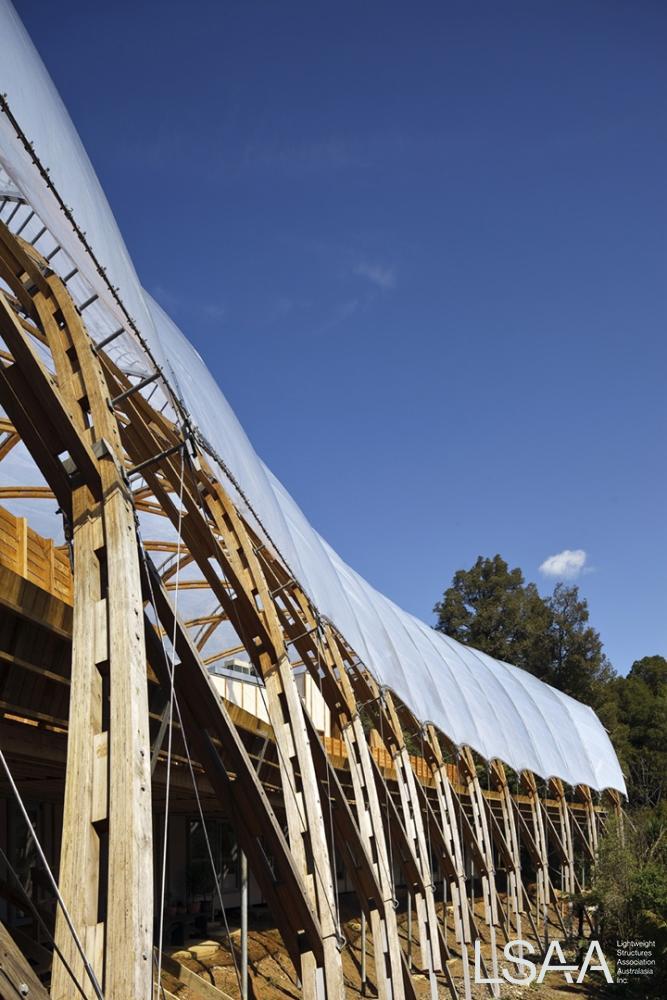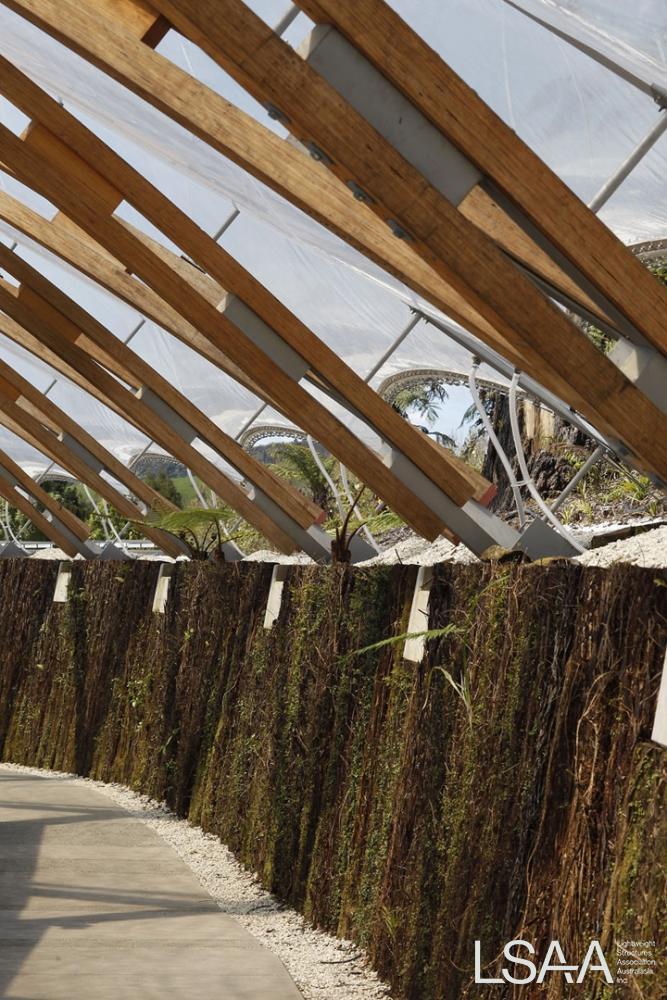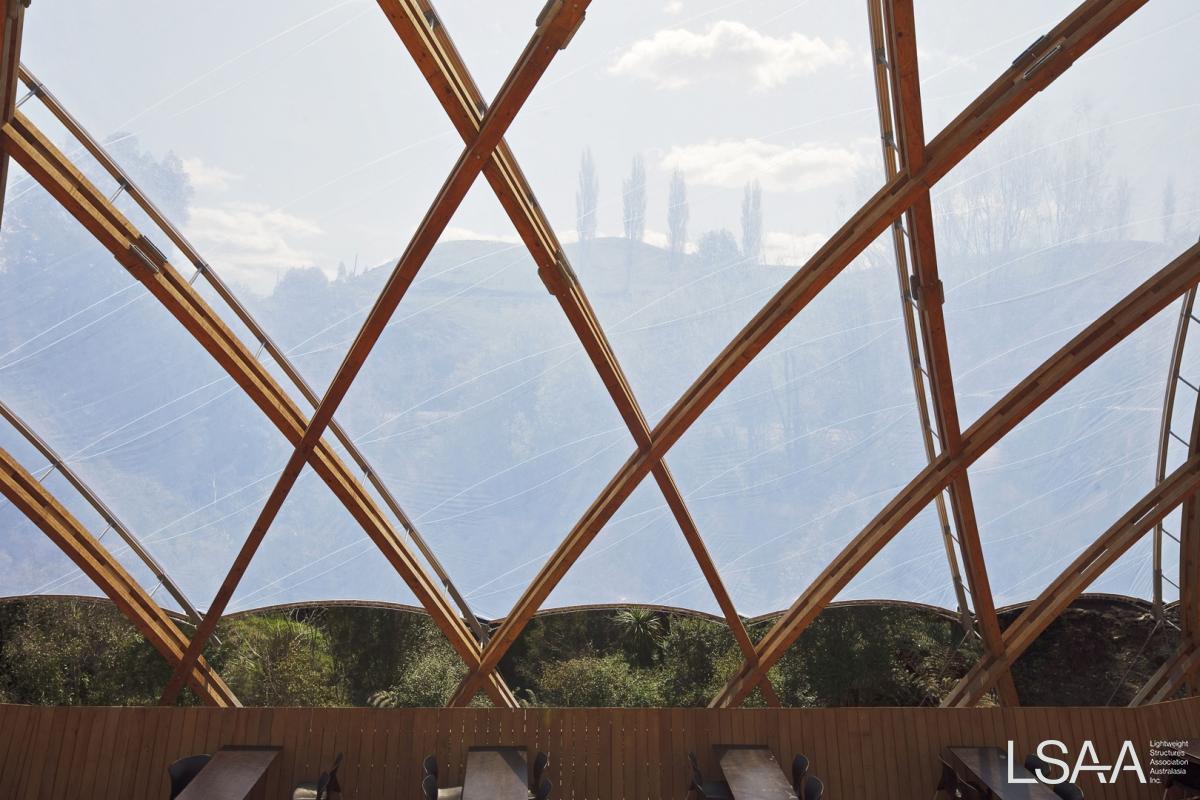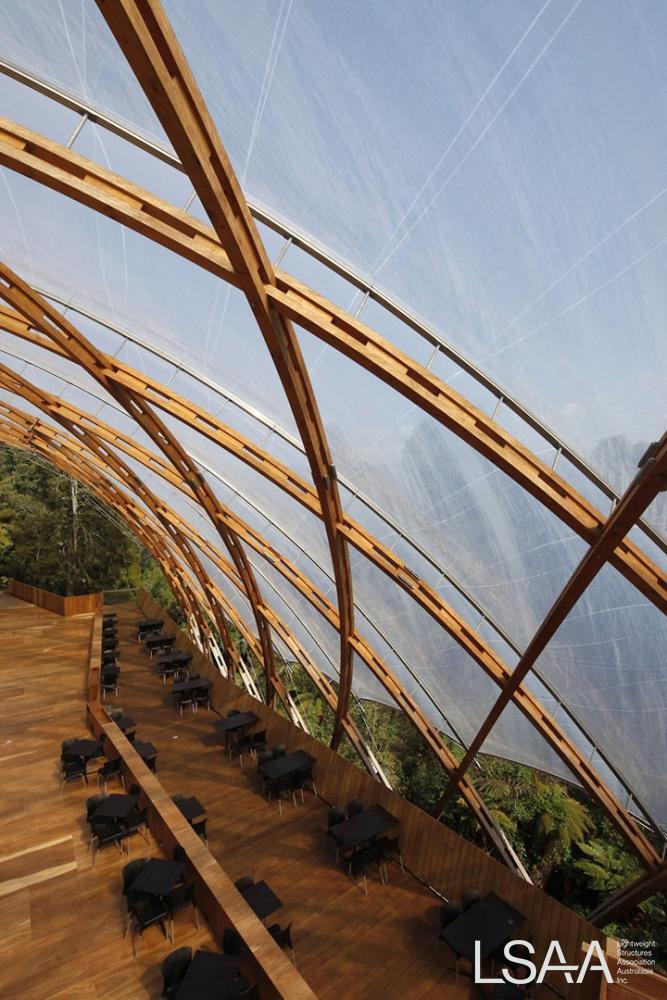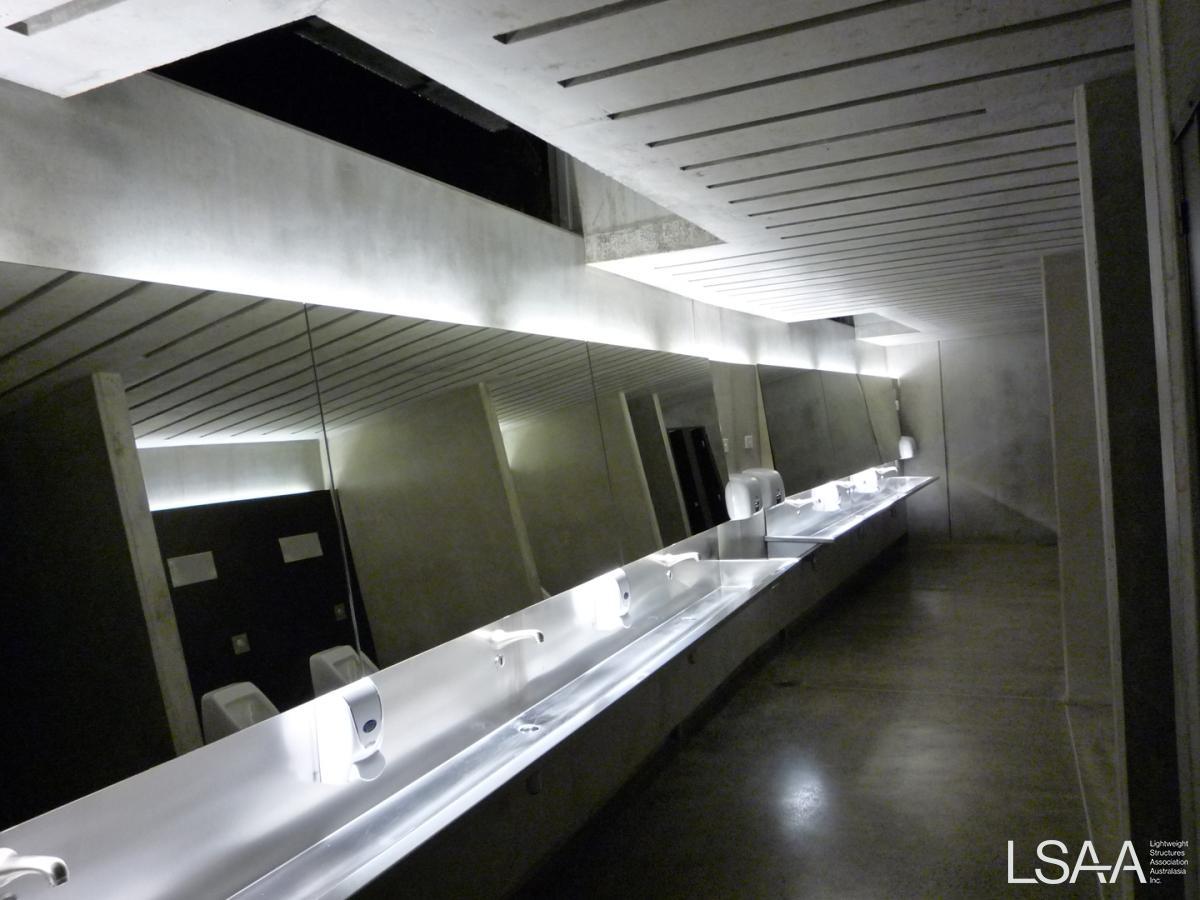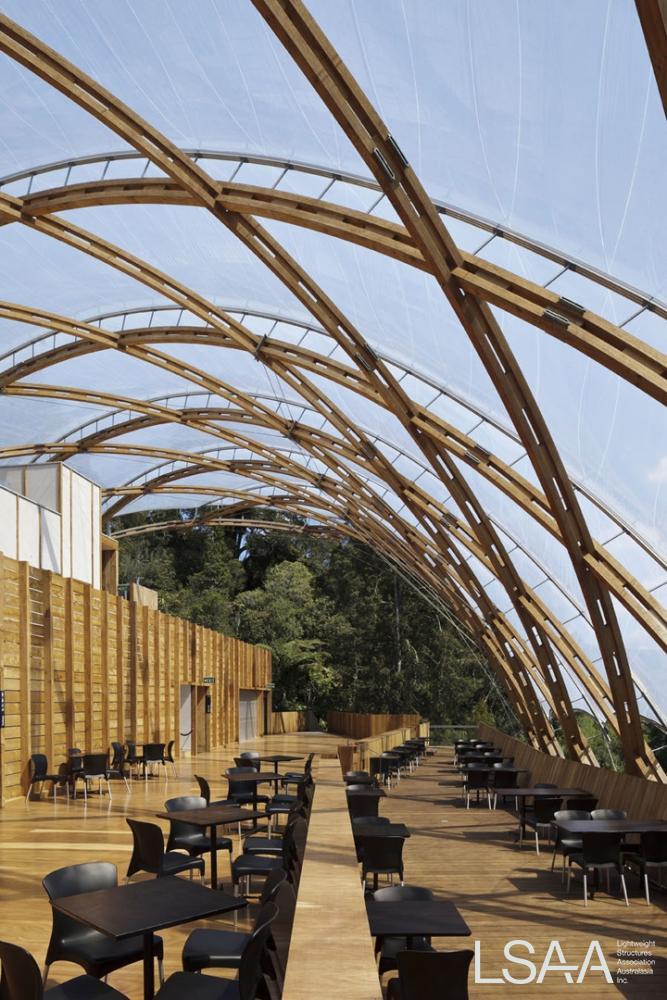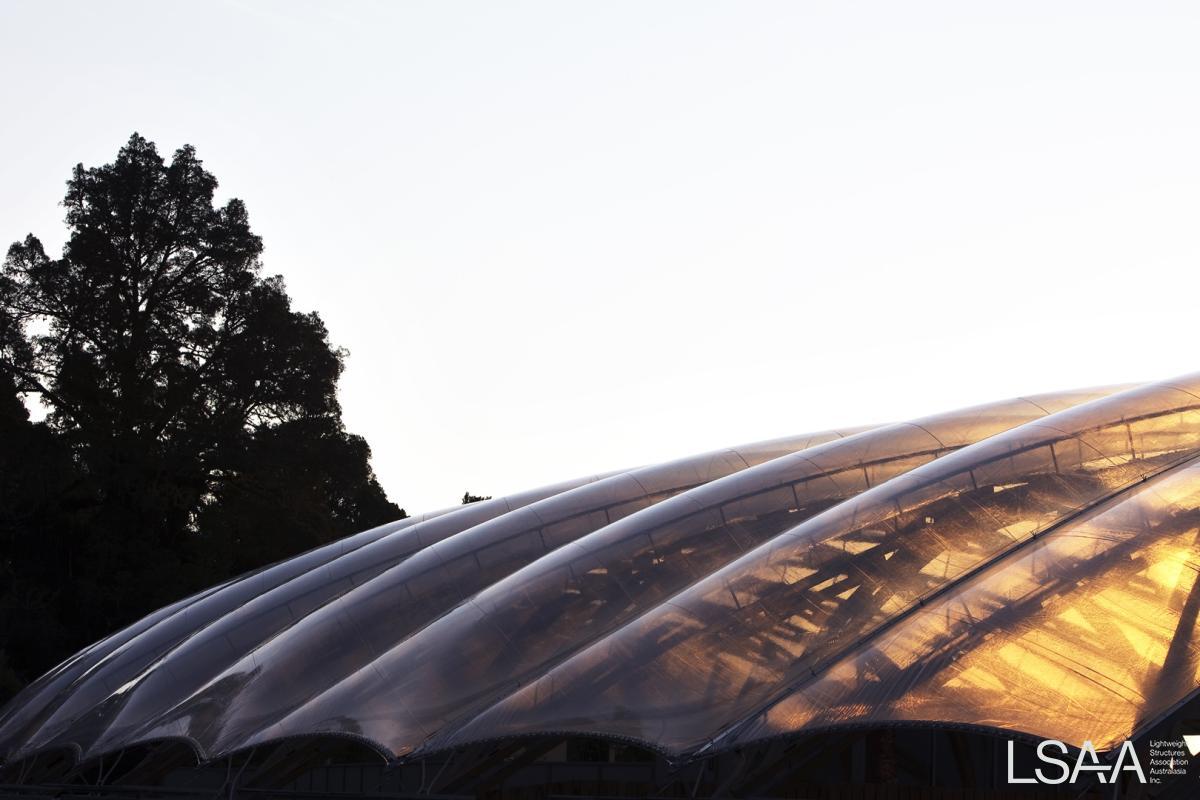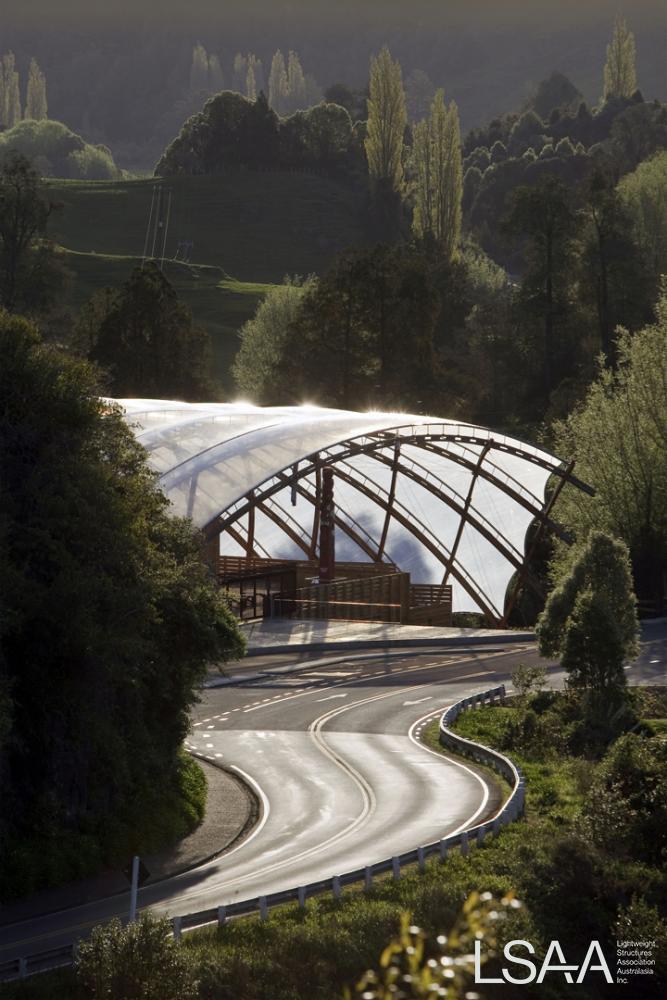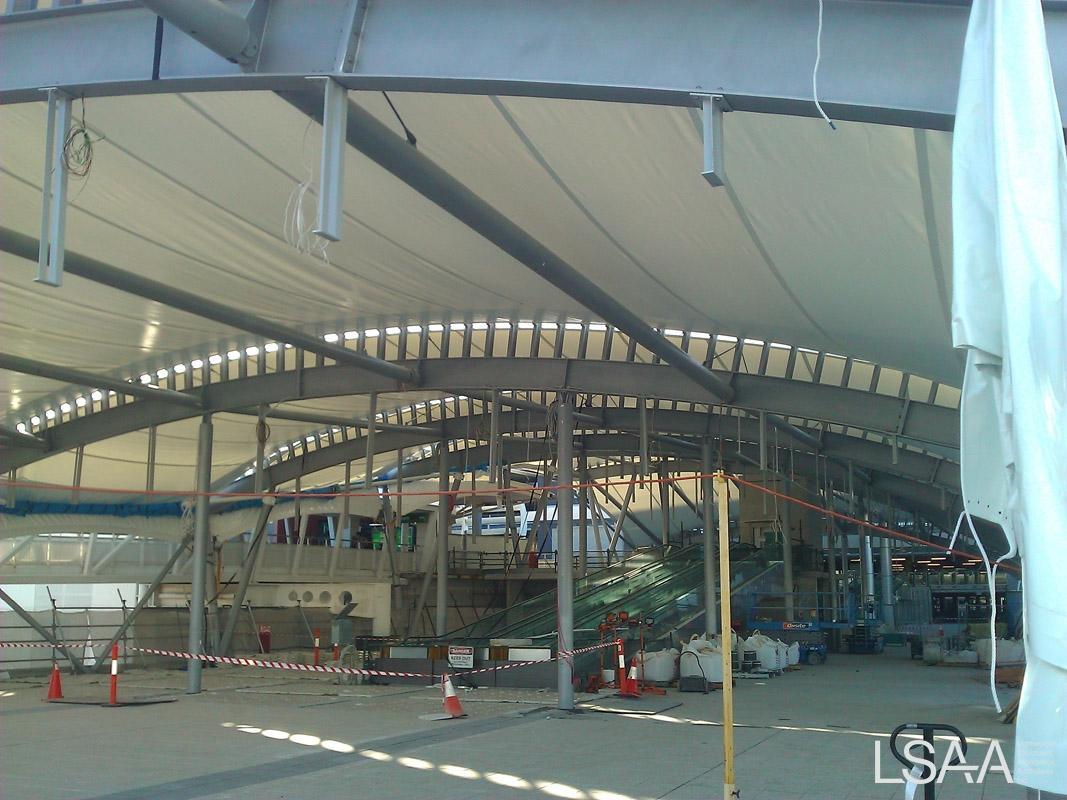 This project was entered in the 2013 LSAA Design Awards
Entrant: MakMax Australia
Category: 4 ID Number: #4302

Location: Brisbane Domestic Airport

Client: Brisbane Airport Corporation

Completion Date: June 2012
APPLICATION OF PROJECT: Pedestrian bridge roof, open air.
PROJECT DESCRIPTION:
This airport terminal access project involves the construction of a major pedestrian bridge linking a new multi-level car park and train platforms to the terminal building one of the country's business airports.
This covered walkway project is part of a larger group of construction projects which serve to improve all pedestrian and vehicular traffic at the airport.
Our client requested design, fabrication and installation of the tensioned membrane roof system. The purpose was purely weather protection for pedestrian traffic on new pedestrian access bridge.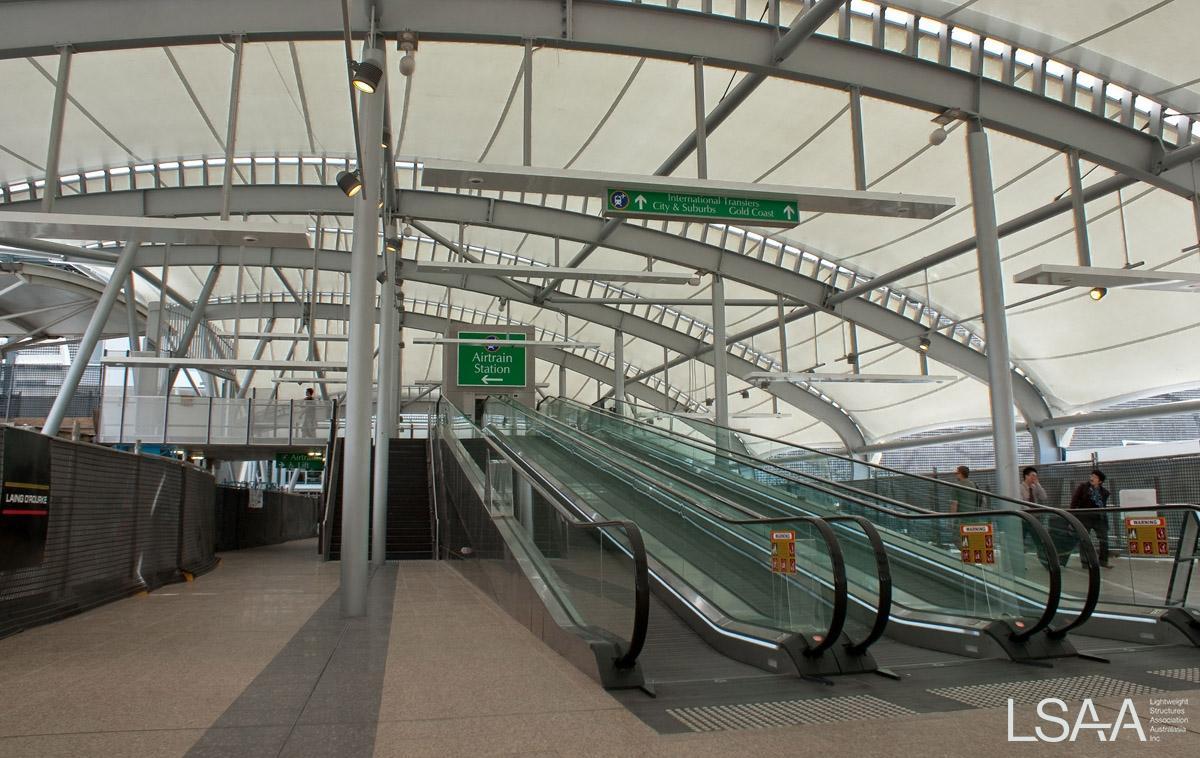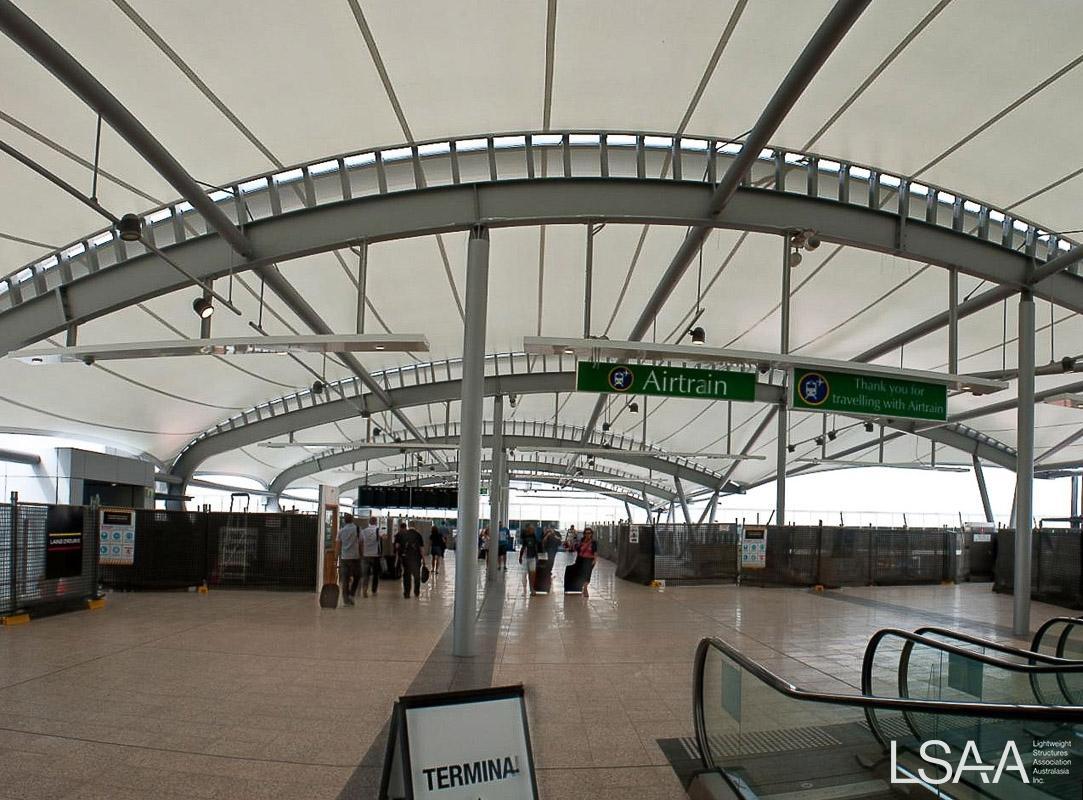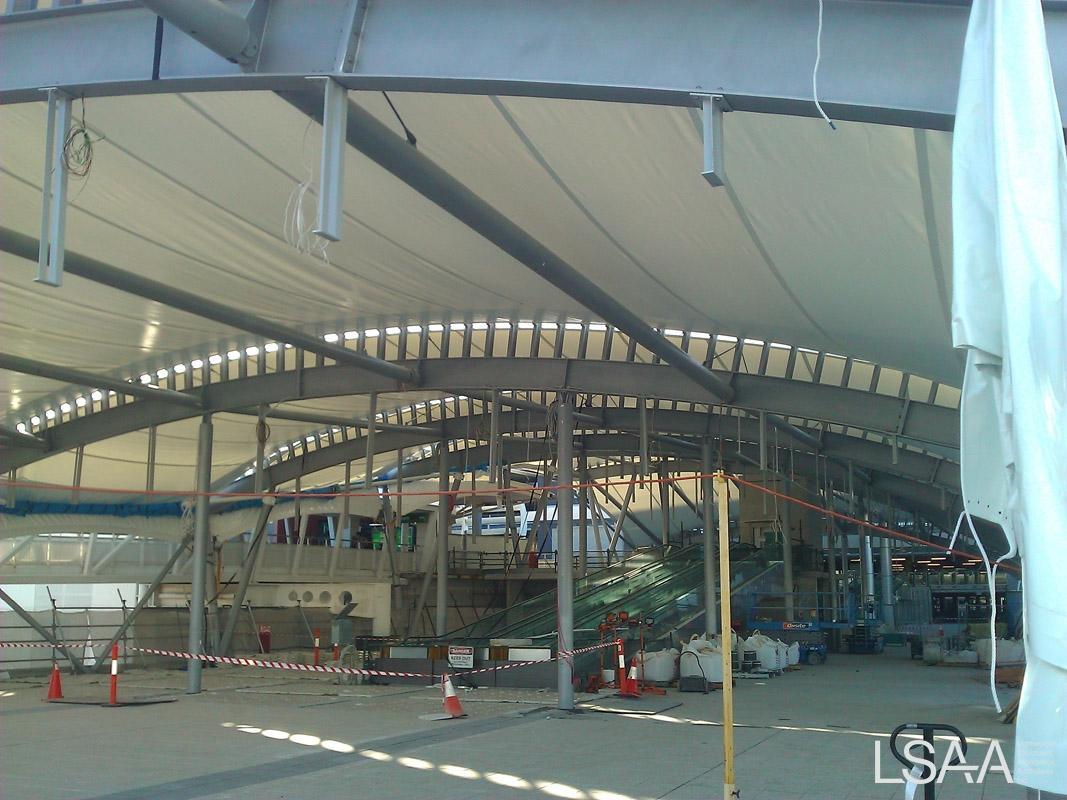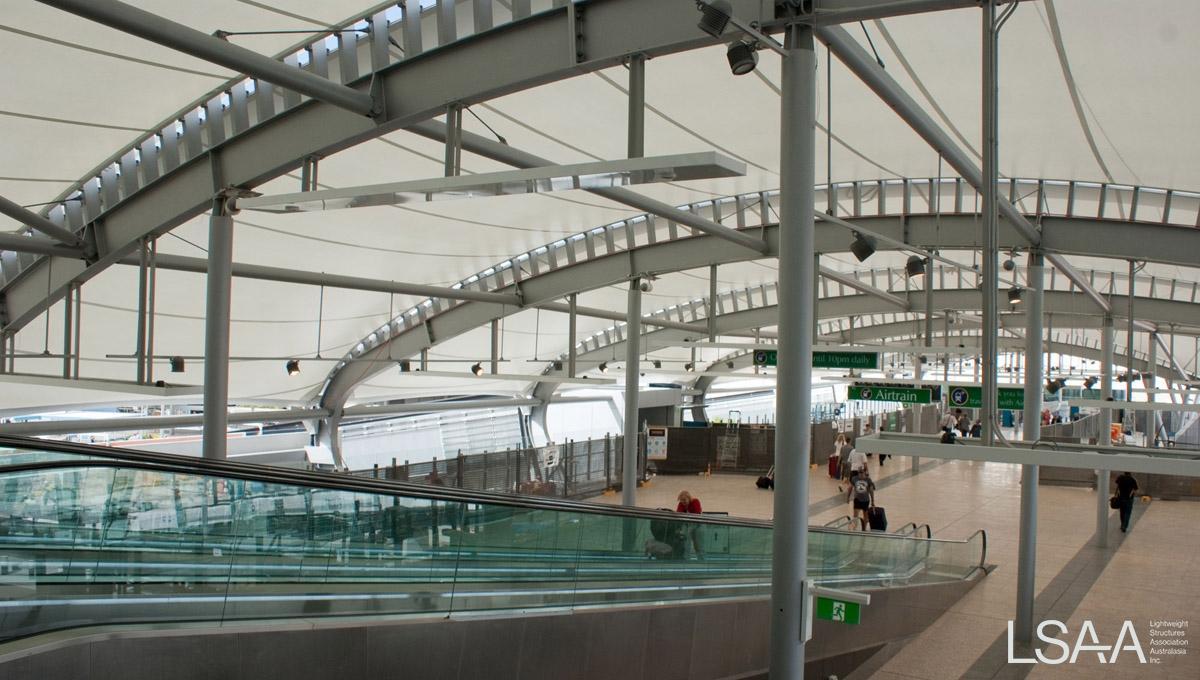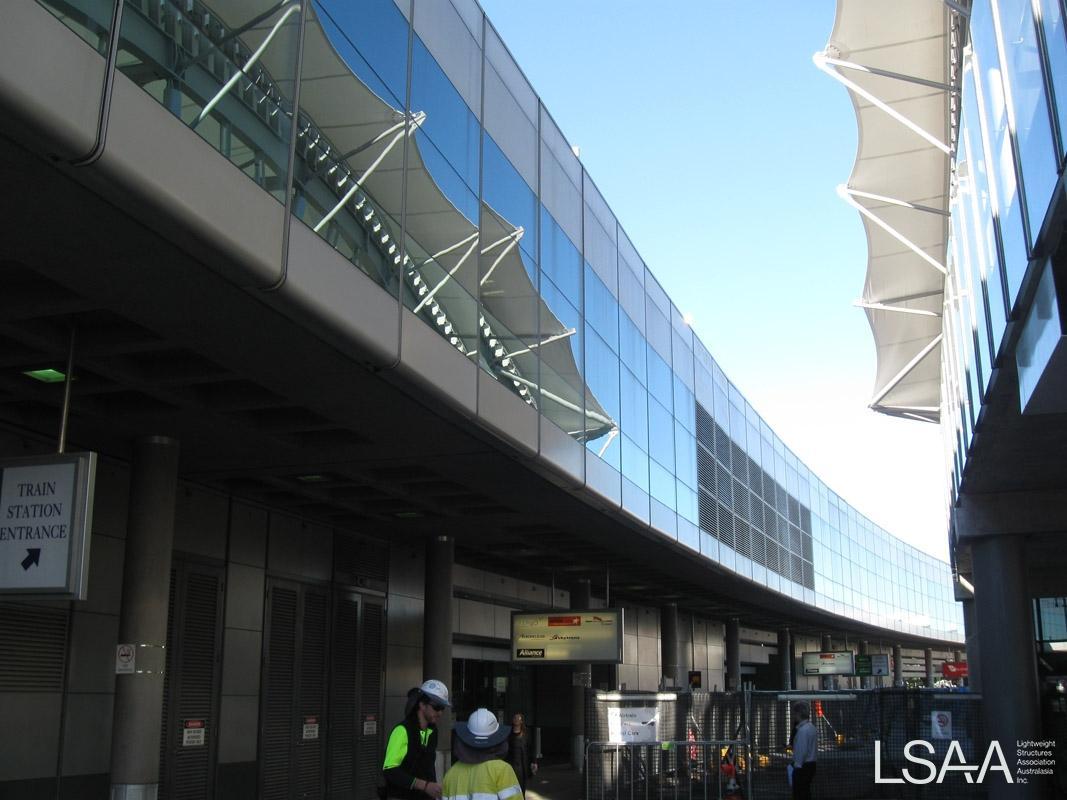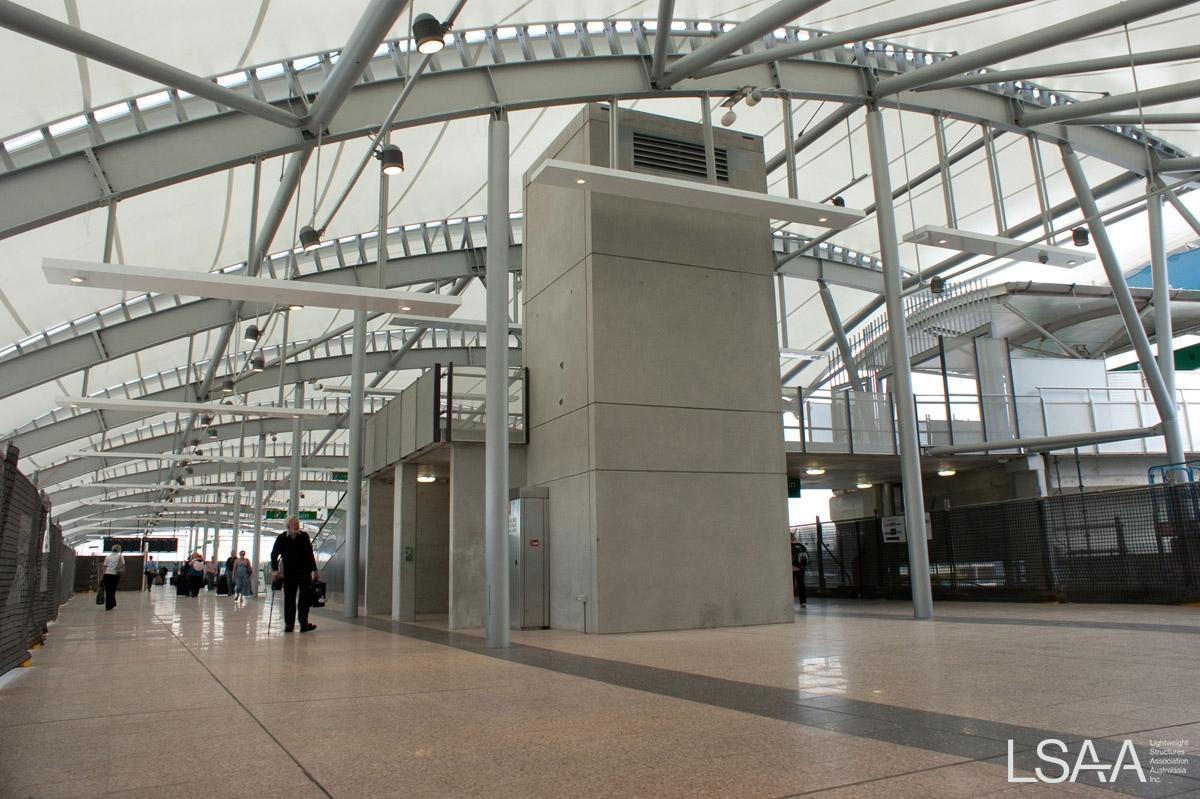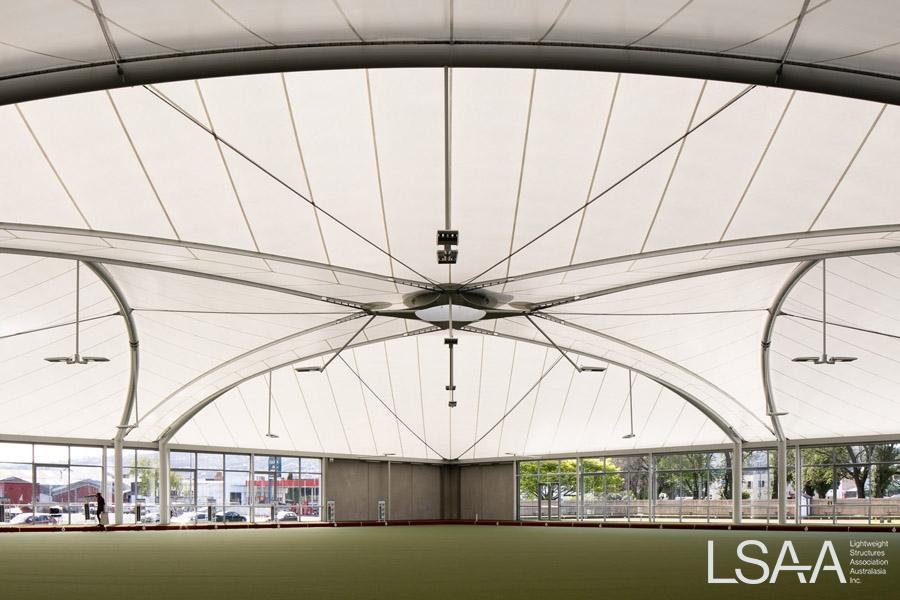 Award of Excellence LSAA 2018 Design Awards Large Structures (Cat 4, 4101)
Application: Bowling green tensile membrane roof
PROJECT DESCRIPTION:
The overall project was specifically conceived and designed to provide a community meeting point to focus and reinvigorate the residents of a depressed suburb which had been in steady decline for more than 30 years. Many residents of this suburb are elderly and due to transportation access and costs seldom left their homes, hence social integration and community interaction was poor. The additional aim of the project was to have the elderly and young be involved in community based sports and activities to invigorate, inspire and bond fellow citizens.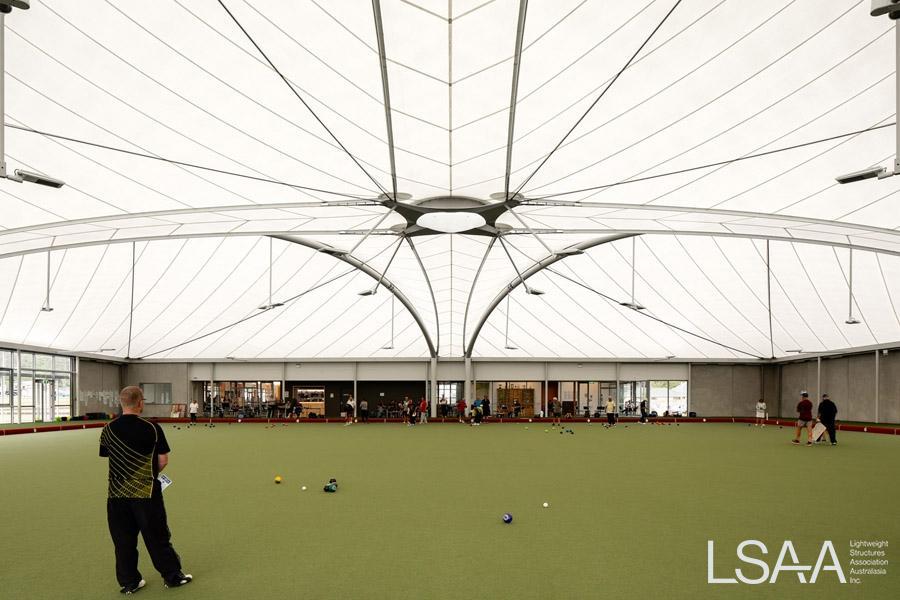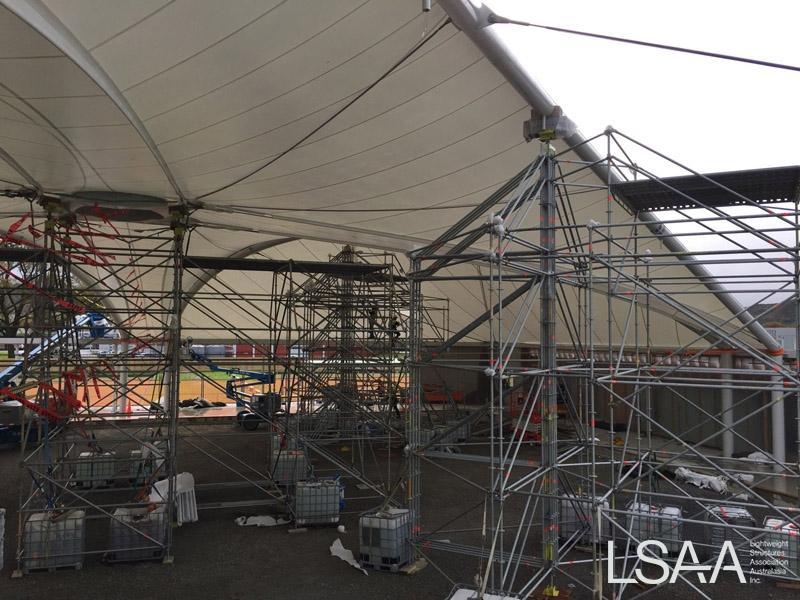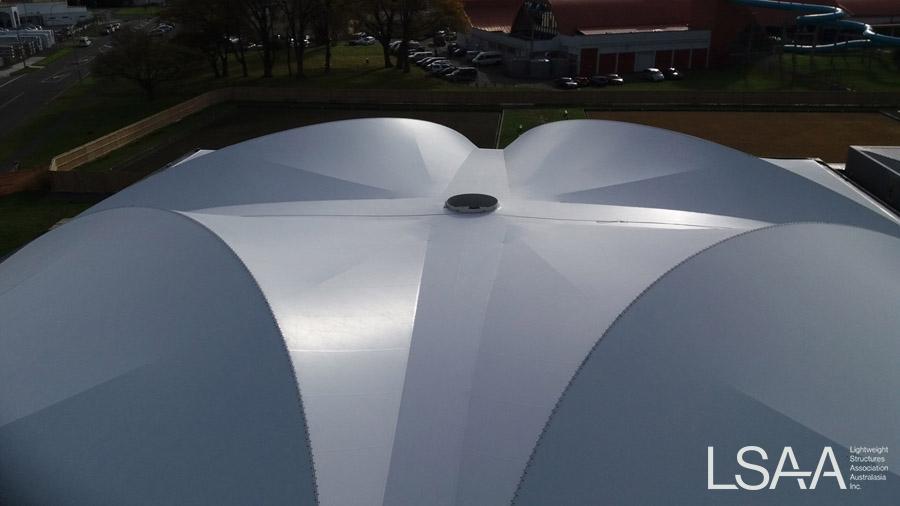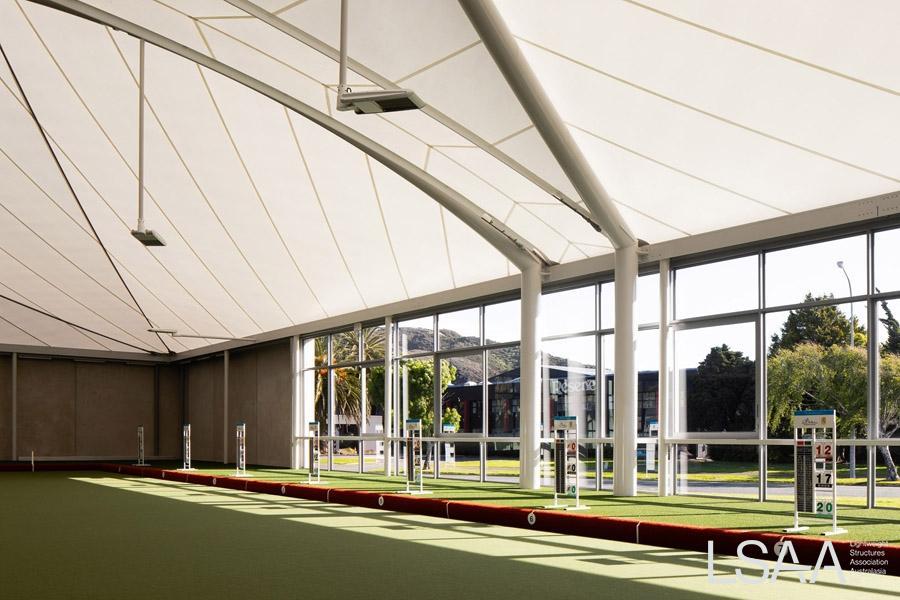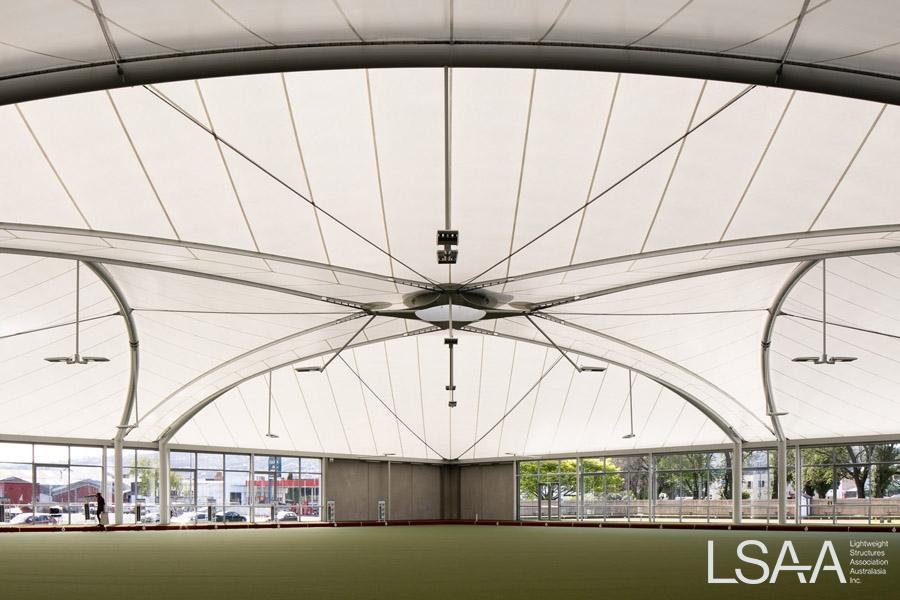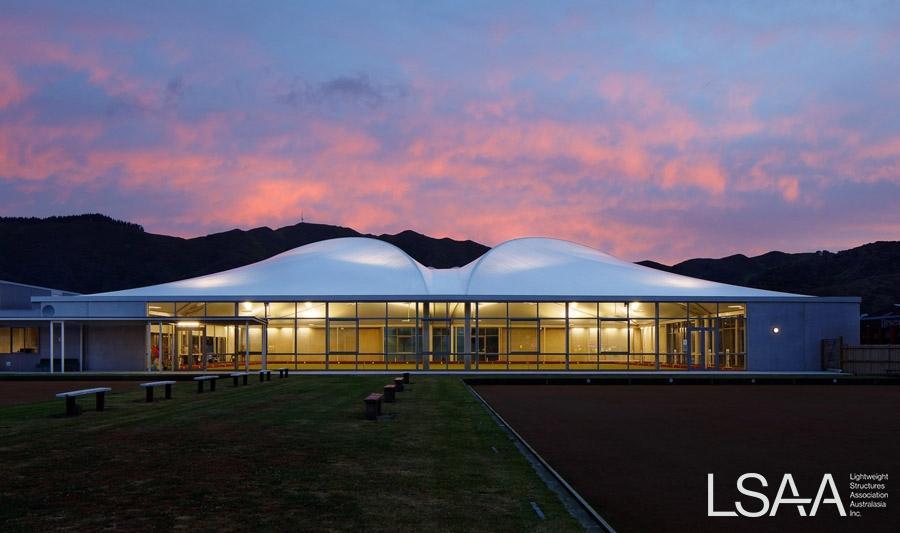 Read more: Wellington Bowling Club Greens Cover Project (2018)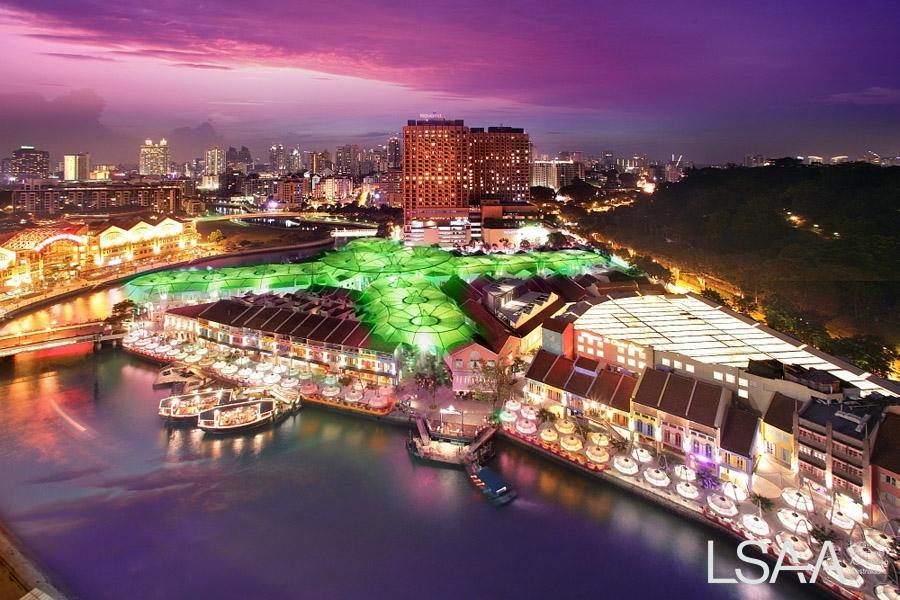 Entry in the LSAA 2007 Design Awards (Cat 4, 4007) "Large Fabric Structures"
Entrant: Tensys
Location: Clarke Quay Redevelopment - Singapore Client: Capital and Commercial Ltd
Architect: SMC Alsops & RSP Architects Structural Engineer: Tensys
Specialist Consultant(s): Arup (Environmental) Builder: Kajima Overseas Asia Pte Ltd
Fabricator(s): Skyspan (Asia) Pvt Ltd – Riverside/Bluebell
canopies HIghtex GmbH – Street/Angel Canopies
Application and Function:
More than $50 million was spent upgrading the outdoor precinct to increase the shade and add to the comfort of visitors.
The Angel Structures are made from high performance thermoplastic film (ETFE). It is the first time this material has been used on such a large scale in Asia.
Around the river's edge, striking bluebell canopies over lilypads revitalize the area, helping to create a new trend in outdoor dining and entertainment.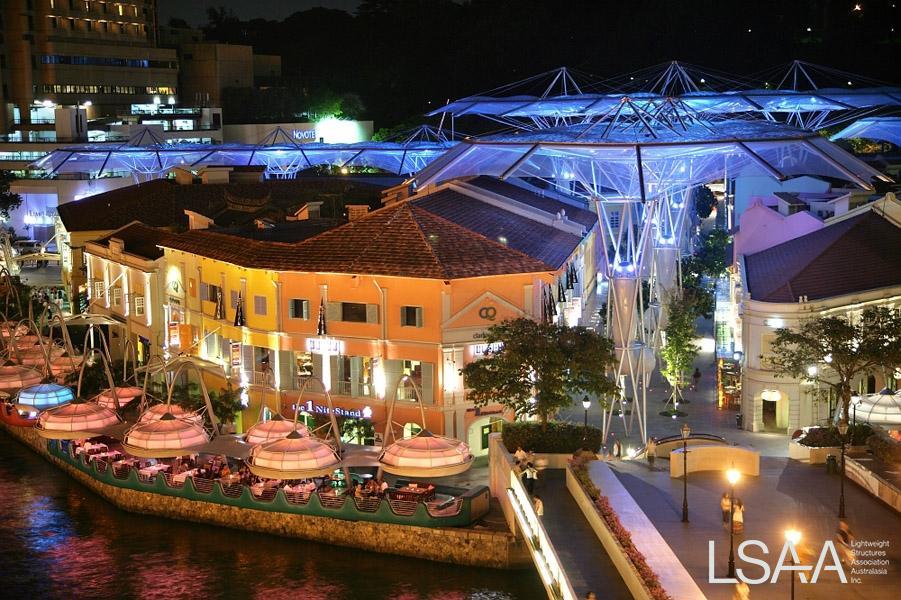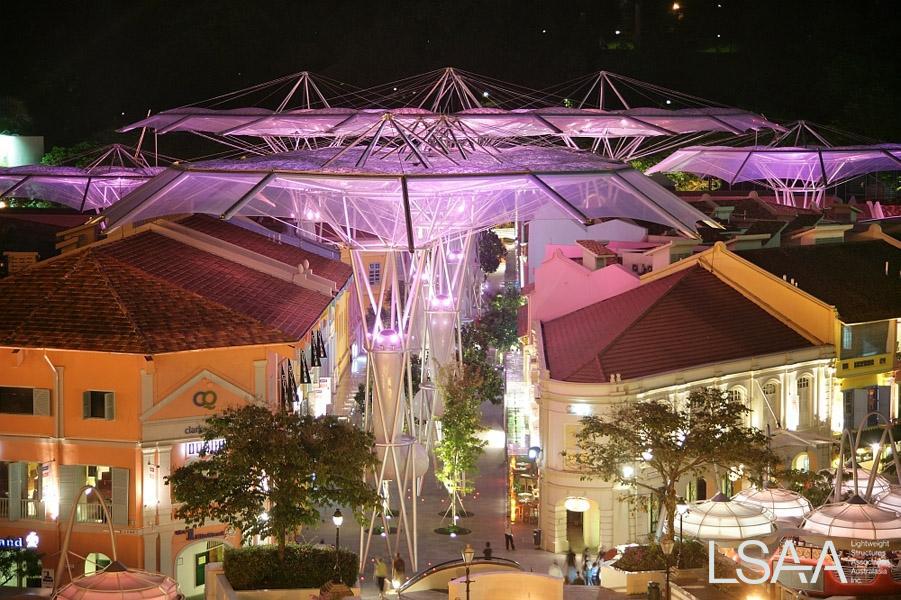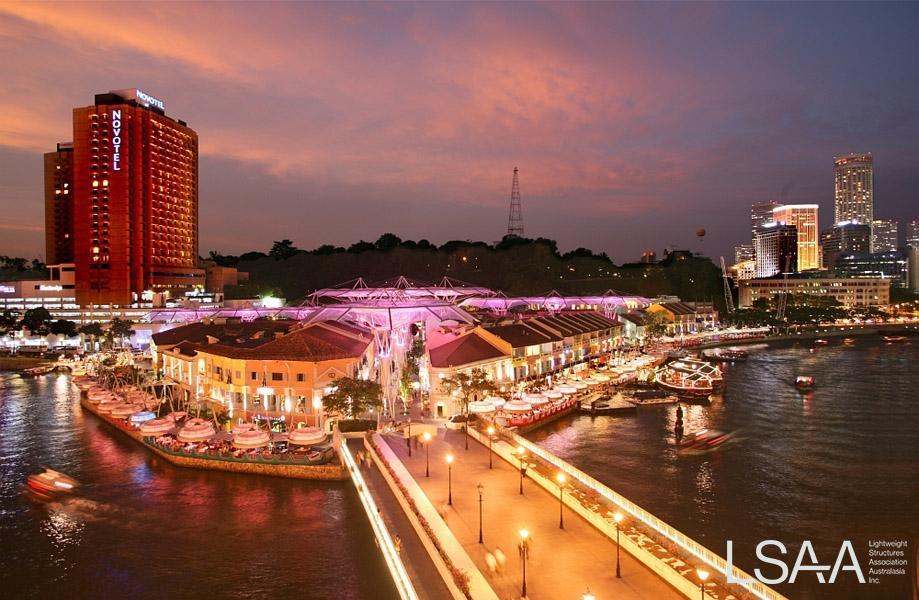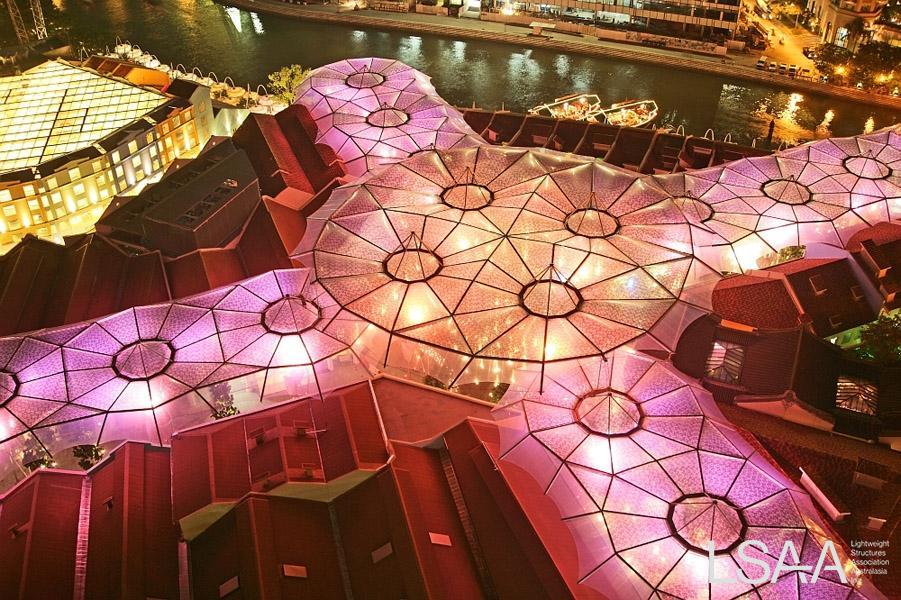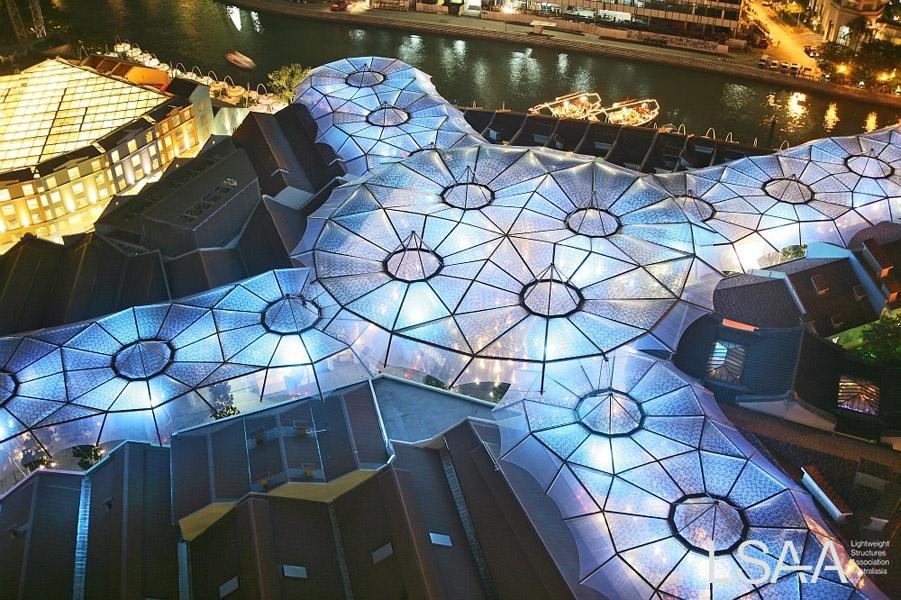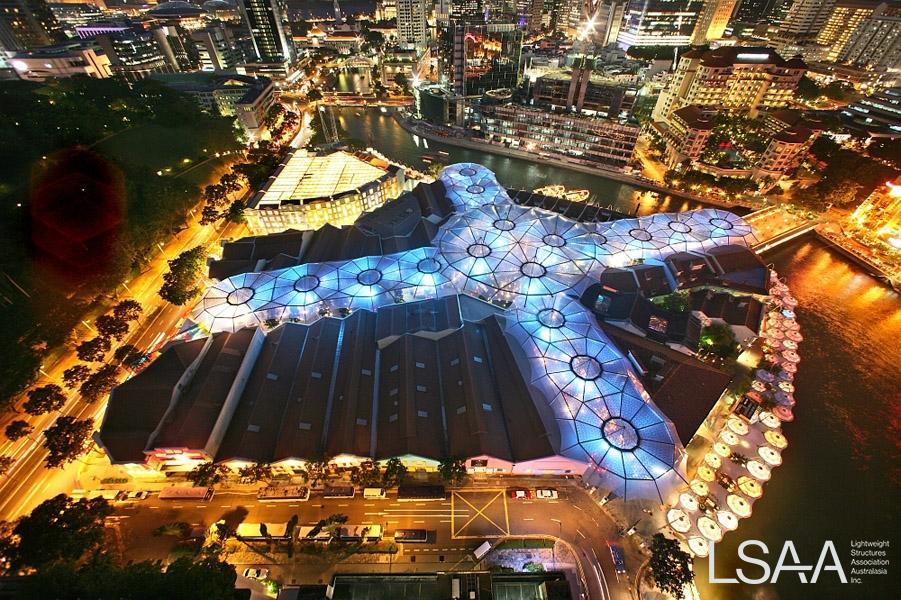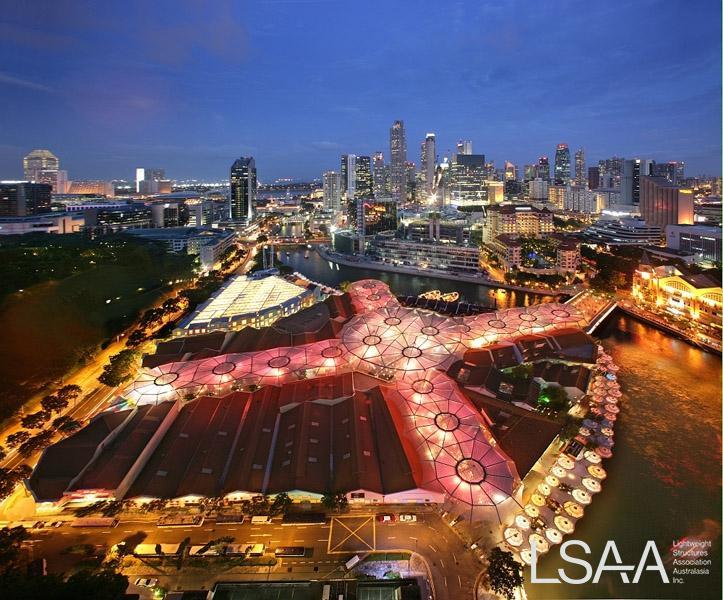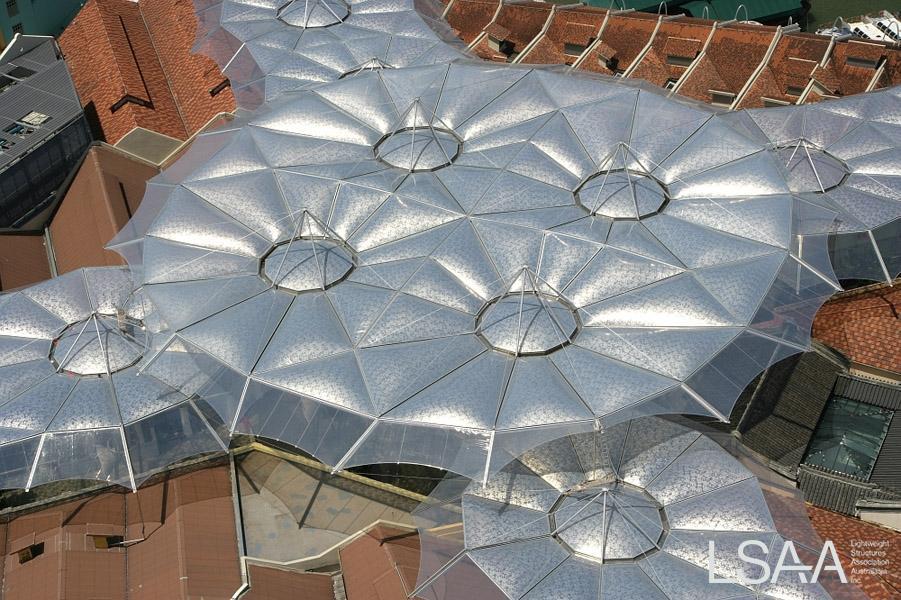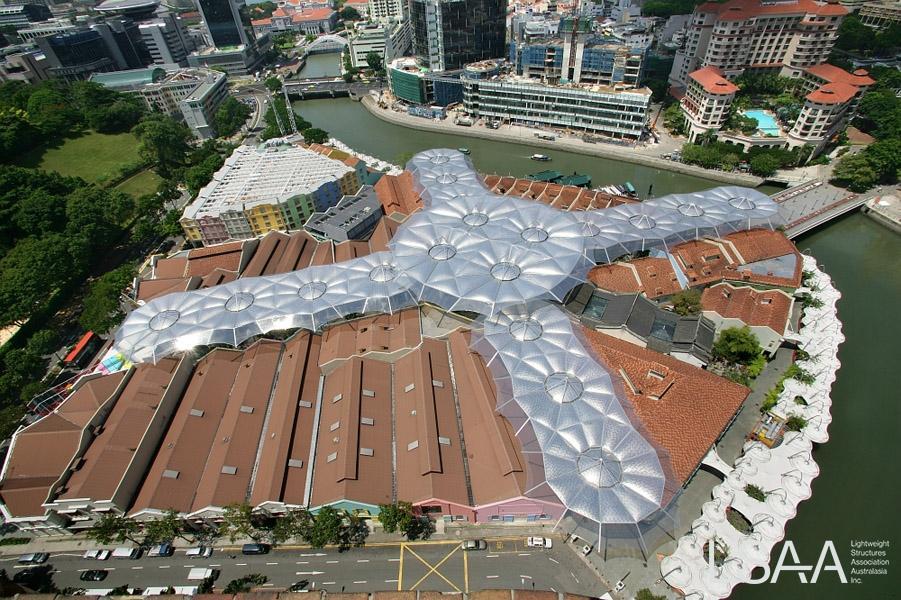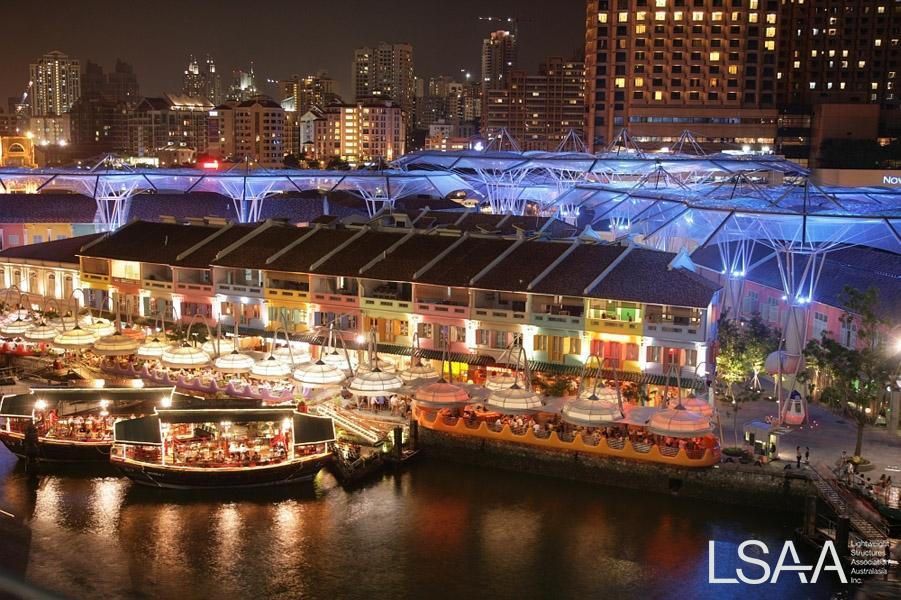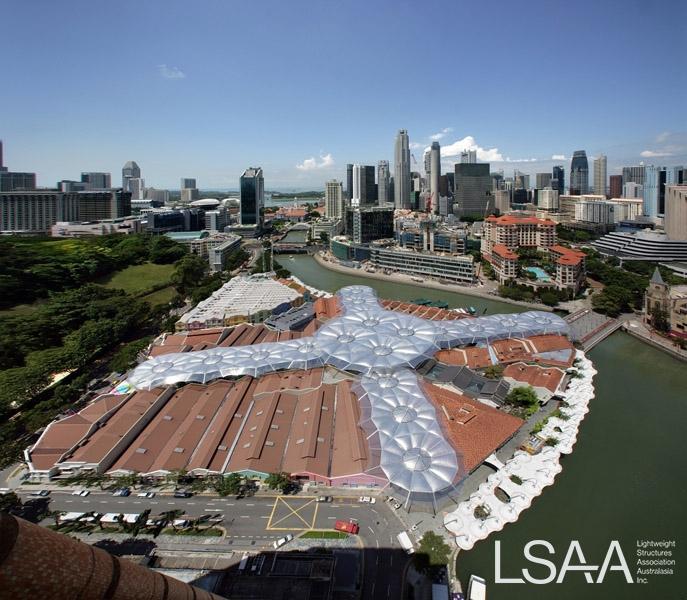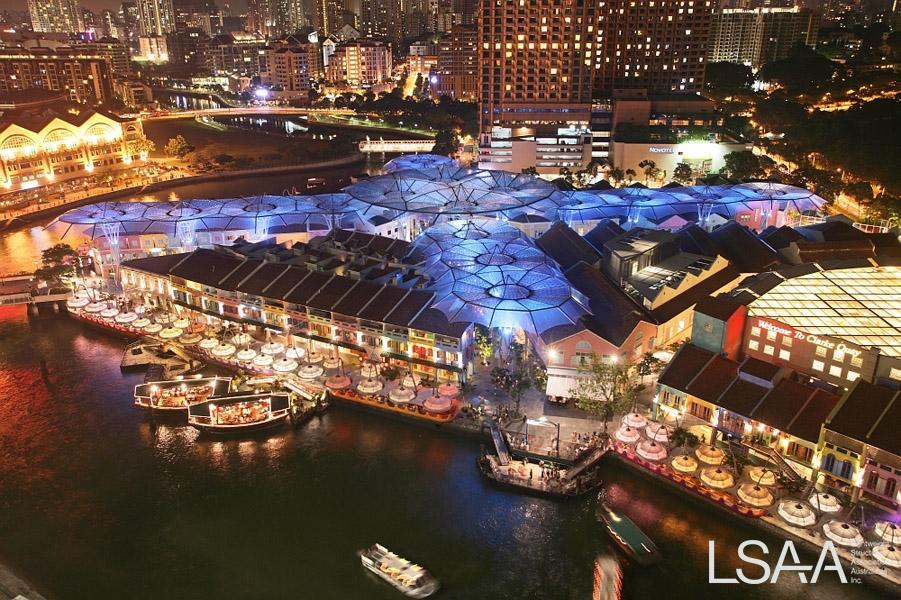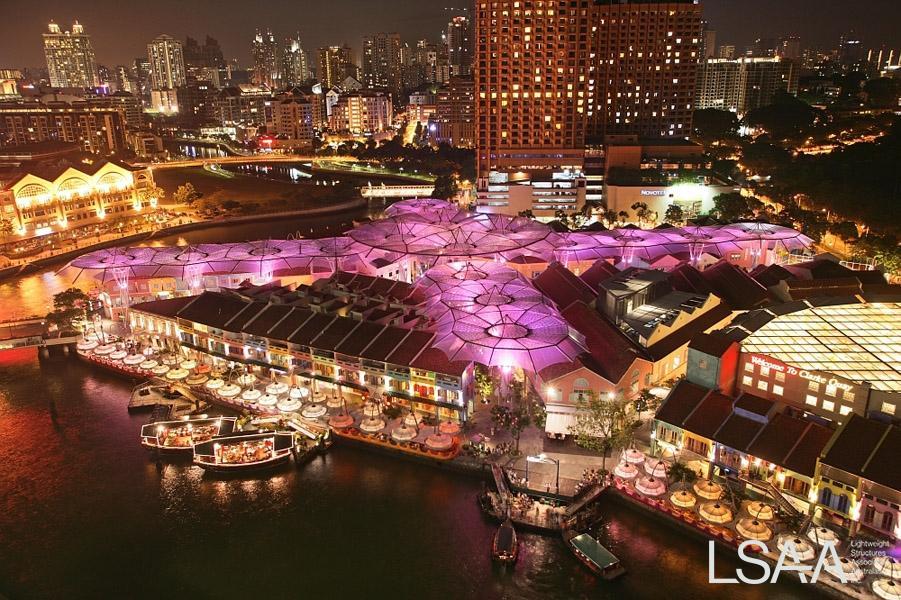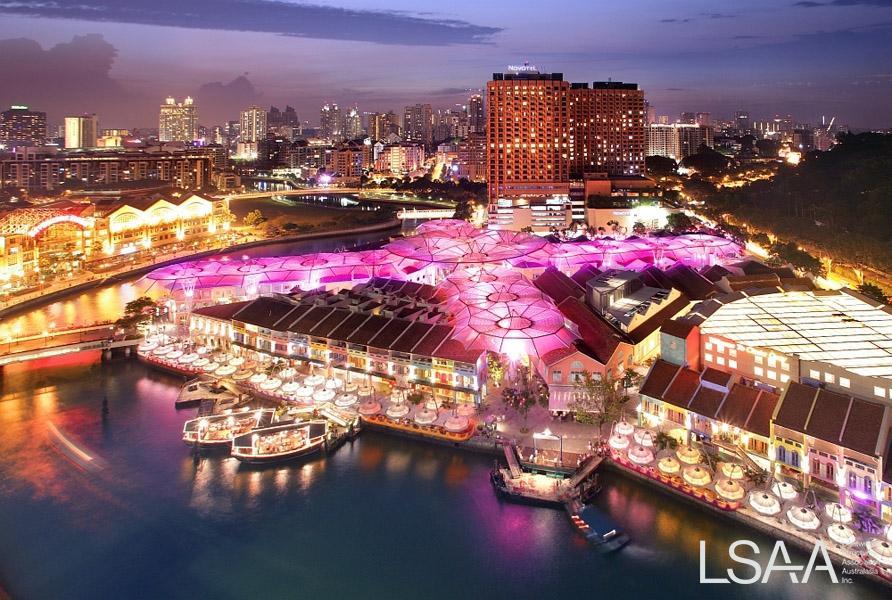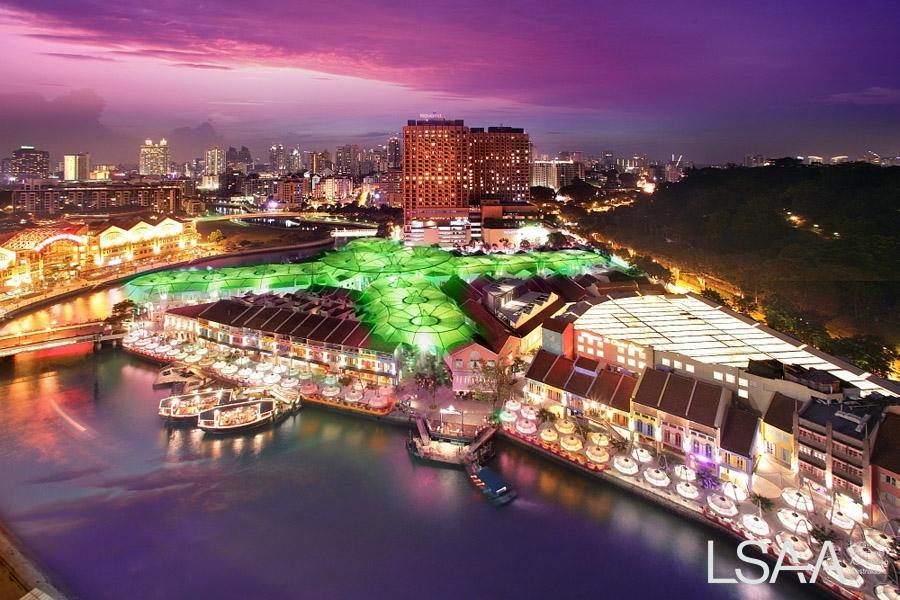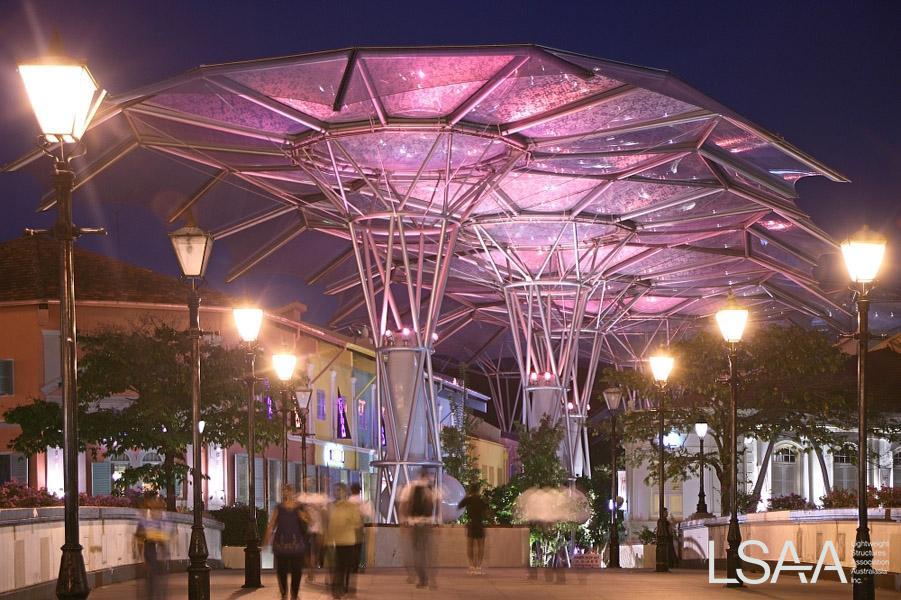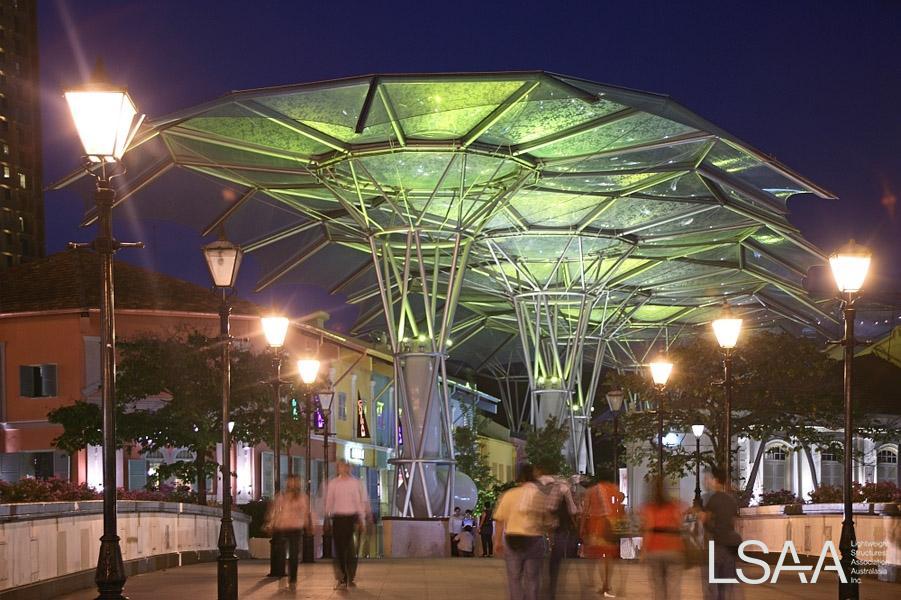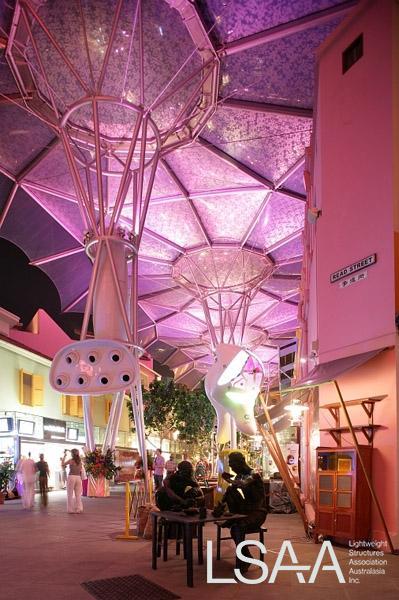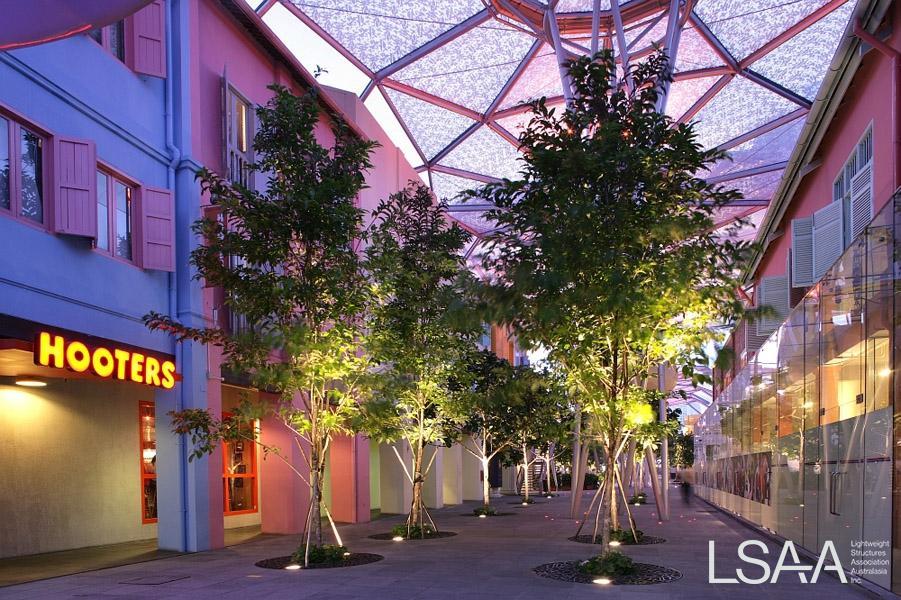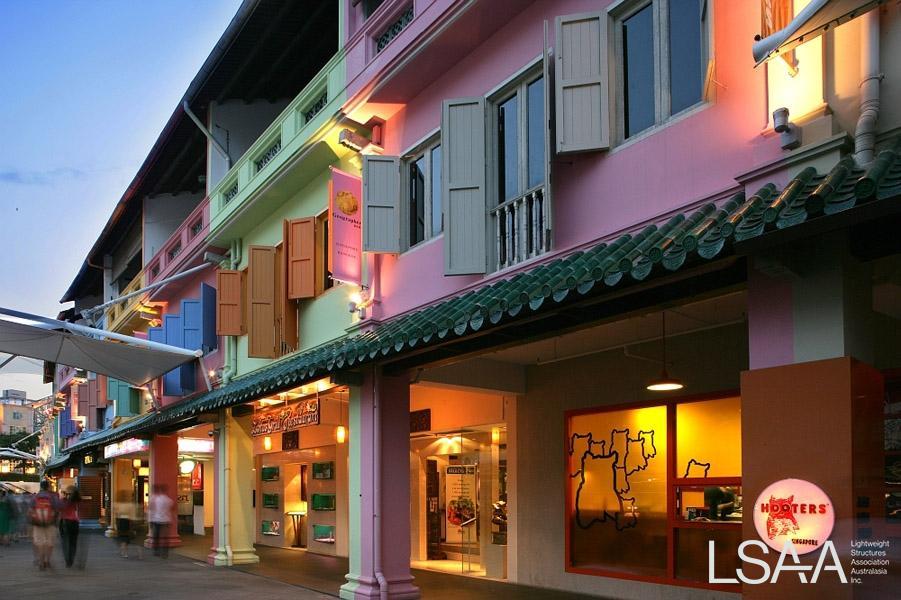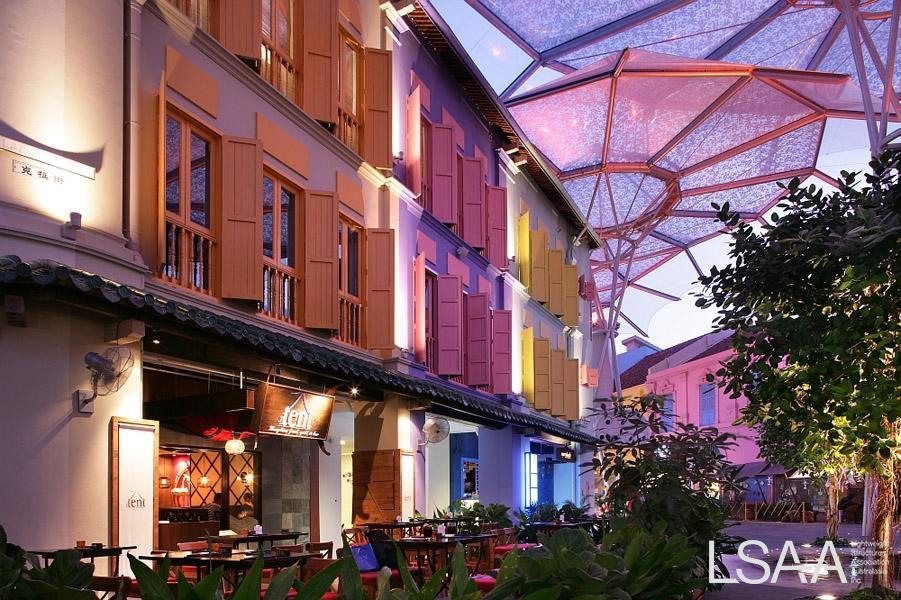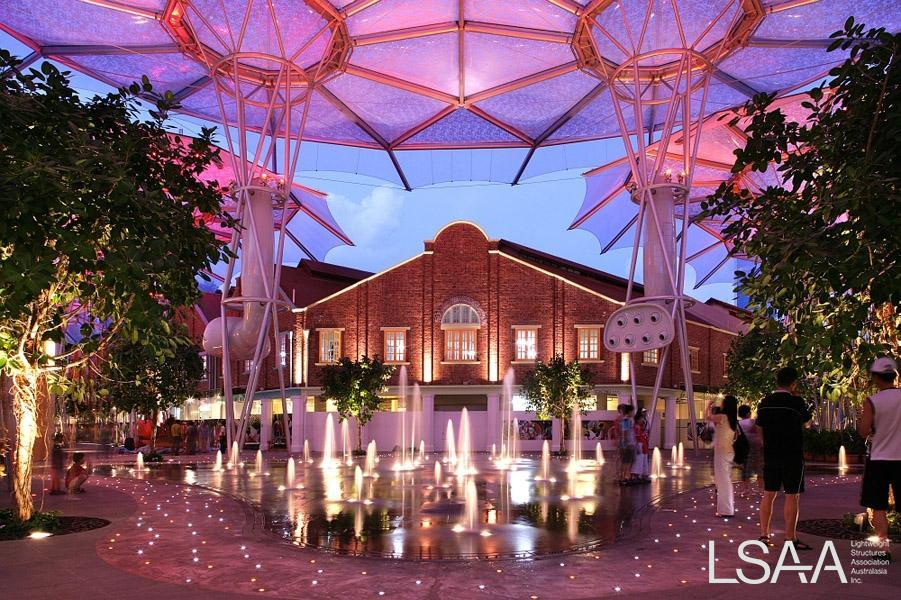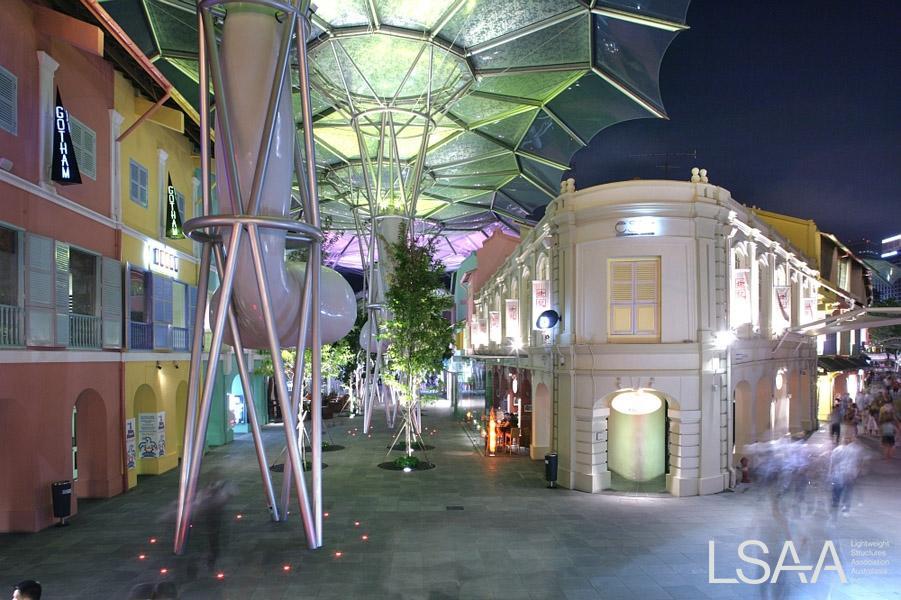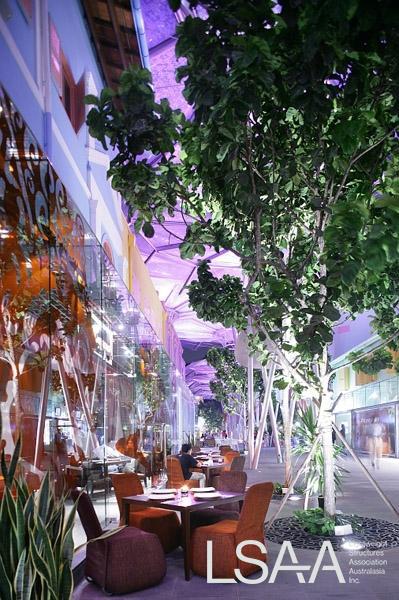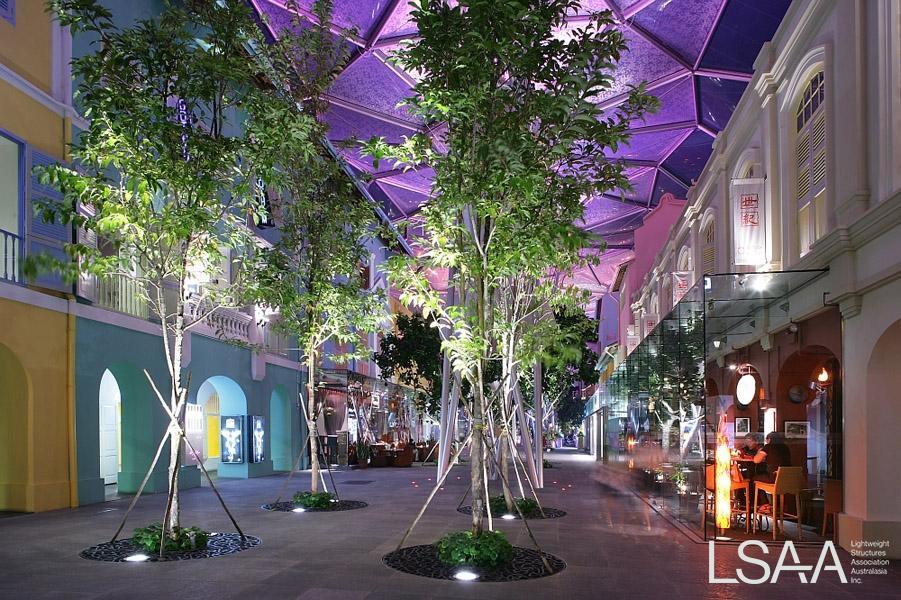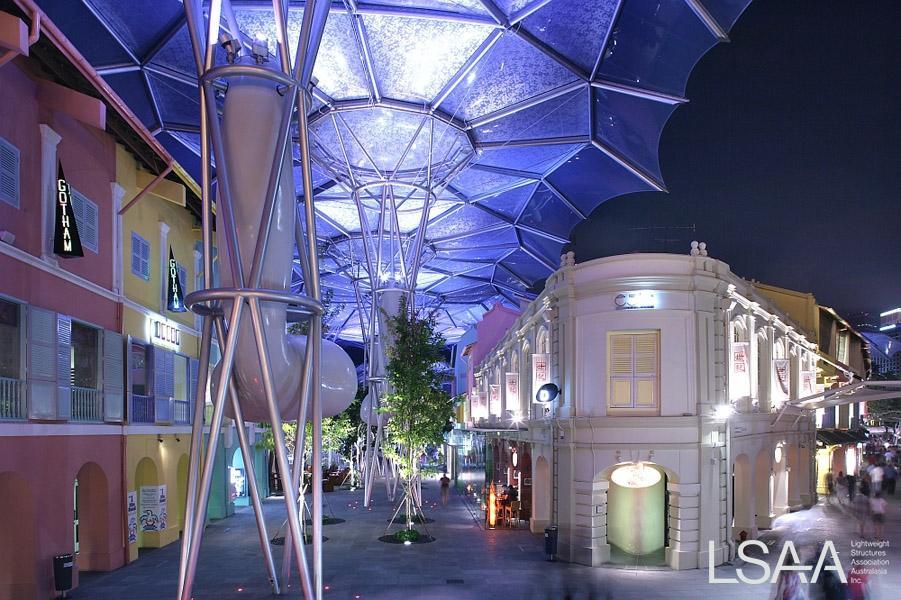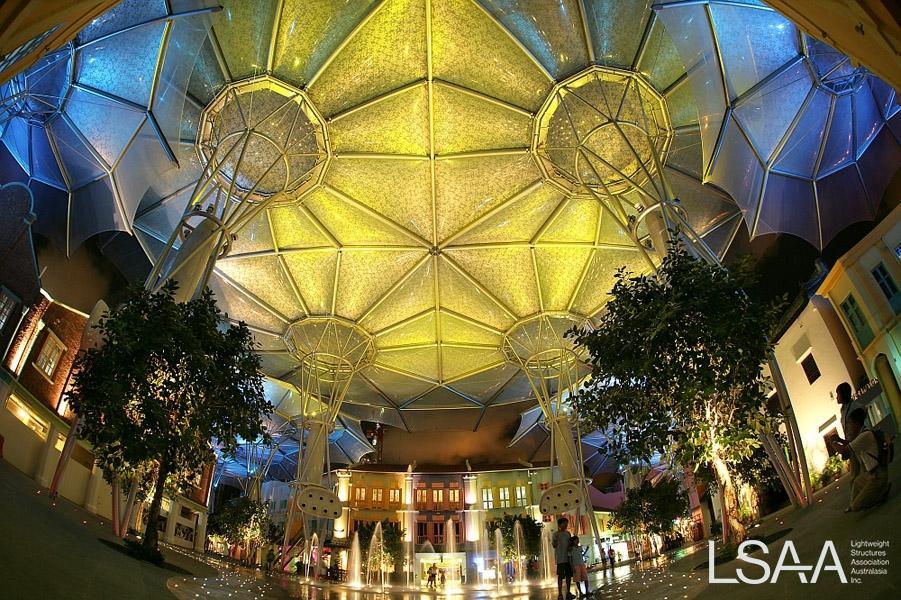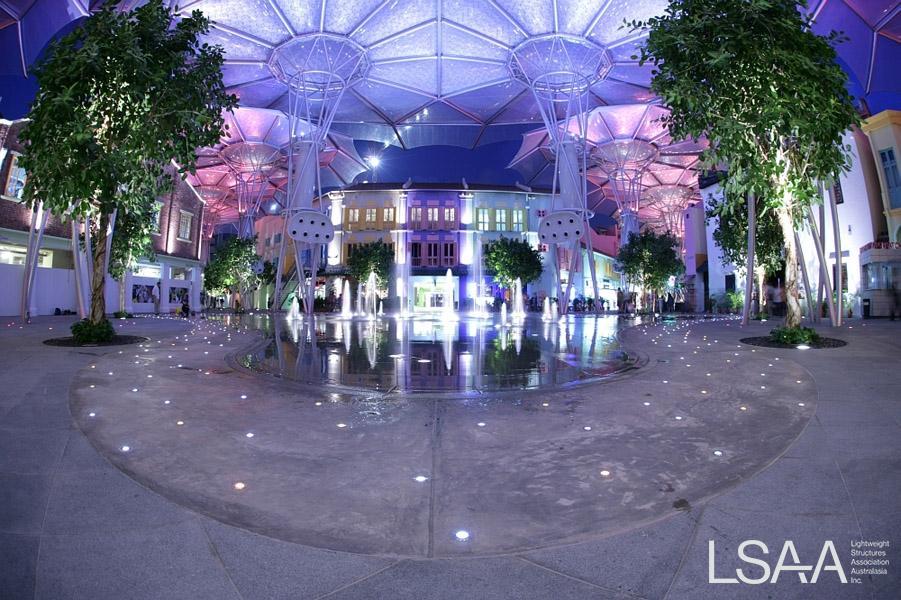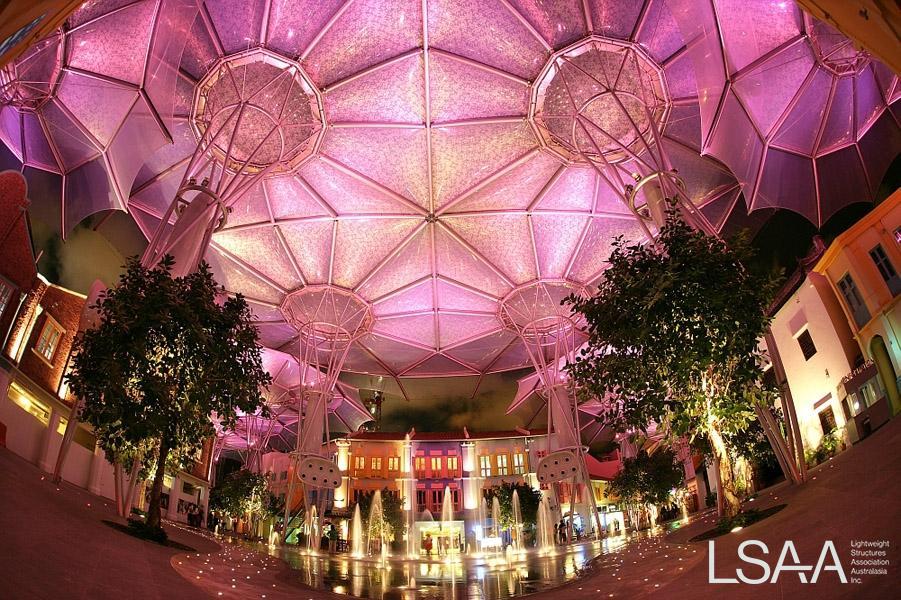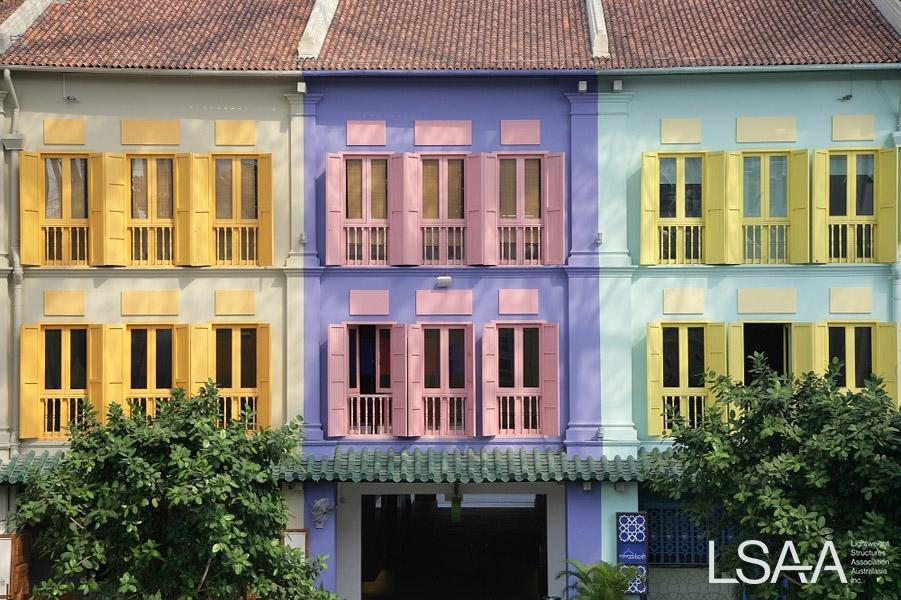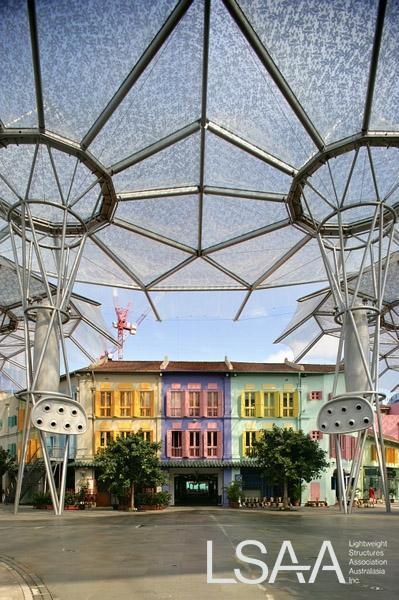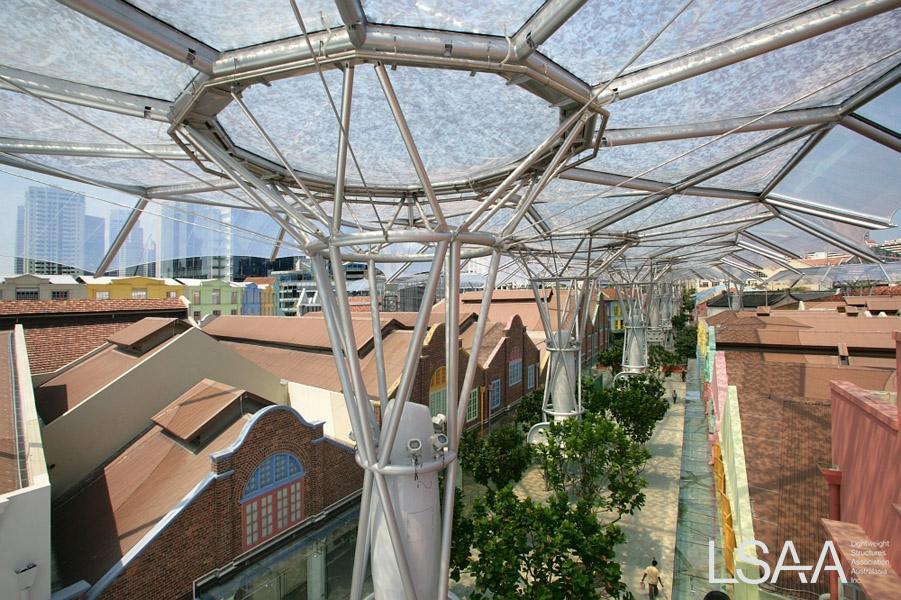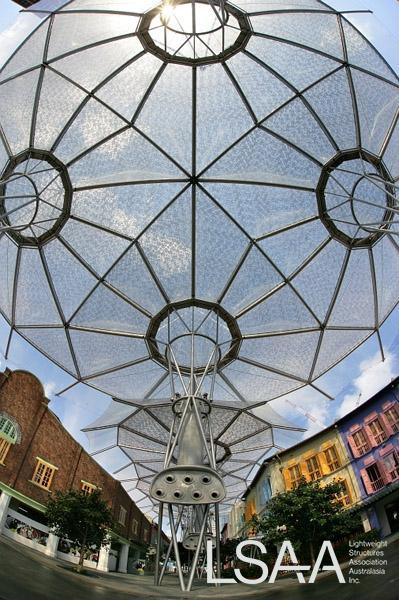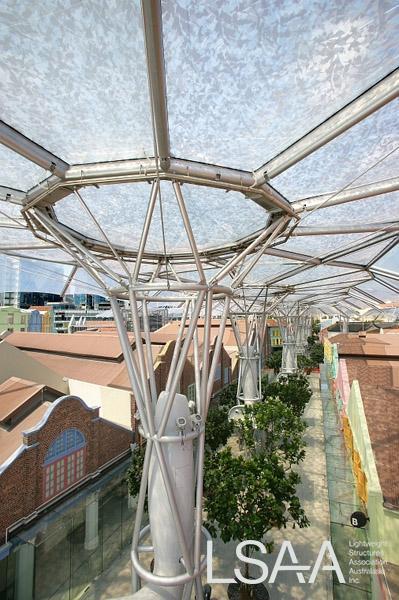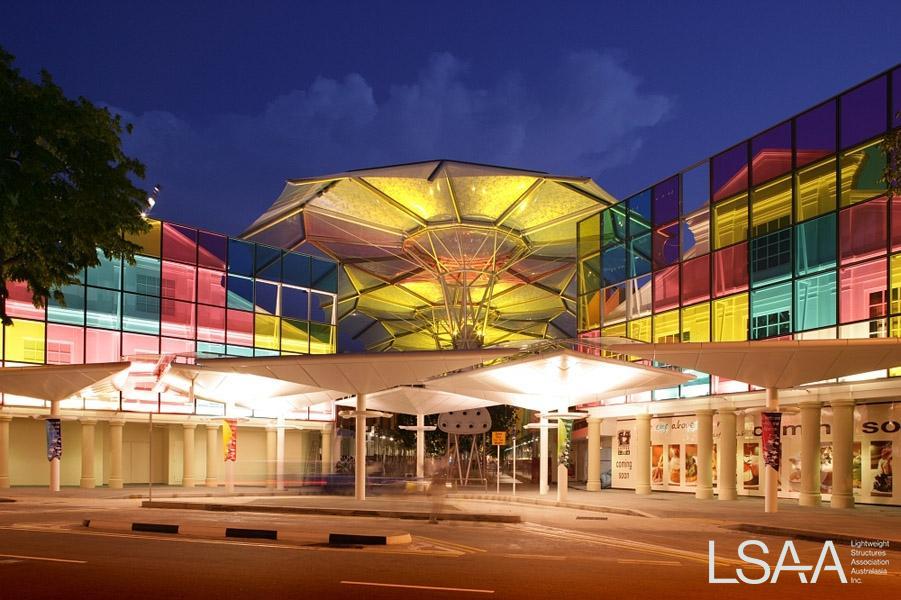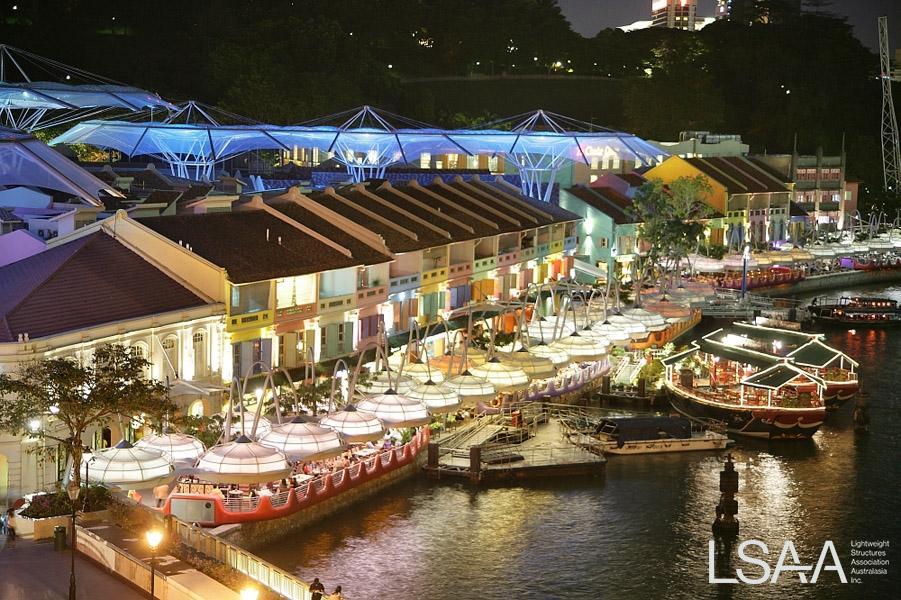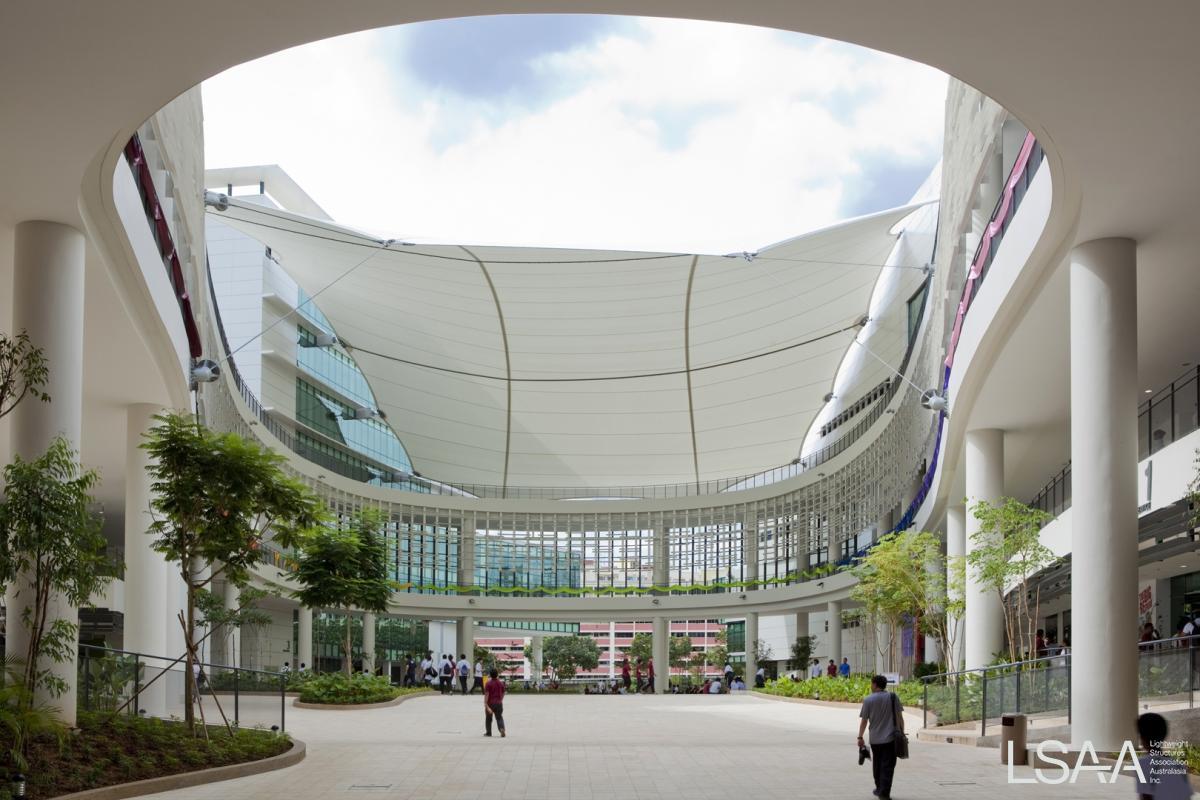 LSAA 2011 Design Award Entry (4210)
APPLICATION OF PROJECT:
Canopy shade structure: The architectural PTFE membrane canopy provides weather protection for an outdoor events plaza and exterior walkway.
PROJECT DESCRIPTION
A truly stunning piece of fabric architecture was created with this stunning lightweight membrane roof at ITE College (West) in Singapore. Supported only by a complex cable system and large steel wall plates bolted to 4 different buildings, the 3000m2 PTFE Canopy provides shelter to the Events Plaza and exterior walkways below spanning an incredible 75m span in one direction and 45m in the other.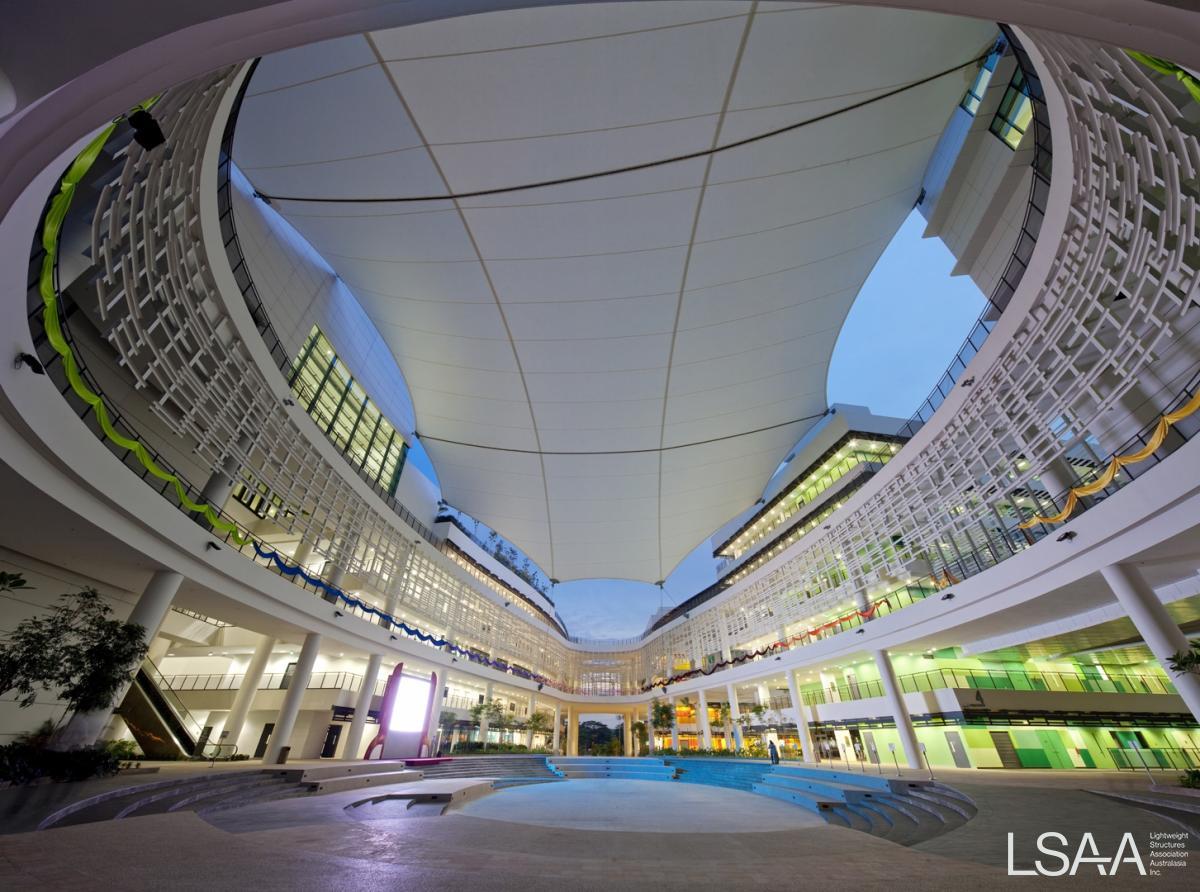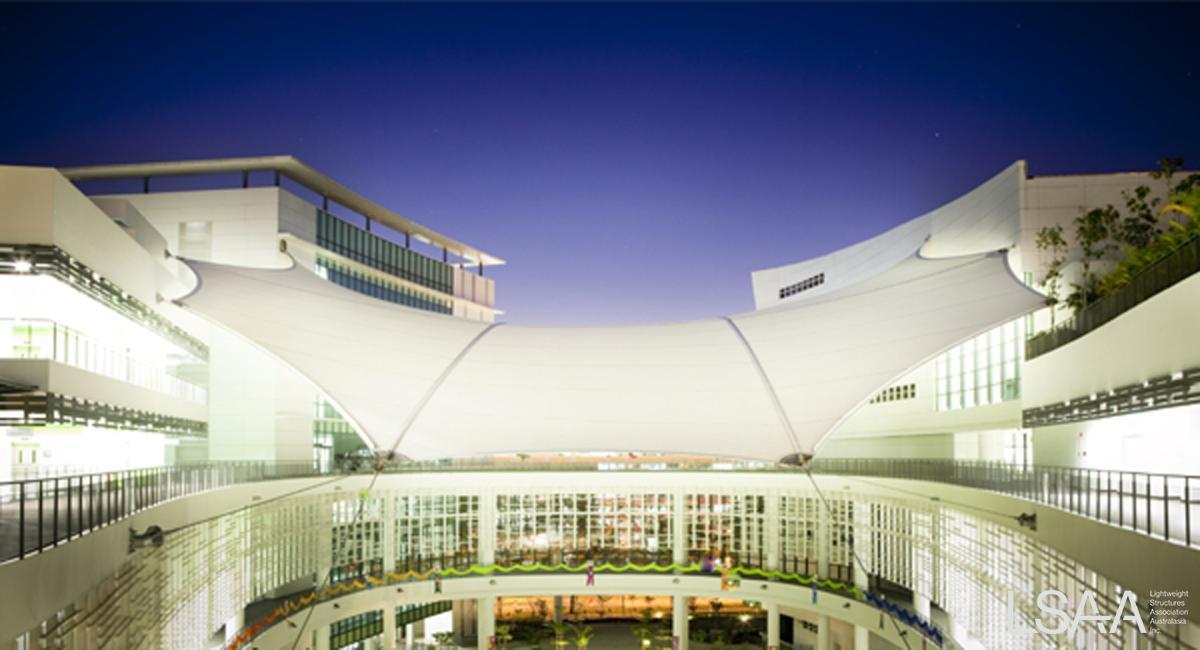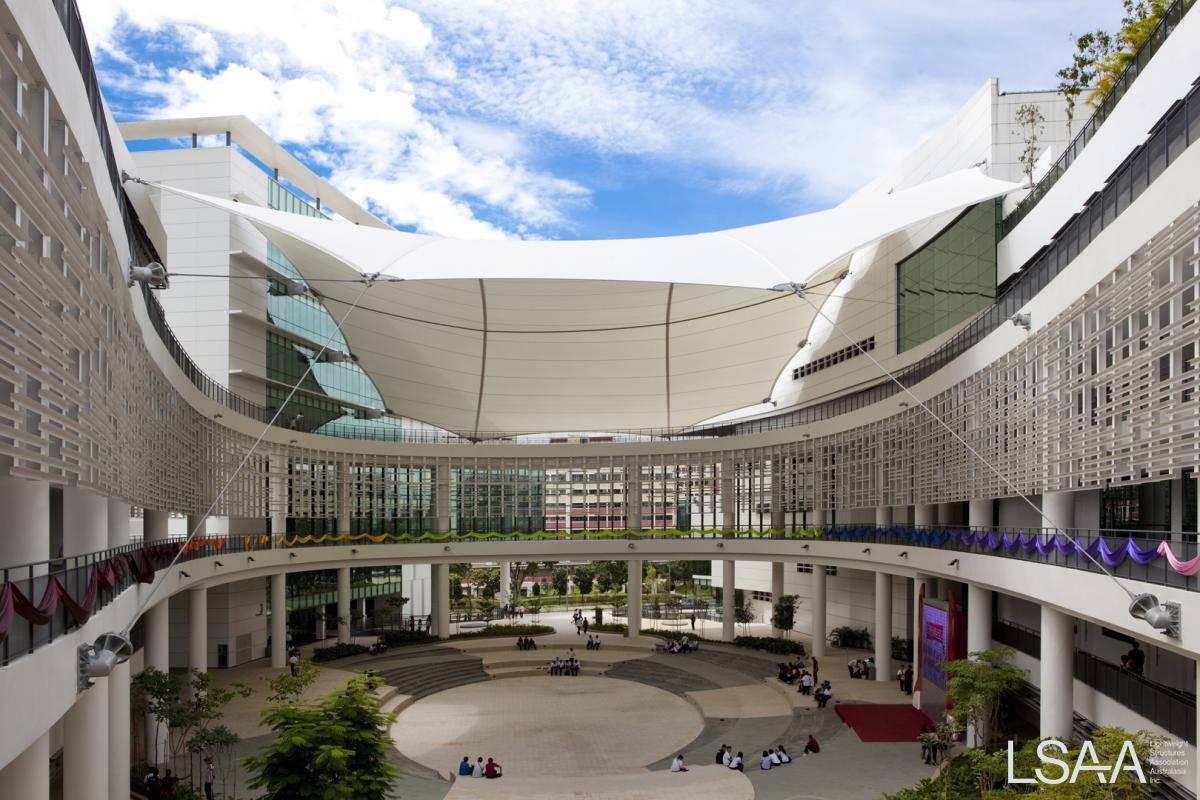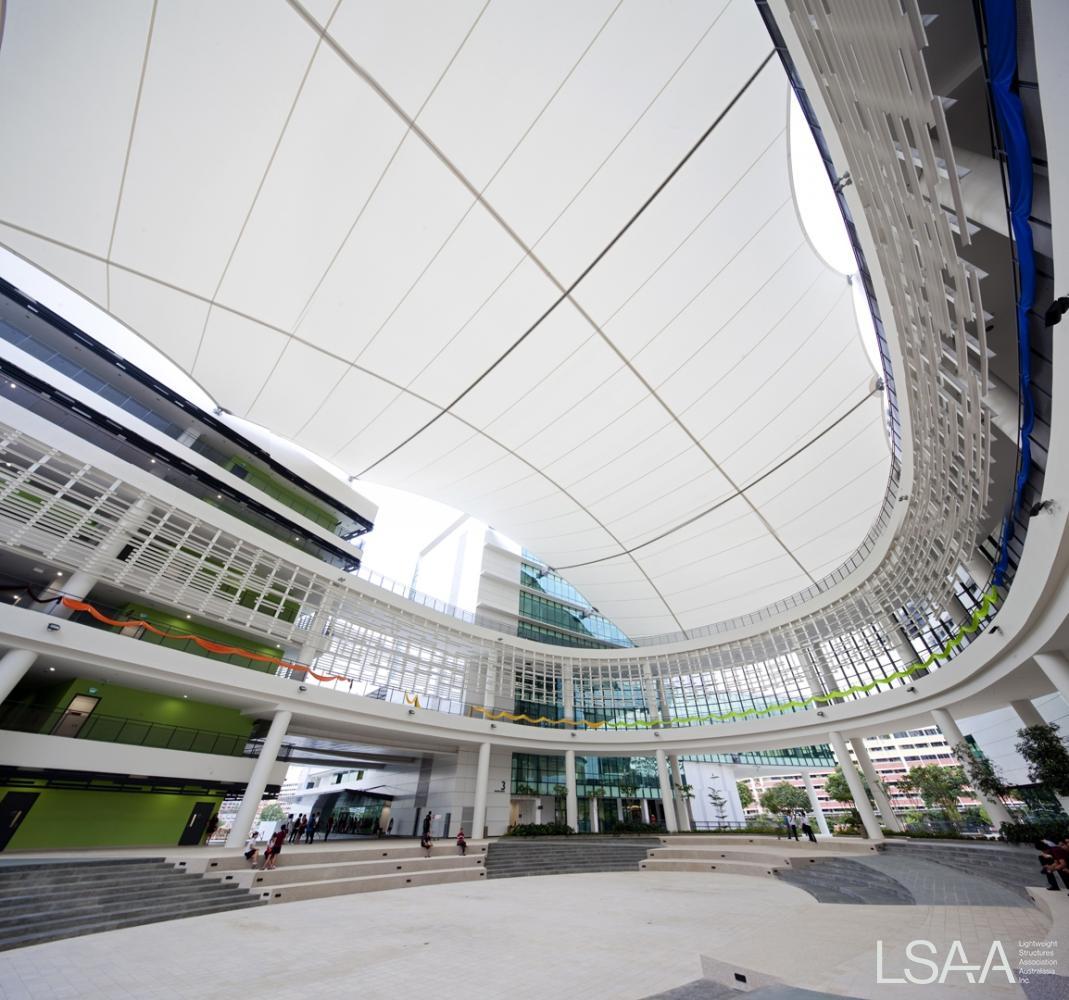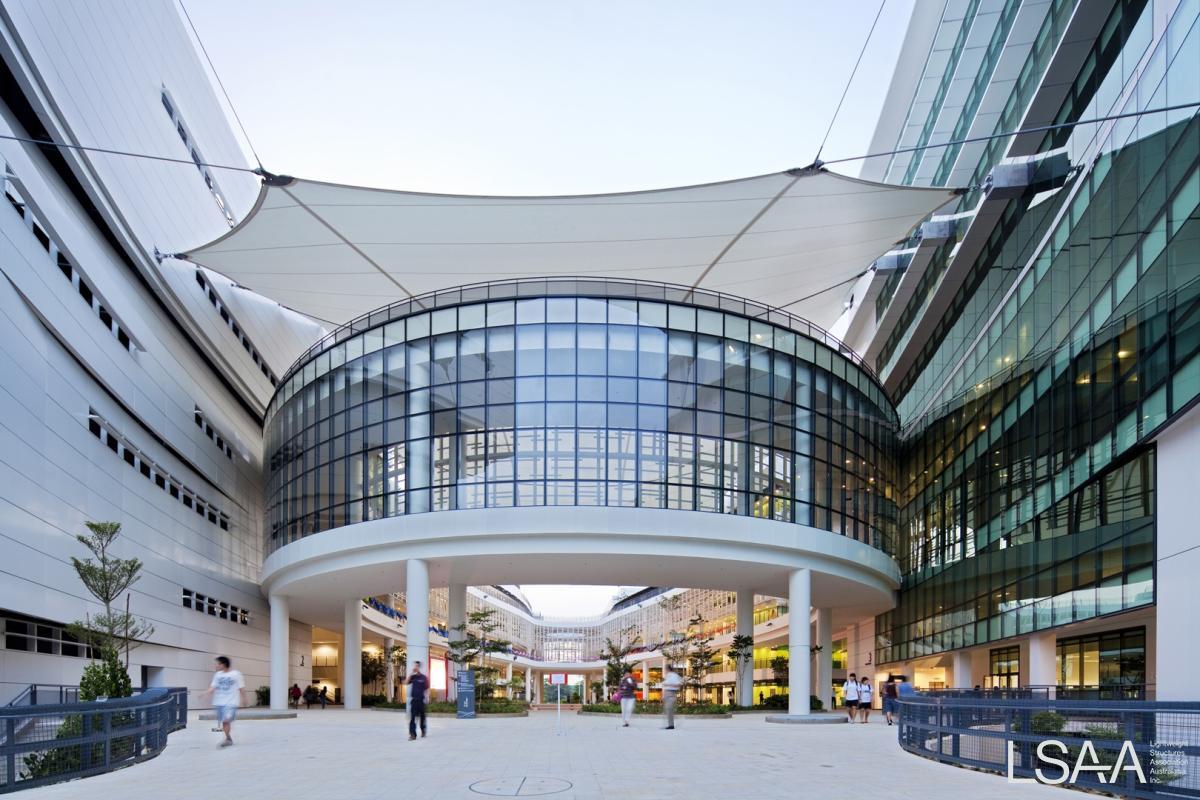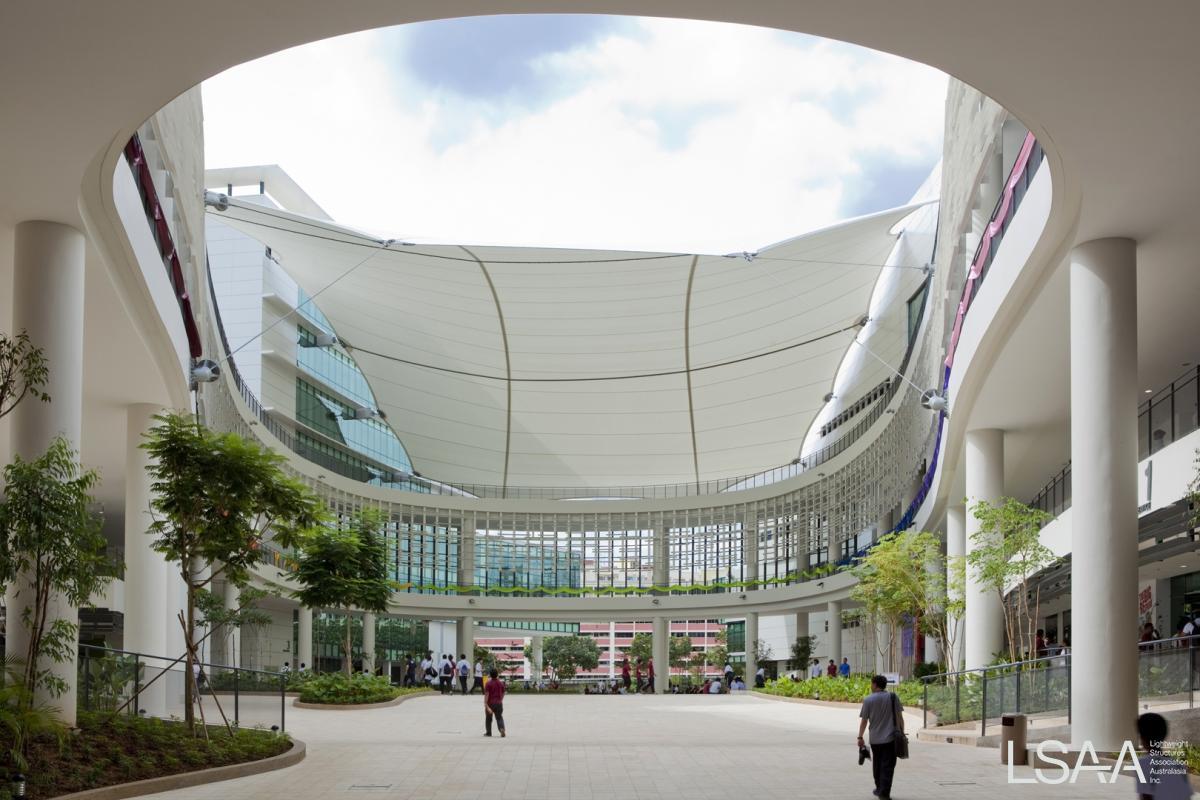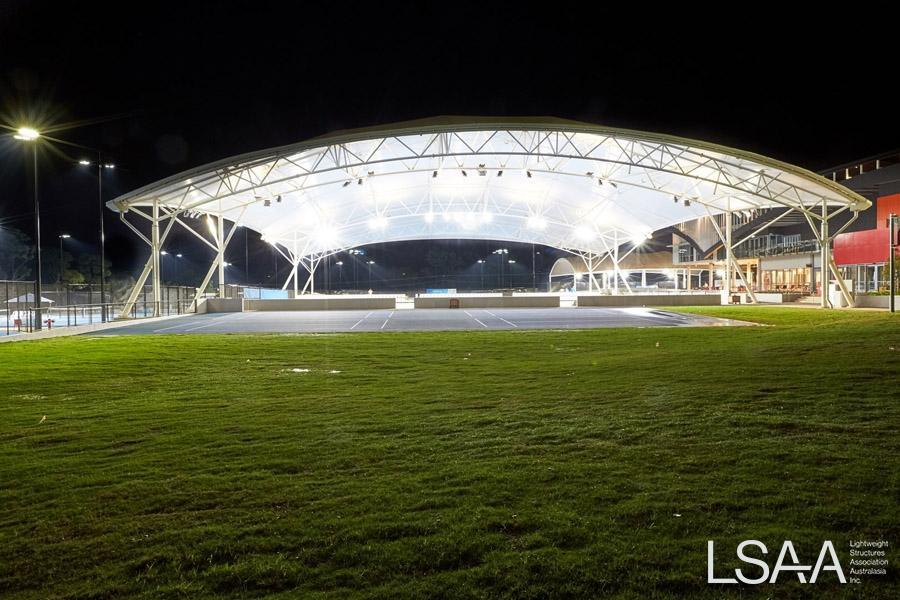 This project was entered in the LSAA 2018 Design Awards (Cat 4 Large Fabric Structures, #4431)
Application: 2 roof canopies for tennis courts – one to cover the synthetic show court and stadium seating; and one to cover another synthetic multipurpose court.
PROJECT DESCRIPTION:
The project involved design, fabrication and installation of 2 fabric roof structures at the Marrara Tennis Centre (now Darwin International Tennis Centre) – one weatherproof shelter to cover the Main Show Court and its associated seating; and another protective shade shelter over a multi-purpose court. The project had a total plan covered area of over 3,750m2 with Mehler FR1000N being used on the Main Court and Gale Commercial Heavy 430 on the Multipurpose Court.
The main show court is a long spanning roof, covering a 60m x 50m space. Given the cyclonic location, this presented additional design challenges throughout the project.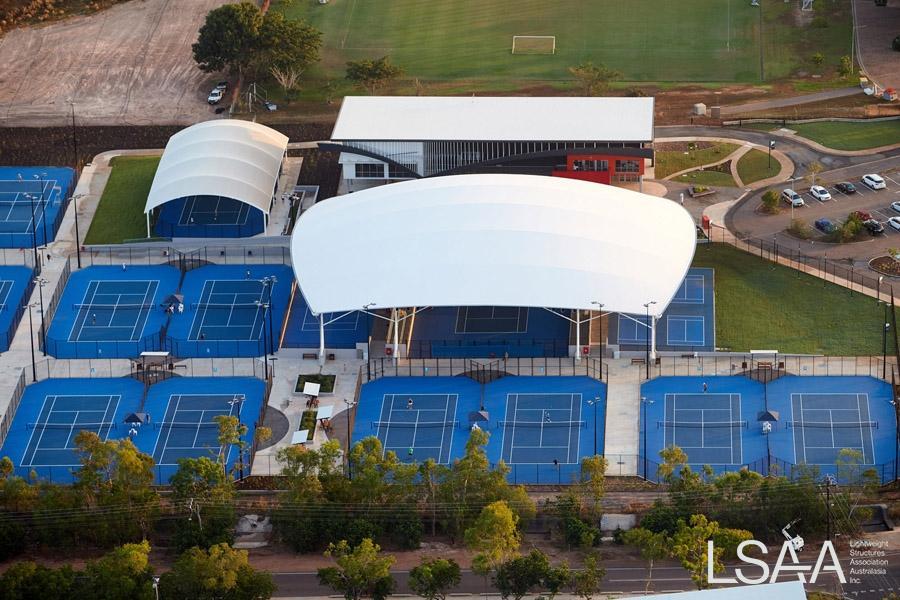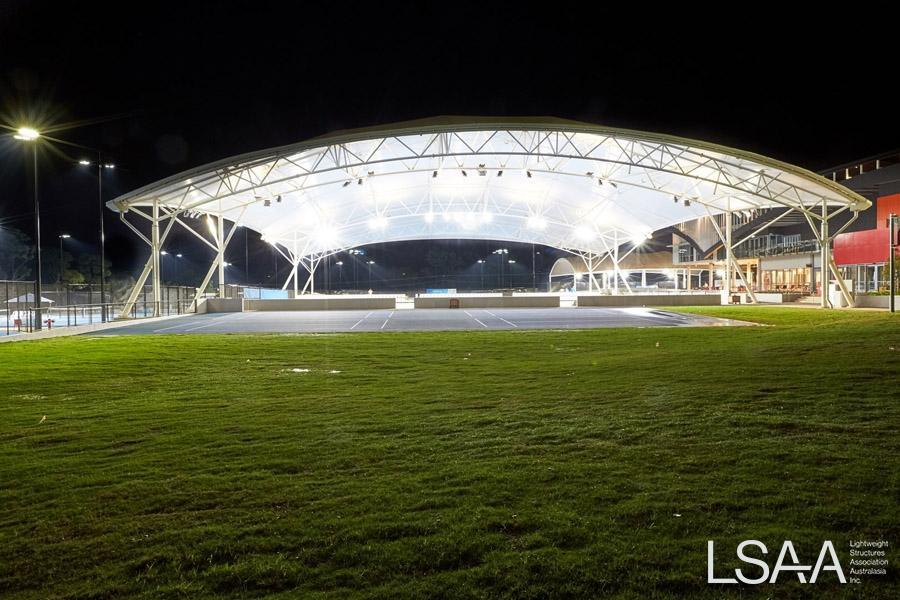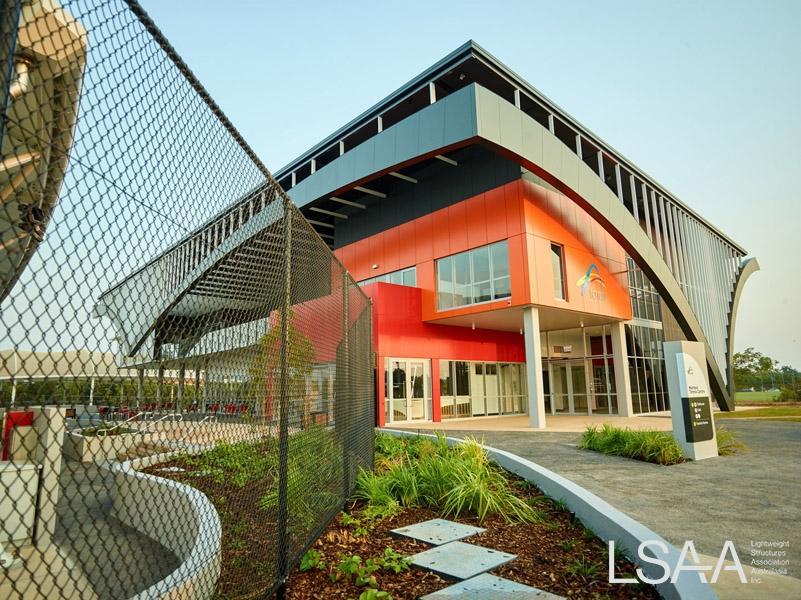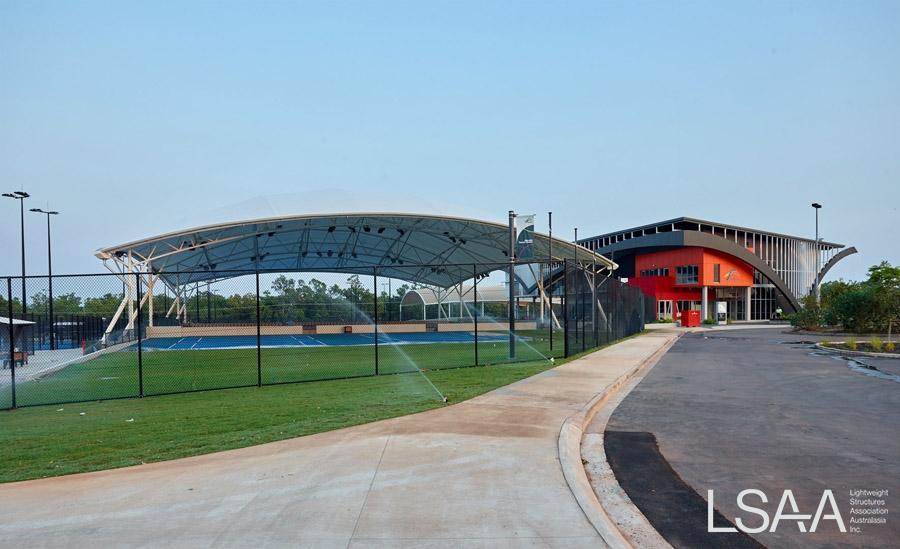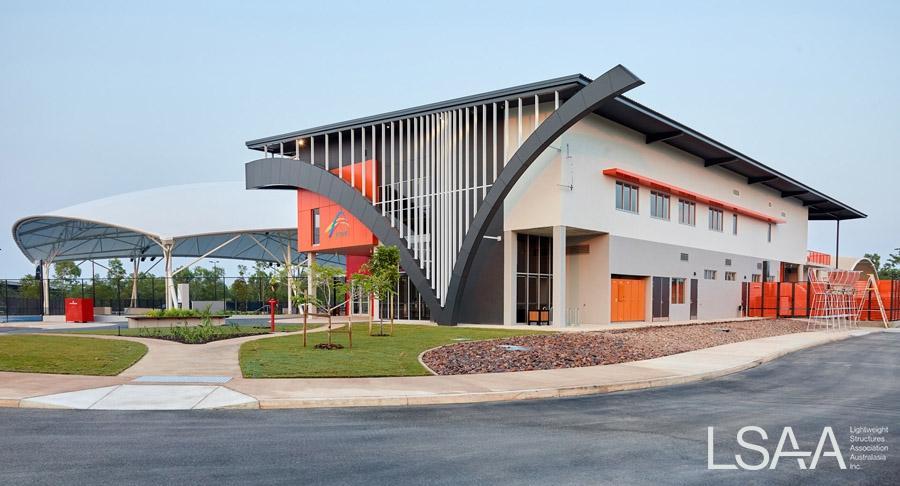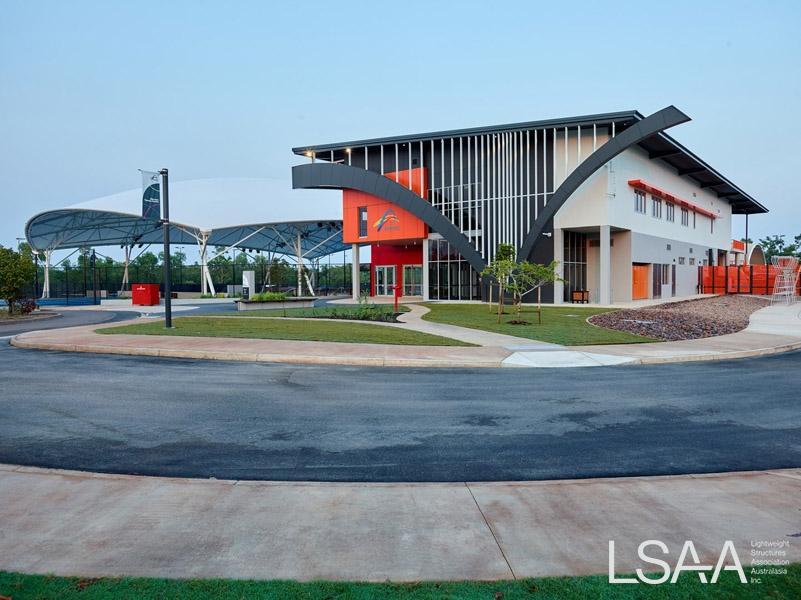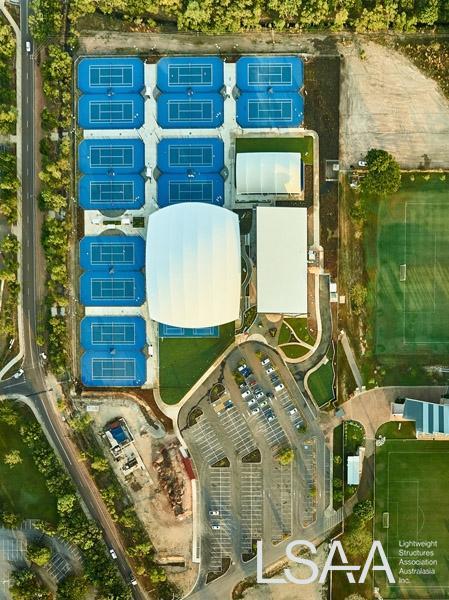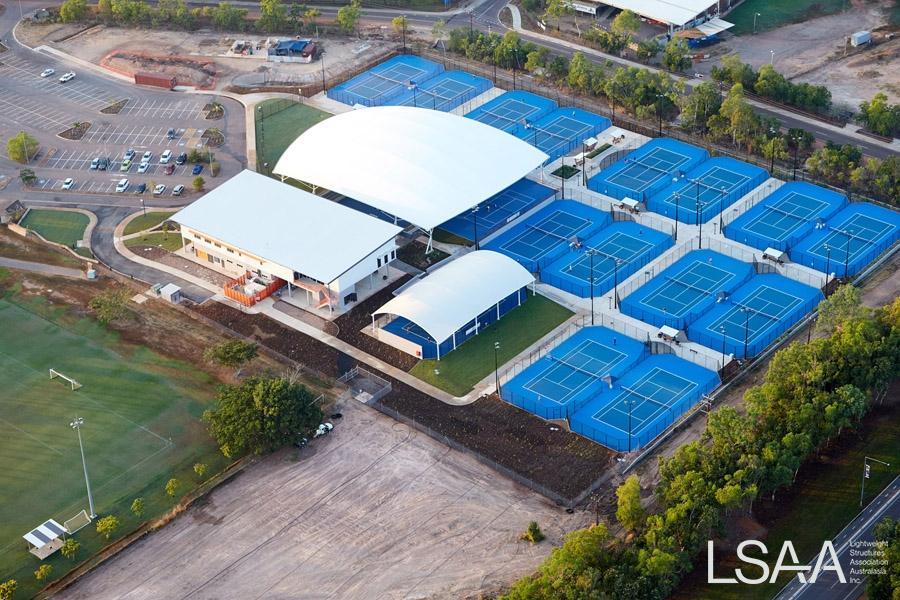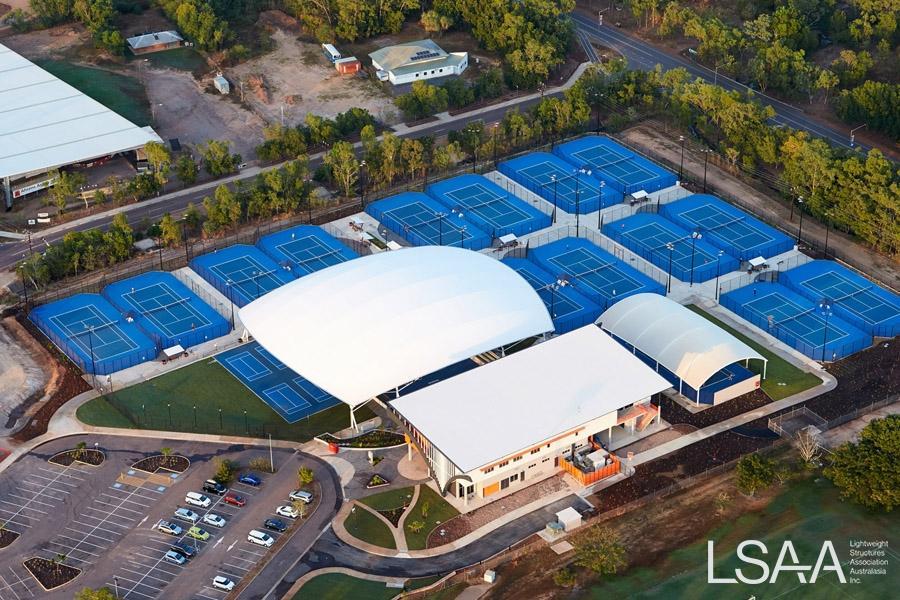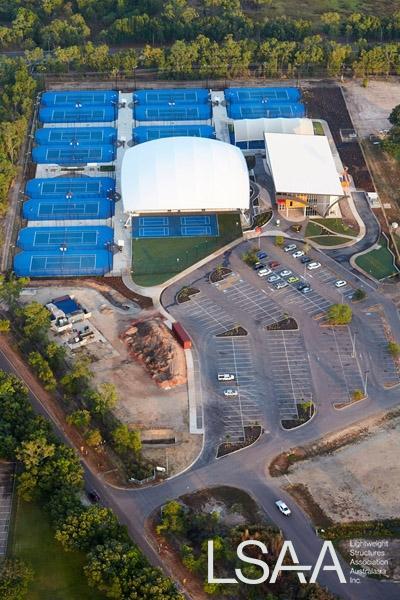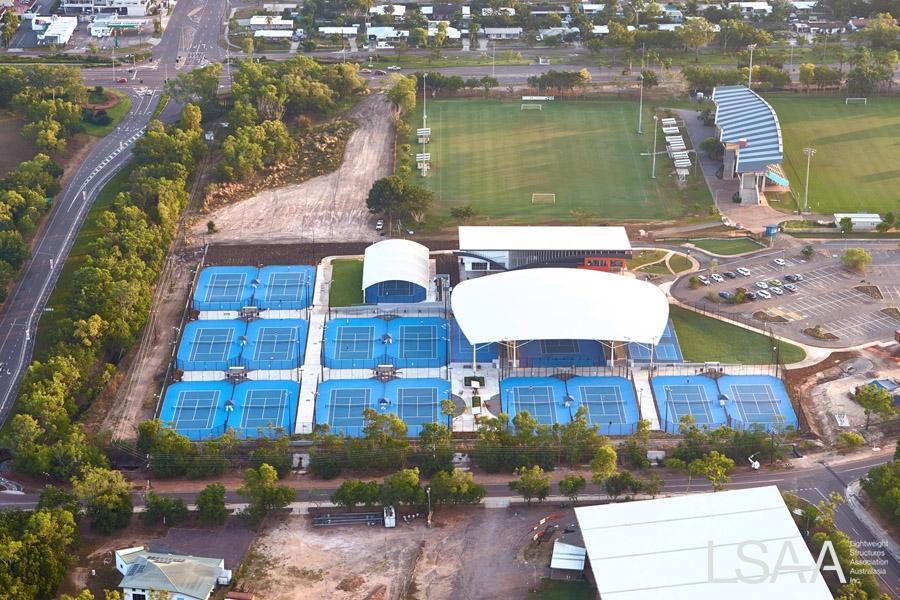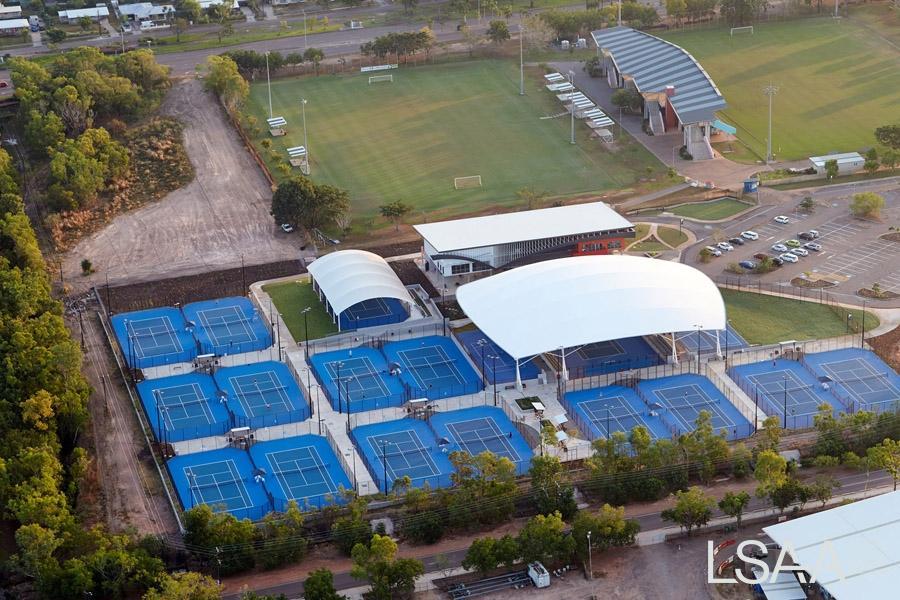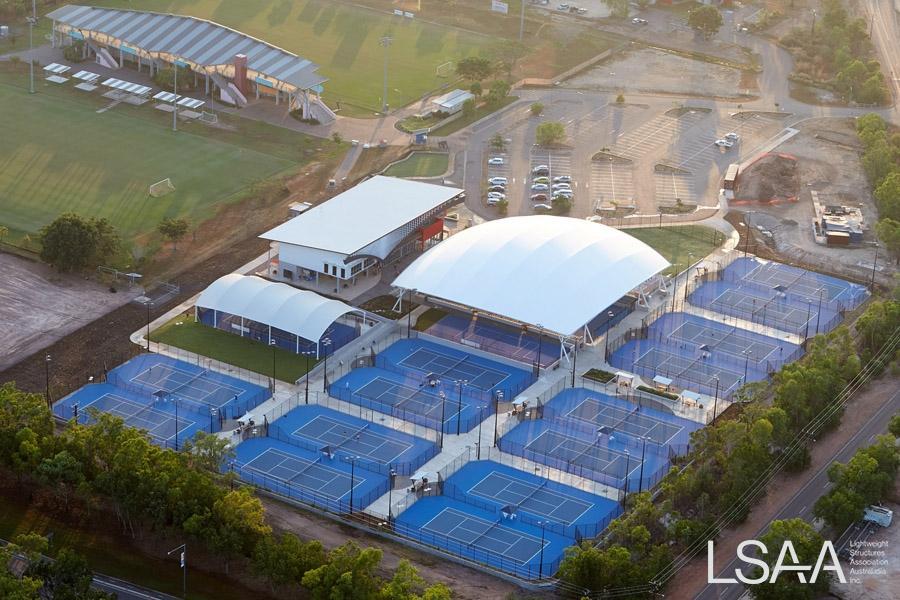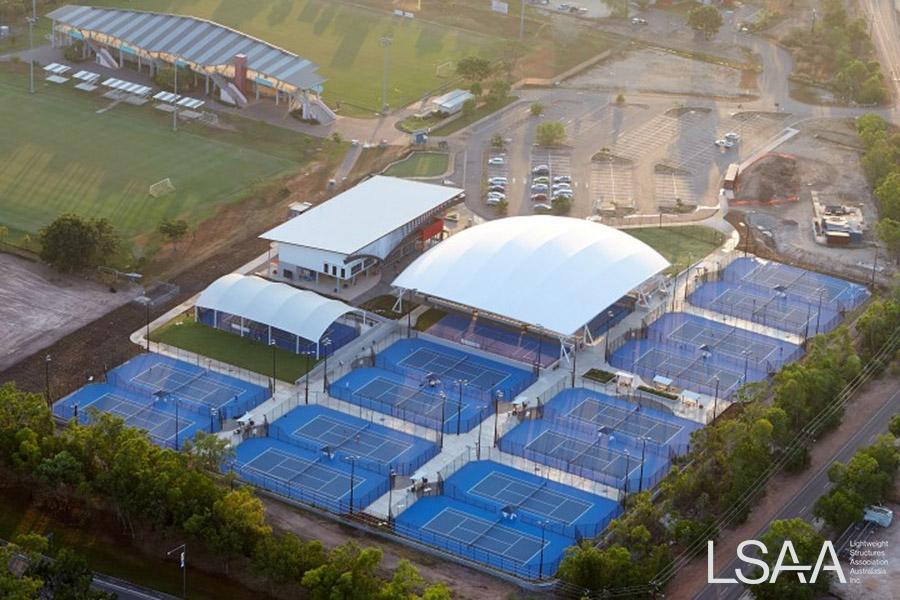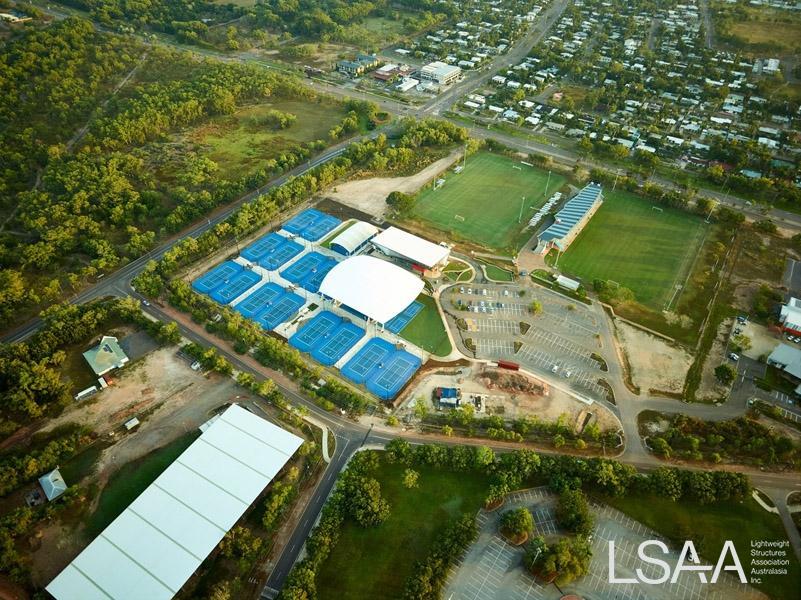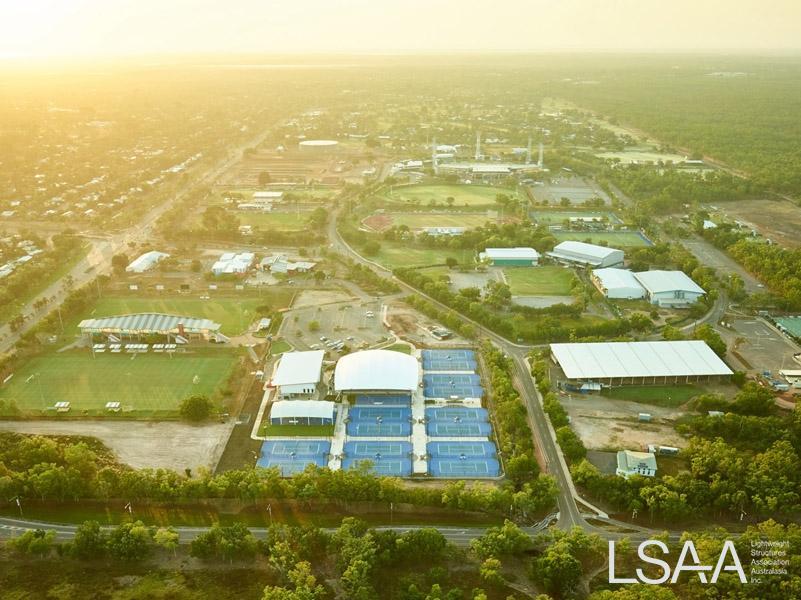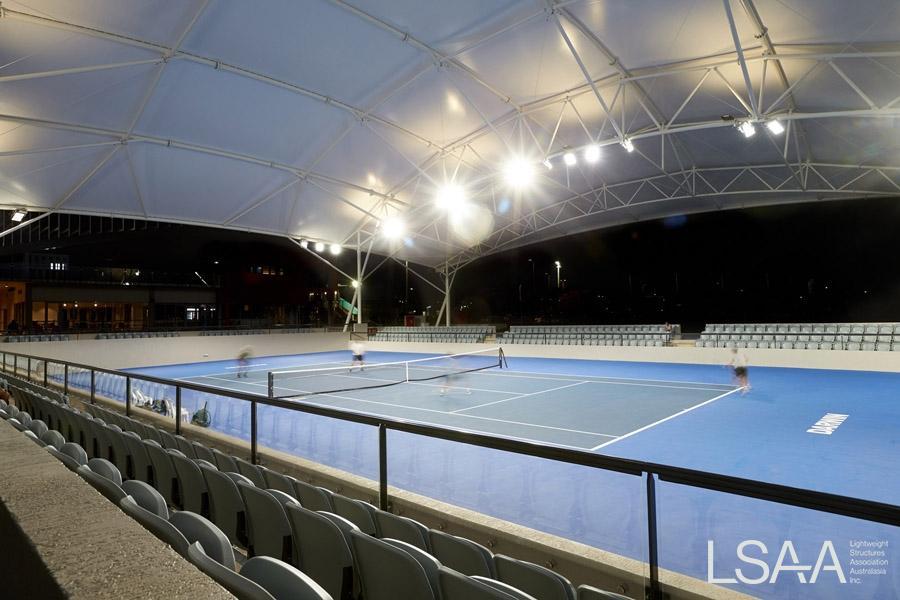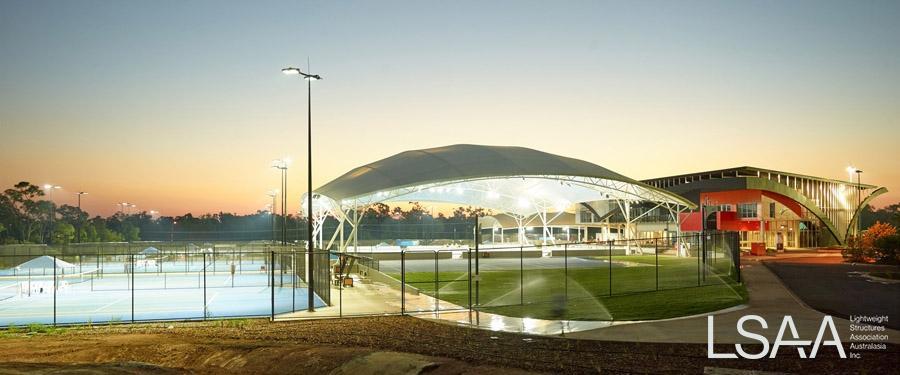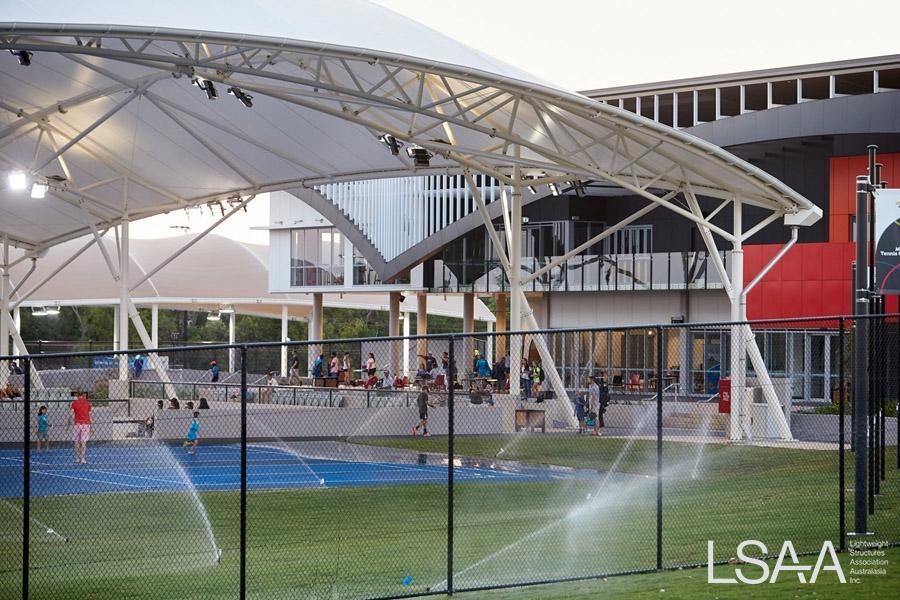 Mehler Coated Technical Textiles supplied large quantities of coated fabric for the 2015 Milan Expo.
The major application was for sun shading the two main axes of the Expo. The 85,000 sqm of fabric was essentially planar rectangular panels attached to opposing valley and ridge cables.
One important concept behind the simple forms was the re-use of the fabric following the Expo.
Other projects included:
Iranian Pavillion (2,500 sqm)

Ferreo Pavillion (1,600 sqm)

Institution Bologna Pavillion (4,500 sqm)

Tent at the entrance (6,000 sqm)
For further details see HERE