LSAA 2007 Design Award Entry (Cat 3, 3002)
Entrant: Taiyo Membrane Corp (Later as MakMax in Australia)
Client: Major Projects Australia Architect: Peddle Thorpe Architects
Structural Engineer: Xiang Du (TMC) & Connell Mott McDonald
Specialist Consultant(s): Connell Wagner (steel design)
Builder: John Holland Pty Ltd
Application and Function:
Designed to be suitable both during and after major events, the roof has been designed in two sections.
Section one is a permanent roof made from PTFE fabric. This roof covers the pool as well as stadium seating for 3,000 spectators. Section two extends the roof for "Commonwealth Games" mode.
Two temporary PVC roofs are erected either side of the permanent roof to cover a further 8,000 seats. The temporary structures create a festive effect with their high pitches and large sloping support columns.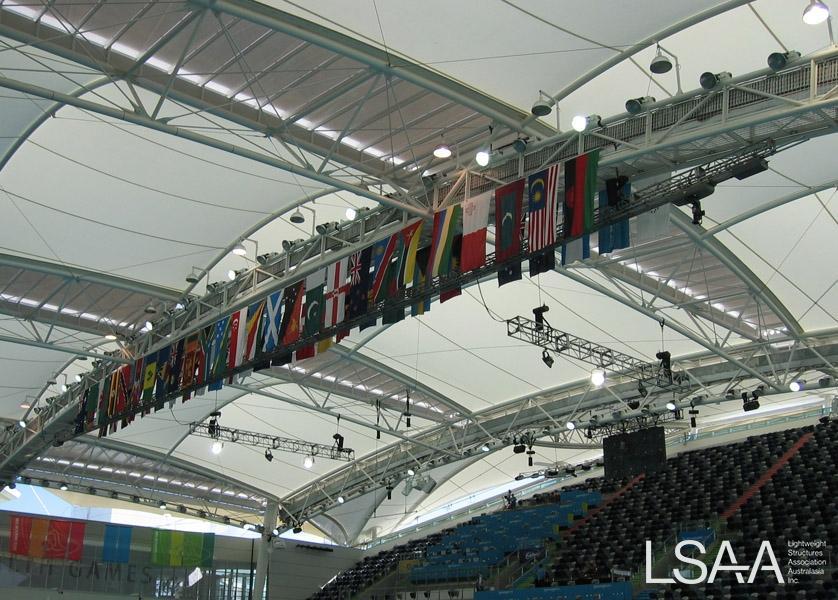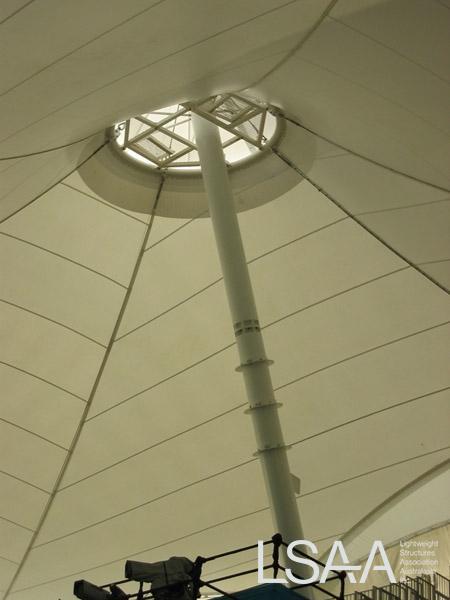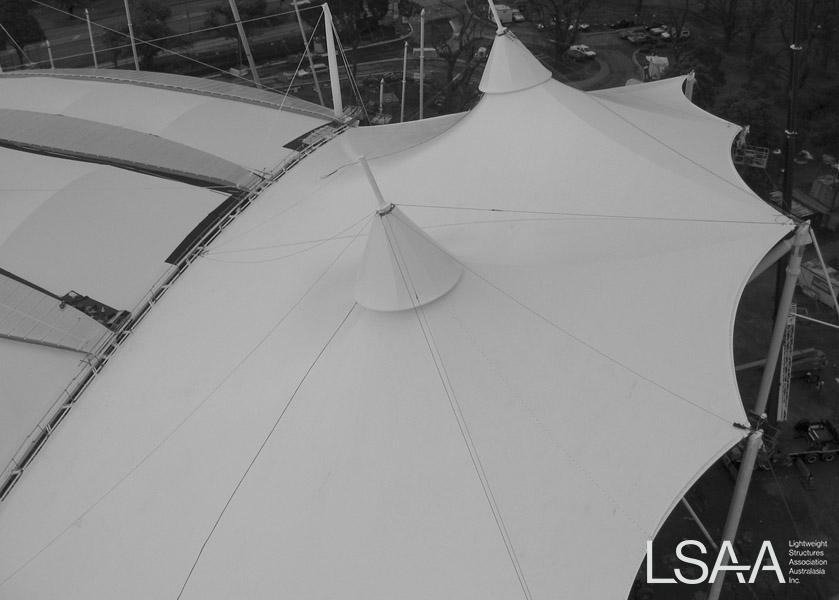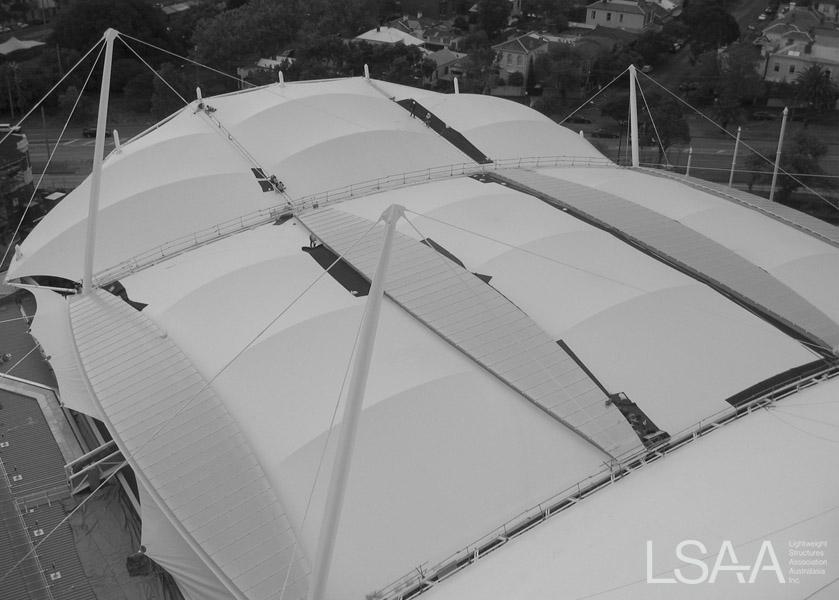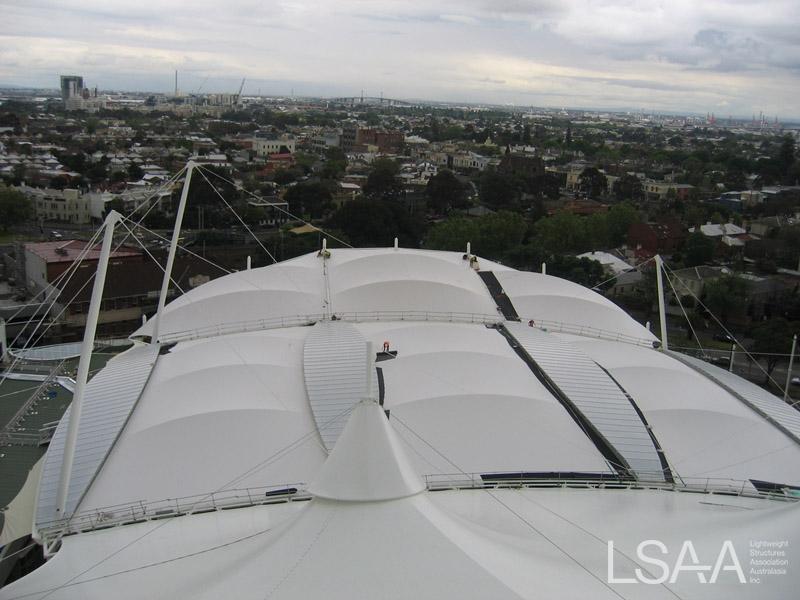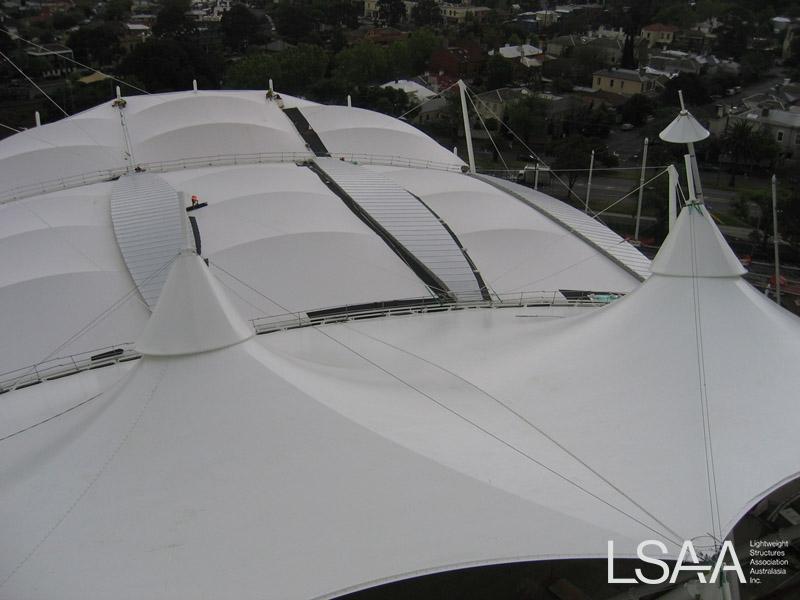 Design Brief
The membrane roof over the 50m pool has been aligned to minimize the influence of westerly winds and weather Based in Melbourne Victoria, Australia. The concept follows the lines of the existing Aquatic Centre, maximising the East and Northern natural light and allows glimpses of the city skyline.
Structural Systems
The roof membrane are supported by perimeter trichord truss system with internal arches. The load data was obtain from wind tunnel test carried out for this project. The steelwork was design by Connell Wagner and Taiyo Membrane Corporation provided membrane and cable reactions.
Materials
The membrane is Sheerfill II PTFE.
Fabrication and Construction
Bi-Axial stretch test was conducted for all roll of membrane to determine weft & warp compensation.
The fabric and associated fixings required geometric error of not more than 10mm per 10000mm length.
The membrane was tensioned at the perimeter by drawing the aluminum extrusion into design position.