Dreamworld Taipan Theme Park Entrance Canopy Description
The Steel Taipan ride at Dreamworld on the Gold Coast is the theme parks newest attraction. The AUD$32million roller coaster features a 1.2km track roller coaster and the Southern Hemisphere's first triple launch system that launches the train forward, backwards, and then forwards again at a top speed of 105km/hr!
Fabritecture was contracted for the design & construction of a bespoke walkway canopy structure to shelter patrons as they wait in line for the Steel Taipan ride. The structure features custom printed Serge Ferrari PVC designed to match the architectural intent of the structure – to emulate the scales of a taipan snake!
DESIGN / FABRICATION / INSTALLATION BRIEF
Fabritecture was responsible for the design and construction of the streel frame and printed PVC cladding as well as all connection details. The barrel vault canopy structure features Serge Ferrari 702 S2 in a custom print to emulate the patterning of a Taipan snake's scales. The structure provides shade and weather protection to patrons waiting in the queue to ride the rollercoaster.

STRUCTURAL SYSTEMS
The frame of the canopy structure, which emulates the spine and the vertebrae of the Taipan, is formed with fabricated box portal beams, and folded aluminum plate vertebrae capped over the structure between the ribs. A horizontal channel secures the tensioned fabric roof. Scalloped fabric to the eastern side is tensioned via fixing guides on each rib. These are randomly placed allowing a randomly scalloped edge to the fabric.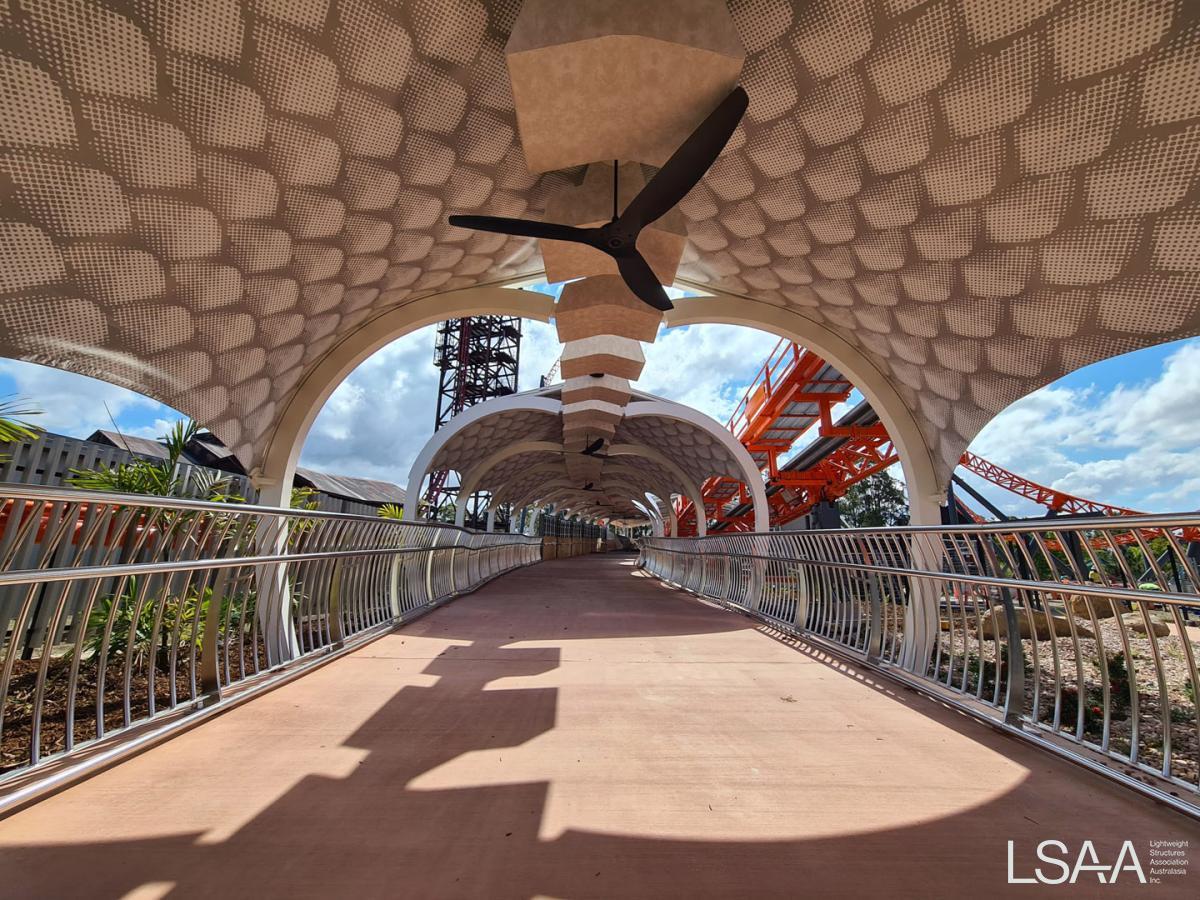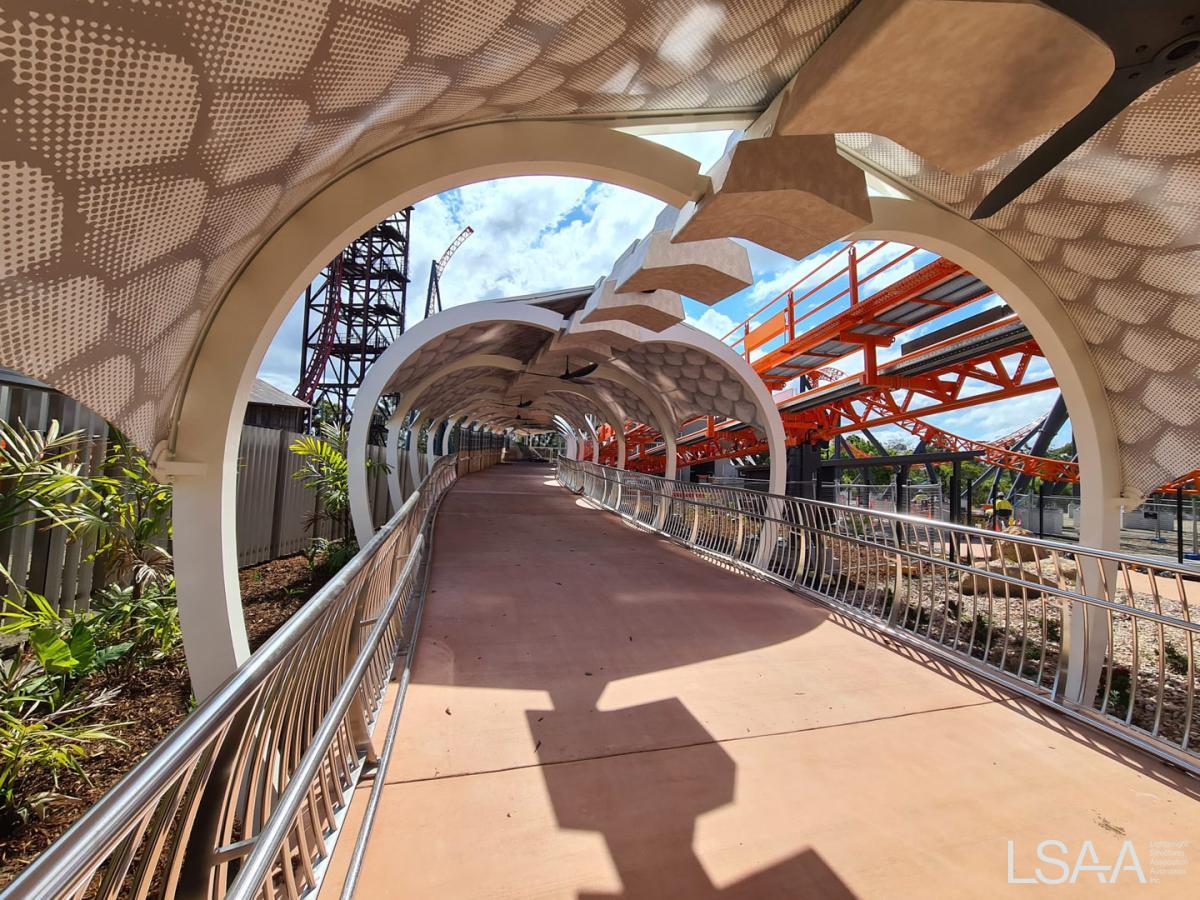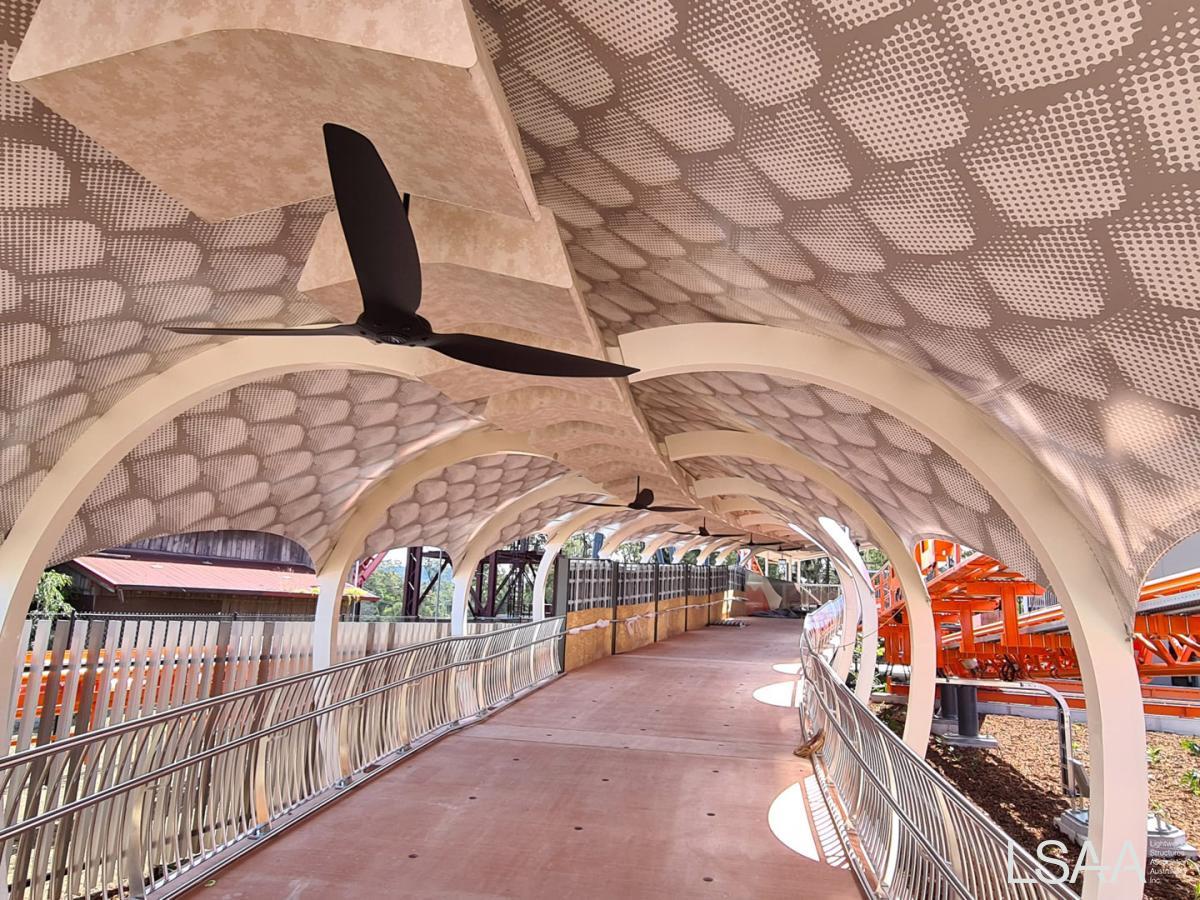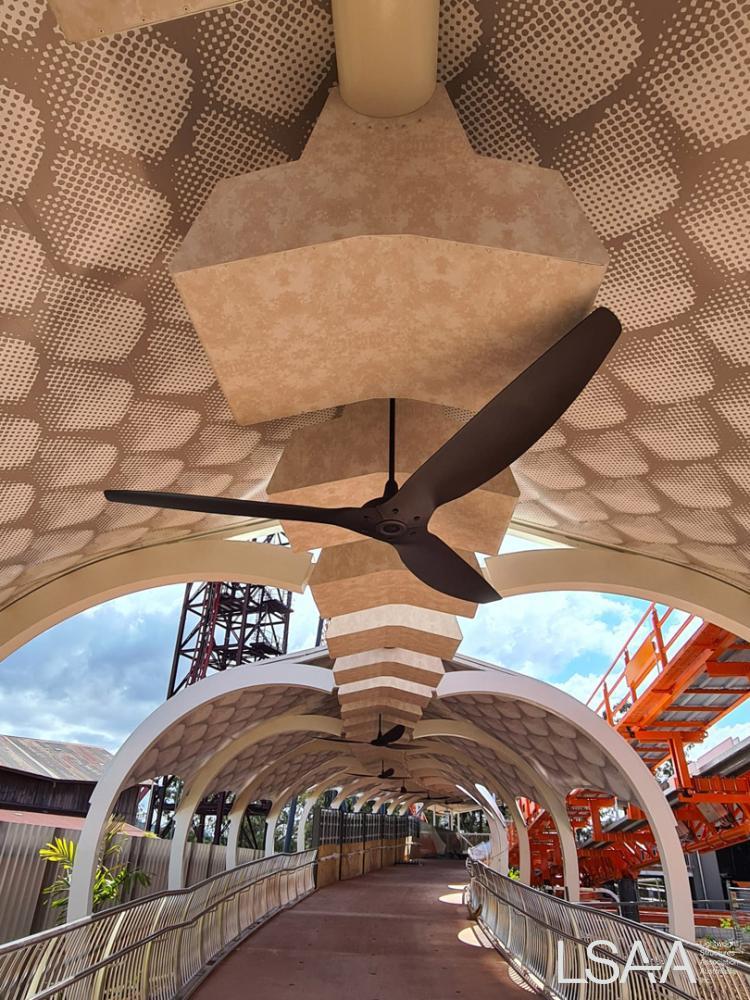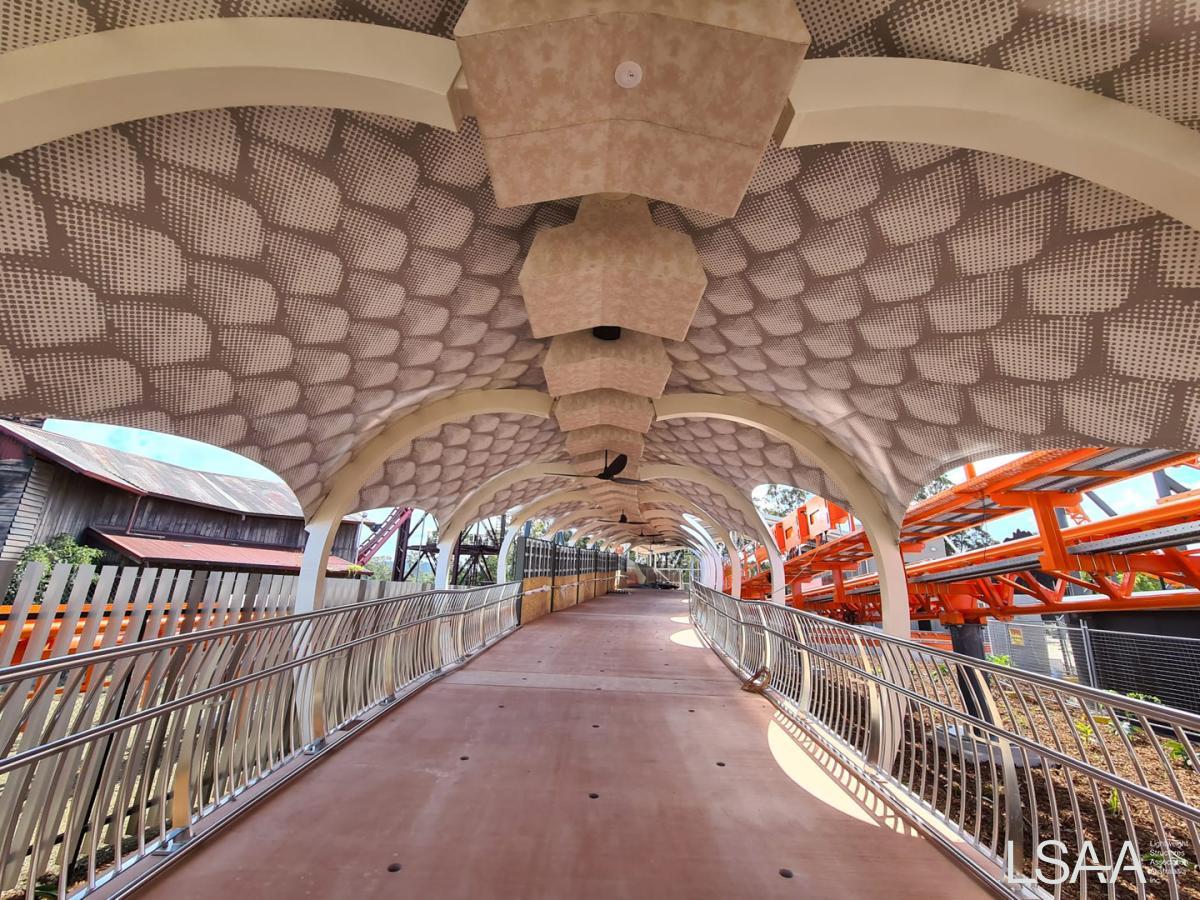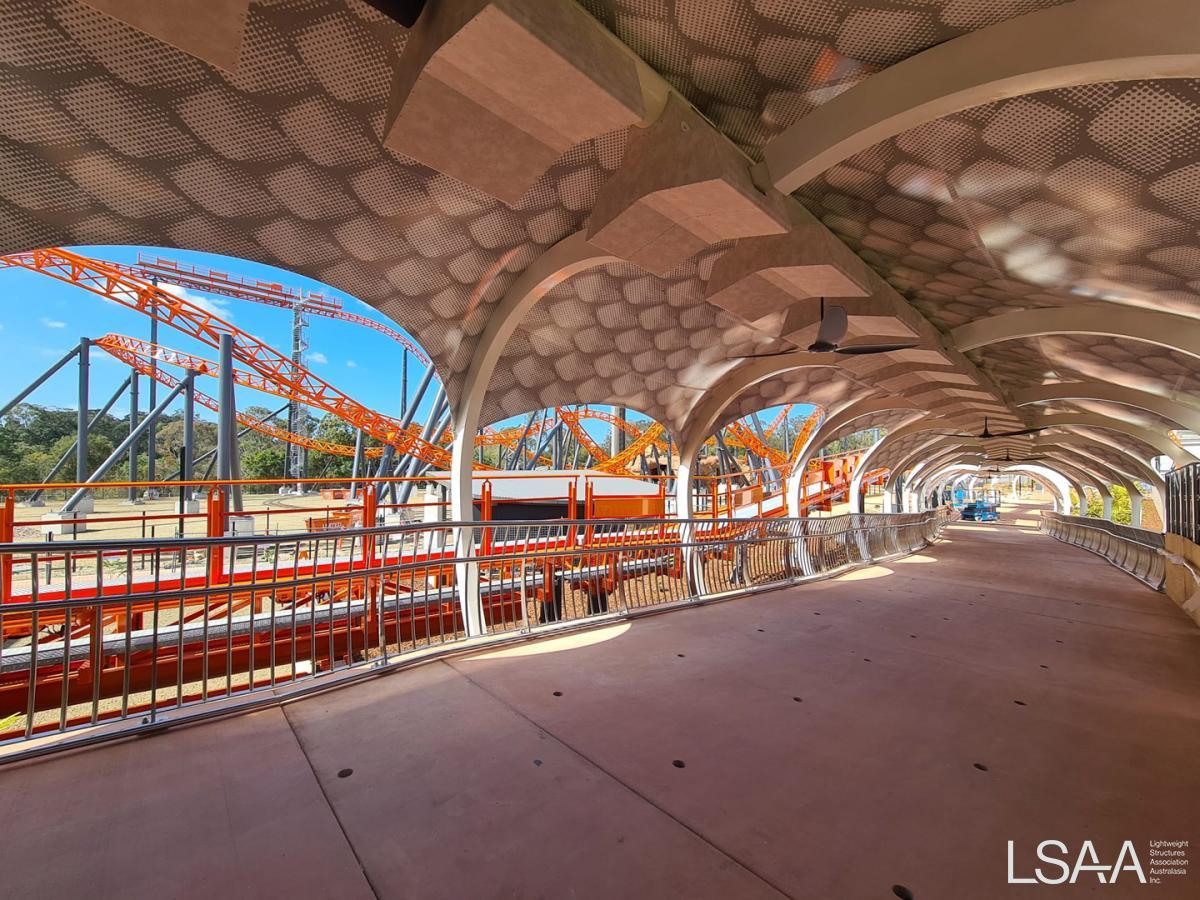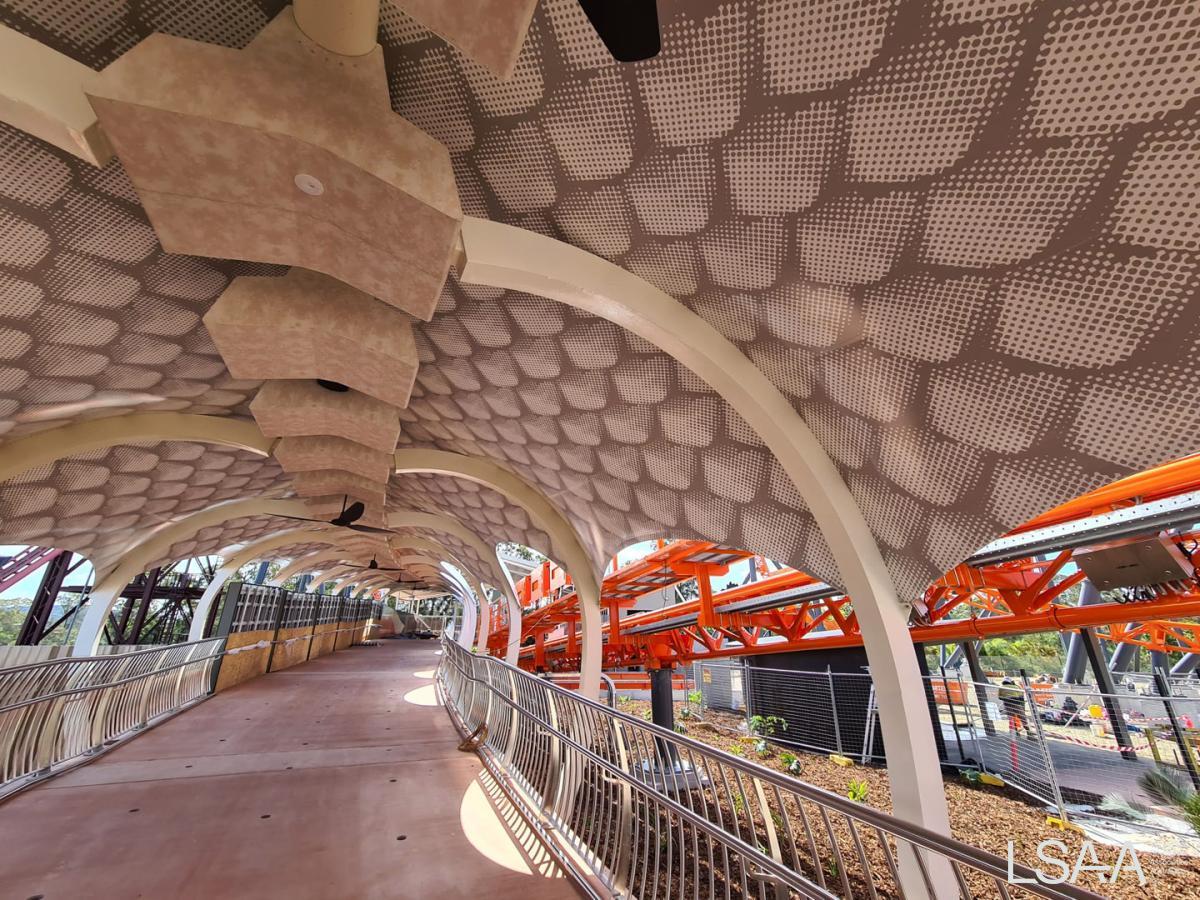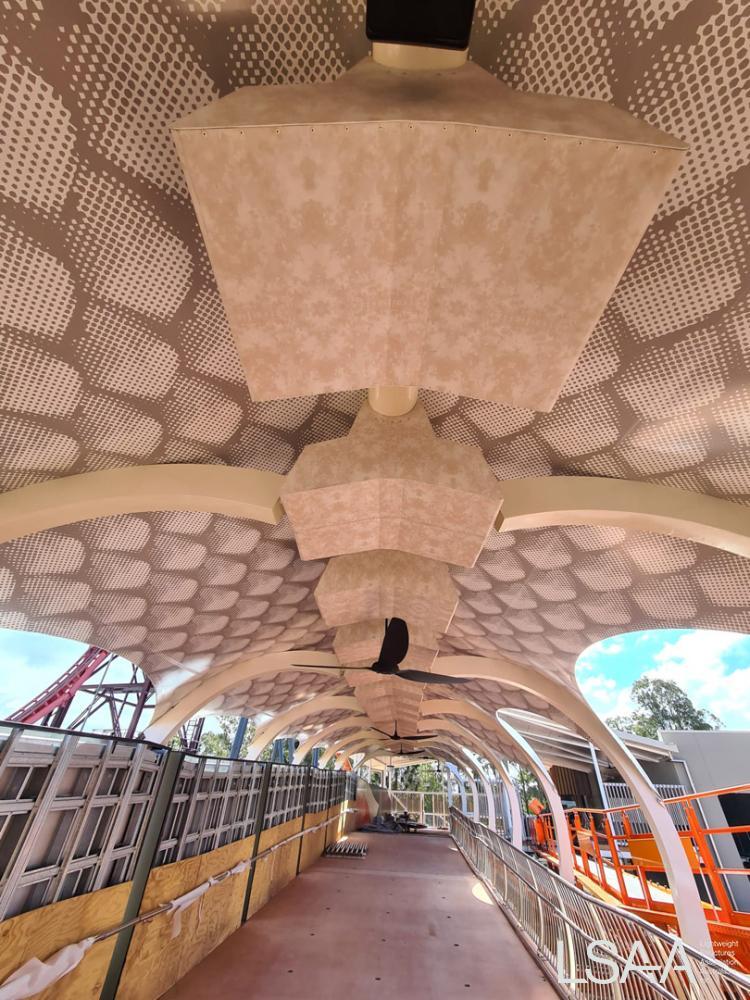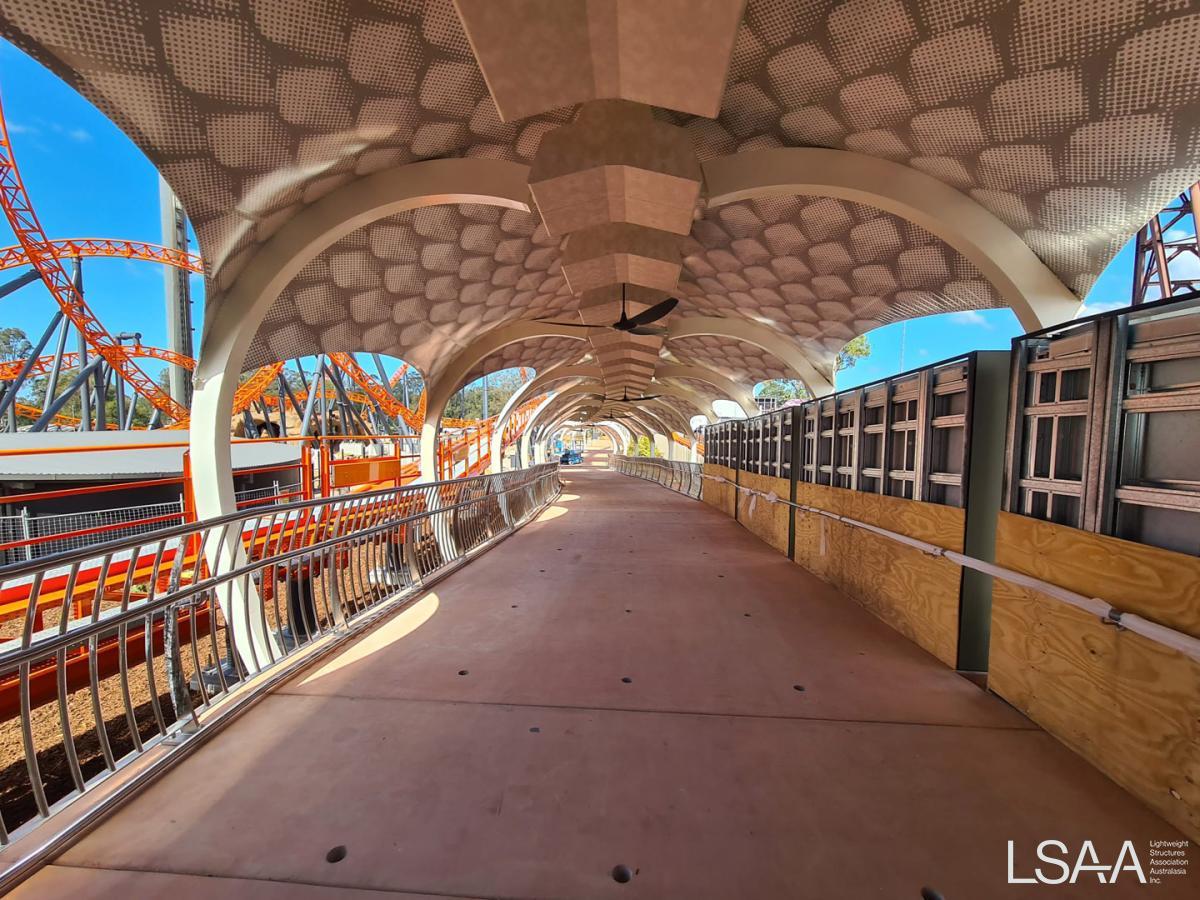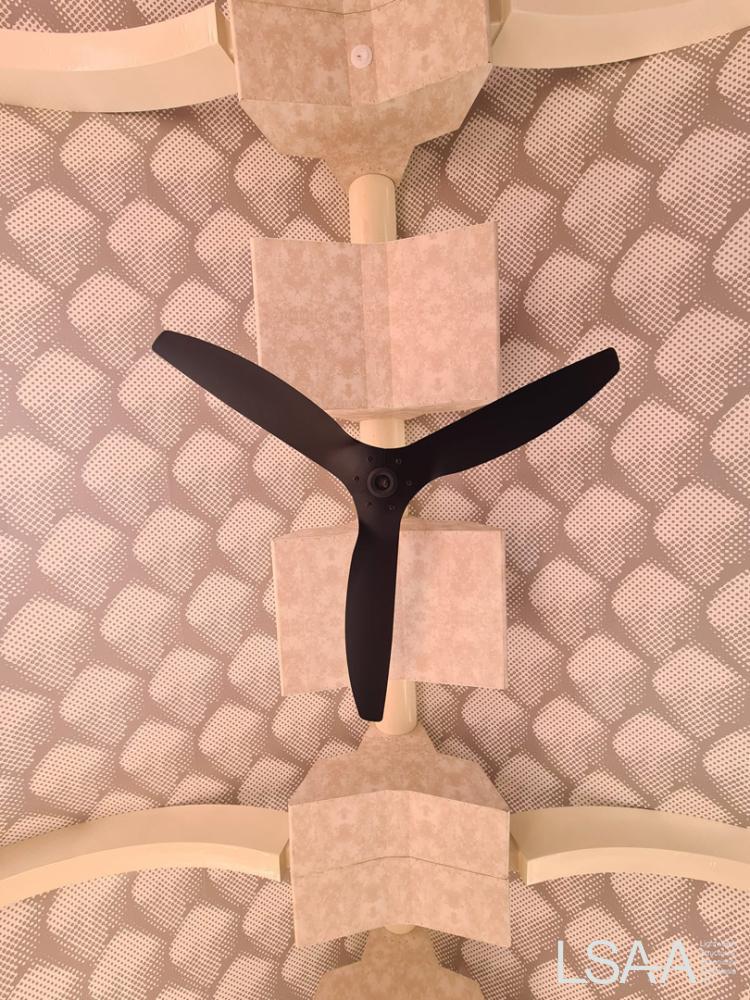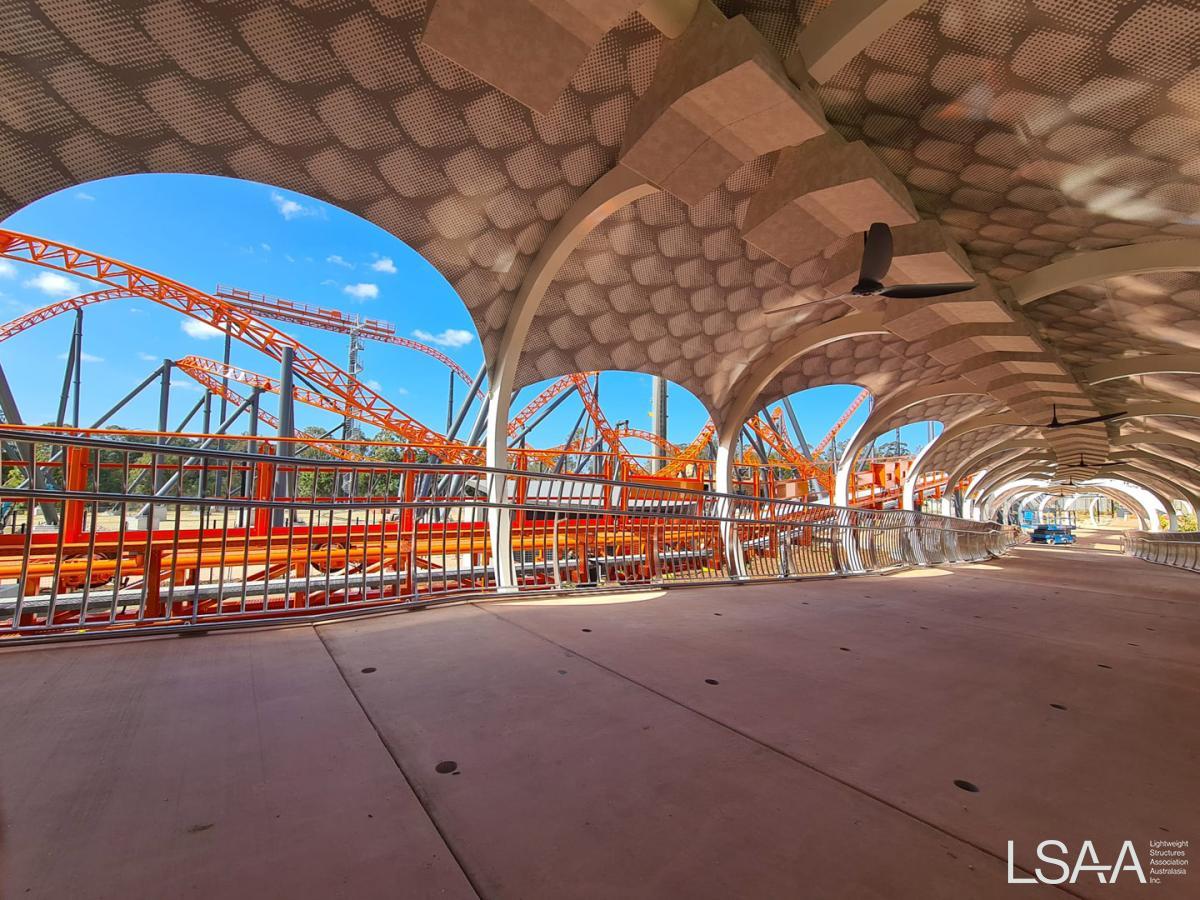 MATERIALS
Serge Ferrari 702S2 PVC coated polyester was the fabric selected to meet the design intent due to its durability, 15-year warranty, fire retardant PVC coating, ease of maintenance, and importantly its ability to be printed. The white fabric was custom printed on the underside with a snake scale pattern by a company in Europe which offers 10-year warranty on the print.

FABRICATION
Given the complex printed pattern on the PVC, care needed to be taken during fabrication to ensure the pattern lined up over welded seams.

COLLABORATION, CONSTRUCTION AND MAINTENANCE
The entire Steel Taipan attraction is new, having been constructed throughout 2021. The canopy was constructed alongside the 1.2km track ride on the Gold Coast, QLD. The ride officially opened on 15th December 2021 for the 2021 Summer school holidays.

COSTS
The Dreamworld Steel Taipan project was valued at approximately AUD$550k.

PROJECT CREDITS

Project Name: Dreamworld Steel Taipan
Location: Dreamworld Parkway
City: Coomera, QLD, Australia 4209
GPS Location: -27.861700795175082, 153.31558678224766
Completion Date: 23-Sep-21
Category (1-8): 2 – Medium structures between 250m2 and 1,000m2
Entrant Name: Fabritecture
Address (Street): Unit 14/15 John Duncan Court, Varsity Lakes, QLD, 4227
Telephone Landline: +61 7 5587 7000
Mobile: +61 408 402 716
Email Address: This email address is being protected from spambots. You need JavaScript enabled to view it.
Website Address: www.fabritecture.com
Entrant Type / Role: Designer / Installer
Project Client: Ardent Leisure
Structural Engineer: Wade Design Engineers
Building Contractor: Condev Construction Development