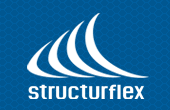 Structurflex NZ Pty Ltd
From humble beginnings over 70 years ago as a sail making company under the name of Sails and Covers Ltd, today Structurflex is an industry-leading fabric engineering and design firm with headquarters in New Zealand and offices in Kuala Lumpur, Brisbane, Dubai and Kansas City.
Extensive experience in the handling of specialised fabric materials, combined with the introduction of manufacturing techniques suited to fabric engineering, enabled the company to expand into other markets, and in 1981 Structurflex was formed.
Today Structurflex services the Transport, Architectural, Environmental and Promotional markets and has separate, specialised divisions for each.
With a commitment to investing into research and development, Structurflex remains at the forefront of emerging technologies and boasts a state of the art design and manufacturing facility. Combining the technology of tomorrow with the practical knowledge gained over more than 70 years has enabled Structurflex to deliver to clients an impressive range of high profile fabric engineering projects in New Zealand and around the world.
Website: www.structurflex.co.nz
Some articles on this website: