Entrant: UFS Australasia Pty Ltd - Designer / Fabricator
Location: Murwillumbah - Northern NSW Client: Multispan Australia Pty Ltd
Struct. Eng.: Ferrari Proprietary System Builder: Universal Fabric Structures / Ozrig
Fabricator: Fabric Shelter Systems
Project entered in the LSAA 2009 Design Awards, Category 4 (47063) - Internal and Sculptures
The revamped Murwillumbah swimming pool located in Northern NSW, now known as the Tweed Regional Aquatic Centre, offers the public an interactive leisure pool, waterslide, barbeque & picnic area, covered grandstand and refurbished outdoor Olympic pool. The suspended ceiling needed to not be susceptible to corrosion and provide an acoustic balance to traditionally noisy swimming pool halls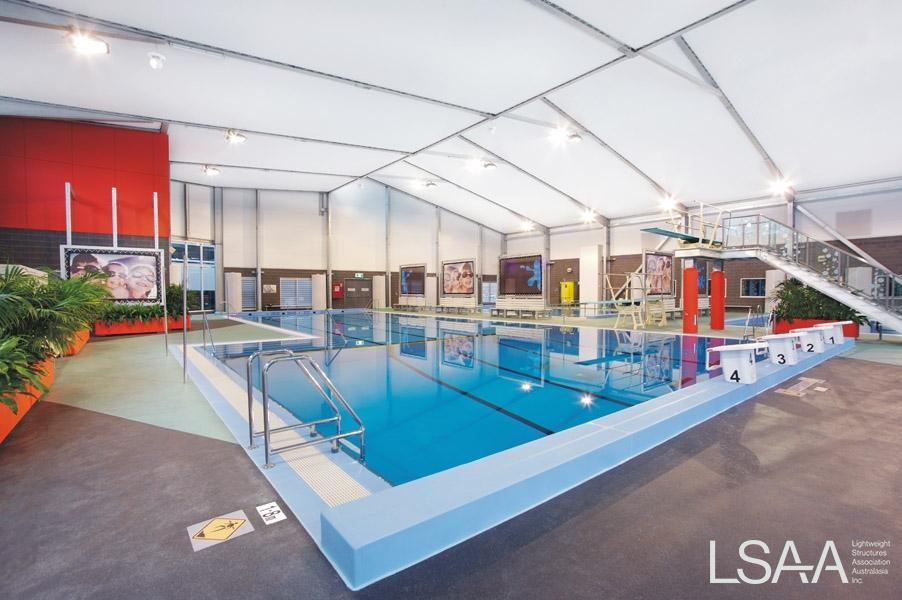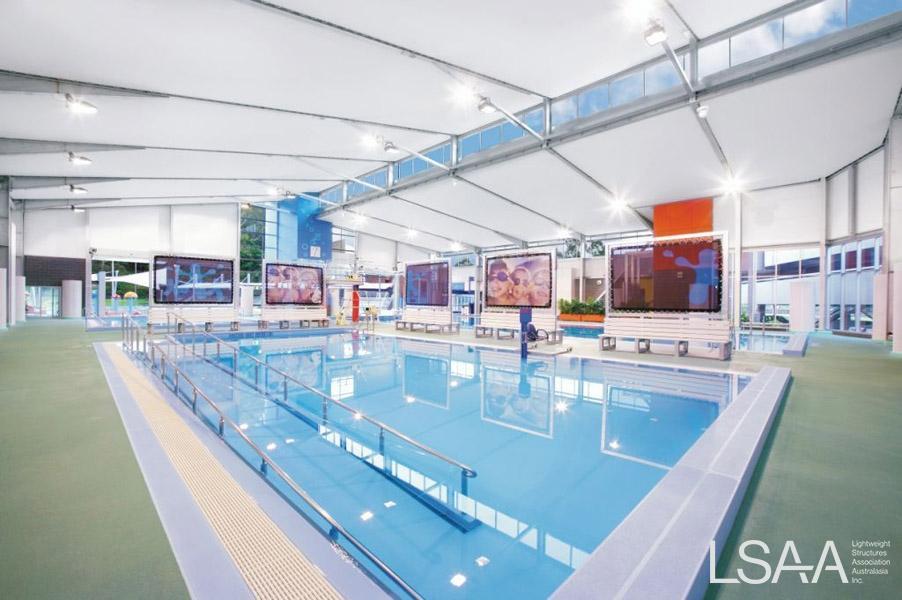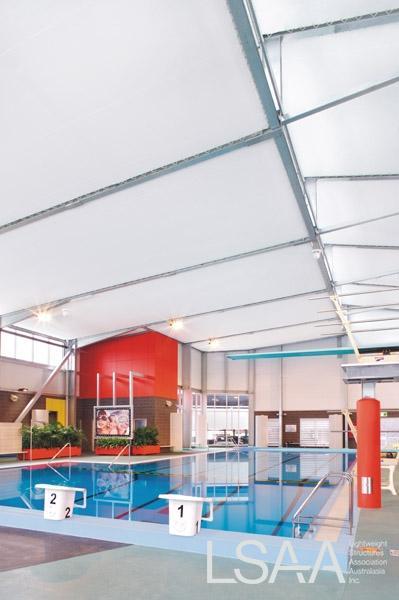 Design Brief
The brief from the client was to design, supply and install a suspended ceiling, that was not susceptible to corrosion by allowing moisture and corrosion vapours to penetrate into the ceiling space. It had to provide an acoustic benefit and be easy to install
Structural System
Proposed was the use of an innovative internal ceiling solution that assists in increasing acoustic absorption through the specially developed fabric which allows the internal sound to dissipate in the ceiling void, whilst retaining its good looks over time and being extremely dirt resistant and easy to maintain.
The entire installation of over 1000m2 was completed in less than 3 weeks and was the first time this fabric has been used in Australia for this purpose.
The installation technique of using special tracks fixed to the main rafters, when incorporated with Shock cord and S hooks, not only provided a tensioned flat fabric panel but reduced installation times dramatically over conventional commercial ceiling techniques. This was a cost effective solution to the client with the added benefits that the fabric characteristics added to the building
The result is a spectacular suspended membrane ceiling that is not only functional but also provides an aesthetic look.
Materials
Ferrari Batyline HM Classic supplied by Innova International - acoustic benefits
Unistrut tracking system - mounted to existing steelwork to attached s hook to
S hooks and Shock cord - for tensioning
Fabrication
The shock cord system that connected to a track mounted to the existing steelwork provided a very economical fabrication solution.
Each panel was compensated based on the tolerances within the stretch of the shock cord as well as the fabric tensile strength. Eyelets were added around the perimeter edge for the shock cord.
Construction and Maintenance
Installation was very quick due to the panels having the shock cord inserted through he eyelets at ground level. A track system was fixed to the existing steel work and the method was simple by using s hooks that connected the shock cord to the track.
The shock cord provided the tensioning of the panel and a special tool was used toward the end of each panel installation to make the attachment of the hooks easier as it got tighter.
The installation was completed in a week. This was extremely beneficial to the client when comparing against traditional plasterboard techniques and timeframes
Costs - approx $142,000