Application: Sports stadium on top of a multi-level car park
This project was entered in the LSAA 2018 Design Awards (Cat 4 Large Fabric Structures, #4066)
PROJECT DESCRIPTION:
The Queensland University of Technology (QUT) Sportsfield Car Park project was part of the construction of a $27 million multi-story car park at the QUT Kelvin Grove campus in Brisbane. The roof-level is home to a FIFA accredited sports field, developed as part of the long-term expansion plans for the University.
The Queensland University of Technology (QUT) Sportsfield Car Park features a FIFA-accredited sports field on the roof of the AUD$27 million multi-level car park. This unique project included the design and construction of the steel, PTFE fabric membrane, fall arrest mesh, static line and score board.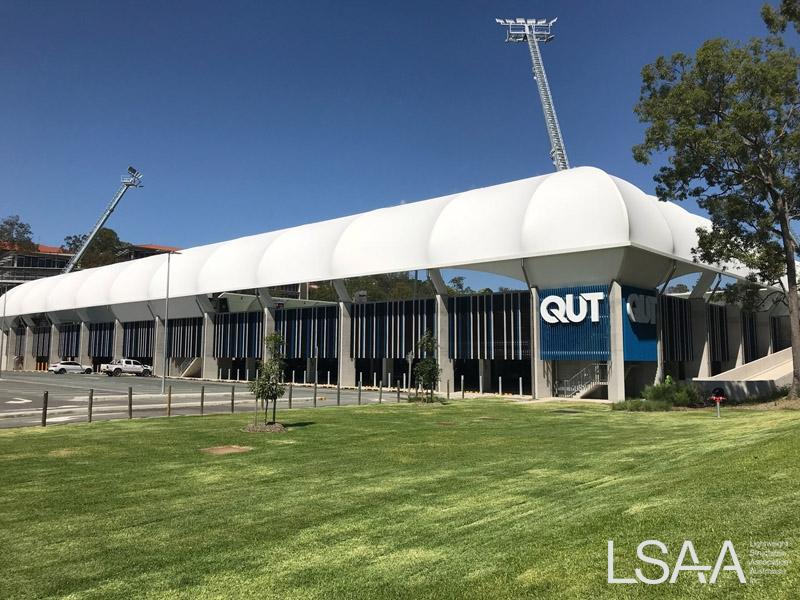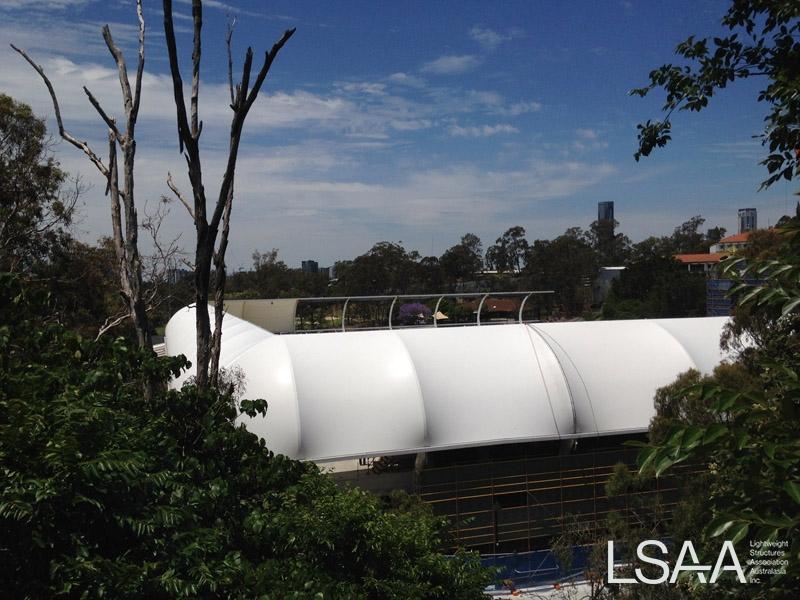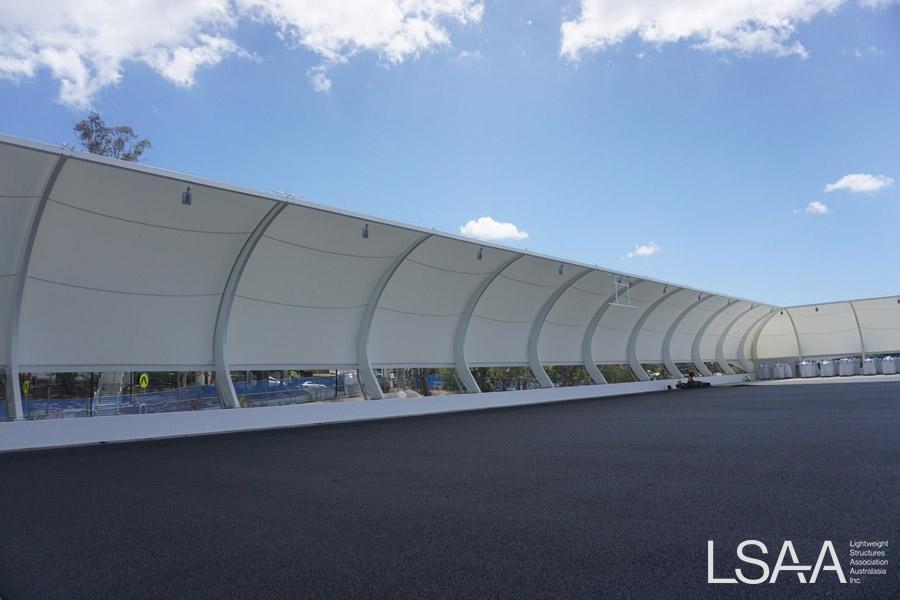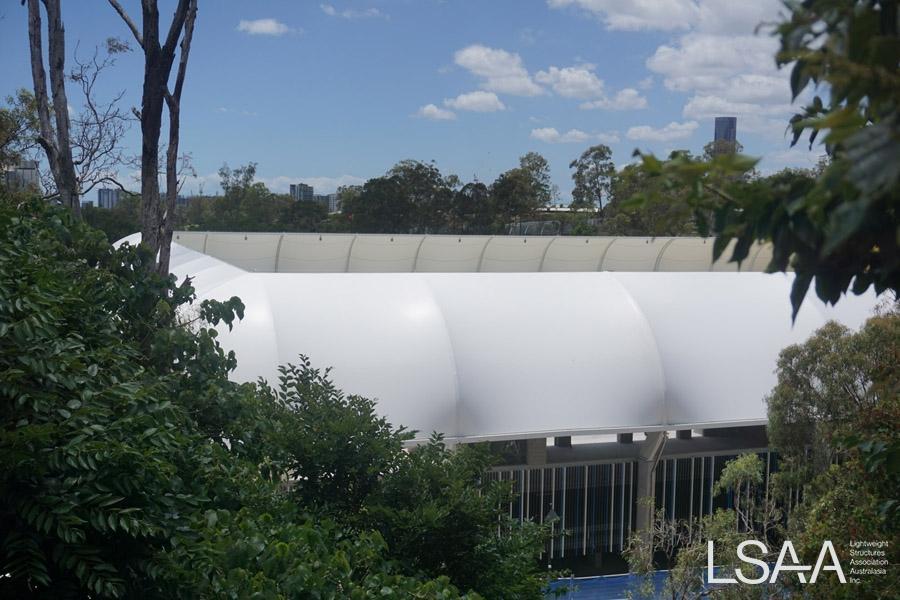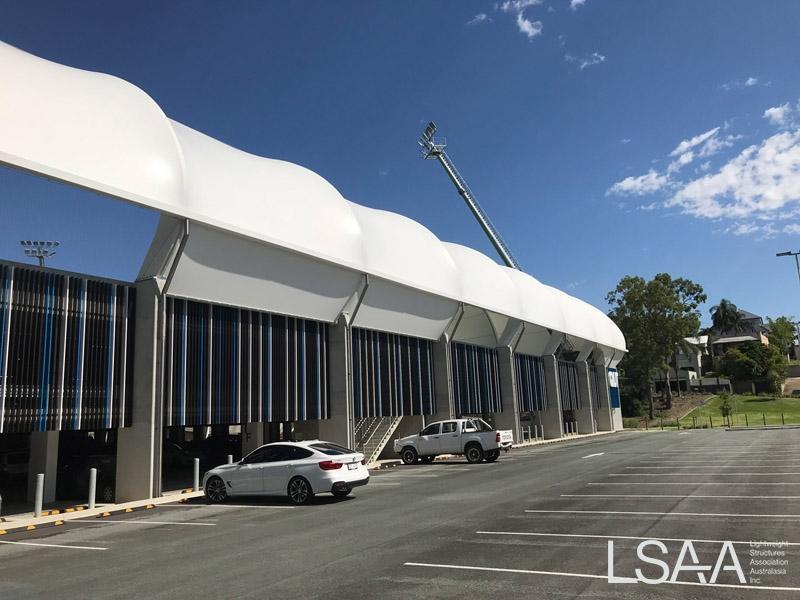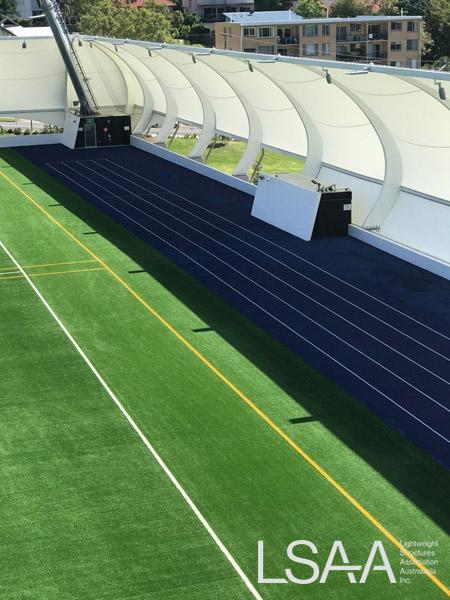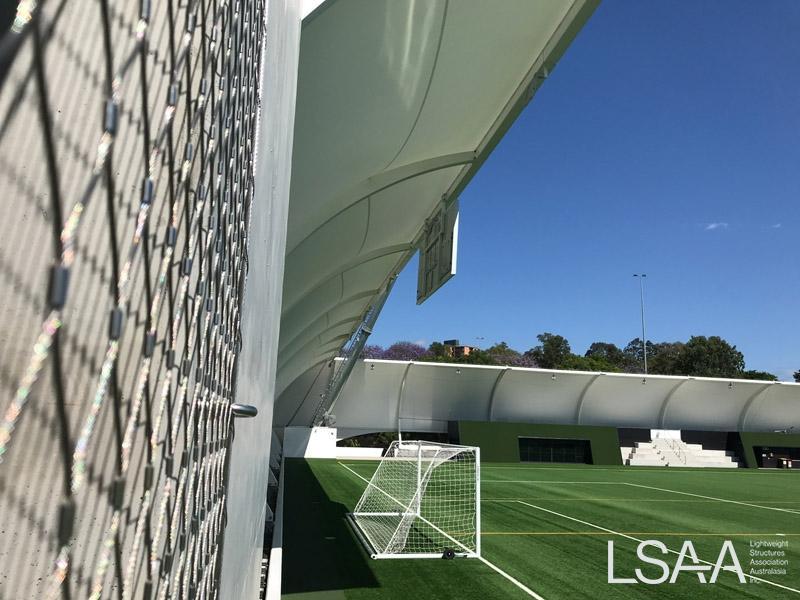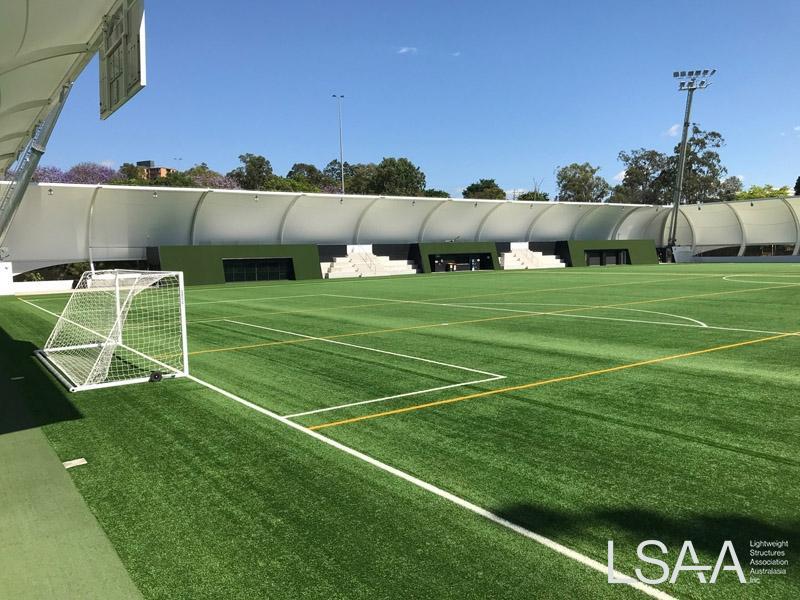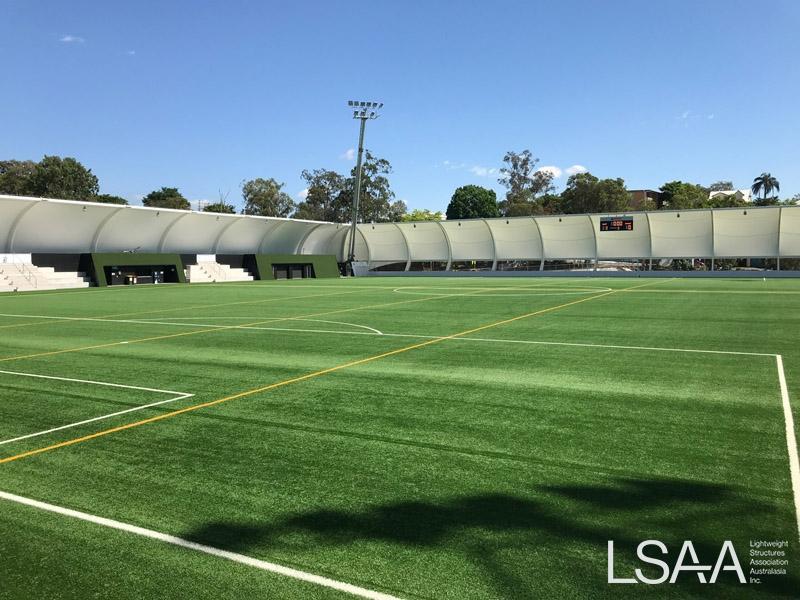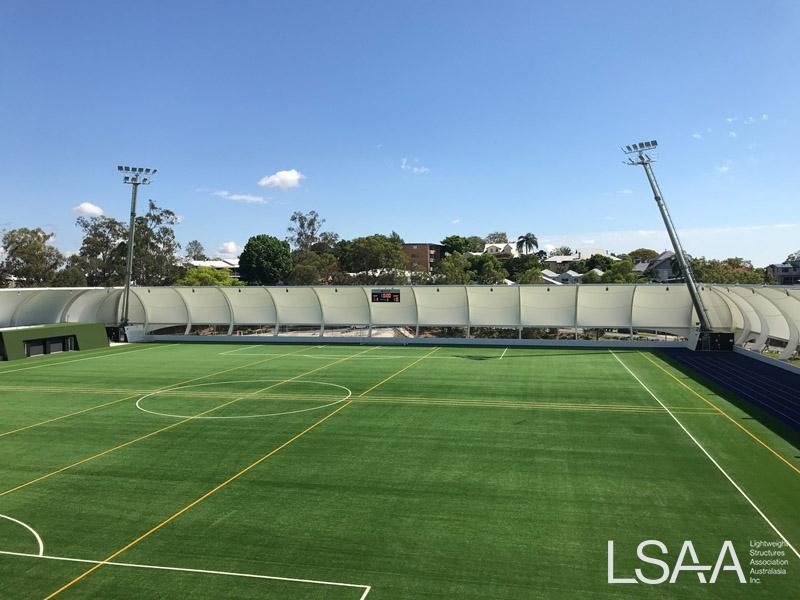 DESIGN / FABRICATION / INSTALLATION BRIEF
The project was developed as an aesthetic shade-and-wind barrier for the top level of the new multi-story car park. The top-level sports field is an artificially turfed soccer field complete with patron viewing areas and adjacent amenities.
STRUCTURAL SYSTEMS
The steel ribbing of the structure was value-engineered to decrease the overall weight of the structure, resulting in budget savings on the steel. The fabric portion of installation was also value-engineered, enabling us to decrease the amount of fabric required, thereby decreasing installation costs.
MATERIALS
The scope of the project was a design and construct contract for 4,500m2 of PTFE fabric membrane and 832m2 of stainless steel wire mesh.
The PTFE membrane acts as a windbreak to the patron grandstands and playing field atop the car park. Fabrics were 60m long and had to be lifted using a 4t spider crane working on a 4kPa suspended slab. The fabrics were secured to a custom deployment cradle that was strapped to curved 'rib' columns of the structure.
FABRICATION
The structural steel of the stadium was a custom curved made up plate structural steel section. The 'ribs' were made from 2 rolled RHS members connected with a 5mm plate to form the custom curved rib section. Kilometres of FSBW welds were ground flush for a seamless aesthetic.
The project was designed with structural box guttering around the bottom, which eliminated finishing works and weather flaps (other than fabric field joins). All fabric field joints had to be completed via rope access.
COLLABORATION, CONSTRUCTION AND MAINTENANCE
Access was limited due to the nature of the site, so installation required specific coordination to resolve this issue. Our site crew optimistically overcame access issues, using 4T spider cranes supported from the slab within the building during construction.
800m2 of stainless steel fall arrest wire mesh was used around the base of the structure. The mesh was designed as a safety mechanism to ensure no one could pass through the gap, while strategically allowing airflow into the area.
The tolerance on HD bolts was +/- 3mm and they were designed to fit within predesigned car park columns.
OTHER INFORMATION
The client was really pleased with the end result of the project. The problem-solving attitude of our project management team and installation crew, coupled with the successful installation of the structure has cemented a positive relationship with the client and potential future business on the horizon
Credits
Entrant: Fabritecture
Role played by Entrant: Designer / installer
Location: Brisbane City, QLD
Completed: December 2016
Client: ADCO Constructions
Engineer: Greenup Design International
Builder: ADCO Constructions
Fabricator: Pfiefer Covertex
Photo Credits: Fabritecture
Ref Gallery: 2018_Images/Award_Entries/4066_QUT_Sports DPID 261