LSAA 2011 Design Award Entry (4322): Cablenet Zoo Aviaries
APPLICATION OF PROJECT
As part of a major upgrade to Auckland Zoo, Fabric Structure Systems built four new aviaries to accommodate different New Zealand bird & animal species.
PROJECT DESCRIPTION
Thirteen years in the planning and almost four years in the design and building, Te Wao Nui is Auckland Zoo's most significant project in its eighty-eight-year history. Covering more than 20 percent of the zoo's seventeen hectares, the exhibit showcases New Zealand species in their natural environment.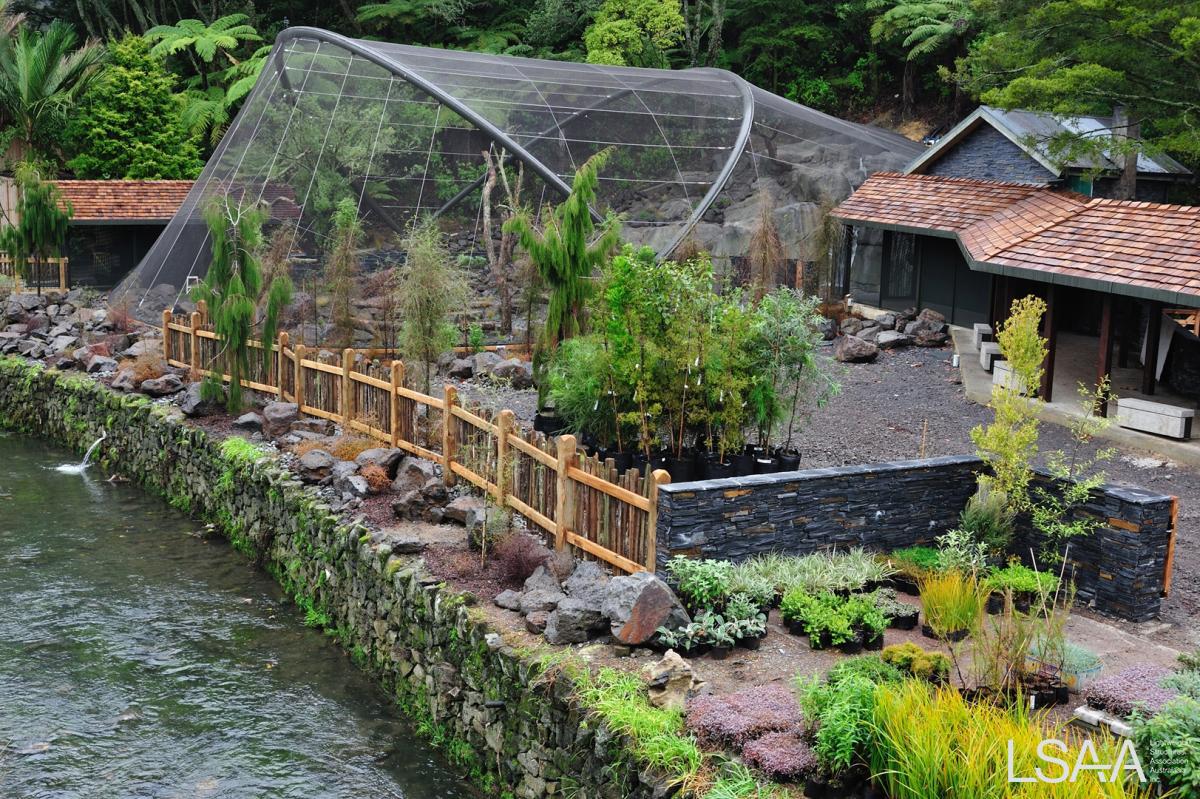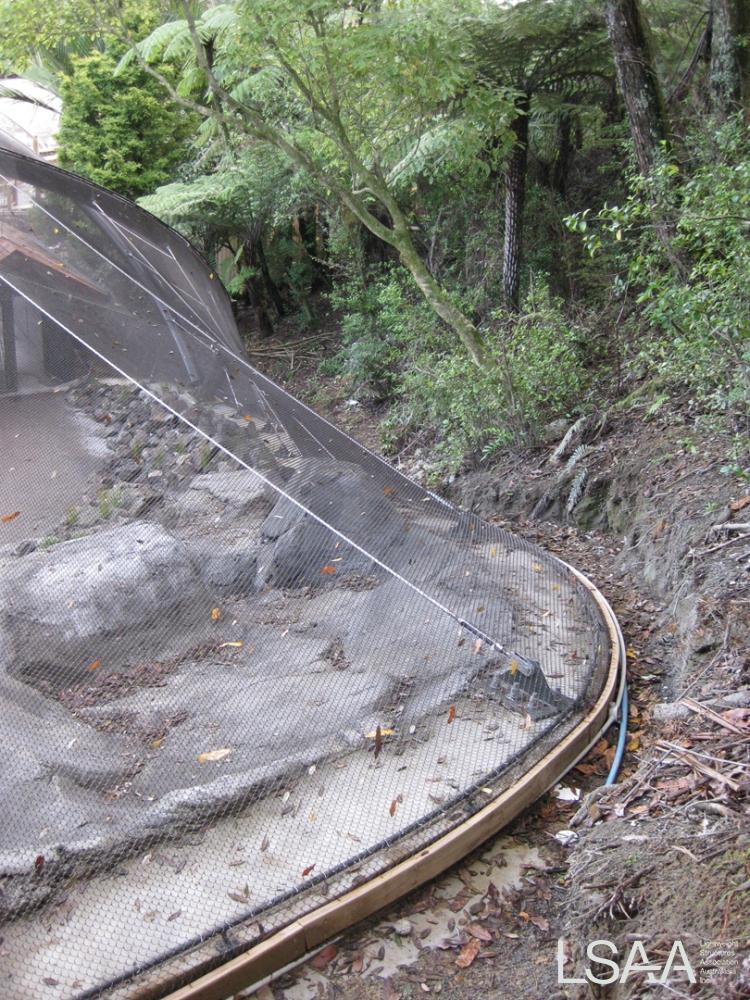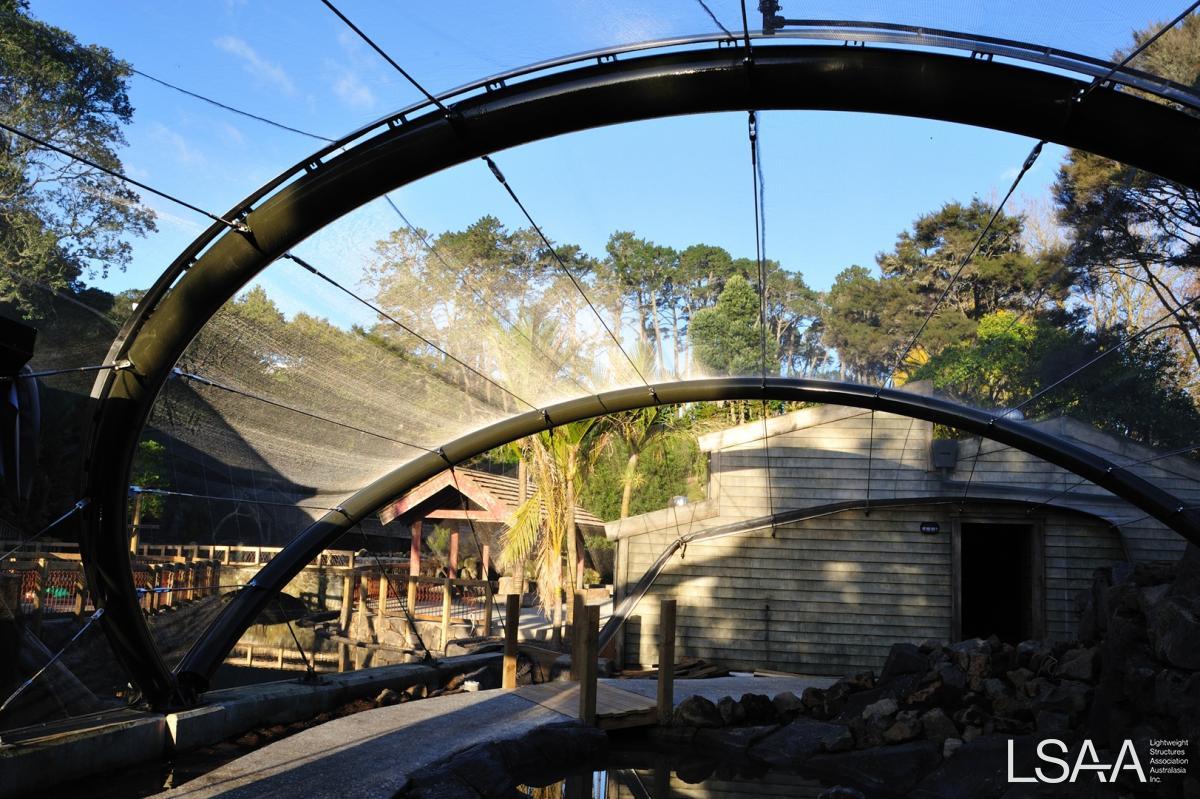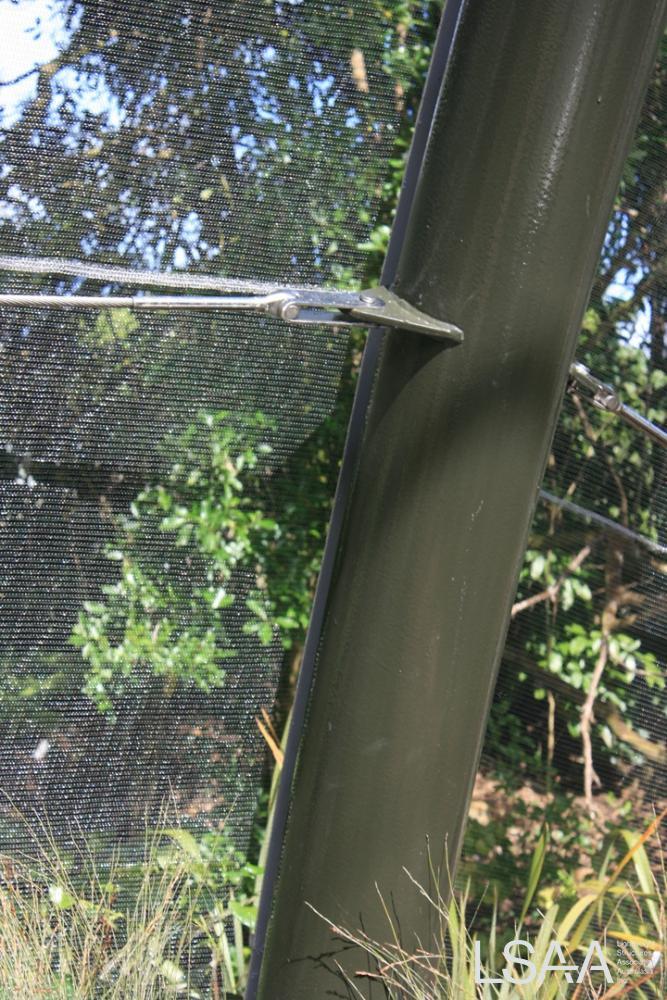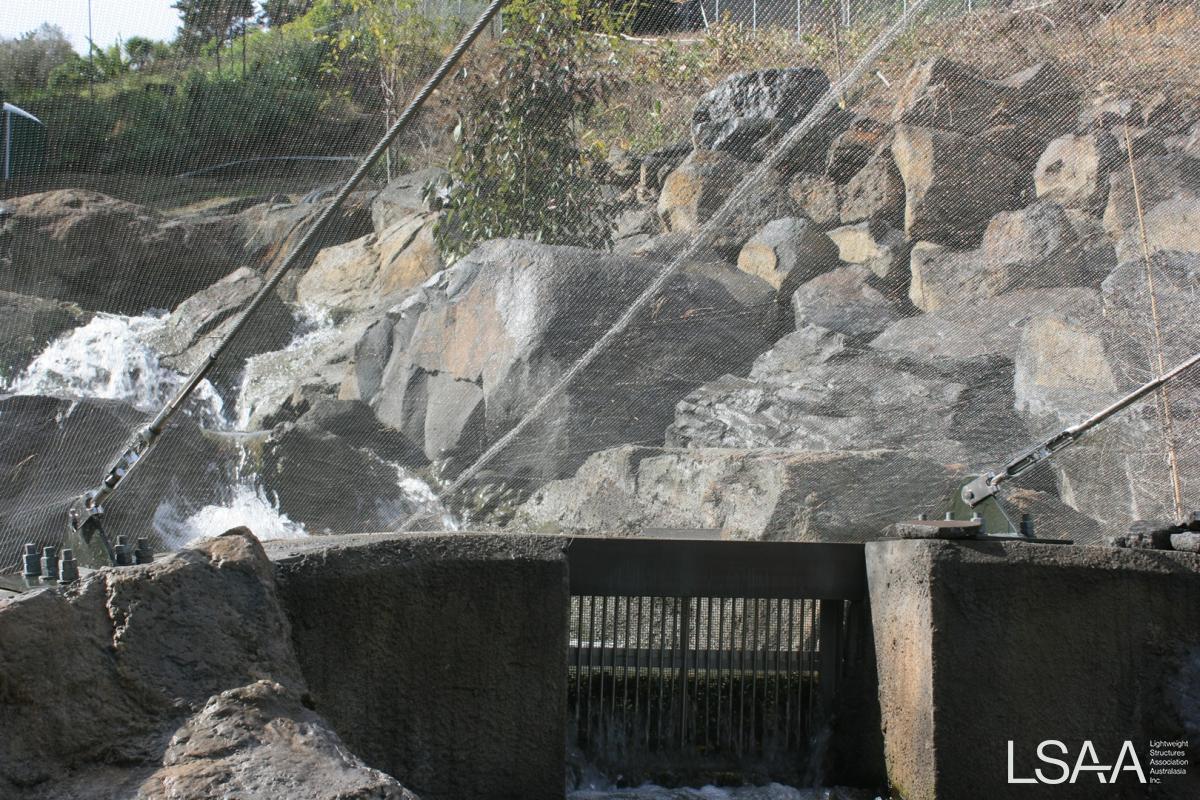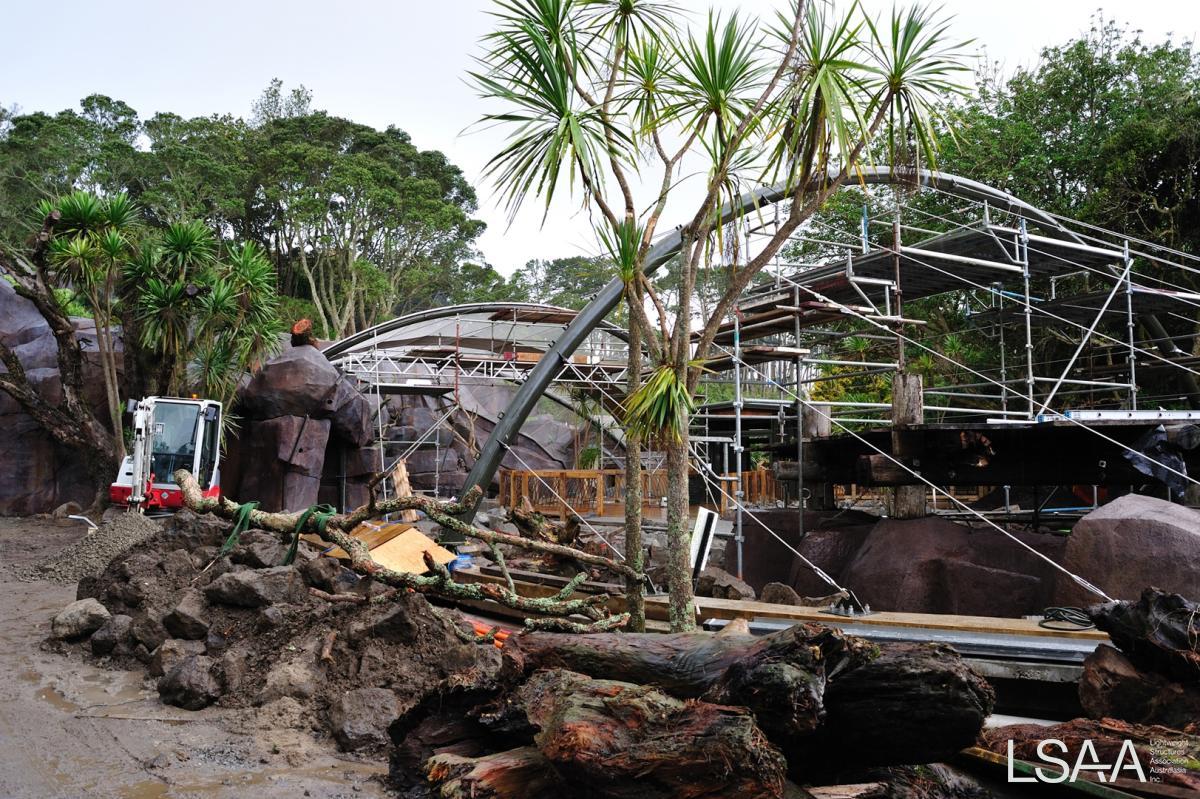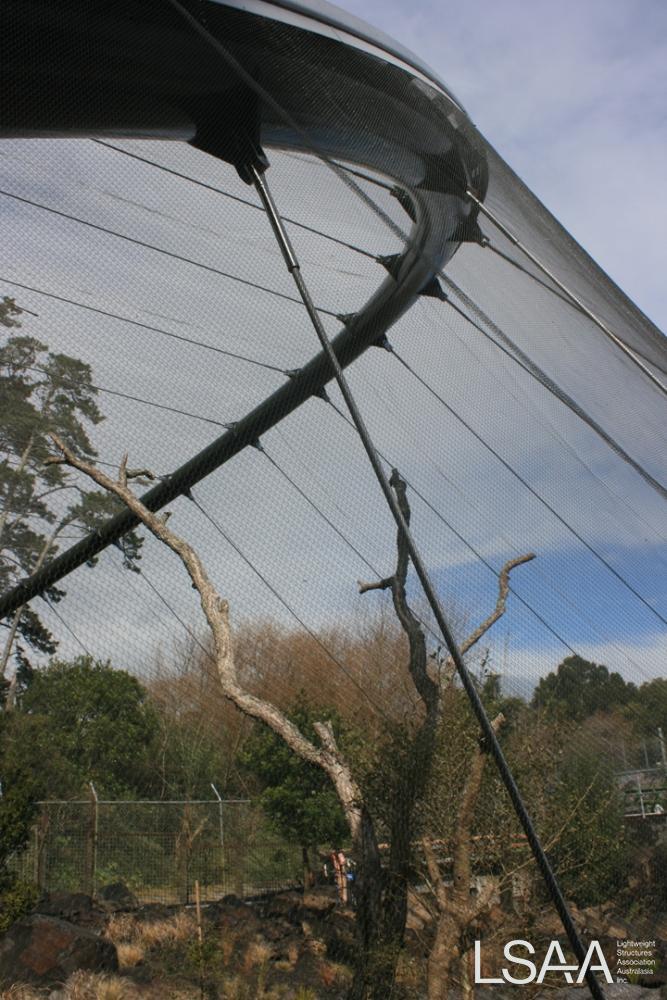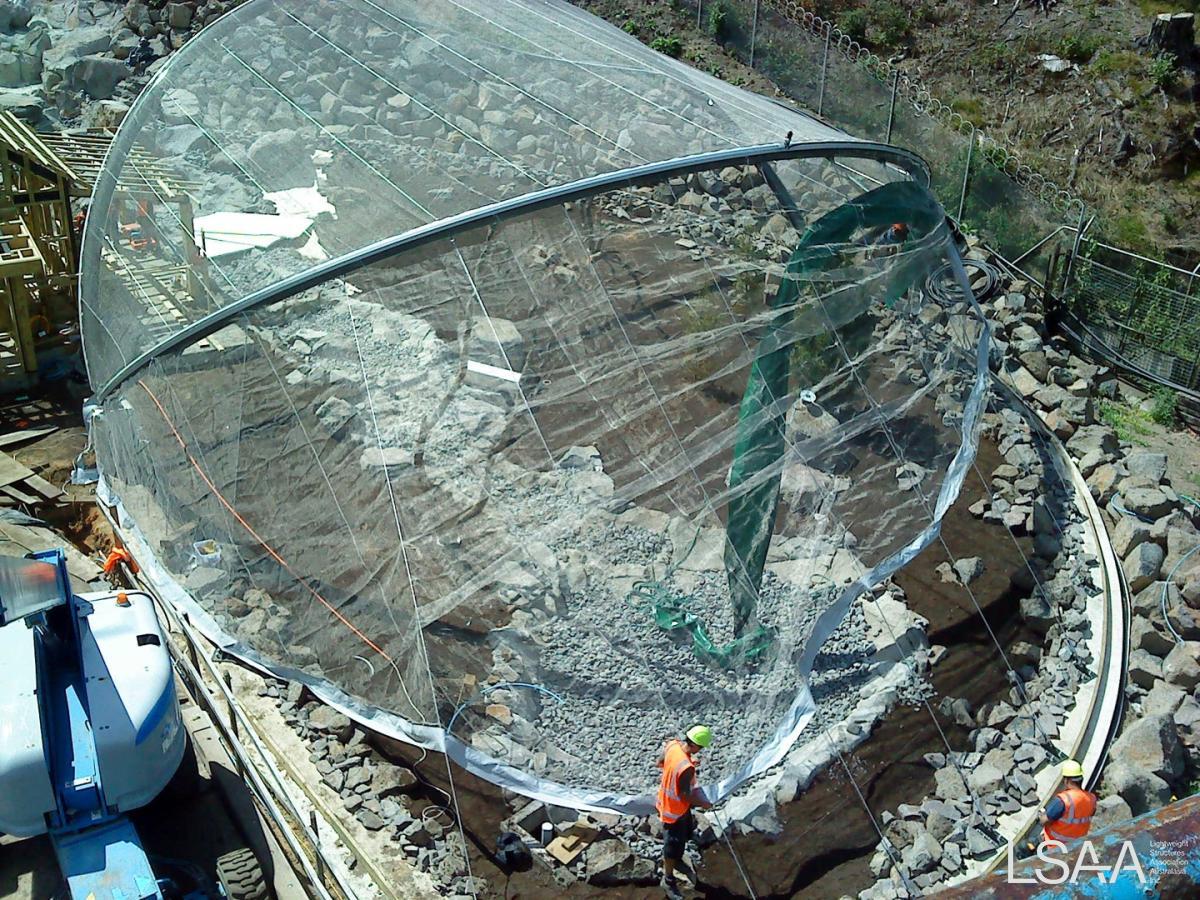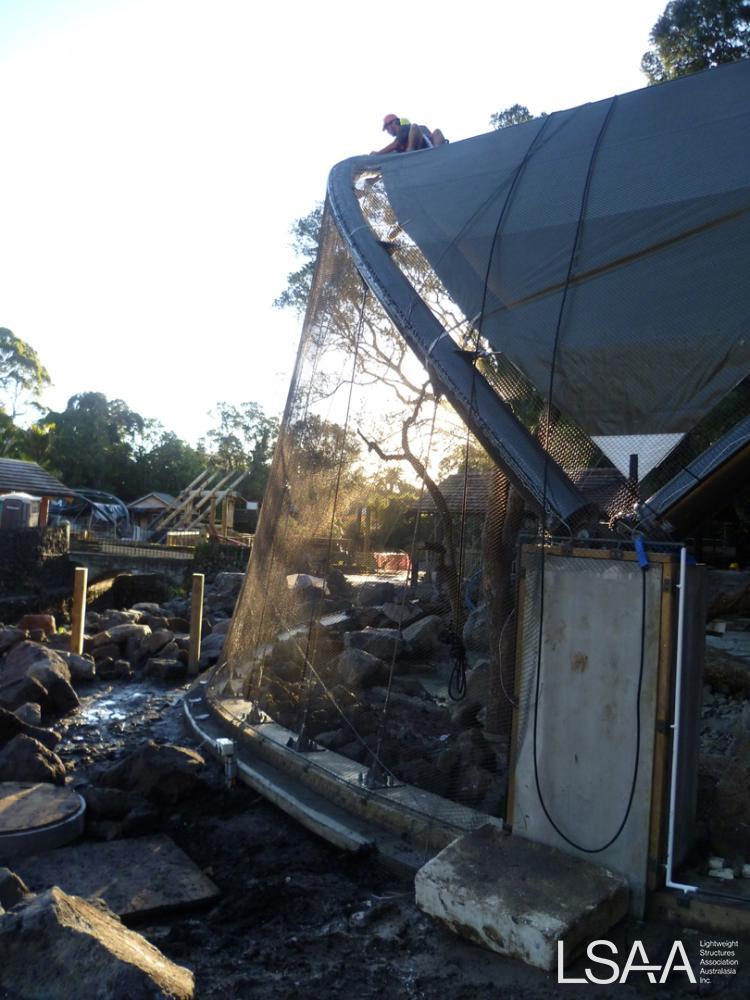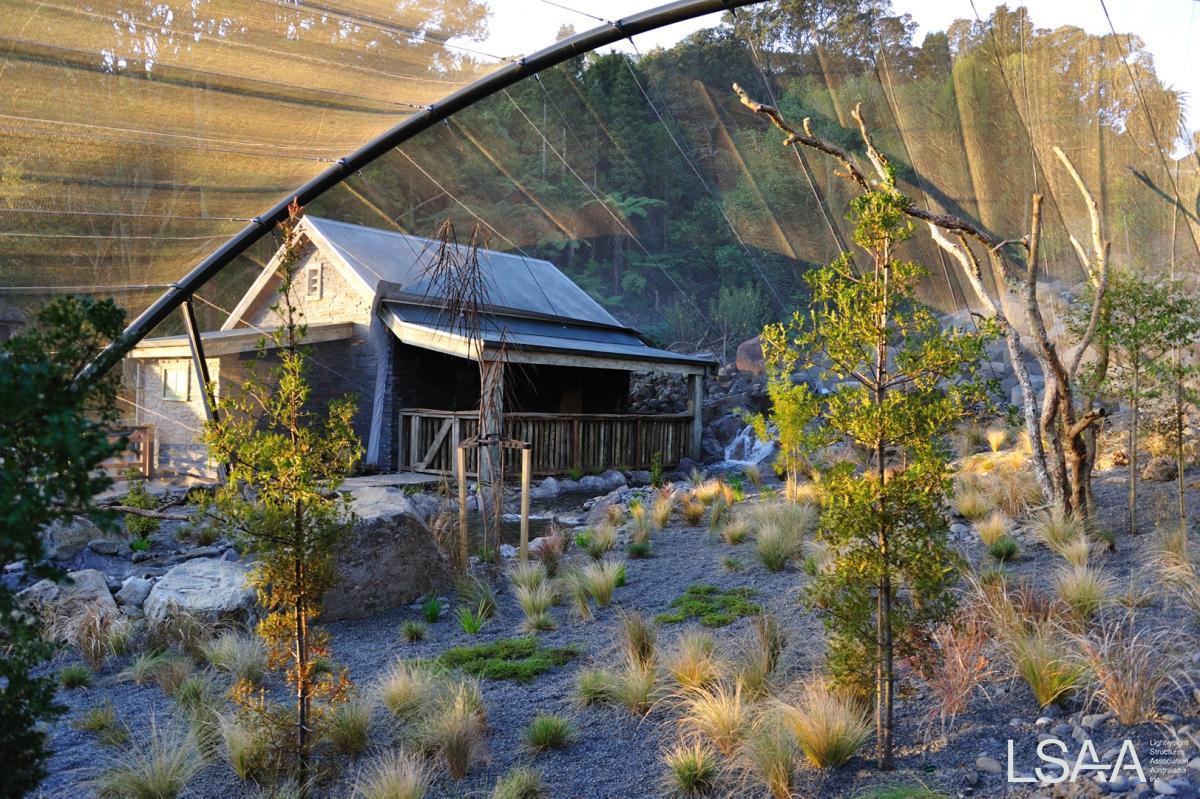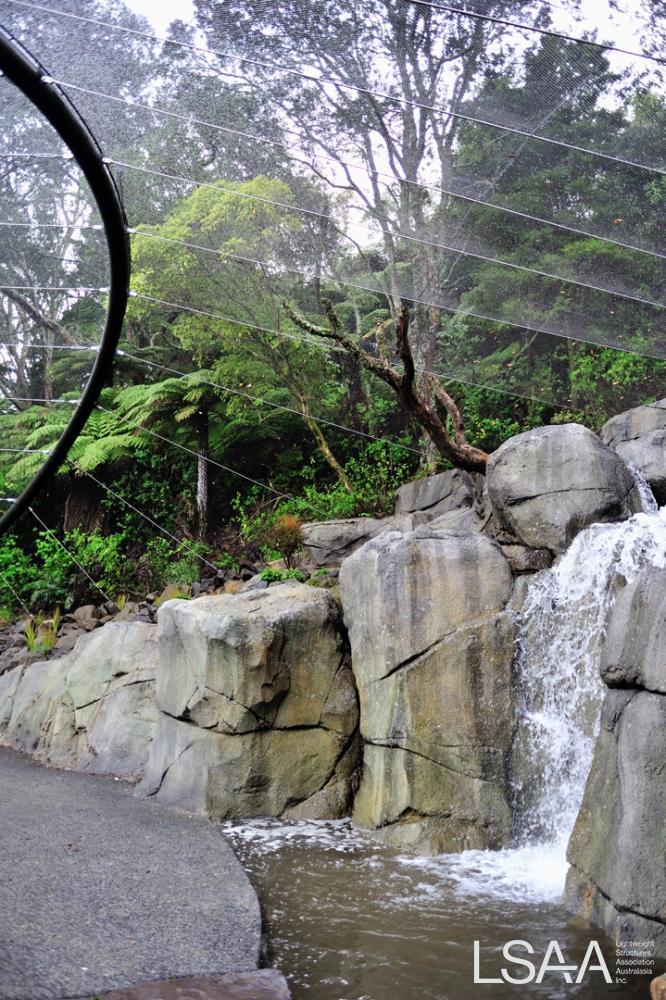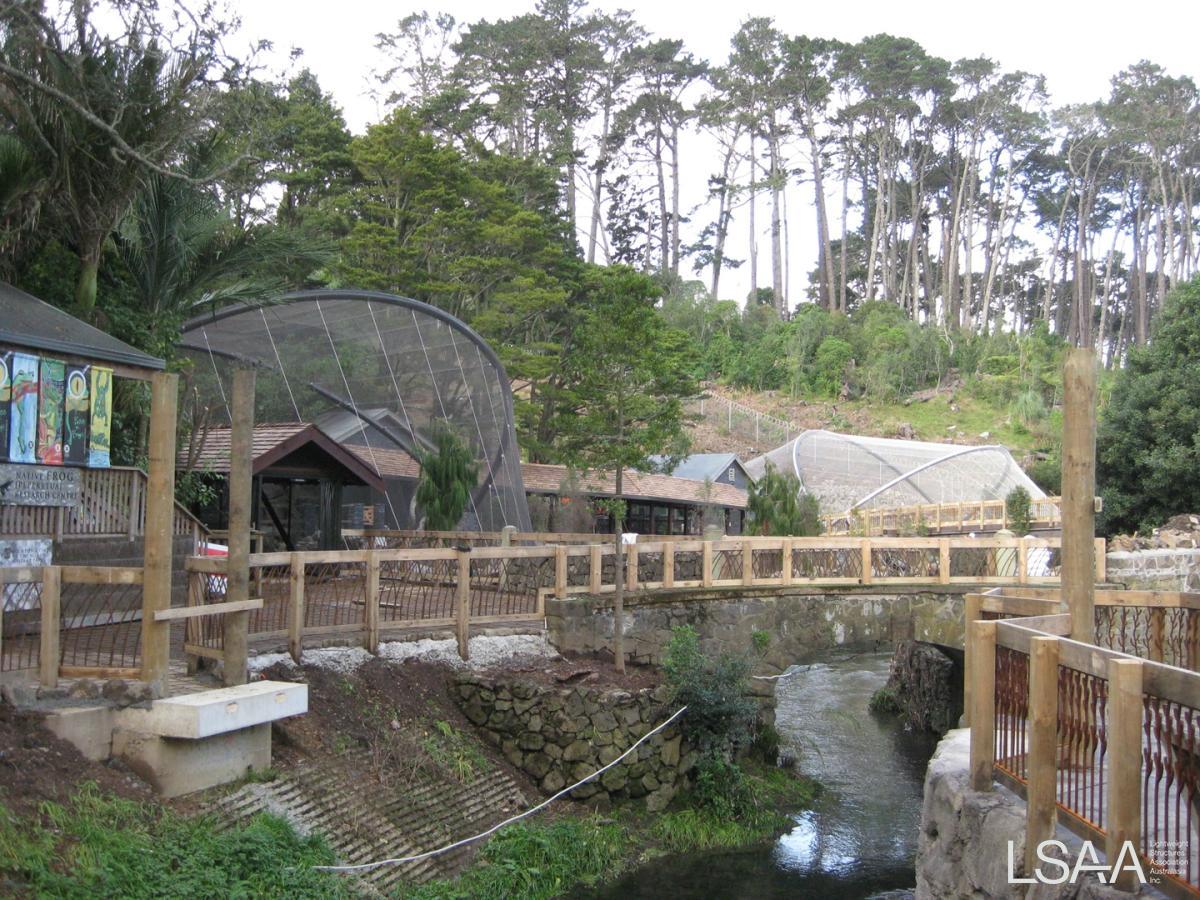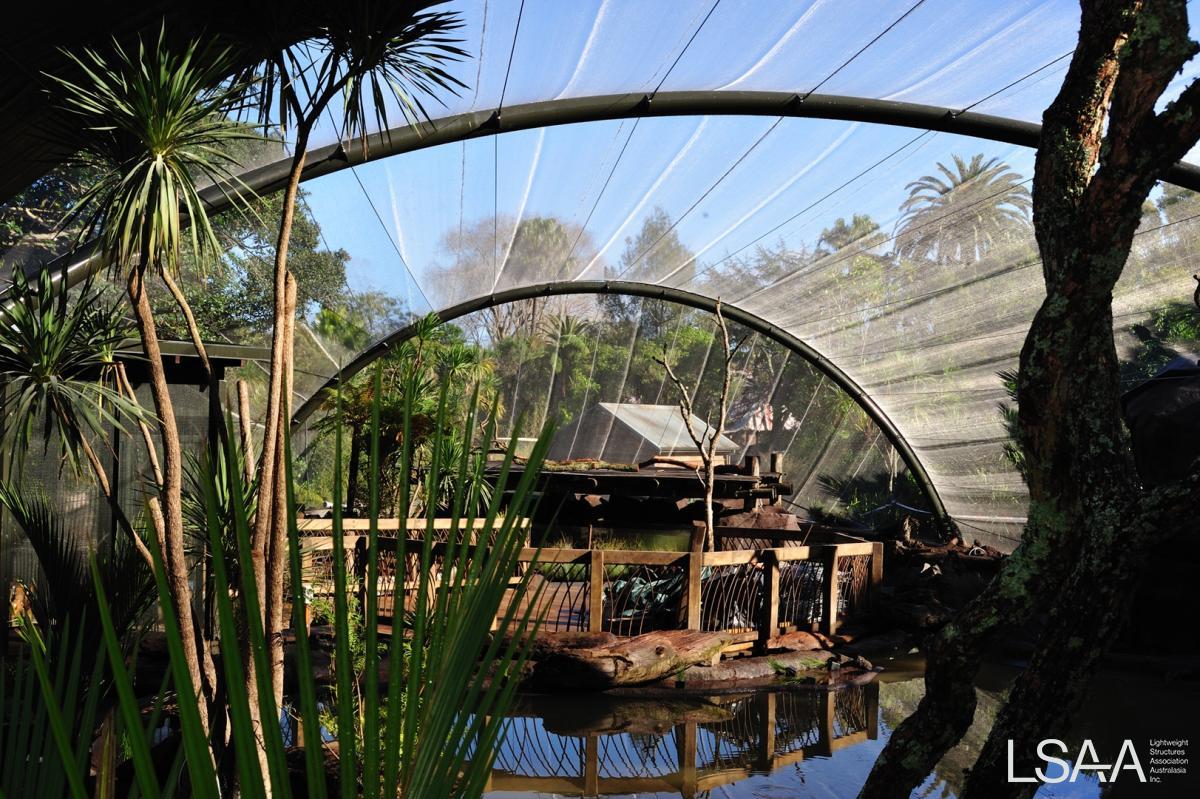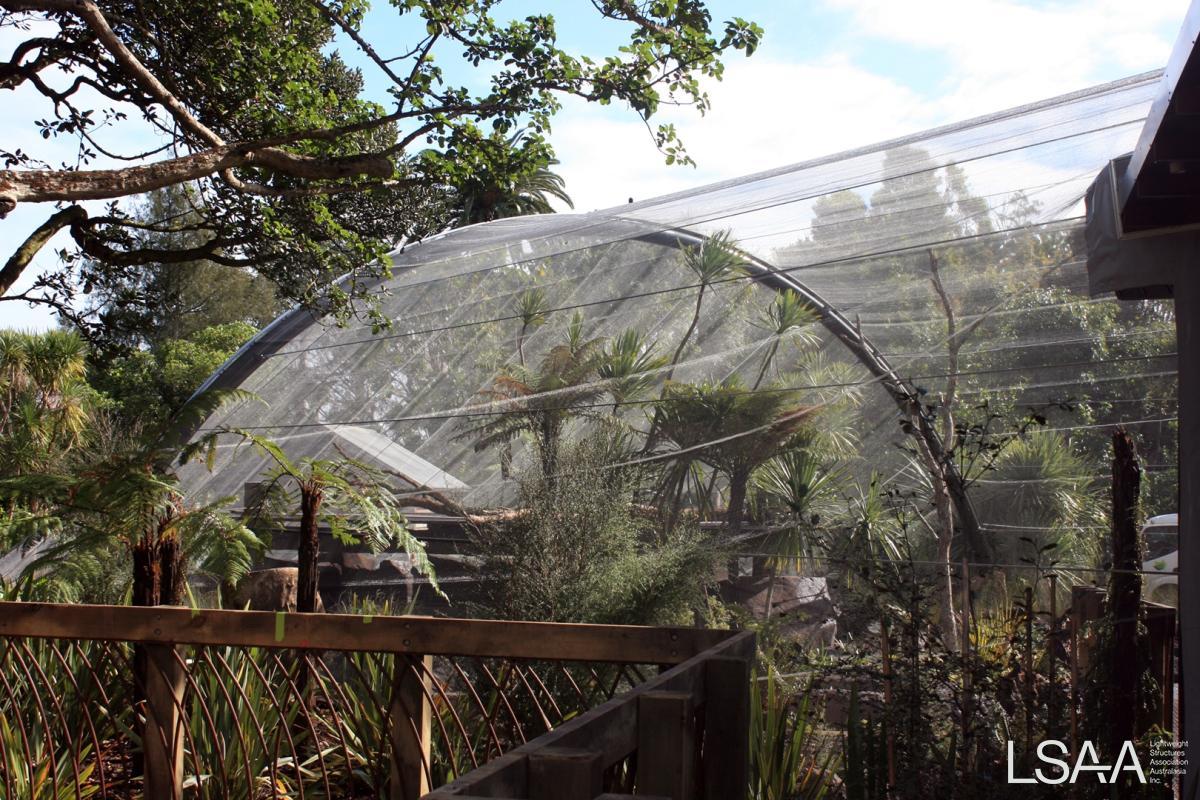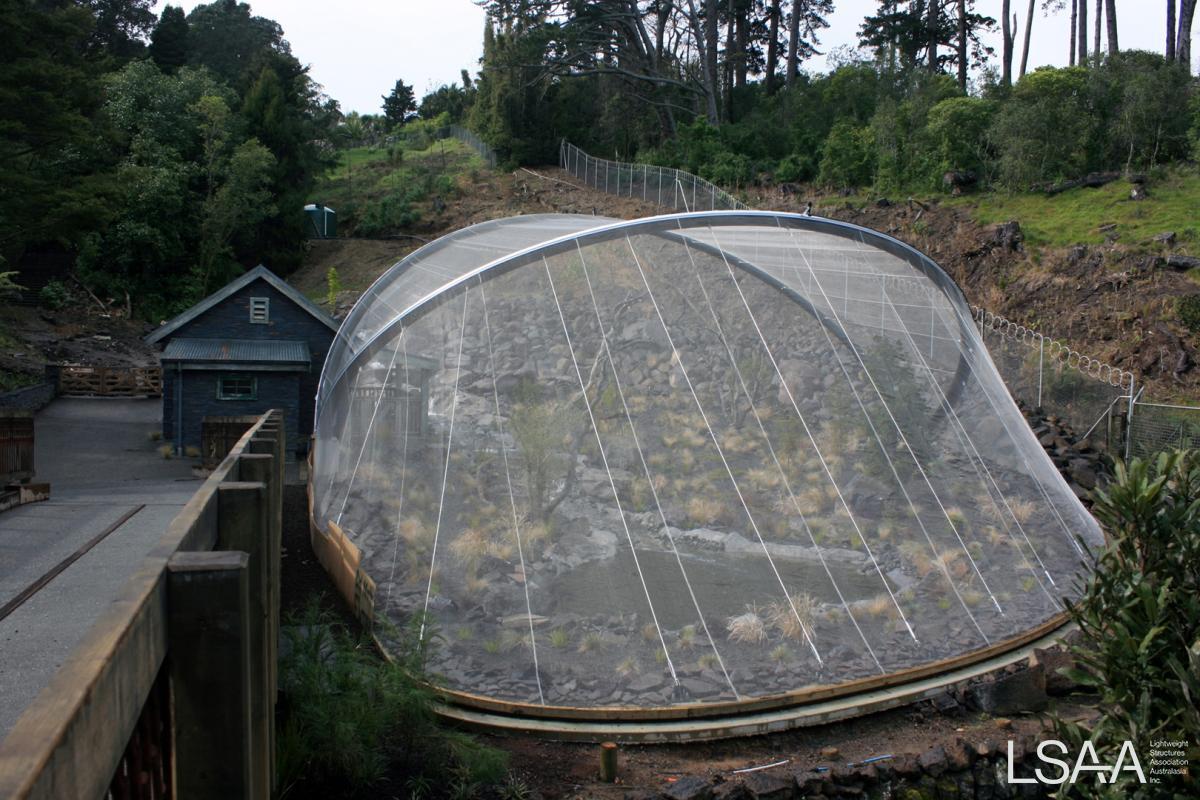 Visitors will journey through re-creations of six native habitats – the coast, islands, wetlands, night, forest and high country – featuring more than one hundred native plants and sixty animal species. Given the high proportion of winged and feathered New Zealand species, four of the zones are eighteen-meter-diameter aviaries, linked via a series of walkways.
DESIGN / FABRICATION / INSTALLATION BRIEF
The brief for the four aviaries was for a design that would be as unobtrusive as possible. It was critical to the zoo and designer Logan Brewer's vision that the exhibition provide a truly immersive experience, allowing visitors to seamlessly pass through each environment rather than looking into a cage – while still allowing exhibits on a scale proportionate to the grandeur of the New Zealand landscape.
Fortunately, there was a precedent: Sydney Wildlife World at Darling Harbour, which opened in 2006. There, architects Misho + Associates in association with Rihs Architects dispensed with the traditional cage-like zoo aviaries and developed an organic form consisting of a tensile stainless steel mesh membrane stretched over a lightweight steel frame of thirty-five arches. Resembling the skeleton of a python, the open-air feature allows for natural landscaping and full-size trees. At the time, Fabric Structure Systems pioneered the use of stainless steel mesh to create a tensile structure & became a world first. After visiting Wildlife World, the Auckland Zoo commissioned Fabric Structure Systems to design, fabricate and install steel mesh membranes for Te Wao Nui.
Inspired by the simple form of Auckland Zoo's original native bird aviary, Logan Brewer's vision was for structures that would provide almost no visual interference. As with Sydney Wildlife World, there are no vertical supports obscuring the view; instead much of each structure's support is concealed in adjacent timber buildings, which double as shelters for visitors and/or the animals themselves. With the exception of the High Country aviary, each roof comprises two lightweight steel arches, constructed from tubular circular hollow sections, with an almost- transparent fine teardrop-shaped stainless steel mesh centre hood suspended and tensioned between them. This is finished at both ends by shaped skirts of mesh attached to supporting wires anchored to base plates in the ground.
STRUCTURAL SYSTEMS & MATERIALS
Zoo Mesh – Star Screens Australia
Zoo Mesh is a light weight woven 316 stainless steel mesh. It was selected for its combination of flexibility & high load strength, with a tensile strength of 110,000PSI. It is predator proof, soft to the touch & will not damage bird feathers or animal skin on contact. Importantly, it cast few view-inhibiting shadows & is easy to clean.
With its high tensile strength, the mesh can be used to form truely tensioned membrane panels. The mesh can be stitched together as well as sandwiched between PVC fabric & welded. PVC keder edges can also be welded to the mesh edges & then tensioned using our standard extrusion detail.
Phantom Mesh – Cascade Coil Company (USA)
Phantom Mesh - 316 stainless steel, 5/8" coil, 16 Gauge wire.
In comparison to Zoo Mesh, Phantom Mesh is a much heavier weight mesh & was required for the Kea Aviary due to the destructive power of the Kea (a native NZ parrot). In testing the materials with the various bird species, the Kea was able to easily chew its way through the Zoo Mesh.
An ultra black wire finish was also selected, as is less visible to the eye when suspended in the air.
Predator Mesh – Advanced Engineering Group
Predator Mesh is a semi-rigid 2.5mm woven mesh, manufactured from high tensile galvanized wire. Predator Mesh was selected for its 4.5mm aperture & used to clad the entry/exit structures which formed a security lock between doors on either end. The Predator Mesh was finished in powder coat to match all structural work.
Structural Steel
All steel is finished in a Dulux 2 pot industrial paint system.
Anodised aluminum fabric tensioning extrusions.
Galvanised & stainless steel fixings.
FABRICATION
Zoo Mesh –
Zoo Mesh can be fabricated employing standard canvas working techniques. The 2.1m wide rolls are stitched together using Tenara thread, with panel edges finished with a PVC keder, to allow the use of standard aluminum tensioning extrusions. Paper templates are laid out on the floor, over which the sewn panels are laid, tensioned & stapled to the workshop floor. Once tensioned the panel can be cut to their final shape & edging completed.
Predator Mesh -
Predator mesh is unique in that it is a completely hand made mesh using thousands of coiled wire strands. The mesh is supplied in 6m wide panels. Panels can be seamless joined along the coil length by spiraling two strands together. Panel joins across the coil direction require a lacing wire to be threaded between the two panels. Cutting & edging the mesh was a laborious task, requiring thousands of hand cuts with each cut wire folded over to lock off against the adjoining coil. Due to the share weight of the mesh, handling the large completed panels proved a challenge in its own rite, requiring some ingenious use of material handling equipment.
Having not previously worked with coil mesh, our team faced a steep learning curve. However, once all the techniques were mastered & panels installed on site, we were all impressed by the end results, particularly the free flowing shapes that were formed within the structure.
COLLABORATION, CONSTRUCTION AND MAINTENANCE
The zoo's existing typography & the natural environment that was being created required exhaustive collaboration between the majority of trades on site. As the aviary structures interfaced with numerous structures & materials we had to closely co-ordinate our finishing details with a variety of trades, form artificial rock walls, timber weatherboards, roof flashings (with waterproofing implications), to natural landscaping. Our site installation team had to get very creative in tensioning off the mesh panels, developing a variety of finishing details. To prevent the ingress of vermin the largest allowable hole in the perimeter skirting was 10mm.
As much of the aviaries perimeter followed the natural contours of the site, the importance of accurately 3D mapping the perimeter foundation ring beam & adjoining structures became very evident, so that accurate mesh patterns could be generated. Creating an accurate CAD model of the structure proved invaluable when it came to setting out the wire base plates & cast in hold down bolts, as it was vital that base plates aligned with the structural supporting wires. Due to all the weird angles involved, particularly where the ring beam went up a hillside, it was impossible to get a sense of accuracy by eye & we had no choice but to rely on the model.
Site access & working conditions on this project were also challenging. The site was very tight, with limited access & an army of trade-men working in a relatively tight area. With the size of cranes & trucks limited by a small service bridge over a river, we had to get very creative in moving materials into place. A special rack was built on a flat bed truck so that materials could extend over the trucks cab. In order to create a lay down area for the meshes we ended up building a 12m x 8m scaffold deck over a small river, as it was the only available space in the vicinity of the aviaries. When it came time to install the heavy phantom mesh panels, which can only be rolled/flaked in one direction, we built special lifting cradles & spreader bars to crane the panels into position. When lifting the last Phantom mesh panel into its near vertical position we were very conscious of not stretching or distorting the panel under its own weight, so we set up a series of self adjusting attachment points to evenly distribute the weight over the whole panel.
When installing the Zoo mesh panels in the hood style structures we always started with the centre panel using the fulcrum movement to tension the panel into position. With the centre panel installed & all structural arch wires set, we moved to the outer panels, first completing a 3D survey to verify the panel's geometry, so the panel could be completed in the workshop. On site the outer skirt panels where slid into the arch shotgun extrusions, then tensioned out to the perimeter ring beams or various intersecting structures.
On the Wetlands aviary the mesh was terminated on a timber rail that meticulously followed the complex contour of the artificial rock face.
CREDITS
Project Number: 4322
Title: Auckland Zoo Aviaries
Location: Auckland Zoo, Western Springs, Auckland 1022 NZ
Entrant: Fabric Structure Systems
Role: Design/Fabricator/ Installer
Client: Auckland City Council
Architect: Logan Brewer Production & Design
Structural Engineer: Thourburns / Tony Joyce
Builder: Fabric Structure Systems
Fabricator: Fabric Structure Systems
Steelwork etc: Red Steel