LSAA 2018 Design Award Entry
Architectural shade canopy over a skatepark
PROJECT DESCRIPTION
Livingstone Shire Council were looking for a unique solution to traditional hypar shade structures when planning for the skatepark redevelopment at Yeppoon Lagoon. The shade structure was designed to become a focal point of the skate park. It's a shade structure, but it's also a colourful, fun, artistic addition to the outdoor sport facility.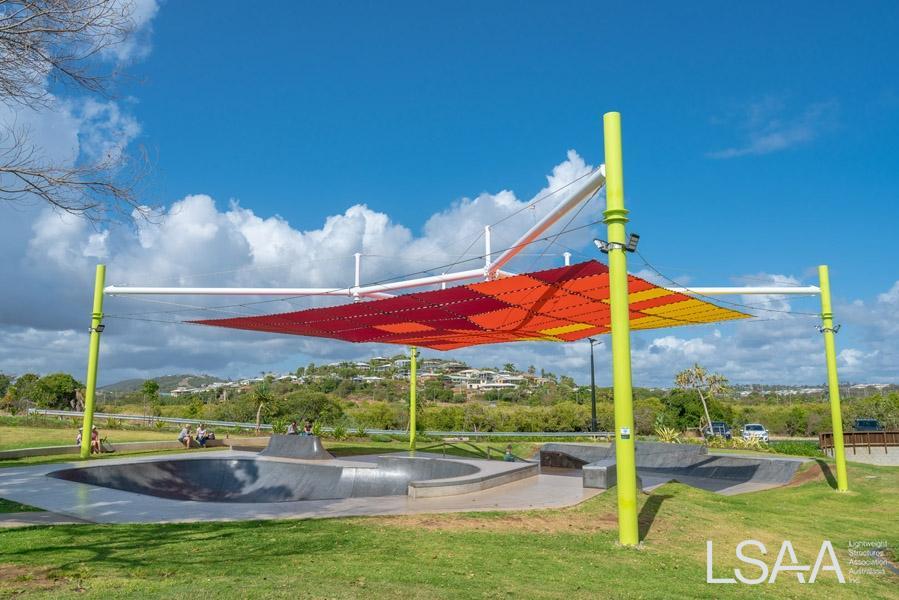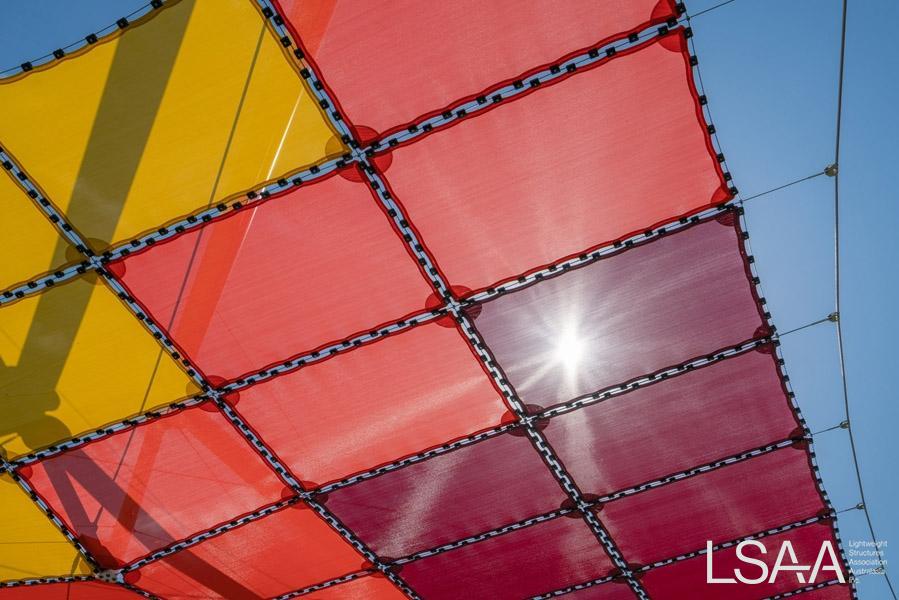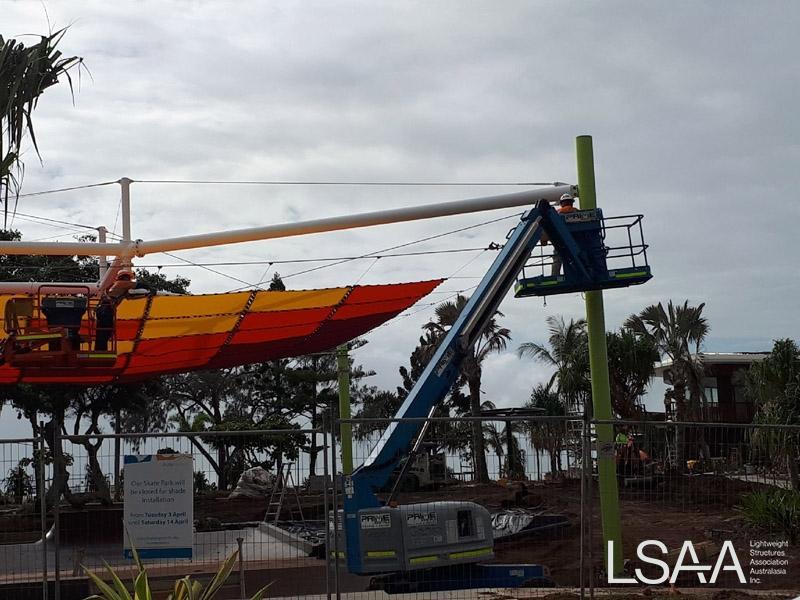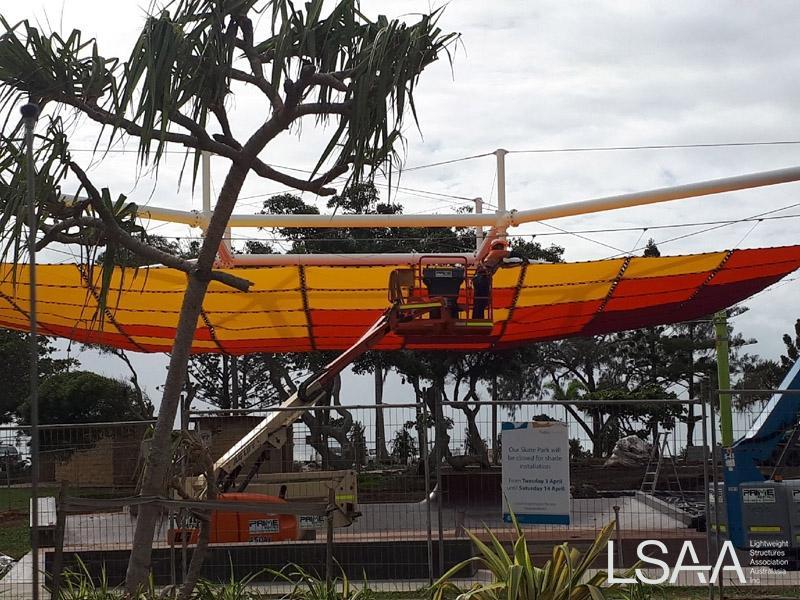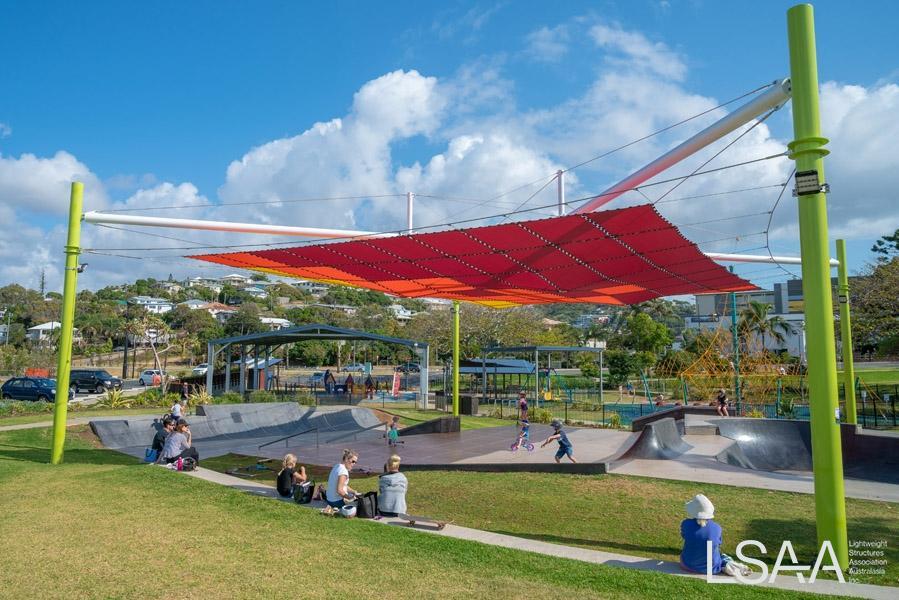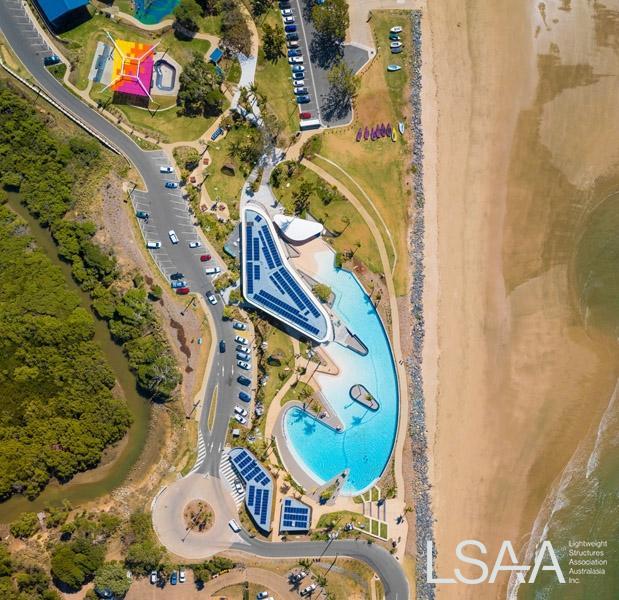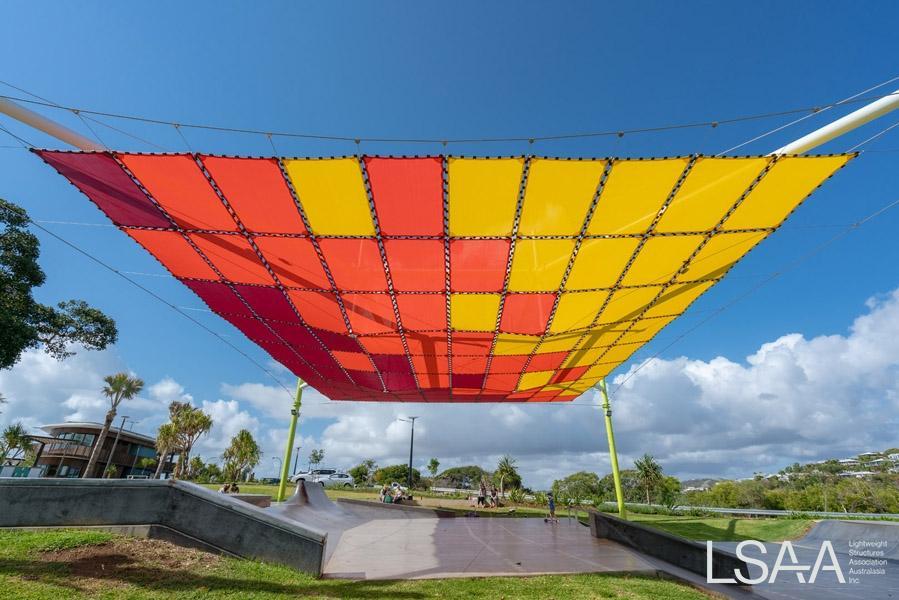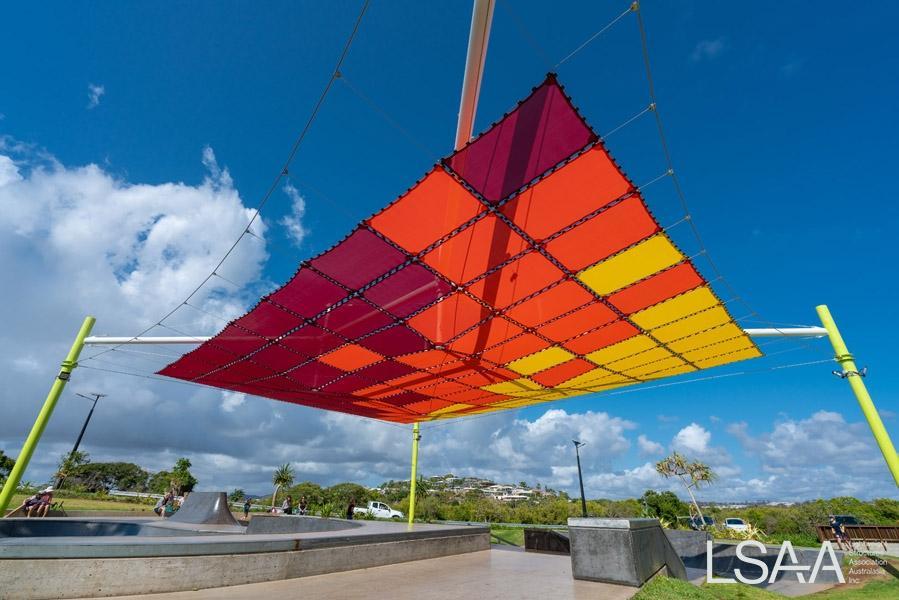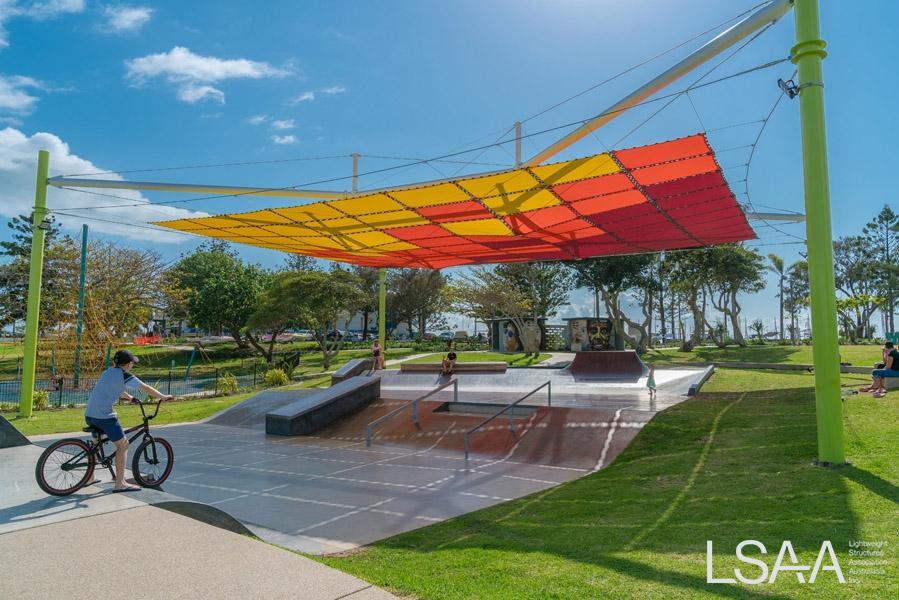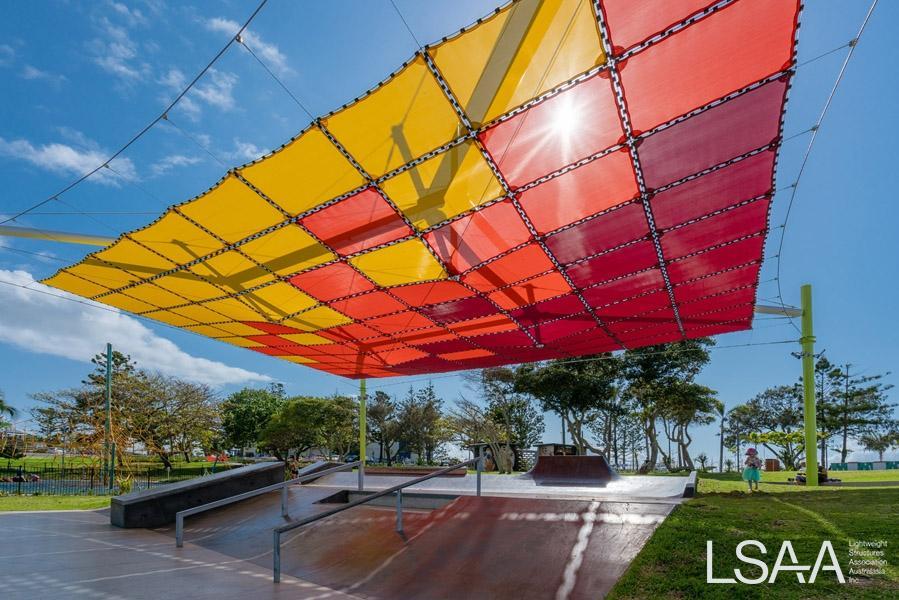 Photo Credit: Nathan White
The skatepark construction was part of Stage 5 of the Yeppoon Lagoon redevelopment, which also includes a beach amphitheatre, road/pedestrian network upgrades, a kiosk, water play area, wave pool, mini golf course, multi-level car park and a car wash.
DESIGN / FABRICATION / INSTALLATION BRIEF
The Yeppoon Skatepark project is located beside the newly constructed Yeppoon Lagoon, which is the "crown jewel" of the Precinct. The project utilises several colours of Monotec 370 mesh shade cloth to create a creative piece of fabric art.
The new additions to the skatepark were designed by the skaters who use the facility. Local skaters were able to contribute to discussions of what the upgrade would entail. Given that the original skatepark was constructed in 2000, the locals were very excited. The new skatepark features a quarter pipe to bank, skate rails, a bank to ledge, jersey barrier and kerb, intermediate bowl and Hubba ledge.
Stage 5 of the Yeppoon Town Centre and Foreshore revitalisation project was a venture jointly funded by the Livingstone Shire Council and Queensland and Australian Governments.
STRUCTURAL SYSTEMS
A Tensegrity with a cable grid spaning an area of 19m x 22m was designed to minimize the size of the structure flying over the skate park and its visual impact. Perimetral catenary cables tension an SS cable grid where the individual mesh panels are fixed.
90 individual fabric panels made up the collage of mesh for the skatepark structure. A stainless steel cable grid holds the panels, made up of 26 individual cables and 12 tie cables. 2,500 fabric to cable clamps hold the fabric panels to the cable grid!
The steelwork in the plan view was presented in an unusual and unique shape.
MATERIALS
Monotec 370 mesh shade cloth was used for the skatepark collage structure in 3 colours: Mellow Haze, Sherbet and Bubblegum.
FABRICATION
The structure was engineered and modelled allowing for all members to be fully fabricated off-site to be assembled onsite with flange and pin connections.
A 100T crane and a 16T crane were used simultaneously to assemble and install the structure.
COLLABORATION, CONSTRUCTION AND MAINTENANCE
The central lightweight frame was fully assembled at ground level to ensure the accuracy of all of its rigging cables and was raised later using a 100T crane 20m away to achieve the pin connections to the 4 columns.
Likewise, the cable grid and mesh panels were preassembled and pre-stressed at ground level then raised and connected to the structure achieving the final design tension.
Credits
Entrant: Fabritecture
Role played by Entrant: Designer / installer
Location: Yeppoon, Queensland
Completed: April 2018
Client: Livingstone Shire Council
Architect: Place Design Group
Engineer: Wade Design Engineers
Builder: Woollam Constructions
Fabricator: Covertex; CQ Sailmaker
Photo Credits: Nathan White

---
Ref Gallery: 2018_Images/Award_Entries/3136_Yeppoon_Shade DPID 252