This project was entered in the 2013 LSAA Design Awards (Cat 1, 1567)
Entrant: LAVA
Location: Casula Powerhouse, Casula NSW
Client: Object Gallery
Completion Date: July 2013
APPLICATION OF PROJECT:
Cloud City: An urban ecosystem is a sculptural rendition of Chris Bosse's vision of a future city - a soaring, stretched membrane cloud anchored to the 'city' on the gallery floor by high-rise towers that have been re-skinned and revitalised. A series of large circular forms, doubly curved, is made of stretchy lycra.
The installation is part of a nation-wide exhibition by 12 Australian designers that explores the potential of design in our lives and generates ideas that could 'change the way we inhabit the world'.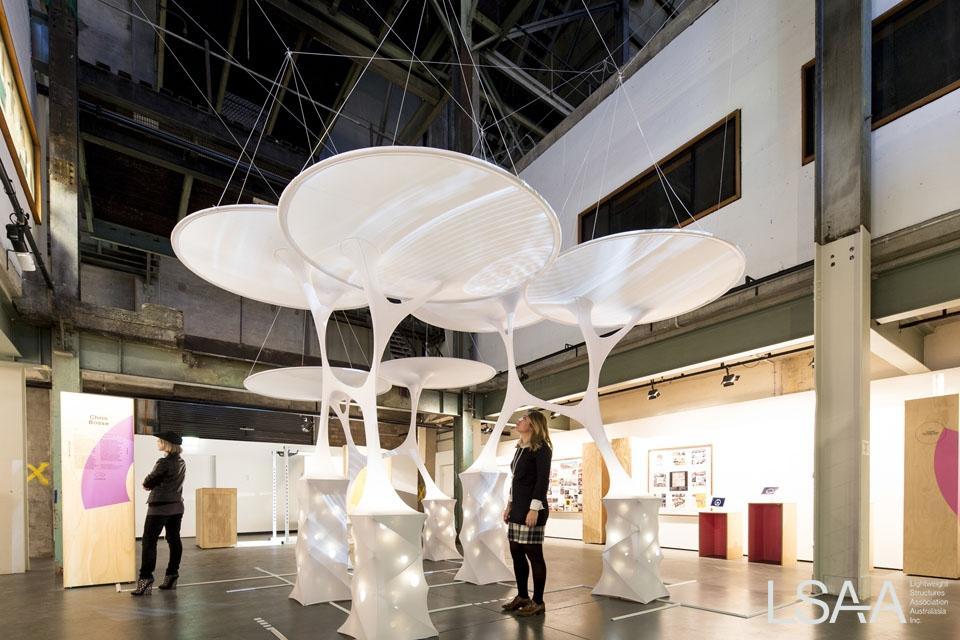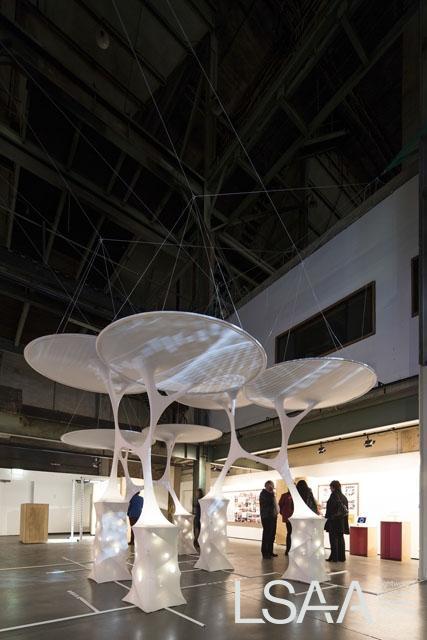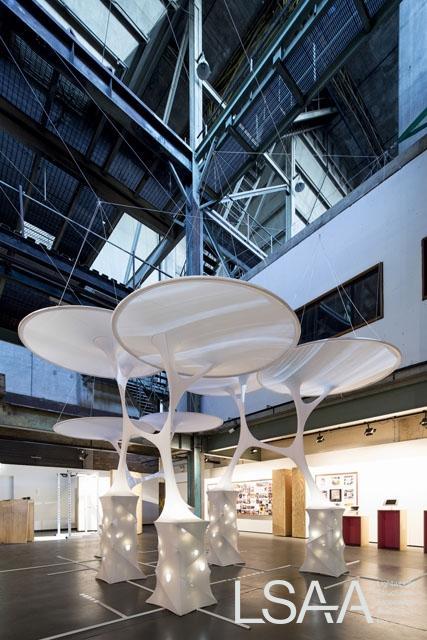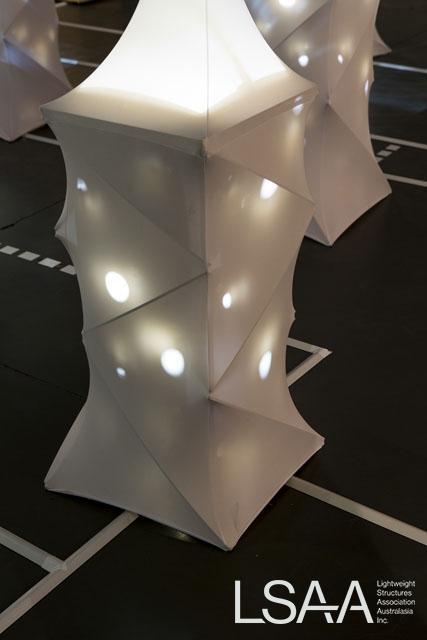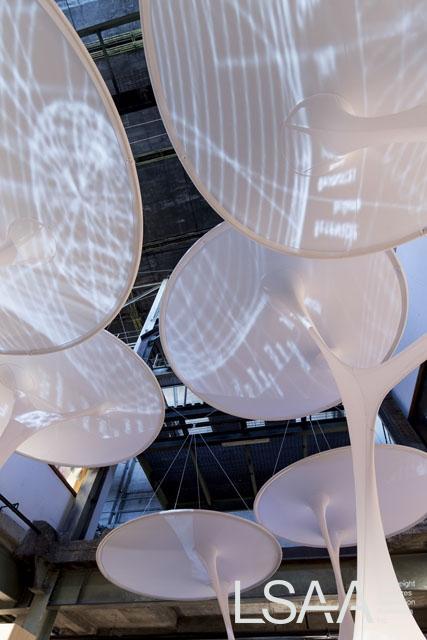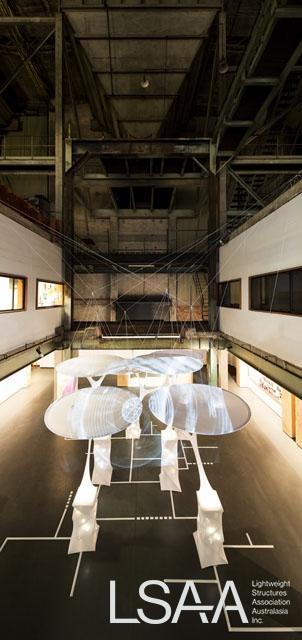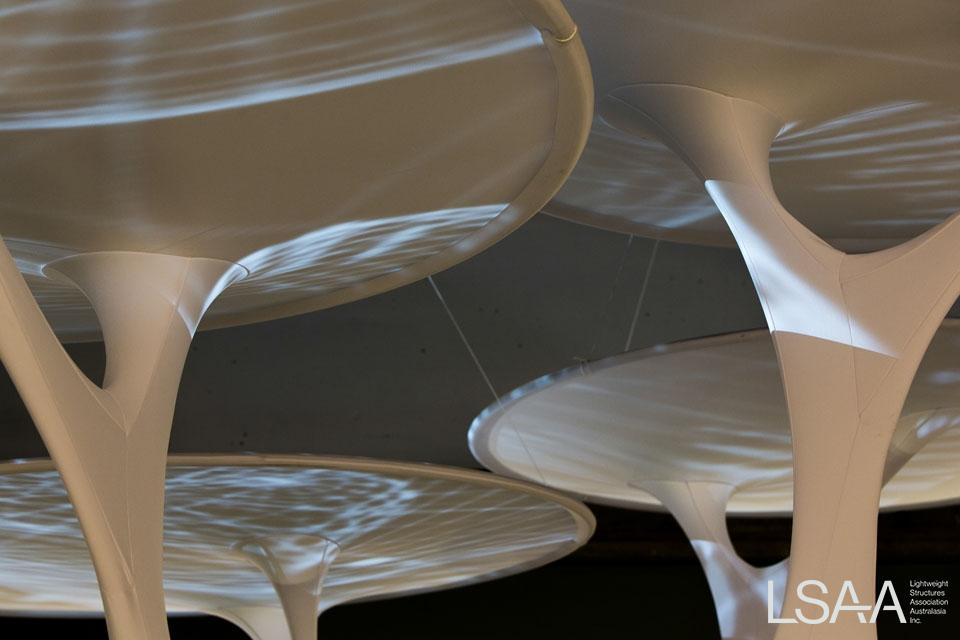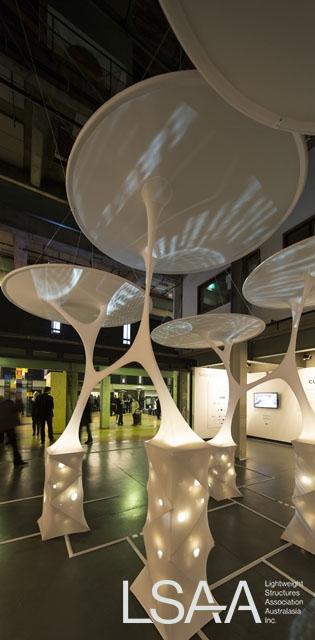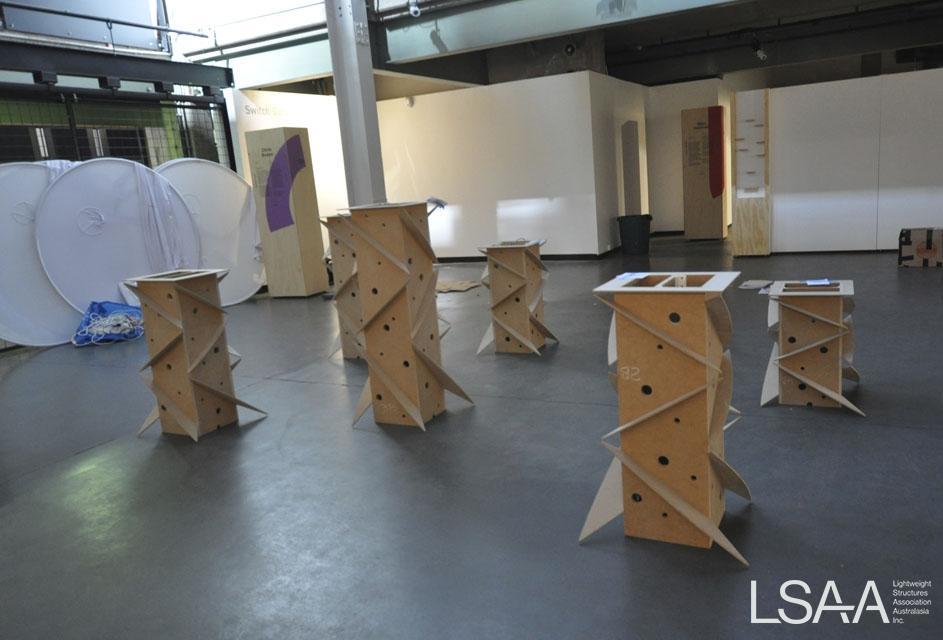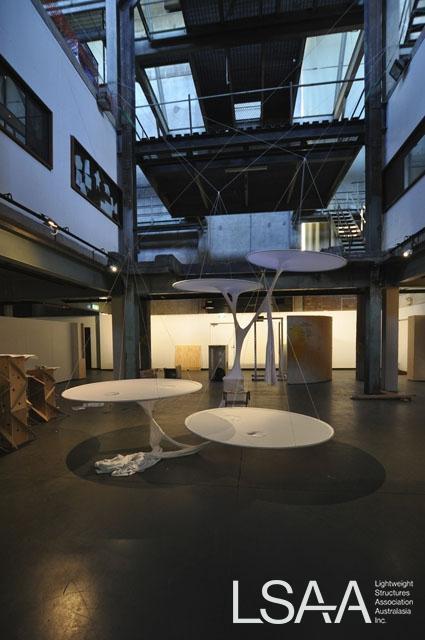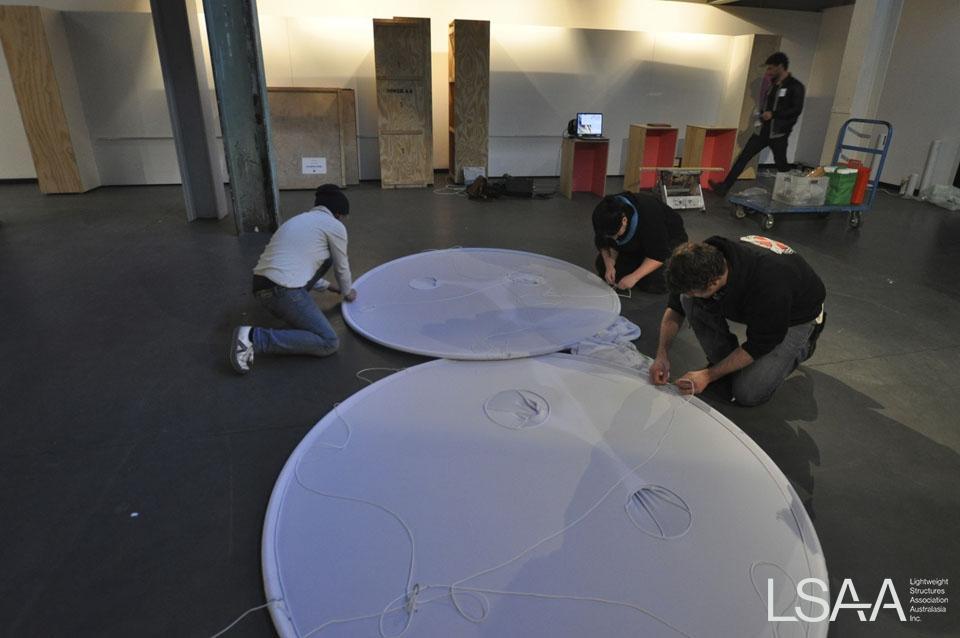 This small-scale prototype provides invaluable insight into possible applications of smart membranes in the augmentation of the inner intelligence of buildings, and thus the city of the future. Membranes are the future and this is demonstrated as a sculpture in the CUSP exhibition.
It continues LAVA's work in combining digital workflow, nature's structural principles and the latest digital fabrication technologies with the aim of achieving MORE WITH LESS: more (architecture) with less (material/ energy/time/cost).
The installation demonstrates how lightweight structures are relocatable, reusable, recyclable and sustainable. The shape of the structure was determined through an optimisation process that involved parametric control and physics simulation of the geometry and its environmental variables since the very first steps of the design process. This continuous feedback between final geometry and boundary conditions [in this case the various venues, the light conditions etc] allowed LAVA to produce a single design successfully adaptable to many different situations.
The structure is based on LAVA's award-winning 'Tower skin' - a simple, cost effective and easily constructed building skin that transforms the identity, sustainability and interior comfort of inefficient buildings. The 'skin' is a translucent cocoon that creates its own' microclimate' and with embedded LED strips acts as an intelligent media surface. Surface tension allows a three-dimensional lightweight, high performance composite mesh textile membrane to freely stretch over a light steel frame around walls and roof elements achieving maximum visual impact with minimal material effort.
PROJECT DESCRIPTION:
The installation asks: 'can cities of the future be organisms that respond and adapt to their environment?'
Membranes show that the networked city is a connected, inter‐dependent organism where buildings are not singular structural entities (designed, serviced and accessed as isolated units), but part of large networked system.
A distributed cloud communicates and shares smart building technology and joint infrastructure, connectivity and data transfer allowing transport, housing and urban infrastructure to adapt in response.
Bosse replaces outdated passive building facades of the skyscraper with high performance smart translucent membranes that create their own microclimate, generate energy, collect rainwater and improve the distribution of natural daylight. By reskinning these inefficient buildings the past is transformed into 'super‐abled' buildings.
The installation was part of 'CUSP: Designing into the Next Decade' exhibition at the Casula Powerhouse Arts Centre and travelling Australia-wide.
Credits:
Architect: Chris Bosse
Structural Engineer: Büro für Leichtbau (Germany)
Fabricator: Fabric Shelters Workshop (NZ)
Steelwork: GKR Interiors (Australia)