Projects in this category include non-prestressed structures such as domes and shells made from more traditional materials like concrete.
Prestressed structures may include saddle shaped cablenets, planar wall or roof glass surfaces supported by a stressed cable network.
Externally supported roofs (cable supported) also come into this category.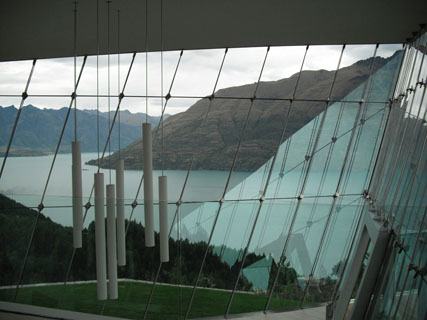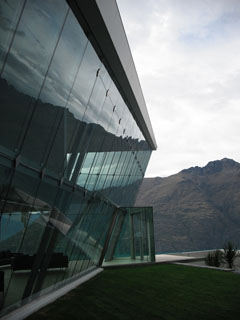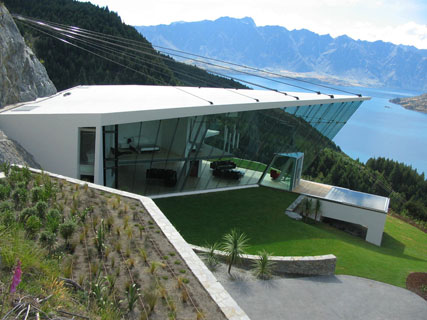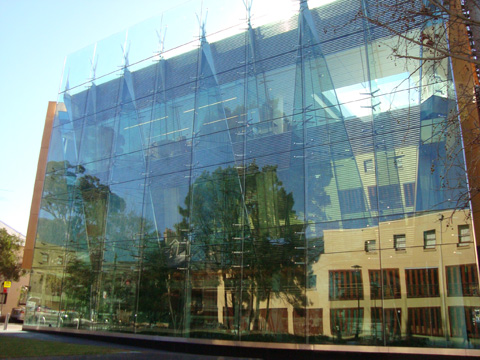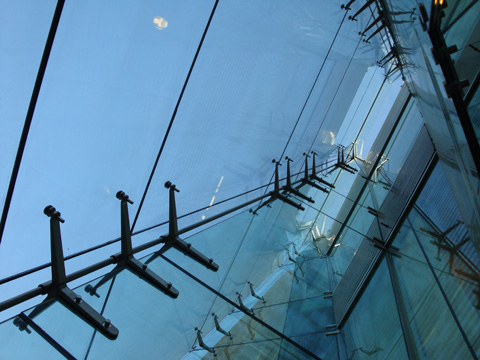 Pitt Street Lighting System
The City of Sydney turned to Ronstan to upgrade Pitt Street Mall's lighting to an energy-efficient catenary system as part of the overall redevelopment at the precinct. The result is a ladder-like series of lights supported by a Ronstan high-tension stainless steel cable framework.
The system illuminates the pedestrian areas below and the facades of the buildings, without needing large self-standing poles or heavy-looking supports. The 16m high tensile cable web is almost invisible, with bowstring support cables anchored every 20 meters into the facades of the buildings along the mall.
The catenary lights themselves comprise long tubes, combining downward illumination and a sequence of LEDs along the vertical length, which can be programmed for different colors depending on seasonal requirements – reflecting specific moods and occasions.
"The applications of tensile architecture are endless, thanks to its complex combination of engineering and design," says Rowan Murray, General Manager of Ronstan Tensile Architecture. "The Pitt Street Mall project is another example of this fact – and of the versatility, reliability and beauty of tensile forms."
The catenary lighting system at Pitt Street Mall comprises a twin longitudinal cable arrangement tied back to the surrounding buildings via spacers and guying cables. 23 customized tube style luminaires (lights) are suspended between 34 Marine Grade type 316 stainless steel ribbon catenary cables. The 1x19 strand cables are designed and manufactured to withstand up to 60 tonnes of tension, while resisting corrosion and stretch.
Pitt Street Mall reopened on December 6, 2012. In addition to Ronstan Tensile Architecture, the Sydney, Australia project team consisted of head contractor Westfield Construction, architect Tony Caro Architecture, cable and structural designers Enstruct Structural & Civil Engineers, building connections engineers Hyder Consulting and electrical contractors FIP Electrical.
Client: City of Sydney

Head Contractor: Westfield Construction

Architects: Tony Caro Architects

Cable Structural Design: Enstruct Structural & Civil Engineers

Building Connections Engineering: Hyder Consulting

Electrical Contractor: FIP Electrical
Atmosphere Façade Park Beach Plaza
Entrant: Ronstan International, Locker Group, Tensys Engineers
Category: 6 ID Number: 5111

Location: 253 Pacific Highway, Coffs Harbour, NSW

Client: Park Beach Plaza

Completion Date: February 2013
Credits:
Architect: Red Dog Architects

Structural Engineer: DeGroot Benson

Specialists: Tensys Engineers - Structural Design

Builder: Edwards Constructions

Fabricator: Ronstan International, Locker Group

Installer: Ronstan International
---
APPLICATION OF PROJECT: Facade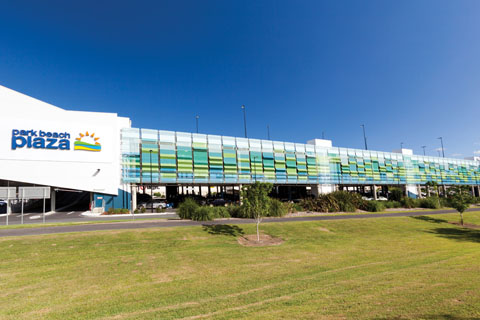 PROJECT DESCRIPTION:
Design, fabrication and installation of cable supported perforated aluminium façade on Park Beach Plaza Car Park at Coffs Harbour.
155 Queen Street Mall Façade
Entrant: Tensys Engineers Pty Ltd (Engineer)
Location: 155 Queen St Mall, Brisbane. Completed: 2015
Client: ISPT Super Property
Team: studio 505 / JWA, Tensys Engineers, Tensys (Façade), UAP Company, Broad Construction
LSAA 2013 Award of Excellence
Wintergarden Art Façade
Entrant: Tensys Engineers Pty Ltd
• Category: 5 ID Number: 6513
• Location: Queen Street Mall, Brisbane
• Client: Industry Super Property Trust Pty Ltd
• Completion Date: April 2012
Credits:
• Architect: Studio 505
• Structural Engineer: Tensys Engineers
• Builder: Brookfield Multiplex
• Fabricator: UAP
---
Judges Comments:
"Will probably settle in to become a heritage icon in Brisbane."
"Now that's how to disguise a carpark. Makes a great contribution to the public realm. Vivid, joyful - makes excellent use of contemporary steel design and fabrication technology."
---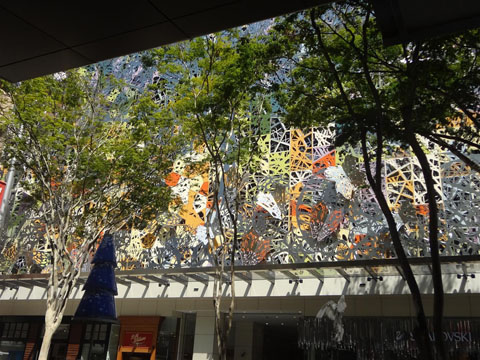 APPLICATION OF PROJECT:
The vertical façade works is part of the redevelopment of the wintergarden shopping centre.. This façade creates a uniform streetscape, providing a visual barrier to a number of existing carparking levels and different buildings along Queen Street Mall.
PROJECT DESCRIPTION:
Wintergarden redevelopment architectural façade on Queen, Elizabeth and Edward Street, Brisbane. The architectural intent of the façade is to create a three dimensional depiction of a winter garden painting To achieve this, the façade consists of multi layers of rigid cladding supported by a modular structural steel grillage frame. In addition to the cladding panels, the façade consists of a number of steel frame, stainless steel cald butterflies which cantilever from the grillage.
Amazon Waterlily Pavilion

Entrant: Aurecon - Adelaide - Designer / Consultant
Location: Adelaide Botanical Gardens - North Terrace Adelaide SA
Client: Government of South Australia (DTEI)
Architect: Flightpath Architects
Struct. Eng.: Connell Wagner
Specialist: Connell Wagner (Facade Engineering)
Others: Pilkington & DMS Glass
Builder: Built Environs
Fabricator: Construction Glazing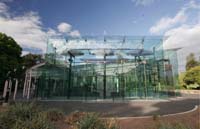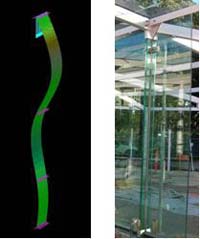 South Australian Health and Medical Research Institute (SAHMRI)
SAHMRI is a world class facility for medical research under construction in Adelaide (July 2015)
The facility will increase the ability for new leading edge research and clinical applications into better treatment and potential cures for the most challenging diseases.
The building has an interesting curved facade as illustrated in the following images.
Images by Peter Kneen 2015.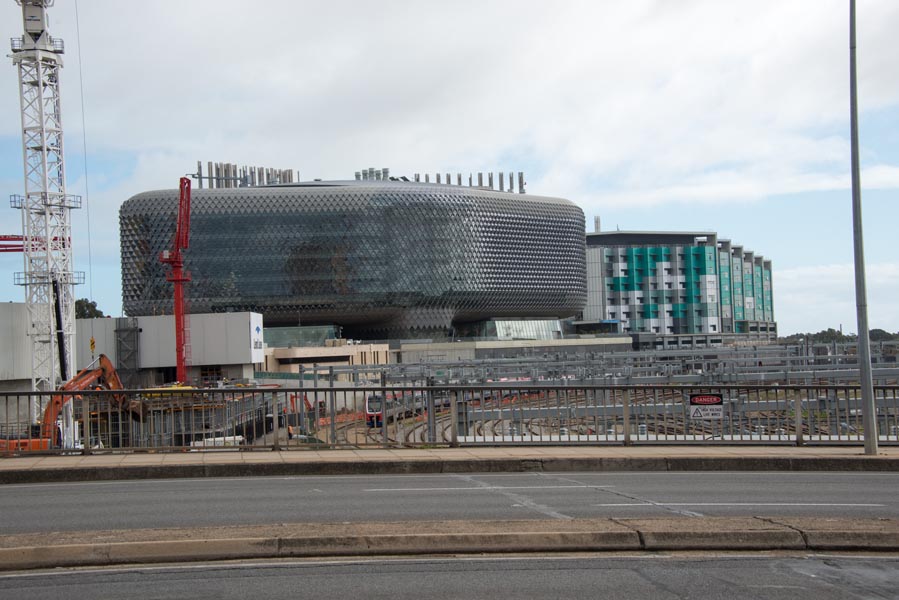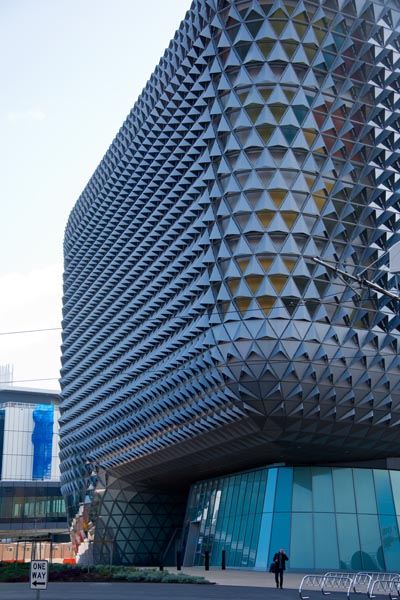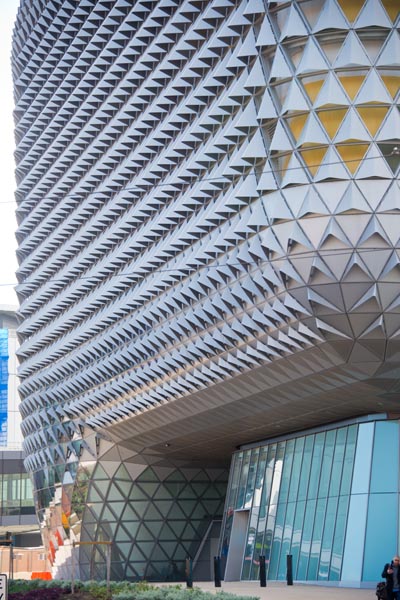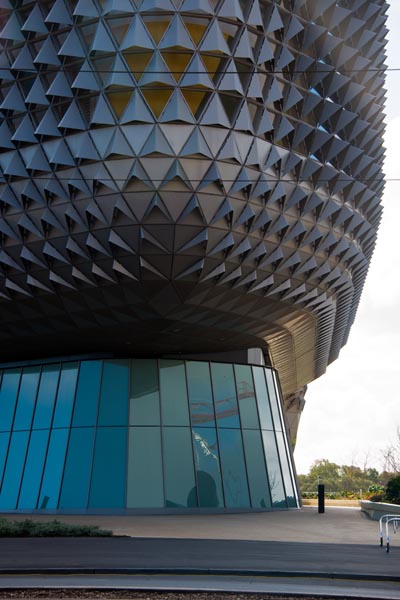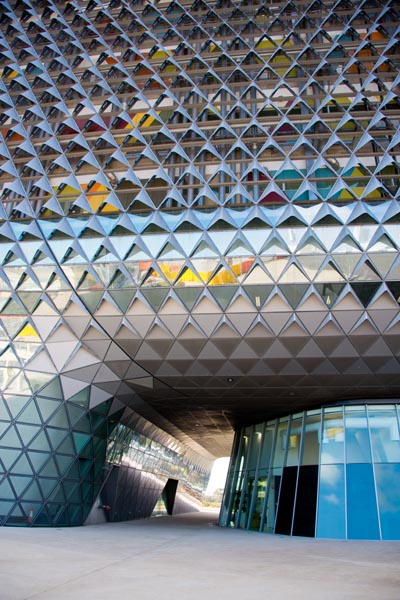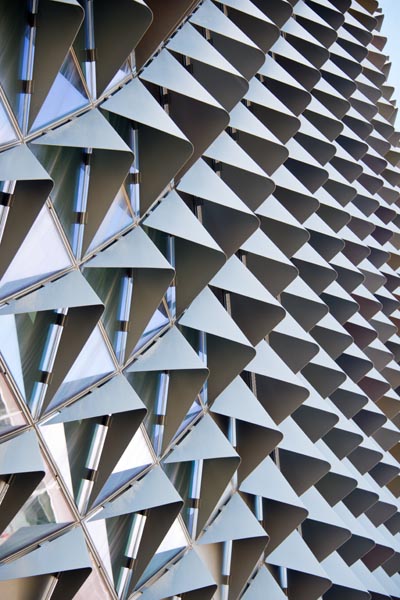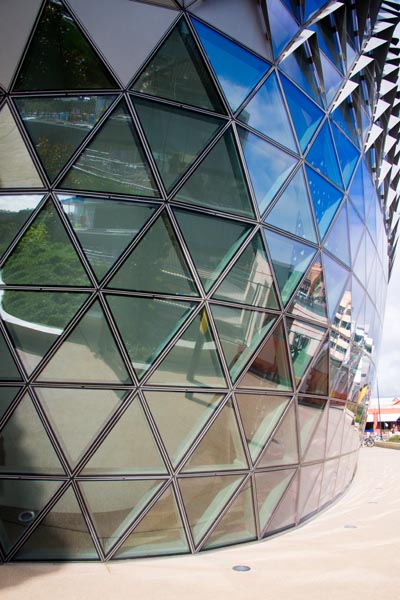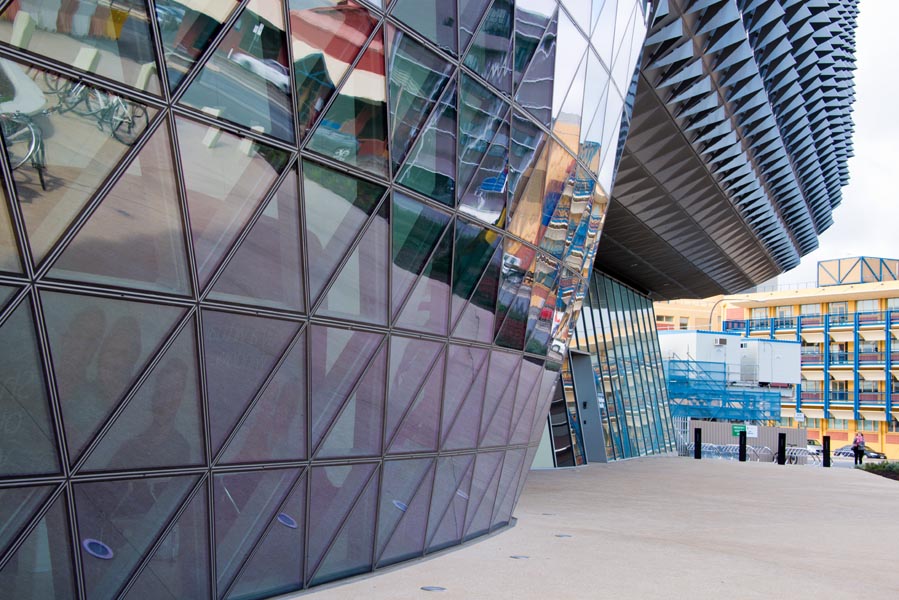 Entrant: Structural Dynamics Australia
Category: 5 ID Number: 5202

Location: 202 Pier St., Perth WA

Client: Charter Hall

Completion Date: September 2013
Credits:
Architect: Fitzpatrick & Partners

Builder: Broad Constructions WA

Fabricator: Colt International
---
APPLICATION OF PROJECT: Light weight structure used to control interior environment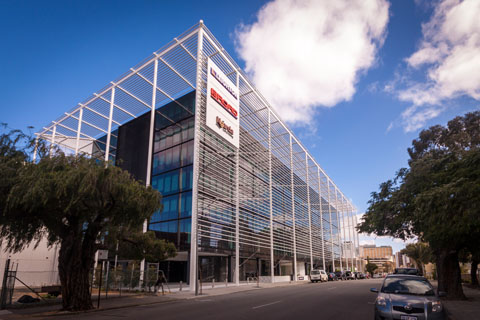 PROJECT DESCRIPTION:
Aluminium tube sun shade screen designed by Fitzpatrick & Partners to control interior environment and to add to overall aesthetic impact of building.
Structural Dynamics Australia contracted by Colt International (sun shade fabricator and installer) to help design, supply and install stainless steel cable system to structurally support this element.
Other Structural Forms - Cablenets, Glazing, Facades, Spaceframes
The LSAA has groups of members interested in cablenets, high technology glazing and facades.
In fact one main reason for the creation of the LSAA from the MSAA was to cater for the growing number of projects which involved large glazed areas being supported by pretensioned cable truss systems or cablenets.
In modern times, when the overall energy usage for the life of a building is taken into account, the use of high technology facades will become more important. There is also a growing use of "green facades" or vertical gardens.
The traditional spaceframe structures are becoming rarer - those with many small elements that are man-handled and connected together on site. Labour costs and erection times are now outweighed by fewer larger assemblies that can be installed quickly by cranes.
The LSAA would welcome articles and links to projects in this category.