Projects in this category include non-prestressed structures such as domes and shells made from more traditional materials like concrete.
Prestressed structures may include saddle shaped cablenets, planar wall or roof glass surfaces supported by a stressed cable network.
Externally supported roofs (cable supported) also come into this category.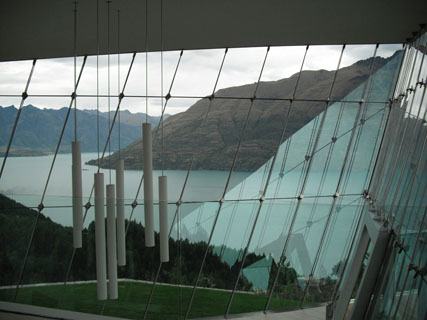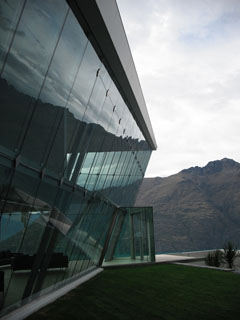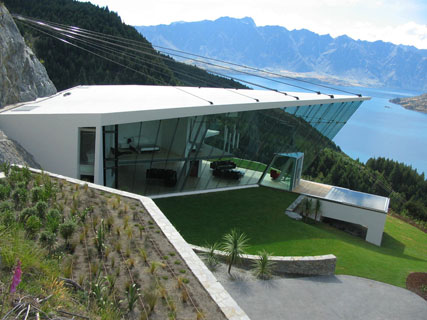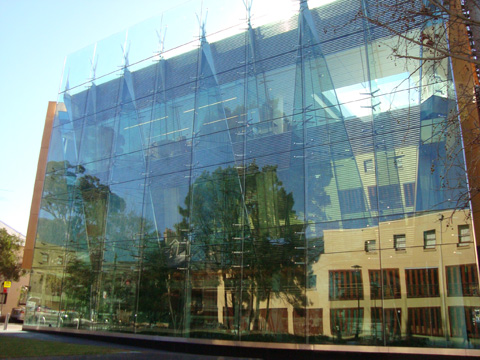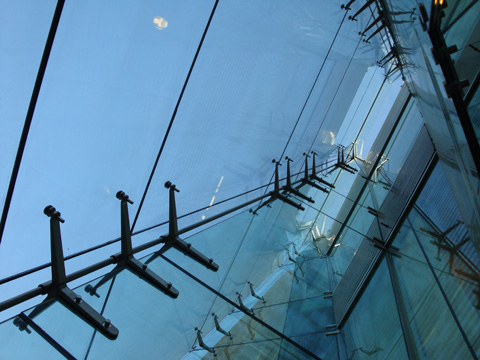 Amazon Waterlily Pavilion

Entrant: Aurecon - Adelaide - Designer / Consultant
Location: Adelaide Botanical Gardens - North Terrace Adelaide SA
Client: Government of South Australia (DTEI)
Architect: Flightpath Architects
Struct. Eng.: Connell Wagner
Specialist: Connell Wagner (Facade Engineering)
Others: Pilkington & DMS Glass
Builder: Built Environs
Fabricator: Construction Glazing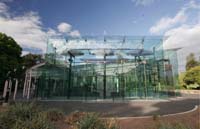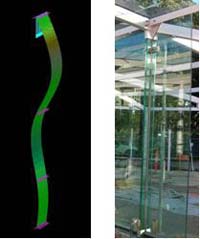 Other Structural Forms - Cablenets, Glazing, Facades, Spaceframes
The LSAA has groups of members interested in cablenets, high technology glazing and facades.
In fact one main reason for the creation of the LSAA from the MSAA was to cater for the growing number of projects which involved large glazed areas being supported by pretensioned cable truss systems or cablenets.
In modern times, when the overall energy usage for the life of a building is taken into account, the use of high technology facades will become more important. There is also a growing use of "green facades" or vertical gardens.
The traditional spaceframe structures are becoming rarer - those with many small elements that are man-handled and connected together on site. Labour costs and erection times are now outweighed by fewer larger assemblies that can be installed quickly by cranes.
The LSAA would welcome articles and links to projects in this category.
Cable Net Facade Feature - New Entrance
The redevelopment of Whitten Oval formed a pivotal piece in a plan to reinvigorate the western suburbs of Melbourne by providing services and facilities that would promote a sense of community. The plan had involvement from both State and Federal Governments and sort to place Whitten Oval at the centre of the community as a hub for local sporting and health service activities.
The Whitten Stand conversion, designed by Peddle Thorp Architects in Melbourne, called for a feature on the façade that responded to its context, was an identifiable entry, and provided an environmental benefit in the form of shading for the glazed façade behind. The resulting design was a series of floating panels that would display the team colours of the grounds home AFL team, the Western Bulldogs. The façade feature would run from the first floor to the roof acting as a gateway for supporters.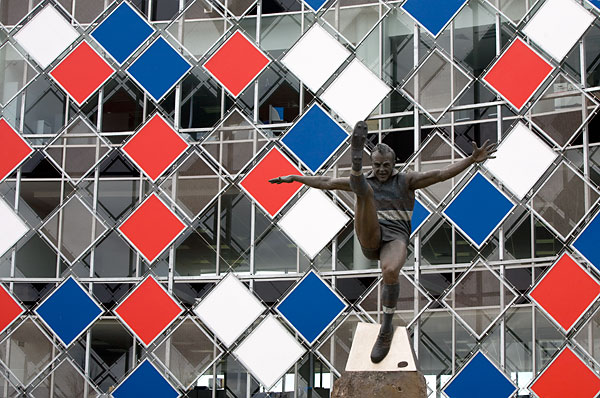 Whitten Oval
Entrant: Ronstan – Contractors
Location: Barkley St, Footscray Vic
Client: Western Bulldogs, Whitten Oval
Architect: Peddle Thorp
Struct. Eng.: Irwin Consultants
Builder: Salta
Fabricator: Ronstan
Overview of Cablenet Structures
The modern cablenet structures burst on the international scene with the Expo 67 German Pavilion constructed in Montreal, Canada.
This was a larger version of the cablenet roof prototype designed by Frei Otto's team and used now to house the IL at the University of Stuggart.
Australia can bost a very early cable net structure in the Sidney Myer Music Bowl in Melbourne.
The next structure, and the most famous is the impressive stadiums for the Munich Olympics designed by Frei Otto.
Highly stressed cable trusses are also used to support flat glass surfaces now common for facades.
Surry Hills Community Centre
Entrant: Aurecon - Sydney – Designer
Location: 405 Crown Street - Surry Hills NSW 2010
Client: Austress Freyssinet
Architect: FJMT
Struct. Eng.: Aurecon - Facade Engineer
Others: Taylor Thomson Whitting - Concept Design
Builder: Austress Freyssinet / Probuild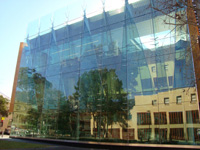 Sydney Wildlife World
Entrant: UFS Australasia Pty Ltd
Client: Sydney Attractions Group
Architect: Misho & Associates/ RIHS Architects – Misho & Gerry Rihs
Structural Engineer: Fabric: Wade Consulting Joseph Dean,
Steel: S2 Corporation Murray Allen
Fabricator(s): Fabric Shelter Systems Graham Griffin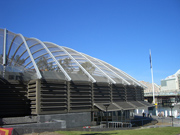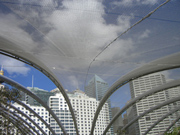 Ronstan Ribbons of Light
Ronstan Tensile Architecture provides full-service engineering, design assistance, and installation services for an innovative catenary lighting system that spirals through the Watergardens Town Centre in Taylor Lakes, Victoria.

Watergardens Town Centre is a 56 hectare community hub that offers shopping, dining, entertainment, hospitality, and other business services. The area has been a vibrant and growing part of Taylor Lakes township since its 1997 opening, attracting droves of visitors to its 200+ specialty stores and community events.
Recently, the Centre has expanded to include a dining-focused "eat street" called Station Streat, which is now outfitted with a custom Ronstan catenary lighting system. This system, designed by Electrolight and Ronstan, stylishly assists in making the area functional after dark without being obstructive to walking paths. More importantly, the system creates a spectacular entry statement with its unconventional 3-D "ribbon like" design that speaks to the geometric language of the Centre's existing graphic motif.
"The idea was to create a lighting scheme that gives a sense of movement and direction," explains Paul Beale, Director at Electrolight. "We endeavoured to create a visual link from the Centre's train station to the main entrance and shopping areas, while also highlighting the eddies of other parts in the complex that may have otherwise gone unnoticed."