Projects in this category include non-prestressed structures such as domes and shells made from more traditional materials like concrete.
Prestressed structures may include saddle shaped cablenets, planar wall or roof glass surfaces supported by a stressed cable network.
Externally supported roofs (cable supported) also come into this category.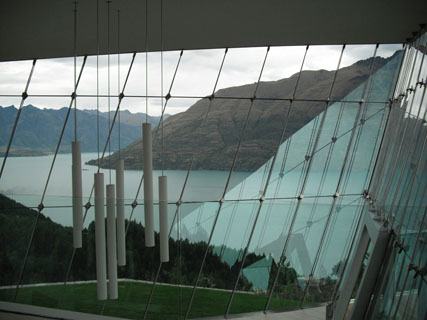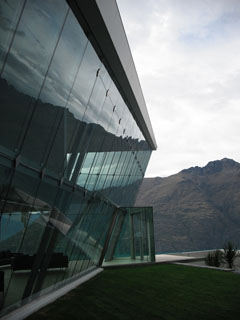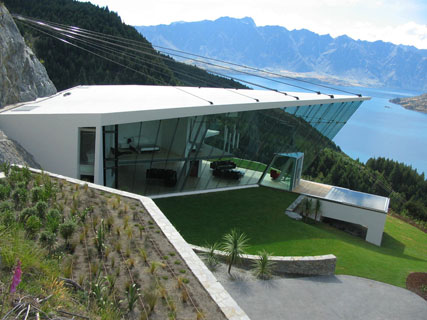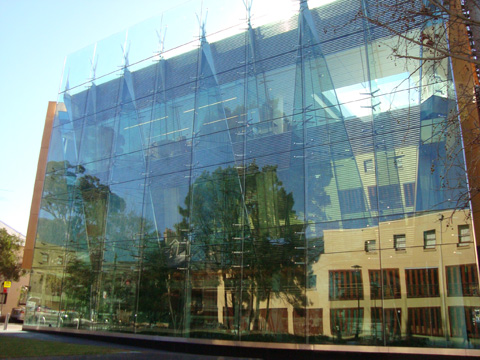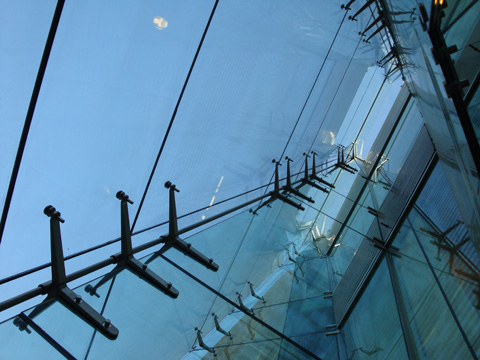 Entrant: Structural Dynamics Australia
Category: 5 ID Number: 5202

Location: 202 Pier St., Perth WA

Client: Charter Hall

Completion Date: September 2013
Credits:
Architect: Fitzpatrick & Partners

Builder: Broad Constructions WA

Fabricator: Colt International
---
APPLICATION OF PROJECT: Light weight structure used to control interior environment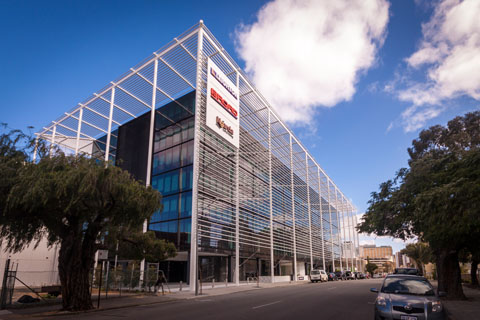 PROJECT DESCRIPTION:
Aluminium tube sun shade screen designed by Fitzpatrick & Partners to control interior environment and to add to overall aesthetic impact of building.
Structural Dynamics Australia contracted by Colt International (sun shade fabricator and installer) to help design, supply and install stainless steel cable system to structurally support this element.
Sydney Wildlife World
Entrant: UFS Australasia Pty Ltd
Client: Sydney Attractions Group
Architect: Misho & Associates/ RIHS Architects – Misho & Gerry Rihs
Structural Engineer: Fabric: Wade Consulting Joseph Dean,
Steel: S2 Corporation Murray Allen
Fabricator(s): Fabric Shelter Systems Graham Griffin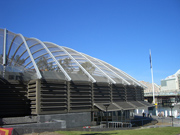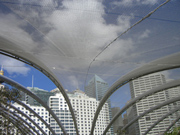 Monash University Building 76 Strip Facade Structures

Entrant: Oasis Tension Structures (Australia) Pty Ltd
Location: Wellington Road - Clayton Vic
Client: Monash University
Architect: DesignInc (Melbourne)
Struct. Eng.: John Mullin & Partners
Specialist: Tensys Engineering (Australia) Pty Ltd
Others: Ronstan International (Australia) Pty Ltd
Builder: Hooker Cockram Projects Ltd
Fabricator: Atkins Fabrication (Australia) Pty Ltd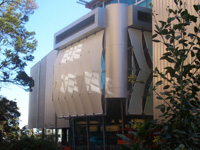 Perth Zoo Wetlands & Penguin Enclosure
Entrant: Structural Dynamics Australia
Category: 4 ID Number: 4966

Location: Perth Zoo, WA

Client: Government of WA - Department of Finance

Completion Date: January 2012
Credits:
Architect: Pritchard Francis

Structural Engineer: Pritchard Francis

Builder: The Slatter Group, WA
---
APPLICATION OF PROJECT: Zoological Enclosure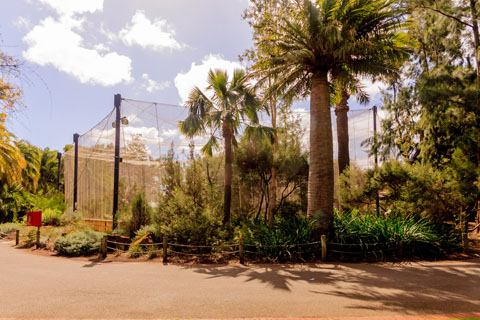 PROJECT DESCRIPTION:
Structural Dynamics was contracted by The Slatter Group WA to assist with the design, material selection/supply and installation of a lightweight zoological enclosure that would cover an area of 90 meters long, 34 meters wide and 10 meters high.
The enclosure was covering two existing exhibits at the Perth Zoo, namely the penguin display and wetlands area, so needed to have minimal impact on the existing flora and infrastructure.
Pritchard Francis had already conducted the majority of the structural design and calculations of loads - Structural Dynamics assisted both The Slatter Group WA and Pritchard Francis with final material specifications to meet demanding requirements.
With such a large open enclosure that needed to be visually appealing for visitors as well as transparent for the exhibits inhabitants the challenge was to specify materials that met demanding load specifications but at the same time provided a light weight alternative that had minimal visual impact on the surrounding exhibits.
Pitt Street Lighting System
The City of Sydney turned to Ronstan to upgrade Pitt Street Mall's lighting to an energy-efficient catenary system as part of the overall redevelopment at the precinct. The result is a ladder-like series of lights supported by a Ronstan high-tension stainless steel cable framework.
The system illuminates the pedestrian areas below and the facades of the buildings, without needing large self-standing poles or heavy-looking supports. The 16m high tensile cable web is almost invisible, with bowstring support cables anchored every 20 meters into the facades of the buildings along the mall.
The catenary lights themselves comprise long tubes, combining downward illumination and a sequence of LEDs along the vertical length, which can be programmed for different colors depending on seasonal requirements – reflecting specific moods and occasions.
"The applications of tensile architecture are endless, thanks to its complex combination of engineering and design," says Rowan Murray, General Manager of Ronstan Tensile Architecture. "The Pitt Street Mall project is another example of this fact – and of the versatility, reliability and beauty of tensile forms."
The catenary lighting system at Pitt Street Mall comprises a twin longitudinal cable arrangement tied back to the surrounding buildings via spacers and guying cables. 23 customized tube style luminaires (lights) are suspended between 34 Marine Grade type 316 stainless steel ribbon catenary cables. The 1x19 strand cables are designed and manufactured to withstand up to 60 tonnes of tension, while resisting corrosion and stretch.
Pitt Street Mall reopened on December 6, 2012. In addition to Ronstan Tensile Architecture, the Sydney, Australia project team consisted of head contractor Westfield Construction, architect Tony Caro Architecture, cable and structural designers Enstruct Structural & Civil Engineers, building connections engineers Hyder Consulting and electrical contractors FIP Electrical.
Client: City of Sydney

Head Contractor: Westfield Construction

Architects: Tony Caro Architects

Cable Structural Design: Enstruct Structural & Civil Engineers

Building Connections Engineering: Hyder Consulting

Electrical Contractor: FIP Electrical
Taronga Zoo Chimpanzee Enclosure - Sydney
APPLICATION OF PROJECT: Separation Enclosure for Chimpanzees.
The Taronga Zoos' chimpanzee troop is one of the largest captive groups in the world with recognized wild behavior patterns and a sophisticated social hierarchy. With its population including four maturing sub-adult males jockeying and promoting themselves within the group, the zoo cited a need for the construction of a fully enclosed and semi-transparent separation paddock within the chimpanzee exhibit to allow the chimpanzees to be easily divided as needed, without moving them to an entirely new location, and thus avoiding potential commotion.
The Seperation Enclosure:
facilitates the introduction of new chimpanzee females to maintain the genetic pool.

provides the necessary infrastructure for the current troop management strategy and philosophies.

permits the troop to remain outside in summer unsupervised where this was previously not possible.

maximizes viewing time for the public.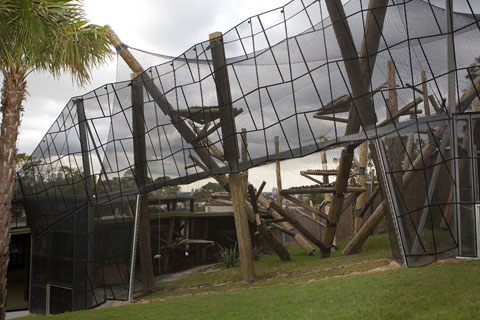 Atmosphere Façade Park Beach Plaza
Entrant: Ronstan International, Locker Group, Tensys Engineers
Category: 6 ID Number: 5111

Location: 253 Pacific Highway, Coffs Harbour, NSW

Client: Park Beach Plaza

Completion Date: February 2013
Credits:
Architect: Red Dog Architects

Structural Engineer: DeGroot Benson

Specialists: Tensys Engineers - Structural Design

Builder: Edwards Constructions

Fabricator: Ronstan International, Locker Group

Installer: Ronstan International
---
APPLICATION OF PROJECT: Facade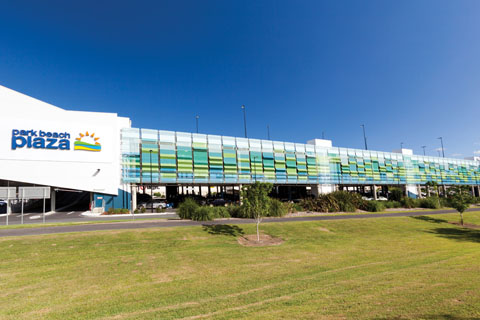 PROJECT DESCRIPTION:
Design, fabrication and installation of cable supported perforated aluminium façade on Park Beach Plaza Car Park at Coffs Harbour.
Ronstan Ribbons of Light
Ronstan Tensile Architecture provides full-service engineering, design assistance, and installation services for an innovative catenary lighting system that spirals through the Watergardens Town Centre in Taylor Lakes, Victoria.

Watergardens Town Centre is a 56 hectare community hub that offers shopping, dining, entertainment, hospitality, and other business services. The area has been a vibrant and growing part of Taylor Lakes township since its 1997 opening, attracting droves of visitors to its 200+ specialty stores and community events.
Recently, the Centre has expanded to include a dining-focused "eat street" called Station Streat, which is now outfitted with a custom Ronstan catenary lighting system. This system, designed by Electrolight and Ronstan, stylishly assists in making the area functional after dark without being obstructive to walking paths. More importantly, the system creates a spectacular entry statement with its unconventional 3-D "ribbon like" design that speaks to the geometric language of the Centre's existing graphic motif.
"The idea was to create a lighting scheme that gives a sense of movement and direction," explains Paul Beale, Director at Electrolight. "We endeavoured to create a visual link from the Centre's train station to the main entrance and shopping areas, while also highlighting the eddies of other parts in the complex that may have otherwise gone unnoticed."