These structures may be described as single surfaces or panels in the form of one of the classic hypars, barrel vaults, cones, panels with single or crossing arches - or a combination.
Larger fabric structures can also be made from several modules or panels of similar forms to build up a substantial sized structure. The multiple panels might be arranged in a linear layout, or in a circular or oval pattern commonly found in stadia roofs.
The LSAA has a Design Award Category for Large Structures which has been defined as being greater than 1000 sqm.
The following articles are in random order:
Queensland State Velodrome
MakMax Australia (Engineer, Fabricator, Installer)
Location: Sleeman Sports Complex, Brisbane. Completed: August 2016
Client: Watpac
Team: Cox Rayner Architects, Tensys, Arup, MakMax Australia
The Cloud - Auckland, New Zealand
APPLICATION OF PROJECT:
The Cloud is a semi permanent multi purpose event & exhibition structure, initially developed for the Rugby World Cup
PROJECT DESCRIPTION
The Cloud is a semi permanent structure erected on the western edge of Queens Wharf to accommodate the city's commitment to hosting an inner-city fanzone, festival and showcase event during the Rugby World Cup 2011. 
Installed as part of the recent 18 month redevelopment of Queens Wharf, The Cloud will be utilised by NZ2011 to showcase the best of New Zealand innovation and creativity during the REAL New Zealand Showcase. At almost 180m long, The Cloud can accommodate up to 6,000 people. Its' ground floor area can be split into four segments, which means the building is able to cater for a range of showcase and festival events occurring at the same time. It also provides the ability for the fanzone to be scaled up or down according to demand. The mezzanine floor at the northern end of The Cloud is designed for VIP hosting.
Mumbai Arrival Plaza
Entrant: MakMax Australia – Designer
Location: Mumbai International Airport – India
Client: Mumbai International Airport Limited
Architect: Designcell
Struct. Eng.: MakMax Australia
Others: Mahimtura Consultants
Builder: Mumbai International Airport Limited
Fabricator: MakMax Australia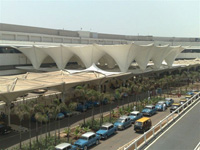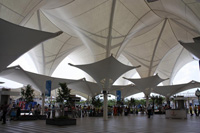 Brisbane Airport Walkway
Entrant: MakMax Australia
Category: 4 ID Number: 4302

Location: Brisbane Domestic Airport

Client: Brisbane Airport Corporation

Completion Date: June 2012
Credits:
Architect: Hassell

Others: Custom Cables

Builder: Liang O'Rourke Pty Ltd

Fabricator: MakMax Australia

Installer: OzRig

Steelwork: Steelman
APPLICATION OF PROJECT: Pedestrian bridge roof, open air.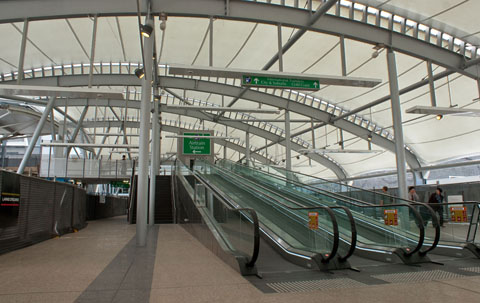 PROJECT DESCRIPTION:
This airport terminal access project involves the construction of a major pedestrian bridge linking a new multi-level car park and train platforms to the terminal building one of the country's business airports.
This covered walkway project is part of a larger group of construction projects which serve to improve all pedestrian and vehicular traffic at the airport. Our client requested design, fabrication and installation of the tensioned membrane roof system. The purpose was purely weather protection for pedestrian traffic on new pedestrian access bridge.
LSAA Design Awards 2013 High Commendation
Westlake Girls High School Sports Facility
Entrant: Structurflex Limited
Category: 4 ID Number: 4101

Location: Auckland

Client: Westlake Girls High School

Completion Date: May 2012
Credits:
Architect: Creative Spaces (Harry Street)

Structural Engineer: Fabspan

Others: OCTA Associates (Project Manager)

Builder: ASPEC Construction

Fabricator: Structurflex Limited

Installer: Structurflex Limited

Steelwork: Grayson Engineering
---
Judges Comments:
"Well executed variant of a "Standard" structure for sports."
"A tough site by the side of a motorway. Fine integration of structure and membrane to make the most of the potential of lightweight materials. A generous span provides uncluttered space; a sense of levity throughout."
---
APPLICATION OF PROJECT:
The Tension Membrane Structure we supplied covers 4 Netball Courts and 6 Tennis Courts. The School wanted to enable increased use of their Netball and Tennis Courts by adding an all weather Canopy.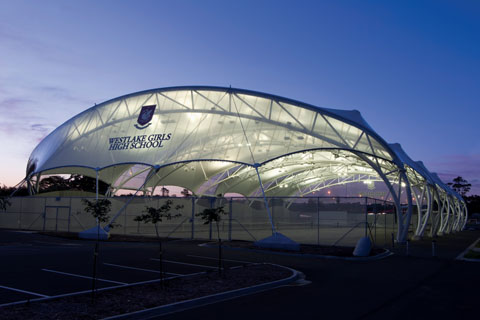 The Farm - Anish Kapoor
Entrant: Structurflex Ltd - Engineering Fabrication Installation
Location: Kaipara Harbour
Client: Keystone Trust
Architect: Noel Lane Architects
Struct. Eng.: Structure Design & Compusoft Engineering
Builder: Grayson Engineering
Fabricator: Structurflex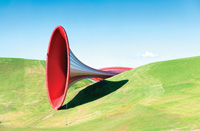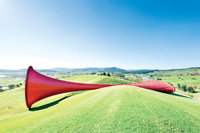 Pacific Fair Resort Roof
Fabritecture (Designer and Installer)
Location: The Esplanade. Completed:
Client: Scentre Group (Westfield)
Team: Scentre Group (Westfield), Wade Design, Textile Fabrication Services, Fabritecture
Melbourne Sports & Aquatic Centre
Entrant: Taiyo Membrane Corp
Client: Major Projects Australia
Architect: Peddle Thorpe Architects
Structural Engineer: Xiang Du (TMC) & Connell Mott McDonald
Specialist Consultant(s): Connell Wagner (steel design)
Builder: John Holland Pty Ltd